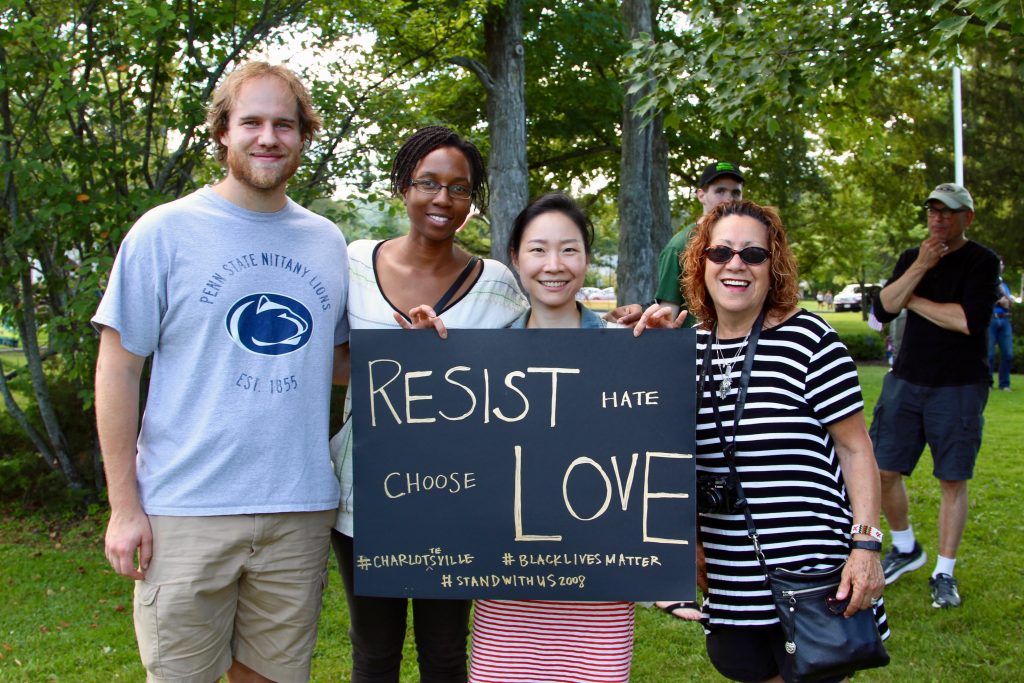 Keeping Track (of some things), Staying Outraged (it is possible), and Resisting (it's essential)
Passages in bold in the body of the texts below are my emphasis. This is an ongoing project, and I update the site frequently. I hope readers will peruse the articles in full for a better understanding of the issues and their context; our democracy and our future depend on citizens who can distinguish between facts and falsehoods and who are engaged in the political process.
Friday, 1 September 2017, Day 225:
Special Counsel Robert Mueller Has an Early Draft of Trump Letter Giving Reasons for Firing F.B.I. Director James Comey, The New York Times, Michael S. Schmidt and Maggie Haberman, Friday, 1 September 2017: "The special counsel, Robert S. Mueller III, has obtained a letter drafted by President Trump and a top political aide that offered an unvarnished view of Mr. Trump's thinking in the days before the president fired the F.B.I. director, James B. Comey. The circumstances and reasons for the firing are believed to be a significant element of Mr. Mueller's investigation, which includes whether Mr. Trump obstructed justice by firing Mr. Comey. The letter, drafted in May, was met with opposition from Donald F. McGahn II, the White House counsel, who believed that its angry, meandering tone was problematic, according to interviews with a dozen administration officials and others briefed on the matter. Among Mr. McGahn's concerns were references to private conversations the president had with Mr. Comey, including times when the F.B.I. director told Mr. Trump he was not under investigation in the F.B.I.'s continuing Russia inquiry. Mr. McGahn successfully blocked the president from sending the letter — which Mr. Trump had composed with Stephen Miller, one of the president's top political advisers — to Mr. Comey. But a copy was given to the deputy attorney general, Rod J. Rosenstein, who then drafted his own letter. Mr. Rosenstein's letter was ultimately used as the Trump administration's public rationale for Mr. Comey's firing, which was that Mr. Comey had mishandled the investigation into Hillary Clinton's private email server. Mr. Rosenstein is overseeing Mr. Mueller's investigation into Russian efforts to disrupt last year's presidential election, as well as whether Mr. Trump obstructed justice. Mr. McGahn's concerns about Mr. Trump's letter show how much he realized that the president's rationale for firing Mr. Comey might not hold up to scrutiny, and how he and other administration officials sought to build a more defensible public case for his ouster." See also, Special Counsel Robert Mueller is examining Trump's draft letter firing FBI Director James Comey, The Washington Post, Rosalind S. Helderman, Carol D. Leonnig, and Ashley Parker, Friday, 1 September 2017.
How our understanding of the Russia investigation evolved this week, The Washington Post, Philip Bump, Friday, 1 September 2017: "While the country rightly focused on the devastation of Hurricane Harvey [this week], a number of new reports emerged centered on special counsel Robert Mueller's investigation into Russian interference in the 2016 election — and any other wrongdoing orbiting nearby. In the interest of making sure readers are up-to-speed on the developments unearthed this week, we've compiled them [for this article]."
Exclusive: Special Counsel Robert Mueller Enlists the IRS for His Trump-Russia Investigation, Daily Beast, Betsy Woodruff, Friday, 31 August 2017: "Special counsel Bob Mueller has teamed up with the IRS. According to sources familiar with his investigation into alleged Russian election interference, his probe has enlisted the help of agents from the IRS' Criminal Investigations unit. This unit—known as CI—is one of the federal government's most tight-knit, specialized, and secretive investigative entities. Its 2,500 agents focus exclusively on financial crime, including tax evasion and money laundering. A former colleague of Mueller's said he always liked working with IRS' special agents, especially when he was a U.S. Attorney. And it goes without saying that the IRS has access to Trump's tax returns—documents that the president has long resisted releasing to the public. Potential financial crimes are a central part of Mueller's probe. One of his top deputies, Andy Weissmann, formerly helmed the Justice Department's Enron probe and has extensive experience working with investigative agents from the IRS."
Continue reading Week 33, Friday, 1 September – Thursday, 7 September 2017:
Trump Says Decision on the Deferred Action for Childhood Arrivals Program (DACA) Will Come Soon, The New York Times, Julie Hirschfeld Davis, Friday, 1 September 2017: "President Trump on Friday said he would announce a decision by Tuesday on whether he will end the Obama-era program that shields young undocumented immigrants from deportation, declaring, 'We love the Dreamers' even as his White House grappled with how to wind down their legal status. Mr. Trump has agonized publicly over the fate of immigrants who were brought to the United States without authorization as children, and who are now protected from deportation and allowed to work under the five-year-old program created by his predecessor. In recent days, White House officials have recommended that the president end the Deferred Action for Childhood Arrivals program, known as DACA, which currently shields about 800,000 undocumented immigrants who would be subject to potential deportation to countries that many of them have not seen since birth. Several administration officials said that Mr. Trump is likely to phase out the program, but his advisers have engaged in a vigorous behind-the-scenes debate over precisely how to do so. The officials, who spoke on condition of anonymity because no decision was final, also cautioned that the president was conflicted about the issue and could suddenly change his mind…. [I]n recent days, Jeff Sessions, the attorney general, and Donald F. McGahn II, the White House counsel, have privately made it clear to Mr. Trump that they could not defend the program in court, and a group of state attorneys general led by Ken Paxton in Texas have threatened to mount a legal challenge if the president did not act to end it by Tuesday…. As the White House struggled to get its rollout in place, pressure was building from a diverse coalition of supporters, including immigration advocacy groups, business executives and some elected Republican officials, for Mr. Trump to keep the program. 'I actually don't think he should do that,' Speaker Paul D. Ryan said of ending DACA as he spoke to a radio station in his home state of Wisconsin. 'I believe that this is something Congress has to fix.'"
Paul Ryan and other Republican congressional leaders urge Trump not to terminate the Deferred Action for Childhood Arrivals Program (DACA), The Washington Post, David Nakamura, David Weigel, and Ed O'Keefe, Friday, 1 September 2017: "House Speaker Paul Ryan (R-Wis.) and other Republican leaders in Congress on Friday urged President Trump not to terminate an Obama-era program that has allowed nearly 800,000 undocumented immigrants to live and work in the country without fear of deportation."
Trump Again Lashes Out at James Comey's Handling of the Clinton Investigation, The New York Times, Julie Hirschfeld Davis, Friday, 1 September 2017: "President Trump on Friday lashed out anew at the F.B.I. director he fired in May, charging that James B. Comey had 'exonerated' Hillary Clinton before fully completing the investigation into her use of a private email server. In an early morning tweet that appeared to seize on a statement from two members of the Senate Judiciary Committee about Mr. Comey's handling of the inquiry, Mr. Trump complained of 'a rigged system,' returning to his grudge against the former F.B.I. chief. While the president had initially cited Mr. Comey's conduct in the Clinton investigation as the reason for his ouster in May, he later conceded that he had been stewing about Mr. Comey's focus on possible collusion between the Trump campaign and Russia to sway the election when he decided to dismiss him. 'Wow, looks like James Comey exonerated Hillary Clinton long before the investigation was over,' Mr. Trump wrote on Friday. 'A rigged system!' Two Republican senators said on Thursday that Mr. Comey had begun drafting his statement recommending not to charge Mrs. Clinton before interviewing key aides in the investigation."
How Attorney General Jeff Sessions Misrepresented the Trump Administration's Expansion of Military Supplies for Police, ProPublica, Isaac Arnsdorf, Friday, 1 September 2017: "The Trump administration made false assertions to justify an executive order expanding police forces' access to military equipment such as tanks and grenade launchers. Attorney General Jeff Sessions announced on Monday that President Trump would make defensive gear available to police again by undoing a policy from the Obama administration. Trump then signed an executive order whose title emphasized that branding: 'Restoring State, Tribal, and Local Law Enforcement's Access to Life-Saving Equipment and Resources.' 'He is rescinding restrictions from the prior administration that limited your agencies' ability to get equipment through federal programs, including life-saving gear like Kevlar vests and helmets and first-responder and rescue equipment like what they're using in Texas right now,' Sessions said in the speech. But that's not what the Obama administration's restrictions did, according to documentation from a unit inside of Sessions' own Justice Department, the Bureau of Justice Assistance. Kevlar vests were never subject to any restrictions. Most helmets weren't, either. Riot helmets (defined as those with shields over the face), Humvees and helicopters that are sometimes used in rescue missions, were still available to police forces as long as they explained why they needed them and certified that they had protocols and training in place so officers would use them safely. That requirement was dropped for riot helmets last October. 'Kevlar vests were never on any lists. That part is simply lying about what we did,' said Roy Austin, who worked on the Obama policy as a deputy assistant to the president for the Office of Urban Affairs, Justice and Opportunity. 'He was being untruthful about helmets as well.' A Justice Department spokesman acknowledged that the items Sessions cited were never prohibited by the Obama administration and that only some of them were even subject to additional procedures. Still, the spokesman, who did not want to be named, said: 'There is absolutely nothing misleading about what the Attorney General said.'"
Forceful Chief of Staff John Kelly Grates on Trump, and the Feeling Is Mutual, The New York Times, Glenn Thrush and Maggie Habeman, Friday, 1 September 2017: "President Trump was in an especially ornery mood after staff members gently suggested he refrain from injecting politics into day-to-day issues of governing after last month's raucous rally in Arizona, and he responded by lashing out at the most senior aide in his presence. It happened to be his new chief of staff, John F. Kelly. Mr. Kelly, the former Marine general brought in five weeks ago as the successor to Reince Priebus, reacted calmly, but he later told other White House staff members that he had never been spoken to like that during 35 years of serving his country. In the future, he said, he would not abide such treatment, according to three people familiar with the exchange. While Mr. Kelly has quickly brought some order to a disorganized and demoralized staff, he is fully aware of the president's volcanic resentment about being managed, according to a dozen people close to Mr. Trump, and has treaded gingerly through the minefield of Mr. Trump's psyche. But the president has still bridled at what he perceives as being told what to do."
After Hurricane Harvey, the Trump administration reconsiders flood rules it just rolled back, The Washington Post, Juliet Eilperin, Friday, 1 September 2017: "A couple of weeks ago President Trump scrapped Obama-era rules, intended to reduce the risks posed by flooding, that established new construction standards for roads, housing and other infrastructure projects that receive federal dollars. Trump derided these restrictions, which were written in response to growing concerns over the impact of climate change, and other federal rules as useless red tape holding back the economy. 'This overregulated permitting process is a massive, self­inflicted wound on our country — it's disgraceful — denying our people much-needed investments in their community,' he said in the lobby of Trump Tower in New York during an event to tout his infrastructure policies. But now, in the wake of the massive flooding and destruction caused by Hurricane Harvey along the Gulf Coast, the Trump administration is considering whether to issue similar requirements to build higher in flood-prone areas as the government prepares to spend billions of dollars in response to the storm. This potential policy shift underscores the extent to which the reality of this week's storm has collided with Trump officials' push to upend President Barack Obama's policies and represents a striking acknowledgment by an administration skeptical of climate change that the government must factor changing weather into some of its major infrastructure policies."
Trump pulls back threat to shut down government over border wall–for now, The Washington Post, Damian Paletta, Friday, 1 September 2017: "The White House has signaled to congressional Republicans that it will not shut down the government in October if money isn't appropriated to build a wall along the U.S.-Mexico border, potentially clearing a path for lawmakers to reach a short-term budget deal. Congress has only appropriated money to fund government operations through the end of September, and President Trump has threatened to shut down the government if lawmakers don't include $1.6 billion in new funding so that 74 new miles of wall and secondary fencing can be added to the border. 'Build that wall,' Trump said at the Aug. 22 rally in Phoenix. 'Now the obstructionist Democrats would like us not to do it. But believe me, if we have to close down our government, we're building that wall.' But two days later, White House officials quietly notified Congress that the $1.6 billion would not need to be in a 'continuing resolution' that was meant to fund government operations from October until sometime in early December, a senior GOP congressional aide said. White House officials have signaled to lawmakers, however, that the wall's eventual construction remains a top priority for Trump. He wants this funding to be included in the December budget bill, GOP congressional aides said. Trump could still follow through on a threat to shut down the government in December, but this marks the second time he has pulled back from the wall demand to allow lawmakers to pass a budget bill. The first time came in May, when lawmakers voted to authorize government funding through September and refrained from including money that would allow for the construction of a new wall. That law, however, did allow the U.S. government to replace existing border wall with a new barrier where necessary."
Russian Election Hacking Efforts, Wider Than Previously Known, Draw Little Scrutiny, The New York Times, Nicole Perlroth, Michael Wines, and Matthew Rosenberg, Friday, 1 September 2017: "After a presidential campaign scarred by Russian meddling, local, state and federal agencies have conducted little of the type of digital forensic investigation required to assess the impact, if any, on voting in at least 21 states whose election systems were targeted by Russian hackers, according to interviews with nearly two dozen national security and state officials and election technology specialists. The assaults on the vast back-end election apparatus — voter-registration operations, state and local election databases, e-poll books and other equipment — have received far less attention than other aspects of the Russian interference, such as the hacking of Democratic emails and spreading of false or damaging information about Mrs. Clinton. Yet the hacking of electoral systems was more extensive than previously disclosed, The New York Times found."
Saturday, 2 September 2017, Day 226:
Department of Justice says it has no records related to Trump Tower 'wiretaps' that Donald Trump once claimed had been made, The Washington Post, Associated Press, Saturday, 2 September 2017: "The Justice Department says in a legal filing that it has no information about wiretaps President Donald Trump once claimed had been made of Trump Tower in New York. The department's National Security Division and the FBI 'confirm that they have no records related to wiretaps as described by' Trump's March tweets." See also, Department of Justice Says It Has No Evidence Obama Ordered Wiretap of Trump Tower, HuffPost, Sam Levine, Saturday, 2 September 2017: "The Department of Justice confirmed in a Friday court filing it had no evidence to support President Donald Trump's claim that former President Barack Obama wiretapped Trump Tower during the presidential campaign. Trump first made the accusation in March, and Obama refuted it. The White House tried to say Trump wasn't explicitly referring to a wiretap, but James Comey, the former FBI director fired by Trump in May, also asked the Justice Department in March to refute the claim. In a Friday court filing in a public records lawsuit brought by a nonpartisan watchdog group seeking documents related to the alleged wiretap, Justice Department lawyers and officials said neither the FBI nor the department's national security division had any evidence there was a wiretap."
Philadelphia Police Union President John McNesby Calls Black Lives Matter Activists 'A Pack of Rabid Animals,' HuffPost, Sebastian Murdock, Saturday, 2 September 2017: "The president of a Pennsylvania police union responded to Black Lives Matter activists demanding accountability for the police killing of a black man by calling the group a 'pack of rabid animals.'  Philadelphia Fraternal Order of Police President John McNesby made the statement Thursday during a rally held by and in support of police, according to NBC Philadelphia. The 'Back the Blue' rally was in response to a protest the week before by members of Black Lives Matter held outside the house of Officer Ryan Pownall, who fatally shot David Jones in June…. At Thursday's police rally, McNesby called BLM protesters 'racist hate groups determined to instigate violence.' 'When you go to work each day, you shouldn't have to worry that a pack of rabid animals will suddenly show up at your home and openly threaten your family,' McNesby said inside FOP headquarters, according to NewsWorks. 'These are not activists, they are racist hate groups determined to instigate violence.'"
Representative Jim Bridenstine, Republican of Oklahoma, Will Be Nominated by Trump to Lead NASA, The New York Times, Kenneth Chang, Saturday, 2 September 2017: "Representative Jim Bridenstine, Republican of Oklahoma [with no background in science or space], will be nominated by President Trump to serve as NASA's next administrator, the White House said on Friday night. Mr. Bridenstine, a strong advocate for drawing private companies like SpaceX and Blue Origin more deeply into NASA's exploration of space, had been rumored to be the leading candidate for the job, but months passed without an announcement. If confirmed by the Senate, Mr. Bridenstine, 42, would be the first elected official to hold that job."
Sunday, 3 September 2017, Day 227:
Why Trump, After North Korea's Nuclear Test, Aimed His Sharpest Fire at South Korea, The New York Times, Glenn Thrush and Mark Landler, Sunday, 3 September 2017: "While the world agonized over the huge nuclear test in North Korea this weekend, President Trump aimed his most pointed rhetorical fire not at the renegade regime in Pyongyang, but at America's closest partner in confronting the crisis: South Korea. In taking to Twitter to accuse Seoul of 'appeasement,' Mr. Trump was venting his frustration at a new liberal South Korean government he sees as both soft on North Korea's atomic program and resistant to his demand for an overhaul of trade practices that he views as cheating American workers and companies. For Mr. Trump, the crisis lays bare how his trade agenda — the bedrock of his economic populist campaign in 2016 — is increasingly at odds with the security agenda he has pursued as president. It is largely a problem of Mr. Trump's own making. Unlike several of his predecessors, who were able to press countries on trade issues while cooperating with them on security, Mr. Trump has explicitly linked the two, painting himself into a corner. The president, known for fighting his political wars simultaneously on multiple fronts, seems intent on taking on all comers in Asia. The president on Sunday took a somewhat milder jab at another country he sees as an adversary on trade, China, saying the North was an 'embarrassment' to Beijing, its primary economic patron. The president took a harder line later in the day, saying he was considering the drastic step of 'stopping all trade with any country doing business with North Korea,' but he did not single out China by name. Thus, what was supposed to be a calm holiday weekend dissolved into jitters over a dual threat: the specter of nuclear war on the Korean Peninsula, and the possibility of an economic standoff among world powers, as Mr. Trump considers walking away from a major trade agreement with South Korea as early as this week." See also, Donald Trump's Reckless Response to North Korea's Nuclear Test, The New Yorker, Amy Davidson Sorkin, Sunday, 3 September 2017: "It's not clear what time Donald Trump, our restless President, was told of the latest North Korean nuclear test, which took place close to midnight Saturday, Washington time, and was that nation's largest yet—Kim Jong-un's first hydrogen bomb, apparently. But it only took until 7:30 A.M. for Trump to make an extremely dangerous and volatile situation worse. He did so, in part, by attacking South Korea, America's ally and a country at risk in any confrontation—its capital, Seoul, home to ten million people, is close to the border, within range of the North's artillery—for a supposed lack of toughness. Even at a moment of historic crisis, Trump can't shake his bully's instincts: disdain those who you think are weak; home in on and mock the vulnerable; blind yourself to the realities of your own circumstances and character; and pretend that a brawl will make it all better, despite the certainty that it won't."
Trump has decided to end the Deferred Action for Childhood Arrivals Program (DACA), with 6-month delay, Politico, Eliana Johnson, Sunday, 3 September 2017: "President Donald Trump has decided to end the Obama-era program that grants work permits to undocumented immigrants who arrived in the country as children, according to two sources familiar with his thinking. Senior White House aides huddled Sunday afternoon to discuss the rollout of a decision likely to ignite a political firestorm — and fulfill one of the president's core campaign promises. The administration's deliberations on the issue have been fluid and fast moving, and the president has faced strong warnings from members of his own party not to scrap the program. Trump has wrestled for months with whether to do away with the Deferred Action for Childhood Arrivals, known as DACA. But conversations with Attorney General Jeff Sessions, who argued that Congress — rather than the executive branch — is responsible for writing immigration law, helped persuade the president to terminate the program and kick the issue to Congress, the two sources said. In a nod to reservations held by many lawmakers, the White House plans to delay the enforcement of the president's decision for six months, giving Congress a window to act, according to one White House official. But a senior White House aide said that chief of staff John Kelly, who has been running the West Wing policy process on the issue, 'thinks Congress should've gotten its act together a lot longer ago.' White House aides caution that — as with everything in the Trump White House — nothing is set in stone until an official announcement has been made. Trump is expected to formally make that announcement on Tuesday, and the White House informed House Speaker Paul Ryan of the president's decision on Sunday morning, according to a source close to the administration. Ryan had said during a radio interview on Friday that he didn't think the president should terminate DACA, and that Congress should act on the issue." See also, Trump Is Seriously Considering Ending the Deferred Action for Childhood Arrivals Program (DACA), With a 6-Month Delay, The New York Times, Maggie Haberman and Glenn Thrush, Sunday, 3 September 2017: "President Trump is strongly considering a plan that would end the Obama-era program that shields young undocumented immigrants from deportation, but only after giving Congress six months to come up with a potential replacement for the popular initiative, according to three administration officials briefed on the discussions. Officials working on the plan stressed that Mr. Trump could still change his mind, and some key details had not yet been resolved. Among them: whether beneficiaries of the program, known as Deferred Action for Childhood Arrivals, or DACA, would be allowed to renew their protected status during the six-month period. The compromise, which could lead to legislation superseding President Barack Obama's executive order, is intended to address a growing chorus of Republican lawmakers, led by the House speaker, Paul D. Ryan, who have implored the White House to keep some form of the program. The temporary solution has been the subject of quiet negotiations between Mr. Trump's legislative staff and members of Mr. Ryan's staff, according to an administration official familiar with the talks. But administration aides concede that Congress may be unable to agree on a legislative fix, given the headwinds that previous legislation has run into for years. It is unclear exactly what would happen after six months if Congress does not act. The president is scheduled to receive more counsel on the matter on Monday, before an announcement the White House has said will be made on Tuesday. The plan was first reported on Sunday night by Politico."
Hurricane Harvey and the Storms to Come: In the leadup to the historic flood, Texas Republicans abetted Trump's climate-change delusions, The New Yorker, Elizabeth Kolbert, published online on Sunday, 3 September 2017 and in the print edition on Monday, 11 September 2017: "As misguided as the Bush Administration was about climate change, Donald Trump has taken willful ignorance to a whole new level. The President has called climate change an 'expensive hoax' dreamed up by the Chinese. After much posturing, he announced in June that he was withdrawing the U.S. from the Paris climate accord. With less fanfare, he has rolled back Obama Administration regulations limiting greenhouse-gas emissions from both old and new power plants and from oil and gas wells. (Regarding the wells, a federal appeals court recently ruled against the White House, saying that it could not simply suspend the regulations.) Trump also revoked a 2013 executive order directing federal agencies to prepare for the impacts of warming and tossed out a plan, issued the same year, that outlined steps that the U.S. would take to combat climate change. Then, just ten days before Harvey hit, the President rescinded a 2015 executive order requiring public-infrastructure projects in flood-prone areas to be designed with sea-level rise in mind. This move is likely to have particularly unfortunate consequences for Houston, a city with no zoning code, where thousands of buildings constructed on floodplains but lacking flood insurance are now filled with soggy debris. Last Monday, as rainfall totals in Houston were topping forty inches, Secretary of State Rex Tillerson told Congress that he was planning to eliminate his department's special envoy for climate change. Many members of Congress share Trump's climate-change delusions, especially in the Texas delegation."
Exclusive: Read the Inauguration Day letter Obama left for Trump, CNN Politics, Kevin Liptak, Sunday, 3 September 2017: "During his final moments in the Oval Office, President Barack Obama folded into thirds a handwritten letter to Donald Trump, slid it into an envelope, and in neat capital letters addressed it to 'Mr. President.' Now, the contents of that letter — the last direct communication between the 44th and 45th presidents — have emerged for the first time after CNN obtained a copy. Full letter:
Dear Mr. President –

Congratulations on a remarkable run. Millions have placed their hopes in you, and all of us, regardless of party, should hope for expanded prosperity and security during your tenure.

This is a unique office, without a clear blueprint for success, so I don't know that any advice from me will be particularly helpful. Still, let me offer a few reflections from the past 8 years.

First, we've both been blessed, in different ways, with great good fortune. Not everyone is so lucky. It's up to us to do everything we can (to) build more ladders of success for every child and family that's willing to work hard.

Second, American leadership in this world really is indispensable. It's up to us, through action and example, to sustain the international order that's expanded steadily since the end of the Cold War, and upon which our own wealth and safety depend.

Third, we are just temporary occupants of this office. That makes us guardians of those democratic institutions and traditions — like rule of law, separation of powers, equal protection and civil liberties — that our forebears fought and bled for. Regardless of the push and pull of daily politics, it's up to us to leave those instruments of our democracy at least as strong as we found them.

And finally, take time, in the rush of events and responsibilities, for friends and family. They'll get you through the inevitable rough patches.

Michelle and I wish you and Melania the very best as you embark on this great adventure, and know that we stand ready to help in any ways which we can.

Good luck and Godspeed,

BO
Monday, 4 September 2017, Day 228:
Environmental Protection Agency (EPA) now requires political aide John Konkus to sign-off for agency awards and grant applications, The Washington Post, Juliet Eilperin, Monday, 4 September 2017: "The Environmental Protection Agency has taken the unusual step of putting a political operative in charge of vetting the hundreds of millions of dollars in grants the EPA distributes annually, assigning final funding decisions to a former Trump campaign aide with little environmental policy experience. In this role, John Konkus reviews every award the agency gives out, along with every grant solicitation before it is issued. According to both career and political employees, Konkus has told staff that he is on the lookout for 'the double C-word' — climate change — and repeatedly has instructed grant officers to eliminate references to the subject in solicitations. Konkus, who officially works in the EPA's public affairs office, has canceled close to $2 million competitively awarded to universities and nonprofit organizations. Although his review has primarily affected Obama administration priorities, it is the heavily Republican state of Alaska that has undergone the most scrutiny so far."
Sam Clovis, a Conservative Talk Radio Host Who Ran Trump's Presidential Campaign in Iowa, Is Trump's Nominee to Be the US Department of Agriculture's Chief Scientist. He Is Not a Scientist. NPR, Amy Mayer, Monday, 4 September 2017: "The chief scientist of the U.S. Department of Agriculture is typically a low-profile job in any presidential administration. But President Trump's nomination of his former Iowa campaign manager for the post is raising concern in the scientific community and beyond about the politicization of science policy in the Trump administration. Among the concerns: Clovis isn't a scientist. He holds a doctorate, but it's in public administration and not a scientific discipline. If confirmed, Clovis would oversee the agency's $3 billion research budget, which funds, among other things, research to help farmers and ranchers adapt to climate change. Clovis is currently the White House liaison to USDA. As a Senate candidate in 2014, Clovis told Iowa Public Radio that he was skeptical that human activity is driving climate change. 'I have looked at the science,' Clovis said, 'and I have enough of a science background to know when I'm being boofed. And a lot of what we see is junk science.'"
Tuesday, 5 September 2017, Day 229:
Trump Moves to End the Deferred Action for Childhood Arrivals Program (DACA) and Calls on Congress to Act, The New York Times, Michael D. Shear and Julie Hirschfeld Davis, Tuesday, 5 September 2017: "President Trump on Tuesday ordered an end to the Obama-era program that shields young undocumented immigrants from deportation, calling it an 'amnesty-first approach' and urging Congress to pass a replacement before he begins phasing out its protections in six months. As early as March, officials said, some of the 800,000 young adults brought to the United States illegally as children who qualify for the program, Deferred Action for Childhood Arrivals, will become eligible for deportation. The five-year-old policy allows them to remain without fear of immediate removal from the country and gives them the right to work legally. Mr. Trump and Attorney General Jeff Sessions, who announced the change at the Justice Department, both used the aggrieved language of anti-immigrant activists, arguing that those in the country illegally are lawbreakers who hurt native-born Americans by usurping their jobs and pushing down wages. Mr. Trump said in a statement that he was driven by a concern for 'the millions of Americans victimized by this unfair system.' Mr. Sessions said the program had 'denied jobs to hundreds of thousands of Americans by allowing those same illegal aliens to take those jobs.' Protests broke out in front of the White House and the Justice Department and in cities across the country soon after Mr. Sessions's announcement. Democrats and some Republicans, business executives, college presidents and immigration activists condemned the move as a coldhearted and shortsighted effort that was unfair to the young immigrants and could harm the economy." See also, Trump administration announces the end of the immigration protection program (Deferred Action for Childhood Arrivals–DACA) for 'dreamers,' The Washington Post, David Nakamura, Tuesday, 5 September 2017. See also, Here Are the 11 State Officials Who Went After 800,000 Dreamers, The Intercept, Maryam Saleh, published on Wednesday, 6 September 2017.
Obama says the decision to rescind the Deferred Action for Childhood Arrivals Program (DACA) is 'wrong' and 'self-defeating,' Politico, Edward-Isaac Dovere, Tuesday, 5 September 2017: "Former President Barack Obama issued a statement Tuesday calling President Donald Trump's decision to rescind DACA 'contrary to our spirit, and to common sense.' 'Immigration can be a controversial topic. We all want safe, secure borders and a dynamic economy, and people of goodwill can have legitimate disagreements about how to fix our immigration system so that everybody plays by the rules,' Obama wrote. 'But that's not what the action that the White House took today is about.' Obama signed the executive order creating the program in June 2012 and sees it as a major achievement. He promised after the election that any move to get rid of it would prompt him to speak out against his successor. And with the Trump administration laying the blame for its move on Obama — his executive order was unconstitutional, the White House argued, and Attorney General Jeff Sessions on Tuesday morning cited 'the previous administration's disrespect for the legislative process' — the former president said in his statement that he had waited for a bill to sign but that Congress never sent him one. He said he refused to leave in limbo people brought illegally to the country as children. 'Ultimately, this is about basic decency. This is about whether we are a people who kick hopeful young strivers out of America, or whether we treat them the way we'd want our own kids to be treated. It's about who we are as a people – and who we want to be,' Obama said, calling Trump's move 'wrong' and 'self-defeating.'"
Southern Poverty Law Center's Statement on Trump's Decision to Rescind the Deferred Action for Childhood Arrivals Program (DACA), Southern Poverty Law Center, Richard Cohen, Tuesday, 5 September 2017: "After equating neo-Nazis with anti-racist protesters and pardoning Joe Arpaio, we didn't need any more proof of the malignant bigotry at the heart of President Trump's agenda. But he's provided it anyway, by ending the DACA program. This is one of the most senseless, heartless, inhumane acts of any president in recent memory. Many, perhaps most, of these young people know no other home. They're Americans. Now, to appease his white nationalist supporters, he wants to throw them out of their country. Trump's cruelty knows no bounds." See also, Trump's DACA Statement, Annotated, Southern Poverty Law Center, published on Wednesday, 6 September 2017: "The Trump administration announced [on Tuesday] that it will be rescinding the DACA program, which has protected 800,000 young adults from deportation. President Trump released a statement defending this heartless, inhumane decision. For accuracy and context, the SPLC has annotated the president's statement."
Trump's Move to End the Deferred Action for Childhood Arrivals Program Has Echoes of the Immigration Act of 1924, The New Yorker, Jelani Cobb, Tuesday, 5 September 2017: "By ending DACA. President Trump seems to be trying to resurrect a national immigration policy defined by racial engineering…. The 1924 [immigration] act regulated immigration by allowing only a two-per-cent increase of any given ethnic group's numbers each year. But, rather than using the most recent census, from 1920, to determine the immigration totals, the act referred to the 1890 census—a neat means of avoiding the swell of immigrants, designated as undesirable, from Southern and Eastern Europe, not to mention from Asia, who had arrived in the United States mostly in the intervening years. The policy was so defiantly and arrogantly racist that, as James Q. Whitman, a professor at Yale Law School, writes in 'Hitler's American Model,' it earned praise from Adolf Hitler…. The Johnson-Reed Act [1924 Immigration Act] largely held sway for forty-one years, until, amid the democratizing ethos of the civil-rights era, immigration policy fully shed the racial engineering that had previously defined it. This is the world that Trump seems to be attempting to resurrect."
US Catholic bishops say they will fight for 'Dreamers,' The Hill, Rebecca Savransky, Tuesday, 5 September 2017: "The U.S. Conference of Catholic Bishops (USCCB) on Tuesday pledged support to people enrolled in Deferred Action for Childhood Arrivals (DACA), an immigration program that President Trump is rescinding. The USCCB's president, vice president and chairmen released a statement Tuesday denouncing the Trump administration's decision to end the Obama-era program, which protects people who were brought to the U.S. illegally as children from being deported. These children are commonly referred to as 'Dreamers.' The bishops called the cancellation of the program 'reprehensible.' 'It causes unnecessary fear for DACA youth and their families,' the USCCB said. DACA recipients came into the U.S. as minors, and many know America as their only home, the statement said. 'The Catholic Church has long watched with pride and admiration as DACA youth live out their daily lives with hope and a determination to flourish and contribute to society: continuing to work and provide for their families, continuing to serve in the military, and continuing to receive an education,' it said."
Wednesday, 6 September 2017, Day 230:
Trump gets millions from members of his golf clubs. The CEOs and lobbyists who join his golf clubs get access to him. USA Today, Brad Heath, Fredreka Schouten, Steve Reilly, Nick Penzenstadler, and Aamer Madhani, Wednesday, 6 September 2017: "Dozens of lobbyists, contractors and others who make their living influencing the government pay President Trump's companies for membership in his private golf clubs, a status that can put them in close contact with the president, a USA TODAY investigation found. Members of the clubs Trump has visited most often as president — in Florida, New Jersey and Virginia — include at least 50 executives whose companies hold federal contracts and 21 lobbyists and trade group officials. Two-thirds played on one of the 58 days the president was there, according to scores they posted online. Because membership lists at Trump's clubs are secret, the public has until now been unable to assess the conflicts they could create. USA TODAY found the names of 4,500 members by reviewing social media and a public website golfers use to track their handicaps, then researched and contacted hundreds to determine whether they had business with the government. The review shows that, for the first time in U.S. history, wealthy people with interests before the government have a chance for close and confidential access to the president as a result of payments that enrich him personally. It is a view of the president available to few other Americans."
Trump sides with Democrats on fiscal issues, throwing Republican plans into chaos, The Washington Post, Mike DeBonis, Kelsey Snell, Philip Rucker, and Elise Viebeck, Wednesday, 6 September 2017: "President Trump, a man of few allegiances who seized control of the Republican Party in a hostile takeover, suddenly aligned himself with Democrats on Wednesday on a series of key fiscal issues — and even gave a lift to North Dakota's embattled Democratic U.S. senator. Trump confounded his party's leaders when he cut a deal with Democratic congressional leaders — 'Chuck and Nancy,' as the president informally referred to them — on a short-term plan to fund the government and raise its borrowing limit this month. The president's surprise stance upended sensitive negotiations over the debt ceiling and other crucial policy issues this fall and further imperiled his already tenuous relationships with Senate Majority Leader Mitch McConnell (R-Ky.) and House Speaker Paul D. Ryan (R-Wis.). The episode is the latest turn in Trump's separation from his party as he distances himself to deflect blame for what has been a year of gridlock and missed opportunities for Republicans on Capitol Hill. It follows a summer of presidential stewing over McConnell and Ryan, both of whom Trump views as insufficiently loyal and weak in executing his agenda, according to his advisers. Trump made his position clear at a White House meeting with both parties' congressional leaders, agreeing with Senate Minority Leader Charles E. Schumer (D-N.Y.) and House Minority Leader Nancy Pelosi (D-Calif.) on plans for a bill to fund the government and raise the debt ceiling for three months." See also, Trump Bypasses Republicans to Strike a Deal With Democrats on the Debt Limit and Hurricane Harvey Aid, The New York Times, Peter Baker, Thomas Kaplan, and Michael D. Shear, Wednesday, 6 September 2017: "President Trump struck a deal with Democratic congressional leaders on Wednesday to increase the debt limit and finance the government until mid-December, blindsiding his own Republican allies as he reached across the aisle to resolve a major dispute for the first time since taking office. The agreement would avert a fiscal showdown later this month without the bloody, partisan battle that many had anticipated by combining a debt ceiling increase and stopgap spending measure with relief aid to Texas and other areas devastated by Hurricane Harvey. But without addressing the fundamental underlying issues, it set up the prospect for an even bigger clash at the end of the year. In embracing the three-month deal, Mr. Trump accepted a Democratic proposal that had been rejected earlier in the day by Speaker Paul D. Ryan of Wisconsin. Mr. Trump's snap decision at a White House meeting caught Republican leaders off guard and reflected friction between the president and his party. After weeks of criticizing Republican leaders for failing to pass legislation, Mr. Trump signaled that he was willing to cross party lines to score some much-desired legislative victories. The deal to keep the government open and paying its debts until Dec. 15 represented an extraordinary public turn for the president, who has for much of his term set himself up on the right flank of the Republican Party. But it remained unclear whether Mr. Trump's collaboration with Democrats foreshadowed a more sustained shift in strategy by a president who has presented himself as a master dealmaker or amounted to just a one-time instinctual reaction of a mercurial leader momentarily eager to poke his estranged allies."
Fake Russian Facebook Accounts Bought $100,000 in Political Ads, The New York Times, Scott Shane and Vindu Goel, Wednesday, 6 September 2017: "Providing new evidence of Russian interference in the 2016 election, Facebook disclosed on Wednesday that it had identified more than $100,000 worth of divisive ads on hot-button issues purchased by a shadowy Russian company linked to the Kremlin. Most of the 3,000 ads did not refer to particular candidates but instead focused on divisive social issues such as race, gay rights, gun control and immigration, according to a post on Facebook by Alex Stamos, the company's chief security officer. The ads, which ran between June 2015 and May 2017, were linked to some 470 fake accounts and pages the company said it had shut down. Facebook officials said the fake accounts were created by a Russian company called the Internet Research Agency, which is known for using "troll" accounts to post on social media and comment on news websites. The disclosure adds to the evidence of the broad scope of the Russian influence campaign, which American intelligence agencies concluded was designed to damage Hillary Clinton and boost Donald J. Trump during the election. Multiple investigations of the Russian meddling, and the possibility that the Trump campaign somehow colluded with Russia, have cast a shadow over the first eight months of Mr. Trump's presidency. Facebook staff members on Wednesday briefed the Senate and House intelligence committees, which are investigating the Russian intervention in the American election. Mr. Stamos indicated that Facebook is also cooperating with investigators for Robert S. Mueller III, the special counsel, writing that 'we have shared our findings with U.S. authorities investigating these issues, and we will continue to work with them as necessary.'" See also, Facebook says that it has discovered that it sold political ads during the election to a Russian company tied to pro-Kremlin propaganda, The Washington Post, Carol D. Leonnig, Tom Hamburger, and Rosalind S. Helderman, Wednesday, 6 September 2017: "Representatives of Facebook told congressional investigators Wednesday that the social network has discovered that it sold ads during the U.S. presidential campaign to a shadowy Russian company seeking to target voters, according to several people familiar with the company's findings. Facebook officials reported that they traced the ad sales, totaling $100,000, to a Russian 'troll farm' with a history of pushing pro-Kremlin propaganda, these people said. A small portion of the ads, which began in the summer of 2015, directly named Republican nominee Donald Trump and Democrat Hillary Clinton, the people said, although they declined to say which candidate the ads favored. Most of the ads, according to a blog post published late Wednesday by Facebook's chief security officer, Alex Stamos, 'appeared to focus on amplifying divisive social and political messages across the ideological spectrum — touching on topics from LGBT matters to race issues to immigration to gun rights.' The acknowledgment by Facebook comes as congressional investigators and special counsel Robert S. Mueller III are probing Russian interference in the U.S. election, including allegations that the Kremlin may have coordinated with the Trump campaign." See also, Facebook's role in Trump's win is clear. No matter what Mark Zuckerberg says. The Washington Post, Margaret Sullivan, Thursday, published on 7 September 2017: "What a ridiculous notion, Mark Zuckerberg scoffed shortly after the election, that his social-media company — innocent, well-intentioned Facebook — could have helped Donald Trump's win. 'Personally I think the idea that fake news on Facebook . . . influenced the election in any way — I think is a pretty crazy idea,' he said. 'Voters make decisions based on their lived experience.' In fact, voters make their decisions based on many factors, not just their 'lived experience.' Disinformation spread on Facebook clearly was one — a big one. That was obvious in November. It was obvious in April when Facebook, to its credit, announced some moves to combat the spread of lies in the form of news stories. It's even more obvious now after Wednesday's news that Facebook sold ads during the campaign to a Russian 'troll farm,' targeting American voters with 'divisive social and political messages' that fit right in with Donald Trump's campaign strategy. The news, reported Wednesday by The Washington Post, fits right in with the findings of a fascinating recent study by Harvard's Berkman Klein Center for Internet and Society. Analyzing reams of data, it documented the huge role that propaganda, in various forms, played in the 2016 campaign."
Attorneys general from 15 states and the District of Columbia sue to save the Deferred Action for Childhood Arrivals Program (DACA), The Washington Post, Matt Zapotosky, Wednesday, 6 September 2017: "A group of attorneys general from 15 states and the District of Columbia filed a lawsuit Wednesday to stop the administration from winding down the DACA program, which granted a reprieve from deportation to undocumented immigrants who came to the United States as children. The suit, filed in federal court in the Eastern District of New York, alleges that rescinding the Deferred Action for Childhood Arrivals (DACA) program was a 'culmination' of President Trump's 'oft-stated commitments — whether personally held, stated to appease some portion of his constituency, or some combination thereof — to punish and disparage people with Mexican roots.' The suit says that unwinding the program would damage states because DACA beneficiaries pay taxes, go to state universities and contribute in other ways, and that phasing out the program would jeopardize their ability to do those things. The suit says that unwinding the program would damage states because DACA beneficiaries pay taxes, go to state universities and contribute in other ways, and that phasing out the program would jeopardize their ability to do those things. 'Rescinding DACA will cause harm to hundreds of thousands of the States' residents, injure State-run colleges and universities, upset the States' workplaces, damage the States' economies, hurt State-based companies, and disrupt the States' statutory and regulatory interests,' the attorneys general wrote in the suit. Justice Department spokesman Devin M. O'Malley said in a statement: 'As the Attorney General said yesterday: "No greater good can be done for the overall health and well-being of our Republic, than preserving and strengthening the impartial rule of law." While the plaintiffs in today's lawsuits may believe that an arbitrary circumvention of Congress is lawful, the Department of Justice looks forward to defending this Administration's position."" See also, A Coalition of Democratic Attorneys General, Nonprofit Groups, and Private Companies Begin a Legal Assault on Trump's Move to End 'Dreamer' Program, The New York Times, Alexander Burns and Vivian Yee, Wednesday, 6 September 2017: "President Trump's immigration policies faced a renewed legal onslaught on Wednesday, as a coalition of Democratic attorneys general, nonprofit groups and private companies announced they would oppose his rollback of Obama-era protections for people who entered the country illegally as children. In an echo of the campaign against Mr. Trump's effort this year to ban travelers from parts of the Muslim world, a group of 16 attorneys general — all Democrats — filed suit in Federal District Court in Brooklyn, claiming that Mr. Trump had improperly upended the policy known as Deferred Action for Childhood Arrivals or DACA. Led by Attorneys General Eric T. Schneiderman of New York, Maura Healey of Massachusetts and Bob Ferguson of Washington, they alleged Mr. Trump's shift was driven by racial animus toward Mexican Americans and that the Trump administration failed to follow federal rules governing executive policy making."
EPA under Trump shrinks to near Reagan-era staffing levels, The Washington Post, Brady Dennis, Wednesday, 6 September 2017: "The workforce of the Environmental Protection Agency could soon shrink to the lowest level since Ronald Reagan occupied the White House — part of a push to curtail the size and scope of an agency that President Trump once promised to eliminate 'in almost every form.' The EPA employs about 14,880 people, but administration officials made clear this spring that they intended to reduce those numbers in several ways. The agency also has been under a hiring freeze. And in June, the EPA said it planned to offer buyouts and early retirement packages to more than 1,200 people by early September. Last week, 362 employees accepted a voluntary buyout, according to one agency official, who spoke on the condition of anonymity because the figures have not been publicly announced. On Aug. 31, a dozen employees retired. Another 33 employees are retiring at the end of September, and 45 additional employees are considering retirement offers. If all those individuals depart, EPA staffing levels would drop to 14,428. The last time the agency's workforce fell so low was in the final year of the Reagan administration."
Prestigious Lasker Prizes in Medicine Go to Planned Parenthood and to Developers of the HPV Vaccine, The New York Times, Heather Murphy, Wednesday, 6 September 2017: "One of the nation's most prestigious prizes in medicine will go to Planned Parenthood and two scientists who played a crucial role in developing the vaccine to combat HPV, a sexually transmitted virus that can cause cervical cancer. A third honor will go to a Swiss molecular biologist, who made a groundbreaking discovery about cell growth. The Lasker Awards, sometimes called the 'American Nobels' because 85 of the awardees have gone on to win the international honor, were announced by the Albert and Mary Lasker Foundation Wednesday. Each prize comes with $250,000. The citation for the Lasker-Bloomberg Public Service Award credits Planned Parenthood 'for providing essential health services and reproductive care to millions of women for more than a century' and for helping 'men as well.' The award takes the Laskers, usually known for honoring groundbreaking scientific advances and humanitarian efforts, into more political territory. Planned Parenthood is facing escalating threats from President Trump and the Republican leadership in Congress to block the organization from receiving Medicaid reimbursements, a move that could severely eat into its operating budget."
Washington National Cathedral to remove stained glass windows honoring Robert E. Lee and Stonewall Jackson, The Washington Post, Michelle Boorstein, Wednesday, 6 September 2017: "Leaders at Washington National Cathedral, the closest thing in the country's capital to an official church, have decided after two years of study and debate to remove two stained-glass windows honoring Confederate figures Robert E. Lee and Stonewall Jackson. Saying the stories told in the two 4-by-6-foot windows were painful, distracting and one-sided, a majority of the Cathedral's governing body voted to remove the windows Tuesday night. On Wednesday morning, stone masons were at work putting up scaffolding to begin taking out the art that was installed 64 years ago. 'This isn't simply a conversation about the history of the windows, but a very real conversation in the wider culture about how the Confederate flag and the Old South narrative have been lively symbols today for white supremacists. We'd be made of stone ourselves if we weren't paying attention to that,' said Bishop Mariann Edgar Budde, leader of the Episcopal Diocese of Washington, which includes the cathedral."
Thursday, 7 September 2017, Day 231:
Trump Jr. Tells Investigators for the Senate Judiciary Committee That He Wanted Russian Dirt to Determine Clinton's 'Fitness' for Office, The New York Times, Nicholas Fandos and Maggie Haberman, Thursday, 7 September 2017: "Donald Trump Jr. told Senate investigators on Thursday that he set up a June 2016 meeting with a Russian lawyer because he was intrigued that she might have damaging information about Hillary Clinton, saying it was important to learn about Mrs. Clinton's 'fitness' to be president. But nothing came of the Trump Tower meeting, he said, and he was adamant that he never colluded with the Russian government's campaign to disrupt last year's presidential election. During five hours of questioning, investigators for the Senate Judiciary Committee pressed Mr. Trump on numerous topics related to the meeting with the Russian lawyer, including how the president's aides this summer drafted a statement aboard Air Force One in response to queries from The New York Times about the meeting. Mr. Trump said that he did not speak to his father about the draft statement because he did not want to involve him in something he 'knew nothing about,' according to one person briefed about parts of his testimony. Lawmakers have wanted to know what, if anything, President Trump knew about the June 2016 meeting and whether he was involved in preparing the draft statement to The Times. In his prepared remarks on Thursday to Congress, the younger Mr. Trump said he was initially conflicted when he heard that the Russian lawyer, Natalia Veselnitskaya, might have damaging information about Mrs. Clinton. Despite his interest, he said, he always intended to consult with his lawyers about the propriety of using any information that Ms. Veselnitskaya, who has links to the Kremlin, gave him at the meeting. A copy of Mr. Trump's statement was obtained by The New York Times. The acknowledgment by the president's eldest son that he intended to seek legal counsel after the meeting suggests that he knew, or at least suspected, that accepting potentially damaging information about a rival campaign from a foreign country raised thorny legal issues."
At House Minority Leader Nancy Pelosi's Request, Trump tweets 'no action' against DACA recipients for six months, The Washington Post, Jenna Johnson, Mike DeBonis, and David Nakamura, Thursday, 7 September 2017: "Following a request from House Minority Leader Nancy Pelosi (D-Calif.), President Trump tweeted Thursday morning that young, undocumented immigrants who received temporary work visas during the Obama-era Deferred Action for Childhood Arrivals program do not need to worry about his administration taking action against them for the next six months. 'For all of those (DACA) that are concerned about your status during the 6 month period, you have nothing to worry about — No action!' the president tweeted from his personal account. Pelosi said she spoke with Trump on the phone Thursday morning and asked him to send a tweet making clear that DACA recipients won't be subject to deportation over the next six months. A Democratic aide said that Trump called Pelosi. 'This is what I asked the president to do and, boom boom boom, the tweet appeared,' Pelosi said at a news conference Thursday morning." See also, Trump just tweeted reassurance for DACA recipients. But it's completely false. Vox, Dara Lind, Thursday, 7 September 2017: "President Donald Trump tweeted early Thursday morning that the 800,000 young unauthorized immigrants currently being protected from deportation under the Deferred Action for Childhood Arrivals (DACA) program have 'nothing to worry about' — dramatically misrepresenting his own policy. Immigrants whose DACA protections and work permits (which must be renewed every two years) are set to expire before March 5, 2018, are required to apply for their renewals by October 5, 2017 — or else their DACA protections simply won't be renewed. That deadline was set by a memo from Trump's Department of Homeland Security on Tuesday — part of the administration's efforts, formally announced by Attorney General Jeff Sessions, to wind down DACA over the next six months. The October 5 window is extremely tight. It's a month or two before people have been submitting renewal applications, and before this week, the government was actually warning people not to apply for DACA renewal too early. So lawyers and community groups have their work cut out for them in getting tens of thousands of DACA recipients to apply for renewal in a rush. But the president, who professes to 'love' and have a 'big heart' for DACA recipients, isn't helping — he's actively helping mislead them about their futures."
Senate Votes to Raise the Debt Ceiling and Approves $15 Billion in Hurricane Relief, The New York Times, Thomas Kaplan, Thursday, 7 September 2017: "The Republican-led Senate on Thursday approved legislation to raise the debt limit and keep the government funded until December while providing $15 billion in disaster aid, giving a reluctant stamp of approval to the surprising deal that President Trump struck with Democratic congressional leaders. The Senate approved the measure 80 to 17. All of the senators voting no were Republicans. The Senate acted quickly to provide funding for the Federal Emergency Management Agency as it helps Texas recover from Hurricane Harvey, and the federal government will probably be stretched further as Hurricane Irma heads toward Florida. The House passed a measure on Wednesday providing about $7.9 billion in disaster aid, and the Senate beefed up that aid package by adding another $7.4 billion, for a total of about $15.3 billion." See also, The Debt Ceiling: Why We Have It, and What Would Happen if It Died, The New York Times, Alan Rappeport, Thursday, 7 September 2017.
Trump and Senate Minority Leader Charles E. Schumer (D-N.Y.) agree to pursue a plan to repeal the debt ceiling, The Washington Post, Damian Paletta and Ashley Parker, Thursday, 7 September 2017: "President Trump and Senate Minority Leader Charles E. Schumer (D-N.Y.) have agreed to pursue a deal that would permanently remove the requirement that Congress repeatedly raise the debt ceiling, three people familiar with the decision said. Trump and Schumer discussed the idea Wednesday during an Oval Office meeting. The two, along with House Minority Leader Nancy Pelosi (D–Calif.), agreed to work together over the next several months to try to finalize a plan, which would need to be approved by Congress. One of the people familiar described it as a 'gentlemen's agreement.' The three people spoke on the condition of anonymity because they were not authorized to discuss details of the meeting."
Education Secretary Betsy DeVos Says She Will Rewrite Rules on Campus Sex Assault, The New York Times, Stephanie Saul and Dana Goldstein, Thursday, 7 September 2017: "Saying that the Obama administration's approach to policing campus sexual assault had 'failed too many students,' Education Secretary Betsy DeVos said on Thursday that her administration would rewrite the rules in an effort to protect both the victims of sexual assault and the accused. Ms. DeVos did not say what changes she had in mind. But in a strongly worded speech, she made clear she believed that in an effort to protect victims, the previous administration had gone too far and forced colleges to adopt procedures that sometimes deprived accused students of their rights…. Advocates for assault victims reacted strongly and swiftly, as did Arne Duncan, who was education secretary during most of the Obama administration. 'This administration wants to take us back to the days when colleges swept sexual assault under the rug,' Mr. Duncan said in a statement. 'Instead of building on important work to pursue justice, they are once again choosing politics over students, and students will pay the price.'"
Russian Fingerprints Are on Thousands of Fake Facebook and Twitter Accounts That Posted Anti-Clinton Messages, The New York Times, Scott Shane, Thursday, 7 September 2017: "The Russian information attack on the election did not stop with the hacking and leaking of Democratic emails or the fire hose of stories, true, false and in between, that battered Mrs. Clinton on Russian outlets like RT and Sputnik. Far less splashy, and far more difficult to trace, was Russia's experimentation on Facebook and Twitter, the American companies that essentially invented the tools of social media and, in this case, did not stop them from being turned into engines of deception and propaganda. An investigation by The New York Times, and new research from the cybersecurity firm FireEye, reveals some of the mechanisms by which suspected Russian operators used Twitter and Facebook to spread anti-Clinton messages and promote the hacked material they had leaked. On Wednesday, Facebook officials disclosed that they had shut down several hundred accounts that they believe were created by a Russian company linked to the Kremlin and used to buy $100,000 in ads pushing divisive issues during and after the American election campaign. On Twitter, as on Facebook, Russian fingerprints are on hundreds or thousands of fake accounts that regularly posted anti-Clinton messages. Many were automated Twitter accounts, called bots, that sometimes fired off identical messages seconds apart — and in the exact alphabetical order of their made-up names, according to the FireEye researchers. On Election Day, for instance, they found that one group of Twitter bots sent out the hashtag #WarAgainstDemocrats more than 1,700 times."
New Round of Contracts Is Issued for Border Wall Prototypes, The New York Times, Ron Nixon, Thursday, 7 September 2017: "A new round of contracts has been awarded to build prototypes for a wall along the border with Mexico, the Department of Homeland Security announced on Thursday. Two of the companies selected, Caddell Construction Company of Montgomery, Ala., and W. G. Yates & Sons Construction Company of Philadelphia, Miss., were also among firms awarded contracts last week to build concrete wall prototypes in the San Diego area. The other companies chosen to build the wall prototypes are KWR Construction Inc. of Sierra Vista, Ariz., and ELTA North America Inc. of Annapolis Junction, Md. The new wall prototypes will be 18 to 30 feet high and made of materials other than concrete, according to documents from Customs and Border Protection, an agency within the Department of Homeland Security. The agency did not say what those materials include. Officials said the prototypes, which will also be constructed in the San Diego area, are designed to deter illegal crossings."
Elizabeth Warren Jumps on Board Bernie Sanders's 'Medicare for All' Bill, The Intercept, Ryan Grim, Thursday, 7 September 2017: "Elizabeth Warren on Thursday announced her support for an upcoming bill from Vermont's independent Sen. Bernie Sanders. Sanders said in March that he would follow through on his long-held support for single-payer insurance by introducing a bill extending Medicare-like coverage to achieve universal health care. The bill, which is still being crafted, is due to be unveiled Wednesday. Warren, a Democratic senator from Massachusetts, shared the news with her supporters in an email that began, 'I'm co-sponsoring Bernie's Medicare-for-All bill.' Warren follows California Sen. Kamala Harris, who recently backed the Sanders bill at an Oakland town hall. The three senators are considered top-tier contenders for the 2020 Democratic presidential nomination, should they decide to run. Warren's support of the bill unites the two most powerful members of the party's left flank, which used to be called the 'Warren wing' before being rechristened the 'Sanders wing,' given his surprisingly close contest with Hillary Clinton in the 2016 election."
House Democrats Seek Committee to Combat White Supremacy, The New York Times, Yamiche Alcindor, Thursday, 7 September 2017: "The top five House Democrats are urging Speaker Paul D. Ryan to establish a select committee on 'the rise of white supremacy and domestic terrorism.' The lawmakers, in a letter sent on Wednesday to Mr. Ryan, argued that Congress needed to study an 'outbreak of hate' brought on by last year's presidential election, as well as the threat that white supremacist groups pose to 'the security and stability of our nation.' Representative Joseph Crowley of New York said he had broached the idea of the select committee after watching Mr. Trump praise the 'very fine people on both sides' of the deadly violence at a rally of white supremacists in Virginia. 'A young woman lost her life as a result of what took place in Charlottesville,' Mr. Crowley said in an interview. 'That cannot be understated, and that life ought to not go without recognition by the Congress.' Mr. Crowley called the new prominence of neo-Nazis and other groups like the Ku Klux Klan 'a national crisis' and said he hoped that the committee could offer bipartisan solutions. He signed the letter along with Representatives Nancy Pelosi of California, Linda T. Sánchez of California, Steny H. Hoyer of Maryland and James E. Clyburn of South Carolina."
Grandparents and refugees with formal assurances can enter under Trump's travel ban, the U.S. Court of Appeals for the 9th Circuit rules, The Washington Post, Matt Zapotosky, Thursday, 7 September 2017: "Grandparents and other extended relatives of people in the United States are exempt from President Trump's travel ban, as are refugees with a formal assurance from a government agency, a federal appeals court panel ruled Thursday. The ruling from the U.S. Court of Appeals for the 9th Circuit is a blow to the government, which after the most recent Supreme Court compromise had been allowed to block refugees with assurances, though not grandparents and other extended relatives. 'Resettlement agencies will face concrete harms and burdens if refugees with formal assurances are not admitted,' the judges wrote. 'In the same way that the Court considered the harms of the U.S. citizen who wants to be reunited with his mother-in-law and the permanent resident who wants to be reunited with his wife, the employer that hired an employee, the university that admitted a student, and the American audience that invited a lecturer, the district court correctly considered the resettlement agency that has given a formal assurance for specific refugees.' The judges also said their ruling would take effect in just five days — on Tuesday — a significant decrease from the normal 52 days, saying that refugees' lives 'remain in vulnerable limbo' in their current uncertain state. The government has estimated there are about 24,000 refugees with formal assurances. A Justice Department spokeswoman said in a statement: 'The Supreme Court has stepped in to correct these lower courts before, and we will now return to the Supreme Court to vindicate the Executive Branch's duty to protect the Nation.'"
The Risk of Nuclear War With North Korea: On the ground in Pyongyang: Could Kim Jong Un and Donald Trump goad each other into a devastating confrontation? The New Yorker, Evan Osnos, published online on Thursday, 7 September 2017 and in print on Monday, 18 September 2017: "The United States has no diplomatic relations with North Korea, so there is no embassy in Washington, but for years the two countries have relied on the 'New York channel,' an office inside North Korea's mission to the United Nations, to handle the unavoidable parts of our nonexistent relationship. The office has, among other things, negotiated the release of prisoners and held informal talks about nuclear tensions. In April, I contacted the New York channel and requested permission to visit Pyongyang, the capital of the Democratic People's Republic of Korea. The New York channel consists mostly of two genial middle-aged men: Pak Song Il, a husky diplomat with a gray brush cut; and his aide-de-camp, Kwon Jong Gun, who is younger and thinner. They go everywhere together. (The North Korean government has diplomats work in pairs, to prevent them from defecting, or being recruited as spies.) Under U.S. law, they can travel only twenty-five miles from Columbus Circle. Pak and Kwon met me near their office, for lunch at the Palm Too. They cautioned me that it might take several months to arrange a trip. North Korea periodically admits large groups of American journalists, to witness parades and special occasions, but it is more hesitant when it comes to individual reporters, who require close monitoring and want to talk about the nuclear program…. On the Fourth of July, North Korea passed a major threshold: it launched its first intercontinental ballistic missile powerful enough to reach the mainland United States…. A few days after the July 4th missile test, Pak told me that I could book a flight to Pyongyang. I submitted a list of people I wanted to interview, including diplomats and Kim Jong Un himself. About the latter, Pak only laughed. (Kim has never given an interview.) After Pak stopped laughing, he said I could talk to other officials. I wanted to understand how North Koreans think about the kind of violence that their country so often threatens. Were the threats serious, or mere posturing? How did they imagine that a war would unfold? Before my arrival in North Korea, I spent time in Washington, Seoul, and Beijing; many people in those places, it turned out, are asking the same things about the United States…. In recent talks, when Americans have asked whether any combination of economic and diplomatic benefits, or security guarantees, could induce Pyongyang to give up nuclear weapons, the answer has been no. North Koreans invariably mention the former Libyan leader Muammar Qaddafi. In 2003, when Qaddafi agreed to surrender his nuclear, chemical, and biological weapons, Bush promised others who might do the same that they would have an 'open path to better relations with the United States.' Eight years later, the U.S. and NATO helped to overthrow Qaddafi, who was captured, humiliated, and killed by rebels. At the time, North Korea said that Qaddafi's fall was 'a grave lesson' that persuading other nations to give up weapons was 'an invasion tactic.'"