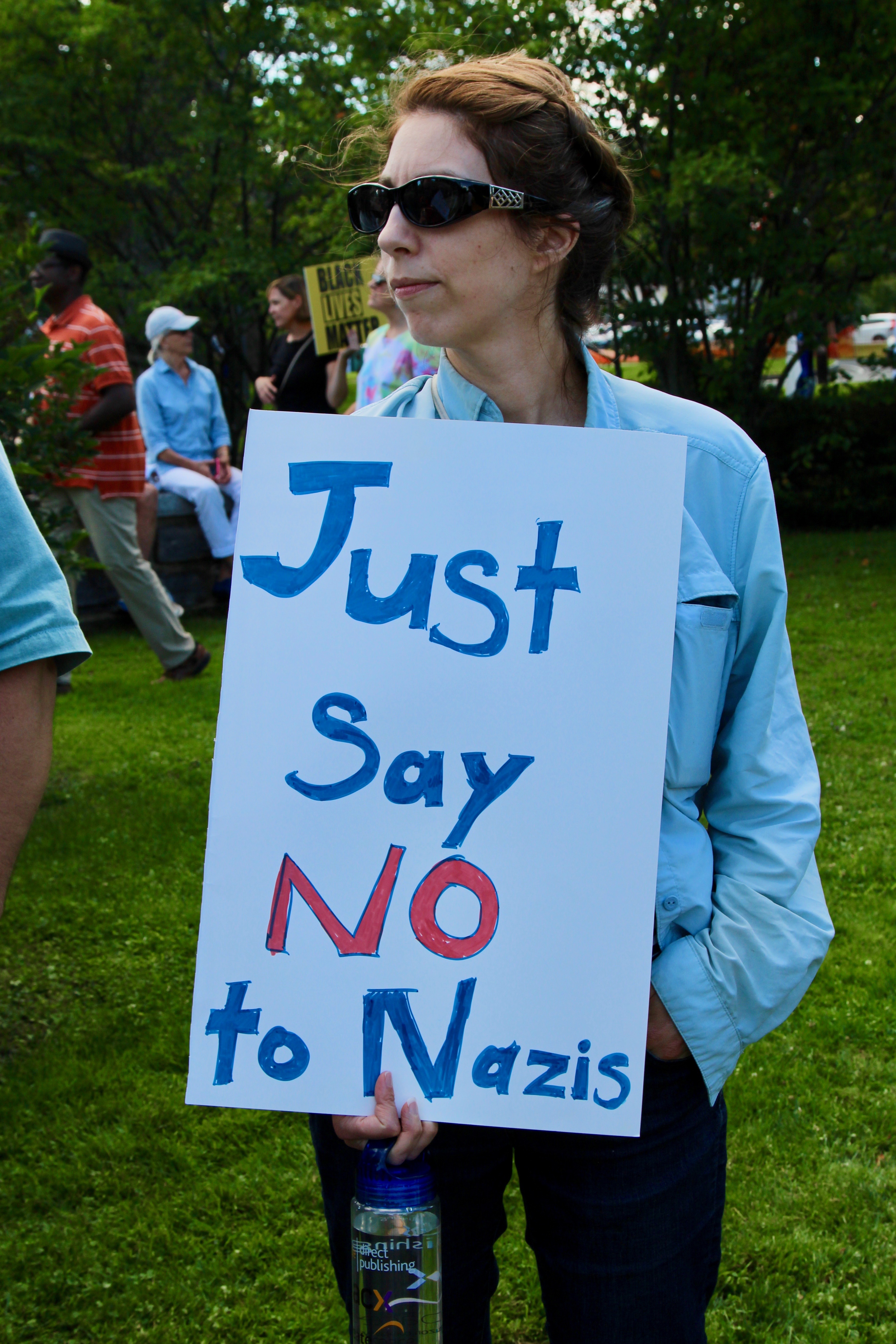 Keeping Track (of some things), Staying Outraged (it is possible), and Resisting (it's essential)
Passages in bold in the body of the texts below are my emphasis. This is an ongoing project, and I update the site frequently. I hope readers will peruse the articles in full for a better understanding of the issues and their context; our democracy and our future depend on citizens who can distinguish between facts and falsehoods and who are engaged in the political process.
Friday, 18 August 2017, Day 211:
Stephen Bannon Is Out at the White House After a Turbulent Run, The New York Times, Maggie Haberman, Michael D. Shear, and Glenn Thrush, Friday, 18 August 2017: "Stephen K. Bannon, the embattled chief strategist who helped President Trump win the 2016 election by embracing their shared nationalist impulses, departed the White House on Friday after a turbulent tenure shaping the fiery populism of the president's first seven months in office. Mr. Bannon's exit, the latest in a string of high-profile West Wing shake-ups, came as Mr. Trump is under fire for saying that 'both sides' were to blame for last week's deadly violence in Charlottesville, Va. Critics accused the president of channeling Mr. Bannon when he equated white supremacists and neo-Nazis with the left-wing protesters who opposed them. 'White House Chief of Staff John Kelly and Steve Bannon have mutually agreed today would be Steve's last day,' Sarah Huckabee Sanders, the White House press secretary, said in a statement. 'We are grateful for his service and wish him the best.' Mr. Bannon's outsized influence on the president, captured in a February cover of Time magazine with the headline 'The Great Manipulator,' was reflected in the response to his departure. Conservatives groused that they lost a key advocate inside the White House and worried aloud that Mr. Trump would shift left, while cheers erupted on the floor of the New York Stock Exchange when headlines about Mr. Bannon's ouster appeared. Both the Standard & Poor's 500 stock index and the Dow Jones industrial average immediately rose, though they ended the day slightly down. His removal is a victory for Mr. Kelly, a retired Marine Corps general whose mission is to impose discipline on White House personnel. A caustic presence in a chaotic West Wing, Mr. Bannon frequently clashed with other aides as they fought over trade, the war in Afghanistan, taxes, immigration and the role of government. In an interview this week with The American Prospect, Mr. Bannon mocked his colleagues, including Gary D. Cohn, one of the president's chief economic advisers, saying they were 'wetting themselves' out of a fear of radically changing trade policy." See also, Trump gets rid of Stephen Bannon, a top proponent of his nationalist agenda, The Washington Post, Ashley Parker, Philip Rucker, Robert Costa, and Damian Paletta, Friday, 18 August 2017: "President Trump on Friday dismissed his embattled chief strategist, Stephen K. Bannon, an architect of his 2016 general-election victory and the champion of his nationalist impulses, in a major White House shake-up that follows a week of racial unrest. With Trump's presidency floundering and his legislative agenda in shambles, administration officials said his empowered new chief of staff, John F. Kelly, moved to fire Bannon in an effort to tame warring factions and bring stability to a White House at risk of caving under its self-destructive tendencies. A combative populist on trade and immigration, Bannon was arguably Trump's ideological id on the issues that propelled his candidacy. He served as a key liaison to the president's conservative base and the custodian of his campaign promises."
Steve Bannon, Back on the Outside, Prepares His Enemies List, The New York Times, Jeremy W. Peters and Michael M. Grynbaum, Friday, 18 August 2017: "Stephen K. Bannon has always been more comfortable when he was trying to tear down institutions — not work inside them. With his return to Breitbart News, Mr. Bannon will be free to lead the kind of ferocious assault on the political establishment that he relishes, even if sometimes that means turning his wrath on the White House itself. Hours after his ouster from the West Wing, he was named to his former position of executive chairman at the hard-charging right-wing website and led its evening editorial meeting. And Mr. Bannon appeared eager to move onto his next fight. 'In many ways, I think I can be more effective fighting from the outside for the agenda President Trump ran on,' he said Friday. 'And anyone who stands in our way, we will go to war with.' Among those already in Mr. Bannon's sights: Speaker Paul D. Ryan; Senator Mitch McConnell, the majority leader; the president's daughter Ivanka Trump and son-in-law, Jared Kushner; and Gary D. Cohn, the former president of Goldman Sachs who now directs the White House's National Economic Council. 'The president was buoyed to election by capturing the hearts and minds of a populist, nationalist movement,' Alex Marlow, Breitbart's editor in chief, said Friday evening. 'A lot of it was anti-Wall Street, anti-corporatist, anti-establishment. And now we're seeing that a lot of these guys remaining inside the White House are exactly the opposite of what we told you you were going to get.'"
All remaining members of the White House Committee on Arts and the Humanities are resigning to protest Trump's defense of white nationalists after the violent rally in Charlottesville, The Washington Post, Ed O'Keefe, Friday, 18 August 2017: "The remaining members of a presidential arts and humanities panel resigned on Friday in yet another sign of growing national protest of President Trump's recent comments on the violence in Charlottesville. Members of the President's Committee are drawn from Broadway, Hollywood, and the broader arts and entertainment community and said in a letter to Trump that 'Your words and actions push us all further away from the freedoms we are guaranteed.' 'Reproach and censure in the strongest possible terms are necessary following your support of the hate groups and terrorists who killed and injured fellow Americans in Charlottesville,' the commissioners wrote in a letter sent to the White House on Friday morning. 'The false equivalencies you push cannot stand. The Administration's refusal to quickly and unequivocally condemn the cancer of hatred only further emboldens those who wish America ill. We cannot sit idly by, the way that your West Wing advisors have, without speaking out against your words and actions. Supremacy, discrimination, and vitriol are not American values,' they added. 'Your values are not American values. We must be better than this. We are better than this. If this is not clear to you, then we call on you to resign your office, too.'" See also, All 16 Members of White House Arts Committee Resign to Protest Trump, The New York Times, Robin Pogrebin, Friday, 18 August 2017: "All 16 of the prominent artists, authors, performers and architects on the President's Committee on the Arts and the Humanities resigned on Friday, the latest group to protest Donald J. Trump's defense of white nationalists after the violent demonstrations in Charlottesville, Va. In a letter addressed to Mr. Trump, the committee members blasted his 'hateful rhetoric,' and they apparently even encoded a message: The first letter of each paragraph and 'thank you' spells out 'resist.'" See also, Letter from The President's Committee on the Arts and the Humanities, Politico, Friday, 18 August 2017.
Continue reading Week 31, Friday, 18 August – Thursday, 24 August 2017 (Days 211-217)
Mitt Romney calls on Trump to address the nation and to apologize for his Charlottesville comments in which he blamed both sides for the violence at a rally organized by white supremacists, The Washington Post, John Wagner, Friday, 18 August 2017: "Former Massachusetts governor Mitt Romney on Friday called on President Trump to address the nation and apologize for his remarks about Charlottesville, warning of 'an unraveling of our national fabric' if Trump doesn't take 'remedial action in the extreme.' 'Whether he intended to or not, what he communicated caused racists to rejoice, minorities to weep, and the vast heart of America to mourn,' Romney, the 2012 Republican presidential nominee, said in a lengthy Facebook post. With his post, Romney, who was highly critical of Trump during last year's campaign but later considered by Trump for secretary of state, became the latest high-profile Republican to speak out about the president's comments, in which he blamed both sides for the hate-fueled violence at a gathering organized by white supremacists. Romney said the Republican president's words had hurt the morale of the military and threatened U.S. security. 'Our allies around the world are stunned and our enemies celebrate,' Romney wrote. 'America's ability to help secure a peaceful and prosperous world is diminished. And who would want to come to the aid of a country they perceive as racist if ever the need were to arise, as it did after 9/11?'"
Fox's James Murdoch blasts Trump on Charlottesville: 'There are no good Nazis,' The Washington Post, Fred Barbash, Friday, 18 August 2017: "James Murdoch, chief executive of 21st Century Fox and son of conservative media titan Rupert Murdoch, became the latest in a string of executives to criticize President Trump for his reaction to Charlottesville, saying that it concerns 'all of us as Americans and free people.' Murdoch, like Apple CEO Tim Cook, said he and his wife would donate $1 million to the Anti-Defamation League, which battles hate groups across the country. While just one of scores of executives who have denounced Trump for his equivocating and fluctuating statements about the white supremacists and neo-Nazis who descended on Charlottesville last weekend, Murdoch's position at the apex of the media empire that owns Fox News made his statement particularly noteworthy. In an email addressed to 'friends' first reported by the New York Times and confirmed by numerous media outlets Thursday night, Murdoch said it has not been his 'habit to widely offer running commentary on current affairs, nor to presume to weigh in on the events of a given day. … But what we watched this last week in Charlottesville and the reaction to it by the President of the United States concern all of us as Americans and free people.' 'The presence of hate in our society was appallingly laid bare as we watched swastikas brandished on the streets of Charlottesville and acts of brutal terrorism and violence perpetrated by a racist mob,' he added. 'I can't even believe I have to write this: standing up to Nazis is essential; there are no good Nazis. Or Klansmen, or terrorists. Democrats, Republicans, and others must all agree on this, and it compromises nothing for them to do so.'" See also, Text of James Murdoch's Email Condemning Trump's Response to Charlottesville, The New York Times, published on Thursday, 17 August 2017: The email was sent on Thursday "by James Murdoch, the chief executive of 21st Century Fox and the son of Rupert Murdoch, a frequent ally of President Trump's. The email was confirmed as authentic by a spokesman for his company."
The Environmental Protection Agency Promised 'a New Day' for the Agriculture Industry, Documents Reveal, The New York Times, Eric Lipton and Roni Caryn Rabin, Friday, 18 August 2017: "In the weeks before the Environmental Protection Agency decided to reject its own scientists' advice to ban a potentially harmful pesticide, Scott Pruitt, the agency's head, promised farming industry executives who wanted to keep using the pesticide that it is "a new day, and a new future," and that he was listening to their pleas. Details on this meeting and dozens of other meetings in the weeks leading up to the late March decision by Mr. Pruitt are contained in more than 700 pages of internal agency documents obtained by The New York Times through a Freedom of Information request. Though hundreds of pages describing the deliberations were redacted from the documents, the internal memos show how the E.P.A.'s new staff, appointed by President Trump, pushed the agency's career staff to draft a ruling that would deny the decade-old petition by environmentalists to ban the pesticide, chlorpyrifos. Chlorpyrifos is still widely used in agriculture — on apples, oranges, strawberries, almonds and many other fruits — though it was barred from residential use in 2000. The E.P.A.'s scientists have recommended it be banned from use on farms and produce because it has been linked to lower I.Q.s and developmental delays among agricultural workers and their children. At a March 1 meeting at E.P.A. headquarters with members of the American Farm Bureau Federation from Washington State, industry representatives pressed the E.P.A. not to reduce the number of pesticides available. They said there were not enough alternative pesticides to chlorpyrifos. They also said there was a need for 'a reasonable approach to regulate this pesticide,' which is widely used in Washington State, and that they wanted 'the farming community to be more involved in the process.' According to the documents, Mr. Pruitt 'stressed that this is a new day, a new future, for a common-sense approach to environmental protection.' He said the new administration 'is looking forward to working closely with the agricultural community.'"
Trump Moves to Impede Consumer Lawsuits Against Nursing Homes, The New York Times, Robert Pear, Friday, 18 August 2017: "The Trump administration is pushing to scrap a rule that would have made it easier for nursing home residents to sue nursing homes for injuries caused by substandard care, abuse or neglect, bringing its campaign to relax federal regulations to the delicate business of care for older Americans. The push would undo a rule issued by the Obama administration that would have prevented nursing homes from requiring that consumers agree to resolve any disputes through arbitration rather than litigation. Nursing homes routinely require consumers to sign an arbitration agreement as a condition of admission to the home. The proposed rule brings together a broader private-sector effort to slip binding-arbitration clauses into the fine print of consumer contracts with the Trump administration's expansive efforts to roll back regulations and reduce the costs to businesses. But both matters are particularly sensitive when it comes to older Americans, especially those in nursing homes where such arbitration agreements have already blocked legal recourse, even in egregious cases. About half of nursing home residents have Alzheimer's disease or other dementia, according to the National Center for Health Statistics, and consumer advocates say harried family members could easily miss the arbitration clauses as they move a loved one into a home offering care. 'Individuals are very vulnerable when they sign contracts to enter a nursing home,' said Kimberly A. Valentine, a lawyer in Orange County, Calif., who has represented scores of nursing home residents. 'In many cases, they are transferred from a hospital, and they are in a nursing home bed for several days before the contracts are even signed. The arbitration agreement may be just one page in a voluminous contract of 30 to 40 pages. Most of the people who come to me have no idea they've even signed an arbitration agreement.' The Obama administration tried to ban such agreements, saying it was 'almost impossible for residents or their decision-makers to give fully informed and voluntary consent to arbitration before a dispute has arisen.' Poor or negligent care at some nursing homes has persisted, even after the facilities have attracted regulatory scrutiny. But the Trump administration says the ban on arbitration agreements imposes 'unnecessary or excessive costs on providers' of nursing home care. It noted that President Trump, in an executive order, had directed agencies to roll back rules and reduce 'regulatory costs.' The Centers for Medicare and Medicaid Services cited that guidance from the White House in issuing the new proposal."
U.S. Lawmakers Seek Kushner Company Records on Maryland Apartments, ProPublica, Alec MacGillis, Friday, 18 August 2017: "Maryland's two U.S. senators and four of its U.S. House representatives, all Democrats, sent a letter today to the large real-estate company owned by the family of Jared Kushner, President Donald Trump's son-in-law and senior adviser, demanding information about the company's management of 17 apartment complexes it owns in the state. The letter to Kushner Companies came in response to a May 23 article co-published by ProPublica and The New York Times Magazine investigating management practices at the rental complexes, most of which are in the suburbs of Baltimore, as well as an article this week in The Baltimore Sun that revealed additional details. The original story described the highly aggressive legal tactics that Kushner Companies has used to pursue tenants who owed back rent or had left their leases early — even tenants who left the complexes well before the company bought them in 2012 and the years following. In many of the hundreds of cases brought by the company, it pursued tenants in court for years, with late fees and court fees expanding the claims to amounts far above what was initially owed. The article reported several instances in which the company sought payment even when tenants were able to provide proof that they had followed the terms of the lease. The article also described the shoddy upkeep of many of the complexes' roughly 9,000 units, where problems such as ceiling leaks, mice and mold are rampant."
Saturday, 19 August 2017, Day 212:
Donald and Melania Trump to Skip Kennedy Center Honors Over Concerns of 'Political Distraction,' The New York Times, Noah Weiland, Saturday, 19 August 2017: "The White House announced early Saturday that President Trump and the first lady, Melania Trump, would not participate in this year's Kennedy Center Honors, 'to allow the honorees to celebrate without any political distraction.' The decision was another episode in an already fraught week for the White House. Mr. Trump has become increasingly isolated after a series of comments about the white supremacist marches in Charlottesville, Va. Concerned about being aligned with Mr. Trump, business leaders on the Strategic and Policy Forum agreed to disband this past week. And on Friday, all 16 members of the President's Committee on the Arts and the Humanities resigned in protest of Mr. Trump's comments."
Tens of Thousands Protest Nationwide Against White Supremacy, Racism, and Nazism, The New York Times, Katharine Q. Seelye, Alan Blinder, and Jess Bidgood, Saturday, 19 August 2017: "Tens of thousands of demonstrators, emboldened and unnerved by the eruption of fatal violence in Virginia last weekend, surged into the nation's streets and parks on Saturday to denounce racism, white supremacy and Nazism. Demonstrations were boisterous but broadly peaceful, even as tension and worry coursed through protests from Boston Common, the nation's oldest public park, to Hot Springs, Ark., and to the bridges that cross the Willamette River in Portland, Ore. Other rallies played out in Atlanta, Dallas, Houston, Memphis and New Orleans, among other cities. The demonstrations — which drew 40,000 people in Boston alone, according to police estimates — came one week after a 32-year-old woman died amid clashes between white nationalists and counterprotesters in Charlottesville, Va., and they unfolded as the nation was again confronting questions about race, violence and the standing of Confederate symbols."
In wake of Charlottesville, Duke University removes Robert E. Lee statue after it was vandalized, The Washington Post, Kristine Phillips and Susan Svrluga, Saturday, 19 August 2017: "Duke University has decided to remove the statue of Confederate Gen. Robert E. Lee from the campus's chapel entrance, a decision that comes shortly after the statue was vandalized and as the country confronts questions about what Confederacy monuments represent. Duke President Vincent E. Price authorized the removal of the statue Saturday morning from the university's campus in Durham, N.C. Several Confederate monuments and flags across the country have either been removed or vandalized in the days following last weekend's deadly unrest in Charlottesville. 'I took this course of action to protect Duke Chapel, to ensure the vital safety of students and community members who worship there, and above all to express the deep and abiding values of our university,' Price said in an email sent Saturday to faculty members, students, staff and alumni. 'The removal also represents an opportunity for us to learn and heal. The statue will be preserved so that students can study Duke's complex past and take part in a more inclusive future.'"
Treasury Secretary Steven Mnuchin defends Trump's comments on Charlottesville and rebuffs calls to resign from his Yale University classmates, The Washington Post, John Wagner, Saturday, 19 August 2017: "Treasury Secretary Steven Mnuchin, who faced calls from his Yale University classmates to resign in the wake of President Trump's controversial comments about last weekend's violence in Charlottesville, defended the president Saturday and said he intends to stay in office. 'While I find it hard to believe I should have to defend myself on this, or the president, I feel compelled to let you know that the president in no way, shape or form believes that neo-Nazi and other hate groups who endorse violence are equivalent to groups that demonstrate in peaceful and lawful ways,' Mnuchin, who is Jewish, said in a statement released by the Treasury Department. His comments followed assertions by Trump last week that there was blame on 'both sides' at the Charlottesville gathering organized by white supremacist groups that turned deadly and that some 'fine people' participated in a march to protest the removal of a Confederate statue. Mnuchin was among the Trump administration officials standing by Trump's side as he made those comments at Trump Tower in New York on Tuesday at an event advertised to focus on Trump's plans to spur new investments in the nation's infrastructure. A letter signed by about 300 members of the Yale class of 1985 argued that it was Mnuchin's 'moral obligation' to resign because Trump had 'declared himself a sympathizer with groups whose values are antithetical to those values we consider fundamental to our sacred honor as Americans.'"
Trump's Mar-a-Lago Club loses its ninth big charity event this week, The Washington Post, Drew Harwell and David A. Fahrenthold, Saturday, 19 august 2017: "Another Palm Beach charity announced Saturday that it was canceling plans to hold a gala at President Trump's Mar-a-Lago Club — the ninth to cancel a big-ticket charity event at the club this week. The Preservation Foundation of Palm Beach, a charity focused on the ritzy island's architectural landmarks, had planned to hold a dinner dance at Mar-a-Lago next March. The foundation was a new customer for Trump's club, and a potentially lucrative one: It spent $244,000 on rent and food on a previous gala at another site, according to tax filings. But on Saturday, the foundation said it would find another venue. 'Given the current environment surrounding Mar-a-Lago, we have made the decision to move our annual dinner dance,' Amanda Skier, the foundation's executive director, said in a written statement. She did not say which venue the foundation would use instead. That decision meant that Trump's club had lost nine of the 16 galas or dinner events that it had been scheduled to host during next winter's social 'season' in Palm Beach. At least three other groups have also canceled charity luncheons there this week." See also, More Charities Cancel Fund-Raisers at Trump's Mar-a-Lago Club, The New York Times, Christina Caron, published on Sunday, 20 August 2017.
Sunday, 20 August 2017, Day 213:
The Trump administration just disbanded a federal advisory committee on climate change, The Washington Post, Juliet Eilperin, Sunday, 20 August 2017: "The Trump administration has decided to disband the federal advisory panel for the National Climate Assessment, a group aimed at helping policymakers and private-sector officials incorporate the government's climate analysis into long-term planning. The charter for the 15-person Advisory Committee for the Sustained National Climate Assessment — which includes academics as well as local officials and corporate representatives — expires Sunday. On Friday, the National Oceanic and Atmospheric Administration's acting administrator, Ben Friedman, informed the committee's chair that the agency would not renew the panel. The National Climate Assessment is supposed to be issued every four years but has come out only three times since passage of the 1990 law calling for such analysis. The next one, due for release in 2018, already has become a contentious issue for the Trump administration. Administration officials are currently reviewing a scientific report that is key to the final document. Known as the Climate Science Special Report, it was produced by scientists from 13 different federal agencies and estimates that human activities were responsible for an increase in global temperatures of 1.1 to 1.3 degrees Fahrenheit from 1951 to 2010. The committee was established to help translate findings from the National Climate Assessment into concrete guidance for both public and private-sector officials. Its members have been writing a report to inform federal officials on the data sets and approaches that would best be included, and chair Richard Moss said in an interview Saturday that ending the group's work was shortsighted."
Representative Adam Schiff (Democrat-California) questions Trump's 'capability' and says the issue could get worse with time, The Washington Post, John Wagner, Sunday, 20 August 2017: "Rep. Adam B. Schiff (D-Calif.) said Sunday that he sees 'some serious issues' with President Trump's capabilities that aren't likely to get better but that it's premature to consider invoking a constitutional provision to force him from office. 'I certainly think that there's an issue with the president's capability. There's some attribute of his character that makes him seemingly incapable of introspection and a broad understanding of what the country really needs, and I think it's a question that people are asking, you know, "What is going on with this president? What can explain this kind of behavior?"' Schiff said during an appearance on CNN's 'State of the Union.' The comments from Schiff, the top Democrat on the House Intelligence Committee, echoed those of a handful of other lawmakers, most notably Sen. Bob Corker (R-Tenn.), who asserted last week that Trump has not demonstrated the 'stability' or 'competence' necessary to effectively lead the country. The criticism has followed Trump's statements last week about the hate-fueled violence in Charlottesville, for which the president said 'both sides' were to blame. He also said some 'fine people' had marched alongside neo-Nazis to protest the removal of a Confederate statue. Schiff said his concerns about Trump long predate those comments. He cited the president's assertions after the 2016 election that he would have won the popular vote against Democrat Hillary Clinton if not for massive illegal voting. 'I thought to myself,   "Oh my God, this man is not only going to not grow with the job, but is willing to say things that are just patently untrue,"' Schiff said."
University of Texas-Austin removes Confederate statues in the middle of the night, The Texas Tribune, Matthew Watkins, Sunday 20 August 2017: "Late Sunday night, 10 days before classes were scheduled to start, workers at the University of Texas at Austin began removing three Confederate statues from a prominent grass mall on campus. The surprise news came with little notice, and the workers were done by sunrise. University president Greg Fenves announced that the statues of Robert E. Lee, Albert Sidney Johnston and John Reagan were being removed because they depict parts of American history that 'run counter to the university's core values.' His e-mail to the campus community was sent just before 11 p.m. A statue of former Texas Gov. James Stephen Hogg was also marked for removal. 'We do not choose our history, but we choose what we honor and celebrate on our campus,' he wrote. 'As UT students return in the coming week, I look forward to welcoming them here for a new academic year with a recommitment to an open, positive and inclusive learning environment for all."
Confederate Statues Were Built to Futher a 'White Supremacist Future,' NPR, Miles Parks, Sunday, 20 August 2017: "As President Trump doubled down on his defense of Confederate statues and monuments this week, he overlooked an important fact noted by historians: The majority of the memorials seem to have been built with the intention not to honor fallen soldiers, but specifically to further ideals of white supremacy. More than 30 cities either have removed or are removing Confederate monuments, according to a list compiled by The New York Times, and the president said Thursday that in the process, the history and culture of the country was being 'ripped apart.' Groups like the Sons of Confederate Veterans defend the monuments, arguing they are an important part of history. One of the leaders of that group, Carl V. Jones, wrote a letter on Aug. 14 condemning the violence and 'bigotry' displayed in Charlottesville, but he also denounced 'the hatred being leveled against our glorious ancestors by radical leftists who seek to erase our history.' That letter to 'compatriots' was signed the day before Trump's raucous press conference, in which he also cast blame on what he called the 'alt-left' — comments for which he faced criticism from business leaders, nonprofits and members of his own party, among others. Yet many historians say the argument about preserving Southern history doesn't hold up when you consider the timing of when the 'beautiful' statues, as Trump called them, went up. 'Most of the people who were involved in erecting the monuments were not necessarily erecting a monument to the past,' said Jane Dailey, an associate professor of history at the University of Chicago. 'But were rather, erecting them toward a white supremacist future.' The most recent comprehensive study of Confederate statues and monuments across the country was published by the Southern Poverty Law Center last year. A look at this chart shows huge spikes in construction twice during the 20th century: in the early 1900s, and then again in the 1950s and 60s. Both were times of extreme civil rights tension."
Monday, 21 August 2017, Day 214:
Trump Outlines New Afghanistan War Strategy With Few Details, The New York Times, Julie Hirschfeld Davis and Mark Landler, Monday, 21 August 2017: "President Trump put forward on Monday a long-awaited strategy for resolving the nearly 16-year-old conflict in Afghanistan, but he declined to specify either the number of troops that would be committed, or the conditions by which he would judge the success of their mission there. In a nationally televised prime-time speech to troops at Fort Myer, Va., Mr. Trump said there would be no 'blank check' for the American engagement in Afghanistan. But in announcing his plan, Mr. Trump deepened American involvement in a military mission that has bedeviled his predecessors and that he once called futile…. [H]e did not define what victory would look like, nor did he explain how his path would be different from what he labeled the failed strategies of previous presidents. Mr. Trump campaigned for the White House promising to extricate the United States from foreign conflicts, and many of the steps that he announced Monday have been proposed by previous administrations." See also, Full Transcript and Video: Trump's Speech on Afghanistan, The New York Times, Monday, 21 August 2017. See also, Donald Trump's New Afghanistan Plan Promises More Killing–and Little Else, The Intercept, Alex Emmons, published on Tuesday, 22 August 2017: "Donald Trump was set to announce an escalation of 4,000 troops in Afghanistan during a primetime address Monday night, where he planned to clarify his policy on the 16-year war he inherited from the two previous presidents. Trump, however, did neither. His audience was left with nothing but excuses and contradictions. Trump refused to say how many troops he was sending, or set any goals or timetables for withdrawal. 'We are not nation-building again,' he stressed, boasting that 'we are going to participate in economic development to help defray the cost of this war to us.' Amid all the contradictions, though, Trump did make one aspect of his policy absolutely clear: The U.S. would kill more people in Afghanistan. 'We are killing terrorists,' he said. 'Retribution will be fast and powerful as we lift restrictions and expand authorities.' Trump has already expanded U.S. bombing campaigns throughout the Middle East, authorizing drone strikes at five times the rate of his predecessor, Barack Obama. Civilian casualties in the war against the Islamic State are on track to double under Trump, according to research by Airwars, which tracks coalition airstrikes in Iraq and Syria."
Trump administration halted a study of mountaintop coal mining's health effects, The Washington Post, Darryl Fears, Monday, 21 August 2017: "The Trump administration's Interior Department ordered the National Academies of Sciences, Engineering and Medicine to halt a study of health risks for residents near surface coal mining sites in the Appalachian Mountains. A statement by the academy said Interior's Office of Surface Mining Reclamation and Enforcement dispatched a letter Friday telling it to cease all work by an 11-member committee undertaking the study pending a departmental review of projects costing more than $100,000. The review was prompted 'largely as a result of the Department's changing budget situation,' the statement said. President Trump proposed to cut $1.6 billion at Interior in 2018, including 4,000 staff positions. Interior Secretary Ryan Zinke supported the cuts in a Senate hearing, saying, 'This is what a balanced budget looks like.'" See also, Coal Mining Health Study Is Halted by the Interior Department, The New York Times, Lisa Friedman and Brad Plumer, Monday, 21 August 2017.
Secret Service says it will run out of money to protect Trump and his family on September 30, The Washington Post, Lisa Rein, Monday, 21 August 2017: "The Secret Service said Monday that it has enough money to cover the cost of protecting President Trump and his family through the end of September, but after that the agency will hit a federally mandated cap on salaries and overtime unless Congress intervenes. If lawmakers don't lift the cap, about a third of the agency's agents would be working overtime without being paid, agency officials said. 'The Secret Service estimates that roughly 1,100 employees will work overtime hours in excess of statutory pay caps during calendar year 2017,' Director Randolph 'Tex' Alles said in a statement. 'To remedy this ongoing and serious problem, the agency has worked closely with the Department of Homeland Security, the Administration, and the Congress over the past several months to find a legislative solution.' The spending limits are supposed to last through December, but the cost of protecting the president and members of the extended first family, who have traveled extensively for business and vacations, has strained the Secret Service, local governments and at least one other federal agency, the Coast Guard. Presidential travel for Trump and the first lady — who fly to their oceanfront Mar-a-Lago Club in Palm Beach, Fla., and to their golf club in Bedminster, N.J., on many weekends — has added costs for taxpayers and complications for the government. The Secret Service also must provide protection for Trump's four adult children."
Republican committees have paid nearly $1.3 million to Trump-owned entities this year, The Washington Post, Matea Gold and Anu Narayanswamy, Monday, 21 August 2017: "The Republican National Committee paid the Trump International Hotel in Washington $122,000 last month after the party held a lavish fundraiser at the venue in June, the latest example of how GOP political committees are generating a steady income stream for President Trump's private business, new Federal Election Commission records show. At least 25 congressional campaigns, state parties and the Republican Governors Association have together spent more than $473,000 at Trump hotels or golf resorts this year, according to a Washington Post analysis of campaign finance filings. Trump's companies collected an additional $793,000 from the RNC and the president's campaign committee, some of which included payments for rent and legal consulting. The nearly $1.3 million spent by Republican political committees at Trump entities in 2017 has helped boost his company at a time when business is falling off at some core properties. Mar-a-Lago, Trump's private club in Palm Beach, Fla., lost at least 10 of the 16 galas or dinner events it had been scheduled to host next winter in the wake of Trump's controversial response to a white nationalist rally in Charlottesville. The market has been much more bullish for the president's new hotel in Washington, which has emerged as the go-to venue for GOP power brokers and groups on the right. Trump International, whose room rates appear to be the most expensive in the city, generated nearly $2 million in profit in its first four months, as The Washington Post previously reported."
Rinat Akhmetshin, a Russian Immigrant Who Met Last Summer With Senior Trump Campaign Officials, Has a Web of Russian Connections, The New York Times, Sharon LaFraniere, David D. Kirkpatrick, and Kenneth P. Vogel, Monday, 21 August 2017: "Rinat Akhmetshin, a Russian immigrant who met last summer with senior Trump campaign officials, has often struck colleagues as a classic Washington mercenary — loyal to his wife, his daughter and his bank account. He avoided work that would antagonize Moscow, they suggested, only because he profited from his reputation as a man with valuable connections there. But interviews with his associates and documents reviewed by The New York Times indicate that Mr. Akhmetshin, who is under scrutiny by the special counsel Robert S. Mueller III, has much deeper ties to the Russian government and Kremlin-backed oligarchs than previously known. He has an association with a former deputy head of a Russian spy service, the F.S.B., and a history of working for close allies of President Vladimir V. Putin. Twice, he has worked on legal battles for Russian tycoons whose opponents suffered sophisticated hacking attacks, arousing allegations of computer espionage. He helped federal prosecutors bring corruption charges against an American businessman in the former Soviet Union who turned out to be working for the C.I.A. He also helped expose possible corruption in government contracting that complicated American efforts to keep troops at an air base in Kyrgyzstan — an American presence that the Russians fiercely opposed. In short, Mr. Akhmetshin's projects over two decades in Washington routinely advanced the Kremlin's interests, especially after he became an American citizen in 2009. American counterintelligence agents took notice of his activities, but drew no conclusions about where his allegiances lay, according to a former law enforcement official who spoke on condition of anonymity, citing government secrecy rules. Mr. Akhmetshin's meeting with Trump campaign officials is of keen interest to Mr. Mueller, who is investigating the Kremlin's efforts to interfere in the 2016 election. Of all the visitors who attended the June 2016 session at the Trump Tower, he appears to have the most direct ties to Russian intelligence. The session was arranged by a Russian businessman close to Mr. Putin whose emissary promised damaging information about Hillary Clinton as 'part of Russia and its government's support for Mr. Trump.'"
Tuesday, 22 August 2017, Day 215:
At Rally in Phoenix, Trump Blames the Media for the Country's Deepening Divisions and Implies He Will Pardon Joe Arpaio, The New York Times, Mark Landler and Maggie Haberman, Tuesday, 22 August 2017: "President Trump, stung by days of criticism that he sowed racial division in the United States after deadly clashes in Charlottesville, Va., accused the news media on Tuesday of misrepresenting what he insisted was his prompt, unequivocal condemnation of bigotry and hatred. After declaring, 'What happened in Charlottesville strikes at the core of America,' Mr. Trump delivered a lengthy, aggrieved defense of his statements after the Aug. 12 violence that left one woman dead and the nation reeling at the images of swastikas in Thomas Jefferson's hometown. Notably, he omitted blaming 'both sides' for the violence as he had on Aug. 15. Those remarks had prompted intense criticism, including from fellow Republican leaders, for seeming to equate the hate groups and the protesters who turned out to oppose them. Removing his earlier statements about the Charlottesville violence from his jacket pocket, Mr. Trump on Tuesday glibly ticked off a list of racist groups that he had been urged to explicitly denounce, and ultimately did two days after the clashes. But he said the news media quoted him selectively, accused him of responding too late and ignored his message of unity. 'I hit 'em with neo-Nazi. I hit them with everything. I got the white supremacists, the neo-Nazi. I got them all in there. Let's see. K.K.K., we have K.K.K.,' Mr. Trump said sardonically of his rebuke to Charlottesville racists, after being faulted for failing to condemn those groups in his initial response on the day of the clashes…. Mr. Trump also implied that he planned to pardon Joe Arpaio, the former sheriff of Maricopa County, Ariz., who became a national symbol of the crackdown on undocumented immigrants with round-'em-up searches that landed him in legal trouble. 'Was Sheriff Joe convicted for doing his job?' Mr. Trump asked to wild whoops and cheers. 'I won't do it tonight because I don't want to cause any controversy,' Mr. Trump said. 'I'll make a prediction: I think he's going to be just fine.' In an angry, unbridled and unscripted performance that rivaled the most sulfurous rallies of his presidential campaign, Mr. Trump sought to deflect the anger toward him against the news media, suggesting that they, not he, were responsible for deepening divisions in the country." See also, At Rally in Phoenix, Trump threatens government shutdown and suggests he will pardon former Arizona sheriff Joe Arpaio who was convicted last month of criminal contempt for ignoring a federal judge's order to stop detaining people because he merely suspected them of being undocumented immigrants, The Washington Post, John Wagner, Jenna Johnson, and Danielle Paquette, published on Wednesday, 23 August 2017: "President Trump on Tuesday threatened to shut down the government over border wall funding, said the North American Free Trade Agreement is likely to be terminated and signaled that he was prepared to pardon former Arizona sheriff Joe Arpaio, who is anathema to the Latino community. Trump's freewheeling comments came at a boisterous campaign rally here during which he also went on an extended diatribe about the media, blaming reporters for the negative fallout he has received over his responses to the hate-fueled violence in Charlottesville. Arpaio was convicted last month of criminal contempt for ignoring a federal judge's order to stop detaining people because he merely suspected them of being undocumented immigrants. A major Trump supporter during last year's campaign, he awaits sentencing. 'So was Sheriff Joe convicted for doing his job?' Trump asked the crowd. 'You know what, I'll make a prediction: I think he's going to be just fine, okay? But I won't do it tonight because I don't want to cause any controversy. But Sheriff Joe should feel good.' Trump last week told Fox News that he was 'seriously considering' a pardon for Arpaio and said he might do it soon, sparking speculation he would use Tuesday's campaign rally here to make the move." See also, In Phoenix, Trump Lets the Real World Go Away, The New Yorker, Amy Davidson Sorkin, published on Wednesday, 23 August 2017. "Trump spoke for seventy-five minutes, giving full voice to the flitting, self-obsessed, self-pitying, and openly deceitful quality that typifies his rhetoric."
Senate Majority Leader Mitch McConnell, In Private, Doubts if Trump Can Save His Presidency, The New York Times, Alexander Burns and Jonathan Martin, Tuesday, 22 August 2017: "The relationship between President Trump and Senator Mitch McConnell, the majority leader, has disintegrated to the point that they have not spoken to each other in weeks, and Mr. McConnell has privately expressed uncertainty that Mr. Trump will be able to salvage his administration after a series of summer crises. What was once an uneasy governing alliance has curdled into a feud of mutual resentment and sometimes outright hostility, complicated by the position of Mr. McConnell's wife, Elaine L. Chao, in Mr. Trump's cabinet, according to more than a dozen people briefed on their imperiled partnership. Angry phone calls and private badmouthing have devolved into open conflict, with the president threatening to oppose Republican senators who cross him, and Mr. McConnell mobilizing to their defense…. In a series of tweets this month, Mr. Trump criticized Mr. McConnell publicly, then berated him in a phone call that quickly devolved into a profane shouting match. During the call, which Mr. Trump initiated on Aug. 9 from his New Jersey golf club, the president accused Mr. McConnell of bungling the health care issue. He was even more animated about what he intimated was the Senate leader's refusal to protect him from investigations of Russian interference in the 2016 election, according to Republicans briefed on the conversation. Mr. McConnell has fumed over Mr. Trump's regular threats against fellow Republicans and criticism of Senate rules, and questioned Mr. Trump's understanding of the presidency in a public speech. Mr. McConnell has made sharper comments in private, describing Mr. Trump as entirely unwilling to learn the basics of governing."
White Supremacist (So-called Alt-Right) 'America First' Rallies Move Online After Boston 'Free Speech' Protest Is Countered by Tens of Thousands of Anti-Racist Demonstrators, Newsweek, Graham Lanktree, Tuesday, 22 August 2017: "Sixty-seven planned rallies in 36 states that were meant to attract members of the so-called alt-right and other racist groups are moving online after a 'free speech' rally on Saturday in Boston attended by white supremacists was drowned out by demonstrators. 'ACT for America is deeply saddened that in today's divisive climate, citizens cannot peacefully express their opinion without risk of physical harm from terror groups domestic and international,' reads a statement from the anti-Islamic group behind the rallies, which were meant to begin September 9. Instead, a 'Day of ACTion' will 'be conducted through online and other media,' ACT said, but it did not detail what shape that would take." See also, ACT for America Cancels 67 Rallies After Charlottesville, Southern Poverty Law Center, Swathi Shanmugasundaram, Tuesday, 22 August 2017: "ACT for America, the nation's largest anti-Muslim organization, has announced the replacement of its 67 'America First' rallies across 36 states with an online 'Day of ACTion' on September 9. The rallies were planned to support President Donald Trump's immigration, refugee and border policies. ACT for America says the abrupt change in plans is due to 'recent violence in America and in Europe.' The decision comes on the heels of the Unite the Right rally in Charlottesville, Virginia, in which three people died and 35 were injured."
67 Former State Attorneys General Have a Message: Condemn Hate Bluntly, The New York Times, Maggie Astor, Tuesday, 22 August 2017: "With white supremacists emboldened and a national spotlight shining on bigotry and hate, 67 former state attorneys general are calling on Americans and their leaders to condemn hatred unequivocally. Follow the example, they suggest, that an Alabama attorney general set four decades ago. In February 1976, that attorney general, Bill Baxley, received a threatening letter. It was from Edward R. Fields, a grand dragon in the Ku Klux Klan, who was furious that the state had reopened an investigation into the Birmingham church bombing that killed four young girls in 1963. He demanded a response, and Mr. Baxley obliged. 'Dear "Dr.'" Fields," he wrote. 'My response to your letter of February 19, 1976, is — kiss my ass.' Mr. Baxley did not publicize his letter. ('For one thing,' he recalled in an interview on Tuesday, 'I would have been worried about what my mother would say about me using that language.') But the K.K.K. quickly released it, thinking it would hurt him politically. It did not quite work out that way. And four decades later, Mr. Baxley's retort is the centerpiece of the former attorney generals' statement. The statement — which was released Monday and is conspicuously addressed not to President Trump or any other official, but rather to the broad, unnamed public — begins, 'There are times in the life of a nation, or a president, or a state attorney general, when one is called upon to respond directly to the voice of hate.' Mr. Baxley's example, it continues, without directly quoting it, should serve as inspiration for 'all who seek to equivocate in times of moral crisis.'"
White supremacists are openly using Nazi symbols, That's a warning to all of us. The Washington Post, Sarah J. Bloomfield, Tuesday, 22 August 2017: Sara J. Bloomfield is the director of the U.S. Holocaust Memorial Museum. "In an era when emoji, memes and logos can drive a national conversation, symbols are more powerful than ever. Americans are grappling with the tragic loss of life and eruption of neo-Nazism in Charlottesville this month. What does it say about our society that neo-Nazi and white-supremacist symbols and slogans were deployed in the streets of 21st-century America? What is striking is how much of what was on display was taken directly from Nazi Germany and Holocaust-era fascist parties. Longtime Holocaust denier and Ku Klux Klan member David Duke, Matthew Heimbach and their like-minded followers who brought those symbols into public view that day know their resonance and use them deliberately. Many of these words and images were once hidden away in dark corners of the Internet, a coded language spoken by white-nationalist believers. Now they are being brought into the open, and it is incumbent upon all Americans to understand their origins, what they represent and the dangers they pose."
The list of Trump's false and misleading claims tops 1,000, The Washington Post, Glenn Kessler, Michelle Ye Hee Lee, and Meg Kelly, Tuesday, 22 August 2017: "We have been tracking President Trump's false or misleading claims for more than seven months. Somewhere around Aug. 4 or Aug. 5, he broke 1,000 claims, and the tally now stands at 1,057. (Our full interactive graphic can be found here.) That's an impressive number by any standard. In fact, we are a little late with this update because we have simply been overwhelmed keeping track of the deluge of claims made by the president in the latter part of July. Things slowed down during the president's 'working vacation' so we have finally been able to catch up."
Federal Judge Finds Racism Behind Arizona Law Banning Ethnic Studies, NPR, Julie Depenbrock, Tuesday, 22 August 2017: "An Arizona law banning ethnic studies violated students' constitutional rights, a federal judge said Tuesday. His ruling made clear that the state showed discriminatory intent when it essentially shut down a Mexican-American studies program at Tucson Unified School District. 'Both enactment and enforcement were motivated by racial animus,' federal Judge A. Wallace Tashima said in the ruling. With this news, a portion of the law, prohibiting classes designed for students of certain ethnic groups, has been struck down, but the federal judge has yet to issue a final judgment and redress for the violation. Despite this decade-long debate in Arizona, ethnic studies programs have grown in popularity throughout the country." See also, Arizona's ban on Mexican American studies was racist, U.S. court rules, The Washington Post, Valerie Strauss, published on Wednesday, 22 August 2017.
Louise Linton, Treasury Secretary Steven Mnuchin's Wife, Belittles an Oregon Woman Over Her Lifestyle and for Having Less Money Than She Does, The New York Times, Maggie Haberman and Mikayla Bouchard, Tuesday, 22 August 2017: "The wife of the Treasury secretary on Monday night took a page from President Trump's social media playbook for punching down. Louise Linton, the labels-loving wife of Steven Mnuchin, replied condescendingly to an Instagram poster about her lifestyle and belittled the woman, Jenni Miller, a mother of three from Portland, Ore., for having less money than she does. The brouhaha began when Ms. Linton posted a photograph of herself disembarking a military jet emblazoned with official government markings. She had joined her husband on a quick trip to Kentucky with the Senate majority leader, Mitch McConnell. 'Great #daytrip to #Kentucky!' Ms. Linton, 36, wrote under the photograph. She then added hashtags for various pieces of her expensive wardrobe, listing #rolandmouret, #hermesscarf, #tomford and #valentino. Ms. Miller, 45, wrote under the photograph, 'Glad we could pay for your little getaway. #deplorable.' 'Aw!!! Did you think this was a personal trip?! Adorable!' she wrote. 'Do you think the US govt paid for our honeymoon or personal travel?! Lololol. Have you given more to the economy than me and my husband? Either as an individual earner in taxes OR in self sacrifice to your country?' Ms. Linton went on: 'I'm pretty sure we paid more taxes toward our day 'trip' than you did. Pretty sure the amount we sacrifice per year is a lot more than you'd be willing to sacrifice if the choice was yours.' After that, she included emojis of a curled bicep and a face blowing a kiss. 'You're adorably out of touch,' she said, later adding, 'your life looks cute' before concluding, 'Go chill out and watch the new game of thrones. It's fab!'" See also, Louise Linton wrote the perfect White-Savior-in-Africa story, The Washington Post, Karen Attiah, published on Wednesday, 6 July 2016: "If there is one media narrative about Africa that refuses to be squashed, it's the White-Savior-in-Africa bug. Despite the fact that some of the fastest-growing economies in the world are in Africa, and that Africans on the continent and in the diaspora are perfectly capable of telling their own stories and transforming their own societies, the white savior framework lives, like some prehistoric literary insect that has managed to survive the ages without having to evolve. And just when you think the world has made at least some progress in beginning to exterminate this trend, a big, fat, multi-legged #WhiteSaviorInAfricaStory crawls into the mediasphere. Louise Linton, an actress and producer, just may have written the defining work of the White-Savior-in-Africa genre for the digital age. Linton's piece, 'How My Dream Gap Year in Africa Turned Into a Nightmare,' published in the Telegraph, follows the venerable tradition of Joseph Conrad's 'Heart of Darkness' — Africa seen through the lens of white or foreign central characters. This tradition includes recent films such as 'Machine Gun Preacher' and ill-advised public relations campaigns such as #Kony2012, which position Western 'awareness' as the solution to African warlords, and basically everything Nicholas Kristof writes about war-torn countries. Linton describes experiences as an 18-year-old student who travels to Zambia in 1999, and claims that she didn't know that war was raging in Congo. If 'How Not to Write About Africa' were an Olympic floor gymnastics event, Linton's piece would be a strong contender for a gold medal, because she deploys, with maximum flourish, just about every lazy trope there is when it comes to writing about Africa."
Wednesday, 23 August 2017, Day 216:
Former national intelligence director James Clapper questions Trump's fitness for office and worries about his access to nuclear codes, The Washington Post, Rachel Chason, Wednesday, 23 August 2017: "James R. Clapper Jr., former national intelligence director, questioned President Trump's fitness for office following his freewheeling speech in Phoenix on Tuesday night, which Clapper labeled 'downright scary and disturbing. I really question his ability to be — his fitness to be — in this office,' Clapper told CNN's Don Lemon early Wednesday morning. 'I also am beginning to wonder about his motivation for it — maybe he is looking for a way out.'… Clapper said watching Trump's speech, he worried about the president's access to nuclear codes. 'In a fit of pique he decides to do something about Kim Jong Un, there's actually very little to stop him,' Clapper said, referencing North Korea's leader. 'The whole system is built to ensure rapid response if necessary. So there's very little in the way of controls over exercising a nuclear option, which is pretty damn scary.' Clapper has become a regular critic of Trump, who routinely disparaged the intelligence agencies during his campaign. But such a statement about a president by a lifelong military and intelligence professional — who has served at the highest levels of government under Republicans and Democrats alike — is extraordinary and perhaps unprecedented. Clapper, who said he has 'toiled in one capacity or another' for every president from John F. Kennedy through Barack Obama, said Trump's Phoenix speech is the most disturbing performance he has ever watched. Clapper said the president should 'have quit while he was ahead' after his speech on U.S. military strategy in Afghanistan. In that speech, the president read from a teleprompter."
Rabbis Protest Trump's Comments in Response to the White Supremacist Rally in Charlottesville by Boycotting Conference Call Before the Jewish Holidays Next Month, The New York Times, Alexander Burns, Wednesday, 23 August 2017: "For years, the presidential conference calls were a nonpartisan holiday tradition: President Barack Obama would speak by phone with hundreds of rabbis in advance of Rosh Hashana and Yom Kippur, in what participants described as a meeting of minds, largely free of raw politics. But that emerging tradition was thrown into jeopardy on Wednesday, in a sign of the still-intensifying backlash against President Trump's response to the violence this month in Charlottesville, Va. Four coalitions of rabbis, hailing from different strains of American Judaism, publicly spurned Mr. Trump, denouncing him in unusually pointed language, and pre-emptively announcing that they would not participate in any conference call before the Jewish holidays next month. Mr. Trump has drawn widespread criticism, and in some cases condemnation, from Jewish leaders after a string of public remarks in which he has played down the racist and anti-Semitic views of white supremacist demonstrators in Virginia. Jewish members of his administration have faced calls to condemn the president or resign, and a few have expressed public and private discomfort with his comments, including Mr. Trump's ambassador to Israel, David M. Friedman. But the rabbinical groups' announcement on Wednesday was a rebuke on a different level, and appeared to signal that Mr. Trump will encounter extreme difficulty in any immediate efforts to reach out to American Jews. In a joint statement, the organizations — which claim the backing of more than 4,000 rabbis and congregations — accused Mr. Trump of having given 'succor to those who advocate anti-Semitism, racism and xenophobia' with his comments after the bloodshed in Charlottesville, where a young woman was killed after a man drove his car into a crowd of protesters. All four Jewish groups — the Central Conference of American Rabbis, the Rabbinical Assembly, the Reconstructionist Rabbinical Association and the Religious Action Center of Reform Judaism — said they could not participate in interactions with Mr. Trump around the fall holidays. 'We have concluded that President Trump's statements during and after the tragic events in Charlottesville are so lacking in moral leadership and empathy for the victims of racial and religious hatred that we cannot organize such a call this year,' the statement said. The organizations withdrawing from the call hail from three branches of American Judaism: the Central Conference of American Rabbis and the Religious Action Center of Reform Judaism represent Reform Jews, while the Rabbinical Assembly is a coalition of Conservative rabbis. Reconstructionist leaders make up the Reconstructionist Rabbinical Association." See also, Rabbis forgo annual high holidays call with the president over Trump's Charlottesville response, The Washington Post, Colby Itkowitz, Wednesday, 23 August 2017.
U.N. Panel Condemns Trump's Response to Charlottesville Violence, The New York Times, Sewell Chan and Nick Cumming-Bruce, Wednesday, 23 August 2017: "President Trump's seesawing response to the deadly racial violence in Charlottesville, Va., has been rebuked by countless politicians, business executives, community groups and religious leaders. The leaders of Britain and Germany spoke about the need to condemn such violence. Now the United Nations has weighed in, too. Without mentioning Mr. Trump by name, a body of United Nations experts on Wednesday denounced 'the failure at the highest political level of the United States of America to unequivocally reject and condemn' racist violence, saying it was 'deeply concerned by the example this failure could set for the rest of the world.'… 'We were shocked and horrified by what happened,' the committee's chairwoman, Anastasia Crickley, said in an interview, expressing disgust at the televised images of white supremacists' torchlit parade through Charlottesville. 'I was horrified as well by the way leaders of that movement were able to state afterwards that they felt secure in their support.' In a two-page decision that was dated Aug. 18 but released on Wednesday, a day after Washington was informed, the United Nations Committee on the Elimination of Racial Discrimination invoked 'early action and urgent warning procedures' in deploring the violence and urging the United States to investigate."
Trump's science envoy to the State Department, Daniel Kammen, resigned Wednesday. His resignation letter has an embedded message: I-M-P-E-A-C-H. The Washington Post, Amy B. Wang, Wednesday, 23 August 2017: "Daniel Kammen, a renewable energy expert appointed last year as a science envoy to the State Department, resigned Wednesday, citing President Trump's response to the violence in Charlottesville as the final straw that led to his departure. In a resignation letter posted to Twitter, Kammen wrote that Trump's remarks about the racial violence in Virginia had attacked 'core values of the United States' and that it would have 'domestic and international ramifications.' Demonstrations by white supremacist groups on Aug. 12 turned deadly after a neo-Nazi plowed a car into a crowd, killing one counterprotester and injuring at least 19 other people in Charlottesville. Two Virginia state troopers were also killed when their helicopter crashed. Trump's initial response was widely criticized, even by members of his own political party, for being insufficient and vague. Though the president later condemned the hate groups, he went on to effectively undo his conciliatory remarks by giving an off-the-rails news conference days later in which he once again blamed 'both sides' in Charlottesville. Kammen, who was appointed during Barack Obama's presidency, said it would be unconscionable for him to continue serving the administration after those remarks. He said he stood with 'the unequivocal and authoritative statements' of a slew of other public officials, both Democratic and Republican. 'Acts and words matter,' Kammen wrote. 'To continue in my role under your administration would be inconsistent with the principles of the United States Oath of Allegiance to which I adhere.' However, his most biting message may have come in the form of a hidden acrostic: The first letter of each paragraph spelled out I-M-P-E-A-C-H."
Secret Service agrees to stop erasing White House visitor log data while a lawsuit demanding public access to some of the information goes forward, Politico, Josh Gerstein, Wednesday, 23 August 2017: "The Secret Service has agreed to stop erasing White House visitor log data while a lawsuit demanding public access to some of the information goes forward. Justice Department lawyers said in a court filing Tuesday night that, pending resolution of the case, the Secret Service will suspend its practice of disposing of the information after it is transferred to a White House records repository. 'Although not necessary to preserve the requested records, the Secret Service has stated that it will retain copies of all [appointment and visitor entry] data during the pendency of this litigation, and Secret Service has suspended auto-delete functions,' Justice Department lawyer Julie Straus Harris wrote in response to a lawsuit brought by the Public Citizen watchdog group. Who holds the information can have a pivotal impact on the public's ability to access the data in a timely way. Records held by federal agencies like the Secret Service are subject to Freedom of Information Act requests, which can result in relatively timely disclosures, at least in some cases. However, files belonging to the White House offices most directly involved in advising the president are subject instead to the Presidential Records Act. That law allows a president to keep most records from the public eye until five years after he leaves office, with some records off limits for 12 years."
Military Transgender Ban to Begin Within 6 Months, White House Memo Says, The New York Times, Julie Hirschfeld Davis, Wednesday, 23 August 2017: "President Trump is preparing to give the Defense Department formal authority to expel transgender people from the military in an upcoming order, barring the Pentagon from recruiting transgender troops and cutting off payment for sexual reassignment surgery and other medical treatments for those already serving. A White House memo that is expected to be sent to the Pentagon in coming days gives Jim Mattis, the secretary of defense, six months to enforce the transgender ban that Mr. Trump announced abruptly last month in a series of tweets. The directive was confirmed Wednesday by a person familiar with its contents but who was not authorized to discuss its details and spoke on the condition of anonymity. The authority has not yet been finalized. Once it is approved, it would allow Mr. Mattis to force out transgender service members by setting a legal standard of whether they would be able to deploy to war zones or for other lengthy military missions."
187-Page Federal Electricity Study Commissioned by Energy Secretary Rick Perry Hints at Future Support for Coal, The New York Times, Brad Plumer, Wednesday, 23 August 2017: "The Trump administration on Wednesday released a major report urging actions to protect the 'reliability and resilience' of the nation's electric grid, a move that could lay the groundwork for future support of America's ailing coal and nuclear industries. The 187-page study, commissioned by Energy Secretary Rick Perry in April, recommends that federal regulators make changes to wholesale electricity markets that could potentially benefit existing coal and nuclear plants. Revenues for many of these facilities have slumped in recent years as electricity prices have declined, mostly because of cheap natural gas, the study said, but also as a result of low electricity demand growth and the rise of wind and solar power. More than 200 coal plants and five nuclear reactors have closed across the United States since 2010, and President Trump has vowed to revitalize both industries, though doing so would require resisting powerful market forces reshaping the energy landscape. The Energy Department report concedes that the nation's electricity system remains reliable today, even with a sharp rise in intermittent wind and solar power, in part because natural gas generators and existing hydropower can easily fill any gaps in renewable generation. But the study raises concerns that a future grid with fewer 'baseload' coal and nuclear plants, which are capable of producing electricity around the clock, could pose challenges to grid operators trying to keep the lights on. Critics sharply rebutted this conclusion, arguing that grid operators have plenty of tools available to ensure the domestic electricity system remains stable even as natural gas and renewables increasingly displace coal and nuclear power. 'This report seriously overstates the challenges associated with new energy resources,' said Graham Richard, chief executive of Advanced Energy Economy, a coalition of clean-energy companies. He noted that new technologies like battery storage and distributed solar power 'are helping to make the electric power system more flexible, reliable, and resilient.'" See also, Energy Secretary Rick Perry gets his electricity grid study. The coal and Mining industries like it. The Washington Post, Steven Mufson, published on Thursday, 24 August 2017.
Pro-Trump super PAC Great America spends $20,000 on Kelli Ward, Senator Jeff Flake's Republican opponent in the Arizona Senate primary race, The Hill, Max Greenwood, Wednesday, 23 August 2017: "A prominent pro-Trump super PAC has stepped into the Arizona Senate primary race by spending $20,000 on the campaign of Sen. Jeff Flake's (R-Ariz.) GOP opponent Kelli Ward, who has positioned herself as a staunch ally of President Trump. The payment marks Great America PAC's first independent expenditure on behalf of a candidate other than Trump in months, according to Federal Election Commission filings. The last candidate was Greg Gianforte, a Montana Republican who was elected to the House in May. The bitter primary between Flake and Ward has become increasingly heated amid a feud between Trump and Flake. The GOP senator has been a prime target for Trump, who criticized him again on Wednesday as 'weak' on crime and borders. Flake, meanwhile, has emerged as one of Trump's most vocal Republican critics, prompting increasing barbs from the president. Trump slammed Flake last week and appeared to endorse Ward, a former Arizona state senator, in a tweet, calling the GOP senator 'toxic.' 'Great to see that Dr. Kelli Ward is running against Flake Jeff Flake, who is WEAK on borders, crime and a non-factor in Senate,' Trump wrote. 'He's toxic!'"
Exxon Misled the Public on Climate Change, Study by Two Harvard Researchers Says, The New York Times, John Schwartz, Wednesday, 23 August 2017: "As Exxon Mobil responded to news reports in 2015 that said that the company had spread doubt about the risks of climate change despite its own extensive research in the field, it urged the public to 'read the documents' for themselves. Now two Harvard researchers have done just that, reviewing nearly 200 documents representing Exxon's research and its public statements and concluding that the company 'misled the public' about climate change even as its own scientists were recognizing greenhouse gas emissions as a risk to the planet. The Harvard researchers — Naomi Oreskes, a professor of the history of science whose work has focused on the energy and tobacco industries, and Geoffrey Supran, a postdoctoral fellow — published their peer-reviewed paper in the journal Environmental Research Letters on Wednesday. They also published their findings in an Opinion article in Wednesday's New York Times. They found that Exxon's climate change studies, published from 1977 to 2014, were in line with the scientific thinking of the time. Some 80 percent of the company's research and internal communications acknowledged that climate change was real and was caused by humans. But 80 percent of Exxon's statements to the broader public, which reached a much larger audience, expressed doubt about climate change. 'We stress that the question is not whether Exxon Mobil "suppressed climate change research," but rather how they communicated about it,' Dr. Oreskes and Dr. Supran wrote. 'Exxon Mobil contributed quietly to the science and loudly to raising doubts about it.'"
Another US agency, the National Institutes of Health, deletes references to climate change on its government website, The Guardian, Jamiles Lartey, Wednesday, 23 August 2017: "The National Institutes of Health deleted multiple references to climate change on its website over the summer, continuing a trend that began when the Trump administration took charge of the dot.gov domain. The changes were first outlined in a report by the Environmental Data and Governance Initiative (EDGI), which has been using volunteers to track changes to roughly 25,000 pages across multiple government agencies since Trump took office. EDGI counted five instances in which the term 'climate change' was changed to simply 'climate' on the National Institutes of Health (NIH) site. The NIH, an agency of the federal government, is the world's leading public health research body."
Glenn Simpson, a Former Wall Street Journal Reporter and Co-founder of the Private Investigation Firm Fusion GPS, Met With Senate Judiciary Committee Staff on Tuesday, NPR, Ryan Lucas, Tuesday, 23 August 2017: "Senate investigators met this week with the co-founder of the political research firm behind the explosive dossier of unsubstantiated and salacious material about President Trump's alleged ties with Russia. Glenn Simpson, a former Wall Street Journal reporter who later helped found the private investigation firm Fusion GPS, sat down with Senate Judiciary Committee staff behind closed doors on Tuesday, congressional aides told NPR. Simpson's firm hired a respected former British intelligence officer, Christopher Steele, to compile the dossier, which alleges that Trump had a long-running relationship with Russia and that the Kremlin holds compromising material on him. The file also claims that Trump's campaign colluded with Russia to defeat Hillary Clinton in last year's election. Trump denies the allegations. But lawmakers want to know more about the dossier, how it was drawn up and who funded it. Judiciary Committee Chairman Chuck Grassley, R-Iowa, also wants information on whether Fusion GPS received money from the Russian government for work related to a lobbying campaign against the Magnitsky Act, a human rights and banking sanctions law that the Russian government strongly opposes." See also, Russia dossier firm founder speaks with Senate judiciary investigators, CNN Politics, Tom LoBianco and Ted Barrett, published on Tuesday, 22 August 2017.
Wall Street Journal Editor Gerard Baker Admonishes Reporters Over Their Coverage of Trump's Tuesday Rally in Phoenix, The New York Times, Michael M. Grynbaum, Wednesday, 23 August 2017: "Gerard Baker, the editor in chief of The Wall Street Journal, has faced unease and frustration in his newsroom over his stewardship of the newspaper's coverage of President Trump, which some journalists there say has lacked toughness and verve. Some staff members expressed similar concerns on Wednesday after Mr. Baker, in a series of blunt late-night emails, criticized his staff over their coverage of Mr. Trump's Tuesday rally in Phoenix, describing their reporting as overly opinionated. 'Sorry. This is commentary dressed up as news reporting,' Mr. Baker wrote at 12:01 a.m. on Wednesday morning to a group of Journal reporters and editors, in response to a draft of the rally article that was intended for the newspaper's final edition. He added in a follow-up, 'Could we please just stick to reporting what he said rather than packaging it in exegesis and selective criticism?' A copy of Mr. Baker's emails was reviewed by The New York Times. Several phrases about Mr. Trump that appeared in the draft of the article reviewed by Mr. Baker were not included in the final version published on The Journal's website. The draft, in its lead paragraph, described the Charlottesville, Va., protests as 'reshaping' Mr. Trump's presidency. That mention was removed. The draft also described Mr. Trump's Phoenix speech as 'an off-script return to campaign form,' in which the president 'pivoted away from remarks a day earlier in which he had solemnly called for unity.' That language does not appear in the article's final version."
Thursday, 24 August 2017, Day 217:
Trump's Morning Targets: Senator Mitch McConnell (Majority Leader), Representative Paul Ryan (House Speaker), Obama, and the Media, The New York Times, Eileen Sullivan and Nicholas Fandos, Thursday, 24 August 2017: "President Trump started his day on Thursday publicly criticizing leaders of his own party for not advancing his legislative agenda, which the president called 'so easy.' Mr. Trump said he asked Senator Mitch McConnell, the majority leader, and Representative Paul Ryan, the House speaker, to include language about the debt ceiling in a recent Department of Veterans Affairs bill. 'They didn't do it so now we have a big deal with Dems holding them up (as usual) on Debt Ceiling approval,' Mr. Trump said in a pair of Twitter posts…. Mr. Trump has been publicly critical of Mr. McConnell for not being able to 'repeal and replace' President Barack Obama's signature health care legislation. He repeated his criticism in another tweet on Thursday: 'The only problem I have with Mitch McConnell is that, after hearing Repeal & Replace for 7 years, he failed! That should NEVER have happened!' Mr. Trump shifted his focus on Twitter briefly to the Obama administration on Thursday. The president shared a post from one of his supporters that was critical of Mr. Obama." [The Best Eclipse Ever.] See also, Trump Retweets Meme of Himself 'Eclipsing' Obama in Twitter Frenzy, NBC News, Kalhan Rosenblatt, Thursday, 24 August 2017: "… Trump set the Twitterverse abuzz after he retweeted a meme showing himself 'eclipsing' President Barack Obama. The four-way split image shows Trump moving slowly into frame until he completely covers the image of Obama. Trump is in color. Obama is in black and white. The text on the meme reads, 'The Best Eclipse Ever!'"
Trump's chief of staff John Kelly moves to control the information Trump sees, Politico, Eliana Johnson and Nancy Cook, Thursday, 24 August 2017: "A new process, laid out in two memos circulating in the West Wing this week, is supposed to ensure Kelly vets everything that hits the Resolute desk. Confronted with a West Wing that treated policymaking as a free-for-all, President Donald Trump's chief of staff, John Kelly, is instituting a system used by previous administrations to limit internal competition — and to make himself the last word on the material that crosses the president's desk. It's a quiet effort to make Trump conform to White House decision-making norms he's flouted without making him feel shackled or out of the loop. In a conference call last week, Kelly initiated a new policymaking process in which just he and one other aide — White House staff secretary Rob Porter, a little-known but highly regarded Rhodes scholar who overlapped with Jared Kushner as an undergraduate at Harvard — will review all documents that cross the Resolute desk. The new system, laid out in two memos co-authored by Kelly and Porter and distributed to Cabinet members and White House staffers in recent days, is designed to ensure that the president won't see any external policy documents, internal policy memos, agency reports and even news articles that haven't been vetted. Kelly's deputy, Kristjen Nielson, is also expected to assume an integral role. The keystone of the new system is a 'decision memo' that will — for each Trump policy — integrate the input of Cabinet agencies and policy councils and present the president with various options, as well as with the advantages and drawbacks of each one. The Kelly-Porter reforms are in many ways a reversion to the habits of previous administrations, particularly in their attempt to ensure competing views are completely and straightforwardly presented to the president." See also, John Kelly's Latest Mission Is Controlling the Information Flow to Trump, The New York Times, Maggie Haberman, Thursday, 24 August 2017: "For months, the White House under President Trump operated with few real rules, and those were barely enforced. People wandered into the Oval Office throughout the day. The president was given pieces of unvetted information, and found more on his own that he often tweeted out. Policy decisions were often based on whoever had last gotten Mr. Trump's attention. Mr. Trump's Twitter habit shows little sign of abating. On vacation earlier at his private club in Bedminster, N.J., and now, ensconced again in the White House, he has been watching television — unfettered by any aides — and responding as he always has. But inside the West Wing, the president's new chief of staff, John F. Kelly, has been trying to control the things he can. After being sworn in on July 31, he spent three weeks assessing how to create a less jumbled, chaotic churn around Mr. Trump, and how to create a system that the president's staff will respect. In two memos sent to the staff on Monday he began to detail his plan, starting with how he wants information to get to the president, and how Mr. Trump will respond."
The Chief Judge of the D.C. Superior Court, Robert E. Morin, Ruled That the Trump Administration Can Sift Through User Data of Inauguration Protest Website, The Intercept, Alex Emmons, Thursday, 24 August 2017: "Defying First Amendment concerns, a judge in a Washington, D.C., trial court has upheld a controversial search warrant that would allow the government to sift through data from a major protest website. Prosecutors allege that the website, DisruptJ20.org, was used to coordinate a riot on Inauguration Day, which led to property damage at multiple businesses in downtown Washington. But the vast majority of the actions and protests the site coordinated were peaceful. It's unclear what connection, if any, the site had to the violence. Robert E. Morin, the chief judge of the D.C. Superior Court, ruled in favor of the government. But Morin added additional protections, ordering that the government must, before executing its search, file special affidavits describing its procedures. 'I'm going to be supervising their search,' he said." See also, Judge orders tech company to release Web user date from anti-Trump website, The Washington Post, Keith L. Alexander, Thursday, 24 August 2017. See also, Web hosting company ordered to turn over information on anti-Trump website, Politico, Josh Gerstein and Steven Overly, Thursday, 24 August 2017: "Judge imposes safeguards, but data on 'innocent' users would still end up with the government. A legal storm is building after a D.C. judge ordered a web hosting company to give the government a broad swath of data about individuals connected to an anti-Trump website despite arguments that doing so would impinge on their First Amendment rights and stifle online political discourse."
Interior Secretary Ryan Zinke recommends Trump alter at least three national monuments, including Bears Ears in Utah, The Washington Post, Juliet Eilperin and Darryl Fears, Thursday, 24 August 2017: "Interior Secretary Ryan Zinke recommended Thursday that President Trump alter at least three national monuments established by his immediate predecessors, including two in Utah, a move expected to reshape federal land and water protections and certain to trigger major legal fights. In a report Zinke submitted to the White House, the secretary recommended reducing the size of Utah's Bears Ears and Grand Staircase-Escalante national monuments, as well as Oregon's Cascade-Siskiyou National Monument, according to multiple individuals briefed on the decision."
Rules, policies, partnerships, treaties, etc. that Trump has undone, The Washington Post, Philip Bump, Thursday, 24 August 2017: "President Trump has repeatedly argued that he's done more than any other recent president. That's not true, as measured by the amount of legislation he's been able to sign. It is true, though, that Trump has undone a lot of things that were put into place by his predecessors, including President Barack Obama. Since Jan. 20, Trump's administration has enthusiastically and systematically undone or uprooted rules, policies and tools that predated his time in office. [This article lists some] of those changes, roughly organized by subject area."
U.S. District Judge Nelva Gonzales Ramos Strikes Down Texas's Voter ID Law for the Fifth Time, The Atlantic, Vann R. Newkirk II, Thursday, 24 August 2017: "Texas's voter ID law has been having a pretty bad time in the courts. On Wednesday, U.S. District Judge Nelva Gonzales Ramos found that the state's new S.B. 5 law, passed in June, is still invalid, because its predecessor law was passed with discriminatory intent. But Judge Ramos went even further than simply striking down the law—implying that renewed federal supervision of Texas voting laws may be necessary, an arrangement that hasn't existed since 2013, when the Supreme Court struck down a key portion of the Voting Rights Act."
Why We Must Still Defend Free Speech, The New York Review of Books, David Cole, published online on 24 August 2017. This article will appear in the next issue (28 September 2017) of The New York Review of Books."Does the First Amendment need a rewrite in the era of Donald Trump? Should the rise of white supremacist and neo-Nazi groups lead us to cut back the protection afforded to speech that expresses hatred and advocates violence, or otherwise undermines equality? If free speech exacerbates inequality, why doesn't equality, also protected by the Constitution, take precedence?"