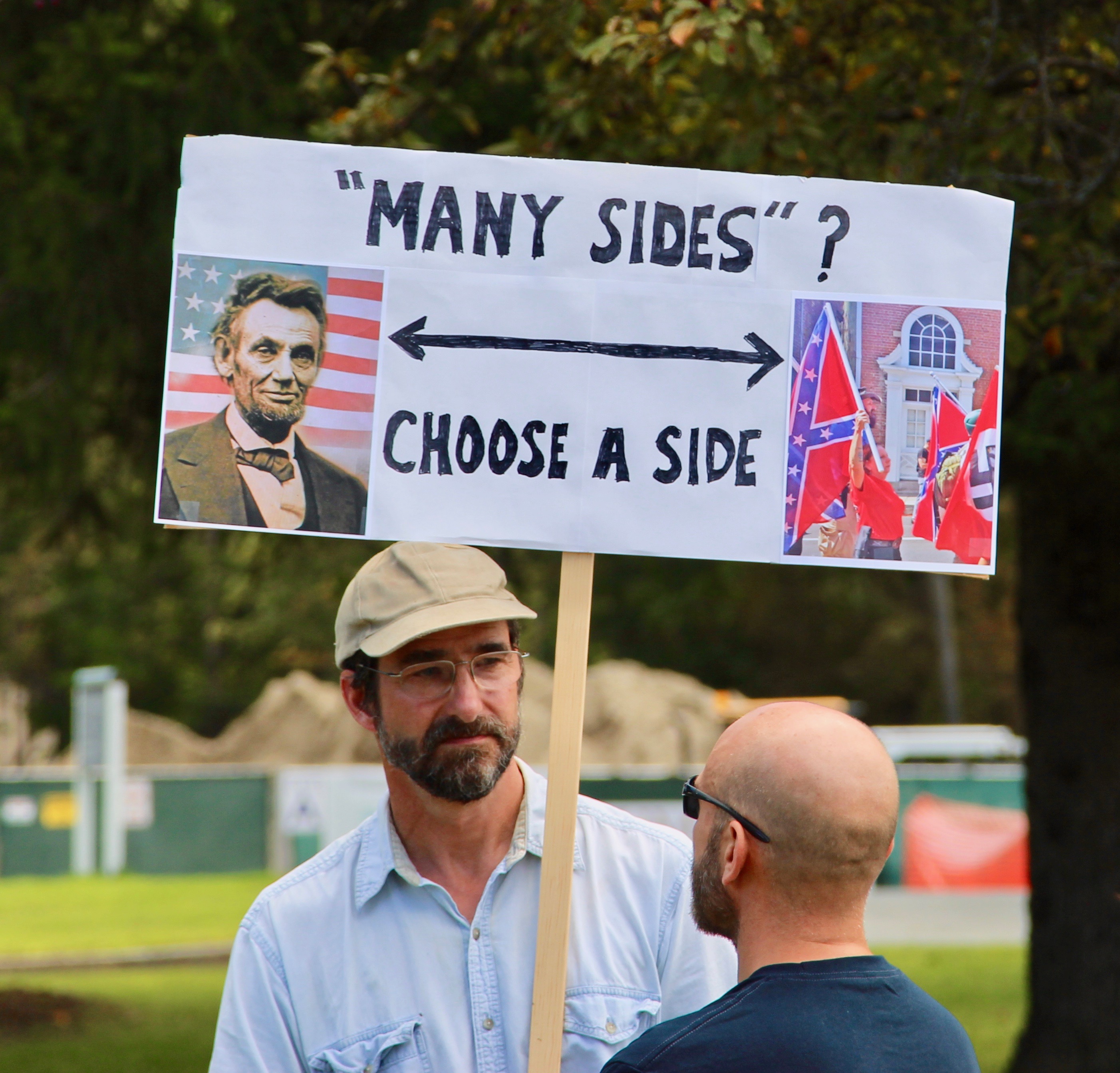 Keeping Track (of some things), Staying Outraged (it is possible), and Resisting (it's essential)
Passages in bold in the body of the texts below are my emphasis. This is an ongoing project, and I update the site frequently. I hope readers will peruse the articles in full for a better understanding of the issues and their context; our democracy and our future depend on citizens who can distinguish between facts and falsehoods and who are engaged in the political process.
Friday, 11 August 2017, Day 204:
Trump Says Military Is 'Locked and Loaded' and North Korea Will 'Regret' Threats, The New York Times, Peter Baker, Friday, 11 August 2017: "President Trump continued to beat war drums on Friday against North Korea and, unexpectedly, said he would consider a military option to deal with an unrelated crisis in Venezuela. But though he declared that the armed forces were 'locked and loaded,' there were no indications of imminent action in either part of the world. For all the bellicose language emerging from the president's golf club in Bedminster, N.J., the United States military was taking no visible steps to prepare for a strike against North Korea or Venezuela. The Pentagon reported no new ships being sent toward the Korean Peninsula or forces being mobilized, nor were there moves to begin evacuating any of the tens of thousands of Americans living in South Korea."
Trump won't 'rule out a military option' in Venezuela, The Washington Post, Jenna Johnson and John Wagner, Friday, 11 August 2017: "President Trump said Friday that he is 'not going to rule out a military option' to confront the autocratic government of Venezuela President Nicolás Maduro and the deepening crisis in the South American country. 'They have many options for Venezuela — and, by the way, I'm not going to rule out a military option,' Trump told reporters at his private golf club in New Jersey on Friday evening. '…We're all over the world, and we have troops all over the world in places that are very, very far away. Venezuela is not very far away, and the people are suffering, and they're dying. We have many options for Venezuela, including a possible military option, if necessary.' When asked by a reporter whether this military option would be led by the United States, Trump responded: 'We don't talk about it, but a military operation, a military option is certainly something that we could pursue.'"
Scott Pruitt Is Carrying Out His Agenda of Dismantling the Environmental Protection Agency in Secret, Critics Say, The New York Times, Coral Davenport and Eric Lipton, Friday, 11 August 2017: "When career employees of the Environmental Protection Agency are summoned to a meeting with the agency's administrator, Scott Pruitt, at agency headquarters, they no longer can count on easy access to the floor where his office is, according to interviews with employees of the federal agency. Doors to the floor are now frequently locked, and employees have to have an escort to gain entrance. Some employees say they are also told to leave behind their cellphones when they meet with Mr. Pruitt, and are sometimes told not to take notes. Mr. Pruitt, according to the employees, who requested anonymity out of fear of losing their jobs, often makes important phone calls from other offices rather than use the phone in his office, and he is accompanied, even at E.P.A. headquarters, by armed guards, the first head of the agency to ever request round-the-clock security. A former Oklahoma attorney general who built his career suing the E.P.A., and whose LinkedIn profile still describes him as 'a leading advocate against the EPA's activist agenda,' Mr. Pruitt has made it clear that he sees his mission to be dismantling the agency's policies — and even portions of the institution itself. But as he works to roll back regulations, close offices and eliminate staff at the agency charged with protecting the nation's environment and public health, Mr. Pruitt is taking extraordinary measures to conceal his actions, according to interviews with more than 20 current and former agency employees. Together with a small group of political appointees, many with backgrounds, like his, in Oklahoma politics, and with advice from industry lobbyists, Mr. Pruitt has taken aim at an agency whose policies have been developed and enforced by thousands of the E.P.A.'s career scientists and policy experts, many of whom work in the same building."
Continue reading Week 30, Friday, 11 August – Thursday, 17 August 2017:
27 National Monuments Are Under Review. Here Are Five to Watch. The New York Times, Lisa Friedman, Nadja Popovich, and Matt McCann, Friday, 11 August 2017: "No president has ever abolished a national monument designated by a predecessor. President Trump may try to change that. Ryan Zinke, the secretary of the interior, is reviewing 27 national monuments to determine if previous administrations exceeded their authority in setting aside craggy vistas, ancient cliff dwellings and other large tracts of land for protection. He is expected to recommend that some be scaled back, or perhaps eliminated entirely and transferred to state ownership. Democrats and environmental activists see the review as part of a broad effort within the Trump administration to unravel the conservation legacy of President Barack Obama, who under the 1906 Antiquities Act put more land and water under federal protection than any other president. Yet Mr. Zinke's study, due by Aug. 24, stretches back 21 years to include other national monuments that remain a source of acrimony, particularly in the West. Not all of the monuments are truly in the administration's cross hairs, and Mr. Zinke has already declared some of them safe from changes. While any of the others could be altered, critics and supporters of the review say only a handful face significant scrutiny. [This article covers] some of the big ones to watch."
Saturday, 12 August 2017, Day 205:
Man Charged After White Nationalist Rally in Charlottesville Ends in Deadly Violence, The New York Times, Sheryl Gay Stolberg and Brian M. Rosenthal, Saturday, 12 August 2017: "The city of Charlottesville was engulfed by violence on Saturday as white nationalists and counterprotesters clashed in one of the bloodiest fights to date over the removal of Confederate monuments across the South. White nationalists had long planned a demonstration over the city's decision to remove a statue of Robert E. Lee. But the rally quickly exploded into racial taunting, shoving and outright brawling, prompting the governor to declare a state of emergency and the National Guard to join the police in clearing the area. Those skirmishes mostly resulted in cuts and bruises. But after the rally at a city park was dispersed, a car bearing Ohio license plates plowed into a crowd near the city's downtown mall, killing a 32-year-old woman. Some 34 others were injured, at least 19 in the car crash, according to a spokeswoman for the University of Virginia Medical Center. Col. Martin Kumer, the superintendent of the Albemarle-Charlottesville Regional Jail, confirmed Saturday evening that an Ohio man, James Alex Fields Jr., 20, of Maumee, had been arrested and charged with second-degree murder, three counts of malicious wounding and failing to stop at the scene of a crash that resulted in a death. But the authorities declined to say publicly that Mr. Fields was the driver of the car that plowed into the crowd. Witnesses to the crash said a gray sports car accelerated into a crowd of counterdemonstrators — who were marching jubilantly near the mall after the white nationalists had left — and hurled at least two people in the air…. The planned rally was promoted as 'Unite the Right' and both its organizers and critics said they expected it to be one of the largest gatherings of white nationalists in recent times, attracting groups like the Ku Klux Klan and neo-Nazis and movement leaders like David Duke and Richard Spencer. Many of these groups have felt emboldened since the election of Donald J. Trump as president. Mr. Duke, a former imperial wizard of the Ku Klux Klan, told reporters on Saturday that the protesters were 'going to fulfill the promises of Donald Trump' to 'take our country back.'" See also, Trump Is Criticized for Not Calling Out White Supremacists at the Bloody and Deadly Protests in Charlottesville, Virginia, The New York Times, Glenn Thrush and Maggie Haberman, Saturday, 12 August 2017: "President Trump is rarely reluctant to express his opinion, but he is often seized by caution when addressing the violence and vitriol of white nationalists, neo-Nazis and alt-right activists, some of whom are his supporters. After days of genially bombastic interactions with the news media on North Korea and the shortcomings of congressional Republicans, Mr. Trump on Saturday condemned the bloody protests in Charlottesville, Va., in what critics in both parties saw as muted, equivocal terms. During a brief and uncomfortable address to reporters at his golf resort in Bedminster, N.J., he called for an end to the violence. But he was the only national political figure to spread blame for the 'hatred, bigotry and violence' that resulted in the death of one person to 'many sides.' For the most part, Republican leaders and other allies have kept quiet over several months about Mr. Trump's outbursts and angry Twitter posts. But recently they have stopped averting their gazes and on Saturday a handful criticized his reaction to Charlottesville as insufficient. 'Mr. President — we must call evil by its name,' tweeted Senator Cory Gardner, Republican from Colorado, who oversees the National Republican Senatorial Committee, the campaign arm of the Senate Republicans. 'These were white supremacists and this was domestic terrorism,' he added, a description several of his colleagues used." See also, Trump condemns violence in Charlottesville but doesn't single out white nationalists, The Washington Post, Jenna Johnson and John Wagner, Saturday, 12 August 2017.
In a Phone Call With the Governor of Guam, Trump Says that His Threats to Rain 'Fire and Fury' on North Korea Will Boost Tourism in Guam 'Tenfold' and that the Governor of Guam Has 'Become Extremely Famous All Over the World, The New York Times, Mar-Vic Cagurangan, Saturday, 12 August 2017: "If there's one thing that Guam does not have to worry about while the tiny island is in the nuclear cross hairs of North Korea, it's tourism, President Trump told the island's governor in a phone call made public on Saturday. The threat by North Korea's leader, Kim Jong-un, to create 'an enveloping fire' around the tiny United States territory in the Western Pacific will bolster Guam tourism 'tenfold,' Mr. Trump said in the recorded conversation with Gov. Eddie Calvo. The recording was put on the Republican governor's Facebook page and other social media accounts. Mr. Trump said: 'I have to tell you, you have become extremely famous all over the world. They are talking about Guam; and they're talking about you.' And when it comes to tourism, he added, 'I can say this: You're going to go up, like, tenfold with the expenditure of no money…. While Guam has generally been calm about the escalating threats of a missile attack, some were not thrilled by the tone of the conversation between the two men. 'Listening to that call left me feeling disgusted,' said Andrea Nicole Grajek, a local artist from Dededo village. 'I was so shocked I was actually crying. They're leaders discussing a rise in fame and tourism, while the world is watching our island carefully to see if we'll still be here tomorrow.'"
Special Counsel Robert Mueller Is Said to Seek Interviews With West Wing in Russia Case, The New York Times, Michael S. Schmidt, Matt Apuzzo, and Maggie Haberman, Saturday, 12 August 2017: "In a sign that the investigation into Russian interference in the 2016 presidential election will remain a continuing distraction for the White House, the special counsel, Robert S. Mueller III, is in talks with the West Wing about interviewing current and former senior administration officials, including the recently ousted White House chief of staff, Reince Priebus, according to three people briefed on the discussions. Mr. Mueller has asked the White House about specific meetings, who attended them and whether there are any notes, transcripts or documents about them, two of the people said. Among the matters Mr. Mueller wants to ask the officials about is President Trump's decision in May to fire the F.B.I. director, James B. Comey, the two people said."
Sunday, 13 August 2017, Day 206:
Trump didn't call out white supremacists. He was rebuked by members of his own party. The Washington Post, Kristine Phillips, Sunday, 13 August 2017: "President Trump condemned 'hatred, bigotry and violence on many sides' in addressing the riots in Charlottesville on Saturday, when hundreds of white nationalists, neo-Nazis and Ku Klux Klan members who planned to stage a rally clashed with counterprotesters. 'The hate and division must stop. And must stop right now,' Trump said, reading a prepared statement at his resort in Bedminster, N.J. 'We condemn in the strongest possible terms this egregious display of hatred, bigotry and violence on many sides. On many sides.' He did not say which 'sides' he was referring to, or whose hatred and bigotry he was condemning. He has yet to single out white nationalists or white supremacists, even after a car plowed into counterprotesters, killing one and injuring 19. Trump's comments, while praised by the well-known neo-Nazi Daily Stormer website, were met with widespread rebuke, even from members of his own party. Some were quick to point out that when triggered, Trump usually reacts swiftly and specifically, typically on Twitter. But not Saturday, when one of the sides that perpetrated violence did so while invoking his name, and when he didn't tweet until several hours into the riot."
White House Acts to Stem Fallout From Trump's First Charlottesville Remarks, The New York Times, Glenn Thrush and Rebecca R. Ruiz, Sunday, 13 August 2017: "White House officials, under siege over President Trump's reluctance to condemn white supremacists for the weekend's bloody rallies in Charlottesville, Va., tried to clarify his comments on Sunday, as critics in both parties intensified demands that he adopt a stronger, more unifying message. A statement on Sunday — issued more than 36 hours after the protests began — condemned 'white supremacists' for the violence that led to one death. It came in an email sent to reporters in the president's traveling press pool, and was attributed to an unnamed representative. It was not attributed directly to Mr. Trump, who often uses Twitter to communicate directly on controversial topics. It also did not single out 'white supremacists' alone but instead included criticism of 'all extremist groups.' The email was sent 'in response' to questions about Mr. Trump's remarks, in which he blamed the unrest 'on many sides' while speaking on Saturday before an event for military veterans at his golf resort in Bedminster, N.J., where the president is on vacation. Mr. Trump's high-volume outbursts on issues petty and profound have become a defining feature of his presidency. But his quiescence on the violence in Charlottesville has had, in many ways, a more profound and unsettling effect." See also, White House confronts backlash over Trump's remarks on Charlottesville, The Washington Post, John Wagner, Jenna Johnson, Robert Costa, and Sari Horwitz, Sunday, 13 August 2017.
Here's what a neo-Nazi rally looks like in the U.S. in 2017, The Washington Post, Cleve R. Wootson Jr., Sunday, 13 August 2017: "It was billed as a historically large effort to 'take America back,' decades in the making. Hundreds of white nationalists, Ku Klux Klan members and neo-Nazis gathered in Charlottesville for a rally that quickly and frequently descended into chaos. The demonstrators carried U.S. and Confederate flags. They held tiki torches and clubs and donned impromptu battle gear — helmets, clubs, sticks and makeshift shields. At times the 'Unite the Right' rally was marked by peaceful marches and chanting. But often, neo-Nazis exchanged blows with counterprotesters in clouds of tear gas and pepper spray. By the end of the weekend, three people were dead and many others had been injured."
White supremacists loved Trump's remarks about Charlottesville, The Washington Post, Amy B. Wang, Sunday, 13 August 2017: "President Trump's public remarks on the violence in Charlottesville have been criticized by many, including members of his own political party, for being insufficient and vague. But Trump's choice of words — and the silence that preceded them — are being cheered by at least a few groups of people: neo-Nazis and white nationalists. On the Daily Stormer, a neo-Nazi website, updates about Saturday's events unfolded quickly, as hundreds of mostly young, white men who had gathered in Charlottesville to stage a rally to 'take America back' clashed with counterprotesters. 'WE HAVE AN ARMY!' the website posted to a live blog shortly after 11 a.m., along with photos of people carrying Confederate flags and neo-Nazi paraphernalia. 'THIS IS THE BEGINNING OF A WAR!'… From his golf club in Bedminster, N.J., Trump … addressed the violence…. [H]owever, the president did not mention white supremacists or white nationalists. In fact, he seemed to go out of his way to avoid placing blame. 'The hate and division must stop. And must stop right now,' Trump said Saturday. 'We condemn in the strongest possible terms this egregious display of hatred, bigotry and violence on many sides. On many sides. It's been going on for a long time in our country.' He did not say which 'sides' he was referring to, or whose hatred and bigotry he was condemning. Less than a half-hour after Trump's live remarks, the Daily Stormer had declared the president's words as a signal of tacit support for their side:
Trump comments were good. He didn't attack us. He just said the nation should come together. Nothing specific against us. He said that we need to study why people are so angry, and implied that there was hate … on both sides! So he implied the antifa are haters. There was virtually no counter-signaling of us at all. He said he loves us all.
The neo-Nazi live blog also noted that Trump had refused to respond when a reporter asked about white nationalists who supported him. 'No condemnation at all,' the Daily Stormer wrote. 'When asked to condemn, [Trump] just walked out of the room. Really, really good. God bless him.'"
A Hate Crime? How the Charlottesville Car Attack May Become a Federal Case, The New York Times, Charlie Savage, Sunday, 13 August 2017: "The Justice Department's announcement that it is opening a civil rights investigation into a deadly car crash into a crowd of people protesting white nationalists in Charlottesville, Va., has put a spotlight on what the department's role may be under Attorney General Jeff Sessions. Mr. Sessions was an outspoken conservative senator from Alabama before President Trump appointed him attorney general, and many civil rights advocates view him with suspicion. Under his stewardship, the department's civil rights division has been pulling back on enforcement of laws on matters like voting rights and police reform. But when the department announced the civil rights investigation late Saturday, it included a forceful statement from Mr. Sessions: 'The violence and deaths in Charlottesville strike at the heart of American law and justice. When such actions arise from racial bigotry and hatred, they betray our core values and cannot be tolerated.' State law enforcement officials have primary jurisdiction to prosecute James Alex Fields Jr., 20, whom they have charged with second-degree murder in an attack that killed Heather D. Heyer, 32, of Charlottesville and injured at least 19 other people. But the department's announcement raises the question of whether Mr. Sessions could also seek to make it a federal case."
A New Generation of White Supremacists Emerges in Charlottesville, ProPublica, A.C. Thompson and Karim Hajj, special to ProPublica, Sunday, 13 August 2017: "The white supremacist forces arrayed in Charlottesville, Virginia, over the weekend — the largest gathering of its sort in at least a generation — represented a new incarnation of the white supremacy movement. Old-guard groups like the Ku Klux Klan, the Aryan Nations and the Nazi skinheads, which had long stood at the center of racist politics in America, were largely absent. Instead, the ranks of the young men who drove to Charlottesville with clubs, shields, pepper spray and guns included many college-educated people who have left the political mainstream in favor of extremist ideologies over the past few years. A large number have adopted a very clean cut, frat-boyish look designed to appeal to the average white guy in a way that KKK robes or skinhead regalia never could. Interviews show that at least some of these leaders have spent time in the U.S. armed forces. Many belong to new organizations like Vanguard America, Identity Evropa, the Traditionalist Workers Party and True Cascadia, which have seen their numbers expand dramatically in the past year. Most of these groups view themselves as part of a broader 'alt-right' movement that represents the extreme edge of right-wing politics in the U.S. These organizations exhibited unprecedented organization and tactical savvy. Hundreds of racist activists converged on a park on Friday night, striding through the darkness in groups of five to 20 people. A handful of leaders with headsets and handheld radios gave orders as a pickup truck full of torches pulled up nearby. Within minutes, their numbers had swelled well into the hundreds. They quickly and efficiently formed a lengthy procession and begun marching, torches alight, through the campus of the University of Virginia. Despite intense interest from the media, police and local anti-racists, the white supremacists kept the location of their intimidating nighttime march secret until the last moment."
Trump's national security adviser says U.S. is no closer to war with North Korea than it was a week ago, The Washington Post, John Wagner, Sunday, 13 August 2017: "National security adviser H.R. McMaster on Sunday defended President Trump's escalating rhetoric directed at North Korea and said that he does not believe that the United States is any closer to war than it was a week ago. 'We have a very high degree of readiness, so the United States military is always locked and loaded, but the purpose of capable, ready forces is to preserve peace and prevent war,' McMaster said during an appearance on ABC's 'This Week.'"
Monday, 14 August 2017, Day 207:
New Outcry as Trump Rebukes Charlottesville Racists 2 Days Later and Attacks Merck CEO Kenneth Frazier for Resigning from the President's Manufacturing Advisory Panel, The New York Times, Glenn Thrush, Monday, 14 August 2017: "The crisis in Charlottesville, Va., presented President Trump with a choice between adopting the unifying tone of a traditional president or doubling down on the go-it-alone approach that got him elected in 2016. On Monday, Mr. Trump offered a glimpse of a more calming and conventional president, but he ended the day with a flurry of angry tweets that left little doubt he intended to govern on his own terms. Mr. Trump, after two days of issuing equivocal statements, bowed to overwhelming pressure that he personally condemn white supremacists who incited bloody weekend demonstrations in Charlottesville. 'Racism is evil,' said Mr. Trump, delivering a statement from the White House at a hastily arranged appearance meant to halt the growing political threat posed by the unrest. 'And those who cause violence in its name are criminals and thugs, including the K.K.K., neo-Nazis, white supremacists and other hate groups that are repugnant to everything we hold dear as Americans.' But before and after his conciliatory statement — which called for 'love,' 'joy' and 'justice' — Mr. Trump issued classically caustic Twitter attacks on Kenneth C. Frazier, the head of Merck Pharmaceuticals and one of the country's top African-American executives. Mr. Frazier announced Monday morning that he was resigning from the American Manufacturing Council — the first of three chief executives who quit the advisory panel on Monday — to protest Mr. Trump's initial equivocal statements on Charlottesville." See also, Transcript and Video: President Trump Speaks About Charlottesville, The New York Times, Monday, 14 August 2017: "President Trump on Monday made a statement at the White House about the violence that occurred in Charlottesville, Va., over the weekend after white nationalists clashed with counterprotesters." See also, Trump finally condemns Charlottesville racism, days after violence, The Guardian, David Smith, Oliver Laughland, Paul Owen, and Mark Oliver, Monday, 14 August 2017: "Donald Trump has bowed to overwhelming pressure and directly condemned the Ku Klux Klan, neo-Nazis and white supremacists, two days after violent clashes left one woman dead…. The explicit remarks came after a storm of criticism – some from prominent figures in his own party – over Trump's decision not to criticise head-on the white supremacist groups that targeted Charlottesville, Virginia, at the weekend."
Trump fires back after Kenneth C. Frazier, CEO of Merck, resigns from Trump's manufacturing council, The Washington Post, Jean McGregor, Monday, 14 August 2017: "The chief executive of Merck said Monday in a tweet that he was resigning from President Trump's manufacturing council, saying he was doing so 'as CEO of Merck and as a matter of personal conscience' and that 'America's leaders must honor our fundamental values by clearly rejecting expressions of hatred, bigotry and group supremacy, which run counter to the American ideal that all people are created equal.' In the statement, Kenneth C. Frazier, one of the few African American CEOs in the Fortune 500, said, 'I feel a responsibility to take a stand against intolerance and extremism' and touted the power of diversity. 'Our country's strength stems from its diversity and the contributions made by men and women of different faiths, races, sexual orientations and political beliefs.' Within an hour after the statement was first issued, Trump tweeted his initial response. 'Now that Ken Frazier of Merck Pharma has resigned from President's Manufacturing Council, he will have more time to LOWER RIPOFF DRUG PRICES!' Then on Monday evening, Trump tweeted about Frazier's company a second time, again referencing drug prices. '@Merck Pharma is a leader in higher & higher drug prices while at the same time taking jobs out of the U.S.,' he wrote. 'Bring jobs back & LOWER PRICES!'"
'Evil Attack' in Charlottesville Is Domestic Terrorism, Attorney General Jeff Sessions Says, The New York Times, Charlie Savage and Rebecca R. Ruiz, Monday, 14 August 2017: "When Attorney General Jeff Sessions denounced the violence in Charlottesville, Va., as an 'evil' act of domestic terrorism on Monday, he was in some ways an unlikely figure to emerge as one of the most prominent voices in the Trump administration on the issue. Though he is the nation's chief law enforcement officer, Mr. Sessions, an outspoken Alabama conservative, is viewed with mistrust by many civil-rights advocates concerned about his ambivalence over expanding protections for minorities. But he has stepped outside that mold in aggressively responding to the deadly car attack by an apparent white nationalist sympathizer on anti-racism protesters in Charlottesville, announcing a federal civil rights investigation within hours and labeling the attack an act of domestic terrorism during a string of television appearances on Monday."
In May, the FBI and the Department of Homeland Security Warned in an Intelligence Bulletin of a Growing Threat from White Supremacists, Foreign Policy, Jana Winter, Monday, 14 August 2017: "The FBI and the Department of Homeland Security in May warned that white supremacist groups had already carried out more attacks than any other domestic extremist group over the past 16 years and were likely to carry out more attacks over the next year, according to an intelligence bulletin obtained by Foreign Policy. Even as President Donald Trump continues to resist calling out white supremacists for violence, federal law enforcement has made clear that it sees these types of domestic extremists as a severe threat. The report, dated May 10, says the FBI and DHS believe that members of the white supremacist movement 'likely will continue to pose a threat of lethal violence over the next year.' The 'Unite the Right' rally in Charlottesville, Virginia, which attracted hundreds of white supremacists, neo-Nazis, and other members of the so-called alt-right, sparked violent clashes over the weekend. A woman, Heather Heyer, was killed by a car that drove into a crowd of people protesting the rally. James Alex Fields Jr., the driver of the vehicle that struck Heyer, was arrested and charged with second-degree murder."
Here's a Reminder That the Hatred We Saw in Charlottesville Is Everywhere, HuffPost, Hayley Miller, Monday, 14 August 2017: "Charlottesville, Virginia, may have been the epicenter of white supremacist rhetoric and rage this weekend, but it's certainly not the only U.S. city where hate groups have taken root. At least 917 active hate groups are currently operating across the country, according to a February 2017 report published by the Southern Poverty Law Center, a civil rights advocacy group. SPLC found that the number of hate groups (defined as people harboring 'beliefs or practices that attack or malign an entire class of people, typically for their immutable characteristics') had been declining since 2011 but spiked in the last couple years during the presidential election. '[President Donald] Trump's run for office electrified the radical right, which saw in him a champion of the idea that America is fundamentally a white man's country,' the report stated."
The 'war on whites' is a myth–and an ugly one, The Washington Post, Christopher Ingraham and Heather Long, Monday, 14 August 2017: "The 'war on whites' is a core concern of Trump's base, but it isn't true. White people, especially white males, still have a huge advantage in American society. White people not only control a vastly disproportionate share of the country's wealth, income and economic power, they also enjoy tremendous advantages helping them to stay ahead financially. On average, whites are far more likely to get hired and are paid more than nonwhites. Just having a 'white-sounding name,' such as Emily or Greg, makes a job applicant 50 percent more likely to get called for a job interview than a person with a name given more frequently to African Americans, such as Lakisha or Jamal, according to a study from the National Bureau of Economic Research. That helps explain why the black unemployment rate has been about double the white unemployment rate for decades, according to Labor Department statistics. White families on average have 14 times more wealth than black families and nearly 11 times more than Hispanic families, according to the Census Bureau. Nonwhites are far more likely to live in poverty and go to jail than whites. The American Dream of owning a home has been achieved by more than 72 percent of whites. In contrast, more than half of black and Hispanic households rent."
Trump says he's considering a pardon for Joe Arpaio, the former Arizona sheriff who was convicted in July of criminal contempt for ignoring a judge's order to stop detaining people because he merely suspected them of being undocumented immigrants, The Washington Post, Matt Zapotosky, Monday, 14 August 2017: "President Trump told Fox News he is 'seriously considering' issuing a pardon for former Arizona sheriff Joe Arpaio, who was convicted last month of criminal contempt for ignoring a judge's order to stop detaining people because he merely suspected them of being undocumented immigrants. Trump told the news outlet during a conversation in Bedminster, N.J., that the pardon could come quickly, perhaps in a matter of days. The news outlet reported the conversation on its website Monday. 'I might do it right away, maybe early this week. I am seriously thinking about it,' Trump said, according to Fox News. He said Arpaio was a 'great American patriot' who had 'done a lot in the fight against illegal immigration. Is there anyone in local law enforcement who has done more to crack down on illegal immigration than Sheriff Joe?' Trump said, according to Fox News. 'He has protected people from crimes and saved lives. He doesn't deserve to be treated this way.'"
Trump campaign emails show aide's repeated efforts to set up Russia meetings, The Washington Post, Tom Hamburger, Carol D. Leonnig, and Rosalind S. Helderman, Monday, 14 August 2017: "Three days after Donald Trump named his campaign foreign policy team in March 2016, the youngest of the new advisers sent an email to seven campaign officials with the subject line: 'Meeting with Russian Leadership – Including Putin.' The adviser, George Papadopoulos, offered to set up 'a meeting between us and the Russian leadership to discuss US-Russia ties under President Trump,' telling them his Russian contacts welcomed the opportunity, according to internal campaign emails read to The Washington Post. The proposal sent a ripple of concern through campaign headquarters in Trump Tower. Campaign co-chairman Sam Clovis wrote that he thought NATO allies should be consulted before any plans were made. Another Trump adviser, retired Navy Rear Adm. Charles Kubic, cited legal concerns, including a possible violation of U.S. sanctions against Russia and of the Logan Act, which prohibits U.S. citizens from unauthorized negotiation with foreign governments. But Papadopoulos, a campaign volunteer with scant foreign policy experience, persisted. Between March and September, the self-described energy consultant sent at least a half-dozen requests for Trump, as he turned from primary candidate to party nominee, or for members of his team to meet with Russian officials. Among those to express concern about the effort was then-campaign chairman Paul Manafort, who rejected in May 2016 a proposal from Papadopoulos for Trump to do so. The exchanges are among more than 20,000 pages of documents the Trump campaign turned over to congressional committees this month after review by White House and defense lawyers. The selection of Papadopoulos's emails were read to The Post by a person with access to them. Two other people with access to the emails confirmed the general tone of the exchanges and some specific passages within them."
Department of Justice demands 1.3 million IP addresses related to Trump resistance site, The Hill, Morgan Chalfant, Monday, 14 August 2017: "The Department of Justice has requested information on visitors to a website used to organize protests against President Trump, the Los Angeles-based DreamHost said in a blog post published on Monday. DreamHost, a web hosting provider, said that it has been working with the Department of Justice for several months on the request, which it believes goes too far under the Constitution. DreamHost claimed that complying with the request from the Justice Department would amount to handing over roughly 1.3 million visitor IP addresses to the government, in addition to contact information, email content and photos of thousands of visitors to the website, which was involved in organizing protests against Trump on Inauguration Day. 'That information could be used to identify any individuals who used this site to exercise and express political speech protected under the Constitution's First Amendment,' DreamHost wrote in the blog post on Monday. 'That should be enough to set alarm bells off in anyone's mind.'" See also, Tech firm DreamHost is fighting a federal demand from the Department of Justice for data on visitors to an anti-Trump website, The Washington Post, Ellen Nakashima, Monday, 14 August 2017.
How Conservative TV Giant Sinclair Broadcast Group Is Ridding Itself of Regulation, The New York Times, Cecilia Kang, Eric Lipton, and Sydney Ember, Monday, 14 August 2017: "The day before President Trump's inauguration, the top executive of the Sinclair Broadcast Group, the nation's largest owner of television stations, invited an important guest to the headquarters of the company's Washington-area ABC affiliate. The trip was, in the parlance of the business world, a deal closer. The invitation from David D. Smith, the chairman of Sinclair, went to Ajit V. Pai, a commissioner on the Federal Communications Commission who was about to be named the broadcast industry's chief regulator. Mr. Smith wanted Mr. Pai to ease up on efforts under President Barack Obama to crack down on media consolidation, which were threatening Sinclair's ambitions to grow even bigger. Mr. Smith did not have to wait long. Within days of their meeting, Mr. Pai was named chairman of the F.C.C. And during his first 10 days on the job, he relaxed a restriction on television stations' sharing of advertising revenue and other resources — the exact topic that Mr. Pai discussed with Mr. Smith and one of his business partners, according to records examined by The New York Times…. It was only the beginning. Since becoming chairman in January, Mr. Pai has undertaken a deregulatory blitz, enacting or proposing a wish list of fundamental policy changes advocated by Mr. Smith and his company. Hundreds of pages of emails and other documents obtained under the Freedom of Information Act reveal a rush of regulatory actions has been carefully aligned with Sinclair's business objectives."
Tuesday, 15 August 2017, Day 208:
Trump Gives White Supremacists an Unequivocal Boost, The New York Times, Glenn Thrush and Maggie Haberman, Tuesday, 15 August 2017: "President Trump buoyed the white nationalist movement on Tuesday as no president has done in generations — equating activists protesting racism with the neo-Nazis and white supremacists who rampaged in Charlottesville, Va., over the weekend. Never has he gone as far in defending their actions as he did during a wild, street-corner shouting match of a news conference in the gilded lobby of Trump Tower, angrily asserting that so-called alt-left activists were just as responsible for the bloody confrontation as marchers brandishing swastikas, Confederate battle flags, anti-Semitic banners and 'Trump/Pence' signs. 'Thank you President Trump for your honesty & courage to tell the truth,' David Duke, a former Ku Klux Klan leader, wrote in a Twitter post shortly after Mr. Trump spoke. Richard B. Spencer, a white nationalist leader who participated in the weekend's demonstrations and vowed to flood Charlottesville with similar protests in the coming weeks, was equally encouraged. 'Trump's statement was fair and down to earth,' Mr. Spencer tweeted. Gov. Terry McAuliffe of Virginia, a Democrat, wasted little time in accusing the president of adding to the divisions that put an unwanted spotlight on the normally peaceful college town. 'Neo-Nazis, Klansmen and white supremacists came to Charlottesville heavily armed, spewing hatred and looking for a fight,' Mr. McAuliffe said. 'One of them murdered a young woman in an act of domestic terrorism, and two of our finest officers were killed in a tragic accident while serving to protect this community. This was not "both sides."' No word in the Trump lexicon is as tread-worn as 'unprecedented.' But members of the president's staff, stunned and disheartened, said they never expected to hear such a voluble articulation of opinions that the president had long expressed in private. The National Economic Council chairman, Gary D. Cohn, and the Treasury secretary, Steven Mnuchin, who are Jewish, stood by uncomfortably as the president exacerbated a controversy that has once again engulfed a White House in disarray." See also, Trump Defends Initial Remarks on Charlottesville and Again Blames 'Both Sides,' The New York Times, Michael D. Shear and Maggie Haberman, Tuesday, 15 August 2017: "President Trump reverted Tuesday to blaming both sides for the deadly violence in Charlottesville, Va., and at one point questioned whether the movement to pull down Confederate statues would lead to the desecration of memorials to George Washington. Abandoning his precisely chosen and carefully delivered condemnations of the Ku Klux Klan and neo-Nazis from a day earlier, the president furiously stuck by his initial reaction to the unrest in Charlottesville. He drew the very moral equivalency for which a bipartisan chorus, and his own advisers, had already criticized him." See also, Full Transcript and Video of Trump's News Conference in New York City, The New York Times, Tuesday, 15 August 2017: "President Trump gave an update on the administration's efforts on infrastructure on Tuesday at Trump Tower, and then held a combative question-and-answer session that touched on the violence in Charlottesville, Va., his view on removing Confederate statues, Stephen K. Bannon's role in the White House and more."
Obama's response to Charlottesville violence is the most liked tweet in Twitter's history, The Washington Post, Kristine Phillips, Tuesday, 15 August 2017: "Unlike some former presidents, Barack Obama is showing no signs of completely abandoning public life. Since leaving office, Obama has commented on major events or controversies, including the terrorist attack in Manchester, England, and Sen. John McCain's brain cancer diagnosis. He did so again on Saturday, after the deadly violence in Charlottesville. 'No one is born hating another person because of the color of his skin or his background or his religion … People must learn to hate, and if they can learn to hate, they can be taught to love … For love comes more naturally to the human heart than its opposite,' Obama said, quoting former South African president Nelson Mandela in tweets."
The people, groups, and symbols at Charlottesville, Southern Poverty Law Center, Tuesday, 15 August 2017: "Numerous radical-right figures and groups were present at the deadly white nationalist rally in Charlottesville last weekend. [This article has] a list of some of the most prominent, with links to SPLC resources about them. [The article also covers] some of the [white supremacist] symbols that were on display."
After Charlottesville, Trump retweets–then deletes–image of train running over CNN reporter, The Washington Post, David Nakamura and Aaron C. Davis, Tuesday, 15 August 2017: "President Trump's war with CNN went off the rails Tuesday morning after he retweeted an image of a Trump train running over a CNN reporter, then quickly deleted it after the meme sparked criticism as inappropriate just days after the Charlottesville violence. Trump was in the middle of his usual morning tweetstorm when he sent the cartoon image — posted by a supporter who added, 'Nothing can stop the #TrumpTrain!!'– to his nearly 36 million followers…. Trump's promotion of the image came three days after a white supremacist rally in Charlottesville turned into a violent clash between the supremacists and counterprotesters. Heather Heyer, 32, was killed and 19 others injured when a driver slammed his car into a crowd of counterprotesters. A 20-year old man, who has reportedly espoused neo-Nazi views, has been charged with second-degree murder in the case. Two police officers also died when their helicopter crashed."
Trump Threat to Obamacare Would Send Premiums and Deficits Higher Says the Congressional Budget Office, The New York Times, Robert Pear and Thomas Kaplan, Tuesday, 15 August 2017: "Premiums for the most popular health insurance plans would shoot up 20 percent next year, and federal budget deficits would increase by $194 billion in the coming decade, if President Trump carried out his threat to end certain subsidies paid to insurance companies under the Affordable Care Act, the Congressional Budget Office said Tuesday. The subsidies reimburse insurers for reducing deductibles, co-payments and other out-of-pocket costs that low-income people pay when they visit doctors, fill prescriptions or receive care in hospitals. Even before efforts to repeal the Affordable Care Act collapsed in the Senate last month, Mr. Trump began threatening to stop paying the subsidies, known as cost-sharing reductions. He said the health care law would 'implode' and Democrats would have no choice but to negotiate a replacement plan. Mr. Trump described his strategy as, 'Let Obamacare implode, then deal.'  Those threats continue, though the Trump administration has paid the subsidies each month."
Trump Signs Order Rolling Back Environmental Rules on Infrastructure, The New York Times, Lisa Friedman, Tuesday, 15 August 2017: "President Trump announced on Tuesday that he had signed a sweeping executive order to eliminate and streamline some permitting regulations and to speed construction of roads, bridges and pipelines, declaring that the moves would fix a 'badly broken' infrastructure system in America and bring manufacturing jobs back to the country. In an explosive news conference overshadowed by questions about his response to a white nationalist rally over the weekend in Charlottesville, Va., Mr. Trump tried several times to steer the conversation back to infrastructure…. A key element of the new executive order rolls back standards set by former President Barack Obama that required the federal government to account for climate change and sea-level rise when building infrastructure. It also puts in place what the White House called a "one federal decision policy" under which one lead federal agency works with others to complete environmental reviews and other permitting decisions for a given project. All decisions on federal permits will have to be made within 90 days, and agencies will have a two-year goal to process environmental reviews for major projects."
Trump pours gasoline on feud with the CEOs who have left his manufacturing council, calling them 'grandstanders,' Politico, Dan Diamond, Tuesday, 15 August 2017: "The businessman president is bleeding support from business leaders he once called allies — and his latest comments cost him another adviser. 'I cannot sit on a council for a President that tolerates bigotry and domestic terrorism,' Richard Trumka, head of the AFL-CIO, said in a statement on Tuesday, an hour after President Donald Trump defended protesters in Charlottesville at a free-wheeling news conference. 'His comments today were the last straw.' Since Monday morning, Trumka and four other business leaders have dropped out of Trump's manufacturing council, citing his inadequate response to the Virginia protests or suggesting that their companies shouldn't be involved in politics. Trump on Tuesday escalated his feud with those leaders, accusing them of failing to do their jobs and rebuffing criticism from Walmart's CEO that his comments about Charlottesville were insufficient…. Earlier in the day, the president tweeted that the departing CEOs were 'grandstanders.'" See also, Rift Widens Between Trump and Business Leaders, The New York Times, David Gelles, Kate Kelly, Rachel Abrams, and Michael Corkery, Tuesday, 15 August 2017: "The chief executive of Walmart, the world's largest retailer, criticized President Trump in front of his 1.5 million American employees, widening a rift between the White House and the business community that has been growing since the weekend's violence in Charlottesville, Va. 'As we watched the events and the response from President Trump over the weekend, we too felt that he missed a critical opportunity to help bring our country together by unequivocally rejecting the appalling actions of white supremacists,' Douglas McMillon, the Walmart C.E.O., wrote in a letter to employees late Monday. The rebuke from Mr. McMillon came as six other business leaders stepped down from presidential advisory councils — including two late on Monday, the C.E.O.s of Intel and Under Armour — citing their own values as the primary motivation for distancing themselves from Mr. Trump. The president hit back at his critics in the business world during a news conference at Trump Tower Tuesday. He spent several minutes lashing out at some of the most prominent executives in the country, saying that those who left his councils were 'not taking their jobs seriously' and were 'leaving out of embarrassment.' The departures represent a rare spectacle in which prominent executives are looking for ways to pull back from an American president who campaigned, and won, partly on the strength of his pro-business stance. This has created an unusual calculus: Whether or not to stay on as advisers to a president, a role that traditionally is a coveted position with little to no attendant risk."
Attorney General Jeff Sessions and the Resurgence of Civil-Asset Forfeiture, The New Yorker, Sarah Stillman, Tuesday, 15 August 2017: "Amid the feuds and the policy gridlock of the Trump Administration, one faithful servant of the White House, Jefferson B. Sessions III, the Attorney General, has been busy pushing through real policy changes that have been on his mind for decades. Behind the smoke of higher-profile dramas—not least President Trump's public criticism of Sessions, including a tweet berating him as 'beleaguered'—Sessions has rewritten major criminal-justice norms in ways that diverge sharply from prevailing sentiments in America, and in much of his own party. In his first six months in office, Sessions has reversed one policy phasing out federal private prisons and another seeking to combat draconian federal-prison sentences. He's called for an inquiry into the link between marijuana and violent crime, and compared the drug's 'life-wrecking' harms to those of heroin. And last month, falling further out of step with many Republicans' slow retreat from the war on drugs, Sessions reclaimed one of that war's most disquieting weapons: civil-asset forfeiture."
Tenants Sue Kushner Companies Claiming Rent Rule Violations, The New York Times, Jesse Drucker, Tuesday, 15 August 2017: "A group of New York City tenants has sued the Kushner Companies, the family real estate firm of Jared Kushner, President Trump's son-in-law and White House adviser, accusing the company of systematically violating the state's rent regulations. Claims could grow to more than $1 million in rent overcharges in a single apartment building if the company is found liable. The lawsuit, filed in the New York State Supreme Court in Brooklyn on Tuesday, was on behalf of nine tenants, but it concludes that more than 100 former and current tenants could have similar claims. The complaint is seeking class-action status. The nonprofit group that researched the building, Housing Rights Initiative, said it had found similar irregularities in more than 50 other Kushner Companies apartment buildings across New York City and is studying potential future litigation related to those properties."
Texas Voter Maps Blocked as Racially Biased by U.S. Judges in San Antonio, Bloomberg Politics, Laurel Brubaker Calkins, Tuesday, 15 August 2017: "Texas can't use its current voter maps in the upcoming congressional midterm elections after a panel of federal judges ruled districts approved by state Republican lawmakers illegally discriminate against Hispanic and black voters. The three-judge panel in San Antonio gave the state three days to say if and when the Texas Legislature will fix the congressional map, which the judges concluded still carried the discriminatory taint of districts lawmakers originally drew in 2011 with the intent to squelch rising Latino voting strength. If Texas doesn't intend to correct biased districts, the court will hold a hearing to solicit advice before redrawing the map on its own, the panel said Tuesday."
Secretary of State Rex Tillerson Condemns the Islamic State for Religious Persecution, But He Makes No Mention of Trump's Ban of People from Six Predominantly Muslim Countries, The New York Times, Gardiner Harris, Tuesday, 15 August 2017: "The Trump administration criticized the Islamic State on Tuesday for its persecution of religious minorities but made no mention of a recent rise in attacks against Muslims in the United States, as it released the government's annual accounting of religious persecution around the world. 'As we make progress in defeating ISIS and denying them their caliphate, their terrorist members have and continue to target multiple religions and ethnic groups for rape, kidnapping, enslavement and even death,' said Secretary of State Rex W. Tillerson, referring to the Islamic State, in brief remarks Tuesday morning at the State Department…. 'Religious persecution and intolerance remains far too prevalent,' he said. 'Almost 80 percent of the global population live with restrictions on or hostilities to limit their freedom of religion.' Missing from Tuesday's report was any mention of a spike in acts of violence and bigotry against Muslims in the United States, widely reported in the wake of last year's election. Nor did the report take note of President Trump's proposal as a candidate to ban the entry of all Muslims into the United States, or his subsequent orders to bar the entry of refugees or citizens from seven (later reduced to six) predominantly Muslim countries."
President Moon Jae-in of South Korea Bluntly Warns U.S. Against Striking North Korea, The New York Times, Choe Sang-Hun, Tuesday, 15 August 2017: "With his public alarmed by President Trump's recent threats to North Korea, President Moon Jae-in of South Korea issued an unusually blunt rebuke to the United States on Tuesday, warning that any unilateral military action against the North over its nuclear weapons program would be intolerable. 'No one should be allowed to decide on a military action on the Korean Peninsula without South Korean agreement,' Mr. Moon said in a nationally televised speech. As a candidate for the presidency, Mr. Moon, a liberal who took office in May, said he would 'say no to the Americans' if necessary. But he has aligned South Korea more closely with its military ally than many had expected. Though he suspended the deployment of a United States missile defense system opposed by China, he reversed that decision last month after North Korea tested two intercontinental ballistic missiles. But President Trump's threat to bring 'fire and fury' to North Korea, along with other statements from American officials about the possibility of war, has unnerved many South Koreans and put pressure on Mr. Moon to live up to his campaign promise. 'Our government will do everything it can to prevent war from breaking out,' he said in his speech Tuesday. Mr. Moon's pushback was the latest indication that Mr. Trump's unorthodox approach to foreign policy, coupled with Pyongyang's rapid progress toward its goal of nuclear missiles that can reach the mainland United States, was putting new strain on the longstanding alliance. And it underscored how Mr. Trump's volatile language is sowing division with an ally whose help would be vital to the success of any American military campaign on the divided peninsula."
Wednesday, 16 August 2017, Day 209:
Baltimore Removes Confederate Statues. The Mayor Cites Public Safety. The New York Times, Nicholas Fandos, Russell Goldman, and Jess Bidgood, Wednesday, 16 August 2017: "It was 'in the best interest of my city,' Mayor Catherine Pugh said Wednesday, as she explained why she ordered Confederate monuments removed under the cover of darkness, days after violence broke out during a rally against the removal of a similar monument in neighboring Virginia. 'I said with the climate of this nation,' Ms. Pugh said later, 'that I think it's very important that we move quickly and quietly.' With no immediate public notice, no fund-raising, and no plan for a permanent location for the monuments once they had been excised — all things city officials once believed they would need — the mayor watched in the wee hours on Wednesday as contractors with cranes protected by a contingent of police officers lifted the monuments from their pedestals and rolled them away on flatbed trucks. After the violent clashes in Charlottesville, Va., many city leaders and even some governors around the country have urged the removal of Confederate monuments in their jurisdictions — a typically bureaucratic process that, in cities like New Orleans and Charlottesville, have been met with legal delays that helped feed tensions surrounding their removal. But, in an interview here, Ms. Pugh suggested the tense political climate had turned her city's statues into a security threat and she said that her emergency powers allowed her to have them removed immediately."
Confederate Monuments Are Coming Down Across the United States, Here's a List. The New York Times, Wednesday, 16 August 2017 and updated as new information comes in: "A white nationalist rally that turned violent in Charlottesville, Va., on Saturday brought renewed attention to dozens of Confederate monuments around the country. Many government officials, including Representative Nancy Pelosi of California, the House Democratic leader, have called to remove statues, markers and other monuments that celebrate controversial Civil War era figures from public grounds. There are likely hundreds of such monuments in the United States."
Vice President Mike Pence says he stands with Trump, but he did not defend Trump's 'both sides' comments on Charlottesville, The Washington Post, Philip Rucker, Wednesday, 16 August 2017: "Vice President Pence says he is standing by President Trump in the aftermath of deadly violence at a white supremacist rally in Charlottesville, but he declined Wednesday to defend the president's statement from the day before that 'both sides' were to blame. Asked at a news conference whether he agreed with Trump that there were good people among the white supremacist demonstrators, and that there was blame to be had on both sides, Pence largely sidestepped the question. 'What happened in Charlottesville was a tragedy, and the president has been clear on this tragedy and so have I,' Pence said. 'I spoke at length about this heartbreaking situation on Sunday night in Colombia, and I stand with the president, and I stand by those words.' Pence also was asked and would not comment about Trump's off-the-cuff comparison of Confederate generals Robert E. Lee and Stonewall Jackson with Founding Fathers George Washington and Thomas Jefferson, the first and third U.S. presidents."
North Carolina governor Roy Cooper says state's Confederate monuments must come down; 'History is not on their side,' The Washington Post, Cleve R. Wootson Jr., Wednesday, 16 August 2017: "Telling the people of North Carolina that Civil War history 'belongs in textbooks and museums — not a place of allegiance on our Capitol grounds,' Gov. Roy Cooper wrote that his state needs to remove hundreds of Confederate monuments from places of reverence across the state. Cooper, a Democrat, posted the editorial Tuesday in Medium, saying he was speaking out after demonstrations devolved into violence in Charlottesville. Saturday's Unite the Right rally left three people dead: a woman killed when a man plowed his car into a crowd of counterprotesters, and two Virginia state troopers who died in a helicopter crash while monitoring the protests. The rally was organized to fight the planned removal of a statue of Confederate Gen. Robert E. Lee. North Carolina has hundreds of similar statues, Cooper wrote, and each one has the potential to become a flash point for emotional and potentially violent debates about history, heritage and racism…."
Veterans Affairs secretary David Shulkin says he's 'outraged' by what he has seen from Nazis and white supremacists, The Washington Post, Dan Lamothe, Wednesday, 16 August 2017: "Veterans Affairs Secretary David Shulkin said Wednesday that he is 'outraged' by what he saw from Nazis and white supremacists during a deadly altercation Saturday in Charlottesville but that he declined to tell President Trump it was wrong for him to equate their violence with that of counterprotesters who stood up to them. Shulkin, who is Jewish, spoke to reporters and said that although he serves Trump, he does not speak for him. Trump has done 'a good job of making clear his comments' about the melee in Charlottesville, and has denounced bigotry, hatred, violence, Nazis and white supremacists, Shulkin said. Shulkin's appearance came toward the end of a day in which Trump administration officials were asked whether they agree with the president's controversial comments Tuesday. Trump said there was violence 'on both sides' in Charlottesville, and that there were some 'fine people' among those protesting alongside white supremacists against the removal of a statue of Confederate Gen. Robert E. Lee."
Trump Ends C.E.O. Advisory Councils After He Gets Word of Their Defection: Inside the C.E.O. Rebellion Against Trump's Advisory Councils, The New York Times, David Gelles, Landon Thomas Jr., Andrew Ross Sorkin, and Kate Kelly, Wednesday, 16 August 2017: "On Tuesday, Indra Nooyi, the chief executive of PepsiCo, joined a call with other prominent corporate chieftains who — like her — had agreed to advise President Trump. A rebellion was brewing. Along with other business leaders, Ms. Nooyi had watched with bafflement over the weekend as Mr. Trump blamed 'many sides' for an outburst of white supremacist violence in Charlottesville, Va. Ms. Nooyi spoke with Mary T. Barra, the head of General Motors, Virginia M. Rometty, the chief of IBM, and Rich Lesser, the chief executive of Boston Consulting Group, who were similarly outraged with the president's response. All of them wondered whether it was time to step down from the Strategic and Policy Forum, an elite group formed late last year to advise the president on economic issues. As these calls were occurring, the president's other main business advisory group, the Manufacturing Jobs Initiative, had begun to disintegrate. Early Monday, the chief executive of Merck stepped down from that group, followed by the chiefs of Intel and Under Armour, and representatives from a labor group and a nonprofit business alliance. Some chief executives were still on the fence on Tuesday, torn between remaining on the prestigious presidential policy advisory panel and making a statement by stepping down. But after the president delivered a series of stunning remarks in the gilded lobby of Trump Tower on Tuesday afternoon, when he again equated far-right hate groups with the groups protesting them, many chief executives had enough. On Wednesday morning, a dozen of the country's most influential C.E.O.s joined a conference call, and, after some debate, a consensus emerged: The policy forum would be disbanded, delivering a blow to a president who came into office boasting of his close ties with business leaders. With the collapse of the councils, the president has all but lost his most natural constituency — the corporate leaders who stood to benefit from his agenda of lower taxes and lighter regulation. Before they could make a statement announcing their decision, however, Mr. Trump spoke. He had caught wind of their planned defection and wanted to have the last word. Taking to Twitter, he wrote: 'Rather than putting pressure on the businesspeople of the Manufacturing Council & Strategy & Policy Forum, I am ending both. Thank you all!' This account is based on interviews with more than a dozen people at the companies represented on the council or advising them."
Trump's generals condemn Charlottesville racism–while trying not to offend Trump, The Washington Post, Andrew deGrandpre, Wednesday, 16 August 2017: "One by one, the U.S. military's most senior leaders have publicly — and bluntly — repudiated the racist violence that plunged Charlottesville into chaos Saturday, declaring the nation's armed forces as being unequivocally against hatred. By midmorning Wednesday, the military's four service chiefs had issued firm, forceful statements that stand apart from remarks made by President Trump, who faces deepening criticism for his repeated attempts to evenly distribute blame for clashes between white nationalists and the anti-fascist protesters who showed up to oppose them. One woman died and 19 were injured when a car, which police said was driven by 20-year-old James Alex Fields Jr. of Ohio, slammed into people demonstrating along a crowded, narrow street near the University of Virginia."
Republican Jewish Coalition breaks with Trump on Charlottesville and asks for 'greater moral clarity,' The Washington Post, David Nakamura, Wednesday, 16 August 2017: "A major Jewish political coalition that has long supported President Trump and stood by him through other controversies broke with him on Wednesday over his response to events last weekend in Charlottesville, imploring him to more forcefully reject Nazis and other white supremacist groups. The Republican Jewish Coalition called on Trump to 'provide greater moral clarity in rejecting racism, bigotry, and antisemitism,' in a joint statement from Chairman Norm Coleman and executive director Matt Brooks. The one paragraph statement represented another sign that Trump's supportive comments of some participants in the Unite the Right rally over the weekend has fractured political support from some of his closest allies. Trump's business manufacturing advisory council disbanded Wednesday after a number of chief executives and other members announced their resignation in protest of his remarks, and some high-profile Republican leaders on Capitol Hill criticized the president."
The U.S. Capitol has at least three times as many statues of Confederate figures as it does of black people, The Washington Post, Christopher Ingraham, Wednesday, 16 August 2017: "Confederate monuments have once again become focal points for protests and unrest following a violent white nationalist demonstration in Charlottesville. Most of the controversy has centered on the presence of confederate monuments in cities and states, such as the one protesters tore down Monday night in Durham, N.C. But monuments to the confederacy are well-represented at the federal level as well, particularly in the U.S. Capitol. Consider this: In the Capitol's National Statuary Hall Collection there are three times as many statues of Confederate soldiers and politicians as there are statues of black people in the entire Capitol complex, according to records maintained by the Architect of the Capitol."
'Nazis must be confronted': World leaders accuse Trump of 'glossing over' racist violence, The Washington Post, Amy B. Wang, Wednesday, 16 August 2017: "President Trump's off-the-rails Tuesday news conference — in which he once again blamed "both sides" in Charlottesville, effectively undoing his earlier conciliatory remarks — earned him another wave of backlash from world leaders Wednesday. British Prime Minister Theresa May didn't call Trump out by name but said in a statement Wednesday there was 'no equivalence' between the two sides. Chaos erupted in Charlottesville over the weekend after white supremacist groups that had gathered for a 'Unite the Right' rally clashed with counterprotesters. After the planned rally was canceled, a car plowed into a crowd of counterprotesters, killing one person and injuring 19 others. Police later arrested 20-year-old James Alex Fields Jr. of Ohio, who was identified by a former teacher as being a longtime Nazi sympathizer. 'I see no equivalence between those who propound fascist views and those who oppose them,' May said. 'I think it is important for all those in positions of responsibility to condemn far right views wherever we hear them.' Similarly, the European Commission mentioned neither Trump nor Charlottesville but, in a tweet Wednesday morning, reiterated the European Union's founding principles: liberty, democracy, respect for human rights and fundamentals, and the rule of law. 'We reject and condemn all forms and manifestations of racism and xenophobia,' the commission stated. 'They are incompatible with the values and principles upon which the E.U. is founded.'"
Trump Lawyer John Dowd Forwarded an Email to Conservative Journalists, Government Officials, and Friends That Echoed Secessionist Civil War Propaganda, The New York Times, Michael S. Schmidt and Matt Apuzzo, Wednesday, 16 August 2017: "President Trump's personal lawyer on Wednesday forwarded an email to conservative journalists, government officials and friends that echoed secessionist Civil War propaganda and declared that the group Black Lives Matter 'has been totally infiltrated by terrorist groups.' The email forwarded by John Dowd, who is leading the president's legal team, painted the Confederate general Robert E. Lee in glowing terms and equated the South's rebellion to that of the American Revolution against England. Its subject line — 'The Information that Validates President Trump on Charlottesville' — was a reference to comments Mr. Trump made earlier this week in the aftermath of protests in the Virginia college town. 'You cannot be against General Lee and be for General Washington,' the email reads, 'there literally is no difference between the two men.'… Mr. Dowd received the email on Tuesday night and forwarded it on Wednesday morning to more than two dozen recipients, including a senior official at the Department of Homeland Security, The Wall Street Journal editorial page and journalists at Fox News and The Washington Times. There is no evidence that any of the journalists used the contents of the email in their coverage. One of the recipients provided a copy to The New York Times."
Attorney General Jeff Sessions Lauds Miami and Rebukes Chicago in Escalating Fight With Sanctuary Cities, The New York Times, Rebecca R. Ruiz, Wednesday, 16 August 2017: "Attorney General Jeff Sessions hailed local authorities in Miami on Wednesday for falling in line with federal immigration efforts but denounced Chicago and other so-called sanctuary cities that have escalated their rejection of Trump administration enforcement policies. 'The leaders in Chicago have made this a political issue,' Mr. Sessions said in a speech in the Port of Miami. He contrasted Chicago's defiance with Miami-Dade County's recent cooperation, formally recognized by the Justice Department this month. 'Respect for the rule of law has broken down. In Chicago, I suggest the so-called sanctuary polices are one sad example of that,' he said. Sanctuary cities' policies vary, but they generally limit cooperation with federal immigration authorities, arguing that close collaboration could undercut local law enforcement efforts. President Trump demanded in January that local authorities fully cooperate or risk losing federal grant money."
A Bill to Restrict Which Bathroom Transgender People Can Use in Public Buildings and Schools Died in the Texas Legislature, The New York Times, David Montgomery and Manny Fernandez, Wednesday, 16 August 2017: "A bill to restrict which bathroom transgender people can use in public buildings and schools died in the Texas Legislature on Tuesday evening, a rare defeat for social conservatives in a state they usually dominate. The failure of the so-called bathroom bill at the end of a special legislative session was the second time in three months that the bill had fallen short, and it deepened the ideological discord within the Texas Republican Party. But it did not kill the issue entirely. The Republican lieutenant governor, Dan Patrick, who pushed for the bill's North Carolina-style restrictions on transgender bathroom use, virtually guaranteed that the issue would arise again in future legislative sessions. And it is still possible that Gov. Greg Abbott, who supported the bill, will recall lawmakers for a second special session to give the bill another chance at passage…. Opponents of the measure, including gay rights activists, corporate executives, transgender Texans and both Democratic and Republican lawmakers, hailed the bill's demise in the special session as a significant achievement, even if it proves to be short-lived. The Legislature had previously failed to pass it during the regular session that ended in May."
F.B.I. Agents Supported Director James Comey, Surveys Show, Weakening Trump's Claim of Turmoil, The New York Times, Matt Apuzzo, Wednesday, 16 August 2017: "As F.B.I. director, James B. Comey had widespread support from his agents, according to internal survey data released Wednesday that contradicts President Trump's claim that he fired Mr. Comey in part because agents had lost confidence in him. Mr. Comey's firing is among many topics now under investigation by the Justice Department special counsel, Robert S. Mueller III. Mr. Trump and his aides have offered changing explanations for why he fired Mr. Comey, who was overseeing the investigation into Mr. Trump's associates and possible links to Russia's election interference. The F.B.I. released the results of three years of internal questionnaires in response to a public records request by The New York Times. The surveys revealed that agents around the country gave the F.B.I. leadership high marks — 4.01 on a scale of 5 — in this year's survey. The F.B.I. considers scores over 3.81 an indication of success."
Trump administration agrees to continue healthcare subsidy for now, Los Angeles Times, David Lauter, Wednesday, 16 August 2017: "The Trump administration, faced with increasing pressure from Republican members of Congress, backed away from causing an immediate crisis in healthcare marketplaces and agreed Wednesday to continue making payments to insurance companies that are widely viewed as critical to keeping the industry stable. President Trump and his top aides have flirted for months with cutting off the money, known as cost-sharing reduction payments, which help subsidize insurance co-payments and deductibles for low-income and moderate-income Americans. Doing so would be one step toward causing the Affordable Care Act to 'implode' — as Trump has sometimes put it. The decision to make this month's payment, due next week, signaled that the administration has decided against immediately precipitating a collapse, potentially giving Congress time to pass a bipartisan package of fixes to some of the law's problems. Leading Republican members of Congress have pressed the administration to keep making the payments, fearing that any move to cut them off would cause chaos in insurance markets. Trump has said voters would blame Democrats for any problems with the markets, but few Republican elected officials share that view. The pressure to continue the payments increased Tuesday when the Congressional Budget Office reported that cutting off the payments would actually increase federal spending. Ending them would cause insurance premiums to rise sharply and thereby increase the cost of other government subsidies, the budget office said. A White House official confirmed Wednesday that the administration had decided to make this month's payment, which will total about $600 million. The question of whether to make future payments remains under review."
Doctors Warm to Single-Payer Health Care System, Kaiser Health News, Rachel Bluth, Wednesday, 16 August 2017: "Single-payer health care is still a controversial idea in the U.S., but a majority of physicians are moving to support it, a new survey finds. Fifty-six percent of doctors registered either strong support or were somewhat supportive of a single-payer health system, according to the survey by Merritt Hawkins, a physician recruitment firm. In its 2008 survey, opinions ran the opposite way — 58 percent opposed single-payer. What's changed? Red tape, doctors tell Merritt Hawkins. Phillip Miller, the firm's vice president of communications, said that in the thousands of conversations its employees have with doctors each year, physicians often say they are tired of dealing with billing and paperwork, which takes time away from patients. 'Physicians long for the relative clarity and simplicity of single-payer. In their minds, it would create less distractions, taking care of patients — not reimbursement,' Miller said. In a single-payer system, a public entity, such as the government, would pay all the medical bills for a certain population, rather than insurance companies doing that work. A long-term trend away from physicians owning their practices may be another reason that single-payer is winning some over. Last year was the first in which fewer than half of practicing physicians owned their practice — 47.1 percent — according to the American Medical Association's surveys in 2012, 2014 and 2016. Many doctors are today employed by hospitals or health care institutions, rather than working for themselves in traditional solo or small-group private practices. Those doctors might be less invested in who pays the invoices, Miller said."
Thursday, 17 August 2017, Day 210:
Defiant, Trump Laments Assault on Culture and Revives a Bogus Story About General John Pershing Supposedly Killing Muslim Rebels in the Philippines by Shooting Them With Bullets Dipped in the Blood of Pigs, The New York Times, Michael D. Shear and Maggie Haberman, Thursday, 17 August 2017: "Despite ongoing rebukes over his defense of white supremacists, President Trump defiantly returned to his campaign's nativist themes on Thursday. He lamented an assault on American "culture," revived a bogus, century-old story about killing Muslim extremists and attacked Republicans with a renewed vigor. Hours after a terrorist attack in Spain, Mr. Trump recalled a debunked event in which Gen. John J. 'Black Jack' Pershing supposedly killed Muslim rebels in the Philippines by shooting them with bullets dipped in the blood of pigs, which Muslims are forbidden to eat. The Islamic State claimed responsibility for the attack in Barcelona, where the driver of a van crashed into a busy tourist boulevard, killing 13. 'Study what General Pershing of the United States did to terrorists when caught,' Mr. Trump tweeted, spreading a mythical story even as he again accused the news media of being 'Fake News' in another tweet. 'There was no more Radical Islamic Terror for 35 years!' As when he trafficked in the same unproven legend during the presidential campaign, Mr. Trump ignored the conclusions of historians, who repeatedly have said it did not happen. Additionally, his claim that Pershing ended terrorism in the Philippines for 35 years is refuted by the violence that continued for decades after the rebellion that ended in 1913. Mr. Trump also appeared in peril of losing support from key Republicans he will need to advance his agenda in Congress. Senator Bob Corker, the Republican chairman of the Foreign Relations Committee, questioned the president's 'stability,' and Senator Tim Scott, the only black Republican in the Senate, declared Mr. Trump's moral authority is 'compromised.'"
Trump said he's 'sad' to see Confederate statues coming down. Descendants of Confederate leaders disagree. The Washington Post, Mark Berman, Thursday, 17 August 2017: "President Trump on Thursday denounced the push to take down Confederate statues and monuments across the country, characterizing it as 'the history and culture of our great country being ripped apart.' During a news conference Tuesday and then in a string of tweets Thursday, Trump decried the removal of statues and equated Robert E. Lee and Stonewall Jackson, both Confederate military leaders, with George Washington and Thomas Jefferson, two of the country's Founding Fathers. Trump's comments, though, run directly counter to the sentiments expressed by descendants of the same Confederate leaders he name-checked. Relatives of those leaders say they don't agree that the statues should stay up, particularly after a wave of violence erupted Saturday in Charlottesville. 'If it can avoid any days like this past Saturday in Charlottesville, then take them down today,' Robert E. Lee V, who is named for the Confederate general and now lives in Washington, told The Post's Mike Semel in an interview Thursday. 'That's not what our family is at all interested in and that's not what we think General Lee would want whatsoever. So if it's going to cause this kind of hatred and violence, take it down immediately.'"
Trump embraces culture war with call to preserve Confederate statues, The Washington Post, Robert Costa and David Nakamura, Thursday, 17 August 2017: "President Trump on Thursday assumed the role of leading spokesman for the racially charged cause of preserving Confederate statues on public grounds, couching his defense in historical terms that thrilled his core supporters and signaled his intent to use cultural strife as a political weapon just days after deadly violence in Virginia. 'Sad to see the history and culture of our great country being ripped apart with the removal of our beautiful statues and monuments,' Trump wrote on Twitter. 'So foolish!' he added, bemoaning efforts in several municipalities to take down Confederate tributes. Trump's celebration of monuments from a dark chapter of American history sparked wide debate over its consequences for his embattled presidency and the nation's civic fabric, as well as over the challenges facing both parties as he delves into the culture wars. A chorus of Republicans expressed alarm over Trump's words and their potential cost with voters. But Trump's allies inside and outside the White House, most notably White House chief strategist Stephen K. Bannon, argued that Trump's pronouncements would rally his political base — while also serving as a welcome distraction from the policy stumbles and investigations that have hobbled the administration."
Call to Remove Confederate Statues From the Capitol Divides Democrats, The New York Times, Thomas Kaplan, Thursday, 17 August 2017: "The nationwide push to dismantle Confederate memorials divided Congress's most senior Democrats on Thursday, as Representative Nancy Pelosi, the House minority leader, pressed for the removal of Confederate statues from the Capitol while her Senate counterpart tried to keep the focus on President Trump's equivocation over white nationalists. 'The Confederate statues in the halls of Congress have always been reprehensible,' Ms. Pelosi said, putting pressure on the House speaker, Paul D. Ryan of Wisconsin, to act. 'If Republicans are serious about rejecting white supremacy, I call upon Speaker Ryan to join Democrats to remove the Confederate statues from the Capitol immediately.' Senator Chuck Schumer of New York, the Democratic leader, took a very different tack, saying that Mr. Trump and his chief strategist, Stephen K. Bannon, were 'trying to divert attention away from the president's refusal to unequivocally and full-throatedly denounce white supremacy, neo-Nazism and other forms of bigotry.' The division highlighted how delicate the political path forward might be for Democrats after the deadly violence in Charlottesville, Va., this past weekend. While large majorities of Americans say they disagree with the beliefs of white nationalists and the Ku Klux Klan, even Democratic voters are divided over the removal of Confederate memorials. The fate of those monuments has been the focus of attention around the country after the violent white nationalist rally in Charlottesville, which protested the planned removal of a statue of the Confederate general Robert E. Lee from a city park. Mr. Trump has added fuel to the debate about such monuments, writing on Twitter on Thursday, 'Sad to see the history and culture of our great country being ripped apart with the removal of our beautiful statues and monuments.' On Wednesday night, Senator Cory Booker, Democrat of New Jersey, said he would introduce a bill to remove Confederate statues from the Capitol. But with the president plunging into the longstanding debate over the appropriate place of Civil War-era symbols in contemporary society, Mr. Schumer argued on Thursday that Mr. Trump was trying to shift the conversation away from his own response to the violence in Charlottesville. 'While it is critical that we work towards the goal of Senator Cory Booker's legislation,' Mr. Schumer said, "we must continue to denounce and resist President Trump for his reprehensible actions.'"
Republican Senator Bob Corker of Tennessee says Trump has not demonstrated 'stability' or 'competence' to lead effectively, The Washington Post, Sean Sullivan, Thursday, 17 August 2017: "President Trump drew a new and forceful round of criticism Thursday from a leading Republican senator who asserted that Trump has not demonstrated the 'stability' or 'competence' necessary to effectively lead the country. Sen. Bob Corker (R-Tenn.), who has been one of the most outspoken GOP Trump critics in Congress, expressed displeasure with Trump's response to the deadly weekend violence in Charlottesville and warned that if the president does not change his behavior, 'our nation is going to go through great peril.' 'The president has not yet been able to demonstrate the stability nor some of the competence that he needs to demonstrate in order to be successful,' the senator told reporters in Tennessee. 'And we need for him to be successful.' Corker's remarks came on a day when at least two other Republican senators — Tim Scott (S.C.) and Dan Sullivan (Alaska) — also faulted the president. Scott, the only African American Republican in the Senate, said in an interview with Vice News that Trump's 'moral authority is compromised.' Corker, chairman of the Senate Foreign Relations Committee, took some pauses as he spoke, appearing to choose his words carefully. Video of the question-and-answer session was posted on Facebook by a staff writer for Nooga.com."
James Murdoch, Rebuking Trump, Pledges $1 Million to Anti-Defamation League, The New York Times, Maggie Haberman, Thursday, 17 August 2017: "James Murdoch, the chief executive of 21st Century Fox and the son of a frequent ally of President Trump's, condemned the president's performance after the violence in Charlottesville, Va., and pledged to donate $1 million to the Anti-Defamation League. In an email on Thursday, a copy of which was obtained by The New York Times and confirmed as authentic by a spokesman for Mr. Murdoch's company, the Fox scion gave an extraordinarily candid statement against the white supremacist sentiment that swept through Virginia last weekend. It was also the most outspoken that a member of the Murdoch family has been in response to the week's events. Mr. Murdoch's father, Rupert Murdoch, is a conservative media mogul who has become an informal adviser to Mr. Trump, recently dining with the president in the White House residence. The younger Mr. Murdoch has been less outspoken about his political views, making the email even more surprising. With a subject line reading, 'Subject: Personal note from James Murdoch re: ADL,' Mr. Murdoch addressed the note to 'friends.' 'I'm writing to you in a personal capacity, as a concerned citizen and a father. It has not been my habit to widely offer running commentary on current affairs, nor to presume to weigh in on the events of a given day save those that might be of particular or specific concern to 21CF and my colleagues,' he wrote. 'But what we watched this last week in Charlottesville and the reaction to it by the President of the United States concern all of us as Americans and free people.' He added: 'These events remind us all why vigilance against hate and bigotry is an eternal obligation — a necessary discipline for the preservation of our way of life and our ideals. The presence of hate in our society was appallingly laid bare as we watched swastikas brandished on the streets of Charlottesville and acts of brutal terrorism and violence perpetrated by a racist mob. I can't even believe I have to write this: standing up to Nazis is essential; there are no good Nazis. Or Klansmen, or terrorists. Democrats, Republicans, and others must all agree on this, and it compromises nothing for them to do so.'" See also, Text of James Murdoch's Email Condemning Trump's Response to Charlottesville, The New York Times, published on Thursday, 17 August 2017: The email was sent on Thursday "by James Murdoch, the chief executive of 21st Century Fox and the son of Rupert Murdoch, a frequent ally of President Trump's. The email was confirmed as authentic by a spokesman for his company."
Charlottesville Violence and Trump's Reaction Draw Criticism Abroad, The New York Times, Liam Stack, Thursday, 17 August 2017: "A wide range of world leaders have condemned the violence in Charlottesville last weekend and sometimes sharply criticized President Trump, who said that some of the people marching with the white supremacist and neo-Nazi protesters were 'very fine people.' Many of these countries are American allies who are no stranger to anti-Semitism and far-right violence. From Britain and Germany to Israel and Iran, here is what political leaders around the world have said in the aftermath of the clashes in Charlottesville."
Steve Bannon says rivals 'wetting themselves,' calls supremacists 'clowns,' contradicts Trump on North Korea, The Washington Post, Derek Hawkins, Thursday, 17 August 2017: "Stephen K. Bannon, the White House chief strategist, seemed to take issue with President Trump on North Korea, attacked white supremacists as 'clowns' and 'losers' and described his efforts against administration rivals in an unusual interview [Tuesday] with The American Prospect, a progressive magazine. The interview with magazine co-editor and columnist Robert Kuttner was initiated by Bannon, Kuttner said, in an Anthony Scaramucci-style phone call out of the blue in response to a column Kuttner had written on China. 'Bannon was in high spirits when he phoned me Tuesday afternoon to discuss the politics of taking a harder line with China, and minced no words describing his efforts to neutralize rivals at the Departments of Defense, State and Treasury,' wrote Kuttner. 'They're wetting themselves,' he said, proceeding to detail how he would oust some of his opponents at State and Defense.' On North Korea, Bannon said: 'Until somebody solves the part of the equation that shows me that ten million people in Seoul don't die in the first 30 minutes from conventional weapons, I don't know what you're talking about, there's no military solution here, they got us.' That comment seemed at odds with Trump's 'fire and fury' threats to use military force against North Korea. On China, Bannon told Kuttner that the United States was at 'economic war' and warned that 'one of us is going to be a hegemon in 25 or 30 years and it's gonna be them if we go down this path,' according to the article." See also, Steve Bannon, Unrepentant, The American Prospect, Robert Kuttner, published on Wednesday, 16 August 2017.
Trump attacks Republican senators Lindsey Graham of South Carolina and Jeff Flake of Arizona as 'publicity-seeking'  and 'toxic,' The Washington Post, David Nakamura and Ed O'Keefe, Thursday, 17 August 2017: "President Trump went on the offensive Thursday against two Republican senators, attacking them for their recent 'criticisms of his divisive governing style and response to the violence in Charlottesville. In a morning tweetstorm, Trump lambasted Sens. Lindsey O. Graham (S.C.) and Jeff Flake (Ariz.), calling Graham 'publicity-seeking' and Flake 'toxic' and endorsing a primary challenger to Flake in his reelection bid next year. Flake recently published a book that was highly critical of Trump. Trump appeared to throw his support behind former Arizona state senator Kelli Ward, who is already mounting a primary challenge against Flake."
Three fundraising giants cancel plans for galas at Mar-a-Lago, The Washington Post, Drew Harwell and David A. Fahrenthold, Thursday, 17 August 2017: "Three fundraising giants decided to pull events from President Trump's Mar-a-Lago Club in Palm Beach on Thursday, signaling a direct blowback to his business empire from his comments on Charlottesville's racial unrest. The American Cancer Society, a high-dollar client at the club since at least 2009, cited its 'values and commitment to diversity' in a statement on its decision to move an upcoming fundraising gala. Another longtime Mar-a-Lago customer, the Cleveland Clinic, abruptly changed course on its winter event only days after saying it planned to continue doing business at Mar-a-Lago, a leading venue for charitable events in the posh resort town. The American Friends of Magen David Adom, which raises money for Israel's equivalent of the Red Cross, also said it would not hold its 2018 gala at the club 'after considerable deliberation,' though it did not give a reason. The charity had one of Mar-a-Lago's biggest events last season, with about 600 people in attendance."
Trump White House is still holding back visitor information, watchdog group Public Citizen says, The Washington Post, Spencer S. Hsu, Thursday, 17 August 2017: "A government watchdog group sued Thursday to compel the Trump administration to release names of at least some visitors to the White House complex, as was done in the Obama era. The lawsuit contends that the current administration had planned to be less open about visitor logs but was failing to abide by even that lower standard it had announced in April. Public Citizen, a nonprofit advocacy group, alleged in the lawsuit in the U.S. District Court for the District of Columbia that the Secret Service has rejected or ignored requests under the public records law for information about visitors to four agencies at the White House complex: the Office of Management and Budget, the Office of Science and Technology Policy, the Office of National Drug Control Policy and the Council on Environmental Quality. Public Citizen harshly criticized the withholding of the visitor information, saying the failure to release them flouted a 2013 appellate court ruling and contradicted President Trump's vows to 'drain the swamp' of corrupting influences of money in politics in Washington."
After fighting for the right of white nationalists to hold a rally at Emancipation Park in Charlottesville, Virginia, the American Civil Liberties Union Wrestles With Its Role, The New York Times, Joseph Goldstein, Thursday, 17 August 2017: "The American Civil Liberties Union was under severe duress. Hate mail poured in, death threats, and the executive director was spat on. That moment, 40 years ago, fought over a planned rally by a small group of neo-Nazis in Skokie, Ill., would become one of the organization's most notable cases, and to some, among its finest moments. The A.C.L.U. cemented its reputation for fighting for civil liberties, even, or especially, if it meant, in the words of its director at the time, 'defending my enemy.' That philosophy came into renewed focus last week as the organization went to court to fight for the right of white nationalists to hold a rally at Emancipation Park in Charlottesville, Va…. [T]he group's defense of the Charlottesville rally has crystallized a recurring challenge for the organization: how to pursue its First Amendment advocacy, even for hate-based groups, without alienating its supporters…. Since Charlottesville, the A.C.L.U. has clearly wrestled with what to do when the next case comes along. It indicated on Thursday that, in evaluating whether to take free-speech cases involving public gatherings, the group would consider the potential for violence at the event and whether protesters were going to be carrying firearms. But Ms. Sullivan, the spokeswoman, said that was not a new policy; rather, it reflected existing practices. 'We make decisions on whom we'll represent and in what context on a case-by-case basis,' the A.C.L.U. said in a statement on Thursday. 'The horrible events in Charlottesville last weekend will certainly inform those decisions going forward.' Mr. Romero, the A.C.L.U.'s executive director, said in an interview this week that the group would remain committed to its free speech advocacy. 'This is not a new juncture for the A.C.L.U.,' he said. 'We have a longstanding history of defending the rights of groups we detest and with whom we fundamentally disagree.'… The A.C.L.U. has long maintained that defending the First Amendment rights of white supremacists does not only vindicate constitutional rights where they are under attack, but also protects speech rights for all groups. Social justice and equality, the group believes, are best served with more speech, on all sides, and by confronting hateful ideas head-on rather than suppressing them."
The American Civil Liberties Union Will No Longer Defend Hate Groups Protesting With Firearms, The Wall Street Journal, Joe Palazzolo, Thursday, 17 August 2017: "The American Civil Liberties Union, taking a tougher stance on armed protests, will no longer defend hate groups seeking to march with firearms, the group's executive director said. Following clashes over the weekend in Charlottesville, Va., the civil-rights group also will screen clients more closely for the potential of violence at their rallies, said Anthony Romero, who has been the ACLU's executive director since 2001. [Romero] says violence and guns at the Charlottesville rally spurred the new stance."