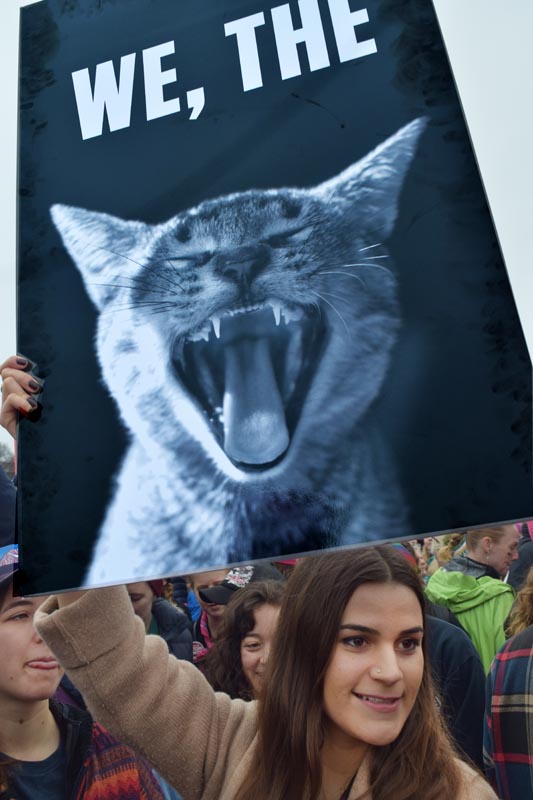 Photo by Robert Del Tredici
Keeping Track (of some things), Staying Outraged (it is possible), and Resisting (it's essential)
Passages in bold in the body of the texts below are my emphasis. This is an ongoing project, and I update the site frequently. I hope readers will peruse the articles in full for a better understanding of the issues and their context; our democracy and our future depend on citizens who can distinguish between facts and falsehoods and who are engaged in the political process.
Friday, 4 August 2017, Day 197:
Justice Department Leak Investigations Triple Under Trump, Attorney General Jeff Sessions Says. He Also Says the Justice Department Is Reviewing Rules Governing When Investigators May Issue Subpoenas Related to the News Media and Leak Investigations. The New York Times, Charlie Savage and Eileen Sullivan, Friday, 4 August 2017: "Attorney General Jeff Sessions announced on Friday that the Justice Department is pursuing about three times as many leak investigations as were open at the end of the Obama era, a significant devotion of resources to hunt down disclosures that have plagued the Trump administration. Mr. Sessions vowed that the Justice Department would not hesitate to bring criminal charges against people who had leaked classified information. He also announced that the F.B.I. had created a new counterintelligence unit to specialize in such cases. 'I strongly agree with the president and condemn in the strongest terms the staggering number of leaks undermining the ability of our government to protect this country,' he said. The announcement by Mr. Sessions comes 10 days after President Trump publicly accused his attorney general of being 'very weak' on pursuing these investigations. Mr. Sessions also said he had opened a review of Justice Department rules governing when investigators may issue subpoenas related to the news media and leak investigations. 'We respect the important role that the press plays and will give them respect, but it is not unlimited,' he said. 'They cannot place lives at risk with impunity.'… Not all leaks are illegal, and many of the disclosures about palace intrigue at the White House that have irritated Mr. Trump violated no law. However, the Espionage Act and several other federal laws do criminalize unauthorized disclosures about certain national security information, like surveillance secrets….  Several advocacy groups for reporters and First Amendment issues sharply criticized the statements made during the news conference, as did Martin Baron, the executive editor of The Washington Post. 'Sessions talked about putting lives at risk,' Mr. Baron said. 'We haven't done that. What we've done is reveal the truth about what administration officials have said and done. In many instances, our factual stories have contradicted false statements they've made.' Matt Purdy, a deputy managing editor of The New York Times, said: 'There's a distinction between revelations that make the government uncomfortable and revelations that put lives at risk. We have not published information that endangers lives.'" See also, Attorney general Jeff Sessions says the Justice Department has tripled the number of leak probes compared with the number that were ongoing at the end of the Obama administration, The Washington Post, Matt Zapotosky and Devlin Barrett, Friday, 4 August 2017.
The announcement by the Department of Justice on leaks is 'deeply troubling,' Reporters Committee for Freedom of the Press, Friday, 4 August 2017: "On Friday, United States Attorney General Jeff Sessions announced that the Department of Justice would increase its pursuit of investigations into unauthorized disclosures. In his statement, he said he would also revisit internal DOJ guidelines that address how and when federal prosecutors can use subpoenas and other tools to obtain the records of journalists as a part of these investigations. The guidelines were previously amended in 2015, when news media organizations led by the Reporters Committee met with then-Attorney General Eric Holder to strengthen protections for reporters in the wake of several leaks cases brought by the Obama Administration. Reporters Committee Chairman David Boardman made the following statement: 'What the attorney general is suggesting is a dangerous threat to the freedom of the American people to know and understand what their leaders are doing, and why.' Reporters Committee Executive Director Bruce Brown made the following statement: 'The attorney general's intent to revisit the guidelines is deeply troubling as is the frame he put around it today – that reporters are putting lives at risk. Journalists and news organizations have a long history of handling this information in a responsible way, working with government officials to evaluate potential harms, and taking steps to mitigate any damage when there is an overwhelming public interest in revealing it. The current guidelines reflect a great deal of good-faith discussion between the news media and a wide range of interests from within the Department of Justice, including career prosecutors and key nonpolitical personnel. They carefully balance the need to enforce the law and protect national security with the value of a free press that can hold the government accountable to the people." See also, Statement on Attorney General Jeff Sessions' disturbing press conference announcing a crackdown on leaks and on journalism, Freedom of the Press Foundation, Peter Sterne, Friday, 4 August 2017: "At a Friday press conference, Attorney General Jeff Sessions announced that the Justice Department will escalate its crackdown on leakers and whistleblowers. He indicated leak investigations have tripled in recent months and will seek to throw sources of journalists in jail. In addition, Sessions' comments about 'reviewing policies affecting media subpoenas' represent a dangerous escalation of the administration's war against the press. The Department of Justice is explicitly threatening to haul journalists before grand juries and force them to testify about their confidential sources or face jail time. Sessions' suggestion that journalism is a threat to national security is particularly concerning. Journalists play a crucial role in our democracy, informing the public about the government's activities. Sessions' comments seem intended to have a chilling effect on journalism, by making reporters and their sources think twice before publishing information that the government does not like. That will leave all Americans less informed about what the Trump administration is doing behind closed doors."
Trump Defends Lt. Gen. H.R. McMaster, His National Security Adviser, Against Calls for His Firing, The New York Times, Peter Baker, Friday, 4 August 2017: "President Trump defended Lt. Gen. H. R. McMaster, his embattled national security adviser, on Friday in the face of a full-bore campaign by the nationalist wing of his political coalition accusing him of undermining the president's agenda and calling for his dismissal. General McMaster has angered the political right by pushing out several conservatives on the national security staff and cautioning against ripping up the nuclear agreement with Iran negotiated by President Barack Obama without a strategy for what comes next. His future has been in doubt amid speculation that Mr. Trump might send him to Afghanistan. But after two days of unrelenting attacks on General McMaster by conservative activists and news sites, complete with the Twitter hashtag #FireMcMaster, the president weighed in to quash such talk. 'General McMaster and I are working very well together,' he said in a statement emailed to The New York Times. 'He is a good man and very pro–Israel. I am grateful for the work he continues to do serving our country.'"
Continue reading Week 29, Friday, 4 August – Thursday, 10 August 2017:
Special Counsel Robert Mueller Seeks White House Documents on Michael Flynn, Trump's Former National Security Adviser, The New York Times, Matthew Rosenberg, Matt Apuzzo, and Michael S. Schmidt, Friday, 4 August 2017: "Investigators working for the special counsel, Robert S. Mueller III, recently asked the White House for documents related to the former national security adviser Michael T. Flynn, and have questioned witnesses about whether he was secretly paid by the Turkish government during the final months of the presidential campaign, according to people close to the investigation. Though not a formal subpoena, the document request is the first known instance of Mr. Mueller's team asking the White House to hand over records. In interviews with potential witnesses in recent weeks, prosecutors and F.B.I. agents have spent hours poring over the details of Mr. Flynn's business dealings with a Turkish-American businessman who worked last year with Mr. Flynn and his consulting business, the Flynn Intel Group."
Vice President Mike Pence to Speak at Conservatives' Meeting Organized by the Koch Brothers, The New York Times, Kenneth P. Vogel, Friday, 4 August 2017: "In a sign of an expanding alliance between the Trump administration and one of the most well-financed forces in conservative politics, Vice President Mike Pence has agreed to speak to a gathering of the billionaire Koch brothers' advocacy network this month. Mr. Pence will deliver the keynote address on Aug. 19 in Richmond, Va., to the annual meeting of activists and donors organized by Americans for Prosperity, the group announced on Friday. The nonprofit advocacy group is financed by the industrialist brothers Charles G. and David H. Koch, and their allies. The Koch brothers steer a network of groups that spent between $720 million and $750 million to bolster conservative policy positions and politicians in the run-up to the 2016 election, according to people familiar with the spending. Yet the groups withheld support from President Trump's campaign out of distaste for his populist and protectionist rhetoric, which clashed sharply with the Kochs' support for free-market policies. But in recent weeks, the Kochs' groups — as well as other deep-pocketed conservative outfits — have expressed increasing support for Mr. Trump's plans to overhaul the tax code. While there isn't any specific tax-reform legislation yet, the Koch network was pleased with a broad blueprint released by the Trump administration. It would slash corporate tax rates [and], notably, did not include an import tax that the Kochs opposed."
Saturday, 5 August 2017, Day 198:
Not taking a vacation on Twitter, Trump offers thoughts on Attorney General Jeff Sessions, the U.N. Security Council Vote to Impose New Sanctions on North Korea, and his time in Bedminster, New Jersey, The Washington Post, John Wagner, Saturday, 5 August 2017: "President Trump might be on a 'working vacation,' but he made it clear on Saturday night that he's not taking a break from Twitter. A flurry of tweets and retweets on varied topics included one disputing the notion that he is actually on vacation at all. Aides have described the president's planned 17-day stretch at his secluded golf club here as a 'working vacation,' suggesting that he won't be seen much in public but will be talking a good deal to lawmakers and staff. 'Working in Bedminster, N.J., as long planned construction is being done at the White House,' Trump said on Twitter. 'This is not a vacation — meetings and calls!' He was referring to an overhaul of the heating and air-conditioning systems and other renovations in the West Wing. Other Trump tweets Saturday night offered praise for Attorney General Jeff Sessions, who Trump only recently referred to as 'beleaguered,' and for the United Nations Security Council…. 'After many years of LEAKS going on in Washington, it is great to see the A.G. taking action! For National Security, the tougher the better!' Trump wrote Saturday night. Trump also made clear that he was pleased with the unanimous U.N. Security Council vote Saturday to impose new sanctions on North Korea. The sanctions ban exports that supply up to a third of the country's annual $3 billion in earnings. The U.S.-sponsored resolution was in response to North Korea's launch of two intercontinental ballistic missiles last month, activities prohibited under existing U.N. resolutions."
U.N. Security Council Imposes Punishing New Sanctions on North Korea, The New York Times, Rick Gladstone, Saturday, 5 August 2017: "The United Nations Security Council on Saturday unanimously adopted a resolution to impose the most punishing sanctions yet against North Korea over its repeated defiance of a ban on testing missiles and nuclear bombs. The resolution, intended to press North Korea to renounce its nuclear militarization, could reduce the isolated country's already meager annual export revenue by $1 billion, or about a third of its current total. Ambassador Nikki R. Haley of the United States, which introduced the resolution, said its adoption by all 15 Council members signified what she called 'a strong, united step toward holding North Korea accountable for its behavior.' The measure's unanimous approval was a diplomatic victory for the Trump administration and partly reflected growing impatience with North Korea by China, which historically has called relations between them as 'close as lips and teeth.' President Trump has repeatedly cajoled China to exert more pressure on North Korea over its nuclear belligerence. Whether Mr. Trump's badgering played any role in China's support for the resolution is unclear. But its willingness to enforce the resolution's provisions will be critical to its effectiveness."
Sunday, 6 August 2017, Day 199:
Under Trump, Coal Mining Gets New Life on U.S. Lands, The New York Times, Eric Lipton and Barry Meier, Sunday, 6 August 2017: "A business friendly secretary of the interior has moved to invigorate a struggling industry, reversing Obama-era restrictions to help create 'wealth and jobs.' The Trump administration is wading into one of the oldest and most contentious debates in the West by encouraging more coal mining on lands owned by the federal government. It is part of an aggressive push to both invigorate the struggling American coal industry and more broadly exploit commercial opportunities on public lands. The intervention has roiled conservationists and many Democrats, exposing deep divisions about how best to manage the 643 million acres of federally owned land — most of which is in the West — an area more than six times the size of California. Not since the so-called Sagebrush Rebellion during the Reagan administration have companies and individuals with economic interests in the lands, mining companies among them, held such a strong upper hand…. During the Obama administration, the Interior Department seized on the issue of climate change and temporarily banned new coal leases on public lands as it examined the consequences for the environment. The Obama administration also drew protests from major mining companies by ordering them to pay higher royalties to the government. President Trump, along with roundly questioning climate change, has moved quickly to wipe out those measures with the support of coal companies and other commercial interests. Separately, Mr. Trump's Interior Department is drawing up plans to reduce wilderness and historic areas that are now protected as national monuments, creating even more opportunities for profit."
A Republican-backed Effort to Overturn a Consumer Financial Protection Bureau Rule Making It Easier for Consumers to Sue Banks Is at Risk From Republican Defectors, The Wall Street Journal, Andrew Ackerman, Sunday, 6 August 2017: "A Republican-backed effort to overturn a rule making it easier for consumers to sue banks has hit a snag: the Senate. At issue is a Consumer Financial Protection Bureau rule approved in July barring fine-print requirements that consumers use arbitration to resolve disputes over financial services. The rule makes it easier for consumers to join class-action lawsuits against banks and credit-card companies. Though fiercely fought by the financial industry, it is set to go into effect in March. CFPB Director Richard Cordray, an Obama-administration appointee, pressed ahead with the rule despite opposition from Trump administration banking officials and Republicans in Congress. Republican lawmakers are targeting the CFPB rule with a legislative tool known as the Congressional Review Act. It allows lawmakers to overturn a newly issued regulation on an expedited schedule with a simple majority vote in Congress. The House voted 231-190 to overturn the rule in July. The Senate plans to act in September when it returns from a long recess. However, support in the Senate is uncertain. No Democrats are likely to back the effort, and Republicans, with their slim majority, can't afford to lose more than two GOP votes. Several Republican senators have expressed reservations about voting to overturn the regulation, worried they may be portrayed as siding with banks and against consumers."
Deputy Attorney General Rod Rosenstein Says special counsel Robert Mueller can investigate any crimes he uncovers in the Russia probe, The Washington Post, Kelsey Snell and John Wagner, Sunday, 6 August 2017: "Deputy Attorney General Rod J. Rosenstein said Sunday that the expanding investigation into Russian interference in the 2016 presidential election is continuing apace, even as President Trump dismissed the probe as 'a total fabrication.' Rosenstein said special counsel Robert S. Mueller III can investigate any crimes that he might discover within the scope of his probe, but the deputy attorney general would not discuss which individuals are the subject of their inquiry. The interview comes days after Trump said he believes it would be inappropriate for Mueller to dig into Trump family finances. 'The special counsel is subject to the rules and regulations of the Department of Justice, and we don't engage in fishing expeditions,' Rosenstein said when asked about the probe in an interview on 'Fox News Sunday.'"
Deputy Attorney General Rod Rosenstein Says Reporters Are Not Being Pursued in Leak Investigations, The New York Times, Noah Weiland, Sunday, 6 August 2017: "Rod J. Rosenstein, the deputy attorney general, said on Sunday that the Justice Department was not pursuing reporters as part of its growing number of leak investigations, just two days after he and other department officials had appeared to signal a harsher line toward journalists. 'We don't prosecute journalists for doing their jobs,' Mr. Rosenstein said on 'Fox News Sunday.' 'That's not our goal here.' He had declined to answer such a question on Friday, telling reporters who asked whether the department would prosecute reporters that he would not 'comment on any hypotheticals.' Mr. Rosenstein's appearance on Fox came two days after administration officials heralded a new and stiffer posture on government leaks, with Attorney General Jeff Sessions telling reporters that leak investigations had tripled under the Trump administration."
Regulators' Penalties Against Wall Street Are Down Sharply in 2017, The Wall Street Journal, Jean Eaglesham, Dave Michaels, and Danny Dougherty, Sunday, 6 August 2017: "Wall Street regulators have imposed far lower penalties in the first six months of Donald Trump's presidency than they did during the first six months of 2016, a comparable period in the Obama administration, according to a Wall Street Journal analysis. Lawyers who defend financial cases said a shift to a business-friendly stance at regulatory agencies in the Trump administration is one of several reasons for the decrease. Other factors include delays resulting from the change in administrations and the winding down of cases from the financial crisis. Penalties levied against firms and individuals by the Securities and Exchange Commission, the Commodity Futures Trading Commission and the Financial Industry Regulatory Authority in the first half of 2017 were down nearly two-thirds compared with the first half of 2016—putting regulators on track for the lowest annual level of fines since at least 2010, the Journal found. Fines of $489 million in the first half of 2017 compared with $1.4 billion in the 2016 period."
How Trump's Federal Communications Commission Chairman Ajit Pai used a regulatory loophole to aid conservative-leaning Sinclair Broadcast Group's expansion, Politico, Margaret Harding McGill and John Hendel, Sunday, 6 August 2017: "Sinclair Broadcast Group is expanding its conservative-leaning television empire into nearly three-quarters of American households — but its aggressive takeover of the airwaves wouldn't have been possible without help from President Donald Trump's chief at the Federal Communications Commission. Sinclair, already the nation's largest TV broadcaster, plans to buy 42 stations from Tribune Media in cities such as New York, Chicago and Los Angeles, on top of the more than 170 stations it already owns. It got a critical assist this spring from Republican FCC Chairman Ajit Pai, who revived a decades-old regulatory loophole that will keep Sinclair from vastly exceeding federal limits on media ownership.The change will allow Sinclair — a company known for injecting 'must run' conservative segments into its local programming — to reach 72 percent of U.S. households after buying Tribune's stations. That's nearly double the congressionally imposed nationwide audience cap of 39 percent. The FCC and the company both say the agency wasn't giving Sinclair any special favors by reviving the loophole, known as the 'UHF discount,' which has long been considered technologically obsolete. But the Tribune deal would not have been viable if not for Pai's intervention: Sinclair already reaches an estimated 38 percent of U.S. households without the discount, leaving it almost no room for growth."
Monday, 7 August 2017, Day 200:
Scientists Fear Trump Will Dismiss Blunt Climate Report Drafted by Scientists From 13 Federal Agencies, The New York Times, Lisa Friedman, Monday, 7 August 2017: "The average temperature in the United States has risen rapidly and drastically since 1980, and recent decades have been the warmest of the past 1,500 years, according to a sweeping federal climate change report awaiting approval by the Trump administration. The draft report by scientists from 13 federal agencies, which has not yet been made public, concludes that Americans are feeling the effects of climate change right now. It directly contradicts claims by President Trump and members of his cabinet who say that the human contribution to climate change is uncertain, and that the ability to predict the effects is limited. 'Evidence for a changing climate abounds, from the top of the atmosphere to the depths of the oceans,' a draft of the report states. A copy of it was obtained by The New York Times. The authors note that thousands of studies, conducted by tens of thousands of scientists, have documented climate changes on land and in the air. 'Many lines of evidence demonstrate that human activities, especially emissions of greenhouse (heat-trapping) gases, are primarily responsible for recent observed climate change,' they wrote. The report was completed this year and is a special science section of the National Climate Assessment, which is congressionally mandated every four years. The National Academy of Sciences has signed off on the draft report, and the authors are awaiting permission from the Trump administration to release it."
US Department of Agriculture's Natural Resources Conservation Service is censoring use of term 'climate change,' emails reveal, The Guardian, Oliver Milman, Monday, 7 August 2017: "Staff at the US Department of Agriculture (USDA) have been told to avoid using the term climate change in their work, with the officials instructed to reference 'weather extremes' instead. A series of emails obtained by the Guardian between staff at the Natural Resources Conservation Service (NRCS), a USDA unit that oversees farmers' land conservation, show that the incoming Trump administration has had a stark impact on the language used by some federal employees around climate change. A missive from Bianca Moebius-Clune, director of soil health, lists terms that should be avoided by staff and those that should replace them. 'Climate change' is in the 'avoid' category, to be replaced by 'weather extremes.' Instead of 'climate change adaption,' staff are asked to use 'resilience to weather extremes.'"
Secrecy and Suspicion Surround Trump's Deregulation Teams, ProPublica and The New York Times, Robert Faturechi (ProPublica) and Danielle Ivory (The New York Times), Monday, 7 August 2017: "When President Trump ordered federal agencies to form teams to dismantle government regulations, the Transportation Department turned to people with deep industry ties. One appointee had previously lobbied the department on behalf of American Airlines. Another held executive roles for several electric and hybrid car companies regulated by the department. A third was a lawyer who represented United Airlines in regulatory matters. The three appointees have been identified by ProPublica and The New York Times in a continuing effort to track members of the deregulation teams. The appointments, previously unreported, follow a pattern identified by the two news organizations: By and large, the Trump administration has stacked the teams with political appointees, some of whom may be reviewing rules their former employers sought to weaken or kill. A full vetting of industry connections has been difficult because some agencies have declined to provide information about the appointees — not even their names. The lack of transparency has concerned several top Democratic members of Congress who serve on committees that oversee regulatory matters. In a letter to the White House on Monday, they called on the administration to release the names of all regulatory team members as well as documents relating to their potential conflicts of interest."
Minnesota Governor Mark Dayton Calls Attack on the Dar Al Farooq Islamic Center in Bloomington a 'Criminal Act of Terrorism,' The New York Times, Jonah Engel Bromwich, Monday, 7 August 2017: "The governor of Minnesota denounced an attack on a mosque the previous day as a 'terrible, dastardly, cowardly' act of terrorism. 'It's an act of terrorism, a criminal act of terrorism,' the governor, Mark Dayton, said on Sunday during a visit to the mosque, Dar Al Farooq, in Bloomington. 'I hope and pray that the perpetrator will be caught and prosecuted to the full extent of the law.' The explosion, which the F.B.I. said was caused by an improvised explosive device, rocked the mosque early Saturday morning just as congregants began to gather for prayers. No one was injured, but the building sustained minor damage close to the site of the explosion."
Chicago sues the Justice Department over new police grant rules targeting sanctuary cities, The Washington Post, Sandhya Somashekhar, Monday, 7 August 2017: "Chicago officials on Monday filed a lawsuit against the U.S. Justice Department over a plan to withhold federal public safety grants to jurisdictions with so-called 'sanctuary city' policies. The lawsuit, announced by Chicago Mayor Rahm Emanuel, is the latest strike in an ongoing legal battle between the Trump administration and cities and counties that refuse to help detain and deport people who are in the country illegally. The challenge centers on new rules attached to the Edward Byrne Memorial Justice Assistance Grant program, which provides money to local governments to buy police vehicles and other equipment. The new rules include a requirement that localities give federal immigration authorities open access to jails and notify them 48 hours in advance of plans to release an inmate wanted on an immigration detainer."
'Apply by fax': Before it can hire foreign workers, Trump's Mar-a-Lago Club advertises at home–briefly, The Washington Post, David A. Fahrenthold and Lori Rozsa, Monday, 7 August 2017: "President Trump's Mar-a-Lago Club needs to hire 35 waiters for this winter's social season in Palm Beach, Fla. Late last month, the club placed an ad on page C8 of the Palm Beach Post, crammed full of tiny print laying out the job experience requirements in classified ad shorthand. '3 mos recent & verifiable exp in fine dining/country club,' the ad said. 'No tips.' The ad gave no email address or phone number. 'Apply by fax,' it said. The ad also provided a mailing address. It ran twice, then never again. This was an underwhelming way to attract local job-seekers. But that wasn't the point. The ads were actually part of Mar-a-Lago's efforts to hire foreign workers for those 35 jobs. About a week before the ads ran, the president's club asked the Labor Department for permission to hire 70 temporary workers from overseas, government records show. Beside the 35 waiters, it asked for 20 cooks and 15 housekeepers, slightly more than it hired last year. To get visas for those workers, Mar-a-Lago, like other businesses that rely on temporary employees each year, must first take legally mandated steps to look for U.S. workers. That includes placing two ads in a newspaper. Typically, this attempt to recruit U.S. workers is a ritualized failure. Its outcome is usually a conclusion that there are no qualified Americans to hire, justifying the need for the government to issue the visas."
Trump's Second 100 Days: In his words and ours, The Washington Post, Monday, 7 August 2017: "Trump's first 100 days were unprecedented, from his vow to end 'American carnage' to his continued promises to build a Mexican border wall. But if you thought those 100 days were action-packed, recall the outrageous tweets, Russia revelations and health-care squabbling since. Here's what happened in Days 101 through 200, in the words of members of the Trump administration and Washington Post Opinions contributors."
Tuesday, 8 August 2017, Day 201:
Trump Threatens 'Fire and Fury' Against North Korea if It Endangers the U.S., The New York Times, Peter Baker and Choe Sang-Hun, Tuesday, 8 August 2017: "President Trump threatened on Tuesday to unleash 'fire and fury' against North Korea if it endangered the United States, as tensions with the isolated and impoverished nuclear-armed state escalated into perhaps the most serious foreign policy challenge yet of his administration. In chilling language that evoked the horror of a nuclear exchange, Mr. Trump sought to deter North Korea from any actions that would put Americans at risk. But it was not clear what specifically would cross his line. Administration officials have said that a pre-emptive military strike, while a last resort, is among the options they have made available to the president. 'North Korea best not make any more threats to the United States,' Mr. Trump told reporters at his golf club in Bedminster, N.J., where he is spending much of the month on a working vacation. 'They will be met with fire and fury like the world has never seen.' Referring to North Korea's volatile leader, Kim Jong-un, Mr. Trump said, 'He has been very threatening beyond a normal state, and as I said, they will be met with fire and fury, and frankly power the likes of which this world has never seen before.' Undaunted, North Korea warned several hours later that it was considering a strike that would create 'an enveloping fire' around Guam, the western Pacific island where the United States operates a critical Air Force base. In recent months, American strategic bombers from Guam's Andersen Air Force Base have flown over the Korean Peninsula in a show of force." See also, KCNA, North Korea's state-run news agency, says North Korea is seriously considering plan to strike Guam, Reuters, Christine Kim and Soyoung Kim, Tuesday, 8 August 2017: "North Korea said on Wednesday it is 'carefully examining' plans for a missile strike on the U.S. Pacific territory of Guam, just hours after U.S. President Donald Trump told the North that any threat to the United States would be met with 'fire and fury.' North Korea has made no secret of plans to develop a nuclear-tipped missile able to strike the United States and has ignored international calls to halt its nuclear and missile programs. The strike plan would be put into practice at any moment once leader Kim Jong Un makes a decision, a spokesman for the Korean People's Army (KPA) said in a statement carried by the North's state-run KCNA news agency. 'The KPA Strategic Force is now carefully examining the operational plan for making an enveloping fire at the areas around Guam with medium-to-long-range strategic ballistic rocket Hwasong-12 in order to contain the U.S. major military bases on Guam including the Anderson Air Force Base,' the spokesman said. The plan would be reported to the North's Supreme Command soon, the spokesman said, without citing a date."
'God has given Trump authority to take out [North Korean leader] Kim Jong Un' says Texas megachurch pastor Robert Jeffress, one of Trump's evangelical advisers, The Washington Post, Sarah Pulliam Bailey, published on Wednesday, 9 August 2017: "Texas megachurch pastor Robert Jeffress, one of President Trump's evangelical advisers who preached the morning of his inauguration, has released a statement saying the president has the moral authority to 'take out' North Korean leader Kim Jong Un. 'When it comes to how we should deal with evildoers, the Bible, in the book of Romans, is very clear: God has endowed rulers full power to use whatever means necessary — including war — to stop evil,' Jeffress said. 'In the case of North Korea, God has given Trump authority to take out Kim Jong Un.' Jeffress said in a phone interview that he was prompted to make the statement after Trump said that if North Korea's threats to the United States continue, Pyongyang will be 'met with fire and fury like the world has never seen.'"
North Korea is now making missile-ready nuclear weapons, U.S. intelligence analysts say, The Washington Post, Joby Warrick, Ellen Nakashima, and Anna Fifield, Tuesday, 8 August 2017: "North Korea has successfully produced a miniaturized nuclear warhead that can fit inside its missiles, crossing a key threshold on the path to becoming a full-fledged nuclear power, U.S. intelligence officials have concluded in a confidential assessment. The analysis, completed last month by the Defense Intelligence Agency, comes on the heels of another intelligence assessment that sharply raises the official estimate for the total number of bombs in the communist country's atomic arsenal. The United States calculated last month that up to 60 nuclear weapons are now controlled by North Korean leader Kim Jong Un. Some independent experts think the number is much smaller. The findings are likely to deepen concerns about an evolving North Korean military threat that appears to be advancing far more rapidly than many experts had predicted. U.S. officials concluded last month that Pyongyang is also outpacing expectations in its effort to build an intercontinental ballistic missile capable of striking the American mainland."
Trump holds off on declaring opioid crisis a national emergency, The Washington Post, Jenna Johnson and John Wagner, Tuesday, 8 August 2017: "Even with the opioid crisis intensifying and more than 142 Americans dying of drug overdoses each day, President Trump is not yet ready to declare a national emergency, as was recommended last week by a commission he organized. Instead, the president met Tuesday afternoon with health officials and members of his administration to receive an update on the crisis and to briefly address reporters. He said the 'best way to prevent drug addiction and overdose is to prevent people from abusing drugs in the first place.'" See also, Trump's Opioid Commission Had Some Stunningly Good Recommendations. He Ignored Them for 1980s Drug War Nostalgia, The Intercept, David Dayen and Ryan Grim, published on Wednesday, 9 August 2017.
Climate Report Could Force Trump to Choose Between Science and His Base, The New York Times, Michael D. Shear and Brad Plumer, Tuesday, 8 August 2017: "The impending release of a key government report on climate change will force President Trump to choose between accepting the conclusions of his administration's scientists and the demands of his conservative supporters, who remain deeply unconvinced that humans are the cause of the planet's warming. A White House official said on Tuesday that it was still reviewing the draft document that was written by scientists, some of whom have said they fear Mr. Trump will seek to bury it or alter its contents before it is formally released. Sarah Huckabee Sanders, the White House press secretary, said the administration would not comment on the report before its scheduled release this fall. But the looming publication of the climate report — which concludes that 'evidence for a changing climate abounds, from the top of the atmosphere to the depths of the oceans' — once again raises a contentious policy issue that has deeply divided Mr. Trump's closest advisers since he arrived in the Oval Office."
Trump White House weighs unprecedented plan to privatize much of the war in Afghanistan, USA Today, Jim Michaels, Tuesday, 8 August 2017: "The White House is actively considering a bold plan to turn over a big chunk of the U.S. war in Afghanistan to private contractors in an effort to turn the tide in a stalemated war, according to the former head of a security firm pushing the project. Under the proposal, 5,500 private contractors, primarily former Special Operations troops, would advise Afghan combat forces. The plan also includes a 90-plane private air force that would provide air support in the nearly 16-year-old war against Taliban insurgents, Erik Prince, founder of the Blackwater security firm, told USA TODAY. The unprecedented proposal comes as the U.S.-backed Afghan military faces a stalemate in the war and growing frustration by President Trump about the lack of progress in the war. The U.S. military has 8,400 U.S. troops there to train and guide local forces. They do not have a direct combat role, and presumably would be replaced gradually by the contractors."
Trump's Justice Department sides with Ohio's purge of inactive voters in a case that is headed to the Supreme Court, The Washington Post, Sari Horwitz, Tuesday, 8 August 2017: "The Justice Department has reversed its position in a high-profile voting case in Ohio, siding with the state in its effort to purge thousands of people from its rolls for not voting in recent elections. The move is part of a broader campaign by the Trump administration to support restrictions on who is eligible to vote, a radical change in philosophy from the previous Justice Department, which sued a number of states over voting laws that it deemed discriminatory against minorities. In a court filing late Monday, Justice Department attorneys took the opposite position from the Obama administration in a case that involves Ohio's removal last year of tens of thousands of inactive voters from its voting rolls. In their brief, government lawyers say they reconsidered the Ohio vote-purging issue after the 'change in Administrations,' and they argue that the state's actions are legal under federal law. The case is headed next to the Supreme Court. Ohio's procedure allows the state to purge voters who meet certain criteria for being inactive. If a voter has not cast a ballot in two years, the person is sent a notice asking them to confirm their registration. If the voter does not respond and does not cast a ballot over the next four years, the person is removed from the rolls."
Secretary of State Rex Tillerson tells diplomats to dodge foreign officials' questions about the Paris climate agreement and directs staff to make clear the US wants to help other countries use fossil fuels, The Guardian, Reuters in Washington, Tuesday, 8 August 2017: "US diplomats should sidestep questions from foreign governments on what it would take for the Trump administration to re-engage in the global Paris climate agreement, according to a diplomatic cable seen by Reuters. The cable, sent by the US secretary of state, Rex Tillerson, to embassies on Friday, also said diplomats should make clear the United States wants to help other countries use fossil fuels. In the wake of Donald Trump's announcement in June that the United States would withdraw from the accord, the cable tells diplomats to expect foreign government representatives to ask questions like: 'Does the United States have a climate change policy?' and 'Is the administration advocating the use of fossil fuels over renewable energy?' If asked, for example, 'What is the process for consideration of re-engagement in the Paris Agreement?,' the answer should be vague: 'We are considering a number of factors. I do not have any information to share on the nature or timing of the process,' the cable advises."
Trump Campaign Turns Over Thousands of Documents in Russia Probe, Bloomberg Politics, Steven T. Dennis, Tuesday, 8 August 2017: "Donald Trump's presidential campaign, his son Donald Trump Jr. and former campaign manager Paul Manafort have started turning over documents to the Senate Judiciary Committee as part of the panel's expanded investigation of Russian election-meddling. The Trump campaign turned over about 20,000 pages of documents on Aug. 2, committee spokesman George Hartmann said Tuesday. Manafort provided about 400 pages on Aug. 2, including his foreign-advocacy filing, while Trump Jr. gave about 250 pages on Aug. 4, Hartmann said. The committee had asked them last month to start producing the documents by Aug. 2."
Wednesday, 9 August 2017, Day 202:
Deep Divisions Emerge in Trump Administration as North Korea Threatens War, The New York Times, Peter Baker and Gardiner Harris, Wednesday, 9 August 2017: "Senior American officials sent mixed signals on North Korea on Wednesday as President Trump's 'fire and fury' warning rattled allies and adversaries alike, a sign of his administration's deep divisions as the outcast state once again threatened to wage nuclear war on the United States. The president's advisers calibrated his dire warning with statements that, if not directly contradictory, emphasized different points. Secretary of State Rex W. Tillerson stressed diplomacy and reassured Americans that they could 'sleep well at night,' while Defense Secretary Jim Mattis said North Korea risked 'the end of its regime and the destruction of its people' if it did not 'stand down.' North Korea gave no indication that it would do so. In a statement late Wednesday, the North Korean military dismissed Mr. Trump's fire-and-fury warning on Tuesday as a 'load of nonsense' and said only 'absolute force' would work on someone so 'bereft of reason.' The military threatened to 'turn the U.S. mainland into the theater of a nuclear war' and added that any American strike on North Korean missile and nuclear targets would be 'mercilessly repelled.' The statement also said that the North Korean military would finalize a plan by mid-August to fire four midrange missiles into the waters off the Pacific island of Guam, a United States territory used as a strategic base, to create a 'historic enveloping fire.'" See also, Trump's threat to North Korea contrasts with calm reassurances of other administration officials, The Washington Post, Philip Rucker and Karen DeYoung, Wednesday, 9 August 2017. See also, Trump's Threat to North Korea Was Improvised, The New York Times, Glenn Thrush and Peter Baker, Wednesday, 9 August 2017: "President Trump's aides knew he planned to deliver a tough message to North Korea on Tuesday, but they did not expect a threat that rivaled the apocalyptic taunts often used by his target, Kim Jong-un. The president's language, which aides say he had used in private, escalated the long-running dispute with North Korea to a new level and left members of the Trump administration scrambling on Wednesday to explain what he meant. But the process, or lack of one, that led to the ad-libbed comments embodied Mr. Trump's overall approach to foreign policy, an improvisational style that often leaves his national security team in the dark about what he is going to say or do, according to several people with direct knowledge of how the episode unfolded."
The F.B.I. Searched a Home of Paul Manafort, Trump's Former Campaign Manager, As Part of Special Counsel Robert Mueller's Investigation on Russia, The New York Times, Michael S. Schmidt and Adam Goldman, Wednesday, 9 August 2017: "Investigators for the special counsel leading the Russia inquiry executed a search warrant late last month at the Northern Virginia home of President Trump's former campaign manager, Paul J. Manafort, for tax documents and foreign banking records, according to a person familiar with the matter. The search is a sign that the investigation into Mr. Manafort has broadened, and is the most significant public step investigators have taken since the special counsel, Robert S. Mueller III, was appointed in May. Investigators are expected to deploy a wide array of similar measures — including interviews and subpoenas — in the coming months as they move forward with the intensifying inquiry. It was not clear why Mr. Mueller did not simply ask Mr. Manafort's lawyers for the documents. Executing a search warrant is considered among the most aggressive steps used by authorities, who must first demonstrate they have probable cause to believe they will find evidence that a crime occurred. The searches also often become public."
Five active-duty military members sue Trump over transgender ban, The Washington Post, Robert Barnes, Wednesday, 9 August 2017: "Five active-duty service members sued President Trump Wednesday over his intentions to ban transgender personnel from serving in the military. 'The directive to reinstate a ban on open service by transgender people violates both the Equal Protection component of the Fifth Amendment and the Due Process Clause of the Fifth Amendment to the United States Constitution,' states the suit filed in U.S. District Court in Washington by five anonymous 'Jane Does.' They are represented by the National Center for Lesbian Rights (NCLR) and GLBTQ Legal Advocates & Defenders (GLAD). Trump announced in a series of tweets on July 26 that 'the United States Government will not accept or allow transgender individuals to serve in any capacity in the U.S. Military.'" See also, 5 Transgender Service Members Sue Trump Over Military Ban, The New York Times, Charlie Savage, Wednesday, 9 August 2017.
Trump still has not condemned the Minnesota mosque bombing. Muslim leaders are waiting. The Washington Post, Katie Mettler, Wednesday, 9 August 2017: "Since a makeshift bomb tore through a Minnesota mosque early Saturday morning, President Trump has used Twitter, his preferred platform for communicating with the American people, to rail about 'fake news,' attack a Democratic senator from Connecticut and insist that he's working hard while vacationing in New Jersey. One topic Trump has yet to address: the mosque attack at the Dar Al-Farooq Islamic Center in the Twin Cities suburb of Bloomington, where several people were gathering for prayer. Nobody was injured, authorities said, but the attack has left the Muslim community feeling unsettled."
Deportation order splits Oakland family and highlights shift under Trump, San Francisco Chronicle, Hamed Aleaziz, Wednesday, 9 August 2017: "Although President Trump ran on a platform of rounding up and deporting 'bad hombres,' Oakland nurse Maria Mendoza-Sanchez knew that she and her husband — who each lack legal status — would not be protected by their clean records. 'I knew that not only our life but the life of many immigrants was going to change completely,' said the mother of four as she recalled the night of the election. 'I knew this is going to be a totally different story now.' Nearly seven months later, her fears have been realized. On May 23, immigration officials told the couple they had three months to make arrangements to leave for the Mexican homeland in which they last set foot 23 years ago. On Tuesday, they will reluctantly split up their family, flying to Mexico with their 12-year-old son to start a new life, while leaving their three older daughters — who are 16, 21 and 23 — behind in the U.S. In the past, Mendoza-Sanchez's background likely would have spared her from deportation. She's the mother of three native-born U.S. citizens and one recipient of the government's Deferred Action for Childhood Arrivals program. She owns a home in Oakland, has no criminal record, and works as a nurse in the cardiology and oncology wing of Highland Hospital. 'It's supposed to be that if you assimilate to the culture of the country, you pay taxes, you work, you graduate college, you have a better chance,' she said. 'It was supposed to be, but I did all that and I'm still in this situation. I just don't understand.' The family's case, experts said, is one of many that highlights the major shifts under way since Trump took office and made nearly every immigrant in the country without documentation a priority for removal. Since February, more than 57,000 people have been ordered to leave the country — a nearly 31 percent increase over the same time period in 2016 under President Barack Obama."
Trump gets a folder full of positive news about himself twice a day. It's known as the 'propaganda document.' VICE News, Alex Thompson, Wednesday, 9 August 2017: "Twice a day since the beginning of the Trump administration, a special folder is prepared for the president. The first document is prepared around 9:30 a.m. and the follow-up, around 4:30 p.m. Former Chief of Staff Reince Priebus and former Press Secretary Sean Spicer both wanted the privilege of delivering the 20-to-25-page packet to President Trump personally, White House sources say. These sensitive papers, described to VICE News by three current and former White House officials, don't contain top-secret intelligence or updates on legislative initiatives. Instead, the folders are filled with screenshots of positive cable news chyrons (those lower-third headlines and crawls), admiring tweets, transcripts of fawning TV interviews, praise-filled news stories, and sometimes just pictures of Trump on TV looking powerful. One White House official said the only feedback the White House communications shop, which prepares the folder, has ever gotten in all these months is: 'It needs to be more fucking positive.' That's why some in the White House ruefully refer to the packet as 'the propaganda document.'"
Thursday, 10 August 2017, Day 203:
Trump Doubles Down on Threats Against North Korea as Nuclear Tensions Escalate, The New York Times, Peter Baker, Thursday, 10 August 2017: "President Trump escalated his war of words with North Korea on Thursday by declaring that his provocative threat to rain down 'fire and fury' might not have been harsh enough, as nuclear tensions between the two nations continued to crackle. Rejecting critics at home and abroad who condemned his earlier warning as reckless saber-rattling, Mr. Trump said North Korea and its volatile leader, Kim Jong-un, have pushed the United States and the rest of the world for too long. 'Frankly, the people who were questioning that statement, was it too tough? Maybe it wasn't tough enough,' he told reporters at his golf club in Bedminster, N.J. 'They've been doing this to our country for a long time, for many years, and it's about time that somebody stuck up for the people of this country and for the people of other countries. So if anything, maybe that statement wasn't tough enough.' Mr. Trump noted that North Korea, which has made significant progress toward developing long-range nuclear weapons, responded to his original warning by threatening to launch a missile strike toward the Pacific island of Guam, an American territory and strategic base. 'If he does something in Guam, it will be an event the likes of which nobody has seen before, what will happen in North Korea,' he said." See also, Trump reiterates warning to North Korea: 'Fire and fury' may not have been 'tough enough,' The Washington Post, Philip Rucker and Karen DeYoung, Thursday, 10 August 2017. See also, A Timely Guide to the North Korea Crisis, The New York Times, Maggie Astor, Thursday, 10 August 2017: "North Korea burst into the news this week when President Trump threatened to meet any acts that endangered the United States with 'fire and fury like the world has never seen,' raising the specter of nuclear warfare. On Thursday, he took those comments a step further, saying, 'If anything, maybe that statement wasn't tough enough.' [This article] is an overview of The New York Times's coverage of the events as they have unfolded so far."
Trump Had a Lot to Say on Thursday in Two Lengthy, Impromptu News Conferences. Here are the Highlights. The New York Times, Michael D. Shear, Thursday, 10 August 2017: "Seven days into a 17-day 'working vacation' in Bedminster, N.J., President Trump unburdened himself during two lengthy, impromptu news conferences on Thursday, eagerly ping-ponging through the litany of domestic and foreign policy issues that have consumed his administration for weeks. Ignoring his press secretary, who was holding a 'One More Question' sign in the back of the room, Mr. Trump doubled down on his threats to North Korea, shrugged off Russia's ejections of hundreds of American embassy staff, defended his abrupt decision on transgender troops and claimed he had never considered firing the special counsel — directly contradicting his own private statements to aides and friends.… He called Lt. Gen. H. R. McMaster, his national security adviser, 'my friend' and 'a very talented man.' (Mr. McMaster was sitting to Mr. Trump's right.) But the president did not foreclose the idea that Senator Mitch McConnell, Republican of Kentucky and the majority leader, should 'step aside' if Republicans fail to repeal and replace the Affordable Care Act." See also, Trump's tough-on-North Korea, toned-down-on-Russia Q & A session, annotated, The Washington Post, Aaron Blake, published on Friday, 11 August 2017.

Trump says he is 'very thankful' to Putin for expelling 775 U.S. diplomats from Russia, The Washington Post, Philip Rucker, Thursday, 10 August 2017: "President Trump said here Thursday that he is 'very thankful' to Russian President Vladimir Putin for expelling hundreds of U.S. diplomats from Russia, because he said it helps him cut the U.S. government's payroll. Addressing for the first time Putin's decision late last month that the U.S. Embassy and consulates in Russia would have to cut 775 diplomatic and technical staffers, Trump told reporters that he sees no reason for them to continue working in Russia. 'I want to thank him because we're trying to cut down our payroll, and as far as I'm concerned I'm very thankful that he let go a large number of people because now we have a smaller payroll,' Trump said. 'There's no real reason for them to go back. I greatly appreciate the fact that we've been able to cut our payroll of the United States. We're going to save a lot of money.' Trump's answer was a tad tongue-in-cheek, but he gave no clear indication that he was joking or trying to be facetious in offering his gratitude to Putin."
A nonpartisan study by the Kaiser Family Foundation finds that actions by the Trump administration are triggering double-digit premium increases on many individual health insurance policies, Associated Press, Ricardo Alonso-Zaldivar, Thursday, 10 August 2017: "Actions by the Trump administration are triggering double-digit premium increases on individual health insurance policies purchased by many people, according to a nonpartisan study. The analysis released Thursday by the Kaiser Family Foundation found that mixed signals from President Donald Trump have created uncertainty 'far outside the norm' and led insurers to seek higher premium increases for 2018 than would otherwise have been the case."
Alaskan towns that are at risk from rising seas sound the alarm as Trump pulls federal help, The Guardian, Oliver Milman, Thursday, 10 August 2017: "The US government's withdrawal from dealing with, or even acknowledging, climate change may have provoked widespread opprobrium, but for Alaskan communities at risk of toppling into the sea, the risks are rather more personal. The Trump administration has moved to dismantle climate adaptation programs including the Denali Commission, an Anchorage-based agency that is crafting a plan to safeguard or relocate dozens of towns at risk from rising sea levels, storms, and the winnowing away of sea ice. Federal assistance for these towns has been ponderous but could now grind to a halt, with even those working on the issue seemingly targeted by the administration. In July, Joel Clement, an interior department official who worked with Alaskan communities on climate adaptation, claimed he had been moved to a completely unrelated position because of the administration's ideological hostility to the issue."
 Students, Cities, and States Take the Climate Fight to Court, The New York Times, John Schwartz, Thursday, 10 August 2017: "Can the courts fix climate change? Several groups and individuals around the United States have gone to court to try to do what the Trump administration has so far declined to do: confront the causes and effects of global warming. In California, two counties and a city recently sued 37 fossil fuel companies, seeking funds to cover the costs of dealing with a warming world. In Oregon, a federal lawsuit brought on behalf of young people is moving toward a February trial date, though the so-called children's suit could be tossed out before that. And more than a dozen state attorneys general have sued to block Trump administration moves to roll back environmental regulations. Efforts in the United States are part of a wave of litigation around the world, including a 2015 decision in which a court in the Netherlands ordered the Dutch government to toughen its climate policies; that case is under appeal. A 2017 report from the United Nations Environment Program found nearly 900 climate litigation suits in more than 20 countries. In Switzerland, a group of nearly 800 older women known as Senior Women for Climate Protection have sued their government over climate change. In New Zealand, a court recently heard a climate case brought by a law student, Sarah Lorraine Thomson; a decision is pending. But in the United States, lawsuits to get American courts to take on the climate fight have until now gone nowhere. In 2011, the Supreme Court threw out a case filed by eight states and New York City against electric power producers. A lawsuit brought by inhabitants of Kivalina, Alaska, against fossil fuel companies over the diminished buffer of sea ice that had protected the town was dismissed by a federal judge in 2009. A federal appeals court and the Supreme Court declined to reinstate the case. The new California cases resemble the state tobacco lawsuits of the 1990s, which argued that the industry knew and concealed the dangers of smoking, leaving the states with enormous health care bills. In the new suits, Marin and San Mateo Counties and the City of Imperial Beach are accusing the oil companies of knowing that their industry would cause catastrophic climate change and covering up the evidence."
Here's the Memo by National Security Council Official Rich Higgins that Blew Up the NSC, Foreign Policy, Jana Winter and Elias Groll, Thursday, 10 August 2017: "The memo at the heart of the latest blowup at the National Security Council paints a dark picture of media, academics, the 'deep state,' and other enemies allegedly working to subvert U.S. President Donald Trump, according to a copy of the document obtained by Foreign Policy. The seven-page document, which eventually landed on the president's desk, precipitated a crisis that led to the departure of several high-level NSC officials tied to former National Security Advisor Michael Flynn. The author of the memo, Rich Higgins, who was in the strategic planning office at the NSC, was among those recently pushed out. The full memo, dated May 2017, is titled 'POTUS & Political Warfare.' It provides a sweeping, if at times conspiratorial, view of what it describes as a multi-pronged attack on the Trump White House…. The memo is part of a broader political struggle inside the White House between current National Security Advisor H.R. McMaster and alt-right operatives with a nationalist worldview who believe the Army general and his crew are subverting the president's agenda…. The story of the memo's strange journey to the Oval Office captures the zeitgeist of what has become the tragicomedy of the current White House: a son trying to please his father, an isolated general on a mission to find a leaker, a right-wing blogger with a window into the nation's security apparatus, and a president whose closest confidante is a TV personality…. Following Higgins's departure, McMaster set out to clean house, a source close the White House said — getting rid of NSC staffers linked to the memo, perceived as loyal to his predecessor, Michael Flynn, or simply those with whom he'd butted heads over foreign policy. Among those fired was Ezra Cohen-Watnick, the NSC's top intelligence official, and Derek Harvey, who handled the NSC's Middle East portfolio. In the meantime, however, the memo had been working its way through the Trump White House. Among those who received the memo, according to two sources, was Donald Trump Jr. Trump Jr., at that time in the glare of media scrutiny around his meeting with a Russian lawyer at Trump Tower during the presidential campaign, gave the memo to his father, who gushed over it, according to sources. In a comedy of errors, Trump later learned from Sean Hannity, the Fox News host and close friend of the president, that the memo's author had been fired. Trump was 'furious,' the senior administration official said. 'He is still furious.'" See also, National Security Council Official Rich Higgins Forced Out After His Claim of a Leftist Conspiracy, The New York Times, Julie Hirschfeld Davis, published on Friday, 11 August 2017.
St. Louis chapter of the National Association for the Advancement of Colored People (NAACP) gets behind warning to African Americans visiting Missouri, The Washington Post, Vanessa Williams, Thursday, 10 August 2017: "A travel advisory that the NAACP issued warning African Americans to take care when visiting Missouri now has the full support of the organization's St. Louis County chapter, which initially opposed the action as potentially hurting black hospitality workers. It was a confusing kickoff last week for the effort, which was a response to a recently passed bill that would make it more difficult for minorities and women to sue their employers for discrimination. The group also is concerned about the disproportionate rate at which police in the state stop African American motorists. The civil rights organization announced the travel advisory last week, warning 'African American travelers, visitors and Missourians to pay special attention and exercise extreme caution when traveling throughout the state given the series of questionable, race-based incidents occurring statewide recently.' The president of the group's St. Louis County chapter initially responded with a statement calling on national and state leaders to rescind the advisory. But days later, the chapter joined the protest. Nimrod Chapel Jr., president of the Missouri state conference of the NAACP, said he understands how some people might have mistaken the travel advisory as a suggestion to abandon travel to the state entirely, especially with Republican officials and the business community vigorously defending the new law that the protest targets. But Chapel said the NAACP is not asking people to stay away from the Show Me State but, rather, calling attention to 'Jim Crow-style legislation' and policing policies that threaten the rights of all people, not just African Americans."