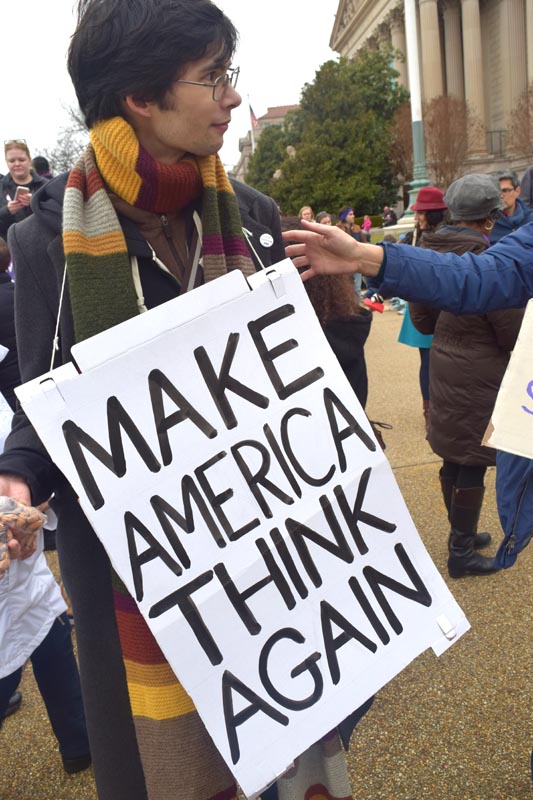 Photo by Robert Del Tredici
Keeping Track (of some things), Staying Outraged (it is possible), and Resisting (it's essential)
Passages in bold in the body of the texts below are my emphasis. This is an ongoing project, and I update the site frequently. I hope readers will peruse the articles in full for a better understanding of the issues and their context; our democracy and our future depend on citizens who can distinguish between facts and falsehoods and who are engaged in the political process.
Friday, 28 July 2017, Day 190:
Senate Rejects Slimmed-Down Obamacare Repeal as Senator John McCain Votes No, The New York Times, Robert Pear and Thomas Kaplan, published on Thursday, 27 July 2017: "The Senate in the early hours of Friday morning rejected a new, scaled-down Republican plan to repeal parts of the Affordable Care Act, derailing the Republicans' seven-year campaign to dismantle President Barack Obama's signature health care law and dealing a huge political setback to President Trump. Senator John McCain of Arizona, who just this week returned to the Senate after receiving a diagnosis of brain cancer, cast the decisive vote to defeat the proposal, joining two other Republicans, Susan Collins of Maine and Lisa Murkowski of Alaska, in opposing it. The 49-to-51 vote was also a humiliating setback for the Senate majority leader, Mitch McConnell of Kentucky, who has nurtured his reputation as a master tactician and spent the last three months trying to devise a repeal bill that could win support from members of his caucus. As the clock ticked toward the final vote, which took place around 1:30 a.m., suspense built on the Senate floor. Mr. McCain was engaged in a lengthy, animated conversation with Vice President Mike Pence, who had come to the Capitol prepared to cast the tiebreaking vote for the measure. A few minutes later, when Mr. McCain ambled over to the Democratic side of the chamber, he was embraced by Senator Dianne Feinstein, Democrat of California. A little later Senator Amy Klobuchar, Democrat of Minnesota, put her arm around Mr. McCain. The roll had yet to be called, but the body language suggested that the Trump administration had failed in its effort to flip the Arizona senator whom President Trump hailed on Tuesday as an 'American hero.' Many senators announced their votes in booming voices. Mr. McCain quietly signaled his vote with a thumbs-down gesture. He later offered an explanation on Twitter: 'Skinny repeal fell short because it fell short of our promise to repeal & replace Obamacare w/ meaningful reform.' After the tally was final, Mr. Trump tweeted: '3 Republicans and 48 Democrats let the American people down. As I said from the beginning, let ObamaCare implode, then deal. Watch!'" See also, The Health 202: Senators Lisa Murkowski of Alaska, Susan Collins of Maine and … John McCain of Arizona sink Obamacare overhaul effort, The Washington Post, Paige Winfield Cunningham, Friday, 28 July 2017. See also, 5 Takeaways From the Failed Senate Effort to Repeal Obamacare, The New York Times, Thomas Kaplan, Friday, 28 July 2017.
Trump's Chief of Staff Reince Priebus  Is Ousted Amid Stormy Days for White House, The New York Times, Peter Baker and Maggie Haberman, Friday, 28 July 2017: "Reince Priebus, the White House chief of staff who failed to impose order on a chaos-racked West Wing, was pushed out on Friday after a stormy six-month tenure, and President Trump replaced him with John F. Kelly, the secretary of homeland security and retired four-star Marine general. Mr. Trump announced the change via Twitter while sitting aboard Air Force One on a tarmac outside Washington minutes after returning from Long Island. Mr. Priebus, who had joined the president on the trip and never let on to other passengers what was about to occur, stepped off the plane into a drenching rain, ducked into a car and was driven away without comment. Mr. Trump then emerged under a large umbrella and praised his outgoing and incoming chiefs. 'Reince is a good man,' Mr. Trump shouted to nearby reporters. 'John Kelly will do a fantastic job. General Kelly has been a star, done an incredible job thus far, respected by everybody, a great, great, American. But Reince Priebus — a good man.' Mr. Priebus's ouster was the latest convulsion in a White House that has been whipsawed by feuds and political setbacks in recent days. The president became convinced that Mr. Priebus was not strong enough to run the White House operation and told him two weeks ago that he wanted to make a change, according to White House officials. Intrigued at the idea of putting a general in charge, Mr. Trump offered the job to Mr. Kelly a few days ago."
Trump names Homeland Security Secretary John Kelly as White House chief of staff, ousting Reince Priebus, The Washington Post, Philip Rucker, Abby Phillip, Robert Costa, and Ashley Parker, Friday, 28 July 2017: "President Trump ousted White House chief of staff Reince Priebus and replaced him with Homeland Security Secretary John F. Kelly on Friday, a major shake-up designed to bring order and military precision to a West Wing beset for six straight months by chaos, infighting and few tangible accomplishments. With his legislative agenda largely stalled, Trump became convinced that Priebus was a 'weak' leader after being lobbied intensely by rival advisers to remove the establishment Republican fixture who has long had friction with some of Trump's inner-circle loyalists, according to White House officials. Kelly's hiring is expected to usher in potentially sweeping structural changes to the turbulent operation and perhaps the departures of some remaining Priebus allies. Kelly intends to bring some semblance of traditional discipline to the West Wing, where warring advisers have been able to circumvent the chief of staff and report directly to the president and sidestep the policy process, according to people with knowledge of his plans."
Continue reading Week 28, Friday, 28 July – Thursday, 3 August 2017:
Trump tells police not to worry about injuring suspects during arrests, The Washington Post, Mark Berman, Friday, 28 July 2017: "During a speech on Long Island on Friday, President Trump took a break from discussing gang violence and illegal immigration to give the law enforcement officers gathered for his remarks some advice on how to treat suspects. 'When you guys put somebody in the car and you're protecting their head, you know, the way you put their hand over?' Trump said, miming the physical motion of an officer shielding a suspect's head to keep it from bumping against the squad car. 'Like, don't hit their head, and they just killed somebody — don't hit their head,' Trump continued. 'I said, you can take the hand away, okay?' In response to a question regarding Trump's comments and the officers who applauded, the Suffolk County police quickly distanced the department from Trump's comments, saying Friday that they would not accept this treatment of people in custody. 'The Suffolk County Police Department has strict rules and procedures relating to the handling of prisoners, and violations of those rules and procedures are treated extremely seriously,' the department said in an emailed statement. 'As a department, we do not and will not tolerate "rough[ing]" up prisoners.'" See also, Trump's speech encouraging police to be 'rough,' annotated, The Washington Post, Philip Bump, Friday, 28 July 2017: On Friday, President Trump traveled to Long Island to address a group of law enforcement officials and speak about the administration's efforts to eradicate the gang Mara Salvatrucha, or MS-13. His speech stuck largely to that theme, though he also made note of Thursday night's failed health-care vote. Trump's speech was noteworthy, though, for its embrace of aggressive tactics by police officers. He insisted that his team was 'rough' and encouraged police officers not to be concerned about preventing physical harm to people being taken into custody. The laws, he said, were 'stacked against' the police. 'Please don't be too nice,' Trump told the officers, to applause. [This article covers] his comments, as provided by the White House, with our highlights and annotations. To see an annotation, click on the yellow, highlighted text." See also, Donald Trump Endorses Police Brutality In Speech to Law Enforcement Officers, HuffPost, Ryan J. Reilly, Friday, 28 July 2017.
Why Anthony Scaremucci's Attack on Reince Priebus and Steve Bannon Matters, The New Yorker, David Remnick, Friday, 28 July 2017: "Customarily, when you are in the first couple of weeks of a new job, it's best to learn the names of the people around you, absorb the rudiments of your new workplace, maybe figure out the lunch situation. This was clearly not the way of Anthony Scaramucci, the new communications director for the Trump White House. The Mooch is a man in a hurry. But while he looks to most like someone racing into a wall, he is, to his patron, doing precisely what is required. Within moments of arrival, Scaramucci was declaring his everlasting fealty to the President ('I love the President'), erasing the digital evidence of his previous contempt for the President ("an inherited money dude from Queens County"), and comparing his relationship with Reince Priebus, the White House chief of staff, to that of Cain and Abel, the killer and the killed. And then, the other night, he called Ryan Lizza, of The New Yorker. First, Scaramucci tried in vain to unearth the source who revealed that he had dined at the White House, and wrongly presumed it was Priebus. He then went on an obscene tirade about Priebus's mental stability, Steve Bannon's dorsal flexibility, and, most alarming of all, his intention to 'fucking kill all the leakers' by employing the capacities, human and technological, of the Department of Justice and the Federal Bureau of Investigation…. The reaction to all this was predictable. It roiled, yet again, the sense of vertigo that has accompanied the Trump era. And there were laughs all around, can-you-top-this jokes on Twitter, gleeful one-liners on late-night television, grave pronouncements on the morning shows. And yet the reaction that matters most was that of Scaramucci's patron, the President of the United States. Mike Allen, the co-founder of the Web site Axios, wrote, 'We're told the President loved the Mooch quotes.' Of course he did. After all, Scaramucci was, in language and in manner, channelling Trump himself. What about Scaramucci's rant could possibly have offended Trump's sense of propriety, dignity, or politics? As so many audiotapes, tweets, interviews, and speeches have made clear, Trump has no compunction about treating people, even his most self-abnegating loyalists, as vassals; he speaks in the language of obscenity and contempt. What previous President could have delivered an oration so filled with political bile that his host, the Boy Scouts of America, would find it necessary to apologize to anyone who might have been offended? He is unique. Scaramucci, who was endorsed by Ivanka Trump and Jared Kushner, seems to have been installed to carry out Trump's form of personnel management—to help demean and get rid of retainers who have proved disappointing or threatening to his interests. Sean Spicer. Reince Priebus. Steve Bannon. Jeff Sessions. And, ultimately, Robert Mueller. In other words, the Mooch matters because the Mooch helps to clarify what matters most to the President and his family. What matters most is Trump's grip on his base voters and his survival in office. Everything else—a sane health-care policy, the dignity of the transgender people who have volunteered to serve their country, a rational environmental policy, a foreign policy that serves basic democratic values, rule of law—is of tertiary interest."
John Kelly Is the First General to Be Chief of Staff Since Alexander Haig During the Nixon Administration, The New York Times, Ron Nixon and Michael D. Shear, Friday, 28 July 2017: "President Trump frequently referred to John F. Kelly as one of 'my generals,' the three senior military leaders he recruited for his team. On Friday, Mr. Trump decided to see whether Mr. Kelly, a retired four-star Marine Corps general, could impose a new sense of discipline on an unruly and chaotic West Wing. Mr. Kelly, who became a star in Mr. Trump's eyes for overseeing immigration policy as secretary of homeland security, will become the president's second chief of staff. He replaces Reince Priebus, the establishment Republican who never completely meshed with Mr. Trump. Mr. Priebus was ousted after a nasty public feud with Anthony Scaramucci, the new White House communications director. The square-jawed Mr. Kelly, the first general to hold the chief of staff position since Alexander M. Haig during the Nixon administration, will be an imposing and strait-laced figure in a West Wing filled with constantly warring aides and advisers, most of whom came to Washington with virtually no experience in federal government before Mr. Trump's victory last year."
Russia Seizes 2 U.S. Properties and Orders Embassy to Cut Staff, The New York Times, Neil Mac Farquhar, Friday, 28 July 2017: "Russia took its first steps on Friday to retaliate against proposed American sanctions for Moscow's suspected meddling in the 2016 election, seizing two American diplomatic properties in Russia and ordering the United States Embassy to reduce staff by September. The moves, which had been threatened for weeks, came a day after the United States Senate approved a measure to expand economic sanctions against Russia, as well as against Iran and North Korea. The White House announced late Friday that President Trump would sign the bill. The latest move by the Kremlin strikes another blow against the already dismal diplomatic relations between the two sides, with each new step moving Moscow and Washington further from the rapprochement anticipated a few months ago."
Businessman William Browder Testified Before the Senate Judiciary Committee on Thursday and Painted a Terrifying and Complex Picture of Putin's Russia, NPR, Miles Parks, Friday, 28 July 2017: "William Browder knows Vladimir Putin's Russia all too well. Browder made a fortune in Russia, in the process uncovering, he says, incredible amounts of fraud and corruption. When he tried to report it to authorities, the government kicked him out of the country and, he alleges, tortured and killed the lawyer [Sergei Magnitsky] he was working with. In what one senator called one of the Senate Judiciary Committee's 'most important' hearings, Browder, a wealthy businessman-turned-activist-turned Putin-adversary shed a chilling new light on a Russian system of government that operates ruthlessly in the shadows — as Browder described it for lawmakers: a 'kleptocracy' sustained by corruption, blackmail, torture and murder with Putin at its center." See also, Bill Browder's Testimony to the Senate Judiciary Committee, The Atlantic, Rosie Gray, published on Tuesday, 25 July 2017.
Federal Court Judge James C. Cacheris Ruled That Public Officials Cannot Block Social Media Users Because of Their Criticism, Slate, Mark Joseph Stern, Friday, 28 July 2017: "Does the First Amendment bar public officials from blocking people on social media because of their viewpoint? That question has hung over the White House ever since Donald Trump assumed the presidency and continued to block users on Twitter. The Knight First Amendment Institute at Columbia University has sued the president on behalf of blocked users, spurring a lively academic debate on the topic. But Trump isn't the only politician who has blocked people on social media. This week, a federal court weighed in on the question in a case with obvious parallels to Trump's. It determined that the First Amendment's Free Speech Clause does indeed prohibit officeholders from blocking social media users on the basis of their views. Davison v. Loudoun County Board of Supervisors involved the chair of the Loudoun County [Virginia] Board of Supervisors, Phyllis J. Randall. In her capacity as a government official, Randall runs a Facebook page to keep in touch with her constituents. In one post to the page, Randall wrote, 'I really want to hear from ANY Loudoun citizen on ANY issues, request, criticism, compliment, or just your thoughts.' She explicitly encouraged Loudoun residents to reach out to her through her 'county Facebook page.' Brian C. Davison, a Loudon denizen, took Randall up on her offer and posted a comment to a post on her page alleging corruption on the part of Loudoun County's School Board. Randall, who said she 'had no idea' whether Davison's allegations were true, deleted the entire post (thereby erasing his comment) and blocked him. The next morning, she decided to unblock him. During the intervening 12 hours, Davison could view or share content on Randall's page but couldn't comment on its posts or send it private messages. Davison sued, alleging a violation of his free speech rights. As U.S. District Judge James C. Cacheris explained in his decision, Randall essentially conceded in court that she had blocked Davison 'because she was offended by his criticism of her colleagues in the County government.' In other words, she 'engaged in viewpoint discrimination,' which is generally prohibited under the First Amendment."
Treasury Ends Obama-Era Retirement Savings Plan, The New York Times, Tara Siegel Bernard, Friday, 28 July 2017: "An Obama-era program that created savings accounts to help more people put away money for retirement is being shut down by the Treasury Department, which deemed the program too expensive. The 30,000 participants in the program, known as myRA and intended for people who did not have access to workplace savings plans, were sent an email on Friday morning alerting them of the closing. Participants were informed that they could roll the money into a Roth individual retirement account, the Treasury Department said. President Barack Obama ordered the creation of the so-called starter accounts three years ago, and they became available at the end of 2015. Since then, about 20,000 accounts have been opened, with participants contributing a total of $34 million, according to the Treasury; the median account balance was $500. An additional 10,000 accounts whose owners have not contributed to them have been opened. The goal of the myRA accounts — which operated much like Roth I.R.A. accounts — was to encourage saving, particularly among lower-income workers. Account holders could contribute up to $5,500 a year, or $6,500 if they were 50 or older. The money could be deducted automatically from users' paychecks, or they could contribute to the accounts by making transfers directly from checking or savings accounts. The myRA program was deemed a conservative way to save — and tailored for people who were not accustomed to investing in the markets — because account holders could not lose money. The funds were invested in United States Treasury savings bonds, which paid the same variable rate as the Government Securities Fund, available to federal employees through the government retirement plan."
Democrats hope to win back working class whites, but they have a lot of work ahead of them, McClatchy DC Bureau, Alex Roarty, Friday, 28 July 2017: "New internal Democratic data shows the party's House candidates can win back the white working-class voters who strongly supported President Donald Trump last year. But they have a lot of work ahead of them. House Majority PAC, a super PAC allied with House Democrats, this week unveiled new research about the party's most troublesome voter demographic, part of a years-long study the group has undertaken. The data, per one party strategist involved in the project, was 'sobering': White voters without a college degree still view Trump relatively favorably, their opinion of Democrats is in the dumps, and they reject some of the party's favored economic initiatives. In a generic House ballot of these voters, Republicans lead Democrats by 10 points, 43 percent to 33 percent. (Twenty-four percent of them were undecided)…. The poll that formed the basis for the report included 1,000 interviews of likely 2018 voters in targeted House districts, conducted from June 27 to July 13. The voters were white, older than 24, and the survey had a margin of error of 3.1 percentage points…. Sixty-one percent of these voters disapprove of congressional Democrats, the survey found, while just 32 percent approve. The numbers are better for the congressional GOP: 56 percent disapprove of them, while 39 percent approve…. White working-class voters also favor the GOP over Democrats on nearly every metric, the poll found. When it comes to which party will 'improve the economy and create jobs,' Republicans have a 35-point edge. They have a 19-point edge when it comes to ensuring people are rewarded for their hard work, and a 15-point edge on middle-class tax cut. The only area where Democrats come out ahead is on health care — and even then, they best the GOP by just four points despite the deep unpopularity of the congressional Republicans' health care plan."
Saturday, 29 July 2017, Day 191:
Police Criticize Trump for Urging Officers Not to Be 'Too Nice' With Suspects, The New York Times, Brian M. Rosenthal, Saturday, 29 July 2017: "President Trump's admonition that the police should not be 'too nice' while transporting suspects drew laughter and cheers from a crowd of officers on Friday, but police officials swiftly made it clear they did not find the words funny. From New York to Los Angeles, law enforcement authorities criticized the president's remarks. Experts worried that his words could encourage the inappropriate use of force. A defense lawyer even signaled that he might use video of the speech in court. The criticism online started shortly after Mr. Trump's comments, which came at an event in Brentwood, N.Y., which was intended to support the police in their fight against La Mara Salvatrucha, or MS-13, a gang that has been accused of several murders on Long Island. After calling for more immigration officers to help arrest the gang members, Mr. Trump told officers, 'Please don't be too nice.' 'Like when you guys put somebody in the car, and you're protecting their head, you know, the way you put your hand over' their head, he said, putting his hand above his head for emphasis. 'I said, "You can take the hand away, O.K.?"' The president's remark was denounced by police officials and organizations, including the International Association of Chiefs of Police, the Police Foundation and Steve Soboroff, one of the civilian commissioners who oversees the Los Angeles Police Department. 'What the president recommended would be out of policy in the Los Angeles Police Department,' Mr. Soboroff told The Los Angeles Times. 'It's not what policing is about today.'"
Trump Tells Republican Senators Not to Be 'Total Quitters' on Health Bill, The New York Times, Maggie Haberman, Saturday, 29 July 2017: "President Trump on Saturday scolded Congress for looking 'like fools' and urged Republican senators not to be 'total quitters' as he insisted that his push to overhaul the nation's health care law remained viable, the day after it was rejected by the Senate. To reinforce his demand, the president threatened to cut lawmakers' own health insurance plans if Congress failed to revive the flagging seven-year effort to roll back the medical care program of former President Barack Obama. It was the latest in a series of tweets he posted throughout the day, beginning shortly after 7 a.m., revealing how unsettled the president remains in losing a Senate vote to overhaul health care. One person familiar with his thinking said Mr. Trump was particularly focused on the unexpected defection of Senator John McCain, Republican of Arizona, who temporarily shelved cancer treatment in his home state and flew back to Washington to reject the president's efforts with a dramatic thumbs-down vote. Mr. Trump is holding out hope that the Senate will return to health care in September, and bypass parliamentary obstacles to approve it by a simple majority, according to the person familiar with the president's thinking, who spoke on condition of anonymity. Indeed, several of Mr. Trump's tweets on Saturday criticized use of the Senate filibuster, including one that specifically targeted Senator Mitch McConnell, Republican of Kentucky and the majority leader. Republicans have 52 seats in the Senate. The proposal this past week to repeal portions of the health care law, as long demanded by Mr. Trump, required a simple 51-vote majority to pass but failed. It was not clear how he expected to win enough votes, or what might be different, with a new effort. By midafternoon, Mr. Trump escalated his attack on lawmakers by taking aim at their own health care plans." See also, Trump insults and threatens Republican senators in long rant after health bill failure, The Washington Post, Avi Selk, Saturday, 29 July 2017.
How to Repair the Health Law (It's Tricky but Not Impossible), The New York Times, Reed Abelson, Abby Goodnough, and Katie Thomas, Saturday, 29 July 2017: "The seven-year-old law has survived Supreme Court decisions and aggressive attempts to extinguish it by Republicans in Congress and the White House. But even people who rely on its coverage agree that it still has big problems. The question for the roughly 20 million Americans who buy their own health coverage — and for millions of others who remain uninsured — is what can realistically be done to address their main concerns: high prices and lack of choice in many parts of the country. Stabilizing the market, lowering drug prices, and expanding access to coverage would go a long way to easing millions of Americans' concerns."
When Life on Earth Was Nearly Extinguished, The New York Times, Peter Brannen, Saturday, 29 July 2017: "It has been called the 'Great Dying.' The planet's most profound catastrophe struck 252 million years ago, at the end of the Permian period, killing 90 percent of life in the ocean and 75 percent on land. The fossil record nearly goes silent and remains startlingly impoverished for millions of years: trees disappear, bacteria replace coral reefs, insects hush. What looks like fungus spikes in the fossil record, perhaps the sepulchral rot of a dying world. It was as close as earth has ever come to being sterilized altogether, and would take 10 million years for the planet to fully recover, setting the stage for the eventual rise of the dinosaurs…. A growing body of evidence suggests that this ancient apocalypse was brought on, in large part, by gigantic emissions of carbon dioxide from volcanoes that erupted across a vast swath of Siberia. Today the consequence of quickly injecting huge pulses of carbon dioxide into the air is discussed as if the threat exists only in the speculative output of computer models. But, as scientists have discovered, this has happened many times before, and sometimes the results were catastrophic."
Sunday, 30 July 2017, Day 192:
U.S. police chiefs blast Trump for endorsing 'police brutality,' The Washington Post, Cleve R. Wootson Jr. and Mark Berman, Sunday, 30 July 2017: "Police leaders across the country moved quickly to distance themselves from — or to outright condemn — President Trump's statements about 'roughing up' people who've been arrested. The swift public denunciations came as departments are under intense pressure to stamp out brutality and excessive force that can erode the relationship between officers and the people they police — and cost police chiefs their jobs. Some police leaders worried that three sentences uttered by the president during a Long Island, N.Y., speech could upend nearly three decades of fence-mending since the 1991 Los Angeles Police Department beating of Rodney King ushered in an era of distrust of police…. Trump made the comments at a gathering of law enforcement officers at Suffolk County Community College in New York. 'When you guys put somebody in the car and you're protecting their head, you know, the way you put their hand over?' Trump said, miming the physical motion of an officer shielding a suspect's head to keep it from bumping against the squad car. 'Like, don't hit their head, and they just killed somebody — don't hit their head,' Trump continued. 'I said, you can take the hand away, okay?'"
Russian President Vladimir Putin, Responding to Sanctions, Orders the U.S. to Cut Diplomatic Staff by 755, The New York Times, Neil MacFarquhar, Sunday, 30 July 2017: "President Vladimir V. Putin announced Sunday that the American diplomatic mission in Russia must reduce its staff by 755 employees, an aggressive response to new American sanctions that seemed ripped right from the Cold War playbook and sure to increase tensions between the two capitals. In making the announcement, Mr. Putin said Russia had run out of patience waiting for relations with the United States to improve. 'We waited for quite a long time that, perhaps, something will change for the better, we held out hope that the situation would somehow change,' Mr. Putin said in an interview on state-run Rossiya 1 television, which published a Russian-language transcript on its website. 'But, judging by everything, if it changes, it will not be soon.' Mr. Putin said the staff reduction was meant to cause real discomfort for Washington and its representatives in Moscow. 'Over 1,000 employees — diplomats and technical workers — worked and continue to work today in Russia; 755 will have to stop this activity,' he said…. The measures were the harshest such diplomatic move since a similar rupture in 1986, in the waning days of the Soviet Union. It was also a major shift in tone from the beginning of this month, when Mr. Putin first met with President Trump at the G-20 summit meeting in Hamburg, Germany. Mr. Trump had talked during his campaign of improving ties with Russia, praising Mr. Putin, and the Kremlin had anticipated that the face-to-face meeting of two presidents would be the start of a new era. The immediate assessment in Moscow was that the two leaders had set the stage for better relations. But then, in quick succession, came the expanded sanctions passed by Congress, Mr. Trump's indication that he would sign them into law and Moscow's forceful retaliation. Washington's response on Sunday was muted. 'This is a regrettable and uncalled-for act,' the State Department said in a statement. 'We are assessing the impact of such a limitation and how we will respond to it.'" See also, Russian President Vladimir Putin orders cut of 755 personnel at U.S. missions, The Washington Post, Andrew Roth, Sunday, 30 July 2017: "Russian President Vladimir Putin said Sunday that the U.S. diplomatic missions in Moscow and elsewhere in the country will have to reduce their staffs by 755 people, signaling a significant escalation in the Russian response to American sanctions over the Kremlin's intervention in the 2016 presidential election. The United States and Russia have expelled dozens of each other's diplomats before — but Sunday's statement, made by Putin in an interview with the Rossiya-1 television channel, indicated the single largest forced reduction in embassy staff, comparable only to the closing of the American diplomatic presence in the months following the Communist revolution in 1917. In the interview, Putin said that the number of American diplomatic and technical personnel will be capped at 455 — equivalent to the number of their Russian counterparts working in the United States. Currently, close to 1,200 employees work at the United States' embassy and consulates in Russia, according to U.S. and Russian data."

Monday, 31 July 2017, Day 193:
John Kelly, Trump's New Chief of Staff, Asserts Authority and Fires Communications Director Anthony Scaramucci, The New York Times, Michael D. Shear, Glenn Thrush, and Maggie Haberman, Monday, 31 July 2017: "John F. Kelly, President Trump's new chief of staff, firmly asserted his authority on his first day in the White House on Monday, telling aides he will impose military discipline on a free-for-all West Wing, and he underscored his intent by firing Anthony Scaramucci, the bombastic communications director, 10 days after he was hired. Mr. Scaramucci was forced out of his post, with the blessing of the president and his family, just days after unloading a crude verbal tirade against other members of the president's staff, including Reince Priebus, Mr. Kelly's beleaguered predecessor, and Stephen K. Bannon, the chief White House strategist, in a conversation with a reporter for The New Yorker. Mr. Trump recruited Mr. Scaramucci as a tough-talking alter ego who would ferociously fight for him the way others had not. But 'the Mooch,' as he likes to be known, quickly went too far, even in the eyes of a president who delights in pushing the boundaries of political and social decorum. As Mr. Kelly, a former four-star Marine general, began his first day on the job, Sarah Huckabee Sanders, the White House press secretary, announced that Mr. Scaramucci was out. 'The president certainly felt that Anthony's comments were inappropriate for a person in that position,' Ms. Sanders said. 'He didn't want to burden General Kelly, also, with that line of succession.' In a post to Twitter just hours before the announcement, Mr. Trump insisted that there had been 'No WH chaos!' Yet even as he sought to reassure supporters that all was well, several administration aides fretted that the impetuous president and the disciplined Marine were already on a collision course that could ultimately doom the unlikely partnership." See also, Anthony Scaramucci removed as White House communications director, The Washington Post, Abby Phillip and Damian Paletta, Monday, 31 July 2017. See also, Divorce Report Capped Anthony Scaramucci's First Week. There Was No Second Week. The New York Times, Katie Rogers, Monday, 31 July 2017: "Anthony Scaramucci, the White House communications director whose flair for gale-force showmanship makes his new boss look almost tame, had an explosive first week on the job — so explosive that the president removed him from the role on Monday. The news of his ouster, at the hands of John F. Kelly, a new chief of staff tasked with instilling order in the West Wing, followed a particularly chaotic weekend in Mr. Scaramucci's personal life. On Friday, The New York Post's Page Six column reported that Mr. Scaramucci's wife, Deidre Ball, had filed for divorce while pregnant with the couple's second child, a boy born last week. In an interview on Sunday, Jill Stone, who is representing Ms. Ball, confirmed the divorce filing, but said it was not caused by Mr. Scaramucci's decision to work for Mr. Trump." See also, Anthony Scaramucci's Brief, but Volatile, Tenure as Trump's Communications Director, The New York Times, Emily Cochrane and Mikayla Bouchard, Monday, 31 July 2017: "Anthony Scaramucci was named communications director on July 21 and removed July 31. [This article covers] the highlights from the moments in between."
Trump dictated his son's misleading statement on meeting with Russian lawyer, The Washington Post, Ashley Parker, Carol D. Leonnig, Philip Rucker, and Tom Hamburger, Monday, 31 July 2017: "On the sidelines of the Group of 20 summit in Germany last month, President Trump's advisers discussed how to respond to a new revelation that Trump's oldest son had met with a Russian lawyer during the 2016 campaign — a disclosure the advisers knew carried political and potentially legal peril.  The strategy, the advisers agreed, should be for Donald Trump Jr. to release a statement to get ahead of the story. They wanted to be truthful, so their account couldn't be repudiated later if the full details emerged. But within hours, at the president's direction, the plan changed. Flying home from Germany on July 8 aboard Air Force One, Trump personally dictated a statement in which Trump Jr. said that he and the Russian lawyer had 'primarily discussed a program about the adoption of Russian children' when they met in June 2016, according to multiple people with knowledge of the deliberations. The statement, issued to the New York Times as it prepared an article, emphasized that the subject of the meeting was 'not a campaign issue at the time.' The claims were later shown to be misleading. Over the next three days, multiple accounts of the meeting were provided to the news media as public pressure mounted, with Trump Jr. ultimately acknowledging that he had accepted the meeting after receiving an email promising damaging information about Hillary Clinton as part of a Russian government effort to help his father's campaign. The extent of the president's personal intervention in his son's response, the details of which have not previously been reported, adds to a series of actions that Trump has taken that some advisers fear could place him and some members of his inner circle in legal jeopardy. As special counsel Robert S. Mueller III looks into potential obstruction of justice as part of his broader investigation of Russian interference in the 2016 election, these advisers worry that the president's direct involvement leaves him needlessly vulnerable to allegations of a coverup. 'This was . . . unnecessary,' said one of the president's advisers, who like most other people interviewed for this article spoke on the condition of anonymity to discuss sensitive internal deliberations. 'Now someone can claim he's the one who attempted to mislead. Somebody can argue the president is saying he doesn't want you to say the whole truth.'… Although misleading the public or the news media is not a crime, advisers to Trump and his family told The Washington Post that they fear any indication that Trump was seeking to hide information about contacts between his campaign and Russians almost inevitably would draw additional scrutiny from Mueller." See also, Aide Confirms Trump Was Involved in Drafting a Misleading Statement Issued by His Son About a 2016 Meeting With a Russian Lawyer During the Presidential Campaign, The New York Times, Peter Baker, published on Tuesday, 1 August 2017.
My Republican Party Is in Denial About Donald Trump, Politico, Jeff Flake, Republican Senator from Arizona, Monday, 31 July 2017: "We created him, and now we're rationalizing him. When will it stop?… [W]e conservatives mocked Barack Obama's failure to deliver on his pledge to change the tone in Washington even as we worked to assist with that failure. It was we conservatives who, upon Obama's election, stated that our No. 1 priority was not advancing a conservative policy agenda but making Obama a one-term president—the corollary to this binary thinking being that his failure would be our success and the fortunes of the citizenry would presumably be sorted out in the meantime. It was we conservatives who were largely silent when the most egregious and sustained attacks on Obama's legitimacy were leveled by marginal figures who would later be embraced and legitimized by far too many of us. It was we conservatives who rightly and robustly asserted our constitutional prerogatives as a co-equal branch of government when a Democrat was in the White House but who, despite solemn vows to do the same in the event of a Trump presidency, have maintained an unnerving silence as instability has ensued. To carry on in the spring of 2017 as if what was happening was anything approaching normalcy required a determined suspension of critical faculties. And tremendous powers of denial."
Obama-backed Democratic redistricting group raises $10.8 million so far in 2017, The Washington Post, Fenit Nirappil, Monday, 31 July 2017: "An initiative backed by former president Barack Obama to end Republican control of legislative maps by targeting state-level contests has raised more than $10.8 million this year. On Monday, the National Democratic Redistricting Committee announced its fundraising haul through the end of July as it geared up to spend on gubernatorial and state legislative campaigns ahead of the 2020 redistricting cycle, when states will draw new maps for congressional and state legislative districts. Democrats see these efforts as crucial to rebuilding the party. The NDRC, which is chaired by former U.S. attorney general Eric H. Holder Jr., is debuting its campaign efforts by supporting Virginia Lt. Gov. Ralph Northam (D) for governor of the commonwealth this November against Ed Gillespie, the former Republican National Committee chairman."
Moving Past Health Care, the White House Looks to Tax Reform and Joins Forces with Charles and David Koch, Jeremy W. Peters and Alan Rappeport, Monday, 31 July 2017: "The Trump administration insisted on Monday, in a show of unity with one of the Republican Party's biggest financial backers, that its plan to rewrite the tax code would be a collaborative and ultimately successful process. In a scene that demonstrated the pressure the administration is under to deliver on that promise, Steven Mnuchin, the Treasury secretary, appeared with representatives from the political network funded by Charles G. and David H. Koch to stress that there was little daylight separating the White House, Republicans in Congress and the well-financed conservative groups that are planning to devote tens of millions of dollars to the process. 'This is a pass/fail exercise, and we will pass tax reform,' Mr. Mnuchin said in a question-and-answer session with Tim Phillips, the president of Americans for Prosperity, the Koch group that funds grass-roots political activity across the country. More than once, Mr. Phillips mentioned that the group's activists in 36 states were ready to be deployed, and that there was no higher priority for them this year. 'We're going all in,' Mr. Phillips said."
U.S. judge set to hear new challenge to Trump voter commission on Tuesday, The Washington Post, Spencer S. Hsu, Monday, 31 July 2017: "A federal judge will hear arguments Tuesday over whether a Watergate-era law prohibiting the government from collecting data on how Americans exercise their First Amendment rights bars President Trump's Election Integrity Commission from Americans' voting records. U.S. District Judge Royce C. Lamberth … set the hearing Monday after Common Cause, a nonprofit government watchdog group, alleged that the Trump administration was violating the Privacy Act of 1974 by seeking the 'quintessentially First Amendment-protected political party affiliation and voter history data' of every American. The court could rule on the request for a temporary restraining order as early as Tuesday."
White House Panel Recommends Declaring National Emergency on Opioids, The New York Times, Abby Goodnough, Monday, 31 July 2017: "President Trump's commission on the opioid crisis asked him Monday to declare a national emergency to deal with the epidemic. The members of the bipartisan panel called the request their 'first and most urgent recommendation.' Mr. Trump created the commission in March, appointing Gov. Chris Christie of New Jersey to lead it. The panel held its first public meeting last month and was supposed to issue an interim report shortly afterward but delayed doing so until now. A final report is due in October. 'With approximately 142 Americans dying every day, America is enduring a death toll equal to Sept. 11 every three weeks,' the commission members wrote, referring to the 9/11 terrorist attacks. 'Your declaration would empower your cabinet to take bold steps and would force Congress to focus on funding and empowering the executive branch even further to deal with this loss of life.' In addition to seeking an emergency declaration, the commission proposed waiving a federal rule that sharply limits the number of Medicaid recipients who can receive residential addiction treatment. It also called for expanding access to medications that help treat opioid addiction, requiring 'prescriber education initiatives' and providing model legislation for states to allow a standing order for anyone to receive naloxone, a drug used to reverse opioid overdoses. Some public health experts said the main effect of declaring an emergency would be to make Americans regard the epidemic more urgently."
Tuesday, 1 August 2017, Day 194:
Lawsuit Alleges Fox News and Wealthy Trump Supporter Ed Butowsky Created Fake News Story: Behind Fox News' Baseless Seth Rich Story, the Untold Tale, NPR, David Folkenflik, Tuesday, 1 August 2017: "The Fox News Channel and a wealthy supporter of President Trump [Ed Butowsky] worked in concert under the watchful eye of the White House to concoct a story about the death of a young Democratic National Committee aide, according to a lawsuit filed Tuesday. The explosive claim is part of a lawsuit filed against Fox News by Rod Wheeler, a longtime paid commentator for the news network. The suit was obtained exclusively by NPR. Wheeler alleges Fox News and the Trump supporter intended to deflect public attention from growing concern about the administration's ties to the Russian government. His suit charges that a Fox News reporter created quotations out of thin air and attributed them to him to propel her story. Fox's president of news, Jay Wallace, told NPR on Monday that there was no 'concrete evidence' that Wheeler was misquoted by the reporter, Malia Zimmerman. The news executive did not address a question about the story's allegedly partisan origins. Fox News declined to allow Zimmerman to comment for this story. The story, which first aired in May, was retracted by Fox News a week later. Fox News has, to date, taken no action in response to what it said was a failure to adhere to the network's standards." See also, Lawsuit Asserts White House Role in Fox News Article on Seth Rich, The New York Times, Emily Steel, Tuesday, 1 August 2017. See also, A timeline of the explosive lawsuit alleging a White House link in the Seth Rich conspiracy, The Washington Post, Philip Bump, Tuesday, 1 August 2017: "NPR's David Folkenflik reported Tuesday morning on a lawsuit filed by a man named Rod Wheeler that makes a remarkable claim: The Trump White House — or President Trump personally — may have been aware of or involved in a discredited Fox News story about the killing of a Democratic National Committee staffer last July. It's a complicated story that, we hasten to add, is based on allegations in a lawsuit filed by a person whose quotes in that discredited story were themselves discredited. But the lawsuit includes documentary evidence (like text messages), and Folkenflik was given access to recorded calls that bolster the story as presented. What's more, the lawsuit is predicated on Wheeler's assertion that he never said the quotes attributed to him. Given the complexity of the story, we've taken the details in the lawsuit and arranged them as a timeline." See also, You don't have to believe everything in the Seth Rich lawsuit. What's been confirmed is bad enough. The Washington Post, Margaret Sullivan, Tuesday, 1 August 2017.
Trump's Justice Department to Investigate and Sue Universities Over Affirmative Action Policies Deemed to Discriminate Against White Applicants, The New York Times, Charlie Savage, Tuesday, 1 August 2017: "The Trump administration is preparing to redirect resources of the Justice Department's civil rights division toward investigating and suing universities over affirmative action admissions policies deemed to discriminate against white applicants, according to a document obtained by The New York Times. The document, an internal announcement to the civil rights division, seeks current lawyers interested in working for a new project on 'investigations and possible litigation related to intentional race-based discrimination in college and university admissions.' The announcement suggests that the project will be run out of the division's front office, where the Trump administration's political appointees work, rather than its Educational Opportunities Section, which is run by career civil servants and normally handles work involving schools and universities. The document does not explicitly identify whom the Justice Department considers at risk of discrimination because of affirmative action admissions policies. But the phrasing it uses, 'intentional race-based discrimination,' cuts to the heart of programs designed to bring more minority students to university campuses. Supporters and critics of the project said it was clearly targeting admissions programs that can give members of generally disadvantaged groups, like black and Latino students, an edge over other applicants with comparable or higher test scores." See also, Justice Department plans new project to sue universities over affirmative action policies, The Washington Post, Sari Horwitz and Emma Brown, Tuesday, 1 August 2017.
Homeland Security to Bypass Environmental Laws in Border Wall Work, The New York Times, Ron Nixon, Tuesday, 1 August 2017: "The Department of Homeland Security said on Tuesday that it would use its authority to exempt the agency from having to comply with environmental and other laws in its efforts to build border walls and access roads in the San Diego area. The waiver would apply to the construction of several wall prototypes the agency plans to build in the region in response to an executive order signed by President Trump in January. Congress has passed several laws that give Homeland Security the authority to exempt its construction of physical barriers like border walls from a variety of environmental and land management laws. The department invoked that authority five times from 2005 to 2008, the agency said. Most of the construction of the border walls currently in use was done during that period."
Chuck Rosenberg, acting head of the Drug Enforcement Administration, says Trump 'condoned police misconduct' in remarks about handling suspects, The Washington Post, Matt Zapotosky and Mark Berman, Tuesday, 1 August 2017: "The head of the Drug Enforcement Administration said in an email to staff members over the weekend that President Trump had 'condoned police misconduct' in remarking to officers in Long Island that they need not protect suspects' heads when loading them into police vehicles. Acting DEA Administrator Chuck Rosenberg wrote that he felt obligated to respond to the president's comments 'because we have an obligation to speak out when something is wrong.' He cited the agency's core values — among them integrity, accountability and respect and compassion."
Senate Confirms Christopher Wray as New F.B.I. Director, The New York Times, Adam Goldman, Tuesday, 1 August 2017: "The Senate on Tuesday overwhelmingly confirmed Christopher A. Wray as the next F.B.I. director to steer the United States' premier law enforcement agency through a politically fraught period as it investigates whether any of President Trump's associates colluded with the Russian government during last year's election. The 92-to-5 vote to confirm Mr. Wray, a former federal prosecutor, is likely to be a relief to many agents at the F.B.I. who want a strong director to stave off any attempts by the White House to meddle in its investigations. The deteriorating relationship between Mr. Trump and the previous F.B.I. director, James B. Comey, was widely viewed as harmful to the bureau. 'Now more than ever, the bureau needs a resolute and independent leader,' said Senator Sheldon Whitehouse, Democrat of Rhode Island and a member of the Senate Judiciary Committee. 'Christopher Wray has assured us he can be that leader.'… Friends and former colleagues of Mr. Wray say he is a low-key leader but mindful of the divisions that should exist between the F.B.I. and the White House. At his Senate confirmation hearing last month, Mr. Wray said he would resist any political pressure. He told the Senate that he knew he was walking into a political maelstrom." See also, Senate confirms Christopher Wray as next FBI director, The Washington Post, Karoun Demirjian, Tuesday, 1 August 2017.
Republicans in Congress Bypass Trump to Shore Up the Insurance Markets Under the Affordable Care Act, The New York Times, Robert Pear and Thomas Kaplan, Tuesday, 1 August 2017: "Congressional Republicans moved on Tuesday to defuse President Trump's threat to cut off critical payments to health insurance companies, maneuvering around the president toward bipartisan legislation to shore up insurance markets under the Affordable Care Act. Senator Lamar Alexander of Tennessee, the influential chairman of the Senate Health, Education, Labor and Pensions Committee, announced on Tuesday that his panel would begin work in early September on legislation to 'stabilize and strengthen the individual health insurance market' for 2018. He publicly urged Mr. Trump to continue making payments to health insurance companies to reimburse them for reducing the out-of-pocket medical expenses of low-income people. In the House, two Republicans, Representatives Tom Reed of New York and Charlie Dent of Pennsylvania, teamed with Democrats to promote incremental health legislation that would also fund the cost-sharing subsidies."
Ruling by the U. S. Court of Appeals for the District of Columbia Circuit could help keep Obamacare subsidies, The Washington Post, Amy Goldstein, Tuesday, 1 August 2017: "A federal appeals court issued a ruling Tuesday that could help preserve a key subsidy that benefits health insurers and millions of Americans under the Affordable Care Act. The ruling could make it more difficult for the White House to carry out recent threats by President Trump to cut off the payments, giving legal standing to a new set of the payments' ­defenders. The U.S. Court of Appeals for the District of Columbia Circuit ruled that a coalition of 16 state attorneys general, all of whom want to preserve the subsidies, may intervene in the appeal of a lawsuit over the fate of cost-sharing subsidies — payments the government makes to insurers on behalf of about 7 million low-income Americans who receive breaks on their health plans' deductibles and other out-of-pocket costs. Led by the Democratic attorneys general of New York and California, the motion that the court granted is the most recent twist in the gnarled legal and political history of the subsidies. In practical terms, the ruling could make it more difficult for the Trump administration and House Republicans to abandon the payments without a court fight."
Senator Cory Booker puts marijuana legalization at the center of his new racial justice bill, The Washington Post, Christopher Ingraham, Tuesday, 1 August 2017: "Sen. Cory Booker on [Tuesday] introduced legislation that would legalize marijuana, expunge federal marijuana convictions and penalize states with racially-disparate arrest or incarceration rates for marijuana-related crimes. The changes are aimed at undoing some of the harm the nation's decades-long war on drugs has inflicted on poor and minority communities. Like legislation introduced two years ago by Sen. Bernie Sanders (I-Vt.), the bill from Booker, a New Jersey Democrat, would remove marijuana from the federal Controlled Substances Act. This would remove marijuana from the purview of the federal Drug Enforcement Administration and allow states to set their own policies. But Booker's bill would go considerably further. It would withhold some criminal justice funding from states that haven't legalized marijuana if they exhibit racially disproportionate arrest or incarceration rates. In effect, this would apply to each state in which marijuana is not currently legal: A 2013 ACLU report found that nationwide, blacks were nearly four times as likely to be arrested on marijuana charges as whites, despite similar rates of use of the drug. Booker's legislation would effectively encourage states to legalize marijuana to avoid these penalties. Funds withheld from states would be put toward a federal 'Community Reinvestment Fund' that would receive a separate $500 million in appropriations annually. The fund would be used to 'establish a grant program to reinvest in communities most affected by the war on drugs.' It would cover job-training programs, criminal re-entry assistance, public libraries and community centers, youth programs, and health education."
Coast Guard 'will not break faith' with transgender members, Commandant Adm. Paul Zukunft says, The Hill, Ellen Mitchell, Tuesday, 1 August 2017: "Coast Guard officials reached out personally to their transgender service members to express support after President Trump's announcement of a new policy barring transgender people in the military, according to Commandant Adm. Paul Zukunft. 'The first thing we did is we reached out to all 13 members of the Coast Guard who have come out' as transgender, Zukunft told attendees at a Center for Strategic and International Studies event in Washington." See also, Coast Guard Still Supports Transgender Troops, Commandant Paul Zukunft Says, The New York Times, Ron Nixon, Tuesday, 1 August 2017.
Full transcript: Trump's Wall Street Journal interview with the Journal's editor-in-chief Gerard Baker in the Oval Office on July 25, Politico, Josh Dawsey and Hadas Gold, Tuesday, 1 August 2017: "President Donald Trump called his son-in-law a 'good boy' while thanking Wall Street Journal editor-in-chief Gerard Baker for a positive editorial about Jared Kushner and said the leader of the Boy Scouts told him his jamboree speech was 'the greatest speech ever made to them.' The comments, made to The Wall Street Journal and obtained in a transcript by POLITICO, show Trump holding forth at length with Baker and engaging in a familiar back and forth. Baker, according to the transcript, asked many of the questions and took the lead byline on the main piece about the interview as well, an unusual step for the editor in chief of a paper with a large White House reporting staff. The Journal has not published a full transcript of the interview. The newspaper posted certain excerpts of the transcript online, but the full version has circulated around the Journal newsroom as well as among others in New York and Washington."
Special Counsel Robert Mueller Adds Greg Andres to His Team. Andres Has Experience in Foreign Bribery and White-Collar Crime, HuffPost/Reuters, Karen Freifeld, Tuesday, 1 August 2017: "A former U.S. Justice Department official has become the latest lawyer to join special counsel Robert Mueller's team investigating Russia's interference in the 2016 presidential election, a spokesman for the team confirmed. Greg Andres started on Tuesday, becoming the 16th lawyer on the team, said Josh Stueve, a spokesman for the special counsel. Most recently a white-collar criminal defense lawyer with New York law firm Davis Polk & Wardwell, Andres, 50, served at the Justice Department from 2010 to 2012. He was deputy assistant attorney general in the criminal division, where he oversaw the fraud unit and managed the program that targeted illegal foreign bribery."
Wednesday, 2 August 2017, Day 195:
Trump Signs Russian Sanctions Into Law, With Caveats, The New York Times, Peter Baker and Sophia Kishkovsky, Wednesday, 2 August 2017: "President Trump signed legislation on Wednesday imposing sanctions on Russia and limiting his own authority to lift them, but asserted that the measure included 'clearly unconstitutional provisions' and left open the possibility that he might choose not to enforce them as lawmakers intended. The legislation, which also includes sanctions on Iran and North Korea, represented the first time that Congress had forced Mr. Trump to sign a bill over his objections by passing it with bipartisan, veto-proof majorities. Even before he signed it, the Russian government retaliated by seizing two American diplomatic properties and ordering the United States to reduce its embassy staff members in Russia by 755 people. The measure reflected deep skepticism among lawmakers in both parties about Mr. Trump's friendly approach to President Vladimir V. Putin of Russia and an effort to prevent Mr. Trump from letting the Kremlin off the hook for its annexation of Crimea, military intervention in Ukraine and its meddling in last year's American election. Rather than the rapprochement Mr. Trump once envisioned, the United States and Russia now seem locked in a spiral of increasing tension…. As other presidents have in the past, Mr. Trump protested that Congress was improperly interfering with his power to set foreign policy, in this case by imposing waiting periods before he can suspend or remove sanctions first imposed by former President Barack Obama while Congress reviews and potentially blocks such a move." See also, Trump signs what he calls 'seriously flawed' bill imposing new sanctions on Russia, The Washington Post, Abby Phillip, Wednesday, 2 August 2017. See also, Trump Issued a Signing Statement Challenging Parts of the Russia Sanctions Bill. What Does That Mean? The New York Times, Charlie Savage, Wednesday, 2 August 2017.
Trump and Republican senators introduce a bill to slash legal immigration levels, The Washington Post, David Nakamura, published on 3 August 2017: "President Trump on Wednesday endorsed a new bill in the Senate aimed at slashing legal immigration levels in half over a decade, a potentially profound change to policies that have been in place for more than half a century. Trump appeared with Republican Sens. Tom Cotton (Ark.) and David Perdue (Ga.) at the White House to unveil a modified version of a bill the senators first introduced in February to create a 'merit-based' immigration system that would put a greater emphasis on the job skills of foreigners over their ties to family in the United States. The legislation seeks to reduce the annual distribution of green cards awarding permanent legal residence to just over 500,000 from more than 1 million. Trump promised on the campaign trail to take a harder line on immigration, arguing that the growth in new arrivals had harmed job opportunities for American workers." See also, Trump Supports Plan to Cut Legal Immigration by Half Within a Decade, The New York Times, Peter Baker, Tuesday, 2 August 2017.
Treasury Secretary Steve Mnuchin Allegedly Lied Under Oath. Will the Justice Department Investigate? The Intercept, David Dayen, Wednesday, 2 August 2017: "A watchdog organization has asked the Justice Department to investigate Treasury Secretary Steven Mnuchin for allegedly making repeated false statements to Congress about the conduct of OneWest Bank, where he served as CEO and later chair between 2009 and 2015. In the letter, the Campaign for Accountability writes, 'Even today, Americans have a right to expect that those who seek and hold top government positions will not lie to their elected representatives and that if they do, the consequences will be swift and severe.' On three separate occasions, both in written testimony and in live hearings, Mnuchin has denied that OneWest engaged in robosigning of foreclosure documents, when copious evidence exists to the contrary. Most recently, Mnuchin appears to have lied about robosigning while under oath last week in testimony before the House Financial Services Committee. Rep. Keith Ellison, D-Minn., confronted Mnuchin with the 2009 deposition of Erica Johnson-Seck, a OneWest vice president who admitted that her team of eight employees robosigned 6,000 affidavits a week attesting to verifying mortgage files while spending 'not more than 30 seconds' reviewing the underlying material. Mnuchin replied defiantly, 'I don't think you know what robosigning is,' insisting there is no legal definition, and denied that there was any robosigning at OneWest, 'for the record.'"
Senate Democrats Seek to Outdo Trump on Trade and Protecting U.S. Workers From Foreign Competition, The New York Times, Binyamin Appelbaum, Wednesday, 2 August 2017: "Senate Democrats on Wednesday began an effort to outdo President Trump on a signature issue: protecting American workers from foreign competition. Democrats, outflanked by Mr. Trump in the 2016 presidential campaign, are seeking to recapture the loyalty of voters convinced that globalization is eroding their fortunes and prospects. They introduced a set of proposals built around two ideas: preventing unfair foreign competition and providing government support for domestic industries. The highlights include a new agency to prevent foreign investments that would harm the domestic economy, and tax incentives for 'reshoring' jobs, or bringing jobs back to the United States, from overseas. The political challenge for Democrats is that the proposals echo Mr. Trump's ideas on trade. Even the rhetoric Wednesday had a distinctly Trumpian flavor…. But Mr. Schumer sought to draw a distinction between Democrats and Mr. Trump. 'The problem is President Trump has talked a good game and done virtually nothing on trade but study it,' he said. 'We need action. If President Trump wants to work with us to get things done, good.' The proposals reflect the sharp change in the political debate about trade since the 2016 election. The Republican Party strongly supported increased trade in recent decades while Democrats made an uneasy peace with globalization. Now Mr. Trump has upended Republican dogma, and Democrats are embracing their own protectionist heritage. The turn toward protectionism in the United States and other developed nations, notably Britain, has alarmed proponents of trade who argue that globalization has made the world wealthier, healthier and happier in recent decades. While acknowledging trade has disrupted the lives of many workers, experts caution that protectionist policies will not reverse the damage."
Those Flattering Calls to Trump From the Head of the Boy Scouts and From the President of Mexico? The White House Admits They Didn't Happen. The New York Times, Julie Hirschfeld Davis, Wednesday, 2 August 2017: "Has President Trump told you about the time the head of the Boy Scouts called to say his was the best speech ever delivered to the more than century-old organization? What about when the president of Mexico picked up the telephone to let him know that his tough enforcement efforts at the border were paying off handsomely? The anecdotes, both of which Mr. Trump told over the last week, were similar in that they appeared to be efforts to showcase broad support for the president when his White House has been mired in turmoil. But they also had another thing in common, the White House conceded on Wednesday: Neither was true. Sarah Huckabee Sanders, the White House press secretary, confirmed at her daily briefing what the Boy Scouts and the Mexican government had already asserted publicly, which is that neither phone call that Mr. Trump referred to had occurred…. The nonexistent phone calls added to questions about Mr. Trump's credibility and that of his White House, already in doubt given shifting explanations on matters large and small, including the size of the crowd at Mr. Trump's inauguration and his involvement in drafting a statement about why his son Donald J. Trump Jr. had met with a Kremlin-connected lawyer during the campaign. The calls appeared to be the latest evidence that the president, who prefers impromptu storytelling to a fact-checked script, is willing to shade or even manufacture events to suit his preferred narrative — even when the story is easily disprovable and of little consequence."
U.S. Opens Door to Talks With North Korea, While Flexing Military Muscle, The New York Times, David E. Sanger, Wednesday, 2 August 2017: "In the Trump administration's first serious attempt at a diplomatic opening to North Korea, Secretary of State Rex W. Tillerson has offered to open negotiations with Pyongyang by assuring 'the security they seek' and a new chance at economic prosperity if the North surrenders its nuclear weapons. Mr. Tillerson's comments came just hours before the United States on Wednesday tested an unarmed Minuteman III intercontinental ballistic missile, sending it 4,200 miles to a target in the Marshall Islands. The Pentagon said the test was not intended as a response to the North's launch on Friday of a missile that appeared capable of reaching Los Angeles and beyond. But military officials said the test demonstrated that the American nuclear arsenal was ready 'to deter, detect and defend against attacks on the United States and its allies.' The combination of Mr. Tillerson's outreach and the missile test laid bare an internal administration debate over what course to take — and whether a combination of diplomatic outreach and maximal military pressure would change North Korea's current course. Most intelligence assessments have concluded that the North has no incentive to begin negotiations until it demonstrates, even more conclusively than it has in recent weeks, that its nuclear weapon could reach the United States mainland."
National Security Adviser H.R. McMaster ousts Ezra Cohen-Watnick from the National Security Council, The Washington Post, Greg Jaffe, Wednesday, 2 August 2017: "National security adviser H.R. McMaster on Wednesday removed Ezra Cohen-Watnick, his senior intelligence director, from his position in the White House more than four months after he initially tried to get him out of the job. In March, McMaster told the 30-year-old former Defense Intelligence Agency official that he was being moved to another position. But Cohen-Watnick, who worked on the Trump transition team and is close to Jared Kushner, Trump's son-in-law and senior adviser, appealed to Kushner and Stephen K. Bannon, Trump's chief White House strategist. Bannon and Kushner spoke with Trump, and Cohen-Watnick was kept in place. McMaster's removal of Cohen-Watnick suggests that his influence in the White House and control over his personnel might be on the rise because of the arrival of new White House Chief of Staff John F. Kelly, a retired Marine general. The White House confirmed Cohen-Watnick's firing shortly after it was reported by the Conservative Review." See also, White House Is Purging Michael Flynn Allies From the National Security Council, The New York Times, Glenn Thrush and Peter Baker, Wednesday, 2 August 2017.
National Security Council Official Rich Higgins Is Forced Out Over a Controversial Memo in Which He Charges That Globalists, Islamists, and Other Forces Within and Outside the Government Are Subverting Trump's Agenda, The Atlantic, Rosie Gray, Wednesday, 2 August 2017: "A top official of the National Security Council was fired last month after arguing in a memo that President Trump is under sustained attack from subversive forces both within and outside the government who are deploying Maoist tactics to defeat President Trump's nationalist agenda. His dismissal marks the latest victory by National Security Adviser H.R. McMaster in the ongoing war within Trump's White House between those who believe that the president is under threat from dark forces plotting to undermine him, and those like McMaster who dismiss this as conspiratorial thinking. Rich Higgins, a former Pentagon official who served in the NSC's strategic-planning office as a director for strategic planning, was let go on July 21. Higgins's memo describes supposed domestic and international threats to Trump's presidency, including globalists, bankers, the 'deep state,' and Islamists. The memo characterizes the Russia story as a plot to sabotage Trump's nationalist agenda. It asserts that globalists and Islamists are seeking to destroy America. The memo also includes a set of recommendations, arguing that the problem constitutes a national-security priority."
Trump plan to hire 15,000 border and immigration personnel isn't justified, federal watchdog says, The Washington Post, Lisa Rein, Wednesday, 2 August 2017: "President Trump's plan for an aggressive hiring surge of 15,000 Border Patrol and immigration personnel to help keep out undocumented immigrants is unrealistic — and the Department of Homeland Security has not made a case for it, the agency's watchdog says. A report released this week by the DHS inspector general concludes that based on its rigorous screening requirement for law enforcement jobs and the relatively high rate of attrition among Border Patrol agents, Homeland Security would have to vet 750,000 applicants to find 5,000 qualified personnel. In addition, to hire the 10,000 Immigration and Customs Enforcement (ICE) agents the president called for in executive orders he issued in his first days in office, a pool of 500,000 candidates would need to apply, auditors found. The report calls into question whether DHS officials even need 15,000 new hires to target undocumented immigrants. Agency leaders have done such poor planning for what their workforce should look like, with an understaffed, poorly trained human resources operation, that they cannot justify thousands of new employees, the report says. 'Neither [U.S. Customs and Border Protection] nor [ICE] could provide complete data to support the operational need or deployment strategies for the additional 15,000 agents and officers,' the report by the office of Inspector General John Roth said."
Secretary of State Rex Tillerson spurns $80 million to counter ISIS and Russian propaganda, Politico, Nahal Toosi, Wednesday, 2 August 2017: "Secretary of State Rex Tillerson is resisting the pleas of State Department officials to spend nearly $80 million allocated by Congress for fighting terrorist propaganda and Russian disinformation. It is highly unusual for a Cabinet secretary to turn down money for his department. But more than five months into his tenure, Tillerson has not issued a simple request for the money earmarked for the State Department's Global Engagement Center, $60 million of which is now parked at the Pentagon. Another $19.8 million sits untouched at the State Department as Tillerson's aides reject calls from career diplomats and members of Congress to put the money to work against America's adversaries. The $60 million will expire on Sept. 30 if not transferred to State by then, current and former State Department officials told POLITICO. The struggle over the money is a case study in Tillerson's approach to managing the State Department and the frustration it is engendering among American diplomats. Current and former U.S. officials call it the latest example of a severe slowdown in department decision-making; of Tillerson's reliance on a coterie of political aides who distrust State's career staffers; and a casualty of President Donald Trump's intention to slash State's budget, which has Tillerson looking for ways to reshape the department and spend less money, not more. Sources cited another sensitive factor at play: Russia. At one point during the discussions, Tillerson aide R.C. Hammond suggested the money is unwelcome because any extra funding for programs to counter Russian media influence would anger Moscow, according to a former senior State Department official."
He went to Immigration and Customs Enforcement (ICE) to tell agents he had gotten into college. Now he and his brother have been deported. The Washington Post, Rachel Chason, Wednesday, 2 August 2017: "Two brothers from Gaithersburg were deported to their native El Salvador on Wednesday in what their attorney says was the fastest deportation process he has ever seen. Lizandro Claros Saravia, 19, is a standout soccer player who had secured a scholarship to play college soccer in North Carolina. His brother, Diego, 22, took extra classes to graduate from Quince Orchard High School on time and 'has a heart of gold,' a former teacher said. They entered the country illegally in 2009, however, and although they initially won reprieves from deportation, their efforts to renew those stays were repeatedly denied. The brothers have no criminal records and would not have been a priority for deportation by the Obama administration, said Matthew Bourke, a spokesman for Immigration and Customs Enforcement. President Trump's administration, in contrast, has made clear that any undocumented immigrant is subject to being expelled from this country. And so, on the same day that the White House endorsed a proposal to curtail legal immigration to the United States, the brothers were put on a plane to San Salvador."
Thursday, 3 August 2017, Day 196:
Special Counsel Robert Mueller Impanels Washington, DC Grand Jury in Russia Probe, The Wall Street Journal, Del Quentin Wilber and Byron Tau, Thursday, 3 August 2017: "Special Counsel Robert Mueller has impaneled a grand jury in Washington to investigate Russia's interference in the 2016 elections, a sign that his inquiry is growing in intensity and entering a new phase, according to people familiar with the matter. The grand jury, which began its work in recent weeks, signals that Mr. Mueller's inquiry will likely continue for months. Mr. Mueller is investigating Russia's efforts to influence the 2016 election and whether President Donald Trump's campaign or associates colluded with the Kremlin as part of that effort." See also, Special Counsel Robert Mueller Issuing Subpoenas Through Washington Grand Jury, The New York Times, Matt Apuzzo, Thursday, 3 August 2017: "Robert S. Mueller III, the special counsel investigating Russia's attempts to disrupt last year's presidential election, has issued subpoenas from a Washington-based grand jury in recent weeks, according to several lawyers involved in the case. At least some of the subpoenas were for documents related to the business dealings of Michael T. Flynn, the retired general who briefly served as President Trump's national security adviser. Mr. Flynn is under investigation for foreign lobbying work, as well as for conversations he had during the transition with Sergey I. Kislyak, who was Russia's ambassador to the United States…. A grand jury based in Alexandria, Va., began issuing subpoenas in the Flynn case months ago. Mr. Mueller took over the investigation in May and assembled a team of prosecutors in an office in downtown Washington. Mr. Mueller has not impaneled a special grand jury, the lawyers involved in the case said, and has decided instead to use one of several grand juries that regularly sit in Washington…. The Wall Street Journal first reported Mr. Mueller's use of the grand jury in Washington."
'This deal will make me look terrible': Full transcripts of Trump's calls with Mexican President Enrique Peña Nieto and with Australian Prime Minister Malcolm Turnbull in January 2017, The Washington Post, Greg Miller, Julie Vitkovskaya, and Reuben Fischer-Baum, Thursday, 3 August 2017: "The Washington Post has obtained transcripts of two conversations President Trump had with foreign leaders: one with Mexican President Enrique Peña Nieto and another with Australian Prime Minister Malcolm Turnbull. The transcripts were prepared by the White House but have not been released. The Post is publishing reproductions rather than original documents in order to protect sources. The reproductions … also include minor spelling and grammatical mistakes that appeared in the documents." See also, Trump urged Mexican president Enrique Peña Nieto to end his public defiance on border wall and told Australian Prime Minister Malcolm Turnbull that he had been making phone calls all day, and 'this is the most unpleasant call all day,' transcripts of  January 2017 phone calls reveal, The Washington Post, Greg Miller, Thursday, 3 August 2017: "President Trump made building a wall along the southern U.S. border and forcing Mexico to pay for it core pledges of his campaign. But in his first White House call with Mexico's president, Trump described his vow to charge Mexico as a growing political problem, pressuring the Mexican leader to stop saying publicly that his government would never pay. 'You cannot say that to the press,' Trump said repeatedly, according to a transcript of the Jan. 27 call obtained by The Washington Post. Trump made clear that he realized the funding would have to come from other sources but threatened to cut off contact if Mexican President ­Enrique Peña Nieto continued to make defiant statements. The funding 'will work out in the formula somehow,' Trump said, adding later that 'it will come out in the wash, and that is okay.' But 'if you are going to say that Mexico is not going to pay for the wall, then I do not want to meet with you guys anymore because I cannot live with that.'… Produced by White House staffers, the documents provide an unfiltered glimpse of Trump's approach to the diplomatic aspect of his job, subjecting even a close neighbor and long-standing ally to streams of threats and invective as if aimed at U.S. adversaries. The Jan. 28 call with [Australian Prime Minister Malcolm] Turnbull became particularly acrimonious. 'I have had it,' Trump erupted after the two argued about an agreement on refugees. 'I have been making these calls all day, and this is the most unpleasant call all day.' Before ending the call, Trump noted that at least one of his conversations that day had gone far more smoothly. 'Putin was a pleasant call,' Trump said, referring to Russian President Vladi­mir Putin. 'This is ridiculous.'" See also, Transcripts Show How Contentious Trump's Calls in January 2017 Were With Mexican and Australian Leaders, The New York Times, Peter Baker, Thursday, 3 August 2017. See also, Trump Called New Hampshire a 'Drug-Infested Den,' Drawing the Ire of Its Politicians, The New York Times, Liam Stack, Thursday, 3 August 2017: "New Hampshire politicians criticized President Trump after a transcript of a phone call with the president of Mexico published on Thursday showed he called the state 'a drug-infested den.' The remark came during his comments on the drug trade, criminal gangs and how he said they affected the state, according to a transcript of the Jan. 27 call published by The Washington Post. 'The drug lords in Mexico are knocking the hell out of our country,' Mr. Trump told President Enrique Peña Nieto of Mexico. 'They are sending drugs to Chicago, Los Angeles and to New York,' Mr. Trump continued. 'Up in New Hampshire — I won New Hampshire because New Hampshire is a drug-infested den — is coming from the southern border.' New Hampshire politicians and residents took issue with at least two elements of Mr. Trump's statement: Many were offended at the way he described their state. Also, he did not win the state in the general election; he did win the Republican primary there."
After a Legal Challenge From Democratic State Attorneys General, the Environmental Protection Agency Reverses a Decision to Delay an Obama-era Rule on Ozone Pollution, The New York Times, Lisa Friedman, Thursday, 3 August 2017: "The Trump administration said late Wednesday that it would not delay an Obama-era regulation on smog-forming pollutants from smokestacks and tailpipes, a move that environmental groups hailed as a victory. The Environmental Protection Agency decision came a day after 16 state attorneys general, all Democrats, filed a lawsuit challenging the delay with the United States Court of Appeals for the District of Columbia. It reversed a decision that Scott Pruitt, the E.P.A. administrator, made in June to put off an Oct. 1 deadline for designating which areas of the country met new ozone standards. In announcing the ozone policy change, the agency appeared to leave the door open to extending the deadline again. But, officials said, the agency will work with states to help them deliver the needed information." See also, Reversing course, Trump administration will not delay an Obama ozone rule, The Washington Post, Darryl Fears, Thursday, 3 August 2017.
Environmental Protection Agency Staffers Are Being Forced to Prioritize the Energy Industry's Wish List, Says EPA Official Elizabeth Southerland Who Resigned in Protest, The Intercept, Sharon Lerner, Thursday, 3 August 2017: "EPA staffers are spending their days addressing an industry wish list of changes to environmental law, according to Elizabeth Southerland, a former senior agency official who issued a scathing public farewell message when she ended her 30-year career there on Monday. Southerland, who most recently served as director of science and technology in the EPA's Office of Water, said that agency staffers were now devoted to regulatory rollback based on the requests from industry. Companies and trade groups have directly asked EPA Administrator Scott Pruitt for some changes. Other requests have come in through public comments in response to executive order 13777, which the White House issued in February. That executive order directed federal agencies including the EPA to suggest regulations to be changed, repealed, or replaced. The overwhelming majority of the more than 467,000 public responses to the EPA about the executive order urged the agency not to roll back environmental regulations. 'I am a PhD chemist, recently retired after more than 35 years of industrial research in material science and chemistry. I am also old enough to remember life before the EPA,' read a typical comment submitted in May. 'Do not take us back to those times!' But Southerland said that a working group headed by EPA Associate Administrator Samantha Dravis and the agency's chief of staff, Ryan Jackson — both of whom were appointed by Scott Pruitt — cherry-picked industry comments calling for rollback and submitted them to scientists and other career employees at the agency."
In a Tweet This Morning, Trump Blames Congress for Poor U.S. Relations With Russia, The New York Times, Eileen Sullivan, Thursday, 3 August 2017: "President Trump blamed Congress on Thursday for the United States' poor relationship with Russia, a day after he signed sanctions legislation that he said was flawed and unconstitutional. In a Twitter message, Mr. Trump described America's relationship with Russia as 'at an all-time & very dangerous low.' The new law, which also includes sanctions on Iran and North Korea, limits Mr. Trump's ability to change restrictions on Russia and is a reflection of bipartisan concern that Mr. Trump would ease punishments for the Kremlin's annexation of Crimea and meddling in the 2016 presidential election. In blaming Congress for the poor relations, Mr. Trump omits assigning responsibility to President Vladimir V. Putin of Russia for his role in Crimea, for violating a landmark arms control treaty with the deployment of a new cruise missile and for interference in elections in the United States and Europe."
Kushner Companies Said to Be Under Investigation Over Visa Program, The New York Times, Jesse Drucker and Adam Goldman, Thursday, 3 August 2017: "Federal prosecutors are investigating Kushner Companies, the real estate firm owned by the family of Jared Kushner, the president's son-in-law and senior adviser, over its use of a program that grants visas to wealthy overseas investors. The authorities, in part, are looking into the role of Mr. Kushner's sister, Nicole Meyer, according to a person familiar with the matter who confirmed the inquiry. The investigation centers on the real estate company's use of the so-called EB-5 program, which offers visas to foreigners in exchange for a $500,000 investment. Critics say the program has weak oversight and lax rules. At a marketing event in May, Ms. Meyer promoted the company's connections to the Trump administration as she courted Chinese investors for a pair of luxury apartment towers being built by the Kushner Companies in New Jersey. The project 'means a lot to me and my entire family,' she told prospective investors at the Ritz-Carlton Hotel in Beijing."
Michael Flynn, Trump's former national security adviser, filed an amended disclosure report showing additional payments, The Washington Post, Tom Hamburger and Matea Gold, Thursday, 3 August 2017: "Michael Flynn, who served briefly as President Trump's national security adviser, filed an amended federal financial disclosure report late Thursday providing new details about his contracts with the Trump presidential transition, a company connected to an Iranian American businessman, and the parent company of a data science firm that worked for the Trump campaign."
Facing a Wave of Refugees Crossing From the United States, Montreal Opens Up Its Olympic Stadium for Temporary Housing, The New York Times, Dan Levin, Thursday, 3 August 2017: "Faced with a new wave of asylum seekers crossing into Quebec from the United States, the Canadian authorities have opened a temporary welcome center with plenty of space to house them: Montreal's Olympic Stadium. Refugees began arriving on Wednesday at the 56,000-seat stadium, where a public hall had been quickly transformed into a shelter with 150 cots and room for hundreds more, as well as internet service, locker room showers and concession stands for preparing food. The Quebec authorities said the number of asylum seekers crossing into the province skyrocketed in July, when around 1,500 arrived, up from 180 in July 2016. 'We are stretched almost to the limit,' said Francine Dupuis, the spokeswoman for the Quebec government agency responsible for assisting new arrivals. The refugees are crossing at areas along the international border along Quebec, New York, Vermont and Maine. These are not official border crossings, which means they can skirt a 13-year-old agreement between the United States and Canada requiring asylum seekers to assert their claim in the country they arrive in first. Under the pact, the Safe Third Country Agreement, those who claim asylum at official border crossings must be denied refuge and sent back. But if they cross at unofficial entry points, the treaty does not apply, and they can seek asylum."