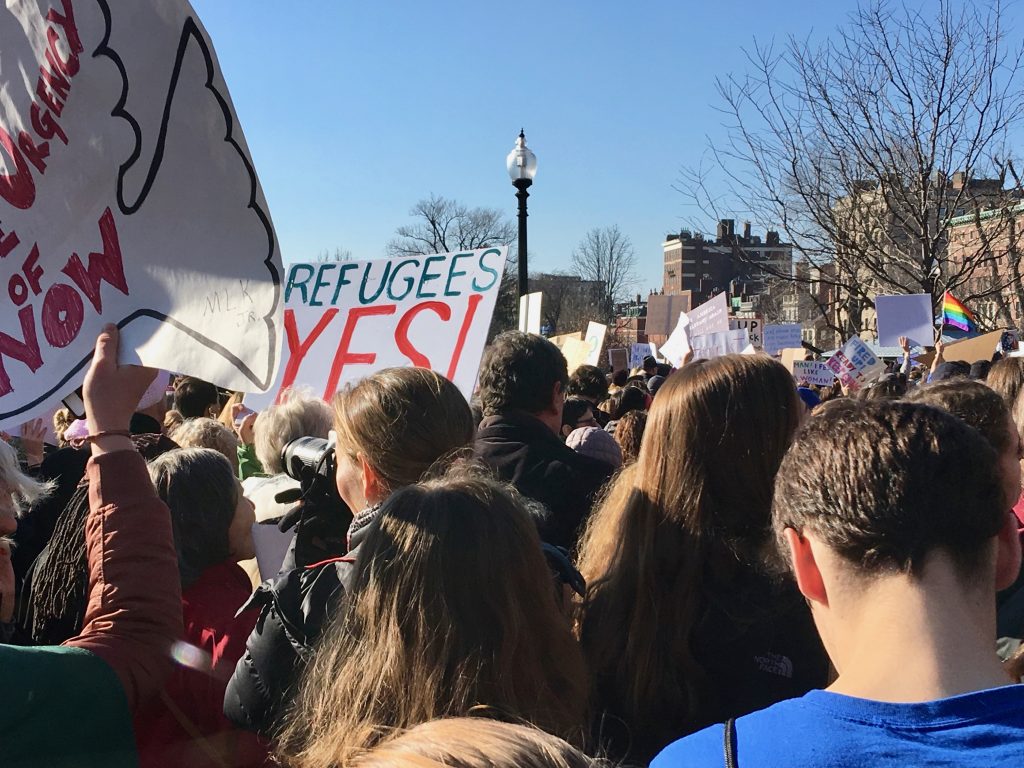 Keeping Track (of some things), Staying Outraged (it is possible), and Resisting (it's essential)
Passages in bold in the body of the texts below are my emphasis. This is an ongoing project, and I update the site frequently. I hope readers will peruse the articles in full for a better understanding of the issues and their context; our democracy and our future depend on citizens who can distinguish between facts and falsehoods and who are engaged in the political process.
Friday, 14 July 2017, Day 176:
Grandparents Win Reprieve From Trump Travel Ban in Federal Court, The New York Times, Miriam Jordan, Friday, 14 July 2017: "A federal judge in Hawaii ruled late Thursday that the Trump administration's temporary ban on travelers from six predominantly Muslim countries and on refugees should not prevent grandparents and other close relatives of residents from entering the United States. The judge, Derrick K. Watson of Federal District Court in Honolulu, also declared that refugees with ties to a resettlement agency that was committed to receiving them had a relationship that made them eligible to enter the country. If it stands, the decision could open the gates for thousands of refugees who have been cleared to enter the United States but who lacked the close relationships as defined by the Trump administration. Opponents of the ban cheered the ruling, while Attorney General Jeff Sessions sharply criticized it and said on Friday he would appeal it directly to the United States Supreme Court. Last month, the Supreme Court ruled that a scaled-back version of the travel ban could proceed. Applicants who could show a 'bona fide relationship' with a 'person or entity' in the United States would be exempt from the 90-day ban on travelers from Iran, Libya, Somalia, Sudan, Syria and Yemen and the 120-day ban on refugees from around the world. The decision was a partial reversal of an earlier ruling by Judge Watson that had blocked the ban from taking effect. The Supreme Court did not specify which individuals or entities would qualify as close relations. However, the State Department said that spouses, parents, parents-in-law, children, sons- and daughters-in-law, fiancés and siblings of those already in the United States would be included. Close relations would not include grandparents, grandchildren, uncles, aunts, nephews, nieces, cousins, and brothers- and sisters-in-law. The department said it was following guidelines laid out in immigration law."
Former Soviet Counterintelligence Officer, Rinat Akhmetshin, Was at the Meeting With Donald Trump Jr. and Russian Lawyer Natalia Veselnitskaya, NBC News, Ken Dilanian, Natasha Lebedeva, and Hallie Jackson, Friday, 14 July 2017: "The Russian lawyer who met with Donald Trump Jr. and others on the Trump team after a promise of compromising material on Hillary Clinton was accompanied by a Russian-American lobbyist — a former Soviet counterintelligence officer who is suspected by some U.S. officials of having ongoing ties to Russian intelligence, NBC News has learned. The lobbyist, first identified by the Associated Press as Rinat Akhmetshin, denies any current ties to Russian spy agencies. He accompanied the lawyer, Natalia Veselnitskaya, to the June 2016 meeting at Trump Tower attended by Donald Trump Jr.; Jared Kushner, the president's son-in-law; and Paul Manafort, former chairman of the Trump campaign. Born in Russia, Akhmetshin served in the Soviet military and emigrated to the U.S., where he holds dual citizenship. He did not respond to NBC News requests for comment Friday, but he told the AP the meeting was not substantive. 'I never thought this would be such a big deal, to be honest,' he told the AP. He had been working with Veselnitskaya on a campaign against the Magnitsky Act, a set of sanctions against alleged Russian human rights violators. That issue, which is also related to a ban on American adoptions of Russian children, is what Veselnitskaya told NBC News she discussed with the Trump team." See also, Russian American lobbyist Rinat Akhmetshin was present at Trump Jr.'s meeting on 9 June 2016 with Kremlin-connected lawyer Natalia Veselnitskaya, The Washington Post, Rosalind S. Helderman and Tom Hamburger, Friday, 14 July 2017: "A Russian American lobbyist and veteran of the Soviet military said Friday that he attended a June 2016 meeting between President Trump's oldest son and a Kremlin-connected lawyer. The presence of Rinat Akhmetshin adds to the potential seriousness of the Trump Tower gathering that is emerging this week as the clearest evidence so far of interactions between Trump campaign officials and Russian interests. And it underscores how, despite Donald Trump Jr.'s pledge this week to be 'transparent,' new details about the encounter continue to become public amid investigations by Congress and a special counsel into alleged collusion between Russia and the Trump campaign."
The Senate Health-Care Bill Would Be a Giant Step Backward, The New Yorker, John Cassidy, Friday, 14 July 2017: "The draft of the Senate G.O.P. health-care bill that Mitch McConnell, the Majority Leader, released on Thursday is, in one way, an improvement on the previous version of the bill. The latest draft dropped a proposal to repeal two tax increases on very high earners, which were part of the Affordable Care Act. The revenue from those tax increases was used to help fund some of the A.C.A.'s most progressive features, including the expansion of Medicaid and the subsidies offered to families of modest means for the purchase of private insurance plans. But the merits of the revised Senate bill stop there. Enacting it into law would be a disaster. The old and the sick would be forced to pay far higher premiums; deductibles would go up for almost everyone in the individual market; and many millions of Americans, many of them poor, would lose their health-care coverage entirely. Before delving into the details, it is worth restating what is at stake here: the principle that society is made up of people with mutual obligations, including the duty to try to protect everyone from what Franklin Roosevelt called the 'hazards and vicissitudes of life,' such as old age, unemployment, and sickness." See also, Governors From Both Parties Denounce Senate Republican Obamacare Repeal Bill, The New York Times, Jonathan Martin and Alexander Burns, Friday, 14 July 2017: "The nation's governors, gathered here for their annual summer meeting, came out strongly on Friday against the new Senate bill to repeal the Affordable Care Act, turning up the pressure on Republican leaders struggling to round up the votes to pass the bill next week. Opposition came not just from Democratic governors but from Republicans who split along familiar lines — conservatives who said the legislation did not go far enough and moderates who said it was far too harsh on their state's vulnerable residents. Gov. Brian Sandoval of Nevada, who at the moment may be the most pivotal figure in the health care debate, said he had 'great concerns' with the legislation, and all but declared that he could not support any bill that would scale back Nevada's Medicaid program. His decision to expand Medicaid under the Affordable Care Act had been 'a winner for the people of our state,' he said of the government health insurance program for poor and disabled people."
Continue reading Week 26, Friday, 14 July – Thursday, 20 July 2017:
Trump Falsely Blames Loretta Lynch for His Son's Meeting With Russian Lawyer Natalia Veselnitskaya, The New York Times, Linda Qiu, Friday, 14 July 2017: "Defending his son's meeting with a Russian lawyer during the 2016 presidential campaign, President Trump wrongly blamed former Attorney General Loretta Lynch for admitting the lawyer to the United States in the first place. 'Somebody said that her visa or her passport was approved by Attorney General Lynch,' Mr. Trump said Thursday at a joint news conference with President Emmanuel Macron of France. 'She was here because of Lynch.' Mr. Trump was referring to a report in a Capitol Hill publication, The Hill, on how Natalia Veselnitskaya, the Russian lawyer, entered the United States without a visa in early 2016. Ms. Veselnitskaya, according to the report, was granted immigration parole to represent a Russian businessman, Denis Katsyv, in a money laundering case in New York City. But the use of parole for entry is not particularly unusual, and approval authority lies with the Department of Homeland Security, not the Justice Department. And there is no indication that Ms. Lynch was personally responsible for the decision."
In memo, Trump administration weighs expanding the expedited deportation powers of the Department of Homeland Security, The Washington Post, Abigail Hauslohner and David Nakamura, Friday, 14 July 2017: "The Trump administration is weighing a new policy to dramatically expand the Department of Homeland Security's powers to expedite the deportations of some illegal immigrants. Since 2004, the agency has been authorized to bypass immigration courts only for immigrants who had been living in the country illegally for less than two weeks and were apprehended within 100 miles of the border. Under the proposal, the agency would be empowered to seek the expedited removal of illegal immigrants apprehended anywhere in the United States who cannot prove they have lived in the country continuously for more than 90 days, according to a 13-page internal agency memo obtained by The Washington Post. The new guidelines, if enacted, would represent a major expansion of the agency's authority to speed up deportations under President Trump, who has made border security a top priority. Two administration officials confirmed that the proposed new policy, which would not require congressional approval, is under review. The memo was circulated at the White House in May, and DHS is reviewing comments on the document from the Office of Management and Budget, according to one administration official familiar with the process who spoke on the condition of anonymity."
Trump is set to bring in a new attorney, Ty Cobb, to manage his response to the Russia investigations, The Washington Post, Carol D. Leonnig, Friday, 14 July 2017: "President Trump has chosen a new lawyer to join the White House and take the lead on issues related to ongoing investigations into Russian interference in the 2016 election, according to two people familiar with the decision. Ty Cobb, a former prosecutor and defense lawyer at Hogan Lovells, will seek to play the role of crisis manager and disciplinarian in a White House that has struggled to deal with continuing questions about the federal and congressional probes that have dominated the early months of Trump's presidency. Ever since the Justice Department appointed a special counsel for the Russia investigation in May, the administration has endured week after week of revelations about meetings that top officials did not disclose and previous statements that proved partial or misleading. Trump has complained that special counsel Robert S. Mueller III's investigation is a 'witch hunt' that is unfairly stalling his agenda."
White House releases sensitive personal information of voters worried about their sensitive personal information, The Washington Post, Christopher Ingraham, Friday, 14 July 2017: "The White House on Thursday made public a trove of emails it received from voters offering comment on its Election Integrity Commission. The commission drew widespread criticism when it emerged into public view by asking for personal information, including addresses, partial social security numbers and party affiliation, on every voter in the country. It further outraged voters by planning to post that information publicly. Voters directed that outrage toward the Trump White House and the voter commission, often using profanity-laced language in the 112 pages of emails released this week…. Unfortunately for these voters and others who wrote in, the Trump administration did not redact any of their personal information from the emails before releasing them to the public. In some cases, the emails contain not only names, but email addresses, home addresses, phone numbers and places of employment of people worried about such information being made available to the public."
Transgender Students Turn to Courts as Government Support from the Department of Education Erodes, The New York Times, Liam Stack, Friday, 14 July 2017: "Transgender students once found an ally in the Department of Education, which under the Obama administration robustly investigated alleged violations of their civil rights and argued that federal laws against sex discrimination ensured their access to public school bathrooms and changing facilities. But that has changed in the months since President Trump took office. Since February, the department and its Office of Civil Rights have reversed their position on bathroom access and rescinded the findings of at least one civil rights investigation. Advocacy groups say the two have also made confusing statements about discrimination against gay and transgender students. This quick erosion of support has reinforced the importance of the court system for transgender students, many advocates said. But, paradoxically, it has also made it harder for such students to pursue civil rights claims. 'Students and their families have a right to go to court to have their rights vindicated, but they shouldn't have to,' said Harper Jean Tobin, the policy director of the National Center for Transgender Equality. 'The Office of Civil Rights is tasked with handling these complaints precisely to avoid costly and time-consuming litigation, but if it refuses to do its job, the courts will be the backstop.'"
Ivanka Inc. The Washington Post, Matea Gold, Drew Harwell, Maher Sattar, and Simon Denyer, Friday, 14 July 2017: "While President Trump has chastised companies for outsourcing jobs overseas, an examination by The Washington Post has revealed the extent to which Ivanka Trump's company relies exclusively on foreign factories in countries such as Bangladesh, Indonesia and China, where low-wage laborers have limited ability to advocate for themselves. And while Ivanka Trump published a book this spring declaring that improving the lives of working women is 'my life's mission,' The Post found that her company lags behind many in the apparel industry when it comes to monitoring the treatment of the largely female workforce employed in factories around the world."
At governors gathering, Trudeau takes his case to preserve NAFTA directly to the states, The Washington Post, Dan Balz, Friday, 14 July 2017: "Canadian Prime Minister Justin Trudeau made an impassioned defense of free trade here Friday, appealing to the nation's governors to help spread a positive message ahead of the renegotiation of the North American Free Trade Agreement demanded by President Trump. Trudeau's keynote speech marked the first time a foreign leader of Trudeau's rank has addressed the National Governors Association. His appearance underscored the efforts by both Canada and Mexico to court state executives as potential allies at a time when the president's trade rhetoric has raised doubts about the U.S. commitment to multinational free trade agreements. Trudeau stressed that NAFTA has provided enormous benefits to all three countries and underscored his belief that the vitality of the relationship between the United States and Canada must be maintained through the coming negotiations."
Saturday, 15 July 2017, Day 177:
In Clash over the Senate Republican Health Bill, a Growing Fear of the 'Junk Insurance' That Ted Cruz's Amendment Would Permit, The New York Times, Reed Abelson, Saturday, 15 July 2017: "As Senate Republican leaders struggle to secure enough votes to repeal and replace the health law, the centerpiece of their effort to win conservative support is a provision that would allow insurers to sell … bare-bones plans again. The new version of the bill released on Thursday incorporates an idea from Senator Ted Cruz of Texas that would permit insurers to market all types of plans as long as they offer ones that comply with Affordable Care Act standards. The measure would also allow companies to take into account people's health status in determining whether to insure them and at what price. State insurance regulators say the proposal harks back to the days when insurance companies, even household names like Aetna and Blue Cross, sold policies so skimpy they could hardly be called coverage at all. Derided as 'junk insurance,' the plans had very low premiums but often came with five-figure deductibles. Many failed to pay for medical care that is now deemed essential…. [B]oth consumer advocates and insurers — forces that are not often allied — are wary. They predict that healthy, younger people would most likely gravitate to the cheaper policies, believing they do not need the more comprehensive and expensive coverage, while older people with health conditions would see their premiums soar for more comprehensive plans. On Friday evening, the insurance industry's two main trade associations, America's Health Insurance Plans and BlueCross BlueShield Association, sent a letter to the Senate voicing adamant opposition to the plan, which they say would create two distinct markets. The proposal 'is simply unworkable in any form and would undermine protections for those with pre-existing medical conditions, increase premiums and lead to widespread terminations of coverage for people currently enrolled in the individual market,' the groups wrote." See also, Insurers join the din of opposition to the Republican health care bill in the Senate, The Washington Post, Paige Winfield Cunningham, published on Monday, 17 July 2017: "Under Cruz's so-called 'Consumer Freedom Amendment,' which is now part of the Senate's health-care bill, insurers could sell cheaper, stripped-down plans free of Obamacare coverage requirements like essential health benefits or even a guarantee of coverage, as long as they also sell one ACA-compliant plan. (I explained more in this edition of The Health 202 last week.) People with few health concerns, who rarely have a need to visit the doctor or buy medication, could purchase these bare-bones plans for a much lower monthly premium. The idea sounds good in theory — free markets and freedom of choice — and it's an proposal that's long been popular with conservatives. But actuaries and insurance experts say it doesn't comport with how insurance works, and would leave the millions of Americans with preexisting conditions high and dry (especially those who earn too much for federal subsidies). Here's how this all would play out if the Cruz language was enacted: Insurance premiums paid by the vast majority of healthy people, who use relatively few medical services each year, currently cover the costs for those who are ill and require the care provided by the world's most expensive health system. Ideally, this balances things out. People are covered for much of the care they get, insurance companies make a profit, and health- care providers are reimbursed for their services. Yet if the sick and the well are sorted — or sort themselves — into separate pools, the system can start to fall apart. With the well no longer subsidizing the sick, the latter may face ever-escalating premiums or fewer choices entirely if insurers no longer are required to sell to anyone who wants to buy a policy."
Senator John McCain's Surgery Will Delay Senate Votes on Republican Health Care Bill, The New York Times, Robert Pear, Saturday, 15 July 2017: "The Senate will delay votes on a bill to dismantle the Affordable Care Act, the Senate majority leader, Mitch McConnell, announced Saturday night, because of a new obstacle to winning enough support for one of the Republican Party's most cherished goals. Mr. McConnell said the Senate would 'defer consideration' of the bill, scheduled for this week, because Senator John McCain, Republican of Arizona, would be absent, recovering from surgery that he had on Friday to remove a blood clot above his left eye. Mr. McConnell had said that he wanted to begin debate on the bill and pass it this week, using special fast-track procedures. But without Mr. McCain, Senate Republicans would not have the votes they need to take up or pass their bill to repeal and replace major provisions of the health care act that was the signature domestic achievement of President Barack Obama. It was unclear how long the delay will be."
Trump campaign paid firm of lawyer representing Trump Jr. before his emails were made public, The Washington Post, Mark Berman and Matea Gold, Saturday, 15 July 2017: "President Trump's campaign committee made a payment to the law firm of an attorney representing Donald Trump Jr. last month, nearly two weeks before it was announced that the same attorney would be representing the president's son in Russia-related probes, according to a campaign finance report filed Saturday. The committee reported in the filing to the Federal Election Commission that it paid $50,000 to the law firm of attorney Alan Futerfas on June 27. That payment was made 13 days before it was publicly revealed that Futerfas would represent Trump's eldest son in the Russia investigations. News of the payment came as controversy has swirled in recent days around Trump Jr. and a meeting he held in June 2016 with a Kremlin-connected lawyer who was said to have potentially damaging information about Hillary Clinton, the Democratic opponent of Trump's father in the presidential election. The filing also revealed that the campaign committee paid the Trump Corporation — a company being run by Trump Jr. and his brother Eric — more than $89,000 on June 30 for 'legal consulting.' While the campaign committee has reimbursed Trump entities for services such as rent, air travel and hotel expenses in the past, it has not reported payments for legal fees, according to Federal Election Commission data."
Going Around Trump, Governors Embark on Their Own Diplomatic Missions, The New York Times, Alexander Burns, Saturday, 15 July 2017: "In ordinary times, most American governors tend to avoid international exploits, boasting of their consuming interest in balancing budgets and operating the machinery of state government. When they venture abroad, it is mainly to hawk products manufactured in their states. But under the Trump administration, that has begun to change: Leadership at the state level has taken on an increasingly global dimension, as governors assert themselves in areas where they view Mr. Trump as abandoning the typical priorities of the federal government. They have forged partnerships across state and party lines to offset Trump administration policies they see as harmful to their constituencies. Unsettled by the president's skepticism of foreign trade, governors have made newly pointed appeals to international businesses and consumers, at times gently rebuking the White House for presenting an inhospitable face to the world."
Trump's Re-Election Campaign Doubles Its Spending on Legal Fees, The New York Times, Kenneth P. Vogel and Rachel Shorey, Saturday, 15 July 2017: "President Trump's re-election campaign more than doubled its spending on legal fees over the past few months as its lawyers assisted the campaign in its handling of investigations into interactions between the president's associates and Russia. The committees devoted to Mr. Trump's 2020 campaign spent nearly $700,000 on legal fees between the beginning of April and the end of June — more than twice as much as they spent in the first three months of the year — according to reports filed Saturday afternoon with the Federal Election Commission. Among the legal fees paid by the Trump campaign was a $50,000 payment on June 27 to the offices of the New York lawyer Alan S. Futerfas, who is representing Donald Trump Jr. in the ongoing Russia-related investigations. Donald Jr. was recently thrust into the center of those investigations when The New York Times reported that he had arranged a meeting last year with a Russian lawyer who claimed to have damaging information about Hillary Clinton, who was set to become the Democratic presidential nominee. Mr. Futerfas's firm had not previously been paid by Mr. Trump's campaign. Neither he nor Donald Jr. responded on Saturday to questions about the payment. The majority of the legal payments reflected in the second-quarter reports — $545,000 — went to the law firm Jones Day. It has represented the campaign in election law matters and ongoing lawsuits, and is also advising it on legal issues related to the Russia investigations."
Kansas Secretary of State Kris Kobach (Republican), Head of Trump's Voter Fraud Commission, Wants to Change the Law to Make Registering to Vote More Difficult, HuffPost, Sam Levine, Saturday, 15 July 2017: "Kansas Secretary of State Kris Kobach (R), the official leading President Donald Trump's voter fraud probe, apparently sought to amend federal voting law to make it possible to require proof of citizenship during the voter registration process, according to an email made public Friday as part of an ongoing lawsuit with the American Civil Liberties Union. The email offers the firmest evidence yet that Kobach was interested in amending the 1993 National Voter Registration Act, as has been speculated. The NVRA ― a law championed by voting advocates ― requires motor vehicle, public assistance and some other state agencies to provide voter registration opportunities, and outlines the procedure by which voters can be removed from the rolls. On Nov. 9, the day after Trump was elected president, Gene Hamilton, a member of Trump's presidential transition team, emailed Kobach with what he called 'Day One immigration policy action items.' Kobach responded by saying he had already begun work on proposed legislation targeting the NVRA. 'We will… be putting together information on legislation drafts for submission to Congress early in the administration,' Kobach told Hamilton in an email. 'I have some already started regarding amendments to the NVRA to make clear that proof of citizenship requirements are permitted (based on my ongoing litigation with the ACLU over this).'"
Sunday, 16 July 2017, Day 178:
Trump Goes on Attack as Russia Revelations Appear to Take Toll, The New York Times, Mark Landler, Sunday, 16 July 2017: "President Trump unleashed a new fusillade of tweets on Sunday morning, defending his son Donald Trump Jr., slashing the news media and tarring his long-vanquished opponent, Hillary Clinton. After a leisurely Saturday afternoon spent at a women's golf tournament at his club here, where he waved to the crowd from a glassed-in viewing stand, Mr. Trump awoke with a familiar list of grievances. 'HillaryClinton can illegally get the questions to the Debate & delete 33,000 emails but my son Don is being scorned by the Fake News media?' he tweeted shortly before 7 a.m. Forty minutes later, he posted, 'With all of its phony unnamed sources & highly slanted & even fraudulent reporting, #Fake News is DISTORTING DEMOCRACY in our country.'… Mr. Trump has gone through one of the rockiest stretches of his presidency since the disclosure of a meeting in June 2016 between his son and a Kremlin-linked lawyer. Mr. Trump's son-in-law, Jared Kushner, and his campaign chairman, Paul Manafort, also attended, as did a Russian-American lobbyist, Rinat Akhmetshin…. [O]n Sunday, the subject largely remained Russia. The top Democrats investigating Russian meddling in the 2016 election said that emails that Donald Trump Jr. sent about the meeting appeared to confirm that members of the Trump campaign had intended to cooperate with Russian officials. 'This is about as clear of evidence you could find of intent by the campaign to collude with the Russians, to get useful information from the Russians,' Representative Adam B. Schiff of California, the senior Democrat on the House Intelligence Committee, said on ABC's 'This Week.' Senator Mark Warner of Virginia, the top Democrat on the Senate Intelligence Committee, said he wanted to speak with those who attended the meeting. 'You saw not only willingness, but actually glee from the president's son, as well as involvement of the campaign manager and the president's son-in-law to say, in effect, yes, bring it on,' he said on CBS's 'Face the Nation.'"
One of Trump's lawyers, Jay Sekulow, insists there was nothing 'nefarious' in Trump Jr.'s meeting with Russian lawyer Natalia Veselnitskaya and Russian-American lobbyist Rinat Akhmetshin, The Washington Post, Greg Jaffe, Sunday, 16 July 2017: "A senior member of President Trump's personal legal team said Sunday that there was nothing improper in the meeting that Donald Trump Jr., the president's oldest son, took with a Russian lawyer promising dirt on Hillary Clinton. 'Well, I wonder why the Secret Service, if this was nefarious, why the Secret Service allowed these people in,' Jay Sekulow, a lawyer for the president, said on ABC's 'This Week With George Stephanopoulos.' 'The president had Secret Service protection at that point, and that raised a question with me.' It's highly unlikely that the Secret Service, which is charged with protecting the president, his aides and his family from physical harm, would have any influence over who the president or his children chose to meet during a presidential campaign. A Secret Service spokeswoman cast doubt on Sekulow's claims. 'Donald Trump Jr. was not under Secret Service protection in June 2016,' said Cathy Milhoan, the director of communications for the protective agency."
Monday, 17 July 2017, Day 179:
Health Care Overhaul Collapses as Two Republican Senators Defect, The New York Times, Thomas Kaplan, Monday, 17 July 2017: "Two more Republican senators declared on Monday night that they would oppose the Senate Republican bill to repeal the Affordable Care Act, killing, for now, a seven-year-old promise to overturn President Barack Obama's signature domestic achievement. The announcement by the senators, Mike Lee of Utah and Jerry Moran of Kansas, left their leaders at least two votes short of the number needed to begin debate on their bill to dismantle the health law. Two other Republican senators, Rand Paul of Kentucky and Susan Collins of Maine, had already said they would not support a procedural step to begin debate. With four solid votes against the bill, Republican leaders now have two options. They can try to rewrite it in a way that can secure 50 Republican votes, a seeming impossibility at this point, given the complaints by the defecting senators. Or they can work with Democrats on a narrower measure to fix the flaws in the Affordable Care Act that both parties acknowledge. Senator Mitch McConnell, the Republican leader, conceded Monday night that 'the effort to repeal and immediately replace the failure of Obamacare will not be successful.' He outlined plans to vote now on a measure to repeal the Affordable Care Act, with it taking effect later. That has almost no chance to pass, however, since it could leave millions without insurance and leave insurance markets in turmoil. But President Trump was not ready to give up. He immediately took to Twitter to say: 'Republicans should just REPEAL failing ObamaCare now & work on a new Healthcare Plan that will start from a clean slate. Dems will join in!'" See also, Two more Senate Republicans oppose health-care bill, leaving it without enough votes to pass, The Washington Post, Sean Sullivan and Lenny Bernstein, published on Tuesday, 18 July 2017.
Outgoing Ethics Chief Walter M. Shaub Says the U.S. Is 'Close to a Laughingstock,' The New York Times, Eric Lipton and Nicholas Fandos, Monday, 17 July 2017: "Actions by President Trump and his administration have created a historic ethics crisis, the departing head of the Office of Government Ethics said. He called for major changes in federal law to expand the power and reach of the oversight office and combat the threat. Walter M. Shaub Jr., who is resigning as the federal government's top ethics watchdog on Tuesday, said the Trump administration had flouted or directly challenged long-accepted norms in a way that threatened to undermine the United States' ethical standards, which have been admired around the world. 'It's hard for the United States to pursue international anticorruption and ethics initiatives when we're not even keeping our own side of the street clean. It affects our credibility,' Mr. Shaub said in a two-hour interview this past weekend — a weekend Mr. Trump let the world know he was spending at a family-owned golf club that was being paid to host the U.S. Women's Open tournament. 'I think we are pretty close to a laughingstock at this point.' Mr. Shaub called for nearly a dozen legal changes to strengthen the federal ethics system: changes that, in many cases, he had not considered necessary before Mr. Trump's election. Every other president since the 1970s, Republican or Democrat, worked closely with the ethics office, he said."
Trump Administration Calls for a 'Much Better Deal' in 17-Page Nafta Overhaul Plan, The New York Times, Alan Rappeport, Monday, 17 July 2017: "Claiming it wants to negotiate a 'much better deal for all Americans,' the Trump administration on Monday revealed its most detailed list of objectives to date for an overhaul of the North American Free Trade Agreement with Mexico and Canada. The United States Trade Representative said a revamped Nafta must include provisions to eliminate unfair subsidies and give the United States broader authority to crack down on an influx of cheap products…. The 17-page document the administration sent to Congress echoes Mr. Trump's tough talk on trade by making the reduction of America's trade deficit with its neighbors its top priority. However, it also builds off the Trans-Pacific Partnership trade deal that Mr. Trump abandoned when he took office, borrowing concepts about labor regulations and the environment. 'It is very consistent with the president's stance on liking trade barriers, liking protectionism,' Chad Bown, a senior fellow at the Peterson Institute for International Economics, said of the report. 'This makes Nafta in many respects less of a free-trade agreement.'… Trade has been one of the few issues that has made Democrats hopeful they could work with Mr. Trump and that has made Republicans particularly wary. On Monday, some Democrats were disappointed in the list of objectives and felt that the Trump administration was not going far enough. 'It is surprising that in key areas the Trump administration is seeking outcomes that were achieved in the T.P.P., which the president said was a bad agreement,' said Senator Ron Wyden, the ranking Democrat on the Senate Finance Committee." See also, Trump administration unveils goals in renegotiating NAFTA, The Washington Post, Ana Swanson, Monday, 17 July 2017: "[T]rade negotiators and lawyers said that many of the provisions. – including measures to regulate treatment of workers, the environment and state-owned enterprises – appeared to be lifted from the Trans-Pacific Partnership, an agreement that Trump heavily opposed…. The deal still has plenty of critics, who accuse NAFTA of hollowing the U.S. manufacturing sector, especially in sectors such as automobiles. But U.S. farmers, retail chains and other industries consider the deal to be integral to their supply chains and have urged the administration to first 'do no harm' in its negotiations. Economists generally take a more nuanced view of the pact, believing that it has broadly benefited the U.S. economy by increasing trade and lowering the cost of consumer goods, while hurting narrow groups of workers who saw their jobs relocated across the border. In a 2012 survey of 41 prominent economists by the University of Chicago, 85 percent agreed that Americans were better off under NAFTA than under previous trade rules. Only 5 percent said they were uncertain, and none disagreed. Research by economists Shushanik Hakobyan and John McLaren found that NAFTA did lower wage growth for blue-collar workers in the most-affected industries during the 1990s. Overall, it concluded that the impact of NAFTA on American wages was small. A study by economists David Autor, David Dorn and Gordon Hanson found no discernible impact on U.S. wages from trade with Mexico and Central America. 'There is almost no evidence that NAFTA was substantially harmful for U.S. workers. That myth has been promulgated by people from Ross Perot to Pat Buchanan to Donald Trump, but there is not any academic support for it,' said Autor, an economist at MIT. His work has shown that China's entree into the international trading system in 2001 had a far bigger impact on U.S. workers."
Watchdog group Citizens for Responsibility and Ethics in Washington wins access to Mar-a-Lago visitor records, Tampa Bay Times, Alex Leary, Monday, 17 July 2017: "A watchdog group says it has secured access to visitor logs for Mar-a-Lago and will release them by early September. Citizens for Responsibility and Ethics in Washington brought legal action along with the National Security Archive and the Knight First Amendment Institute at Columbia University against the Department of Homeland Security. 'The public deserves to know who is coming to meet with the president and his staff,' CREW Executive Director Noah Bookbinder said. 'We are glad that as a result of this case, this information will become public for meetings at his personal residences—but it needs to be public for meetings at the White House as well.' CREW, NSA and Knight sued for the release of visitor logs from the White House, Mar-a-Lago and Trump Tower. DHS claims to have no records of visitors at Trump Tower. The lawsuit is ongoing for the White House, the group said in a release."
California Extends Climate Bill, Handing Governor Jerry Brown a Victory, The New York Times, Adam Nagourney, Monday, 17 July 2017: "California lawmakers voted Monday to extend a cap-and-trade program until 2030, ending a legislative standoff that had threatened a critical component of the state's pioneering efforts to reduce climate-altering emissions. The measure was approved by a two-thirds majority in both the Assembly and the Senate, a margin that Gov. Jerry Brown, a Democrat, had insisted lawmakers meet to avoid any potential legal challenges. In the end, eight Republicans voted for the bill, affirming what many described as the need to deal with climate change and differentiating themselves from Republicans in Washington. Approval of the legislation, which comes as the Legislature prepares to leave Sacramento for its summer recess, ensures that California will continue as a national leader on global efforts to reduce greenhouse gas emissions. It comes at a time when President Trump has moved to unravel many of the environmental initiatives put in place by President Barack Obama; last month Mr. Trump announced he would withdraw the United States from the Paris climate accord, an international effort to address global warming."
Secretary of State Rex Tillerson to Shutter State Department War Crimes Office, Foreign Policy, Colum Lynch, Monday, 17 July 2017: "Secretary of State Rex Tillerson is downgrading the U.S. campaign against mass atrocities, shuttering the Foggy Bottom office that worked for two decades to hold war criminals accountable, according to several former U.S. officials. Tillerson's office recently informed Todd Buchwald, the special coordinator of the Office of Global Criminal Justice, that he is being reassigned to a position in the State Department's office of legal affairs, according to a former U.S. official familiar with the move. Buchwald, a career State Department lawyer, has served in the position since December 2015. The remaining staff in the office, Buchwald was told, may be reassigned to the State Department's Bureau of Democracy, Human Rights, and Labor, the former official told Foreign Policy. The decision to close the office comes at a time when America's top diplomat has been seeking to reorganize the State Department to concentrate on what he sees as key priorities: pursuing economic opportunities for American businesses and strengthening U.S. military prowess. Those changes are coming at the expense of programs that promote human rights and fight world poverty, which have been targeted for steep budget cuts."
Trump's Air War Against the So-called Islamic State Has Already Killed More Than 2,000 Civilians, The Daily Beast, Samuel Oakford, Monday, 17 July 2017: "Civilian casualties from the U.S.-led war against the so-called Islamic State are on pace to double under President Donald Trump, according to an Airwars investigation for The Daily Beast. Airwars researchers estimate that at least 2,300 civilians likely died from Coalition strikes overseen by the Obama White House—roughly 80 each month in Iraq and Syria. As of July 13, more than 2,200 additional civilians appear to have been killed by Coalition raids since Trump was inaugurated—upwards of 360 per month, or 12 or more civilians killed for every single day of his administration. The Coalition's own confirmed casualty numbers—while much lower than other estimates—also show the same trend. Forty percent of the 603 civilians so far admitted killed by the alliance died in just the first four months of Trump's presidency, the Coalition's own data show. The high civilian toll in part reflects the brutal final stages of the war, with the densely populated cities of Mosul and Raqqa under heavy assault by air and land. But there are also indications that under President Trump, protections for civilians on the battlefield may have been lessened—with immediate and disastrous results. Coalition officials insist they have taken great care to avoid civilian deaths, blaming the rise instead on the shifting geography of battles in both Iraq and Syria and Islamic State tactics, and not on a change in strategy."
Attorney General Jeff Sessions plans to issue a new directive increasing police seizures of cash and property (civil asset forfeiture), allowing police to seize more cash under mere suspicion, The Washington Post, Christopher Ingraham, Monday, 17 July 2017: "Attorney General Jeff Sessions on Monday said he'd be issuing a new directive this week aimed at increasing police seizures of cash and property. 'We hope to issue this week a new directive on asset forfeiture — especially for drug traffickers,' Sessions said in his prepared remarks for a speech to the National District Attorney's Association in Minneapolis. 'With care and professionalism, we plan to develop policies to increase forfeitures. No criminal should be allowed to keep the proceeds of their crime. Adoptive forfeitures are appropriate as is sharing with our partners.' Asset forfeiture is a disputed practice that allows law enforcement officials to permanently take money and goods from individuals suspected of crime. There is little disagreement among lawmakers, authorities and criminal justice reformers that 'no criminal should be allowed to keep the proceeds of their crime.' But in many cases, neither a criminal conviction nor even a criminal charge is necessary — under forfeiture laws in most states and at the federal level, mere suspicion of wrongdoing is enough to allow police to seize items permanently."
58 former diplomats urge the State Department to keep refugee office part of the State Department rather than moving it to the Department of Homeland Security, The Washington Post, Carol Morello, Monday, 17 July 2017: "A group of prominent foreign policy experts on Monday called on Secretary of State Rex Tillerson to keep the office responsible for managing refu­gee inflows a part of the State Department instead of moving it to the Department of Homeland Security. Last month, a leaked memo showed the administration contemplating a relocation of the Bureau of Population Refugees and Migration. Such a change, says a letter signed by 58 former diplomats and national security advisers, would adversely shift the bureau's focus from humanitarian and policy concerns to solely security issues."
Trump Recertifies Iran Nuclear Deal, but Only Reluctantly, The New York Times, Peter Baker, Monday, 17 July 2017: "President Trump agreed on Monday to certify again that Iran is complying with an international nuclear agreement that he has strongly criticized, but only after hours of arguing with his top national security advisers, briefly upending a planned announcement as a legal deadline loomed. Mr. Trump has repeatedly condemned the deal brokered by President Barack Obama as a dangerous capitulation to Iran, but six months into his presidency he has not abandoned it. The decision on Monday was the second time his administration certified Iran's compliance, and aides said a frustrated Mr. Trump had told his security team that he would not keep doing so indefinitely. Administration officials announced the certification on Monday evening while emphasizing that they intended to toughen enforcement of the deal, apply new sanctions on Iran for its support of terrorism and other destabilizing activities, and negotiate with European partners to craft a broader strategy to increase pressure on Tehran. Aides said Mr. Trump had insisted on such actions before agreeing to the consensus recommendation of his national security team."
6 White House defenses of Donald Trump Jr.'s Russia meeting–each more dubious than the last, The Washington Post, Aaron Blake, Monday, 17 July 2017: "It's been a week since the Donald Trump Jr. scandal broke, and the White House and its allies have trotted out a whole bunch of different defenses — some of them only suggestive — from the 39-year-old's age to blaming former attorney general Loretta Lynch to the idea that it was only attempted collusion. Over the weekend, President Trump's lawyer even tried to suggest the Secret Service had no problems with the meeting — only to have that argument quickly unravel. It's getting a little hard to keep track of all it. [This article covers] each one, along with how plausible it is — scored from 0 to 10, with 10 being the most plausible."
Tuesday, 18 July 2017, Day 180:
'Plan C' on Obamacare, Repeal Now and Replace Later, Has Collapsed, The New York Times, Thomas Kaplan, Tuesday, 18 July 2017: "With their bill to repeal and replace the Affordable Care Act in tatters, Senate leaders on Tuesday pushed to vote on a different measure that would repeal major parts of President Barack Obama's health law without a replacement — but that plan appeared also to collapse. Senators Susan Collins of Maine, Shelley Moore Capito of West Virginia and Lisa Murkowski of Alaska, all Republicans, immediately declared they could not vote to repeal the Affordable Care Act without a replacement — enough to doom the effort before it could get any momentum. 'I did not come to Washington to hurt people,' Ms. Capito said in a statement. 'I cannot vote to repeal Obamacare without a replacement plan that addresses my concerns and the needs of West Virginians.'… At the White House, President Trump said his plan was now 'to let Obamacare fail,' suggesting Democrats would then seek out Republicans to work together on a health measure. 'It will be a lot easier,' Mr. Trump said, adding, 'We're not going to own it. I'm not going to own it. I can tell you the Republicans are not going to own it. We'll let Obamacare fail and then the Democrats are going to come to us.'" See also, Trump suggests Republicans will let the Affordable Care Act market collapse and then rewrite the health-care law, The Washington Post, Juliet Eilperin and Sean Sullivan, Tuesday, 18 July 2017.
Trump and Putin Held a Second, Undisclosed, Private Conversation at the G-20 Summit, The New York Times, Julie Hirschfeld Davis, Tuesday, 18 July 2017: "Hours into a dinner with world leaders who had gathered for the Group of 20 summit meeting, President Trump left his chair at the sprawling banquet table and headed to where President Vladimir V. Putin of Russia was seated. The two presidents had met earlier in the day for the first time and, as the White House put it, had developed a rapport even as they talked about Russia's interference in the United States' 2016 elections. The July 7 meeting in Hamburg, Germany, was the single most scrutinized of the Trump presidency. But it turned out there was another encounter: a one-on-one discussion over dinner that lasted as long as an hour and relied solely on a Kremlin-provided interpreter…. The dinner discussion caught the attention of other leaders around the table, some of whom later remarked privately on the odd spectacle of an American president seeming to single out the Russian leader for special attention at a summit meeting that included some of the United States' staunchest, oldest allies…. While the leaders-and-spouses dinner was on Mr. Trump's public schedule, the news media was not allowed to witness any part of it, nor were reporters provided with an account of what transpired. Mr. Trump's traveling press contingent did note, however, that his motorcade left the dinner four minutes after Mr. Putin's did…. There is no official United States government record of the intimate dinner conversation, because no American official other than the president was involved. 'Pretty much everyone at the dinner thought this was really weird, that here is the president of the United States, who clearly wants to display that he has a better relationship personally with President Putin than any of us, or simply doesn't care,' said Ian Bremmer, president of the Eurasia Group, a New York-based research and consulting firm, who said he had heard directly from attendees. 'They were flummoxed, they were confused and they were startled.'" See also, Trump had an undisclosed hour-long meeting with Putin at the G-20 summit, The Washington Post, Karen DeYoung and Philip Rucker, Tuesday, 18 July 2017.
House Republicans unveil budget plan that attaches major spending cuts to coming tax overhaul bill, The Washington Post, Mike DeBonis, Tuesday, 18 July 2017: "House Republicans unveiled a 2018 budget plan Tuesday that would pave the way for ambitious tax reform legislation — but only alongside a package of politically sensitive spending cuts that threaten to derail the tax rewrite before it begins…. The House Budget Committee blueprint, which is set for a Wednesday committee vote, sets out special procedures that could ultimately allow Republicans to pass legislation over the objections of Senate Democrats who can normally block bills they oppose. GOP leaders in the House, as well as top Trump administration officials, hope to use those procedures — known as reconciliation — to pass a tax overhaul later this year. The instructions in the draft budget, however, go well beyond tax policy and set the stage for a potential $203 billion rollback of financial industry regulations, federal employee benefits, welfare spending and more. Those are policy areas where Republicans have, in many cases, already passed legislation in the House but have seen Democrats block action in the Senate." See also, New Republican Battle Begins as Republicans Look to Pass a Budget, The New York Times, Alan Rappeport, Tuesday, 18 July 2017.
Guest List at Donald Trump Jr.'s Meeting with Kremlin-linked Russian Lawyer Natalia Veselnitskaya Expands Again, The New York Times, Sharon LaFraniere and Adam Goldman, Tuesday, 18 July 2017: "Seventeen years ago, congressional investigators looking into money laundering stumbled upon an obscure Soviet-born financier who offered special services to his Russian clients. He had opened 2,000 companies in Delaware and more than 100 bank accounts for Russian clients who moved hundreds of millions of dollars through those accounts to overseas destinations, they found. On Tuesday, that man, Irakly Kaveladze, resurfaced as the latest foreign guest on the ever-expanding list of participants at the June 2016 meeting where Donald Trump Jr. and other Trump campaign officials were hoping to get damaging information about Hillary Clinton. Mr. Kaveladze's lawyer, Scott S. Balber, said he was there to represent a prominent Russian family that had arranged the meeting, whose varied cast of characters includes at least one other Russian with a checkered past. His presence is of significant interest to Robert S. Mueller III, the special counsel who is investigating allegations of Russian interference in the 2016 election and possible obstruction of justice by President Trump. Mr. Mueller's office contacted Mr. Kaveladze this past weekend to request an interview, and investigators there are also eager to talk to all the other meeting participants, according to a person familiar with the inquiry. Mr. Kaveladze's attendance also deepens questions about the apparent failure of Trump campaign officials to vet participants' backgrounds. Several have said they strolled into Trump Tower without being asked for identification; no log of visitors was kept, and one participant said he received an impromptu invitation a few hours before the meeting." See also, Eighth person in Trump Tower meeting with Donald Trump Jr. is identified, The Washington Post, Rosalind S. Helderman and Tom Hamburger, Tuesday, 18 July 2017.
As Relations Worsen, Iran Says U.S. Sanctions May Violate the Nuclear Deal, The New York Times, David E. Sanger and Rick Gladstone, Tuesday, 18 July 2017: "Mohammad Javad Zarif, the foreign minister of Iran, charged on Tuesday that the Trump administration's attempt to reimpose sanctions on his country was a violation of the accord signed two years ago that sharply limited Iran's ability to produce nuclear material in return for its reintegration into the world economy. 'It is not clear what the administration is trying to do,' said Mr. Zarif, the urbane, American-educated diplomat who negotiated the agreement with John Kerry, then the secretary of state. 'They have been talking about scrapping the deal,' he said. 'Then they came to realize that would not be globally welcome. So now they are trying to make it impossible for Iran to benefit.'" See also, Is the Nuclear Deal With Iran Slipping Away? The New Yorker, Robin Wright, published on Wednesday, 19 July 2017.
Senate Judiciary Committee to seek testimony from Donald Trump Jr. and former Trump campaign manager Paul Manafort, The Washington Post, Karoun Demirjian, Tuesday, 18 July 2017: "The Senate Judiciary Committee plans to call Donald Trump Jr. and former Trump campaign manager Paul Manafort to testify at an open hearing in the coming weeks, according to the committee's top Democrat, a move that would give lawmakers their first chance to publicly question both men about the alleged ties between President Trump's campaign and Russia. The special counsel in charge of the FBI's investigation, Robert Mueller, has given the committee the go-ahead to publicly interview Trump Jr. and Manafort, Sen. Dianne Feinstein (D-Calif.) said, although it remains unclear if either will appear. Feinstein said she expects the testimony to be scheduled for sometime before Congress departs for the August recess — a break that has now been delayed until the middle of the month."
What's Behind Attacks on the Endangered Species Act? Lots of Industry Money. EarthJustice, Rebecca Bowe, Tuesday, 28 July 2017: "A small yet vocal group of congressmen are gearing up this summer to dismantle the Endangered Species Act. Campaign finance records of these lawmakers reveal that they have all taken significant money from extractive industries frustrated by the law's protection of critical habitat for endangered species. The Endangered Species Act has proven to be a powerful, effective conservation safeguard. More than 99 percent of species that have been designated for federal protection continue to exist in the wild today, including the bald eagle, grizzly bear, the leatherback sea turtle and the Florida manatee. But the work of the Endangered Species Act has only grown more urgent as many scientists agree that the planet is either on the cusp of or already experiencing a sixth mass wave of extinction. A study last week by Stanford scientists found that a significant number of plant and wildlife populations are growing dangerously thin. Earthjustice is working with coalition partners to oppose efforts on Capitol Hill to weaken protections for endangered species. The public can also make a difference in this fight—despite the big money from fossil fuel industries funding opponents of the Endangered Species Act—by contacting their Congressional offices (use this call-in tool to be directly connected)."
Trump to Nominate Jon Huntsman as US Ambassador to Russia, Associated Press, Ken Thomas, Tuesday, 18 July 2017: "President Donald Trump announced his intention Tuesday to nominate former Utah Gov. Jon Huntsman to be U.S. ambassador to Russia. If confirmed, the former 2012 GOP presidential candidate would take over a high-profile post amid ongoing investigations into Russian meddling in the 2016 election and potential contacts between Russian officials and the Trump campaign. Huntsman has twice served as an ambassador. He was the nation's top diplomat to Singapore under President George H.W. Bush and then served in that role in China under President Barack Obama before returning to the U.S. to run for president."
Wednesday, 19 July 2017, Day 181:
The Supreme Court Let Stand an Order Exempting Grandparents and Other Relatives from the Travel Ban, but It Allowed Refugee Limits to Stay, The New York Times, Adam Liptak, Wednesday, 19 July 2017: "The Supreme Court on Wednesday temporarily allowed the Trump administration to enforce restrictions on the nation's refugee program, but it let stand a court order from Hawaii that grandparents and other relatives who want to travel to the United States to visit family must be admitted while the case proceeds on appeal. The justices, in a brief order, rejected the administration's request that it clarify the scope of their decision last month temporarily reinstating the ban but allowing people with 'a credible claim of a bona fide relationship with a person or entity in the United States' to enter the country. The court said the United States Court of Appeals for the Ninth Circuit, in San Francisco, should address the question. Justices Clarence Thomas, Samuel A. Alito Jr. and Neil M. Gorsuch said they would have blocked the entire order of the Federal District Court in Hawaii while the case proceeds, including the part that allowed grandparents and other relatives of United States residents to travel from six mostly Muslim countries. The administration has read the Supreme Court's decision last month narrowly, excluding many travelers from six mostly Muslim countries with family members in the United States, as well as many refugees."
Trump Tells The New York Times He Wouldn't Have Appointed Jeff Sessions Attorney General if He Had Known Sessions Would Recuse Himself on Russia, The New York Times, Peter Baker, Michael S. Schmidt, and Maggie Haberman, Wednesday, 19 July 2017: "President Trump said on Wednesday that he never would have appointed Attorney General Jeff Sessions had he known Mr. Sessions would recuse himself from overseeing the Russia investigation that has dogged his presidency, calling the decision 'very unfair to the president.' In a remarkable public break with one of his earliest political supporters, Mr. Trump complained that Mr. Sessions's decision ultimately led to the appointment of a special counsel that should not have happened. 'Sessions should have never recused himself, and if he was going to recuse himself, he should have told me before he took the job and I would have picked somebody else,' Mr. Trump said. In a wide-ranging interview with The New York Times, the president also accused James B. Comey, the F.B.I. director he fired in May, of trying to leverage a dossier of compromising material to keep his job. Mr. Trump criticized both the acting F.B.I. director [Andrew George McCabe] who has been filling in since Mr. Comey's dismissal and the deputy attorney general [Rod J. Rosenstein] who recommended it. And he took on Robert S. Mueller III, the special counsel now leading the investigation into Russian meddling in last year's election." See also, Trump Made Several False and Misleading Claims in His Interview with The New York Times, The New York Times, Linda Qiu, published on Thursday, 20 July 2017: "In a wide-ranging interview with The New York Times on Wednesday, President Trump made a number of misleading and false claims, including statements on health insurance, the biography of his deputy attorney general and French history…. He misrepresented how health insurance works…. He falsely said the wife of the Japanese prime minister 'doesn't speak English,' not even 'hello.'… He said he discussed adoptions with Mr. Putin. That's a proxy for sanctions…. He incorrectly recounted the history of the F.B.I. and falsely said its director 'really reports directly to the president of the United States.'… He described savings from health care and tax cuts as a 'windfall' for the middle class. The cuts are generally more beneficial to the wealthy…. He incorrectly said Rod J. Rosenstein, the deputy attorney general, was 'from Baltimore.'… He offered a distorted history of Paris and Napoleon…. 'His one problem is he didn't go to Russia that night because he had extracurricular activities, and they froze to death,' Trump said." See also, Trump's deeply worrisome New York Times interview reveals a lawless president, The Washington Post, Greg Sargent, published on Thursday, 20 July 2017. See also, Donald Trump's Addled and Ominous Interview with The New York Times, The New Yorker, John Cassidy, published on Thursday, 20 July 2017: "The overwhelming impression from the transcript is of a President who considers himself above the law, and who believes himself to be, through no fault of his own, besieged by internal and external enemies, particularly in the Justice Department and the F.B.I…. To Trump, who views everything through a lens of self-interest, there are no matters of legitimate public interest at stake in the Russia story; no public-spirited officials trying to fulfill their duty to the public; no duty on his part to respect the need for distance between the White House and the Justice Department when it comes to matters having to do with the President. It is all just a political racket, and he is the one getting screwed."
Excerpts From The New York Times's Interview With Trump, The New York Times, Peter Baker, Michael S. Schmidt, and Maggie Haberman, Wednesday, 19 July 2017:
SCHMIDT: Last thing, if Mueller was looking at your finances and your family finances, unrelated to Russia — is that a red line?

HABERMAN: Would that be a breach of what his actual charge is?

TRUMP: I would say yeah. I would say yes. By the way, I would say, I don't — I don't — I mean, it's possible there's a condo or something, so, you know, I sell a lot of condo units, and somebody from Russia buys a condo, who knows? I don't make money from Russia. In fact, I put out a letter saying that I don't make — from one of the most highly respected law firms, accounting firms. I don't have buildings in Russia. They said I own buildings in Russia. I don't. They said I made money from Russia. I don't. It's not my thing. I don't, I don't do that. Over the years, I've looked at maybe doing a deal in Russia, but I never did one. Other than I held the Miss Universe pageant there eight, nine years [crosstalk].

SCHMIDT: But if he was outside that lane, would that mean he'd have to go?…

TRUMP: No, I think that's a violation. Look, this is about Russia. So I think if he wants to go, my finances are extremely good, my company is an unbelievably successful company. And actually, when I do my filings, peoples say, 'Man.' People have no idea how successful this is. It's a great company….

HABERMAN: Would you fire Mueller if he went outside of certain parameters of what his charge is? [crosstalk]

SCHMIDT: What would you do?

[crosstalk]

TRUMP: I can't, I can't answer that question because I don't think it's going to happen.
Attorney General Jeff Sessions greenlights police to seize cash and property from people suspected of crimes but not charged with crimes, The Washington Post, Sari Horwitz, Wednesday, 19 July 2017: "The Justice Department announced a new federal policy Wednesday to help state and local police take cash and property from people suspected of a crime, even without a criminal charge, reversing an Obama administration rule prompted by past abuse by police. Deputy Attorney General Rod J. Rosenstein said the Justice Department will include more safeguards to prevent the kind of problems that have been documented in the past. Police departments will be required to provide details to the Justice Department about probable cause for seizures, and federal officials will have to more quickly inform property owners about their rights and the status of the seizures…. Two years ago, then-Attorney General Eric H. Holder Jr. barred state and local police from using federal law to seize cash and other property without criminal charges or warrants. Since 2008, thousands of police agencies had made more than 55,000 seizures of cash and property worth $3 billion under a Justice Department civil asset forfeiture program, which allowed local and state police to make seizures and then share the proceeds with federal agencies. A Washington Post investigation in 2014 found that state and local police had seized almost $2.5 billion from motorists and others without search warrants or indictments since the terrorist attacks of Sept. 11, 2001. The Post series revealed that police routinely stopped drivers for minor traffic infractions, pressed them to agree to searches without warrants and seized large amounts of cash when there was no evidence of wrongdoing. Police then spent the proceeds from the seizure with little oversight, according to the Post investigation. In some cases, the police bought luxury cars, high-powered weapons and armored cars." See also, Attorney General Jeff Sessions' defense of civil asset forfeiture, annotated, The Washington Post, Christopher Ingraham, Wednesday, 19 July 2017.
Trump threatens electoral consequences for senators who oppose the Republican health care bill, and 32 million more people in the US would be uninsured by 2026 under Senate Republican health care bill, The Washington Post, Sean Sullivan, Kelsey Snell, and David Nakamura, Wednesday, 19 July 2017: "President Trump exhorted lawmakers Wednesday to resurrect the failed Republican plan to 'repeal and replace' the Affordable Care Act, injecting fresh turmoil into an issue that had appeared settled the day before, when Senate leaders announced they did not have the votes to pass their bill. Trump's remarks, at a lunch with 49 Republican senators, prompted some of them to reopen the possibility of trying to vote on the sweeping legislation they abandoned earlier this week. But there was no new evidence that the bill could pass. At the lunch, the president also threatened electoral consequences for senators who oppose him, suggesting that Sen. Dean Heller (R-Nev.) could lose his reelection bid next year if he does not back the effort. The president also invited conservative opposition against anyone else who stands in the way. 'Any senator who votes against starting debate is really telling America that you're fine with Obamacare,' Trump said. After the collapse of the Better Care Reconciliation Act, which would have repealed and replaced key portions of the Affordable Care Act, Senate Majority Leader Mitch McConnell (R-Ky.) on Monday announced plans for a vote on pure repeal instead, a move that seemed designed to either allow — or force — lawmakers to record a vote on what has been the GOP's top campaign promise of the past seven years. A repeal-only approach, which also lacks the votes to pass, would increase the number of people without health coverage by 17 million next year and by 32 million at the end of a decade, according to a fresh analysis released Wednesday by the Congressional Budget Office. The forecast by the nonpartisan CBO is nearly identical to estimates the office made in January based on a similar bill that passed the House and Senate in late 2015 — and that was vetoed by President Barack Obama. 'I think we all agree it's better to both repeal and replace. But we could have a vote on either,' McConnell said after the lunch at the White House." See also, Trump Demands That Senators Find a Way to Replace Obamacare, The New York Times, Julie Hirschfeld Davis, Thomas Kaplan, and Maggie Haberman, Wednesday, 19 July 2017.
Republicans' Push to Overturn Health Care Law Is Back From the Dead, The New York Times, Carl Hulse, Wednesday, 19 July 2017: "The Republican health care push was declared dead Wednesday morning. By afternoon it had a breath of life. Legislation in Washington can assume Frankenstein-like qualities. On the cusp of a humiliating and politically disastrous defeat, President Trump and the Senate majority leader, Mitch McConnell, took extraordinary resuscitative measures on Wednesday to pump oxygen back into their badly fading effort to overturn the Affordable Care Act. They somehow managed to stave off its imminent demise. It may be only a temporary reprieve, but a fight that seemed finished just hours earlier was renewed and headed for a pivotal vote next week. With his reputation for being a master of the Senate at grave risk, Mr. McConnell, a Kentucky Republican, extended a new offer to wavering Senate colleagues leery of scrapping the health care law. He backed away from his earlier insistence that the Senate focus on a plan to repeal much of the existing Obama-era law and allow a two-year window for its replacement — an iffy proposition given the difficulties that Republicans are currently having coming up with a consensus health care policy. Instead, his new selling point was that senators should simply vote next week on a motion to open a rollicking health care floor debate and then let the amendment chips fall where they may — a case of creating national health care policy, which makes up about 20 percent of the United States economy, on the fly."
Trump's Health Reform Pitch to Republican Senators Included Several False Claims, The New York Times, Linda Qiu, Wednesday, 19 July 2017: "Mr. Trump conflated data about health care premiums, selectively chose the largest increases, and falsely suggested they were representative…. He made misleading claims that the Senate bill will 'substantially lower premiums.'… He falsely said that people with pre-existing medical conditions will have 'better' coverage than under Obamacare…. He falsely said the bill will 'provide better coverage for low-income Americans.'"
Senate 'repeal only' bill would leave 32 million more without health insurance and double premiums by 2026, the Congressional Budget Office says, Politico, Adam Cancryn, Wednesday, 19 July 2017: "A revived bill that would dismantle large parts of Obamacare without an immediate replacement would leave 32 million more people uninsured and double premiums over a decade, the Congressional Budget Office said in a report Wednesday. The legislation — an update of the repeal measure nearly all GOP senators voted for in 2015 — is on track to reach the Senate floor early next week, where it likely would fail. Republican leaders pledged to put the bill to a vote after their initial effort to repeal and replace Obamacare fell apart in stunning fashion, though a number of holdout lawmakers are meeting later tonight to try to salvage the effort."
3 Things Trump Is Already Doing to 'Let Obamacare Fail,' The New York Times, Haeyoun Park and Margot Sanger-Katz, Wednesday, 19 July 2017: "Even without Congress, President Trump has already started doing three things to undermine important provisions of the [Affordable Care Act], and there are a few more things he could do. What Trump can do: 1. Weaken enforcement of the individual mandate. Status: In Progress. 2. Impose work requirements for Medicaid recipients. Status: In Progress. 3. Fail to do advertising or outreach. Status: In Progress. 4. Make tax credits for premiums less generous. Status: Proposed. 5. Defund subsidies that help people pay out-of-pocket costs. Status: Not in Progress. 6. Redefine essential health benefits. Status: Not in Progress."
Trump's election commission meets for the first time as critics condemn his 'biggest lie' that voter fraud was responsible for Hillary Clinton's margin of almost three million votes over him, The Guardian, Ben Jacobs, Lauren Gambino, and David Smith, Wednesday, 19 July 2017: "Donald Trump warned darkly of potential voter fraud at the first meeting of his election integrity commission on Wednesday, minutes after its chair, Mike Pence, insisted that the commission had 'no preconceived notions.'… No state has fully cooperated with the commission's expansive request for data, which includes the social security numbers of voters, though many have partially done so. State election officials have cited privacy concerns and statutory prohibitions in refusing to share all requested data with the commission. These officials include several members of the commission, among them its vice-chair, Kansas secretary of state Kris Kobach, who made the original request for voter data on behalf of the commission. Trump has long insisted that he won the popular vote in the 2016 election but vast voter fraud was responsible for Hillary Clinton's margin of almost three million votes over him. He tweeted in late November: 'In addition to winning the Electoral College in a landslide, I won the popular vote if you deduct the millions of people who voted illegally.' There is no evidence for this statement and it met with bipartisan denunciation…. Democrats held multiple events to denounce the commission, which they have seen as a vehicle to promote voter suppression. At the Democratic National Committee, Jason Kander, president of Let America Vote and former Missouri secretary of state, dubbed it 'The Voter Suppression Committee to Re-Elect the President.'  He told reporters: 'This commission started as a way to try to legitimize, to try to justify the biggest lie that a sitting president has ever told. But it has morphed from there and what it has become now is just a vehicle for voter suppression.' Kander said he had seen the Republican voter suppression 'playbook' up close. It aimed to undermine faith in American democracy so people believed drastic measures must be taken, put up obstacles to voting and put up obstacles beyond those obstacles. The strategy went back decades, he added." See also, The Voter Purges Are Coming, The New York Times, Vanita Gupta, Wednesday, 19 July 2017.
Special Counsel Robert Mueller Is Expanding His Probe to Trump Business Transactions, Bloomberg, Greg Farrell and Christian Berthelsen, Thursday, 20 July 2017: "The U.S. special counsel investigating possible ties between the Donald Trump campaign and Russia in last year's election is examining a broad range of transactions involving Trump's businesses as well as those of his associates, according to a person familiar with the probe. FBI investigators and others are looking at Russian purchases of apartments in Trump buildings, Trump's involvement in a controversial SoHo development in New York with Russian associates, the 2013 Miss Universe pageant in Moscow and Trump's sale of a Florida mansion to a Russian oligarch in 2008, the person said. The investigation also has absorbed a money-laundering probe begun by federal prosecutors in New York into Trump's former campaign chairman Paul Manafort."
Trump just nominated Sam Clovis, a climate change skeptic, to the US Department of Agriculture's top science post, The Washington Post, Juliet Eilperin and Chris Mooney, Wednesday, 19 July 2017: "President Trump on Wednesday nominated Sam Clovis, a former college professor and talk radio host who has challenged the scientific consensus that human activity has been the primary driver of climate change, to serve in the Agriculture Department's top scientific post…. Clovis, whose expected nomination has been previously reported by The Washington Post and several other outlets, is a former economics professor at Morningside College in Sioux City, Iowa, who served as one of Trump's first campaign policy advisers. In a 2014 interview with Iowa Public Radio, he said he was 'extremely skeptical' about climate change and added that 'a lot of the science is junk science.' 'It's not proven; I don't think there's any substantive information available to me that doesn't raise as many questions as it does answers,' Clovis said in the interview. 'So I'm a skeptic.' This position represents a departure from the scientific consensus. In its most recent report, the U.N. Intergovernmental Panel on Climate Change concluded that it is 'extremely likely' that, since the 1950s, humans and their greenhouse gas emissions have been the 'dominant cause' of the planet's warming trend."
I'm a scientist. I'm blowing the whistle on the Trump administration. The Washington Post, Joel Clement, Wednesday, 19 July 2017: "I am a scientist, a policy expert, a civil servant and a worried citizen. Reluctantly, as of today, I am also a whistleblower on an administration that chooses silence over science. Nearly seven years ago, I came to work for the Interior Department, where, among other things, I've helped endangered communities in Alaska prepare for and adapt to a changing climate. But on June 15, I was one of about 50 senior department employees who received letters informing us of involuntary reassignments. Citing a need to 'improve talent development, mission delivery and collaboration,' the letter informed me that I was reassigned to an unrelated job in the accounting office that collects royalty checks from fossil fuel companies. I am not an accountant — but you don't have to be one to see that the administration's excuse for a reassignment such as mine doesn't add up. A few days after my reassignment, Interior Secretary Ryan Zinke testified before Congress that the department would use reassignments as part of its effort to eliminate employees; the only reasonable inference from that testimony is that he expects people to quit in response to undesirable transfers. Some of my colleagues are being relocated across the country, at taxpayer expense, to serve in equally ill-fitting jobs."
Deutsche Bank, a Big German Bank That Is Key to Trump's Finances, Faces New Scrutiny, The New York Times, Ben Protess, Jessica Silver-Greenberg, and Jesse Drucker, Wednesday, 19 July 2017: "During the presidential campaign, Donald J. Trump pointed to his relationship with Deutsche Bank to counter reports that big banks were skeptical of doing business with him. After a string of bankruptcies in his casino and hotel businesses in the 1990s, Mr. Trump became somewhat of an outsider on Wall Street, leaving the giant German bank among the few major financial institutions willing to lend him money. Now that two-decades-long relationship is coming under scrutiny. Banking regulators are reviewing hundreds of millions of dollars in loans made to Mr. Trump's businesses through Deutsche Bank's private wealth management unit, which caters to an ultrarich clientele, according to three people briefed on the review who were not authorized to speak publicly. The regulators want to know if the loans might expose the bank to heightened risks. Separately, Deutsche Bank has been in contact with federal investigators about the Trump accounts, according to two people briefed on the matter. And the bank is expecting to eventually have to provide information to Robert S. Mueller III, the special counsel overseeing the federal investigation into the Trump campaign's ties to Russia. It was not clear what information the bank might ultimately provide. Generally, the bank is seen as central to understanding Mr. Trump's finances since it is the only major financial institution that continues to conduct sizable business with him. Deutsche Bank has also lent money to Jared Kushner, the president's son-in-law and senior adviser, and to his family real estate business."
Trump's son-in-law Jared Kushner to testify Monday (24 July) before the Senate Intelligence Committee in a closed-door session as part of the Russia probe, The Washington Post, Karoun Demirjian and Ashley Parker, Wednesday, 19 July 2017: "President Trump's senior adviser and son-in-law, Jared Kushner, will speak to the Senate Intelligence Committee in a closed-door session Monday as part of the panel's widening probe into alleged ties between the Trump campaign and the Russian government. The meeting was confirmed by Kushner's attorney, Abbe Lowell, who said that his client 'is prepared to voluntarily cooperate and provide whatever information he has on the investigations to Congress' and 'appreciates the opportunity to assist in putting this matter to rest.' Kushner is expected to answer the committee's questions and not invoke his Fifth Amendment right against self-incrimination, according to a person familiar with Kushner's thinking. The interview comes as the Senate Judiciary Committee also announced its intention to have former Trump campaign manager Paul Manafort and Trump's son Donald Trump Jr. testify in open session July 26. Committee Chairman Charles E. Grassley (R-Iowa) and ranking Democrat Dianne Feinstein (D-Calif.) said that they expect Manafort and Trump Jr. 'will comply voluntarily with invitations to testify,' adding that they 'have agreed to issue subpoenas, if necessary' for the two men."
The Trump Administration Said It Is Moving Forward With its Aggressive Plans to Shred Government Rules and Regulations, The New York Times, Steve Eder, Wednesday, 19 July 2017: "The White House on Wednesday released its first official report on its rollback efforts, claiming that during President Trump's first five months in office it had brought about savings for the economy rather than impose regulatory costs. As a comparison, the report said President Obama's agencies accrued $3.1 billion in regulatory costs during the same period at the start of his administration. The administration also said it was ahead of schedule in implementing President Trump's pledge to eliminate two regulations for each new one on the books. The report shows how the administration is trying to follow through on a campaign pledge by Mr. Trump to broadly reduce regulation and reverse rules put in place under his predecessor…. The rollback has been met with strong resistance from critics who say the administration is overlooking health and environmental benefits of regulations in order to appease businesses, which often bear the financial costs of complying with rules. The critics have also raised concerns about a lack of transparency in the deregulation process. An analysis published on Wednesday by the Center for Progressive Reform, a liberal think tank, showed a pattern of delaying regulations in the pipeline since Mr. Trump's inauguration in January. The study found that 42 rules had been delayed and 13 more had been placed under review, another way to slow them down." See also, Trump administration cancels hundreds of Obama-era regulations, The Washington Post, Juliet Eilperin and Damian Paletta, published on Thursday, 20 July 2017: "The White House has frozen or withdrawn hundreds of planned rules, a move aimed at bolstering the economy but that scraps proposed protections for workers and the environment."
Trump ends covert CIA program to arm anti-Assad rebels in Syria, a move sought by Moscow, The Washington Post, Greg Jaffe and Adam Entous, Wednesday, 19 July 2017: "President Trump has decided to end the CIA's covert program to arm and train moderate Syrian rebels battling the government of Bashar al-Assad, a move long sought by Russia, according to U.S. officials. The program was a central plank of a policy begun by the Obama administration in 2013 to put pressure on Assad to step aside, but even its backers have questioned its efficacy since Russia deployed forces in Syria two years later. Officials said the phasing out of the secret program reflects Trump's interest in finding ways to work with Russia, which saw the anti-Assad program as an assault on its interests. The shuttering of the program is also an acknowledgment of Washington's limited leverage and desire to remove Assad from power. Just three months ago, after the United States accused Assad of using chemical weapons, Trump launched retaliatory airstrikes against a Syrian air base. At the time, U.N. Ambassador Nikki Haley, said that 'in no way do we see peace in that area with Assad at the head of the Syrian government.'"
Thursday, 20 July 2017, Day 182:
Trump's Lawyers and Aides, Seeking Leverage, Investigate Special Counsel Robert Mueller's Investigators, The New York Times, Michael S. Schmidt, Maggie Haberman, and Matt Apuzzo, Thursday, 20 July 2017: "President Trump's lawyers and aides are scouring the professional and political backgrounds of investigators hired by the special counsel Robert S. Mueller III, looking for conflicts of interest they could use to discredit the investigation — or even build a case to fire Mr. Mueller or get some members of his team recused, according to three people with knowledge of the research effort. The search for potential conflicts is wide-ranging. It includes scrutinizing donations to Democratic candidates, investigators' past clients and Mr. Mueller's relationship with James B. Comey, whose firing as F.B.I. director is part of the special counsel's investigation. The effort to investigate the investigators is another sign of a looming showdown between Mr. Trump and Mr. Mueller, who has assembled a team of high-powered prosecutors and agents to examine whether any of Mr. Trump's advisers aided Russia's campaign to disrupt last year's presidential election. Some of the investigators have vast experience prosecuting financial malfeasance, and the prospect that Mr. Mueller's inquiry could evolve into an expansive examination of Mr. Trump's financial history has stoked fears among the president's aides. Both Mr. Trump and his aides have said publicly they are watching closely to ensure Mr. Mueller's investigation remains narrowly focused on last year's election. During an interview with The New York Times on Wednesday, Mr. Trump said he was aware that members of Mr. Mueller's team had potential conflicts of interest and would make the information available 'at some point.'"
Trump's team seeks to control and block special counsel Robert Mueller's Russia investigation, The Washington Post, Carol D. Leonnig, Ashley Parker, Rosalind S. Helderman, and Tom Hamburger, Thursday, 21 July 2017: "Some of President Trump's lawyers are exploring ways to limit or undercut special counsel Robert S. Mueller III's Russia investigation, building a case against what they allege are his conflicts of interest and discussing the president's authority to grant pardons, according to people familiar with the effort. Trump has asked his advisers about his power to pardon aides, family members and even himself in connection with the probe, according to one of those people. A second person said Trump's lawyers have been discussing the president's pardoning powers among themselves…. The president has long called the FBI investigation into his campaign's possible coordination with the Russians a 'witch hunt.' But now, Trump is coming face-to-face with a powerful investigative team that is able to study evidence of any crime it encounters in the probe — including tax fraud, lying to federal agents and interference in the investigation…. Following Trump's decision to fire FBI Director James B. Comey — in part because of his displeasure with the FBI's Russia investigation — Deputy Attorney General Rod J. Rosenstein appointed Mueller as special counsel in a written order. That order gave Mueller broad authority to investigate links between the Russian government and the Trump campaign, as well as 'any matters that arose or may arise directly from the investigation' and any crimes committed in response to the investigation, such as perjury or obstruction of justice. Mueller's probe has already expanded to include an examination of whether Trump obstructed justice in his dealings with Comey, as well as the business activities of Jared Kushner, Trump's son-in-law. Trump's team could potentially challenge whether a broad probe of Trump's finances prior to his candidacy could be considered a matter that arose 'directly' from an inquiry into possible collusion with a foreign government."
U.S. says ExxonMobil violated Russia sanctions while Rex Tillerson was the Chief Executive Officer. This strange legal battle is pitting Trump's secretaries of the Treasury (Steven Mnuchin) and State (Rex Tillerson) against each other. The Washington Post, Damian Paletta and Carol Morello, Thursday, 20 July 2017: "Two of President Trump's most senior cabinet members became embroiled Thursday in an unusual legal battle over whether ExxonMobil under Secretary of State Rex Tillerson's leadership violated U.S. sanctions against Russia. Treasury officials fined ExxonMobil $2 million Thursday morning for signing eight business agreements in 2014 with Igor Sechin, the chief executive of Rosneft, an energy giant partially owned by the Russian government. The business agreements came less than a month after the United States banned companies from doing business with him. Hours after the fine was announced, Exxon filed a legal complaint against the Treasury Department — naming Treasury Secretary Steven Mnuchin as the lead defendant — while calling the actions 'unlawful' and 'fundamentally unfair.'" See also, Stakes for Exxon in Sanctions Case Go Far Beyond a $2 Million Fine, The New York Times, Alan Rappeport and Andrew E. Kramer, published on Friday, 21 July 2017.
Revised version of the Republican health-care bill withdrawn by Senate Majority Leader Mitch McConnell this week would still leave 22 million more people in the US without health insurance a decade from now, the Congressional Budget Office says, The Washington Post, Amy Goldstein, Thursday, 20 July 2017: "In their latest assessment of Senate Republicans' attempts to rewrite the Affordable Care Act, congressional budget analysts say a plan that Senate Majority Leader Mitch McConnell (R-Ky.) pulled from consideration this week would increase the ranks of the uninsured by 22 million a decade from now — the same as a previous version. The Congressional Budget Office forecast issued early Thursday afternoon looked at a rejiggered iteration of the Better Care Reconciliation Act, which Senate GOP leaders unveiled a week ago in a so-far unsuccessful attempt to win enough support from the chamber's Republican majority. Compared with earlier versions, it would give more money to states to help pay for insurance for high-cost patients and would preserve some Affordable Care Act taxes. It would still eliminate the law's requirement that most Americans carry health insurance, phase out the law's expansion of Medicaid and transform the rest of Medicaid funding." See also, Republican Leaders in the Senate Press for Health Care Vote, but on Which Bill? The New York Times, Thomas Kaplan and Robert Pear, Thursday, 20 July 2017: "Senate Republicans ended a demoralizing week on Thursday with their leaders determined to press ahead with a vote to begin debating health care next week, but with little progress on securing the votes and no agreement even on which bill to take up. With President Trump urging them to move forward on their seven-year quest to erase the Affordable Care Act, Republican senators on Thursday still had not decided whether to revive a proposal to replace former President Barack Obama's health care law with one of their own, or to simply repeal it and work on a replacement later. The choice is unpalatable: The nonpartisan Congressional Budget Office said on Thursday that the latest version of the bill to repeal and replace the health law would increase the number of people without health insurance by 15 million next year and by 22 million in 2026. Those figures are the same as the estimates in the budget office's previous analysis, despite numerous changes to the bill intended to win votes. On the other hand, if senators opted simply to repeal the existing law, the budget office said on Wednesday, 32 million more people would be uninsured in 2026 compared with current law."
Interstate Crosscheck System, an anti-voter-fraud program, is inaccurate over 99 percent of the time. The Republicans want to take it nationwide. The Washington Post, Christopher Ingraham, Thursday, 20 July 2017: "At the inaugural meeting of President Trump's election integrity commission on Wednesday, commission Vice-Chairman Kris Kobach of Kansas praised a data collection program run by his state as a model for a national effort to root out voter fraud. States participating in the program, known as the Interstate Crosscheck System, send their voter registration files to Kansas. Kansas election authorities compare these files to those from other states. Each participating state receives back a list of their voter registrations that match the first name, last name and date of birth of a voter in another state. States may act upon the findings as they wish, although Crosscheck provides some guidelines for purging voter registrations from the rolls. In theory, the program is supposed to detect possible cases of people voting in multiple locations. But academics and states that use the program have found that its results are overrun with false positives, creating a high risk of disenfranchising legal voters. A statistical analysis of the program published earlier this year by researchers at Stanford, Harvard, University of Pennsylvania and Microsoft, for instance, found that Crosscheck 'would eliminate about 200 registrations used to cast legitimate votes for every one registration used to cast a double vote.' Kobach's championing of Crosscheck is one reason many voting rights advocates are concerned that President Trump's voter fraud commission may be a vehicle for recommending mass voter purges."
During 'Made in America Week,' Trump's Mar-A-Lago Club Applies to Hire 70 Foreign Workers to Be Employed from October 2017 through May 2018 Via the H-2B Visa Program, BuzzFeed News, Jeremy Singer-Vine, Jessica Garrison, and Ken Bensinger, Thursday, 20 July 2017: "Mar-A-Lago, Donald Trump's private club that he calls the Winter White House, is asking the government for permission to hire 70 temporary foreign workers as cooks, servers, and housekeepers, according to records posted by the Department of Labor on Thursday. The nearby Trump National Golf Club, Jupiter, has requested permission to hire an additional six foreign cooks. Trump has frequently urged US companies to hire American workers — a theme highlighted this week in what the Trump administration has dubbed 'Made in America' week. But for his own Mar-A-Lago club, he has also defended hiring foreign workers by saying that it is 'very, very hard to get help' during the Florida tourist season. If the labor department approves the requests, Trump's clubs will be allowed to employ the workers from October 2017 through May 2018 via the H-2B visa program — a program that the Trump administration announced this week it would expand. The 'one-time' expansion wouldn't have a direct effect on the clubs' latest requests, but the president's companies have made frequent use of the temporary worker program. Since Trump launched his presidential campaign in June 2015, businesses owned by him or bearing his name have sought to hire at least 370 foreign guest workers under H-2B program and a similar one called H-2A, including more than 230 for Mar-A-Lago and the Jupiter club." See also, During 'Made in America Week,' Trump's Mar-a-Lago Club applies to hire 70 foreign workers, The Washington Post, David A. Fahrenthold, Thursday, 20 July 2017.
U.S. Reopens Settlement with Harley-Davidson and Knocks $3 Million Off the Company's Fine of $15 Million, Thus Cutting Funds for Pollution Reduction Plan, The New York Times, Hiroko Tabuchi, Thursday, 20 July 2017: "Last year the United States government fined Harley-Davidson $15 million for selling devices that shut down its motorcycles' emissions controls — and said part of that money would go toward a project to reduce pollution from wood-fired stoves. On Thursday, the Trump administration said Harley-Davidson was no longer required to fund the antipollution program, knocking $3 million off the company's bill. The move followed a decision last month by Attorney General Jeff Sessions to halt a longstanding practice under which polluters could be compelled to pay for environmental or community projects, in addition to fines and direct compensation to victims. To settle claims from the Gulf oil spill, for example, BP was required to spend billions on coastal restoration projects that were not directly related to spill damage. Critics have long said the practice effectively creates 'slush funds' for favored organizations or causes. Mr. Sessions had said only future cases would be affected by his decision to end the practice. Department officials declined to comment on why the Harley-Davidson settlement, in a case brought by the Obama administration, was being revisited. The willingness to reopen cases has raised the prospect that other recent settlements could also unravel. As part of a $14.7 billion deal to settle claims arising from its diesel emissions cheating scandal, for example, Volkswagen is financing electric vehicle charging stations across the country, and funding efforts by states to cut pollution from old diesel engines."
Senate confirms Trump's federal judge nominee John K. Bush to the Sixth Circuit Court of Appeals. He has a history of controversial blog posts, including comparing abortion to slavery and spreading Obama conspiracy theories, New York Daily News, Jason Silverstein, Thursday, 20 July 2017: "He compared abortion to slavery. He spread Obama conspiracy theories. He ranted about liberal politics on a blog under a pseudonym. And now he has a lifetime appointment as a federal judge. The Senate on Thursday voted to confirm John Bush, a controversial Kentucky lawyer nominated by President Trump, as a judge on the United States Court of Appeals for the Sixth Circuit. Bush prevailed despite universal opposition from Democrats and an online '#StopBush' campaign to thwart his confirmation. Sen. Al Franken (D-Minn.) had called Bush's past 'disgraceful' and said he was 'uniquely unqualified for the job.'… Writing under the name G. Morris, Bush maintained a blog called Elephants in the Bluegrass, where he let loose on a wide variety of heated political issues. In his most notorious post, Bush called abortion and slavery 'two greatest tragedies in our country.'"
A Bill Funding the National Endowment for the Arts and the National Endowment for the Humanities Was Approved by the House Appropriations Committee, The New York Times, Graham Bowley, Thursday, 20 July 2017: "Four months after President Trump proposed eliminating the cultural agencies altogether, a bill to continue to finance the National Endowment for the Arts and the National Endowment for the Humanities won approval this week from the House appropriations committee. The House bill, part of the process of thrashing out the federal budget for fiscal year 2018, includes $145 million for each endowment. The amounts represent a cut of about $5 million to each agency, but is a stark contrast to President Trump's proposal to eliminate the endowments entirely as outlined in his first federal budget plan he announced in March. That proposal was a political statement about the president's wishes; Congress writes the federal budget, and those line items are now being thrashed out in the House and Senate. The cultural funds — a small part of the broader interior and environment appropriations bill — may eventually receive a vote by the full House, perhaps as one part of a bigger omnibus bill after the summer recess. The Republican-led Senate will weigh in on the endowments' budgets, too, but that process probably won't accelerate until later in the year."