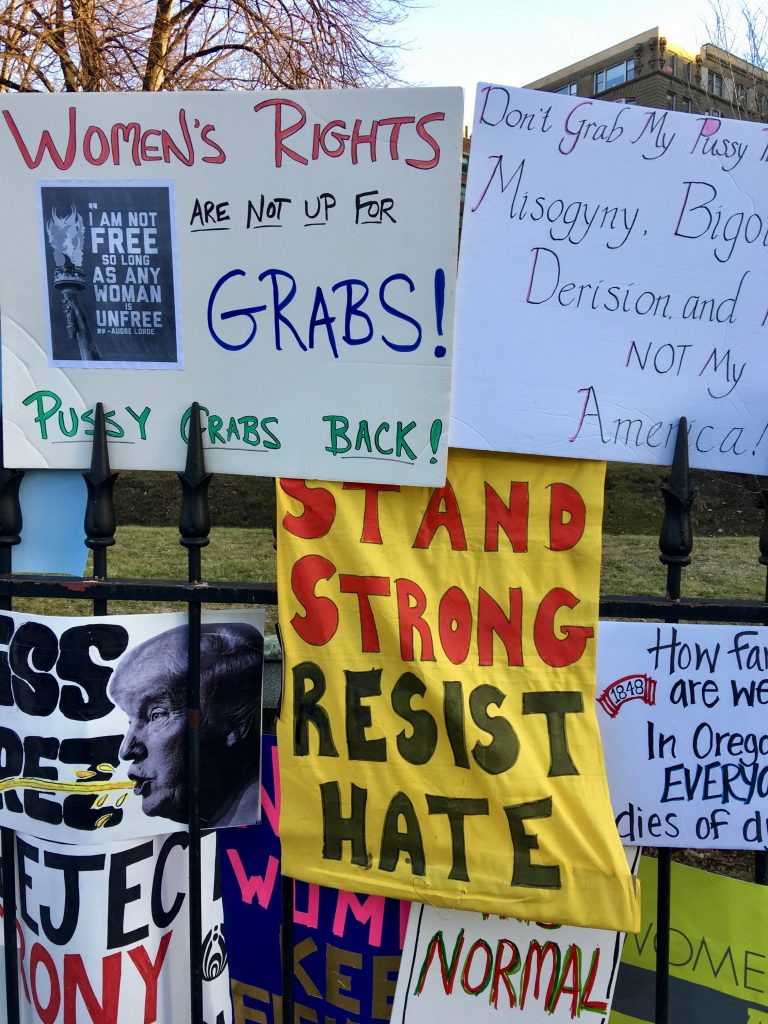 Keeping Track (of some things), Staying Outraged (it is possible), and Resisting (it's essential)
Passages in bold in the body of the texts below are my emphasis. This is an ongoing project, and I update the site frequently. I hope readers will peruse the articles in full for a better understanding of the issues and their context; our democracy and our future depend on citizens who can distinguish between facts and falsehoods and who are engaged in the political process.
Friday, 30 June 2017, Day 162:
Environmental Protection Agency Administrator Scott Pruitt will launch a program to 'critique' climate science, E&E News, Emily Holden, Friday, 30 June 2017: "U.S. EPA Administrator Scott Pruitt is leading a formal initiative to challenge mainstream climate science using a 'back-and-forth critique' by government-recruited experts, according to a senior administration official. The program will use 'red team, blue team' exercises to conduct an 'at-length evaluation of U.S. climate science,' the official said, referring to a concept developed by the military to identify vulnerabilities in field operations. 'The administrator believes that we will be able to recruit the best in the fields which study climate and will organize a specific process in which these individuals … provide back-and-forth critique of specific new reports on climate science,' the source said…. The disclosure follows the administration's suggestions over several days that it supports reviewing climate science outside the normal peer-review process used by scientists. This is the first time agency officials acknowledged that Pruitt has begun that process. The source said Energy Secretary Rick Perry also favors the review. Executives in the coal industry interpret the move as a step toward challenging the endangerment finding, the agency's legal foundation for regulating greenhouse gases from cars, power plants and other sources. Robert Murray, CEO of Murray Energy Corp., said Pruitt assured him yesterday that he plans to begin reviewing the endangerment finding within months." See also, Environmental Protection Agency to Give Dissenters a Voice on Climate, No Matter the Consensus, The New York Times, Brad Plumer and Coral Davenport, Friday, 30 June 2017. See also, Environmental Protection Agency Administrator Scott Pruitt is pushing a governmentwide effort to question climate change science, The Washington Post, Brady Dennis and Juliet Eilperin, published on Saturday, 1 July 2017.
Trump's voting commission asked states to hand over election data. Some are pushing back. The Washington Post, Mark Berman and David Weigel, Friday, 30 June 2017: "President Trump's voting commission stumbled into public view this week, issuing a sweeping request for nationwide voter data that drew sharp condemnation from election experts and resistance from more than two dozen states that said they cannot or will not hand over all of the data. The immediate backlash marked the first significant attention to the Presidential Advisory Commission on Election Integrity since Trump started it last month and followed through on a vow to pursue his own unsubstantiated claims that voter fraud is rampant and cost him the popular vote in the presidential election. The White House has said the commission will embark upon a 'thorough review of registration and voting issues in federal elections,' but experts and voting rights advocates have pilloried Trump for his claims of widespread fraud, which studies and state officials alike have not found. They say that they fear the commission will be used to restrict voting. Those worries intensified this week after the commission sent letters to 50 states and the District on Wednesday asking for a trove of information, including names, dates of birth, voting histories and, if possible, party identifications. The letters also asked for evidence of voter fraud, convictions for election-related crimes and recommendations for preventing voter intimidation — all within 16 days. While the Trump administration has said it is just requesting public information, the letters met with swift — and sometimes defiant — rejection. By Friday, 25 states were partially or entirely refusing to provide the requested information; some said state laws prohibit releasing certain details about voters, while others refused to provide any information because of the commission's makeup and backstory." See also, Asked for Voters' Data, States Give Trump Panel a Bipartisan 'No,' The New York Times, Michael Wines, Friday, 30 June 2017. See also, How Trump's nationwide voter data request could lead to voter suppression, The Washington Post, Christopher Ingraham, Friday, 30 June 2017.
Trump Suggests Repealing the Health Care Law Now and Replacing It Later, The New York Times, Thomas Kaplan and Robert Pear, Friday, 30 June 2017: "With Senate Republicans already bogged down over how to dismantle the Affordable Care Act, President Trump on Friday tossed in a new complication with an old idea: The Senate could repeal the health law now, then replace it later. Mr. Trump gave his blessing in a Twitter post after a Republican dissatisfied with the current repeal bill, Senator Ben Sasse of Nebraska, floated the two-stage approach as a backup plan. Mr. Sasse sent a letter to the president and made a pitch on Fox News on Friday as an agreement on a new version of the Senate's repeal bill remained elusive. Other conservatives quickly picked up the idea — including Senator Rand Paul of Kentucky and the advocacy group Americans for Prosperity, backed by Charles G. and David H. Koch — presenting a new headache to Senate leaders who are trying to focus their conservative and moderate troops on finding a compromise."
Continue reading Week 24, Friday, 30 June – Thursday, 6 July 2017:
The Environmental Protection Agency's Dangerous Anti-Regulatory Policies, The New Yorker, Elizabeth Kolbert, Friday, 30 June 2017: " What the [Trump] Administration is really interested in, it seems, isn't 'regulatory certainty' but, rather, regulatory laxity. Trump loves to rail against 'job-killing regulations.' Just last week, he boasted that the White House had formed a task force inside every agency to find and eliminate 'job-killing regulations, of which we've had many.' But, as with so many Trumpian claims, the number of times this phrase has been repeated is inversely related to its truthfulness. There is, in fact, little evidence that regulations kill jobs. According to a 2014 review of studies on the subject, conducted by researchers at the London School of Economics, environmental regulations seem to have a 'statistically insignificant' effect on employment. A 2015 report by the Office of Management and Budget (which has also been taken down from the Web site) notes that sometimes regulations may appear to cost jobs, if, say, a plant closes down, and other times they may appear to create jobs, as when a company staffs up to comply with the new rules. Over the long term, however, these 'apparent reductions or increases in employment will often . . . turn out to be shifts in employment' rather than net gains or losses. The report calculates that the 'monetized benefits' of federal regulations enacted during the previous decade were 'significantly higher than the monetized costs.' Which brings us to what is most horrifying about what's going on. If you ignore the benefits of regulation, it's easy to argue they are outweighed by the costs. But you don't need a great deal of sophisticated math to conclude that the benefits of maintaining safe drinking water and avoiding developmental problems in kids are pretty high—higher than just about any conceivable estimate of the price."
Secretary of Education Betsy DeVos Is Discarding College Policies That New Evidence Shows Are Effective, The New York Times, Kevin Carey, Friday, 30 June 2017: "In June, the secretary of education, Betsy DeVos, announced plans to dismantle a set of Obama-era policies devised to protect students and taxpayers from predatory for-profit colleges. Yet data released in the final days of the previous administration shows that the existing rules have proved more effective at shutting down bad college programs than even the most optimistic backers could have hoped…. Eleven days before President Trump's inauguration, the Department of Education released the first list of failing programs. Ms. DeVos has extended the original deadline for appealing the findings, and recently announced plans to rewrite the rules. But a close analysis of the more than 500 failing programs that haven't appealed their status reveals something interesting: A substantial majority of them, 300 or so, have already been shut down — even though colleges are not yet required to do so."
Donald Trump is not well, The Washington Post, Mika Brzezinski and Joe Scarborough, Friday, 30 June 2017: "President Trump launched personal attacks against us Thursday, but our concerns about his unmoored behavior go far beyond the personal. America's leaders and allies are asking themselves yet again whether this man is fit to be president. We have our doubts, but we are both certain that the man is not mentally equipped to continue watching our show, 'Morning Joe.' The president's unhealthy obsession with our show has been in the public record for months, and we are seldom surprised by his posting nasty tweets about us. During the campaign, the Republican nominee called Mika 'neurotic' and promised to attack us personally after the campaign ended. This year, top White House staff members warned that the National Enquirer was planning to publish a negative article about us unless we begged the president to have the story spiked. We ignored their desperate pleas."
'Flat-out gross and disgusting': Cable TV erupts at Trump's Mika Brzezinski tweets, The Washington Post, Katie Mettler, Friday, 30 June 2017: "Hours after President Trump posted a pair of ugly tweets attacking cable TV hosts Joe Scarborough and Mika Brzezinski, cable news talk shows across the political spectrum featured lengthy, often angry monologues accusing him of demeaning his office as well as women. Conservatives Charles Krauthammer and Tucker Carlson criticized the tweets on Fox News, with Krauthammer saying, 'Presidents don't talk like this.' On CNN, Don Lemon and Anderson Cooper dedicated their opening remarks to what Lemon called Trump's 'flat-out gross and disgusting' tweets."… Few were as impassioned as Nicolle Wallace, a former communications director for President George W. Bush. On her MSNBC show Thursday afternoon, Wallace delivered a scorched-earth monologue. 'As someone who once proudly called myself a Republican, the party will be permanently associated with misogyny if leaders don't stand up and demand a retraction,' Wallace said, challenging women in the Trump administration to publicly denounce their boss's words and 'work behind the scenes to educate him about just how offensive they are.'"
Trump Backers Are 'Furious' That Republican Senator Dean Heller of Nevada Stood Against the Health Care Bill, The New York Times, Jonathan Martin and Kenneth P. Vogel, Friday, 30 June 2017: "Senator Dean Heller's biting denunciation of the Republican health care bill last week infuriated the White House and helped unravel his party's attempt to repeal the Affordable Care Act days before a vote was expected in the Senate. Now Mr. Heller is facing an intense backlash in Nevada, his home state, where there is talk of a primary race challenge against him next year and a pair of the state's wealthiest Republican donors are fuming. America First Policies, a nonprofit group created to back President Trump's agenda, suspended its advertising campaign against Mr. Heller after he agreed to attend a West Wing meeting on the health bill and after a group of Republican senators in attendance complained about the commercials. But Mr. Heller, perhaps the most vulnerable Republican senator on the ballot next year, has by no means escaped the wrath of Mr. Trump and his vocal supporters, including two billionaire casino magnates, Sheldon G. Adelson and Steve Wynn."
State Department Restores Job Offers to Students After Diplomat Outcry, The New York Times, Gardiner Harris, Friday, 30 June 2017: "The State Department is now quietly allowing dozens of young women and minority students to become full-fledged diplomats after threatening to rescind job offers that most of the students were given two years ago upon winning prestigious scholarships. The concession, issued without announcement on Thursday, came after an intense lobbying campaign by members of Congress and retired diplomats. They persuaded Secretary of State Rex W. Tillerson to reverse his earlier decision to delay the students' hiring into the Foreign Service indefinitely. This month, the State Department notified about 60 Rangel and Pickering fellowship recipients that not only would they not be joining the Foreign Service, but that they had to choose whether to either accept what amounted to a two-year clerkship, or pay back the roughly $85,000 the government had invested in each of their educations. The students had only about nine days to decide between what they saw as unappealing choices…. The Trump administration has proposed cutting the State Department's budget by 31 percent, or roughly $16 billion. The draconian cut would cause enormous disruptions, gutting aid and development programs that some of the world's poorest and most vulnerable people depend upon. A $1.1 billion proposed cut to a program that provides lifesaving medicines to those infected with H.I.V., the virus that causes AIDS, could cause as many as one million deaths."
CNN punished three journalists for missteps on a Trump-Russia story. Did it overreact? The Washington Post, Margaret Sullivan, Friday, 30 June 2017: "At this strange moment in history, any journalistic error can have extremely serious consequences. Three CNN journalists found that out a few days ago when they resigned under pressure after reporting, editing and publishing a story — based on a single anonymous source — that the network says didn't go through the proper review channels. When the story came under fire (it tied a Trump transition team member to a Russia-related investigation), CNN not only retracted it but sent the journalists packing. Some hailed the move as welcome accountability, if a draconian form of it. James Risen of the New York Times, though, saw it as 'a cowardly, panicked move.' CNN brass was 'easily intimidated by Trump,' he told me. 'CNN doesn't seem willing to show the kind of courage required to back up your people who do difficult investigative reporting,' said Risen, one of the nation's most prominent investigative reporters. Risen won a Pulitzer Prize in 2006 for a story co-written with one of the fired journalists, Eric Lichtblau, whom he called 'one of the finest reporters I've ever worked with.'"
Saturday, 1 July 2017, Day 163:
Republican Activist, Peter W. Smith, Who Sought Hillary Clinton's Emails from Hackers, Cited Trump Campaign Officials in a Recruitment Document for His Effort, The Wall Street Journal, Shane Harris, Michael C. Bender, and Peter Nicholas, Saturday, 1 July 2017: "A longtime Republican activist who led an operation hoping to obtain Hillary Clinton emails from hackers listed senior members of the Trump campaign, including some who now serve as top aides in the White House, in a recruitment document for his effort. The activist, Peter W. Smith, named the officials in a section of the document marked 'Trump Campaign.' The document was dated Sept. 7, 2016. That was around the time Mr. Smith said he started his search for 33,000 emails Mrs. Clinton deleted from the private server she used for official business while secretary of state. She said the deleted emails concerned personal matters. She turned over tens of thousands of other emails to the State Department. As reported Thursday by The Wall Street Journal, Mr. Smith and people he recruited to his effort theorized the deleted emails might have been stolen by hackers and might contain matters that were politically damaging. He and his associates said they were in touch with several groups of hackers, including two from Russia they suspected were tied to the Moscow government, in a bid to find any stolen emails and potentially hurt Mrs. Clinton's prospects. Mr. Smith's purpose in listing the officials isn't clear. There is no indication in the document that he sought or received any coordination from the campaign officials or the campaign in general."
Trump's Tweets Stoke His Voter Fraud Claim and Attack the News Media, The New York Times, Michael D. Shear, Saturday, 1 July 2017: "President Trump began his holiday weekend getaway with another denunciation of the news media and accused secretaries of state from around the country of trying to hide something from a panel investigating widespread voter fraud that experts say never happened. In a Twitter message on Saturday morning, Mr. Trump said that 'numerous states are refusing to give information to the very distinguished VOTER FRAUD PANEL. What are they trying to hide?' Mr. Trump set up the Presidential Advisory Commission on Voter Integrity to find evidence for his debunked claim that millions of votes were cast illegally in the 2016 presidential election. On Wednesday, the group sent a letter to all 50 secretaries of state asking for personal data about the nation's 200 million voters. The response from many of the state voting officials was a resounding 'no.' In Mississippi, the secretary of state, Delbert Hosemann, a Republican, said: 'My reply would be: They can go jump in the Gulf of Mexico.' Mr. Trump's tweet suggests that he is not happy with those responses, but it is unclear what he can do about them. The commission chairman told news organizations on Friday that it was up to each state to decide what information to share with the panel…. He continued his attack on Joe Scarborough and Mika Brzezinski, the hosts of MSNBC's 'Morning Joe,' two days after saying on Twitter that Ms. Brzezinski had been 'bleeding badly from a face-lift' during a social event last year. On Saturday, he added: 'Crazy Joe Scarborough and dumb as a rock Mika are not bad people, but their low rated show is dominated by their NBC bosses. Too bad!'… Mr. Trump also continued his blistering criticism of CNN. The president wrote: 'I am extremely pleased to see that @CNN has finally been exposed as #FakeNews and garbage journalism. It's about time!'"
Trump says states are 'trying to hide' things from his voter fraud commission. Here's what they actually say. The Washington Post, Philip Bump and Christopher Ingraham, Saturday, 1 July 2017: "More than two dozen states have refused to fully comply with a sweeping and unprecedented White House request to turn over voter registration data, including sensitive information like partial Social Security numbers, party affiliation and military status. Overall, the states that have said they will not be complying at all with the Kobach commission's request represent over 30 percent of the nation's population. That could complicate any efforts to build a truly national voter file, although it remains unclear what the commission's ultimate goal is in collecting the data."
'I'm President and They're Not': Trump Attacks Media at Faith Rally, The New York Times, Michael D. Shear, Saturday, 1 July 2017: "President Trump used the first part of his holiday weekend getaway to issue more denunciations of the news media, using a celebration of American veterans and freedom at an evening rally to thunder that he would not allow the 'fake' media to stop his agenda. Speaking to raucous supporters at a faith rally at the John F. Kennedy Center for the Performing Arts in Washington Saturday night, Mr. Trump brought the crowd to its feet by condemning news organizations. 'The fake media is trying to silence us,' Mr. Trump told the crowd at the concert hall, after returning to Washington briefly from his weekend getaway at his golf club in New Jersey. 'But we will not let them. Because the people know the truth. The fake media tried to stop us from going to the White House. But I'm president and they're not.'"
Trump Administration Targets Parents in New Immigration Crackdown, The New York Times, Caitlin Dickerson, Saturday, 1 July 2017: "The Trump administration has begun a new tactic to crack down on illegal immigration, this time arresting undocumented parents suspected of having paid to have their children ushered into the country by smugglers. When unaccompanied children are apprehended at the border — often after having been taken there by smugglers — immigration officials initiate cases for their deportation, a process that can take months or years. In the meantime, many of those children are placed with parents or relatives who crossed earlier to establish a foothold in the United States and earn money to send back home. Until recently, those adults have not been priorities for arrest, even if they are in the country illegally…. In some cases, parents or other relatives who have taken in undocumented children may face criminal smuggling-related charges and the prospect of prison; in other cases, they will be placed in deportation proceedings along with the children…. The effort drew immediate criticism from immigrant advocates because it would separate families, including many that had fled violence or poverty. It would also discourage parents from claiming custody of their children when they arrived in the United States, the advocates said. That could lead to more children being sent to juvenile immigrant detention centers, where those with no identifiable family in the United States are often held."
Counseled by Industry, Not Environmental Protection Agency Career Staff, E.P.A. Administrator Scott Pruitt Is Off to a Blazing Start Undoing or Delaying More Than 30 Environmental Rules, The New York Times, Coral Davenport, Saturday, 1 July 2017: "In the four months since he took office as the Environmental Protection Agency's administrator, Scott Pruitt has moved to undo, delay or otherwise block more than 30 environmental rules, a regulatory rollback larger in scope than any other over so short a time in the agency's 47-year history, according to experts in environmental law. Mr. Pruitt's supporters, including President Trump, have hailed his moves as an uprooting of the administrative state and a clearing of onerous regulations that have stymied American business. Environmental advocates have watched in horror as Mr. Pruitt has worked to disable the authority of the agency charged with protecting the nation's air, water and public health. But both sides agree: While much of Mr. Trump's policy agenda is mired in legal and legislative delays, hampered by poor execution and overshadowed by the Russia investigations, the E.P.A. is acting. Mr. Pruitt, a former Oklahoma attorney general who built a career out of suing the agency he now leads, is moving effectively to dismantle the regulations and international agreements that stood as a cornerstone of President Barack Obama's legacy…. And he is doing all this largely without the input of the 15,000 career employees at the agency he heads, according to interviews with over 20 current and former E.P.A. senior career staff members…. Instead, Mr. Pruitt has outsourced crucial work to a network of lawyers, lobbyists and other allies, especially Republican state attorneys general, a network he worked with closely as the head of the Republican Attorneys General Association. Since 2013, the group has collected $4.2 million from fossil fuel-related companies like Exxon Mobil, Koch Industries, Murray Energy and Southern Company, businesses that also worked closely with Mr. Pruitt in many of the 14 lawsuits he filed against the E.P.A. Within the agency, Mr. Pruitt relies on the counsel of a small network of political appointees, including a number of former lobbyists and senior industry officials."
In 162 days, Trump has made 744 false and misleading claims, The Washington Post, updated on Saturday, 1 July 2017: This is a "database of the false and misleading claims made by Trump during his first 365 days in office."
Sunday, 2 July 2017, Day 164:
Trump appears to promote violence against CNN with tweet, The Washington Post, David Nakamura, Sunday, 2 July 2017: "A day after defending his use of social media as befitting a 'modern day' president, President Trump appeared to promote violence against CNN in a tweet. Trump, who is on vacation at his Bedminster golf resort, posted on Twitter an old video clip of him performing in a WWE professional wrestling match, but with a CNN logo superimposed on the head of his opponent. In the clip, Trump is shown slamming the CNN avatar to the ground and pounding him with simulated punches and elbows to the head. Trump added the hashtags #FraudNewsCNN and #FNN, for 'fraud news network.' The video clip apparently had been posted days earlier on Reddit, a popular social media message board. The president's tweet was the latest escalation in his beef with CNN over its coverage of him and his administration…. In a statement tweeted out by CNN media reporter Brian Stelter, CNN called it 'a sad day when the President of the United States encourages violence against reporters.' The network cited Trump's 'Juvenile behavior far below the dignity of his office. We will keep doing our jobs. He should start doing his.'" See also, Trump Tweets a Video of Him Wrestling 'CNN' to the Ground, The New York Times, Sunday, 2 July 2017: "The wrestling video, which was also posted to the official @POTUS Twitter account, stirred criticism, disbelief and dumbfoundedness. Some journalists denounced its portrayal of violence as dangerous, saying it could incite attacks or threats against news media employees. 'I think it is unseemly that the president would attack journalists for doing their jobs, and encourage such anger at the media,' said Dean Baquet, the executive editor of The New York Times." See also, Lawmakers blast Trump's 'crude, false, and unpresidential' CNN tweet, The Washington Post, Amy B. Wang, Sunday, 2 July 2017. See also, Trump locks heads with news media in a social media first, The Washington Post, David Nakamura, John Wagner, and Aaron Gregg, Sunday, 2 July 2017.
U.S. denies visas for Afghanistan's all-girl robotics team, The Washington Post, Amanda Erickson, Sunday, 2 July 2017: "It's not easy to get robotics equipment through customs in Afghanistan, but that didn't deter this plucky bunch. For months, a team of six teenage girls has been scrambling to build a ball-sorting robot that will compete in an international competition. Other teams received their raw materials in March. But the box sent from America had been held up for months amid concerns about terrorism. So the young engineers improvised, building motorized machines from household materials. They didn't have time to waste if they were going to compete in the FIRST Global Challenge, an international robotics competition to be held in Washington, D.C., this month. Young teams from around the world face off against each other, in an effort to engage people in STEM (science, technology, engineering and math). To participate, the girls from the city of Herat in western Afghanistan needed permission to travel to the United States. So, after they convinced their parents to let them go, they made the 500-mile journey to the U.S. Embassy in Kabul to apply for their visas. They did this twice, even though that location was targeted by a deadly truck bomb. Things seemed to be lining up. But then the team got some bad news: Their visa applications had been denied. Roya Mahboob, who founded Citadel software company in Afghanistan and was the country's first female technology chief executive, is one of the team's sponsors. When the girls heard the news, she said, 'they were crying all the day.'"
Monday, 3 July 2017, Day 165:
Trump Warns China He Is Willing to Pressure North Korea on His Own, The New York Times, Mark Landler and Javier C. Hernández, Monday, 3 July 2017: "President Trump, frustrated by China's unwillingness to lean on North Korea, has told the Chinese leader that the United States is prepared to act on its own in pressuring the nuclear-armed government in Pyongyang, according to senior administration officials. Mr. Trump's warning, delivered in a cordial but blunt phone call on Sunday night to President Xi Jinping, came after a flurry of actions by the United States — selling weapons to Taiwan, threatening trade sanctions and branding China for human trafficking — that rankled the Chinese and left little doubt that the honeymoon between the two leaders was over. After returning from his weekend getaway in Bedminster, N.J., late Monday, Mr. Trump noted on Twitter that North Korea had launched another ballistic missile, which landed in the sea between North Korea and Japan. He suggested it was time for China to act. 'Perhaps China will put a heavy move on North Korea and end this nonsense once and for all!' Mr. Trump wrote."
U.S. Court of Appeals for the District of Columbia Circuit blocks Trump Environmental Protection Agency on air pollution, The Washington Post, Juliet Eilperin and Steven Mufson, Monday, 3 July 2017: "An appeals court Monday struck down the Environmental Protection Agency's 90-day suspension of new emission standards on oil and gas wells, a decision that could set back the Trump administration's broad legal strategy for rolling back Obama-era rules. In a 2-to-1 ruling, the U.S. Court of Appeals for the District of Columbia Circuit concluded that the EPA had the right to reconsider a 2016 rule limiting methane and smog-forming pollutants emitted by oil and gas wells but could not delay the effective date while it sought to rewrite the regulation. The agency has proposed extending the initial delay to two years; the court will hold a hearing on that suspension separately. 'The court's ruling is yet another reminder, now in the context of environmental protection, that the federal judiciary remains a significant obstacle to the president's desire to order immediate change,' Richard Lazarus, an environmental-law professor at Harvard Law School, said in an email. 'The D.C. Circuit's ruling today makes clear that neither the president nor his EPA administrator, Scott Pruitt, can by fiat unilaterally and instantaneously repeal or otherwise stay the effectiveness of the environmental protection rules put into place during the Obama administration,' he added." See also, Court Blocks Environmental Protection Agency Effort to Suspend Obama-Era Methane Rule, The New York Times, Lisa Friedman, Monday, 3 July 2017.
Congress Moves to Stop I.R.S. From Enforcing Health Law Individual Mandate, The New York Times, Robert Pear, Monday, 3 July 2017: "Congress is moving to prevent the Internal Revenue Service from enforcing one of the more unpopular provisions of the Affordable Care Act, which requires most Americans to have health insurance or pay a tax penalty. The plan is separate from Republican efforts to repeal the health care law, and appears more likely to be adopted because it would be written into the annual spending bill for the Treasury and the I.R.S. But it has a similar purpose: to weaken the health law that President Trump and Republicans in Congress want to dismantle. Congress has been working for months on a bill to repeal President Barack Obama's health care law, including the coverage requirement. That provision, known as the individual mandate, is widely disliked, according to opinion polls. In case that effort fails or bogs down, the House Committee on Appropriations has drafted a provision to stop the I.R.S. from enforcing the mandate. The restrictions, for the fiscal year that starts Oct. 1, are included in an appropriations bill that was approved on Thursday by the Subcommittee on Financial Services and General Government."
Tuesday, 4 July 2017, Day 166:
U.S. Confirms North Korea Fired Intercontinental Ballistic Missile, The New York Times, Choe Sang-Hun, Tuesday, 4 July 2017: "The Trump administration on Tuesday confirmed North Korea's claim that it had launched an intercontinental ballistic missile, and it told Pyongyang that the United States would use 'the full range of capabilities at our disposal against the growing threat.' The administration followed up that warning on Wednesday morning with a joint military exercise in which United States and South Korean forces fired ballistic missiles in the waters along the Korean Peninsula's east coast. But North Korea reaffirmed Wednesday that it would never deviate from its determination to bolster its nuclear and missile abilities as long as the United States' 'hostile policy' and 'nuclear threat' persisted."
Wednesday, 5 July 2017, Day 167:
U.S. Vows Tougher Action on North Korea After Missile Test, The New York Times, Rick Gladstone and Choe Sang-Hun, Wednesday, 5 July 2017: "The United States toughened its military pressure and invective against nuclear-armed North Korea on Wednesday, conducting a missile maneuver with South Korea, hinting of a possible return to war with the North and proposing wider United Nations sanctions against 'any country that does business with this outlaw regime.' The American actions came a day after North Korea conducted a successful test of an intercontinental ballistic missile that appeared capable of hitting Alaska and Hawaii and was described by the United States as a 'dangerous escalation' in what has become a crisis for the Trump administration. Claiming the test had been timed to America's July 4 holiday, North Korea's leader, Kim Jong-un, described the missile as a 'gift package' to the United States. The proposal for broader sanctions appeared aimed especially at China, North Korea's most important trading partner. It was part of a vocal public effort by the Trump administration to push President Xi Jinping of China by linking improved American-Chinese trade relations to solving the North Korea problem — and threatening worse trade relations if China does not help more."
Trump Criticizes China as Meeting on North Korea Nears, The New York Times, Julie Hirschfeld Davis, Wednesday, 5 July 2017: "President Trump criticized China on Wednesday for failing to do more to pressure North Korea on its nuclear program, suggesting as he prepares for a high-stakes meeting with the Chinese president, Xi Jinping, this week that he is re-evaluating the United States trade relationship with Beijing in light of the growing provocations from Pyongyang. Mr. Trump vented his displeasure with China in a pair of early-morning tweets as he was departing on a trip to Warsaw, and to Hamburg, Germany, for the Group of 20 gathering of major world economies, where discussions about how to deal with the North Korean threat will be high on the agenda. He plans to hold meetings on the sidelines with Mr. Xi, as well as with Prime Minister Shinzo Abe of Japan and President Moon Jae-in of South Korea. 'Trade between China and North Korea grew almost 40% in the first quarter,' Mr. Trump said in one of the tweets on Wednesday. 'So much for China working with us — but we had to give it a try!' A few minutes earlier, he suggested that American trade agreements should be contingent on such cooperation. The United States made some of the worst Trade Deals in world history,' he wrote. 'Why should we continue these deals with countries that do not help us?'"
U.S. prepared to hold joint operations with Russia in Syria, Secretary of State Rex Tillerson says, The Washington Post, Karen DeYoung, Wednesday, 5 July 2017: "The Trump administration is prepared to consider joint stability operations with Russia in Syria, including no-fly zones, cease-fire observers and coordinated deliveries of humanitarian aid, Secretary of State Rex Tillerson said late Wednesday. In a statement issued as he departed for Europe, where he will join President Trump in Germany on Thursday, Tillerson said that the United States and Russia have successfully cooperated in establishing deconfliction areas in Syria to avoid contact between their air operations. Trump plans to meet Friday with Russian President Vladi­mir Putin outside a Group of 20 summit that both are attending in Hamburg. Tillerson's statement appeared designed to set an agenda for that meeting, framing the discussion in ways that the White House has declined to do in ­public."
Why almost every state is partially or fully rebuffing Trump's election commission, The Washington Post, Mark Berman and John Wagner, Wednesday, 5 July 2017: "Officials in nearly every state say they cannot or will not turn over all of the voter data President Trump's voting commission is seeking, dealing what could be a serious blow to Trump's attempts to bolster his claims that widespread fraud cost him the popular vote in November. The commission's request for a massive amount of state-level data last week included asking for all publicly available information about voter rolls in the states, such as names of all registrants, addresses, dates of birth, partial Social Security numbers and other data. It immediately encountered criticism and opposition, with some saying it could lead to an invasion of privacy and others worrying about voter suppression. The states that won't provide all of their voter data grew to a group of at least 44 by Wednesday, including some, such as California and Virginia, that said they would provide nothing to the commission. Others said they are hindered by state laws governing what voter information can be made public but will provide what they can. Pushback has swept across red and blue states alike, drawing in Democratic critics of the president and Republicans uneasy about a broad federal request they suggest intrudes on states' rights. That sentiment has been notable for including Republicans such as Arizona Secretary of State Michele Reagan, who called the commission's request a 'hastily organized experiment,' and Louisiana Secretary of State Tom Schedler, who described it as 'federal intrusion and overreach.'"
Investigators explore if Russia colluded with pro-Trump websites during the US election, The Guardian, Julian Borger, Wednesday, 5 July 2017: "The spread of Russian-made fake news stories aimed at discrediting Hillary Clinton on social media is emerging as an important line of inquiry in multiple investigations into possible collusion between the Trump campaign and Moscow. Investigators are looking into whether Trump supporters and far-right websites coordinated with Moscow over the release of fake news, including stories implicating Clinton in murder or paedophilia, or paid to boost those stories on Facebook. The head of the Trump digital camp, Brad Parscale, has reportedly been summoned to appear before the House intelligence committee looking into Moscow's interference in the 2016 US election. Mark Warner, the top Democrat on the Senate intelligence committee carrying out a parallel inquiry, has said that at least 1,000 'paid internet trolls working out of a facility in Russia' were pumping anti-Clinton fake news into social media sites during the campaign. Warner said there was evidence that this campaign appeared to be focused on key voters in swing states, raising the question over whether there was coordination with US political operatives in directing the flow of bogus stories."
White House gender pay gap more than triples under Trump, The Washington Post, Christopher Ingraham, Wednesday, 5 July 2017: "The pay gap between male and female White House staffers has more than tripled in the first year of the Trump administration, according to an analysis by economist Mark Perry of the American Enterprise Institute, a conservative think tank. The median female White House employee is drawing a salary of $72,650 in 2017, compared to the median male salary of $115,000. 'The typical female staffer in Trump's White House earns 63.2 cents per $1 earned by a typical male staffer,' Perry writes. The 37 percent gender pay gap in President Trump's White House is more than double the 17 percent gender pay gap nationally. According to the Pew Research center, the Trump White House gender gap is wider than the national gender pay gap stood in 1980."
Detained Immigrant Children Are Entitled to Hearings, Ninth Circuit Court of Appeals Rules, The New York Times, Miriam Jordan, Wednesday, 5 July 2017: "Undocumented immigrant children detained by federal authorities are entitled to hearings to determine whether they should remain confined, a federal appeals court ruled on Wednesday. A three-judge panel of the United States Court of Appeals for the Ninth Circuit, in San Francisco, ruled that immigration authorities must abide by a 1997 legal settlement that established a policy for the detention, release and treatment of minors in immigration custody. That agreement, named the Flores settlement after the teenage girl who brought the original case, stipulated that a child in deportation proceedings be afforded a bond hearing before an immigration judge. The federal government had argued that Congress passed laws in 2002 and 2008 that abrogated the settlement, terminating the minors' right to a bond hearing. The Ninth Circuit panel disagreed, saying that neither law abolished the bond-hearing requirement for unaccompanied minors. 'Rather, the statutes leave ample room for immigration judges to conduct bond hearings for these children,' Judge Stephen Reinhardt wrote for the court. 'In the absence of such hearings, these children are held in bureaucratic limbo, left to rely upon the agency's alleged benevolence and opaque decision making,' he said in a 40-page decision, which noted evidence submitted by the plaintiffs that minors were held for months, and even years, without hearings to review the basis for detention."
The Television Network (CNN) Against Trump, The New York Times, Michael M. Grynbaum, Wednesday, 5 July 2017: "It is rare that a single news organization attracts the level of ire mustered by President Trump, who over the weekend posted on Twitter a video that portrayed him wrestling a figure with the logo of CNN for a head. But the president's denunciations — in stinging tweets and slashing speeches, in phrases like 'fraud news' and 'garbage journalism' — have far outstripped his criticisms of other prominent news outlets, like The New York Times or The Washington Post. And his attacks have spawned a cottage industry of Trump supporters who have declared a digital war of sorts against CNN, including gotcha videos of network employees and threatening messages sent to anchors' cellphones. The onslaught has contributed to a foxhole-like mentality inside CNN's offices, where security measures have been tightened and some hosts have considered abandoning their social media accounts because of abuse. Other employees, like Chris Cuomo, co-anchor of the morning show 'New Day,' insist that the scrutiny has only galvanized them further…. White House advisers have discussed a potential point of leverage over their adversary, a senior administration official said: a pending merger between CNN's parent company, Time Warner, and AT&T. Mr. Trump's Justice Department will decide whether to approve the merger, and while analysts say there is little to stop the deal from moving forward, the president's animus toward CNN remains a wild card."
Hangman's Noose, Symbol of Racial Animus, Keeps Cropping Up, The New York Times, Sheryl Gay Stolberg and Caitlin Dickerson, Wednesday, 5 July 2017: "It was the beginning of the night shift last Wednesday at the United States Mint in Philadelphia, a secure facility that manufactures money, when a white male coin maker strode across the factory floor to the workstation of an African-American colleague. He was carrying a piece of rope. The rope had an official purpose: to seal coin bags once they were full. But the worker, who operates the machinery used to make coins, instead looped and twisted it into a hangman's noose, according to Rhonda Sapp, president of the Mint workers' union. She was soon deluged with calls and text messages from outraged employees. The episode, which has not previously been reported, was confirmed by a spokeswoman for the Treasury Department with a statement saying that the agency has 'absolutely zero tolerance' for such hateful displays and that authorities were investigating. It is the latest in a series of reports this year involving nooses — especially in the nation's capital — that point to the return of the hangman's rope as a potent expression of racial animus. Nooses, long a powerful symbol of bigotry and hatred directed at African-Americans, have been found hanging from a tree outside the Hirshhorn Museum on the National Mall; in a gallery at the National Museum of African American History and Culture; outside an elementary school; and on the campus of American University, where bananas with hateful messages were found hanging from nooses on the same day that the first black woman was set to assume the presidency of the university's Student Government Association."
Thursday, 6 July 2017, Day 168:
Trump warns of 'severe' consequences for North Korea as Russia and China balk at tough U.S. talk, The Washington Post, Damian Paletta and Emily Rauhala, Thursday, 6 July 2017: "President Trump on Thursday stepped up efforts to blunt North Korea, warning that the rogue nation could face 'some pretty severe' consequences over its latest missile test and huddling for more than an hour with the leaders of Japan and South Korea. But even as Trump sought to use his proximity to world leaders ahead of the Group of 20 summit here to rally allies, the White House faced firm opposition from Russia and China over any retaliatory measures on Pyongyang. Asked by a reporter at a photo op whether he had lost faith in Beijing, Trump replied: 'Never give up.' But he did not respond to a follow-up question about whether he has been disappointed in China's inability to constrain North Korean ruler Kim Jong Un. Earlier in the day, during a news conference in Warsaw before his arrival in Germany, Trump called North Korea's successful test of an intercontinental ballistic missile 'very, very bad behavior.' 'Something will have to be done about it,' he said, though he did not offer details about what responses his administration was considering. The Trump administration's effort to forge consensus among members of the U.N. Security Council appears to have hit a wall, given the opposition in Moscow and Beijing to additional economic sanctions or potential U.S. military actions against Pyongyang. New sanctions would have little effect unless backed by China, which is North Korea's financial lifeline.
Western values are increasingly endangered by terrorism and extremism, Trump Warns Europe, The Washington Post, Abby Phillip, John Wagner, and Michael Brinbaum, Thursday, 6 July 2017: "President Trump on Thursday reaffirmed the United States' bond with European allies, calling their pact as 'strong as ever.' Yet he argued in a speech here that Western values are increasingly imperiled by terrorism and extremism. In a dark and provocative address with nationalist overtones, Trump said that 'the fundamental question of our time is whether the West has the will to survive.' 'Do we have the confidence in our values to defend them at any cost?' Trump said. 'Do we have enough respect for our citizens to protect our borders? Do we have the desire and the courage to preserve our civilization in the face of those who would subvert and destroy it?'… Trump's praise of [Poland's] defense spending underscored his disdain for Germany's more modest expenditures. Poland's right-wing government has been in conflict with Merkel and many other leaders in the European Union, who have criticized its crackdown on press freedoms and erosion of democracy since leaders came to power in 2015. Trump, however, offered no mention of Polish democracy concerns, unlike President Barack Obama's visit to Warsaw for a NATO summit almost exactly a year ago. Trump joined with Polish President Andrzej Duda in hammering the media." See also, Trump is the first U.S. president to visit Warsaw without visiting the Warsaw Ghetto since 1989, The Washington Post, Adam Taylor, Thursday, 6 July 2017: "Speaking at a famous monument to the 1944 Warsaw uprising on Thursday, President Trump spoke of some of the horrors experienced by the country's Jewish population during the 20th century, making direct reference not only to the Holocaust but also the Warsaw Ghetto and the 1943 Warsaw Ghetto Uprising specifically. 'A vibrant Jewish population — the largest in Europe — was reduced to almost nothing after the Nazis systematically murdered millions of Poland's Jewish citizens, along with countless others, during that brutal occupation,' Trump said during his speech at Krasinski Square. However, while he acknowledged the horrors of the Warsaw Ghetto's history, Trump also made his own history during his trip to Poland — becoming the first U.S. president to visit the Polish capital and not visit the site of the Warsaw Ghetto since the fall of Communism. In a statement released Wednesday, Jewish community leaders expressed regret that the U.S. president would not be visiting the Monument to the Ghetto Heroes." See also, Trump, in Poland, Asks if the West Has the 'Will to Survive,' The New York Times, Glenn Thrush and Julie Hirschfeld Davis, Thursday, 6 July 2017: "President Trump said on Thursday that Western civilization was at risk of decline, bringing a message about 'radical Islamic terrorism' and 'the creep of government bureaucracy' to a European capital he views as hospitable to his nationalist message. Mr. Trump, who broke with tradition by attacking American leaders and his country's intelligence services while abroad, delivered his message in a speech to a friendly Polish crowd before a two-day summit meeting of Group of 20 leaders in Hamburg, Germany…. Mr. Trump roused his Polish hosts by recounting the country's history of resistance to invaders, including Nazi Germany and the Soviet Union. But he said nothing about the right-wing government's crackdown on judges and journalists and its refusal to accept more migrants, policies that have upset European Union leaders. He instead praised Poland as a defender of liberty in the face of existential threats…. Pressed at a news conference earlier in the day about Russian interference in the American election, he said that 'nobody really knows' if other countries were involved. He blamed President Barack Obama for not responding publicly after learning about reports of possible election meddling last summer."… And Mr. Trump moved to reassure Poland and other allies fretful about Russia's aggression, making a full-throated endorsement of the collective defense principle that undergirds NATO, something he was unwilling to do during his first trip to Europe as president in May. 'The United States has demonstrated not merely with words but with its actions that we stand firmly behind Article 5, the mutual defense commitment,' Mr. Trump said. But he also said he was not entirely convinced that Russia was solely responsible for interference in the 2016 election, breaking with American intelligence agencies, which have agreed that the efforts emanated from Moscow and were directed by Mr. Putin. 'I think it was Russia, and it could have been other people in other countries,' Mr. Trump said when asked for a yes-or-no answer to the question about Russian meddling. 'Nobody really knows for sure.'"
Trump voter commission to store data on White House computers under Pence staff direction, The Washington Post, Spencer S. Hsu, Thursday, 6 July 2017: "The Trump administration announced plans to keep voter roll data it has requested from all 50 states and the District on White House computers under the direction of a member of Vice President Pence's staff, it told a federal judge Thursday. The disclosure of the White House role came in a government filing required in a lawsuit by the Electronic Privacy Information Center, a watchdog organization that has asked a federal judge in Washington to block the requests for voter data until the impact on Americans' privacy can be fully assessed. A decision on the request for a temporary restraining order by U.S. District Judge Colleen Kollar-Kotelly is expected as early as Friday afternoon. The commission's request for voting information has caused a nationwide uproar."
Trump Misleads on Russian Meddling in the U.S. Presidential Election: Why 17 Intelligence Agencies Don't Need to Agree, The New York Times, Matthew Rosenberg, Thursday, 6 July 2017: "President Trump said on Thursday that only 'three or four' of the United States' 17 intelligence agencies had concluded that Russia interfered in the presidential election — a statement that while technically accurate, is misleading and suggests widespread dissent among American intelligence agencies when none has emerged. The 'three or four' agencies referred to by Mr. Trump are the Central Intelligence Agency, the National Security Agency, the F.B.I. and the Office of the Director of National Intelligence, all of which determined that Russia interfered in the election. Their work was compiled into a report, and a declassified version was released on Jan. 6 by the director of national intelligence. It said that all four agencies had 'high confidence' that Russian spies had tried to interfere in the election on the orders of President Vladimir V. Putin. The reason the views of only those four intelligence agencies, not all 17, were included in the assessment is simple: They were the ones tracking and analyzing the Russian campaign. The rest were doing other work. The intelligence community is a sprawling enterprise that includes military officers who track enemy troop movements, accountants who analyze the finances of Islamist militants and engineers who design spy satellites. There are soldiers, sailors and Marines; tens of thousands of civilian government employees and tens of thousands of private contractors. Asked about Russia's election meddling during a news conference on Thursday in Poland, Mr. Trump repeated his familiar refrain that 'it could' have been Russia or other countries that interfered in the election, and then appeared to suggest that there was hardly an intelligence community consensus on the matter. 'Let me just start off by saying I heard it was 17 agencies,' he said when asked about the intelligence assessment. 'I said, "Boy, that's a lot." Do we even have that many intelligence agencies, right? Let's check it. And we did some very heavy research,' Mr. Trump continued. 'It turned out to be three or four — it wasn't 17 — and many of your compatriots had to change their reporting, and they had to apologize, and they had to correct.' Mr. Trump was also correct about inaccurate news reports. Some, including an article in The New York Times, incorrectly reported that all 17 American intelligence agencies had endorsed the assessment. But there is no evidence that significant uncertainty or dissent exists across the intelligence community, simply because not all 17 were involved in the assessment of Russian interference. [What follows] is what you need to know about American intelligence agencies and what they do."
U.S. Government Ethics Chief Walter M. Shaub Will Resign, Casting Uncertainty Over the Office of Government Ethics, The New York Times, Nicholas Fandos, Thursday, 6 July 2017: "Walter M. Shaub Jr., the government's top ethics watchdog, who has repeatedly gone head-to-head with the Trump administration over conflicts of interest, said on Thursday that he was calling it quits. Mr. Shaub's five-year term as the director of the Office of Government Ethics is not set to expire until January, but with little chance of renewal and an appealing offer in hand from a nonpartisan advocacy group, he said the time was right to leave. 'There isn't much more I could accomplish at the Office of Government Ethics, given the current situation,' Mr. Shaub said in an interview on Thursday. 'O.G.E.'s recent experiences have made it clear that the ethics program needs to be strengthened.'" See also, Federal ethics chief Walter M. Shaub, who clashed with Trump, announces he will step down, The Washington Post, Rosalind S. Helderman and Matea Gold, Thursday, 6 July 2017: "The director of the independent Office of Government Ethics, who has been the federal government's most persistent critic of the Trump administration's approach to ethics, announced Thursday that he is resigning nearly six months before his term is scheduled to end. Walter M. Shaub Jr. repeatedly challenged the Trump administration, publicly urging President Trump to fully divest from his business empire and chastising a senior Trump adviser for violating ethics rules. His outspokenness drew the ire of administration officials and earned him near-cult status among Trump's opponents. Fans started a Facebook page in his honor, and his name has occasionally appeared on posters at anti-Trump protests. Shaub made no reference to those clashes in a resignation letter he posted Thursday indicating he will step down July 19. Instead, he praised the work of federal ethics officials, pointedly noting their commitment to 'protecting the principle that public service is a public trust, requiring employees to place loyalty to the Constitution, the laws, and ethical principles above private gain.'"
U.S. District Judge Derrick K. Watson rejects Hawaii's bid to exempt grandparents from Trump's travel ban, The Washington Post, Matt Zapotosky, Thursday, 6 July 2017: "Grandparents and other extended relatives of people in the United States are not exempt from President Trump's travel ban, a federal judge effectively decided Thursday as he denied a bid to curtail enforcement of the executive order meant to keep out citizens of six Muslim-majority countries. U.S. District Judge Derrick K. Watson wrote that he would not 'usurp the prerogative of the Supreme Court,' and if those suing over the ban wanted relief, they should take their claims there. That means the government, at least for now, can use the travel ban to block citizens of the affected countries if they are the grandparents, grandchildren, aunts, uncles, nieces, nephews, cousins, brothers-in-law or sisters-in-law of people in the United States. Officials can also block refugees with a formal assurance from a resettlement agency. The administration had wanted to keep such people out, and thought a recent Supreme Court ruling partially lifting lower courts' freezes on the travel ban allowed them to do so. But those who had sued over the ban disagreed, and they asked Watson to intervene — which he declined to do."
Attorneys general in 19 states sue Education Secretary Betsy DeVos over delay of rule to protect students from predatory colleges, The Washington Post, Danelle Douglas-Gabriel, Thursday, 6 July 2017: "A group of 19 state attorneys general is suing Education Secretary Betsy DeVos for delaying an overhaul of rules to erase the federal student debt of borrowers defrauded by colleges. 'With no notice, with no opportunity for comment … the DeVos team is trying to cancel this rule,' Massachusetts Attorney General Maura Healey, who is leading the lawsuit, said on a call with reporters Thursday. 'It is important that we take action where we see activity by the federal government, Secretary DeVos and the Department of Education, that is unsustainable, unfair and illegal.' The complaint, filed in U.S. District Court on Thursday, accuses the Education Department of violating federal law by halting updates to a regulation known as the borrower defense to repayment. The rule, which dates to the 1990s, wipes away federal loans for students whose colleges used illegal or deceptive tactics to get them to borrow money to attend. The Obama administration revised it last year to simplify the claims process and shift more of the cost of discharging loans onto schools. Before the changes could take effect July 1, DeVos suspended them last month and said she would convene a new rulemaking committee to rewrite the borrower defense regulation, reviving a process that took nearly two years to complete. Proponents of the revised rule were livid that DeVos made a unilateral decision without soliciting or receiving input from stakeholders or the public."
Interior Secretary Ryan Zinke pledges to streamline oil and gas permits, The Denver Post, The Associated Press, Thursday, 6 July 2017: "President Donald Trump's efforts to increase U.S. energy production got a boost Thursday from Interior Secretary Ryan Zinke, who pledged to streamline permitting for oil and gas drilling and hold more frequent sales of drilling rights on federal lands. Zinke signed an order calling for faster and more efficient oil and gas permitting to clear a backlog of federal drilling permits in U.S. Bureau of Land Management offices out West."
California Governor Jerry Brown Announces a Climate Summit Meeting in California, The New York Times, Lisa Friedman, Thursday, 6 July 2017: "Gov. Jerry Brown of California on Thursday reinforced his reputation as America's de facto leader on climate change, announcing to cheering crowds in Hamburg, Germany that his state would gather leaders from around the world for a global warming summit next year. Speaking by videoconference to the Global Citizens Festival in Hamburg, where President Donald Trump is joining other world leaders for the Group of 20 economic summit, Governor Brown said the president 'doesn't speak for the rest of America' in pulling out of the Paris agreement on climate change. 'Look, it's up to you and it's up to me and tens of millions of other people to get it together to roll back the forces of carbonization and join together to combat the existential threat of climate change. That is why we're having the Climate Action Summit in San Francisco, September 2018,' Governor Brown told the crowd. 'Yes, I know President Trump is trying to get out of the Paris agreement, but he doesn't speak for the rest of America,' he said. 'We in California and in states all across America believe it's time to act.' Mr. Trump declared in June that the United States would withdraw from the 2015 pact, in which nearly 200 nations pledged to curb greenhouse gas emissions and support poor countries' plans to develop clean energy and protections against climate-related disasters."