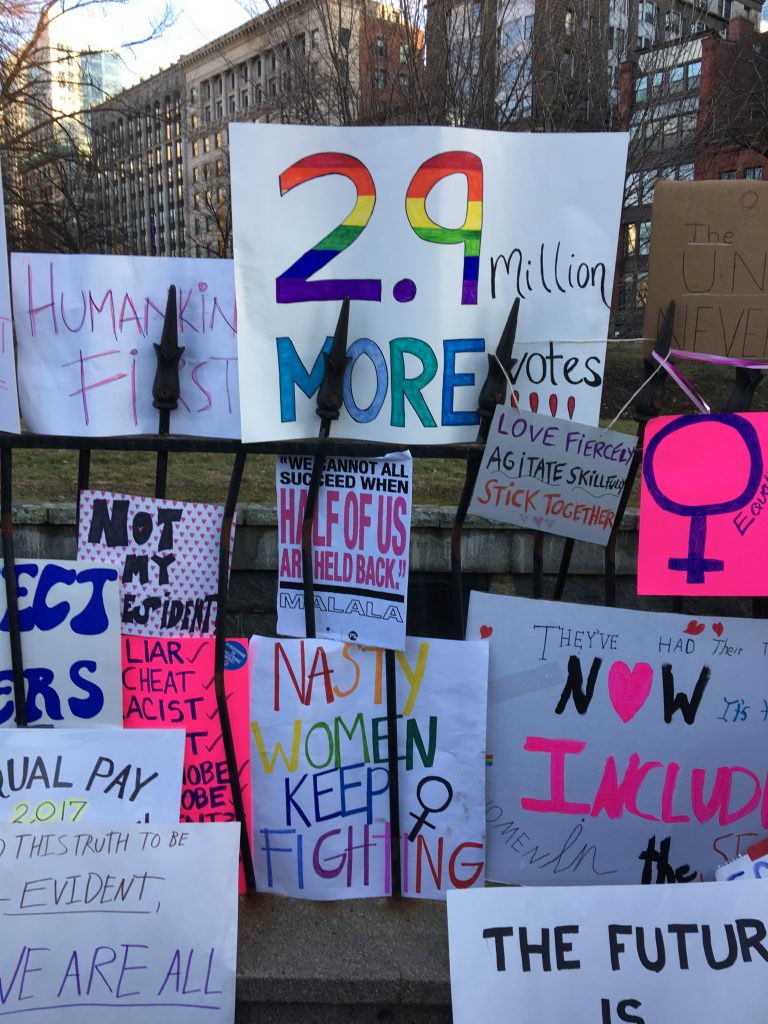 Keeping Track (of some things), Staying Outraged (it is possible), and Resisting (it's essential)
Passages in bold in the body of the texts below are my emphasis. This is an ongoing project, and I update the site frequently. I hope readers will peruse the articles in full for a better understanding of the issues and their context; our democracy and our future depend on citizens who can distinguish between facts and falsehoods and who are engaged in the political process.
Friday, 23 June 2017, Day 155:
Obama's secret struggle to punish Russia for Putin's election assault, The Washington Post, Greg Miller, Ellen Nakashima, and Adam Entous, Friday, 23 June 2017: "Early last August, an envelope with extraordinary handling restrictions arrived at the White House. Sent by courier from the CIA, it carried 'eyes only' instructions that its contents be shown to just four people: President Barack Obama and three senior aides. Inside was an intelligence bombshell, a report drawn from sourcing deep inside the Russian government that detailed Russian President Vladi­mir Putin's direct involvement in a cyber campaign to disrupt and discredit the U.S. presidential race. But it went further. The intelligence captured Putin's specific instructions on the operation's audacious objectives — defeat or at least damage the Democratic nominee, Hillary Clinton, and help elect her opponent, Donald Trump. At that point, the outlines of the Russian assault on the U.S. election were increasingly apparent. Hackers with ties to Russian intelligence services had been rummaging through Democratic Party computer networks, as well as some Republican systems, for more than a year. In July, the FBI had opened an investigation of contacts between Russian officials and Trump associates. And on July 22, nearly 20,000 emails stolen from the Democratic National Committee were dumped online by WikiLeaks. But at the highest levels of government, among those responsible for managing the crisis, the first moment of true foreboding about Russia's intentions arrived with that CIA intelligence. The material was so sensitive that CIA Director John Brennan kept it out of the President's Daily Brief, concerned that even that restricted report's distribution was too broad. The CIA package came with instructions that it be returned immediately after it was read. To guard against leaks, subsequent meetings in the Situation Room followed the same protocols as planning sessions for the Osama bin Laden raid…. This account of the Obama administration's response to Russia's interference is based on interviews with more than three dozen current and former U.S. officials in senior positions in government, including at the White House, the State, Defense and Homeland Security departments, and U.S. intelligence services. Most agreed to speak only on the condition of anonymity, citing the sensitivity of the issue. The White House, the CIA, the FBI, the National Security Agency and the Office of the Director of National Intelligence declined to comment."
The emerging timeline of Obama and Russia that is giving Democrats heartburn, The Washington Post, Amber Phillips, Friday, 23 June 2017: "The Washington Post is reporting Friday morning that President Barack Obama knew in August that Russian President Vladimir Putin was waging an extraordinary cyberwar on the U.S. presidential campaign, both to discredit the election and try to help Donald Trump win. The Obama administration did not publicly acknowledge all of this until after the election, in December. In the last few months of the election campaign, behind the scenes — and sometimes publicly — Democrats  in Congress were extremely critical of the president for not telling the public about what was happening. Top members of the Obama administration have since defended that decision as the best of bad choices. Former homeland security secretary Jeh Johnson told Congress earlier this week: 'We were concerned that, by making the statement, we might in and of itself be challenging the integrity of the — of the election process itself.' So what really happened? [This article presents] a timeline of how the Obama administration responded to the Russian meddling — and how he was criticized for it."
Planned Parenthood Battle Could Sway Fortunes of Republican Health Bill, The New York Times, Avantika Chilkoti, Friday, 23 June 2017: "As the Senate barrels toward a vote next week to sever all federal support for Planned Parenthood, the 100-year-old organization is mobilizing furiously to bring down the Republicans' broader legislation to repeal the Affordable Care Act before it reaches President Trump's desk. The fight over one provision — to cut off funding to Planned Parenthood for a single year — may be tangential to the wider war over the American health care system. But with the Senate so narrowly divided, Mr. Trump's vow to repeal President Barack Obama's signature domestic achievement could rest on the hot-button issue of abortion. Republicans can afford to lose only two votes when the final tally comes as soon as Thursday. Moderate Republican senators such as Susan Collins of Maine and Lisa Murkowski of Alaska have expressed deep misgivings over the Planned Parenthood provision, which would deprive the organization of more than 40 percent of its funding, jeopardizing health care for women in states like theirs. But restoring Medicaid reimbursements to the women's health organization could cost just as many votes on the right."
Continue reading Week 23, Friday, 23 June – Thursday, 29 June 2017:
The Health Care Bill Debate Reveals What the Democratic and the Republican Parties Care About Most, The New York Times, Neil Irwin, Friday, 23 June 2017: "Economists believe what people do more than what they say. It's called revealed preference: People's actions are the best indication of what they actually want, not their words. The same applies to political parties. This is plain to see in the Senate health care bill, which would eliminate large parts of President Barack Obama's health care overhaul. More so than speeches and slogans ever could, the content of the Affordable Care Act and the Better Care Reconciliation Act, or Obamacare and Trumpcare, reveal the different values of the two parties. It's hard to imagine a clearer statement of priorities than the competing approaches to health care in the United States. In short, Democrats are focused on trying to maximize the number of people who have decent health insurance, and are willing to accept whatever tax increases and arrangements with health insurers and other private interests are needed to make that happen. They seek the broadest possible availability of health care, whatever the cost and political trade-offs it takes to achieve it. Republicans are focused on trying to minimize taxes, especially on investment income, and keeping federal subsidies for health care to a minimum. They are willing to accept the wrenching consequences that attaining those goals might have for Americans' insurance coverage…."
How Medicaid Works, and Who It Covers, The New York Times, Abby Goodnough and Kate Zernike, Friday, 23 June 2017: "One of the biggest flash points in the debate over Republican legislation to repeal and replace the Affordable Care Act is the future of Medicaid. [This article contains] some basic facts about the 52-year-old program."
Trump Indicates His Tweet on Tapes Was Meant to Affect James Comey's Testimony, The New York Times, Maggie Haberman, Friday, 23 June 2017: "President Trump appeared to acknowledge on Friday in an interview that his tweet hinting of taped conversations with James B. Comey was intended to influence the fired F.B.I. director's testimony before Congress, and he emphasized that he committed 'no obstruction' of the inquiries into whether his campaign colluded with Russia. The interview, with 'Fox & Friends,' was shown one day after the president tweeted what most people in Washington had already come to believe: that he had not made recordings of his conversations with Mr. Comey. Instead, the president explained in the television interview, his tweets were referring to the possibility that anyone could have taped those discussions. 'I've been reading about it for the last couple of months about the seriousness of the horribleness of the situation with surveillance all over the place,' the president said in the interview. 'So you never know what's out there, but I didn't tape, and I don't have any tape and I didn't tape.' When the Fox interviewer suggested that the possible existence of recordings might make sure Mr. Comey 'stayed honest in those hearings,' Mr. Trump paused before responding, 'Well, it wasn't very stupid, I can tell you that.' Referring to Mr. Comey, the president said that 'when he found out that I, you know, that there may be tapes out there whether it's governmental tapes or anything else and who knows, I think his story may have changed.' Mr. Trump appeared to be referring to his statements over the months, which Mr. Comey confirmed in his testimony, that the then-F.B.I. director had told the president that he was not under investigation…. The president also raised questions about the impartiality of Robert S. Mueller III, the former F.B.I. director who was named special counsel for the Russia investigation after Mr. Comey was fired. 'He's very, very good friends with Comey, which is very bothersome,' Mr. Trump said. Mr. Trump repeatedly refused to say whether he believed Mr. Mueller would have to recuse himself from the inquiry. The president is said to have railed in private about Mr. Mueller to aides and has said he wants to leave open the option of firing him." See also, Trump congratulates himself for influencing Comey's testimony with White House tapes ruse, The Washington Post, Aaron Blake, Friday, 23 June 2017: "President Trump gave his first interview in more than a month on Thursday, and the result — airing Friday morning on Fox News — included Trump congratulating himself for his suggestion that there might be tapes of his conversations with former FBI Director James B. Comey. What's interesting here is that this isn't the official White House position. White House spokeswoman Sarah Huckabee Sanders denied Thursday that Trump's six-week-old tweet about possible tapes was meant to threaten or influence Comey. But then Trump, as he often does (most notably when he suggested to NBC that he fired Comey because of the Russia investigation), just went out and basically said it himself." This article contains the full interview between Fox's Ainsley Earhardt, Trump and first lady Melania Trump, along with notes and analysis.
Trump administration backs Texas's harsh new ban on sanctuary cities, The Washington Post, Maria Sacchetti, Friday, 23 June 2017: "Attorney General Jeff Sessions said Friday that the Trump administration 'fully supports' Texas's harsh new ban on sanctuary cities, and the Department of Justice will help defend it against a federal court challenge next week. Lawyers for the tiny border city of El Cenizo, the League of United Latin American Citizens and major cities such as Dallas and Austin say the law requiring them to detain immigrants for federal deportation agents is 'patently unconstitutional' for a number of reasons. On Monday, they will urge U.S. District Court Judge Orlando Garcia in San Antonio to block the law from taking effect Sept. 1. The state of Texas argues that the government is within its rights to bar localities from interfering with immigration enforcement. Under the law, officials could lose their jobs, police chiefs could go to jail, and governments could face fines of up to $25,500 a day if they adopt or enforce policies that prevent law enforcement officers from asking about a person's immigration status or complying with requests to detain immigrants, a job that has been chiefly the responsibility of federal agents."
White House Correspondents Are Unhappy With Limits on News Briefings, The New York Times, Michael M. Grynbaum, Friday, 23 June 2017: "The White House news briefing, after emerging as a can't-miss ritual of the early days of the Trump administration, has in recent weeks become shorter, less informative and less accessible, with some of the briefings declared off-limits to live broadcasting. Those whose job it is to cover the White House are not pleased. 'We believe strongly that Americans should be able to watch and listen to senior government officials face questions from an independent news media,' the White House Correspondents' Association president, Jeff Mason of Reuters, wrote in a memo to members on Friday. 'We are not satisfied with the current state of play, and we will work hard to change it.' Hours later, it was clear that any negotiations remained a work in progress. For the third time this week, the White House prohibited news organizations from showing the briefing, which has traditionally been televised, and requested that audio recordings be withheld from broadcast until after the question-and-answer session concluded. The major television networks acquiesced, although not without some grumbling. CNN, which has emerged as a particularly vocal critic of the no-broadcast rules, went so far as to send a courtroom sketch artist to the briefing room, who scratched out an illustration of the White House press secretary, Sean Spicer, addressing reporters."
Editor's Note, CNN Politics, Friday, 23 June 2017: "On June 22, 2017, CNN.com published a story connecting Anthony Scaramucci with investigations into the Russian Direct Investment Fund. That story did not meet CNN's editorial standards and has been retracted. Links to the story have been disabled. CNN apologizes to Mr. Scaramucci." See also, CNN's Russia story retraction and the danger of relying on one anonymous source, The Washington Post, Kristine Phillips, published on Tuesday, 27 June 2017: "Just a day after publishing an exclusive story, CNN found itself in a position no news organization wants to be in. It reported last Thursday that the Senate Intelligence Committee was investigating a Russian investment fund whose head met with an official of President Trump's transition team four days before the inauguration. The story, which relied on one unnamed source, prompted questions about its validity, including from the transition team official, Anthony Scaramucci, who said on Twitter that he had done nothing wrong. CNN issued a retraction late Friday night, saying the story "did not meet CNN's editorial standards and has been retracted." By Monday, three journalists involved in the story, the reporter and two editors, had resigned, The Washington Post reported. The retraction, which comes at a time of unprecedented anonymous leaks and significant public distrust of the media, renews questions about the use of confidential informants. The Post spoke with Andrew Seaman, ethics committee chair of the Society of Professional Journalists and a health reporter for Reuters, about anonymous sources, specifically the practice of relying on just one in stories that try to expose wrongdoing by government officials. He discusses when a single anonymous source is acceptable and when it's not, what questions journalists should ask before granting anonymity, and how Bob Woodward and Carl Bernstein needed more than just Deep Throat."
Demands by Saudi-led Arab states for Qatar include shuttering Al Jazeera, The Washington Post, Kareem Fahim, Friday, 23 June 2017: "New tensions erupted Friday in a feud between Qatar and a group of Arab nations led by Saudi Arabia after the leak of an onerous list of demands to be met by Qatar, including the shuttering of its popular Al Jazeera news channel.  Saudi Arabia, the United Arab Emirates, Egypt and Bahrain severed relations with Qatar this month, portraying the action as stemming from Qatar's support for extremist groups. The increasingly poisonous rift has split much of the region, elicited confused responses from the United States — a close ally to every party in the dispute — and revealed divides within the Trump administration.  A list of demands by the Saudi-led bloc — first revealed by the Associated Press on Friday — included requirements that Qatar scale back its diplomatic relations with Iran, close down a Turkish military base in Qatar and sever ties with "terrorist organizations," including the Muslim Brotherhood, the Islamic State militant group and Lebanon's Hezbollah. Some of the 13 demands addressed long-standing concerns over Qatari support for extremist groups in Syria, Libya and elsewhere. But others, including a vague requirement that Qatar pay compensation for its 'policies' and shut down all news outlets the country operates, appeared designed to punish Qatar for its independence from the Saudi-led bloc."
Europe and Japan Are Near a Trade Deal as U.S. Takes a Protectionist Path, The New York Times, Hiroko Tabuchi and Jack Ewing, Friday, 23 June 2017: "The European Union and Japan are close to sealing one of the largest trade agreements ever, a deal that could further isolate the United States as President Trump forges a protectionist path. The deal, which brings together two giants encompassing a quarter of the world's economy, would be a potent symbol of free trade during a time of populist backlash over globalization. The agreement would give both parties better access to core industries like cars and machinery, while laying down new rules for resolving investment disputes and removing structural barriers to trade, according to a partial draft of the agreement obtained by The New York Times. The deal, which is expected to be signed in the coming weeks, also reaffirms the two powers' commitment to the Paris climate accord, abandoned by the Trump administration this month."
Trump's Lies, the Definitive List, The New York Times, David Leonhardt and Stuart A. Thompson, Friday, 23 June 2017: "Many Americans have become accustomed to Trump's lies. But as regular as they have become, the country should not allow itself to become numb to them. So we have catalogued nearly every outright lie he has told publicly since taking the oath of office."
Saturday, 24 June 2017, Day 156:
Medicaid Cuts May Force Retirees Out of Nursing Homes, The New York Times, Jordan Rau, Saturday, 24 June 2017: "Medicaid pays for most of the 1.4 million people in nursing homes…. It covers 20 percent of all Americans and 40 percent of poor adults. On Thursday, Senate Republicans joined their House colleagues in proposing steep cuts to Medicaid, part of the effort to repeal the Affordable Care Act. Conservatives hope to roll back what they see as an expanding and costly entitlement. But little has been said about what would happen to older Americans in nursing homes if the cuts took effect. Under federal law, state Medicaid programs are required to cover nursing home care. But state officials decide how much to pay facilities, and states under budgetary pressure could decrease the amount they are willing to pay or restrict eligibility for coverage."
Trump lashes out at Obama over latest report on Russia election meddling, The Washington Post, Avi Selk and Amy B. Wang, Saturday, 24 June 2017: "President Trump on Saturday called out Obama administration officials for not taking stronger actions against Russian meddling in the 2016 U.S. election, contradicting his past statements and suggesting without proof that they were trying to help Democratic presidential candidate Hillary Clinton. His tweets came after The Post revealed Friday that the Obama White House had received reports as early as August 2016 regarding Russian President Vladimir Putin's direct involvement in the cyber campaign with instructions to defeat or damage Clinton and help to elect Trump, according to 'sourcing deep inside the Russian government.' The Obama administration would not publicly say Russia was attempting to interfere with the election until Oct. 7, and the news of Putin's attempts to aid Trump would not surface until after the election. Trump has long disputed that the Russians interfered with the election, calling it 'all a big Dem HOAX' just this week. But on Friday evening, after the publication of The Post's article, Trump demanded to know why Obama hadn't done more to stop the meddling. He followed up with more tweets on Saturday, attempting to put the focus on Obama's inaction."
Sunday, 25 June 2017, Day 157:
Trump's Deflections and Denials on Russia Frustrate Even His Allies, The New York Times, Maggie Haberman, Sunday, 25 June 2017: "In the span of 72 hours, President Trump described the email hacking that roiled the 2016 campaign as a Democratic 'hoax' and as clear aggression by Russia that his predecessor, President Barack Obama, failed to address. Other times, Mr. Trump has said the hacking might have been done by China. Or, as he claimed during the first general election debate, the hacking could have been the work of a lone wolf weighing 400 pounds, sitting on his bed at home. Then there was the time Mr. Trump blamed 'some guy in his home in New Jersey.' Or, as Mr. Trump has also suggested, there might not even have been hacking at all. On Saturday, Mr. Trump tried again to focus attention on Mr. Obama. 'Since the Obama Administration was told way before the 2016 Election that the Russians were meddling, why no action?' Mr. Trump wrote on Twitter. 'Focus on them, not T!' He followed that up with: 'Obama Administration official said they "choked" when it came to acting on Russian meddling of election. They didn't want to hurt Hillary?' Government officials, members of Congress from both parties and even some Trump supporters had hoped that, with the campaign behind him, Mr. Trump would finally speak declaratively about the email hacking and recognize the threat Russian cyberattacks present, without asterisks, wisecracks, caveats or obfuscation. That hope has dissipated. The latest presidential tweets were proof to dismayed members of Mr. Trump's party that he still refuses to acknowledge a basic fact agreed upon by 17 American intelligence agencies that he now oversees: Russia orchestrated the attacks, and did it to help get him elected…. Correction, 29 June 2017: "A White House Memo article on Monday about President Trump's deflections and denials about Russia referred incorrectly to the source of an intelligence assessment that said Russia orchestrated hacking attacks during last year's presidential election. The assessment was made by four intelligence agencies — the Office of the Director of National Intelligence, the Central Intelligence Agency, the Federal Bureau of Investigation and the National Security Agency. The assessment was not approved by all 17 organizations in the American intelligence community." See also, White House blames Obama for failing to stop Russia collusion, The Washington Post, Ashley Parker, Sunday, 25 June 2017.
Kushner firm's $285 million Deutsche Bank loan came just before Election Day, The Washington Post, Michael Kranish, Sunday, 25 June 2017: "One month before Election Day, Jared Kushner's real estate company finalized a $285 million loan as part of a refinancing package for its property near Times Square in Manhattan. The loan came at a critical moment. Kushner was playing a key role in the presidential campaign of his father-in-law, Donald Trump. The lender, Deutsche Bank, was negotiating to settle a federal mortgage fraud case and charges from New York state regulators that it aided a possible Russian money-laundering scheme. The cases were settled in December and January. Now, Kushner's association with Deutsche Bank is among a number of financial matters that could come under focus as his business activities are reviewed by special counsel Robert S. Mueller III, who is examining Kushner as part of a broader investigation into possible Russian influence in the election. The October deal illustrates the extent to which Kushner was balancing roles as a top adviser to Trump and a real estate company executive. After the election, Kushner juggled duties for the Trump transition team and his corporation as he prepared to move to the White House. The Washington Post has reported that investigators are probing Kushner's separate December meetings with the Russian ambassador to the United States, Sergey Kislyak, and with Russian banker Sergey Gorkov, the head of Vnesheconombank, a state development bank."
Trump political arm, America First Policies, tells Republicans to get in line or they will be opposed, Politico, Alex Isenstadt, Sunday, 25 June 2017: "A new campaign by top White House allies targeting the GOP's most vulnerable senator over health care sends a loud message to those resistant to the Trump agenda: We're coming after you. America First Policies, a White House-backed outside group led by the president's top campaign advisers, has launched a $1 million attack against Sen. Dean Heller of Nevada, who on Friday announced that he opposed the Senate's recently unveiled Obamacare repeal plan. That included a Twitter and digital ad campaign targeting the senator, including a video that accuses him of 'standing with' House Minority Leader Nancy Pelosi, a reviled figure in conservative circles. 'Unacceptable,' the video says. 'If you're opposed to this bill, we're opposed to you.'… The effort is aimed at both punishing [Republican] Senator Dean Heller and at swaying his vote, and it is a stunning act of political retaliation against a member of  [Trump's] own party."
Where Trump Zigs, Secretary of State Rex Tillerson Zags, Putting Him at Odds With the White House, The New York Times, David E. Sanger, Gardiner Harris, and Mark Landler, Sunday, 25 June 2017: "When Rex W. Tillerson, the former chief executive of Exxon Mobil, arrived in Washington five months ago to become the secretary of state, his boosters said he brought two valuable assets to a job that had usually gone to someone steeped in government and diplomacy: a long history managing a global company, and deep relationships from the Middle East to Russia that enabled him to close deals. But his first opportunity to use that experience — as a behind-the-scenes mediator in the dispute between Qatar and Saudi Arabia — has put Mr. Tillerson in exactly the place a secretary of state does not want to be: in public disagreement with the president who appointed him. Mr. Tillerson tried to position himself as an intermediary and sought for all sides to put their demands on the table. But President Trump openly sided with the Saudis, first on Twitter, then again at a news conference. Mr. Trump called Qatar a 'funder of terrorism at a very high level' just as the State Department was questioning whether the Saudis were using the terrorism charge to cover for 'long-simmering grievances' between the Arab nations. Some in the White House say that the discord in the Qatar dispute is part of a broader struggle over who is in charge of Middle East policy — Mr. Tillerson or Jared Kushner, the president's son-in-law and a senior adviser — and that the secretary of state has a tin ear about the political realities of the Trump administration. Others say it is merely symptomatic of a dysfunctional State Department that, under Mr. Tillerson's uncertain leadership, does not yet have in place the senior political appointees who make the wheels of diplomacy turn."
Michael Bloomberg's Next Anti-Washington Move: $200 Million Program for Mayors, The New York Times, Alexander Burns, Sunday, 25 June 2017: "Michael R. Bloomberg will throw his financial might into helping beleaguered American mayors, creating a $200 million philanthropic program aimed at backing inventive policies at the city level and giving mayors a stronger hand in national politics. Mr. Bloomberg intends to announce the initiative on Monday in a speech to the United States Conference of Mayors in Miami Beach, where he will castigate federal officials and state governments around the country for undermining cities. He plans to describe the program, called the American Cities Initiative, as a method of shoring up the global influence of the United States despite turmoil in Washington. A wealthy former mayor of New York who seriously explored running for president in 2016 as an independent, Mr. Bloomberg, 75, has embraced a public role since the election as a kind of elite-level organizer against certain policies of the Trump administration. In an interview, Mr. Bloomberg said his city-focused initiative would serve in part as an extension of his advocacy for national policies that address climate change, gun violence, public health and immigration. That largely liberal agenda is aligned with the growing aspirations of big-city mayors, who are mainly Democrats and who have vowed to check conservative mandates emerging from Washington by using their power at the local level."
Monday, 26 June 2017, Day 158:
Supreme Court Will Hear Travel Ban Case, and Allows Parts to Go Ahead, The New York Times, Michael D. Shear and Adam Liptak, Monday, 26 June 2017: "The Supreme Court on Monday cleared the way for President Trump to prohibit the entry of some people into the United States from countries he deems dangerous, but the justices imposed strict limits on Mr. Trump's travel ban while the court examines the scope of presidential power over the border. Mr. Trump quickly hailed the court's decision to hear arguments on the travel ban cases in October, saying — in a formal White House statement, not a tweet — that the court's decision to temporarily lift some of the legal roadblocks to his ban was a 'clear victory' for national security. 'As president, I cannot allow people into our country who want to do us harm,' Mr. Trump wrote, calling his efforts to limit entry into the country a 'suspension' instead of a ban. 'I want people who can love the United States and all of its citizens, and who will be hardworking and productive.' But those challenging the travel ban said the court's opinion would protect the vast majority of people seeking to enter the United States to visit a relative, accept a job, attend a university or deliver a speech. The court said the travel ban could not be imposed on anyone who had 'a credible claim of a bona fide relationship with a person or entity in the United States. 'Karen Tumlin, legal director of the National Immigration Law Center, said advocates for refugees and other immigrants would urge the justices this fall to lift the president's travel ban for everyone seeking to come to the United States. 'We think it's repugnant to our values that they might be treated differently because of where they are from or how they choose to pray,' Ms. Tumlin told reporters. The court's opinion sets up a historic legal clash this fall in which the justices will weigh the president's power to set national security priorities against the need to protect individuals from discrimination based on their religious beliefs or national origin. In saying they will take the case, the court partly endorsed the administration's view that the president has vast powers to control who crosses the border. The court said the president's powers to limit immigration 'are undoubtedly at their peak when there is no tie between the foreign national and the United States.'" See also, Supreme Court allows limited version of Trump's travel ban to take effect and will consider the case in the fall, The Washington Post, Robert Barnes and Matt Zapotosky, Monday, 25 June 2017. See also, Questions and Answers About the Travel Ban Case, The New York Times, Michael D. Shear, Monday, 26 June 2017.
Senate Republican Health Bill Will Leave 22 Million More Uninsured by 2026, the Nonpartisan Congressional Budget Office Says, The New York Times, Thomas Kaplan and Robert Pear, Monday, 26 June 2017: "The Senate bill to repeal the Affordable Care Act would increase the number of people without health insurance by 22 million by 2026, a figure that is only slightly lower than the 23 million more uninsured that the House version would create, the nonpartisan Congressional Budget Office said Monday. Next year, 15 million more people would be uninsured compared with current law, the budget office said. The legislation would decrease federal deficits by a total of $321 billion over a decade, the budget office said." See also, Congressional Budget Office Says the Senate Republican health-care bill will leave 22 million more people uninsured by 2026, The Washington Post, Amy Goldstein and Kelsey Snell, Monday, 26 June 2017.
How the Senate's Health-Care Bill Threatens the Nation's Health, The New Yorker, Atul Gawande, Monday, 26 June 2017: "[T]he Senate reform bill, like the bill that House Republicans passed earlier this year, would hollow out or terminate coverage for tens of millions of Americans who rely on Medicaid or the private-insurance exchanges set up by the A.C.A. These bills are, in many ways, Medicaid-repeal bills masquerading as Obamacare-repeal bills. And Medicaid, remember, is not a program that the public is complaining about. It is immensely popular and works well. It provides coverage for sixty per cent of disabled children, and maternity coverage for half of pregnant women. Two-thirds of nursing-home residents end up relying on Medicaid coverage after their savings are spent. Among adult Medicaid recipients, sixty per cent work, and eighty per cent are part of working families…. The Senate bill would also ultimately make people who buy insurance on the A.C.A. exchanges—people without coverage from an employer or from Medicaid—pay far more money for far worse coverage, especially if they are age fifty or older…. The result: the median deductible would jump from the current five hundred dollars to more than six thousand dollars. The annual premium for a sixty-year-old earning fifty thousand dollars in my home town of Athens, Ohio, would triple, to fourteen thousand dollars. In many parts of the country, things would be much worse… The trade-offs here are indefensible. The bill would take a trillion dollars away from health coverage for the bottom fifty per cent of the population to give a tax cut to the top two per cent. The Center on Budget and Policy Priorities did the math: one consequence of the legislation is that three-quarters of a million people would be thrown off of the Medicaid rolls to give the four hundred highest earners in the country a thirty-three-billion-dollar tax cut. The bill would put thousands of nursing homes, clinics, and hospitals into financial trouble. And for patients it would mean more medical debts, more untreated sickness, and more deaths. A basic test of government is its ability to prevent large-scale harm to its citizens' health and survival. This bill, and this Administration, are failing that test."
American Medical Association, the Nation's Largest Doctors' Group, Slams Republican Health Care Bill, Mother Jones, Patrick Caldwell, Monday, 26 June 2017: "The largest association of doctors in the country released a blistering statement Monday blasting Senate Republicans' bill to repeal Obamacare. 'Medicine has long operated under the precept of Primum non nocere, or  'first, do no harm,"' reads the letter sent by American Medical Association to Senate Majority Leader Mitch McConnell (R-Ky.) and Minority Leader Chuck Schumer (D-N.Y.). 'The draft legislation violates that standard on many levels.' The AMA's letter is particularly scathing when it comes to the GOP's efforts to reduce Medicaid spending by imposing cap on federal spending. 'The Senate proposal to artificially limit the growth of Medicaid expenditures below even the rate of medical inflation threatens to limit states' ability to address the health care needs of their most vulnerable citizens,' the letter says. 'It would be a serious mistake to lock into place another arbitrary and unsustainable formula that will be extremely difficult and costly to fix.'"
Trump, on Twitter, Targets Obama and Russia, The New York Times, Glenn Thrush, Monday, 26 June 2017: "President Trump sought to deflect questions about Russian meddling in the 2016 election onto Barack Obama on Monday while his spokesman again refused to say whether Mr. Trump accepted intelligence findings that Moscow had worked secretly to get him elected president. In a series of four rapid-fire early-morning posts on Twitter, Mr. Trump continued on a theme he first sounded last week that drew on a Washington Post story about his predecessor's slow response to the Russian hacking threat last summer and fall. 'The reason that President Obama did NOTHING about Russia after being notified by the CIA of meddling is that he expected Clinton would win,' the president said on Twitter. Completing the thought in his next tweet, Mr. Trump said: '…and did not want to "rock the boat." He didn't "choke," he colluded or obstructed, and it did the Dems and Crooked Hillary no good.' Mr. Obama has said that in a private meeting with President Vladimir V. Putin of Russia last fall, he confronted Mr. Putin about the hacking, and told him 'to cut it out, there were going to be serious consequences if he did not,' but that he had been reluctant to say anything publicly that would be perceived as affecting the presidential election. Mr. Trump's criticism of Mr. Obama for his handling of the Russian hacking, both in his recent tweets and in a TV interview over the weekend, seemed to be a tacit admission, for the first time, that Russia did attempt to undermine Hillary Clinton through hacking and the dissemination of fake news on social media."
FBI has questioned Trump campaign adviser Carter Page at length in Russia probe, The Washington Post, Devlin Barrett, Monday, 26 June 2017: "FBI agents have repeatedly questioned former Trump campaign adviser Carter Page about his contacts with Russians and his interactions with the Trump campaign, according to people familiar with the investigation. Over a series of five meetings in March, totaling about 10 hours of questioning, Page repeatedly denied wrongdoing when asked about allegations that he may have acted as a kind of go-between for Russia and the Trump campaign, according to a person familiar with Page's account. The interviews with the FBI are the most extensive known questioning of a potential suspect in the probe of possible Russian connections to associates of President Trump. The questioning of Page came more than a month before the Russian investigation was put under the direction of Special Counsel Robert S. Mueller III. Page confirmed Monday that the interviews occurred, calling them 'extensive discussions.' He declined to say if he's spoken to investigators since the March interviews."
Jared Kushner, Trump's Son-in-Law and Adviser, Adds Prominent Lawyer Abbe Lowell to His Defense Team, The New York Times, Matt Apuzzo, Monday, 26 June 2017: "Jared Kushner, President Trump's son-in-law and adviser, has added to his legal team one of the nation's most prominent trial lawyers, Abbe D. Lowell, his lawyers said on Monday. Mr. Kushner was already represented by Jamie S. Gorelick, a former deputy attorney general who is known for steering clients — often behind the scenes — through complicated Washington investigations. Mr. Lowell is a trial lawyer who has represented figures from both parties in high-profile cases. His clients have included the former Democratic vice-presidential nominee John Edwards and the disgraced former Republican lobbyist Jack Abramoff. He is currently defending Senator Robert Menendez, Democrat of New Jersey, against federal corruption charges. The Justice Department special counsel, Robert S. Mueller III, is investigating whether any of Mr. Trump's advisers worked with the Russian government to meddle in the 2016 presidential election. As one part of that broad inquiry, Mr. Mueller is scrutinizing Mr. Kushner's actions, particularly his meetings with the Russian ambassador and a Russian banker. But there is no evidence that Mr. Kushner is the target of an investigation. Mr. Kushner has pledged to cooperate. Mr. Lowell's hiring was set in motion with Mr. Mueller's appointment. He and Ms. Gorelick worked at the same firm, WilmerHale."
The Koch Network Will Spend Millions Backing Conservative Agenda as Concerns With Trump Linger, BuzzFeed News, Tarini Parti, Monday, 26 June 2017: "Six months into President Trump's administration, hundreds of the wealthiest Republican donors — most of whom have had a fraught relationship with the president — are trying to push the chaotic White House in a more focused, conservative direction. They're getting ready to spend hundreds of millions of dollars to make it happen, and are already plotting to protect any vulnerable congressional Republican willing to help their agenda get signed into law. Donors to the sprawling political network affiliated with billionaire industrialists Charles and David Koch see the next 10–12 months as a prime opportunity to enact the conservative policies they have advocated for decades, with a GOP-controlled Congress and White House finally in place. Overall, the Koch network, which did not back Trump in 2016, plans to shell out close to $400 million on politics and policy in the 2018 election cycle — the most it has ever spent, countering those questioning the group's relevance in the age of Trump. With that money, the network is gearing up to target 10 Democratic senators in states that Trump won, and to protect Arizona Sen. Jeff Flake, who attended the event, and Nevada Sen. Dean Heller, officials told donors during a strategy session. A significant amount would also go toward helping vulnerable House Republicans in 23 districts that Hillary Clinton won, as well as Republican governors in several states who will be crucial to redistricting efforts in 2020."
Supreme Court Rules That States Must Aid Some Church Programs, The New York Times, Adam Liptak, Monday, 26 June 2017: "The Supreme Court ruled on Monday that states must sometimes provide aid to religious groups even when their state constitutions call for a strict separation of church and state. The decision concerned a state program to make playgrounds safer that excluded those affiliated with churches, and it had implications for all kinds of government aid to religious institutions. The vote was 7 to 2, though some of the justices in the majority differed about how broadly the court should have ruled."
Supreme Court decides to take case of Jack Phillips, a Colorado baker who refused to sell wedding cake to a gay couple, The Washington Post, Robert Barnes, Monday, 26 June 2017: "The Supreme Court announced Monday that it will consider whether a Denver baker acted lawfully in refusing to sell a wedding cake to a gay couple, setting up a major test next term weighing religious freedom against discrimination based on sexual orientation. Lower courts had ruled that Jack Phillips, the owner of Masterpiece Cakeshop, had violated Colorado's public accommodations law, which prohibits refusing service to customers based on factors such as race, sex, marital status or sexual orientation…. The decision to grant the case came as a surprise, because the court first considered it last September. It was continually relisted for further discussion at the private conferences at which the justices decide which cases to take. That indicates that Phillips's request that the court take the case was bolstered by the addition of Justice Neil M. Gorsuch, who has displayed a deeply conservative streak since joining the court in April. The case will be heard in the term that begins next October."
The Environmental Protection Agency's Chief of Staff, Ryan Jackson, Pressured the Top Scientist on the Agency's Scientific Review Board, Deborah Swackhamer, to Alter Her Congressional Testimony and to Play Down the Dismissal of Expert Advisers, The New York Times, Coral Davenport, Monday, 26 June 2017: "The Environmental Protection Agency's chief of staff pressured the top scientist on the agency's scientific review board to alter her congressional testimony and play down the dismissal of expert advisers, his emails show. Deborah Swackhamer, an environmental chemist who leads the E.P.A.'s Board of Scientific Counselors, was to testify on May 23 before the House Science Committee on the role of states in environmental policy when Ryan Jackson, the E.P.A.'s chief of staff, asked her to stick to the agency's 'talking points' on the dismissals of several members of the scientific board. 'I was stunned that he was pushing me to "correct" something in my testimony,' said Dr. Swackhamer, a retired University of Minnesota professor. 'I was factual, and he was not. I felt bullied.' Dr. Swackhamer's testimony came two weeks after the dismissals, which were met with fierce pushback from a scientific community that saw it as evidence that the Trump administration is seeking to weaken the role of academic science in environmental policy."
Donald Trump abandons traditional White House Ramadan celebration, The Guardian, Elle Hunt and David Smith, Monday, 26 June 2017: "Donald Trump has been criticised for not hosting an iftar dinner during Ramadan, breaking a nearly 20-year tradition. Despite events held by previous administrations from across the political divide, this year's Ramadan – which began on 26 May – passed nearly unobserved by the White House. It was marked only by a statement published late on Saturday afternoon, coinciding with the end of the holy month."
3 CNN staffers resign over retracted Scaramucci-Russia story, Politico, Hadas Gold, Monday, 26 June 2017: "Three CNN staffers have resigned following the publication and subsequent retraction of a story linking a Trump transition team member to the Russia-related investigations. The piece, published late last week, cited an anonymous source saying the Senate Intelligence Committee was looking into the chief executive of a $10-billion Russian investment fund who met with financier Anthony Scaramucci before the inauguration. The report also said that two Democratic senators wanted to know whether Scaramucci had indicated in the meeting whether sanctions against Russia would be lifted, a decision that could impact the investment fund. Out are: The reporter, Pulitzer-Prize nominee Thomas Frank; assistant managing editor Eric Lichtblau (who recently joined from the New York Times and is a Pulitzer winner himself); and Lex Haris, the executive editor in charge of investigations." See also, Three CNN employees resign over retracted story on Russia ties, The Washington Post, Erik Wemple, Monday, 26 June 2017.
Tuesday, 27 June 2017, Day 159:
Vote Delayed as Republicans Struggle to Marshal Support for Health Care Bill, The New York Times, Jennifer Steinhauer and Thomas Kaplan, Tuesday, 27 June 2017: "Facing intransigent Republican opposition, Senator Mitch McConnell of Kentucky, the Republican leader, announced on Tuesday that he will delay a vote on his legislation to repeal the Affordable Care Act, dealing President Trump an embarrassing setback on a key part of his agenda. Republican leaders had hoped to take a page from the playbook used to get a bill over the line in the House, appeasing the most conservative members of their conference while pressuring moderates to fall in line with fewer concessions. But as opposition mounted in both camps, even against a vote just to take up the bill, Mr. McConnell decided he would delay consideration until after the Senate's weeklong July 4 recess." See also, Trump and Senate leaders attempt to regroup after postponing vote to overhaul Obamacare, The Washington Post, Sean Sullivan, Kelsey Snell, and Juliet Eilperin, Tuesday, 27 June 2017.
How Governors From Both Parties Plotted to Derail the Senate Republican Health Bill, The New York Times, Alexander Burns, Tuesday, 27 June 2017: "A once-quiet effort by governors to block the full repeal of the Affordable Care Act reached its climax in Washington on Tuesday, as state executives from both parties — who have conspired privately for months — mounted an all-out attack on the Senate's embattled health care legislation hours before Republicans postponed a vote. At the center of the effort has been a pair of low-key moderates: Gov. John R. Kasich, Republican of Ohio, and Gov. John W. Hickenlooper, Democrat of Colorado, who on Tuesday morning called on the Senate to reject the Republican bill and to negotiate a bipartisan alternative. Just before Senate Republicans delayed a vote on the bill, Mr. Kasich denounced his own party's legislation in biting terms, saying it would victimize the poor and mentally ill, and redirect tax money 'to people who are already very wealthy.'… The mounting criticism from governors, including sharp denunciations from within President Trump's party, helped stymie Republican efforts to marshal support in the Senate, and may have led, in a roundabout way, to the stalling of the measure this week. More than half a dozen Republican governors, including several from states with Republican senators, expressed either grave reservations or outright opposition to the bill, while Democrats have been unanimous in their disapproval. Though their preferences on health policy diverge in many ways, state leaders from both parties were alarmed at the potential for harm to their constituents, state budgets and insurance markets."
Trump attorney Jay Sekulow's family has been paid millions from charities they control, The Washington Post, Aaron C. Davis and Shawn Boburg, Tuesday, 27 June 2017: "President Trump's personal attorney Jay Sekulow was on his weekday radio show earlier this month, defending the president vociferously, when he took a pause to highlight a charity that has brought Sekulow and his family millions of dollars. 'Let me take off the hat of the president's lawyer and put on the ACLJ hat,' he said, using the acronym for the American Center for Law and Justice. His June 16 program then cut to a plea for donations from audience members listening on 850 stations nationwide. 'Now, more than ever,' a narrator said, 'you need the ACLJ on your side.' The segment illustrates how Sekulow, the most visible member of the legal team defending Trump in the investigation into Russian meddling in the 2016 U.S. presidential election, is poised to capitalize on his new role. Before Trump hired him, Sekulow had built a powerful charity empire, leading a team of ACLJ attorneys who jump into high-profile court battles over such hot-button conservative issues as religious liberties and abortion. The ACLJ promotes its work zealously, noting that its representation is free of charge and dependent on the donations of supporters. That brought in nearly $230 million in charitable donations from 2011 to 2015 — and millions of those dollars ended up going to the members of the Sekulow family or their companies, a Washington Post analysis of IRS tax filings and business records in five states and the District found." See also, Trump lawyer's firm steered millions in donations to family members, files show, The Guardian, Jon Swaine, Tuesday, 27 June 2017.
Former Trump Campaign chairman Paul Manafort files as foreign agent for Ukraine work, The Washington Post, Tom Hamburger and Rosalind S. Helderman, Tuesday, 27 June 2017: "A consulting firm led by Paul Manafort, who chaired Donald Trump's presidential campaign for several months last year, retroactively filed forms Tuesday showing that his firm received $17.1 million over two years from a political party that dominated Ukraine before its leader fled to Russia in 2014. Manafort disclosed the total payments his firm received between 2012 and 2014 in a Foreign Agents Registration Act filing late Tuesday that was submitted to the U.S. Justice Department. The report makes Manafort the second former senior Trump adviser to acknowledge the need to disclose work for foreign interests. Manafort is one of a number of Trump associates whose campaign activities are being scrutinized by Special Counsel Robert Mueller as part of a probe of Russian interference in the 2016 presidential election. Mueller's team has been consolidating inquiries into matters unrelated to the election." See also, The Firm of Former Trump Campaign Chairman Paul Manafort Received $17 Million From Pro-Russia Party in Ukraine, The New York Times, Nicholas Confessore, Mike McIntire, and Barry Meier, Tuesday, 27 June 2017.
Senator Elizabeth Warren (D-MA) Tries to Win Back Voters in Trump Country and Backs Single Payer Health-Care Coverage, The Wall Street Journal, Reid J. Epstein, Tuesday, 27 June 2017: "Ms. Warren says her immediate focus is on fighting the Republican health-care legislation and mounting her 2018 re-election campaign. But she hasn't been shy about seeking to pull fellow Democrats and those running in next year's midterm elections to the left. Blocking the GOP rollback of provisions in the Affordable Care Act, Ms. Warren said, is not enough. She said Democrats on the ballot in the next two federal elections should back a national single-payer health-care plan. 'President Obama tried to move us forward with health-care coverage by using a conservative model that came from one of the conservative think tanks that had been advanced by a Republican governor in Massachusetts,' she said during an interview in her Senate office last week. 'Now it's time for the next step. And the next step is single payer.'"
Environmental Protection Agency Administrator Scott Pruitt Met With Dow CEO Before Deciding on Pesticide Ban, The New York Times, The Associated Press, Tuesday, 27 June 2017: "The Trump administration's top environmental official met privately with the chief executive of Dow Chemical shortly before reversing his agency's push to ban a widely used pesticide after health studies showed it can harm children's brains, according to records obtained by The Associated Press. Environmental Protection Agency Administrator Scott Pruitt's schedule shows he met with Dow CEO Andrew Liveris on March 9 for about a half hour at a Houston hotel. Both men were featured speakers at an energy industry conference. Twenty days later Pruitt announced his decision to deny a petition to ban Dow's chlorpyrifos pesticide from being sprayed on food, despite a review by his agency's scientists that concluded ingesting even minuscule amounts of the chemical can interfere with the brain development of fetuses and infants."
Trump administration to propose repealing rule giving the Environmental Protection Agency broad authority over water pollution, The Washington Post, Steven Mufson and Juliet Eilperin, Tuesday, 27 June 2017: "President Trump's administration will revoke a rule that gives the Environmental Protection Agency broad authority over regulating the pollution of wetlands and tributaries that run into the nation's largest rivers, EPA Administrator Scott Pruitt said Tuesday. Testifying before Congress, Pruitt — who earlier said he would recuse himself from working on active litigation related to the rule — said that the agency would 'provide clarity' by 'withdrawing' the rule and reverting standards to those adopted in 2008. Pruitt, as Oklahoma attorney general, had sued EPA over the regulation, saying it 'usurps' state authority, 'unlawfully broadens' the definition of waters of the United States and imposes 'numerous and costly obligations' on landowners. A withdrawal was expected, based on the executive order Trump signed in February targeting the rule. But this is the first clear signal of how the EPA will act on the president's order. The current rule, known as Waters of the United States (WOTUS), unambiguously gives EPA and the Army Corps of Engineers authority that many think the agencies already possessed under the Clean Water Act. The 1972 law gave the agencies control over navigable rivers and interstate waterways, but a series of court rulings left the extent of that power ambiguous. The Obama administration sought to end a decade of confusion by finalizing the WOTUS rule, which took effect in August 2015, triggering protests from a variety of real estate development, agricultural and industrial interests." See also, Environmental Protection Agency Moves to Rescind Contested Water Pollution Regulation, The New York Times, Coral Davenport, Tuesday, 27 June 2017.
On Capitol Hill, Environmental Protection Agency administrator Scott Pruitt gets an earful about Trump's 'downright offensive' budget plan from both Democratic and Republican lawmakers, The Washington Post, Brady Dennis, Tuesday, 27 June 2017: "Another trip to Capitol Hill for Environmental Protection Agency Administrator Scott Pruitt, another reminder that lawmakers from both parties have no intention of approving the deep cuts President Trump is seeking at the agency. Pruitt heard a familiar sentiment Tuesday from both Republican and Democratic members of a Senate Appropriations Committee — that a proposed 31 percent cut to EPA isn't going to happen, and that shuttering key programs and laying off thousands of employees conflicts with the Trump administration's stated goals about safeguarding the nation's air and water."
Democratic Senators Condemn Betsy DeVos' Record on Civil Rights, ProPublica, Annie Waldman, Tuesday, 27 June 2017: "In a letter sent today, more than 30 Democratic senators rebuked Education Secretary Betsy DeVos for scaling back civil rights enforcement at the Department of Education. 'You claim to support civil rights and oppose discrimination, but your actions belie your assurances,' wrote the senators, who said that the secretary's recent moves to curtail civil rights efforts heightened their longstanding concerns about her commitment to protecting students from discrimination and harassment. As ProPublica has reported, the Department of Education quietly laid out plans to scale back investigations into civil rights complaints in an internal staff memo earlier this month."
Democratic senators call for the removal of William C. Bradford, Energy official who called WWII internment of Japanese Americans 'necessary,' The Washington Post, Dino Grandoni, Tuesday, 27 June 2017: "On Monday, a group of Democratic senators joined a chorus of others calling for the removal of an Energy Department head who last year tweeted that the internment of Japanese Americans during World War II was 'necessary.' Last week, The Washington Post reported that William C. Bradford, director of the Office of Indian Energy, had sent a series of disturbing messages from a now deleted Twitter account over the past year and a half before being hired by the Energy Department. The tweets included ones calling former president Barack Obama a 'Kenyan creampuff' and Facebook co-founder Mark Zuckerberg a 'little arrogant self-hating Jew.' But the tweet that has generated the most ire, and the loudest calls for his termination, was sent around the anniversary of President Franklin D. Roosevelt's 1942 order authorizing the incarceration of Japanese Americans months after Japan bombed Pearl Harbor. 'It was necessary,' Bradford wrote in February 2016 of the World War II internment program."
A Time magazine with Trump on the cover hangs in his golf clubs. It's fake. The Washington Post, David A. Fahrenthold, Tuesday, 27 June 2017: "The framed copy of Time magazine was hung up in at least five of President Trump's clubs, from South Florida to Scotland. Filling the entire cover was a photo of Donald Trump. 'Donald Trump: The "Apprentice" is a television smash!' the big headline said. Above the Time nameplate, there was another headline in all caps: 'TRUMP IS HITTING ON ALL FRONTS . . . EVEN TV!' This cover — dated March 1, 2009 — looks like an impressive memento from Trump's pre-presidential career. To club members eating lunch, or golfers waiting for a pro-shop purchase, it seemed to be a signal that Trump had always been a man who mattered. Even when he was just a reality TV star, Trump was the kind of star who got a cover story in Time. But that wasn't true. The Time cover is a fake. There was no March 1, 2009, issue of Time magazine. And there was no issue at all in 2009 that had Trump on the cover…. At 5 p.m. Tuesday, a spokeswoman for Time said that the magazine had asked the Trump Organization to remove the phony cover from the walls where it was on display."
Wednesday, 28 June 2017, Day 160:
Trump's Nominee for General Counsel of the Transportation Department, Steven G. Bradbury, Wrote the Bush-Era Torture Memos and Is Scrutinized by the Senate Commerce, Science, and Transportation Committee, The New York Times, Charlie Savage, 28 June 2017: "President Trump's nominee for general counsel of the Transportation Department, Steven G. Bradbury, is coming under fire by Democrats and human rights advocates for his role in providing legal blessing for waterboarding and other torture techniques used by the Central Intelligence Agency on terrorism suspects during the administration of George W. Bush. Amid interruptions by anti-torture protesters at his confirmation hearing on Wednesday before the Senate Commerce, Science and Transportation Committee, Democrats grilled Mr. Bradbury about interrogation memos he wrote as head of the Justice Department's Office of Legal Counsel during Mr. Bush's second term. 'You lacked the judgment to stand up and say what is morally right when pressured by the president of the United States, and I'm afraid you would do so again,' said Senator Tammy Duckworth, Democrat of Illinois, who wagged her finger at Mr. Bradbury and accused him of having a dangerous 'rubber stamp' mentality. 'I cannot oppose this nomination strongly enough. 'Mr. Bradbury argued that his job at the Office of Legal Counsel, which is often called O.L.C., was to sort through murky legal issues and that he did not advocate particular policies. He also stressed that the legal landscape was different at the time because Congress had not yet enacted a law requiring intelligence agency interrogators to obey the same rules the military follows."
Stepsister, Yes; Grandma, No: U.S. Sets Guidelines for Revised Travel Ban, The New York Times, Gardiner Harris and Ron Nixon, Wednesday, 28 June 2017: "Stepsiblings and half-siblings are allowed, but not nieces or nephews. Sons- and daughters-in-law are in, but brothers- and sisters-in-law are not. Parents, including in-laws, are considered 'close family,' but grandparents are not. The State Department issued new guidelines Wednesday night to American embassies and consulates on applying a limited travel ban against foreign visitors from six predominantly Muslim countries. Enforcement of the guidelines will begin at 8 p.m. Eastern on Thursday. The guidelines followed the Supreme Court's decision on Monday to allow parts of the Trump administration's revised travel ban to move forward, while also imposing certain limits, as the court prepares to hear arguments in October on the scope of presidential power over border security and immigration. The court said the ban could not be imposed on anyone who had 'a credible claim of a bona fide relationship with a person or entity in the United States.' The meaning of 'bona fide relationship' was not precisely explained, and the phrase has created much uncertainty for migrants and others seeking to travel to the United States from the six countries — Iran, Libya, Somalia, Sudan, Syria and Yemen — covered by the revised travel ban that President Trump issued in March. (An earlier version of the ban included Iraq.) The Trump administration has now made the definition explicit. According to a diplomatic cable obtained by The New York Times, 'close family' is 'defined as a parent (including parent-in-law), spouse, child, adult son or daughter, son-in-law, daughter-in-law, sibling, whether whole or half. This includes step relationships.' But it went on to state that 'close family' does not include 'grandparents, grandchildren, aunts, uncles, nieces, nephews, cousins, brothers-in-law and sisters-in-law, fiancés and any other "extended" family members.'"
Trump Interrupts Call With the Prime Minister of Ireland to Compliment Female Reporter's 'Nice Smile,' The New York Times, Christopher Mele, Wednesday, 28 June 2017: "President Trump was at his desk in the Oval Office and on the phone with the new prime minister of Ireland on Tuesday when a journalist for an Irish news organization caught his eye. 'Well, we have a lot of your Irish press watching us,' Mr. Trump said to the prime minister, Leo Varadkar, as several reporters looked on. Then, interrupting his conversation with Mr. Varadkar, Mr. Trump pointed at the journalist, Caitriona Perry, and gestured for her to come to him. 'And where are you from?' he said. 'Go ahead. Come here, come here. Where are you from? We have all of this beautiful Irish press.' The exchange, which was captured on video and widely shared on social media, drew criticism about how Mr. Trump treats women and the message it sent about the attitude toward women as professionals in their fields…. Kris Macomber, an assistant professor of sociology at Meredith College in Raleigh, N.C., said in an email that Mr. Trump's comments reflect 'textbook paternalistic sexism,' which is often couched in a "playful" tone, as if she should feel flattered.'"
Passengers Flying Into U.S. From Foreign Airports to Face More Scrutiny, but Laptops Will Be Allowed, The New York Times, Ron Nixon, Wednesday, 29 June 2017:Passengers flying to the United States from foreign airports will undergo more rigorous screening of their baggage and electronic devices, but they will be allowed to bring laptops and tablets onto planes in their carry-on bags, the Department of Homeland Security announced on Wednesday. After months of discussions with aviation officials in Europe about banning large electronic devices, homeland security officials ultimately abandoned the idea in favor of more robust screening measures. In March, the department imposed a limited ban barring passengers traveling through airports in 10 Muslim-majority countries from carrying devices larger than cellphones aboard direct inbound flights. Now, agency officials said, the ban on those airlines will be lifted if they carry out the new security measures. The officials, during a background briefing with reporters, did not elaborate on what the new intensive measures would include other than more bomb-sniffing dogs and new scanning equipment. Officials also said they would seek to expand the preclearance program, where United States customs officers at foreign airports check photo IDs and travel documents before allowing passengers to board planes for the United States."
Thursday, 29 June 2017, Day 161:
Republican Operative Peter W. Smith Sought Clinton Emails From Hackers and Implied He Had a Connection to Michael Flynn, The Wall Street Journal, Shane Harris, Thursday, 29 June 2017: "Before the 2016 presidential election, a longtime Republican opposition researcher mounted an independent campaign to obtain emails he believed were stolen from Hillary Clinton's private server, likely by Russian hackers. In conversations with members of his circle and with others he tried to recruit to help him, the GOP operative, Peter W. Smith, implied he was working with retired Lt. Gen. Mike Flynn, at the time a senior adviser to then-candidate Donald Trump. 'He said, "I'm talking to Michael Flynn about this—if you find anything, can you let me know?"' said Eric York, a computer-security expert from Atlanta who searched hacker forums on Mr. Smith's behalf for people who might have access to the emails. Emails written by Mr. Smith and one of his associates show that his small group considered Mr. Flynn and his consulting company, Flynn Intel Group, to be allies in their quest. What role, if any, Mr. Flynn may have played in Mr. Smith's project is unclear. In an interview with The Wall Street Journal, Mr. Smith said he knew Mr. Flynn, but he never stated that Mr. Flynn was involved. Mr. Flynn didn't respond to requests for comment. A Trump campaign official said that Mr. Smith didn't work for the campaign, and that if Mr. Flynn coordinated with him in any way, it would have been in his capacity as a private individual. The White House declined to comment."
Trump's voter-fraud commission wants to know voting history, party ID and address of every voter in the U.S., The Washington Post, Christopher Ingraham, Thursday, 29 June 2017: "The chair of President Trump's Election Integrity Commission has penned a letter to all 50 states requesting their full voter-roll data, including the name, address, date of birth, party affiliation, last four Social Security number digits and voting history back to 2006 of potentially every voter in the state. In the letter, a copy of which was made public by the Connecticut secretary of state, the commission head Kris Kobach said that 'any documents that are submitted to the full Commission will also be made available to the public.'  On Wednesday, the office of Vice President Pence released a statement saying 'a letter will be sent today to the 50 states and District of Columbia on behalf of the Commission requesting publicly available data from state voter rolls and feedback on how to improve election integrity.' States began reacting to the letter on Thursday afternoon. 'I have no intention of honoring this request,' said Governor Terry McAuliffe of Virginia in a statement. 'Virginia conducts fair, honest, and democratic elections, and there is no evidence of significant voter fraud in Virginia.'"
House Passes 2 Strict Immigration Bills, at Trump's Urging, The New York Times, Emmarie Huetteman and Nicholas Kulish, Thursday, 29 June 2017: "The House on Thursday voted to crack down on undocumented immigrants and localities that shelter them, approving two bills President Trump has championed but that are certain to meet resistance in the Senate. The legislation from the Republican-controlled House would increase prison sentences for those re-entering the country illegally and pressure so-called sanctuary cities to comply with federal immigration officials, including through cutting federal funds. While the measures gave the president a modest, if predictable, win, they would need Democratic support to clear the Senate's 60-vote threshold, an unlikely prospect."
Trump says the Atlantic and the Arctic could soon be open to oil drilling, The Washington Post, Darryl Fears, Thursday, 29 June 2017: "The White House is making a bid to overturn the Obama administration's five-year plan forbidding oil and gas exploration in the Arctic and Atlantic oceans and will examine opportunities to drill almost anywhere off the U.S. coast. Interior Department officials said Thursday that opening most of the outer continental shelf to leasing is part of President Trump's strategy to make the United States a global leader in energy production, stimulate coastal activity and create thousands of jobs. But as onshore oil and natural gas production has surged from horizontal drilling, helping to lower the price of petroleum, interest in offshore drilling has fallen. A barrel of petroleum sells for less than $45, and many oil companies balk at the massive investment in equipment needed to drill offshore when the price is lower than $85, analysts say."
Trump names former Federal Election Commission member Hans von Spakovsky to His Presidential Advisory Commission on Election Integrity, The Hill, John Bowden, Thursday, 29 June 2017: "President Trump on Thursday named a former member of the Federal Election Commission to his Presidential Advisory Commission on Election Integrity.  Hans von Spakovsky, a member of the FEC nominated by former President George W. Bush, will join the presidential commission to investigate instances of voter fraud during the 2016 presidential election. Spakovsky, who runs the Election Law Reform Initiative at the right-leaning Heritage Foundation, was the only appointee who was named but not described in a White House press release Thursday night…. He is quoted on Heritage's website in support of voter ID laws, calling the measures 'vital' for upholding election integrity…. Von Spakovsky has been an ardent proponent of toughening voting laws for years, asserting the potential for massive voter fraud. But his push has drawn significant criticism from Democrats over the years, who have accused him of pushing measures that restrict voting rights." See also, Hans von Spakovsky riled Fairfax (Virginia) with voter fraud efforts; Trump just named him to the new Presidential Advisory Commission on Election Integrity, The Washington Post, Gregory S. Schneider and Alex Horton, published on Friday, 30 June 2017: "From pursuing voter fraud in the George W. Bush Justice Department to policing polling places on the Fairfax County Electoral Board, Hans von Spakovsky has been a national lightning rod on the issue of voter integrity. Now that President Trump has named the Virginia lawyer to the new Presidential Advisory Commission on Election Integrity, the man the New Yorker magazine called the source of 'the voter-fraud myth' has perhaps his greatest chance to influence Americans' access to the polls."
Trump Administration Appoints Anti-Transgender Activist Bethany Kozma to Gender Equality Post, BuzzFeed News, J. Lester Feder, Thursday, 29 June 2017: "The Trump administration has appointed an activist who led a campaign to restrict bathroom access for transgender students to the office of Gender Equality and Women's Empowerment in the US Agency for International Development. Bethany Kozma's title is senior adviser for women's empowerment, according to an agency spokesperson. Kozma did not return a message seeking comment for this story. Kozma held positions in the White House and Department of Homeland Security under President George W. Bush, according to her LinkedIn profile, before dedicating herself full-time to raising her children. In 2016, she launched a campaign to oppose the Obama administration's guidance to public schools that said transgender students have the right to use facilities matching their gender identity; the guidance was withdrawn by the Trump administration in February."
Vice President Mike Pence to Replace His Chief of Staff, Josh Pitcock, With Nick Ayres, One of the Leaders of America First Policies, The New York Times, Maggie Haberman, Thursday, 29 June 2017: "Vice President Mike Pence's chief of staff will depart the White House in the coming weeks and will be replaced by a long-serving aide, in the first major staff change of his office, officials said on Thursday. Mr. Pence's chief of staff, Josh Pitcock, will be replaced by Nick Ayers, a veteran political operative from Georgia who has been working with the vice president for three years. Mr. Ayers was the chief political strategist for Mr. Pence, then the governor of Indiana, when President Trump chose the governor as his running mate. Until Thursday morning, Mr. Ayers had been seen as a potential contender for governor of Georgia in a crowded field. He had been urged to think about running by some of Mr. Trump's allies, according to The Atlanta Journal Constitution. More recently, Mr. Ayers has been one of the leaders of an outside group supporting the White House, America First Policies, which had been preparing a series of ads criticizing Senator Dean Heller, Republican of Nevada, for his anticipated no vote on the Senate's bill to replace the Affordable Care Act, also known as Obamacare."
Trump Mocks Mika Brzezinski; Says She Was 'Bleeding Badly From a Face-Lift,' The New York Times, Glenn Thrush and Maggie Haberman, Thursday, 29 June 2017: "President Trump lashed out Thursday at the appearance and intellect of Mika Brzezinski, a co-host of MSNBC's 'Morning Joe,' drawing condemnation from his fellow Republicans and reigniting the controversy over his attitudes toward women that nearly derailed his candidacy last year…. The president described Ms. Brzezinski as 'low I.Q. Crazy Mika' and claimed in a series of Twitter posts that she had been 'bleeding badly from a face-lift' during a social gathering at Mr. Trump's resort in Florida around New Year's Eve. The White House did not explain what had prompted the outburst, but a spokeswoman said Ms. Brzezinski deserved a rebuke because of her show's harsh stance on Mr. Trump. The tweets ended five months of relative silence from the president on the volatile subject of gender, reintroducing a political vulnerability: his history of demeaning women for their age, appearance and mental capacity." See also, Trump gets it from all sides for trash-talking MSNBC host Mika Brzezinski, Associated Press, Laurie Kellman and Jonathan Lemire, Thursday, 29 June 2017.