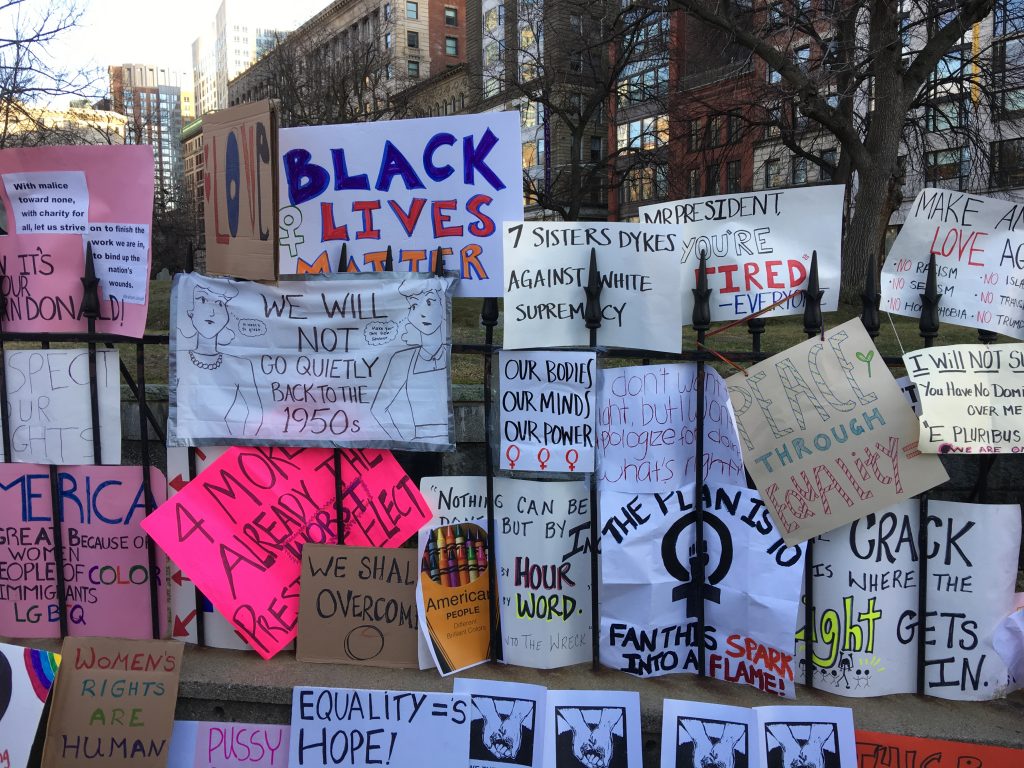 Keeping Track (of some things), Staying Outraged (it is possible), and Resisting (it's essential)
Passages in bold in the body of the texts below are my emphasis. This is an ongoing project, and I update the site frequently. I hope readers will peruse the articles in full for a better understanding of the issues and their context; our democracy and our future depend on citizens who can distinguish between facts and falsehoods and who are engaged in the political process.
Friday, 16 June 2017, Day 148:
Trump Acknowledges He Is Under Investigation in Russia Inquiry, and He Attacks Deputy Attorney General Rod Rosenstein in His Latest Rebuke of the Justice Department, The New York Times, Michael D. Shear, Charlie Savage, and Maggie Haberman, Friday, 17 June 2017: "President Trump escalated his attacks on his own Justice Department on Friday, using an early-morning Twitter rant to condemn the department's actions as 'phony' and 'sad!' and to challenge the integrity of the official overseeing the expanding inquiry into Russian influence of the 2016 election. Acknowledging for the first time publicly that he is under investigation, Mr. Trump appeared to accuse Rod J. Rosenstein, the deputy attorney general, of leading what the president called a 'witch hunt.' Mr. Rosenstein appointed a special counsel last month to conduct the investigation after Mr. Trump fired the F.B.I. director, James B. Comey. 'I am being investigated for firing the FBI Director by the man who told me to fire the FBI Director!' Mr. Trump wrote, apparently referring to a memo Mr. Rosenstein wrote in May that was critical of Mr. Comey's leadership at the F.B.I. 'Witch hunt,' Mr. Trump added. The remarkable public rebuke is the latest example of a concerted effort by Mr. Trump, the White House and its allies to undermine officials at the Justice Department and the F.B.I. even as the Russia investigation proceeds. In the five weeks since Mr. Trump fired Mr. Comey, he has let it be known that he has considered firing Robert S. Mueller III, the special counsel leading the Russia investigation. His personal lawyer bragged about firing Preet Bharara, the former United States attorney for the Southern District of New York, who was let go as part of the mass dismissal of top prosecutors. Newt Gingrich, an ally of the president's, accused Mr. Mueller of being the tip of the 'deep-state spear aimed at destroying' the Trump presidency. Inside the White House, those close to the president say he has continued to fume about the actions of Justice Department officials, his anger focused mostly on Mr. Rosenstein for appointing Mr. Mueller and on Attorney General Jeff Sessions, a longtime political ally whose decision to recuse himself from the Russia case in March enraged Mr. Trump. What the president wanted out of the investigation was simple, several people close to him said: a public statement that he was not under a cloud. What he got instead were reports of Mr. Mueller's intention to investigate him for possible obstruction of justice."
Trump Transition Team Orders Former Aides to Preserve Russia-Related Materials, The New York Times, Adam Goldman, Julie Hirschfeld Davis, and Matthew Rosenberg, Friday, 16 June 2017: "Members of President Trump's transition team were ordered on Thursday to preserve documents and other materials related to the investigation of Russian interference in the presidential election, according to a memo obtained by The New York Times. The memo, from the transition team's general counsel's office, is the latest indication that the investigation's special counsel, the former F.B.I. director Robert S. Mueller III, is casting a wide net in his inquiry into possible collusion between Mr. Trump's campaign and Moscow. The memo says former transition team members 'have a duty to preserve any physical and electronic records that may be related in any way to the subject matter of the pending investigations.' The so-called preservation order covers any transition team information involving Russia or Ukraine. It also seeks any background investigation records involving the former manager of the Trump campaign, Paul Manafort, and his business partner, Rick Gates; the former foreign policy adviser Carter Page; and the former national security adviser Michael T. Flynn. Mr. Flynn was fired for misleading Vice President Mike Pence about the nature of a call with the Russian ambassador to the United States. The memorandum also names Roger J. Stone Jr., an informal adviser to Mr. Trump. With the order, the transition team lawyers are indicating that they have reason to believe that the five men's actions are part of investigations by the Justice Department or the House or Senate Intelligence Committees, or will be." See also, Full text: Trump transition team memo on keeping documents on Russia and the election, The Washington Post, Washington Post Staff, Friday, 16 June 2017.
Deputy Attorney General Rod Rosenstein issues a cryptic warning about the truth of stories 'attributed to anonymous' officials, The Washington Post, Fred Barbash, Friday, 16 June 2017: "Deputy Attorney General Rod J. Rosenstein generated a lot of buzz but little clarity Thursday night with a statement urging Americans to 'exercise caution' when evaluating stories attributed to anonymous officials. Why Rosenstein would suddenly make that comment, or any comment, after having made no comment to story after story attributed to anonymous sources, remained a mystery. The full statement read:
Americans should exercise caution before accepting as true any stories attributed to anonymous 'officials,' particularly when they do not identify the country — let alone the branch of agency of government — with which the alleged sources supposedly are affiliated. Americans should be skeptical about anonymous allegations. The Department of Justice has a long established policy to neither confirm nor deny such allegations.
Since Attorney General Jeff Sessions has recused himself, Rosenstein is the Justice Department official directly responsible for matters relating to the investigation of Russian interference in the U.S. presidential election of 2016, including any possible role played by people associated with Donald Trump's campaign. The statement follows several stories in the past few days in The Washington Post and New York Times quoting unnamed sources on the direction of the probe, now in the hands of special counsel Robert S. Mueller III." See also, Don't Believe Anonymously Sourced Reports, Deputy Attorney General Rod Rosenstein Says, The New York Times, Rebecca R. Ruiz, Friday, 16 June 2017.
Continue reading Week 22, Friday, 16 June – Thursday, 22 June 2017:
Republican secrecy faces mounting criticism as Republican senators work behind closed doors to replace Obamacare, Los Angeles Times, Noam N. Levey and Lisa Mascaro, Friday, 16 June 2017: "Senate Republicans are facing increasing criticism for ducking public scrutiny as they craft legislation to roll back the Affordable Care Act with little input from outside experts, patients, physicians and others most affected by healthcare legislation. The GOP's secretive process marks a sharp departure from the traditional way the Senate has developed large, complex bills, which are often debated for years with multiple committee hearings to ensure broad input and careful analysis. The closed-door approach, which is even more opaque than the process used earlier this year in the House, is all the more remarkable given the bill's likely impact on tens of millions of Americans, many of whom could see their health insurance protections substantially scaled back or eliminated altogether. 'It is deeply disturbing,' said Erika Sward, assistant vice president of the American Lung Assn. 'Patients groups like ours need to make sure that our patients' needs for healthcare will be met. … We can't do that if we can't see what is being proposed.' The lung association is among 120 patient groups that this week sent a letter to senior Republican senators expressing deep concerns about GOP proposals to fundamentally restructure Medicaid, which provides health coverage to more than 70 million poor Americans. Although Senate Majority Leader Mitch McConnell (R-Ky.) has indicated he wants to vote on a bill in the next two weeks, Senate Republicans thus far haven't disclosed details of their Medicaid plans, or any other part of their healthcare legislation."
Trump Reverses Obama Openings to Cuba Under the False Flag of Human Rights, The Intercept, Miriam Pensack, Friday, 16 June 2017: "In the days following the death of Fidel Castro, then-President-elect Donald Trump did exactly what one might expect: He took to Twitter. Trump condemned the 'deal' the Obama administration put in place over the course of its normalization process with Cuba. 'If Cuba is unwilling to make a better deal for the Cuban people, the Cuban/American people and the U.S. as a whole, I will terminate deal,' Trump tweeted. Today at the Manuel Artime Theater in Miami's Little Havana neighborhood, Trump unveiled his administration's Cuba policy — though not necessarily to the benefit of the Cuban or American people, as his tweet pledged. Following statements by his Cuban-American congressional allies Sen. Marco Rubio, R-Fla., and Rep. Mario Diaz-Balart, R-Fla., as well as Florida Governor Rick Scott and Vice President Mike Pence, Trump promised to roll back recent openings with Cuba. 'We will enforce the ban on tourism,' he proclaimed. 'We will enforce the embargo. We will take concrete steps to ensure that investments flow directly to the people so they can open private businesses and begin to build their country's great, great future, a country of great potential.'… Carried out under the unlikely banner, for Trump, of human rights and democracy, the shift is instead more likely to re-impose hardships on ordinary Cubans — the very same people Trump, Rubio, and Diaz-Balart claim to champion." See also, Trump Reverses Pieces of Obama-Era Engagement With Cuba, The New York Times, Julie Hirschfeld Davis, Friday, 16 June 2017: "As part of the new policy, Americans will no longer be able to plan their own private trips to Cuba, and those who go as part of authorized educational tours will be subject to strict new rules and audits to ensure that they are not going just as tourists. American companies and citizens will also be barred from doing business with any firm controlled by the Cuban military or its intelligence or security services, walling off crucial parts of the economy, including much of the tourist sector, from American access…. Despite his grandiose description, the policy represents a middle ground between hard-liners in Congress, including Senator Marco Rubio and Representative Mario Díaz-Balart, both Florida Republicans who have called for a complete reversal of Mr. Obama's Cuba policy, and business leaders, human rights groups and many of Mr. Trump's own advisers who wanted to preserve it."
Trump's personal lawyer, Michael Cohen, hires his own lawyer to help him navigate the expanding Russia investigation, The Washington Post, Philip Rucker and Rosalind S. Helderman, Friday, 16 June 2017: "Michael Cohen, who for years has served as President Trump's personal attorney, has hired a lawyer of his own to help him navigate the expanding Russia investigation. Cohen confirmed Friday to The Washington Post that he has retained Stephen M. Ryan, a Washington-based lawyer from the law firm McDermott, Will & Emery who has experience prosecuting criminal cases as an assistant U.S. attorney. Cohen's hiring of Ryan as his personal lawyer was first reported by Katy Tur of NBC News. Cohen's decision is the latest indication that the Russia probe overseen by special counsel Robert S. Mueller III is intensifying and could end up focusing on a number of Trump associates, both inside and outside the White House."
Trump adds another lawyer, John Dowd, to his Russia investigation team, The Washington Post, Abby Phillip, Friday, 16 June 2017: "President Trump has hired prominent defense lawyer John Dowd to join his legal team amidst multiple probes into Russian interference in the 2016 election and reported allegations of obstruction of justice. Dowd, who has represented clients in cases involving the Justice Department and the Senate Ethics Committee, will join Trump's legal team, which is led by his longtime personal lawyer Marc Kasowitz…. Also assisting Trump in handling the investigations is Jay Sekulow, chief counsel for the American Center for Law and Justice, a conservative advocacy group. Michael J. Bowe, an attorney with Kasowitz's law firm, is also assisting the team."
Education Department Says It Will Scale Back Civil Rights Investigations, The New York Times, Erica L. Green, Friday, 16 June 2017: "The Department of Education is scaling back investigations into civil rights violations at the nation's public schools and universities, easing off mandates imposed by the Obama administration that the new leadership says have bogged down the agency. According to an internal memo issued by Candice E. Jackson, the acting head of the department's office for civil rights, requirements that investigators broaden their inquiries to identify systemic issues and whole classes of victims will be scaled back. Also, regional offices will no longer be required to alert department officials in Washington of all highly sensitive complaints on issues such as the disproportionate disciplining of minority students and the mishandling of sexual assaults on college campuses. The new directives are the first steps taken under Education Secretary Betsy DeVos to reshape her agency's approach to civil rights enforcement, which was bolstered while President Barack Obama was in office. The efforts during Mr. Obama's administration resulted in far-reaching investigations and resolutions that required schools and colleges to overhaul policies addressing a number of civil rights concerns." See also, Education Department closes transgender student cases as it pushes to scale back civil rights investigations, The Washington Post, Emma Brown, published on Saturday, 17 June 2017.
Trump Family Wedding Planner, Lynne Patton, to Head New York's Federal Housing Office, The New York Times, Yamiche Alcindor and J. David Goodman, Friday, 16 June 2017: "A longtime associate of President Trump's family, who organized golf tournaments on the president's courses and planned his son Eric's wedding, will soon oversee billions of federal dollars as the head of the Department of Housing and Urban Development's New York and New Jersey office. Lynne Patton had been working as a senior adviser and director of public engagement at HUD for several months before Ben Carson, the department secretary, recommended her for the new role, a person close to Mr. Carson said. Before that, Ms. Patton had no experience in housing policy…. 'Like many things in the Trump universe, we're dealing with things we've never seen before,' Mayor Bill de Blasio, who held the same post during the Clinton administration, said in a weekly radio interview on WNYC. 'Folks in that role historically have had substantial background in government or in housing.'"
Saturday, 17 June 2016, Day 149:
Trump's Business Ties in the Gulf Raise Questions About His Allegiances, The New York Times, David D. Kirkpatrick, Saturday, 17 June 2017: "President Trump has done business with royals from Saudi Arabia for at least 20 years, since he sold the Plaza Hotel to a partnership formed by a Saudi prince. Mr. Trump has earned millions of dollars from the United Arab Emirates for putting his name on a golf course, with a second soon to open. He has never entered the booming market in neighboring Qatar, however, despite years of trying. Now a feud has broken out among these three crucial American allies, and Mr. Trump has thrown his weight firmly behind the two countries where he has business ties, raising new concerns about the appearance of a conflict between his public role and his financial incentives. Mr. Trump has said he is backing Saudi Arabia and the United Arab Emirates because Qatar is 'a funder of terror at a very high level.' But his stance toward Qatar, which is host to the largest American air base in the region, has differed sharply from the positions of the Pentagon and State Department. The secretaries of defense and state have stayed neutral, urging unity against the common enemy of the Islamic State."
Six People Have Resigned From Trump's HIV/AIDS Advisory Council Because He "Doesn't Care," BuzzFeed News, David Mack, Saturday, 17 June 2017: "Six members of the Presidential Advisory Council on HIV/AIDS (PACHA) have resigned, furious at what they say is the new administration's regressive health policies and a lack of care shown by President Trump. Scott Schoettes, Lucy Bradley-Springer, Gina Brown, Ulysses Burley III, Michelle Ogle, and Grissel Granados announced their resignations publicly in a joint letter for Newsweek magazine. 'As advocates for people living with HIV, we have dedicated our lives to combating this disease and no longer feel we can do so effectively within the confines of an advisory body to a president who simply does not care,' they wrote. 'The Trump Administration has no strategy to address the on-going HIV/AIDS epidemic, seeks zero input from experts to formulate HIV policy, and—most concerning—pushes legislation that will harm people living with HIV and halt or reverse important gains made in the fight against this disease.' First established in 1995, PACHA is tasked with advising the White House on the best way to tackle the spread of the disease. Medical experts, public health officials, and people living with HIV/AIDS are appointed by each president and hold regular meetings. Roughly 21 people were members before this week's resignations." See also, Trump 'simply does not care' about HIV/AIDS, say 6 experts who just quit his advisory council, The Washington Post, Amy B Wang, published on Monday, 19 June 2017.
A guide to the five major investigations of the Trump campaign's possible ties to Russia, The Washington Post, Kevin Uhrmacher and Kim Soffen, Saturday, 17 June 2017: "Congressional committees: Senate Intelligence, Senate Judiciary, House Intelligence, and House Oversight. Justice Department: Special counsel Robert Mueller."
Sunday, 18 June 2017, Day 150:
Russia Renewed Unused Trump Trademarks in 2016, The New York Times, Mike McIntire, Sunday, 18 June 2017: "Amid a broadening investigation of Russian contacts with his associates and his own role in trying to stop it, President Trump fired off another angry tweet this past week repeating his assertion that he has no business interests in Russia. But while no Trump Tower graces the Moscow skyline, the Russian authorities recently made sure that another piece of valuable property — the intellectual kind — bearing the same name remained safely in Mr. Trump's portfolio. Last year, while hacking Democrats' emails and working to undermine the American presidential election, the Russian government also granted extensions to six trademarks for Mr. Trump that had been set to expire. The Trump trademarks, originally obtained between 1996 and 2007 for hotels and branding deals that never materialized, each had terms that were coming to an end in 2016. Despite their inactivity, the Trump Organization sought extensions for the trademarks from Rospatent, the Russian government agency in charge of intellectual property. In a series of approvals starting in April 2016 and ending in December, Rospatent granted new 10-year terms for the trademarks, the agency's records show. Four of the approvals were officially registered on Nov. 8 — Election Day in the United States. Under normal circumstances, renewing trademarks in Russia is generally a routine matter, and there is nothing to suggest from the few public records available that Mr. Trump was shown favoritism. Still, extensions are not guaranteed and can be subject to challenge — particularly if, as in this case, the trademarks went unused for years, according to interviews with a half-dozen lawyers specializing in intellectual property law. And there is the unprecedented variable of the applicant, Mr. Trump, an American presidential candidate, seeking approvals from a foreign power that United States intelligence agencies concluded had tried to tip the campaign in his favor. As with other federal agencies in Russia, any sensitive decisions by Rospatent — whose director was handpicked by President Vladimir V. Putin for a previous job as deputy culture minister — are presumed to align with the views of Mr. Putin. Beyond the questions about Russian government approvals, the trademark renewals cast doubt on Mr. Trump's oft-stated insistence that he has no business interests in Russia. Mr. Trump has made the claims in response to investigations of possible collusion between his associates and Russia during and after the election."
New ad campaign to pressure five Republican senators (Lisa Murkowski, Alaska; Jeff Flake, Arizona; Susan Collins, Maine; Dean Heller, Nevada; Shelley Moore Capito, West Virginia) to vote against health care overhaul, The Washington Post, Sean Sullivan, Sunday, 18 June 2017: "An organization that opposes the Republican effort to repeal and replace key parts of the Affordable Care Act is pressuring five GOP senators not to vote for the emerging legislation in a new $1.5 million ad campaign that begins Monday, officials with the group told The Washington Post. Community Catalyst Action Fund, which bills itself as a consumer health organization, is targeting Sens. Lisa Murkowski (Alaska), Jeff Flake (Ariz.), Susan Collins (Maine), Dean Heller (Nev.) and Shelley Moore Capito (W.Va.) with television and radio ads urging them to vote no. The ad campaign comes as other organizations are ramping up opposition to the Senate GOP effort. Last week, a coalition of medical and consumer groups held an event in Cleveland that was billed as the first of a series of gatherings to speak out against a bill that passed the GOP-controlled House and the direction that Republican senators appear to be heading. The coalition — which includes AARP, two hospital associations and four disease-fighting organizations — has said it will convene events in at least three other states in coming weeks, with the next one Wednesday in Reno, Nev."
U.S. Fighter Jet Shoots Down Syrian Warplane, Michael R. Gordon and Thomas Erdbrink, Sunday, 18 June 2017: "An American fighter jet shot down a Syrian warplane on Sunday after it dropped bombs near local ground forces supported by the United States, the first time the American military has downed a Syrian aircraft since the start of the civil war in 2011, officials said. The confrontation represents a further escalation between forces supporting President Bashar al-Assad of Syria and the United States, which has been directing the military campaign in Syria and Iraq against the Islamic State."
Monday, 19 June 2017, Day 151:
Supreme Court to hear potentially landmark case on partisan gerrymandering, The Washington Post, Robert Barnes, Monday, 19 June 2017: "The Supreme Court declared Monday that it will consider whether gerrymandered election maps favoring one political party over another violate the Constitution, a potentially fundamental change in the way American elections are conducted. The justices regularly are called to invalidate state electoral maps that have been illegally drawn to reduce the influence of racial minorities by depressing the impact of their votes. But the Supreme Court has long been tolerant of partisan gerrymandering — and some justices have thought that the court shouldn't even be involved. A finding otherwise would have a revolutionary impact on the reapportionment that will take place after the 2020 election and could come at the expense of Republicans, who control the process in the majority of states. The court accepted a case from Wisconsin, where a divided panel of three federal judges last year ruled that the state's Republican leadership in 2011 pushed through a redistricting plan so partisan that it violated the Constitution's First Amendment and equal rights protections." See also, Why the Supreme Court's decision to review Wisconsin's gerrymandering is such a big deal, The Washington Post, Christopher Ingraham, Monday, 19 June 2017. See also, Justices to Hear Major Challenge to Partisan Gerrymandering, The New York Times, Adam Liptak, Monday, 19 June 2017.
Supreme Court Rules in Favor of Bush Officials in Post-9/11 Suit, The New York Times, Adam Liptak, Monday, 19 June 2017: "The Supreme Court ruled on Monday that several high-ranking Bush administration officials may not be sued for policies adopted after the attacks of Sept. 11, 2001. The officials include John Ashcroft, the former attorney general, and Robert S. Mueller III, the former F.B.I. director who is now investigating possible links between the Trump administration and Russia. The case began in 2002 as a class action filed by mostly Muslim immigrants over policies and practices that swept hundreds into the Metropolitan Detention Center in Brooklyn on immigration violations shortly after the attacks. The plaintiffs said they had been subjected to beatings, humiliating searches and other abuses. The roundups drew criticism from the inspector general of the Justice Department, who in 2003 issued reports claiming that the government had made little to no effort to distinguish between genuine suspects and Muslim immigrants with minor visa violations. Justice Anthony M. Kennedy, writing for the majority in the 4-to-2 decision, acknowledged that the way the detainees said they had been treated was appalling. But he said lawsuits seeking money from high-ranking officials were not the right way to address asserted misconduct in the midst of a national security crisis…. The legal question for the court, he said, was whether a 1971 Supreme Court decision, Bivens v. Six Unknown Named Agents, allowed suits for money against the officials said to have created the policy. The answer to that question, Justice Kennedy wrote, was no…. Justice Stephen G. Breyer summarized his dissent from the bench, a sign of deep disagreement. 'History tells us of far too many instances where the executive or legislative branch took actions during time of war that, on later examination, turned out unnecessarily and unreasonably to have deprived American citizens of basic constitutional rights,' he said in his written dissent, which canvassed several dark chapters in American history."
For Jay Sekulow, New Trump Lawyer, Public Stumble Is Out of Character, The New York Times, Charlie Savage, Monday, 19 June 2017: "It was supposed to be a simple message for a man known as an articulate advocate. When Jay Sekulow made the rounds of political television shows on Sunday, he had two basic talking points: first, that President Trump's tweet on Friday that 'I am under investigation' was just riffing on news reports, and that prosecutors had not told him he was under investigation. And second, that Mr. Trump's firing of the F.B.I. director last month could not be obstruction of justice because presidents have constitutional authority to fire subordinates. But in trying to convey those points clearly, Mr. Sekulow, a prominent First Amendment advocate whom Mr. Trump recently hired to join his outside legal team, stumbled on 'Fox News Sunday.' Chris Wallace, the host, noted pointedly that Mr. Sekulow himself, in laying out his arguments, ended up twice stating that Mr. Trump was under investigation. 'Sir, you just said two times that he's being investigated,' Mr. Wallace pointed out over Mr. Sekulow's sputtering protests that he had not said that. The video showed he indeed had, and a clip of it went viral on social media."
Special counsel Robert Mueller hires Andrew Weissmann, a lawyer with witness-flipping expertise, to work on the Trump investigation, Reuters, Karen Freifeld, Monday, 19 June 2017: "A veteran federal prosecutor recruited onto special counsel Robert Mueller's team is known for a skill that may come in handy in the investigation of potential ties between Russia and U.S. President Donald Trump's 2016 campaign team: persuading witnesses to turn on friends, colleagues and superiors. Andrew Weissmann, who headed the U.S. Justice Department's criminal fraud section before joining Mueller's team last month, is best known for two assignments – the investigation of now-defunct energy company Enron and organized crime cases in Brooklyn, New York – that depended heavily on gaining witness cooperation. Securing the cooperation of people close to Trump, many of whom have been retaining their own lawyers, could be important for Mueller, who was named by the Justice Department as special counsel on May 17 and is investigating, among other issues, whether Trump himself has sought to obstruct justice. Trump has denied allegations of both collusion and obstruction. 'Flipping' witnesses is a common, although not always successful, tactic in criminal prosecutions."
Energy Secretary Rick Perry just denied that humans are the main cause of climate change, The Washington Post, Steven Mufson, Monday, 19 June 2017: "Energy Secretary Rick Perry on Monday denied that man-made carbon dioxide emissions are the primary cause of climate change. Asked in an interview on CNBC's 'Squawk Box' whether he believed that carbon dioxide was 'the primary control knob for the temperature of the Earth and for climate,' Perry said that 'No, most likely the primary control knob is the ocean waters and this environment that we live in.' Perry added that 'the fact is this shouldn't be a debate about, "Is the climate changing, is man having an effect on it?" Yeah, we are. The question should be just how much, and what are the policy changes that we need to make to affect that?' Perry's comments fall in line with what Environmental Protection Agency administrator Scott Pruitt said in a March interview on the program. Pruitt said then that he does not believe carbon dioxide is a primary contributor to global warming. Both men's views contradict the conclusions of scientists at Pruitt's own EPA as well as NASA, the National Oceanic and Atmospheric Administration and the United Nations' Intergovernmental Panel on Climate Change."
Senate Democrats Try to Gum Up the Works Over the Affordable Care Act Repeal, The New York Times, Thomas Kaplan and Robert Pear, Monday, 19 June 2017: "Democrats vowed on Monday to slow work in the Senate to a crawl to protest the secrecy surrounding the Republican effort to repeal and replace the Affordable Care Act, as Republican leaders raced to prepare a bill for a vote as soon as next week. Without the votes to stop the majority party from passing a bill, Democrats can only draw attention to the way Republicans are creating their bill — behind closed doors without a single hearing or public bill-drafting session. Senate Republican leaders hope for a showdown vote before lawmakers leave town at the end of next week, an ambitious timeline that would spare Republicans from constituent pressure over the Fourth of July recess. Democrats fear that Republicans will unveil a bill that would have sweeping effects on health care, then within days try to pass it with only limited debate."
A Republican contractor's database of nearly every voter in the US was left exposed on the Internet for 12 days says Chris Vickery, a risk analyst at the cybersecurity firm UpGuard, The Washington Post, Brian Fung, Craig Timberg, and Matea Gold, Monday, 19 June 2017: "Detailed information on nearly every U.S. voter — including in some cases their ethnicity, religion and views on political issues — was left exposed online for two weeks by a political consultancy firm that works for the Republican National Committee and other GOP clients. The data offered a strikingly complete picture of the voting histories and political leanings of the American electorate laid out in an easily downloadable format, said cybersecurity researcher Chris Vickery. He discovered the unprotected files of 198 million voters in a routine scan of the Internet last week and alerted law enforcement officials. The precision and volume of the information, including dozens of data points on individual Republicans, Democrats and independent voters, highlights the rising sophistication of the data-mining efforts that have become central to modern political campaigns…. The data found by Vickery, who studies cybersecurity risk for the Silicon Valley start-up UpGuard, was compiled by GOP political consultant Deep Root Analytics, based on voter lists maintained by the RNC and augmented by other sources. Deep Root did not disclose those sources, but political research firms for years have been collecting information on voters from data brokers, social media postings, polling and other contacts with voters." See also, Republican Data-Mining Firm Exposed Personal Information for Virtually Every US Voter, The Intercept, Sam Biddle, Monday, 19 June 2017.
Russia Warns U.S. After Downing of Syrian Warplane, The New York Times, Michael R. Gordon and Ivan Nechepurenko, Monday, 19 June 2017: "Long-running tensions between the United States and Russia erupted publicly on Monday as Moscow condemned the American military's downing of a Syrian warplane and threatened to target aircraft flown by the United States and its allies west of the Euphrates. The Russians also said they had suspended their use of a hotline that the American and Russian militaries used to avoid collisions of their aircraft in Syrian airspace. The episode was the first time the United States downed a Syrian plane since the civil war began there in 2011 and came after the SU-22 jet dropped bombs on Sunday near American-backed fighters combating the Islamic State. It followed another major American military action against the Syrian government: a cruise missile strike to punish a nerve gas attack that killed civilians in April."
Tuesday, 20 June 2017, Day 152:
Republican Karen Handel defeats Democrat Jon Ossoff in Georgia's 6th Congressional District, The Washington Post, Robert Costa, Paul Kane, and Elise Viebeck, published on Wednesday, 21 June 2017: "President Trump's hopes of steadying his presidency and his agenda on Capitol Hill were given a lift Tuesday when a Republican won a special congressional election in the Atlanta suburbs. Republican Karen Handel defeated Democrat Jon Ossoff in Georgia's 6th Congressional District, retaining a seat that has been in GOP hands since 1979 after a grueling, four-month campaign that earned the distinction of being the most expensive House race in history. Handel won by almost 11,000 votes and by more than four percentage points, and Ossoff failed to reach the 48 percent mark that he topped in the initial round of voting in April. Handel's win will bring fresh attention to a beleaguered Democratic Party that has suffered a string of defeats in special elections this year despite an angry and engaged base of voters who dislike Trump. It may also embolden Republicans in Washington to press ahead on an ambitious policy agenda that has yielded few legislative victories since Trump's inauguration in January. Most immediately, the election result could bring momentum to Senate Republicans' efforts this week to craft their version of a major revision to the Affordable Care Act."
Democrats protest Senate Republican healthcare bill secrecy, Reuters, Susan Cornwell, Tuesday, 20 June 2017: "U.S. Democrats took to the Senate floor on Monday to throw a spotlight on behind-the-scenes efforts by the Republican majority to repeal former President Barack Obama's healthcare law, known as Obamacare. In a series of floor motions, inquiries and lengthy speeches, Democrats criticized the closed-door meetings that Republicans have been holding to craft a replacement for Obamacare, formally known as the Affordable Care Act. They called for open committee hearings and more time to consider the bill before a Senate vote, which Republicans say could come in the next two weeks, although a draft bill has yet to emerge publicly. Lacking the votes to derail or change the Republican process, the maneuvers by the Democratic minority seemed more aimed at highlighting Republican efforts on a controversial issue. Polls have said that a majority of Americans disapprove of the Obamacare replacement that has passed the House of Representatives and that Senate Republicans are now considering. Senate Democratic Leader Chuck Schumer said that the closed-door Republican meetings on healthcare amounted to 'the most glaring departure from normal legislative procedure that I have ever seen.'"
Republican Health Bill Is Kept Secret From the Senators Assigned to Write It, Bloomberg Politics, Laura Litvan, Tuesday, 20 June 2017: "One of the Senate Republicans charged with negotiating an Obamacare replacement expressed frustration Tuesday with the secret process, saying that even he hasn't seen the proposal set to be released in two days for a possible floor vote next week. 'I haven't seen it yet, either,' said Senator Mike Lee of Utah amid complaints by other Republicans that they don't know what's in the health-care measure being drafted by their own party's leaders. Majority Leader Mitch McConnell said he plans to release a 'discussion draft' Thursday and that it will go to the Senate floor for a vote 'likely next week.' A week or so to examine the bill isn't enough, said Lee in a video posed on his Facebook page. As one of about a dozen members of a health-care working group, he criticized the closely held process of drafting the measure. 'Even though we thought we were going to be in charge of writing a bill within this working group, it's not being written by us,' Lee said. 'It's apparently being written by a small handful of staffers for members of the Republican leadership in the Senate. So if you're frustrated by the lack of transparency in this process, I share your frustration. I share it wholeheartedly.'"
Senate Republican leaders will present health bill this week, even as divisions flare, The Washington Post, Sean Sullivan, Juliet Eilperin, and Kelsey Snell, Tuesday, 20 June 2017: "After weeks of secret deliberations, Senate Republicans are in the final stages of a sweeping rewrite of the nation's health-care laws amid growing frustration among the rank and file over how to fulfill the party's top campaign promise over the past seven years. Senate Majority Leader Mitch McConnell (R-Ky.) said Tuesday that GOP leaders will produce a 'discussion draft' on Thursday and hinted that a final vote could come next week — even as key senators expressed concern about the emerging legislation, the lack of transparency surrounding it and the disagreement that remains."
Despite Concerns About Blackmail, Former National Security Adviser Michael Flynn Still Heard C.I.A. Secrets, The New York Times, Matt Apuzzo, Matthew Rosenberg, and Adam Goldman: "Senior officials across the government became convinced in January that the incoming national security adviser, Michael T. Flynn, had become vulnerable to Russian blackmail. At the F.B.I., the C.I.A., the Justice Department and the Office of the Director of National Intelligence — agencies responsible for keeping American secrets safe from foreign spies — career officials agreed that Mr. Flynn represented an urgent problem. Yet nearly every day for three weeks, the new C.I.A. director, Mike Pompeo, sat in the Oval Office and briefed President Trump on the nation's most sensitive intelligence — with Mr. Flynn listening. Mr. Pompeo has not said whether C.I.A. officials left him in the dark about their views of Mr. Flynn, but one administration official said Mr. Pompeo did not share any concerns about Mr. Flynn with the president. The episode highlights another remarkable aspect of Mr. Flynn's stormy 25-day tenure in the White House: He sat atop a national security apparatus that churned ahead, despite its own conclusion that he was at risk of being compromised by a hostile foreign power. The concerns about Mr. Flynn's vulnerabilities, born from misleading statements he made to White House officials about his conversations with the Russian ambassador, are at the heart of a legal and political storm that has engulfed the Trump administration. Many of Mr. Trump's political problems, including the appointment of a special counsel and the controversy over the firing of the F.B.I. director, James B. Comey, can be ultimately traced to Mr. Flynn's tumultuous tenure. Time and again, the Trump administration looked the other way in the face of warning signs about Mr. Flynn. Mr. Trump entrusted him with the nation's secrets despite knowing that he faced a Justice Department investigation over his undisclosed foreign lobbying. Even a personal warning from President Obama did not dissuade him."
Environmental Protection Agency plans to buy out more than 1,200 employees by the end of summer, The Washington Post, Brady Dennis, Tuesday, 20 June 2017: "The Environmental Protection Agency plans on shedding more than 1,200 employees by early September through buyouts and early retirements, as part of a broader push by the Trump administration to shrink a government entity the president once promised to eliminate 'in almost every form.' The departures would amount to about 8 percent of the current 15,000-person workforce of the EPA, where a hiring freeze also remains in effect. The Trump administration has proposed a 31 percent cut to its budget, the largest percentage reduction of any agency and one that could mean several thousand job losses."
Environmental Protection Agency just gave notice to dozens of scientific advisory board members that their time is up, The Washington Post, Chris Mooney and Juliet Eilperin, Tuesday, 20 June 2017: "The Environmental Protection Agency has given notice to dozens of scientists that they will not be renewed in their roles in advising the agency, continuing a scientific shake-up that has already triggered resignations and charges from some researchers that the administration is politicizing the agency. Members of the EPA's Board of Scientific Counselors (BOSC) whose terms end in August will not see them renewed, according to an email sent to members and obtained by The Washington Post. Moreover, five meetings of subcommittees of the board, planned for the late summer and the fall, will now be canceled because of lack of membership. 'It effectively wipes out the BOSC and leaves it free for a complete reappointment,' said Deborah Swackhamer, the current chair of the board's executive committee and an emeritus professor of environmental health sciences at the University of Minnesota."
Attorney General Jeff Sessions retains a personal attorney, The Washington Post, Sari Horwitz, Monday, 20 June 2017: "Attorney General Jeff Sessions, who has been under fire in recent months for his contacts with Russian officials during the 2016 presidential race, has retained the services of Washington lawyer Charles J. Cooper, a longtime friend. Cooper was seen sitting behind Sessions when he testified last week before the Senate Intelligence Committee about President Trump and Russia. 'I do represent the Attorney General, but, as with all clients, do not comment on confidential client matters,' Cooper wrote in an email to The Washington Post. Cooper, a partner with his own firm, Cooper & Kirk, would not say when he was retained by Sessions or whether he is representing Sessions in the special counsel's investigation into Trump and Russia. Sessions, who was the first senator to endorse Trump on the campaign trail, was a top adviser to Trump during his race for president."
Some States Beat the Supreme Court to the Punch on Eliminating Gerrymanders, The New York Times, Thomas Fuller and Michael Wines, Tuesday, 20 June 2017: "When Wisconsin Republicans last redrew the State Legislature's district boundaries, in 2011, they set off a multimillion-dollar legal battle over accusations of gerrymandering that this week was granted a potentially historic hearing by the Supreme Court. Then there is California, which redrew its state legislative and congressional districts the same year with far less rancor. California is the largest of a handful of states that are trying to minimize the partisanship in the almost invariably political act of drawing district lines. California has handed that task to the independent and politically balanced California Citizens Redistricting Commission, and Arizona has a somewhat similar commission. Florida has amended its Constitution to forbid partisanship in drawing new districts. Iowa has offloaded the job to the nonpartisan state agency that drafts bills and performs other services for legislators. The trend has gained momentum in states like Oregon and Ohio, where voters have approved a new commission for redistricting for state seats — but not those in the House of Representatives — in 2021. Still, on the whole, taking the politics out of map drawing is itself an act of political courage that many politicians, particularly those who benefit from district lines drawn to help their party, are unwilling to stomach. Skeptics say that even nominally nonpartisan commissions can succumb to political calculation. 'An independent redistricting commission is only as independent as those who appoint it,' said Pamela Goodman, the president of the League of Women Voters of Florida. But others say that if a populous and politically byzantine state like California can make an independent commission work, wringing partisanship and gerrymanders out of politics can be done anywhere."
How 'Sanctuary Cities' Are Helping Immigrants Outwit Immigration and Customs Enforcement (ICE), The Marshall Project, Tuesday, 20 June 2017: "Within days of taking office, President Donald Trump signed an executive order threatening to stop aid to communities that don't fully cooperate with federal officials to help deport immigrants. Many mayors of these so-called sanctuary cities were outraged and vowed to continue resisting Trump's immigration agenda. Although a federal judge blocked Trump's plan, these localities still face possible loss of some federal funds as well as reprisals from conservative legislators. Now the conflict between Trump and the mayors has escalated from a war of words to a war of tactics as some "sanctuary cities" — and one state — are taking action to help immigrants avoid Trump's dragnet." This article covers several examples.
Trump's budget calls for sharp cuts to housing aid, except for program that brings him millions, The Washington Post, Shawn Boburg, Tuesday, 20 June 2017: "President Trump's budget calls for sharply reducing funding for programs that shelter the poor and combat homelessness — with a notable exception: It leaves intact a type of federal housing subsidy that is paid directly to private landlords. One of those landlords is Trump himself, who earns millions of dollars each year as a part-owner of Starrett City, the nation's largest subsidized housing complex. Trump's 4 percent stake in the Brooklyn complex earned him at least $5 million between January of last year and April 15, according to his recent financial disclosure. Trump's business empire intersects with government in countless ways, from taxation to permitting to the issuing of patents, but the housing subsidy is one of the clearest examples of the conflicts experts have predicted. While there is no indication that Trump himself was involved in the decision, it is nonetheless a stark illustration of how his financial interests can directly rise or fall on the policies of his administration."
Trump Takes Steps to Undo Obama Legacy on Labor, The New York Times, Noam Scheiber, Tuesday, 20 June 2017: "President Trump, who came into office courting labor unions and vowing to stand up for American workers, is taking a major step to alter the direction of federal labor policy, positioning the National Labor Relations Board to overturn a series of high-profile Obama-era decisions. The moves arrive after Mr. Trump's proposed deep cuts to the Labor Department and job-training programs across the federal government. And just last week, the administration disclosed that it opposes the labor relation board's position that employers cannot require employees to waive their rights to bring class-action cases — an issue the Supreme Court will hear arguments about this year."
Justice Department to Work With 12 Cities to Fight Violent Crime, The New York Times, Rebecca R. Ruiz, Tuesday, 20 June 2017: "The Justice Department will form partnerships with a dozen cities across the country to help them fight gun crime, drug trafficking and gang violence, Attorney General Jeff Sessions said Tuesday. Under the program — the Trump administration's latest move in prioritizing a reduction in violent crime — advisers and consultants will help local law enforcement officials develop strategies to combat violent crime. The cities will not receive funding as part of the initiative, a Justice Department spokesman said…. In the violent crime program, the 12 cities teaming up with the Justice Department are: Birmingham, Ala.; Indianapolis; Toledo, Ohio; Cincinnati; Houston; Buffalo; Memphis; Baton Rouge, La.; Jackson, Tenn.; Kansas City, Mo.; Lansing, Mich.; and Springfield, Ill. None are among the so-called sanctuary jurisdictions that have limited their cooperation with federal immigration enforcement. Mr. Sessions said he expected to announce partnerships with additional cities later in the year."
A Russian jet came within feet of a U.S. reconnaissance plane, the Pentagon says, The Washington Post, Dan Lamothe, Tuesday, 20 June 2017: "A Russian fighter jet came 'within several feet' of an Air Force RC-135 reconnaissance plane over the Baltic Sea and lingered by the side of the U.S. plane for several minutes on Monday, U.S. military officials said. The incident comes amid increased tensions between Russia and the United States following the shoot-down Sunday of a Syrian fighter jet by a U.S. Navy Super Hornet after the Syrians bombed U.S.-backed fighters in northern Syria. Russia, which is aligned with the Syrian government and is carrying out military operations in Syria alongside it, condemned the incident and said Monday that it would track U.S. aircraft over Syria."
Trump Imposes New Sanctions on Russia Over Ukraine Incursion, The New York Times, Alan Rappeport and Neil MacFarquhar, Tuesday, 20 June 2017: "The Trump administration ratcheted up pressure on Russia on Tuesday, unveiling sanctions on more than three dozen additional individuals and organizations that have participated in the country's incursion in Ukraine. The Treasury Department made the announcement on the same day that President Trump hosted his Ukrainian counterpart, Petro O. Poroshenko, at the White House to discuss a peaceful resolution to the conflict with Russia. The sanctions also came as Mr. Trump continues to face questions about whether his campaign colluded with Russia to help him defeat Hillary Clinton. The new sanctions underscored the renewed tension in already abysmal relations between Washington and Moscow. On Monday, Russia threatened to target American and other coalition aircraft over Syria a day after an American fighter jet shot down a Syrian warplane. Treasury Secretary Steven Mnuchin said there should be no sanctions relief for Russia until it meets its obligations under the Minsk agreements — the 2015 cease-fire deal between Russia and Ukraine."
State Department Lashes Out at the Gulf Countries Over Qatar Embargo, The New York Times, Gardiner Harris, Tuesday, 20 June 2017: "The State Department on Tuesday issued a blistering critique of Saudi Arabia and other Persian Gulf countries for enforcing a two-week embargo against Qatar without giving the tiny country any specific ways to resolve a crisis over accusations of Qatar's funding of terrorism. The statement seemed to put President Trump and Secretary of State Rex W. Tillerson further at odds about who is to blame for the dispute, which threatens a host of American diplomatic and security priorities in the gulf. The State Department also announced that, despite Mr. Trump's direction that Mr. Tillerson assist in resolving the impasse, the secretary of state was all but washing his hands of it."
Wednesday, 21 June 2017, Day 153:
Trump Turns an Iowa Rally in Cedar Rapids Into a Venting Session, Saying 'I Just Don't Want a Poor Person' as Commerce Secretary or as Economic Adviser, The New York Times, Maggie Haberman, Wednesday, 21 June 2017: "President Trump said on Wednesday that he was crafting legislation to bar new immigrants from receiving welfare for at least five years. He announced the proposal in a conquering-hero-returns speech in Iowa, his first trip back to the political battleground state since his inauguration. His mood buoyant after twin Republican wins in congressional special elections the night before, the president also revealed his anticipated plan for putting solar panels on a proposed wall on the Mexican border — an idea he boasted he had come up with himself…. Mr. Trump gave few details about his plan for the solar panels, beyond that it creates 'energy and pays for itself,' or about his coming proposal to greatly curtail welfare for new immigrants — including how it would differ from existing laws that do just that. He called it a 'total rewrite of our immigration system into a merit-based system,' words consistent with the public tone he has struck on immigration restrictions…. He toggled back and forth between telling farm-rich Iowa that he had fought for forgotten voters and lauding the wealth of Gary D. Cohn, his top economic adviser and a former executive at Goldman Sachs, the Wall Street giant that Mr. Trump derided in commercials in 2016. 'In those particular positions, I just don't want a poor person — does that make sense?' he said of Mr. Cohn's job and that of Commerce Secretary Wilbur Ross, another immensely wealthy man whom Mr. Trump lauded as a 'legendary Wall Street genius.'"
12 Inaccurate Claims From Trump at His Rally in Cedar Rapids, Iowa on Wednesday, 21 June, The New York Times, Linda Qiu, published on Thursday, 22 June 2017: "President Trump returned to familiar rhetorical territory during a raucous campaign-style rally in Iowa on Wednesday night, repeating exaggerations and falsehoods about health care, jobs, taxes, foreign policy and his own record…. He falsely said insurance companies 'have all fled the state of Iowa.'… He exaggerated his legislative accomplishments…. He falsely claimed the United States is 'the highest-taxed nation in the world.'… He misrepresented the trend in home building…. He falsely claimed that an Obama-era rule applied to 'a little puddle in the middle of their field.'… He falsely claimed Gary Cohn paid '$200 million in taxes' to serve as his economic adviser…. He exaggerated the increase in military spending as 'historic.'… He took undue credit for a new coal mine in Pennsylvania and the creation of 33,000 coal-mining jobs…. He repeated inaccurate claims about the Paris agreement…. He exaggerated his actions toward Cuba as 'canceling the prior administration's completely one-sided deal.'… He said he would bar immigrants from receiving welfare benefits for five years, but they already are prohibited…. He prematurely touted 'hundreds of billions of dollars' of deals made in Saudi Arabia."
Obama White House Knew of Russian Election Hacking, but Delayed Telling for Fear of Being Seen as Trying to Shape the Election, The New York Times, Emmarie Huetteman, Wednesday, 21 June 2017: "The Obama administration feared that acknowledging Russian meddling in the 2016 election would reveal too much about intelligence gathering and be interpreted as 'taking sides in the race, the former secretary of homeland security said Wednesday. 'One of the candidates, as you recall, was predicting that the election was going to be "rigged" in some way,' said Jeh Johnson, the former secretary, referring to President Trump's unsubstantiated accusation before Election Day. 'We were concerned that by making the statement we might, in and of itself, be challenging the integrity of the election process itself.' Mr. Johnson's testimony, before the House Intelligence Committee, provided a fresh insight into how the Obama administration tried to balance politically explosive information with the public's need to know. That question also vexed federal law enforcement officials investigating Hillary Clinton's use of a private email server."
Homeland Security official: Russian government actors tried to hack election systems in 21 states, The Washington Post, Matt Zapotosky and Karoun Demirjian, Wednesday, 21 June 2017: "People connected to the Russian government tried to hack election-related computer systems in 21 states, a Department of Homeland Security official testified Wednesday. Samuel Liles, the Department of Homeland Security's acting director of the Office of Intelligence and Analysis Cyber Division, said vote-tallying mechanisms were unaffected and that the hackers appeared to be scanning for vulnerabilities — which Liles likened to walking down the street and looking at homes to see who might be inside. But hackers successfully exploited a 'small number' of networks, Liles said, likening the act to making it through a home's front door. Liles was testifying before the Senate Intelligence Committee, which is investigating Russia's efforts to meddle in the 2016 presidential election, and his remarks add some clarity to the breadth of the Kremlin's cyber mischief. Officials in Arizona and Illinois had previously confirmed that hackers targeted their voter registration system, though news reports suggested the Russian effort was much broader."
Interior Secretary Ryan Zinke wants to shed 4,000 employees in department shake-up, The Washington Post, Lisa Rein, Wednesday, 21 June 2017: "Interior Secretary Ryan Zinke told lawmakers Wednesday that he plans to shrink his department's sprawling workforce by 4,000 employees — about 8 percent of the full-time staff — as part of budget cuts to downsize the government's largest public lands agency. Zinke, testifying before a Senate panel on the White House's proposed budget for the Department of the Interior for fiscal 2018, said he would rely on a combination of attrition, reassignments and buyouts to make the cuts. Depending on how fast and effective those strategies are, the department 'will determine the need for further action to reduce staffing,' he said in prepared testimony, a reference to possible layoffs. In back-to-back hearings Tuesday and Wednesday in which he defended the White House's plan to slash his department's budget by 13.4 percent, Zinke offered no additional details on whether the cuts will be concentrated in some offices or spread across Interior's nine agencies."
Leftwing Democrats say Jon Ossoff loss shows 'massive failure' of party's elites, The Guardian, Adam Gabbatt, Wednesday, 21 June 2017: "Progressives have branded Jon Ossoff's loss in Georgia's special congressional election a 'massive failure' for establishment Democrats that illustrates the need for leftwing candidates in the 2018 midterms. Ossoff lost to Karen Handel in Georgia's sixth congressional district on Tuesday night, in the most expensive House race in history. Although the district is traditionally Republican, Democrats had hoped to pull off a shock win inspired by a backlash against Donald Trump…. Key figures in the progressive movement said Ossoff had lost because he ran a "Republican-lite" campaign – instead of embracing progressive issues."
Republican Senator Chuck Grassley, chair of the Senate Judiciary Committee, embraces his oversight role in the Trump-Russia probe, Politico, Seung Min Kim and Josh Gerstein, Wednesday, 21 June 2017: "Grassley, … a zealous investigator who can rankle administrations of both parties, could be a quiet yet potent threat to President Donald Trump, whose associates are under scrutiny in the unfurling investigations over whether they colluded with Moscow in the presidential campaign. Now at the helm of the Senate Judiciary Committee, Grassley is swinging his powerful gavel into the Russia probes by his decision to investigate the circumstances behind the firing of former FBI director James Comey — a pursuit that promises to be uncomfortable, at best, for the Trump administration. In an interview with POLITICO Wednesday in his Capitol office, Grassley was the most definitive yet that his committee's probe will examine issues of obstruction of justice. 'I don't want to say for sure. But I don't know how you can avoid it,' Grassley said regarding questions of obstruction of justice in his investigation. 'Because the FBI was investigating it before there was a special counsel.' The Iowa senator, who took charge of the Judiciary panel two years ago, has been hammering out the parameters of an investigation with Sen. Dianne Feinstein (D-Calif.) on probing Comey's dismissal, as well as potential political interference at the Justice Department under the Obama administration. Grassley and Feinstein, along with two other key senators in the Russia probe, met with special counsel Robert Mueller on Wednesday."
Thursday, 22 June 2017, Day 154:
Senate Republican Health Care Bill Includes Deep Cuts to Medicaid, The New York Times, Robert Pear and Thomas Kaplan, Thursday, 22 June 2017: "Senate Republicans, who for seven years have promised a repeal of the Affordable Care Act, took a major step on Thursday toward that goal, unveiling a bill to make deep cuts in Medicaid and end the law's mandate that most Americans have health insurance. The 142-page bill would create a new system of federal tax credits to help people buy health insurance, while offering states the ability to drop many of the benefits required by the Affordable Care Act, like maternity care, emergency services and mental health treatment. But the measure landed in rough seas ahead of a vote that Senator Mitch McConnell of Kentucky, the majority leader, wants next week. Four conservative senators, Rand Paul of Kentucky, Ted Cruz of Texas, Mike Lee of Utah and Ron Johnson of Wisconsin, announced that they would oppose it without changes — more than enough to bring it down. 'It does not appear this draft as written will accomplish the most important promise that we made to Americans: to repeal Obamacare and lower their health care costs,' the four wrote in a joint statement. Other Republican senators, like Dean Heller of Nevada and Rob Portman of Ohio, expressed their own qualms, as did AARP, the American Hospital Association, the American Cancer Society Cancer Action Network and the Association of American Medical Colleges." See also, The Health 202: Here's what's in the Senate health-care bill, The Washington Post, Paige Winfield Cunningham, Thursday, 22 June 2017: "Like the House bill passed in May, the Senate version would put big dents in the Affordable Care Act, repealing just about all of its taxes, pulling back on Medicaid expansion and ditching the individual mandate to buy coverage and the employer mandate to offer it. But the Senate bill contains three elements McConnell is betting will win over a half dozen or so moderates who remain skeptical but whose votes are crucial to overall passage (remember: the majority leader needs only 50 votes since arcane budget rules are being applied to the measure, meaning he can lose just two Republicans). McConnell's draft, hashed out behind closed doors, basically retains Obamacare's insurance subsidy structure — with just a few tweaks — takes a gentler approach than the House bill in the short-term to Medicaid expansion, and wouldn't allow states to opt out of key protections for patients with preexisting conditions." See also, How Senate Republicans Plan to Dismantle Obamacare, The New York Times, Haeyoun Park and Margot Sanger-Katz, Thursday, 22 June 2017. This article summarizes how the Senate Republican bill alters major parts of Obamacare.
Shifting Dollars From Poor to Rich Is a Key Part of the Senate Republican Health Bill, The New York Times, Margot Sanger-Katz, Thursday, 22 June 2017: "The Affordable Care Act gave health insurance to millions of Americans by shifting resources from the wealthy to the poor and by moving oversight from states to the federal government. The Senate bill introduced Thursday pushes back forcefully on both dimensions. The bill is aligned with long-held Republican values, advancing states' rights and paring back growing entitlement programs, while freeing individuals from requirements that they have insurance and emphasizing personal responsibility. Obamacare raised taxes on high earners and the health care industry, and essentially redistributed that income — in the form of health insurance or insurance subsidies — to many of the groups that have fared poorly over the last few decades. The draft Senate bill, called the Better Care Reconciliation Act, would jettison those taxes while reducing federal funding for the care of low-income Americans. The bill's largest benefits go to the wealthiest Americans, who have the most comfortable health care arrangements, and its biggest losses fall to poorer Americans who rely on government support."
Obama attacks Republican health bill as 'massive transfer of wealth' to the rich, The Guardian, Sabrina Siddiqui, Thursday, 22 June 2017: "Barack Obama sharply condemned the healthcare plan unveiled by Senate Republicans on Thursday as a 'massive transfer of wealth' to the rich, at the expense of poor and middle-class Americans. 'The Senate bill, unveiled today, is not a healthcare bill,' Obama wrote. 'It's a massive transfer of wealth from middle-class and poor families to the richest people in America.' 'Simply put, if there's a chance you might get sick, get old, or start a family, this bill will do you harm,' he added, while highlighting some of the more contentious provisions within the legislation, such as tax breaks to top earners and drug and insurance companies, and the potential gutting of coverage for pre-existing conditions, pregnancy and mental health. 'Small tweaks over the course of the next couple of weeks, under the guise of making these bills easier to stomach, cannot change the fundamental meanness at the core of this legislation.'" See also, Obama blasts the 'fundamental meanness' of the Senate Republican health-care bill, annotated, The Washington Post, Peter Holley, Thursday, 22 June 2017.
Trump Says He Did Not Tape His Conversations With James Comey, the F.B.I. Director He Fired Amid the Justice Department's Investigation Into the Trump Campaign's Possible Ties to Russia, The New York Times, Mark Landler and Maggie Haberman, Thursday, 22 June 2017: "President Trump cleared up one of the capital's least suspenseful mysteries on Thursday, acknowledging that he did not record conversations with James B. Comey, the F.B.I. director he fired in anger over an investigation into his campaign's possible ties to Russia. Meeting a self-imposed deadline of this week to resolve questions he himself raised by implying that he had taped Mr. Comey, Mr. Trump said on Twitter that he had not made tapes of what Mr. Comey has testified were attempts by the president to derail the Justice Department's investigation. But if few people believed that Mr. Trump actually possessed recordings, his motives in warning Mr. Comey that he might have taped him remain a mystery, particularly since it set off a chain of events that accelerated, rather than slowed, the investigation into Mr. Trump and Russia. Mr. Comey testified that it was Mr. Trump's veiled threat of tapes that led him to authorize the disclosure of memos of his conversations with the president — the details of which prompted the Justice Department to appoint a special counsel to look into the case. The timing of the announcement — after an internal debate in which Mr. Trump was at first reluctant to come clean quickly — seemed calculated to change the subject. Hours earlier, Senate Republicans released their heath care bill, which drew immediate opposition from four Republican senators and fanned fresh doubts about the president's legislative agenda. 'With all of the recently reported electronic surveillance, intercepts, unmasking and illegal leaking of information,' Mr. Trump said in a pair of tweets posted around 1 p.m., he has no idea 'whether there are "tapes'"or recordings of my conversations with James Comey, but I did not make, and do not have, any such recordings.' That left open the possibility that the conversations were taped without his knowledge, even by the F.B.I. or intelligence agencies, which eavesdrop and intercept calls. Asked whether Mr. Trump believed he was currently under surveillance in the Oval Office, the deputy press secretary, Sarah Huckabee Sanders, said, 'Not that I'm aware of.'"
Dan Coats, Director of National Intelligence, and Admiral Mike Rogers, Director of the National Security Agency (NSA), Tell House Investigators That Trump Urged Them to Say Publicly there Was No Evidence of Collusion Between the Trump Campaign and the Russian Effort to Interfere With the 2016 Election, NBC News, Ken Dilanian, Thursday, 22 June 2017: "Dan Coats, the director of national intelligence, told House investigators Thursday that President Trump seemed obsessed with the Russia probe and repeatedly asked him to say publicly there was no evidence of collusion, a U.S. official familiar with the conversation told NBC News. Coats' account is not new — it largely tracked with his story as previously reported by NBC News and other media outlets, the official said. Admiral Mike Rogers, director of the NSA, has also told associates that Trump asked him to say publicly there was no evidence of collusion between the Trump campaign and the Russian election interference effort. Both Rogers and Coats declined to do that, saying it would have been inappropriate, a former senior intelligence official familiar with the matter told NBC News. Rogers had his deputy write a memo about the conversation."
Trump: Russian interference is 'all a big Dem HOAX!,' The Washington Post, Philip Rucker, Thursday, 22 June 2017: "President Trump on Thursday called Russia's meddling in the 2016 election 'all a big Dem HOAX' and accused former president Barack Obama and his administration of not doing enough last year to 'stop' Russian interference. In morning tweets, Trump opined on the Russia probe and sought to assert his innocence, even as special counsel Robert S. Mueller III expands the investigation of possible collusion between the Trump campaign and Russia to look at possible obstruction of justice by the president. Trump tweeted, 'Why did Democratic National Committee turn down the DHS offer to protect against hacks (long prior to election). It's all a big Dem HOAX!'… In another Thursday tweet, Trump wrote, 'If Russia was working so hard on the 2016 Election, it all took place during the Obama Admin. Why didn't they stop them?' Josh Earnest, Obama's former White House press secretary, responded to Trump's tweet in an appearance on MSNBC. Noting that Russia's overall goal was to shake confidence in the United States' ability to have an election, Earnest said it would have been 'irresponsible' for the administration to have taken more active public steps expressing worry about Russia's actions."
U.S. Can't Revoke Citizenship Over Minor Falsehoods or Inconsequential Misstatements, Supreme Court Rules, The New York Times, Adam Liptak, Thursday, 22 June 2017: "The justices unanimously rejected the government's position that it could revoke the citizenship of Americans who made even trivial misstatements in their naturalization proceedings. During arguments in April, several justices seemed indignant and incredulous at the government's hard-line approach in the case, Maslenjak v. United States, No. 16-309. They asked about a form that people seeking American citizenship must complete. It requires applicants to say, for instance, whether they had ever committed a criminal offense, however minor, even if there was no arrest. A government lawyer, in response to questioning, said that failing to disclose a speeding violation could be enough to revoke citizenship even years later. Writing for the majority, Justice Elena Kagan said that the law required a tighter connection between the lie and the procurement of citizenship. 'We hold that the government must establish that an illegal act by the defendant played some role in her acquisition of citizenship,' she wrote. 'When the illegal act is a false statement, that means demonstrating that the defendant lied about facts that would have mattered to an immigration official, because they would have justified denying naturalization or would predictably have led to other facts warranting that result.'"
I worked on the Environmental Protection Agency's climate change website. Its removal is a declaration of war. The Washington Post, Jason Samenow, Thursday, 22 June 2017: "This spring, political officials at the Environmental Protection Agency removed the agency's climate change website, one of the world's top resources for information on the science and effects of climate change. To me, a scientist who managed this website for more than five years, its removal signifies a declaration of war on climate science by EPA Administrator Scott Pruitt. There can be no other interpretation. I draw this conclusion as a meteorologist with a specialization in climate science and as an independent voter who strives to keep my political and scientific views separate. I concede that this specific issue is personal for me, given the countless hours I spent working on the site. But it should be obvious to anyone how this senseless action runs counter to principles of good governance and scientific integrity. Some 20 years in the making, the breadth and quality of the website's content was remarkable. It lasted through Democratic and Republican administrations, partly because its information mirrored the findings of the mainstream scientific community, including the National Academy of Sciences, other federal agencies and the United Nations Intergovernmental Panel on Climate Change. It 'presented the current understanding of the science and possible solutions in a fair and balanced way,' says Kerry Emanuel, a world-renowned atmospheric scientist at MIT and a political conservative. The site's overarching conclusion, informed by these scientific organizations and reports, was that recent warming is largely a result of human activities, specifically the burning of fossil fuels, which releases large amounts of carbon dioxide into the atmosphere."
'How else can a Kenyan creampuff get ahead?' is just one of the disturbing tweets sent by William C. Bradford, head of the Energy Department's Office of Indian Energy, The Washington Post, Dino Grandoni, Thursday, 22 June 2017: "Before William C. Bradford was appointed by the Trump administration to run the Energy Department's Office of Indian Energy, he tweeted a slew of disparaging remarks about the real and imagined ethnic, religious and gender identities of former president Barack Obama, Facebook co-founder Mark Zuckerberg, TV news host Megyn Kelly and Japanese Americans during World War II. Bradford was recently appointed director of DOE's office in charge of assisting Native American and  Alaska Native tribes and villages with energy development. Before joining the department, he was attorney general of the Chiricahua Apache Nation. He has also been a faculty member at the U.S. Military Academy, the National Defense University, the Coast Guard Academy and the United Arab Emirates National Defense College."