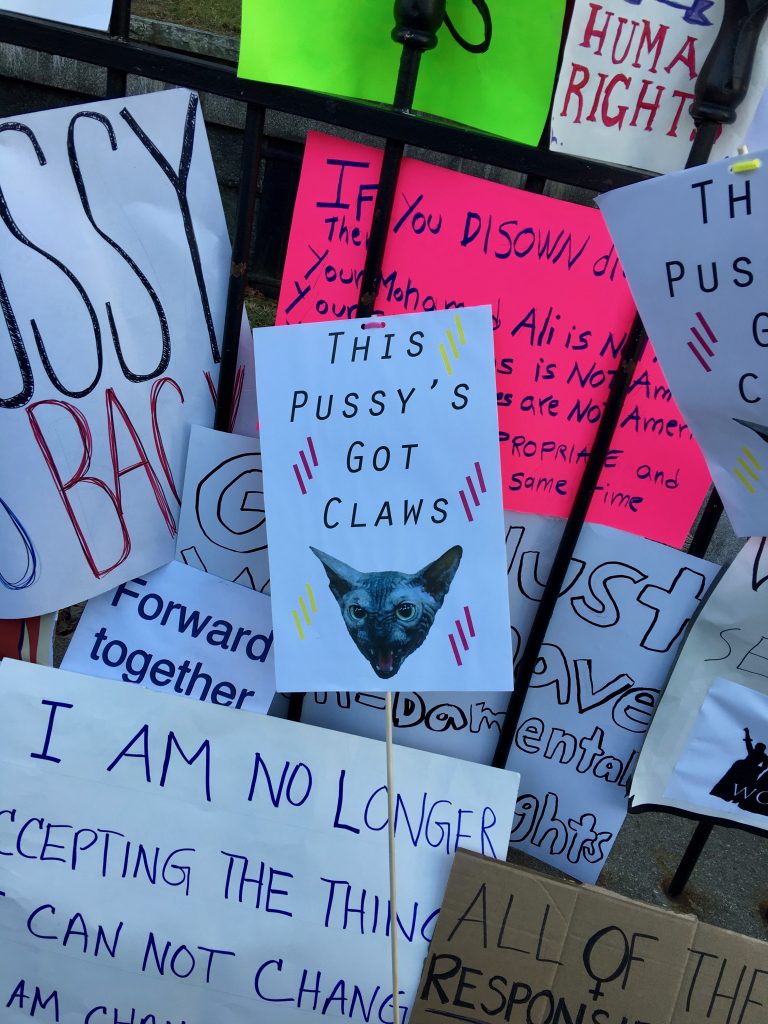 Keeping Track (of some things), Staying Outraged (it is possible), and Resisting (it's essential)
Passages in bold in the body of the texts below are my emphasis. This is an ongoing project, and I update the site frequently. I hope readers will peruse the articles in full for a better understanding of the issues and their context; our democracy and our future depend on citizens who can distinguish between facts and falsehoods and who are engaged in the political process.
Friday, 2 June 2017, Day 134:
Trump turns to the Supreme Court to move forward on his travel ban, The Washington Post, Robert Barnes and Ann E. Marimow, Friday, 2 June 2017: "The Trump administration late Thursday asked the Supreme Court to revive the president's plan to temporarily ban citizens from six mostly Muslim countries, elevating a divisive legal battle involving national security and religious discrimination to the nation's highest court. Justice Department lawyers asked the court to overturn a decision of the full U.S. Court of Appeals for the 4th Circuit that kept in place a freeze on President Trump's revised ban. The 10-to-3 ruling last week was one in a series of legal defeats for the administration, as judges across the country have said Trump's claim of protecting the nation was cover for making good on a campaign promise to ban Muslims from entry into the United States. The government's filing late Thursday asks the justices to set aside the 4th Circuit ruling and accept the case for oral arguments. It also asks the high court to lift an even broader nationwide injunction issued by a federal judge in a separate Hawaii case. A panel of the U.S. Court of Appeals for the 9th Circuit, which covers Hawaii, heard the government's arguments in that case last month, but has not yet ruled. In turning to the high court, Justice Department lawyers said the 4th Circuit should have considered only the language of the executive order and not second-guessed the president's motivations." See also, Trump Administration Asks Supreme Court to Revive Travel Ban, The New York Times, Adam Liptak, Friday, 2 June 2017. And see also, The Supreme Court's Options in the Travel Ban Case, The New York Times, Adam Liptak, Friday, 2 June 2017.
World Leaders Lament U.S. Withdrawal From the Paris Climate Accord, but They Say It Won't Stop Climate Efforts, The Washington Post, Michael D. Shear and Alison Smale, Friday, 2 June 2017: "World leaders vowed Friday to confront climate change in a new international coalition that no longer includes the United States government, moving quickly to reshape global environmental alliances after President Trump's decision to abandon the Paris climate accord. At the White House, Scott Pruitt, the administrator of the Environmental Protection Agency, declared that the president had 'nothing to be apologetic about' after announcing his decision on Thursday. He hailed Mr. Trump's actions to 'put America's interests first' and said that 'exiting Paris does not mean disengagement.' But in foreign capitals, and in communities across the United States that vowed to continue their efforts to combat the effects of climate change, that is exactly what Mr. Trump's withdrawal seemed to mean. International officials set in motion plans to leave the American government behind while they look for ways to stave off the direst consequences of the warming of the planet. In Germany, Chancellor Angela Merkel said Mr. Trump's actions 'will not deter all of us who feel obliged to protect this earth.' Koichi Yamamoto, the Japanese environment minister, told reporters that Mr. Trump had 'turned his back on the wisdom of human beings.' Donald Tusk, the president of the European Council, said the fight against climate change 'will continue with or without the United States.' Turning that message quickly into action, European Union leaders on Friday concluded a two-day summit meeting in Brussels with Prime Minister Li Keqiang of China — a not-so-veiled diplomatic threat to Mr. Trump that Europe will find a partner to fight climate change, one way or another." See also, Trump's speech withdrawing from the Paris climate accords needs a serious fact check, The Washington Post, Dino Grandoni, Friday, 2 June 2017: [Many of the reasons] "Trump gave for withdrawing seemed at best strained and at worst unfounded." This article explores some of Trump's claims and some of the problems with them. See also, For Climate Cause, Trump's Withdrawal from the Paris Climate Accord Is Just One Hurdle Among Many, ProPublica, Andrew Revkin, Friday, 2 June 2017: "Economic forces at work beyond the reach of the global climate agreement present their own enduring challenges."
Does Donald Trump Still Think Climate Change Is a Hoax? No One at the White House Will Say. The New York Times, Peter Baker, Friday, 2 June 2017: "As a businessman, President Trump was a frequent and scornful critic of the concept of climate change. In the years before running for president, he called it 'nonexistent,' 'mythical' and a 'a total con job.' Whenever snow fell in New York, it seemed, he would mock the idea of global warming. 'Global warming has been proven to be a canard repeatedly over and over again,' he wrote on Twitter in 2012. In another post later that year, he said, 'The concept of global warming was created by and for the Chinese in order to make U.S. manufacturing non-competitive.' A year later, he wrote that 'global warming is a total, and very expensive, hoax!' But on Friday, a day after Mr. Trump withdrew the United States from the Paris climate change accord, the White House refused to say whether the president still considers climate change a hoax. As other leaders around the world vowed to confront climate change without the United States, Mr. Trump's advisers fanned out to defend his decision and, when pressed, said they did not know his view of the science underlying the debate."
Continue reading Week 20, Friday, 2 June-Thursday, 8 June 2017:
Trump Administration Returns Copies of Report on C.I.A. Torture to Congress, The New York Times, Mark Mazzetti, Matthew Rosenberg, and Charlie Savage, Friday, 2 June 2017: "Senators, spies and a president spent years in a pitched battle over how the history is told of one of the most controversial chapters of America's campaign against terrorism, the detention and interrogation of prisoners in secret C.I.A. jails. But recent moves by the Trump administration have increased the likelihood that much of what is known about the macabre humiliations that unfolded in those jails around the world will remain hidden from public view. Congressional officials said on Friday that the administration had begun returning to Congress copies of a 6,700-page Senate report from 2014 about the C.I.A. program. The move raises the possibility that most of the copies could be locked in Senate vaults indefinitely or even destroyed — and increases the risk that future government officials, unable to read the report, will never learn its lessons. The classified report is the result of a lengthy investigation into the program by Democrats on the Senate Intelligence Committee, telling the story of how — in the years after the Sept. 11, 2001, terrorist attacks — the C.I.A. began capturing terrorism suspects and interrogating them in secret prisons beyond the reach of the American judicial and military legal systems. The central conclusion of the report is that the spy agency's interrogation methods — including waterboarding, sleep deprivation and other kinds of torture — were far more brutal and less effective than the C.I.A. described to policy makers, Congress and the public."
Meteorologists slam Trump's decision to withdraw from the Paris climate agreement, The Washington Post, Jason Samenow, Friday, 2 June 2017: "On the basis of science, not politics, meteorologists and leaders from the weather community largely united in denouncing the Trump administration's withdrawal from the Paris climate agreement on Thursday. The American Meteorological Society's executive director, Keith Seitter, called the decision 'deeply troubling' and said it ignored 'so many … components of the risk calculus that went into the treaty' in a statement issued Friday morning. '[F]rom a scientific viewpoint, it is particularly troubling that the President's claims cast aside the extensively studied domestic and global economic, health, and ecological risks of inaction on climate change,' he said."
Michael Bloomberg says he will make sure the United Nations gets $15 million it needs for the Paris climate agreement, CNN Money, Jackie Wattles, Friday, 2 June 2017: "Billionaire Michael Bloomberg says he is ready to help foot the bill for the Paris Climate Agreement after President Trump announced his decision to pull the United States out of it.  Bloomberg Philanthropies said Friday it will pull together $15 million to 'support the operations' of the United Nation's Framework Convention on Climate Change, the arm of the UN that coordinates the Paris pact. The $15 million would cover the U.S. share of the convention's operating budget, according to Bloomberg spokesperson Carl Pope. The money will come from Bloomberg Philanthropies and its partners."
The Republican-controlled House Intelligence Committee asked US spy agencies for five to six 'unmaskings' of Americans between June 2016 and January 2017, The Washington Post, Adam Entous and Ellen Nakashima, Friday, 2 June 2017: "The Republican-controlled House Intelligence Committee asked U.S. spy agencies late last year to reveal the names of U.S. individuals or organizations contained in classified intelligence on Russia's meddling in the 2016 election, engaging in the same practice that President Trump has accused the Obama administration of abusing, current and former officials said. The chairman of the committee, Rep. Devin Nunes (R-Calif.), has since cast the practice of 'unmasking' of U.S. individuals and organizations mentioned in classified reports as an abuse of surveillance powers by the outgoing Obama administration. Trump has argued that investigators should focus their attention on former officials leaking names from intelligence reports, rather than whether the Kremlin coordinated its activities with the Trump campaign, an allegation he has denied. 'The big story is the "unmasking and surveillance" of people that took place during the Obama administration,' Trump tweeted Thursday. According to a tally by U.S. spy agencies, the House Intelligence Committee requested five to six unmaskings of U.S. organizations or individuals related to Trump or Democratic candidate Hillary Clinton between June 2016 and January 2017. Officials familiar with the matter said that the committee's requests focused on the identities of U.S. organizations that had been hacked by the Russians in 2016. Officials declined to say how many of the requests came from Democrats vs. Republicans. The chairman of the committee wields enormous control over the actions of its members and requests for more information from intelligence agencies. Officials said that committee rules require the chairman to sign off on the requests, even ones that are not his own."
White House orders agencies to ignore Democrats' oversight requests, Politico, Burgess Everett and Josh Dawsey, Friday, 2 June 2017: "The White House is telling federal agencies to blow off Democratic lawmakers' oversight requests, as Republicans fear the information could be weaponized against President Donald Trump. At meetings with top officials for various government departments this spring, Uttam Dhillon, a White House lawyer, told agencies not to cooperate with such requests from Democrats, according to Republican sources inside and outside the administration. It appears to be a formalization of a practice that had already taken hold, as Democrats have complained that their oversight letters requesting information from agencies have gone unanswered since January, and the Trump administration has not yet explained the rationale. The declaration amounts to a new level of partisanship in Washington, where the president and his administration already feels besieged by media reports and attacks from Democrats. The idea, Republicans said, is to choke off the Democratic congressional minorities from gaining new information that could be used to attack the president."
The Office of Government Ethics will press the White House on undated conflict-of-interest waivers, The Washington Post, Matea Gold, Friday, 2 June 2017: "The Office of Government Ethics plans to press the White House to clarify when it issued a slew of ethics waivers giving its staffers permission to interact with their former employers or clients, an indication that the exemptions might not have been properly granted. Ten of the 14 waivers publicly disclosed this week by the White House are undated and unsigned, raising questions about when they were put in place. Particularly troubling, ethics experts said, was a blanket waiver allowing White House appointees to communicate with media organizations where they previously worked that was described as 'retroactive' — a maneuver that the ethics office said was not permitted. 'There's no such thing as a retroactive waiver,' said Walter M. Shaub Jr., director of the ethics office. The exemption appeared aimed at clearing interactions that chief strategist Stephen K. Bannon may have had with Breitbart News, the conservative news site he previously ran. Under an ethics pledge mandated by President Trump, Bannon was barred for two years from participating in matters directly related to Breitbart or his other former employers or clients.  Shaub said Friday that the undated waiver for former employees of news organizations would not cover any actions before it was granted."
Voucher Program Helps Well-Off Vermonters Pay for Prep School at Public Expense, ProPublica, Friday, 2 June 2017: "Regardless of their income, residents of small Vermont towns can use state vouchers to send their children to boarding schools and ski academies. Some school-choice advocates want to replicate the program nationwide. Vermont's voucher program is a microcosm of what could happen across the country if school-choice advocates such as Education Secretary Betsy DeVos achieve their vision. By subsidizing part of the cost of private schools in or out of state, it broadens options for some Vermonters while diverting students from public education and disproportionately benefiting wealthier families…. Vermont vouchers have been used to send students to ski academies, out-of-state art schools and even foreign boarding schools, such as the Sigtunaskolan School in Sweden, whose alumni include Sweden's current king and former prime minister. Vermont paid more than $40 million in vouchers to more than 60 private schools last year, including more than $1.3 million to out-of-state schools, according to data received from the state's education agency through a public-records request. Of the almost 2,800 Vermonters who use publicly funded vouchers to go to private schools in state, 22.5 percent qualify for free or reduced price lunch, according to state education data. (The data excludes out-of-state private schools.) By contrast, 38.3 percent of public school students in Vermont have family incomes low enough to qualify them for the lunch discount."
C.I.A. Names the 'Dark Prince' Michael D'Andrea to Run Iran Operations, Signaling a Tougher Stance, The New York Times, Matthew Rosenberg and Adam Goldman, Friday, 2 June 2017: "He is known as the Dark Prince or Ayatollah Mike, nicknames he earned as the Central Intelligence Agency officer who oversaw the hunt for Osama bin Laden and the American drone strike campaign that killed thousands of Islamist militants and hundreds of civilians. Now the official, Michael D'Andrea, has a new job. He is running the C.I.A.'s Iran operations, according to current and former intelligence officials, an appointment that is the first major sign that the Trump administration is invoking the hard line the president took against Iran during his campaign. Mr. D'Andrea's new role is one of a number of moves inside the spy agency that signal a more muscular approach to covert operations under the leadership of Mike Pompeo, the conservative Republican and former congressman, the officials said. The agency also recently named a new chief of counterterrorism, who has begun pushing for greater latitude to strike militants. Iran has been one of the hardest targets for the C.I.A. The agency has extremely limited access to the country — no American embassy is open to provide diplomatic cover — and Iran's intelligence services have spent nearly four decades trying to counter American espionage and covert operations."
Saturday, 3 June 2017, Day 135:
How Republican Leaders Came to View Climate Change as Fake Science, The New York Times, Coral Davenport and Eric Lipton, Saturday, 3 June 2017: "The campaign ad appeared during the presidential contest of 2008. Rapid-fire images of belching smokestacks and melting ice sheets were followed by a soothing narrator who praised a candidate who had stood up to President George W. Bush and 'sounded the alarm on global warming.'  It was not made for a Democrat, but for Senator John McCain, who had just secured the Republican nomination. It is difficult to reconcile the Republican Party of 2008 with the party of 2017, whose leader, President Trump, has called global warming a hoax, reversed environmental policies that Mr. McCain advocated on his run for the White House, and this past week announced that he would take the nation out of the Paris climate accord, which was to bind the globe in an effort to halt the planet's warming. The Republican Party's fast journey from debating how to combat human-caused climate change to arguing that it does not exist is a story of big political money, Democratic hubris in the Obama years and a partisan chasm that grew over nine years like a crack in the Antarctic shelf, favoring extreme positions and uncompromising rhetoric over cooperation and conciliation…. Since Mr. McCain ran for president on climate credentials that were stronger than his opponent Barack Obama's, the scientific evidence linking greenhouse gases from fossil fuels to the dangerous warming of the planet has grown stronger. Scientists have for the first time drawn concrete links between the planet's warming atmosphere and changes that affect Americans' daily lives and pocketbooks, from tidal flooding in Miami to prolonged water shortages in the Southwest to decreasing snow cover at ski resorts. That scientific consensus was enough to pull virtually all of the major nations along. Conservative-leaning governments in Britain, France, Germany and Japan all signed on to successive climate change agreements. Yet when Mr. Trump pulled the United States from the Paris accord, the Senate majority leader, the speaker of the House and every member of the elected Republican leadership were united in their praise. Those divisions did not happen by themselves. Republican lawmakers were moved along by a campaign carefully crafted by fossil fuel industry players, most notably Charles D. and David H. Koch, the Kansas-based billionaires who run a chain of refineries (which can process 600,000 barrels of crude oil per day) as well as a subsidiary that owns or operates 4,000 miles of pipelines that move crude oil."
How a 'shadow' universe of charities joined with political warriors to fuel Trump's rise, The Washington Post, Robert O'Harrow Jr. and Shawn Boburg, Saturday, 3 June 2017: "The crowd rose to its feet and roared its approval as Sen. Jeff Sessions bounded onto the stage at the Breakers, an exclusive resort in Palm Beach, Fla. Stephen Miller, an aide to the Alabama Republican, handed him a glass trophy honoring his bravery as a lawmaker. 'Heyyyy!' Sessions yelled out to the crowd. The ceremony that day, in November 2014, turned out to be a harbinger: It brought together an array of hard-right activists and a little-known charity whose ideas would soon move from the fringes of the conservative movement into the heart of the nation's government. The man behind the event was David Horowitz, a former '60s radical who became an intellectual godfather to the far right through his writings and his work at a charity, the David Horowitz Freedom Center. Since its formation in 1988, the Freedom Center has helped cultivate a generation of political warriors seeking to upend the Washington establishment. These warriors include some of the most powerful and influential figures in the Trump administration: Attorney General Sessions, senior policy adviser Miller and White House chief strategist Stephen K. Bannon. Long before Trump promised to build a wall, ban Muslims and abandon the Paris climate accord, Horowitz used his tax-exempt group to rail against illegal immigrants, the spread of Islam and global warming. Center officials described Hillary Clinton as evil, President Barack Obama as a secret communist and the Democratic Party as a front for enemies of the United States. The Freedom Center has declared itself a "School for Political Warfare," and it is part of a loose nationwide network of like-minded charities linked together by ideology, personalities, conservative funders and websites, including the for-profit Breitbart News."
Trump Plans to Shift Infrastructure Funding to Cities, States, and Businesses, The New York Times, Julie Hirschfeld Davis and Kate Kelly, Saturday, 3 June 2017: "President Trump will lay out a vision this coming week for sharply curtailing the federal government's funding of the nation's infrastructure and calling upon states, cities and corporations to shoulder most of the cost of rebuilding roads, bridges, railways and waterways. He will also endorse a plan to privatize and modernize the nation's air-traffic control system. That plan, which is to be introduced on Monday at the White House and the subject of a major speech in the Midwest two days later, will be Mr. Trump's first concrete explanation of how he intends to fulfill a campaign promise to lead $1 trillion in United States infrastructure projects. The goal is to create millions of jobs while doing much-needed reconstruction and updating. But the actual details of the initiative are unsettled, and a more intricate blueprint is still weeks or even months from completion. What the president will offer instead over the coming days, his advisers said, are the contours of a plan. The federal government would make only a fractional down payment on rebuilding the nation's aging infrastructure. Mr. Trump would rely on a combination of private industry, state and city tax money, and borrowed cash to finance the rest. It would be a stark departure from ambitious infrastructure programs of the past, in which the government played a major role and devoted substantial resources to paying the cost of large-scale projects."
Sunday, 4 June 2017, Day 136:
Trump reacts to attack in London by stoking fear and renewing feud with the mayor, Sadiq Khan, The Washington Post, Philip Rucker, Sunday, 4 June 2017: "A traditional president would have reacted carefully to the London Bridge terrorist attack by instilling calm, being judicious about facts and appealing to the country's better angels. But Donald Trump is no traditional president. He reacted impulsively to Saturday night's carnage by stoking panic and fear, being indiscreet with details of the event and capitalizing on it to advocate for one of his more polarizing policies and to advance a personal feud. Before British authorities detailed exactly what happened on the London Bridge, before they blamed Islamist extremism and even before they publicly concluded it was an act of terrorism, President Trump fired off a tweet to his 31 million followers: An unconfirmed bulletin from the Drudge Report. 'Fears of new terror attack after van "mows down 20 people" on London Bridge . . . ,' read the Drudge tweet, which Trump retweeted. Before offering his condolences to the British people, the victims of three gruesome attacks in as many months, Trump pecked out a second tweet. 'We need to be smart, vigilant and tough,' the president wrote, calling on U.S. courts to affirm his administration's travel ban on people from six majority-Muslim nations. Later that evening, Trump spoke with British Prime Minister Theresa May and extended his support for America's closest ally. He tweeted, 'Whatever the United States can do to help out in London and the U. K., we will be there — WE ARE WITH YOU. GOD BLESS!' On Sunday morning, however, once the breadth of the horror in London was clear, Trump was back on Twitter. He criticized the city's mayor — Sadiq Khan, a liberal Muslim and an old Trump foil — for not being tough enough protecting his citizens. 'At least 7 dead and 48 wounded in terror attack and Mayor of London says there is "no reason to be alarmed!"' Trump tweeted. Trump took Khan's quote out of context. The mayor had urged Londoners, in a BBC interview that was replayed, not to be 'alarmed' by an increased police presence in the city. He said that after condemning the 'deliberate and cowardly attack' as 'barbaric.' A Khan representative swatted away Trump's taunt, saying in a statement that the mayor 'has more important things to do than respond to Donald Trump's ill-informed tweet that deliberately takes out of context his remarks urging Londoners not to be alarmed when they saw more police — including armed officers — on the streets.'" See also, Trump Responds to the Attack in London With a Range of Awful Twitter Behavior, The Intercept, Robert Mackey, Sunday, 4 June 2017. And see also, Trump's Tweets About the Attack in London: How Low Can He Stoop? The New Yorker, John Cassidy, published on Monday, 5 June 2017: "…[O]n Saturday, in the initial moments after the attack, as people were still fleeing from the scene and confusion reigned in London, Trump retweeted an unconfirmed story from the Drudge Report, which said that a suspected terrorist attack was taking place. The President has sixteen different intelligence agencies working for him and instant access to 10 Downing Street—if he wants a first-hand update from London he can get it. Instead, Trump was circulating speculation. Shortly after that, at 7:17 P.M. on the East Coast, Trump issued a tweet, saying, 'We need to be smart, vigilant and tough. We need the courts to give us back our rights. We need the Travel Ban as an extra level of safety!' There was no expression of concern for the dead and injured and their families; no expression of admiration for the bravery of the British police, who were rushing into a deadly situation; no expression of solidarity with the British people and the British government. Instead, there was only a blatant effort to make political capital out of an unfolding tragedy.
Former FBI director James Comey's Senate testimony: the US braces for a historic political moment, The Guardian, Julian Borger, Sunday, 4 June 2017: "When James Comey, the former FBI director, stands before a Senate committee on Thursday to give evidence about the president who fired him, it will be one of the most dramatic moments in US political history. The stakes will be as high as they have ever been at a congressional hearing. The questions Comey will be asked by the Senate intelligence committee include whether Donald Trump tried to persuade him to stop an investigation into improper contacts between a top adviser and Russian officials, whether Trump sought to extract a vow of personal loyalty, and whether Comey was fired because he did not comply. Trump has denied trying to make Comey drop the case, but if Comey contradicts him and is supported by other evidence, it would represent potential obstruction of justice by the president and mark a long leap down the road towards impeachment."
Bank at the Center of the U.S. Russia Inquiry, Vnesheconombank (VEB), Projects Russian 'Soft Power,' The New York Times, Ben Protess, Andrew E. Kramer, and Mike McIntire, Sunday, 4 June 2017: "It has offices in a sleek Manhattan skyscraper. Its bonds are accessible to millions of American investors. And it holds ties to some of New York's biggest banks. Despite this presence on Wall Street, detailed in previously unreported financial records, Vnesheconombank, or VEB, is no normal bank. It is wholly owned by the Russian state. It is intertwined with Russian intelligence. And the Russian prime minister is, by law, the chairman of its supervisory board. Now VEB is at the center of an international firestorm that threatens the Trump presidency because the bank's chief — a prominent graduate of Russia's spy school — met with Jared Kushner, President Trump's son-in-law, during the presidential transition. That meeting is a focus of a federal counterintelligence investigation about possible collusion between the Trump campaign and the Russian government. Three years ago, in response to Moscow's military intervention in Ukraine, the Obama administration imposed sanctions on VEB that have effectively kept it from taking on most new business in the United States. Since then, however, VEB has quietly kept up appearances on Wall Street in the event that sanctions would be lifted, according to interviews with American bankers and former government officials."
Monday, 5 June 2017, Day 137:
Trump Promotes Original 'Travel Ban,' Eroding His Legal Case, The New York Times, Adam Liptak and Peter Baker, Monday, 5 June 2017: "President Trump has excellent lawyers. They have a challenging client. In a series of Twitter posts Monday morning, Mr. Trump may have irretrievably undermined his lawyers' efforts to persuade the Supreme Court to reinstate his executive order limiting travel from six predominantly Muslim countries. Saying he preferred 'the original Travel Ban, not the watered down, politically correct version' he had issued in March, Mr. Trump attacked both the Justice Department and the federal courts…. Last week, lawyers in the solicitor general's office filed polished briefs in the Supreme Court. They urged the justices to ignore incendiary statements from Mr. Trump during the presidential campaign, including a call for a 'Muslim ban.' The court should focus instead on the text of the revised executive order and statements from Mr. Trump after he had taken the inaugural oath to 'preserve, protect and defend the Constitution,' the briefs said. Mr. Trump, his lawyers said, was now a changed man, alert to the burdens and responsibilities of his office…. On Twitter early Monday, though, Mr. Trump appeared to say that the latest executive order was of a piece with the earlier one, issued in January, and with his longstanding positions. 'The Justice Dept. should have stayed with the original Travel Ban, not the watered down, politically correct version they submitted to S.C.,' Mr. Trump wrote. In calling the revised order 'politically correct,' Mr. Trump suggested that his goal throughout had been to exclude travelers based on religion. And in calling the revised order 'watered down,' he made it harder for his lawyers to argue that it was a clean break from the earlier one, which had mentioned religion…. In his posts, Mr. Trump seemed to betray a misunderstanding of how two branches of the federal government work. His criticism of the Justice Department was misplaced, because it works for him. He could have insisted that it defend his original order. It was Mr. Trump's decision, too, to issue the revised order. Mr. Trump also suggested that the Supreme Court could impose a 'much tougher version' of his executive order. But the court's role is limited to evaluating the lawfulness of the current order. Insulting judges is also generally a poor litigation strategy. But Mr. Trump also posted that 'the courts are slow and political!'" See also, Trump's "Travel Ban" Tweets Show His Disdain for the Law, The New Yorker, Amy Davidson, Monday, 5 June 2017: "…it was in four Monday-morning tweets, the first issued at 6:25 A.M., that Trump jammed himself directly into the legal arguments surrounding the ban. He wrote, 'People, the lawyers and the courts can call it whatever they want, but I am calling it what we need and what it is, a TRAVEL BAN!'"
Trump Grows Discontented With Attorney General Jeff Sessions, The New York Times, Peter Baker and Maggie Haberman, Monday, 5 June 2017: "Few Republicans were quicker to embrace President Trump's campaign last year than Jeff Sessions, and his reward was one of the most prestigious jobs in America. But more than four months into his presidency, Mr. Trump has grown sour on Mr. Sessions, now his attorney general, blaming him for various troubles that have plagued the White House. The discontent was on display on Monday in a series of stark early-morning postings on Twitter in which the president faulted his own Justice Department for its defense of his travel ban on visitors from certain predominantly Muslim countries. Mr. Trump accused Mr. Sessions's department of devising a "politically correct" version of the ban — as if the president had nothing to do with it. In private, the president's exasperation has been even sharper. He has intermittently fumed for months over Mr. Sessions's decision to recuse himself from the investigation into Russian meddling in last year's election, according to people close to Mr. Trump who insisted on anonymity to describe internal conversations. In Mr. Trump's view, they said, it was that recusal that eventually led to the appointment of a special counsel who took over the investigation."
Top-Secret NSA Report Details Russian Hacking Effort Days Before 2016 Presidential Election, The Intercept, Matthew Cole, Richard Esposito, Sam Biddle, and Ryan Grim, Monday, 5 June 2017: "Russian military intelligence executed a cyberattack on at least one U.S. voting software supplier and sent spear-phishing emails to more than 100 local election officials just days before last November's presidential election, according to a highly classified intelligence report obtained by The Intercept. The top-secret National Security Agency document, which was provided anonymously to The Intercept and independently authenticated, analyzes intelligence very recently acquired by the agency about a months-long Russian intelligence cyber effort against elements of the U.S. election and voting infrastructure. The report, dated May 5, 2017, is the most detailed U.S. government account of Russian interference in the election that has yet come to light. While the document provides a rare window into the NSA's understanding of the mechanics of Russian hacking, it does not show the underlying 'raw' intelligence on which the analysis is based. A U.S. intelligence officer who declined to be identified cautioned against drawing too big a conclusion from the document because a single analysis is not necessarily definitive. The report indicates that Russian hacking may have penetrated further into U.S. voting systems than was previously understood. It states unequivocally in its summary statement that it was Russian military intelligence, specifically the Russian General Staff Main Intelligence Directorate, or GRU, that conducted the cyber attacks described in the document…. The NSA analysis does not draw conclusions about whether the interference had any effect on the election's outcome and concedes that much remains unknown about the extent of the hackers' accomplishments. However, the report raises the possibility that Russian hacking may have breached at least some elements of the voting system, with disconcertingly uncertain results…. The NSA has now learned … that Russian government hackers, part of a team with a 'cyber espionage mandate specifically directed at U.S. and foreign elections,' focused on parts of the system directly connected to the voter registration process, including a private sector manufacturer of devices that maintain and verify the voter rolls." Tweet by The Intercept on Tuesday, 6 June 2017: "What we know: 1. The NSA believes Russian hackers breached at least one American e-voting vendor. 2. The NSA believes these hackers tried to infect American local government officials with computer-hijacking malware. 3. The NSA believes the hackers are part of a special team within Russian military intelligence focused on American and other foreign elections. What we don't know: 1. There's no indication that the cyberattacks had any effect on the outcome of the election. 2. The NSA isn't sure if any officials at the local level were infected with the Russian malware. 3. It's unclear why the hackers targeted email accounts associated with the American Samoa absentee ballot system."
Intelligence Contractor Reality Leigh Winner Is Charged in First Leak Case Under Trump, The New York Times, Charlie Savage, Monday, 5 June 2017: "An intelligence contractor was charged with sending a classified report about Russia's interference in the 2016 election to the news media, the Justice Department announced Monday, the first criminal leak case under President Trump. The case showed the department's willingness to crack down on leaks, as Mr. Trump has called for in complaining that they are undermining his administration. His grievances have contributed to a sometimes tense relationship with the intelligence agencies he now oversees. The Justice Department announced the case against the contractor, Reality Leigh Winner, 25, about an hour after the national-security news outlet The Intercept published the apparent document, a May 5 intelligence report from the National Security Agency. The report described two cyberattacks by Russia's military intelligence unit, the G.R.U. — one in August against a company that sells voter registration-related software and another, a few days before the election, against 122 local election officials. The Intercept said the N.S.A. report had been submitted anonymously. But shortly after its article was published, the Justice Department said that the F.B.I. had arrested Ms. Winner at her house in Augusta, Ga., on Saturday. It also said she had confessed to an agent that she had printed out a May 5 intelligence file and mailed it to an online news outlet." See also, Reality Winner, N.S.A. Contractor Accused of Leak, Was Undone by Trail of Clues, The New York Times, Charlie Savage, Scott Shane, and Alan Blinder, published on Tuesday, 6 June 2017: "In the months after President Trump was elected, Reality Leigh Winner frequently expressed outraged political views about him on social media, in between photos of her cats and favorite quotations. But on the afternoon of May 9, she posted an unusually anodyne message on Facebook, noting that she would be teaching two yoga classes that evening. She was harboring a secret, prosecutors say. Hours earlier, Ms. Winner, a 25-year-old former Air Force linguist who in February took a contractor job at a National Security Agency eavesdropping center in Georgia, printed out a top-secret intelligence report detailing Russian meddling in the American election and ferreted it out of the secure complex. Days later, she would mail the file to a reporter at the national-security news outlet The Intercept. By the time the site published the document on Monday, Ms. Winner was already under arrest — undone by a trail of clues that quickly led investigators to her. Ms. Winner, who the F.B.I. said confessed when confronted, is now the defendant in the first criminal leak case of the Trump era. Her case was a reminder of the vast universe of people who have access to government secrets, largely because of the expansion of security agencies in the years since the Sept. 11 attacks. About four million people, both government employees and contractors, hold security clearances, including 1.3 million with top secret clearances like Ms. Winner's."
In the Withdrawal From the Paris Climate Agreement, the Koch Brothers' Campaign Becomes Overt, The New Yorker, Jane Mayer, Monday, 5 June 2017: "The Koch Brothers used to fly far below the radar. Now their astounding influence-buying and efforts to keep the U.S. from embracing climate-change legislation have become more obvious. If there was any lingering doubt that a tiny clique of fossil-fuel barons has captured America's energy and environmental policies, it was dispelled last week, when the Trump Administration withdrew from the Paris climate accord. Surveys showed that a majority of Americans in literally every state wanted to remain within the agreement, and news reports established that the heads of many of the country's most successful and iconic Fortune 100 companies, from Disney to General Electric, did, too. Voters and big business were arrayed against leaving the climate agreement. Yet despite the majority's sentiment, a tiny—and until recently, almost faceless—minority somehow prevailed. How this happened is no longer a secret. The answer, as the New York Times reported, on Sunday, is 'a story of big political money.' It is, perhaps, the most astounding example of influence-buying in modern American political history. As the climate scientist Michael Mann put it to me in my book 'Dark Money,' when attempting to explain why the Republican Party has moved in the opposite direction from virtually the rest of the world, 'We are talking about a direct challenge to the most powerful industry that has ever existed on the face of the Earth. There's no depth to which they're unwilling to sink to challenge anything threatening their interests.' For most of the world's population, the costs of inaction on climate change far outweigh that of action. But for the fossil-fuel industry, he said, 'It's like the switch from whale oil in the nineteenth century. They're fighting to maintain the status quo, no matter how dumb.'… Until recently, those buying the fealty of the Republican Party on these issues tried to hide their sway, manipulating politics from the wings. But what became clear this past weekend is that they can remain anonymous no longer. With their success dictating America's climate policy, the fossil-fuel industry's political heavyweights have also won new notoriety. Charles and David Koch, the billionaire owners of the Kansas-based fossil-fuel leviathan Koch Industries, used to attract attention only from environmental groups such as Greenpeace, which labelled them 'the Kingpins of Climate Denial.' They were so secretive about their political activities that, when I first wrote about their tactics in The New Yorker, in 2010, the article was titled 'Covert Operations.' But now references to the Kochs are becoming almost as commonplace as the Dixie Cups, Lycra, and other household products that their business produces."
Senior diplomat in Beijing embassy resigns over Trump's climate change decision, The Washington Post, Carol Morello, Monday, 5 June 2017: "The No. 2 diplomat at the U.S. Embassy in Beijing resigned Monday, telling staff his conscience would not permit him to formally notify the Chinese that the United States is withdrawing from the Paris climate accord. David H. Rank, a career Foreign Service officer of 27 years, had been acting ambassador until former Iowa governor Terry Branstad (R) was confirmed as the new ambassador last month. Rank held a town meeting with embassy employees to explain he had offered his resignation and it had been accepted. As the head of the embassy until Branstad arrives, it was Rank's responsibility to deliver a formal notification of the U.S. intention to withdraw from the climate pact." See also, Some U.S. Diplomats Stage Quiet Revolt Amid Tensions With Trump, The New York Times, Mark Landler, Monday, 5 June 2017: "As President Trump strains alliances and relationships around the world, some of the nation's top career diplomats are breaking publicly with him, in what amounts to a quiet revolt by a cadre of public servants known for their professional discretion. On Monday, the chargé d'affaires at the American Embassy in Beijing, David H. Rank, announced his resignation after telling his staff he could not defend the Trump administration's decision to withdraw from the Paris climate accord. A day earlier, the acting ambassador to Britain, Lewis A. Lukens, tweeted his support of London's mayor, Sadiq Khan, in the wake of a deadly terrorist attack there. On Sunday morning, President Trump had picked a fight with the mayor on Twitter. Last month, the ambassador to Qatar, Dana Shell Smith, reacted to Mr. Trump's dismissal of the F.B.I. director, James B. Comey, by tweeting, 'Increasingly difficult to wake up overseas to news from home, knowing I will spend today explaining our democracy and institutions.' The State Department has been a hotbed of resistance to the Trump administration's policies from the start. About 1,000 staff members signed a cable protesting the temporary ban on visas for visitors from seven predominantly Muslim countries the administration tried to impose in January. There has been a small exodus of senior diplomats, which, combined with the slow pace of appointments, has left the State Department's headquarters noticeably depleted. But the tensions between the White House and the diplomatic corps are now flaring up more publicly, and at a more senior level. Mr. Lukens, Mr. Rank, and Ms. Smith have all spent decades in the Foreign Service, rising to posts at or close to the ambassadorial level."
Supreme Court Affirms North Carolina Districts Rely Too Much on Race and Agrees to Hear Cellphone Privacy Case, The New York Times, Adam Liptak, Monday, 5 June 2017: "The Supreme Court on Monday dealt North Carolina a setback in a voting rights case for the third time in recent weeks, affirming a decision that struck down many state legislative districts for relying too heavily on race. The court also ordered a lower court to reconsider whether racial gerrymandering in North Carolina required a special election this year. And in a third separate ruling, the justices agreed to decide a major case on the privacy of cellphone records…. In the privacy case, the high court will decide whether the government needs a warrant to obtain information from cellphone companies showing their customers' locations."
Trump Backs Air Traffic Control Privatization, The New York Times, Julie Hirschfeld Davis, Monday, 5 June 2017: "President Trump endorsed a proposal on Monday to privatize air traffic control, seizing on a decades-old idea as proof that he is advancing the ambitious infrastructure rebuilding plan he promised during his campaign but is still months from delivering. At an East Room event that was choreographed like the elaborate ceremonies for enacting major legislation, Mr. Trump signed a memo and letter to Congress outlining his principles for overhauling the nation's air traffic control system. He handed out pens to lawmakers who had been invited to attend, and reveled in several rounds of applause. But Mr. Trump's announcement did not have any binding effect, and Democrats quickly denounced the proposal."
Here Are the Financial Disclosures of 349 Officials Trump Has Installed Across the Government, ProPublica, Derek Kravitz, Al Shaw, Annie Waldman, and Ariana Tobin, Monday, 5 June 2017: "We have been collecting disclosure forms that lay out Trump administration officials' financial holdings and employment backgrounds. We now have disclosures from 349 officials and we're sharing them with you. They are from White House staffers, President Trump's Cabinet and from the hundreds of members of so-called beachhead teams that the administration has installed with little notice at federal agencies. The disclosures are crucial to understanding potential conflicts. Many lobbyists and political consultants now work at the agencies they sought to influence."
'Kill them. Kill them all': Republican congressman Clay Higgins from Louisiana calls for war against radical Islamists, The Washington Post, Peter Holley, Monday, 5 June 2017: "As a sheriff's department spokesman in rural Louisiana, Clay Higgins's rare candor precipitated his downfall, but not before it catapulted him to online fame and, more recently, a seat in the U.S. House of Representatives…. [T]he newly elected congressman [now] finds himself under fire for making controversial statements about Islam. 'Not a single radicalized Islamic suspect should be granted any measure of quarter,'  the Louisiana Republican posted on Facebook on Sunday. 'Their intended entry to the American homeland should be summarily denied. Every conceivable measure should be engaged to hunt them down. Hunt them, identify them, and kill them. Kill them all. For the sake of all that is good and righteous. Kill them all.'" See also, 'This is what happens in war': Louisiana Republican congressman Clay Higgins defends his call for killing radical Muslims, The Washington Post, Peter Holley, published on Wednesday, 7 June 2017.
Tuesday, 6 June 2017, Day 138:
When He Was F.B.I. Director, James Comey Told Attorney General Jeff Sessions: Don't Leave Me Alone With Trump, The New York Times, Michael S. Schmidt and Matt Apuzzo, Tuesday, 6 June 2017: "The day after President Trump asked James B. Comey, the F.B.I. director, to end an investigation into his former national security adviser, Mr. Comey confronted Attorney General Jeff Sessions and said he did not want to be left alone again with the president, according to current and former law enforcement officials. Mr. Comey believed Mr. Sessions should protect the F.B.I. from White House influence, the officials said, and pulled him aside after a meeting in February to tell him that private interactions between the F.B.I. director and the president were inappropriate. But Mr. Sessions could not guarantee that the president would not try to talk to Mr. Comey alone again, the officials said. Mr. Comey did not reveal, however, what had so unnerved him about his Oval Office meeting with the president: Mr. Trump's request that the F.B.I. director end the investigation into the former national security adviser, Michael T. Flynn, who had just been fired. By the time Mr. Trump fired Mr. Comey last month, Mr. Comey had disclosed the meeting to a few of his closest advisers but nobody at the Justice Department, according to the officials, who did not want to be identified discussing Mr. Comey's interactions with Mr. Trump and Mr. Sessions. Mr. Comey will be the center of attention on Thursday during testimony before the Senate Intelligence Committee, where he is expected to be quizzed intensely about his interactions with Mr. Trump and why he decided to keep secret the president's request to end the Flynn investigation. His unwillingness to be alone with the president reflected how deeply Mr. Comey distrusted Mr. Trump, who Mr. Comey believed was trying to undermine the F.B.I.'s independence as it conducted a highly sensitive investigation into links between Mr. Trump's associates and Russia, the officials said. By comparison, Mr. Comey met alone at least twice with President Barack Obama."
Attorney General Jeff Sessions suggested he could resign amid rising tension with Trump, ABC News, Jonathan Karl, Tuesday, 6 June 2017: "As the White House braces for former FBI Director James Comey's testimony Thursday, sources tell ABC News the relationship between President Donald Trump and Attorney General Jeff Sessions has become so tense that Sessions at one point recently even suggested he could resign. The friction between the two men stems from the attorney general's abrupt decision in March to recuse himself from anything related to the Russia investigation — a decision the president only learned about minutes before Sessions announced it publicly. Multiple sources say the recusal is one of the top disappointments of his presidency so far and one the president has remained fixated on. Trump's anger over the recusal has not diminished with time. Two sources close to the president say he has lashed out repeatedly at the attorney general in private meetings, blaming the recusal for the expansion of the Russia investigation, now overseen by Special Counsel and former FBI Director Robert Mueller. But sources say the frustration runs both ways, prompting the resignation offer from Sessions." See also, Attorney General Jeff Sessions Is Said to Have Offered to Resign, The New York Times, Maggie Haberman and Peter Baker, Tuesday, 6 June 2017: "Attorney General Jeff Sessions offered to resign in recent weeks as he told President Trump he needed the freedom to do his job, according to two people who were briefed on the discussion. The president turned down the offer, but on Tuesday, the White House declined to say whether Mr. Trump still had confidence in his attorney general. 'I have not had that discussion with him,' Sean Spicer, the White House press secretary, told reporters, responding to questions about whether the president had soured on Mr. Sessions. Mr. Spicer's remarks came after The New York Times reported that Mr. Trump had vented intermittently about Mr. Sessions since the attorney general recused himself from any Russia-related investigations conducted by the Justice Department. Mr. Trump has fumed to allies and advisers ever since, suggesting that Mr. Sessions's decision was needless. He has also blamed Mr. Sessions for the fallout from an executive order that the president signed for a travel ban on seven primarily Muslim countries, which courts have blocked. The situation between Mr. Sessions and Mr. Trump has grown so tense that the attorney general told Mr. Trump in recent weeks that he needed the freedom to do his job and that he could resign if that was what was wanted, according to the two people who spoke on the condition of anonymity to discuss internal White House matters. Mr. Trump did not take him up on the offer."
Top intelligence official Daniel Coats, Director of National Intelligence, told associates Trump asked him if he could intervene with FBI director James Comey on the FBI Russia probe, The Washington Post, Adam Entous, Tuesday, 6 June 2017: "The nation's top intelligence official told associates in March that President Trump asked him if he could intervene with then-FBI Director James B. Comey to get the bureau to back off its focus on former national security adviser Michael Flynn in its Russia probe, according to officials. On March 22, less than a week after being confirmed by the Senate, Director of National Intelligence Daniel Coats attended a briefing at the White House together with officials from several government agencies. As the briefing was wrapping up, Trump asked everyone to leave the room except for Coats and CIA Director Mike Pompeo. The president then started complaining about the FBI investigation and Comey's handling of it, said officials familiar with the account Coats gave to associates. Two days earlier, Comey had confirmed in a congressional hearing that the bureau was probing whether Trump's campaign coordinated with Russia during the 2016 race. After the encounter, Coats discussed the conversation with other officials and decided that intervening with Comey as Trump had suggested would be inappropriate, according to officials who spoke on condition of anonymity to discuss sensitive internal matters. The events involving Coats show the president went further than just asking intelligence officials to deny publicly the existence of any evidence showing collusion during the 2016 election, as The Washington Post reported in May. The interaction with Coats indicates that Trump aimed to enlist top officials to have Comey curtail the bureau's probe."
Timeline: What we know about Trump's campaign, Russia, and the investigation of the two, The Washington Post, Philip Bump, Tuesday, 6 June 2017: "Part of the reason that the ongoing investigations into possible links between Donald Trump's 2016 campaign and Russian actors appear endlessly complex is that new details are reported gradually, over the course of months. That trickle of revelations has the natural effect of clouding the timeline, making it difficult to figure out who knew what and when. In an effort to simplify, we've created the following timeline, which places information about interactions between the Trump team and Russia in the proper chronological order. We've included the dates on which each piece of information was reported to give a sense of when the revelations were made. (Those dates are indicated in parentheses after each piece of information.) Significant figures in the investigations are indicated in bold."
How Donald Trump Shifted Kids-Cancer Charity Money Into His Business, Forbes, Dan Alexander, Tuesday, 6 June 2017: Eric Trump says that "[b]ecause he can get his family's golf course for free and have most of the other costs donated, virtually all the money contributed [to the Eric Trump Foundation golf invitational held in September at the Trump National Golf Club in Westchester County, New York] goes toward helping kids with cancer. 'We get to use our assets 100% free of charge,' Trump tells Forbes. That's not the case. In reviewing filings from the Eric Trump Foundation and other charities, it's clear that the course wasn't free–that the Trump Organization received payments for its use, part of more than $1.2 million that has no documented recipients past the Trump Organization. Golf charity experts say the listed expenses defy any reasonable cost justification for a one-day golf tournament…. And while donors to the Eric Trump Foundation were told their money was going to help sick kids, more than $500,000 was re-donated to other charities, many of which were connected to Trump family members or interests, including at least four groups that subsequently paid to hold golf tournaments at Trump courses. All of this seems to defy federal tax rules and state laws that ban self-dealing and misleading donors. It also raises larger questions about the Trump family dynamics and whether Eric and his brother, Don Jr., can be truly independent of their father."
Cancel Donald Trump's state visit, says Sadiq Khan, after London attack tweets, The Guardian, Julian Borger, Tuesday, 6 June 2017: "The London mayor, Sadiq Khan, has called on the British government to cancel a planned state visit by Donald Trump after being criticised in two tweets by the US president. Trump initially criticised Khan for his response to the London Bridge terrorist attack; though, in doing so, he misquoted London's mayor. Khan's office pointed out Trump's error later but the president responded by accusing London's mayor of making a 'pathetic excuse.'  Appearing on Channel 4 News on Monday evening, Khan said Trump was wrong about 'many things' and that his state visit should not go ahead. 'I don't think we should roll out the red carpet to the president of the USA in the circumstances where his policies go against everything we stand for,' he said. 'When you have a special relationship it is no different from when you have got a close mate. You stand with them in times of adversity but you call them out when they are wrong. There are many things about which Donald Trump is wrong.' Trump's tirade also appeared to act as a rebuke to the acting US ambassador to Britain, Lewis Lukens, who had put out a thread of tweets, culminating in a retweet of Khan's statement. 'I commend the strong leadership of the mayor of London as he leads the city forward after this heinous attack,' the acting ambassador said."
Trump Takes Credit for Saudi Arabia Severing All Ties With Qatar, a U.S. Military Partner, The New York Times, Mark Landler, Tuesday, 6 June 2017: "President Trump thrust himself into a bitter Persian Gulf dispute on Tuesday, claiming credit for Saudi Arabia's move to isolate its smaller neighbor, Qatar, which is a major American military partner. 'During my recent trip to the Middle East I stated that there can no longer be funding of Radical Ideology,' Mr. Trump said in a morning tweet. 'Leaders pointed to Qatar — look!' On Monday, Bahrain, Egypt, Saudi Arabia, the United Arab Emirates and Yemen broke diplomatic and commercial ties with Qatar, citing its support for terrorist groups. Mr. Trump, who made the cutting of terrorist funding a centerpiece of his trip to Saudi Arabia in May, said he was responsible. 'So good to see the Saudi Arabia visit with the King and 50 countries already paying off,' the president said on Twitter. 'They said they would take a hard line on funding.' Moments later, he added, 'Perhaps this will be the beginning of the end to the horror of terrorism!' Qatar has long been accused of funneling arms and money to radical groups in Syria, Libya and other Arab countries. But so has Saudi Arabia. And Mr. Trump's tweets have huge potential strategic consequences in the Middle East, where Qatar is a crucial military outpost for the United States. A peninsula that juts into the Persian Gulf, Qatar is home to the forward headquarters of the United States Central Command. It is a major intelligence hub for the United States in the Middle East and the base where the United States plans and carries out airstrikes on the Islamic State. Qatar has also built deep ties to American academia, providing funding and real estate to build Middle Eastern campuses for six major universities, including Cornell, Georgetown and Northwestern. Qatar's financing of radical groups has long been a source of tension with Washington. But the United States has generally avoided taking sides in the regional feuds in the Persian Gulf since it has strategic ties with several of the gulf states. Mr. Trump's comments were a sharp break from his top national security aides, who tried to play down any impact of the rift within the Sunni-Arab coalition that is helping the United States fight the Islamic State."
Deadline for States to Meet Obama-Era Standard for Smog-Causing Chemical Emissions From Power Plants, Factories, and Vehicles Is Extended by One Year, The New York Times, Coral Davenport, Tuesday, 6 June 2017: "The Trump administration will extend by one year a deadline for states to comply with a major Obama-era regulation on emissions of a smog-causing pollutant that spews from tailpipes and smokestacks. In October 2015, the Environmental Protection Agency set a new national standard for ozone, a smog-causing gas that often forms on hot, sunny days when chemical emissions from power plants, factories and vehicles mix in the air. The standard tightened emissions to 70 parts per billion down from 75 parts per billion, as was set in 2008. Smog has been linked to asthma, heart and lung disease, and premature death. In a letter sent Tuesday to governors, Scott Pruitt, the E.P.A. administrator, delayed a requirement for states to submit measurements of their 2015 ozone levels by 2017. The move is the latest in a series of steps taken by Mr. Pruitt to relax or delay several major environmental regulations put forth by the Obama administration under the Clean Air and Clean Water Acts. Mr. Pruitt, the former attorney general of Oklahoma, had in his previous position taken a leading role in many multistate lawsuits against those regulations, calling them deeply burdensome to industry."
As Trump Steps Back, Governor Jerry Brown of California Talks Climate Change in China with President Xi Jinping, The New York Times, Javier C. Hernández and Adam Nagourney, Tuesday, 6 June 2017: "Gov. Jerry Brown of California should be fading quietly into the final days of his career. After 40 years in public life, Mr. Brown, 79, a Democrat, is in the final stretch as the state's chief executive. He has been talking about the Colusa County family ranch where he wants to retire. And a battery of younger politicians is already battling to succeed him. But instead, Mr. Brown was in China on Tuesday, emerging as a de facto envoy from the United States on climate change at a time when President Trump has renounced efforts to battle global emissions. In a meeting packed with symbolism — and one that seemed at once to elevate the California governor and rebuke Mr. Trump — President Xi Jinping of China met with Mr. Brown, at the governor's request, at the very moment China prepares to take a more commanding role in fighting climate change."
Wednesday, 7 June 2017, Day 139:
Former F.B.I. Director James Comey's Prepared Remarks for Testimony Before the Senate Intelligence Committee on Thursday, 8 June, The New York Times, Wednesday, 7 June 2017.  See also, Reading Between the Lines of Comey's Prepared Testimony, The New York Times, Wednesday, 7 June 2017: "New York Times reporters analyze prepared remarks by James B. Comey, the former F.B.I. director, that were published Wednesday by the Senate Intelligence Committee. Mr. Comey is scheduled to appear before the committee on Thursday." And see also, 'I need loyalty': Former FBI director James Comey's riveting prepared testimony about what Trump asked him, annotated, The Washington Post, Amber Phillips and Peter W. Stevenson, Wednesday, 7 June 2017.

Guide to Some of the Comey News Heading Into His Testimony, The New York Times, Mikayla Bouchard, Wednesday, 7 June 2017: "James B. Comey, the former F.B.I. director, is set to testify in front of the Senate Intelligence Committee on Thursday, starting at 10 a.m…. Mr. Comey, who was abruptly fired by Mr. Trump last month, will address their interactions about the F.B.I.'s investigation into possible links between Mr. Trump's associates and the Russian effort to tamper in last year's presidential election…. Mr. Comey has figured in some of the biggest news stories of the past year, drawing attention for his decision making during the campaign, his relationship with the White House and his sudden dismissal. Here's a look at how we got here."
Former F.B.I. Director James Comey Says Trump Pressured Him to 'Lift the Cloud' of Inquiry, The New York Times, Matt Apuzzo and Michael S Schmidt, Wednesday, 7 June 2017: "From his first days in office, President Trump repeatedly put pressure on his F.B.I. director, James B. Comey. He demanded loyalty. He asked that an investigation into an adviser be dropped. And he implored Mr. Comey to publicly clear his name. As Mr. Comey described Wednesday in written testimony prepared for the Senate Intelligence Committee, Mr. Trump's entreaties continued for months, in unexpected phone calls and awkward meetings. As Mr. Comey's discomfort grew, so did the president's persistence and his frustration with Mr. Comey's unwillingness to help. Mr. Trump fired Mr. Comey last month, and his account offered an extraordinary back story, one that unfolded with cinematic detail, terse dialogue and tense moments across a White House dinner table…. Many of the details in his testimony have been reported in recent weeks by The New York Times and other news organizations. But in addition to filling out Mr. Comey's account, his remarks added to the chorus of questions about Mr. Trump's efforts to torpedo the investigation — questions that senior national security officials refused to answer in a separate congressional hearing on Wednesday."
How Seven Trump Associates Have Been Linked to Russia, The New York Times, Jasmine C. Lee and Alicia Parlapiano, Wednesday, 7 June 2017. This article describes how Jared Kushner, Jeff Sessions, Michael T. Flynn, Michael D. Cohen, Paul Manafort, Carter Page, and Roger Stone Jr. are linked to Russia.
Daniel Coats, Director of National Intelligence, and Michael Rogers, Director of the National Security Agency, told the Senate Intelligence Committee that they wouldn't discuss specifics of private conversations they had with Trump, The Washington Post, Ellen Nakashima and Karoun Demirjian, Wednesday, 7 June 2017: "Two of the nation's top intelligence officials declined in a testy hearing Wednesday to discuss the specifics of private conversations with President Trump, refusing to say whether they had been asked to push back against an FBI probe into possible coordination between Trump's campaign and the Russian government. Testifying before the Senate Intelligence Committee, Director of National Intelligence Daniel Coats demurred when asked whether it was true, as The Washington Post reported Tuesday, that Trump asked Coats if he could intervene with then-FBI Director James B. Comey to get him to back off the bureau's focus on Michael Flynn, Trump's former national security adviser. 'I don't believe it's appropriate for me to address that in a public session,' Coats said. 'I don't think this is the appropriate venue to do this in.' Similarly, National Security Agency Director Michael S. Rogers declined to answer a question from Sen. Mark R. Warner (D-Va.) about whether Trump asked Rogers to deny the existence of any evidence showing coordination between the Trump campaign and Russia, as The Post reported last month. 'I'm not going to discuss the specifics of any conversations with the president of the United States,' Rogers said. Instead, both men said they never felt pressure to do anything inappropriate or, in Coats's case, to intervene in an ongoing probe." See also, Top U.S. Security Officials, Daniel Coats and Michael Rogers, Testify Amid Furor Over Russian Meddling, The New York Times, Charlie Savage and Emmarie Huetteman, Wednesday, 7 June 2017.
Trump Picks Christopher Wray to Be F.B.I. Director, The New York Times, Glenn Thrush and Julie Hirschfeld Davis, Wednesday, 7 June 2017: "President Trump on Wednesday announced that he had selected Christopher A. Wray to be his F.B.I. director, turning to a former federal prosecutor who recently defended Gov. Chris Christie of New Jersey in the so-called Bridgegate scandal to lead an agency under a harsh political spotlight. The president revealed his decision in an early-morning tweet without alerting members of Congress in advance. It came on the eve of a blockbuster congressional hearing scheduled for Thursday in which James B. Comey, the F.B.I. director he ousted abruptly last month, was to testify about what he interpreted as improper attempts by Mr. Trump to pressure him. Hours after the Twitter post, the White House followed up with an official statement in which Mr. Trump called Mr. Wray "an impeccably qualified individual," citing his role in major fraud investigations and antiterrorism efforts at the Justice Department after the 9/11 attacks…. The selection may have been an attempt to inject credibility into an investigation of his campaign's possible ties with Russia, one that has been rocked by accusations of presidential tampering. Mr. Wray is a safe, mainstream pick from a president who at one point was considering politicians for a job that has historically been kept outside of partisanship. A former assistant attorney general overseeing the Justice Department's criminal division under President George W. Bush, Mr. Wray is likely to allay the fears of F.B.I. agents who worried that Mr. Trump would try to weaken or politicize the F.B.I." See also, ACLU Statement on the Nomination of Christopher Wray To Be the Next FBI Director, American Civil Liberties Union, Wednesday, 7 June 2017: "President Trump announced today that he is nominating former federal prosecutor Christopher Wray to be the next FBI director. Faiz Shakir, American Civil Liberties Union national political director, had the following reaction: 'Americans are rightly alarmed by reports that President Trump attempted to influence an FBI investigation into his campaign — and by his subsequent decision to fire the man running that investigation — because the United States is a nation of laws, and no individual, including the president, is above those laws. Given the White House's repeated attempts to influence the FBI's investigation into the Trump campaign, as well as actions by Attorney General Sessions that may have violated his recusal pledge, it is imperative that the next FBI director be trustworthy and operate independently, free from political influence, including any potential loyalty pledge requested by President Trump. Christopher Wray's firm's legal work for the Trump family, his history of partisan activity, as well as his history of defending Trump's transition director during a criminal scandal makes us question his ability to lead the FBI with the independence, even-handed judgment, and commitment to the rule of law that the agency deserves. Given that Wray touts his deep involvement in the Bush administration's response to the 9/11 attacks, which includes his connections to some of the most unlawful legal memos on Bush-era torture programs, the Senate should press Wray to come clean about his role in the programs. In this important moment for our country, the American people deserve a commitment from any nominee for FBI director to the foundational principles of our Constitution, and that that commitment outweighs any loyalty to a political party or a single politician. We will be watching closely in the coming days to ensure Wray makes these commitments and earns the trust of the public." And see also, Christopher Wray, Trump's pick for FBI director, was alerted early to detainee abuse at Abu Ghraib prison in Iraq in 2004, Miami Herald, Carol Rosenberg, Wednesday, 7 June 2017: "President Donald Trump's choice for FBI director was notified months before the public knew about the death of a detainee at Abu Ghraib prison in Iraq in 2004, and was at the very least on the fringes of discussions on the legality of military interrogation techniques in 2003, documents from Wray's time in the post- 9/11 Bush administration show. Trump announced in a tweet Wednesday that he planned to name attorney Christopher A. Wray to succeed James Comey as FBI director. Most immediate reporting focused on Wray's role as the personal attorney for New Jersey Gov. Chris Christie in the scandal known as Bridgegate. But a deeper dive shows that during his period as assistant attorney general in charge of the Department of Justice Criminal Division Wray was notified early about the ongoing Central Intelligence Agency investigation of abuse at Abu Ghraib. Notably, he was alerted to the suspected homicide of a captive who came to be known as the iceman because of lurid, leaked photos showing the corpse of Manadel al-Jamadi packed in ice."
Senate Majority Leader Mitch McConnell (R-Kentucky) Takes Step to Fast-Track Obamacare Repeal in the Senate, Talking Points Memo, Tierney Sneed, Wednesday, 7 June 2017: "Senate Majority Leader Mitch McConnell (R-KY) took a procedural step Wednesday that will allow the GOP to fast-track its Obamacare repeal efforts in the Senate and side-step the typical committee process. McConnell began the process under what is known as Rule 14, according to the Senate minority whip's office, to allow a repeal bill to be put directly on the Senate calendar so that it is available for a floor vote when Republicans are ready to vote on it. The move comes as GOP senators continue their closed-door meetings to hash out a deal that would secure the 50 votes they'll need to pass legislation dismantling the Affordable Care Act, which they they are pushing through a process known as reconciliation that avoids a Democratic filibuster."
'Malama Honua,' Hawaii says, as it becomes the first state to pass laws supporting the Paris climate accord, The Washington Post, Katie Mettler, Wednesday, 7 June 2017: "When the traditional Hawaiian canoe Hokule'a set sail four years ago, the wayfinders on board — men and women navigating the open sea by a map of stars — vowed to seek a renewed sense of self and share with the world a treasured message: Malama Honua. In Hawaiian, it means to care for Island Earth, a mission especially important to Pacific Islanders, whose home and economy is under constant threat from the rising seas and coral bleaching caused by a warming planet. This week, the wayfinders will return to a Hawaii that on Tuesday took a defiant stand, becoming the first state to legally implement portions of the landmark Paris climate agreement that President Trump chose to abandon last week. 'Climate change is real, regardless of what others may say,' Hawaii Gov. David Ige said at a bill signing ceremony Tuesday in Honolulu. 'Hawaii is seeing the impacts first hand. Tides are getting higher, biodiversity is shrinking, coral is bleaching, coastlines are eroding, weather is becoming more extreme. We must acknowledge these realities at home.'" See also, Defying Trump, Hawaii Becomes First State to Pass Law Committing to Paris Climate Accord, The New York Times, Jonah Engel Bromwich, Wednesday, 7 June 2017: "Hawaii on Tuesday became the first state to pass a law committing to the goals and limits of the Paris climate accord, defying President Trump, who announced last week that he would withdraw the United States from the historic agreement. The state's governor, David Y. Ige, signed two bills at a ceremony at the state's capitol rotunda in Honolulu. One of the bills was explicitly geared toward reducing greenhouse gas emissions in accordance with the landmark goals adopted by world leaders with the Paris Agreement in 2015. The other will establish a task force to help the state improve soil health and remove carbon from the atmosphere. He was joined by mayors from around the state, who signed an agreement to commit to the goals of the accord."
Thursday, 8 June 2017, Day 140:
Full Transcript and Video of Former F.B.I. Director James Comey's Testimony in Front of the Senate Intelligence Committee, The New York Times, Thursday, 8 June 2017. See also, Comey's Testimony: Video Highlights and Four Major Takeaways, The New York Times, Michael S. Schmidt, Thursday, 8 June 2017.
Highlights of Former F.B.I. Director James Comey's Testimony Before the Senate Intelligence Committee, The New York Times, Matt Apuzzo, Emmarie Huetteman, Matt Flegenheimer, Matthew Rosenberg, and Peter Baker, Thursday, 8 June 2017. Live Briefing.
Former F.B.I. Director James Comey Accuses White House of 'Lies' and Says Trump Tried to Derail Inquiry, Bluntly Raising the Possibility of Obstruction of Justice, The New York Times, Matt Apuzzo and Emmarie Huetteman, Thursday, 8 June 2017: "James B. Comey, the recently fired F.B.I. director, said Thursday in an extraordinary Senate hearing that he believed that President Trump had clearly tried to derail an F.B.I. investigation into his former national security adviser and that the president had lied and defamed him. Mr. Comey, no longer constrained by the formalities of a government job, offered a blunt, plain-spoken assessment of a president whose conversations unnerved him from the day they met, weeks before Mr. Trump took office. His testimony to the Senate Intelligence Committee provided an unflattering back story to his abrupt dismissal and squarely raised the question of whether Mr. Trump tried to obstruct justice. Answering that falls to the Justice Department special counsel, Robert S. Mueller III. Mr. Comey revealed that he gave all of the memos he wrote on his interactions with the president to Mr. Mueller's investigators, the first suggestion that prosecutors would investigate Mr. Comey's firing last month. Republicans who came to Mr. Trump's defense argued that he had been making a suggestion, not ordering Mr. Comey to drop the investigation into the former adviser, Michael T. Flynn. Mr. Comey demurred on whether the president's actions had amounted to a felony, but said the intent was clear: 'I took it as a direction.' If Mr. Trump had had his way, Mr. Comey said, 'We would have dropped an open criminal investigation.'" See also, Former FBI Director Testifies Before the Senate Intelligence Committee that the White House lied about him and about the FBI, The Washington Post, Devlin Barrett, Ellen Nakashima, and Ed O'Keefe, Thursday, 8 June 2017. And see also, For Trump, the 'Cloud' Just Grew That Much Darker, The New York Times, Peter Baker, Thursday, 8 June 2017.
A viewer's guide to the James B. Comey hearing: Who are the senators asking him questions? The Washington Post, Ed O'Keefe, Thursday, 8 June 2017: "The Senate Intelligence Committee hosts the most-anticipated congressional hearing of the year Thursday, when former FBI director James B. Comey is scheduled to testify and share details of his firing by President Trump and the conversations they had about ongoing investigations into Russia's alleged meddling in U.S. elections. Rarely do congressional hearings draw global attention anymore — mostly because it's become a tired, predictable format where witnesses read pre-written statements and lawmakers lob either softball or gotcha questions designed to win favor with a certain constituency or score press attention. This hearing, scheduled to begin at 10 a.m. ET Thursday, will have all of that — but the subject matter is far more intriguing…. There are 15 full-time members of the committee — eight Republicans and seven Democrats — and the panel is considered to be one of the last bastions of bipartisanship on Capitol Hill." See also, Who Are the Members of the Senate Intelligence Committee? The New York Times, Jonah Engel Bromwich, Thursday, 8 June 2017.
The Testimony: What we now know about Comey's interactions with Trump, The Washington Post, Chris Alcantara and Beuben Fischer-Baum, updated Thursday, 8 June 2017: "Former FBI director James B. Comey testified before the Senate Intelligence Committee on Thursday, a day after he released seven pages of prepared remarks. Comey discussed President Trump asking him for his loyalty, and asking him to announce publicly that the president was not personally being investigated by the FBI as the bureau looked into possible links between the Trump campaign and the Russian government during the 2016 election. Information revealed in Comey's testimony offered a glimpse into the interactions he had with Trump leading up to his firing on May 9, and how these interactions compared with Trump's comments on their relationship."
Trump, Comey, and Obstruction of Justice: A Primer, The New York Times, Charlie Savage, Thursday, 8 June 2017: "The testimony by the former F.B.I. director James B. Comey that President Trump, before firing him last month, demanded loyalty, urged him to drop the investigation into his former national security adviser and pressed him to 'lift the cloud' of the Russia inquiry is fueling accusations that the president obstructed justice. Mr. Comey's prepared testimony, which the Senate Intelligence Committee released on Wednesday, corroborates prior reports by The New York Times about how Mr. Comey's strained relationship with the president evolved, which had already prompted Democrats to raise the specter of the obstruction crime. Moreover, Mr. Trump himself told NBC News last month that when he fired Mr. Comey, he had been thinking about the F.B.I.'s investigation into whether his associates coordinated with Russia in its interference in the 2016 election. The Times has reported that the day after the firing, Mr. Trump told Russian diplomats in the Oval Office that firing Mr. Comey had relieved 'great pressure because of Russia.'" This article addresses the following questions: "What is obstruction of justice? Several federal statutes criminalize actions that impede official investigations. While some examples of illegal ways to thwart the justice system are specific — like killing a witness or destroying evidence — the law also includes broad, catchall prohibitions. For example, Sections 1503, 1505 and 1512 of Title 18 have variants of language making it a crime if someone corruptly 'obstructs, influences or impedes any official proceeding.' Could that cover asking the F.B.I. director to drop part of an investigation, and later firing him?… Did Trump have lawful authority to fire Comey?… What would such a case entail, in theory?… What impediments would there be to charging Trump?… What about impeachment?"
Comey's Testimony Sharpens the Focus on Questions of Obstruction of Justice, The New York Times, Charlie Savage, Thursday, 8 June 2017: "If one believes James B. Comey's account of his encounters with President Trump, it could present a prosecutable case of obstruction of justice, several former prosecutors said Thursday. But they also cautioned that little is normal about this situation. The Justice Department has long argued that the Constitution does not permit prosecuting a sitting president. And even if Mr. Trump left office first — through impeachment, or simply by losing re-election in 2020 — there is no guiding precedent in which any former president has been indicted on a charge of ordering a criminal investigation closed for improper reasons. 'Usually as a lawyer you look at the precedent and it makes it easy, but it hasn't come up before,' said Samuel W. Buell, a former federal prosecutor who led the Enron task force and now teaches white-collar criminal law at Duke University. 'We are way outside the realm of normal executive branch behavior.' Federal law criminalizes actions that impede official investigations and can include actions that would otherwise be lawful if prosecutors can prove the defendant had corrupt intentions. Mr. Trump's critics have been raising the specter of obstruction of justice since he fired the F.B.I. director, Mr. Comey, last month, then admitted on television that when he made that decision, he had been thinking about the F.B.I.'s investigation into Russia's interference in the 2016 election and possible coordination by Trump campaign associates. Committee sharpened obstruction-of-justice questions while refocusing them on an earlier conversation Mr. Comey said he had with Mr. Trump on Feb. 14 about an F.B.I. criminal investigation of Michael T. Flynn, Mr. Trump's former national security adviser. Specifically, according to Mr. Comey's testimony, after he met that day with Mr. Trump and others in the Oval Office, Mr. Trump ordered all the other officials out of the room — twice reiterating to lingerers, Attorney General Jeff Sessions and Mr. Trump's son-in-law and adviser, Jared Kushner, that they were to leave. Then, Mr. Comey said, Mr. Trump brought up Mr. Flynn, calling him a 'good guy' and saying, 'I hope you can let this go.' 'I took it as a direction,' Mr. Comey testified Thursday. 'I mean, the president of the United States, with me alone, saying, "I hope this" — I took it as, This is what he wants me to do.'"
Statement by Marc Kasowitz, Trump's personal lawyer, after former FBI director James Comey's testimony before the Senate Intelligence Committee, CNN Politics, Thursday, 8 June 2017.
Former F.B.I. Director James Comey Disputes New York Times Article About the Russia Investigation. The New York Times Stands by Its Reporting. The New York Times, Michael S. Schmidt, Mark Mazzetti, and Matt Apuzzo, Thursday, 8 June 2017: "James B. Comey, the former F.B.I. director, on Thursday disputed an article that appeared in February in The New York Times about contacts between President Trump's advisers and Russian intelligence officials. Answering a question about the Times article during an appearance before the Senate Intelligence Committee, Mr. Comey said that 'in the main, it was not true.' The article was the first to reveal direct contacts between Trump advisers and Russian officials before the election — contacts that are now at the heart of F.B.I. and congressional investigations. Multiple news outlets have since published accounts that support the main elements of The Times's article, including information about phone calls and in-person meetings between Mr. Trump's advisers and Russians, some believed to be connected to Russian intelligence. Mr. Comey did not say exactly what he believed was incorrect about the article, which was based on information from four current and former American officials, all of whom spoke on the condition of anonymity because the information was classified. The original sources could not immediately be reached after Mr. Comey's remarks, but in the months since the article was published, they have indicated that they believed the account was solid."
House of Representatives passes sweeping legislation to roll back banking rules, The Washington Post, Renae Merle, published on Friday, 9 June 2017: "The Republican-led House on Thursday voted to free Wall Street from many of the constraints put in place after the 2008 financial crisis, the opening salvo in what is likely to be a protracted battle over deregulation of the powerful banking industry. Big banks, from Goldman Sachs to Bank of America, would face less scrutiny, and other large financial institutions, such as insurance giant MetLife, could escape tougher rules altogether under the legislation approved largely along party lines. The Trump administration backed the bill, the Financial Choice Act, as part of a multipronged effort to ease banking regulations to spur economic growth. The legislation probably will face stiff resistance in the Senate, but it provides a road map of sorts for the policies the president plans to put in place as he appoints new regulators. Trump, who has complained about tight lending practices, has ordered three reviews of banking rules, the first of which Treasury Secretary Steven Mnuchin is set to deliver as soon as next week. Democrats and progressive groups, who argue that banks need more oversight, not less, are preparing to use the issue to animate supporters still angry that Wall Street banks have not paid a larger price for the financial crisis. They noted that banks reported record profits last year, despite tough Dodd-Frank Act rules, and Wall Street bonuses rose for the first time in three years." See also, Bill to Erase Some Dodd-Frank Banking Rules Passes in the House of Representatives, The New York Times, Alan Rappeport, Thursday, 8 June 2017.
Senator Claire McCaskill's tirade about the Republican health plan goes viral: 'We have no idea what's being proposed,' The Kansas City Star, Rick Montgomery, published on Friday, 9 June 2017: "Social media is lapping up a video clip of U.S. Sen. Claire McCaskill unloading Thursday about 'a group of guys in a back room somewhere' shaping the Republicans' proposed replacement of Obamacare without Democratic input. In a three-minute scolding during a Senate Finance Committee meeting, McCaskill, a Missouri Democrat, dressed down committee chairman Orrin Hatch, a Utah Republican, for what McCaskill called a legislative process even more partisan than what transpired during passage of the Affordable Care Act. 'Will we have a hearing? On the health care proposal?' McCaskill asked Hatch during testimony by Health and Human Services Secretary Tom Price about his department's budget. Apparently unsure how to respond, Hatch briefly conferred with an aide before telling McCaskill 'I think we've already had one' and saying her ideas on the issue are welcome. McCaskill then tore into a lecture on legislative order: 'I heard you say, Mr. Secretary (Price), "We'd love your support." For what? We don't even know. We have no idea what's being proposed. There's a group of guys in a back room somewhere that are making these decisions. … There were no hearings in the House. I mean, listen, this is hard to take.'"
Profiting off pain: Trump confidant Thomas J. Barrack cashed in on the housing crisis, Reveal from The Center for Investigative Reporting, Aaron Glantz, Thursday, 8 June 2017: "One of President Donald Trump's closest friends and confidants took advantage of the Great Recession to build an unprecedented real estate business that makes him tantamount to a modern-day slumlord – buying up homes, bumping up rents and allowing the properties to fall into disrepair. Southern California billionaire Thomas J. Barrack is the mastermind behind the scheme, founding a company five years ago that has taken 31,000 single-family homes off the housing market and calling it 'the greatest thing I've ever done.' Barrack, like other close Trump associates, now stands to cash in on looser financial regulations, which he is in a position to shape. 'We're just little people in his world,' Makita Edwards, 25, says of Barrack, the founder of a company now called Colony Starwood Homes, which owns the split-level neocolonial she rents in Atlanta's eastern suburbs…. Viewed from the outside, most of these houses look nice – set back from the street, with manicured lawns. Most are in the suburbs, in good school districts. But inside, many of the properties visited by Reveal look like they've been severely neglected…. Barrack, 70, is among the winners of the U.S. housing crisis, which washed away the wealth of millions of people. Since 2007, the single-family rental market has added 2 million units, the Census Bureau reports, even as the homeownership rate hit its lowest level since the Vietnam War…."
California attorney general to Trump: You can't touch our national monuments, Los Angeles Times, Bettina Boxall, Thursday, 8 June 2017: "California's attorney general argued Thursday that President Trump has no legal authority to revoke or modify national monuments created by previous administrations. In an 11-page letter to the Interior Department, state Atty. Gen. Xavier Becerra vowed 'to take any and all legal action necessary' to preserve six California monuments, including one in Los Angeles' backyard, that the Trump Administration may attempt to revoke or shrink. In April, Trump signed an executive order directing Interior Secretary Ryan Zinke to review all national monuments that were created since 1996 and are larger than 100,000 acres, or were expanded 'without adequate public outreach.'"