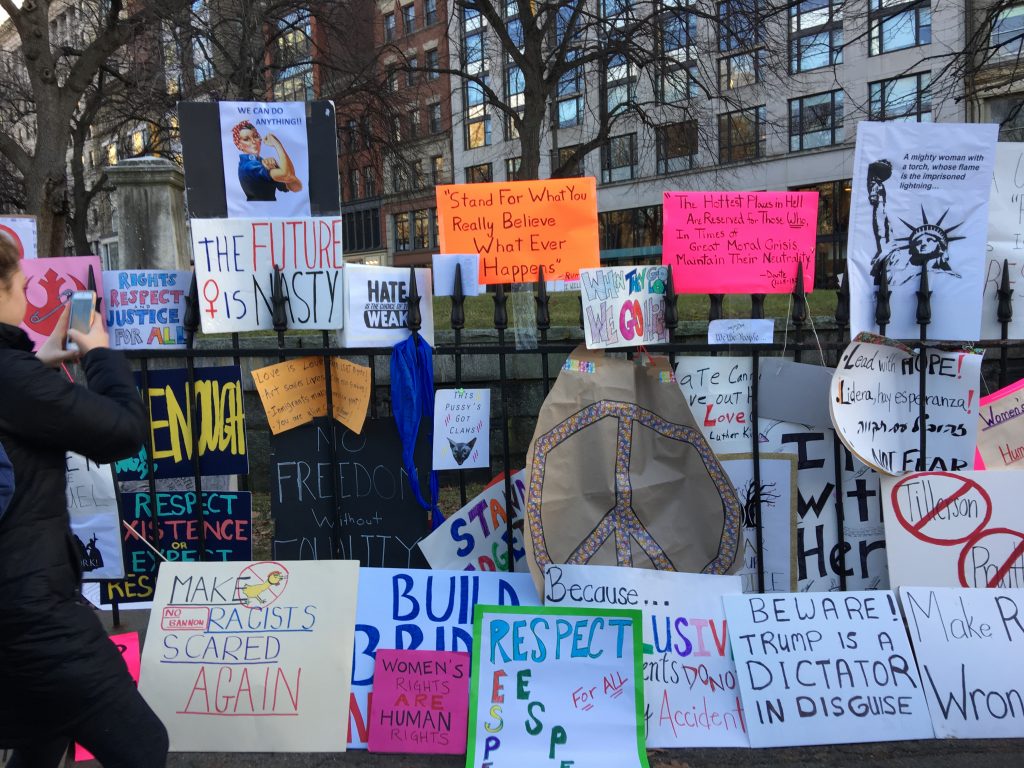 Keeping Track (of some things), Staying Outraged (it is possible), and Resisting (it's essential)
Passages in bold in the body of the texts below are my emphasis. This is an ongoing project, and I update the site frequently. I hope readers will peruse the articles in full for a better understanding of the issues and their context; our democracy and our future depend on citizens who can distinguish between facts and falsehoods and who are engaged in the political process.
Friday, 26 May 2017, Day 127:
Russian ambassador Sergey Kislyak told Moscow that Jared Kushner wanted secret communications channel with Kremlin, The Washington Post, Ellen Nakashima, Adam Entous, and Greg Miller, Friday, 26 May 2017: "Jared Kushner and Russia's ambassador to Washington discussed the possibility of setting up a secret and secure communications channel between Trump's transition team and the Kremlin, using Russian diplomatic facilities in an apparent move to shield their pre-inauguration discussions from monitoring, according to U.S. officials briefed on intelligence reports. Ambassador Sergey Kislyak reported to his superiors in Moscow that Kushner, son-in-law and confidant to then-President-elect Trump, made the proposal during a meeting on Dec. 1 or 2 at Trump Tower, according to intercepts of Russian communications that were reviewed by U.S. officials. Kislyak said Kushner suggested using Russian diplomatic facilities in the United States for the communications. The meeting also was attended by Michael Flynn, Trump's first national security adviser. The White House disclosed the meeting only in March, playing down its significance. But people familiar with the matter say the FBI now considers the encounter, as well as another meeting Kushner had with a Russian banker, to be of investigative interest. Kislyak reportedly was taken aback by the suggestion of allowing an American to use Russian communications gear at its embassy or consulate — a proposal that would have carried security risks for Moscow as well as the Trump team." See also, Jared Kushner Is Said to Have Discussed a Secret Channel to Talk to Russia, The New York Times, Maggie Haberman, Mark Mazzetti, and Matt Apuzzo, Friday, 26 May 2017: "Jared Kushner, President Trump's son-in-law and senior adviser, spoke in December with Russia's ambassador to the United States about establishing a secret communications channel between the Trump transition team and Moscow to discuss strategy in Syria and other policy issues, according to three people with knowledge of the discussion."
Jared Kushner trying to secretly talk to the Russians is the biggest billow of smoke yet, The Washington Post, Amber Phillips, Friday, 26 May 2017: "The Washington Post's national security team just reported that during the transition, Jared Kushner proposed to the Russians that they set up a secret channel of communication using secure Russian facilities. That's what the Russian ambassador to the United States told Moscow about a December conversation he had with Trump's son-in-law and top adviser. This is a damning piece of news for the White House caught under an avalanche of revelations about its dealings with Russia. If it's true, it's the most difficult for them to explain in the context of an FBI investigation into Russia meddling in the U.S. election and whether Trump's campaign helped. Why would Trump's transition team need to secretly talk to the Russians, using their Russian channels? The White House declined to comment."
Sources: Then-FBI Director James Comey acted on Russian intelligence he knew was fake, CNN Politics, Dana Bash, Shimon Prokupecz, and Gloria Borger, Friday, 26 May 2017: "Then-FBI Director James Comey knew that a critical piece of information relating to the investigation into Hillary Clinton's email was fake — created by Russian intelligence — but he feared that if it became public it would undermine the probe and the Justice Department itself, according to multiple officials with knowledge of the process. As a result, Comey acted unilaterally last summer to publicly declare the investigation over — without consulting then-Attorney General Loretta Lynch — while at the same time stating that Clinton had been "extremely careless" in her handling of classified information. His press conference caused a firestorm of controversy and drew criticism from both Democrats and Republicans. Comey's actions based on what he knew was Russian disinformation offer a stark example of the way Russian interference impacted the decisions of the highest-level US officials during the 2016 campaign. The Washington Post reported Wednesday that this Russian intelligence was unreliable. US officials now tell CNN that Comey and FBI officials actually knew early on that this intelligence was indeed false. In fact, acting FBI Director Andrew McCabe went to Capitol Hill Thursday to push back on the notion that the FBI was duped, according to a source familiar with a meeting McCabe had with members of the Senate intelligence committee."
Continue reading Week 19, Friday, 26 May-Thursday, 1 June 2017:
World Leaders Increase Pressure on Trump to Stay in the Paris Accord, The New York Times, Michael D. Shear and Coral Davenport, Friday, 26 May 2017: "World leaders on Friday intensified their pressure on President Trump to keep the United States in the Paris climate agreement, as negotiators for seven Western powers labored to bridge differences between Mr. Trump and his counterparts before they depart on Saturday. Faced with repeated pleas by allies during private meetings at this two-day summit meeting of the Group of 7 countries, Mr. Trump remained unyielding in his assertion that the United States would do whatever is best for the United States — including the possibility of withdrawing from the 2015 pact signed with 195 nations, aides said. Mr. Trump's message on the environment to the leaders on Friday made clear which option would win if the United States must choose between its economic well-being or staying in the Paris climate agreement. 'If those things collide, growing our economy is going to win,' said Gary D. Cohn, the president's economics adviser, who was at the Italy summit meeting."
U.S. Quietly Lifts Limit on Number of Refugees Allowed In, The New York Times, Gardiner Harris, Friday, 26 May 2017: "Despite repeated efforts by President Trump to curtail refugee resettlements, the State Department this week quietly lifted the department's restriction on the number of refugees allowed to enter the United States. The result could be a near doubling of refugees entering the country, from about 830 people a week in the first three weeks of this month to well over 1,500 people per week by next month, according to refugee advocates. Tens of thousands of refugees are waiting to come to the United States. The State Department's decision was conveyed in an email on Thursday to the private agencies in countries around the world that help refugees manage the nearly two-year application process needed to enter the United States. In her email, Jennifer L. Smith, a department official, wrote that the refugee groups could begin bringing people to the United States 'unconstrained by the weekly quotas that were in place.'"
White House Backs Down on Keeping Ethics Waivers Secret for Former Lobbyists Working in Trump's Administration, The New York Times, Eric Lipton, Friday, 26 May 2017: "The White House unexpectedly backed down Friday in a confrontation with the government's top ethics officer, announcing it will publicly disclose waivers that have been quietly handed out since January to let certain former lobbyists work in the administration. The reversal came after the White House wrote last week to the Office of Government Ethics and asked its director to suspend his request for copies of the waivers. Such waivers are needed when officials want to work on policies or other government issues that they were directly involved in recently as private-sector lobbyists or industry lawyers. The debate over the waivers — which were routinely made public during the Obama administration — has drawn heightened attention as the Trump administration has hired dozens of former lobbyists and lawyers, and is frequently placing them into jobs that overlap with the work they did for paying clients. Both the Trump and Obama administrations have had ethics policies, signed by each president, that prohibit newly hired government officials from handing particular matters they worked on in the private sector for two years. If the new government hires were formerly lobbyists, they were prohibited from working on the same issue for two years. Waivers — which are issued by each federal government agency, and by the White House case by case — allow political appointees to ignore those ethics policies."
Senate Intelligence Committee requests Trump campaign documents, The Washington Post, Robert Costa, Friday, 26 May 2017: "The Senate Intelligence Committee, which is investigating Russian interference in the 2016 presidential race, has asked President Trump's political organization to gather and produce all Russia-related documents, emails and phone records going back to his campaign's launch in June 2015, according to two people briefed on the request. The letter from the Senate arrived at Trump's campaign committee last week and was addressed to the group's treasurer. Since then, some former staffers have been notified and asked to cooperate, the people said. They were not authorized to speak publicly. The demand follows a Senate request months earlier for the campaign committee to preserve documents. Dozens of former staffers are expected to be contacted in the coming days to make sure they are aware of what they are required to produce and how to submit those documents, the people added. The letter was signed by Sen. Richard Burr (R-N.C.), the Senate committee's chairman, and Sen. Mark R. Warner (D-Va.), the committee's ranking Democrat. Spokespeople for Burr and Warner declined to comment. The request to Trump's political operatives represents the first time that Trump's official campaign structure has been drawn into the Senate committee's ongoing bipartisan investigation. That investigation is separate from the federal probe being led by the Justice Department's special counsel, former FBI director Robert S. Mueller III."
Defending Budget Cuts, Trump's Budget Director Mick Mulvaney Misleads on Food Stamps and Big Bird, The New York Times, Linda Qiu, Friday, 26 May 2017: "President Trump's budget director, Mick Mulvaney, defended austere budget cuts with misleading claims about economic development in coal country, how Social Security disability works and Big Bird. In congressional hearings over the budget, Mr. Mulvaney justified the president's proposals to eliminate or tighten public programs that disproportionately affect the very people who voted for Mr. Trump."
Saturday, 27 May 2017, Day 128:
Trump's national security adviser, H. R. McMaster: 'I would not be concerned' about a Russia back channel, irrespective of Kushner, The Washington Post, Philip Rucker, Saturday, 27 May 2017: "President Trump's national security adviser, H.R. McMaster, said Saturday he 'would not be concerned' about having a back-channel communications system with Russia, though he and other top White House officials refused to comment specifically on the growing controversy surrounding Jared Kushner. A news briefing here at the conclusion of Trump's maiden foreign trip was overtaken at times by questions about Kushner, the president's son-in-law and senior adviser, and Friday's Washington Post report that Kushner had discussed the possibility of setting up a secret and secure communications channel between the Trump transition team and the Kremlin. The Post reported earlier in the week that Kushner — who helped plan the Middle East portion of Trump's trip and traveled with the president to Saudi Arabia, Israel and the Vatican — is now a focus of the FBI investigation into Russia's meddling in the 2016 presidential election. McMaster and National Economic Council Director Gary Cohn, who together briefed reporters Saturday, were unwilling to discuss the Kushner matter, as was White House press secretary Sean Spicer. White House officials insisted the briefing be conducted off-camera, preventing photographers or television cameras from documenting it."
Trump Delays Decision on Paris Climate Accords and Ends His Trip Where He Started: At Odds With Allies and Grilled on Russia, The New York Times, Michael D. Shear and Mark Landler, Saturday, 27 May 2017: "President Trump declined to endorse the Paris climate accords on Saturday, ending his first foreign trip much as he began it: at odds with several of the nation's allies and under a cloud of questions back home about his ties to Russia. Mr. Trump refused to bend on the pact after three days of contentious private debate and intense lobbying by other leaders that began Wednesday with an appeal by Pope Francis. The six other nations in the Group of 7 reaffirmed their commitment to cutting greenhouse-gas emissions in a joint statement issued Saturday. The stalemate leaves the country's future role in the climate accord in flux, though Mr. Trump promised to make a decision in the week ahead on whether the United States will be the first of 195 signatories to pull out. Mr. Trump returned home on Saturday night to a White House in crisis after a nine-day trip to the Middle East and Europe that was book-ended by new disclosures about links between his aides and Russia. The climate accord was the most vivid sign of division between the United States and its allies, but it was not the only one: Mr. Trump also scolded Germany for its trade practices and lectured NATO members for not adequately supporting the alliance."
Trump Returns to Crisis Over Jared Kushner as White House Tries to Contain It, The New York Times, Maggie Haberman, Glenn Thursh, and Julie Hirschfeld Davis, Saturday, 27 May 2017: "President Trump returned home on Saturday to confront a growing political and legal threat, as his top aides tried to contain the fallout from reports that his son-in-law, Jared Kushner, is a focus of investigations into possible collusion between Russia and the president's campaign and transition teams….  The White House canceled a presidential trip to Iowa in the coming days and was putting together a damage-control plan to expand the president's legal team, reorganize his communications staff and wall off a scandal that has jeopardized his agenda and now threatens to engulf his family. Mr. Trump's private legal team, led by his New York lawyer, Marc E. Kasowitz, was preparing to meet in Washington to face new questions about contacts between Mr. Kushner and representatives of President Vladimir V. Putin of Russia. Mr. Trump may meet with Mr. Kasowitz as early as Sunday, and aides have recruited a series of prominent Washington lawyers with experience in political investigations for Mr. Trump to interview in hopes that they might join the legal team."
The G-7 Statement on the Paris Accords, The New York Times, Saturday, 27 May 2017: "The leaders released a joint statement that made clear that all the nations except the United States remained determined to carry out the 2015 climate pact."
Donald Trump's Europe tour leaves leaders strangely shaken, The Guardian, Jon Henley, Saturday, 27 May 2017: "He crunched hands, shoved shoulders and struck poses. He scoffed chocolates, ignored protocol and harangued heads of state. He denied saying things he had said, then said things that showed he did not understand. It may, mercifully, have passed off without apocalyptic mishap, but Donald Trump's first transatlantic trip as US president still left European leaders shaken. First, there were the body language battles. Trump is well known for his efforts to dominate male interlocutors with a firm handshake, often accompanied by an arm wrench: notable victims include the Japanese prime minister Shinzo Abe, who survived a 19-second power grip in February…. The Belgian daily Le Soir reported that while eating 'a lot' of 'the best' chocolates, Trump revealed to prime minister Charles Michel that his frequent criticisms of the EU were due largely to his personal experiences trying to set up businesses there…. Besides reportedly telling EU leaders the Germans were 'bad, very bad' on trade, Trump and his team shocked the Europeans by their ignorance of the bloc's trade policy, according to Süddeutsche Zeitung, repeatedly suggesting America had different trade deals with Germany and Belgium."
Sunday, 28 May 2017, Day 129:
After Discordant G-7 Meeting, German Chancellor Angela Merkel Is Looking Past Trump, The New York Times, Anison Smale and Steven Erlanger, Sunday, 28 May 2017: "Chancellor Angela Merkel of Germany, Europe's most influential leader, has concluded, after three days of trans-Atlantic meetings, that the United States of President Trump is not the reliable partner her country and the Continent have automatically depended on in the past. Clearly disappointed with Mr. Trump's positions on NATO, Russia, climate change and trade, Ms. Merkel said in Munich on Sunday that traditional alliances were no longer as steadfast as they once were and that Europe should pay more attention to its own interests 'and really take our fate into our own hands. The times in which we could rely fully on others — they are somewhat over,' Ms. Merkel added, speaking on the campaign trail after a contentious NATO summit meeting in Brussels and a Group of 7 meeting in Italy. 'This is what I experienced in the last few days.'  Ms. Merkel's strong comments were a potentially seismic shift in trans-Atlantic relations. With the United States less willing to intervene overseas, Germany is becoming an increasingly dominant power in a partnership with France."
Reported Talks by Jared Kushner With Russia Would Be 'Good thing,' Homeland Security Secretary, John Kelly, Says, The New York Times, Matt Flegenheimer and Peter Baker, Sunday, 28 May 2017: "John F. Kelly, President Trump's homeland security secretary, on Sunday defended a reported effort by Jared Kushner, the president's embattled son-in-law and key adviser, to establish a secret channel with Russia during the transition, calling it 'a good thing.'  'Any information flow into the government and then considered by the government, I won't criticize that,' Mr. Kelly said in an interview on ABC's 'This Week.' 'All of these lines of communication are a positive thing, in my opinion.' Mr. Kelly's remarks came amid news that Mr. Kushner was a focus of investigations into possible collusion between Russia and Mr. Trump's associates during the campaign and transition, a development that has consumed an already-beleaguered White House."
Trump returns home from abroad–with a Twitter rant about fake news, leaks, and 'the enemy,' The Washington Post, Avi Selk, Sunday, 28 May 2017: "President Trump returned home Saturday night to a country wondering how he would address a crisis of bad news that has only grown more dire during his nine-day tour abroad. As the FBI continues an investigation of Trump's top associates and as he reportedly considers a White House staff shake-up, the president's attorneys have urged him to lay off his habit of aggressive and impulsive tweeting — lest it make matters even worse for him. So what did Trump do upon returning to his embattled White House? He went on a Twitter rant, of course. It started about 8 a.m. Sunday, with a somewhat delayed celebration of Greg Gianforte's victory in Montana's special congressional election — despite facing assault charges for allegedly attacking a reporter who had asked him about the GOP's health-care bill…. [Then at 8:33 am Trump tweeted: 'It is my opinion that many of the leaks coming out of the White House are fabricated lies and made up by the the #FakeNews media.' At 8:34 and 8:45 he tweeted: 'Whenever you see the words "sources say" in the fake news media, and they don't mention names…. it is very possible that those sources don't exist but are made up by fake news writers. #FakeNews is the enemy!']"
Jared Kushner's security clearance should be reviewed says Rep. Adam Schiff (Calif.), the top Democrat on the House Intelligence Committee, The Washington Post, Abby Phillip, Sunday, 28 May 2017: "The top Democrat on the House Intelligence Committee, Rep. Adam B. Schiff (Calif.), said Sunday that White House senior adviser Jared Kushner's security clearance should be reviewed in light of revelations about his meetings with Russian officials before President Trump took office. Schiff's comment came after The Washington Post reported Friday that Kushner, also the president's son-in-law, attempted to set up back-channel communications with the Russian government during the presidential transition. 'There's another question about his security clearance and whether he was forthcoming about his contacts on that,' Schiff said on ABC News's 'This Week with George Stephanopoulos.' 'If these allegations are true and he had discussions with the Russians about establishing a back channel and didn't reveal that, that would be a real problem in terms of whether he should maintain that kind of security clearance.' The Democratic National Committee began calling for Kushner's clearance to be revoked after the revelations. But Schiff did not go quite that far. He instead called for a review to determine whether Kushner was being truthful when he applied for his clearance to serve in the White House."
Monday, 29 May 2017, Day 130:
Trump administration plans to minimize civil rights efforts in agencies, including in the Labor Department's compliance office, The Washington Post, Juliet Eilperin, Emma Brown, and Darryl Fears, Monday, 29 May 2017: "The Trump administration is planning to disband the Labor Department division that has policed discrimination among federal contractors for four decades, according to the White House's newly proposed budget, part of wider efforts to rein in government programs that promote civil rights. As outlined in Labor's fiscal 2018 plan, the move would fold the Office of Federal Contract Compliance Programs, now home to 600 employees, into another government agency in the name of cost-cutting. The proposal to dismantle the compliance office comes at a time when the Trump administration is reducing the role of the federal government in fighting discrimination and protecting minorities by cutting budgets, dissolving programs and appointing officials unsympathetic to previous practices."
Russian Investigation Turns to Jared Kushner's Motives in Meeting With Russian Banker, Sergey N. Gorkov, a Putin Ally, The New York Times, Matthew Rosenberg, Mark Mazzettti, and Maggie Haberman, Monday, 29 May 2017: "Jared Kushner, the president's son-in-law and senior adviser, was looking for a direct line to President Vladimir V. Putin of Russia — a search that in mid-December found him in a room with a Russian banker whose financial institution was deeply intertwined with Russian intelligence, and remains under sanction by the United States. Federal and congressional investigators are now examining what exactly Mr. Kushner and the Russian banker, Sergey N. Gorkov, wanted from each other. The banker is a close associate of Mr. Putin, but he has not been known to play a diplomatic role for the Russian leader. That has raised questions about why he was meeting with Mr. Kushner at a crucial moment in the presidential transition, according to current and former officials familiar with the investigations. The New York Times first reported the meeting between Mr. Kushner and Mr. Gorkov in March, but the White House at the time did not explain its aim. That article quoted a White House spokeswoman, Hope Hicks, who said that the meeting came at the request of the Russian ambassador to the United States, Sergey I. Kislyak, with whom Mr. Kushner had met earlier in December at Trump Tower to discuss opening a communications channel with Russian officials during the presidential transition. But the half-hour meeting with Mr. Gorkov since has come under increasing scrutiny. The current and former American officials now say it may have been part of an effort by Mr. Kushner to establish a direct line to Mr. Putin outside established diplomatic channels."
Tuesday, 30 May 2017, Day 131:
Sources: Russian government officials discussed potentially 'derogatory' information about Trump and his associates during the 2016 presidential campaign, CNN Politics, Pamela Brown, Jim Sciutto, and Dana Bash, Tuesday, 30 May 2017: "Russian government officials discussed having potentially "derogatory" information about then-presidential candidate Donald Trump and some of his top aides in conversations intercepted by US intelligence during the 2016 election, according to two former intelligence officials and a congressional source. One source described the information as financial in nature and said the discussion centered on whether the Russians had leverage over Trump's inner circle. The source said the intercepted communications suggested to US intelligence that Russians believed 'they had the ability to influence the administration through the derogatory information.' But the sources, privy to the descriptions of the communications written by US intelligence, cautioned the Russian claims to one another 'could have been exaggerated or even made up' as part of a disinformation campaign that the Russians did during the election. The details of the communication shed new light on information US intelligence received about Russian claims of influence. The contents of the conversations made clear to US officials that Russia was considering ways to influence the election — even if their claims turned out to be false."
Congress expands Russia investigation to include Trump's personal attorney, Michael Cohen, ABC News, Brian Ross and Matthew Mosk, Tuesday, 30 May 2017: "One of President Donald Trump's closest confidants, his personal lawyer Michael Cohen, has now become a focus of the expanding congressional investigation into Russian efforts to influence the 2016 campaign. Cohen confirmed to ABC News that House and Senate investigators have asked him 'to provide information and testimony' about any contacts he had with people connected to the Russian government, but he said he has turned down the invitation. 'I declined the invitation to participate, as the request was poorly phrased, overly broad and not capable of being answered,' Cohen told ABC News in an email Tuesday. After Cohen rejected the congressional requests for cooperation, the Senate Select Intelligence Committee voted unanimously on Thursday to grant its chairman, Sen. Richard Burr of North Carolina, and ranking Democrat, Sen. Mark Warner of Virginia, blanket authority to issue subpoenas as they deem necessary." See also, Trump's Personal Lawyer, Michael Cohen, Refuses to Cooperate With Congressional Inquiries Into Russia's Influence on the 2016 Presidential Election, The New York Times, Emmarie Huetteman, Tuesday, 30 May 2017.
Michael Dubke Resigns as White House Communications Director, And as Trump Weighs Shake-Up, He Faces Recruiting Challenge, The New York Times, Peter Baker and Maggie Haberman, Tuesday, 30 May 2017: "Back from overseas and confronting an unforgiving political environment, President Trump appears increasingly isolated inside the White House, according to advisers, venting frustration over the performance of his staff and openly talking about shaking it up. But as he considers casting off old aides, Mr. Trump is finding it challenging to recruit new ones. The disclosures from investigations stemming from Russian meddling in last year's election — coupled with the president's habit of undercutting his staff — have driven away candidates for West Wing jobs that normally would be among the most coveted in American politics, according to people involved in the search. By the time the first change in what may be a broader shake-up was announced Tuesday, the White House was left without a replacement. Michael Dubke, the White House communications director, said he would step down, but four possible successors contacted by the White House declined to be considered, according to an associate of Mr. Trump who like others asked not to be identified discussing internal matters."
Trump is clearly not giving up tweeting, sharing his thoughts on Germany, Russia, the filibuster, and more, The Washington Post, Jenna Johnson, Tuesday, 30 May 2017: "On his first day back in the office after a lengthy overseas trip, President Trump made clear that he's not going to stop tweeting any time soon. In five tweets over less than four hours, the president again lashed out at Germany, again brushed off accusations that Russia interfered in the election, again called for blowing up the legislative filibuster, retweeted a photo of the crowd that gathered to hear him speak at Arlington National Cemetery on Monday and retweeted a Fox News article headlined 'Jared Kushner didn't suggest Russian communications channel in meeting, source says.'  The tweets started at 6:40 a.m. on the East Coast, a bit earlier than usual, with a message that seemed aimed at German Chancellor Angela Merkel, who has been critical of Trump and said Sunday that the days of Europe being able to rely on other countries, especially the United States, is 'over to a certain extent.' 'We have a MASSIVE trade deficit with Germany, plus they pay FAR LESS than they should on NATO & military. Very bad for U.S. This will change,' the president wrote in a tweet from his personal account, @realDonaldTrump. Twenty-four minutes later came the next thought: 'Russian officials must be laughing at the U.S. & how a lame excuse for why the Dems lost the election has taken over the Fake News.' This isn't the first time Trump has ignored the intelligence community's collective conclusion that Russia tried to interfere in last year's election and painted the issue as simply a conspiracy theory invented by Democrats. But this tweet comes as the media continues to report on contacts between Russia and Trump associates, including his son-in-law Jared Kushner, one of Trump's most trusted advisers."
Four Senators to Watch in the Trump-Russia Investigation, The New York Times, Carl Hulse, Tuesday, 30 May 2017: "They are a disparate foursome: the chamber's leading Republican centrist, a minister who embraces public service as a calling, a seasoned dealmaker and a high-profile presidential contender. These four Republican senators — Susan Collins of Maine, James Lankford of Oklahoma, Roy Blunt of Missouri and Marco Rubio of Florida — are emerging as a bloc integral to the Senate Intelligence Committee's investigation into Russian meddling in the 2016 presidential election. The investigation is widely considered the premier inquiry, the one with the necessary jurisdiction and the best chance of producing a credible outcome. These four senators loom large as a crucial element in getting there. Despite early skepticism about the Republican-led panel's commitment to the investigation, the four have made it clear that they are determined to see it through to a conclusion that would satisfy the public and their colleagues in both parties. To get there, they will have to slog through thousands of pages of raw intelligence held by the C.I.A. and devote untold hours to grinding committee work behind closed doors."
Former Director of National Intelligence James Clapper: Russia 'absolutely' meddled in the 2016 presidential election, CNN Politics, Eugene Scott, Tuesday, 30 May 2017: "Former Director of National Intelligence James Clapper said there has never been a case of election interference more aggressive than that involving Russia and the 2016 presidential election. 'There's been a long history of Soviet interference going back to the Soviet era in our elections, but never, ever has there been a case of the aggressiveness and direct actions that the Russians took and their conduct of a multifaceted campaign to interfere with our election,' he told CNN's Chris Cuomo Tuesday on 'New Day.' Clapper previously testified before a Senate judiciary subcommittee that he was not aware of any evidence demonstrating collusion between President Donald Trump's campaign and Russia — but he also said he had been unaware of an FBI investigation into the matter until former FBI Director James Comey announced it publicly at a House hearing in March. 'Are you 100% sure that Russia was behind the election meddling that you described,' Cuomo asked Clapper Tuesday. 'Absolutely,' Clapper responded. 'The evidence, which unfortunately we could not detail in our intelligence community assessment, was, in my view, overwhelming. And that is why the assessment that we did enjoyed such a high confidence level.'"
Wednesday, 31 May 2017, Day 132:
World Awaits Trump Decision on U.S. Future in the Paris Climate Accord, The New York Times, Michael D. Shear and Coral Davenport, Wednesday, 31 May 2017: "Momentous arguments inside the West Wing over the future of the Paris climate accord became a messy public spectacle on Wednesday, with some aides saying that President Trump had decided to abandon the landmark global warming agreement while others insisted that no decision had been made. Three administration officials with direct knowledge of the intense White House debate said early Wednesday morning that Mr. Trump was expected to withdraw the United States from the 2015 climate change accord that committed nearly every nation to take action to curb the warming of the planet. In addition, three other officials said later Wednesday that they expected him to withdraw from the agreement, though they said that decision could still change. Hours later, Mr. Trump said on Twitter that he had made his decision and would announce it in the Rose Garden at 3 p.m. Thursday." See also, Trump Is Hearing Plenty About the Paris Climate Deal. Who Will Have the Last Word? The New York Times, Brad Plumer and Nadja Popovich, Wednesday, 31 Ma7 2017:  This article covers "the major players hoping to sway President Trump's decision on the landmark climate agreement."
Tesla CEO Elon Musk says he will leave White House advisory councils if Trump leaves the Paris climate agreement, Politico, Nancy Scola, Wednesday, 31 May 2017: "Tesla CEO Elon Musk said Wednesday that if President Donald Trump follows through on pulling the U.S. out of the Paris climate-change agreement, he'd 'have no choice' but to stop advising the White House. Musk's line in the sand is the latest sign of tension between Trump and Silicon Valley just as his administration attempts to attract tech executives to the White House for a sweeping, high-profile summit on June 19. 'Don't know which way Paris will go, but I've done all I can to advise directly to POTUS, through others in WH & via councils, that we remain,' Musk tweeted. Musk followed up with a tweet saying, 'Will have no choice but to depart councils' if Trump pulls out of the Paris deal backed by nearly 200 other countries. Politico and others have reported that Trump is expected to withdraw the U.S. from the climate agreement."
House Intelligence Committee issues seven subpoenas, CBS News, Wednesday, 31 May 2017: "On Wednesday, the House Intelligence Committee issued seven subpoenas — four related to the investigation into Russian meddling in the presidential election and three to the "unmasking" of Trump associates during the presidential transition. The committee announced late Wednesday afternoon that it would subpoena former National Security Adviser Michael Flynn and the Flynn Intel Group LLC, and Trump lawyer Michael Cohen and Michael D. Cohen & Associates PC as part of its investigation into Russian meddling in the 2016 campaign…. The Wall Street Journal, which first reported the subpoenas, said that the committee also subpoenaed the National Security Agency (NSA), FBI and CIA for information about "unmasking," that is, the exposure of Trump campaign officials mentioned in classified intelligence reports, based on intercepts of conversations. Names of Americans swept up incidentally in the collection of intelligence are normally masked, or kept redacted, in intelligence briefings, but under the law, national security officials can request that these names be revealed, or unmasked. The subpoenas related to unmasking, according to the Journal, seek information about requests made by then-National Security Adviser Susan Rice, then-CIA Director John Brennan and then-U.N. Ambassador Samantha Power to unmask names contained in classified documents."
White House Details Ethics Waivers for Ex-Lobbyists and Corporate Lawyers, The New York Times, Eric Lipton and Steve Eder, Wednesday, 31 May 2017: "President Trump has given at least 16 White House staff members dispensation to work on policy matters they handled while employed as lobbyists or to interact with their former colleagues in private-sector jobs, according to records released late Wednesday. The details on these so-called ethics waivers — more than five times the number granted in the first four months of the Obama administration — were made public after an intense dispute between the White House and the Office of Government Ethics, which had been pushing the Trump administration to stop granting such waivers in secret. The list of waivers includes high-profile names such as Reince Priebus, Mr. Trump's chief of staff, and Kellyanne Conway, a senior White House adviser. They had to be granted waivers because of their prior work with organizations such as the Republican National Committee, which Mr. Priebus once ran, and because they continue to have contact with those organizations as part of their White House work. But the waivers granted by the White House are also going to former lobbyists, despite Mr. Trump's campaign vow to try to reduce the influence of lobbyists in Washington."
Trump defends former adviser Carter Page, once again declares the Russia investigation a 'witch hunt,' The Washington Post, Jenna Johnson, Wednesday, 31 May 2017: "President Trump came to the defense of Carter Page — a former campaign adviser whose interactions with Russia are under investigation — in two tweets early Wednesday morning and accused Democrats of trying to block Page from testifying before a congressional committee. 'Witch Hunt!' Trump at one point tweeted. Page is an international businessman and energy consultant who became an unpaid adviser to Trump's campaign in late March 2016, joining a national security advisory group. Those close to Trump have tried to distance the president from Page, insisting that the two never met and that Page played a limited role. Last summer, the FBI obtained a secret court order to monitor Page's communications after convincing a federal judge that there was probable cause to believe Page was acting as an agent of the Russian government. Page has denied that allegation, insisting he is the victim of a 'witch hunt' by Democrats."
Trump administration moves to return Russian compounds in Maryland and New York, The Washington Post, Karen DeYoung and Adam Entous, Wednesday, 31 May 2017: "The Trump administration is moving toward handing back to Russia two diplomatic compounds, near New York City and on Maryland's Eastern Shore, that its officials were ejected from in late December as punishment for Moscow's interference in the 2016 presidential election. President Barack Obama said Dec. 29 that the compounds were being 'used by Russian personnel for intelligence-related purposes' and gave Russia 24 hours to vacate them. Separately, Obama expelled from the United States what he said were 35 Russian 'intelligence operatives.' Early last month, the Trump administration told the Russians that it would consider turning the properties back over to them if Moscow would lift its freeze, imposed in 2014 in retaliation for U.S. sanctions related to Ukraine, on construction of a new U.S. consulate on a certain parcel of land in St. Petersburg. Two days later, the U.S. position changed. Secretary of State Rex Tillerson told Russian Foreign Minister Sergei Lavrov and Russian Ambassador Sergey Kislyak at a meeting in Washington that the United States had dropped any linkage between the compounds and the consulate, according to several people with knowledge of the exchanges."
Trump's use of private cellphone raises security concerns, Associated Press, Vivian Salama, Wednesday, 31 May 2017: "President Donald Trump has been handing out his cellphone number to world leaders and urging them to call him directly, an unusual invitation that breaks diplomatic protocol and is raising concerns about the security and secrecy of the U.S. commander in chief's communications. Trump has urged leaders of Canada and Mexico to reach him on his cellphone, according to former and current U.S. officials with direct knowledge of the practice. Of the two, only Canadian Prime Minister Justin Trudeau has taken advantage of the offer so far, the officials said. Trump also exchanged numbers with French President Emmanuel Macron when the two spoke immediately following Macron's victory earlier this month, according to a French official, who would not comment on whether Macron intended to use the line. All the officials demanded anonymity because they were not authorized to reveal the conversations. Neither the White House nor Trudeau's office responded to requests for comment. The notion of world leaders calling each other up via cellphone may seem unremarkable in the modern, mobile world. But in the diplomatic arena, where leader-to-leader calls are highly orchestrated affairs, it is another notable breach of protocol for a president who has expressed distrust of official channels. The formalities and discipline of diplomacy have been a rough fit for Trump — who, before taking office, was long easily accessible by cellphone and viewed himself as a freewheeling, impulsive dealmaker. Presidents generally place calls on one of several secure phone lines, including those in the White House Situation Room, the Oval Office or the presidential limousine. Even if Trump uses his government-issued cellphone, his calls are vulnerable to eavesdropping, particularly from foreign governments, national security experts say."
How Jared Kushner built a luxury skyscraper using loans meant for job-starved areas, The Washington Post, Shawn Boburg, Wednesday, 31 May 2017: "Jared Kushner and his real estate partners wanted to take advantage of a federal program in 2015 that would save them millions of dollars as they built an opulent, 50-story residential tower in this city's booming waterfront district, just across the Hudson River from Lower Manhattan. There was just one problem: The program was designed to benefit projects in poor, job-starved areas. So the project's consultants got creative, records show. They worked with state officials in New Jersey to come up with a map that defined the area around 65 Bay Street as a swath of land that stretched nearly four miles and included some of the city's poorest and most crime-ridden neighborhoods. At the same time, they excluded some wealthy neighborhoods only blocks away. The tactic — critics liken it to the gerrymandering of legislative districts — made it appear that the luxury tower was in an area with extraordinarily high unemployment, allowing Kushner Companies and its partners to get $50 million in low-cost financing through the EB-5 visa program. The move was legal, and other developers have used similar strategies in recent years, often aided by state officials who welcome the infusion of cash. But it illustrates how Kushner, who ran his family's real estate company before he became a senior adviser to President Trump, and his partners exploited a loophole in a federal program that prominent members of both parties say has been plagued by fraud and abuse."

Former F.B.I. Director, James Comey, Is Expected to Testify Before the Senate Intelligence Committee [on 8 June], if He Isn't Blocked by Trump, The New York Times, Matt Apuzzo and Michael S. Schmidt, Wednesday, 31 May 2017: "Senators expect the former F.B.I. director, James B. Comey, to testify next week about his conversations with President Trump, congressional officials said on Wednesday, setting up a test of the White House's willingness to cooperate with investigations into Mr. Trump's associates. Putting the highly anticipated hearing on the calendar would force Mr. Trump to decide whether to invoke executive privilege and try to prevent Mr. Comey from testifying. Mr. Comey is expected to be asked about several conversations he had with the president, including one in which he says Mr. Trump encouraged him to stop investigating his former national security adviser, Michael T. Flynn…. Mr. Comey's testimony would be the most sensational moment to date in a controversy that has engulfed the Trump administration from its beginning. Congress and a Justice Department special counsel are investigating whether Mr. Trump's associates colluded with Russia to meddle in the 2016 presidential election."
Noose Found in the National Museum of African American History and Culture, Smithsonian, Lorraine Boissoneault, Wednesday, 31 May 2017: "On Wednesday afternoon, tourists visiting the National Museum of African American History and Culture found a noose in an exhibition on segregation. Park police came to investigate and removed the noose, and the exhibit gallery was reopened within three hours, Smithsonian officials said. 'The noose has long represented a deplorable act of cowardice and depravity—a symbol of extreme violence for African Americans. Today's incident is a painful reminder of the challenges that African Americans continue to face,' wrote Lonnie Bunch, the director of the museum, in an e-mail to staff. The disturbing incident comes only four days after a noose was found hanging from a tree outside the Hirshhorn Museum. The investigation into the noose found at NMAAHC is ongoing, but the public and staff have been assured that the museum is safe. 'The Smithsonian family stands together in condemning this act of hatred and intolerance, especially repugnant in a museum that affirms and celebrates the American values of inclusion and diversity,' wrote the secretary of the Smithsonian Institution David Skorton in an Institution-wide email. 'We will not be intimidated. Cowardly acts like these will not, for one moment, prevent us from the vital work we do.' These ominous reminders of America's dark history with lynching have appeared around the country, from a school in Missouri to a series of four nooses hung around a construction site in Maryland. Other nooses have been found on the Duke University campus, the Port of Oakland in California, a fraternity house at the University of Maryland, a middle school in Maryland, and at a high school in Lakewood, California. All of them seem to be part of a larger wave of violence, intimidation and hate crimes. According to the Southern Poverty Law Center, more than 1,300 hate incidents were reported between the 2016 election and February 2017. Of those 1,300, anti-immigrant incidents have been the most prevalent, followed by anti-black."
Even the 'good hombres' are not safe: Federal judge Stephen Reinhardt blasts Trump's deportation policies, The Washington Post, Samantha Schmidt, Wednesday, 31 May 2017: "In the months since President Trump has taken office, he has been embroiled in an ongoing battle with the courts, launching personal attacks at the judiciary. And judges have fired back, criticizing both the president and his executive orders — frequently, his immigration orders. But few remarks have been quite as scathing as those written Monday by a federal judge who made no effort to disguise his personal contempt for Trump's deportation policies even as he conceded that in the case before him he was powerless to intervene. Stephen Reinhardt, once referred to as 'the reigning liberal lion' of the U.S. Circuit Court of Appeals for the 9th Circuit, wrote that a Trump administration order to deport a Mexican man was 'inhumane' and 'contrary to the values of the country and its legal system.'  Reinhardt's comments came in an opinion concurring in the denial of a request for a stay of removal of Andres Magana Ortiz, 43, a businessman in Hawaii who has lived in the United States for nearly three decades. 'We are compelled to deny Mr. Magana Ortiz's request,' he wrote, adding 'because we do not have the authority to grant it. We are not, however, compelled to find the government's action in this case fair or just.' 'Indeed, the government's decision to remove Magana Ortiz diminishes not only our country but our courts, which are supposedly dedicated to the pursuit of justice,' Reinhardt wrote. 'Magana Ortiz and his family are in truth not the only victims. Among the others are judges who, forced to participate in such inhumane acts, suffer a loss of dignity and humanity as well.'"
Thursday, 1 June 2017, Day 133:
Trump Will Withdraw U.S. From Paris Climate Agreement, The New York Times, Michael D. Shear, Thursday, 1 June 2017: "President Trump announced Thursday that he will withdraw the United States from participation in the Paris climate accord, weakening global efforts to combat climate change and siding with conservatives who argued that the landmark 2015 agreement was harming the economy. But he will stick to the withdrawal process laid out in the Paris agreement, which President Barack Obama joined and most of the world has already ratified. That could take nearly four years to complete, meaning a final decision would be up to the American voters in the next presidential election. Still, Mr. Trump's decision is a remarkable rebuke to fellow heads-of-state, climate activists, corporate executives and members of the president's own staff, all of whom failed this week to change Mr. Trump's mind with an intense, last-minute lobbying blitz. It makes good on a campaign promise to 'cancel' an agreement he repeatedly mocked and derided at rallies, saying it would kill American jobs. As president, he has moved rapidly to reverse Obama-era policies designed to allow the United States to meet its pollution-reduction targets as set under the agreement. 'In order to fulfill my solemn duty to protect America and its citizens, the United States will withdraw from the Paris climate accord but begin negotiations to re-enter either the Paris accord or an entirely new transaction on terms that are fair to the United States,' the president said. 'We are getting out. But we will start to negotiate, and we will see if we can make a deal that's fair. And if we can, that's great. [And if we can't, that's fine.]'… Mr. Obama, in a rare assertion of his political views as a former president, castigated the decision. 'The nations that remain in the Paris Agreement will be the nations that reap the benefits in jobs and industries created,' he said in a statement. 'I believe the United States of America should be at the front of the pack. But even in the absence of American leadership; even as this Administration joins a small handful of nations that reject the future; I'm confident that our states, cities, and businesses will step up and do even more to lead the way, and help protect for future generations the one planet we've got.'" See also, Transcript: President Trump's remarks on leaving the Paris climate deal, annotated, The Washington Post, by Team Fix, Thursday, 1 June 2017. And also, Au Revoir: Trump Exits the Paris Climate Accord, The New Yorker, Elizabeth Kolbert, Thursday, 1 June 2017. And also, Trump announces U.S. will exit Paris  climate deal, sparking criticism at home and abroad, The Washington Post, Philip Rucker and Jenna Johnson, Thursday, 1 June 2017. And also, Thirty states and scores of companies break with Trump's decision to exit the Paris climate accords, The Washington Post, Steven Mufson, Thursday, 1 June 2017. And also, Bucking Trump, Cities, States, and Companies Commit to the Paris Climate Accord, The New York Times, Hiroko Tabuchi and Henry Fountain, Thursday, 1 June 2017. And also, Our Disgraceful Exit From the Paris Climate Accord, The New York Times, The Editorial Board, Thursday, 1 June 2017. And also, Obama's harsh words for Trump after he withdrew from the Paris climate accords, The Washington Post, Peter Holley, Thursday, 1 June 2017.
Fact-checking Trump's claims in his speech announcing US withdrawal from the Paris climate accords, The Washington Post, Glenn Kessler and Michelle Ye Hee Lee, Thursday, 1 June 2017: "In his speech announcing his decision to withdraw from the Paris Accord on climate change, President Trump frequently relied on dubious facts and unbalanced claims to make his case that the agreement would hurt the U.S. economy. Notably, he only looked at one side of the scale — claiming the agreement left the United States at a competitive disadvantage, harming U.S. industries. But he often ignored the benefits that could come from tackling climate change, including potential green jobs. Trump also suggested that the United States was treated unfairly under the agreement. But each of the nations signing the agreement agreed to help lower emissions, based on plans they submitted. So the U.S. target was set by the Obama administration. The plans are not legally binding, but developing and developed countries are treated differently because developed countries, on a per capita basis, often produce more greenhouse gases than developing countries. For instance, on a per capita basis, the United States in 2015 produced more than double the carbon dioxide emissions of China — and eight times more than India. [The article continues with an analysis] of various statements made by the Trump during his Rose Garden address." See also, Trump, Prioritizing Economy Over Climate, Cites Disputed Premises, The New York Times, Mark Landler, Brad Plumer, and Linda Qiu, Thursday, 1 June 2017.
Trump Opts Not to Move the U.S. Embassy to Jerusalem, at Least for Now, The New York Times, Peter Baker, Thursday, 1 June 2017: "President Trump signed an order keeping the American Embassy in Tel Aviv rather than moving it to Jerusalem as he promised during last year's campaign, aides said Thursday, disappointing many Israel supporters in hopes of preserving his chances of negotiating a peace settlement. Aides said the decision was just a delay and that he still plans to eventually move the embassy to Jerusalem when conditions are right, although past presidents have said the same without ever acting. The White House said in a statement that Mr. Trump's move should not be considered 'a retreat from the president's strong support for Israel' and its alliance with the United States."
Putin Hints at U.S. Election Meddling by 'Patriotically Minded' Russians, The New York Times, Andrew Higgins, Thursday, 1 June 2017: "Shifting from his previous blanket denials, President Vladimir V. Putin of Russia said on Thursday that "patriotically minded" private Russian hackers could have been involved in cyberattacks last year to help the presidential campaign of Donald J. Trump. While Mr. Putin continued to deny any state role, his comments to reporters in St. Petersburg were a departure from the Kremlin's previous position: that Russia had played no role whatsoever in the hacking of the Democratic National Committee and that, after Mr. Trump's victory, the country had become the victim of anti-Russia hysteria among crestfallen Democrats. Raising the possibility of attacks by what he portrayed as free-spirited Russian patriots, Mr. Putin said that hackers 'are like artists' who choose their targets depending how they feel 'when they wake up in the morning.'"
Trump blames every Russia story on the Democrats, not on the Russians: A timeline, The Washington Post, Michelle Ye Hee Lee, Thursday, 1 June 2017: "There have been twists and turns over the past year in the saga of President Trump's alleged ties to Russia and Russian influence on the 2016 presidential election to help Trump win. Yet one thing has remained consistent: Trump blames the Democrats, not the Russians. Trump says the latest reports of ties between his staff and Russians are the Democrats' attempt to undermine his presidency. But a look at his comments over the past year shows Trump used the same explanation for every new development in stories involving Russia, the election and his staff. In this timeline, we took a look at all the developments in the Trump-Russia controversy that Trump has blamed on Democrats. We will update the timeline as necessary."
In March, April, and May, Two Democratic Senators, Patrick Leahy of Vermont and Al Franken of Minnesota, Asked F.B.I. Director James Comey to Open a Criminal Investigation Into Whether Attorney General Jeff Sessions Perjured Himself at His Confirmation Hearing, The New York Times, Charlie Savage, Thursday, 1 June 2017: "Two Democratic senators disclosed on Thursday that they had asked James B. Comey, the former F.B.I. director, to open a criminal investigation into whether Attorney General Jeff Sessions perjured himself when he falsely said at his confirmation hearing that he 'did not have communications with the Russians' last year. The senators, Patrick J. Leahy of Vermont and Al Franken of Minnesota, released three letters to the F.B.I. that they privately sent in March, April and May. The letters also showed they had been expecting a briefing from Mr. Comey on May 12 but never got it because President Trump abruptly fired him three days earlier."
Republican Chair of the House Intelligence Committee, Devin Nunes, Is Criticized for Keeping Subpoena Power in the Russia Inquiry, The New York Times, Emmarie Huetteman, Thursday, 1 June 2017: "The Republican chairman of the House Intelligence Committee was strongly criticized on Thursday by the panel's ranking Democrat for refusing to give up his subpoena power over the investigation into Russian interference in the 2016 election less than two months after announcing he would step away from the inquiry. The chairman, Representative Devin Nunes of California, on Wednesday also issued three subpoenas to law enforcement and intelligence agencies seeking information about the so-called unmasking of associates of President Trump whose identities were incidentally caught up in surveillance of foreign operatives. The subpoenas resurfaced Mr. Trump's dubious claims about Obama-era surveillance at a time when Mr. Trump is facing serious questions about whether he tried to interfere in the F.B.I.'s investigation. 'When someone says they're going to recuse themselves or step aside from the investigation, you have to expect that they're not going to insist on having final approval over subpoenas, one of the most important tools of an investigation,' Representative Adam B. Schiff of California, the committee's top Democrat, said in an interview. Mr. Nunes's issuance of subpoenas was followed on Thursday morning by a Twitter post from Mr. Trump on the same subject. 'The big story is the "unmasking and surveillance" of people that took place during the Obama Administration,' he said."
What All the Russia Investigations Have Done and What Could Happen Next, The New York Times, Alicia Parlapiano, Karen Yourish, Larry Buchanan, and Wilson Andrews, Thursday, 1 June 2017: "A Justice Department investigation into ties between President Trump's associates and Russia is now being overseen by Robert S. Mueller III, a former F.B.I. director who was named as special counsel. Several congressional inquiries into the matter are also continuing."