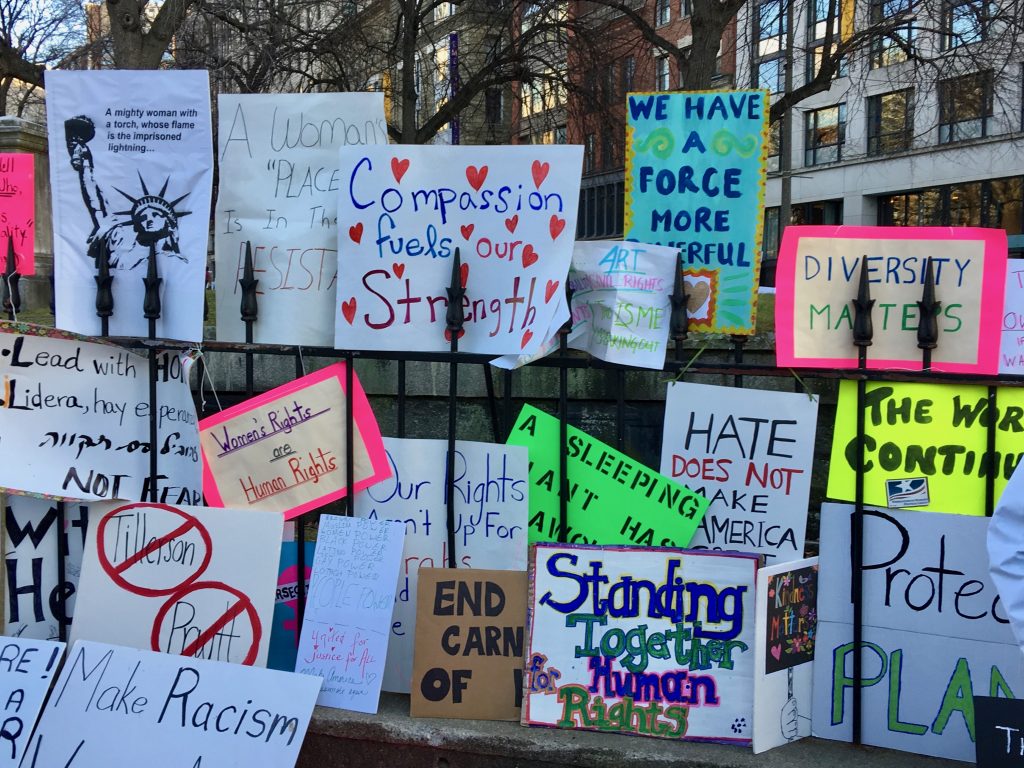 Keeping Track (of some things), Staying Outraged (it is possible), and Resisting (it's essential)
Passages in bold in the body of the texts below are my emphasis. This is an ongoing project, and I update the site frequently. I hope readers will peruse the articles in full for a better understanding of the issues and their context; our democracy and our future depend on citizens who can distinguish between facts and falsehoods and who are engaged in the political process.
Friday, 19 May 2017, Day 120:
Russia probe reaches current Trump White House official, people familiar with the case say, The Washington Post, Devlin Barrett and Matt Zapotosky, Friday, 19 May 2017: "The law enforcement investigation into possible coordination between Russia and the Trump campaign has identified a current White House official as a significant person of interest, showing that the probe is reaching into the highest levels of government, according to people familiar with the matter. The senior White House adviser under scrutiny by investigators is someone close to the president, according to these people, who would not further identify the official. The revelation comes as the investigation appears to be entering a more overtly active phase, with investigators shifting from work that has remained largely hidden from the public to conducting interviews and using a grand jury to issue subpoenas. The intensity of the probe is expected to accelerate in the coming weeks, the people said. The sources emphasized that investigators remain keenly interested in people who previously wielded influence in the Trump campaign and administration but are no longer part of it, including former national security adviser Michael Flynn and former campaign chairman Paul Manafort."
Trump Told Russian Officials in the Oval Office on 10 May That Firing 'Nut Job' Comey Eased Pressure From the Russian Investigation, The New York Times, Matt Apuzzo, Maggie Haberman, and Matthew Rosenberg, Friday, 19 May 2017: "President Trump told Russian officials in the Oval Office this month that firing the F.B.I. director, James B. Comey, had relieved "great pressure" on him, according to a document summarizing the meeting. 'I just fired the head of the F.B.I. He was crazy, a real nut job,' Mr. Trump said, according to the document, which was read to The New York Times by an American official. 'I faced great pressure because of Russia. That's taken off.' Mr. Trump added, 'I'm not under investigation.'  The conversation, during a May 10 meeting — the day after he fired Mr. Comey — reinforces the notion that the president dismissed him primarily because of the bureau's investigation into possible collusion between Mr. Trump's campaign and Russian operatives. Mr. Trump said as much in one televised interview, but the White House has offered changing justifications for the firing. The comments represented an extraordinary moment in the investigation, which centers in part on the administration's contacts with Russian officials: A day after firing the man leading that inquiry, Mr. Trump disparaged him — to Russian officials. The White House document that contained Mr. Trump's comments was based on notes taken from inside the Oval Office and has been circulated as the official account of the meeting. One official read quotations to The Times, and a second official confirmed the broad outlines of the discussion. Sean Spicer, the White House press secretary, did not dispute the account."
First on CNN: Russian officials bragged they could use Flynn to influence Trump, sources say, CNN Politics, Gloria Borger, Pamela Brown, Jim Sciutto, Marshall Cohen, and Eric Lichtblau, Friday, 19 May 2017: "Russian officials bragged in conversations during the presidential campaign that they had cultivated a strong relationship with former Trump adviser retired Gen. Michael Flynn and believed they could use him to influence Donald Trump and his team, sources told CNN. The conversations deeply concerned US intelligence officials, some of whom acted on their own to limit how much sensitive information they shared with Flynn, who was tapped to become Trump's national security adviser, current and former governments officials said. 'This was a five-alarm fire from early on,' one former Obama administration official said, 'the way the Russians were talking about him.' Another former administration official said Flynn was viewed as a potential national security problem. The conversations picked up by US intelligence officials indicated the Russians regarded Flynn as an ally, sources said. That relationship developed throughout 2016, months before Flynn was caught on an intercepted call in December speaking with Russia's ambassador in Washington, Sergey Kislyak. That call, and Flynn's changing story about it, ultimately led to his firing as Trump's first national security adviser. Officials cautioned, however, that the Russians might have exaggerated their sway with Trump's team during those conversations."
Continue reading Week 18, Friday, 19 May – Thursday, 25 May 2017, Days 120-126:
Special Counsel Robert Mueller is now authorized to investigate whether Trump White House officials have engaged in a cover-up of Russian meddling in the 2016 presidential election, McClatchy DC Bureau, Matthew Schofield and Lesley Clark, Friday, 19 May 2017: "Investigators into Russian meddling in the U.S. presidential elections are now authorized to probe whether White House officials have engaged in a cover-up, according to members of Congress who were briefed Friday by Deputy Attorney General Rod Rosenstein. A Justice Department official, who asked not to be identified because of the sensitivity of the topic, confirmed that Rosenstein told members of the House of Representatives that the special counsel in charge of the probe, former FBI Director Robert Mueller, 'has been given the authority to investigate the possibility of a cover-up.' But he denied that Rosenstein had told Congress such a probe was underway, noting that Rosenstein had declined to provide details of what is being explored. Where the investigation goes would be up to Mueller, the Justice Department official said."
Former FBI Director James Comey agrees to testify in a public session at the Senate Intelligence Committee After Memorial Day, Politico, Burgess Everett, Friday, 19 May 2017: "Former FBI Director James Comey will get to tell his side of the story behind his abrupt firing last week, agreeing to testify in a public session at the Senate Intelligence Committee. The hearing will occur after Memorial Day, committee leaders said on Friday evening. 'I hope that former Director Comey's testimony will help answer some of the questions that have arisen since Director Comey was so suddenly dismissed by the President,' said Sen. Mark Warner of Virginia, the top Democrat on the panel. 'Director Comey served his country with honor for many years, and he deserves an opportunity to tell his story. Moreover, the American people deserve an opportunity to hear it.'"
Here's what we know so far about Team Trump's ties to Russian interests, The Washington Post, Bonnie Berkowitz, Denise Lu, and Julie Vitkovskaya, updated Friday, 19 May 2017: "Congress and U.S. intelligence agencies are scrutinizing connections between Russia and the Trump campaign as they investigate evidence that Russia interfered in the 2016 election. [This graphic gives a rundown of] members of Team Trump who are known to have Russian connections and the story lines that have made those ties relevant. This graphic will be updated with new developments."
Trump or Congress can still block special counsel Robert Mueller. I know. I wrote the rules. The Washington Post, Neal Katyal, Friday, 19 May 2017: "Appointing special counsel Robert Mueller to probe Russian meddling in the 2016 election (and any possible ties to President Trump's campaign) was the only choice the Justice Department had. This is the best way to deal with the conflicts and potential conflicts of interest these matters posed. In fact, the special-counsel regulations under which Mueller was appointed were written precisely to address a situation like this one. I would know; I wrote them, in 1999. But it's also a highly imperfect solution, because it doesn't foreclose the possibility of political interference in the investigation. The rules provide only so much protection: Congress, Trump and the Justice Department still have the power to stymie (or even terminate) Mueller's inquiry."
The F.B.I. Once Warned Republican Congressman Dana Rohrabacher (R-Calif) That Russian Spies were Recruiting Him, The New York Times, Matt Apuzzo, Adam Goldman, and Mark Mazzetti, Friday, 19 May 2017: "The F.B.I. warned a Republican congressman in 2012 that Russian spies were trying to recruit him, officials said, an example of how aggressively Russian agents have tried to influence Washington politics. The congressman, Dana Rohrabacher of California, has been known for years as one of Moscow's biggest defenders in Washington and as a vocal opponent of American economic sanctions against Russia. He claims to have lost a drunken arm-wrestling match with the current Russian president, Vladimir V. Putin, in the 1990s. He is one of President Trump's staunchest allies on Capitol Hill. As a newly appointed special counsel investigates connections between the Trump campaign and Russian operatives, the warning to Mr. Rohrabacher shows that the F.B.I. has for years viewed Russian spies, sometimes posing as diplomats, as having a hand in Washington."
Trump's attorney Sheri Dillon wanted him to submit an updated financial disclosure without certifying the information as true, Associated Press, Julie Bykowicz, Friday, 19 May 2017: "President Donald Trump's attorneys initially wanted him to submit an updated financial disclosure without certifying the information as true, according to correspondence with the Office of Government Ethics. Attorney Sheri Dillon said she saw no need for Trump to sign his 2016 personal financial disclosure because he is filing voluntarily this year. But OGE director Walter Shaub said his office would only work with Dillon if she agreed to follow the typical process of having Trump make the certification. The Associated Press obtained the letters under a Freedom of Information Act request. Trump led his family's private company until becoming president, and even now maintains financial ties to it. He has avoided full transparency about his finances by breaking the long tradition of major-party political candidates making their tax returns public. Trump has routinely pointed to his previous public financial disclosures to justify his billionaire status and to dismiss calls for him to provide more information to the public. The filings are self-reported, though, making the personal certification all the more important to show the president is attesting to their accuracy. The documents indicate that after OGE pushed back, Trump now plans to certify the information by mid-June. But his attorney's effort to sidestep certification of his personal financial disclosure marks another departure from the norm. Each year, the OGE processes thousands of those forms, all of which are certified."
Federal Communications Commission security guards manhandle a CQ Roll Call senior reporter and eject him from a meeting for asking questions, The Washington Post, Derek Hawkins, Friday, 19 May 2017: "A veteran Washington reporter says he was manhandled by security guards at the Federal Communications Commission, then forced out of the agency's headquarters as he tried to ask a commissioner questions at a public meeting on Thursday. John M. Donnelly, a senior writer at CQ Roll Call, said he was trying to talk with FCC Commissioner Michael O'Rielly one-on-one after a news conference when two plainclothes guards pinned him against a wall with the backs of their bodies. Seeking to question officials after news conferences is standard practice for journalists in Washington. O'Rielly saw the encounter but continued walking, Donnelly said in a statement through the National Press Club, where he heads the Press Freedom Team. After O'Rielly passed, the statement read, one of the guards asked why Donnelly hadn't brought up his questions while the commissioner was at the podium. The guard then made him leave the building 'under implied threat of force,' the statement read."
Was Turkish President Recep Tayyip Erdogan personally involved in his godyguards' attacks on protesters in D.C.? The Washington Post, Philip Bump, Friday, 19 May 2017: "After he met with President Trump this week [on Wednesday, 17 May], Turkish President Recep Tayyip Erdogan traveled to Embassy Row in Northwest Washington, where Turkey's ambassador has a home. At some point while Erdogan was there, a group of people across the street at Sheridan Circle began to loudly protest. That protest ended violently, with pro- and anti-Erdogan sides exchanging blows. Voice of America caught the beginning of the fight. That footage quickly demonstrated that the physical altercation originated with several men in suits who were at the front edge of the pro-Erdogan crowd on the south side of the circle. In a news conference Wednesday, D.C. police stated that some of those involved were members of Erdogan's security detail — which the Turkish state news agency Anadolu confirmed. 'Police did not heed Turkish demands to intervene,' Anadolu said, as The Post has reported, so the guards moved in to 'disperse them.' The police didn't 'heed' those demands to break up a peaceful protest, of course, because those protests were legal, protected under the First Amendment. On Thursday afternoon, a new wrinkle: It turns out that Erdogan himself observed the brawl from the driveway of the ambassador's residence. [The video shows that] right before the brawling starts, a man appears to receive instruction from Erdogan, who then signals to another man who walks down the driveway to the street — and the brawling begins seconds later…. That Turkish security forces violated the First Amendment rights of American protesters is, of course, a significant breach of international diplomacy, one that has received no small amount of attention over the past few days. If they did so at the direct encouragement of Erdogan, that raises the stakes significantly."
Prosecutors are pushing back against Attorney General Jeff Sessions's order to pursue the most severe penalties for offenses, The Washington Post, Lindsey Bever, Friday, 19 May 2017: "A week after U.S. Attorney General Jeff Sessions told federal prosecutors to "charge and pursue the most serious, readily provable offense" and follow mandatory minimum sentencing guidelines, a bipartisan group of prosecutors at the state and local level is expressing concern. Thirty current and former state and local prosecutors have signed an open letter, which was released Friday by the nonprofit Fair and Just Prosecution, a national network working with newly elected prosecutors. The prosecutors say that even though they do not have to answer Sessions's call, the U.S. Attorney General's directive 'marks an unnecessary and unfortunate return to past "tough on crime" practices' that will do more harm than good in their communities."
Leaked Draft Shows How U.S. Weakened Climate Change Wording in the Arctic Declaration, InsideClimate News, Sabrina Shankman, Friday, 19 May 2017: "The day before the Arctic Council met for its biannual ministerial last week, the United States requested six changes to the intergovernmental declaration that was to be issued—each of which weakened the language on climate change. The Arctic Council, an intergovernmental body representing all eight Arctic states, does not make policy, but the diplomatic work accomplished there is intended to trickle back to the countries and result in changes. An important part of that is the declaration issued at the end of each two-year chairmanship, which is signed by top officials from each country, to acknowledge the scientific and diplomatic work that was accomplished and to state the council's goals going forward. The last-minute move by the United States to weaken the document can be seen as a test case for what we can expect at larger, more consequential meetings of international organizations dealing with global warming issues and policy as President Donald Trump rolls back U.S. climate policies and backslides on international commitments."
Saturday, 20 May 2017, Day 121:
How Rollbacks at Scott Pruitt's Environmental Protection Agency Are a Boon to the Oil and Gas Industries, The New York Times, Hiroko Tabuchi and Eric Lipton, Saturday, 20 May 2017: "In a gas field … in Wyoming's struggling energy corridor, nearly 2,000 miles from Washington, the Trump administration's regulatory reversal is crowning an early champion. Devon Energy, which runs the windswept site, had been prepared to install a sophisticated system to detect and reduce leaks of dangerous gases. It had also discussed paying a six-figure penalty to settle claims by the Obama administration that it was illegally emitting 80 tons each year of hazardous chemicals, like benzene, a known carcinogen. But something changed in February just five days after Scott Pruitt, the former Oklahoma attorney general with close ties to Devon, was sworn in as the head of the Environmental Protection Agency. Devon, in a letter dated Feb. 22 and obtained by The New York Times, said it was "re-evaluating its settlement posture." It no longer intended to move ahead with the extensive emissions-control system, second-guessing the E.P.A.'s estimates on the size of the violation, and it was now willing to pay closer to $25,000 to end the three-year-old federal investigation. Devon's pushback, coming amid an effort to ease a broad array of federal environmental rules, is the first known example under the Trump administration of an accused polluter — which has admitted violating the law — backing away from a proposed environmental settlement. It is already being hailed by other independent energy companies as a template for the future."
Trump signs 'tremendous' deals with Saudi Arabia on his first day overseas, The Washington Post, Philip Rucker and Karen DeYoung, Saturday, 20 May 2017: "President Trump made a splashy debut on the world stage here Saturday, ushering in a new era in U.S.-Saudi Arabian relations by signing a joint 'strategic vision' that includes $110 billion in American arms sales and other new investments that the administration said would bring hundreds of thousands of jobs. 'It was a great day,' Trump said. He cited 'tremendous investments in the United States . . . and jobs, jobs, jobs.' While initial details were scant, the agreements signed included a U.S. letter of intent to 'support Saudi Arabia's defense needs' with sales of a number of items — naval ships, tanks and other vehicles — that were the subject of agreements under earlier administrations, as well as some new items that had never passed the discussion stage, such as sophisticated THAAD missile defense systems."
'I think Islam hates us': A timeline of Trump's comments about Islam and Muslims, The Washington Post, Jenna Johnson and Abigail Hauslohner, Saturday, 20 May 2017: "President Trump is in Saudi Arabia this weekend to meet with Arab leaders, visit the birthplace of Islam and give a speech about religious tolerance with the hope of resetting his reputation with the world's 1.6 billion Muslims. But it's unclear if a two-day visit is enough to overshadow his past statements about Islam and its faithful, with his rhetoric becoming more virulent as he campaigned for president. [This article covers] some of the comments that he has made about Islam and Muslims [between March 2011 and May 2017]."
To Trump, Human Rights Concerns Are often a Barrier to Trade, The New York Times, Peter Baker and Michael D. Shear, Saturday, 20 May 2017: "Secretary of State Rex W. Tillerson had some advice on Saturday for Iran's newly re-elected president. The Trump administration, he said, hopes Tehran 'restores the rights of Iranians to freedom of speech, to freedom of organization, so that Iranians can live the life that they deserve.' As he said that at a news conference, Mr. Tillerson was standing next to the Saudi foreign minister, Adel al-Jubeir, who represents a government that does not guarantee free speech or many other rights. When Mr. Tillerson turned to leave, a reporter asked if he had anything to say about human rights in Saudi Arabia. The secretary departed without answering. President Trump's visit to Saudi Arabia underscored the calculation he and his foreign policy advisers have made when it comes to questions of human rights around the world. Mr. Trump and his team made clear they are willing to publicly overlook repression in places like Saudi Arabia and other Gulf states whose leaders are meeting here this weekend — as long as they are allies in areas the president considers more important, namely security and economics. To the president and his advisers, human rights concerns can be an impediment to the flow of commerce between countries and a barrier to beneficial partnerships for the United States. In their view, trade equals jobs and prosperity, and concern about human rights too often backfires, getting in the way of efforts by the United States government to increase all three."
Sunday, 21 May 2017, Day 122:
In Saudi Arabia, Trump Softens His Tone on Islam, but He Calls for a Purge of 'Foot Soldiers of Evil,' The New York Times, Peter Baker and Michael D. Shear, Sunday, 21 May 2017: "President Trump on Sunday pivoted away from his strident assessment of Islam as a religion of hatred as he sought to redefine American leadership in the Middle East and rally the Muslim world to join him in a renewed campaign against extremism. Addressing dozens of leaders from across the Muslim world who had gathered in Saudi Arabia, Mr. Trump rejected the idea that the fight against terrorism was a struggle between religions, and he promised not to scold them about human rights in their countries. But he challenged Muslim leaders to step up their efforts to counter a 'wicked ideology' and purge the 'foot soldiers of evil' from their societies. 'This is not a battle between different faiths, different sects or different civilizations,' Mr. Trump said in a cavernous hall filled with heads of state eager to find favor with the new president…. The president's measured tone here was a far cry from his incendiary language on the campaign trail last year, when he said that 'Islam hates us' and called for a 'total and complete shutdown' of Muslims entering the United States….  While in the past Mr. Trump repeatedly criticized President Barack Obama and others for not using the phrase 'radical Islamic terrorism,' his staff sought to ensure that he would not use it before this Muslim audience. The final draft of the speech had him instead embracing a subtle but significant switch, using the term 'Islamist extremism.' Islamist is often defined to mean someone who advocates Islamic fundamentalism, and some experts prefer its use to avoid tarring the entire religion. When that moment in the speech came, however, Mr. Trump went off script and used both words, Islamic and Islamist. 'That means honestly confronting the crisis of Islamic extremism and the Islamists and Islamic terror of all kinds,' he said. An aide said afterward that the president was 'just an exhausted guy' and had tripped over the term, rather than rejected the language suggested by his aides…. Mr. Trump made little mention of human rights in any of the meetings, and he promised in his speech not to do so publicly. 'We are not here to lecture,' he said. 'We are not here to tell other people how to live, what to do, who to be, or how to worship. Instead, we are here to offer partnership — based on shared interests and values — to pursue a better future for us all.' That approach drew bipartisan criticism back in Washington."

Monday, 22 May 2017, Day 123:
Trump's Former National Security Adviser Michael Flynn Misled the Pentagon About His Russia Ties, Letter Released by Representative Elijah E. Cummings (D-Maryland) of the House Oversight Committee Says, The New York Times, Mark Mazzetti and Matthew Rosenberg, Monday, 22 May 2017: "Michael T. Flynn, President Trump's former national security adviser, misled Pentagon investigators about his income from companies in Russia and contacts with officials there when he applied for a renewal of his top-secret security clearance last year, according to a letter released Monday by the top Democrat on the House oversight committee. Mr. Flynn, who resigned 24 days into the Trump administration, told investigators in February 2016 that he had received no income from foreign companies and had only 'insubstantial contact' with foreign nationals, according to the letter. In fact, Mr. Flynn had sat two months earlier beside President Vladimir V. Putin of Russia at a Moscow gala for RT, the Kremlin-financed television network, which paid him more than $45,000 to attend the event and give a separate speech. His failure to make those disclosures and his apparent attempt to mislead the Pentagon could put Mr. Flynn in further legal jeopardy. Intentionally lying to federal investigators is a felony punishable by up to five years in prison. Separately, he also faces legal questions over failing to properly register as a foreign agent for lobbying he did last year on behalf of Turkey while advising the Trump campaign, which is also a felony. The House letter, written by Representative Elijah E. Cummings of Maryland, was made public hours after Mr. Flynn formally rejected a subpoena from senators investigating Russian interference in the 2016 election and chose to instead invoke his right against self-incrimination, a person familiar with his decision said." See also, Michael Flynn Pleads the Fifth and Refuses to Cooperate With the Senate Intelligence Committee's Russia Probe, HuffPost, Amanda Terkel, Monday, 22 May 2017: "Former national security adviser Michael Flynn will not cooperate with a Senate intelligence committee investigation, invoking his Fifth Amendment right against self-incrimination Monday to avoid turning over documents lawmakers have subpoenaed related to his interactions with Russian officials. Flynn resigned in February, after it was revealed that he lied about whether he had substantive contacts with the Russian ambassador before President Donald Trump took office.  In a letter to the leaders of the Senate intelligence committee posted by the Associated Press, Flynn's lawyer said that without 'assurances against unfair prosecution,' he would 'respectfully decline your request for an interview and for the production of documents.' 'The context in which the Committee has called for General Flynn's testimonial production of documents makes clear that he has more than a reasonable apprehension that any testimony he provides could be used against him,' Flynn attorney Robert Kelner wrote. 'Multiple Members of Congress have demanded that he be investigated and even prosecuted. He is the target on nearly a daily basis of outrageous allegations… [that] feed the escalating public frenzy against him.' 'While we recognize General Flynn's constitutional right to invoke the Fifth Amendment, we are disappointed he has chosen to disregard the Committee's subpoena request for documents relevant and necessary to our investigation,' responded Sens. Richard Burr (R-N.C.) and Mark Warner (D-Va.), the chair and ranking member, respectively, of the committee. 'We will vigorously pursue General Flynn's testimony and his production of any and all pertinent materials pursuant to the Committee's authorities.'"
Trump asked intelligence chiefs to push back against FBI collusion probe after FBI director James Comey revealed its existence in March 2017, The Washington Post, Adam Entous and Ellen Nakashima, Monday, 22 May 2017: "President Trump asked two of the nation's top intelligence officials in March to help him push back against an FBI investigation into possible coordination between his campaign and the Russian government, according to current and former officials. Trump made separate appeals to the director of national intelligence, Daniel Coats, and to Adm. Michael S. Rogers, the director of the National Security Agency, urging them to publicly deny the existence of any evidence of collusion during the 2016 election. Coats and Rogers refused to comply with the requests, which they both deemed to be inappropriate, according to two current and two former officials, who spoke on the condition of anonymity to discuss private communications with the president. Trump sought the assistance of Coats and Rogers after FBI Director James B. Comey told the House Intelligence Committee on March 20 that the FBI was investigating 'the nature of any links between individuals associated with the Trump campaign and the Russian government and whether there was any coordination between the campaign and Russia's efforts.'  Trump's conversation with Rogers was documented contemporaneously in an internal memo written by a senior NSA official, according to the officials. It is unclear if a similar memo was prepared by the Office of the Director of National Intelligence to document Trump's conversation with Coats. Officials said such memos could be made available to both the special counsel now overseeing the Russia investigation and congressional investigators, who might explore whether Trump sought to impede the FBI's work." See also, The three most damaging paragraphs from the revelation about Trump pushing back against the FBI Russia probe, The Washington Post, Amber Phillips, Monday, 22 May 2017: "Trump doesn't care or doesn't know about the rules. He's abusing his power in a Nixonian way. He's deliberately trying to muddy the waters. These are startling comments about the president of the United States, and some of them are coming from inside Trump's own administration."
Supreme Court Justices Reject 2 Gerrymandered North Carolina Districts, Citing Racial Bias, The New York Times, Adam Liptak, Monday, 22 May 2017: "The Supreme Court struck down two North Carolina congressional districts on Monday, ruling that lawmakers had violated the Constitution by relying too heavily on race in drawing them, in a decision that could affect many voting maps, generally in the South. The decision was handed down by an unusual coalition of justices, and was the latest in a series of setbacks for Republican-led legislatures. In recent cases concerning legislative maps in Alabama and Virginia, as well, the Supreme Court has insisted that packing black voters into a few districts — which dilutes their voting power — violates the Constitution. Republicans in the North Carolina legislature denied that race was the predominant factor in redrawing the boundaries of the two districts under review. In one of them, though, they said, they had made some use of race…. 'This is a watershed moment in the fight to end racial gerrymandering,' Eric H. Holder Jr., the former attorney general and the chairman of the National Democratic Redistricting Committee, said in a statement. 'North Carolina's maps were among the worst racial gerrymanders in the nation.'… The ruling on Monday was the second Supreme Court victory for North Carolina Democrats this month. Last Monday, the justices declined to hear an appeal of a decision that had struck down parts of a restrictive North Carolina voting law that, among other things, tightened voter identification requirements and cut back on early voting. A federal appeals court had ruled that the restrictions were an unconstitutional effort to 'target African-Americans with almost surgical precision.'"
Trump's Budget Cuts Programs for the Poor While Sparing Many Older People, The New York Times, Yamiche Alcindor, Monday, 22 May 2017: "President Trump's spending blueprint seeks to balance the federal budget through unprecedented cuts to programs for poor and working-class families, effectively pitting them against older Americans who would largely escape the budget ax. In ways large and small, the budget, to be released Tuesday, seeks to curtail spending on poorer recipients of government largess. The Supplemental Nutrition Assistance Program, known commonly as food stamps, would be cut by $192 billion over the next decade. Medicaid, the health program for the poor, would be cut by $800 billion, and Temporary Assistance for Needy Families, commonly known as welfare, would be cut by $21 billion. By requiring Social Security numbers to obtain tax refunds, the White House would also pare back the earned-income tax credit and child tax credit — wage supplements for the working poor. Mr. Trump also wants to make large cuts to educational programs aimed at helping often low-income students secure federal loans or grants, and he would cut access to disability payments through Social Security. Taken together, the cuts represent a significant reordering of the social safety net, away from poor families and toward older Americans, regardless of income. Medicare would be untouched, and the main function of Social Security — retirement income — would flow unimpeded." See also, Trump's budget proposal slashes spending by $3.6 trillion over 10 years, The Washington Post, Damian Paletta and Robert Costa, Monday, 22 May 2017: "President Trump on Tuesday will propose cutting federal spending by $3.6 trillion over 10 years, a historic budget contraction that would severely ratchet back spending across dozens of programs and could completely reshape government assistance to the poor. The White House's $4.094 trillion budget request for fiscal 2018 calls for cuts that hit Medicaid, food assistance and other anti-poverty programs. It would cut funding for the Children's Health Insurance Program (CHIP), which provides benefits to the poor, by roughly 20 percent next year. All told, the budget would ­reduce spending on safety-net programs by more than $1 trillion over 10 years. Details of the budget circulating in Washington on Monday drew outrage from Democrats and a mix of anxiety and praise from Republicans, illustrating the political minefield that policymakers face as they debate whether to turn the proposals into law." See also, The Key Spending Cuts and Increases in Trump's Budget, The New York Times, By The New York Times, Monday, 22 May 2017. And see also, Trump's Budget Cuts Deeply Into Medicaid and Anti-Poverty Efforts, The New York Times, Julie Hirschfeld Davis, Monday, 22 May 2017.
Trump says he never told the Russians during a 10 May Oval Office meeting that classified intelligence came from Israel, The Washington Post, Philip Rucker, Monday, 22 May 2017: "President Trump said Monday that he never told Russian diplomats during a May 10 Oval Office meeting that the classified information about the Islamic State he was sharing with them had come from Israel — something he has not been accused of doing. Trump veered off the script of his heavily choreographed visit to Israel during a brief media appearance alongside Prime Minister Benjamin Netanyahu in Jerusalem to address the issue. Both men responded to a shouted question asking Netanyahu whether he had any concerns about intelligence cooperation with the United States…. 'Just so you understand, I never mentioned the word or the name Israel,' Trump told reporters. 'Never mentioned it during that conversation. They're all saying I did, so you have another story wrong. Never mentioned the word Israel.' But Trump has not been accused of explicitly telling the Russians that the intelligence concerning the Islamic State came through Israel. Rather, because he revealed specifically where the information had come from within Syria, Russian intelligence officials could determine the source nevertheless."
White House Moves to Block Ethics Inquiry Into Ex-Lobbyists on Federal Payroll, The New York Times, Eric Lipton, Monday, 22 May 2017: "The Trump administration, in a significant escalation of its clash with the government's top ethics watchdog, has moved to block an effort to disclose the names of former lobbyists who have been granted waivers to work in the White House or federal agencies. The latest conflict came in recent days when the White House, in a highly unusual move, sent a letter to Walter M. Shaub Jr., the head of the Office of Government Ethics, asking him to withdraw a request he had sent to every federal agency for copies of the waivers. In the letter, the administration challenged his legal authority to demand the information. Mr. Shaub returned a scalding, 10-page response to the White House late Monday, unlike just about any correspondence in the history of the office, created after the Nixon Watergate scandal. 'O.G.E. declines your request to suspend its ethics inquiry and reiterates its expectation that agencies will fully comply with its directive,' Mr. Shaub wrote in a letter he also sent to every federal agency ethics officer, six members of Congress who oversee government operations and the inspector generals from agencies governmentwide. 'Public confidence in the integrity of government decision making demands no less.' Dozens of former lobbyists and industry lawyers are working in the Trump administration, which has hired them at a much higher rate than the previous administration. Keeping the waivers confidential would make it impossible to know whether any such officials are violating federal ethics rules or have been given a pass to ignore them. Mr. Shaub, who is in the final year of a five-year term after being appointed by President Barack Obama, said he had no intention of backing down. 'It is an extraordinary thing,' he said of the White House request. 'I have never seen anything like it.'"
White House seeks a 90-day delay in a lawsuit over Obamacare insurance subsidies, Politico, Paul Demko, Jennifer Haberkorn, and Josh Dawsey, Monday, 22 May 2017: "The Trump administration and House of Representatives Monday asked a federal court for another 90-day delay in a lawsuit over Obamacare insurance subsidies, undermining the future of the health care marketplaces as insurers look for certainty from the government before committing to offer coverage next year…. If the request is approved, the parties would have to file another update in 90 days…. The suit, House v. Price, centers on Obamacare's cost-sharing program, which reimburses health insurers to help low-income people make co-payments to the doctor or hospital. The case was brought by House Republicans during the Obama administration. But the case has taken on added significance as Republicans try to repeal the health law: without the $7 billion in payments, insurers say they cannot remain afloat in the Obamacare markets."
Wilbur Ross, Secretary of Commerce, praises the lack of protest in Saudi Arabia, a country where protest is punishable by death, The Washington Post, Philip Bump, Monday, 22 May 2017: "Commerce secretary Wilbur Ross offered two highlights from his trip to Saudi Arabia in an interview with CNBC on Monday morning. First, he enjoyed the two bushels of dates he was given by Saudi Arabian security guards and, second, he was pleased that he saw no protester with 'a bad placard.' Perhaps because an American-style protest is illegal in that country and can result in a death sentence. Ross was using the lack of protesters as an example of how warmly the Trump administration was received in the country."
For Haitians who came to the U.S. after the 2010 earthquake, another deportation reprieve, The Washington Post, Maria Sacchetti, Monday, 22 May 2017: "Homeland Security Secretary John F. Kelly granted a six-month extension Monday to 58,000 Haitian immigrants who have been spared from deportation since a devastating 2010 earthquake, saying the conditions in their struggling homeland are not stable enough to force them to return. Kelly said the Haitians, whose permission to stay in the United States was to end in July, may now stay until Jan. 22. He said he would monitor conditions in the Caribbean nation, but he added that the Haitian immigrants should prepare to return home next year…. The announcement did not please advocates on either side of the immigration debate. It foreshadowed the battles to come next year, when the Trump administration will decide the fate of about 263,000 people from El Salvador, whose temporary protected status expires in March. Protection for about 86,000 Hondurans is set to end in January. Temporary Protected Status is a Homeland Security program that grants short-term work permits and reprieves from deportation to immigrants from nations upended by disaster, epidemics or war. Haitians received the status after the 2010 earthquake killed hundreds of thousands of people; it was renewed as their homeland grappled with a cholera epidemic, food shortages and acute poverty. Many had hoped the administration would extend the Haitians' protection for 18 to 24 months. Now, they face a potential deadline to pack up their lives and return to the poorest nation in the Western Hemisphere."
Attorney General Jeff Sessions Narrows Trump's Order Against Sanctuary Cities, The New York Times, Vivian Yee and Rebecca R. Ruiz, Monday, 22 May 2017: "Attorney General Jeff Sessions on Monday clarified President Trump's executive order on so-called sanctuary cities, narrowly defining such jurisdictions — and the money they could expect to receive from the federal government — in a way that appeared to fall far short of Mr. Trump's previous threats to starve all federal funding from localities that limit their cooperation with federal immigration enforcement. Later on Monday, the Justice Department asked a federal court in California to reconsider a ruling that blocked the order last month. In a two-page memorandum, Mr. Sessions announced that the Trump administration would withhold certain types of federal aid from jurisdictions that 'willfully refuse to comply' with a single federal immigration law. That statute requires cities, counties and states to allow local agencies and officials to exchange information about people's immigration status with federal immigration authorities. Only federal grants from the Justice Department and the Department of Homeland Security would be affected, Mr. Sessions said. But Mr. Sessions suggested that the Justice Department might attach new conditions to future grants. That left open the possibility of requiring local governments to honor requests from federal immigration authorities to detain unauthorized immigrants so that immigration officers can take them into custody. Sanctuary cities commonly fail to comply with such requests."
The U.S. Geological Survey, an Interior Department agency, removes climate change language from a news release, The Washington Post, Dino Grandoni, Monday, 22 May 2017: "On Thursday, a group of scientists, including three working for the U.S. Geological Survey, published a paper that highlighted the link between sea-level rise and global climate change, arguing that previously studies may have underestimated the risk flooding poses to coastal communities. However, three of the study's authors say the Department of Interior, under which USGS is housed, deleted a line from the news release on the study that discussed the role climate change played in raising Earth's oceans. 'While we were approving the news release, they had an issue with one or two of the lines,' said Sean Vitousek, a research assistant professor at the University of Illinois at Chicago. 'It had to do with climate change and sea-level rise.' 'We did end up removing a line,' he added. Vitousek and five co-authors wrote the study, which was published in the journal Nature Scientific Reports. Three of the authors worked for USGS and the other three worked for universities. That deleted line, they said, read: 'Global climate change drives sea-level rise, increasing the frequency of coastal flooding.' Instead, the USGS news release leaves the cause unmentioned."
Tuesday, 23 May 2017, Day 124:
Ex-C.I.A. Director John Brennan Reveals Mounting Concern Over Trump Campaign's Connections To Russia, The New York Times, Matt Apuzzo, Tuesday, 23 May 2017: "John O. Brennan, the former C.I.A. director, described on Tuesday a nerve-fraying few months last year as American authorities realized that the presidential election was under attack and feared that Donald J. Trump's campaign might be aiding that fight. Mr. Brennan, in testimony before the House Intelligence Committee, said he was concerned by a series of suspicious contacts between Russian government officials and Mr. Trump's associates. The C.I.A. learned about those meetings just as it was beginning to grapple with Russian hackers and propagandists trying to manipulate the presidential race. His remarks were the fullest public account to date of the origins of an F.B.I. investigation that continues to shadow the Trump administration…. When he left his post in January, he said, 'I had unresolved questions in my mind as to whether or not the Russians had been successful in getting U.S. persons involved in the campaign or not to work on their behalf.'  Mr. Brennan acknowledged that he did not know whether the Trump campaign colluded with Russian operatives and said the contacts might have been benign. American intelligence agencies have concluded that the Russian president, Vladimir V. Putin, tried to damage Hillary Clinton's candidacy and help Mr. Trump. On Aug. 4, as evidence of that campaign mounted, Mr. Brennan warned Alexander V. Bortnikov, the director of Russia's Federal Security Service, known as the F.S.B., not to meddle in the election. Not only would such interference damage relations between the countries, he said, but it was also certain to backfire." See also, CIA director John Brennan alerted FBI to pattern of contacts between Russian officials and Trump campaign associates, The Washington Post, Greg Miller, Tuesday, 23 May 2017: "The CIA alerted the FBI to a troubling pattern of contacts between Russian officials and associates of the Trump campaign last year, former agency director John Brennan testified on Tuesday, shedding new light on the origin of a criminal probe that now reaches into the White House. In testimony before the House Intelligence Committee, Brennan said he became increasingly concerned that Trump associates were being manipulated by Russian intelligence services as part of a broader covert influence campaign that sought to disrupt the election and deliver the presidency to Donald Trump. 'I was worried by a number of the contacts that the Russians had with U.S. persons,' Brennan said, adding that he did not see proof of collusion before he left office on Jan. 20, but 'felt as though the FBI investigation was certainly well-founded and needed to look into those issues.' Brennan's remarks represent the most detailed public accounting to date of his tenure as CIA director during the alleged Russian assault on the U.S. presidential race, and the agency's role in triggering an FBI probe that Trump has sought to contain."
It's not just programs for the poor. Trump's budget calls for vast changes to government. The Washington Post, Damian Paletta, Tuesday, 23 May 2017: "President Trump on Tuesday proposed a new process for closing numerous military bases, the elimination of government funding for public radio and television, and cuts of more than $1 billion to after-school programs. He called to weaken the Consumer Financial Protection Bureau (CFPB), defund several programs that study climate change, cut research on infectious diseases and reduce the Strategic Petroleum Reserve by 50 percent. Much of the focus on Trump's $4.094 trillion budget plan has been on the large reductions in safety net programs such as Medicaid and the Supplemental Nutrition Assistance Program, but there are dozens of smaller budget cuts that, in aggregate, would amount to a major realignment of the government's role in society. Aside from national defense and border security, Trump's plan would put the onus on states, companies, churches and charities to offer many educational, scientific and social services that have long been provided by the federal government. This was the overriding goal in revamping numerous anti-poverty programs, prodding states to do more to limit the number of people who seek and receive benefits. Top White House advisers said that the government spends too much and that a dramatic reduction is necessary to make the government — and its presence in society — smaller."
Trump's Problematic Math: Budget Plan Adds Growth, but Doesn't Subtract Cost, The New York Times, Binyamin Appelbaum, Tuesday, 23 May 2017: "President Trump's budget proposal, unveiled on Tuesday, purported to show the benefits of cutting taxes on businesses and consumers: By the end of the decade, faster growth could balance the federal budget. The numbers looked great because the White House left out something essential: the cost. When the government cuts taxes, it collects less money. That is the purpose of a tax cut. But Mr. Trump's budget does not include any hint of a decrease in federal revenue. To the contrary, it projects that federal tax revenue will increase every year for the next decade. The White House is indeed projecting faster economic growth as a consequence of tax cuts. What it is not doing is projecting the cost of those tax cuts: that is, the loss in tax revenue. It is the rough equivalent of trying to raise $10,000 for a project expected to produce $100,000 in revenue, and telling investors the profit will total $100,000. It won't, because you have to account for the cost. Lawrence H. Summers, the Harvard economist who served in senior roles in both the Clinton and Obama administrations, wrote in The Washington Post that it was 'the most egregious accounting error in a presidential budget in the nearly 40 years I have been tracking them.'"
National Endowment for the Humanities Chair William D. Adams Resigns as Trump Renews Bid to Eliminate Arts and Library Funding, Publishers Weekly, Andrew Albanese, Tuesday, 23 May 2017: "In a 2018 federal budget "blueprint," released today, President Trump renewed his bid to eliminate the National Endowment for the Arts and the National Endowment for the Humanities, as well as the Institute of Museum and Library Services (IMLS). The proposed cuts were largely expected, and follow Trump's initial March 16 budget proposal, which also zeroed out federal funding for the arts and libraries. That proposal, first floated in January, met with significant resistance both from the public and lawmakers, and in a belated 2017 budget deal (which Trump signed on May 5) those agencies actually received small budget increases for the remainder of fiscal 2017, raising slim hopes that the President might change course and restore funding for 2018. The 2017 budget expires on September 30. But today's proposal, which aims to provide 'lawmakers and the public with a view of the priorities of the President,' doubles down on efforts to eliminate arts and library funding, as well as support for numerous other key domestic programs, including the Corporation for Public Broadcasting, and a $9 billion cut from the Department of Education (a 13% reduction). As Gary Price notes on Library Journal's Infodocket, 'the few dollars that remain in the FY18 budget (in the case of the IMLS, 10% of the budget) are for closing down the agency.' Trump's 2018 budget instead seeks more funds for border security, and a massive $54 billion increase in defense spending. The proposal is the latest step in a complicated legislative process, and a more complete budget blueprint, including tax policy and other key fiscal proposals, is due to be released later this spring. Meanwhile, in a related move, NEH chairman William Adams announced his resignation, effective today."
Trump Budget Proposes Deep Cuts in Energy Innovation Programs, The New York Times, Brad Plumer and Coral Davenport, Tuesday, 23 May 2017: "President Trump's budget proposal for 2018 envisions a flurry of changes to domestic energy policy, reaping billions of dollars in one-time revenue from oil and gas resources while cutting research into future energy technologies that could pay long-term dividends. Mr. Trump's budget, released Tuesday, says it will raise about $36 billion over the next 10 years by selling off major American energy resources and infrastructure, opening up vast new areas of public land for oil and gas drilling, and redirecting state revenues from oil and gas royalties back to Washington. At the same time, the budget would cut $3.1 billion from energy research programs at the Energy Department, an 18 percent reduction from last year's spending. These programs are aimed at developing innovative technologies like better batteries for electric vehicles or carbon capture for coal and gas plants — all of which could one day help reduce greenhouse gas emissions and combat global warming. Critics say these cuts could imperil American leadership in cutting-edge clean energy industries."
Senate Intelligence Committee issues new subpoenas to former National Security adviser Michael Flynn's businesses, The Washington Post, Karoun Demirjian, Tuesday, 23 May 2017: "The Senate Intelligence Committee is issuing two new subpoenas for information from former national security adviser and retired Lt. Gen. Michael Flynn's companies and challenging his lawyer's refusal to comply with an existing subpoena for documents detailing his contacts with Russian officials, committee leaders announced Tuesday. 'A business does not have the right to take the Fifth,' Sen. Mark R. Warner (D-Va.), the committee's lead Democrat, told reporters as he and chairman Richard Burr (R-N.C.) pledged to 'keep all options on the table.' Burr and Warner announced they would subpoena documents from the two Flynn businesses they were aware of — Flynn Intel LLC and Flynn Intel Inc., both based in Alexandria, Va. They are also sending a letter to Flynn's lawyers challenging them on 'whether Flynn can take the Fifth as it relates to document production,' and itemizing more specifically what documents they want Flynn to furnish. The moves stop short of seeking a citation of contempt against Flynn for failing to comply with the committee's subpoena — for now."
Justice Department ethics experts clear Robert Mueller to lead Russia probe, The Washington Post, Matt Zapotosky and Matea Gold, Tuesday, 23 May 2017: "Justice Department ethics experts have concluded that newly appointed special counsel Robert S. Mueller III can oversee the investigation into possible coordination between the Trump campaign and the Kremlin during the 2016 presidential election — even though his former law firm represents several people who could be caught up in the matter, authorities announced Tuesday. In an email, Justice Department spokeswoman Sarah Isgur Flores said ethics officials had reviewed the case and 'determined that Mr. Mueller's participation in the matters assigned to him is appropriate.' She said the officials had considered Mueller's professional obligations and those imposed by government ethics regulations. Mueller, a former FBI director, had worked for the past three years in the Washington office of WilmerHale, a prominent law firm whose lawyers represent President Trump's former campaign chairman Paul Manafort, Trump's daughter Ivanka and the president's son-in-law, Jared Kushner. Mueller resigned from the firm after Deputy Attorney General Rod J. Rosenstein appointed him last week to oversee the investigation of Russian meddling in the election. But Mueller still had possible conflicts because of his association with the firm, and the Justice Department said at the time it would have to review them. Under a federal ethics regulation, government officials are barred from participating in matters involving their former employers for a year, unless they receive a waiver to do so."
After a delay, Obama's Fiduciary Rule Requiring Financial Advisers to Put Their Customers' Interests Ahead of Their Own Will Go Into Effect, The New York Times, Tara Siegel Bernard, Tuesday, 23 May 2017: "New consumer protections requiring financial advisers to put their customers' interests ahead of their own — at least when handling their retirement money — will take effect next month, putting to rest the question of whether they would be delayed further. The fate of the so-called fiduciary rule, created under the Obama administration, was called into doubt when President Trump signed an executive order seeking a review of it, prompting regulators to delay its implementation to June from April. On Tuesday, Alexander Acosta, the Labor Department secretary, said the basic principles of the rule would indeed take effect on June 9, even as his agency continues to review its finer details. After careful review, the Labor Department has 'found no principled legal basis to change the June 9 date while we seek public input,' Mr. Acosta wrote in an opinion piece published Monday in The Wall Street Journal. 'Respect for the rule of law leads us to the conclusion that this date cannot be postponed.' The Obama administration had estimated that conflicts of interest embedded in the way many investment professionals do business cost Americans about $17 billion a year, producing annual returns that are about 1 percentage point lower."
Trump retains outside lawyer Marc Kasowitz to help with Russia investigations, The Washington Post, John Wagner and Ashley Parker, Tuesday, 23 May 2017: "President Trump has retained the services of a trusted lawyer, Marc E. Kasowitz, to help him navigate the investigations into his campaign and suspected Russian interference in last year's election, according to people familiar with the decision. Kasowitz, who has known Trump for decades, has represented Trump in numerous cases, including on his divorce records, real estate transactions and allegations of fraud at Trump University. He is a partner at Kasowitz, Benson, Torres & Friedman in New York. With the appointment last week of a special counsel to probe alleged Russian meddling in the election and possible collusion with the Trump campaign, the stakes have been raised considerably for the Republican president and his associates. Trump has repeatedly denied that he did anything improper and has said that he has been told he is not under investigation."
64 Democratic Legislators Warn Trump Against Pre-emptive Attack on North Korea, The New York Times, Rick Gladstone, Tuesday, 23 May 2017: "Worried over what they described as President Trump's erratic response to North Korea's behavior, 64 Democratic legislators urged him on Tuesday to talk directly to the North Koreans — and warned that he would need congressional approval for any pre-emptive military strike. 'Few decisions are more needing of debate than a move to launch attacks, or declare war, on a nuclear-armed state such as North Korea,' read a letter signed by the lawmakers, led by Representative John Conyers Jr. of Michigan, the last Democrat in Congress to have served in the 1950-53 Korean War. 'In such a volatile region, an inconsistent or unpredictable policy runs the risk of unimaginable conflict.' The letter was sent against the backdrop of divergent signals from the Trump administration in recent weeks regarding North Korea's nuclear and missile tests and its increasingly strident threats to use the "nuclear sword of justice" against the United States."
Trump Phoned Philippine President Rodrigo Duterte to Congratulate Him on His Murderous Drug War: "You Are Doing an Amazing Job," The Intercept, Jeremy Scahill, Alex Emmons, Ryan Grim, Tuesday, 23 May 2017, Part 1: "In a phone call from the White House late last month [April], U.S. President Donald Trump heaped praise on Philippine President Rodrigo Duterte, one of the world's most murderous heads of state, for doing what Trump called an 'unbelievable job' in his war on drugs. Trump offered an unqualified endorsement of Duterte's bloody extermination campaign against suspected drug dealers and users, which has included open calls for extrajudicial murders and promises of pardons and immunity for the killers. 'You are a good man,' Trump told Duterte, according to an official transcript of the April 29 call produced by the Philippine Department of Foreign Affairs and obtained by The Intercept. 'Keep up the good work,' Trump told Duterte. 'You are doing an amazing job.'… 'I just wanted to congratulate you because I am hearing of the unbelievable job on the drug problem,' Trump told Duterte at the beginning of their call, according to the document. 'Many countries have the problem, we have a problem, but what a great job you are doing and I just wanted to call and tell you that.'" See also, Trump Praises Philippine President Rodrigo Duterte for His Drug Crackdown in Call Transcript, The New York Times, David E. Sanger and Maggie Haberman, Tuesday, 23 May 2017.
Trump calls Manchester Arena bomber (and many, many other people) 'losers,' USA TODAY, Jessica Estepa, Tuesday, 23 May 2017: "President Trump on Tuesday insisted that 'evil losers' was the best way to describe those responsible for the bombing that killed some 22 people at the Ariana Grande concert in Manchester. 'I won't call them monsters because they would like that term,' Trump said in Jerusalem on Tuesday. 'They would think that's a great name. I will call them from now on losers, because that's what they are. They're losers. And we'll have more of them. But they're losers. Just remember that.' The Islamic State has claimed responsibility for the attack on the 21,000-seat Manchester Arena on Monday night…. But calling people 'losers' is a term Trump throws around rather liberally, and not just for terrorists. [The article continues with] a comprehensive list of other people and groups the president has considered a loser on Twitter (all before he took office)."
Fighting Trump on Climate, California Becomes a Global Force, The New York Times, Coral Davenport and Adam Nagourney, Tuesday, 23 May 2017: "The environmental ministers of Canada and Mexico went to San Francisco last month to sign a global pact — drafted largely by California — to lower planet-warming greenhouse pollution. Gov. Jerry Brown flies to China next month to meet with climate leaders there on a campaign to curb global warming. And a battery of state lawyers is preparing to battle any attempt by Washington to weaken California's automobile pollution emission standards. As President Trump moves to reverse the Obama administration's policies on climate change, California is emerging as the nation's de facto negotiator with the world on the environment. The state is pushing back on everything from White House efforts to roll back pollution rules on tailpipes and smokestacks, to plans to withdraw or weaken the United States' commitments under the Paris climate change accord. In the process, California is not only fighting to protect its legacy of sweeping environmental protection, but also holding itself out as a model to other states — and to nations — on how to fight climate change."
The Beleaguered Tenants of 'Kushnerville,' ProPublica, Alec MacGillis, Tuesday, 23 May 2017. This story was co-published with The New York Times Magazine. "Tenants in more than a dozen Baltimore-area rental complexes complain about a property owner who they say leaves their homes in disrepair, humiliates late-paying renters and often sues them when they try to move out. Few of them know that their landlord is the president's son-in-law [Jared Kushner].
Wednesday, 24 May, 2017, Day 125:
Republican Health Bill Would Leave 23 Million More Uninsured in a Decade, C.B.O. Says, The New York Times, Robert Pear, Wednesday, 24 May 2017: "A bill to dismantle the Affordable Care Act that narrowly passed the House this month would leave 14 million more people uninsured next year than under President Barack Obama's health law — and 23 million more in 2026, the Congressional Budget Office said Wednesday. Some of the nation's sickest would pay much more for health care…. In many states, insurance costs could soar for consumers who are sick or have pre-existing conditions, while premiums would fall for the healthy, the new estimate concludes. The forecast by the nonpartisan Congressional Budget Office, Capitol Hill's official scorekeeper, is another potential blow to efforts to undo Mr. Obama's signature domestic achievement. Republican senators have said they will make substantial changes to the measure passed by the House, but even Senator Mitch McConnell of Kentucky, the majority leader, sounds uncertain about his chances of finding a majority to repeal and replace the health law." See also, Uninsured ranks still to grow by 23 million under the latest House health-care bill, Congressional Budget Office says, The Washington Post, Juliet Eilperin and Kelsey Snell, Wednesday, 24 May 2017. And see also, The three numbers you need to understand the Congressional Budget Office report on the Republicans' health-care bill, The Washington Post, Amber Phillips, Wednesday, 24 May 2017: "[23 million is] how many fewer people would be insured under Republicans' health-care plan than are insured by Obamacare now, according to the CBO's new estimate…. [850 percent is] the CBO's estimate of how much insurance premiums would rise for elderly, poor people over the next decade if the Republicans' second version of this bill became law. In a report filled with brutal numbers for Republicans, this may be the most brutal. (Just like it was in the first estimate.)… [$119 billion is] how much this health-care bill is projected to reduce the deficit over the next decade."
Top Russian Officials Discussed How to Influence Trump Aides Last Summer, The New York Times, Matthew Rosenberg, Adam Goldman, and Matt Apuzzo, Wednesday, 24 May 2017: "American spies collected information last summer revealing that senior Russian intelligence and political officials were discussing how to exert influence over Donald J. Trump through his advisers, according to three current and former American officials familiar with the intelligence. The conversations focused on Paul Manafort, the Trump campaign chairman at the time, and Michael T. Flynn, a retired general who was advising Mr. Trump, the officials said. Both men had indirect ties to Russian officials, who appeared confident that each could be used to help shape Mr. Trump's opinions on Russia. Some Russians boasted about how well they knew Mr. Flynn. Others discussed leveraging their ties to Viktor F. Yanukovych, the deposed president of Ukraine living in exile in Russia, who at one time had worked closely with Mr. Manafort. The intelligence was among the clues — which also included information about direct communications between Mr. Trump's advisers and Russian officials — that American officials received last year as they began investigating Russian attempts to disrupt the election and whether any of Mr. Trump's associates were assisting Moscow in the effort. Details of the conversations, some of which have not been previously reported, add to an increasing understanding of the alarm inside the American government last year about the Russian disruption campaign. The information collected last summer was considered credible enough for intelligence agencies to pass to the F.B.I., which during that period opened a counterintelligence investigation that is continuing. It is unclear, however, whether Russian officials actually tried to directly influence Mr. Manafort and Mr. Flynn. Both have denied any collusion with the Russian government on the campaign to disrupt the election."
How a dubious Russian document influenced the FBI's handling of the probe into Clinton's email, The Washington Post, Karoun Demirjian and Devlin Barrett, Wednesday, 24 May 2017: "A secret document that officials say played a key role in then-FBI Director James B. Comey's handling of the Hillary Clinton email investigation has long been viewed within the FBI as unreliable and possibly a fake, according to people familiar with its contents. In the midst of the 2016 presidential primary season, the FBI received what was described as a Russian intelligence document claiming a tacit understanding between the Clinton campaign and the Justice Department over the inquiry into whether she intentionally revealed classified information through her use of a private email server. The Russian document cited a supposed email describing how then-Attorney General Loretta E. Lynch had privately assured someone in the Clinton campaign that the email investigation would not push too deeply into the matter. If true, the revelation of such an understanding would have undermined the integrity of the FBI's investigation. Current and former officials have said that Comey relied on the document in making his July decision to announce on his own, without Justice Department involvement, that the investigation was over. That public announcement — in which he criticized Clinton and made extensive comments about the evidence — set in motion a chain of other FBI moves that Democrats now say helped Trump win the presidential election. But according to the FBI's own assessment, the document was bad intelligence — and according to people familiar with its contents, possibly even a fake sent to confuse the bureau. The Americans mentioned in the Russian document insist they do not know each other, do not speak to each other and never had any conversations remotely like the ones described in the document. Investigators have long doubted its veracity, and by August the FBI had concluded it was unreliable."
Attorney General Jeff Sessions Was Advised Not to Disclose Russia Meetings on Security Forms, The New York Times, Rebecca R. Ruiz, Wednesday, 24 May 2017: "Attorney General Jeff Sessions failed to disclose meetings with Russian officials when he applied for security clearance because he was told not to do so by advisers and the F.B.I., a Justice Department spokesman said Wednesday. Mr. Sessions met with Sergey I. Kislyak, the Russian ambassador to the United States, at least twice in 2016. But asked on an official government form to note any contact he or family members had with foreign governments or their representatives over the past seven years, Mr. Sessions did not include his encounters with Mr. Kislyak. It is a federal crime to make false statements or withhold relevant information on the background check form. 'As a United States senator, the attorney general met hundreds — if not thousands — of foreign dignitaries and their staff,' Ian Prior, a spokesman for the Justice Department, said in a statement. 'The attorney general's staff consulted with those familiar with the process, as well as the F.B.I. investigator handling the background check, and was instructed not to list meetings with foreign dignitaries and their staff connected with his Senate activities.'" See also, Attorney General Jeff Sessions did not disclose Russia meetings in Security clearance form, Department of Justice says, CNN Politics, Manu Raju and Evan Perez, Wednesday, 24 May 2017.
With Gift and in Conversation, Pope Francis and Others at the Vatican Press Trump on Climate Change, The New York Times, Mark Landler and Jason Horowitz, Wednesday, 24 May 2017: "Pope Francis put climate change on the agenda of his first meeting with President Trump on Wednesday, and the subject is likely to come up again and again in the president's encounters with other world leaders in the coming days. That could put Mr. Trump on the back foot after what had been an energetic swing through the Middle East. The pope presented the president with a copy of his influential encyclical on preserving the environment, while in a broader meeting, Cardinal Pietro Parolin, the Vatican's secretary of state, urged Mr. Trump not to pull the United States out of the Paris climate accord. Mr. Trump told his Vatican hosts that he would not make a final decision until after he returned to the United States, despite some expectations that he could announce a decision at the Group of 7 summit meeting in Italy this weekend. The leaders of Germany, France and Canada have all pressed Mr. Trump on the Paris accord, and they are likely to renew their pleas at the summit meeting, in the Sicilian town of Taormina. Their argument, officials said, will be that withdrawing from the accord would damage America's credibility and hurt Mr. Trump's ability to achieve other parts of his agenda."
The Pentagon Can't Believe Trump Told Philippine President Rodrigo Duterte About US Nuclear Submarines Near North Korea, BuzzFeed News, Nancy A. Youseff, Wednesday, 24 May 2017: "Pentagon officials are in shock after the release of a transcript of a call between President Donald Trump and his Philippines counterpart revealed that the US military had moved two nuclear submarines towards North Korea. 'We never talk about subs!' three officials told BuzzFeed News, referring to the military's belief that keeping submarines' movements secret is key to their mission. While the US military will frequently announce the deployment of aircraft carriers, it is far more careful when discussing the movement of nuclear submarines. Carriers are hard to miss, and that, in part, is a reason the US military deploys them. They are a physical show of force. Submarines are, at times, a furtive complement to the carriers, a hard-to-detect means of strategic deterrence. According to the transcript, released Wednesday, Trump called Philippines President Rodrigo Duterte April 29, in part to discuss the rising threat from North Korea. During that call, while discussing ways to mitigate North Korean leader Kim Jong Un's nuclear ambitions, Trump said: 'We have two submarines — the best in the world. We have two nuclear submarines — not that we want to use them at all. I've never seen anything like they are but we don't have to use this, but [Kim] could be crazy, so we will see what happens.' During the same call, Trump also called the North Korea leader a 'madman with nuclear weapons' and celebrated Duterte for doing an 'unbelievable job on the drug problem.' The Filipino leader has supported the alleged extrajudicial killing of 8,000 people since he took office in June, part of his purge to rid his nation of drugs. Duterte has bragged about committing murder himself, called former president Barack Obama a 'son of a bitch' and once threatened to suspend the bilateral agreement between his nation and the United States that allows US troops to visit the Philippines."
Trump Is Failing to Track Foreign Cash at His Hotels, NBC NEWS, Ari Melber, Meredith Mandell, and Diana Marinaccio, Wednesday, 24 May 2017: "Just before taking office, President Donald Trump promised to donate all profits earned from foreign governments back to the U.S. Treasury. But MSNBC has learned the Trump Organization is not tracking all possible payments it receives from foreign governments, according to new admissions by Trump representatives. By failing to track foreign payments it receives, the company will be hard-pressed to meet Trump's pledge to donate foreign profits and could even increase its legal exposure. Read the Trump Organization foreign profits pamphlet here. The Trump Organization does not 'attempt to identify individual travelers who have not specifically identified themselves as being a representative of a foreign government entity,' according to a new company pamphlet. The policy suggests that it is up to foreign governments, not Trump hotels, to determine whether they self-report their business. That policy matches what several sources told MSNBC — Trump Organization employees are not soliciting information about whether reservations or business is from a foreign government. Why foreign profits could be a problem for Trump: Since Trump's election, critics have argued that the complex nature of his businesses opened up vast potential for conflicts of interest both at home and abroad. Of particular concern was the likelihood of foreign governments spending money at Trump properties. The Emoluments Clause in the U.S. Constitution bars foreign gifts to the president, and an open federal case in New York alleges the Trump Organization is in violation of that clause."
Former Trump campaign chairman Paul Manafort submits Russia-related documents to the House and Senate intelligence committees, The Washington Post, Tom Hamburger, Wednesday, 24 May 2017: "President Trump's former campaign chairman, Paul Manafort, turned over 305 pages of documents related to the investigation of Russian meddling in the 2016 election to the House and Senate intelligence committees this week, according to people familiar with the ongoing inquiries. Manafort's submission came in response to letters the congressional panels sent in recent weeks to a handful of Trump campaign associates with potential ties to Moscow, a sign that lawmakers were starting to dig deeper for details as newly appointed special counsel Robert S. Mueller III assumes leadership of a separate Justice Department inquiry. Congressional staff have not fully reviewed the new Manafort documents, but people familiar with them said they include calendar entries, speech drafts and campaign strategy memos that mention Russia or individuals from Russia. They also cite some specific meetings, including two large group sessions that involved Russia's ambassador to the United States — one at the Republican National Convention and the other at the Mayflower Hotel in Washington when Trump gave his first major foreign policy address."
House Intelligence Committee Will Subpoena Former National Security Adviser Michael Flynn, Says Adam Schiff, the Ranking Democratic Member on the Committee, The New York Times, Emmarie Huetteman, Wednesday, 24 May 2017: "The House Intelligence Committee will issue subpoenas to Michael T. Flynn, President Trump's first national security adviser, the committee's senior Democrat said on Wednesday, escalating Mr. Flynn's troubles with Congress. The Democrat, Representative Adam B. Schiff of California, said Mr. Flynn had declined the panel's request for documents and an interview as part of its investigation into Russian meddling in last year's election. 'Those subpoenas will be designed to maximize our chance of getting the information that we need,' Mr. Schiff told reporters during a breakfast hosted by The Christian Science Monitor. 'And I think we need to use whatever compulsory methods are necessary to get the information that he possesses.'"
Trump's Pick for Mental Health Czar, Elinore McCance-Katz, Highlights the Rift Between the Medical Model and the Psychosocial Model of Psychiatry, The New York Times, Benedict Carey and Sheri Fink, Wednesday, 24 May 2017: "For decades, therapists, patient advocates and countless families have worked to elevate mental health care in the political conversation. Their cause recently received a big boost when a new law created a federal mental health 'czar' to help overhaul the system and bridge more than 100 federal agencies concerned with mental health. But the White House's choice for the first person to fill that position has already been divisive, exposing longstanding rifts within the field that may be difficult to mend. President Trump has announced his intention to nominate Elinore F. McCance-Katz for the new position, assistant secretary for mental health and substance use. Dr. McCance-Katz is a psychiatrist whose long career has been focused on treating drug addiction, in particular opioid abuse. She has the support of several prominent groups, including the American Psychiatric Association and the National Alliance on Mental Illness, but others, including the Foundation for Excellence in Mental Health Care, are skeptical. A central tension in the debate is between the medical model of psychiatry, which emphasizes drug and hospital treatment and which Dr. McCance-Katz has promoted, and the so-called psychosocial, which puts more emphasis on community care and support from family and peers."
Montana Republican House Candidate Greg Gianforte, Charged With Assault of Guardian Reporter Ben Jacobs, Awaits Fate in Vote, The New York Times, Wednesday, 24 May 2017: "The Republican candidate in a hotly contested special House election in Montana was charged with assaulting a journalist on Wednesday at what was to be a final rally in Bozeman on the eve of the vote. The attack brought police officers to the event and sent the reporter to the hospital for X-rays. In a statement late on Wednesday, the office of the Gallatin County sheriff, Brian Gootkin, said that there was enough evidence to charge the candidate, Greg Gianforte, with misdemeanor assault. Mr. Gianforte, the Republican candidate for the state's lone House seat, is scheduled to appear in court before June 7. It was an extraordinary development in a race that was being closely watched for clues about the national political environment in the tumultuous first months of the Trump presidency. In a sign of the considerable Republican frustration with Mr. Gianforte, Speaker Paul D. Ryan publicly scolded the candidate and said he should apologize. Mr. Ryan said that the 'physical altercation' was inappropriate and 'should not have happened.'… Three of the state's largest newspapers, The Billings Gazette, The Missoulian and The Independent Record, quickly rescinded their endorsements of Mr. Gianforte. But prospects that the altercation could tip the race to the Democrat, Rob Quist, were complicated by Montana's early-voting tradition: Over half the estimated total ballots in the contest had been returned by Wednesday. Ben Jacobs, a reporter for The Guardian, said the episode occurred during an interview at Mr. Gianforte's campaign headquarters. Mr. Jacobs said Mr. Gianforte 'body-slammed' him when pressed on a question about the Republicans' health care bill."
Denver fights back against Trump's deportation crackdown with surprisingly simple change in law, The Washington Post, Samantha Schmidt, Wednesday, 24 May 2017: "As the Trump administration's war on "sanctuary cities" heats up, cities have come up with increasingly creative ways to fight back. The latest example comes from Denver, which just passed a law aimed at protecting legal immigrants from being deported for committing relatively petty crimes, those carrying maximum sentences of 365 days — the federal government's tripwire for kicking people out. The city's solution? Simply take a bunch of those relatively petty offenses and reduce the maximum penalty to less than 365 days. Just like that, the move takes the crimes (and their perpetrators) off the radar of immigration authorities. It's not a novel approach to protecting immigrants, but coming as a direct response to President Trump's crackdown, it's particularly timely. The action does not affect more serious crimes and does not protect undocumented immigrants. Under federal law, an immigrant living in the United States legally can be deported for committing a low-level crime, like shoplifting or trespassing, as long as that offense carries a potential sentence of one year. This means that even someone living in the country with a green card or student visa can be flagged to immigration officials — and deported — for such misdemeanors."
Trump's Environmental Protection Agency Gives Landfills a Pass on Climate-Warming Methane, InsideClimate News, Georgina Gustin, Wednesday, 24 May 2017: "The Environmental Protection Agency has announced it will delay rules aimed at cutting methane emissions from landfills, a move that could unravel attempts to limit the potent greenhouse gas from leaking into the atmosphere from the nation's garbage dumps. The rules, created during the Obama administration to help combat climate change, require landfills to measure and capture methane, a greenhouse gas with significantly more heat-trapping power than carbon dioxide, over a shorter timeframe. They would reduce methane emissions from landfills by 334,000 tons a year, starting in 2025, roughly the equivalent of 8.2 million metric tons of carbon dioxide a year. 'Landfills are the third-largest source of methane emissions, so they're really a big source of climate pollution,' said Peter Zalzal, a lead attorney with the Environmental Defense Fund. 'Our concern is that this is the first in a series of actions that will undermine these efforts and eventually do away with them altogether.'"
Thursday, 25 May 2017, Day 126:
Fourth Circuit Court of Appeals in Virginia Will Not Reinstate Trump's Revised Travel Ban of 6 March 2017, The New York Times,  Adam Liptak, Thursday, 25 May 2017: "Describing President Trump's revised travel ban as intolerant and discriminatory, a federal appeals court on Thursday rejected government efforts to limit travel to the United States from six predominantly Muslim nations. Attorney General Jeff Sessions quickly vowed to appeal to the Supreme Court. The decision was the first from a federal appeals court on the revised travel ban, which was an effort to make good on a campaign centerpiece of the president's national security agenda. It echoed earlier skepticism by lower federal courts about the legal underpinnings for Mr. Trump's executive order, which sought to halt travelers for up to 90 days while the government imposed stricter vetting processes. The revised order, issued on March 6, 'speaks with vague words of national security, but in context drips with religious intolerance, animus and discrimination,' the United States Court of Appeals for the Fourth Circuit, in Richmond, Va., concluded in its 205-page ruling. The revised order sought to soften the original ban, which was almost immediately blocked after foreign travelers found themselves stranded at chaotic airports and protesters nationwide called the policy un-American. The second order allowed case-by-case exceptions for incoming travelers and lifted the ban against Iraqi visitors. It also deleted explicit references to religion. But both orders suspended the nation's refugee program for 120 days and reduced the annual number of refugees to 50,000 from 120,000. And in Thursday's ruling, Chief Judge Roger L. Gregory said Mr. Trump's statements on the campaign trail — where he called for a 'total and complete shutdown of Muslims entering the United States' — showed that the revised order remained the product of religious hostility. Such discrimination, Judge Gregory wrote for the majority, violates the First Amendment's ban on government establishment of religion.  The Trump administration had urged the appeals court to ignore the statements as loose language made before the president assumed office. But Judge Gregory said the court could take account of the comments. 'Then-candidate Trump's campaign statements reveal that on numerous occasions, he expressed anti-Muslim sentiment, as well as his intent, if elected, to ban Muslims from the United States,' Judge Gregory wrote." See also, Federal appeals court maintains freeze of Trump's travel ban. Attorney general Jeff Sessions vows Supreme Court appeal. The Washington Post, Anne E. Marimow and Robert Barnes, Thursday, 25 May 2017.
Jared Kushner is now a focus in Russia investigation, The Washington Post, Matt Zapotosky, Sari Horwitz, Devlin Barrett, and Adam Entous, Thursday, 25 May 2017: "Investigators are focusing on a series of meetings held by Jared Kushner, President Trump's son-in-law and an influential White House adviser, as part of their probe into Russian meddling in the 2016 election and related matters, according to people familiar with the investigation. Kushner, who held meetings in December with the Russian ambassador and a banker from Moscow, is being investigated because of the extent and nature of his interactions with the Russians, the people said. The Washington Post reported last week that a senior White House official close to the president was a significant focus of the high-stakes investigation, though it did not name Kushner. FBI agents also remain keenly interested in former Trump national security adviser Michael Flynn and former Trump campaign chairman Paul Manafort, but Kushner is the only current White House official known to be considered a key person in the probe. The Post has not been told that Kushner is a target — or the central focus — of the investigation, and he has not been accused of any wrongdoing. "Target" is a word that generally refers to someone who is the main suspect of investigators' attention, though prosecutors can and do bring charges against people who are not marked with that distinction."
In NATO Speech, Trump Is Vague About Mutual Defense Pledge, The New York Times, Michael D. Shear, Mark Landler, and James Kanter, Thursday, 25 May 2017: "President Trump on Thursday punctured any illusions that he was on a fence-mending tour of Europe, declining to explicitly endorse NATO's mutual defense pledge and lashing out at fellow members for what he called their "chronic underpayments" to the alliance. On a tense day when Mr. Trump brought the 'America first' themes of his presidential campaign to the very heart of Europe, he left European leaders visibly unsettled, with some openly lamenting divisions with the United States on trade, climate and the best way to confront Russia. The discord was palpable even in body language. When Mr. Trump greeted Emmanuel Macron, France's new president, they grabbed each other's hands, jaws clenched, in an extended grip that turned Mr. Trump's knuckles white. When the leaders lined up to pose for the traditional photograph at NATO headquarters, Mr. Trump appeared to push aside the Montenegrin prime minister, Dusko Markovic, to get to his assigned place in the front. The split was starkest at NATO headquarters, where Mr. Trump used the dedication of a soaring new building to lecture allies on their financial contributions. Far from robustly reaffirming NATO's mutual defense commitment in the way that many members hoped he would, Mr. Trump repeated his complaint that the United States was shouldering an unfair burden." See also, Trump chastises fellow NATO members and demands they meet payment obligations, The Washington Post, Philip Rucker, Karen DeYoung, and Michael Birnbaum, Thursday, 25 May 2017.
The most alarming sentence for Republicans in the Congressional Budget Office's new health-care report, The Washington Post, Max Ehrenfreund, Thursday, 25 May 2017: "The Congressional Budget Office released its assessment of the latest version of House Republicans' health-care bill on Wednesday, and if Republicans were hoping for big changes this time around, they didn't get them. The new score looks a lot like the old one: 23 million people would lose their insurance under this version, CBO says, as compared with 24 million under the last one. What they got instead is a new sentence in the report that could be particularly alarming for GOP policymakers. Under the GOP plan, the report states, 'about one-sixth of the population resides in areas in which the nongroup market would start to become unstable beginning in 2020.' To break that down: The 'areas' the report refers to are mostly red states, and the 'nongroup market' refers to people who do not have health insurance through an employer or through the government. And 'unstable' means that people in those two categories who have preexisting medical problems might no longer be able to buy insurance. Eventually, according to the report released Wednesday, markets in those states would resemble markets before Obamacare was implemented. Less healthy consumers would not be able to afford coverage, because insurers would be able to examine their medical histories and charge them more if they were likely to need expensive treatment in the future."
Senators make a new push to rein in Trump's military powers, Politico, Seung Min Kim and Elana Schor, Thursday, 25 May 2017: "As President Donald Trump increasingly flexes the might of the military he now controls, the Senate is reviving efforts to claw back some of that authority from the White House. Sens. Jeff Flake (R-Ariz.) and Tim Kaine (D-Va.) are joining forces to reintroduce an Authorization of the Use of Military Force against the Islamic State and other terror groups, aiming to assert more congressional power over the post-9/11 war on terror. Elsewhere in the Capitol, Sens. Rand Paul (R-Ky.) and Chris Murphy (D-Conn.) are unveiling legislation Thursday that would halt a small portion of offensive weapons sales to Saudi Arabia in what Trump's White House has touted as a $110 billion deal. The bipartisan efforts aren't new. Flake and Kaine pushed for an AUMF debate two years ago after President Barack Obama sent lawmakers his own draft of military authorization amid the conflict in Syria. And last fall, Paul forced a vote on a separate arms sale to the Saudis in Obama's final months in office. But the renewed efforts show real appetite among Democrats and Republicans to rein in some of the new president's authority on matters of war, which came into focus with Trump's missile strikes in Syria last month after a chemical weapons attack that killed dozens, including children."