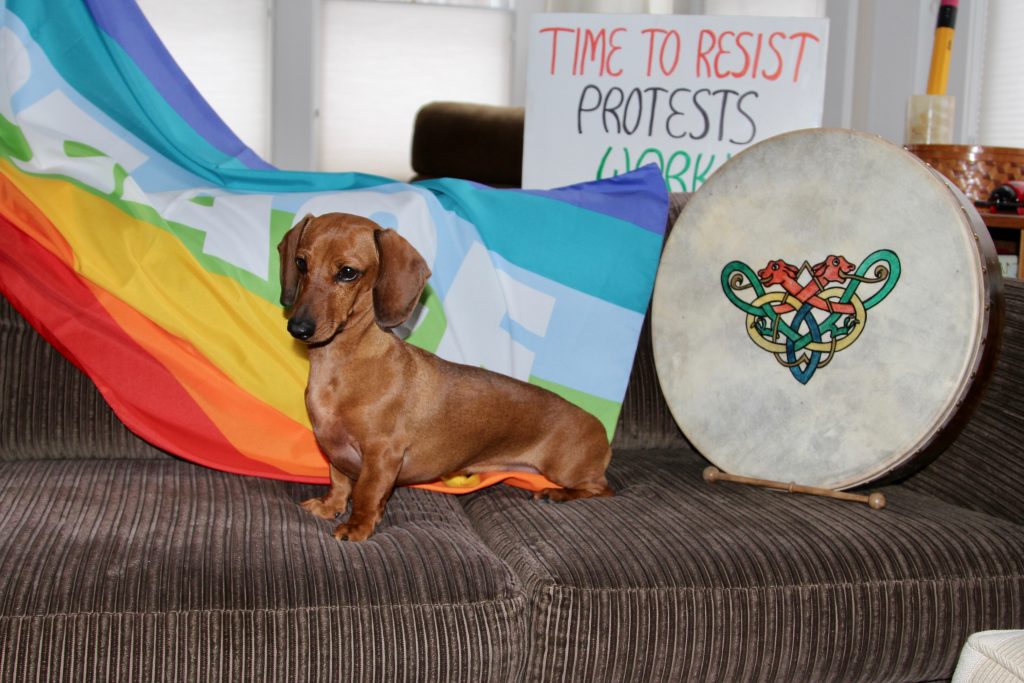 Keeping Track (of some things), Staying Outraged (it is possible), and Resisting (it's essential)
Passages in bold in the body of the texts below are my emphasis. This is an ongoing project, and I update the site frequently. I hope readers will peruse the articles in full for a better understanding of the issues and their context; our democracy and our future depend on citizens who can distinguish between facts and falsehoods and who are engaged in the political process.
Friday, 5 May 2017, Day 106:
Measure on Pre-existing Conditions Energizes Opposition to the Republican Health Bill, The New York Times, Alexander Burns and Abby Goodnough, Friday, 5 May 2017: "From the moment the Republican-controlled House of Representatives approved a plan to overhaul the health care system, an onslaught of opposition to the bill has been focused on a single, compact term: pre-existing conditions. The Democratic Congressional Campaign Committee began running digital ads warning that the legislation would leave 'no more protections' for people with a history of illness or injury. Pointing to the power that states could have to set the terms for insurers under the G.O.P. bill, Democratic leaders announced they would make pre-existing conditions an issue in every gubernatorial and state legislative race in the country." See also, Late-night hosts blast Republican health-care bill: 'Those ramifications are disastrous,' The Washington Post, Emily Yahr, Friday, 5 May 2017.
Senate Intelligence Committee Asks Trump Associates for Records of Communication With Russians, The New York Times, Matthew Rosenberg and Maggie Haberman, Friday, 5 May 2017:"The Senate Intelligence Committee has asked a number of high-profile Trump campaign associates to hand over emails and other records of dealings with Russians as part of its investigation into Russian meddling in the presidential election and is prepared to subpoena those who refuse to cooperate, officials said. The requests for the materials were made in letters sent by the committee in the past 10 days, said two officials with knowledge of the contents of the letters. The move is designed to accelerate the committee's investigation, and represents a new bipartisan challenge to the Trump administration, which has sought to use Republican allies in Congress to blunt the inquiries. Among those who said they had received the requests were Roger J. Stone Jr., an informal adviser to President Trump, and Carter Page, a businessman and former foreign policy adviser to the Trump campaign. Paul Manafort, the former campaign chairman, and Michael T. Flynn, the former national security adviser, were also sent letters, the officials with knowledge of the investigation said. Representatives for those two men declined to comment. Any decision to issue subpoenas would require a majority vote by members of the intelligence committee."
After promising to cooperate, ex-Trump adviser Carter Page turns the inquiry back on the Senate Intelligence Committee panel, The Washington Post, Rosalind S. Helderman, Friday, 5 May 2017: "Carter Page, a former Trump campaign adviser whose interactions with Russia are under FBI investigation, has repeatedly said he wants to cooperate with Congress's Russia probes to clear his name. But in a letter this week to the Senate Select Committee on Intelligence, Page appeared to initially duck specific questions regarding his interactions with Russian officials, suggesting that the panel seek that information from inside the U.S. government instead. In an email to The Post, Page characterized the letter as a 'preliminary response' to a Senate request that he begin providing detailed information no later than May 9, leaving open the possibility he will release more information to the committee in coming days. But he titled the letter a response to  'request for even more irrelevant data' and asked that the committee first release to him information the government has collected through surveillance 'as a starting point.' The FBI last summer obtained a secret court order to monitor Page's communications after convincing a federal judge that there was probable cause to believe the energy consultant was acting as an agent of the Russian government. Page has angrily denied that allegation in a series of media interviews and public statements, insisting he is the victim of a smear campaign by Democrats."
Continue reading Week 16, Friday, 5 May – Thursday, 11 May 2017:
Trump Administration Fights in Court to Prevent Top CIA Official Gina Haspel From Testifying on Torture, The Intercept, Alex Emmons, Friday, 5 May 2017: "More than eight years after President Obama formally ended the CIA's torture program, the Trump administration is fighting to block the CIA's new deputy director from providing a deposition about her role in pioneering the agency's most abusive torture techniques. The Trump administration appointed Gina Haspel as deputy director of the CIA in February, attracting criticism from human rights advocates due to her former role in abusive interrogations. The move was interpreted as a public sign of the administration's approval for some of the CIA's most brutal abuses after the 9/11 attacks. Haspel is being called to provide a deposition by James Mitchell and John 'Bruce' Jessen — two contract psychologists who made tens of millions of dollars for their work shaping the CIA's torture program. The ACLU is suing Mitchell and Jessen on behalf of three former CIA detainees — one of whom died in captivity in 2002 after being beaten and doused with cold water. Lawyers for Mitchell and Jessen claim that everything the psychologists did was authorized by the CIA, and that Haspel would confirm that if the court ordered her to give a deposition. Lawyers are also seeking numerous documents, and a deposition from James Cotsana — a retired CIA official whom Mitchell and Jessen identified as their direct supervisor. Haspel ran a secret prison in Thailand in 2002, part of the CIA's global network of 'black sites.' That prison — codenamed 'DETENTION SITE GREEN' by Senate investigators — was the site of the CIA's first prisoner interrogations after the 9/11 attacks, and Haspel supervised them. She later took part in covering up the abuses, helping to destroy 92 videotapes of interrogations against the Senate's wishes."
Former national security adviser Michael Flynn was warned by Trump transition officials about contacts with the Russian ambassador Sergey Kislyak, The Washington Post, Greg Miller and Adam Entous, Friday, 5 May 2017: "Former national security adviser Michael Flynn was warned by senior members of President Trump's transition team about the risks of his contacts with the Russian ambassador weeks before the December call that led to Flynn's forced resignation, current and former U.S. officials said. Flynn was told during a late November meeting that Russian Ambassador Sergey Kislyak's conversations were almost certainly being monitored by U.S. intelligence agencies, officials said, a caution that came a month before Flynn was recorded discussing U.S. sanctions against Russia with Kislyak, suggesting that the Trump administration would reevaluate the issue…. The previously undisclosed sequence reveals the extent to which even some Trump insiders were troubled by the still-forming administration's entanglements with Russia and its enthusiasm for a friendly relationship with the Kremlin."
The Head of the Environmental Protection Agency, Scott Pruitt, Recuses Himself From Lawsuits Opposing Obama-Era Rules, The New York Times, John Schwartz, Friday, 5 May 2017: "Scott Pruitt, the administrator of the Environmental Protection Agency, has removed himself from some of the most contentious cases facing it, including challenges to the Obama administration's Clean Power Plan and a controversial rule related to the Clean Water Act. Mr. Pruitt's decision to recuse himself, announced in a memorandum dated May 4, involves legal cases he had been a part of during his prior tenure as Oklahoma's attorney general. In that role, Mr. Pruitt had been one of the most active state officials in bringing lawsuits against the agency he now leads, challenging federal environmental rules. His recusal had been demanded by Democratic lawmakers. The memo was obtained by E&E News, a site that focuses on environmental and energy reporting."
Saturday, 6 May 2017, Day 107:
In a Beijing ballroom, Kushner family pushes $500,000 'investor visa' to wealthy Chinese, The Washington Post, Emily Rauhala and William Wan, Saturday, 6 May 2017: "The Kushner family came to the United States as refugees, worked hard and made it big — and if you invest in Kushner properties, so can you. That was the message delivered Saturday by White House senior adviser Jared Kushner's sister Nicole Kushner Meyer to a ballroom full of wealthy Chinese investors in Beijing. Over several hours of slide shows and presentations, representatives from the Kushner family business urged Chinese citizens gathered at a Ritz-Carlton hotel to consider investing hundreds of thousands of dollars in a New Jersey luxury apartment complex that would help them secure what's known as an investor visa. The potential investors were advised to invest sooner rather than later in case visa rules change under the Trump administration. 'Invest early, and you will invest under the old rules,' one speaker said. The tagline on a brochure for the event: 'Invest $500,000 and immigrate to the United States.'… The event underscores the extent to which Kushner's private business interests have the potential to collide with his powerful role as a top official in his father-in-law's White House, particularly when it comes to China, where Kushner has become a crucial diplomatic channel between Beijing and the new administration.  While Kushner has reported divesting from elements of the family business, including the specific project that his sister pitched in Beijing, the session Saturday demonstrated that the company is perceived as enjoying close ties to the Trump administration. Ethics laws prohibit government officials from profiting personally from their public-sector work. Watchdogs and ethics experts on Saturday criticized the Beijing event as an attempt to cash in on Kushner's newfound proximity to power." See also, With Trump Name Unspoken, Kushners Seek Investors in Shanghai, The New York Times, Keith Bradsher and Ailin Tang, published on Sunday, 7 May 2017: "Like many American firms that come to China looking for money, Kushner Companies on Sunday tried to woo a Shanghai audience with promises of potentially big returns and a path toward living in the United States…. The Kushner Companies' China roadshow, promoting $500,000 investments in New Jersey real estate as the path to a residency card in the United States, moved to Shanghai on Sunday after a similar pitch on Saturday in Beijing. Security was tighter in Shanghai than it had been in Beijing, where reporters for The New York Times and The Washington Post briefly attended the event before being kicked out."
Health Act Repeal Could Threaten U.S. Job Engine, The New York Times, Nelson D. Schwartz and Reed Abelson, Saturday, 6 May 2017: "From Akron to Youngstown and Canton to Cleveland, as in cities and towns across the country, workers who once walked out of factories at the end of each shift now stream out of hospitals. While manufacturing employment has fallen nearly 40 percent in northeastern Ohio since 2000, the number of health care jobs in the region has jumped more than 30 percent over the same period. In Akron, the onetime rubber capital of the world, only one of the city's 10 largest employers still makes tires. Three are hospitals. Akron's transformation is echoed in places as varied as Los Angeles, Birmingham, Ala., and Pittsburgh, along with rural areas like Iron County, Mo., where health care accounts for one-fifth of all employment. The outsize economic role of the American health care industry heightens the risks posed by the Republicans' effort in Washington to repeal the Affordable Care Act, enacted in 2010 under President Barack Obama, and it comes at a delicate moment for the broader economy."
Trump questions whether key funding source for historically black colleges is constitutional, The Washington Post, Cleve R. Wootson Jr. and Susan Svrluga, Saturday, 6 May 2017: "In February, President Trump invited leaders from historically black colleges and universities to the White House, a move they hoped signaled his support for the institutions and showed an effort to give them more clout in his administration. But critics had a more cynical description of the Oval Office meeting: a photo op. Those naysayers got more ammunition on Friday after the White House released a signing statement connected to the recently approved federal funding measure. Tucked away in the last paragraph, the White House announced that it would treat a program that helps HBCUs get low-cost construction loans 'in a manner consistent with the (Constitutional) requirement to afford equal protection of the laws.' People in higher education circles worried that the statement meant that the president was planning to get rid of a capital financing program that helps historically black colleges repair, renovate and build new facilities. Congress approved the program in 1992 after finding that 'HBCUs often face significant challenges in accessing traditional funding resources at reasonable rates,' according to the Education Department. 'I would rather have Trump do nothing with HBCUs — not even know they exist,' Marybeth Gasman, a University of Pennsylvania professor who has researched HBCU history, told The Washington Post. 'He will see them as a handout. He doesn't understand that he was given a leg up by his rich father. He doesn't see that other people need help from programs because of past discrimination and inequity.'" Update: Trump Walks Back Threat to Defund Black Colleges, The New York Times, Yamiche Alcindor and Charlie Savage, published on Monday, 8 May 2017: "When President Trump signed a $1.1 trillion spending bill on Friday, he zeroed in on a tiny sliver of it, suggesting that he might disregard $20 million in funding for loan subsidies and other aid to historically black universities. Two nights later, after a storm of criticism, the White House walked back the threat in a statement that declared the president's 'unwavering support' for such schools. But the two days in between left some African-American educators feeling used, many black politicians enraged and some demanding that Mr. Trump back his 'unwavering support' with a show of budgetary support. It also, once again, revealed a White House where one team does not necessarily know what another team is up to."
Warren Buffett, at Berkshire Hathaway Meeting, Condemns Republican Health Care Bill, The New York Times, Michael J. de la Merced, Saturday, 6 May 2017: "Every year, tens of thousands of investors descend on Omaha to attend the annual meeting of Berkshire Hathaway, the conglomerate controlled by Warren E. Buffett, and hear directly from the billionaire. And this year, those who made the trek heard Mr. Buffett on Saturday criticize the Trump administration's health care overhaul as a giveaway to wealthy individuals like himself, and heard him rebuke the previous management of Wells Fargo, of which Berkshire is one of the biggest shareholders."
Sunday, 7 May 2017, Day 108:
The Environmental Protection Agency Dismisses Members of Major Scientific Review Board, The New York Times, Coral Davenport, Sunday, 7 May 2017: "The Environmental Protection Agency has dismissed at least five members of a major scientific review board, the latest signal of what critics call a campaign by the Trump administration to shrink the agency's regulatory reach by reducing the role of academic research. A spokesman for the E.P.A. administrator, Scott Pruitt, said he would consider replacing the academic scientists with representatives from industries whose pollution the agency is supposed to regulate, as part of the wide net it plans to cast. 'The administrator believes we should have people on this board who understand the impact of regulations on the regulated community,' said the spokesman, J. P. Freire. The dismissals on Friday came about six weeks after the House passed a bill aimed at changing the composition of another E.P.A. scientific review board to include more representation from the corporate world. President Trump has directed Mr. Pruitt to radically remake the E.P.A., pushing for deep cuts in its budget — including a 40 percent reduction for its main scientific branch — and instructing him to roll back major Obama-era regulations on climate change and clean water protection. In recent weeks, the agency has removed some scientific data on climate change from its websites, and Mr. Pruitt has publicly questioned the established science of human-caused climate change."
Monday, 8 May 2017, Day 109:
Sally Yates, Former Acting Attorney General, Tells a Senate Judiciary Subcommittee She Warned Trump in January That Michael Flynn, Trump's National Security Adviser, Was Vulnerable to Blackmail by Russia, The New York Times, Matt Apuzzo and Emmarie Huetteman, Monday, 8 May 2017: "Less than a week into the Trump administration, Sally Q. Yates, the acting attorney general, hurried to the White House with an urgent concern. The president's national security adviser, she said, had lied to the vice president about his Russian contacts and was vulnerable to blackmail by Moscow. 'We wanted to tell the White House as quickly as possible,' Ms. Yates told a Senate Judiciary subcommittee on Monday. 'To state the obvious: You don't want your national security adviser compromised with the Russians.' But President Trump did not immediately fire the adviser, Michael T. Flynn, over the apparent lie or the susceptibility to blackmail. Instead, Mr. Flynn remained in office for 18 more days. Only after the news of his false statements broke publicly did he lose his job on Feb. 13. Ms. Yates's testimony, along with a separate revelation Monday that President Barack Obama had warned Mr. Trump not to hire Mr. Flynn, offered a more complete public account of Mr. Flynn's stunning fall from one of the nation's most important security posts. It also raised fresh doubts about Mr. Trump's judgment in keeping Mr. Flynn in place despite serious Justice Department concerns. White House officials have not fully explained why they waited so long." See also, 5 things we learned from Sally Yates's testimony on what the White House knew about Michael Flynn, The Washington Post, Amber Phillips, Monday, 8 May 2017: "1. Flynn lied about Russia, and it opened him up to potential blackmail from Russia…. 2. What (or whether) the White House did anything with this information is unclear….. 3. Republicans are almost single-handedly focused on HOW we know Flynn talked with the Russian ambassador…. 4. Republicans are also really mad at Yates for not defending Trump's travel ban…. 5. Democrats are pretty sure there's more to the Trump-Russia story than Flynn." See also, 6 Takeaways From Monday's Senate Hearing on Russia, The New York Times, Matthew Rosenberg, Monday, 8 May 2017. And see also, Full transcript: Sally Yates and James Clapper testify on Russian election interference, The Washington Post, Washington Post Staff, Monday, 8 May 2017.
Obama Warned Trump About Hiring Michael Flynn on 10 November 2016, Officials Say, The New York Times, Michael D. Shear, Monday, 8 May 2017: "President Barack Obama warned Donald J. Trump against hiring Michael T. Flynn to be part of his national security team when Mr. Obama met with his successor in the Oval Office two days after the November election, two former Obama administration officials said on Monday. Mr. Obama, who had fired Mr. Flynn as the head of the Defense Intelligence Agency, told Mr. Trump that he would have profound concerns about Mr. Flynn becoming a top national security aide, said the administration officials, who were briefed on the Oval Office conversation. Mr. Trump later ignored the advice, naming Mr. Flynn to be his national security adviser."
A 13-Judge Panel of the Federal Appeals Court in Richmond, Virginia, Weighs Trump's 'Muslim Ban' Remarks at Appeals Court Hearing, The New York Times, Adam Liptak, Monday, 8 May 2017: "Skeptical federal judges peppered a government lawyer on Monday with questions about how much weight to give President Trump's campaign statements calling for a 'Muslim ban' as they assess the constitutionality of his revised travel ban. The two-hour argument, before a 13-judge panel of the federal appeals court in Richmond, Va., was the first appellate test of Mr. Trump's revised executive order limiting travel from six predominantly Muslim countries. By the end of the argument, the judges appeared divided into two camps. Some seemed prepared to look behind the face of the revised order to take account of Mr. Trump's statements, and several suggested the remarks could doom the order. Others, though, said the law did not permit judges to second-guess a president's national security assessments, indicating that they were prepared to uphold the order. Groups challenging the order have said Mr. Trump's statements concerning Muslims show that the revised order is the product of religious hostility. Such discrimination, they add, violates the First Amendment's ban on government establishment of religion…. Jeffrey B. Wall, the acting United States solicitor general, said the court should not look behind the revised executive order to assess Mr. Trump's motives…. Judge King said the two sides were separated by a wide gulf on the central question in the case: that of whether to interpret the order in isolation or in the context of the various statements."
Police in Georgia Are Turning Traffic Stops Into the First Step Toward Deportation, The Intercept, Amanda Sakuma, Monday, 8 May 2017: "Gwinnett County, one of the most diverse regions in Georgia, has seen an uptick in the number of immigrants caught in removal proceedings by what started as a minor infraction. Local police there flagged nearly 500 people to ICE for potential immigration violations between February and April. Only a fraction of those were linked to charges of serious crime. Of all pending charges that accompanied the referrals, 70 percent were the result of traffic-related violations — most for driving without a license, according to county data on jail admissions compiled by The Intercept."
Muslim ban language suddenly disappears from Trump campaign website after Spicer questioned about it, The Washington Post, Fred Barbash, published on Tuesday, 9 May 2017: "Statements made before and after the election by Donald Trump and his allies about his travel ban have been giving the administration headaches as it defends the executive order's constitutionality. The argument that the ban is purely secular has not fared well with judges when the Trump campaign website stated in advance that its purpose was 'preventing Muslim immigration,' which has sounded to a number of courts like an unconstitutional religion-based restriction. The same contradiction keeps coming up in public, too. Monday, for example, a reporter asked White House press secretary Sean Spicer, 'if this White House is no longer calling this a "Muslim ban" … why does the president's website still explicitly call for "preventing Muslim immigration?"' 'I'm not aware of what's on the campaign website,' Spicer responded. At that particular moment, the website did indeed include 'DONALD J. TRUMP STATEMENT ON PREVENTING MUSLIM IMMIGRATION.' It went on: 'Donald J. Trump is calling for a total and complete shutdown of Muslims entering the United States until our country's representatives can figure out what is going on.' But then, shazam, the text on the same Web page went blank. Nothing."
13 Men, and No Women, Are Writing New Republican Health Bill in the Senate, The New York Times, Robert Pear, Monday, 8 May 2017: "The top Republican in the Senate, Mitch McConnell of Kentucky, has a reputation as a shrewd tactician and a wily strategist — far more than his younger counterpart in the House, Speaker Paul D. Ryan. So the Senate majority leader's decision to create a 13-man working group on health care, including staunch conservatives and ardent foes of the Affordable Care Act — but no women — has been widely seen on Capitol Hill as a move to placate the right as Congress decides the fate of President Barack Obama's signature domestic achievement." See also, A lot of research shows that putting 13 male senators in charge of a health-care bill is a lousy idea, The Washington Post, Jena McGregor, published on Tuesday, 9 May 2017: "Republicans' efforts to repeal and replace the Affordable Care Act have now drawn no less than three viral flare-ups of outrage in the past two months among critics — each for the lack of women either among their ranks or at their decision-making tables. First there was the widely shared photo of the House of Representatives' Freedom Caucus, meeting to discuss an earlier version of the Republicans' health-care bill, that showed only men. Then there were the photos of President Trump and House Republicans celebrating last week's passage of their health care measure in the Rose Garden at the White House, which also showed a group of largely white men. Now many have raised eyebrows over a working group of senators that's aimed at drafting and moving ahead on their version of the bill. The reason is similar: All the group's 13 members are men…. Katherine Phillips, a professor at Columbia University's business school, has studied how small group discussions benefit from what she calls 'surface-level diversity' — the visible differences between team members — in coming up with broader and more innovative ideas."
U.S. poised to expand military effort against Taliban in Afghanistan, The Washington Post, Missy Ryan and Greg Jaffe, Monday, 8 May 2017: "President Trump's most senior military and foreign policy advisers have proposed a major shift in strategy in Afghanistan that would effectively put the United States back on a war footing with the Taliban. The new plan, which still needs the approval of the president, calls for expanding the U.S. military role as part of a broader effort to push an increasingly confident and resurgent Taliban back to the negotiating table, U.S. officials said. The plan comes at the end of a sweeping policy review built around the president's desire to reverse worsening security in Afghanistan and "start winning" again, said one U.S. official, who like others spoke on the condition of anonymity to discuss internal deliberations. The new strategy, which has the backing of top Cabinet officials, would authorize the Pentagon, not the White House, to set troop numbers in Afghanistan and give the military far broader authority to use airstrikes to target Taliban militants. It would also lift Obama-era restrictions that limited the mobility of U.S. military advisers on the battlefield. The net result of the changes would be to reverse moves by President Barack Obama to steadily limit the U.S. military role in Afghanistan, along with the risk to American troops and the cost of the war effort, more than 15 years after U.S. forces first arrived there. Trump is expected to make a final call on the strategy before a May 25 NATO summit in Brussels that he plans to attend."
FBI Director James Comey's Testimony to the Senate Judiciary Committee on 3 May 2017 on Huma Abedin Forwarding Emails to Her Husband, Former Congressman Anthony Weiner, Was Inaccurate, ProPublica, Peter Elkind, Monday, 8 May 2017: "FBI director James Comey generated national headlines last week with his dramatic testimony to the Senate Judiciary Committee, explaining his 'incredibly painful' decision to go public about the Hillary Clinton emails found on Anthony Weiner's laptop. Perhaps Comey's most surprising revelation was that Huma Abedin — Weiner's wife and a top Clinton deputy — had made 'a regular practice' of forwarding 'hundreds and thousands' of Clinton messages to her husband, 'some of which contain classified information.' Comey testified that Abedin had done this so that the disgraced former congressman could print them out for her boss. (Weiner's laptop was seized after he came under criminal investigation for sex crimes, following a media report about his online relationship with a teenager.)… FBI officials have privately acknowledged that Comey misstated what Abedin did and what the FBI investigators found. On Monday, the FBI was said to be preparing to correct the record by sending a letter to Congress later this week…. According to two sources familiar with the matter — including one in law enforcement — Abedin forwarded only a handful of Clinton emails to her husband for printing — not the 'hundreds and thousands' cited by Comey. It does not appear Abedin made 'a regular practice' of doing so. Other officials said it was likely that most of the emails got onto the computer as a result of backups of her Blackberry. It was not clear how many, if any, of the forwarded emails were among the 12 'classified' emails Comey said had been found on Weiner's laptop. None of the messages carried classified markings at the time they were sent."
Watchdog Group Protect Democracy Sues Trump Administration, Seeking Legal Rationale Behind Syria Strike, The New York Times, Charlie Savage, Monday, 8 May 2017: "A month after President Trump ordered a military strike on the Syrian regime as punishment for using chemical weapons, his administration has yet to offer a rationale for what lawful authority he had to carry out the attack. Now, a government watchdog group run by former Obama administration lawyers is suing to force the Trump administration to disclose its legal theory — or concede that it launched the April 6 attack without thinking about the law. While the attack attracted bipartisan support as a political and policy matter, its legal basis was disputed. The United States had no self-defense rationale, and neither Congress nor the United Nations Security Council authorized the attack, raising questions about the scope and limits of Mr. Trump's power as a matter of domestic law and the United States' power as a matter of international law. The Trump administration has not answered them. On Monday, the watchdog group, Protect Democracy, filed a lawsuit under the Freedom of Information Act for all emails, memos and other records discussing Mr. Trump's legal authority to launch the strike."
Kushner Family Stands to Gain From Visa Rules in Trump's First Major Law Signed on Friday, 5 May 2017, The New York Times, Eric Lipton and Jesse Drucker, Monday, 8 May 2017: "It was the first major piece of legislation that President Trump signed into law, and buried on Page 734 was one sentence that brought a potential benefit to the president's extended family: renewal of a program offering permanent residence in the United States to affluent foreigners investing money in real estate projects here. Just hours after the appropriations measure was signed on Friday, the company run until January by Mr. Trump's son-in-law and top adviser, Jared Kushner, was urging wealthy Chinese in Beijing to consider investing $500,000 each in a pair of Jersey City luxury apartment towers the family-owned Kushner Companies plans to build. Mr. Kushner was even cited at a marketing presentation by his sister Nicole Meyer, who was on her way to China even before the bill was signed. The project 'means a lot to me and my entire family,' she told the prospective investors. The sequence of events offers one of the most explicit examples to date of the peril of the Trump and Kushner families maintaining close ties to their business interests and creates an impression they stand to profit off Mr. Trump's presence in the White House. It also illustrates the problems of the so-called EB-5 visa program that prominent Republican and Democratic members of Congress want changed."
John Oliver revives his signature fight – net neutrality – in an ingenious way, The Washington Post, Elahe Izadi, Monday, 8 May 2017: "The last time John Oliver issued a net neutrality call [June 2014], the segment went viral, putting the HBO show on the map and prompting online hordes to flood the Federal Communications Commission's website with comments — so many that the site crashed. HBO's 'Last Week Tonight' is back at it. On Sunday night, Oliver devoted nearly 20 minutes to warning that net neutrality is again threatened, this time under a new FCC chairman, Ajit Pai, who has said he wants to undo Obama-era regulations and has called on the FCC to vote on a proposal May 18. 'Every Internet group has to come together like you successfully did three years ago,' Oliver pleaded…. [Back in 2014/2015] 4 million people filed comments on the wonky subject, and in 2015, the FCC approved strong net neutrality rules that mandated Internet providers be treated as public utilities and made it illegal for them to block or slow down websites for consumers. But logging an official comment with the FCC in 2017 is a little more involved, as Oliver explained Sunday night. You have to visit a long URL — FCC.gov/ecfs/search-proceedings — and go through a series of steps before you can comment on 'Restoring Internet Freedom.' 'If you think, "Well, that's just too complicated, I'm not doing it," don't worry, because that's why we bought the URL GoFCCYourself.com,' Oliver said. Going to that Web address automatically redirects you to the FCC's 'Restoring Internet Freedom' page, where users can hit the 'express' button and leave a comment."
Tuesday, 9 May 2017, Day 110:
Trump Fires F.B.I. Director James Comey Amid Inquiry Into Russian Meddling, The New York Times, Michael D. Shear and Matt Apuzzo, Tuesday, 9 May 2017: "President Trump on Tuesday fired the director of the F.B.I., James B. Comey, abruptly terminating the top official leading a criminal investigation into whether Mr. Trump's advisers colluded with the Russian government to steer the outcome of the 2016 presidential election. The stunning development in Mr. Trump's presidency raised the specter of political interference by a sitting president into an existing investigation by the nation's leading law enforcement agency. It immediately ignited Democratic calls for a special counsel to lead the Russia inquiry. Mr. Trump explained the firing by citing Mr. Comey's handling of the investigation into Hillary Clinton's use of a private email server, even though the president was widely seen to have benefited politically from that inquiry and had once praised Mr. Comey for his 'guts' in his pursuit of Mrs. Clinton during the campaign. But in his letter to Mr. Comey, released to reporters by the White House, the president betrayed his focus on the continuing inquiry into Russia and his aides. 'While I greatly appreciate you informing me, on three separate occasions, that I am not under investigation, I nevertheless concur with the judgment of the Department of Justice that you are not able to effectively lead the bureau,' Mr. Trump said in a letter to Mr. Comey dated Tuesday. White House officials refused to say anything more about the three occasions Mr. Trump cited. The officials said that Attorney General Jeff Sessions and the deputy attorney general, Rod J. Rosenstein, pushed for Mr. Comey's dismissal. But many in Washington, including veteran F.B.I. officers, saw a carefully choreographed effort by the president to create a pretense for a takedown of the president's F.B.I. tormentor.… Reaction in Washington was swift and fierce. Senator Chuck Schumer of New York, the Democratic leader, said the firing could make Americans suspect a cover-up. Mr. Trump lashed back later Tuesday night in a Twitter post: 'Cryin' Chuck Schumer stated recently, "I do not have confidence in him (James Comey) any longer." Then acts so indignant.'" See also, Updates and Reactions to Trump's Firing F.B.I. Director James Comey, The New York Times, Tuesday, 9 May 2017 into Wednesday, 10 May 2017. And also, Trump fires FBI Director James Comey, The Washington Post, Devlin Barrett, Adam Entous and Philip Rucker, Tuesday, 9 May 2017. And also, The Justice Department's case against FBI Director James B. Comey, annotated, The Washington Post, Aaron Blake, Tuesday, 9 May 2017. And also, Deputy Attorney General Rod J. Rosenstein's Memo Breaks Down the Case Against F.B.I. Director James Comey, The New York Times, Charlie Savage, 9 May 2017. And also, After Comey, Here Are the Options for an Independent Russia Inquiry, The New York Times, Charlie Savage, Tuesday, 9 May 2017.
Trump's Firing of F.B.I. Director James Comey Fuels Calls for Independent Investigator, Even From Republicans, The New York Times, David E. Sanger, Matthew Rosenberg, and Michael S. Schmidt, Tuesday, 9 May 2017: "President Trump's decision on Tuesday to fire the F.B.I. director, James B. Comey, immediately fueled calls for an independent investigator or commission to look into Russia's efforts to disrupt the election and any connections between Mr. Trump's associates and the Russian government. Calls to appoint an independent prosecutor have simmered for months, but until now, they had been voiced almost entirely by Democrats. Mr. Comey's insistence that he was pressing ahead with the Russia investigation, and would go wherever the facts took him, had deflected those calls — especially because he was in such open defiance of a president who said the charges were 'fake.' Mr. Comey's firing upended the politics of the investigation, and even Republicans were joining the call for independent inquiries."
Trump's Firing of F.B.I. Director James Comey Is All About the Russia Inquiry, The New York Times, The Editorial Board, Tuesday, 9 May 2017: "The American people — not to mention the credibility of the world's oldest democracy — require a thorough, impartial investigation into the extent of Russia's meddling with the 2016 presidential election on behalf of Donald Trump and, crucially, whether high-ranking members of Mr. Trump's campaign colluded in that effort. By firing the F.B.I. director, James Comey, late Tuesday afternoon, President Trump has cast grave doubt on the viability of any further investigation into what could be one of the biggest political scandals in the country's history. The explanation for this shocking move — that Mr. Comey's bungling of the investigation into Hillary Clinton's private email server violated longstanding Justice Department policy and profoundly damaged public trust in the agency — is impossible to take at face value. Certainly Mr. Comey deserves all the criticism heaped upon him for his repeated missteps in that case, but just as certainly, that's not the reason Mr. Trump fired him."
Donald Trump's Firing of FBI Director James Comey Is an Attack on American Democracy, The New Yorker, John Cassidy, Tuesday, 9 May 2017: "At a time like this, it is important to express things plainly. On Tuesday evening, Donald Trump acted like a despot. Without warning or provocation, he summarily fired the independent-minded director of the F.B.I., James Comey. Comey had been overseeing an investigation into whether there was any collusion between Trump's Presidential campaign and the government of Russia. With Comey out of the way, Trump can now pick his own man (or woman) to run the Bureau, and this person will have the authority to close down that investigation. That is what has happened. It amounts to a premeditated and terrifying attack on the American system of government. Quite possibly, it will usher in a constitutional crisis. Even if it doesn't, it represents the most unnerving turn yet in what is a uniquely unnerving Presidency."
After Trump fired FBI Director James Comey, White House staff scrambled to explain why, The Washington Post, Jenna Johnson, published on Wednesday, 10 May 2017: "White House press secretary Sean Spicer wrapped up his brief interview with Fox Business from the White House grounds late Tuesday night and then disappeared into the shadows, huddling with his staff behind a tall hedge. To get back to his office, Spicer would have to pass a swarm of reporters wanting to know why President Trump suddenly decided to fire the FBI director. For more than three hours, Spicer and his staff had been scrambling to answer that question. Spicer had wanted to drop the bombshell news in an emailed statement, but it was not transmitting quickly enough, so he ended up standing in the doorway of the press office around 5:40 p.m. and shouting a statement to reporters who happened to be nearby. He then vanished, with his staff locking the door leading to his office. The press staff said that Spicer might do a briefing, then announced that he definitely wouldn't say anything more that night. But as Democrats and Republicans began to criticize and question the firing with increasing levels of alarm, Spicer and two prominent spokeswomen were suddenly speed-walking up the White House drive to defend the president on CNN, Fox News and Fox Business…. After Spicer spent several minutes hidden in the bushes behind these sets, Janet Montesi, an executive assistant in the press office, emerged and told reporters that Spicer would answer some questions, as long as he was not filmed doing so. Spicer then emerged. 'Just turn the lights off. Turn the lights off,' he ordered. 'We'll take care of this. … Can you just turn that light off?' Spicer got his wish and was soon standing in near darkness between two tall hedges, with more than a dozen reporters closely gathered around him. For 10 minutes, he responded to a flurry of questions, vacillating between light-hearted asides and clear frustration with getting the same questions over and over again."
Trump to Arm Syrian Kurds, Even as Turkey Strongly Objects, The New York Times, Michael R. Gordon, Tuesday, 9 May 2017: "President Trump has approved a plan to provide Syrian Kurds with heavier weapons so they can participate in the battle to retake Raqqa from the Islamic State, the Pentagon said on Tuesday. American military commanders have long argued for arming the Y.P.G., a Kurdish militia that contains some of the most experienced fighters among the Syrian force that is battling the Islamic State. But Turkey has vociferously objected to such a move, insisting that the Kurdish fighters are linked with the Kurdistan Workers' Party, which both it and the United States regard as a terrorist group."
Senate Judiciary Committee Chairman Charles E. Grassley (R-Iowa) and House Oversight and Government Reform Committee Chairman Jason Chaffetz (R-Utah) rebuke Health and Human Services Secretary Tom Price for muzzling agency employees, The Washington Post, Juliet Eilperin, Tuesday, 9 May 2017: "Two Republican lawmakers charged with conducting government oversight sharply rebuked Health and Human Services Secretary Tom Price on Tuesday for curtailing his employees' ability to communicate directly with Congress and suggested the move violates federal law. Senate Judiciary Committee Chairman Charles E. Grassley (R-Iowa) and House Oversight and Government Reform Committee Chairman Jason Chaffetz (R-Utah) said the policy that Price's chief of staff outlined in a memo last week 'is potentially illegal and unconstitutional, and will likely chill protected disclosures of waste, fraud, and abuse.' In the May 3 memo, chief of staff Lance Leggitt informed senior HHS staff members that 'any communications with Members of Congress and staff should not occur without prior consultation with the Office of the Assistant Secretary for Legislation.' He added: 'This includes requests for calls, meetings, briefings, technical assistance, policy development, hearings, oversight, detailees, etc. Your cooperation will help us avoid unnecessary problems in our relationships with Congress.'"
US digs for evidence of Haiti immigrant crimes, Associated Press, Alicia A. Caldwell, Tuesday, 9 May 2017: "As the Trump administration weighs extending humanitarian protections for thousands of Haitian immigrants, officials are digging for unusual information: How many have been convicted of crimes. Internal emails obtained by The Associated Press show a top immigration official wanted not only crime data on Haitians who are protected from deportation under the Temporary Protected Status program, but also how many were receiving public benefits. Such immigrants aren't eligible for welfare benefits. Roughly 50,000 Haitians have been allowed to live in the U.S. under the program in the aftermath of a 2010 earthquake, and the questions about misdeeds among them comes at a critical moment. Homeland Security Secretary John Kelly must decide soon whether to continue protecting the group from deportation. Normally the decision depends on whether conditions in the immigrants' home country have improved. But emails suggest Kelly is looking at other criteria as well. Department spokesman David Lapan said Tuesday that criminal history and other information requested by policy chief Kathy Nuebel Kovarik won't be used to make a final decision about Temporary Protected Status. Lapan said the questions were asked so that Kelly could have a fuller understanding of who is in the program. But Lapan's explanation doesn't reflect the apparent importance placed on the questions by Kovarik, the U.S. Citizenship and Immigration Services head of policy and strategy, in repeated emails to her staff."
Pressure on Democrats Pays Off as Chuck Schumer Picks Consumer Advocate for Federal Trade Commission Nominee, The Intercept, David Dayen, Tuesday, 9 May 2017: "After pressure from consumer advocates, Senate Minority Leader Chuck Schumer has recommended Rohit Chopra, a former official at the Consumer Financial Protection Bureau (CFPB), for an open Democratic seat on the Federal Trade Commission (FTC). As reported by The Intercept in March, Schumer had previously been considering his ex-Chief of Staff David Hantman — a former lobbyist for Yahoo and Airbnb who opposed regulation on Silicon Valley firms — for the position. After details of Hantman's past work became public, Schumer last month told the International Business Times that he would not be submitting Hantman's name. Chopra, by contrast, has a strong record of action on consumer issues."
Trump Hires Law Firm to Fight Suggestions of Russia Business Ties, NBC News, Phil Helsel, Tuesday, 9 May 2017: "President Donald Trump has hired a Washington law firm to send a letter to a member of the Senate Judiciary Committee saying he has no connections to Russia, White House press secretary Sean Spicer said Tuesday. Spicer's revelation was in response to a question from reporters on a briefing about committee member Sen. Lindsey Graham's remarks that he wants to look into whether Trump has any business dealings with Russia." See also, Trump preparing certified letter to Senator Lindsey Graham (R-SC) attesting to no Russia ties, McClatchy DC Bureau, Associated Press, Tuesday, 9 May 2017: "The White House says President Donald Trump is sending a certified letter to Sen. Lindsey Graham attesting that the president has no connections to Russia. Graham told CNN on Tuesday he wants to explore possible ties between Trump's businesses and Russia. The South Carolina Republican chairs a Senate Judiciary subcommittee that is investigating Russian interference in the 2016 presidential election."
West Virginia journalist arrested after asking Health and Human Services Secretary Tom Price a question, The Washington Post, Samantha Schmidt, published on Wednesday, 10 May 2017: "As Health and Human Services Secretary Tom Price walked through a hallway Tuesday in the West Virginia state capitol, veteran reporter Dan Heyman followed alongside him, holding up his phone to Price while attempting to ask him a question. Heyman, a journalist with Public News Service, repeatedly asked the secretary whether domestic violence would be considered a preexisting condition under the Republican bill to overhaul the nation's health care system, he said. 'He didn't say anything,' Heyman said later in a news conference. 'So I persisted.' Then, an officer in the capitol pulled him aside, handcuffed him and arrested him. Heyman was jailed on the charge of willful disruption of state government processes and was released later on $5,000 bail."
Trump Administration Delays Decision on Leaving the Paris Climate Pact, The New York Times, Coral Davenport and Maggie Haberman, Tuesday, 9 May 2017: "With top presidential aides stubbornly divided, the White House abruptly announced on Tuesday that President Trump would make no decision on the United States' future in the Paris climate change accord until June, after he returns from a meeting of the Group of 7 Western powers."
Wisconsin's Voter-ID Law Suppressed 200,000 Votes in 2016 (Trump Won by 22,748), The Nation, Ari Berman, Tuesday, 9 May 2017: " A new study by Priorities USA, shared exclusively with The Nation, shows that strict voter-ID laws, in Wisconsin and other states, led to a significant reduction in voter turnout in 2016, with a disproportionate impact on African-American and Democratic-leaning voters. Wisconsin's voter-ID law reduced turnout by 200,000 votes, according to the new analysis. Donald Trump won the state by only 22,748 votes."
U.S. Census director John H. Thompson resigns amid turmoil over funding of 2020 count, The Washington Post, Tara Bahrampour, Tuesday, 9 May 2017: "The director of the U.S. Census Bureau is resigning, leaving the agency leaderless at a time when it faces a crisis over funding for the 2020 decennial count of the U.S. population and beyond. John H. Thompson, who has served as director since 2013 and worked for the bureau for 27 years before that, will leave June 30, the Commerce Department announced Tuesday. The news, which surprised census experts, follows an April congressional budget allocation for the census that critics say is woefully inadequate. And it comes less than a week after a prickly hearing at which Thompson told lawmakers that cost estimates for a new electronic data collection system had ballooned by nearly 50 percent."
Traveling to Texas May Result in Violation of Constitutional Rights, ACLU Warns, ACLU, Tuesday, 9 May 2017: "The American Civil Liberties Union issued a 'travel alert' today informing anyone planning to travel to Texas in the near future to anticipate the possible violation of their constitutional rights when stopped by law enforcement. The alert comes amid the passing of a Texas law known as SB4. The law gives a green light to police officers in the state to investigate a person's immigration status during a routine traffic stop, leading to widespread racial profiling, baseless scrutiny, and illegal arrests of citizens and non-citizens alike presumed to be 'foreign' based on how they look or sound. The travel alert applies to all travelers to Texas, including U.S. travelers from other states and U.S. citizens. In addition, this alert applies to all encounters with federal, state, county law enforcement including local police and sheriffs."
Wednesday, 10 May 2017, Day 111:
Days Before Being Fired, F.B.I. Director James Comey Asked for More Resources for the Russia Inquiry, The New York Times, Matthew Rosenberg and Matt Apuzzo, Wednesday, 10 May 2017: "Days before he was fired, James B. Comey, the former F.B.I. director, asked the Justice Department for a significant increase in resources for the bureau's investigation into Russia's interference in the presidential election, according to four congressional officials, including Senator Richard J. Durbin. Mr. Comey made his appeal to Rod J. Rosenstein, the deputy attorney general, who also wrote the Justice Department's memo that was used to justify the firing of Mr. Comey this week, the officials said."
'Enough Was Enough': How Trump's Festering Anger at F.B.I. Director James Comey Ended in Trump Firing Him, The New York Times, Maggie Haberman, Glenn Thrush, Michael S. Schmidt, and Peter Baker, Wednesday, 10 May 2017: "By the end, neither of them thought much of the other. After President Trump accused his predecessor in March of wiretapping him, James B. Comey, the F.B.I. director, was flabbergasted. The president, Mr. Comey told associates, was 'outside the realm of normal,' even 'crazy.' For his part, Mr. Trump fumed when Mr. Comey publicly dismissed the sensational wiretapping claim. In the weeks that followed, he grew angrier and began talking about firing Mr. Comey. After stewing last weekend while watching Sunday talk shows at his New Jersey golf resort, Mr. Trump decided it was time. There was 'something wrong with' Mr. Comey, he told aides."
Senate Intelligence Committee subpoenas documents from Michael Flynn in Russia probe, The Washington Post, Karoun Demirjian, Wednesday, 10 May 2017: "The Senate Intelligence Committee issued a subpoena Wednesday to force former national security adviser Michael Flynn to turn over documents related to the panel's probe into alleged Russian meddling in the 2016 elections, including possible ties between the Kremlin and the presidential campaigns. It is the first subpoena the committee has announced in the course of its Russia investigation — a step Chairman Richard Burr (R-N.C.) was long reluctant to take. But the chairman began signaling this week that if Trump surrogates did not turn over requested materials to the committee by Tuesday — a deadline that some missed — he and Vice Chairman Mark R. Warner (D-Va.) might begin issuing subpoenas. 'Everything has been voluntary up to this point, and we've interviewed a lot of people, and I want to continue to do it in a voluntary fashion,' Burr said Wednesday morning. 'But if in fact the production of things that we need are not provided, then we have a host of tools,' Burr added, indicating that a subpoena was one of them."
In Win for Environmentalists, the Senate Keeps an Obama-Era Climate Change Rule, The New York Times, Coral Davenport, Wednesday, 10 May 2017: "In a surprising victory for President Barack Obama's environmental legacy, the Senate voted on Wednesday to uphold an Obama-era climate change regulation to control the release of methane from oil and gas wells on public land. Senators voted 51 to 49 to block consideration of a resolution to repeal the 2016 Interior Department rule to curb emissions of methane, a powerful planet-warming greenhouse gas. Senators John McCain of Arizona, Lindsey Graham of South Carolina and Susan Collins of Maine, all Republicans who have expressed concern about climate change and backed legislation to tackle the issue, broke with their party to join Democrats and defeat the resolution. The vote also was the first, and probably the only, defeat of a stream of resolutions over the last four months — pursued through the once-obscure Congressional Review Act — to unwind regulations approved late in the Obama administration."
Second largest school district in U.S. moves to protect undocumented immigrants from federal agents, The Washington Post, Valerie Strauss, Wednesday, 10 May 2017: "The Los Angeles Unified School Board — which runs the second largest school system in the country — just toughened its commitment to protect undocumented immigrant students and their families from federal Immigration and Customs Enforcement officials. As cities and towns around the country move to protect immigrant families from federal agents, Los Angeles school board members unanimously passed a new resolution Tuesday that reaffirms that ICE agents will not be allowed to come onto school campuses until the superintendent and district attorneys agree in advance. It also bars district employees from cooperating with ICE on immigration cases."
Thursday, 11 May 2017, Day 112:
Trump Shifts Rationale for Firing Comey, Calling Him a 'Showboat,' The New York Times, Peter Baker and Michael D. Shear, Thursday, 11 May 2017: "President Trump offered a new version of his decision to fire James B. Comey, saying on Thursday that he would have dismissed the F.B.I. director regardless of whether the attorney general and his deputy recommended it. It was just the latest in a series of statements, some of them contradictory, to whiplash Washington over 48 hours that began with Mr. Comey's firing on Tuesday evening. And it was unusually harsh: Mr. Trump castigated Mr. Comey as 'a showboat' and 'a grandstander,' suggesting that his issues with the F.B.I. director went beyond any previously stated concerns. Mr. Trump said on Thursday that he had not relied solely on the advice from the Justice Department's top two leaders in making his decision. And, for the first time, he explicitly referenced the F.B.I.'s investigation into his administration's ties to Russia in defending Mr. Comey's firing. 'And in fact, when I decided to just do it, I said to myself, I said, "You know, this Russia thing with Trump and Russia is a made-up story,"' Mr. Trump told Lester Holt of NBC News. 'It's an excuse by the Democrats for having lost an election that they should have won.'" See also, Trump has now admitted he fired Comey because of the Russia investigation, Vox, Andrew Prokop, Thursday, 11 May 2017: "Many Republicans — from White House staffers to members of Congress to conservative pundits — have been insisting for two days now, despite widespread reports, that President Donald Trump's firing of FBI Director James Comey had nothing to do with Comey's investigation into Russian interference with the 2016 election. Now, in an interview with NBC's Lester Holt, Trump has admitted it did. Asked by Holt about the White House's initial story that he fired Comey because of a recommendation by Deputy Attorney General Rod Rosenstein, Trump said, 'I was gonna fire him regardless of the recommendation.' In explaining how he made up his mind, the president directly brought up the Russia case, calling it a 'made-up story': 'He [Rosenstein] made a recommendation, he's highly respected, very good guy, very smart guy.  The Democrats like him, the Republicans like him. He made a recommendation. But regardless of [the] recommendation, I was going to fire Comey. Knowing there was no good time to do it! And in fact when I decided to just do it I said to myself, I said, 'You know, this Russia thing with Trump and Russia is a made-up story, it's an excuse by the Democrats for having lost an election that they should've won.' Comey publicly confirmed that he was investigating Trump allies' links to Russia back in March. A recent Wall Street Journal report by Shane Harris and Carol Lee claims that the probe has gotten rather serious, with Comey receiving daily updates and being 'concerned by information showing possible evidence of collusion,' according to 'people with knowledge of the matter.' But Trump has publicly dismissed the allegations in the investigation as 'fake news' and asked when 'this taxpayer funded charade' will 'end.'"
Acting F.B.I. Director Andrew McCabe Contradicts White House on Russia and James Comey, The New York Times, Adam Goldman and Matthew Rosenberg, Thursday, 11 May 2017: "The acting director of the F.B.I. contradicted the White House on two major issues on Thursday: the support of rank-and-file agents for the fired F.B.I. chief James B. Comey and the importance of the agency's investigation into Russian election interference. In a striking repudiation of official White House statements, the acting director, Andrew G. McCabe, said the inquiry was 'highly significant' and pledged to the Senate Intelligence Committee that the F.B.I. would resist any attempt to influence or hobble the investigation. 'Simply put,' he said, 'you cannot stop the men and women of the F.B.I. from doing the right thing.' That Mr. McCabe felt compelled to assert the F.B.I.'s independence was itself remarkable, a byproduct of the unusually public effort by Mr. Trump and his aides to take focus off the investigations into Russia's election meddling. He also said the F.B.I. investigation had the resources it needed, partly disputing an account that Mr. Comey had sought more aid…. Mr. Warner sought assurances from Mr. McCabe that if the White House or others tried to intervene, he would sound the alarm…. When asked whether it would be wrong to tell the president he was not being investigated, Mr. McCabe said, 'We typically do not answer that question.'" See also, Full Transcript: Acting FBI director Andrew McCabe and others testify before the Senate Intelligence Committee, The Washington Post, Washington Post Staff, Thursday, 11 May 2017.
The role of Deputy Attorney General Rod Rosenstein in the firing of FBI director James Comey raises more questions than answers, The Washington Post, Karoun Demirjian, Ed O'Keefe, and Paul Kane, Thursday, 11 May 2017: "The deputy attorney general at the center of former FBI director James B. Comey's firing made a surprise appearance on Capitol Hill on Thursday, arriving as Senate Democrats were demanding a reckoning over his role in the ouster but leaving more questions than answers in his wake. Two weeks ago, Rod J. Rosenstein received the bipartisan confidence of the vast majority of the Senate during his confirmation as deputy attorney general. But a memo he drafted this week that has served as President Trump's public justification for firing Comey has all but eviscerated that trust. Led primarily by Democrats, senators are now asking Rosenstein to come back to Capitol Hill next week to explain his role in Comey's dismissal. A senior ­Republican, too, declined to defend Rosenstein's actions after meeting with him behind closed doors. Rosenstein was tight-lipped as he entered and emerged from a secure facility Thursday on Capitol Hill, where he huddled with Senate Intelligence Committee Chairman Richard Burr (R-N.C.) and Vice Chairman Mark R. Warner (D-Va.). The senators said the meeting had been scheduled before Comey's ouster to discuss 'deconfliction' — keeping the FBI's and committee's investigations of alleged ties between the Trump campaign and the Russian government from stepping on each other's toes. Nonetheless, the arrival of Rosenstein and his entourage — during a Senate Intelligence Committee hearing that dealt extensively with Comey's firing — served only to heighten the political intrigue surrounding the deputy attorney general's enigmatic role in the controversial Comey affair." See also, Deputy Attorney General Rod Rosenstein's Reputation for Impartiality Is Tested by the Firing of F.B.I. Director James Comey, The New York Times, Rebecca R. Ruiz, published on Wednesday, 10 May 2017.
Donald Trump's Craven Republican Enablers, The New Yorker, John Cassidy, Thursday, 11 May 2017: "It is often said that the U.S. Presidency is a relatively weak office—but that is a contingent statement. To prevent the President from gaining too much power, or abusing that power, the Founding Fathers divided authority among the different branches of government, and established some fundamental governing principles. These are the fabled checks and balances, arranged, as James Bryce, the British jurist, noted in his venerable 1888 tome, 'The American Commonwealth,' to 'restrain any one department from tyranny.' But the checks and balances only work if each of Bryce's departments agrees to play its allotted role. A President enabled by a spineless and supine Congress that fails to exercise its oversight powers isn't a weak executive at all: he is a potential despot. Using his authority to hire and fire federal officials, he can rapidly remake the government to his own design, appointing loyalists to key positions, eliminating potential threats, and undermining alternative repositories of power. Authoritarian leaders in foreign countries seize and maintain power this way. And, despite his bungling start, this is the project that Donald Trump appears to have embarked upon…. Trump's willingness to say and do things that most people would shy away from because they are constrained by social norms, or ethics, helped carry him to where he is today…. Artie Nusbaum, one of the managers of the construction firm that built Trump Tower, said, 'This is who he is. No morals, no nothing. He does what he does.' That is who the Republicans are enabling. Until they stop doing it, they will be complicit in the erosion of American democracy."
Trump Picks Voter ID Advocate Kris Kobach for Election Fraud Panel, The New York Times, Julie Hirschfeld Davis, Thursday, 11 May 2017: "President Trump on Thursday named Kris W. Kobach, the Kansas secretary of state who has pressed for aggressive measures to crack down on undocumented immigrants, to a commission investigating vote fraud, following through on his unsubstantiated claim that millions of 'illegals' voted for his Democratic rival and robbed him of victory in the national popular vote. Mr. Kobach, who has championed the strictest voter identification laws in the country, will be the vice chairman of the commission, which will be led by Vice President Mike Pence and is expected to include about a dozen others, including state officials from both political parties, said Sarah Huckabee Sanders, the deputy White House press secretary. Mr. Trump signed an executive order on Thursday creating the commission, which Ms. Sanders said would have a broad mandate to review policies and practices that affect Americans' confidence in the integrity of federal elections. Marc E. Lotter, Mr. Pence's spokesman, said that voter suppression would be among the topics studied by the commission, which he said would take a wide-ranging look at problems at the state and national levels. But the order makes no mention of suppression or voting restrictions, specifying only 'improper' or 'fraudulent' registration and voting as issues to be explored. Democrats and civil rights groups condemned the panel as a taxpayer-funded witch hunt, and the American Civil Liberties Union filed a legal request to the White House for records showing 'concrete evidence' of fraudulent voting that would warrant the creation of such a commission."