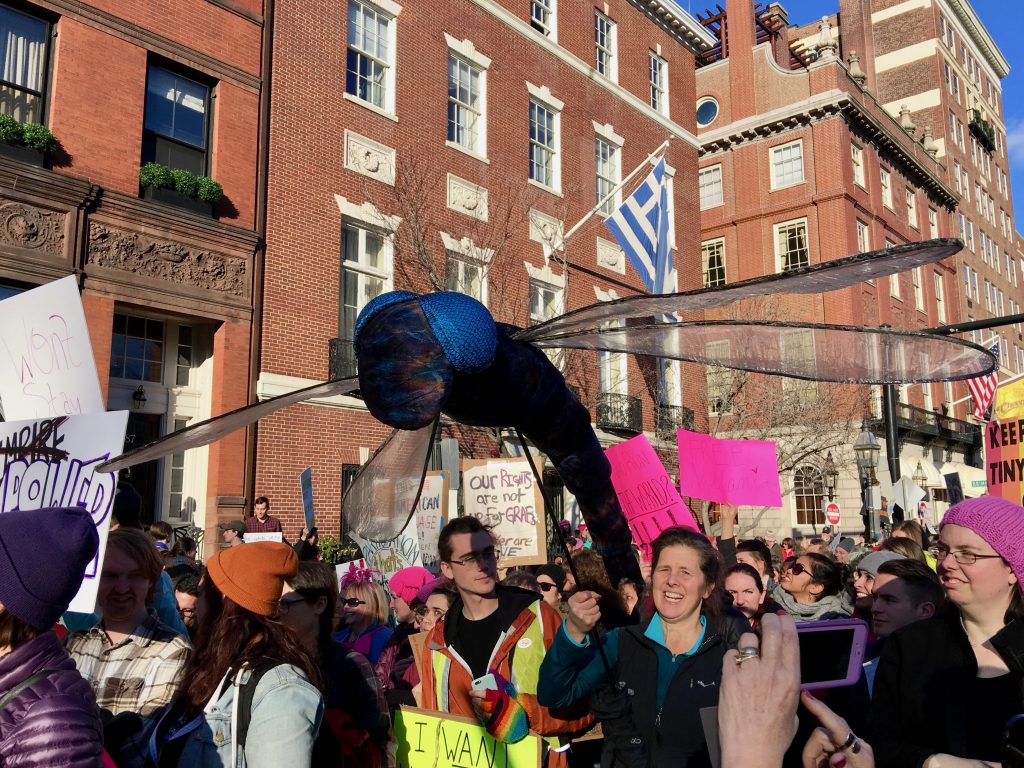 Keeping Track (of some things), Staying Outraged (it is possible), and Resisting (it's essential)
Passages in bold in the body of the texts below are my emphasis. This is an ongoing project, and I update the site frequently. I hope readers will peruse the articles in full for a better understanding of the issues and their context; our democracy and our future depend on citizens who can distinguish between facts and falsehoods and who are engaged in the political process.
Friday, 14 April 2017, Day 85:
White House to Keep Its Visitor Logs Secret, Breaking With Obama Policy of Releasing White House Visitor Logs, The New York Times, Julie Hirschfeld Davis, Friday, 14 April 2017: "The White House announced Friday that it would cut off public access to visitor logs revealing who is entering the White House complex and which officials they are meeting, breaking with the Obama administration's practice and returning a cloak of secrecy over the basic day-to-day workings of the government. The decision — which White House officials said was necessary for reasons of national security — was the latest attempt by President Trump, who has promised to 'drain the swamp' in Washington, to shield his activities from scrutiny. It effectively bars the public from knowing which activists, lobbyists, political donors and others are gaining access to the president and his aides on a daily basis. It also is a stark reversal from the policy adopted by President Barack Obama, who voluntarily released more than six million White House visitor records, even as his administration fought successfully in federal court for the right to keep some of the information secret. The announcement was another turnabout for Mr. Trump after a week of changing course on an array of domestic and foreign policy matters. In a 2012 posting on Twitter, he chided Mr. Obama for failing to release certain records, including college transcripts, as President George W. Bush had. 'Hiding something?' Mr. Trump wrote then…. The new policy, reported by Time magazine, drew scathing criticism from government watchdog groups, some of which filed suit against the Trump administration this week to obtain the records. Tom Blanton, the director of the National Security Archive, said the national security argument was 'a falsehood' because the Obama-era policy already made such exceptions. His organization is among three that sued the government this week for visitor logs from the White House; the Mar-a-Lago estate in Palm Beach, Fla.; and Trump Tower."
China Warns of 'Storm Clouds Gathering' in U.S.-North Korea Standoff, The New York Times, Gerry Mullany, Chris Buckley and David E. Sanger, Friday, 14 April 2017: "China warned on Friday that tensions on the Korean Peninsula could spin out of control, as North Korea said it could test a nuclear weapon at any time and a United States naval group neared the peninsula — an American effort to sow doubt in Pyongyang over how President Trump might respond. 'The United States and South Korea and North Korea are engaging in tit for tat, with swords drawn and bows bent, and there have been storm clouds gathering,' China's foreign minister, Wang Yi, said in Beijing, according to Xinhua, the state news agency. 'If they let war break out on the peninsula, they must shoulder that historical culpability and pay the corresponding price for this,' Mr. Wang said. The comments were unusually blunt from China, which has been trying to steer between the Trump administration's demands for it to do more to stop North Korea's nuclear weapons program and its longstanding reluctance to risk a rupture with the North. The remarks also reflected, American experts said, an effort by the Chinese to throw responsibility for what happens back on Washington, after Mr. Trump declared, in several Twitter messages, that it was up to the Chinese to contain their neighbor and sometime partner."
Censorship at the Border Threatens Free Speech Everywhere, Just Security, Jameel Jaffer, Friday, 14 April 2017: "Defending one's political and religious beliefs to government officials is an obligation we associate with life in authoritarian regimes, not open societies. It's becoming common, though, for foreign citizens who visit the United States—and even for Americans returning home after travel abroad—to be interrogated about their beliefs by customs and border personnel. These days, those seeking admission to the United States may also be required to surrender their cellphones and laptops, which can supply border agents with a wealth of information about travelers' associations, communications, and activities online. Border agents use that information to draw conclusions, sound or not, about travelers' ideological commitments. Now the Trump administration, under the rubric of 'extreme vetting,' is considering taking a further step by mandating that non-citizens disclose their social media handles and passwords and answer questions about ideology as a condition of admission to the country. The aim is to empower consular and border officials to ensure that would-be visitors to the United States embrace American values, a concept that the Trump administration has not defined. Secretary of Homeland Security John Kelly defended the idea in congressional testimony last week.  'If they don't cooperate," he said of aspiring visitors, 'they can go back.'"
Continue reading Week 13, Friday, 14 April – Thursday, 20 April 2017:
Fact Checker: 100 days of Trump claims, The Washington Post, Friday, 14 April 2017: "Trump has been in office for 85 days. As of our latest update on day 84, we've counted 394 false or misleading claims…. Donald Trump earned 59 Four-Pinocchio ratings as a presidential candidate. Now that he's president, he has continued his proclivity for making dubious, misleading or false statements. He also often repeats the same debunked claims even though they have been fact-checked. It's hard to keep up with all of Trump's rhetoric, so the Fact Checker is assembling in one place all of his suspect statements from his first 100 days as president. You can sort them by various categories and see how many times he has repeated the same false statement."
Even Canadians are skipping trips to the U.S. after Trump travel ban,The Washington Post, Abha Bhattarai, Friday, 14 April 2017: "The cancellations came quickly and in rapid succession. Within days of President Trump's first executive order restricting travelers from seven Muslim-majority countries, a number of European travel groups pulled their plans, amounting to a loss of 2,000 overnight stays for Hostelling International USA. The ban would complicate travel for citizens of the countries cited — among them Iran, Syria and Libya. But Canadians and Europeans and others were dropping their plans, too. As group organizers put it, people suddenly had an unsettling sense that the United States wasn't as welcoming a place as it once was. From hostels to major hotel chains such as Marriott, tour group operators to outfits that cater to business travelers, the toll of Trump's proposals on the nation's tourism industry has been swift. Some say long-term damage has been done. And it could be compounded by recent reports of Trump administration plans to implement 'extreme vetting' of foreign travelers. Visitors — including those from allies such as France and Germany — could be pressed to turn over mobile phone contacts, social media passwords and financial records, according to a Wall Street Journal report…. The result could be an estimated 4.3 million fewer people coming to the United States this year, resulting in $7.4 billion in lost revenue, according to Tourism Economics, a Philadelphia-based analytics firm. Next year, the fallout is expected to be even larger, with 6.3 million fewer tourists and $10.8 billion in losses. Miami is expected to be hit hardest, followed by San Francisco and New York, the firm said. The administration's travel ban deals a blow to an industry that has only recently recovered from a $600 billion loss following the Sept. 11, 2001, attacks."
Saturday, 15 April 2017, Day 86:
The Tax March: Protesters around the country call on Trump to release his taxes, The Washington Post, Perry Stein, Saturday, 15 April 2017: "Some wore shirts with an image of President Trump as the Monopoly mascot hauling a bag of money. Others taunted the president with signs that said they would show him their taxes, if he showed them his. And in front of a few thousand people on the lawn of the U.S. Capitol there was an oversized inflatable chicken with hair resembling Trump's, suggesting the president is 'too chicken' to release his taxes to the public. From Seattle to the District, protesters gathered in cities throughout the country Saturday calling on Trump to release his personal tax returns as part of a nationwide Tax March. The protest falls on the country's traditionally recognized deadline to file taxes, April 15…. Presidents are not required to release their tax returns but have done so voluntarily dating to the 1970s. Activists and others say it is the only way to be fully open about any potential conflicts of interest."
With Trump Appointees, a Raft of Potential Conflicts and 'No Transparency,' The New York Times, Eric Lipton, Ben Protess and Andrew W. Lehren, Saturday, 15 April 2017: "President Trump is populating the White House and federal agencies with former lobbyists, lawyers and consultants who in many cases are helping to craft new policies for the same industries in which they recently earned a paycheck. The potential conflicts are arising across the executive branch, according to an analysis of recently released financial disclosures, lobbying records and interviews with current and former ethics officials by The New York Times in collaboration with ProPublica. In at least two cases, the appointments may have already led to violations of the administration's own ethics rules. But evaluating if and when such violations have occurred has become almost impossible because the Trump administration is secretly issuing waivers to the rules.… This revolving door of lobbyists and government officials is not new in Washington. Both parties make a habit of it. But the Trump administration is more vulnerable to conflicts than the prior administration, particularly after the president eliminated an ethics provision that prohibits lobbyists from joining agencies they lobbied in the prior two years. The White House also announced on Friday that it would keep its visitors' logs secret, discontinuing the release of information on corporate executives, lobbyists and others who enter the complex, often to try to influence federal policy. The changes have drawn intense criticism from government ethics advocates across the city. Mr. Trump's appointees are also far wealthier and have more complex financial holdings and private-sector ties than officials hired at the start of the Obama administration, according to an Office of Government Ethics analysis that the White House has made public. This creates a greater chance that they might have conflicts related to investments or former clients, which could force them to sell off assets, recuse themselves or seek a waiver." See also, Trump is Hiring Lobbyists and Top Ethics Official Says 'There's No Transparency,' ProPublica, Justin Elliott, Saturday, 15 April 2017.
Trump says he can't be sued for violence at his rallies because he won the election, The Washington Post, Avi Selk, Saturday, 15 April 2017: "Last year, protesters from a campaign rally sued Donald Trump — claiming the future president urged his supporters to assault them. Now Trump is the president, of course. And while the lawsuit grinds on, with more accusations added last week, he claims he won immunity along with the election. 'Mr. Trump is immune from suit because he is President of the United States,' his lawyers wrote Friday, rebutting a complaint filed by three protesters who claimed Trump incited a riot against them at a Louisville event in March 2016. Trump's team challenged the accusations — negligence and incitement to riot — on many other grounds, too. But a federal judge already rejected their attempt to have the lawsuit thrown out earlier this month. And in another new filing in the same case, a Trump supporter accused of assaulting protesters agreed with the plaintiffs that Trump wanted a riot — while denying he actually harmed anyone. Alvin Bamberger, who was seen in a video pushing a protester through a jeering crowd at the Louisville convention center, 'would not have acted as he did without Trump and/or the Trump Campaign's specific urging and inspiration,' Bamberger's lawyer wrote…. 'Throughout the 2016 presidential campaign, Trump and/or the Trump Campaign repeatedly urged people attending Trump political rallies to remove individuals who were voicing opposition,' reads Bamberger's filing, which asks that Trump be forced to pay his damages, if he's found liable. The Washington Post has chronicled Trump's history of tough talk from the podium and violent rallies that followed him on his path to the Republican nomination."
Democrats in Congress say that Trump has barred key federal workers from speaking to them, The Washington Post, Darryl Fears, Saturday, 15 April 2017: "Democrats in Congress are accusing the Trump administration of ordering officials in federal departments and agencies to withhold information they need to carry out their duties, such as preparing for committee hearings. Party leaders say officials have routinely provided documents and detailed explanations of programs in the past, but now at least two ranking Democrats on congressional committees say their staff members were told directly by workers in agencies that they could no longer speak with them. The issue started in January and grew into such a concern that House Minority Leader Nancy Pelosi (D-Calif.) asked Rep. John Sarbanes (D-Md.) to track Democrats' correspondence to the executive branch that have gotten no response. So far, Sarbanes said, there are more than 100 cases from the House…. Rep. Raul Grijalva (D-Ariz.) said the Department of Interior blocked workers at the U.S. Fish and Wildlife Service from providing documents and other information to his staffers as they sought to prepare for a hearing."
'Nobody's got to use the Internet' says Republican Representative James Sensenbrenner of Wisconsin in response to concerns about Internet privacy, The Washington Post, Kristine Phillips, Saturday, 15 April 2017: "A Wisconsin congressman told a town hall attendee who was concerned about the elimination of online privacy protections that using the Internet is a choice — a statement that has since drawn criticism on social media. During the meeting in Wisconsin on Thursday, the attendee asked about the recent decision by Congress to wipe away an Obama-era policy that sought to limit what Internet service providers, such as Verizon, AT&T and Comcast, can do with customers' Internet browsing history. The concern is similar to one raised by consumer activists: Not all Internet users have options to switch to a different company if they don't agree with their current provider's privacy practices."
Sunday, 16 April 2017, Day 87:
Vice President Mike Pence, in South Korea, Calls North Korea Missile Test 'a Provocation,' The New York Times, Julie Hirschfeld Davis, Sunday, 16 April 2017: "Vice President Mike Pence on Sunday described North Korea's failed missile test as "a provocation" that highlighted the risks plaguing both the region and the United States, as the White House said President Trump had an array of military, diplomatic and other options to respond…. Earlier, aboard Air Force Two as Mr. Pence made his way to South Korea, a White House foreign policy adviser said the United States had had good intelligence about the missile test both in advance and afterward, an intriguing statement that suggested the United States had the information it would have needed to take covert action against the latest launch, even as it left open the question of whether such interference occurred. K. T. McFarland, Mr. Trump's deputy national security adviser, declined Sunday to say whether the United States had sabotaged North Korea's launch…. Lt. Gen. H. R. McMaster, Mr. Trump's national security adviser, said the United States was developing an array of potential responses to North Korea's latest move, in consultation with China."
On Twitter, Trump breaks silence on North Korea and defends his reversal on China and currency manipulation, The Washington Post, John Wagner, Sunday, 16 April 2017: "President Trump on Sunday defended his recent about-face on calling China a currency manipulator, saying he welcomes the country's help in dealing with North Korea. The comment on Twitter was the first from Trump since North Korea's latest missile launch. 'Why would I call China a currency manipulator when they are working with us on the North Korean problem?' Trump wrote on Twitter. 'We will see what happens!' he added…. During his presidential campaign, Trump often claimed that China was manipulating the value of its currency to boost its exports, a policy that cost the United States manufacturing jobs. He promised to label the country a currency manipulator on Day One of his administration. But last week, he struck a different chord. 'They're not currency manipulators,' Trump told the Wall Street Journal, adding that China hasn't been manipulating its currency for months."
On Twitter, Trump asks why people are still talking about his taxes a day after protesters asked for him to release his returns, The Washington Post, John Wagner, Sunday, 16 April 2017: "President Trump lashed out Sunday at the protesters who took part in marches across the country Saturday to demand that he release his tax returns, declaring on Twitter that 'The election is over!' Trump's comments followed a nationwide Tax March that drew thousands of people in dozens of cities on the country's traditionally recognized deadline to file taxes, April 15…. 'I did what was an almost an impossible thing to do for a Republican — easily won the Electoral College! Now Tax Returns are brought up again?' Trump said in one tweet Sunday morning. In another, he suggested that someone 'should look into who paid for the small organized rallies yesterday,' adding: 'The election is over!' The marches were sponsored by a coalition of 69 organizations."
Environmental Protection Agency emerges as major target after Trump solicits policy advice from the manufacturing industry, The Washington Post, Juliet Eilperin, Sunday, 16 March 2017: "Just days after taking office, President Trump invited American manufacturers to recommend ways the government could cut regulations and make it easier for companies to get their projects approved. Industry leaders responded with scores of suggestions that paint the clearest picture yet of the dramatic steps that Trump officials are likely to take in overhauling federal policies, especially those designed to advance environmental protection and safeguard worker rights. Those clues are embedded in the 168 comments submitted to the government after Trump signed a presidential memorandum Jan. 24 instructing the Commerce Department to figure out how to ease permitting and trim regulations with the aim of boosting domestic manufacturing. The Environmental Protection Agency has emerged as the primary target in these comments, accounting for nearly half, with the Labor Department in second place as the subject of more than one-fifth, according to a Commerce Department analysis…. Across the government, administration officials are beginning to flesh out how they can scale back rules imposed by Obama — and, in some cases, his predecessors. Officials are launching websites to take suggestions, holding meetings with chief executives and industry representatives, and drawing up recommendations to submit to the White House…. More than 80 percent of the comments Commerce received on the presidential memorandum came from trade associations or manufacturers. The campaign to roll back regulations has sparked concern among liberal advocacy groups and some former Obama administration officials, who said the federal government must keep long-term consequences in mind as it considers unwinding rules aimed at protecting the environment and workers.… David Michaels, who headed OSHA [Occupational Safety and Health Administration] under Obama and is now a professor at George Washington University's School of Public Health, said, 'The culture of the trade associations in Washington is to attack any new regulation as burdensome, even though the empirical evidence is that they're easily met, they're not burdensome and they save lives.' 'But injured workers don't have a voice in Washington,' he added. 'Trade associations do.'"
Immigration and Customs Enforcement (ICE) immigration arrests of noncriminals double under Trump, The Washington Post, Maria Sacchetti, Sunday, 16 April 2017: "Immigration arrests rose 32.6 percent in the first weeks of the Trump administration, with newly empowered federal agents intensifying their pursuit of not just undocumented immigrants with criminal records, but also thousands of [undocumented] immigrants who have been otherwise law-abiding. U.S. Immigration and Customs Enforcement arrested 21,362 immigrants, mostly convicted criminals, from January through mid-March, compared to 16,104 during the same period last year, according to statistics requested by The Washington Post. Arrests of immigrants with no criminal records more than doubled to 5,441, the clearest sign yet that President Trump has ditched his predecessor's protective stance toward most of the 11 million undocumented immigrants in the United States. Advocates for immigrants say the unbridled enforcement has led to a sharp drop in reports from Latinos of sexual assaults and other crimes in Houston and Los Angeles, and terrified immigrant communities across the United States. A prosecutor said the presence of immigration agents in state and local courthouses, which advocates say has increased under the Trump administration, makes it harder to prosecute crime."
Monday, 17 April 2017, Day 88:
Racism motivated Trump voters more than authoritarianism, The Washington Post, Thomas Wood, Monday, 17 April 2017: "During the 2016 presidential campaign, many observers wondered exactly what motivated voters most: Was it income? Authoritarianism? Racial attitudes? Let the analyses begin. Last week, the widely respected 2016 American National Election Study was released, sending political scientists into a flurry of data modeling and chart making. The ANES has been conducted since 1948, at first through in-person surveys, and now also online, with about 1,200 nationally representative respondents answering some questions for about 80 minutes. This incredibly rich, publicly funded data source allows us to put elections into historical perspective, examining how much each factor affected the vote in 2016 compared with other recent elections…. [After analyzing the ANES data, Thomas Wood concludes that] racial attitudes made a bigger difference in electing Trump than authoritarianism."
White House Press Secretary Sean Spicer Argues That More Public Disclosure Is Unnecessary, Even Harmful, The New York Times, Glenn Thrush, Monday, 17 April 2017: "White House officials on Monday mustered a sweeping defense of their less-is-more public disclosure practices, arguing that releasing information on a wide array of topics would strike a blow against personal privacy and impede President Trump's ability to govern. This stance, critics say, represents a shift from Mr. Trump's own drain-the-swamp campaign message and his promise to decrease the influence of lobbyists, special interest groups and big political donors. Sean Spicer, the White House press secretary, facing a barrage of questions about the president's commitment to transparency, repeatedly shut down reporters' queries — from the identity of Mr. Trump's weekend golf partners to his refusal to release his 2016 tax returns. Mr. Spicer said that greater public disclosure was unnecessary, intrusive or even harmful."
Trump Congratulates President Recep Tayyip Erdogan on Turkey Vote Cementing His Rule, The New York Times, Mark Landler, Monday, 17 April 2017: "President Trump called President Recep Tayyip Erdogan of Turkey on Monday to congratulate him on winning a much-disputed referendum that will cement his autocratic rule over the country and, in the view of many experts, erode Turkey's democratic institutions. Those concerns were not mentioned in a brief readout of the phone call that the White House released Monday night…. The statement did not say whether Mr. Trump had raised independent reports of voting irregularities during the Turkish referendum or the government's heavy-handed tactics in the weeks leading up to it, when the country was under a state of emergency. The State Department noted both issues in a more cautious, less laudatory statement issued a few hours earlier. The White House was also silent about the long-term implications of the referendum, which some experts have likened to a deathblow to democracy in Turkey. Mr. Erdogan's narrow victory, in effect, ratifies his authoritarian rule…. Mr. Trump and Mr. Erdogan are viewed as ideological bedfellows: They are populist leaders with little patience for the courts or other checks on their power. But Mr. Erdogan has taken his authoritarian bent to an extreme, imposing the state of emergency and purging the opposition, academia and the army after a failed coup last year."
Tuesday, 18 April 2017, Day 89:
North Korea warns 'thermonuclear war could break out at any moment,' The Guardian, Justin McCurry, Tuesday, 18 April 2017: "A senior North Korean official has accused the US of turning the Korean peninsula into 'the world's biggest hotspot' and creating 'a dangerous situation in which a thermonuclear war may break out at any moment.' North Korea's deputy UN ambassador, Kim In-ryong, described US-South Korean military exercises as the largest ever 'aggressive war drill' and said his country was 'ready to react to any mode of war desired by the US.' Kim's warning came as the US vice-president, Mike Pence, assured Japan that Washington would work closely with its allies in the region to bring about a peaceful resolution to the crisis and denuclearise the Korean peninsula."
Aircraft Carrier U.S.S. Carl Vinson Wasn't Sailing to Deter North Korea, as U.S. Officials Said, The New York Times, Mark Landler and Eric Schmitt, Tuesday, 18 April 2017: "Just over a week ago, the White House declared that ordering an American aircraft carrier into the Sea of Japan would send a powerful deterrent signal to North Korea and give President Trump more options in responding to the North's provocative behavior. 'We're sending an armada,' Mr. Trump said to Fox News last Tuesday afternoon [11 April 2017]. The problem was that the carrier, the Carl Vinson, and the three other warships in its strike force were that very moment sailing in the opposite direction, to take part in joint exercises with the Australian Navy in the Indian Ocean, 3,500 miles southwest of the Korean Peninsula. White House officials said Tuesday that they had been relying on guidance from the Defense Department. Officials there described a glitch-ridden sequence of events, from an ill-timed announcement of the deployment by the military's Pacific Command to a partially erroneous explanation by the defense secretary, Jim Mattis — all of which perpetuated the false narrative that a flotilla was racing toward the waters off North Korea. By the time the White House was asked about the Carl Vinson, its imminent arrival had been emblazoned on front pages across East Asia, fanning fears that Mr. Trump was considering a pre-emptive military strike. It was portrayed as further evidence of the president's muscular style days after he ordered a missile strike on Syria that came while he and President Xi Jinping of China chatted over dessert during a meeting in Florida. With Mr. Trump himself playing up the show of force, Pentagon officials said, rolling back the story became difficult." See also, Donald Trump, North Korea, and the Case of the Phantom Armada, The New Yorker, Amy Davidson, published on Wednesday, 19 April 2017.
Trump signs 'Buy American, Hire American' executive order, promising to fight for American workers, The Washington Post, Abby Phillip, Tuesday, 18 April 2017: "President Trump signed an executive order Tuesday that would tighten rules that award visas to skilled foreign workers and directs the federal government to enforce rules that bar foreign contractors from bidding on federal projects. The order is a first effort to promote a 'Buy American, Hire American' agenda, a key promise Trump made during the campaign. Speaking at the headquarters of Wisconsin-based toolmaker Snap-on, Trump said that the order 'declares that the policy of our government is to aggressively promote and use American-made goods and to ensure that American labor is hired to do the job.'… The executive order directs federal agencies to crack down on fraud and abuse in the H-1B visa program, which is heavily used by technology companies. And it directs the federal government to fully enforce federal guidelines prioritizing the use of American firms and goods in federal projects…. While Trump made buying American made products and hiring American workers a theme of his campaign, his business practices often contradicted his political rhetoric. Parts of his clothing line were manufactured abroad and he hired foreign workers at many of his properties." See also, The Emptiness of Trump's "Buy American" Executive Order, The New Yorker, Adam Davidson, published on Thursday, 20 April 2017: "Snap-on Tools is actually a good example of why Buy American is a fairly meaningless phrase. It is no easy feat to find a product manufactured entirely of material from the U.S., produced by people in the U.S., using tools made in the U.S. In this sense, the executive order recognizes that no blanket order to buy only American will work. The products we buy are made of raw materials transformed into intermediate goods that are then assembled into a finished product. It's not possible, or even advisable, to insure that an entire production chain will occur in one country. So a politician who wants to increase the percentage of American-made content in the products that are sold here needs to dig deeper. How will the U.S.-made content of a good be defined? Will it be by weight, by dollar value, by labor hours involved? Each metric would have different findings. A car's bulk, for example, is primarily made up of steel, aluminum, and glass produced by huge machines with not much labor. However, some of the smaller, fussier bits are made by hand in the U.S. Gas tanks, for example, because of strict emissions laws, are surprisingly complex and require a lot of engineering and manual assembly and are often made in the U.S. A gas tank might be relatively cheap and light, but for American workers it's worth a lot more than many tons of steel."
How Trump's 'Hire American' Order May Affect Tech Worker Visas, The New York Times, Vindu Goel, Tuesday, 18 April 2017: "The order makes no immediate changes to work visa programs but tells the Departments of Labor, Justice, Homeland Security and State to study existing laws and procedures and recommend changes. In the case of one program, H-1B temporary visas, the order directs the agencies to suggest changes to help ensure that the visas are awarded to the most skilled, best-paid immigrant workers…. The H-1B program grants 65,000 work visas a year to foreigners, with 20,000 more visas granted to foreigners with advanced degrees and an unlimited number of extra visas available for universities, teaching hospitals and other nonprofit organizations. The program is aimed at highly skilled workers, and most of the visas are awarded to technology companies, although other specialty industries such as fashion also use the visas. (Melania Trump, the first lady, worked as a model on an H-1B visa.) Under federal law, employers that use a large number of H-1B workers are supposed to document that they tried to hire Americans for the jobs. All H-1B employers are also required to pay prevailing wages to the immigrant workers who receive the visas. Labor Department data shows that about 40 percent of the visas go to entry-level workers and another 40 percent go to people with limited experience and skills. The Trump administration says that more of the jobs performed by those people could and should be filled by Americans…. Foreign workers can…be abused by the visa programs. The H-1B visa is tied to a specific employer, which means the visa holder cannot easily change jobs. Representative Zoe Lofgren, Democrat of California, who has long pushed for changes, said some H-1B holders earned less than their stated salaries because they were forced to repay their employer for various expenses, such as travel…. Many in Congress support changing the H-1B lottery system to give preference to the highest-paying jobs. 'We should allocate visas based on who wants to pay the highest salary to avoid undercutting the wages of American workers,' said Ms. Lofgren, who has sponsored one of several bills on the topic. Such a change would favor established American technology companies, which tend to pay high wages, and hurt the outsourcing companies, which hire immigrants to do more basic work at lower wages. But there is a risk of collateral damage to start-ups, which pay less in cash but award stock to new hires, and to hospitals, which recruit immigrants for nursing and other nontech jobs."
Ivanka Trump Cleared Hurdle for Chinese Trademarks on the Same Day She Dined With the President of China, Xi Jinping, Los Angeles Times, Associated Press, Tuesday, 18 April 2017: "On April 6, Ivanka Trump's company won provisional approval from the Chinese government for three new trademarks, giving it monopoly rights to sell Ivanka brand jewelry, bags and spa services in the world's second-largest economy. That night, the first daughter and her husband, Jared Kushner, sat next to the president of China and his wife for a steak and Dover sole dinner at Mar-a-Lago, her father's Florida resort. The scenario underscores how difficult it is for Trump, who has tried to distance herself from the brand that bears her name, to separate business from politics in her new position at the White House. It was announced March 20 that Trump, one of her father's closest advisors, would get a West Wing office, government-issued communications devices and a security clearance to receive classified information, though she would not have an official title."
Border Wall with Mexico Could Cost 3 Times Estimates, Senate Democrats' Report Says, The New York Times, Ron Nixon, Tuesday, 18 April 2017: "President Trump's plans to build a border wall could cost more than three times as much as initial estimates, Senate Democrats said in a report released on Tuesday, adding that the administration has yet to provide Congress with evidence to show that a wall would be effective in stopping the flow of illegal immigration and drugs. The report said the border wall could cost nearly $70 billion to build and $150 million a year to maintain. An internal report by the Department of Homeland Security said the wall could cost about $21.6 billion, not including maintenance. The report, which was prepared by the Democratic staff of the Homeland Security and Governmental Affairs Committee, also found that the construction of a wall would require taking hundreds of acres of private land at a cost of millions to taxpayers and would divert money from crucial mobile video surveillance technology."
Trump Raised $107 Million for His Inauguration Festivities, Doubling Record, The New York Times, Nicholas Fandos, Tuesday, 18 April 2017: "President Trump raised twice as much money for his inauguration festivities as any previous president-elect in history, pulling in tens of millions of dollars from wealthy donors and large corporations eager to woo the nation's new chief executive in the days after his unexpected victory. Disclosures filed with the Federal Election Commission on Tuesday showed the contributions from corporate executives, lobbyists and businesses, as well as small donors, totaled $107 million. The previous record was held by President Barack Obama, who raised $53 million for his 2009 inauguration. Mr. Trump's inaugural committee is not required to report how it spent the money on his inauguration festivities, which included more than 20 events and drew modest crowds in January. In a statement on Tuesday, the committee said it was still identifying charities toward which it would direct leftover money, although it did not detail how much was left…. The report is likely to only intensify questions about Mr. Trump's commitment to the populist ideas raised in recent weeks by several policy shifts and realignments among White House staff. Inaugural committees face few of the regulations that limit campaigns in what they can raise and how they can go about raising it. In practice, that has left it up to each administration to determine its own restrictions." See also, Trump Inaugural Drew Big Dollars From Donors With Vested Interests, The New York Times, Nicholas Confessore, Nicholas Fandos and Rachel Shorey, published on Wednesday, 19 April 2017. And see also, From N.F.L. Owners to Florida Retirees, a Who's Who of Inaugural Donors, The New York Times, Nicholas Fandos and Rachel Shorey, published on Thursday, 20 April 2017.
U.S. says Iran is in compliance with the nuclear deal but orders review on lifting sanctions, Reuters, Lesley Wroughton, published on Wednesday, 19 April 2017: "The Trump administration said on Tuesday it was launching an inter-agency review of whether the lifting of sanctions against Iran was in the United States' national security interests, while acknowledging that Tehran was complying with a deal to rein in its nuclear program. In a letter to U.S. House of Representatives Speaker Paul Ryan, the top Republican in Congress, on Tuesday U.S. Secretary of State Rex Tillerson said Iran remained compliant with the 2015 deal, but said there were concerns about its role as a state sponsor of terrorism. Under the deal, the State Department must notify Congress every 90 days on Iran's compliance under the so-called Joint Comprehensive Plan of Action (JCPOA). It is the first such notification under U.S. President Donald Trump. 'The U.S. Department of State certified to U.S. House Speaker Paul Ryan today that Iran is compliant through April 18 with its commitments under the Joint Comprehensive Plan of Action,' Tillerson said in a statement. 'President Donald J. Trump has directed a National Security Council-led interagency review of the Joint Comprehensive Plan of Action that will evaluate whether suspension of sanctions related to Iran pursuant to the JCPOA is vital to the national security interests of the United States,' Tillerson added."
Trump's Indonesian Allies Are in Bed With ISIS-Backed Militia Seeking to Oust Indonesia's Elected President Joko Widodo, The Intercept, Allan Nairn, Tuesday, 18 April 2017: "Associates of Donald Trump in Indonesia have joined army officers and a vigilante street movement linked to ISIS in a campaign that ultimately aims to oust the country's president. According to Indonesian military and intelligence officials and senior figures involved in what they call 'the coup,' the move against President Joko Widodo (known more commonly as Jokowi), a popular elected civilian, is being impelled from behind the scenes by active and retired generals. Prominent supporters of the coup movement include Fadli Zon, vice speaker of the Indonesian House of Representatives and Donald Trump's main political booster in the country; and Hary Tanoe, Trump's primary Indonesian business partner, who is building two Trump resorts, one in Bali and one outside Jakarta. This account of the movement to overthrow President Jokowi is based on dozens of interviews and is supplemented by internal army, police, and intelligence documents I obtained or viewed in Indonesia, as well as by NSA intercepts obtained by NSA whistleblower Edward Snowden. Many sources on both sides of the coup spoke on condition of anonymity. Two of them expressed apparently well-founded concerns about their safety."
U.S. Deported Immigrant Juan Manuel Montes in 'Dreamer' Program, Lawsuit Says, The New York Times, Miriam Jordan, Tuesday, 18 April 2017: "A federal lawsuit filed Tuesday accused the government of deporting an undocumented immigrant who had been allowed to remain in the country under an Obama-era program that President Trump promised to maintain. Lawyers for the immigrant, Juan Manuel Montes, 23, who had been living in the United States since age 9, said he was the first recipient of Deferred Action for Childhood Arrivals, or DACA, to be removed from the country. 'His case is emblematic,' said Marielena Hincapié, executive director of the National Immigration Law Center, one of the parties that filed the lawsuit. 'It shows that people with valid DACA may be at risk despite President Trump's statements to the contrary.'  On Wednesday, the Department of Homeland Security disputed the lawsuit's account of Mr. Montes's deportation, saying Mr. Montes had originally left the country on his own. According to the complaint, filed in Federal District Court in Southern California, agents with Customs and Border Protection 'arrested, detained and physically removed' Mr. Montes after stopping him while he was walking in the border town of Calexico, Calif., on Feb. 17. Ms. Hincapié said that Mr. Montes, who is cognitively impaired because of a brain injury he suffered as a child, told agents that he had left his wallet, with his documents, in a friend's car. They denied his request to have a relative retrieve them, she said."
Southern Poverty Law Center sues neo-Nazi leader Andrew Anglin who targeted a Jewish woman, Tanya Gersh, in an anti-Semitic harassment campaign, Southern Poverty Law Center, Tuesday, 18 April 2017: "The Southern Poverty Law Center, along with its Montana co-counsel, filed suit in federal court today against the founder of a major neo-Nazi website who orchestrated a harassment campaign that has relentlessly terrorized a Jewish woman and her family with anti-Semitic threats and messages. The lawsuit describes how Andrew Anglin used his web forum, the Daily Stormer – the leading extremist website in the country – to publish 30 articles urging his followers to launch a 'troll storm' against Tanya Gersh, a real estate agent in Whitefish, Montana. Gersh, her husband and 12-year-old son have received more than 700 harassing messages since December. The intimidation began after Anglin accused Gersh of attempting to extort money from the mother of Richard Spencer. The younger Spencer heads the National Policy Institute, a white nationalist organization. Anglin and Spencer are both prominent leaders of the 'alt-right' movement that rallied white nationalists behind President Donald Trump's campaign."
The Continuing Fallout From Trump and Nunes's Fake Scandal, The New Yorker, Ryan Lizza, Tuesday, 18 April 2017: "Recently, several members and staffers on the House Intelligence Committee, which is investigating Russia's role in the Presidential election, visited the National Security Agency, in Fort Meade, Maryland. Inside the enormous black glass headquarters of America's largest spy agency, the congressmen and their aides were shown a binder of two to three dozen pages of highly classified intercepts, mostly transcripts of conversations between foreign government officials that took place during the Presidential transition. These intercepts were not related to the heart of the committee's Russia investigation…. The binder of secret documents is at the center of the bizarre scandal created by what may be the most reckless lie President Trump has ever told. On March 4th, he tweeted, 'Terrible! Just found out that Obama had my "wires tapped" in Trump Tower just before the victory. Nothing found. This is McCarthyism!' The White House made several efforts to justify Trump's claim, including using Devin Nunes, the chairman of the House Intelligence Committee, as a conduit for the documents, which allegedly offered some substantiation. A former Nunes staffer now working for the White House dug up the transcripts and shared them with Nunes. As Bloomberg View reported, earlier this month, Susan Rice, Obama's national-security adviser, had used a process that allowed her to request that the masked names be revealed to her…. It is now clear that the scandal was not Rice's normal review of the intelligence reports but the coördinated effort between the Trump Administration and Nunes to sift through classified information and computer logs that recorded Rice's unmasking requests, and then leak a highly misleading characterization of those documents, all in an apparent effort to turn Rice, a longtime target of Republicans, into the face of alleged spying against Trump. It was a series of lies to manufacture a fake scandal. Last week, CNN was the first to report that both Democrats and Republicans who reviewed the Nunes material at the N.S.A. said that the documents provided "no evidence that Obama Administration officials did anything unusual or illegal…. Nunes is being investigated by the House Ethics Committee because, in talking about the documents, he may have leaked classified information. But this is like getting Al Capone for tax evasion. The bigger scandal is the coördinated effort to use the American intelligence services to manufacture an excuse for Trump's original tweet."
Wednesday, 19 April 2017, Day 90:
Exxon Mobil Seeks U.S. Sanctions Waiver to Resume Oil Venture with Russian Oil Giant Rosneft, The Wall Street Journal, Jay Solomon and Gradley Olson, Wednesday, 19 April 2017: "Exxon Mobil Corp. has applied to the Treasury Department for a waiver from U.S. sanctions on Russia in a bid to resume its joint venture with state oil giant PAO Rosneft, according to people familiar with the matter. Exxon has been seeking U.S. permission to drill with Rosneft in several areas banned by sanctions and renewed a push for approval in March, shortly after its most recent chief executive, Rex Tillerson, became secretary of state on Feb. 1, according to one of these people. The company originally applied for a waiver to gain access to the Black Sea in July 2015 but its application wasn't approved, the person said. The waiver request is likely to be closely scrutinized by members of Congress who are seeking to intensify sanctions on Russia in response to what the U.S. said was its use of cyberattacks to interfere with elections last year. Congress has also launched an investigation into whether there were ties between aides to Donald Trump and Russia's government during the presidential campaign and the political transition. Mr. Tillerson during his time at Exxon forged a close working relationship with Russian President Vladimir Putin and with Rosneft, a company that is critical to Russia's oil-reliant economy. The State Department is among the U.S. government agencies that have a say on Exxon's waiver application, which was made to the Treasury Department's Office of Foreign Assets Control, according to current and former U.S. officials. Mr. Tillerson is recusing himself from any matters involving Exxon for two years, and won't be involved with any decision made by any government agency involving Exxon during this period, a State Department spokesman said."
Republican Representative Jason Chaffetz of Utah, Powerful Chairman of the House Oversight Committee, Won't Run for Reelection in 2018, The New York Times, Emmarie Huetteman and Matt Flegenheimer, Wednesday, 19 April 2017: "Representative Jason Chaffetz, the powerful chairman of the House oversight committee, told supporters on Wednesday that he would not seek re-election to Congress — or run for any office — in 2018. Mr. Chaffetz, 50, a Utah Republican who relished his oversight role more under a Democratic administration, said he was ready to return to the private sector after more than 13 years in public service, calling his decision a 'personal' one…. More than 18 months out from the election in the heavily Republican district, there were already possible signs of a challenging race in Mr. Chaffetz's future…. Last year, Mr. Chaffetz publicly weighed running for governor of Utah in 2020, when his committee chairmanship would expire….  [W]ith Mr. Trump's surprise victory in November, Mr. Chaffetz found himself in an uncomfortable position: a watchdog who often sounded disinclined to watch over a fellow Republican…. A spokeswoman for the Democratic National Committee was critical of Mr. Chaffetz's treatment of Mr. Trump. 'Chaffetz refused to hold Trump and his family accountable for using the presidency to pad their bank accounts at the expense of Americans,' the spokeswoman, Adrienne Watson, said in a statement Wednesday. Other disputes had nothing to do with oversight. Last month [March], as his party bickered over how to replace President Barack Obama's signature health care law, Mr. Chaffetz came under fire for suggesting that uninsured Americans should spend money on their own health care 'rather than getting that new iPhone that they just love.'"
Trump Adviser Carter Page's July 2016 Visit to Moscow Sent the F.B.I. Digging, The New York Times, Scott Shane, Mark Mazzetti and Adam Goldman, Wednesday, 19 April 2017: "Ever since F.B.I. investigators discovered in 2013 that a Russian spy was trying to recruit an American businessman named Carter Page, the bureau maintained an occasional interest in Mr. Page. So when he became a foreign policy adviser to the Trump campaign last year and gave a Russia-friendly speech at a prestigious Moscow institute, it soon caught the bureau's attention. That trip last July was a catalyst for the F.B.I. investigation into connections between Russia and President Trump's campaign, according to current and former law enforcement and intelligence officials. It is unclear exactly what about Mr. Page's visit drew the F.B.I.'s interest: meetings he had during his three days in Moscow, intercepted communications of Russian officials speaking about him, or something else."
Bill O'Reilly's Fox News career comes to a swift end amid growing sexual harassment claims, The Washington Post, Paul Farhi, Wednesday, 19 April 2017: "Fox News on Wednesday ended its association with Bill O'Reilly, the combative TV host and commentator who has ruled cable-news ratings for nearly two decades and was the signature figure in the network's rise as a powerful political player. The conservative-leaning host's downfall was swift and steep, set in motion less than three weeks ago by revelations of a string of sexual harassment complaints against him. The questions about his conduct represented yet another black eye to Fox, which had dealt with a sexual harassment scandal involving its co-founder and then-chairman Roger Ailes, just last summer…. The end for O'Reilly was set in motion by a scathing New York Times investigation in early April that revealed that he and Fox had settled five allegations of harrassment brought by Fox employees over a 15-year period. The company and O'Reilly paid out $15 million in exchange for his accusers' silence. The Murdochs were well aware of the allegations against O'Reilly when they re-signed their star commentator to a new three-year contract that pays him around $18 million a year. In preparing their story, reporters for the New York Times had sent Fox's executives a long list of questions, placing senior executives on alert months in advance of its publication…. Shortly after the Times published its story, advertisers began to flee O'Reilly's program…. The Murdochs ultimately concluded that O'Reilly was vulnerable to further complaints and that the continuing publicity about them would make him untenable in advertisers' eyes. In addition to O'Reilly and Ailes, Fox has also lost popular hosts Greta Van Susteren and Megyn Kelly since the turmoil began last summer. The network, however, continued to roll in record ratings, driven in part by viewer interest in Donald Trump, a longtime friend of Ailes, Murdoch and O'Reilly and a frequent interview guest on Fox programs, including 'The O'Reilly Factor.'… In the end, even an endorsement from President Trump could not save O'Reilly: In an interview with Times reporters on April 5, Trump called O'Reilly 'a good person' and said he should not have settled the complaints made against him. 'I don't think Bill did anything wrong,' Trump said."
How Trump and congressional Republicans are undercutting wages and protections for working people, Economic Policy Institute, Heidi Shierholz and Samantha Sanders, Wednesday, 19 April 2017: "We are nearly 100 days into President Donald Trump's administration, a benchmark that gives us a chance to take stock of what the president and new Congress have accomplished and what their priorities are. We have seen a flurry of activity—from legislation and executive orders, as well as actions taken (or not taken) by the administration—that, sometimes subtly, shift power away from working people and towards corporations and the 1 percent. Some of these actions have been high profile, but others have gone almost unnoticed. Taken together, they undercut wages and protections for working people. EPI's Perkins Project tracks actions by the administration, Congress, and the courts that affect people's wages and their rights at work. [This article enumerates] the top ten things the president and Congress have done that affect working people. For more, see our Worker Rights and Wages Policy Watch, which is continuously updated with information on the steps taken that affect workers."
Emirates cuts U.S. flights; cites 'weakened' demand after Trump travel policies, USA Today, Ben Mutzabaugh, Wednesday, 19 April 2017: Emirates airline is reducing its schedule to the United States, saying demand has dropped in the wake of a new electronics ban for carry-ons and broader attempts by the Trump administration to restrict travelers from several Muslim-majority nations. Emirates will not cut any of its 12 U.S. destinations, but it will pare the number of flights it flies to five of those. 'This is a commercial decision in response to weakened travel demand to U.S.,' Emirates said in a statement provided to USA TODAY's Today in the Sky blog. 'The recent actions taken by the U.S. government relating to the issuance of entry visas, heightened security vetting, and restrictions on electronic devices in aircraft cabins, have had a direct impact on consumer interest and demand for air travel into the U.S.' Though the carrier did not specifically cite President Trump, Emirates said demand for travel to the U.S. had dropped considerably since January, which is when he took office."
Thursday, 20 April 2017, Day 91:
The Justice Department is debating charges against WikiLeaks members in revelations of diplomatic and CIA materials, The Washington Post, Matt Zapotosky and Ellen Nakashima, Thursday, 20 April 2017: "Federal prosecutors are weighing whether to bring criminal charges against members of the WikiLeaks organization, taking a second look at a 2010 leak of diplomatic cables and military documents and investigating whether the group bears criminal responsibility for the more recent revelation of sensitive CIA cyber-tools, according to people familiar with the case. The Justice Department under President Barack Obama decided not to charge WikiLeaks for revealing some of the government's most sensitive secrets — concluding that doing so would be akin to prosecuting a news organization for publishing classified information. Justice Department leadership under President Trump, though, has indicated to prosecutors that it is open to taking another look at the case, which the Obama administration did not formally close. It is not clear whether prosecutors are also looking at WikiLeaks' role last year in publishing emails from the Democratic National Committee and the account of Hillary Clinton campaign chairman John D. Podesta, which U.S. officials have said were hacked by the Russian government. Officials have said individuals 'one step' removed from the Kremlin passed the stolen messages to WikiLeaks as part of a broader Russian plot to influence the 2016 presidential election. Prosecutors in recent weeks have been drafting a memo that contemplates charges against members of the WikiLeaks organization, possibly including conspiracy, theft of government property or violating the Espionage Act, officials said. The memo, though, is not complete, and any charges against members of WikiLeaks, including founder Julian Assange, would need approval from the highest levels of the Justice Department."
The US Charging Julian Assange Could Put Press Freedom on Trial, Wired, Andy Greenberg, Thursday, 20 April 2017: "Julian Assange has made himself a difficult figure to love. The organization he created, WikiLeaks, has spilled secrets that infuriate the right and, more recently, the left side of the political aisle. He burns all bridges, alienates friends, and sees enemies everywhere…. But if the US Department of Justice prosecutes Assange, as it reportedly may soon, he could become something else: the first journalist in modern history to be criminally charged by American courts for publishing classified information. WikiLeaks may not look like a traditional journalism outlet, but it shares the same ends—publishing true information from its sources. And that means legal action against Assange could threaten the freedom of the press as a whole. 'Any prosecution would be incredibly dangerous for the First Amendment and pretty much every reporter in the United States,' says Trevor Timm, executive director of the Freedom of the Press Foundation. 'You can hate WikiLeaks all you want, but if they're prosecuted, that precedent can be turned around and used on all the reporters you do like.'… [A]s controversial as its publications have been, WikiLeaks and its defenders have argued they were also the work of journalists—albeit ones with a radical adherence to principles of transparency, and new tools for soliciting material from sensitive sources. That work, just as much as any newspaper, magazine or blog, is protected under the free speech guarantees of the First Amendment." See also, As U.S. Prepares Arrest Warrant for Julian Assange, Glenn Greenwald Says Prosecuting WikiLeaks Threatens Press Freedom for All, Democracy Now!, Amy Goodman, aired on Friday, 21 April 2017.
Attorney General Jeff Sessions doesn't think a judge on 'an island in the Pacific'–a.k.a. Hawaii–should overrule Trump's travel ban, The Washington Post, Aaron Blake, Thursday, 20 April 2017: "First, candidate Donald Trump said a judge of Mexican descent couldn't give him a fair hearing. Now, President Trump's attorney general, Jeff Sessions, is suggesting that a judge from Hawaii — which he dismissively labels 'an island in the Pacific' — should not be able to strike down Trump's travel ban. Here's what Sessions told radio host Mark Levin on Wednesday, in audio uncovered by CNN's Andrew Kaczynski:
We are confident that the president will prevail on appeal and particularly in the Supreme Court, if not the Ninth Circuit. So this is a huge matter. I really am amazed that a judge sitting on an island in the Pacific can issue an order that stops the president of the United States from what appears to be clearly his statutory and Constitutional power.
There are a few problems with this. The first is that Hawaii is a state and has been since 1959. Dismissing it as 'an island in the Pacific' is the kind of thing that will earn you the pleasure of apologizing to an entire state. We'll start the countdown clock. The second is that the judge isn't a Hawaiian judge, per se. Derrick Watson is actually a federal judge who happens to serve on a district court in Hawaii. And in case you were wondering, he has some of that all-important mainland experience and perspective, having worked as a lawyer in San Francisco. And the third is that Hawaii does have major ports of entry, with international travelers arriving regularly. (We hear the beaches are nice or something?) Hence, it is affected by Trump's travel ban." See also, Attorney General Jeff Sessions Dismisses Hawaii as 'an Island in the Pacific,' The New York Times, Charlie Savage, Thursday, 20 April 2017: "Attorney General Jeff Sessions spoke dismissively about the State of Hawaii while criticizing a Federal District Court ruling last month that blocked the Trump administration from carrying out its ban on travel from parts of the Muslim world…. Mr. Sessions's description of Hawaii [as 'an island in the Pacific'], where the federal judge who issued the order, Derrick K. Watson, has his chambers, drew a rebuke from both of the United States senators who represent the state. Annexed as a territory of the United States in the late 19th century, Hawaii became the 50th state in 1959. 'Hawaii was built on the strength of diversity & immigrant experiences — including my own,' Senator Mazie Hirono, Democrat of Hawaii, wrote on Twitter. 'Jeff Sessions' comments are ignorant & dangerous.' The other senator from Hawaii, Brian Schatz, who is also a Democrat, expressed similar sentiments, writing on Twitter: 'Mr. Attorney General: You voted for that judge. And that island is called Oahu. It's my home. Have some respect.'"
Trump Targets Steel Trade, but China Will Be Tough to Contain, The New York Times, Keith Bradsher, Thursday, 20 April 2017: "Invoking an obscure trade law, President Trump signed an executive order on Thursday for a 270-day review to determine whether steel imports were harming national security. If the Commerce Department does find harm, Mr. Trump will have up to 90 days to decide whether to impose broad import restrictions. China is an obvious target of the order, though the impact could ripple worldwide. While only about 2 percent of American steel imports come directly from China, global steel makers and industry experts blame China for shipping its surplus steel to other countries, which drives down prices and prompts those countries to further process the steel into high-value products for export to the United States. The Trump administration, which has made it clear that it will take a more aggressive stance on steel, has suggested it could bring trade actions against those countries as well."
Trump Roars Again on Trade, Reviewing Steel and Chiding Canada, The New York Times, Mark Landler, Thursday, 20 April 2017: "President Trump added a new name Thursday to the list of countries he accuses of preying on American workers and exploiting naïve American trade policies: Canada. 'What they've done to our dairy farm workers is a disgrace,' Mr. Trump said as he ordered a sweeping investigation into whether steel imports are harming America's national security. 'We can't let Canada or anybody else take advantage and do what they did to our workers and to our farmers.' Mr. Trump admitted he was going off script because the steel order is aimed at more familiar trade boogeymen like China and Japan. But his outburst in the Oval Office toward a friendly neighbor punctuated a week when tough talk on trade took center stage in a White House deeply divided over how aggressively to erect the trade barriers that Mr. Trump promised during his campaign…. Mr. Trump's steel investigation is much broader than dozens of anti-dumping cases against China and other exporters filed by the Obama administration and its predecessors. It invokes a somewhat novel principle of using national security as the criterion for whether the imports are damaging the United States. The narrow argument is that a depleted American steel industry would be unable to produce enough steel to supply the military. More broadly, White House officials say an economically vibrant country is better able to defend itself…. 'Nafta, whether it's Mexico or Canada, is a disaster for our country,' he said. 'It's a disaster, it's a trading disaster.' Mr. Trump's disparagement of Nafta led to his unexpected sideswipe of Canada. The president had a cordial meeting with Prime Minister Justin Trudeau, and Mr. Trudeau even took his daughter, Ivanka, to a Broadway show. None of that spared the Canadians from the president's anger over how they protect their dairy industry — an issue that flared up after 75 dairy farmers in Wisconsin lost their main milk buyer because of a trade dispute with Canada."
Trump condos worth $250 million pose potential conflicts-of-interest, USA Today, Nick Penzenstadler, Steve Reilly and John Kelly, Thursday, 20 April 2017: "A USA TODAY investigation discovered that anyone could potentially buy multimillion dollar condos from President Trump. The investigation reveals the most complete picture yet of the staggering inventory and value of Trump-owned real estate. President Trump's companies own more than 400 condo units and home lots whose sale could steer millions of dollars to Trump, a USA TODAY investigation has found. USA TODAY spent four months cataloging every property Trump's companies own across the country. Reporters found that Trump's companies are sitting on at least $250 million of individual properties in the USA alone. Property records show Trump's trust and his companies own at least 422 luxury condos and penthouses from New York City to Las Vegas, 12 mansion lots on bluffs overlooking his golf course on the Pacific Ocean and dozens more smaller pieces of real estate. The properties range in value from about $200,000 to $35 million each. Unlike developments where Trump licenses his name to a separate developer for a flat fee, profits from selling individual properties directly owned by his companies ultimately enrich him personally. The volume of real estate creates an extraordinary and unprecedented potential for people, corporations or foreign interests to try to influence a president. Anyone who wanted to court favor with the president could snap up multiple properties or purposefully overpay. They could buy in the name of a shell company, making it impossible for the public to know who was behind the sales. The potential for conflicts is exacerbated by Trump's refusal to release his tax returns or fully separate himself from his businesses, breaking with precedent set by presidents going back four decades. Since Congress passed the Ethics in Government Act in 1978, all six presidents from Carter to Obama established blind trusts or limited investments to assets like mutual funds. Trump has not. The president is exempt from most conflict-of-interest laws that apply to others working in the federal government. He is not required to disclose when units sell or who bought them."
The Federal Communications Commission clears the way for big TV mergers and eases broadband price limits, Los Angeles Times, Jim Puzzanghera, Thursday, 20 April 2017: "The Federal Communications Commission on Thursday accelerated its deregulation push under Republican control, voting to ease limits on broadcast TV ownership and prices that large telecom companies can charge businesses and governments for bulk broadband services…. Thursday's changes, advocated by the agency's new chairman, Ajit Pai, and approved on party-line votes, reverse initiatives the FCC pursued under Democratic leadership during the Obama administration. Consumer groups and some lawmakers warned that the deregulation steps would trigger more media consolidation and higher prices for consumers. The moves came as Pai is expected to soon try to roll back the controversial net neutrality rules for online traffic that were pushed through by former chairman Tom Wheeler."
Pesticide maker Dow Chemical tries to get the Trump administration to kill risk study findings by federal scientists, Associated Press, Michael Biesecker, Thursday, 20 April 2017: "Dow Chemical is pushing the Trump administration…to ignore the findings of federal scientists who point to a family of widely used pesticides as harmful to about 1,800 critically threatened or endangered species. Lawyers representing Dow, whose CEO is a close adviser to Trump, and two other manufacturers of organophosphates sent letters last week to the heads of three of Trump's Cabinet agencies. The companies asked them 'to set aside' the results of government studies the companies contend are fundamentally flawed. Dow Chemical wrote a $1 million check to help underwrite Trump's inaugural festivities, and its chairman and CEO, Andrew Liveris, heads a White House manufacturing working group. The industry's request comes after EPA Administrator Scott Pruitt announced last month he was reversing an Obama-era effort to bar the use of Dow's chlorpyrifos pesticide on food after recent peer-reviewed studies found that even tiny levels of exposure could hinder the development of children's brains. In his prior job as Oklahoma's attorney general, Pruitt often aligned himself in legal disputes with the interests of executives and corporations who supported his state campaigns. He filed more than a dozen lawsuits seeking to overturn some of the same regulations he is now charged with enforcing."
Republicans Sell Access to Congressional Staffers, Flouting Cardinal Ethics Rule, The Intercept, Lee Fang and Nick Surgey, Thursday, 20 April 2017: "Congressional Republicans are baldly enticing donors with the promise of meetings with senior legislative staff, effectively placing access to congressional employees up for sale to professional influence peddlers and other well-heeled interests. Documents obtained by The Intercept and the Center for Media and Democracy show that the National Republican Senatorial Committee and the National Republican Congressional Committee are both telling donors that in exchange for campaign contributions, they will receive invitations to special events to meet with congressional staff including chiefs of staff, leadership staffers, and committee staffers. While selling donors access to senators and representatives and their campaign staff is nothing new, the open effort to sell access to their legislative staff — the taxpayer-funded government employees who work behind the scenes to write legislation, handle investigations, and organize committee hearings — appears to be in violation of ethics rules that prohibit campaigns from using House and Senate resources in any way. Congressional ethics rules flatly forbid Capitol Hill employees from engaging in fundraising activities as part of their official duties. Any explicit fundraising work must be done strictly as a volunteer, and there must be a clear firewall separating government work from campaign work."
Trump says Iran has not 'lived up to the spirit' of the nuclear agreement, The Washington Post, Ashley Parker, Thursday, 20 April 2017: "President Trump on Thursday criticized the nuclear deal with Iran just a day after his secretary of state certified that Iran was complying with the terms of the agreement, calling it 'terrible' and 'as bad as I've ever seen negotiated.' 'As far as Iran is concerned, I think they are doing a tremendous disservice to an agreement that was signed,' Trump said. 'It was a terrible agreement, it shouldn't have been signed, it shouldn't have been negotiated the way it was negotiated. I'm all for agreements, but that was a bad one, as bad as I've ever seen negotiated.' The president's comments came in a nearly 20-minute news conference Thursday afternoon with Italian Prime Minister Paolo Gentiloni, with Trump weighing in on several global trouble spots, including Iran, North Korea and Libya."
Trump's pick for regulatory czar, Neomi Rao, would hand more power to Trump, The Washington Post, Steven Mufson, Thursday, 20 April 2017: "Neomi Rao, a little-known law professor at George Mason University, could soon become one of the most powerful officials in Washington. President Trump has nominated the conservative lawyer to run the obscure but powerful Office of Information and Regulatory Affairs, a gateway through which federal regulations must pass. The office, known as OIRA (pronounced oh-eye-rah), would make Rao the Trump administration's regulatory czar, responsible for vetting and tallying cost estimates for most regulations. The office also resolves conflicts between agencies, and can either sink a rule or send it back for major rewrites. Rao would also be in a position to promote her conservative views. A critic of 'the administrative state' that White House chief strategist Stephen K. Bannon has vowed to deconstruct, Rao has written that the independence of federal agencies should be abolished, their rules subject to White House review, and the heads of those agencies subject to dismissal by the president. In past administrations, the OIRA administrator has played the role of a check on ideology, but with Rao and many department chiefs all pushing for deregulation, OIRA's role as objective analyst could be compromised."
White House Officials, Craving Progress, Push Revised Health Bill, The New York Times, Matt Flegenheimer and Reed Abelson, Thursday, 20 April 2017: "White House officials, desperate to demonstrate progress on President Trump's promise to repeal the Affordable Care Act, are pushing to resurrect a Republican health care bill before his 100th day in office next week…. The latest version of the proposal, published Thursday morning by Politico, would maintain popular benefits in President Barack Obama's signature domestic achievement, like guaranteed coverage for emergency services and maternity care. It would also preserve the health law's ban on insurers rejecting customers with pre-existing medical conditions. But under this Affordable Care Act replacement, states could seek waivers from many of those mandates if they demonstrate that premiums would be lowered, the number of insured people would increase, or 'the public interest of the state' would be advanced. States could request an exemption from the rule intended to ensure that people with pre-existing conditions could not be charged prohibitive premiums — but only if those states establish a high-risk insurance pool."
Trump Administration Ramps Up Threat to Prosecute Immigrant Parents, The Intercept, Ryan Devereaux, published on Friday, 21 April 2017: "The Trump administration is doubling down on a controversial plan to prosecute immigrant parents who pay to have their children smuggled into the U.S. Speaking at a press conference in El Paso, Texas, Thursday, Department of Homeland Security Secretary John Kelly said that when it comes to enforcing the nation's immigration laws, 'everything's on the table. That includes our approach of prosecuting anyone who pays traffickers to smuggle people into the country, especially those who smuggle in children, including family members who pay to have children smuggled into this country,' Kelly said. 'Human smuggling across our border puts individuals, especially children, at great risk of assault, abuse and even death at the hands of the smugglers.'"
U.S. District Judge Gonzalo Curiel, 'Mexican heritage' judge bashed by Trump, will oversee deported 'dreamer' case, The Washington Post, Samantha Schmidt, Thursday, 20 April 2017: "Months before Donald Trump was elected president, he attacked a federal judge assigned a case involving the defunct Trump University, accusing him of being biased because of his Mexican heritage. The unusually personal, racially tinged remarks against U.S. District Judge Gonzalo Curiel alarmed legal experts and spurred fierce criticism from the Republican Party, including House Speaker Paul D. Ryan (R-Wis.). Now, the Trump administration must coincidentally face that same judge in a lawsuit in California filed on behalf of Juan Manuel Montes Bojorquez, who immigration advocates say is one of the first 'dreamers' to be deported under President Trump. Attorneys on behalf of Montes, who was brought to the United States as a child, filed a lawsuit Tuesday demanding that the federal government turn over all information about the 23-year-old's case. They assert the California resident was deported in February despite his status as a 'dreamer' — a beneficiary of President Barack Obama's Deferred Action for Childhood Arrivals (DACA) program. The Department of Homeland Security disputes their claim. Despite conflicting accounts, the allegations heightened existing concerns that DACA recipients are now being targeted for deportation, notwithstanding Trump's pledges to 'show great heart' toward them."
4 Hours at the White House With Ted Nugent, Sarah Palin and Kid Rock, The New York Times, Glenn Thrush, Thursday, 20 April 2017: "Ted Nugent, Kid Rock and Sarah Palin had a fete to remember at the White House for several hours Wednesday night, as President Trump treated the high-profile supporters to a white-china private dinner, a room-by-room tour and free-range policy chat. Mr. Nugent — a guitar demigod, knife-between-the-teeth hunter and conservative provocateur — offered an inside glimpse of a gracious, relaxed and house-proud president with ample time to offer his thoughts on a wide array of topics, from entertainment to existential geopolitical perils. 'We were there for four hours, man!' Mr. Nugent, a 68-year-old Detroit native, said in a telephone interview on Thursday, using a four-letter expletive to signal his amazement at Mr. Trump's willingness to spend so much time with his three casually dressed visitors. 'He gave us a wonderful personal tour of every room and talked about the origins of every carpet and every painting — there was a Monet — and then we had dinner,' said Mr. Nugent, who has referred to former President Barack Obama as a 'mongrel' and to Hillary Clinton with an array of unflattering epithets.… Mr. Nugent, who posed, capped in a camouflage cowboy hat, with a seated Mr. Trump in the Oval Office, was the subject of a 2012 Secret Service investigation after suggesting violence toward Mr. Obama during that year's re-election campaign…. 'Ted Nugent, vile racist who called Obama a subhuman mongrel, feted by Donald Trump. Disgusting, disgraceful,' Norman Ornstein, a progressive political scientist, wrote in a Twitter message."