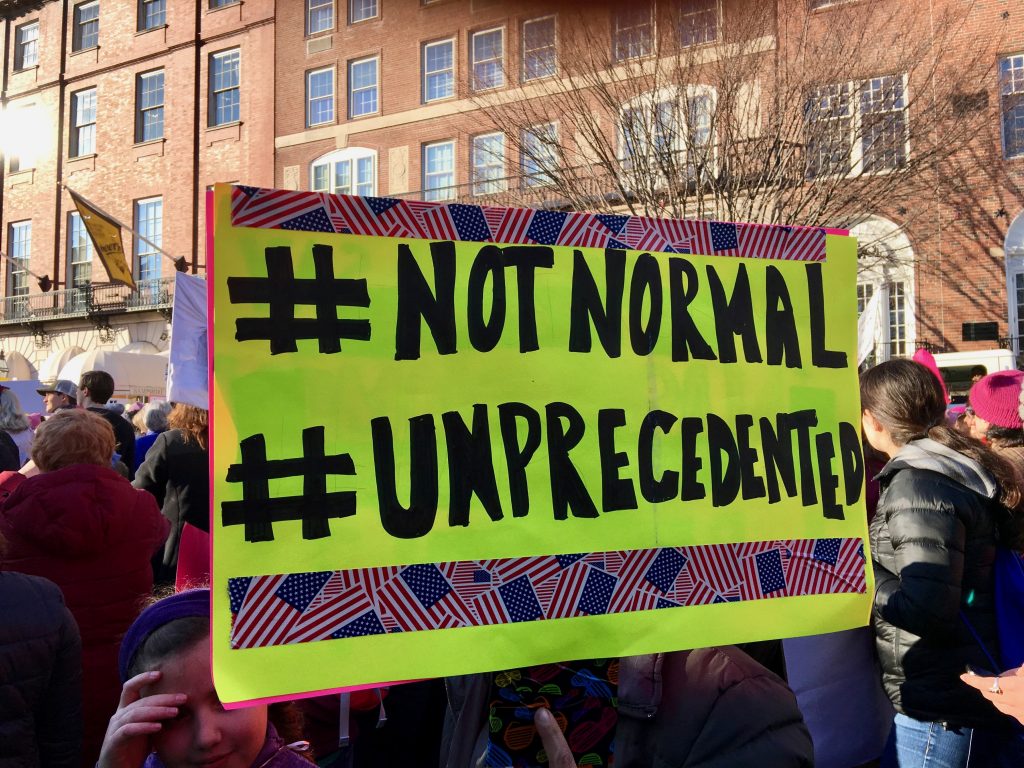 Keeping Track (of some things), Staying Outraged (it is possible), and Resisting (it's essential)
Passages in bold in the body of the texts below are my emphasis. This is an ongoing project, and I update the site frequently. I hope readers will peruse the articles in full for a better understanding of the issues and their context; our democracy and our future depend on citizens who can distinguish between facts and falsehoods and who are engaged in the political process.
Friday, 7 April 2017, Day 78:
Timeline of 63 Hours: From Chemical Attack to Trump's Strike in Syria, The New York Times, Michael D. Shear and Michael R. Gordon, Friday, 7 April 2017: "The decision came Thursday afternoon on Air Force One on the way to Florida. President Trump assembled his National Security Council on his plane, some by secure video link, as the generals made the case that President Bashar al-Assad of Syria had to learn there was a price to pay."… Two hours later at his Mar-a-Lago resort in Palm Beach, Fla., Mr. Trump gave the order to unleash 59 Tomahawk cruise missiles at Al Shayrat airfield in western Syria, where the chemical weapons attack originated. His generals had given him the option of delaying a day, but Mr. Trump chose not to wait. It had been only 63 hours from the chemical attack to the American strike." See also, Who Was in the Room? these Advisers Joined Trump for the Syria Strike, The New York Times, David E. Sanger, Friday, 7 April 2017.
The media loved Trump's show of military might in Syria. Are we really doing this again? The Washington Post, Margaret Sullivan, published on Saturday, 8 April 2017: "The cruise missiles struck, and many in the mainstream media fawned. 'I think Donald Trump became president of the United States last night,' declared Fareed Zakaria on CNN, after the firing of 59 missiles at a Syrian military airfield late Thursday night. (His words sounded familiar, since CNN's Van Jones made a nearly identical pronouncement after Trump's first address to Congress.) 'On Syria attack, Trump's heart came first,' read a New York Times headline. 'President Trump has done the right thing and I salute him for it,' wrote the Wall Street Journal's Bret Stephens — a frequent Trump critic and Pulitzer Prize-winning conservative columnist. He added: 'Now destroy the Assad regime for good.' Brian Williams, on MSNBC, seemed mesmerized by the images of the strikes provided by the Pentagon. He used the word 'beautiful' three times and alluded to a Leonard Cohen lyric — 'I am guided by the beauty of our weapons' — without apparent irony…. Why do so many in the news media love a show of force? 'There is no faster way to bring public support than to pursue military action,' said Ken Paulson, head of the Newseum Institute's First Amendment Center…. Clara Jeffery, editor in chief of Mother Jones, offered a simple explanation: 'It's dramatic. It's good for TV, reporters get caught up in the moment, or, worse, jingoism.'… [E]mpathy as the president's clear motivation is accepted, she said — 'with no mention of the refugee ban keeping those kids out, no mention of Islamophobia that has informed his campaign and administration. How can you write about motive and not explore that hypocrisy?'… Groupthink, and a lack of proper skepticism, is something that we've seen many times before as the American news media watches an administration step to the brink of war." See also, The Spoils of War: Trump Lavished With Media and Bipartisan Praise for Bombing Syria, The Intercept, Glenn Greenwald, Friday, 7 April 2017: "In every type of government, nothing unites people behind the leader more quickly, reflexively or reliably than war. Donald Trump now sees how true that is, as the same establishment leaders in U.S. politics and media who have spent months denouncing him as a mentally unstable and inept authoritarian and unprecedented threat to democracy are standing and applauding him as he launches bombs at Syrian government targets."
Russia Suspends Cooperation With U.S. in Syria After U.S. Missile Strikes, The New York Times, Neil MacFarquhar, Friday, 7 April 2017: "Russia on Friday froze a critical agreement on military cooperation with the United States in Syria after an American military strike, warning that the operation would further corrode already dismal relations between Moscow and Washington. Syria, Russia's ally, condemned the American strikes as 'a disgraceful act.' In addition to suspending the pact to coordinate air operations over Syria, an accord that was meant to prevent accidental encounters between the two militaries, Russia also said it would bolster Syria's air defense systems, and was reported to be planning to send a frigate into the Mediterranean Sea to visit the logistics base at the Syrian port of Tartus…. A statement from the office of President Bashar al-Assad of Syria said the American missile strikes, which President Trump said were a response to a chemical weapons attack in Idlib Province on Tuesday that left more than 80 people dead, was the result of 'a false propaganda campaign.' Syria has denied that it possesses chemical weapons, and Russia held to its view that Mr. Assad had not bombed his own people. The American attack left six people dead, according to the Syrian Army, and a military spokesman described the missile strikes as an act of 'flagrant aggression.'"
Continue reading Week 12, Friday, 7 April – Thursday, 13 April 2017:
Democratic Syria hawks love Trump's airstrikes, Politico, Michael Crowley, Friday, 7 April 2017: "Obama administration officials applauded American action against Assad's regime, even as they continue to doubt the man who approved it. The question tormented Obama administration officials for years: Should we strike at Syrian dictator Bashar Assad or not? Under President Barack Obama, the answer was always no. It took President Donald Trump less than three months to say yes…. 'Obama should have done this four years ago when the problem was easier. History will judge him harshly because he didn't,' said Jane Harman, a former Democratic congresswoman from California who is now director of the Wilson Center, a Washington think tank. 'We have to depersonalize this. Some people don't like Trump, so they're upset that he did this,' she added. 'If a policy is right, congratulate those who are carrying it out.' One longtime proponent of military action against Assad is former Secretary of State John Kerry, who was 'absolutely supportive' of Trump's strike and 'gratified to see that it happened quickly,' according to a person close to the former diplomat. Kerry is watching to see whether more strikes might be coming, this person said, who added that Kerry 'believes if executed correctly and clearly, [military action] can help reenergize the diplomatic channel' to produce a peace deal."
Was Trump's Syria Missile Strike Illegal? Explaining Presidential War Powers, The New York Times, Charlie Savage, Friday, 7 April 2017: "President Trump ordered the military on Thursday to carry out a missile attack on Syrian forces for using chemical weapons against civilians. The unilateral attack lacked authorization from Congress or from the United Nations Security Council, raising the question of whether he had legal authority to commit the act of war. Mr. Trump and top members of his administration initially justified the operation as a punishment for Syria's violating the ban on chemical weapons and an attempt at deterrence. But they did not make clear whether that was a legal argument or just a policy rationale. The strike raises two sets of legal issues. One involves international law and when it is lawful for any nation to attack another. The other involves domestic law and who gets to decide — the president or Congress — whether the United States should attack another country."
After Chemical Attack, Asking if U.S. Remarks Emboldened President Bashar al-Assad of Syria, The New York Times, Helene Cooper, Friday, 7 April 2017: "Recent comments by American officials may have emboldened President Bashar al-Assad of Syria into believing that there would be no retaliation for this week's chemical weapons attack. On March 30, Secretary of State Rex W. Tillerson and United Nations Ambassador Nikki R. Haley, in separate appearances, reversed American foreign policy and said the Trump administration was not focused on getting rid of President Bashar al-Assad of Syria. The next day, the White House press secretary, Sean Spicer, backed them up, and spoke of a 'political reality that we have to accept in terms of where we are right now.' Four days later, on April 4, Mr. Assad launched the deadliest chemical attack since 2013, dropping the nerve agent sarin in a dawn strike that drew condemnation from around the world and prompted the first American military strikes against the Syrian regime, and the first national security crisis of President Trump's term. At the Pentagon and in national security circles, the lightning series of events has raised a sharp question: Did the Haley-Tillerson-Spicer remarks embolden Mr. Assad to believe that he could get away with the chemical weapons attack?"
Trump's View of Syria: How It Evolved, in 19 Tweets, The New York Times, Nicholas Fandos, Friday, 7 April 2017: "Donald J. Trump had a blunt warning for his predecessor. 'We should stay the hell out of Syria,' he wrote on Twitter in June 2013, after President Barack Obama directed American forces to increase support to Syrian rebels in the wake of a deadly chemical weapons attack by that country's government…. Nearly four years later, now president himself and grappling with how to respond to another chemical weapons attack by the Syrian government, Mr. Trump ignored his own warnings and did what Mr. Obama threatened but never carried out: order a missile strike targeting assets of President Bashar al-Assad. To understand the magnitude of Mr. Trump's reversal and the history of his public stances on one of the world's bloodiest civil wars, one need look no further than the president's Twitter account."
The U.S. Air Strike in Syria: First Thoughts, The New Yorker, Joshua Yaffa, John Cassidy, Dexter Filkins, and Robin Wright, Friday, 7 April 2017. "The United States launched a missile strike in Syria on Thursday, in response to a chemical-weapons attack this week by the Syrian regime that killed dozens of civilians. [These] New Yorker writers offer some initial reactions to the news."
Where Top U.S. Lawmakers Stand on Syria: Now and in 2013, The New York Times, Alicia Parlapiano, Anjali Singhvi, Jon Huang and Thomas Kaplan, Friday, 7 April 2017: "Congress has broadly supported President Trump's missile strike against Syria, which came in response to the Syrian government's chemical weapons attack this week. Officials were more divided in 2013, when President Obama asked Congress to authorize force against Syria for its use of chemical weapons."
Airstrike in Syria Overshadows Meeting Between Trump and President Xi Jinping of China, The New York Times, Mark Landler, Friday, 7 April 2017: "President Trump welcomed President Xi Jinping of China here for a first meeting on Friday that ended up being less about great-power collaboration than a chance for the Chinese leader to witness a raw display of American military might. Hours after Mr. Trump ordered Tomahawk cruise missiles to be fired on a Syrian airfield, he pressed Mr. Xi to use China's leverage to curb another rogue government, North Korea's. Mr. Trump repeated his warning that if China did not do more, the United States would act on its own to constrain the belligerent actions of North Korea's dictator, Kim Jong-un. The president also brought up the chronic trade imbalance between China and the United States. A senior administration official said Mr. Trump had told Mr. Xi that the two sides needed to begin addressing that deficit immediately, prompting China to propose a 100-day plan to overhaul the trade relationship between the world's largest economies…. Administration officials said the missile strike had not disrupted the meeting. In fact, they said, it might have strengthened Mr. Trump's hand as he called on the Chinese to exercise more pressure on North Korea. While officials noted that North Korea poses different, and in some ways more formidable, challenges than Syria, the parallel of a rogue government that possesses weapons of mass destruction was not lost on the Chinese."
Neil Gorsuch Confirmed by Senate as Supreme Court Justice, The New York Times, Adam Liptak and Matt Flegenheimer, Friday, 7 April 2017: "Judge Neil M. Gorsuch was confirmed by the Senate on Friday to become the 113th justice of the Supreme Court, capping a political brawl that lasted for more than a year and tested constitutional norms inside the Capitol's fraying upper chamber…. The final tally was 54-45 in favor of confirmation. The confirmation was also a vindication of the bare-knuckled strategy of Senate Republicans, who refused even to consider President Barack Obama's Supreme Court pick, Judge Merrick B. Garland, saying the choice of the next justice should belong to the next president. Yet the bruising confrontation has left the Senate a changed place. Friday's vote was possible only after the Senate discarded longstanding rules meant to ensure mature deliberation and bipartisan cooperation in considering Supreme Court nominees. On Thursday, after Democrats waged a filibuster against Judge Gorsuch, denying him the 60 votes required to advance to a final vote, Republicans invoked the so-called nuclear option: lowering the threshold on Supreme Court nominations to a simple majority vote."
L.G.B.T. Advocates Criticize Mark E. Green, Trump's Nominee for Secretary of the Army, The New York Times, Helene Cooper and Maggie Haberman, Friday, 7 April 2017: "A Tennessee state senator who has criticized federal attempts to bar discrimination against gay, lesbian, bisexual and transgender people in workplaces and businesses was nominated on Friday to be President Trump's next secretary of the Army. The selection of Mark E. Green, a former Army flight surgeon who served as a medic for a special operations team that captured Saddam Hussein, would be a sharp U-turn in civilian leadership of the Army. The last Army secretary, Eric Fanning, was the first openly gay man to hold that post. Mr. Green's nomination, which has been anticipated for weeks, had already drawn criticism from L.G.B.T. advocates even before Mr. Trump officially named him. On Tuesday, the American Military Partner Association, the largest organization of L.G.B.T. military families, accused Mr. Green of making 'a shameful political career out of targeting L.G.B.T. people for discrimination.'"
Trump Fires Warning Shot in Battle Between Steve Bannon, Chief White House Strategist, and Jared Kushner, Trump's Son-In-Law and Senior Adviser, The New York Times, Jeremy W. Peters and Maggie Haberman, Friday, 7 April 2017: "As he grappled on Thursday with his first major decision involving military action, a fed-up and frustrated President Trump turned to his two top aides and told them he had had enough of their incessant knife-fights in the media. 'Work this out,' Mr. Trump said, according to two people briefed on the exchange. The admonition was aimed at Stephen K. Bannon, the tempestuous chief strategist, and Reince Priebus, the mild-mannered chief of staff, over a series of dust-ups with Jared Kushner, the president's son-in-law and senior adviser, and the top economic adviser, Gary D. Cohn…. The president is said to be aware that a meaningful reconciliation will take work to achieve between Mr. Bannon, who sees himself as the keeper of Mr. Trump's campaign promises, and the competing ideologies of Mr. Kushner and Mr. Cohn, a longtime Wall Street executive and a Democrat."
Saturday, 8 April 2017, Day 79:
Steve Bannon's Views Can Be Traced to a Book That Warns, 'Winter Is Coming,' The New York Times, Jeremy W. Peters, Saturday, 8 April 2017: "Stephen K. Bannon has read the book three times. He still keeps a copy of it — one that's creased and copiously underlined — in a library with the rest of his favorites at his father's house in Richmond, Va. The book, 'The Fourth Turning,' a 1997 work by two amateur historians, Neil Howe and William Strauss, lays out a theory that American history unfurls in predictable, 80-year cycles of prosperity and catastrophe. And it foresees catastrophe right around the corner. The book delineates history into four seasonal cycles, or 'turnings': growth, maturation, decay and destruction. It is the kind of wild, provocative idea that Mr. Bannon loves. But it is also just the kind of thinking that his opponents see as evidence that he is too Machiavellian and idiosyncratic for the job of President Trump's chief strategist. The basis of his worldview — which has been described as everything from Leninist to alt-right, an extremist fringe movement associated with white nationalism — is still shrouded in mystery and conjecture. But by his own telling, much of the foundation for his political beliefs can be found in the book, which predicts that America is hurtling toward a crisis on par with the American Revolution, the Civil War and the Great Depression. And the grim future that the book foresees helps explain the underpinnings of the president's conservative, nationalist 'America First' agenda, one that Mr. Bannon has played a large role in shaping….. [T]hose who question Mr. Trump and Mr. Bannon's motives say the central premise of 'The Fourth Turning,' with its religious subtext and dark premonitions, is a convenient excuse to sow fear and justify extreme action. Many academic historians dismiss the book as about as scientific as astrology or a Nostradamus text. And many will find reason for alarm in its conclusion that the coming crisis will demand loyalty and conformity from citizens."
How Attorney General Jeff Sessions wants to bring back the war on drugs, The Washington Post, Sari Horwitz, Saturday, 8 April 2017: "When the Obama administration launched a sweeping policy to reduce harsh prison sentences for nonviolent drug offenders, rave reviews came from across the political spectrum. Civil rights groups and the Koch brothers praised Obama for his efforts, saying he was making the criminal justice system more humane. But there was one person who watched these developments with some horror. Steven H. Cook, a former street cop who became a federal prosecutor based in Knoxville, Tenn., saw nothing wrong with how the system worked — not the life sentences for drug charges, not the huge growth of the prison population. And he went everywhere — Bill O'Reilly's show on Fox News, congressional hearings, public panels — to spread a different gospel…. Attorney General Jeff Sessions has brought Cook into his inner circle at the Justice Department, appointing him to be one of his top lieutenants to help undo the criminal justice policies of Obama and former attorney general Eric H. Holder Jr. As Sessions has traveled to different cities to preach his tough-on-crime philosophy, Cook has been at his side…. Law enforcement officials say that Sessions and Cook are preparing a plan to prosecute more drug and gun cases and pursue mandatory minimum sentences. The two men are eager to bring back the national crime strategy of the 1980s and '90s from the peak of the drug war, an approach that had fallen out of favor in recent years as minority communities grappled with the effects of mass incarceration. Crime is near historic lows in the United States, but Sessions says that the spike in homicides in several cities, including Chicago, is a harbinger of a 'dangerous new trend' in America that requires a tough response."
The Trump administration is ill-prepared for a global pandemic, The Washington Post, Lena H. Sun, Saturday, 8 April 2017: "The Trump administration has failed to fill crucial public health positions across the government, leaving the nation ill-prepared to face one of its greatest potential threats: a pandemic outbreak of a deadly infectious disease, according to experts in health and national security. No one knows where or when the next outbreak will occur, but health security experts say it is inevitable. Every president since Ronald Reagan has faced threats from infectious diseases, and the number of outbreaks is on the rise. Over the past three years, the Centers for Disease Control and Prevention has monitored more than 300 outbreaks in 160 countries, tracking 37 dangerous pathogens in 2016 alone. Infectious diseases cause about 15 percent of all deaths worldwide. But after 11 weeks in office, the Trump administration has filled few of the senior positions critical to responding to an outbreak. There is no permanent director at the CDC or at the U.S. Agency for International Development. At the Department of Health and Human Services, no one has been named to fill sub-Cabinet posts for health, global affairs, or preparedness and response. It's also unclear whether the National Security Council will assume the same leadership on the issue as it did under President Barack Obama, according to public health experts…. In addition to leaving key posts vacant, the Trump administration has displayed little interest in the issue, health and security experts say. The White House has made few public statements about the importance of preparing for outbreaks, and it has yet to build the international relationships that are crucial for responding to global health crises. Trump also has proposed sharp cuts to government agencies working to stop deadly outbreaks at their source."
Sunday, 9 April 2017, Day 80:
Who is visiting the White House? Watchdog groups are suing to find out, The Washington Post, John Wagner, Sunday, 9 April 2017: "A coalition of government watchdog groups plans to sue the Trump administration on Monday with the aim of compelling the White House to continue President Barack Obama's practice of releasing logs of lobbyists and others who visit the complex. Since President Trump took office in January, the website where such records had been publicly available has gone dark, and White House officials will say only that the policy is under review, making no assurances that they will operate with the same openness. Among the plaintiffs in the lawsuit is Citizens for Responsibility and Ethics in Washington, the same group whose legal actions led to a settlement with the Obama administration in 2009, opening up the White House visitor logs for the first time." See also, Facing Stonewall, Groups Sue for White House, Mar-a-Lago Visitor Logs, Common Dreams, Deirdre Fulton, published on Monday, 10 April 2017: "'This is a case about the public's right to know who wields influence over the most powerful office in our government,' said Alex Abdo of the Knight Institute on Monday. 'In our view, the Freedom of Information Act requires the government to make this information available to the public.'"
U.S. Reroutes Warships Toward Korean Peninsula in Show of Force, The New York Times, Eric Schmitt, Sunday, 9 April 2017: "The commander of American forces in the Pacific has ordered an aircraft carrier and several other warships toward the Korean Peninsula in a show of force by the Trump administration just days after North Korea tested another intermediate-range missile. The officer, Adm. Harry B. Harris Jr., the head of the military's Pacific Command, diverted the aircraft carrier Carl Vinson and its wing of fighter jets from a planned series of exercises and port calls in Australia, the command said in a statement. The Vinson and three guided-missile destroyers and cruisers steamed out of Singapore on Saturday for their new mission in the Western Pacific. Rerouting the naval armada is President Trump's latest escalation in force against a potential adversary. Mr. Trump ordered a cruise missile strike last week against a Syrian military air base in retaliation for a chemical weapons attack by the Syrian government that killed scores of civilians."
Trump officials tell Russia to drop its support for Syria's Assad, The Washington Post, Carol Morello, published on Monday, 10 April 2017: "Officials in the Trump administration on Sunday demanded that Russia stop supporting the Syrian government or face a further deterioration in its relations with the United States. Signaling the focus of talks that Secretary of State Rex Tillerson is set to have in Moscow this week, officials said that Russia, in propping up Syrian President Bashar al-Assad, bears at least partial responsibility for Tuesday's chemical attack on villagers in Idlib province. 'I hope Russia is thinking carefully about its continued alliance with Bashar al-Assad, because every time one of these horrific attacks occurs, it draws Russia closer into some level of responsibility,' Tillerson said on ABC's 'This Week.'"
What could go wrong for the U.S. in Syria? War with Russia. The Washington Post, Colin H. Kahl, Sunday, 9 April 2017: "When Secretary of State Rex Tillerson travels to Moscow this week, topic No. 1 will be Syria — and the stakes could not be higher. If the Trump administration and the Kremlin are not able to come to a meeting of the minds on Syria, it could set the two nuclear powers on a dangerous collision course. Early Friday morning in Syria, 59 U.S. Tomahawk missiles slammed into the Shayrat air base in retaliation for the unconscionable gassing of dozens of civilians by President Bashar al-Assad's regime two days earlier. This was a stunning turnaround for President Trump, who urged his predecessor not to attack Syria under similar circumstances in 2013, and for an administration that had signaled indifference to Assad just five days before the attack."
Monday, 10 April 2017, Day 81:
What's at Stake in Trump's Proposed Environmental Protection Agency Cuts, The New York Times, Hiroko Tabuchi, Monday, 10 April 2017: "The Trump administration's proposed cuts to the Environmental Protection Agency budget are deep and wide-ranging. It seeks to shrink spending by 31 percent, to $5.7 billion from $8.1 billion, and to eliminate a quarter of the agency's 15,000 jobs. The cuts are so deep that even Republican lawmakers are expected to push back. Senator Lisa Murkowski of Alaska, the chairwoman of the Interior and Environment Subcommittee of the Senate Appropriations Committee, pointedly reminded Mr. Trump last month that his budget request was just 'the first step in a long process.'… President Trump's proposed cuts to the E.P.A. include…reductions to the Superfund program, which is cleaning the Gowanus Canal in Brooklyn; the monitoring of public water systems like the one in Flint, Mich.; and cuts to vehicle tests and certifications, which would affect automakers like Fiat/Chrysler. The proposal calls for added security for Scott Pruitt, the agency's new administrator."
Attorney General Jeff Sessions orders the Justice Department to end forensic science commission and to suspend review policy, The Washington Post, Spencer S. Hsu, Monday, 10 April 2017: "Attorney General Jeff Sessions will end a Justice Department partnership with independent scientists to raise forensic science standards and has suspended an expanded review of FBI testimony across several techniques that have come under question, saying a new strategy will be set by an in-house team of law enforcement advisers. In a statement Monday, Sessions said he would not renew the National Commission on Forensic Science, a roughly 30-member advisory panel of scientists, judges, crime lab leaders, prosecutors and defense lawyers chartered by the Obama administration in 2013. A path to meet needs of overburdened crime labs will be set by a yet-to-be-named senior forensic adviser and an internal department crime task force, Sessions's statement said…. The action marked the latest break by Sessions, a former federal prosecutor, with Obama-era priorities. The former senator from Alabama last week announced that top aides will review agreements reached with troubled police forces nationwide to ensure the pacts to overhaul departments do not counter the Trump administration's goals of combating violent crime and promoting police safety and morale…. Even before the announcement not to renew the national commission, several commission members from outside the Justice Department warned against ending its work, saying the Trump administration has made several moves to reduce the role of science and independent scientists in policymaking.… In suspending reviews of past testimony and the development of standards for future reporting, 'the department has literally decided to suspend the search for the truth,' said Peter S. Neufeld, co-founder of the Innocence Project, which has reported that nearly half of 349 DNA exonerations involved misapplications of forensic science. 'As a consequence innocent people will languish in prison or, God forbid, could be executed,' he said."
Trump Administration Temporarily Halts the Publication of a Weekly Report That Spotlights Cities and Counties That Don't Cooperate With Federal Immigration Officials, The New York Times, Ron Nixon, Monday, 10 April 2017: "The Trump administration will temporarily stop publication of a weekly report spotlighting cities and counties that fail to cooperate with federal immigration officials, people briefed on the change said, after several jurisdictions questioned the accuracy of the data. The report, required by an executive order signed by President Trump in January, shows localities that decline requests from Immigration and Customs Enforcement officials to hold undocumented immigrants so they can be picked up later for deportation. ICE officials say the lack of cooperation endangers Americans, but cities and counties named in the reports say they are an attempt to force them to collaborate with the immigration authorities. Sarah Rodriguez, a spokeswoman for ICE, confirmed the temporary suspension of the report, saying it would allow the agency to 'analyze and refine its reporting methodologies.'"
James Renne, an Official Involved in the Bush-Era Purge Of Gay Employees, Is Now in the Trump Administration, ProPublica, Justin Elliott, Monday, 10 April 2017: "It was one of the uglier scandals of the Bush administration: Top officials at an agency dedicated to protecting whistleblowers launched a campaign against their own employees based on suspected sexual orientation, according to an inspector general report. Staffers were abruptly reassigned from Washington, D.C., to a new office 500 miles away in Detroit in what the head of the office reportedly described as an effort to 'ship [them] out.' Staffers who refused were fired. Crude anti-gay emails were found in the agency chief's account. Now one of the major players in the scandal has a new assignment: He works in the Trump administration. In December, James Renne was appointed to the Trump 'landing team' at the Office of the Director of National Intelligence, as part of the transition effort between the election and the inauguration. He was then hired Jan. 30 in a senior role at the Department of Agriculture, though his exact job duties are not clear. Renne was part of the wave of early political appointees on so-called 'beachhead teams,' whose role is to lay the groundwork for the new administration's policies. (We published details on hundreds of beachhead hires, obtained through public records requests.)"
Scientists Fear Climate Data Gap as Trump Proposes to Eliminate Four of NASA's Climate Science Missions, The New York Times, Henry Fountain, Monday, 10 April 2017: "Among the sweeping cuts in the Trump administration's 53-page budget blueprint released last month, one paragraph stood out to climate researchers. It proposed eliminating four of NASA's climate science missions, including instruments to study clouds, small airborne particles, the flow of carbon dioxide and other elements of the atmosphere and oceans. The [budget] blueprint is as much a political document as a fiscal plan, in this case designed to send a message that the administration intends to pursue a long-sought goal of some conservatives: to clamp down on NASA's study of Earth rather than space. But Congress may have other ideas, especially since the projects are not very costly. The savings from eliminating the earth science programs, which include the missions, would total $102 million out of a proposed agency budget of $19 billion. Long before President Trump was elected, climate researchers have warned that the nation's climate monitoring capabilities — which include satellites as well as air-and surface-based instruments — were less than adequate and faced data collection gaps and other uncertainties. Elimination of any of the missions would be a further blow, they said."
The Trump Administration Lost Again in Court, This Time on Texas's Voter ID Law of 2011, ProPublica, Jessica Huseman, published on Tuesday, 11 April 2017: "A federal court in Texas has again ruled the state's 2011 voter identification law intentionally discriminated against minorities. It's the latest loss in the case for Texas — which has spent years unsuccessfully defending the law. But it also has implications for the Trump administration. In February, the new administration abruptly abandoned the crux of the Justice Department's opposition to the voter ID law. Government lawyers also asked the judge to delay her decision on whether the law intentionally discriminated against blacks and Latinos. Judge Nelva Ramos Gonzales rejected their request for a delay. And Monday, she ruled that the law 'was passed, at least in part, with a discriminatory intent in violation of the Voting Rights Act of 1965.' When it passed in 2011, Texas's law had the country's strictest voter ID provisions. It required one of seven forms of Texas or federally issued IDs to vote and allowed exemptions only for disability or age. It allowed no exception for low income voters. Civil rights groups have long argued that the law was meant to disenfranchise minority voters, who often lack the ID required. The Obama administration and other plaintiffs brought suit against the bill in 2013. They won in 2014, but Texas appealed. In 2016, a federal appeals court agreed the law had a discriminatory impact, but asked Judge Ramos to reconsider whether legislators had intended for that to be the case."
Tuesday, 11 April 2017, Day 82:
Trump Tweets That China Will Get Better Trade Deal if It Solves 'North Korean Problem,' The New York Times, Mark Landler, Tuesday, 11 April 2017: "President Trump, plainly frustrated by China's inaction on North Korea, aimed his Twitter feed at Beijing on Tuesday, telling the Chinese government that the United States would exchange trade concessions for support in pressuring Pyongyang. 'I explained to the President of China that a trade deal with the U.S. will be far better for them if they solve the North Korean problem!' Mr. Trump declared on Twitter around 8 a.m. That was followed by a more impatient post in which he said: 'North Korea is looking for trouble. If China decides to help, that would be great. If not, we will solve the problem without them! U.S.A.'"
Secretary of State Rex Tillerson Warns Russia on Syria, Saying Assad Era Is 'Coming to an End,' The New York Times, Tuesday, 11 April 2017: "Secretary of State Rex W. Tillerson said on Tuesday that President Bashar al-Assad's reign in Syria was 'coming to an end,' and he warned that Russia was at risk of becoming irrelevant in the Middle East by continuing to support him. His remarks, five days after the United States carried out missile strikes in retaliation for a chemical attack for which Washington and its allies blamed Mr. Assad, illustrated the extent to which the Trump administration has, in just one week, substantially rethought its approach to Syria's future. Before the April 4 chemical attack, the administration appeared resigned to letting Mr. Assad's government, backed by Russia and Iran, continue gaining the upper hand in a six-year-long civil war that has claimed at least 400,000 lives. Even after the attack, Sean Spicer, the White House press secretary, said the administration would look 'rather silly not acknowledging the political realities' of Mr. Assad's grip on power. But then, late last week, Mr. Trump declared that efforts to change Mr. Assad's behavior had 'failed very dramatically.' Mr. Tillerson said that Mr. Assad could no longer remain in office, and that 'steps are underway' for an international effort to remove him. On Tuesday, Mr. Tillerson seemed close to embracing the very policy the Obama administration had decided on: that Mr. Assad would eventually have to cede power, though the timeline remains unclear."
White House Accuses Russia of Cover-Up in Syria Chemical Attack, The New York Times, Julie Hirschfeld Davis, Tuesday, 11 April 2017: "The White House accused the Russian government on Tuesday of engaging in a cover-up of the chemical weapons attack last week by Syrian forces that prompted American missile strikes, saying that United States intelligence and numerous contemporaneous reports confirmed that the Syrians used sarin gas on their own people. In a declassified four-page report that details United States intelligence on the chemical weapons attack and contains a point-by-point rebuttal of Moscow's claims, the White House asserted that the Syrian and Russian governments had sought to confuse the world community about the assault through disinformation and 'false narratives.' The strongly worded document calls for international condemnation of Syria's use of chemical weapons and harshly criticizes Russia for 'shielding' an ally that has used weapons of mass destruction. It marks a striking shift by President Trump, who entered office praising President Vladimir V. Putin of Russia and seeking common ground with him — and now appears to be moving swiftly to isolate him. The charges came as Rex W. Tillerson, the secretary of state, was preparing for meetings in Moscow on Wednesday, and as Congress and the F.B.I. are investigating potential ties between Mr. Trump's presidential campaign and Russia."
White House Press Secretary Sean Spicer: Hitler 'didn't even sink to using chemical weapons,' although he sent Jews to 'the Holocaust center,' The Washington Post, Jenna Johnson and Ashley Parker, Tuesday, 11 April 2017: "In criticizing Syrian President Bashar al-Assad's alleged use of chemical weapons, White House press secretary Sean Spicer said Tuesday that even Adolf Hitler did not sink to that level of warfare, despite Hitler's use of gas chambers to kill millions of Jews. When given the chance to clarify his comment — uttered during Passover, the most celebrated Jewish holiday in the United States — Spicer then said Hitler took Jews 'into the Holocaust center' but that Hitler 'was not using the gas on his own people in the same way that Assad is doing.' Spicer brought up Hitler unprompted during Tuesday's White House briefing while emphasizing how seriously the United States takes Assad's use of chemical weapons. 'We didn't use chemical weapons in World War II. You know, you had a, you know, someone as despicable as Hitler who didn't even sink to using chemical weapons,' Spicer said. 'So you have to if you're Russia, ask yourself: Is this a country that you, and a regime, that you want to align yourself with? You have previously signed onto international agreements, rightfully acknowledging that the use of chemical weapons should be out of bounds by every country.' Later in the briefing, a reporter read Spicer's comments back to him and gave him the opportunity to clarify. Spicer's answer only added more confusion. 'I think when you come to sarin gas, there was no — he was not using the gas on his own people the same way that Assad is doing,' Spicer said, mispronouncing Assad's name. 'I mean, there was clearly, I understand your point, thank you. Thank you, I appreciate that. There was not in the, he brought them into the Holocaust center, I understand that. What I am saying in the way that Assad used them, where he went into towns, dropped them down to innocent, into the middle of towns, it was brought — so the use of it. And I appreciate the clarification there. That was not the intent.'" See also, Sean Spicer Raises Outcry With Talk of Hitler, Assad and Poison Gas, The New York Times, Nicholas Fandos and Mark Landler, Tuesday, 11 April 2017: "The White House press secretary, Sean Spicer, set off an intense backlash on Tuesday when he suggested that President Bashar al-Assad of Syria was guilty of acts worse than Hitler and asserted that Hitler had not used chemical weapons, ignoring the use of gas chambers at concentration camps during the Holocaust. Mr. Spicer later apologized…. [I]n misconstruing the facts of the Holocaust — Nazi Germany's brutally efficient, carefully orchestrated extermination of six million Jews and others — Mr. Spicer…drew a torrent of criticism and added to the perception that the Trump White House lacks sensitivity and has a tenuous grasp of history…. 'I think when you come to sarin gas, he was not using the gas on his own people the same way that Assad is doing,' Mr. Spicer said, incorrectly, before mentioning 'Holocaust centers,' an apparent reference to Nazi death camps. 160,000 to 180,000 Jews killed by the Nazis were from Germany, according to the United States Holocaust Memorial Museum. Mr. Spicer's explanation drew gasps from reporters in the briefing room. The remarks almost immediately elicited outrage on social media and correctives from scholars of the Holocaust."
Anne Frank Center calls for White House Press Secretary Sean Spicer to be fired, The Hill, Rebecca Savransky, Tuesday, 11 April 2017: "The Anne Frank Center is calling for White House press secretary Sean Spicer to be fired after his Tuesday comments claiming Adolf Hitler did not use chemical weapons during World War II. In a statement posted on Facebook, the center's executive director blasted Spicer, saying the White House spokesman "lacks the integrity" to serve in his post. 'On Passover no less, Sean Spicer has engaged in Holocaust denial, the most offensive form of fake news imaginable, by denying Hitler gassed millions of Jews to death,' Steven Goldstein said in a statement. 'Spicer's statement is the most evil slur upon a group of people we have ever heard from a White House press secretary.' He added: 'President Trump must fire him at once.'"
FBI obtained FISA warrant in the summer of 2016 during the presidential campaign to monitor Trump adviser Carter Page, The Washington Post, Ellen Nakashima, Devlin Barrett and Adam Entous, Tuesday, 11 April 2017: "The FBI obtained a secret court order last summer to monitor the communications of an adviser to presidential candidate Donald Trump, part of an investigation into possible links between Russia and the campaign, law enforcement and other U.S. officials said. The FBI and the Justice Department obtained the warrant targeting Carter Page's communications after convincing a Foreign Intelligence Surveillance Court judge that there was probable cause to believe Page was acting as an agent of a foreign power, in this case Russia, according to the officials. This is the clearest evidence so far that the FBI had reason to believe during the 2016 presidential campaign that a Trump campaign adviser was in touch with Russian agents. Such contacts are now at the center of an investigation into whether the campaign coordinated with the Russian government to swing the election in Trump's favor."
CNN Exclusive: Classified documents contradict House Intelligence Chair Devin Nunes's surveillance claims, Republican and Democratic sources say, CNN, Jim Sciutto, Manu Raju and Eric Bradner, Tuesday, 11 April 2017: "After a review of the same intelligence reports brought to light by House Intelligence Chairman Devin Nunes, both Republican and Democratic lawmakers and aides have so far found no evidence that Obama administration officials did anything unusual or illegal, multiple sources in both parties tell CNN. Their private assessment contradicts President Donald Trump's allegations that former Obama national security adviser Susan Rice broke the law by requesting the 'unmasking' of US individuals' identities. Trump had claimed the matter was a 'massive story.' However, over the last week, several members and staff of the House and Senate intelligence committees have reviewed intelligence reports related to those requests at NSA headquarters in Fort Meade, Maryland. One congressional intelligence source described the requests made by Rice as 'normal and appropriate' for officials who serve in that role to the president. And another source said there's 'absolutely' no smoking gun in the reports, urging the White House to declassify them to make clear there was nothing alarming in the documents."
Attorney General Jeff Sessions tells prosecutors to bring more cases against those entering U.S. illegally, The Washington Post, Matt Zapotosky and Sari Horwitz, Tuesday, 11 April 2017: "Attorney General Jeff Sessions directed federal prosecutors across the country Tuesday to make immigration cases a higher priority and look for opportunities to bring serious felony charges against those who cross the border illegally — the latest in a string of controversial maneuvers to crack down on illegal entry into the United States and expand the Justice Department's role in immigration enforcement. In a three-page memo, Sessions directed each U.S. attorney to appoint a border security coordinator to oversee immigration prosecutions and to make immigration offenses — such as crossing the border illegally or harboring those who do — 'higher priorities.' He told prosecutors to consider whether they could bring felony charges against those who had entered the United States illegally multiple times and to evaluate whether they could charge illegal immigrants with aggravated identity theft, which carries a mandatory two-year prison sentence. He said law enforcement would no longer catch and release undocumented immigrants taken into custody at the border. The directive signals a more aggressive posture on immigration issues than the Obama administration had taken. Advocates and legal analysts said it raises troubling questions about the Justice Department's intentions and its use of resources."
Once Routine, Immigration Check-Ins Are Now High Stakes, The New York Times, Liz Robbins, Tuesday, 11 April 2017: "For years, it was an uneventful ritual. Unauthorized immigrants who weren't considered a priority for deportation would meet with an Immigration and Customs Enforcement officer and be told simply, 'See you next year.' The deportation officers, as they are known, were employing prosecutorial discretion, which let them free up resources and detention center space to focus on the deportation of convicted criminals. Now, under President Trump, the stakes of these meetings have changed. What was routine is now [deportation] roulette. Mr. Trump issued an executive order in January broadening the definition of deportable offenses to include all immigrants living in the country illegally. It has affected all levels of enforcement, including the check-in where people wait to go before an immigration judge or appear with pending appeals and petitions or final orders of removal…. 'Every immigration lawyer in the U.S. has this uncertainty with clients now,' said Kerry Bretz, a veteran New York lawyer. Previously, he said, he told his clients: 'Don't worry about it. You're going to walk in, you're going to walk out, you're going to renew your work authorization and get on with your life.' Now, he said, it's his ethical duty to warn clients before a check-in to get their affairs in order. 'Because you might not come out,' he said. Meredith Kalman, a lawyer for Mr. Bretz's firm, said that as she was leaving a check-in last month in Manhattan, an officer gave her this warning: 'It's a whole new world, Counselor.' According to Ms. Kalman, the officer told her during the meeting, 'I'm sorry, I'm getting pressure because my title is deportation officer — my job is to deport people.'"
California lawmakers are setting up a sanctuary state and daring Trump to stop them. Can he? The Washington Post, Amber Phillips, Tuesday, 11 April 2017: "Showing a giant middle finger to President Trump, California is on its way to becoming the first sanctuary state in the nation. Democratic lawmakers there are moving a bill that would prevent local and state law enforcement agencies from helping the federal government deport undocumented immigrants. (The state Senate passed it last week, and the state Assembly is expected to take it up soon, though Gov. Jerry Brown (D) hasn't said whether he'll sign it.) Sanctuary cities are one of the most high-profile acts of defiance to a Trump presidency, and the president has expressed a zero-tolerance policy toward them. In his first week in office, Trump signed an executive order declaring that sanctuaries are in violation of federal law and 'have caused immeasurable harm to the American people.' Except it's not as simple as winning the presidency and then putting pen to paper to force California's hand. Trump will run into legal and political challenges if he wants to go to war with California over this issue. His powers in this area could even end up being decided at the U.S. Supreme Court. We talked to immigration experts on both sides of the issue to see how this potentially epic immigration showdown between California and Trump might unfold — and it could shape what happens in the hundreds of other liberal cities and counties attempting to defy Trump on this."
The U.S. Court of Appeals for the District of Columbia Circuit grants the Environmental Protection Agency's request to delay smog rule case, The Washington Post, Juliet Eilperin, Tuesday, 11 April 2017: "The U.S. Court of Appeals for the District of Columbia Circuit granted the Environmental Protection Agency's request Tuesday to delay oral argument in a case over its 2015 smog standard, allowing the agency time to reconsider the Obama-era rule. EPA asked on Friday for the postponement, saying President Trump's appointees 'are closely reviewing the 2015 Rule to determine whether the Agency should reconsider the rule or some part of it.' The new standard, which imposes tighter restrictions on ground-level ozone, was challenged both by several industry groups and Republican-controlled states as too tough and by a coalition of environmental and public health organizations as not stringent enough."
Wednesday, 12 April 2017, Day 83:
AP Exclusive: Paul Manafort's firm received Ukraine ledger payout, The Associated Press, Jack Gillum, Chad Day and Jeff Horwitz, Wednesday, 12 August 2017: "Last August, a handwritten ledger surfaced in Ukraine with dollar amounts and dates next to the name of Paul Manafort, who was then Donald Trump's campaign chairman. Ukrainian investigators called it evidence of off-the-books payments from a pro-Russian political party — and part of a larger pattern of corruption under the country's former president. Manafort, who worked for the party as an international political consultant, has publicly questioned the ledger's authenticity. Now, financial records newly obtained by The Associated Press confirm that at least $1.2 million in payments listed in the ledger next to Manafort's name were actually received by his consulting firm in the United States. They include payments in 2007 and 2009, providing the first evidence that Manafort's firm received at least some money listed in the so-called Black Ledger. The two payments came years before Manafort became involved in Trump's campaign, but for the first time bolster the credibility of the ledger. They also put the ledger in a new light, as federal prosecutors in the U.S. have been investigating Manafort's work in Eastern Europe as part of a larger anti-corruption probe. Separately, Manafort is also under scrutiny as part of congressional and FBI investigations into possible contacts between Trump associates and Russia's government under President Vladimir Putin during the 2016 U.S. presidential campaign. The payments detailed in the ledger and confirmed by the documents obtained by the AP are unrelated to the 2016 presidential campaign and came years before Manafort worked as Trump's unpaid campaign chairman." Update: Paul Manafort is registering with the US as a foreign agent, AP, Wednesday, 12 April 2017. See also, After Leaving Donald Trump's Presidential Campaign, Paul Manafort Borrowed From Businesses With Trump Ties, The New York Times, Mike McIntire, Wednesday, 12 April 2017: "Paul Manafort's transactions raise a number of questions, including whether his decision to turn to lenders connected to Donald J. Trump was related to his role in the campaign. Aug. 19 was an eventful day for Paul Manafort. That morning, he stepped down from guiding Donald J. Trump's presidential campaign, after a brief tenure during which Mr. Trump won the Republican nomination, Democrats' emails were hacked and the campaign's contacts with Russia came under scrutiny. Dogged by revelations about past financial dealings in Ukraine, Mr. Manafort retreated from public view. But behind the scenes, he was busy with other matters. Papers were recorded that same day creating a shell company controlled by Mr. Manafort that soon received $13 million in loans from two businesses with ties to Mr. Trump, including one that partners with a Ukrainian-born billionaire and another led by a Trump economic adviser. They were among $20 million in loans secured by properties belonging to Mr. Manafort and his wife. The purpose of the loans is unstated in public records, although at least some of them appear to be part of an effort by Mr. Manafort to stave off a personal financial crisis stemming from failed investments with his son-in-law."
Secretary of State Rex Tillerson and President Vladimir Putin of Russia Find Little More Than Disagreement in Meeting, The New York Times, David E. Sanger, Wednesday, 12 April 2017: "Secretary of State Rex W. Tillerson met with President Vladimir V. Putin of Russia for nearly two hours Wednesday, but the two men appeared unable to agree on the facts involving the deadly chemical weapons assault on Syrian civilians or Russian interference in the American election — much less move toward an improvement in basic relations. 'There is a low level of trust between our countries,' Mr. Tillerson told reporters at a joint news conference with his Russian counterpart, Foreign Minister Sergey V. Lavrov, after the first face-to-face meetings between Russian leaders and a top emissary of the Trump administration. 'The world's two foremost nuclear powers cannot have this kind of relationship,' Mr. Tillerson said. Both he and Mr. Lavrov said a range of issues were discussed — most notably the crises in Syria, North Korea and Ukraine — and that both sides had agreed to establish a working group to examine, as Mr. Lavrov said, "the irritants" in relations between the United States and Russia. Mr. Tillerson reiterated the American view that President Bashar al-Assad of Syria, Russia's chief Middle East ally, was responsible for the chemical weapons assault in northern Syria on April 4 that left more than 80 people dead, sickened hundreds and outraged the world.  Mr. Lavrov reiterated the Russian view that the facts about the chemical weapons attack had yet to be determined, and denounced what he described as the 'media hysteria' surrounding the assault. Further punctuating the Syria dispute, Russia vetoed a Western-backed resolution at the United Nations Security Council on Wednesday condemning the chemical weapons attack. It was the eighth time in the six-year-old Syria conflict that Russia, one of the five permanent Security Council members, had used its veto power to shield the Syrian government. But in a possible sign of Russia's isolation on the chemical weapons issue, China, the permanent member that usually votes with Russia on Syria resolutions, abstained."
Trump Says That It's Likely Russia Knew of Syrian Gas Attack in Advance, The New York Times, Julie Hirschfeld Davis and Peter Baker, Wednesday, 12 April 2017: "President Trump said on Wednesday that Russia likely knew of the Syrian government's plan to gas its own people in advance of a chemical weapons attack last week in northwestern Syria, asserting that United States relations with Moscow were at an 'all-time low.' Asked whether it was possible that Syrian forces could have launched the chemical attack without Russia's knowledge, Mr. Trump said: 'It's certainly possible; I think it's probably unlikely.' 'I would like to think that they didn't know, but certainly they could have. They were there,' Mr. Trump said of the Russians during a news conference at the White House with Jens Stoltenberg, the secretary general of NATO. The remarks amounted to an explosive suggestion at a time of heightened tension between the United States and Russia after the chemical attack, which was followed by American missile strikes on the airfield in Syria from which it was launched. Even as they have intensified their criticism of Russia for backing President Bashar al-Assad of Syria, other senior Trump administration officials, including Jim Mattis, the secretary of defense, and Rex W. Tillerson, the secretary of state, have been careful to say there is no evidence proving that Moscow had foreknowledge the Assad regime planned to launch a sarin gas assault…."
Trump's Previous View of NATO Is Now Obsolete, The New York Times, Peter Baker, published on Thursday, 13 April 2017: "As a candidate, President Trump disparaged NATO as a musty relic of old thinking, an alliance focused on long-gone adversaries rather than new-era threats, a burden that drained American resources on behalf of ungrateful partners who did not pay their share. In a word: 'obsolete.' That was then. After 82 days in office, Mr. Trump officially pronounced NATO rehabilitated, taking credit for transforming it into a modern, cost-sharing, terrorism-fighting pillar of American and European security. 'I said it was obsolete,' the president noted on Wednesday as he hosted NATO's secretary general. 'It's no longer obsolete.' Never mind that the alliance has changed very little if at all in the last three months, and that whatever modest changes have been made were in train long before Mr. Trump entered the doorway of the White House. After weeks of being lobbied, cajoled and educated by the leaders of Britain and Germany, not to mention "my generals," as he likes to call his national security team, Mr. Trump has found fresh virtue in a venerable organization…. Mr. Trump's about-face on NATO was only part of a day of flip flops at the White House. Within a matter of hours, the president determined that China is not a currency manipulator after all, embraced the Export-Import Bank that he once called unnecessary and suggested he might keep Janet Yellen, the Federal Reserve chairwoman he said he would replace after her term expired. Most striking, he pivoted 180 degrees on Russia, lashing it for supporting rogue nations after years of praising President Vladimir V. Putin."
Trump Says U.S. Dollar 'Getting Too Strong,' Says He Won't Label China a Currency Manipulator, and Leaves Open the Possibility of Renominating the Federal Reserve Chairwoman Janet Yellen, The Wall Street Journal, Gerard Baker, Carol E. Lee and Michael C. Bender, Wednesday, 12 April 2017: "President Donald Trump said Wednesday the U.S. dollar 'is getting too strong' and he would prefer the Federal Reserve keep interest rates low. Mr. Trump, in an interview with The Wall Street Journal, also said his administration won't label China a currency manipulator in a report due this week. He left open the possibility of renominating Federal Reserve Chairwoman Janet Yellen once her tenure is up next year, a shift from his position during the campaign that he would 'most likely' not appoint her to another term…. 'I think our dollar is getting too strong, and partially that's my fault because people have confidence in me. But that's hurting—that will hurt ultimately,' he added…. Mr. Trump said the reason he has changed his mind on one of his signature campaign promises is that China hasn't been manipulating its currency for months and because taking the step now could jeopardize his talks with Beijing on confronting the threat of North Korea. 'They're not currency manipulators,' Mr. Trump said…. Ms. Yellen was a frequent target of Mr. Trump's during the campaign, when he criticized her for keeping interest rates low.… Mr. Trump also made a full reversal from the campaign by stating his support for the U.S. Export-Import Bank. The president said he planned to fill two vacancies on the bank's board, which has been effectively paralyzed with three open seats on its five-member board."
Trump's thoroughly confusing Fox Business Network interview with Maria Bartiromo, annotated, The Washington Post, Aaron Blake, Wednesday, 12 April 2017: "President Trump spoke with Fox Business Network's Maria Bartiromo in an interview airing Wednesday morning, and it was par for the course for Trump. By which I mean he rewrote history (on his views of attacking Syria), offered some cryptic comments (about FBI Director James Comey's job), and appeared to completely reverse course on strategy (saying he now wants to finish health-care reform before tax reform). He even appeared to brag about striking Syria while eating dessert with Chinese President Xi Jinping." The full transcript with analysis is in this article. See also, Trump's bushel of false claims in his Fox Business Network interview, The Washington Post, Glenn Kessler and Michelle Ye Hee Lee, Wednesday, 12 April 2017. And see also, Fact Check: Trump Says He Didn't Know Bannon Until Campaign (They Met in 2011) and Other False and Misleading Claims, The New York Times, Linda Qiu, Wednesday, 12 April 2017: "Within 24 hours, President Trump repeated several false or misleading claims about wiretapping, Hillary Clinton and his own chief strategist. Responding to last week's chemical attack in Syria and his subsequent strike on a Syrian air base, Mr. Trump characterized President Bashar al-Assad as 'evil' in an interview with Fox Business Network that aired early Wednesday morning. He also again faulted President Barack Obama for not intervening in the Syrian conflict more aggressively. The comments contradicted Mr. Trump's earlier, more dismissive attitude on chemical weapons. 'Saddam Hussein throws a little gas, everyone goes crazy, "Oh, he's using gas!"' he said at a July 2016 campaign rally. In 2013 and 2014, Mr. Trump repeatedly said that Mr. Obama should not attack Syria, and, after he was elected in November, he even questioned the incentive for intervening."
Trump appears dazzled by being able to bomb Syria over dessert, The Washington Post, Aaron Blake, Wednesday, 12 April 2017: "President Trump shared a story with Fox Business's Maria Bartiromo in an interview that aired Wednesday morning, and it's a story he says others have been begging to get their hands on. It's about how things went down Thursday night when he authorized missile strikes in Syria — all while he was wining and dining Chinese President Xi Jinping at Mar-a-Lago. And in his recounting, Trump seemed positively wowed by his ability to use military force over dessert — 'the most beautiful piece of chocolate cake that you've ever seen.' In fact, Trump mentioned 'dessert' or 'cake' five times while telling the story."
Trump on North Korea-China relations: 'After listening for 10 minutes, I realized it's not so easy,' The Hill, Max Greenwood, Wednesday, 12 April 2017: "President Trump acknowledged the complexity and political sensitivity of the relationship between China and North Korea this week after Chinese President Xi Jinping explained the countries' relationship to him. Trump told The Wall Street Journal on Wednesday that he was previously convinced China had 'tremendous power' over North Korea. But after meeting with Xi last week, Trump said he 'realized it's not so easy.' 'After listening for 10 minutes, I realized it's not so easy,' Trump said. 'I felt pretty strongly that [China] had a tremendous power over North Korea. But it's not what you would think.' Ahead of his meeting with Xi last week, Trump vowed to pressure the Chinese leader to take a tougher approach to North Korea. The president's acknowledgement of the situation's complexity comes amid increased tension between the U.S. and North Korea. A U.S. Navy strike group was ordered into the west Pacific near the Korean Peninsula last weekend amid concerns about North Korea's advancing weapons program. North Korea denounced the strike group's movement as an aggression and threatened a nuclear strike if provoked by the U.S. 'Our revolutionary strong army is keenly watching every move by enemy elements with our nuclear sight focused on the U.S. invasionary bases not only in South Korea and the Pacific operation theater but also in the U.S. mainland,' the North Korea's state-run Rodong Sinmun newspaper said."
Choice of Pro-Immigration Economic Adviser Kevin Hassett Riles Trump's Base, The New York Times, Alan Rappeport, Wednesday, 12 April 2017: "The choice by President Trump of a pro-immigration economist to lead his Council of Economic Advisers is stirring a backlash among his most ardent supporters, who worry it is an abandonment of the tough stance he took on the issue during the campaign and the latest in a string of broken promises. Mr. Trump had already disappointed some of his base supporters by intervening in Syria with a military strike last week and by delaying a tough stance on trade with China and Mexico. He expressed the idea via Twitter on Tuesday morning that he would be willing to offer the Chinese government a more favorable trade deal if it helped the United States with North Korea. Now there is growing unease that immigration is the next area where he will go soft. To these supporters, the appointment of Kevin A. Hassett, announced late last Friday afternoon, as Mr. Trump's top White House economist is another sign that the president is succumbing to the swamp he promised to drain. Like most economists, Mr. Hassett believes that immigration spurs economic growth. At times he has pilloried Republicans for becoming the 'Party of White,' arguing in 2010 that Republicans like then-Gov. Jan Brewer of Arizona 'have too often appeared hostile to immigrants.' In 2013, Mr. Hassett said the United States should double its intake of immigrants.Mr. Hassett, who currently works at the American Enterprise Institute, is a widely respected conservative economist who previously advised prominent Republicans like Senator John McCain and Mitt Romney."
Trump administration moving quickly to build up nationwide deportation force, The Washington Post, David Nakamura, Wednesday, 12 April 2017: "The Trump administration is quickly identifying ways to assemble the nationwide deportation force that President Trump promised on the campaign trail as he railed against the dangers posed by illegal immigration. An internal Department of Homeland Security assessment obtained by The Washington Post shows the agency has already found 33,000 more detention beds to house undocumented immigrants, opened discussions with dozens of local police forces that could be empowered with enforcement authority and identified where construction of Trump's border wall could begin. The agency also is considering ways to speed up the hiring of hundreds of new Customs and Border Patrol officers, including ending polygraph and physical fitness tests in some cases, according to the documents. But these plans could be held up by the prohibitive costs outlined in the internal report and resistance in Congress, where many lawmakers are already balking at approving billions in spending on the wall and additional border security measures. Administration officials said the plans are preliminary and have not been reviewed by senior DHS management, but the assessment offers a glimpse of the department's behind-the-scenes planning to carry out the two executive orders Trump signed in January to boost deportations and strengthen border enforcement."
Why Trump's wall contradicts immigration trends in 2017, The Washington Post, Samuel Granados, Wednesday, 12 April 2017: "Last week, Homeland Security Secretary John F. Kelly told the Senate that it's unlikely that the U.S. will build a wall along the whole border. Here is a look at the main immigration issues facing the U.S. today and what former officials of border agencies think about trends and security needs over time. Illegal border crossings into the United States have decreased by two-thirds since peaking in 2000. In the last decade, more undocumented immigrants have been arriving to the U.S. through ports of entry than by crossing the border illegally. For every three people who crossed illegally in 2014, six others crossed legally and overstayed their visas. Meanwhile, the number of asylum seekers has risen. In 2015, for every 12 detentions between ports of entry, six others were declared inadmissible after presenting themselves at ports of entry. A significant number in these two groups asked for protection under the U.S. law. Today, the main immigration challenges are at the nation's doors."
Scott Pruitt, Head of the Environmental Protection Agency, Faces Anger From the Right Over E.P.A. Endangerment Finding He Won't Fight, The New York Times, Coral Davenport, Wednesday, 12 April 2017: "When President Trump chose the Oklahoma attorney general, Scott Pruitt, to lead the Environmental Protection Agency, his mission was clear: Carry out Mr. Trump's campaign vows to radically reduce the size and scope of the agency and take apart President Barack Obama's ambitious climate change policies. In his first weeks on the job, Mr. Pruitt drew glowing praise from foes of Mr. Obama's agenda against global warming, as he moved to roll back its centerpiece, known as the Clean Power Plan, and expressed agreement with those who said the E.P.A. should be eliminated. His actions and statements have galvanized protests from environmentalists and others on the left. But now a growing chorus of critics on the other end of the political spectrum say Mr. Pruitt has not gone far enough. In particular, they are angry that he has refused to challenge a landmark agency determination known as the endangerment finding, which provides the legal basis for Mr. Obama's Clean Power Plan and other global warming policies. These critics say that Mr. Pruitt is hacking only at the branches of current climate policy. They want him to pull it out by the roots…. The 2009 legal [endangerment] finding is at the heart of a debate within the Trump administration over how to permanently reverse Mr. Obama's climate change rules. The finding concludes that carbon dioxide emissions endanger public health and welfare by warming the planet, which led to a legal requirement that the E.P.A. regulate smokestacks and tailpipes that spew planet-warming pollution. Thus, climate policy experts on both sides of the debate say, even if Mr. Pruitt succeeds in the legally challenging process of withdrawing the Clean Power Plan, the endangerment finding will still put him under the legal obligation to put together a replacement regulation."
Trump Directive Will Lift Federal Work Force Hiring Freeze, Even as It Asks Agencies to Submit Plans for Personnel Cuts, The New York Times, Alan Rappeport, published on Tuesday, 11 April 2017: "The Trump administration on Wednesday will lift the hiring freeze that it had imposed on the federal work force, even as it directs agencies to submit plans for personnel cuts and other restructuring moves to fit the budget blueprint released by President Trump last month. The new guidance, to be issued by the Office of Management and Budget, is the next step in fulfilling Mr. Trump's ambition to reshape the federal bureaucracy into a lean, businesslike operation. It comes as many federal workers across Washington have feared that their jobs will be eliminated by the spending cuts that Mr. Trump has demanded. In January, Mr. Trump ordered an across-the-board employment freeze for the federal government, halting hiring for all new and existing positions except those in national security, public safety and the military. The administration is now making clear that it is not giving a green light for agencies to start hiring; instead, the White House is seeking long-term plans from each agency to, in most cases, prepare for cuts. The 2018 budget outline that Mr. Trump released last month called for a 10 percent increase in military spending to be paid for with deep cuts to the budgets of the State Department, the Environmental Protection Agency, Health and Human Services and other domestic programs. The guidance that will be issued on Wednesday asks agencies to begin taking immediate steps to achieve the reductions to their work forces. Agencies will also be required to develop plans by June 30 to 'maximize employee performance.' By mid-September, they must come back to the administration with longer-term plans. But Congress holds the purse strings that dictate how executive branch agencies are funded. Republicans and Democrats across Congress viewed many of the cuts proposed in Mr. Trump's budget outline as nonstarters."
Trump Undercuts His Chief Strategist Steve Bannon, Whose Job May Be in Danger, The New York Times, Jeremy W. Peters and Maggie Haberman, Wednesday, 12 April 2017: "Stephen K. Bannon, President Trump's grenade-lobbing pugilist of a chief strategist, has a fitting nickname for his West Wing office: 'the war room.' But more and more, war is being waged on Mr. Bannon himself. And it is unclear how much longer he can survive in his job. His isolation inside the White House, after weeks of battle with senior aides aligned with Jared Kushner, the president's son-in-law, appeared to grow even starker this week after Mr. Trump undercut Mr. Bannon in two interviews and played down his role in the Trump presidential campaign. 'I am my own strategist,' Mr. Trump told the New York Post columnist Michael Goodwin in an interview on Tuesday, a pointed reference to what aides described as his growing irritation that Mr. Bannon's allies are calling him the mastermind behind Mr. Trump's victory and the torch bearer for the nationalist, conservative brand of populism that has defined his presidency. In an interview with The Wall Street Journal on Wednesday, Mr. Trump made clear Mr. Bannon's subordinate role, calling him 'a guy who works for me.'… One person with firsthand knowledge of internal White House dynamics, who asked not to be identified given how tense the situation had become, insisted that no immediate changes were likely. Mr. Trump is notoriously fickle in his decision-making process, and he dislikes confrontation. But by openly criticizing Mr. Bannon, he has created an environment that makes it hard for the swaggering and self-assured chief strategist to remain in place without appearing undermined." See also, Inside Bannon's struggle: From 'shadow president' to Trump's marked man, The Washington Post, Philip Rucker, Ashley Parker and Robert Costa, Wednesday, 12 April 2017: "The man not long ago dubbed the 'shadow president' — with singular influence over Trump's agenda and the workings of the federal government — is struggling to keep his job with his portfolio reduced and his profile damaged, according to interviews Wednesday with 21 of Trump's aides, confidants and allies. Some colleagues described Bannon as a stubborn recluse who had failed to build a reservoir of goodwill within the West Wing…. For now, at least, Bannon may survive the turmoil, and he and other White House staffers are striving to be on their best behavior after their infighting earned them a scolding by the president over the weekend, according to the aides and allies, many of whom requested anonymity because they were not authorized to talk about internal dynamics. Bannon declined to be interviewed. But the mercurial president has a long history of turning quickly on subordinates, and the political hit late Tuesday in the New York Post was trademark Trump, using the friendly Manhattan tabloid to publicly debase his chief strategist. The president said Bannon was hardly the Svengali of his caricature, but rather 'a good guy' who 'was not involved in my campaign until very late.'… Bannon's effective demotion began last week when he was removed from the National Security Council's principals committee. But his real problems began much earlier. Trump bristled at the media depiction of Bannon as a puppeteer, punctuated by the Feb. 13 Time magazine cover labeling Bannon 'The Great Manipulator.' Trump fashions himself as the leading man — the protagonist of every story in which he stars — and was content to have Bannon as his sidekick, but he did not welcome the competition for top billing."
No Environmental Impact Study? No Border Wall, Lawsuit Says, The New York Times, Fernanda Santos, published on Thursday, 13 Arpil 2017: "An environmental group and an Arizona congressman have sued to block the construction of President Trump's wall along the southern border, threatening to derail one of his marquee projects well before it gets off the ground. The Center for Biological Diversity and Representative Raúl M. Grijalva, the ranking Democrat on the House Committee on Natural Resources, claimed in a federal lawsuit filed Wednesday in Tucson that the Trump administration had failed to study the wall's environmental impact before gearing up for its construction. Mr. Trump's plan to strengthen the border includes the hiring of 5,000 Border Patrol agents, increasing by 25 percent the ranks of the largest law enforcement agency in the country. The lawsuit seeks to stop any work until the government agrees to analyze the impact of construction, noise, light and other changes to the landscape on rivers, plants and endangered species — including jaguars, Sonoran pronghorns and ocelots — and also on border residents. The suit appears to be the first legal action against the wall, but it is only one of the many challenges the project faces, including who will pay for it and what form it will take."
Federal Climate Research, Targeted for Elimination by Trump, Lauded by the National Academies of Sciences, InsideClimate News, John H. Cushman Jr., Wednesday, 12 April 2017: "The federal program overseeing climate change research has won an important endorsement from the authoritative National Academies of Sciences, Engineering and Medicine just as it faces the threat of budget cuts under the Donald Trump administration. An expert National Academies review panel issued a ringing endorsement of the work of the United States Global Change Research Program, calling the interagency program's recent draft overview of the science 'impressive, timely and generally well-written.' That draft was  issued in the closing days of the Obama Administration, and was intended both as an up-to-date benchmark for the scientific consensus and to help set future research priorities. The reviewers said they were 'impressed with the breadth, accuracy and rigor of the draft.'  If anything, the National Academies panel urged the USGCRP to emphasize the urgency of bringing carbon dioxide emissions rapidly to zero. Instead, the Trump administration is signaling that it would rather bring climate research itself to zero, at least at the Environmental Protection Agency, a key participant in the USGCRP. Trump's draft budget for the EPA called for eliminating its work for the interagency research program."
Earth Day in the Age of Trump, The New Yorker, Elizabeth Kolbert, Wednesday, 12 April 2017: "Next week, millions of Americans will celebrate Earth Day, even though, three months into Donald Trump's Presidency, there sure isn't much to celebrate. A White House characterized by flaming incompetence has nevertheless managed to do one thing effectively: it has trashed years' worth of work to protect the planet. As David Horsey put it recently, in the Los Angeles Times, 'Donald Trump's foreign policy and legislative agenda may be a confused mess,' but 'his administration's attack on the environment is operating with the focus and zeal of the Spanish Inquisition.' The list of steps that the Trump Administration has already taken to make America polluted again is so long that fully cataloguing them in this space would be impossible. Here's a sample:… In March, the Environmental Protection Agency and the Transportation Department announced their intention to roll back fuel-economy standards for cars that were set to go into effect in 2022. Earlier this month, the E.P.A. announced its plans to review—and presumably revoke—President Obama's Clean Power Plan, a set of regulations aimed at reducing pollution from power plants…. Meanwhile, the Administration has proposed slashing the E.P.A.'s budget by thirty-one per cent…. How is it that a group as disorganized as the Trump Administration has been so methodical when it comes to the (anti) environment? The simplest answer is that money focusses the mind. Lots of corporations stand to profit from Trump's regulatory rollback, even as American consumers suffer…. But, while money is clearly key, it doesn't seem entirely sufficient as an explanation. There's arguably more money, in the long run, to be made from imposing the regulations—from investing in solar and wind power, for example, and updating the country's electrical grid. Writing recently in the Washington Post, Amanda Erickson proposed an alternative, or at least complementary, explanation. Combatting a global environmental problem like climate change would seem to require global coöperation. If you don't believe in global coöperation because 'America comes first,' then you're faced with a dilemma…. Andrew Norton, the director of the International Institute for Environment and Development, in London, … observes, 'Climate change is a highly inconvenient truth for nationalism,' as it 'requires collective action between states.' This argument can, and probably should, be taken one step further. The fundamental idea behind the environmental movement—the movement that gave us Earth Day in the first place—is that everything, and therefore everyone, is connected. 'When we try to pick out anything by itself, we find it hitched to everything else in the universe,' John Muir famously put it…. To acknowledge our interconnectedness is to acknowledge the need for caution, restraint, and, yes, rules."

Thursday, 13 April 2017, Day 84:
U.S.-led coalition accidentally bombs Syrian allies, killing 18, The Washington Post, Thomas Gibbons-Neff and Missy Ryan, Thursday, 13 April 2017: "A U.S. drone struck and killed at least 18 members of an allied Syrian force this week, the Pentagon said, in the worst friendly fire incident of the war against the Islamic State. The Tuesday strike south of Tabqa, a strategic town in northern Syria, deepens questions about American targeting procedures in its ongoing air campaign over Iraq and Syria, which activists allege has resulted in a surge in civilian deaths this year…. The Pentagon has struggled in recent weeks to explain why there has been a surge of reported civilian casualties in its air campagin against the Islamic State. Officials say the principal cause is that the fight against the Islamic State is entering a new, more intense phase. But activists have questioned whether changes to the military's approval process for strikes may have contributed." See also, 18 Syrian Fighters Allied With U.S. Are Killed in Coalition Airstrike, The New York Times, Helene Cooper, Thursday, 13 April 2017: "The strike, on Tuesday in Tabqah, Syria, was the third time in a month that American-led airstrikes may have killed civilians or allies, and it comes even as the Pentagon is investigating two previous airstrikes that killed or wounded scores of civilians in a mosque complex in Syria and in a building in the west of Mosul, Iraq."
U.S. Drops 'Mother of All Bombs' on ISIS Caves in Afghanistan, The New York Times, Helene Cooper, Thursday, 13 April 2017: "The United States dropped the "mother of all bombs" — the largest conventional bomb in the American arsenal — on an Islamic State cave complex in Afghanistan on Thursday, the Pentagon said, unleashing a munition so massive that it had to be dropped from the rear of a cargo plane. The bomb, officially called the GBU-43/B Massive Ordnance Air Blast — hence its moniker — hit a tunnel complex in the Achin district of Nangarhar Province, according to a statement from the United States military in Afghanistan. It did not say how many militants were killed. During the years of intense fighting in Afghanistan, a handful of similar bombs were used by the United States to destroy caves believed to be used by forces of the Taliban and Al Qaeda, as well as to frighten troops dug into trenches who were not immediately killed by the weapon. That the United States is again using this type of ordnance reflects the changing nature of the foe in Afghanistan, and the fact that the Islamic State, like the Taliban and Al Qaeda, is now also using caves and tunnels. Thursday's strike was the first combat use of GBU-43/B, which is an updated version of the older bombs, said Adam Stump, a Pentagon spokesman…. It was unclear whether any civilians were killed. The military insisted that it took every precaution to avoid such casualties. But the Pentagon has come under increasing criticism that as it has intensified the fight against the Islamic State in Iraq and Syria, the civilian death toll has risen sharply."
CIA Director Mike Pompeo Denounces WikiLeaks As 'Hostile Intelligence Service,' NPR, Richard Gonzales, Thursday, 13 April 2017: "Mike Pompeo, director of the Central Intelligence Agency, slammed WikiLeaks and its founder Julian Assange in a full-throated public denunciation Thursday before an audience of foreign policy specialists in Washington, D.C. 'WikiLeaks walks like a hostile intelligence service and talks like a hostile intelligence service,' he said in prepared remarks at the Center for Strategic and International Studies. 'Assange is a narcissist who has created nothing of value,' Pompeo said. 'He relies on the dirty work of other to make himself famous. He is a fraud — a coward hiding behind a screen.'… Pompeo's remarks represent a sharp shift in attitude toward WikiLeaks by the Trump administration. As a presidential candidate, Donald Trump made no secret of his approval of WikiLeaks' release of private emails from Democratic nominee Hillary Clinton's campaign manager, John Podesta. 'I love WikiLeaks,' Trump said at a political rally in October. 'It's amazing how nothing is secret today when you talk about the Internet.'" See also, Trump's CIA Director Mike Pompeo, Targeting WikiLeaks, Explicitly Threatens Speech and Press Freedoms, The Intercept, Glenn Greenwald, published on Friday, 14 April 2017: "In February, after Donald Trump tweeted that the U.S. media were the 'enemy of the people,' the targets of his insult exploded with indignation, devoting wall-to-wall media coverage to what they depicted as a grave assault on press freedoms more befitting of a tyranny. By stark and disturbing contrast, the media reaction yesterday was far more muted, even welcoming, when Trump's CIA Director, Michael Pompeo, actually and explicitly vowed to target freedoms of speech and press in a blistering, threatening speech he delivered to the D.C. think tank Center for Strategic and International Studies. What made Pompeo's overt threats of repression so palatable to many was that they were not directed at CNN, the New York Times or other beloved-in-D.C. outlets, but rather at WikiLeaks, more marginalized publishers of information, and various leakers and whistleblowers, including Chelsea Manning and Edward Snowden.… He…issued this remarkable threat: 'To give them the space to crush us with misappropriated secrets is a perversion of what our great Constitution stands for. It ends now.' At no point did Pompeo specify what steps the CIA intended to take to ensure that the 'space' to publish secrets 'ends now.'… [T]he Mike Pompeo who accused Assange of 'making common cause with dictators' is the very same Mike Pompeo who – just eight weeks ago – placed one of the CIA's most cherished awards in the hands of one of the world's most savage tyrants, who also happens to be one of the U.S. Government's closest allies. Pompeo traveled to Riyadh and literally embraced and honored the Saudi royal next-in-line to the throne…. Then there's the venue Pompeo chose: the Center for Strategic and International Studies (CSIS). As the New York Times reported in 2014, the CSIS – like so many of D.C.'s most prestigious think tanks – is itself funded by dictators. In particular, the United Arab Emirates has become 'a major supporter' of the group, having 'quietly provided a donation of more than $1 million to help build the center's gleaming new glass and steel headquarters not far from the White House.' Other CISIS donors include the regimes of Saudi Arabia, Turkey, and Kazakhstan. In return, UAE officials are treated like great statesmen at CSIS…. [C]riminalizing WikiLeaks' publication of documents is clearly part of what Pompeo is now planning. That's what he meant when he argued that 'administrations before have been too squeamish about going after these people, after some concept of this right to publish': he was criticizing the Obama DOJ for not prosecuting WikiLeaks for publishing secrets."
Trump Signs Law Taking Aim at Planned Parenthood Funding, The New York Times, Julie Hirschfeld Davis, Thursday, 13 April 2017: "President Trump signed legislation on Thursday aimed at cutting off federal funding to Planned Parenthood and other groups that perform abortions, a move cheered by conservatives who have clamored to impose curbs on reproductive rights. The measure nullifies a rule completed in the last days of the Obama administration that effectively barred state and local governments from withholding federal funding for family planning services related to contraception, sexually transmitted infections, fertility, pregnancy care, and breast and cervical cancer screening from qualified health providers — regardless of whether they also performed abortions. The new measure cleared Congress last month with Vice President Mike Pence casting the tiebreaking vote in the Senate. The previous Department of Health and Human Services regulation, which took effect two days before Mr. Trump's inauguration, said that states and localities could not withhold money from a provider for any reason other than an inability to provide family planning services…. The rule reversed on Thursday was a response by the Obama administration to moves by more than a dozen Republican-controlled states in recent years to defund Planned Parenthood and other abortion providers. They did so by blocking clinics from receiving Title X money — named for the 1970 law that created the federal family planning program — as well as Medicaid reimbursements. State courts have ruled against such restrictions for Medicaid reimbursements, but since Title X money is distributed through grants to states, they have the power to set criteria for recipients."
Scott Pruitt, Head of the Environmental Protection Agency, Says the U.S. Should 'Exit' the Paris Climate Agreement, InsideClimate News, Marianne Lavelle, Thursday, 13 April 2017: "Environmental Protection Agency Administrator Scott Pruitt said on Thursday that the United States should exit the Paris climate agreement. The comments are his strongest yet on a question that has divided the Donald Trump administration, even as it seeks to roll back the nation's commitment to act on climate change. 'Paris is something we need to look at closely. It's something we need to exit in my opinion,' Pruitt said in an interview on the Fox & Friends morning news program…. Pruitt's statement puts him at odds with Secretary of State Rex Tillerson, the former chief executive of ExxonMobil, who said during his confirmation hearing that it was important for the U.S. to 'maintain its seat at the table.' Even some big U.S. coal companies have taken a similar position. They have argued in recent weeks that the pact offers their best chance to advocate for coal in the world's future energy mix, perhaps by promoting technology to capture emissions and store them underground." See also, Scott Pruitt, Head of the EPA, calls for an 'exit' from the Paris accord, sharpening the Trump administration climate rift, The Washington Post, Chris Mooney and Brady Dennis, published on Friday, 14 April 2017.
British spies were first to spot Trump team's links with Russia, The Guardian, Luke Harding, Stephanie Kirchgaessner and Nick Hopkins, Thursday, 13 August 2017: "Britain's spy agencies played a crucial role in alerting their counterparts in Washington to contacts between members of Donald Trump's campaign team and Russian intelligence operatives, the Guardian has been told. GCHQ [Government Communications Headquarters] first became aware in late 2015 of suspicious 'interactions' between figures connected to Trump and known or suspected Russian agents, a source close to UK intelligence said. This intelligence was passed to the US as part of a routine exchange of information, they added. Over the next six months, until summer 2016, a number of western agencies shared further information on contacts between Trump's inner circle and Russians, sources said. The European countries that passed on electronic intelligence – known as sigint – included Germany, Estonia and Poland. Australia, a member of the 'Five Eyes' spying alliance that also includes the US, UK, Canada and New Zealand, also relayed material, one source said. Another source suggested the Dutch and the French spy agency, the General Directorate for External Security or DGSE, were contributors. It is understood that GCHQ was at no point carrying out a targeted operation against Trump or his team or proactively seeking information. The alleged conversations were picked up by chance as part of routine surveillance of Russian intelligence assets. Over several months, different agencies targeting the same people began to see a pattern of connections that were flagged to intelligence officials in the US."
Trump administration halts Obama-era rule aimed at curbing toxic wastewater from coal plants, The Washington Post, Brady Dennis, Thursday, 13 April 2017: "The Trump administration has hit the pause button on an Obama-era regulation aimed at limiting the dumping of toxic metals such as arsenic and mercury by the nation's power plants into public waterways. 'I have decided that it is appropriate and in the public interest to reconsider the rule,' Scott Pruitt, head of the Environmental Protection Agency, wrote this week in a letter to groups that had petitioned the agency to revisit the rule, which was finalized in 2015. Beginning in 2018, power plants would have had to begin showing that they were using the most up-to-date technology to remove heavy metals — including lead, arsenic, mercury and other pollutants — from their wastewater. Pruitt wrote that the EPA plans to postpone compliance deadlines for the regulation, which is also being challenged in a federal court. On Thursday, the EPA said the rule would cost the industry hundreds of millions of dollars a year to comply with…. The move drew immediate condemnation from environmental groups, which called it a gift to the energy industry. They insisted that the Trump administration focused only on potential costs of the rule while ignoring its benefits, and that delays in compliance will endanger wildlife and pose health threats to families that live near coal plants, as exposure to heavy metals can cause problems with cognitive development in children, among other problems."
Trump Threatens Health Subsidies to Force Democrats to Bargain, The New York Times, Robert Pear, Thursday, 13 April 2017: "In the weeks since President Trump's attempts to replace the Affordable Care Act collapsed, the administration has debated what to do: Try again? Shore up the insurance marketplaces? Or let the whole system collapse? Mr. Trump has failed to get enough support from his own party, but he hopes to get the Democrats' help by forcing them to the negotiating table with hints about the chaos he could cause. His bargaining chip is the government subsidies paid to insurance companies so they can reduce deductibles and other out-of-pocket costs for low-income consumers — seven million people this year. In an interview with The Wall Street Journal this week, Mr. Trump threatened to withhold the subsidy payments as a way to induce the Democrats to bargain with him. For now, Democrats are resisting and using his maneuver against him to energize their own party. And they warn that Mr. Trump will be blamed if the insurance markets collapse and people lose coverage next year." See also, Explaining the Health Payments That Trump Is Threatening to End, The New York Times, Reed Abelson and Margot Sanger-Katz, published on Friday, 14 April 2017.
Trump Plan Would Curtail Protections for Detained Immigrants, The New York Times, Caitlin Dickerson, Thursday, 13 April 2017: "For more than 15 years, jails that hold immigrants facing deportation have had to follow a growing list of requirements: Notify immigration officials if a detainee spends two weeks or longer in solitary confinement. Check on suicidal inmates every 15 minutes, and evaluate their mental health every day. Inform detainees, in languages they can understand, how to obtain medical care. In disciplinary hearings, provide a staff member who can advocate in English on the detainee's behalf. But as the Trump administration seeks to quickly find jail space for its crackdown on illegal immigration, it is moving to curtail these rules as a way to entice more sheriffs and local officials to make their correctional facilities available. According to two Homeland Security officials who had knowledge of the plans but declined to be identified because they were not authorized to speak publicly, new jail contracts will contain a far less detailed set of regulations."
How much it costs ICE to deport an undocumented immigrant, CNN Money, Octavio Blanco, Thursday, 13 April 2017: "President Trump has said he wants to deport two to three million criminal undocumented immigrants. While it's unclear where he got that figure, achieving his goal won't come cheap. Immigration and Customs Enforcement is one of two agencies within the Department of Homeland Security that's already playing a pivotal role in enacting Trump's mission. One of ICE's main jobs is to apprehend undocumented immigrants who have received their final deportation orders or who have failed to report to the agency as instructed. During fiscal 2016, ICE spent $3.2 billion to identify, arrest, detain and remove undocumented immigrants, according to the Department of Homeland Security. ICE handled some 240,000 of the roughly 450,000 total deportations that took place last year. (Customs and Border Patrol was responsible for the rest. It also arrests and deports undocumented immigrants, but mainly as they try to enter the U.S.) Each deportation conducted by ICE cost taxpayers an average of $10,854 in fiscal 2016, an official from the agency told CNNMoney. This amount includes everything from housing and feeding a detainee to transporting him back to his home country."
Trump's Policy Reversals, in His Own Words, On NATO, China and Currency Manipulation, Export-Import Bank, and Syria, The New York Times, Audrey Carlsen and Jugal K. Patel, Thursday, 13 April 2017.