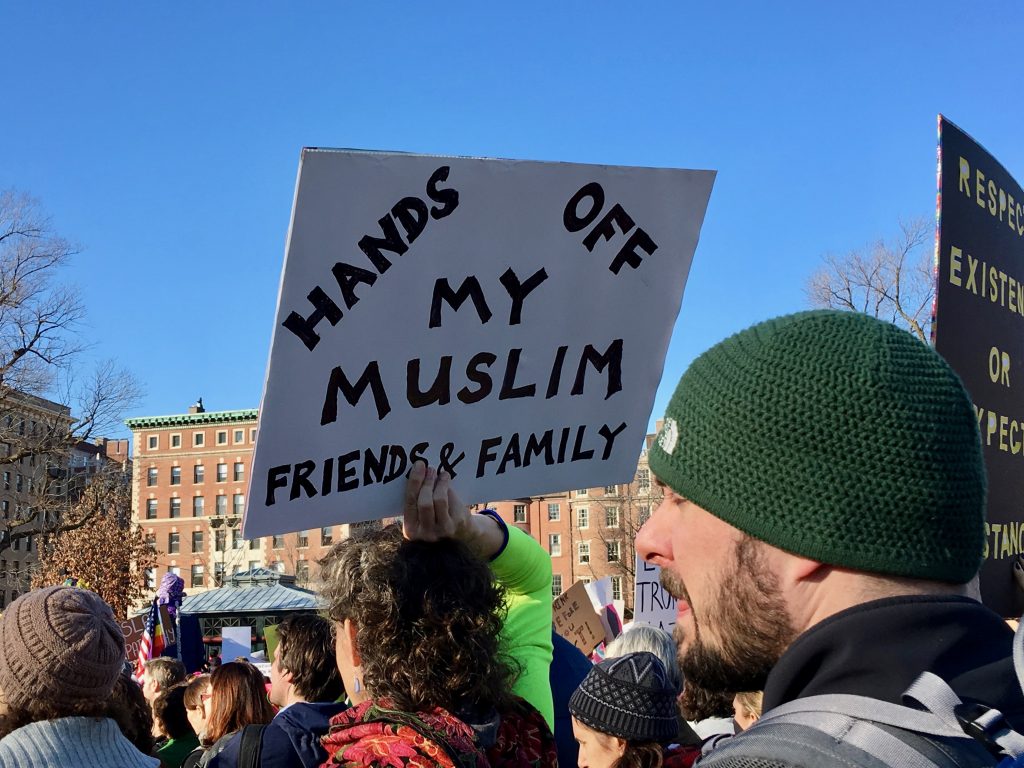 Keeping Track (of some things), Staying Outraged (it is possible), and Resisting (it's essential)
Passages in bold in the body of the texts below are my emphasis. This is an ongoing project, and I update the site frequently. I hope readers will peruse the articles in full for a better understanding of the issues and their context; our democracy and our future depend on citizens who can distinguish between facts and falsehoods and who are engaged in the political process.
Friday, 17 March 2017, Day 57:
Trump Offers No Apology for Claim on British Spying, The New York Times, Peter Baker and Steven Erlanger, Friday, 17 March 2017: "President Trump provoked a rare public dispute with America's closest ally on Friday after his White House aired an explosive and unsubstantiated claim that Britain's spy agency had secretly eavesdropped on him at the behest of President Barack Obama during last year's campaign. Livid British officials adamantly denied the allegation and secured promises from senior White House officials never to repeat it. But a defiant Mr. Trump refused to back down, making clear that the White House had nothing to retract or apologize for because his spokesman had simply repeated an assertion made by a Fox News commentator. Fox itself later disavowed the report. The rupture with London was Mr. Trump's latest quarrel with an ally or foreign power since taking office. Mexico's president angrily canceled a White House visit in January over Mr. Trump's proposed border wall. A telephone call with Australia's prime minister ended abruptly amid a dispute over refugees. Sweden bristled over Mr. Trump's criticism of its refugee policy. And China refused for weeks to engage with Mr. Trump because of his postelection call with Taiwan's president…. The angry response from Britain stemmed from Mr. Trump's persistence in accusing Mr. Obama of tapping his phones last year despite the lack of evidence and across-the-board denials. At a briefing on Thursday, Sean Spicer, the White House press secretary, read from a sheaf of news clippings that he suggested bolstered the president's claim. Among them was an assertion by Andrew Napolitano, a Fox News commentator, that Mr. Obama had used Britain's Government Communications Headquarters, the agency known as the GCHQ, to spy on Mr. Trump. In response to Mr. Spicer, the agency quickly denied it as 'nonsense' and 'utterly ridiculous,' while British officials contacted American counterparts to complain." See also, Fox's Andrew Napolitano Stirred the Pot for Trump's British Tempest, Michael M. Grynbaum, Friday, 17 March 2017: "Andrew Napolitano was a Superior Court judge in New Jersey until, frustrated by the constraints of his salary, he left the bench for more lucrative pastures: talk radio, a syndicated small-claims court TV series ('Power of Attorney') and, eventually, Fox News, where he rose to become the network's senior legal analyst. It was in that basic-cable capacity this week that Mr. Napolitano managed to set off a cascading scandal, which by Friday had sparked a trans-Atlantic tiff between Britain and the United States while plunging President Trump's close relationship with Fox News into new, murkier territory…. The saga began on Tuesday on 'Fox & Friends,' the chummy morning show, where Mr. Napolitano made a bizarre and unsupported accusation: Citing three unnamed sources, he said that Britain's top spy agency had wiretapped Mr. Trump on behalf of President Barack Obama during last year's campaign. Cable news blather, especially at that hour, usually vanishes at the commercial break. But on Thursday, Mr. Trump's press secretary, Sean Spicer, repeated the claim from the White House podium, infuriating British officials. On Friday, Fox News was forced to disavow Mr. Napolitano's remarks. 'Fox News cannot confirm Judge Napolitano's commentary,' the anchor Shepard Smith said on-air. 'Fox News knows of no evidence of any kind that the now-president of the United States was surveilled at any time, any way. Full stop.'… Mr. Trump refused to back down from the claims on Friday, and even praised Mr. Napolitano, telling reporters, 'All we did was quote a very talented legal mind.'"
Secretary of State Rex Tillerson Rejects Talks With North Korea on Nuclear Program, The New York Times, David Sanger, Friday, 17 March 2017: "Secretary of State Rex W. Tillerson ruled out on Friday opening any negotiation with North Korea to freeze its nuclear and missile programs and said for the first time that the Trump administration might be forced to take pre-emptive action 'if they elevate the threat of their weapons program' to an unacceptable level. Mr. Tillerson's comments in Seoul, a day before he travels to Beijing to meet Chinese leaders, explicitly rejected any return to the bargaining table in an effort to buy time by halting North Korea's accelerating testing program. The country's leader, Kim Jong-un, said on New Year's Day that North Korea was in the 'final stage' of preparation for the first launch of an intercontinental ballistic missile that could reach the United States. The secretary of state's comments were the Trump administration's first public hint at the options being considered, and they made clear that none involved a negotiated settlement or waiting for the North Korean government to collapse. 'The policy of strategic patience has ended,' Mr. Tillerson said, a reference to the term used by the Obama administration to describe a policy of waiting out the North Koreans, while gradually ratcheting up sanctions and covert action. Negotiations 'can only be achieved by denuclearizing, giving up their weapons of mass destruction,' he said — a step to which the North committed in 1992, and again in subsequent accords, but has always violated. 'Only then will we be prepared to engage them in talks.'"
German Chancellor Angela Merkel Meets Trump, the Defender Versus the Disrupter, The New York Times, Mark Landler, Friday, 17 March 2017: "Near the end of his meticulously formal, utterly impersonal news conference with Chancellor Angela Merkel, President Trump finally sought a sliver of common ground with his guest: They both, he said, had been wiretapped by former President Barack Obama. Ms. Merkel did a barely perceptible double take, busying herself by shuffling her notes. She smiled thinly and said nothing, as if she had resolved not to get drawn into Mr. Trump's political dramas. It was like that throughout Mr. Trump's first meeting with Ms. Merkel on Friday, an awkward encounter that was the most closely watched of his young presidency and took on an outsize symbolism: the great disrupter confronts the last defender of the liberal world order. Worlds apart in style and policy, Mr. Trump and Ms. Merkel made a show of working together, as they stood side by side in the East Room of the White House. But they could not disguise the gulf that separates them on trade, immigration and a host of other thorny issues." See also, In awkward exchange, Trump seems to ignore Chancellor Angela Merkel's handshake request, Politico, Madeline Conway, Friday, 17 March 2017: "Donald Trump, who made headlines for shaking hands with Japan's prime minister in front of reporters for a full 19 seconds, seemed to ignore German Chancellor Angela Merkel when she suggested that they exchange the same courtesy during her White House visit Friday. In an exchange caught on video, photographers gathered around Trump and Merkel in the Oval Office early Friday afternoon and suggested that the two leaders shake hands for the camera. Merkel, a U.S. ally regarded highly by former President Barack Obama, turned toward Trump and asked, 'Do you want to have a handshake?' Trump, who seemed to be grimacing as he sat alongside Merkel, did not respond. He continued looking forward as the cameras rolled. It is unclear whether or not Trump heard the chancellor, but clips of the exchange immediately made the rounds on Twitter. Reporters dubbed it 'awkward.'"
Continue reading Week 9, Friday, 17 March – Thursday, 23 March 2017:
Give President Free Rein To Fire Consumer Board Chief, Justice Department Argues, The New York Times, Stacy Cowley, Friday, 17 March 2017: "The Justice Department on Friday took the rare step of opposing another federal agency, the Consumer Financial Protection Bureau, in court, arguing that the bureau's structure is unconstitutional and should be changed. But the department's argument, laid out in a brief filed in a lawsuit brought against the consumer agency, stopped short of endorsing the solution urged by the plaintiff in the case: shutting the bureau down entirely. Giving the president the ability to remove at will the consumer bureau's director — currently Richard Cordray, who was appointed by President Barack Obama — would be a sufficient remedy, Justice Department lawyers wrote in an amicus brief. The brief, highly anticipated by consumer advocates and financial services companies, opens a window into the Trump administration's view of the consumer bureau. Created in the aftermath of the 2008 financial crisis, the agency is a frequent target of the wrath of some Republican lawmakers, who would like to see the bureau curtailed or abolished altogether…. President Trump is not a fan of the bureau, and he has vowed to dismantle the law that created it, the Dodd-Frank Act. But he has largely left the agency alone since taking office, focusing instead on other priorities while the court battle over the agency's leadership structure plays out. When Congress created the bureau, it gave its director an unusual degree of independence. Once nominated by the president and confirmed by the Senate, the director, who serves a five-year term, can be removed only for cause, defined as 'inefficiency, neglect of duty or malfeasance.' Mr. Cordray's term is scheduled to end in July 2018. In October, a three-judge panel from the United States Court of Appeals for the District of Columbia Circuit ruled that Congress had overstepped its authority in how it set up the agency, and that the president should be able to remove the director at will. That ruling was vacated last month [February 2017], when the court granted the consumer bureau's request for a rehearing."
Russian parliament backs investigation into U.S. media, Reuters, published on Saturday, 18 March 2017: "The Russian lower house of parliament, the State Duma, has approved a proposal to launch an investigation into U.S. media organizations that operate in Russia, it said in a statement posted on its web site late on Friday. The investigation, which will be conducted by the Duma's information policy, technologies and communications committee, will check whether CNN, the Voice of America, Radio Liberty and 'other American media' are complying with Russian law. The statement said the Duma backed the move on Friday evening after Konstantin Zatulin, an MP from the pro-Kremlin United Russia party, proposed an investigation to retaliate for what he called a 'repressive' U.S. move against Russian state-funded broadcaster RT.  He said he was referring to an initiative by U.S. Senator Jeanne Shaheen, who has introduced a bill to empower the Justice Department to investigate possible violations of the Foreign Agents Registration Act by RT. Shaheen, a Democrat, cited a U.S. intelligence agency assessment that suggested RT was part of a Russian influence campaign to help Donald Trump win the White House last year. The Kremlin and RT have strongly rejected that allegation."
Trump Administration files notice it will appeal ruling against second version of travel ban, The Washington Post, Devlin Barrett, Friday, 17 March 2017: "The Trump administration filed court papers Friday hoping to salvage its second version of a travel ban after two judges in separate cases this week found that it probably violated the Constitution. The Justice Department filed papers in federal court in Maryland, setting up a new legal showdown in the U.S. Court of Appeals for the 4th Circuit, located in Richmond. This week, federal judges in Hawaii and Maryland issued orders against the travel ban, finding that it violated the First Amendment by disfavoring a particular religion. If the Justice Department had appealed the Hawaii order, the case would have gone to the same San Francisco-based appeals court that rejected an earlier version of the travel ban. William Jay, a former Justice Department lawyer specializing in appellate cases, said the government may have a very simple reason for challenging the Maryland case first: The judge there issued a preliminary injunction, which is more easily appealed in federal courts than temporary restraining orders like the one issued in Hawaii."
Trump the Builder? Budget Blueprint Puts His Promises on Infrastructure in Doubt, The New York Times, Alan Rappeport and Nick Corasaniti, Friday, 17 March 2017: "President Trump's budget was billed as a blueprint for acting on campaign pledges, but neglected in his cascade of spending cuts to federal agencies and largess for the military and border protection was one of his biggest promises: investing in infrastructure. On the campaign trail, Mr. Trump lamented that America's airports were 'third world.' He said he would rebuild the country's crumbling roads. He vowed to fix wobbly bridges that he claimed were in danger of falling down. But there was no sign in the budget released by the White House this week of the trillion-dollar infrastructure plan that Mr. Trump touted last summer. Instead, he proposed slicing the Department of Transportation's budget by 13 percent, or $2.4 billion. The cuts would put the Federal Aviation Administration under the thumb of the private sector, reduce funding for Amtrak and wipe out resources for new transit projects. Since Congress ultimately controls the federal government's purse strings, much of what Mr. Trump proposed in his budget is unlikely to become reality. But for those who had high hopes that having a property developer as president would lead to a building boom, the disappointment in his priorities was palpable."
Trump Seeks Proposals for 'Physically Imposing' Wall With Mexico, The New York Times, Ron Nixon, published on Saturday, 18 March 2017: "The Trump administration late Friday night took the first steps toward fulfilling a campaign promise, requesting proposals to build a 'physically imposing' wall on the border with Mexico. The request follows the release on Thursday of President Trump's first budget proposal, which includes money to pay for planning and construction of the wall. The budget calls for $2.6 billion to be spent on 'tactical infrastructure' and other security technology at the border, including money to plan, design and begin building the wall. The request for proposals adds further details about the Department of Homeland Security's plans for the wall, including the kind of construction materials to be used, its height and even plans to make it aesthetically pleasing. The structure would also have anti-climbing features and would be designed to prevent tunneling underneath it."
United Nations report on Israeli 'apartheid' sets off diplomatic fireworks, CNN, Richard Roth, Friday, 17 March 2017: "Memo to critics of Israel inside the UN system: Prepare to pay a price. The sizeable impact of President Donald Trump's new administration on the UN reverberated again Friday when an undersecretary-general resigned after a UN agency report said Israel was using apartheid-style practices on Palestinians. The US under Trump has made it quite clear it will defend Israel perhaps more than all other countries at the UN. So when what might have been an obscure report by a small UN group, among thousands printed through the UN, accused the Israeli regime of being 'designed' for the core purpose of apartheid, diplomatic fireworks erupted. New UN Secretary-General Antonio Guterres already has a tough road ahead because the United States, the UN's biggest financial contributor, wants to dramatically slash funding to the global organization and humanitarian programs. Guterres acted relatively quickly to distance the UN from the report — which was compiled by the Economic and Social Commission for Western Asia at the request of 18 Arab countries. On Friday, the UN said Guterres accepted the resignation of UN under-secretary general and the executive secretary of the commission that authored the report, Rima Khalaf."
Saturday, 18 March 2017, Day 58:
Secretary of State Tillerson says North Korea nuclear program is 'imminent' threat, as China urges talks, Politico, Nahal Toosi, Saturday, 18 March 2017: "North Korea's nuclear program poses an 'imminent' threat that nonetheless requires the United States, China, and other countries to respond with a staged approach' that includes sanctions, Secretary of State Rex Tillerson said in a rare encounter with the media. Tillerson, speaking to the conservative Independent Journal Review in an interview published Saturday, also said that U.S.-China relations appear to be at a historic inflection point that must be carefully managed. China's foreign minister, meanwhile, urged the United States to remain 'cool-headed' on the issue of North Korea and to consider going ahead with talks with Pyongyang…. Tillerson repeatedly framed the North Korean threat as 'imminent,' and during his trip he has ruled out negotiations with the country while leaving open the possibility of a pre-emptive military strike to eliminate its nuclear program."
Secretary of State Tillerson: 'I'm not a big media press access person,' The Hill, Elliot Smilowitz, Saturday, 18 March 2017: "Secretary of State Rex Tillerson on Saturday stood by his decision not to allow a pool reporter to travel with him on his Asia trip, calling himself 'not a big media press access person.'  Erin McPike of the right-leaning Independent Journal Review — the only reporter selected by State to travel with Tillerson — pressed the diplomat about his decision in an interview. McPike noted China restricts press access and asked whether he's concerned about the message he's sending. Tillerson claimed the decision not to allow more reporters had to do with a desire to save money, saying the plane 'flies faster, allows me to be more efficient' with fewer people on it. He added that there's plenty of media in the cities where he's heading, lowering the need for a traveling press. And he disregarded the tradition of the secretary of State spending time with reporters on flights, saying 'that's not the way I tend to work.' Tillerson wouldn't commit to bringing a pool reporter on future trips, saying it would be decided on a case-by-case basis depending on his goals. 'First and foremost is what is my mission and why am I going? How can I best accomplish that mission? What's the most effective way for me to do that?' the secretary said. 'I'm not a big media press access person. I personally don't need it. … When we're ready to talk about what we're trying to do, I will be available to talk to people. But doing daily availability, I don't have this appetite or hunger to be that.' He added: 'When I have something important and useful to say, I know where everybody is and I know how to go out there and say it.'"
Trump, Day After German Chancellor Angela Merkel's Visit to US, Says Germany Pays NATO and US Too Little, The New York Times, Julie Hirshfeld Davis, Saturday, 18 March 2017: "President Trump criticized Germany on Saturday for paying too little to both NATO and the United States for security support, a day after he held a chilly meeting at the White House with Chancellor Angela Merkel that showcased the two leaders' disagreements. 'Despite what you have heard from the FAKE NEWS, I had a GREAT meeting with German Chancellor Angela Merkel,' Mr. Trump wrote in a post on Twitter as he began his weekend at Mar-a-Lago, his estate in Palm Beach, Fla. 'Nevertheless, Germany owes vast sums of money to NATO & the United States must be paid more for the powerful, and very expensive, defense it provides to Germany!' he continued. The message was misleading because no nation actually 'owes' money to NATO; its direct funding is calculated through a formula and paid by each of the 28 nations that are members. Mr. Trump may have been referring to the fact that Germany, like most NATO countries, falls short of the alliance's guideline that each member should allocate 2 percent of its gross domestic product to military spending, but that money is not intended to be paid to NATO or to the United States."
U.S. Breaks With Allies Over Trade Issues Amid Trump's 'America First' Vows, The New York Times, Jack Ewing, Saturday, 18 March 2017: "The United States broke with other large industrial nations over trade on Saturday as the Trump administration rejected concerns among allies about spreading protectionism and made clear that it would seek new approaches to managing global commerce. At a meeting of finance ministers and central bankers from the Group of 20 industrialized and emerging nations and the European Union, Steven Mnuchin, attending his first major international gathering as Treasury secretary, signaled that American policy would follow the campaign promises made by President Trump to put 'America first' and review existing trade agreements to seek better deals for the United States. As a result, the ministers' joint statement, normally a study in blandness, became an unlikely focus of controversy here. The representatives could agree only on a tortured compromise stating, in effect, that trade is a good thing. Adjectives like 'open' were dropped, and the ministers omitted language used in previous communiqués that condemned protectionism, repudiating decades of free trade doctrine. For Asian and European officials, many of them meeting their Trump administration counterparts for the first time, it was a startling lesson in how Mr. Trump and his team are overturning long-held assumptions about international commerce."
Senate Intelligence Committee Asks Trump Adviser Roger Stone to Preserve Any Russia-Related Documents,  The New York Times, Maggie Haberman, Saturday, 18 March 2017: "Roger J. Stone Jr., an informal adviser to President Trump, has been asked by the Senate Intelligence Committee to preserve any records he may have in connection to a broader inquiry into Russian attempts to interfere with United States elections. The letter sent to Mr. Stone, a copy of which was obtained by The New York Times, represents the first public indication of the scope of the committee's inquiry, and possible connections to Mr. Trump's campaign. The Senate committee asked Mr. Stone, who is also under scrutiny from other federal investigators, to 'preserve and retain all hard copies and electronically stored information as specified below in furtherance of the committee's ongoing investigation into Russian actions targeting the 2016 U.S. elections and democratic processes globally.' Mr. Stone confirmed the existence of the letter, which was dated Feb. 17. However, he said he had received it only on Friday, by email. Mr. Stone has acknowledged trading messages over Twitter with Guccifer 2.0, the online persona that officials believe was actually Russian intelligence officers."
In Supreme Court Nominee Neil Gorsuch, Conservative Activist Leonard Leo of the Federalist Society Sees Test Case for Reshaping the Judiciary, The New York Times, Eric Lipton and Jeremy W. Peters, Saturday, 18 March 2017: "Deep into the Senate's 68-page questionnaire of Judge Neil M. Gorsuch, the Supreme Court nominee was asked to describe how he had come to President Trump's attention. The first thing he wrote was, 'I was contacted by Leonard Leo.'  Most Americans have probably never heard of Leonard A. Leo, who has long served as executive vice president of the Federalist Society, an organization of conservatives and libertarians who 'place a premium on individual liberty, traditional values and the rule of law.' But as Mr. Trump begins the process of filling what could be the most federal court vacancies left to any president in nearly a half-century, Mr. Leo is playing a critical role in reshaping the judiciary. He sits at the nexus of an immensely influential but largely unseen network of conservative organizations, donors and lawyers who all share a common goal: Fill the federal courts with scores of judges who are committed to the narrow interpretation of the Constitution that they believe the founders intended. 'The Supreme Court needs to be an institution that helps to undergird limited constitutional government,' said Mr. Leo, 51, whose cerebral, unassuming demeanor belies the enormous clout he has developed in Washington."
Newly Public Emails Hint at Supreme Court Nominee Neil Gorsuch's View of Presidential Power, The New York Times, Charlie Savage, Saturday, 18 March 2017: "In December 2005, when Congress enacted the Detainee Treatment Act, tightening restrictions against torture but barring lawsuits by Guantánamo detainees, Neil Gorsuch stood at the center of the internal debate about whether President Bush should issue a signing statement about the bill. Judge Gorsuch, whose Supreme Court confirmation hearing is set to start on Monday, was then a senior official in the Justice Department. He pushed strongly for a signing statement — in part, he wrote in an email, because it could make clear the Bush administration's view that the new torture ban was 'best read as essentially codifying existing interrogation policies.' An email chain about the development of Mr. Bush's eventual signing statement, which attracted critics because it also claimed a right to bypass the torture ban under his powers as commander in chief, was among more than 100 pages of emails and documents from Judge Gorsuch's 2005-2006 tenure at the Justice Department that the Trump administration provided to the Senate late on Friday. The executive branch had previously withheld those pages from nearly 175,000 documents it provided to Congress because it considered them covered by a privilege for confidential internal deliberations. But it waived that privilege after Senator Dianne Feinstein of California, the top Democrat on the Senate Judiciary Committee, requested their disclosure. Previous disclosures showed that Judge Gorsuch helped to defend and advance the Bush administration's positions related to Guantánamo detainees, military commissions and other policy disputes arising in the war on terrorism, although those policies had been set by others.  That same caveat applies to the newly available documents. Still, they could provide further clues to Judge Gorsuch's approach to defining the scope and limits of a president's power in national-security matters."
Kellyanne Conway's Husband George Conway Is Trump's Choice to Head the Civil Division of the Justice Department, The New York Times, Julie Hirshfeld Davis, Saturday, 18 March 2017: "President Trump has selected George T. Conway III, the husband of his counselor Kellyanne Conway, to head the civil division of the Justice Department, people familiar with the decision said on Saturday, placing him in charge of a crucial office charged with defending Mr. Trump's contentious travel ban and lawsuits alleging that his business activities violate the Constitution. Mr. Conway, 53, would lead a department of about 1,000 lawyers that has vast reach across the government, handling issues like national security and consumer protection and enforcing federal programs and the actions of the president himself. A White House spokeswoman declined to comment on a personnel matter, and the Justice Department did not immediately respond to requests. The people familiar with Mr. Trump's decision confirmed it on the condition of anonymity because they were not authorized to pre-empt an impending announcement. The choice was first reported by The Wall Street Journal."
Inside Trump's White House, New York moderates spark infighting and suspicion, The Washington Post, Philip Rucker and Robert Costa, Saturday, 18 March 2017: "Inside the White House, they are dismissed by their rivals as 'the Democrats.' Outspoken, worldly and polished, this coterie of ascendant Manhattan business figures-turned-presidential advisers is scrambling the still-evolving power centers swirling around President Trump. Led by Gary Cohn and Dina Powell — two former Goldman Sachs executives often aligned with Trump's elder daughter and his son-in-law — the group and its broad network of allies are the targets of suspicion, loathing and jealousy from their more ideological West Wing colleagues. On the other side are the Republican populists driving much of Trump's nationalist agenda and confrontations, led by chief strategist Stephen K. Bannon, who has grown closer to Chief of Staff Reince Priebus in part to counter the New Yorkers."
Top NSA official Richard Ledgett ridicules allegation Britain spied on Trump, Reuters, Andy Bruce, Saturday, 18 March 2017: "Allegations from the United States that British spy agency GCHQ snooped on Donald Trump during his election campaign are 'arrant nonsense,' the deputy head of the U.S. National Security Agency (NSA) said in an interview on Saturday. President Trump has stood by unproven claims that the Obama administration tapped his phones during the 2016 White House race. On Thursday his spokesman cited a media report that Britain's GCHQ was behind the surveillance. Richard Ledgett, deputy director of the NSA, told BBC News the idea that Britain had a hand in spying on Trump was 'just crazy.' 'It belies a complete lack of understanding of how the relationship works between the intel community agencies, it completely ignores the political reality of 'would the UK government agree to do that?,' Ledgett said."
Sunday, 19 March 2017, Day 59:
Secretary of State Rex Tillerson and President Xi Jinping of China Meet in China and Emphasize Cooperation, The New York Times, Jane Perlez, Sunday, 19 March 2017: "Secretary of State Rex W. Tillerson and President Xi Jinping of China cast aside their differences on Sunday with a public display of cooperation, sidestepping areas of disagreement even as North Korea made another defiant statement by showing off a new missile engine. In the highest-level face-to-face meeting between the United States and China since President Trump took office, the two sides made no mention of other contentious issues, including possible punitive trade measures against China and Washington's unhappiness with Beijing's assertiveness in the South China Sea. Greeting the new secretary of state in an ornate room in the Great Hall of the People, Mr. Xi thanked Mr. Tillerson for a smooth transition to the Trump administration and expressed his appreciation for the sentiment that 'the China-U.S. relationship can only be defined by cooperation and friendship.' At least in public, Mr. Tillerson adopted a far different tone than that of his boss, who said in a Twitter post on Friday that China had 'done little to help' on North Korea. Instead, Mr. Tillerson said the United States looked forward to stronger ties with China."
White House installs political aides at cabinet agencies to be Trump's eyes and ears, The Washington Post, Lisa Rein and Juliet Eilperin, Sunday, 19 March 2017: "The political appointee charged with keeping watch over Environmental Protection Agency Administrator Scott Pruitt and his aides has offered unsolicited advice so often that after just four weeks on the job, Pruitt has shut him out of many staff meetings, according to two senior administration officials. At the Pentagon, they're privately calling the former Marine officer and fighter pilot who's supposed to keep his eye on Defense Secretary Jim Mattis 'the commissar,' according to a high-ranking defense official with knowledge of the situation. It's a reference to Soviet-era Communist Party officials who were assigned to military units to ensure their commanders remained loyal. Most members of President Trump's Cabinet do not yet have leadership teams in place or even nominees for top deputies. But they do have an influential coterie of senior aides installed by the White House who are charged — above all — with monitoring the secretaries' loyalty, according to eight officials in and outside the administration. This shadow government of political appointees with the title of senior White House adviser is embedded at every Cabinet agency, with offices in or just outside the secretary's suite. The White House has installed at least 16 of the advisers at departments including Energy and Health and Human Services and at some smaller agencies such as NASA, according to records first obtained by ProPublica through a Freedom of Information Act request. These aides report not to the secretary, but to the Office of Cabinet Affairs, which is overseen by Rick Dearborn, a White House deputy chief of staff, according to administration officials. A top Dearborn aide, John Mashburn, leads a weekly conference call with the advisers, who are in constant contact with the White House."
Russia Inquiries Overlap in a Tangle of Secrets and Sniping, The New York Times, Matt Apuzzo, Adam Goldman and Matthew Rosenberg, Sunday, 19 March 2017: "Russia's campaign to disrupt last year's presidential election has spawned a tangle of inquiries with competing agendas and timetables, and with little agreement on the most important things that should be investigated. Staff members for the Senate Intelligence Committee have spent weeks poring over raw intelligence that led the Obama administration to conclude that Russia meddled in the election, but they have yet to be given any access to far more politically charged information — evidence of contacts between Russians and associates of President Trump. The House Intelligence Committee is conducting its own investigation of issues surrounding Mr. Trump and Russia, but the committee's Republican chairman has said a top priority is to unmask whoever is speaking to journalists about classified information. Democrats on the committee hope the investigation can force a disclosure of the president's tax returns. The progress of these congressional inquiries depends at least in part on a third investigation by the F.B.I., in which counterintelligence agents have been scrutinizing past contacts between Russian officials and Mr. Trump's aides. Officials say the F.B.I. effort will probably take many months or even years, however eager Congress might be for quick answers. And, while the F.B.I. conducts its investigation in secrecy, the White House insists publicly that there is nothing to investigate."
Monday, 20 March 2017, Day 60:
Trump tweeted on Monday morning that everyone knows Russia allegations are 'fake news,' Politico, Louis Nelson, Monday, 20 March 2017: "Hours before FBI Director James Comey [was] set to testify before Congress on Russia's involvement in the 2016 presidential elections, President Donald Trump renewed his attacks against those who have accused him of having ties to the Russian government. 'James Clapper and others stated that there is no evidence Potus colluded with Russia,' the president wrote on Twitter Monday morning, referring to statements made earlier this month by the former director of national intelligence on NBC's "Meet the Press." 'This story is FAKE NEWS and everyone knows it!' 'The Democrats made up and pushed the Russian story as an excuse for running a terrible campaign. Big advantage in Electoral College & lost!' Trump wrote in a second post, adding in a third that 'the real story that Congress, the FBI and all others should be looking into is the leaking of Classified information. Must find leaker now!' 'What about all of the contact with the Clinton campaign and the Russians?' the president wrote in a fourth post Monday morning, apparently referring to remarks from a Kremlin spokesman who said officials from Democrat Hillary Clinton's campaign met with some of the same Russian officials that Trump's did. 'Also, is it true that the DNC would not let the FBI in to look?'" See also, Trump's terrible, horrible, no good, very bad Twitter day, The Washington Post, Glenn Kessler, Monday, 20 March 2017: "With the House Intelligence Committee on Monday prepared to hold hearings on Russian influence in the 2016 election, the president issued tweets that did not hold up well as the testimony unfolded."
F.B.I. Director James Comey Confirms F.B.I. Inquiry on Russia; Sees No Evidence of Wiretapping, The New York Times, Matthew Rosenberg, Emmarie Huetteman and Michael Schmidt, Monday, 20 March 2017: "The F.B.I. is investigating Russian interference in the 2016 election and possible links between the Trump campaign and the Russian government — and whether there was any coordination, Mr. Comey said. Mr. Comey said that it was unusual for the F.B.I. to confirm or deny the existence of any investigations, but that in unusual circumstances when it is in the public interest, the bureau will sometimes discuss such matters…. Mr. Comey told lawmakers that the investigation began in July, but he conceded that he had only 'recently' briefed congressional leaders on the existence of the F.B.I. investigation. Asked why he had waited so long, he said, 'Because of the sensitivity of the matter.'… Mr. Comey told the House Intelligence Committee, 'We have no information to support' President Trump's assertion on Twitter that President Barack Obama wiretapped Trump Tower…. The N.S.A. chief, Admiral [Michael S. Rogers], weighed in as well, saying that he had no knowledge of anyone asking the British or any other ally to wiretap Mr. Trump. That seemed to refute another claim made by the White House…. He then explicitly denied having any indication that Mr. Trump was wiretapped by British intelligence at the request of Mr. Obama." See also, Highlights From the House Intelligence Committee Hearing on Russian Interference in the U.S. Election, The New York Times, Scott Shane, Monday, 20 March 2017.
It's Official: The FBI Is Investigating Trump's Links to Russia, The Atlantic, Russell Berman, Monday, 20 March 2017: " With just two sentences on Monday, FBI Director James Comey cast a long, dark shadow over the presidency of Donald Trump and the campaign that resulted in his election. 'I've been authorized by the Department of Justice to confirm that the FBI, as part of our counterintelligence mission, is investigating the Russian government's efforts to interfere in the 2016 presidential election,' Comey said in testimony before the House Intelligence Committee. 'That includes investigating the nature of any links between individuals associated with the Trump campaign and the Russian government, and whether there was any coordination between the campaign and Russia's efforts.' Comey's declaration was not a surprise; reports about a federal probe involving Trump have been swirling for months. But his decision to publicly confirm that the sitting president's campaign is under investigation for possibly colluding with a foreign power to undermine an election was a stunning revelation, and one whose significance both Democrats and Republicans immediately recognized."
What Investigation? Republicans Respond to F.B.I. Inquiry Into Connections Between Associates of Trump and Russian Operatives During the 2016 Presidential Election By Changing the Subject, The New York Times, Michael Shear, Monday, 20 March 2017: "The headline from Capitol Hill on Monday was bracing: confirmation of a criminal investigation into connections between associates of a sitting president and Russian operatives during a presidential election. But the response from Republicans was almost as striking: During hours of testimony in which James B. Comey, the F.B.I. director, acknowledged the inquiry, they shrugged off its implications and instead offered a coordinated effort to defend President Trump by demanding a focus on leaks to news organizations. Throughout the 5½-hour hearing before the House Intelligence Committee, as Democrats tried to highlight the criminal investigation, Republicans demanded a renewed focus on how its existence was revealed in news reports months ago. When Democrats raised the issue of Mr. Trump's Twitter posts accusing former President Barack Obama of wiretapping him — and Mr. Comey said the F.B.I. had "no information that supports those tweets" — Republicans railed against leaks. When Democrats pressed Mr. Comey on evidence of coordination between Mr. Trump's associates and Russian operatives, Republicans questioned the F.B.I. director about how the names of those associates became public in news reports. The political strategy appears clear: Republicans are betting that they can deflect attention from the investigation into the president's campaign advisers by insisting that more needs to be done to prevent the leaking of classified material."
Representative Adam Schiff, Democrat of California, Leverages Democrats' Limited Power in Trump Inquiry, The New York Times, Jennifer Steinhauer, Monday, 20 March 2017: "As attack dogs go, Representative Adam B. Schiff, Democrat of California, is more labradoodle than Doberman, his partisanship disguised by a thick fur of intense preparation, modulated locution and gentle accusations. So in a hearing on Monday of the House Permanent Select Committee on Intelligence about Russian interference in the 2016 presidential election, Mr. Schiff, a doe-eyed former federal prosecutor, politely probed James B. Comey, the F.B.I. director, and carefully laid out the history of the Trump campaign's contacts with Russian officials. It was a performance that showed how an avalanche of information can leverage the limited power of the minority party to damage a president…. In the hearing, Mr. Schiff successfully pressed Mr. Comey to say that the F.B.I. had no evidence to support President Trump's claim that his predecessor, President Barack Obama, had tapped his phones in Trump Tower. Soon afterward, Mr. Comey confirmed what had been widely reported before Monday: The F.B.I. is investigating whether members of Mr. Trump's campaign colluded with Russia to influence the election, an admission that took Mr. Schiff by surprise, he said."
FBI's Russian-influence probe includes a look at Breitbart, InfoWars news sites, McClatchy, Peter Stone and Greg Gordon, Monday, 20 March 2017: "Federal investigators are examining whether far-right news sites played any role last year in a Russian cyber operation that dramatically widened the reach of news stories — some fictional — that favored Donald Trump's presidential bid, two people familiar with the inquiry say. Operatives for Russia appear to have strategically timed the computer commands, known as "bots," to blitz social media with links to the pro-Trump stories at times when the billionaire businessman was on the defensive in his race against Democrat Hillary Clinton, these sources said. The bots' end products were largely millions of Twitter and Facebook posts carrying links to stories on conservative internet sites such as Breitbart News and InfoWars, as well as on the Kremlin-backed RT News and Sputnik News, the sources said. Some of the stories were false or mixed fact and fiction, said the sources, who spoke on condition of anonymity because the bot attacks are part of an FBI-led investigation into a multifaceted Russian operation to influence last year's elections. Investigators examining the bot attacks are exploring whether the far-right news operations took any actions to assist Russia's operatives. Their participation, however, wasn't necessary for the bots to amplify their news through Twitter and Facebook. The investigation of the bot-engineered traffic, which appears to be in its early stages, is being driven by the FBI's Counterintelligence Division, whose inquiries rarely result in criminal charges and whose main task has been to reconstruct the nature of the Kremlin's cyber attack and determine ways to prevent another."
Supreme Court nominee Neil Gorsuch's first day of hearings featured glowing assessments from Republicans and vows of scrutiny from Democrats, The Washington Post, Ed O'Keefe, Robert Barnes, Sean Sullivan, Monday, 20 March 2017: "Judge Neil Gorsuch promised to remember the 'modest station we judges are meant to occupy in a democracy' if he is elevated to the nation's highest court, as the hearing on his Supreme Court nomination began Monday amidst Democratic doubts about his impartial­ity and lingering resentment over the circumstances of his selection. The day followed a familiar confirmation hearing script — glowing assessments from senators of the party whose president made the nomination, vows of scrutiny from senators out of power and a humble, deferential opening statement from the nominee. But there was a sharp-edged difference as well. Democrats on the Senate Judiciary Committee made clear they are not over the decision of their Republican colleagues to keep open the seat held by the late Justice Antonin Scalia for President Trump to fill it. And rarely has there been such a demand that a Supreme Court nominee declare his independence from the president who nominated him." See also, Six Highlights From the Gorsuch Confirmation Hearing, The New York Times, Matt Flegenheimer, Carl Hulse, Charlie Savage and Adam Liptak, Monday, 20 March 2017.
Watergate Reporter Carl Bernstein: Republican lawmakers decrying leaks have knowingly leaked classified information, The Hill, Paulina Firozi, Monday, 20 March 2017: "One of the journalists who reported on the Watergate scandal for The Washington Post is calling out Republican lawmakers who are criticizing recent leaks of classified information, suggesting they've done the same thing in the past. 'I can state w/ confidence that many intel members now decrying "leaks" of classified info have themselves "leaked" classified info knowingly,' Carl Bernstein tweeted on Monday. Bernstein posted the tweet after a Republican congressman lashed out at leaks to the media during FBI Director James Comey's testimony on Monday about Russia's interference in the presidential election. Rep. Trey Gowdy (R-S.C.) asked Comey during the hearing whether reporters could be prosecuted for leaking classified information… 'Is there an exception in the law for reporters who want to break a story?' Gowdy asked. Comey said it was not something he had seen prosecuted 'in my lifetime.'"
Homeland Security officials unveiled the administration's first list of local law enforcement agencies that didn't help the federal government with deportations, The Washington Post, Maria Sacchetti, Monday, 20 March 2017: "Homeland Security officials on Monday unveiled the administration's first list of law enforcement agencies that refused to detain jailed immigrants beyond their release dates so that the federal government could take them into custody and try to deport them. Federal officials, who spoke on the condition of anonymity in a conference call with reporters, said local agencies, including some in Maryland and Virginia, failed to honor 206 detention requests from Jan. 28 to Feb. 3. President Trump in January ordered Homeland Security to issue a weekly list of crimes committed by noncitizen immigrants and to identify agencies that refused to hold those people in jail on civil immigration-violation charges until federal agents could pick them up…. Advocates for immigrants say it is unconstitutional for local police to detain someone for a civil deportation proceeding when the judge in their criminal case has ordered them released…. Trump has threatened to withhold federal funding from what are called sanctuary cities, where local law enforcement agencies do not cooperate with the U.S. Immigration and Customs Enforcement bureau, but officials said they hoped such jurisdictions would start cooperating with federal agents instead. Officials identified 118 such agencies in the report Monday, though they cautioned it was preliminary. The National Immigration Law Center (NILC) estimates that 600 jurisdictions limit their cooperation with ICE, in most cases because they do not want immigrants to fear the police or be deported for minor traffic offenses."
Secretary of State Rex Tillerson's view of media access is completely backward, The Washington Post, Callum Borchers, Monday, 20 March 2017: "Secretary of State Rex Tillerson has it backward. He thinks press access is about him. On his just-completed trip to Asia, Tillerson allowed only one journalist, Erin McPike of the Independent Journal Review, to travel with him. And when McPike asked in a weekend interview whether Tillerson would permit a fuller press corps to accompany him in the future, the former ExxonMobil chief executive said decisions will depend on 'my needs.' 'It's gonna be trip dependent,' Tillerson said. 'It doesn't mean we won't, but we're gonna look at every trip in terms of what my needs are. Look my — first and foremost is what is my mission and why am I going? How can I best accomplish that mission? What's the most effective way for me to do that? I'm not a big media press access person. I personally don't need it.'… Apparently previous secretaries of state who interacted regularly with reporters were emotionally needy. Or something…. Press access is about what the public needs, not what the secretary of state needs. Tillerson claimed to get the concept at his confirmation hearing, when he said, 'We want to ensure at all times, if confirmed, that the secretary of state and the State Department is fully transparent with the public.' Even then, however, Tillerson would not commit to allowing journalists to travel with him. Tillerson clearly believes that in diplomatic talks there is little value in keeping voters apprised of his thinking along the way, which suggests he is not interested in recalibrating, based on public opinion."
Fox News Sidelines Andrew Napolitano After Wiretap Allegation, The New York Times, John Boblin, published on Tuesday, 21 March 2017: "Andrew Napolitano, the senior legal analyst for Fox News, has been temporarily sidelined following his unproved assertion last week that former President Barack Obama had asked for British assistance in spying on Donald J. Trump, a person briefed on the decision said on Monday. Mr. Napolitano did not appear on Fox on Monday, even though there were two news events that normally would have called for his services: hearings involving the F.B.I. director James B. Comey, and the Supreme Court nominee Neil M. Gorsuch. Mr. Comey's hearing touched on Judge Napolitano's allegation — which both President Trump and his press secretary, Sean Spicer, repeated — that British intelligence officers wiretapped Mr. Trump at Mr. Obama's request. It is not clear how long Mr. Napolitano will be off the air, but his absence from Fox's airwaves on Monday was an indication that the network was not pleased with the unwanted attention focused on his unfounded allegations."
Ivanka Trump set to get West Wing office as role expands, Politico, Annie Karni, Monday, 20 March 2017: "Ivanka Trump, who moved to Washington saying she would play no formal role in her father's administration, is now officially setting up shop in the White House. The powerful first daughter has secured her own office on the West Wing's second floor — a space next to senior adviser Dina Powell, who was recently promoted to a position on the National Security Council. She is also in the process of obtaining a security clearance and is set to receive government-issued communications devices this week. In everything but name, Trump is settling in as what appears to be a full-time staffer in her father's administration, with a broad and growing portfolio — except she is not being sworn in, will hold no official position and is not pocketing a salary, her attorney said. Trump's role, according to her attorney Jamie Gorelick, will be to serve as the president's 'eyes and ears' while providing broad-ranging advice, not just limited to women's empowerment issues. Last week, for instance, Trump raised eyebrows when she was seated next to Angela Merkel for the German chancellor's first official visit to Trump's White House. As her role in the White House grows — a role that comes with no playbook — Trump plans to adhere to the same ethics and records retention rules that apply to government employees, Gorelick said, even though she is not technically an employee. But ethics watchdogs immediately questioned whether she is going far enough to eliminate conflicts of interest, especially because she will not be automatically subjected to certain ethics rules while serving as a de facto White House adviser."
Tuesday, 21 March 2017, Day 61:
Trump won't allow you to use iPads or laptops on certain airlines. Here's why. The Washington Post, Henry Farrelly and Abraham Newman, Tuesday, 21 March 2017: "From Tuesday on, passengers traveling to the U.S. from 10 airports in eight Muslim-majority countries will not be allowed to have iPads, laptops or any communications device larger than a smartphone in the cabin of the plane. If you are traveling from Egypt, Jordan, Kuwait, Morocco, Qatar, Saudi Arabia, Turkey, or the UAE on Egypt Air, Emirates, Etihad Airways, Kuwait Airways, Qatar Airways, Royal Air Maroc, Royal Jordanian Airlines, Saudi Arabian Airlines, or Turkish Airlines, and you want to use your laptop on the flight, you are probably out of luck. So why is the United States doing this, and how can it get away with it? The U.S. says it's all about security. The Trump administration says the new rules were introduced because of intelligence that shows terrorists are continuing to target airlines flying to the United States. An unidentified person familiar with the issue has told The Washington Post that officials have long been worried by a Syrian terrorist group that is trying to build bombs inside electronic devices that are hard to detect. However, as Demitri Sevastopulo and Robert Wright at the Financial Times suggest, non-U. S. observers are skeptical of this explanation. They note that the United States has not been forthcoming about whether the ban is based on recent intelligence or long-standing concerns. There is also no explanation for why electronic devices in the cabin are a concern, and electronic devices in the baggage hold are not. There is an alternative explanation. It may not be about security. Three of the airlines that have been targeted for these measures — Emirates, Etihad Airways and Qatar Airways — have long been accused by their U.S. competitors of receiving massive effective subsidies from their governments. These airlines have been quietly worried for months that President Trump was going to retaliate. This may be the retaliation. These three airlines, as well as the other airlines targeted in the order, are likely to lose a major amount of business from their most lucrative customers — people who travel in business class and first class. Business travelers are disproportionately likely to want to work on the plane — the reason they are prepared to pay business-class or first-class fares is because it allows them to work in comfort. These travelers are unlikely to appreciate having to do all their work on smartphones, or not being able to work at all. The likely result is that many of them will stop flying on Gulf airlines, and start traveling on U.S. airlines instead."
Where Does Supreme Court Nominee Neil Gorsuch Stand on Torture? It's Hard to say,  The New York Times, Charlie Savage, Tuesday, 21 March 2017: "Democrats on the Senate Judiciary Committee grilled Judge Neil M. Gorsuch on Tuesday about torture and presidential power. It was in reference to President George W. Bush's claim in December 2005 that, as the commander in chief, he could bypass a statute in which Congress had tightened anti-torture rules. The recurring questions on this issue at Judge Gorsuch's Supreme Court confirmation hearing renewed interest in an unresolved dispute over the scope and limits of presidential power in national security matters."
Seven Highlights From Day 2 of Neil Gorsuch Confirmation Hearings, The New York Times, Matt Flegenheimer, Adam Liptak, Carl Hulse and Charlie Savage, Tuesday, 21 March 2017: "Senator Al Franken, Democrat of Minnesota, was perhaps the most aggressive questioner so far. He turned first to the case of a truck driver who abandoned his broken rig in frigid conditions and was fired. He asked Judge Gorsuch, who in a dissent said the dismissal should be upheld, what he would have done if he were faced with the same situation as the driver. 'I'm asking you a question, please answer the question,' Mr. Franken said, as the nominee demurred. When Judge Gorsuch began to defend his vote again, the senator cut in. 'That's absurd,' said Mr. Franken, a veteran of 'Saturday Night Live' in a previous life. 'Now, I had a career in identifying absurdity. And I know it when I see it.'"
Trump Lays Plans to Reverse Obama's Climate Change Legacy, The New York Times, Coral Davenport, Tuesday, 21 March 2017: "President Trump is poised in the coming days to announce his plans to dismantle the centerpiece of President Barack Obama's climate change legacy, while also gutting several smaller but significant policies aimed at curbing global warming. The moves are intended to send an unmistakable signal to the nation and the world that Mr. Trump intends to follow through on his campaign vows to rip apart every element of what the president has called Mr. Obama's 'stupid' policies to address climate change. The timing and exact form of the announcement remain unsettled, however. The executive actions will follow the White House's release last week of a proposed budget that would eliminate climate change research and prevention programs across the federal government and slash the Environmental Protection Agency's budget by 31 percent, more than any other agency. Mr. Trump also announced last week that he had ordered Scott Pruitt, the E.P.A. administrator, to revise the agency's stringent standards on planet-warming tailpipe pollution from vehicles, another of Mr. Obama's key climate change policies. While the White House is not expected to explicitly say the United States is withdrawing from the 2015 Paris Agreement on climate change, and people familiar with the White House deliberations say Mr. Trump has not decided whether to do so, the policy reversals would make it virtually impossible to meet the emissions reduction goals set by the Obama administration under the international agreement."
Trump to Republicans: Vote for Obamacare repeal or lose your seat, Politico, Kyle Cheney, Rachael Bade and John Bresnahan, Tuesday, 21 March 2017: "President Donald Trump arrived on Capitol Hill Tuesday morning with a stern message for Republicans who've been wobbly about dismantling Obamacare: Give me your vote or you may lose your seat in 2018. During a closed-door meeting with the House GOP conference, the president gave a full-throated endorsement to the House repeal bill that will come to the floor for a vote on Thursday. He warned that if Republicans don't pass the bill, 'I honestly think many of you will lose your seats in 2018.'"
Secretary of State Rex Tillerson plans to skip NATO meeting and to visit Russia in April, Reuters, Arshad Mohammed and John Walcott, Tuesday, 21 March 2017: "U.S. Secretary of State Rex Tillerson plans to skip a meeting with NATO foreign ministers next month in order to stay home for a visit by China's president and will go to Russia later in April, U.S. officials said on Monday, disclosing an itinerary that allies may see as giving Moscow priority over them. Tillerson intends to miss what would have been his first meeting of the 28 NATO allies on April 5-6 in Brussels so that he can attend President Donald Trump's expected April 6-7 talks with Chinese President Xi Jinping at Trump's Mar-a-Lago resort in Florida, four current and former U.S. officials said. Skipping the NATO meeting and visiting Moscow could risk feeding a perception that Trump may be putting U.S. dealings with big powers first, while leaving waiting those smaller nations that depend on Washington for security, two former U.S. officials said."
Senate Minority Leader Chuck Schumer calls for delaying Neil Gorsuch vote because of Trump-Russia probe, Politico, Elana Sebor, Tuesday, 21 March 2017: "Senate Minority Leader Chuck Schumer called for a delay of Supreme Court nominee Neil Gorsuch's confirmation Tuesday given the ongoing FBI investigation into potential collusion between President Donald Trump's campaign and Russian officials. 'You can bet, if the shoe were on the other foot and a Democratic president was under investigation by the FBI, the Republicans would be howling at the moon about filling a Supreme Court seat in such circumstances,' Schumer said on the floor. His call was later echoed by Massachusetts Democratic Sen. Elizabeth Warren, who tweeted that FBI Director James Comey 'testified @realDonaldTrump's campaign is under investigation for collusion with Russia. Lifetime court appointments can wait.' The emerging Democratic demand is highly unlikely to gain traction with Senate GOP leaders, who are planning a vote on Gorsuch early next month. But the move illustrates Schumer's interest in using the stain of an FBI probe to undercut the rest of Trump's agenda and echoes entreaties by liberal groups that have pressured Democrats to filibuster Gorsuch."
'I'll Criticize Judges,' Trump Says, Hours After a Scolding for Doing Just That, The New York Times, Glenn Thrush, Tuesday, 21 March 2017: "Not even a public scolding from Judge Neil M. Gorsuch could get President Trump to stop bashing federal judges. Hours after Mr. Trump's nominee for the Supreme Court declared during Senate confirmation hearings that he was 'disheartened' about Mr. Trump's unrestrained attacks on the judicial branch, the president was at it again, calling out the federal judges who have halted his second executive order banning travel from certain predominantly Muslim nations. 'Somebody said I should not criticize judges. O.K. I'll criticize judges,' Mr. Trump said on Tuesday night at a fund-raising dinner for the National Republican Congressional Committee — reiterating his pique at a federal court judge in Hawaii who last week placed a stay on his second travel order."
A President's Credibility: Trump's falsehoods are eroding public trust, at home and abroad, The Wall Street Journal, Editorial, Tuesday, 21 March 2017: "If President Trump announces that North Korea launched a missile that landed within 100 miles of Hawaii, would most Americans believe him? Would the rest of the world? We're not sure, which speaks to the damage that Mr. Trump is doing to his Presidency with his seemingly endless stream of exaggerations, evidence-free accusations, implausible denials and other falsehoods." See also, The Wall Street Journal editorial board just went off on Donald Trump, The Washington Post, Callum Borchers, published on Wednesday, 22 March 2017: "The Wall Street Journal, accused by some journalists of going soft on President Trump, printed a stinging editorial Wednesday that likened the falsehood-addicted commander in chief to an alcoholic. Trump doesn't even drink. The Journal editorial board ripped the president for what it described as his 'seemingly endless stream of exaggerations, evidence-free accusations, implausible denials and other falsehoods,' and reserved special criticism for his unsubstantiated charge that President Barack Obama wiretapped Trump Tower during the campaign. Even after FBI Director James B. Comey testified before Congress this week that his agency does not have 'any information that supports' the claim, Trump has not relented. 'The president clings to his assertion like a drunk to an empty gin bottle, rolling out his press spokesman to make more dubious claims,' the Journal wrote. Ouch…. Wednesday's editorial does…signal heightened skepticism of Trump on the most prominent, right-leaning opinion page in the country — an opinion page owned by Rupert Murdoch, the media baron who also influences conservative opinion through his ownership of Fox News Channel and the New York Post. Murdoch supported Trump's candidacy but not without some hesitation. Neither the Journal nor the New York Post offered a formal endorsement in the general-election campaign, even after the New York Post endorsed Trump in the Republican primary." See also, Wall Street Journal Editorial Harshly Rebukes Trump, The New York Times, Sydney Ember, published on Wednesday, 22 March 2017.
Wednesday, 22 March 2017, Day 62:
Before Becoming Trump's Campaign Chairman, Paul Manafort Worked to Aid Putin, APL The Big Story, Jeff Horwitz and Chad Day, Wednesday, 22 March 2017: "Before signing up with Donald Trump, former campaign manager Paul Manafort secretly worked for a Russian billionaire with a plan to 'greatly benefit the Putin Government,' The Associated Press has learned. The White House attempted to brush the report aside Wednesday, but it quickly raised fresh alarms in Congress about Russian links to Trump associates. Manafort proposed in a confidential strategy plan as early as June 2005 that he would influence politics, business dealings and news coverage inside the United States, Europe and former Soviet republics to benefit President Vladimir Putin's government, even as U.S.-Russia relations under Republican President George W. Bush grew worse. Manafort pitched the plans to aluminum magnate Oleg Deripaska, a close Putin ally with whom Manafort eventually signed a $10 million annual contract beginning in 2006, according to interviews with several people familiar with payments to Manafort and business records obtained by the AP. Manafort and Deripaska maintained a business relationship until at least 2009, according to one person familiar with the work…. Manafort's plans were laid out in detailed documents obtained by the AP that included strategy memoranda and records showing international wire transfers for millions of dollars. How much work Manafort performed under the contract was unclear. The work appears to contradict assertions by the Trump administration and Manafort himself that he never worked for Russian interests…. The disclosures come as Trump campaign advisers are the subject of an FBI probe and two congressional investigations, and they appear to guarantee that Manafort will be sought as a key witness in upcoming hearings. Investigators are reviewing whether the Trump campaign and its associates coordinated with Moscow to meddle in the 2016 campaign. Manafort has dismissed the investigations as politically motivated and misguided. The documents obtained by AP show Manafort's ties to Russia were closer than previously revealed."
Supreme Court Rules That Schools May Not Settle for Minimal Educational Progress By Disabled Students Applied By Supreme Court Nominee Neil Gorsuch, The New York Times, Richard Pérez-Pena, Wednesday, 22 March 2017: "Schools may not settle for minimal educational progress by disabled students, the Supreme Court ruled on Wednesday, rejecting a standard that some lower courts have applied, and that the nominee to join the high court, Neil M. Gorsuch, has been criticized for using. The federal Individuals With Disabilities Education Act requires 'free appropriate public education' for all children. In multiple cases, the federal Court of Appeals for the 10th Circuit, in Denver, has held that the law demands little 'more than de minimis' — merely a program intended for a student to show some annual gains. 'It cannot be the case that the Act typically aims for grade-level advancement for children with disabilities who can be educated in the regular classroom, but is satisfied with barely more than de minimis progress for those who cannot,' Chief Justice John G. Roberts Jr. wrote for a unanimous court. 'When all is said and done, a student offered an educational program providing "merely more than de minimis" progress from year to year can hardly be said to have been offered an education at all,' he wrote. 'The IDEA demands more. It requires an educational program reasonably calculated to enable a child to make progress appropriate in light of the child's circumstances.' In a 2008 ruling, Judge Gorsuch, who sits on the Court of Appeals for the 10th Circuit, applied the 'de minimis' standard in rejecting a parents' claim that a school's provisions for their autistic child were inadequate. Since Judge Gorsuch's nomination to the Supreme Court by President Trump, some Democrats have cited that and other opinions as evidence that the judge hews to an extreme conservative philosophy. At about the same time that Chief Justice Roberts was announcing the decision on Wednesday, Judge Gorsuch was questioned about the issue in a confirmation hearing before the Senate Judiciary Committee."
Monitoring May Have 'Incidentally' Picked Up Trump Aides, Republican Chair of the House Intelligence Committee Devin Nunes Says, The New York Times, Emmarie Huetteman and Matthew Rosenberg, Wednesday, 22 March 2017: "For weeks, President Trump has insisted that President Barack Obama tapped his phones even as the F.B.I. director and members of Mr. Trump's own party said there was no evidence for his charge. But on Wednesday, Mr. Trump got an assist from a powerful House Republican who said the president or his closest associates may have been 'incidentally' swept up in foreign surveillance by American spy agencies. Representative Devin Nunes of California, the Republican chairman of the House Intelligence Committee, introduced the new claim into the deepening controversy over Russian meddling in the 2016 election. Yet Mr. Nunes also told reporters on Wednesday that he had no evidence to support Mr. Trump's claim that he was directly or personally wiretapped. Democrats quickly denounced the disclosure and said it bolstered the need for an independent investigation to replace the House inquiry being led by Mr. Nunes…. Despite…plaudits from the White House, Democrats said Mr. Nunes had badly damaged his credibility in his apparent attempt to shore up Mr. Trump's. His decision to dash off to the White House and brief Mr. Trump in the middle of his committee's investigation into Russian interference — which includes the president — raised questions about the independence and viability of the House inquiry he is leading. Representative Adam B. Schiff of California, the ranking Democrat on the committee, said Mr. Nunes needed to decide whether he was going to oversee the intelligence committee or be a White House surrogate. 'He can't do both,' Mr. Schiff said in a hastily arranged news conference in response to Mr. Nunes. 'This is deeply troubling.' Mr. Schiff said that 'there is more than circumstantial evidence now' of collusion between Trump associates and Russian officials. The House Intelligence Committee is running one of three investigations into Russian interference in the election (the Senate and the F.B.I. are the other two). Before Wednesday, Democrats had already expressed skepticism that the House investigation could rise above partisan politics, and Mr. Nunes's statements only deepened their concerns. Mr. Schiff, who said he had not seen the information Mr. Nunes cited, said the mere fact that Trump associates could be identified in intelligence reports, all of which remain classified, 'does not indicate that there was any flaw in the procedures followed by the intelligence agencies.' Current and former intelligence officials backed up Mr. Schiff's assessment…. Democrats and intelligence officials questioned whether Mr. Nunes had violated the law in discussing classified reports. Mr. Nunes said he had not broken the law even as he acknowledged that the reports were classified." See also, Trump Surveillance Flap Throws Monkey Wrench Into House Russia Investigation, NPR, Philip Ewing, Wednesday, 22 March 2017: "The Republican chairman of the House Intelligence Committee, Rep. Devin Nunes of California, announced that he had learned that then-President-elect Donald Trump and some of his staff had been caught up in U.S. surveillance of foreign targets overseas in the months after the election. Nunes cited information he said was brought to him by credible sources — but did not share it with his fellow Republicans or with the Democrats on the committee. Instead, after making an announcement to reporters at the Capitol, he traveled to the White House because, he said, he needed to brief President Trump. Then Nunes talked to reporters again outside the White House and returned to the Capitol, where he finally discussed his charges with the top Democrat on the House Intelligence Committee, Rep. Adam Schiff, a fellow California lawmaker. Schiff used a late afternoon press conference to denounce the 'extraordinary' conduct by Nunes, saying Nunes had damaged any hope that the regular House Intelligence Committee could pursue a credible, bipartisan investigation into the Russia connections.Instead, Schiff said, Congress must impanel some kind of special committee like the ones it has created after crises in the past, including the terrorist attacks of 2001. 'Today's events have underscored the imperative of an independent commission,' Schiff said."
Congress Rolls Back Obama-Era Rule On Hunting Bears and Wolves In Alaska, NPR, Colin Dwyer, Wednesday, 22 March 2017: "By a largely party-line vote Tuesday, the Senate approved a bill that repeals Obama-era hunting restrictions on national wildlife refuges in Alaska. The House already voted last month to abolish those restrictions — which were instituted by the Fish and Wildlife Service in 2016 to protect predator species from hunters — and so the bill now heads to the desk of President Trump, who is widely expected to sign it. The FWS rule facing repeal explicitly prohibited many kinds of 'predator control' on the 16 federally owned refuges in Alaska. That prohibition included a ban on the aerial hunting, live trapping or baiting of predators such as bears and wolves — as well as on killing those predators while near their dens or their cubs…. As the Alaska Dispatch News points out, this debate gets to the core of a long-running dispute:
At the heart of the disagreement between state and federal wildlife managers is what each group thinks should guide its purpose. The federal government has argued that the goal on refuges and in parks should be biodiversity. The state Board of Game has an interest in ensuring maximum sustained populations for hunting.
Ensuring the 'maximum sustained populations' of commonly hunted prey species like elk, moose and caribou often means reining in the populations of their predators — namely, bears and wolves. In the 2016 restrictions, federal regulators argued that the Alaskan Board of Game had gone too far in prioritizing the populations of prey species over predators. It was an argument pursued by several Democratic senators, including New Jersey's Cory Booker, and environmental groups who were opposed to the rollback."
Trump's Interview With Time Magazine About the Way He Has Handled Truth and Falsehood In His Career, Time, Michael Scherer and TIME Staff, Wednesday, 22 March 2017. See also, Trump's cascade of false claims in his interview with Time magazine on his falsehoods, Glenn Kessler and Michelle Ye Hee Lee, published on Thursday, 23 March 2017: "President Trump had a remarkable interview with Time magazine on March 22 about falsehoods, in which he repeated many false claims that have repeatedly been debunked." This article rounds up some of Trump's key misstatements. See also, In a wide-ranging interview with Time magazine, Trump defends some of the wild claims he has made: 'I'm President, and you're not,' CNN, David Wright, Thursday, 23 March 2017: "President Donald Trump defended some of the most controversial claims of his young political career in a wide-ranging interview with Time magazine published Thursday, in which he offered a simple and absolute defense of his method: 'I'm a very instinctual person, but my instinct turns out to be right. Hey, look, in the meantime, I guess I can't be doing so badly, because I'm President, and you're not,' he told Time's Washington bureau chief, Michael Scherer. The discussion for the cover story — titled 'Is Truth Dead?' — covered subjects that ranged from Trump's wiretap accusations to the 2016 campaign trail conspiracy theory in the National Enquirer falsely connecting Sen. Ted Cruz's father and the JFK assassination."
In Greeting to Iranian People, Trump Leaves Out Their Government, The New York Times, Mark Landler, published on Thursday, 23 March 2017: "When President Trump sent greetings to the Iranian people on Wednesday for the Persian New Year, or Nowruz, it offered a glimpse into an administration that is still debating how to deal with a country that Mr. Trump has painted as an implacable foe. The five-paragraph statement went through multiple drafts, according to two people involved in the process. Hard-liners in the White House first tried to kill the message, and when that failed, stripped it of references to engaging with the Iranian government or a future in which Iran and the United States might peacefully coexist. Instead, the statement, issued a day after the holiday began, reached out to the Iranian people while ignoring the government in Tehran. It paid tribute to Iranian immigrants in the United States, even as Mr. Trump's travel ban prevented relatives of those immigrants from entering the United States. And it celebrated the ancient history of the Persian Empire while implicitly criticizing the persecution of religious minorities by the mullahs who rule the Islamic republic of today."
Thursday, 23 March 2017, Day 63:
Trump Tells Republicans It's Now or Never, Demanding House Vote on Health Bill, The New York Times, Julie Hirschfeld Davis, Robert Pear and Thomas Kaplan, Thursday, 23 March 2017: "President Trump issued an ultimatum on Thursday to recalcitrant Republicans to fall in line behind a broad health insurance overhaul or see their opportunity to repeal the Affordable Care Act vanish, demanding a Friday vote on a bill that appeared to lack a majority to pass. The demand, issued by his budget director, Mick Mulvaney, in an evening meeting with House Republicans, came after a marathon day of negotiating at the White House and in the Capitol in which Mr. Trump — who has boasted of his deal-making prowess — fell short of selling members of his own party on the health plan. House Speaker Paul D. Ryan emerged from the session and announced curtly that Mr. Trump would get his wish for a vote on Friday. Mr. Ryan refused to answer reporters' questions about whether he expected the measure to pass."
Trump Administration Orders Tougher Screening of Visa Applicants, The New York Times, Michael Shear, Thursday, 23 March 2017: "The Trump administration is making it tougher for millions of visitors to enter the United States by demanding new security checks before giving visas to tourists, business travelers and relatives of American residents. Diplomatic cables sent last week from Secretary of State Rex W. Tillerson to all American embassies instructed consular officials to broadly increase scrutiny. It was the first evidence of the 'extreme vetting' Mr. Trump promised during the presidential campaign. The new rules generally do not apply to citizens of 38 countries — including most of Europe and longstanding allies like Australia, New Zealand, Japan and South Korea — who can be speedily admitted into the United States under the visa waiver program. That program does not cover citizens from any country in the Middle East or Africa. Even stricter security checks for people from six predominantly Muslim nations remain on hold because federal courts have temporarily blocked President Trump's travel ban."
Senate Minority Leader Charles Schumer says Democrats will filibuster Supreme Court Nominee Neil Gorsuch's nomination, The Washington Post, Robert Barnes, Ed O'Keefe, and Ann E. Marimow, Thursday, 23 March 2017: "Senate hearings on Supreme Court nominee Neil Gorsuch ended Thursday on a confrontational note, with the body's top Democrat vowing a filibuster that could complicate Gorsuch's expected confirmation and ultimately upend the traditional approach to approving justices. Senate Minority Leader Charles E. Schumer (D-N.Y.) said he will vote no on President Trump's nominee and asked other Democrats to join him in blocking an up-or-down vote on Gorsuch. Under Senate rules, it requires 60 votes to overcome such an obstacle. Republicans eager to confirm Gorsuch before their Easter recess — and before the court concludes hearing the current term of cases next month — have only 52 senators…. In a speech on the Senate floor, Schumer said: 'If this nominee cannot earn 60 votes — a bar met by each of President Obama's nominees and George Bush's last two nominees — the answer isn't to change the rules. It's to change the nominee.' The Democrats' liberal base has been pressuring senators to block Trump's nominees across the government. But Schumer stopped short of saying that his entire Democratic caucus would join him in opposition to Gorsuch, leaving political space for some Democrats to find ways to work with Republicans."
House Intelligence Chair Devin Nunes apologizes for going directly to Trump with monitoring claims, Politico, Austin Wright and Nolan D. McCaskill, Thursday, 23 March 2017: "House Intelligence Chairman Devin Nunes apologized to members of his panel Thursday for not informing Rep. Adam Schiff, the ranking Democrat, before going public with allegations that Trump transition messages were inadvertently intercepted by U.S. intelligence agencies… The apology from Nunes came as congressional Democrats on Thursday slammed him for his perceived allegiance to the Trump administration, questioning whether he is fit to lead an impartial investigation into possible ties between Trump's associates and Russian officials. Schiff (D-Calif.) told NPR's Steve Inskeep on Thursday that committee members still haven't been privy to the information Nunes shared with the White House. Nunes has said he is not in possession of the information yet and that he hopes it will be delivered to his committee on Friday."
Adam Schiff, the top Democrat on the House Intelligence Committee, says new evidence shows possible Trump-Russia collusion, CNN, Manu Raju and Theodore Schleifer, Thursday, 23 March 2017: "The top Democrat on the House Intelligence Committee is claiming that he has been presented with new information on collusion between associates of President Donald Trump and Russia, suggesting 'it's the kind of evidence' that a grand jury investigation would want to consider. Rep. Adam Schiff told CNN Thursday that he had seen additional evidence, but would not specify what it was. 'We continue to get new information that, I think, paints a more complete picture of at least what we know at the outset of our investigation,' Schiff said. Asked to explain his comments earlier in the week when he said there was more than just 'circumstantial evidence of collusion,' Schiff said, 'I do think that it's appropriate to say that it's the kind of evidence that you would submit to a grand jury at the beginning of an investigation. It's not the kind of evidence that you take to a trial jury when you're trying to prove something beyond a reasonable doubt. But we're at the beginning of an investigation, and given the gravity of the subject matter, I think that the evidence certainly warrants us doing a thorough investigation.' An aide said that Schiff was not suggesting that a grand jury should be empaneled, but was using an analogy drawing upon his time as a prosecutor. On Thursday night, House Intelligence Chairman Devin Nunes said he has 'no idea' and is 'not familiar' with the evidence Schiff described. The California Democrat said it was 'baffling' that his Republican counterpart on the committee, Nunes, would not rule out that the information he disclosed Wednesday — the California Republican said communications of Trump and his associates may have been collected by intelligence agencies — came from the White House."
The Senate Voted to Repeal Obama-Era Internet Privacy Rules, The New York Times, Cecilia Kang, Thursday, 23 March 2017: "Republican senators moved Thursday to dismantle landmark internet privacy protections for consumers in the first decisive strike against telecommunications and technology regulations created during the Obama administration, and a harbinger of further deregulation. The measure passed in a 50-to-48 vote largely along party lines. The House is expected to mirror the Senate's action next week, followed by a signature from President Trump. The move means Verizon, Comcast or AT&T can continue tracking and sharing people's browsing and app activity without permission, and it alarmed consumer advocates and Democratic lawmakers. They warned that broadband providers have the widest look into Americans' online habits, and that without the rules, the companies would have more power to collect data on people and sell sensitive information. 'These were the strongest online privacy rules to date, and this vote is a huge step backwards in consumer protection writ large,' said Dallas Harris, a policy fellow for the consumer group Public Knowledge. 'The rules asked that when things were sensitive, an internet service provider asked permission first before collecting. That's not a lot to ask.'"
Lacking the Votes for Passage, House Calls Off Obamacare Repeal Vote, The New York Times, Thomas Kaplan, Robert Pear and Emmarie Huetteman, Thursday, 23 March 2017: "Members of the hard-line House Freedom Caucus emerged from a negotiating session with President Trump without an agreement on changes to Republican's health care bill that would satisfy them. But they were closer. 'We're certainly trying to get to 'yes,' said Representative Mark Meadows, Republican of North Carolina and the chairman of the Freedom Caucus. 'We've made very reasonable requests and we're hopeful that those reasonable requests will be listened to and ultimately agreed to.'"
Supreme Court Nominee Neil Gorsuch Completes His 20-Hour Test. So How Did He Do?, The New York Times, Matt Flegenheimer, Adam Liptak, Charlie Savage and Carl Hulse, Thursday, 23 March 2017: "Judge Neil M. Gorsuch can relax now. After 20-odd hours of Senate questioning this week, the Supreme Court nominee has completed his testimony. The committee will hold a final session on Thursday featuring expert panelists discussing the judge. But his job is done. So what have we learned?… Nothing that's happened this week has made much of a difference. Three days of hearings marked by attacks and deflections have left the Senate Judiciary Committee more or less where it started. If the Republicans' goal was to persuade Democrats of a moral imperative to join them in support, they fell short. (In some cases, the nominee's sparring with Democrats may have pushed some further away.) And if Democrats harbored any hope of raising doubts about Judge Gorsuch among Republicans, they came nowhere close."