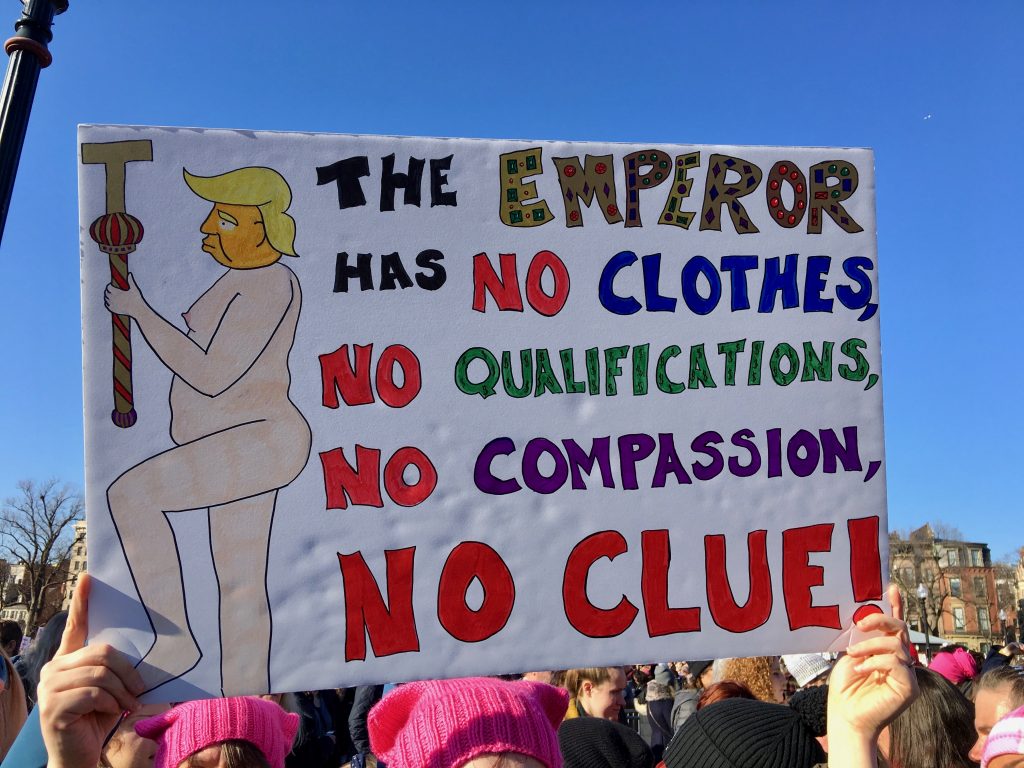 Keeping Track (of some things), Staying Outraged (it is possible), and Resisting (it's essential)
Passages in bold in the body of the texts below are my emphasis. This is an ongoing project, and I update the site frequently. I hope readers will peruse the articles in full for a better understanding of the issues and their context; our democracy and our future depend on citizens who can distinguish between facts and falsehoods and who are engaged in the political process.
Friday, 10 March 2017, Day 50:
Trump Abruptly Orders 46 Obama-Era Prosecutors at the Department of Justice to Resign, The New York Times, Charlie Savage and Maggie Haberman, Friday, 10 March 2017: "The Trump administration moved on Friday to sweep away most of the remaining vestiges of Obama administration prosecutors at the Justice Department, ordering 46 holdover United States attorneys to tender their resignations immediately — including Preet Bharara, the United States attorney in Manhattan. The firings were a surprise — especially for Mr. Bharara, who has a reputation for prosecuting public corruption cases and for investigating insider trading. In November, Mr. Bharara met with then President-elect Donald J. Trump at Trump Tower in Manhattan and told reporters afterward that both Mr. Trump and Jeff Sessions, who is now the attorney general, had asked him about staying on, which the prosecutor said he expected to do. But on Friday, Mr. Bharara was among federal prosecutors who received a call from Dana Boente, the acting deputy attorney general, instructing him to resign, according to a person familiar with the matter. As of Friday evening, though some of the prosecutors had publicly announced their resignations, Mr. Bharara had not. A spokesman for Mr. Bharara declined to comment…. The abrupt order came after two weeks of increasing calls from Mr. Trump's allies outside the government to oust appointees from President Barack Obama's administration….  [T]he calls from the acting deputy attorney general arose a day after Sean Hannity, the Fox News commentator who is a strong supporter of President Trump, said on his evening show that Mr. Trump needed to 'purge' Obama holdovers from the federal government. Mr. Hannity portrayed them as 'saboteurs' from the 'deep state' who were leaking secrets to hurt Mr. Trump. It also came the same week that government watchdogs wrote to Mr. Bharara and urged him to investigate whether Mr. Trump had violated the emoluments clause of the Constitution, which bars federal officials from taking payments from foreign governments…. It is not unusual for a new president to replace United States attorneys appointed by a predecessor, especially when there has been a change in which party controls the White House. Still, other presidents have done it gradually in order to minimize disruption, giving those asked to resign more time to make the transition while keeping some inherited prosecutors in place, as it had appeared Mr. Trump would do with Mr. Bharara."
ACLU files ethics complaint against Attorney General Jeff Sessions over his testimony to a Senate committee that he had no communications with the Russian government, The Washington Post, Kristine Phillips, Friday, 10 March 2017: "The American Civil Liberties Union has filed an ethics complaint against Attorney General Jeff Sessions over his testimony to a Senate committee that he had no communications with the Russian government. The complaint, filed with the Alabama State Bar's disciplinary commission, comes less than two weeks after The Washington Post revealed that Sessions met with Russia's ambassador to the United States twice last year and did not disclose those communications when asked during his confirmation hearing in January. The March 1 report by The Post's Adam Entous, Ellen Nakashima and Greg Miller intensified calls for a congressional investigation into Russia's alleged involvement in the presidential election. Chris Anders, deputy director of the ACLU's legislative office in Washington, claims that Sessions had violated Alabama's rules of professional conduct preventing lawyers from engaging in 'conduct involving dishonesty, fraud, deceit or misrepresentation,' according to the complaint, which cites The Post's story…. The complaint, filed Thursday, says the report of the meetings with the Russian ambassador 'does not square' with Sessions's sworn testimony in the Senate."
Trump Supporters Have the Most to Lose in the Republican Health Care Plan, The New York Times, Nate Cohn, Friday, 10 March 2017: "The people who stand to lose the most in tax credits under the House Republican health plan tended to support Donald J. Trump over Hillary Clinton in the 2016 election, according to a new Upshot analysis. Over all, voters who would be eligible for a tax credit that would be at least $1,000 smaller than the subsidy they're eligible for under Obamacare supported Mr. Trump over Hillary Clinton by a seven-point margin. The voters hit the hardest — eligible for at least $5,000 less in tax credits under the Republican plan — supported Mr. Trump by a margin of 59 percent to 36 percent. These estimates are based on data from the Kaiser Family Foundation and the Cooperative Congressional Election Study (C.C.E.S.), a large survey of tens of thousands of Americans. Kaiser estimated whether individuals would gain or lose under the Republican plan to replace the Affordable Care Act, based on their income, age and insurance market."
Continue reading Week 8, Friday, 10 March – Thursday, 16 March 2017:
The Wealthy Would Get Billions in Tax Cuts Under the Republican Obamacare Repeal Plan, The New York Times, Jesse Drucker, Friday, 10 March 2017: "Two of the biggest tax cuts in Republican proposals to repeal the Affordable Care Act would deliver roughly $157 billion over the coming decade to those with incomes of $1 million or more, according to a congressional analysis. The assessment was made by the Joint Committee on Taxation, a nonpartisan panel that provides research on tax issues. It is not unusual for tax cuts to benefit mostly the wealthiest, but still save some money for a majority of Americans. But the benefits of these reductions would be aimed squarely at the top. The provisions would repeal two tax increases on high earners enacted in 2010 to help pay for the Affordable Care Act: an increase in capital gains taxes and other investment-related income, and a surcharge on Medicare taxes."
Fact Checker: Throughout Trump's first 100 days, the Fact Checker team is tracking false and misleading claims, The Washington Post, Fact Checker team, Friday, 10 March 2017: "Donald Trump earned 59 Four-Pinocchio ratings as a presidential candidate. Now that he's president, he has continued his proclivity for making dubious, misleading or false statements. He also often repeats the same debunked claims even though they have been fact-checked. It's hard to keep up with all of Trump's rhetoric, so the Fact Checker is assembling in one place all of his suspect statements from his first 100 days as president. You can sort them by various categories and see how many times he has repeated the same false statement…. In the [50] days Trump has been in office, we've counted 219 false or misleading claims."
What Trump got wrong on Twitter this week (#7), The Washington Post, Michelle Ye Hee Lee, Friday, 10 March 2017: "Welcome to the seventh installment of our occasional Friday feature looking at what the president got wrong on Twitter in a given week. The president has been less active on Twitter in recent weeks, so it's been almost a month since our last roundup.But he was back at it this week. Here's a look at false or misleading claims that Trump made in 20 tweets in the past week…."
Palestinian president Mahmoud Abbas invited to White House in Trump call, Associated Press/The Washington Post, Friday, 10 March 2017: "President Donald Trump invited Palestinian leader Mahmoud Abbas to the White House to discuss resuming peace talks in their first contact since Trump took office in January. Abbas' spokesman Nabil Abu Rdeneh said that Abbas would travel 'very soon.' The White House said in a statement that the two leaders on Friday discussed ways to advance peace throughout the Middle East, including a comprehensive agreement that would end the Israeli-Palestinian conflict."
White House press secretary Sean Spicer claims that jobs numbers 'may have been phony' in the past, but now they're 'very real,' Politico, Madeline Conway, Friday, 10 March 2017: "Touting the first jobs report of Donald Trump's tenure, White House press secretary Sean Spicer claimed without evidence Friday that the jobs figures 'may have been phony in the past, but it's very real now.' Spicer, addressing reporters at the afternoon briefing, did not back up the assertion that previous federal jobs reports were 'phony,' as Trump repeatedly said during the campaign without backing up the claim. But Spicer nonetheless confirmed that the president believes the figures are legitimate now that they signal economic growth under his administration. 'In the past, the president has referred to particular job reports as phony or totally fiction,' a reporter asked. 'Does the president believe that this jobs report was accurate and a fair way to measure the economy?'  'I talked to the president prior to this, and he said to quote him very clearly,' Spicer said. 'They may have been phony in the past, but it's very real now.'"
Afghans Who Worked for U.S. Are Told Not to Apply for Visas, Advocates Say, The New York Times, Fahim Abed and Rod Nordland, Friday, 10 March 2017: "Afghans who worked for the American military and government are being told that they cannot apply for special visas to the United States, even though Afghanistan is not among the countries listed in President Trump's new travel ban, according to advocates for Afghan refugees. As of Thursday, Afghans seeking to apply for what are known as Special Immigrant Visas were being told by the American Embassy in Kabul, the capital, that applications would no longer be accepted, according to Senator Jeanne Shaheen, Democrat of New Hampshire…. Ms. Shaheen, along with Senator John McCain, Republican of Arizona, has been a strong advocate of the Special Immigrant Visa program, meant for Afghans who face the threat of reprisal for their work with Americans. Its apparent suspension could affect as many as 10,000 applicants. 'Allowing this program to lapse sends the message to our allies in Afghanistan that the United States has abandoned them,' Ms. Shaheen said in a statement."
Trump's Revised Travel Ban Is Denounced by 134 Foreign Policy Experts, The New York Times, Lara Jakes, published on Saturday, 11 March 2017: "More than 130 members of America's foreign policy establishment denounced President Trump's revised travel ban on Friday as just as damaging to the United States' interests and reputation as his original order that halted refugees and froze travelers from predominantly Muslim countries. In a letter to Mr. Trump, the former government officials and experts said even the scaled-back order will 'weaken U.S. security and undermine U.S. global leadership.' And they said it continues to signal to Muslim allies that — as the Islamic State and other extremist propaganda profess — the United States is an enemy of Islam…. Their argument mirrors one also being made by states that claim the revised travel ban discriminates against Muslims and will hurt businesses and universities."
Trump Immigration Crackdown Is Great for Private Prison Stocks, The New York Times, Jeff Sommer, Friday, 10 March 2017: "Nightmarish as the last two months have been for immigrants threatened by detention or deportation, it has been a marvelous time for two companies that stand to benefit from the Trump administration's policies. Those two companies have bland names — the Geo Group and CoreCivic (formerly Corrections Corporation of America) — that don't signal their primary business: operating for-profit prisons and immigration detention centers for states and the federal government. The worse the news for immigrants and their lawyers, the better it has been for the two companies. When a member of the Trump administration issues a memo or executive order, gives a speech or tweets about the crackdown on immigrants, shares of the two companies rise: Since the election, CoreCivic's stock price has climbed 120 percent, and Geo's has gained 80 percent…. It was only last summer that their entire business model seemed to be in danger. The Obama administration decided to phase out their use by the federal Bureau of Prisons, and the companies' shares plummeted. But Mr. Trump's election victory almost instantly pulled the two companies out of their market slump, as I wrote in early December. That was only the beginning."
Native Americans Bring Dakota Pipeline Protest To Trump's Doorstep in DC, The Huffington Post, Chris D'Angelo, Friday, 10 March 2017: "Thousands of demonstrators, including members of dozens of indigenous tribes, marched through the streets of the nation's capital on Friday morning, capping a four-day protest against the Dakota Access Pipeline and President Donald Trump. With a combination of rain and snow falling and temperatures in the high 30s, protesters gathered at the U.S. Army Corps of Engineers headquarters before heading toward the White House, chanting 'You can't drink oil, keep it in the soil' as they marched."
Trump Lowers Profile After Obama Wiretap Accusation, The Wall Street Journal, Rebecca Ballhaus, Friday, 10 March 2017: "President Donald Trump has spent less than 15 minutes in the same room as reporters since he claimed on Twitter over the weekend, without evidence, that his campaign offices were wiretapped by his predecessor. The upshot: He has yet to answer a single question about the accusation he made Saturday that former President Barack Obama had his 'wires tapped' at Trump Tower, where he lived and worked during the presidential campaign. A president can't legally order a wiretap unilaterally, and Mr. Obama's office flatly denied the charge. Mr. Trump has offered no reason for his accusation, or any proof, and his allies on Capitol Hill were flummoxed by it, with many saying they have seen no evidence to support the president's charge against Mr. Obama. White House press secretary Sean Spicer, faced with demands for evidence of the wiretapping, ultimately said the 'tweets speak for themselves.'"
Saturday, 11 March 2017, Day 51:
Trump Adviser Roger Stone Had Twitter Contact With Figure Tied to Russians, The New York Times, Matthew Rosenberg and Maggie Haberman, Saturday, 11 March 2017: "Roger J. Stone Jr., an off-and-on adviser to President Trump for decades, has acknowledged that he had contact on Twitter with Guccifer 2.0, the mysterious online figure that is believed to be a front for Russian intelligence officials. It is the first time that someone associated with Mr. Trump has confirmed any type of contact with Guccifer 2.0, which claimed to be a Romanian hacker and took credit for the hacking of the Democratic National Committee. But Mr. Stone insisted in an interview that the contact had been brief and involved nothing more than the exchange of a few direct messages, well after the party committee had been hacked. 'Even if he is a Russian agent, my cursory exchange with him happens after he releases the D.N.C. stuff,' Mr. Stone said on Saturday. 'There's only one exchange with him. I had no further exchanges.'"
U.S. Attorney Preet Bharara Says He Was Fired After Refusing to Quit, The New York Times, Maggie Haberman and Charlie Savage, Saturday, 11 March 2017: "The call to Preet Bharara's office from President Trump's assistant came on Thursday. Would Mr. Bharara, the United States attorney in Manhattan, please call back? The following day, Mr. Bharara was one of 46 United States attorneys appointed by President Barack Obama asked to resign — and to immediately clean out their offices. The request took many in his office by surprise because, in a meeting in November, Mr. Bharara was asked by the then-president-elect to stay on. Mr. Bharara refused to resign. On Saturday, he announced on Twitter that he had been fired. It was unclear whether the president's call on Thursday was an effort to explain his change of heart about keeping Mr. Bharara or to discuss another matter. The White House would not comment on Saturday. However, there are protocols governing a president's direct contact with federal prosecutors. According to two people with knowledge of the events who were not authorized to discuss delicate conversations publicly, Mr. Bharara notified an adviser to the attorney general, Jeff Sessions, that the president had tried to contact him and that he would not respond because of those protocols. Mr. Bharara then called Mr. Trump's assistant back to say he could not speak with the president, citing the protocols."
Former National Security Adviser Michael Flynn Attended Intelligence Briefings While Taking Money to Lobby for Turkey, NBC News, Ken Dilanian, Saturday, 11 March 2017: "Former national security adviser Michael Flynn was attending secret intelligence briefings with then-candidate Donald Trump while he was being paid more than half a million dollars to lobby on behalf of the Turkish government, federal records show. Flynn stopped lobbying after he became national security adviser, but he then played a role in formulating policy toward Turkey, working for a president who has promised to curb the role of lobbyists in Washington."
Trump's Second Travel Ban is Still a Muslim Ban, The New York Review of Books, David Cole, Saturday, 11 March 2017: "…[T]he new order still shares the central defect of its predecessor: it is a 'Muslim ban' in intent and effect. The strongest objection to the initial order was that it was designed to target Muslims, fulfilling Trump's oft-repeated campaign pledge to keep Muslims out. Removing Iraq from the list still leaves six countries, all of whose populations are at least 90 percent Muslim. And all the evidence that pointed to the illegal intent underlying the first order applies with equal force to the second order. It consists of the many times Trump promised to ban Muslims during the campaign; the explanation from his advisor Rudy Giuliani that Trump asked him how he could put a Muslim ban into effect that would survive a legal challenge; and Trump's own admission, the day the first order issued, that it was designed to prefer Christians over Muslims. These are smoking guns, admissions of illegal intent, because the Establishment Clause forbids the specific disfavoring of any specific denomination."
Sunday, 12 March 2017, Day 52:
Trump Lets Key Offices Gather Dust Amid 'Slowest Transition in Decades,' The New York Times, Julie Hirschfeld Davis and Sharon LaFraniere, Sunday, 12 March 2017: "At the State Department, the normally pulsating hub of executive offices is hushed and virtually empty. At the Pentagon, military missions in some of the world's most troubled places are being run by a defense secretary who has none of his top team in place. And at departments like Treasury, Commerce and Health and Human Services, many senior posts remain vacant even as the agencies have been handed enormous tasks like remaking the nation's health insurance system. From the moment he was sworn in, President Trump faced a personnel crisis, starting virtually from scratch in lining up senior leaders for his administration. Seven weeks into the job, he is still hobbled by the slow start, months behind where experts in both parties, even some inside his administration, say he should be. The lag has left critical power centers in his government devoid of leadership as he struggles to advance policy priorities on issues like health care, taxes, trade and environmental regulation. Many federal agencies and offices are in states of suspended animation, their career civil servants answering to temporary bosses whose influence and staying power are unclear, and who are sometimes awaiting policy direction from appointees whose arrival may be weeks or months away."
Trump Administration Is Said to Be Working to Loosen Counterterrorism Rules, The New York Times, Charlie Savage and Eric Schmitt, Sunday, 12 March 2017: "The Trump administration is exploring how to dismantle or bypass Obama-era constraints intended to prevent civilian deaths from drone attacks, commando raids and other counterterrorism missions outside conventional war zones like Afghanistan and Iraq, according to officials familiar with internal deliberations. Already, President Trump has granted a Pentagon request to declare parts of three provinces of Yemen to be an 'area of active hostilities' where looser battlefield rules apply…. Inside the White House, the temporary suspension of the limits for parts of Yemen and Somalia is seen as a test run while the government considers whether to more broadly rescind or relax the Obama-era rules, said the officials, who described the internal deliberations on the condition of anonymity. The move to open the throttle on using military force — and accept a greater risk of civilian casualties — in troubled parts of the Muslim world comes as the Trump administration is also trying to significantly increase military spending and cut foreign aid and State Department budgets."
Senator John McCain to Trump: Retract wiretapping claim or prove it, The Washington Post, Kelsey Snell, Sunday, 12 March 2017: "Senate Armed Services Committee Chairman John McCain (R-Ariz.) called Sunday for President Trump to either prove his claim that President Barack Obama tapped the phones in Trump Tower during last year's election campaign or drop the accusation. 'The president has one of two choices, either retract or provide the information that the American people deserve,' McCain said in an interview on CNN's 'State of the Union.' 'I have no reason to believe that the charge is true, but I also believe that the president of the United States could clear this up in a minute.'"
White House Addresses Trump's Unorthodox Call to now former U.S. Attorney Preet Bharara, The New York Times, Eric Lichtblau and William K. Rashbaum, Sunday, 12 March 2017: "The White House offered an explanation on Sunday for a mysterious phone call that President Trump placed to Preet Bharara a day before abruptly dismissing him and 45 other United States attorneys, saying the president was merely trying to extend his good wishes. But Mr. Bharara indicated on Sunday evening in a statement to The New York Times that he was skeptical of the White House account, although he did not offer an alternative explanation for the president's call. The call, placed on Thursday to the office of Mr. Bharara, the top federal prosecutor in Manhattan, by a personal assistant to the president, concerned Mr. Bharara because it seemed to be at odds with ethics protocols restricting communications between the White House and prosecutors. Mr. Bharara declined to return the call. But the White House said there was nothing untoward about it…. Two days before the prosecutors were dismissed, Mr. Sessions held a conference call with them on a Justice Department initiative and offered no hint that they would soon be forced out. Almost all of the 46 United States attorneys asked to resign on Friday have now done so, a Justice Department official said. The balance of the nation's 94 United States attorneys had already resigned."
Was Firing of U.S. Attorney Preet Bharara Done to Cover Up Probes of Trump & Fox News? Democracy Now!, published on Tuesday, 14 March 2017: "Attorney General Jeff Sessions asked for the resignations of 46 U.S. attorneys on Friday, angering the prosecutors, who say they weren't warned in advance. One of the most high-profile prosecutors asked to resign, United States attorney in Manhattan Preet Bharara, refused to step down Friday and was quickly fired. Bharara's termination came as a surprise, since Donald Trump met personally with Bharara at Trump Tower last November and assured him he could remain at his post. The unusual circumstances of Bharara's dismissal prompted Democrats to suggest it was politically motivated. Preet Bharara's dismissal came as his office was probing Fox News after it allegedly failed to inform shareholders about numerous settlements in sexual harassment and assault cases. The dismissal also came less than a week after government watchdog groups sent a letter to the Manhattan prosecutor's office asking for an investigation into whether President Trump violated a clause of the Constitution barring federal employees from receiving benefits from foreign governments."
Republican Representative Steve King warns that 'our civilization' can't be restored with 'somebody else's babies,' The Washington Post, Philip Bump, Sunday, 12 March 2017: "Rep. Steve King (R-Iowa) has gained notoriety for his often contentious — and, occasionally, almost overtly racist — comments about immigration and the demographics of the United States. On Sunday, in a tweet about the nationalist Dutch politician Geert Wilders, King again appears to have crossed the line. 'Wilders understands that culture and demographics are our destiny,' King wrote. 'We can't restore our civilization with somebody else's babies.' The formulation of 'our' civilization being at risk from 'somebody else's babies' is a deliberate suggestion that American civilization is threatened by unnamed 'others' — almost certainly a reference to non-Westerners. The idea that national identity and racial identity overlap entirely is the crux of white nationalism; King's formulation above toes close to that line, if it doesn't cross. American culture, of course, was formed in part over the past two centuries by the assimilation of immigrants from a broad range of nations — first mostly European but later a broader diaspora. Iowa, the state King represents, remains one of the most homogeneously white in the United States. King's tweet echoes comments he made during the 2016 presidential election when, as a supporter of Donald Trump, he suggested that white people had contributed more to civilization than any other 'subgroup.'"
Representative John Lewis Criticizes Representative King's Comments on the Need for a 'Homogeneous' America, johnlewis.house.gov, published on Monday, 13 March 2017: "In response to tensions surrounding immigration during the election season in the Netherlands, Rep. Steve King (R-IA) tweeted this statement on Sunday in support of Dutch right-wing politician Geert Wilders, 'Wilders understands the culture and demographics are our destiny.  We can't restore our civilization with somebody else's babies. The statement has been widely criticized, including by the Chairman of the Iowa GOP, Jeff Kaufmann.  Well-known white supremacist David Duke, however, did indicate his support for King's tweet.  According to a National Public Radio report, King refused to back down from the statement in an interview this morning adding, 'I meant exactly what I said,' and that he'd 'like to see an America that's just so homogeneous that we'd look a lot the same, from that perspective.' Rep. John Lewis made this statement in response to King's comment:
 My colleague has made a deeply disturbing statement because it ignores the truth about the history of this nation.  Western civilization did not create itself.  It was founded on traditions that emerged from Africa, Iran, China, Greece and Rome and other nations. With the exception of Native Americans, we all came to this land from some other place in the world community, and this country is a melting pot of cultures, traditions, appearances, and languages.  In order to live together as one people, we must come to respect the dignity and the worth of every human being.  It is that understanding that will make us one nation, not a homogeneous appearance. Rep. King's statement is bigoted and racist.  It suggests there is one cultural tradition and one appearance that all of humanity should conform to.  These ideas have given rise to some of the worst atrocities in human history, and they must be condemned.
A Florida man assumed a store's Indian owners were Muslim. So he tried to burn it down, police say, The Washington Post, Amy B Wang, Sunday, 12 March 2017: "A Florida man who attempted to set fire to a convenience store told deputies that he assumed the owner was Muslim and that he wanted to 'run the Arabs out of our country,' according to the St. Lucie County Sheriff's Office. The sheriff later said the store owners are actually Indian, appearing to make this the latest in a string of incidents targeting South Asians mistaken for people of Arab descent. Around 7:40 a.m. Friday, police received calls that a white male was acting suspiciously in front of the Met Mart convenience store in Port St. Lucie, officials said. Deputies arrived to find the store closed, with its security shutters intact — as well as a 64-year-old man named Richard Leslie Lloyd near a flaming dumpster."
John Oliver on Trumpcare: 'the Ted Cruz of healthcare legislation,' The Guardian, Guardian staff, published on Monday, 13 March 2017: "The host of Last Week Tonight explained why the latest healthcare reform will hurt many Americans, especially those who voted for Trump…. When asking who exactly would benefit from the plan, Oliver showed stats that showed richer Americans would receive major tax cuts as a result. 'So this plan is literally taking money from the poor and giving it to the very rich,' he said…. Oliver described the act as 'almost universally hated in Washington' and 'truly the Ted Cruz of healthcare legislation.'"
Monday, 13 March 2017, Day 53:
The Republican Affordable Care Act revision would reduce insured numbers by 24 million, Congressional Budget Office projects, The Washington Post, Amy Goldstein, Elise Viebeck, Kelsey Snell and Mike DeBonis, Monday, 13 March 2017: "House Republicans' proposal to rewrite federal health-care law would more than reverse the gains the Affordable Care Act has made in the number of Americans with health insurance, while curbing the federal deficit, according to a widely anticipated forecast by congressional analysts. The analysis, released late Monday afternoon by the Congressional Budget Office, predicts that 24 million fewer people would have coverage a decade from now than if the Affordable Care Act remains intact, nearly doubling the share of Americans who are uninsured from 10 percent to 19 percent. The office projects the number of uninsured people would jump 14 million after the first year." See also, Fact Check: Trump's Critiques of the Affordable Care Act, The New York Times, Linda Qiu, Monday, 13 March 2017: "While it is undeniable that the [Affordable Care Act] has not been universally beneficial, many of the criticisms from Mr. Trump and his team are cherry-picked or misleading." This article focuses on some of Trump's false and misleading claims.
Vermont Senator Bernie Sanders responds to Congressional Budget Office score: 'Thousands of Americans will die,' The Hill, Jordain Carney, Monday, 13 March 2017: "Sen. Bernie Sanders (I-Vt.) said Monday that 'thousands of Americans will die' under the House GOP's plans to repeal and replace ObamaCare…. Sanders said the House legislation 'shouldn't see the light of day. I think that legislation is disgusting. It is immoral,' he said. 'It must be defeated and I hope there is enough sense amongst some of the Republicans.'"
More Guns, Less Medicine: Trump's Military Spending Binge Would Swamp Savings From Health Care Repeal, The Intercept, Zaid Jilani, Monday, 13 March 2017: "The Congressional Budget Office (CBO) released its analysis of the American Health Care Act (AHCA) on Monday, finding that the Trump-backed House Republican bill that seeks to repeal and replace Obamacare would save the federal government $337 billion over 10 years — at the cost of throwing 24 million people off of health insurance coverage by 2026. But those theoretical savings would be more than wiped out by an also theoretical increase in military spending that President Trump wants Congress to pass."
Using the Air Quotes Defense, White House Press Secretary Sean Spicer Walks Back 'Wiretap' Talk, and Kellyanne Conway Suggests Phones, Television Sets, and Microwaves Turned Into Cameras Could Have Been Used to Surveil Trump, The New York Times, Julie Hirschfeld Davis, Monday, 13 March 2017: "Two senior White House officials suggested on Monday that President Trump's unsubstantiated claim that President Barack Obama had tapped his telephone was not meant to be taken literally, arguing that Mr. Trump had been referring more broadly to a variety of surveillance efforts during the 2016 campaign when he made the incendiary accusation. 'He doesn't really think that President Obama went up and tapped his phone personally,' said Sean Spicer, the White House press secretary. In fact, Mr. Spicer said, when Mr. Trump charged in a Twitter post last weekend that Mr. Obama "had my 'wires tapped' in Trump Tower," he was referring generally to surveillance activities during the 2016 race — not to an actual telephone wiretap. 'The president was very clear in his tweet that it was, you know, "wiretapping,"' Mr. Spicer said, using his fingers to make a gesture suggesting quotation marks. 'That spans a whole host of surveillance types of options.' Mr. Spicer said there have been "numerous reports from a variety of outlets over the last couple months that seemed to indicate that there has been different types of surveillance that occurred during the 2016 election." The remarks were the first time the White House sought to explain the accusation Mr. Trump made in a series of posts on Twitter saying Mr. Obama 'was tapping my phones' and calling the former president a 'bad (or sick) guy.'… Kellyanne Conway, Mr. Trump's senior adviser, said in an interview [with The Record of Bergen County, N.J.] on Sunday that Mr. Obama could have employed any number of devices other than a traditional telephone wiretap, even including a microwave oven…. 'What I can say is there are many ways to surveil each other,' Ms. Conway told the paper. 'You can surveil someone through their phones, certainly through their television sets — any number of ways.' Surveillance can even be carried out with 'microwaves that turn into cameras,' she added. 'We know this is a fact of modern life.'"
The Justice Department asks for more time to respond to a request from the House Intelligence Committee to turn over any wiretapping proof related to Trump and his associates, The Washington Post, Matt Zapotosky, Monday, 13 March 2017: "The Justice Department on Monday asked for more time to respond to a request from the House Intelligence Committee to turn over any wiretapping applications, orders or warrants related to President Trump and his associates. In a one-paragraph statement, spokeswoman Sarah Isgur Flores said the Justice Department had called the top Democrats and Republicans on the committee 'to ask for additional time to review the request in compliance with the governing legal authorities and to determine what if any responsive documents may exist.' The committee had set a deadline of Monday to turn over the information."
Democrats' Line of Attack on Supreme Court Nominee Neil Gorsuch: No Friend of the Little Guy, The New York Times, Matt Flegenheimer, Monday, 13 March 2017: "Corporate tool. Enemy of disabled people. Deferential to the privileged, including the man who chose him. One week before Judge Neil M. Gorsuch is to sit for his Supreme Court confirmation hearing, Democrats have zeroed in on their most prominent planned line of attack: Judge Gorsuch's rulings have favored the powerful and well connected. And he has done little, they will say, to demonstrate independence from a president whose combative relationship with the judiciary has already clouded the nominating process. The strategy includes two events this week aimed at emphasizing Judge Gorsuch's record on workers' rights and big money in politics — an attempt to break through the din in President Trump's Washington, where the nomination fight so far has been largely overshadowed by administration infighting, Russia-tinged scandals and legislation to overhaul the nation's health care system."
Can Customs and Border Officials Search Your Phone? These Are Your Rights, ProPublica, Patrick G. Lee, Monday, 13 March 2017: "Recent detentions and seizures of phones and other material from travelers to the United States have sparked alarm. We detail what powers Customs and Border Protection officials have over you and your devices."
Worker Safety Rules Are Among Those Under Fire in Trump Era, The New York Times, Barry Meier and Danielle Ivory, Monday, 13 March 2017: "Even as the Labor Department awaits confirmation of a new secretary, officials say enforcement actions are moving forward against companies accused of violating workplace safety rules. There is just one issue: The public isn't likely to know much about them. In a sharp break with the past, the [Labor] department has stopped publicizing fines against companies. As of Monday, seven weeks after the inauguration of President Trump, the department had yet to post a single news release about an enforcement fine. By contrast, the Obama administration saw the announcements — essentially publicly shaming companies — as a major tool in its workplace safety enforcement. It issued an average of about 460 news releases annually about fines and other enforcement actions, said Eric Conn, a lawyer in Washington who tracks such cases. 'The reason you do news releases is to influence other employers to clean up their acts, said David Michaels, who was an administrator of the Occupational Safety and Health Administration, the agency within the Labor Department that oversees workplace safety, during much of the Obama administration."
Why are we hearing crickets from the Republicans on Steve King's ugly Tweet? The Washington Post, Sarah Posner, Monday, 13 March 2017: "Over the weekend, Rep. Steve King (R-Iowa ) tweeted that Dutch far-right nationalist Geert Wilders has been right in saying that 'culture and demographics are our destiny,' adding that 'we can't restore our civilization with somebody else's babies.' Since then, the response from Republicans has been remarkably muted, even though the remark has received wall-to-wall media coverage. There's a reason for the GOP reticence about criticizing this sentiment from King: The GOP is now Donald Trump's party. King's statement is, at bottom, a particularly explicit expression of the white nationalist ideology that fueled the Trump campaign — and shaped the worldview of top Trump advisers Stephen Bannon and Stephen Miller. Advocates for that ideology are now directing strategy and policy from the West Wing. Such statements are nothing new for the eight-term congressman from Iowa, and under questioning this morning on CNN, King refused to back down from his tweet. King defended himself today by claiming to be a 'champion for Western civilization.'"
The Standing Rock and Cheyenne River Sioux Tribes ask US District Judge James Boasberg to stop Dakota Access oil from flowing, The Washington Post, Blake Nicholson | Associated Press, Monday, 13 March 2017: "Two Native American tribes who are suing to stop the Dakota Access pipeline have asked a judge to head off the imminent flow of oil while they appeal his decision allowing the pipeline's construction to be completed. U.S. District Judge James Boasberg last week rejected the request of the Standing Rock and Cheyenne River Sioux tribes to stop construction of the final segment of the pipeline under Lake Oahe, a Missouri River reservoir in North Dakota from which the tribes get their water. The pipeline's developer, Texas-based Energy Transfer Partners, expects to have the work done and the pipeline filled with oil as early as this week. The tribes maintain that an oil pipeline under the lake they consider sacred violates their right to practice their religion, which relies on clean water. In his decision last week, Boasberg said the tribes didn't raise the religion argument in a timely fashion and he questioned its merits. Cheyenne River attorney Nicole Ducheneaux on Friday appealed the ruling to the U.S. Court of Appeals for the District of Columbia Circuit. She also asked Boasberg to 'prevent the flow of oil through the Dakota Access pipeline' until the appeal is resolved." Update: U.S. District Judge James Boasberg denies tribe's request to stop oil flow in Dakota Access pipeline, Reuters, Tuesday, 14 March 2017: "A U.S. federal judge on Tuesday denied a request by a Native American tribe for an emergency injunction to prevent oil from flowing through part of the Dakota Access Pipeline, saying such a move would be against the public interest. The ruling, issued in court documents ahead of plans to start pumping oil through the pipeline next week, follows months of demonstrations in a remote part of North Dakota, where the Standing Rock Sioux tribe demonstrated in an attempt to stop the Dakota Access Pipeline crossing upstream from their reservation. Judge James Boasberg of the U.S. District Court for the District of Columbia issued his decision denying the request by the Cheyenne River Sioux Tribe, saying the court 'acknowledges that the tribe is likely to suffer irreparable harm to its members' religious exercise if oil is introduced into the pipeline, but Dakota Access would also be substantially harmed by an injunction, given the financial and logistical injuries that would ensue.'"
Washington, California, Maryland, Massachusetts, New York, and Oregon jointly sue to block Trump's revised travel ban, Reuters, Mica Rosenberg, Monday, 13 March 2017: "A group of states renewed their effort on Monday to block President Donald Trump's revised temporary ban on refugees and travelers from several Muslim-majority countries, arguing that his executive order is the same as the first one that was halted by federal courts. Court papers filed by the state of Washington and joined by California, Maryland, Massachusetts, New York and Oregon asked a judge to stop the March 6 order from taking effect on Thursday. An amended complaint said the order was similar to the original Jan. 27 directive because it 'will cause severe and immediate harms to the States, including our residents, our colleges and universities, our healthcare providers, and our businesses.'"
Trump Broadens CIA Powers and Allows CIA to Conduct Deadly Drone Strikes, The Wall Street Journal, Gordon Lubold and Shane Harris, Monday, 13 March 2017: "President Donald Trump has given the Central Intelligence Agency secret new authority to conduct drone strikes against suspected terrorists, U.S. officials said, changing the Obama administration's policy of limiting the spy agency's paramilitary role and reopening a turf war between the agency and the Pentagon."
Canada's Girl Guides cancel all US travel as Trump rules spark fears of what might happen at the border, The Guardian, Associated Press in Toronto, Monday, 13 March 2017: "The Girl Guides of Canada are cancelling all travel to the United States because of fears that their members might have trouble at the border due to travel restrictions enacted by Donald Trump. A spokeswoman, Sarah Kiriliuks, said on Monday the organization's membership was diverse and inclusive and leaders worried some girls could get left behind when a group tried to enter the US. The decision comes after a string of reports that Canadians have been turned away at the border. In January – on the eve of Trump's inauguration –several would-be demonstrators said they were denied entry to the US after telling border officials of their plans to attend the Women's March on Washington."
Tuesday, 14 March 2017, Day 54:
Trump Wrote Off More Than $100 Million in Business Losses in 2005 to Reduce His Federal Taxes, Leaked Forms Show, The New York Times, Peter Baker and Jesse Drucker, Tuesday, 14 March 2017: "President Trump wrote off more than $100 million in business losses to reduce his federal taxes in 2005, according to forms made public on Tuesday night: a rare glimpse at documents that he had refused to disclose since becoming a candidate for the nation's highest office. Mr. Trump paid $38 million in federal income taxes on reported income of $150 million, an effective tax rate of 25 percent, according to forms disclosed on Rachel Maddow's MSNBC show. By claiming losses, Mr. Trump apparently saved millions of dollars in taxes that he would otherwise have owed. The White House responded without even waiting for the show to air, issuing a statement that seemed to confirm the authenticity of the forms even as it defended Mr. Trump and assailed MSNBC for publicizing them. 'Before being elected president, Mr. Trump was one of the most successful businessmen in the world, with a responsibility to his company, his family and his employees to pay no more tax than legally required,' the statement said…. Mr. Trump's refusal to make his tax returns public during the campaign broke with decades of tradition in presidential contests and emerged as a central issue. That drumbeat has continued since he entered the White House, particularly from critics who contend that his returns may shed light on various aspects of his business practices, including whether he has done business with Russian companies and banks…. [T]he two pages produced on Tuesday night…showed that the vast bulk of the federal income taxes he paid in 2005, $31 million, was paid under the alternative minimum tax, which Mr. Trump wants to abolish."
Fact-checking White House press secretary Sean Spicer's rhetoric on the Congressional Budget Office report on the Republican replacement bill for the Affordable Care Act, The Washington Post, Glenn Kessler and Michelle Ye Hee Lee, Tuesday, 14 March 2017: "White House press secretary Sean Spicer offered a number of attacks and claims during a news briefing dominated by the new Congressional Budget Office report on the House Republican replacement bill for the Affordable Care Act. The report estimated that 24 million fewer people would have health insurance in 2026 if the law were approved in its current form, causing political headaches for the effort to replace Obamacare." This article is a guide to his rhetoric. See also, This may be the most brutal number in the CBO report, The Washington Post, Aaron Blake, Tuesday, 14 March 2017: "Plenty has been made of the big Congressional Budget Office finding that 24 million people could lose their insurance under Republicans' Obamacare replacement over the next decade…. According to the CBO, 64-year olds making $26,500 per year would see their premiums increase by an estimated 750 percent by 2026. While they are on track to pay $1,700 under the current law, the CBO projects the American Health Care Act would force them to pay $14,600. Even if you grant that inflation will allow them to make slightly more money by 2026, that's still about half of their income going to health care…. As skeptics of the law noted, that suggests the reason premiums as a whole will eventually decline is because older, poorer people simply won't be able to afford it. The legislation reduces premiums substantially for younger people but increases them substantially for older people — and especially poorer, older people — according to the CBO."
Twenty-four Million Reasons the Republican Health-Care Bill Is No Good, The New Yorker, John Cassidy, Tuesday, 14 March 2017: "The main thing driving [the] conclusions [of the Congressional Budget Office] wasn't changes to the individual market but the House Republicans' reckless and deliberate assault on Medicaid, the federal program that provides health care for the poverty-stricken and the working poor. In estimating that twenty-four million people stand to lose their insurance coverage, the C.B.O. said that fourteen million of this total would be accounted for by reductions in Medicaid rolls."
For eight years Rex Tillerson used a shadow email under alias 'Wayne Tracker' to discuss global warming and its risks to Exxon's business, says New York Attorney General Eric Schneiderman, InsideClimate News, David Hasemyer, Tuesday, 14 March 2017: "While he was chief executive of ExxonMobil, current secretary of state Rex Tillerson used an alias email account for eight years to discuss climate change and the risks it posed to the company's business, according to investigators for New York Attorney General Eric Schneiderman. Those investigators say the company concealed the shadow emails despite a 2015 subpoena for Tillerson's communications issued as part of a sweeping investigation of the oil giant in connection with possible financial fraud. Schneiderman's office disclosed the existence of the email account assigned to Tillerson on Monday in a letter to Judge Barry Ostrager, which accused Exxon of failing to turn over all relevant documents required by the subpoena."
Trump's Defense Secretary James Mattis Cites Climate Change as National Security Challenge, ProPublica, Andrew Revkin, Tuesday, 14 March 2017: "Secretary of Defense James Mattis has asserted that climate change is real, and a threat to American interests abroad and the Pentagon's assets everywhere, a position that appears at odds with the views of the president who appointed him and many in the administration in which he serves. In unpublished written testimony provided to the Senate Armed Services Committee after his confirmation hearing in January, Mattis said it was incumbent on the U.S. military to consider how changes like open-water routes in the thawing Arctic and drought in global trouble spots can pose challenges for troops and defense planners. He also stressed this is a real-time issue, not some distant what-if. 'Climate change is impacting stability in areas of the world where our troops are operating today,' Mattis said in written answers to questions posed after the public hearing by Democratic members of the committee. 'It is appropriate for the Combatant Commands to incorporate drivers of instability that impact the security environment in their areas into their planning.'"
Trump picks another Goldman Sachs banker for senior post, in sharp break from campaign bashing, The Washington Post, Damian Paletta, Tuesday, 14 March 2017: "President Trump on Tuesday said he planned to nominate Goldman Sachs managing director James Donovan to serve as deputy treasury secretary, selecting his fifth Goldman veteran to take a senior role in his administration. Trump vilified Wall Street during his presidential campaign, and one of his final campaign ads included a clip that showed Goldman chief executive Lloyd Blankfein and suggested he was part of a 'global power structure.' But since the election, Trump has picked two Goldman executives and two former Goldman executives to serve in top posts…. During the campaign, Trump said Wall Street was at fault for many of the problems facing the middle class, citing greed and a cozy relationship with Washington as allowing trade imbalances and corruption. He has, however, promised to roll back regulations put in place to crack down on banking practices after the financial crisis, a promise that has helped push banking stocks higher in recent months."
Wednesday, 15 March 2017, Day 55:
A Federal Judge in Hawaii Has Ruled Against President Trump's Revised Travel Ban, Issuing a Nationwide Order to Block It, The New York Times, Alexander Burns, Wednesday, 15 March 2017: "A federal judge in Hawaii issued a nationwide order Wednesday evening blocking President Trump's ban on travel from parts of the Muslim world, dealing a political blow to the White House and signaling that proponents of the ban face a long and risky legal battle ahead. The ruling was the second frustrating defeat for Mr. Trump's travel ban, after a federal court in Seattle halted an earlier version of the executive order last month. Mr. Trump responded to that setback with fury, lashing out at the judiciary before ultimately abandoning the order. He issued a new and narrower travel ban on March 6, with the aim of pre-empting new lawsuits by abandoning some of the most contentious elements of the first version. But Mr. Trump evidently failed in that goal: Democratic states and nonprofit groups that work with immigrants and refugees raced into court to attack the updated order, alleging that it was a thinly veiled version of the ban on Muslim migration that he had pledged to enact last year, as a presidential candidate. Administration lawyers argued in multiple courts on Wednesday that the president was merely exercising his national security powers and that no element of the executive order, as written, could be construed as a religious test for travelers…. The lawsuits have also claimed that the order disrupts the functions of companies, charities, public universities and hospitals that have deep relationships overseas. In the Hawaii case, nearly five dozen technology companies, including Airbnb, Dropbox, Lyft and TripAdvisor, joined in a brief objecting to the travel ban. See also, Highlights From Court Ruling Halting Trump's Revised Travel Ban, The New York Times, Wednesday, 15 March 2017.
Trump Blasts Court's Travel Ban Block: 'This Ruling Makes Us Look Weak,' NPR, Jessica Taylor, Wednesday, 15 March 2017: "President Trump blasted a federal judge's decision to temporarily halt his revised travel ban on Wednesday night, telling a campaign rally in Nashville, Tenn., that he wished he had stood his ground and fought for his original, much stricter executive order. 'The order he blocked was a watered-down version of the first order that was also blocked by another judge and should have never been blocked to start with,' Trump said, referring to the decision earlier in the day by U.S. District Court Judge Derrick K. Watson of Hawaii. 'This new order was tailored to the dictates of the 9th Circuit's, in my opinion, flawed ruling. This was, in the opinion of many, an unprecedented judicial overreach.' 'I think we ought to go back to the first one [executive order] and go all the way' to the Supreme Court, the president told the receptive crowd, adding that 'this ruling makes us look weak.' 'The best way to keep foreign terrorists — or as some would say, radical Islamic terrorists — the best way to stop them is to keep them from entering our country in the first place,' Trump said. Those comments get to the heart of the court's concerns with the travel ban, which had been set to take effect at midnight after being revised last week. Judge Watson wrote that — given past public statements made by the president and his staff — 'a reasonable, objective observer … would conclude that the Executive Order was issued with a purpose to disfavor a particular religion. 'Opponents of Trump's travel ban were ecstatic on Twitter Wednesday evening that the president's speech kept giving them more fodder to use against him in court…."
Trump Denounced a Leak of His 2005 Tax Records as Fake News, But the White House Confirmed the Numbers, The New York Times, Michael D. Shear, Wednesday, 15 March 2017: "President Trump on Wednesday denounced as 'fake news' the release by journalists of a portion of his 2005 income tax form, just hours after his administration appeared to confirm the accuracy of the documents. Two pages from the president's 2005 tax returns were disclosed Tuesday evening by MSNBC's Rachel Maddow after being mailed to David Cay Johnston, a former New York Times reporter. They show that Mr. Trump paid $38 million in federal income taxes on reported income of $150 million, an effective tax rate of 25 percent. The White House confirmed those numbers before the show and appeared to accept the document's authenticity by criticizing a story 'about two pages of tax returns from over a decade ago' and stating that it was 'totally illegal to steal and publish tax returns.' But in a Twitter message posted just before 7 a.m., the president appeared to backtrack from that acknowledgment. 'Does anybody really believe that a reporter, who nobody ever heard of, "went to his mailbox" and found my tax returns? @NBCNews FAKE NEWS!'"
Trump Uses Detroit as Stage for Loosening Obama's Fuel Economy Rules, The New York Times, Coral Davenport and Bill Vlasic, Wednesday, 15 March 2017: "President Trump traveled to Detroit on Wednesday to announce a rollback of stringent fuel economy standards for cars and trucks that were put in place by the Obama administration — a welcome message to American automakers but one that could slow the push for a new generation of efficient vehicles. The fuel-economy rules, aimed at cutting heat-trapping carbon dioxide, were one of the two main pillars of President Barack Obama's climate change legacy. Put forth in 2012, they would have required automakers to nearly double the average fuel economy of new cars and trucks to 54.5 miles per gallon by 2025, forcing automakers to speed development of highly fuel-efficient vehicles, including hybrid and electric cars. The rules have been widely praised by environmentalists and energy economists for reducing the nation's dependence on foreign oil and its greenhouse pollution. If put fully into effect, the fuel efficiency standards would have cut oil consumption by about 12 billion barrels and reduced carbon dioxide pollution by about six billion tons over the lifetime of all the cars affected by the regulations…. But automakers said the fuel standards would be technologically hard to achieve and expensive to comply with…. The president's announcement alone will not be enough to roll back the standards; that will take more than a year of legal and regulatory reviews by the E.P.A. and the Transportation Department. The Trump administration will then propose its replacement fuel-economy standards by April of next year, according to a senior White House official."
Trump's review of car fuel standards could lead to fight with California and with environmentalists, The Washington Post, Steven Overly, Wednesday, 15 March 2017: "President Trump opened the door Wednesday to rolling back fuel efficiency standards that were adopted during the Obama administration, a move that could lead to a legal fight with state regulators and environmental groups in the coming years. In January, the Environmental Protection Agency reaffirmed that automakers must achieve an average 54.4 mpg across their fleets by 2025. But Trump pledged Wednesday to review those standards in a speech at the American Center for Mobility in Ypsilanti, Mich. He told auto plant workers there that his administration will ensure the regulations do not lead to job losses and factory closures…. The announcement does not change existing regulations, but Democrats and environmentalists fear it signals the administration's desire to weaken rules they view as critical to reducing greenhouse gas emissions. They also worry the administration could eventually target an EPA waiver that allows California and a dozen other states to set stricter emissions standards than the federal government. Automakers will still be compelled to produce more fuel efficient cars so long as the regulations in California, the country's largest car market, remain in place."
House Intelligence Committee Chairman Devin Nunes Says He Doesn't Believe Trump Tower Was Wiretapped, NPR, Brian Naylor, Wednesday, 15 March 2017: "House Intelligence Committee Chairman Devin Nunes says he doesn't believe 'there was an actual tap of Trump Tower,' contrary to claims made by President Trump. And the top Democrat on the House committee, Adam Schiff, told NPR's All Things Considered 'there's no evidence' to support Trump's claim. Trump alleged that his predecessor, President Barack Obama, tapped his phone at Trump Tower in a pair of tweets earlier this month. Trump has not produced any evidence to back his assertion." See also, In a Repudiation of Trump, Republicans Reject Trump's Wiretap Claims, The New York Times, Michael D. Shear, Adam Goldman and Emmarie Huetteman, Wednesday, 15 March 2017: "In a striking repudiation, Republicans on Wednesday threatened subpoenas and vented openly about the lack of evidence behind President Trump's tweet that President Barack Obama had wiretapped his phones in Trump Tower during the 2016 campaign. The Republican chairman of the House Intelligence Committee, Representative Devin Nunes of California, told reporters on Capitol Hill that 'I don't think there was an actual tap of Trump Tower' and that Mr. Trump, if taken literally, is simply 'wrong.' Jeff Sessions, the attorney general, said he had provided no information to Mr. Trump that might have formed the basis for the president's claim. And two Republican senators threatened to block Mr. Trump's nominee for deputy attorney general until they get clarity from the F.B.I. about the accuracy of the president's assertions. One of them vowed to issue subpoenas, if needed."
Timeline of White House's Response to Trump's Wiretapping Charge, The New York Times, Michael Shear, Wednesday, 15 March 2017.
Comey will testify publicly on Russia investigation next week, Politico, Austin Wright and Seung Min Kim, Wednesday, 15 March 2017: "Wednesday was a whirlwind day for lawmakers investigating Russia's meddling in the 2016 presidential election. FBI Director James Comey briefed leaders of the Senate Judiciary Committee. The heads of the House Intelligence Committee announced that Comey had agreed to testify publicly before their panel. And Sen. Lindsey Graham (R-S.C.) held a hearing in which he pleaded with the FBI to stop stonewalling Congress….. Congress is determined to get answers from the Justice Department on two major questions — and they're making clear they're willing to play hardball if they don't hear something soon…. First, lawmakers in both chambers are demanding that the FBI clear up President Donald Trump's claim that former President Barack Obama wiretapped Trump Tower in the run-up to the election. Both the House Intelligence Committee and Graham's Senate Judiciary Subcommittee on Crime and Terrorism have asked the Justice Department to turn over any evidence for Trump's allegations, including warrant applications or court orders…. The other big question for lawmakers is whether the FBI is conducting any criminal investigations into Trump campaign aides for potential collusion with Russia."
Neil Gorsuch Helped Defend Disputed Bush-Era Terror Policies, The New York Times, Charlie Savage, Wednesday, 15 March 2017: "In December 2005, Congress handed President George W. Bush a significant defeat by tightening legal restrictions against torture in a law called the Detainee Treatment Act. Soon afterward, Neil M. Gorsuch — then a top Justice Department official — sent an email to a White House colleague in case he needed "cheering up" about the administration's setback. The email from Judge Gorsuch, nominated by President Trump to fill the vacancy on the Supreme Court caused by the death of Justice Antonin Scalia, linked to articles about a less-noticed provision in the act that undercut the rights of Guantánamo Bay detainees by barring courts from hearing their habeas corpus lawsuits. 'The administration's victory is not well known but its significance shouldn't be understated,' wrote Judge Gorsuch, who had helped coordinate the Justice Department's work with Congress on the bill. The email about the court-stripping provision — which the Supreme Court later rejected — is among more than 150,000 pages of Bush-era Justice Department and White House documents involving Judge Gorsuch disclosed by the Trump administration ahead of his Senate confirmation hearings next week."
In challenge to Trump, 17 Republicans join fight against global warming, Reuters, Emily Flitter, Wednesday, 15 March 2017: "Seventeen congressional Republicans signed a resolution on Wednesday vowing to seek "economically viable" ways to stave off global warming, challenging the stated views of President Donald Trump, who has called climate change a hoax. Republicans Elise Stefanik of New York, Carlos Curbelo of Florida and Ryan Costello of Pennsylvania introduced the legislation in the U.S. House of Representatives, pledging to 'study and address the causes and effects of measured changes to our global and regional climates' and seek ways to 'balance human activities' that contribute. Several Republicans who signed the resolution, which is non-binding, represent parts of the country most affected. Curbelo hails from Miami, where streets regularly flood at high tide due to rising sea levels. 'This issue was regrettably politicized some 20 or so years ago and we are in the process of taking some of the politics out, reducing the noise and focusing on the challenge and on the potential solutions,' Curbelo said in a call with journalists on Tuesday."
Trump's visit to honor Andrew Jackson Draws Criticism, Democracy Now!, published on Thursday, 16 March 2017: "Trump spent part of Wednesday in Nashville, Tennessee, where he honored former President Andrew Jackson, laying a wreath at Jackson's tomb site and comparing himself to the former president during a visit to Jackson's plantation, the Hermitage. President Jackson was a slaveholder who also signed the order to forcibly remove 16,000 Native Americans from their lands in what became known as the Trail of Tears. Trump's words and visit drew condemnation from many, including members of the Cherokee Nation, who called Jackson 'a destructive man, to not just Cherokee people, but Native people in general.'"
Thursday, 16 March 2017, Day 56:
What Trump cut in his preliminary 2018 budget, agency by agency, The Washington Post, Kim Soffen and Denise Lu, Thursday, 16 March 2017: "On Thursday, the Trump administration released a preliminary 2018 budget proposal, which details many of the changes the president wants to make to the federal government's spending. The proposal covers only discretionary, not mandatory, spending. To pay for an increase in defense spending, a down payment on the border wall and school voucher programs, among other things, funding was cut from the discretionary budgets of other executive departments and agencies. The Environmental Protection Agency, the State Department and the Agriculture Department took the hardest hits." See also, Who Wins and Loses in Trump's proposed budget, The New York Times, Alicia Parlapiano and Gregor Aisch, Thursday, 16 March 2017.
Office of Management and Budget Director Mike Mulvaney justifies Trump's budget: We can't ask a coal miner to pay for the Corporation for Public Broadcasting, Politico, Louis Nelson, Thursday, 16 March 2017: "As they fleshed out the budget blueprint released Thursday morning by the White House, Office of Management and Budget director Mick Mulvaney said officials from the administration of President Donald Trump asked themselves: Can we ask the taxpayer to pay for this? For a dramatic uptick in military funding, Mulvaney said, the answer was yes. For a wide array of domestic programs, it turns out, the answer was no…. When you start looking at places that we reduce spending, one of the questions we asked was can we really continue to ask a coal miner in West Virginia or a single mom in Detroit to pay for these programs? The answer was no,' Mulvaney said Thursday morning on MSNBC's 'Morning Joe.' 'We can ask them to pay for defense, and we will, but we can't ask them to continue to pay for the Corporation for Public Broadcasting.' Federal funding for the Corporation for Public Broadcasting would be cut entirely under Trump's budget blueprint, which also reduces spending on the Coast Guard by 14 percent and FEMA by 11 percent…. And asked about cuts to educational programs, including aid to low-income students, teacher training and after-school and summer programs, Mulvaney said that they, by and large, are ineffective and cannot justify their existence." See also, Office of Management and Budget Director Mike Mulvaney Claims There Is No Evidence That After-School Programs Help Children to Perform Better, Fortune, Julia Zorthian, Thursday, 16 March 2017: "The White House claimed on Thursday that there's no evidence students benefit from after school programs, which President Donald Trump's proposed budget would stop funding. The budget eliminates funding for the 21st Century Community Learning Centers, which supports before and after school programs for 1.6 million children, the Washington Post reports. Office of Management and Budget Director Mick/Mike Mulvaney claimed at a press conference that there's no evidence those programs benefit student performance. 'They're supposed to be educational programs, right?' Mulvaney said to reporters. 'Guess what? There's no demonstrable evidence they're actually doing that. There's no demonstrable evidence they're actually helping results, they're helping kids do better in school. The way we justified it was: these programs are going to help these kids do better in school and get better jobs. And we can't prove that that's happening.'"
Senate Intelligence Committee leaders say they have no evidence that Trump Tower was wiretapped, The Washington Post, Karoun Demirjian, Thursday, 16 March 2017: "The Republican and Democratic leaders of the Senate Intelligence Committee joined the chorus of lawmakers stating they are not aware of any current evidence supporting President Trump's claim that his campaign headquarters was wiretapped during the presidential election season. Committee Chairman Richard Burr (R-N.C.) on Thursday released a joint statement with the ranking Democrat, Sen. Mark R. Warner (Va.), stating that they have not seen data supporting Trump's claim. 'Based on the information available to us, we see no indications that Trump Tower was the subject of surveillance by any element of the United States government either before or after Election Day 2016,' they said."
Questions for Judge Gorsuch, Just Security, Jennifer Daskal, Thursday, 16 March 2017: "On Monday [20 March], the Senate hearing on Judge Neil Gorsuch's nomination to the Supreme Court will begin. As Senators prepare for the hearing, it is important they pay careful attention to a period in Gorsuch's career, between 2005 and 2006, when he served as the principal deputy to the associate attorney general at the Justice Department. In this position, he was involved in some of the highest priority national-security related policy and litigation handled by the Bush administration (as Charlie Savage points out here). It was a time in which the executive branch repeatedly sought to shield its national security-related practices from judicial review, and in doing so, advanced extremely broad claims of unreviewable assertions of executive authority in the context of national security. These claims are of particular relevance today given that in less than two months of his presidency, Trump has already claimed unreviewable authority in the context of his immigration policy and relied on totally unsupported claims of national security in doing so. He has also demonstrated a willingness to attack just about any institution–including his own intelligence community and the courts—that disagrees with him. Judge Gorsuch has acknowledged playing a significant role in at least five key cases during his two years at the Justice Department that involved efforts to defend and shield from review detainee abuse, warrantless wiretapping, and the expansive use of the FBI's national security authorities. In addition, Judge Gorsuch was actively involved in policy discussions regarding the contours of the Detainee Treatment Act of 2005, which among other things stripped Guantanamo detainees of the ability to bring habeas challenges their detentions. (These habeas-stripping provisions were eventually declared unconstitutional by the Supreme Court.) The specifics of Judge Gorsuch's advice and role in these matters, as well as his views now, should be probed further. At age 49, Gorsuch would, if confirmed, be the youngest member of the Supreme Court, and thus likely to be there for a long time. He could end up being the decisive vote in a range of future cases that involve executive branch policies that push at, or cross, the line of legality—defended based on expansive claims of unreviewable executive authority in the arena of national security."
Tillerson Travels to Asia With Only 1 Reporter from New Conservative Outlet, Democracy Now!, published on Thursday, 16 March 2017: "Reporters are expressing outrage over the State Department's decision to allow only one reporter to travel with Secretary of State Rex Tillerson on his trip to Asia. The only reporter allowed to travel with Tillerson was Erin McPike of the conservative news outlet the Independent Journal Review, which was founded by two Republican political consultants. McPike has only been working for the outlet for a few weeks, and she doesn't typically even cover the State Department."
Immigration Agents Should Not 'Stalk' Courts, California Justice Says, The New York Times, Jennifer Medina, Thursday, 16 March 2017: "California's top judicial official asked the Trump administration on Thursday to stop immigration agents from "stalking" courthouses in the state to make immigration arrests. 'Courthouses should not be used as bait in the necessary enforcement of our country's immigration laws, Tani Cantil-Sakauye, the chief justice of California, wrote in a letter to Jeff Sessions, the attorney general, and John Kelly, the secretary of homeland security. 'Enforcement policies that include stalking courthouses and arresting undocumented immigrants, the vast majority of whom pose no risk to public safety, are neither safe nor fair,' she continued. 'They not only compromise our core value of fairness, but they undermine the judiciary's ability to provide equal access to justice.'… Federal immigration agents generally comply with what is known as the sensitive location policy, avoiding schools, hospitals and places of worship. But courts are not considered sensitive locations, and federal officials have said they are increasingly moving to make arrests there because fewer local law enforcement agencies are working with Immigration and Customs Enforcement to detain suspects so they can be picked up and processed for deportation."
Campaign Pledges Haunt Trump in Court, The New York Times, Adam Liptak, Thursday, 16 March 2017: "In quick succession on Wednesday night, federal judges in Hawaii and Maryland blocked President Trump's revised travel ban. They said statements Mr. Trump had made as a presidential candidate, including his call for 'a total and complete shutdown of Muslims entering the United States,' helped doom the executive order. The judges said Mr. Trump's promises to impose a 'Muslim ban' were too telling and categorical to be ignored. 'Simply because a decision maker made the statements during a campaign does not wipe them' from judicial memory, wrote Judge Theodore D. Chuang of Federal District Court in Maryland. Outside the context of Mr. Trump's two travel bans, few judicial rulings have addressed how much weight courts may put on statements from political candidates. Even informal remarks from sitting government officials are often ignored by courts, which can be reluctant to conduct what the Supreme Court has called 'judicial psychoanalysis.' But decisions about religious discrimination allow courts to consider government officials' real purposes, even if their stated ones are neutral. The Supreme Court has said judges may not turn a blind eye to the context in which government policies on religion arose. "Reasonable observers have reasonable memories," Justice David H. Souter wrote in a leading religion case."
The top Democrat on the House Intelligence Committee, Adam Schiff, says Trump might have divulged classified information, Politico, Austin Wright, Thursday, 16 March 2017: "The top Democrat on the House Intelligence Committee is accusing President Donald Trump of being careless with classified information after Trump said 'the CIA was hacked.' Rep. Adam Schiff said in a statement Thursday that 'the president appears to have discussed something that, if true and accurate, would otherwise be considered classified information.' 'The president has the power to declassify whatever he wants, but this should be done as the product of thoughtful consideration and with intense input from any agency affected,' the California congressman said. 'For anyone else to do what the president may have done, would constitute what he deplores as "leaks."' Trump made his remarks during an interview Wednesday with Fox News' Tucker Carlson in which the president sought to defend his claim that former President Barack Obama wiretapped Trump Tower in the run-up to the 2016 election. 'By the way, with the CIA, I just want people to know, the CIA was hacked, and a lot of things taken — that was during the Obama years,' Trump said. 'That was not during us.'"
Trump's budget echoes none of the populist, anti-establishment themes of candidate Trump's campaign, The Intercept, Zaid Jilani, Thursday, 16 March 2017: "Trump's budget proposal released on Thursday, echoes none of the populist, anti-establishment themes of candidate Trump's campaign for higher office. Instead, it calls for a large increase in defense spending while reducing spending for a variety of popular domestic programs. That's not surprising considering where those ideas came from. Rather than bringing in new ideas from outside of the Beltway, many of its proposals are lifted straight from the recommendations of an elite ultra-conservative D.C. think tank: the Heritage Foundation. Founded in 1973, Heritage has served as a sort of a watering hole for the Republican establishment, providing policy papers and staffers for GOP members of Congress and presidential administrations. Its 2015 annual report listed almost $100 million in revenues — drawn from conservative mega-donors and corporations — which it uses to facilitate the spread of its ideas across Washington, D.C. And those ideas have found a home in the Trump administration, which leaned heavily on Heritage advice during the transition period. Many of the White House proposal's ideas are identical to a budget blueprint Heritage drew up last year."
With Environmental Protection Agency Cuts, States Would Lose Help in Emergencies, The New York Times, Coral Davenport, Thursday, 16 March 2017: "The resources to respond to…emergencies, along with much of the other state-level work performed by the agency, would be eliminated or sharply reduced by President Trump's proposed budget for fiscal 2018, which cuts the E.P.A. by 31 percent, more than any other agency. While the agency may be known for sweeping regulations to curb climate change, increase auto fuel efficiency or mandate smokestack controls, the agency's bread and butter is more prosaic. The staff and scientists at its regional offices and laboratories across the country regularly respond to emergency calls from city and state officials: a December 2016 chemical leak from an asphalt plant into the water supply of Corpus Christi, Tex.; airborne drifts last summer in southern Missouri of dicamba, an herbicide that damages non-genetically modified crops; a 2014 fire at a perfume factory in Bridgeport, Conn., that spewed dangerous chemicals into the surrounding neighborhood. Funds to respond to many of those calls would no longer be available under Mr. Trump's budget. He proposed lowering the agency's $8.1 billion budget to $5.7 billion, and cutting 3,200 jobs from the its staff of 15,000. The proposal appears to be a realization of the federalist philosophy of the agency's new administrator, Scott Pruitt, who has ardently championed states' rights. He has said repeatedly that he wants to pare down the agency's overreaching federal authority and return the work of environmental regulation to states."
A Shift From 'Soft Power' Diplomacy to the Projection of 'Hard Power' by the Military Is Indicated in the Budget Cuts to the State Department, The New York Times, Gardiner Harris, Thursday, 16 March 2017: "Secretary of State Rex W. Tillerson was on the other side of the planet on Thursday when the Trump administration announced that it would slash his department's budget by 31 percent, potentially eliminating thousands of jobs. Instead of announcing the cuts in person, Mr. Tillerson sent a nine-sentence email from Japan to his staff stating that 'U.S. engagement must be more efficient,' and that the budget was 'a genuine opportunity to set a new course.' The passive tone fit the message of the president's budget: Use less 'soft power,' the cajoling and persuading of allies and enemies, and replace it with the projection of 'hard power' by the nation's military."
Meals on Wheels is 'not showing any results' only if you ignore all these results, The Washington Post, Christopher Ingraham, Thursday, 16 March 2017: "At a news conference Thursday, Mick Mulvaney, President Trump's budget chief, defended proposed cuts to the Meals on Wheels program, which provides food aid to needy senior citizens, by saying the program is one of many that is 'just not showing any results.' Meals on Wheels is a nonprofit group that receives funding from the federal government, state and local governments and private donors. 'We serve more than 2.4 million seniors from 60 to 100+ years old each year,' the organization writes. 'They are primarily older than 60 and because of physical limitations or financial reasons, have difficulty shopping for or preparing meals for themselves.' If that doesn't clear the bar for 'results,' as Mulvaney put it, there's also been a fair amount of peer-reviewed research on the efficacy of the program. A 2013 review of studies, for instance, found that home-delivered meal programs for seniors 'significantly improve diet quality, increase nutrient intakes, and reduce food insecurity and nutritional risk among participants. Other beneficial outcomes include increased socialization opportunities, improvement in dietary adherence, and higher quality of life.' Not only that, the programs offer good bang-for-your-buck: 'These programs are also aligned with the federal cost-containment policy to rebalance long-term care away from nursing homes to home- and community-based services by helping older adults maintain independence and remain in their homes and communities as their health and functioning decline.' In other words, the programs help seniors stay at home and out of costly nursing facilities. If you're interested in keeping a lid on health-care costs, the importance of this finding can't be overstated."