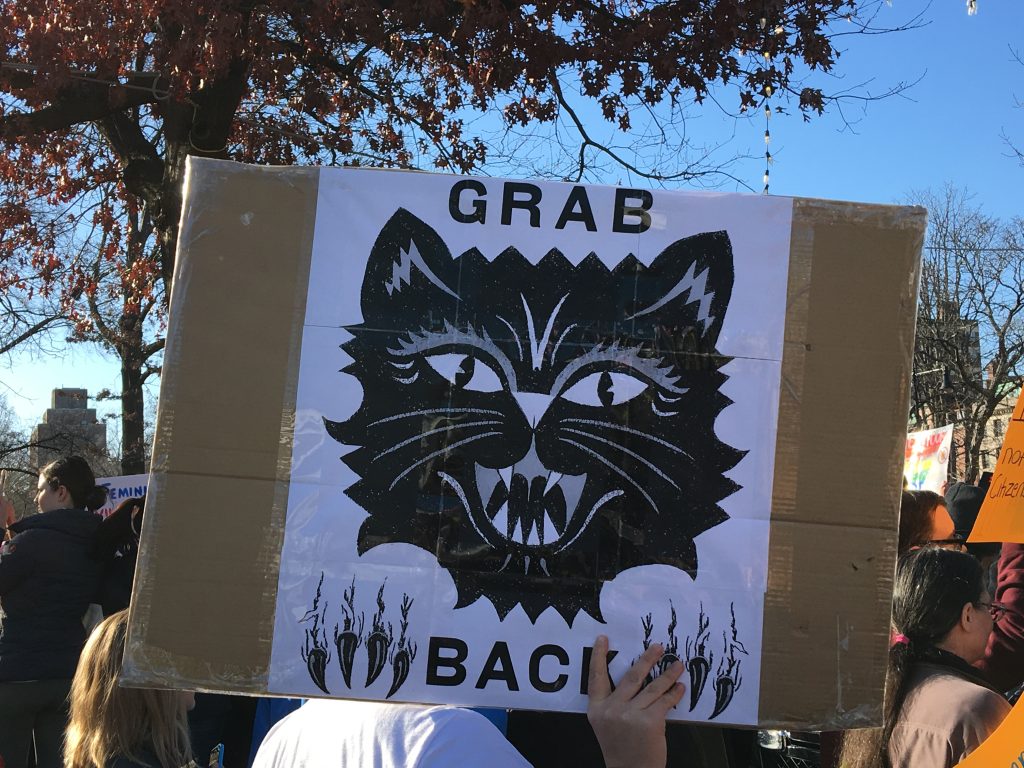 Keeping Track (of some things), Staying Outraged (it is possible), and Resisting (it's essential)
Passages in bold in the body of the texts below are my emphasis. This is an ongoing project, and I update the site frequently. I hope readers will peruse the articles in full for a better understanding of the issues and their context; our democracy and our future depend on citizens who can distinguish between facts and falsehoods and who are engaged in the political process.
Friday, 31 March 2017, Day 71:
Trump Calls the Congressional Investigations Into His Presidential Campaign's Ties to Russia a 'Witch Hunt,' The New York Times, Julie Hirschfeld Davis, Friday, 31 March 2017: "President Trump said on Friday [31 March] that Michael T. Flynn, the national security adviser who resigned last month over his contacts with Russian officials, should ask for immunity from prosecution in the congressional investigation into the presidential campaign's ties to Moscow. Mr. Trump called the inquiry a 'witch hunt' by the news media and Democrats. The president made the remark on Twitter the morning after it was revealed that Mr. Flynn was seeking an immunity deal as part of an offer to testify in the investigations by the House and Senate Intelligence Committees into Russian meddling. Those inquiries are looking into the presidential election and potential collusion between Mr. Trump's campaign staff members and the Russians. 'Mike Flynn should ask for immunity in that this is a witch hunt (excuse for big election loss), by media & Dems, of historic proportion!' Mr. Trump wrote. The president has been eager to dismiss as 'fake news' all allegations that members of his campaign colluded with the Russians, and the post appeared to be an effort to discredit the congressional inquiries that are examining those claims. It also appeared to be aimed at defusing any speculation that Mr. Flynn might be seeking immunity because he has incriminating information to share about Mr. Trump or his associates…. [Mr. Trump] has said previously that seeking protection from prosecution is a telltale sign of wrongdoing. 'If you're not guilty of a crime, what do you need immunity for, right?' he said at a campaign rally in Orlando, Fla., in September. Mr. Trump was referring to Hillary Clinton aides who received immunity during an F.B.I. inquiry into her private email server."
Bernie Sanders Wants to Expand Medicare to Everybody–Exactly What Its Architects Wanted, The Intercept, Zaid Jilani, Friday, 31 March 2017: "Bernie Sanders doesn't just want to play defense on health care — he's introducing a bill that would expand the Medicare program to everybody in America, creating a single-payer health care system. Such a system would wipe out inefficiencies in our current, private insurance-run system, and polls very well — yet it is opposed by the health care industry and the Democratic and Republican establishments that relies on them for campaign cash. But creating a 'Medicare-for-all,' single-payer health insurance system for all Americans would be fulfilling the dream of those who created the Medicare system in the first place in 1965. Medicare's architects ended up compromising with Congress and establishing a system that offered public-run health insurance just for the elderly, but they never intended for only retirees to benefit from the program."
U.S. District Judge Gonzalo Curiel approves $25 million settlement in Trump University cases, The Washington Post, Rosalind S. Helderman, Friday, 31 March 2017: "A federal judge has given final approval to a $25 million settlement to litigation against Trump University, a now-defunct real estate seminar program once owned by President Trump. Trump had agreed not long after his election to settle two class-action suits filed by former customers of the program in California, as well as a New York state lawsuit. The suits argued that Trump University defrauded customers, some of whom paid more than $30,000 to participate in the seminars, with false advertisements promising that they would learn Trump's personal real estate tricks and that Trump had hand-picked seminar leaders. In depositions, Trump acknowledged he did not choose instructors. The case had been used against Trump during the presidential campaign, with Democrats contending that Trump University was part of a pattern of deceptive Trump business endeavors. It also sparked one of the campaign's most controversial moments for Trump, when he argued that U.S. District Judge Gonzalo Curiel, who was overseeing the matter, was biased because of his Mexican heritage…. Curiel ruled Friday that the settlement was 'fair' and 'adequate.' In a written opinion, Curiel said that many former customers are likely to recover 80 or 90 percent of the amount they had paid for the program, a recovery rate he termed 'extraordinary.' The settlement will be available to more than 5,000 former customers of the program, which was held in hotel ballrooms around the country."

Continue reading Week 11, Friday, 31 March – Thursday, 6 April 2017:

When the primary source is Trump himself: Factba.se compiles all Trump, on all platforms, at all times, Nieman Lab, Shan Wang, Friday, 31 March 2017: After the November 2016 election of Trump, Bill Frischling asked a question on the minds of many: "'How do you counter fake news? I latched onto primary sources. If you hear and see what people have said directly, in their whole context, then they can't say you're out of context,' Frischling said. 'But it's really not easy to search for primary material.' Frischling's solution turned into Factba.se, which is an easily searchable trove of virtually every single communication that comes from Donald Trump himself and from the White House, including official Trump campaign policy papers, the official White House schedule, official social media posts, and of course, @realdonaldtrump tweets…. 'Large news organizations like CNN, The New York Times, the AP, and The Washington Post are consistently in the top ten domains in terms of traffic to Factba.se,' according to Frischling. The average time spent on the database has hovered around 20 to 30 minutes, suggesting that users might be actually watching the videos and reading the policy documents they came to search for."
New Environmental Protection Agency documents reveal even deeper proposed cuts to staff and programs, The Washington Post, Juliet Eilperin, Chris Mooney and Steven Mufson, Friday, 31 March 2017: "The Environmental Protection Agency has issued a new, more detailed plan for laying off 25 percent of its employees and scrapping 56 programs including pesticide safety, water runoff control, and environmental cooperation with Mexico and Canada under the North American Free Trade Agreement. At a time when the agency is considering a controversial rollback in fuel efficiency standards adopted under President Obama, the plan would cut by more than half the number of people in EPA's division for testing the accuracy of fuel efficiency claims by automakers. It would transfer funding for the program to fees paid by the automakers themselves. The spending plan, obtained by The Washington Post, offers the most detailed vision to date of how the 31 percent budget cut to the EPA ordered up by President Trump's Office of Management and Budget would diminish the agency. The March 21 plan calls for even deeper reductions in staffing than earlier drafts. It maintains funding given to states to administer waste treatment and drinking water. But as a result, the budget for the rest of EPA is slashed 43 percent."
Adam Schiff, the Top Democrat on the House Intelligence Committee, Says It Is Too Early to Offer Michael Flynn Immunity in Exchange for His Testimony on Russian Interference in the 2016 Election, Bloomberg Politics, Steven T. Dennis, Chris Strohm, and Billy House, Friday, 31 March 2017: "The top Democrat on the House Intelligence Committee said President Donald Trump's former national security adviser would have to go through several steps before lawmakers would consider offering immunity in exchange for his testimony. Representative Adam Schiff of California said that he would discuss Mike Flynn's offer with the Senate Intelligence Committee as well as members of the House panel and with the Justice Department. Any decision would require Flynn and his lawyer to provide details of what the retired lieutenant general is offering to say in his testimony. 'As with any investigation — and particularly one that grows in severity and magnitude by the day — there is still much work and many more witnesses and documents to obtain before any immunity request from any witness can be considered,' Schiff said Friday in a statement. With attention drawn back to Trump's former adviser and the investigation into Russian interference in the 2016 election, the White House sought to raise questions about whether former President Barack Obama's administration engaged in what press secretary Sean Spicer said was 'politically motivated' surveillance of Trump's campaign and leaks of classified material. As part of that, Schiff went to the White House Friday afternoon at the invitation of the administration to view intelligence intercepts that Trump's aides have said suggest that government spy agencies improperly identified Trump's campaign officials and associates in the course of routine foreign surveillance. The invitation was extended amid a controversy [about] House Intelligence Committee Chairman Devin Nunes shifting explanations of how he was given access to the documents. The New York Times reported that two officials in Trump's administration provided the material to Nunes. The California Republican didn't inform Schiff or other members of the committee, but he held a news conference to detail what he saw before returning to the White House to talk about it with Trump. Schiff and his staff director viewed the classified material on Friday and he said it should be shared with the full committee."
Germany balks at Secretary of State Rex Tillerson's call for more European NATO spending, Reuters, Lesley Wroughton and Robert-Jan Bartunek, Friday, 31 March 2017: "U.S. Secretary of State Rex Tillerson reassured his nervous European counterparts over Washington's commitment to NATO on Friday and pressed them again to spend more on defense, triggering a rebuke from Germany. Foreign Minister Sigmar Gabriel said it was neither 'reachable nor desirable' for Germany to spend the agreed NATO target of two percent of member states' economic output on defense. NATO allies have until 2024 to do that. 'Two percent would mean military expenses of some 70 billion euros. I don't know any German politician who would claim that is reachable or desirable,' Gabriel told the first meeting of NATO foreign ministers attended by Tillerson. 'The United States will realize it is better to talk about better spending instead of more spending,' he said, noting that humanitarian, development and economic aid to stabilize countries and regions should also count. In his first remarks to NATO ministers, Tillerson said allies needed to pay up or outline plans for meeting that target when NATO leaders meet on May 25 for the first top-level summit of the alliance to be attended by U.S. President Donald Trump. Trump has criticized NATO as 'obsolete' and suggested Washington's security guarantees for European allies could be conditional on them spending more on their own defense. He has also said he wants NATO to do more to fight terrorism."
U.S. Secretary of Defense Jim Mattis says North Korea has 'got to be stopped,' The Washington Post, Robert Burns|AP, Friday, 31 March 2017: "North Korea must be stopped on its path toward being able to threaten the United States with nuclear attack, U.S. Defense Secretary Jim Mattis said Friday in a stark expression of America's top national security concern at the moment. He emphasized diplomatic means of changing Pyongyang's 'reckless' agenda. On his first visit to Britain as Pentagon chief, Mattis also took rhetorical jabs at Russia and said America's priority in Syria is defeating the Islamic State group rather than bringing down President Bashar Assad."
Confused by the Trump Surveillance Drama? Here's a Timeline, The New York Times, Emmarie Huetteman and Matthew Rosenberg, Friday, 31 March 2017: "It was a mystery that gripped Washington for the better part of two weeks, filled with clandestine meetings at the White House, classified intelligence documents and confidential sources. And a central question was unanswered: Who showed the chairman of the House Intelligence Committee reports indicating that President Trump or members of his transition team may have been 'incidentally' caught up in foreign surveillance by American spy agencies? The New York Times reported Thursday that a pair of White House officials had helped provide the intelligence to the committee's chairman, Representative Devin Nunes, Republican of California. The revelation has fueled criticism that Mr. Nunes, who had been a member of Mr. Trump's transition team, has been too eager to do the bidding of the Trump administration while his committee is supposed to be conducting an independent investigation of Russia's meddling in the presidential election. That investigation has now descended into a partisan sideshow, and the White House on Friday returned to the unproven claim that started it all: Mr. Trump's accusation that he was 'wiretapped' by President Barack Obama."
Saturday, 1 April 2017, Day 72:
Who's Worth What at the White House: The Financial Disclosures, The New York Times, Saturday, 1 April 2017: "The Trump administration released the financial disclosure forms from members of the White House staff…. The disclosures include the complicated assets of Ivanka Trump and Jared Kushner, President Trump's daughter and son-in-law, who retain vast business holdings. Stephen K. Bannon, the president's senior adviser, made as much as $2.3 million last year. Gary Cohn, the director of the National Economic Council and the former No. 2 executive at Goldman Sachs, has assets valued at $252 million to $611 million…. The White House disclosures fit an age-old pattern in Washington of dumping mountains of documents on Fridays, when normal people have left work and are beginning to enjoy their weekend. Not many are likely to be glued to their computers and television sets to track the wealth of White House officials."
Jared Kushner and Ivanka Trump, Now White House Employees, Can't Escape Conflict of Interest Laws, The New York Times, Eric Lipton and Jesse Drucker, Saturday, 1 April 2017: "The husband-and-wife team of Jared Kushner and Ivanka Trump, now both senior federal government officials, has been alongside President Trump as the White House has hosted dozens of chief executives and a handful of world leaders in recent weeks. It is a rarefied crowd, one that has included the top executives of some of the world's largest automobile, airline, chemical, pharmaceutical and tech companies. Mr. Kushner will continue to keep such select company now that he has helped create a new office that Mr. Trump is calling the White House Office of American Innovation. But the financial disclosure report released late Friday for Mr. Kushner, which shows that he and his wife still benefit financially from a real estate and investment empire worth as much as $740 million, makes clear that this most powerful Washington couple is walking on perilous legal and ethical ground, according to several prominent experts on the subject. Unlike Mr. Trump, who is exempt from conflict of interest laws, both Mr. Kushner and Ms. Trump — who took a formal White House position this past week — are forbidden under federal criminal and civil law to take any action that might benefit their particular financial holdings."
Michael Flynn's Immunity Request Is Rejected By Senate Intelligence Committee, NBC News, Ken Dilanian and Kasie Hunt, Saturday, 1 April 2017: "The Senate Intelligence Committee turned down the request by former National Security Adviser Michael Flynn's lawyer for a grant of immunity in exchange for his testimony, two congressional sources told NBC News. A senior congressional official with direct knowledge said Flynn's lawyer was told it was 'wildly preliminary' and that immunity was 'not on the table' at the moment. A second source said the committee communicated that it is 'not receptive' to Flynn's request 'at this time.' The senior congressional official also said that Flynn's lawyer had conveyed the offer of testimony in exchange for immunity from prosecution to the Justice Department."
Michael Flynn did not initially reveal income from Russia-related entities on his personal financial disclosure, The Washington Post, Matea Gold, Rosalind S. Helderman and Sari Horwitz, Saturday, 1 April 2017: "Before resigning under pressure as President Trump's national security adviser, Michael Flynn submitted a personal financial disclosure form to federal ethics officials that failed to note speaking fees he received from Russia-related entities in 2015, new filings show. Flynn later noted the payments on an amended form he signed Friday that listed among his sources of income the Russian government-backed television network RT, a U.S. air cargo company affiliated with the Volga-Dnepr Group and the U.S. subsidiary of Russian cybersecurity firm Kaspersky Lab. The White House released both sets of the forms Saturday as part of a broad release of documents detailing the financial holdings of top administration officials."
Trump tells NBC to stop covering the Russia story, The Hill, Elliott Smilowitz, Saturday, 1 April 2017: "President Trump on Saturday called for NBC News to devote more attention to his unproven claims that President Obama spied on him and stop covering the investigations into Russia's interference in the election. 'When will Sleepy Eyes Chuck Todd and @NBCNews start talking about the Obama SURVEILLANCE SCANDAL and stop with the Fake Trump/Russia story?' Trump tweeted just before 9 a.m. 'It is the same Fake News Media that said there is "no path to victory for Trump" that is now pushing the phony Russia story. A total scam!' he added shortly after. It was not immediately apparent what NBC coverage Trump was taking issue with."
Why Is Anti-Semitic Hate Different From Other Hate? The New York Times, Michelle Goldberg, Saturday, 1 April 2017: "Last Monday [27 March], the journalist April Ryan asked the White House spokesman, Sean Spicer, if the White House had anything to say about the murder of a black man in New York City by a white supremacist. In response, Mr. Spicer complained about how unfair it had been to ask 'folks on the right' to denounce anti-Semitic bomb threats, when it turned out those threats hadn't come from the right. It was a bizarre argument. Normally, it is routine for presidents to offer sympathy to victims of high-profile crimes — without treating it as an opportunity to settle a political grudge. The various strands of renascent bigotry in Mr. Trump's America are intertwined, and anti-Semitism is only part of the tapestry. Yet Americans, for good historical reasons, tend to have a particularly heightened sensitivity toward anti-Semitism. All 100 senators signed a letter calling on the Trump administration to take 'swift action' against the anti-Semitic bomb threats. There has been no similar political urgency in demanding protection for other harassed minorities. The president and his associates mix anti-Semitic dog whistles with frank attacks on Muslims, immigrants and refugees. The paradox is that in today's America, coded anti-Semitism is more of a political taboo than open Islamophobia. We spend a great deal of time and energy parsing the semiotics of Mr. Trump's role in stoking anti-Jewish sentiment, while Muslims and immigrants can be defamed with impunity. The risk here is that we've been distracted by the anti-Semitism controversy from the ways in which other groups are being demonized as Jews once were. All the same, the Israeli bomb threat hoax does force some reassessment. Perhaps we have given Trump-era anti-Semitism more emphasis than it deserves. This does not mean that, as Mr. Spicer suggests, we should see the president as the victim of unjust insinuations. Instead, we should ask why there was so much more pressure on Mr. Trump to speak out about apparent anti-Semitic threats than about other types of religious and ethnic violence?"
Sunday, 2 April 2017, Day 73:
Our Dishonest President, Los Angeles Times, Los Angeles Times Editorial Board, Sunday, 2 April 2017: "It was no secret during the campaign that Donald Trump was a narcissist and a demagogue who used fear and dishonesty to appeal to the worst in American voters. The Times called him unprepared and unsuited for the job he was seeking, and said his election would be a 'catastrophe.' Still, nothing prepared us for the magnitude of this train wreck…. In a matter of weeks, President Trump has taken dozens of real-life steps that, if they are not reversed, will rip families apart, foul rivers and pollute the air, intensify the calamitous effects of climate change and profoundly weaken the system of American public education for all…. [H]e is proceeding with his efforts to defang the government's regulatory agencies and bloat the Pentagon's budget even as he supposedly retreats from the global stage. These are immensely dangerous developments which threaten to weaken this country's moral standing in the world, imperil the planet and reverse years of slow but steady gains by marginalized or impoverished Americans. But, chilling as they are, these radically wrongheaded policy choices are not, in fact, the most frightening aspect of the Trump presidency. What is most worrisome about Trump is Trump himself. He is a man so unpredictable, so reckless, so petulant, so full of blind self-regard, so untethered to reality that it is impossible to know where his presidency will lead or how much damage he will do to our nation. His obsession with his own fame, wealth and success, his determination to vanquish enemies real and imagined, his craving for adulation — these traits were, of course, at the very heart of his scorched-earth outsider campaign; indeed, some of them helped get him elected. But in a real presidency in which he wields unimaginable power, they are nothing short of disastrous."
A judge rules Trump may have incited violence … and Trump again has his own mouth to blame, The Washington Post, Aaron Blake, Sunday, 2 April 2017: "The courts keep taking Donald Trump both seriously and literally. And the president's word choices are proving to be a real headache. A federal judge in Kentucky is the latest to take Trump at his word when he says something controversial. Judge David J. Hale ruled against efforts by Trump's attorneys to throw out a lawsuit accusing him of inciting violence against protesters at a March 2016 campaign rally in Louisville. At the rally, Trump repeatedly said 'get 'em out of here' before, according to the protesters, they were shoved and punched by his supporters. Trump's attorneys sought to have the case dismissed on free speech grounds, arguing that he didn't intend for his supporters to use force. But Hale noted that speech inciting violence is not protected by the First Amendment and ruled that there is plenty of evidence that the protesters' injuries were a 'direct and proximate result' of Trump's words." See also, The violent rally Trump can't move past, The Washington Post, Avi Selk, published on Monday, 3 April 2017.
Trump v. the Earth: He said that his [executive] order puts "an end to the war on coal." In reality, it's a war on basic knowledge of the harm that coal can do, The New Yorker, Amy Davidson, Sunday, 2 April 2017 (print edition of Monday, 10 April 2017): "In late 2006, President George W. Bush's Environmental Protection Agency argued before the Supreme Court that it did not want to regulate greenhouse gases, and that no one could make it do so. It certainly had no wish to accede to the desires of Massachusetts, which, with eleven other states, had sued the E.P.A. for failing to establish guidelines on emissions of carbon dioxide, methane, nitrous oxide, and hydrofluorocarbons. The states pointed to the agency's charter, under the Clean Air Act, which instructs it to regulate chemicals released into the air 'which may reasonably be anticipated to endanger public health or welfare.' They asked why the E.P.A., which had refused even to consider whether greenhouse gases fell into that category, thought that it could ignore the law. The Court, in a landmark 5–4 decision, written by Justice John Paul Stevens and issued ten years ago this week, agreed with the states. As a result of that ruling, the E.P.A. began the formal process of looking at the science documenting the risks posed by greenhouse gases, and recognized that those emissions had contributed to a public-safety crisis affecting not just the nation but the planet. The E.P.A.'s resulting 'endangerment finding,' as it is known, was issued in 2009, in time for Barack Obama's Presidency. It became the immediate object of conservative scorn and of furious efforts in Congress and the courts to invalidate it, but it held up, and formed the basis for new standards on auto emissions and for Obama's Clean Power Plan, issued in 2015. More than that, the finding was an assertion of the principle that politicians cannot entirely ignore either science or the rule of law. We now have, in Donald J. Trump, a President who shows disdain for both…. [Trump's 'Presidential Executive Order on Promoting Energy Independence and Economic Growth'] asks every agency of the federal government to review its rules and to purge them of measures that inconvenience the fossil-fuel and nuclear-power industries…. [The order] tells the government to ignore information. The Obama Administration assembled a working group to determine the "social cost" of each ton of greenhouse-gas emissions. Trump's executive order disbands that group and tosses out its findings. Scott Pruitt, the new E.P.A. administrator—who, as attorney general of Oklahoma, had joined a lawsuit attempting to undo the endangerment finding—announced that the agency was no longer interested in even collecting data on the quantities of methane that oil and gas companies release.… The United States government's meaningful participation in the fight against climate change appears, at least for the next few years, to be at an end."
'Find the leakers,' Trump tweets, turning the spotlight yet again on his wiretapping claims, The Washington Post, Ashley Parker, Sunday, 2 April 2017: "President Trump on Sunday called on the "fake news media" to turn its attention to questions of illegal government surveillance and ferreting out the leakers within his administration. 'The real story turns out to be SURVEILLANCE and LEAKING!' the president wrote Sunday morning on Twitter. 'Find the leakers.'… On Sunday, Trump also took to Twitter to argue that the White House and congressional Republicans were still working to repeal and replace Obama's health-care law, despite a humiliating defeat last month in which House Republicans were forced to pull the replacement bill from the floor. 'Anybody (especially Fake News media) who thinks that Repeal & Replace of ObamaCare is dead does not know the love and strength in R Party!' Trump wrote. In a second tweet minutes later, Trump wrote, 'Talks on Repealing and Replacing ObamaCare are, and have been, going on, and will continue until such time as a deal is hopefully struck.'… After the Republican health-care bill failed, the president seemed eager to turn his attention to issues such as tax reform and infrastructure spending. White House aides, however, including Office of Management and Budget Director Mick Mulvaney, have quietly continued discussions about taking another shot at a replacement health-care bill…."
Trump: US will act unilaterally on North Korea if necessary, CNN, Eli Watkins, published on Monday, 3 April 2017: "US President Donald Trump has declared he would be willing to go it alone to restrain North Korea's nuclear weapons program should China fail to change the situation, saying if Beijing won't help solve it, then 'we will' alone. 'China will either decide to help us with North Korea or they won't,' Trump said in an interview published Sunday in the Financial Times. 'If they do, that will be very good for China, and if they don't, it won't be good for anyone.' Trump's administration has repeatedly emphasized its high concern over the North Korean nuclear threat. Secretary of State Rex Tillerson visited China last month to press North Korea's neighbor for help in mitigating that threat, and Trump is scheduled to host Chinese President Xi Jinping this week in the US, where he intends to bring the issue up."
Monday, 3 April 2017, Day 74:
Trump Shifts Course on Egypt, Praising Its Authoritarian Leader, The New York Times, Peter Baker and Declan Walsh, Monday, 3 April 2017: "Ever since he seized power in a military takeover nearly four years ago, President Abdel Fattah el-Sisi of Egypt has been barred from the White House. But President Trump made clear on Monday that the period of ostracism was over as he hosted Mr. Sisi and pledged unstinting support for the autocratic ruler. 'We agree on so many things,' Mr. Trump said as he sat beside Mr. Sisi in the Oval Office. 'I just want to let everybody know in case there was any doubt that we are very much behind President el-Sisi. He's done a fantastic job in a very difficult situation. We are very much behind Egypt and the people of Egypt. The United States has, believe me, backing, and we have strong backing.'… It was the first visit by an Egyptian president to Washington since 2009, when the guest was the autocratic former president Hosni Mubarak, then in the waning years of his rule — an era now viewed by many Egyptians as a time of relative freedom, prosperity and security…. Beyond a shared love for harsh rhetoric warning against the dangers of jihadist Islam, Mr. Trump has striking similarities with Mr. Sisi's brand of authoritarianism in Egypt, according to Middle East analysts. Both leaders came to power promising splashy projects derided by experts — an expensive extension of the Suez Canal for Mr. Sisi, and a giant wall along the Mexico border for Mr. Trump. In speeches, both leaders have been ridiculed for making exaggerated claims, embracing conspiracy theories and speaking in a limited rhetorical style. Egyptians also often mock Mr. Sisi for speaking in a rustic form of Arabic that contrasts with the formal version usually favored by national leaders. Mr. Trump has the grammar and vocabulary of a fifth-grade student, one study last year found. Both leaders are notoriously thin-skinned and project a sense of unfiltered self-regard. In recent months, Mr. Trump branded critics in the 'fake news' media as the 'enemy of the American people'; last year, in a fit of exasperation, Mr. Sisi told Egyptians, 'Please, do not listen to anyone but me!'… It remains far from clear what the two leaders can offer each other in concrete terms. Mr. Sisi has resisted loud appeals to release Aya Hijazi, an American aid worker imprisoned in Egypt, while Mr. Trump's White House is considering slashing foreign aid to countries including Egypt's $1.3 billion in military assistance."
Trump, Welcoming Egyptian President Abdel Fattah Al Sisi, Says 'We Agree on So Many Things,' The Wall Street Journal, Felicia Schwartz, Monday, 3 April 2017: "Mr. Sisi's trip is the first state visit of an Egyptian leader to Washington since 2009. Mr. Sisi won an election in 2014, several months after the military, then under his command, led a coup to oust Egypt's first freely elected leader, President Mohammed Morsi of the Muslim Brotherhood. Human rights groups on Monday called on Mr. Trump to press Mr. Sisi to ease up on arbitrary arrests and harsh prison conditions, among other abuses. 'As President Sisi visits the White House, his government is overseeing a campaign of repression that flies in the face of American values,' said Maya Foa, a director at international human rights organization Reprieve. Tens of thousands of people have been imprisoned since Mr. Sisi came to power, including several American citizens."
White House Meeting With Egypt's Tyrant Highlights Key Trump Effect: Unmasking U.S. Policy, The Intercept, Glenn Greenwald, Monday, 3 April 2017: "…[T]he U.S. has been supporting, funding, and arming the Sisi tyranny for years under the Obama administration. In March 2015, as Sisi's human rights abuses intensified, Obama personally told the Egyptian tyrant in a call the good news that he was lifting a ban 'on the delivery of F-16 aircraft, Harpoon missiles, and M1A1 tank kits' and — in the words of the White House — 'also advised President al-Sisi that he will continue to request an annual $1.3 billion in military assistance for Egypt.'… Prior to Sisi, the U.S. — under Obama and multiple administrations before that — spent decades propping up the most savage tyranny in Egypt in the form of funds and weapons to Hosni Mubarak. Recall Hillary Clinton's 2009 proclamation that 'I really consider President and Mrs. Mubarak to be friends of my family,' while Obama ensured that the flow of money and weapons to Mubarak never ceased. In sum, aggressive support for savage despotism in Egypt is long-standing U.S. policy…. As Mona Eltahawy put it in the New York Times last week: 'Five American administrations, Democratic and Republican, supported the Mubarak regime.' While it's true, as Eltahawy notes, that Sisi had not been invited to the White House until now, the U.S. has hardly been shy about lavishing the tyrant with all forms of support. In 2014, as Sisi was crushing dissent and the state was issuing mass death sentences, Secretary of State John Kerry flew to Cairo to meet Sisi and publicly praised him — the leader of a military coup — for 'transitioning to democracy.' Indeed, the year earlier, Kerry praised the Sisi-led military coup against Egypt's first elected president, depicting it as an attempt to protect democracy…. What Trump is achieving by opening the White House doors to Sisi is not ushering in a new policy but rather clarifying and illuminating a very old one. This Trumpian effect — unmasking in all its naked ugliness what D.C. mavens prefer to keep hidden…. Trump's support for Sisi, a true monster, deserves all the condemnation it gets. But…[e]mbracing the world's worst tyrants is and has long been a key prong of U.S. foreign policy. Trump, through a combination of ineptitude and a willingness to openly endorse authoritarianism, just makes all of this less hidden, less deniable."
In a Series of Twitter Posts, Trump Again Claims the Obama Administration Spied On Him and Again Attacks Hillary Clinton, The New York Times, Peter Baker and Matthew Rosenberg, Monday, 3 April 2017: "President Trump sought to turn attention away from the Russia investigation on Monday, saying that 'the real story' was what he called a 'crooked scheme against us' by President Barack Obama's team to mine American intelligence reports for information about him during last year's presidential campaign. The president's broadside against his predecessor coincided with a string of reports in conservative news media outlets that Susan E. Rice, Mr. Obama's national security adviser, requested the identities of Americans who were cited in intelligence reports about surveillance of foreign officials, and who were connected with Mr. Trump's campaign or transition. Former national security officials, who spoke on the condition of anonymity, described the requests as normal and said they were justified by the need for the president's top security adviser to understand the context of reports sent to her by the nation's intelligence agencies. The process of 'unmasking' Americans whose names are redacted in intelligence reports, they said, is not the same thing as leaking them publicly. But Mr. Trump and his allies seized on the news media reports to bolster his case that he was targeted by the departing administration for political reasons. As the F.B.I. and congressional committees investigate contacts that associates of Mr. Trump had with Russian officials and business figures, the president argued that he was the victim of dirty tricks and that, if anything, it was associates of his defeated opponent, Hillary Clinton, who were doing the bidding of Vladimir V. Putin's Russia. 'Such amazing reporting on unmasking and the crooked scheme against us by @foxandfriends,' Mr. Trump wrote on Twitter early Monday morning in the opening burst of four messages aimed at Mr. Obama, Mrs. Clinton and the Democrats. 'Spied on before nomination. The real story.' In another post on Twitter later in the morning, he added: '@FoxNews from multiple sources: There was electronic surveillance of Trump, and people close to Trump. This is unprecedented. @FBI.'"
Why Trump Lies, The Los Angeles Times, The Los Angeles Times Editorial Board, Monday, 3 April 2017: "Donald Trump did not invent the lie and is not even its master. Lies have oozed out of the White House for more than two centuries and out of politicians' mouths — out of all people's mouths — likely as long as there has been human speech. But amid all those lies, told to ourselves and to one another in order to amass power, woo lovers, hurt enemies and shield ourselves against the often glaring discomfort of reality, humanity has always had an abiding respect for truth…. Our civilization is premised on the conviction that such a thing as truth exists, that it is knowable, that it is verifiable, that it exists independently of authority or popularity and that at some point — and preferably sooner rather than later — it will prevail…. The insult that Donald Trump brings to the equation is an apparent disregard for fact so profound as to suggest that he may not see much practical distinction between lies, if he believes they serve him, and the truth…. He is dangerous…. He is a stranger to the concept of verification, the insistence on evidence and the standards of proof that apply in a courtroom or a medical lab — and that ought to prevail in the White House.… If Americans are unsure which Trump they have — the Machiavellian negotiator who lies to manipulate simpler minds, or one of those simpler minds himself — does it really matter? In either case he puts the nation in danger by undermining the role of truth in public discourse and policymaking, as well as the notion of truth being verifiable and mutually intelligible…. At home, Trump now becomes the embodiment of the populist notion (with roots planted at least as deeply in the Left as the Right) that verifiable truth is merely a concept invented by fusty intellectuals, and that popular leaders can provide some equally valid substitute. We've seen people like that before, and we have a name for them: demagogues. Our civilization is defined in part by the disciplines — science, law, journalism — that have developed systematic methods to arrive at the truth. Citizenship brings with it the obligation to engage in a similar process. Good citizens test assumptions, question leaders, argue details, research claims. Investigate. Read. Write. Listen. Speak. Think. Be wary of those who disparage the investigators, the readers, the writers, the listeners, the speakers and the thinkers.… To defend freedom, demand fact."
Attorney General Jeff Sessions Ordered the Justice Department to Review Reform Agreements With Troubled Police Forces Nationwide, The Washington Post, Sari Horwitz, Mark Berman and Wesley Lowery, Monday, 3 April 2017: "Attorney General Jeff Sessions ordered Justice Department officials to review reform agreements with troubled police forces nationwide, saying it was necessary to ensure that these pacts do not work against the Trump administration's goals of promoting officer safety and morale while fighting violent crime. In a two-page memo released Monday, Sessions said agreements reached previously between the department's civil rights division and local police departments — a key legacy of the Obama administration — will be subject to review by his two top deputies, throwing into question whether all of the agreements will stay in place. The memo was released not long before the department's civil rights lawyers asked a federal judge to postpone until at least the end of June a hearing on a sweeping police reform agreement, known as a consent decree, with the Baltimore Police Department that was announced just days before President Trump took office…. Sessions has often criticized the effectiveness of consent decrees and has vowed in recent speeches to more strongly support law enforcement. Since 2009, the Justice Department opened 25 investigations into law enforcement agencies and has been enforcing 14 consent decrees, along with some other agreements. Civil rights advocates fear that Sessions's memo could particularly imperil the status of agreements that have yet to be finalized, such as a pending agreement with the Chicago Police Department." See also, Southern Poverty Law Center's statement on Attorney General Jeff Sessions' order to review all police reform agreements, Southern Poverty Law Center, Richard Cohen, published on Tuesday, 4 April 2017: "By ordering the Justice Department to review all of its consent decrees with law enforcement agencies, Attorney General Jeff Sessions is illustrating exactly why we and other civil rights groups strongly opposed his confirmation. These agreements are the results of extensive DOJ investigations that uncovered broad civil rights violations and deeply rooted institutional racism. In the last several years, the DOJ has served as an important catalyst for reforming the kind of discriminatory – and often deadly – policing practices we've seen in Ferguson, Baltimore and elsewhere. Now, Sessions seems determined to undermine this work. Fortunately, many law enforcement leaders in the affected communities know that changes are needed to better ensure public safety, fairness and accountability. If Sessions doesn't want to be part of the solution, he should at least step aside and let others lead the way."
Trump Completes Repeal of Online Privacy Protections From Obama Era, The New York Times, Steve Lohr, Monday, 3 April 2017: "President Trump on Monday signed a congressional resolution to complete the overturning of internet privacy protections created by the Federal Communications Commission during the Obama administration. The change will allow broadband internet service suppliers, such as cable and telecommunications companies, to track and sell a customer's online information with greater ease…. The rules, approved in October when a majority of the commissioners were Democrats, would have required broadband companies to receive permission before collecting data on a user's online activities."
Blackwater founder Erik Prince held secret Seychelles meeting to establish Trump-Putin back channel, The Washington Post, Adam Entous, Greg Miller, Kevin Sieff and Karen DeYoung, Monday, 3 April 2017: "The United Arab Emirates arranged a secret meeting in January between Blackwater founder Erik Prince and a Russian close to President Vladi­mir Putin as part of an apparent effort to establish a back-channel line of communication between Moscow and President-elect Donald Trump, according to U.S., European and Arab officials. The meeting took place around Jan. 11 — nine days before Trump's inauguration — in the Seychelles islands in the Indian Ocean, officials said. Though the full agenda remains unclear, the UAE agreed to broker the meeting in part to explore whether Russia could be persuaded to curtail its relationship with Iran, including in Syria, a Trump administration objective that would be likely to require major concessions to Moscow on U.S. sanctions. Though Prince had no formal role with the Trump campaign or transition team, he presented himself as an unofficial envoy for Trump to high-ranking Emiratis involved in setting up his meeting with the Putin confidant, according to the officials, who did not identify the Russian. Prince was an avid supporter of Trump. After the Republican convention, he contributed $250,000 to Trump's campaign, the national party and a pro-Trump super PAC led by GOP mega-donor Rebekah Mercer, records show. He has ties to people in Trump's circle, including Stephen K. Bannon, now serving as the president's chief strategist and senior counselor. Prince's sister Betsy DeVos serves as education secretary in the Trump administration. And Prince was seen in the Trump transition offices in New York in December." See also, Notorious Mercenary Erik Prince Is Advising Trump From the Shadows, The Intercept, Jeremy Scahill, published on Tuesday, 17 January 2017: "Erik Prince, America's most notorious mercenary, is lurking in the shadows of the incoming Trump administration. A former senior U.S. official who has advised the Trump transition told The Intercept that Prince has been advising the team on matters related to intelligence and defense, including weighing in on candidates for the Defense and State departments. The official asked not to be identified because of a transition policy prohibiting discussion of confidential deliberations…. Not even Trump is brazen enough to give Prince a public post in his administration. But Prince is operating in the shadows, where he has always been most at home."
The Trump Administration Cut All Funding For the UN's Family Planning Agency, the UN Population Fund, BuzzFeed News, Jina Moore, Monday, 3 April 2017: "The State Department on Monday officially cut off funding to a United Nations agency that works on maternal and reproductive health, a policy shift experts and activists say will be a major blow to women worldwide. Undersecretary for Political Affairs Thomas J. Shannon said in a policy document obtained by BuzzFeed News that UNFPA 'supports, or participates in the management of, a program of coercive abortion or involuntary sterilization' in China. Such support would be a violation of the 1985 Kemp-Kasten Amendment, the document says. Last year, the US was UNFPA's third-largest donor, contributing $75 million to its operations, according to the agency. The State Department's determination contradicts its own 2001 inquiry into whether UNFPA funding supports coercive Chinese reproductive health policies. UNFPA also denies that its funding supports the measures, and public health experts say there's no clear support for the claim. 'The irony is that UNFPA provides no financial support to the government of China for any program whatsoever,' said Peter Yeo, vice president for public policy and advocacy at the United Nations Foundation, a nonprofit that supports the UN's work. 'So I don't think this is a fact-based determination process. I think they know what they wanted to [do] and they'll throw some language against the wall and call it a "reasonable determination." The State Department's determination appears to concede this point but insists the agency nevertheless violates the amendment. 'While there is no evidence that UNFPA directly engages in coercive abortions or involuntary sterilizations in China, the agency continues to partner with the [Chinese health and family planning office], and thus can be found to support, or participate in the management of China's coercive policies for purposes of the Kemp-Kasten Amendment,' the last paragraph of the four-page determination says." See also, US cut to United Nations Population Fund 'devastating' for the world's most vulnerable families, BBC, published on Tuesday, 4 April 2017: "The US has been warned its decision to withdraw its support from the United Nations Population Fund will be a disaster for the world's most vulnerable families. UN Secretary-General Antonio Guterres said it will have 'devastating effects' for the health of women and girls…. This is the first of the promised cuts to US financial contributions to the UN by the Trump administration. The state department justified its decision by saying the Population Fund supports or participates in a programme of coercive abortion or involuntary sterilisation in China. But the Population Fund, which promotes family planning in more than 150 countries, says this is an 'erroneous claim,' and that its work does not break any US laws. On Tuesday, UN spokesman Stephane Dujarric said Mr Guterres deeply regretted their decision, adding he believed it was 'based on an inaccurate perception of the nature and importance of the work done' by the fund."
Former Trump Adviser Carter Page Met With a Russian Spy, BuzzFeed News, Ali Watkins, Monday, 3 April 2017: "A former campaign adviser for Donald Trump met with and passed documents to a Russian intelligence operative in New York City in 2013. The adviser, Carter Page, met with a Russian intelligence operative named Victor Podobnyy, who was later charged by the US government alongside two others for acting as unregistered agents of a foreign government. The charges, filed in January 2015, came after federal investigators busted a Russian spy ring that was seeking information on US sanctions as well as efforts to develop alternative energy. Page is an energy consultant. A court filing by the US government contains a transcript of a recorded conversation in which Podobnyy speaks with one of the other men busted in the spy ring, Igor Sporyshev, about trying to recruit someone identified as 'Male-1.' BuzzFeed News has confirmed that 'Male-1' is Page. The revelation of Page's connection to Russian intelligence — which occurred more than three years before his association with Trump — is the most clearly documented contact to date between Russian intelligence and someone in Trump's orbit. It comes as federal investigators probe whether Trump's campaign-era associates — including Page — had any inappropriate contact with Russian officials or intelligence operatives during the course of the election. Page has volunteered to help Senate investigators in their inquiry." See also, Russian Spies Tried to Recruit Carter Page Before He Advised Trump, The New York Times, Adam Goldman, published on Tuesday, 4 April 2017: "Russian intelligence operatives tried in 2013 to recruit an American businessman and eventual foreign policy adviser to the Trump campaign who is now part of the F.B.I. investigation into Russia's interference into the American election, according to federal court documents and a statement issued by the businessman. The businessman, Carter Page, met with one of three Russians who were eventually charged with being undeclared officers with Russia's foreign intelligence service, known as the S.V.R. The F.B.I. interviewed Mr. Page in 2013 as part of an investigation into the spy ring, but decided that he had not known the man was a spy, and the bureau never accused Mr. Page of wrongdoing."
Tuesday, 4 April 2017, Day 75:
Fact Check: Trump, Faulting Obama on Syria, Contradicts Himself, The New York Times, Linda Qiu, Tuesday, 4 April 2017: "In a statement condemning Tuesday's chemical attack in Syria, President Trump faulted the administration of former President Barack Obama for not intervening more aggressively in that country's civil war — contradicting his own, earlier advice. 'Today's chemical attack in Syria against innocent people, including women and children, is reprehensible and cannot be ignored by the civilized world,' Mr. Trump said in the statement released by the White House. 'These heinous actions by the Bashar al-Assad regime are a consequence of the past administration's weakness and irresolution.' 'President Obama said in 2012 that he would establish a "red line" against the use of chemical weapons and then did nothing,' Mr. Trump continued, referring to Mr. Obama's first direct threat of force. 'The United States stands with our allies across the globe to condemn this intolerable attack.' But Mr. Trump has repeatedly advocated doing 'nothing' in Syria, insisting it is not America's 'problem.' See also, Trump's puzzling blame-Obama statement on the Syria tragedy, The Washington Post, Aaron Blake, Tuesday, 4 April 2017: "Half of [Trump's statement] is devoted to what the past administration did and didn't do. Certainly the Obama administration took heat — and most would say deservedly so — for not holding to its 'red line' policy on Syrian President Bashar al-Assad using chemical weapons. But two full sentences — out of four? Second is the fact that Trump himself in 2013 urged Obama not to enforce that red line…. [Trump tweeted on 5 Sep 2013:] 'AGAIN, TO OUR VERY FOOLISH LEADER, DO NOT ATTACK SYRIA – IF YOU DO MANY VERY BAD THINGS WILL HAPPEN & FROM THAT FIGHT THE U.S. GETS NOTHING!' [And on 7 Sep 2013 Trump tweeted:] 'President Obama, do not attack Syria. There is no upside and tremendous downside. Save your "powder" for another (and more important) day!' But even more conspicuous than that, the statement takes a harsh tone toward the Obama administration without saying what the Trump administration will do differently. The applicable Trump policy here, in fact, appears even less stringent than Obama's was: It's leaving Assad in power in the name of fighting the Islamic State (ISIS) first. As recently as last week, both Secretary of State Rex Tillerson and U.S. Ambassador to the United Nations Nikki Haley both signaled that Assad would be left alone. 'Are we going to sit there and focus on getting him out? No,' Haley said. Tillerson said during a trip to Turkey, meanwhile, that he thought the 'longer-term status of President Assad will be decided by the Syrian people.'"
Civil Rights Act Protects Gay Workers, United States Court of Appeals for the Seventh Circuit in Chicago Rules, The New York Times, Matthew Haag and Niraj Chokshi, Tuesday, 4 April 2017: "In a significant victory for gay rights, a federal appeals court in Chicago ruled Tuesday that the 1964 Civil Rights Act protects gay workers from job discrimination, expanding workplace protections in the landmark law to include sexual orientation. The decision by the United States Court of Appeals for the Seventh Circuit, the highest federal court yet to grant such employment protections, raises the chances that the politically charged issue may ultimately be resolved by the Supreme Court. While an appeal is not expected in this case, another appellate court, in Georgia, last month reached the opposite conclusion, saying that the law does not prohibit discrimination at work for gay employees. The ruling on Tuesday comes as gay rights advocates have voiced concern about the potential rollback of protections under President Trump. While the Supreme Court legalized same-sex marriage, many other legal protections, including in employment and housing, have not been extended at all levels to gay people."
Trump Administration Considers Far-Reaching Steps for 'Extreme Vetting,' The Wall Street Journal, Laura Meckler, Tuesday, 4 April 2017: "Visitors to the U.S. could be forced to provide cellphone contacts and social-media passwords and answer questions about their ideology, according to Trump administration officials, measures that could intrude into the lives of millions of foreigners. The changes being considered could apply to visitors from America's closest allies as well as other nations and include subjecting more visa applicants to intense security reviews. Together, they would amount to the 'extreme vetting' President Donald Trump promised as a candidate to guard against possible terror attacks. A review under way of vetting procedures, described by administration officials, aims to replace what the Trump administration sees as a presumption toward letting people into the country with a more skeptical outlook…. Their full scope has yet to be publicly discussed and would be sure to generate significant controversy, both at home, from civil libertarians and others who see the questions as infringing on privacy rights, and abroad, as other nations could impose retaliatory requirements on Americans seeking visas."
In a Trump-defying move, California's Senate passes sanctuary state bill, CNN, Madison Park, Tuesday, 4 April 2017: "In defiance of President Donald Trump's immigration policies, the California Senate passed a bill to limit state and local police cooperation with federal immigration authorities. Senate Bill 54, which unofficially has been called a "sanctuary state" bill, bars state and local law enforcement agencies from using their resources, including money, facility, property, equipment or personnel, to help with immigration enforcement. They would be prohibited from asking about immigration status, giving federal immigration authorities access to interview a person in custody or assisting them in immigration enforcement. The bill passed the Senate in a 27-12 vote along party lines with Democrats in support and Republicans in opposition. SB 54 heads to the California State Assembly, where Democrats hold a super majority. If it passes there, the bill would go to Democratic Gov. Jerry Brown."
Trump's Authoritarian Vision, The Los Angeles Times, The Los Angeles Times Editorial Board, Tuesday, 4 April 2017: "Standing before the cheering throngs at the Republican National Convention last summer, Donald Trump bemoaned how special interests had rigged the country's politics and its economy, leaving Americans victimized by unfair trade deals, incompetent bureaucrats and spineless leaders. He swooped into politics, he declared, to subvert the powerful and rescue those who cannot defend themselves. 'Nobody knows the system better than me, which is why I alone can fix it.' To Trump's faithful, those words were a rallying cry. But his critics heard something far more menacing in them: a dangerously authoritarian vision of the presidency — one that would crop up time and again as he talked about overruling generals, disregarding international law, ordering soldiers to commit war crimes, jailing his opponent…. [O]ne of the hallmarks of the American system of government is that the president's power to 'fix' things unilaterally is constrained by an array of strong institutions — including the courts, the media, the permanent federal bureaucracy and Congress. Combined, they provide an essential defense against an imperial presidency. Yet in his first weeks at the White House, President Trump has already sought to undermine many of those institutions…. Other institutions under attack include: The electoral process…. The intelligence community…. The media…. Federal agencies…. In a way, Trump represents a culmination of trends that have been years in the making…. What's uniquely threatening about Trump's approach, though, is how many fronts he's opened in this struggle for power and the vehemence with which he seeks to undermine the institutions that don't go along. It's one thing to complain about a judicial decision or to argue for less regulation, but to the extent that Trump weakens public trust in essential institutions like the courts and the media, he undermines faith in democracy and in the system and processes that make it work…. Will Congress act as a check on Trump's worst impulses as he moves forward?… Can the courts stand up to Trump?… None of these institutions are eager to cede authority to the White House and they won't do so without a fight. It would be unrealistic to suggest that America's most basic democratic institutions are in imminent jeopardy. But we should not view them as invulnerable either. Remember that Trump's verbal assaults are directed at the public, and are designed to chip away at people's confidence in these institutions and deprive them of their validity…. We can't afford to be talked into losing our faith in the forces that protect us from an imperial presidency."
Supreme Court Nominee Neil Gorsuch's writings borrow from other authors, Politico, John Bresnahan and Burgess Everett, Tuesday, 4 April 2017: "Supreme Court nominee Neil Gorsuch copied the structure and language used by several authors and failed to cite source material in his book and an academic article, according to documents provided to POLITICO. The documents show that several passages from the tenth chapter of his 2006 book, 'The Future of Assisted Suicide and Euthanasia,' read nearly verbatim to a 1984 article in the Indiana Law Journal. In several other instances in that book and an academic article published in 2000, Gorsuch borrowed from the ideas, quotes and structures of scholarly and legal works without citing them. The findings come as Republicans are on the brink of changing Senate rules to confirm Gorsuch over the vehement objections of Democrats."
Former Obama national security adviser Susan E. Rice denies compiling and leaking names of Trump officials from intelligence reports, The Washington Post, Karen DeYoung and Karoun Demirjian, Tuesday, 4 April 2017: "Former Obama national security adviser Susan E. Rice said Tuesday that she 'absolutely' never sought to uncover 'for political purposes' the names of Trump campaign or transition officials concealed in intelligence intercepts, and she called suggestions that she leaked those identities 'completely false.' 'I leaked nothing, to nobody, and never have and never would,' Rice said in response to the latest charges and countercharges flowing from politically charged investigations into Russian interference in the presidential election. Since they first surfaced over the weekend, the Rice reports have quickly overtaken the steady drumbeat of revelations about connections to Moscow that have dogged President Trump for months. On Tuesday, the subject dominated cable news and flooded Twitter…. Speaking Tuesday to MSNBC, Rice said that she, like other top officials in all administrations, sometimes asked for names of U.S. persons that had been blacked out in intelligence reports — 'on every topic under the sun when it seemed relevant' — when necessary to 'protect the American people and do our jobs.'"
Wednesday, 5 April 2017, Day 76:
Trump Removes His Chief Strategist Stephen Bannon From National Security Council Post, The New York Times, Peter Baker, Maggie Haberman and Glenn Thrush, Wednesday, 5 April 2017: "For the first 10 weeks of President Trump's administration, no adviser loomed larger in the public imagination than Stephen K. Bannon, the raw and rumpled former chairman of Breitbart News who considers himself a 'virulently anti-establishment' revolutionary out to destroy the 'administrative state.' But behind the scenes, White House officials said, the ideologist who enjoyed the president's confidence became increasingly embattled as other advisers, including Mr. Trump's daughter and son-in-law, complained about setbacks on health care and immigration. Lately, Mr. Bannon has been conspicuously absent from some meetings. And now he has lost his seat at the national security table. In a move that was widely seen as a sign of changing fortunes, Mr. Trump removed Mr. Bannon, his chief strategist, from the National Security Council's cabinet-level 'principals committee' on Wednesday. The shift was orchestrated by Lt. Gen. H. R. McMaster, Mr. Trump's national security adviser, who insisted on purging a political adviser from the Situation Room where decisions about war and peace are made. Mr. Bannon resisted the move, even threatening at one point to quit if it went forward, according to a White House official who, like others, insisted on anonymity to discuss internal deliberations. Mr. Bannon's camp denied that he had threatened to resign and spent the day spreading the word that the shift was a natural evolution, not a signal of any diminution of his outsize influence. His allies said privately that Mr. Bannon had been put on the principals committee to keep an eye on Mr. Trump's first national security adviser, Michael T. Flynn, a retired three-star general who lasted just 24 days before being forced out for misleading Vice President Mike Pence and other White House officials about what he had discussed with Russia's ambassador. With Mr. Flynn gone, these allies said, there was no need for Mr. Bannon to remain, but they noted that he had kept his security clearance…. In addition to removing Mr. Bannon, the new order issued by Mr. Trump, dated Tuesday and made public on Wednesday, restored the Joint Chiefs chairman and intelligence director and added the energy secretary, C.I.A. director and United Nations ambassador. It also put the Homeland Security Council under General McMaster rather than making it a separate entity, as Mr. Trump's original order had done…. Mr. Bannon has…been at odds with Gary Cohn, the president's national economics adviser. Mr. Cohn is close with Mr. Kushner, who has said privately that he fears that Mr. Bannon plays to the president's worst impulses, according to people with direct knowledge of such discussions. Moreover, Mr. Bannon's Svengali-style reputation has chafed on a president who sees himself as the West Wing's only leading man. Several associates said the president had quietly expressed annoyance over the credit Mr. Bannon had received for setting the agenda — and Mr. Trump was not pleased by the 'President Bannon' puppet-master theme promoted by magazines, late-night talk shows and Twitter. Yet there is a risk for Mr. Trump in appearing to minimize Mr. Bannon, a hero to the nationalist, anti-immigration base that helped drive Mr. Trump to an Electoral College victory." See also, Steve Bannon is Losing to the Globalists, The New Yorker, John Cassidy, published on Thursday, 6 April 2017. And also, Republican megadonor Rebekah Mercer urged Trump's strategist Steve Bannon not to resign, Politico, Eliana Johnson, Kenneth P. Vogel and Josh Dawsey, Wednesday, 5 April 2017: "The man credited with honing Donald Trump's populist message and guiding him into the White House has grown frustrated amid continued infighting in the West Wing, so much so that in recent weeks a top donor had to persuade him to stay in his position. Five people, including a senior administration official and several sources close to the president, tell POLITICO that Steve Bannon, one of Trump's closest advisers, has clashed with the president's son-in-law, Jared Kushner, who's taken on an increasingly prominent portfolio in the West Wing. Bannon has complained that Kushner and his allies are trying to undermine his populist approach, the sources said. Republican megadonor Rebekah Mercer, a longtime Bannon confidante who became a prominent Trump supporter during the campaign, urged Bannon not to resign. 'Rebekah Mercer prevailed upon him to stay,' said one person familiar with the situation. Another person familiar with the situation, a GOP operative who talks to Mercer, said: 'Bekah tried to convince him that this is a long-term play.'"
Trump, Citing No Evidence, Suggests Susan Rice, Obama's National Security Adviser, Committed a Crime, The New York Times, Maggie Haberman, Matthew Rosenberg and Glenn Thrush, Wednesday, 5 April 2017: "President Trump said on Wednesday that Susan E. Rice, the former national security adviser, may have committed a crime by seeking to learn the identities of Trump associates swept up in surveillance of foreign officials by United States spy agencies, repeating an assertion his allies in the news media have been making since last week. Mr. Trump gave no evidence to support his claim, and current and former intelligence officials from both Republican and Democratic administrations have said they do not believe Ms. Rice's actions were unusual or unlawful. The president repeatedly rebuffed attempts by two New York Times reporters to learn more about what led him to the conclusion, saying he would talk more about it 'at the right time.' The allegation by a sitting president was a remarkable escalation — and, his critics say, the latest effort to change the story at a time when his nascent administration has been consumed by questions about any role his associates may have played in a Russian campaign to disrupt last year's presidential election…. Through a spokeswoman, Ms. Rice said, 'I'm not going to dignify the president's ludicrous charge with a comment.' In an interview with MSNBC on Tuesday, Ms. Rice said she had done nothing wrong. 'The allegation is that somehow the Obama administration officials utilized intelligence for political purposes,' Ms. Rice said. 'That's absolutely false.' Normally, when Americans are swept up in surveillance of foreign officials by intelligence agencies, their identities are supposed to be obscured. But they can be revealed — or 'unmasked' — for national security reasons, and intelligence officials say it is a regular occurrence and completely legal for a national security adviser to request the identities of Americans who are mentioned in intelligence reports. Intelligence officials said any requests that Ms. Rice made would have had to be granted by the intelligence agency that produced the report. In most cases, that would likely have been the National Security Agency, which is responsible for electronic surveillance of foreign officials." See also, Partial Transcript: Trump's Interview With The Times's Maggie Haberman and Glenn Thrush, The New York Times, Wednesday, 5 April 2017: "[This is] a partial transcript of President Trump's interview with The New York Times's Maggie Haberman and Glenn Thrush. It has been lightly edited for content and clarity and omits several off-the-record comments and asides. At least six White House aides were sitting in: Gary D. Cohn, President Trump's lead economic adviser and a former president of Goldman Sachs; Reed Cordish, an assistant to the president; Sean Spicer, the press secretary; Hope Hicks, a long-serving Trump aide; and eventually Vice President Mike Pence and the chief of staff, Reince Priebus."
Trump, Asked About Sexual Harassment Claims Against Bill O'Reilly, Calls Him a 'Good Person,' The New York Times, Michael M. Grynbaum and Jim Rutenberg, Wednesday, 5 April 2017: "Bill O'Reilly, the embattled Fox News host, received a powerful show of support on Wednesday from a longtime friend, interview subject, ideological sympathizer and fellow scandal-survivor: the president of the United States. Speaking in the Oval Office, Donald J. Trump praised Mr. O'Reilly as 'a good person' and declared, 'I don't think Bill did anything wrong,' days after The New York Times reported that five women had received settlements after making harassment claims against him. News of the payouts, totaling about $13 million, generated a storm of criticism toward Fox News, which recently renewed Mr. O'Reilly's contract, and prompted more than two dozen advertisers to withdraw their support of Mr. O'Reilly's prime time show, the highest-rated program in cable news…. 'Personally, I think he shouldn't have settled,' Mr. Trump told Times reporters in a wide-ranging interview. 'Because you should have taken it all the way; I don't think Bill did anything wrong.' 'I think he's a person I know well,' Mr. Trump said. 'He is a good person.'"
Trump Gives Military New Freedom. But With That Comes Danger, The New York Times, Helene Cooper, Wednesday, 5 April 2017: "President Trump has let the military know that the buck stops with them, not him. The Pentagon, after eight years of chafing at what many generals viewed as micromanaging from the Obama White House, is so far embracing its new freedom. Officials say that much of Defense Secretary Jim Mattis's plan to defeat the Islamic State, which Mr. Mattis delivered to the White House in February but has yet to make public, consists of proposals for speeding up decision-making to allow the military to move more quickly on raids, airstrikes, bombing missions and arming allies in Iraq, Syria and elsewhere. Commanders argue that loosening restrictions — as Mr. Trump has already done for American operations in much of Somalia and parts of Yemen — could lead to a faster defeat of Islamic State militants in not only the Middle East but also the Horn of Africa. Yet with the new freedoms come new dangers for the military, including the potential of increased civilian casualties, and the possibility that Mr. Trump will shunt blame for things that go wrong to the Pentagon. Mr. Trump already did that after the botched raid in Yemen in January, which led to the death of Chief Petty Officer William Owens, a member of the Navy SEALs known as Ryan, despite having signed off on that raid himself. 'They explained what they wanted to do, the generals, who are very respected,' Mr. Trump told Fox News after the raid. 'And they lost Ryan.' Beyond that, many foreign policy experts point out that giving the military freedom over short-term tactics like raids and strikes means little without a long-term strategy for the region, including what will happen after the Islamic State is routed, as the Pentagon expects, from Iraq and Syria."
Trump's View of Syria and Its President Bashar al-Assad Altered After 'Unacceptable' Chemical Attack, The New York Times, Mark Landler, David E. Sanger and Michael D. Shear, Wednesday, 5 April 2017: "President Trump warned on Wednesday that he would not tolerate the 'heinous' chemical weapons attack in Syria, opening the door to a greater American role in protecting the population in a vicious civil war that he has always said the United States should avoid. The president declined to offer any details about potential action. But he said his horror at the images of 'innocent children, innocent babies' choked by poison gas in a rebel-held area of Syria had caused him to reassess his approach. Only days after the White House declared it would be 'silly' to persist in trying to oust President Bashar al-Assad of Syria, Mr. Trump said, 'My attitude toward Syria and Assad has changed very much.' 'It crossed a lot of lines for me,' the president declared at a news conference in the Rose Garden, referring to the 'red line' that his predecessor, President Barack Obama, had drawn before a 2013 poison-gas attack by Mr. Assad's forces. Mr. Obama's failure to strike Syria after that, Mr. Trump claimed, sowed the conditions for this new assault. The estimated death toll was reported to have exceeded 100. Syria was one of several places, along with North Korea and Iran, where Mr. Trump on Wednesday threatened a forceful American response. But in all these cases, he declined to disclose options, arguing that there was a need for surprise but stoking worries that his fledgling administration is not ready to deal with multiple threats across the Middle East and Asia. At the United Nations, Mr. Trump's ambassador, Nikki R. Haley, warned that the United States might take unilateral action if the Security Council failed to respond to this latest atrocity in Syria. A shift in policy could include airstrikes, which were considered and ultimately rejected by Mr. Obama. The president, standing alongside King Abdullah II of Jordan at the news conference, told reporters, 'I'm not saying I'm doing anything one way or the other, but I'm certainly not going to be telling you.'"
Republican Senator Marco Rubio: It's no coincidence that Syria gas attack happened after 'concerning' Tillerson comments, CNN, Chris Massie, Wednesday, 5 April 2017: "Republican Sen. Marco Rubio said Wednesday that he doesn't think it's a coincidence that a suspected chemical weapons attack in Syria occurred shortly after Secretary of State Rex Tillerson suggested Syrian President Bashar Al-Assad could remain in power. Last week in Turkey, Tillerson said, 'I think the status and the longer-term status of President Assad will be decided by the Syrian people.'… 'I don't think it's a coincidence that a few days later we see this,' Rubio concluded."
North Korea fires ballistic missile as Trump and Chinese President Xi Jinping prepare to meet, CNN, Joshua Berlinger, Barbara Starr and Paula Hancocks, published on Thursday, 6 April 2017: "Ahead of the first meeting between US President Donald Trump and Chinese President Xi Jinping, North Korea fired a ballistic missile off the coast of the Korean Peninsula, US and South Korean officials said. The missile — which fell into the Sea of Japan, also known as the East Sea, on Wednesday morning — is one of several the country has test-fired in recent months. Even before the missile test, North Korea's nuclear program was expected to be an important talking point between Xi and Trump. The United States has been pushing China to put pressure on North Korea to stop its nuclear program and missile testing, but Trump said on Sunday the United States would be prepared to act alone to stop North Korea."
Trump's War on Journalism, The Los Angeles Times, The Los Angeles Times Editorial Board, Wednesday, 5 April 2017: "In Donald Trump's America, the mere act of reporting news unflattering to the president is held up as evidence of bias. Journalists are slandered as 'enemies of the people.' Facts that contradict Trump's version of reality are dismissed as 'fake news.' Reporters and their news organizations are 'pathetic,' 'very dishonest,' 'failing,' and even, in one memorable turn of phrase, 'a pile of garbage.' Trump is, of course, not the first American president to whine about the news media or try to influence coverage. President George W. Bush saw the press as elitist and 'slick.' President Obama's press operation tried to exclude Fox News reporters from interviews, blocked many officials from talking to journalists and, most troubling, prosecuted more national security whistle-blowers and leakers than all previous presidents combined. But Trump being Trump, he has escalated the traditionally adversarial relationship in demagogic and potentially dangerous ways…. Most presidents, irritated as they may have been, have continued to acknowledge — at least publicly — that an independent press plays an essential role in American democracy. They've recognized that while no news organization is perfect, honest reporting holds leaders and institutions accountable; that's why a free press was singled out for protection in the 1st Amendment and why outspoken, unfettered journalism is considered a hallmark of a free country. Trump doesn't seem to buy it. On his very first day in office, he called journalists 'among the most dishonest human beings on earth.'… Trump's strategy is pretty clear: By branding reporters as liars, he apparently hopes to discredit, disrupt or bully into silence anyone who challenges his version of reality. By undermining trust in news organizations and delegitimizing journalism and muddling the facts so that Americans no longer know who to believe, he can deny and distract and help push his administration's far-fetched storyline. It's a cynical strategy, with some creepy overtones. For instance, when he calls journalists 'enemies of the people,' Trump (whether he knows it or not) echoes Josef Stalin and other despots. But it's an effective strategy. Such attacks are politically expedient at a moment when trust in the news media is as low as it's ever been, according to Gallup. And they're especially resonant with Trump's supporters, many of whom see journalists as part of the swamp that needs to be drained."
Federal fair housing law protects LGBT couples, court rules for first time, The Washington Post, Fred Barbash, Wednesday, 5 April 2017: "A federal judge, in a first, ruled Wednesday that the federal law barring housing discrimination protects LGBT people. The married couple who brought the case — Rachel Smith, a transgender woman, and Tonya Smith — were denied a rental townhouse along with their two children by a landlord who gave as a reason their 'unique relationship,' they claimed in court. The Federal Fair Housing Act makes it unlawful to refuse to rent or sell housing to anyone because of 'sex, familial status, or national origin.' But since it says nothing about sexual orientation or gender identity, questions remained regarding whether LGBT people are covered. The answer, an increasingly common one in anti-discrimination cases, was yes. It came from U.S. District Judge Raymond P. Moore in Denver."
Food and Drug Administration Nominee Dr. Scott Gottlieb Deflects Criticism About Ties to Drugmakers at Hearing, The New York Times, Robert Pear, Wednesday, 5 April 2017: "Dr. Scott Gottlieb, President Trump's nominee to lead the Food and Drug Administration, told Congress on Wednesday that he could speed the approval of new drugs without compromising safety or increasing risks, deflecting questions about his past writings, drug-company investments and Mr. Trump's controversial positions. 'We should reject a false dichotomy that it all boils down to a choice between speed and safety,' Dr. Gottlieb said at his confirmation hearing before the Senate Health, Education, Labor and Pensions Committee. Democrats tried to focus Dr. Gottlieb's confirmation hearing as much on the president who chose him as on the nominee himself. Mr. Trump has broken with Republican orthodoxy by embracing a Democratic push to allow the importation of prescription drugs from Canada and to allow the government to negotiate lower drug prices. Mr. Trump has also flouted established science with his efforts to link childhood vaccines to autism. As for Dr. Gottlieb, Democrats tried to raise doubts that the nominee could be objective after earning hundreds of thousands of dollars as an investor in and consultant to pharmaceutical, biotechnology and health care companies." See also, Dr. Scott Gottlieb, Trump's Pick to Oversee Big Pharma at the Food and Drug Administration, Is Addicted to Opioid-Industry Cash, The Intercept, Lee Fang, published on Tuesday, 4 April 2017: "Newly-released financial disclosure documents show that Dr. Scott Gottlieb, President Trump's nominee to the lead the Food and Drug Administration, has received significant payments from the opioid industry — while attacking attempts to deter the explosion of opioid pill mills. The FDA has some of the most significant authority in the federal government to oversee manufacturers of prescription painkillers…. 'Our country is in desperate need of an FDA commissioner who will take on the opioid lobby, not one who has a track record of working for it,' said Dr. Andrew Kolodny, the co-director of Opioid Policy Research at Brandeis University, reacting to this information."
Environmental groups sue the Environmental Protection Agency for reversing Obama-era move to ban the pesticide chlorpyrifos, The Guardian, Sam Levin, Wednesday, 5 April 2017: "Environmental groups have filed a complaint against the US government over its support of a pesticide linked to brain damage in children, one week after Donald Trump's administration rejected federally backed science and reversed an Obama-era policy. The Pesticide Action Network and the Natural Resources Defense Council (NRDC) filed the case against the US Environmental Protection Agency (EPA) on Wednesday, seeking to force the government to follow through with the Obama administration's recommendations to ban an insecticide widely used in agriculture. The appeal in San Francisco federal court sets the stage for one of the first major legal battles between the new EPA chief, Scott Pruitt, and environmental organizations. The case is centered on a pesticide called chlorpyrifos that researchers have concluded is correlated with lower IQ, attention deficit disorders and developmental delays. The chemical is a type of insecticide currently used on corn, strawberries, wheat, citrus, apples, broccoli and a number of other crops, as well as golf courses, turf and in greenhouses. Researchers and environmentalists have long fought for a full agricultural ban on the neurotoxic pesticide after the US government blocked the chemical for residential use in 2000 due to health concerns." See also, Environmental Groups Sue EPA to Force Ban of Pesticide Linked to Autism, The Intercept, Sharon Lerner, Wednesday, 5 April 2017. And see also, Poison Fruit: Dow Chemical Wants Farmers to Keep Using a Pesticide Linked to Autism and ADHD (Attention Deficit Hyperactivity Disorder), The Intercept, Sharon Lerner, Saturday, 14 January 2017.
Trump's Environmental Protection Agency moves to dismantle programs that protect kids from lead paint, The Washington Post, Chris Mooney and Juliet Eilperin, Wednesday, 5 April 2017: "Environmental Protection Agency officials are proposing to eliminate two programs focused on limiting children's exposure to lead-based paint, which is known to cause damage to developing brains and nervous systems. The proposed cuts, outlined in a 64-page budget memo revealed by The Washington Post on Friday, would roll back programs aimed at reducing lead risks by $16.61 million and more than 70 employees, in line with a broader project by the Trump administration to devolve responsibility for environmental and health protection to state and local governments. Old housing stock is the biggest risk for lead exposure — and the EPA estimates that 38 million U.S. homes contain lead-based paint. Environmental groups said the elimination of the two programs, which are focused on training workers in the safe removal of lead-based paint and public education about its risks, would make it harder for the EPA to address the environmental hazard."
New York and 16 other states challenge Trump over climate change regulation, Reuters, Wednesday, 5 April 2017: "A coalition of 17 U.S. states filed a legal challenge on Wednesday against efforts by President Donald Trump's administration to roll back climate change regulations, deepening a political rift over his emerging energy policies. Led by New York state, the coalition said the administration has a legal duty to regulate emissions of the gases scientists believe cause global climate change. 'The law is clear: the EPA must limit carbon pollution from power plants,' New York Attorney General Eric Schneiderman said in a statement announcing the challenge. Trump signed an executive order last week targeting climate change regulations ushered in by former President Barack Obama, saying they hinder U.S. energy production and jobs without providing meaningful environmental benefits…. The coalition includes attorneys general from California, Connecticut, Delaware, Hawaii, Illinois, Iowa, Maine, Maryland, Massachusetts, Minnesota, New Mexico, Oregon, Rhode Island, Vermont, Virginia, and Washington – along with the District of Columbia and a number of smaller localities."
Thursday, 6 April 2017, Day 77:
Senate Republicans Deploy 'Nuclear Option' to Clear Path for Supreme Court Nominee Neil Gorsuch, The New York Times, Matt Flegenheimer, Thursday, 6 April 2017: "Senate Republicans on Thursday engineered a dramatic change in how the chamber confirms Supreme Court nominations, bypassing a Democratic blockade of Judge Neil M. Gorsuch in a move that will most likely reshape both the Senate and the court. After Democrats held together Thursday morning and filibustered President Trump's nominee, Republicans voted to lower the threshold for advancing Supreme Court nominations from 60 votes to a simple majority. In deploying this so-called nuclear option, lawmakers are fundamentally altering the way the Senate handles one of its most significant duties, further limiting the minority's power in a chamber that was designed to be a slower and more deliberative body than the House. The move, once unthinkable among senators, is a testament to the creeping partisan rancor in recent years, after decades of at least relative bipartisanship on Supreme Court matters. Both parties have warned of sweeping effects on the court itself, predicting the elevation of more ideologically extreme judges now that only a majority is required for confirmation."
U.S. strikes Syrian military airfield in first direct assault on Bashar al-Assad's government, The Washington Post, Don Lamothe, Missy Ryan and Thomas Gibbons-Neff, published on Friday, 7 April 2017: "The U.S. military launched 59 cruise missiles at a Syrian military airfield late in the first direct American assault on the government of President Bashar al-Assad since that country's civil war began nearly six years ago. The operation, which the Trump administration authorized in retaliation for a chemical attack killing scores of civilians this week, dramatically expands U.S. military involvement in Syria and exposes the United States to heightened risk of direct confrontation with Russia and Iran, both backing Assad in his attempt to crush his opposition.  Syria and Russia swiftly denounced the attack, launched before dawn Friday from U.S. ships in the eastern Mediterranean. Assad called the missile strikes an 'unjust and arrogant aggression' and Syrian officials said they would hamper the country's ability to fight militant groups, Syria's state news agency reported…. In Moscow, Russia announced it was pulling out of a pact with Washington to share information about warplane missions over Syria, where a U.S.-led coalition is also waging airstrikes on Islamic State targets. Russian President Vladi­mir Putin called for an immediate meeting of the U.N. Security Council, and his spokesman, Dmitry Peskov, called the U.S. missile strikes 'violations of the norms of international law, and under a far-fetched pretext.'… U.S. officials said the Russians, who maintain significant forces in Syria, were given advance warning of the strike. There is a Russian military area at the base that was hit, but the United States took precautions not to strike that area, according to Navy Capt. Jeff Davis, a Pentagon spokesman…. The decision to strike follows 48 hours of deliberations by U.S. officials and represents a significant break with the previous administration's reluctance to wade militarily into the Syrian civil war and shift any focus from the campaign against the Islamic State." See also, Transcript and Video: Trump Speaks About Strikes in Syria from Mar-a-Lago in Palm Beach, Fla., The New York Times, Thursday, 6 April 2017.
Devin Nunes, Republican Chair of the House Intelligence Committee, to Step Aside From the House Investigation Into Russia's Efforts to Disrupt the 2016 US Presidential Election, The New York Times, Emmarie Huetteman, Thursday, 6 April 2017: "The continuing fallout from President Trump's unsubstantiated wiretapping allegation cost him another ally on Thursday, as the embattled Republican chairman of the House Intelligence Committee announced he would step aside from his panel's investigation into Russia's efforts to disrupt last year's election. The announcement from the committee's chairman, Representative Devin Nunes of California, came shortly before the House Committee on Ethics said he was under investigation because of public reports that he 'may have made unauthorized disclosures of classified information.' Mr. Nunes's recusal from the Russia inquiry was a blow to Mr. Trump, who in less than three months in office has seen the imbroglio over Russia's disruption campaign exact political damage on some of his closest advisers and most vigorous supporters. The furor over the contacts that some of the president's aides had with Russian officials has already led to the firing of Michael T. Flynn, Mr. Trump's national security adviser, and the recusal of Attorney General Jeff Sessions from overseeing the F.B.I.'s inquiry into the Russian efforts. Now it has led to the recusal of Mr. Nunes from the House Intelligence Committee's Russia investigation, and Mr. Trump faces the potential revival of that inquiry. The investigation had descended into a partisan sideshow in the two weeks since Mr. Nunes told reporters that Trump associates had been swept up in surveillance of foreign officials by American spy agencies during the transition, citing intelligence reports that were classified. He then rushed to the White House to brief Mr. Trump, prompting Democrats to argue that Mr. Nunes had proved himself far too close to the president to run an independent investigation. The criticism intensified last week when The New York Times revealed that the classified information about incidental surveillance cited by Mr. Nunes came from White House officials. White House officials had been seeking evidence to bolster a claim that Mr. Trump made March 4 on Twitter that the Obama administration had wiretapped Trump Tower during the presidential campaign. Numerous current and former American officials — including James B. Comey, the F.B.I. director — have debunked the claim."
C.I.A. Had Evidence of Russian Effort to Help Trump Win the U.S. 2016 Presidential Election Earlier Than Believed, The New York Times, Eric Lichtblau, Thursday, 6 April 2017: "The C.I.A. told senior lawmakers in classified briefings last summer that it had information indicating that Russia was working to help elect Donald J. Trump president, a finding that did not emerge publicly until after Mr. Trump's victory months later, former government officials say. The briefings indicate that intelligence officials had evidence of Russia's intentions to help Mr. Trump much earlier in the presidential campaign than previously thought. The briefings also reveal a critical split last summer between the C.I.A. and counterparts at the F.B.I., where a number of senior officials continued to believe through last fall that Russia's cyberattacks were aimed primarily at disrupting America's political system, and not at getting Mr. Trump elected, according to interviews. The former officials said that in late August — 10 weeks before the election — John O. Brennan, then the C.I.A. director, was so concerned about increasing evidence of Russia's election meddling that he began a series of urgent, individual briefings for eight top members of Congress, some of them on secure phone lines while they were on their summer break…. In an Aug. 25 briefing for Harry Reid, then the top Democrat in the Senate, Mr. Brennan indicated that Russia's hackings appeared aimed at helping Mr. Trump win the November election, according to two former officials with knowledge of the briefing. The officials said Mr. Brennan also indicated that unnamed advisers to Mr. Trump might be working with the Russians to interfere in the election. The F.B.I. and two congressional committees are now investigating that claim, focusing on possible communications and financial dealings between Russian affiliates and a handful of former advisers to Mr. Trump. So far, no proof of collusion has emerged publicly…. It was not until early December, a month after the election, that it became publicly known in news reports that the C.I.A. had concluded that Moscow's motivation was to get Mr. Trump elected…. Last month, Mr. Comey publicly acknowledged the continuing investigation for the first time at a House hearing on Russia's influence on the election and said the F.B.I. was examining possible links between Trump associates and Russia for evidence of collusion."
Conspiracy Theorist in Chief, The Los Angeles Times, The Los Angeles Times Editorial Board, Thursday, 6 April 2017: "It was bad enough back in 2011 when Donald Trump began peddling the crackpot conspiracy theory that President Barack Obama was not a native-born American. But at least Trump was just a private citizen then. By the time he tweeted last month [4 March 2017] that Obama had sunk so low as to 'tapp [sic] my phones during the very sacred election process,' Trump was a sitting president accusing a predecessor of what would have been an impeachable offense. Trump went public with this absurd accusation without consulting the law enforcement and intelligence officials who would have disabused him of a conspiracy theory he apparently imbibed from right-wing media. After the FBI director debunked it, Trump held fast, claiming he hadn't meant that he had been literally wiretapped…. [M]uch of his misinformation is of the creepiest kind. Implausible conspiracy theories from fly-by-night websites; unsubstantiated speculations from supermarket tabloids. Bigoted stories he may have simply made up; stuff he heard on TV talk shows…. This is pathetic, but it's also alarming. If Trump feels free to take to Twitter to make wild, paranoid, unsubstantiated accusations against his predecessor, why should the nation believe what he says about a North Korean missile test, Russian troop movements in Europe or a natural disaster in the United States?"
Jared Kushner, Trump's Son-In-Law and Senior Adviser, Failed to Disclose Meetings With Foreign Officials on Security Clearance Forms, The New York Times, Jo Becker and Matthew Rosenberg, Thursday, 6 April 2017: "When Jared Kushner, President Trump's son-in-law and senior adviser, sought the top-secret security clearance that would give him access to some of the nation's most closely guarded secrets, he was required to disclose all encounters with foreign government officials over the last seven years. But Mr. Kushner did not mention dozens of contacts with foreign leaders or officials in recent months. They include a December meeting with the Russian ambassador, Sergey I. Kislyak, and one with the head of a Russian state-owned bank, Vnesheconombank, arranged at Mr. Kislyak's behest. The omissions, which Mr. Kushner's lawyer called an error, are particularly sensitive given the congressional and F.B.I. investigations into contacts between Russian officials and Trump associates…. Mr. Kushner's omissions were described by people with direct knowledge of them who asked for anonymity because the questionnaire is not a public document…. Applicants for major national security positions must submit a lengthy F.B.I. questionnaire as part of a background check. They are asked to list the dates and details of all contacts with representatives of foreign governments. This is not just bureaucratic paperwork. The form warns that 'withholding, misrepresenting, or falsifying information' could result in loss of access to classified information, denial of eligibility for a sensitive job and even prosecution; knowingly falsifying or concealing material facts is a federal felony that may result in fines or up to five years imprisonment."
Twitter Sues the Government to Block the Unmasking of an Account Critical of Trump, The New York Times, Mike Isaac, Thursday, 6 April 2017: "Twitter sued the federal government on Thursday to block the unmasking of an anonymous account that has posted messages critical of the Trump administration and has claimed to have ties to a government agency. The suit sets up a potential confrontation between the Trump administration and Twitter over digital privacy, a thorny issue that has driven a wedge between the technology industry and government in the past. Twitter disclosed in a federal court filing on Thursday that it had received a summons directing it to reveal the identity or identities of those behind @ALT_USCIS, one of several so-called alt-accounts run by people purporting to be current or former federal employees. The @ALT_USCIS account, which quickly gained tens of thousands of followers, has frequently criticized the Trump administration's immigration policies and enforcement actions. Twitter said in its filing that it could not be compelled to disclose the identity or identities of whoever is behind the account. The company argued that the government's directive and reasoning were unlawful, and that complying would have 'a grave chilling effect' on the speech of alt-accounts that voice resistance to government policies…. On Thursday, the American Civil Liberties Union said it planned to represent the anonymous user or users behind @ALT_USCIS. 'To unmask an anonymous speaker online, the government must have a strong justification,' said Nathan Freed Wessler, an A.C.L.U. attorney involved in the case. 'But in this case the government has given no reason at all, leading to concerns that it is simply trying to stifle dissent.'" See also, U.S. Blinks in Clash With Twitter; Drops Order to Unmask Anti-Trump Account, The New York Times, Mike Isaac, published on Friday, 7 April 2017: "Last month, the federal government issued a summons ordering Twitter to hand over information about an anonymous account that had posted messages critical of the Trump administration. Now, the government has blinked. Customs and Border Protection on Friday withdrew its demand that Twitter unmask the anonymous account, a day after the social media company sued the government to block the summons. The person or people behind the account, @ALT_USCIS, had claimed to be a current employee of Citizenship and Immigration Services and had regularly posted messages at odds with White House policy. The government's move defused a potential standoff pitting a presidential administration that has tried to clamp down on leaks against a technology company with a history of defending its users' First Amendment rights. 'Because the summons is now withdrawn, Twitter voluntarily dismisses without prejudice all claims against Defendants in the above-captioned matter,' Twitter said in a court filing on Friday in which it withdrew its lawsuit against the government." And see also, Senator Ron Wyden: Government Must Explain Why It Tried to Expose Twitter User, The Intercept, Sam Biddle, published on Friday, 7 April 2017: "Only a day after Twitter revealed that it had received a summons from the Department of Homeland Security demanding identifying information about an anonymous anti-Trump user account (and only hours after the government abandoned its attempt), Senator Ron Wyden is telling the agency it needs to explain itself. The letter, addressed to acting commissioner of U.S. Customs and Border Protection Kevin McAleenan, requests that the agency 'conduct an internal review into why and how CBP issued the summons and report on the results of that review.' 'On its face,' the letter continues, 'CBP's request for information on the @ALT_USCIS Twitter account appeared completely unrelated to the authority cited for the summons. Even more concerning is the possibility that CBP requested this information to learn if the accountholder(s) are employed by the Department of Homeland Security in order to take retaliatory action or otherwise squelch the exercise of First Amendment right to comment on U.S. policy, and to make these comments anonymously.'"
Two Democratic Senators Demand Answers to Alarming Questions About Trump and the Dakota Access Pipeline, Fusion, Rafi Schwartz, Thursday, 6 April 2017: "The Dakota Access oil pipeline may be nearly operational, but some Democrats are raising concerns about what they say is the alarming lack of oversight surrounding the controversial project. This week, Senators Tom Carper (DE) and Maria Cantwell (WA)—the ranking members of the senate's Environment & Public Works and Energy & Natural Resources committee, respectively—sent a series of questions to Lt. General Todd Semonite of the U.S. Army Corps of Engineers, demanding answers about the recently restarted construction which was greenlit by President Donald Trump.  While the senators' letter does not have the weight of a congressional subpoena, it does suggest that there are lawmakers on Capitol Hill who are willing to dig into the murky issues surrounding the pipeline's construction—and into the haste with which Trump gave the go-ahead to the project once he took office. The letter, dated April 3, requests answers from the Corps by the 12th. 'We write to share our concern that the Corps has provided virtually no information to Congress regarding its oversight of the project,' the letter—provided to Fusion by the Lakota People's Law Project—explained."