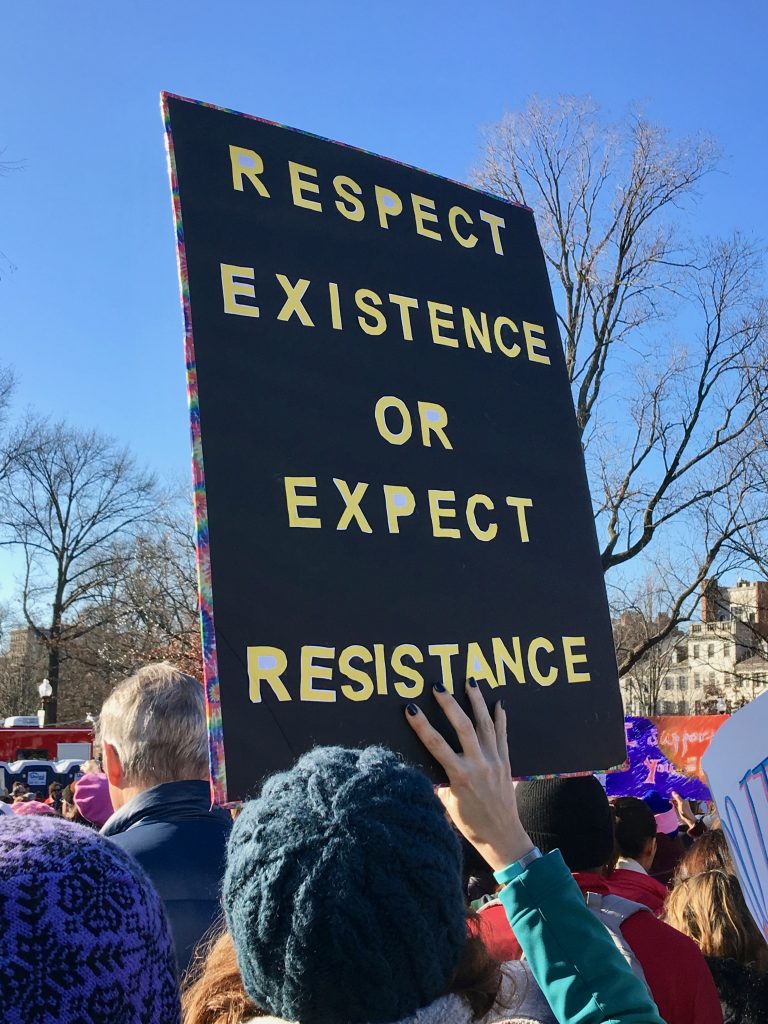 Keeping Track (of some things), Staying Outraged (it is possible), and Resisting (it's essential)
Passages in bold in the body of the texts below are my emphasis. This is an ongoing project, and I update the site frequently. I hope readers will peruse the articles in full for a better understanding of the issues and their context; our democracy and our future depend on citizens who can distinguish between facts and falsehoods and who are engaged in the political process.
Friday, 24 March 2017, Day 64:
In Major Defeat for Trump, Push to Repeal Health Care Law Fails, The New York Times, Robert Pear, Glenn Thrush and Thomas Kaplan, Friday, 24 March 2017: "House Republican leaders, facing a revolt among conservatives and moderates in their ranks, pulled legislation to repeal the Affordable Care Act from consideration on the House floor Friday afternoon in a significant defeat for President Trump on the first legislative showdown of his presidency. House Speaker Paul D. Ryan conceded, 'We're going to be living with Obamacare for the foreseeable future.' The defeat of the Republicans' three-month blitz to repeal President Barack Obama's signature domestic achievement exposed deep divisions in the Republican Party that the election of a Republican president could not mask. It also cast a shadow over the ambitious agenda that Mr. Trump and Republican leaders had promised to enact once their party assumed power on both ends of Pennsylvania Avenue. The drama of the day underscored the futility of the leaders' efforts. Mr. Ryan rushed to the White House shortly after noon to tell Mr. Trump he did not have the votes for a repeal bill that had been promised for seven years — since the day Mr. Obama signed his landmark health care act into law. Mr. Trump, in a telephone interview moments after the bill was pulled, blamed Democrats and predicted that they would seek a deal within a year, he asserted, after 'Obamacare explodes' because of high premiums. He also expressed weariness with the fight, which was a fraction of the length of time that Democrats devoted to enacting the Affordable Care Act. 'The best thing that could happen is exactly what happened — watch,' he said. 'It's enough already.' But the effort to win passage had been relentless — and hardly hidden. Vice President Mike Pence and Tom Price, the health secretary, rushed to Capitol Hill for a late appeal to House conservatives, but their pleas fell on deaf ears. And in private, Mr. Trump took a much harder line. The president was furious that members of the hard-line conservative Freedom Caucus had opposed the legislation. He demanded for much of Thursday that Mr. Ryan push a vote to publicly expose the members who were opposing the administration. Mr. Trump and his top strategist, Stephen K. Bannon, wanted to see a confidential list to exact revenge on the bill's Republican opponents, according to two people with direct knowledge of the situation…. In the end, Republican leaders doomed the bill by agreeing to eliminate federal standards for the minimum benefits that must be provided by certain health insurance policies. 'This provision is so cartoonishly malicious that I can picture someone twirling their mustache as they drafted it in their secret capitol lair last night,' said Representative Jim McGovern, Democrat of Massachusetts. 'This back-room deal will kill the requirement for insurance companies to offer essential health benefits such as emergency services, maternity care, mental health care, substance addiction treatment, pediatric services, prescription drugs and many other basic essential services.' Defeat of the bill could be a catalyst if it forces Republicans and Democrats to work together to improve the Affordable Care Act, which virtually every member of Congress believes needs repair. Democrats have been saying for weeks that they want to work with Republicans on such changes, but first, they said, Republicans had to abandon their drive to repeal the law."
In a Call to The Times, Trump Blames Democrats for the Failure of the Health Bill, The New York Times, Maggie Haberman, Friday, 24 March 2017: "Just moments after the Republican plan to repeal and replace the Affordable Care Act was declared dead, President Trump sought to paint the defeat of his first legislative effort as an early-term blip. The House speaker, Paul D. Ryan, was preparing to tell the public that the health care bill was being withdrawn — a byproduct, Mr. Trump said, of Democratic partisanship. The president predicted that Democrats would return to him to make a deal in roughly a year. 'Look, we got no Democratic votes. We got none, zero,' Mr. Trump said in a telephone interview he initiated with The New York Times. 'The good news is they now own health care. They now own Obamacare.' Mr. Trump insisted that the Affordable Care Act would collapse in the next year, which would then force Democrats to come to the bargaining table for a new bill…. In a later phone interview with The Times, the Senate minority leader, Chuck Schumer, ridiculed Mr. Trump's remarks about Democrats being at fault. 'Whenever the president gets in trouble, he points fingers of blame,' Mr. Schumer said. 'It's about time he stopped doing that and started to lead. The Republicans were totally committed to repeal from the get-go, never talked to us once. But now that they realize that repeal can't work, if they back off repeal, of course we'll work with them to make it even better.' Mr. Trump said that "when they come to make a deal," he would be open and receptive. He singled out the Tuesday Group moderates for praise, calling them 'terrific,' an implicit jab at the House Freedom Caucus, which his aides had expressed frustration with during negotiations."
The U.S. State Department, in Reversal, Issues Permit for Keystone XL Oil Pipeline, The New York Times, Clifford Krauss, Friday, 24 March 2017: "During his presidential campaign, Donald J. Trump repeatedly hailed the Keystone XL pipeline as a vital jobs program and one that sharply contrasted his vision for the economy with that of Hillary Clinton. 'Today we begin to make things right,' President Trump said Friday morning shortly after the State Department granted the pipeline giant TransCanada a permit for Keystone construction, a reversal of Obama administration policy. The pipeline would link oil producers in Canada and North Dakota with refiners and export terminals on the Gulf Coast. It has long been an object of contention, with environmentalists saying it would contribute to climate change and the project's proponents — Republicans, some labor unions and the oil industry — contending that it would help guarantee national energy security for decades to come. When President Barack Obama rejected the project in late 2015, he said it would undermine American leadership in curbing reliance on carbon fuels. The pipeline still faces hurdles before it can be built. It needs the approval of the Nebraska Public Service Commission and local landowners who are concerned about their water and land rights. Protests are likely since the project has become an important symbol for the environmental movement, with the Canadian oil sands among the most carbon-intensive oil supplies. Mining the oil sands requires vast amounts of energy for extraction and processing. In addition, interest among many oil companies in the oil sands is waning amid sluggish oil prices. Extraction from the oil sands, situated in the sub-Arctic boreal forest, is expensive. Statoil and Total, two European energy giants, have abandoned their production projects. In recent weeks, Royal Dutch Shell agreed to sell most of its oil sands assets for $8.5 billion. And Exxon Mobil wrote down 3.5 billion barrels of reserves, conceding the oil sands were not economically attractive enough to develop for the next few years at least. Nevertheless, Canadian production continues to grow as projects that were conceived when prices were higher begin to operate. And the Keystone effort is central to the future of TransCanada, a major force in the Canadian oil patch." See also, Keystone XL pipeline Opponents Renew Fight Against Pipeline After Trump Approves It, Inside Climate News, Marianne Lavelle, Friday, 24 March 2017.
Continue reading Week 10, Friday, 24 March – Thursday, 30 March 2017:

Keystone XL pipeline would only create 35 permanent jobs, CNN, Matt Egan, Friday, 24 March 2017: "'It's a great day for American jobs,' Trump said from the Oval Office on Friday after the State Department issued a permit allowing the pipeline proposed by TransCanada to go forward.… TransCanada(TRP) CEO Russell Girling, standing next to Trump, said Keystone XL will 'create thousands of jobs.'  The construction of the pipeline would indeed create thousands of jobs. But they will be temporary. Keystone pipeline would create about 3,900 construction jobs if it was built in one year, according to a State Department report. That number would drop to 1,950 jobs if the Alberta-to-Nebraska pipeline takes two years to build. The State Department also estimates that about 16,100 additional jobs will be created during the construction via firms awarded contracts for materials and services. However, once Keystone is completed, only 35 permanent employees would be needed to operate the pipeline along with 15 temporary contractors. So, the Keystone XL isn't expected to be a boom for the job market by any stretch. In addition, those temporary and limited permanent jobs could come at a significant environmental cost. The Canadian oil that would flow through the pipeline is considered among the dirtiest types of crude. A 2015 study funded by the Department of Energy found that the oil sands from Canada emit 18% more greenhouse gases when processed into gasoline than that processed from traditional U.S. crude. And diesel fuel derived from oil sands emits 21% more of these harmful gases. That's why environmentalists remain fiercely opposed to Keystone."
U.S. Investigating Mosul Strikes Said to Have Killed Up to 200 Civilians, The New York Times, Tim Arango and Helene Cooper, Friday, 24 March 2017: "The American-led military coalition in Iraq said Friday that it was investigating reports that scores of civilians — perhaps as many as 200, residents said — had been killed in recent American airstrikes in Mosul, the northern Iraqi city at the center of an offensive to drive out the Islamic State. If confirmed, the series of airstrikes would rank among the highest civilian death tolls in an American air mission since the United States went to war in Iraq in 2003. And the reports of civilian deaths in Mosul came immediately after two recent incidents in Syria, where the coalition is also battling the Islamic State from the air, in which activists and local residents said dozens of civilians had been killed. Taken together, the surge of reported civilian deaths raised questions about whether once-strict rules of engagement meant to minimize civilian casualties were being relaxed under the Trump administration, which has vowed to fight the Islamic State more aggressively. American military officials insisted on Friday that the rules of engagement had not changed. They acknowledged, however, that American airstrikes in Syria and Iraq had been heavier in an effort to press the Islamic State on multiple fronts."
Immigration and Customs Enforcement (ICE) is targeting 'sanctuary cities' with raids, CNN, Maria Santana, Friday, 24 March 2017: "Immigration and Customs Enforcement has been targeting so-called 'sanctuary cities' with increased enforcement operations in an effort to pressure those jurisdictions to cooperate with federal immigration agents, a senior US immigration official with direct knowledge of ongoing ICE actions told CNN. A sanctuary city is a broad term applied to states, cities and/or counties that have policies in place designed to limit cooperation or involvement in the enforcement of federal immigration operations. More than 100 US jurisdictions — among them New York, Los Angeles and Chicago — identify as such. High-ranking ICE officials have discussed in internal meetings carrying out more raids on those locations, said the source."
Former Central Intelligence Agency Director James Woolsey Says Trump Campaign Adviser Mike Flynn and Turkish Officials Discussed Removal of Erdogan Foe Fethullah Gulen From the U.S. in September 2016, The Wall Street Journal, James V. Grimaldi, Dion Nissenbaum and Margaret Coker, Friday, 24 March 2017: "Retired Army Lt. Gen. Mike Flynn, while serving as an adviser to the Trump campaign, met with top Turkish government ministers and discussed removing a Muslim cleric from the U.S. and taking him to Turkey, according to former Central Intelligence Agency Director James Woolsey, who attended, and others who were briefed on the meeting. The discussion late last summer involved ideas about how to get Fethullah Gulen, a cleric whom Turkey has accused of orchestrating last summer's failed military coup, to Turkey without going through the U.S. extradition legal process, according to Mr. Woolsey and those who were briefed. Mr. Woolsey told The Wall Street Journal he arrived at the meeting in New York on Sept. 19 in the middle of the discussion and found the topic startling and the actions being discussed possibly illegal…. Mr. Flynn served as President Donald Trump's national security adviser for 24 days and resigned after he misled Vice President Mike Pence and others about his contact with a Russian diplomat."
California Upholds Auto Emissions Standards, Setting Up Face-Off With Trump, The New York Times, Hiroko Tabuchi, Friday, 24 March 2017: "California's clean-air agency voted on Friday to push ahead with stricter emissions standards for cars and trucks, setting up a potential legal battle with the Trump administration over the state's plan to reduce planet-warming gases. The vote, by the California Air Resources Board, is the boldest indication yet of California's plan to stand up to President Trump's agenda. Leading politicians in the state, from the governor down to many mayors, have promised to lead the resistance to Mr. Trump's policies. Mr. Trump, backing industry over environmental concerns, said easing emissions rules would help stimulate auto manufacturing. He vowed last week to loosen the regulations. Automakers are aggressively pursuing those changes after years of supporting stricter standards. But California can write its own standards because of a longstanding waiver granted under the Clean Air Act, giving the state — the country's biggest auto market — major sway over the auto industry. Twelve other states, including New York and Pennsylvania, as well as Washington, D.C., follow California's standards, a coalition that covers more than 130 million residents and more than a third of the vehicle market in the United States."
Amid Trump Inquiry, a Primer on Surveillance Practices and Privacy, The New York Times, Charlie Savage, Friday, 24 March 2017: "The assertion by the Republican chairman of the House Intelligence Committee, Representative Devin Nunes, that he saw intelligence reports showing that government surveillance programs 'incidentally' collected communications involving Trump transition team members between November and January, has further muddied an already murky imbroglio. Mr. Nunes's claim is part of a broad tug of war over whether the public should focus on the F.B.I.'s criminal investigation into possible Trump campaign coordination with Russia in its meddling in the 2016 election or, instead, on Obama-era surveillance that ensnared Trump team members and the propriety of leaks regarding what it uncovered. President Trump, under bipartisan fire for his apparently baseless insistence that President Barack Obama wiretapped his phones at Trump Tower in October, pronounced himself 'somewhat' vindicated by Mr. Nunes's assertion. And Fox News's Sean Hannity, a staunch Trump supporter, broadcast a segment with Mr. Nunes labeled 'Trump Surveillance Confirmed.' The developments have heightened the importance of understanding several things about surveillance practices and terms." This article continues with a useful primer.
Toronto schools will no longer allow student trips to US, CNN, Madison Park, Friday, 24 March 2017: "Canada's largest school system announced it will no longer allow student or staff trips to the US, citing uncertainty over the travel ban. Toronto District School Board expressed concern over how the US immigration policy could affect students on school trips. 'We strongly believe that our students should not be placed into these situations of potentially being turned away at the border,' the board's director of education, John Malloy, said in a statement."
Conspiracy Theorist Alex Jones Apologizes for Promoting 'Pizzagate,' NPR, James Doubek, published on Sunday, 26 March 2017: "Longtime conspiracy theorist and propagator Alex Jones has apologized to the Washington, D.C. pizzeria Comet Ping Pong and its owner James Alefantis for his show's role in promoting the false 'pizzagate' conspiracy theory involving a child sex-abuse ring. Jones, the host of the radio and web show bearing his name and the owner of the website Infowars, said from a prepared statement that to his knowledge, 'neither Mr. Alefantis, nor his restaurant Comet Ping Pong, were involved in any human trafficking as was part of the theories about Pizzagate that were being written about in many media outlets and which we commented upon.' He continued: 'I want our viewers and listeners to know that we regret any negative impact our commentaries may have had on Mr. Alefantis, Comet Ping Pong, or its employees. We apologize to the extent our commentaries could be construed as negative statements about Mr. Alefantis or Comet Ping Pong, and we hope that anyone else involved in commenting on Pizzagate will do the same thing.' Jones' apology Friday came the same day a 28-year-old man pleaded guilty to charges related to a December incident when he brought an AR-15 rifle and other weapons into the restaurant and fired shots inside. Edgar Maddison Welch, of Salisbury, N.C., said he drove from his home to the Washington restaurant to 'self-investigate' the conspiracy theory."
Democrats Introduce 'MAR-A-LAGO' Act to Force Trump to Provide Visitors Logs, NBC News, Phil McCausland, published on Saturday, 25 March 2017: "Democrats are giving Donald Trump a transparency gut check in the form of a new bill with a mouthful of a name — and an acronym that takes an unsubtle dig at the president. The 'Making Access Records Available to Lead American Government Openness Act' — or MAR-A-LAGO Act — would require the Trump administration to disclose the names of anyone who visits the White House or 'any other location at which the President or the Vice President regularly conducts official business.' The legislation, introduced in the House and Senate on Friday, calls for the creation of a publicly available database to be updated every 90 days. Democrats say the move is necessary after a Whitehouse.gov page featuring visitor access records has said "this page is being updated" ever since Trump took office — and remains unchanged. In addition, they want the public to know who has been visiting Trump's private club in Florida, known as Mar-a-Lago — the namesake of the bill — because he conducts presidential business there."
Fact Checker: 100 days of Trump claims, The Washington Post, Friday, 24 March 2017: "Trump has been in office for 65 days. As of our latest update on day 63, we've counted 317 false or misleading claims."
How Trump is rolling back Obama's legacy, The Washington Post, Juliet Eilperin and Darla Cameron, Friday, 24 March 2017: "During President Trump's first year in office, Congress and his administration plan to review, revoke and overwrite key parts of his predecessor's domestic legacy. As of March 24, here are the Obama-era rules and regulations" that are being undone.
Saturday, 25 March 2017, Day 65:
With Republican Plan Dead, Trump Weighs Other Ways to Reshape Health Care, The Wall Street Journal, Stephanie Armour, Saturday, 25 March 2017: "With the collapse of Republicans' health plan in the House on Friday, the Trump administration is set to ramp up its efforts to weaken the Affordable Care Act in one of the few ways it has left–by altering the law through waivers and rule changes. The initiative now rests with Health and Human Services Secretary Tom Price, who has vowed to review every page of regulation and guidance related to the ACA. The steps he and the administration take next could have sweeping repercussions, accomplishing some of the same types of changes Republicans were unable to push through Congress. The president was still suggesting Saturday that a broad ACA replacement was eventually possible, but only after the current health system collapsed. 'ObamaCare will explode and we will all get together and piece together a great healthcare plan for THE PEOPLE,' the president posted on Twitter, before heading to his golf course in northern Virginia. 'Do not worry!'"
U.S. military acknowledges strike on Mosul site where more than 100 were allegedly killed, many civilians, The Washington Post, Missy Ryan and Loveday Morris, Saturday, 25 March 2017: "The U.S. military acknowledged for the first time Saturday that it launched an airstrike against the Islamic State in the densely packed Iraqi city of Mosul, where residents say more than 100 people were killed in a single event. If confirmed, the March 17 incident would mark the greatest loss of civilian life since the United States began strikes on Islamic State targets in Iraq and Syria in 2014. An 'initial review' showed that the coalition struck ISIS fighters and equipment in west Mosul at the request of Iraq forces and 'at the location corresponding to allegations of civilian casualties,' the task force leading the coalition said in a statement. Previously, the U.S.-led coalition had said officials were unsure whether there were any air attacks targeting the specific area of the neighborhood Mosul al-Jadida at the time when residents claim a strike killed 137 civilians. Iraqi officials working on the rescue said they had pulled 83 bodies — including many women and children — from a destroyed building by sundown on Saturday. They have yet to complete excavations at the site."
Who is to blame for the failure of the health-care overhaul? The finger-pointing begins, The Washington Post, Dave Weigel, Saturday, 25 March 2017: "Let the blame game begin. Republicans' failure to overhaul the U.S. health-care industry has ushered in a round of internal finger-pointing that threatens to deepen the very rifts that doomed the deal — and carve new ones that are likely to complicate the GOP's ability to function in the Trump era. Recriminations have been underway for weeks, but they intensified Saturday and cast a new spotlight on the breakdown that led Speaker Paul D. Ryan (R-Wis.) to pull the American Health Care Act from the House floor Friday afternoon, after it became clear to him and President Trump that they did not have enough Republican votes to pass it. Some top Republicans interviewed Saturday singled out Ryan for blame, arguing that he did not sufficiently represent the views of conservative lawmakers or interest groups, who had pressed for a fuller repeal of the law. But some blamed Trump or his aides for not smoothing out the differences, a sentiment that has been stronger privately than in public. Still others found fault with various GOP factions and interest groups, on the right and in the middle, who opposed the bill. All of this puts pressure on Trump, Ryan, the hard-right House Freedom Caucus and the moderate Republicans who voted against the bill to shore up their relationships…."
Sunday, 26 March 2017, Day 66:
Nearly 1 out of every 3 days he has been president, Trump has visited a Trump property, The Washington Post, Philip Bump, Sunday, 26 March 2017: "For the eighth weekend in a row, President Trump has visited a property that bears his name. He has done so on 21 of the 66 days he has been in office, meaning that for the equivalent of three full weeks of his just-over-nine weeks as commander in chief, he has spent all or part of a day at a Trump property — earning that property mentions in the media and the ability to tell potential clients that they might be able to interact with the president. And, despite his insistence on the campaign trail that he would avoid the links — 'I'm going to be working for you. I'm not going to have time to go play golf,"'he said in August — he has made 13 visits to his own golf courses since becoming president, likely playing golf on at least 12 of those occasions."
Jeanine Pirro, a Fox News Host, Calls for Paul Ryan to Step Down After Health Bill Failure, The New York Times, Maggie Haberman, Sunday, 26 March 2017: "Jeanine Pirro, a Fox News host, is a longtime friend of President Trump. So when Mr. Trump said on Twitter on Saturday — a day after his crushing defeat in the House on health care — that people should watch her show that night, political observers began guessing what was in store. What she delivered was a diatribe against the House speaker, Paul D. Ryan. 'Paul Ryan needs to step down as speaker of the House,' Ms. Pirro, a former prosecutor, said at the opening of her show. 'The reason? He failed to deliver the votes on his health care bill.'"
Carl Ichan's Dual Roles as Investor and Trump Adviser Raise Ethics Flags, The New York Times, Eric Lipton, Sunday, 26 March 2017: "Since Carl Icahn, the billionaire investor, was named by President Trump as a special adviser on regulatory matters, he has been busy working behind the scenes to try to revamp an obscure Environmental Protection Agency rule that governs the way corn-based ethanol is mixed into gasoline nationwide. It is a campaign that fits into the charge Mr. Trump gave Mr. Icahn, to help the nation 'break free of excessive regulation.' But there is an additional detail that is raising eyebrows in Washington: Mr. Icahn is a majority investor in CVR Energy, an oil refiner based in Sugar Land, Tex., that would have saved $205.9 million last year had the regulatory fix he is pushing been in place. Mr. Icahn, known internationally for his pugnacious and persistent approach to activist investing, has brought that same technique to his new role. He quizzed Scott Pruitt, a former Oklahoma attorney general, about the ethanol rule when Mr. Icahn helped interview Mr. Pruitt for the E.P.A. job. Mr. Icahn later reached out to Gary D. Cohn, Mr. Trump's top economic adviser, to raise the issue. Mr. Icahn said he even had a telephone conversation in February with Mr. Trump himself. The blitz has already generated at least one clear outcome: Since Mr. Trump was elected president with Mr. Icahn's very vocal support and nearly $200,000 in political contributions to Republican causes — the stock price of CVR Energy has soared. By late December, it had doubled. It is still up 50 percent from the pre-election level, generating a windfall, at least on paper, of $455 million as of Friday. The merging of private business interest with government affairs — aspects of which have previously been reported by Bloomberg, but which The New York Times has found further evidence of — has generated protests from ethics experts in Washington, as well as certain Senate Democrats. They consider Mr. Icahn's dual roles perhaps the most troubling conflict of interest to emerge so far in the new administration."
Trump shifts blame for the collapse of the health-care bill from Democrats to the Republican far right, The Washington Post, Sean Sullivan, John Wagner and Amber Phillips, Sunday, 26 March 2017: "Trump cast blame Sunday for the collapse of his effort to overhaul the health-care system on conservative interest groups and far-right Republican lawmakers, shifting culpability to his own party after initially faulting Democratic intransigence. His attack — starting with a tweet that singled out the House Freedom Caucus as well as the influential Club for Growth and Heritage Action for America — marked a new turn in the increasingly troubled relationship between the White House and a divided GOP still adjusting to its unorthodox standard-bearer. And it served as a warning shot, with battles still to come on issues such as taxes and infrastructure that threaten to further expose Republican fractures, that Trump will not hesitate to apply public pressure on those in his party he views as standing in the way."
How a secret Freedom Caucus pact brought down Obamacare repeal, Politico, Rachael Bade, Josh Dawsey and Jennifer Haberkorn, Sunday, 26 March 2017: "Speaker Paul Ryan and House leaders had been toiling behind closed doors for weeks assembling their Obamacare repeal bill as suspicion on the far-right simmered to a boil. So on March 7, just hours after Ryan unveiled a plan that confirmed its worst fears, the House Freedom Caucus rushed to devise a counterstrategy. The few dozen true believers knew that pressure from House leaders and President Donald Trump to fall in line would be immense and they were intent on not getting boxed in. In a conference room in the Rayburn House Office Building, the group met that evening and made a secret pact. No member would commit his vote before consulting with the entire group — not even if Trump himself called to ask for an on-the-spot commitment. The idea, hatched by Freedom Caucus Vice Chairman Rep. Jim Jordan (R-Ohio), was to bind them together in negotiations and ensure the White House or House leaders could not peel them off one by one. Twenty-eight of the group's roughly three dozen members took the plunge. Three weeks later, Republican leaders, as many as 25 votes short of passage, were forced to pull their bill from the House floor…. Their resistance — along with the objections of a handful of moderates — stymied Trump and Ryan in the first major legislative gambit between the policy expert and political novice…. This account of the Freedom Caucus' central role in the health care showdown is based on interviews with more than two dozen Republican legislators, White House officials and congressional aides. Time and again, they described the tortured, toxic political dynamic within the House Republican Conference — old news to those who've followed years of internecine battles between the far-right and leadership, but never experienced or appreciated until now by Trump."
White House Opens Door to Democrats in Wake of Health-Bill Failure, The Wall Street Journal, Siobhan Hughes, Sunday, 26 March 2017: "The White House sent a warning shot to congressional Republicans that it may increase its outreach to Democrats if it can't get the support of hard-line conservatives, a potential shift in legislative strategy that could affect drug prices, the future of a tax overhaul and budgetary priorities. Days after the House GOP health bill collapsed due to a lack of support from Republicans, White House Chief of Staff Reince Priebus brought up the idea of working with Democrats multiple times, leaving little doubt that the White House intended to send a message to the hard-line Republican flank. 'This president is not going to be a partisan president,' Mr. Priebus said on 'Fox News Sunday.' He said that while 'I think it's time for our folks to come together, I also think it's time to potentially get a few moderate Democrats on board as well.'"
Senator Bernie Sanders plans to introduce a single-payer health care plan, Politico, Cristiano Lima, Sunday, 26 March 2017: "Sen. Bernie Sanders said Sunday he planned to introduce a single-payer health care plan to Congress, inviting Republican leaders to negotiate the measure. 'I'm going to introduce a Medicare-for-all single-payer program,' Sanders told anchor Dana Bash on CNN's 'State of the Union.' The Vermont senator, who has repeatedly stated his support for such a plan in the past, said he hoped to garner bipartisan support for the plan…. The Vermont senator also ripped the Republican health care bill to repeal and replace the Affordable Care Act as 'a disastrous piece of legislation,' echoing his comments Friday that the bill would've merely served as a tax break for the wealthy."
Monday, 27 March 2017, Day 67:
Senate Intelligence Committee to Question Jared Kushner Over Meetings With Russians, The New York Times, Jo Becker, Matthew Rosenberg and Maggie Haberman, Monday, 27 March 2017: "Senate investigators plan to question Jared Kushner, President Trump's son-in-law and a close adviser, as part of their broad inquiry into ties between Trump associates and Russian officials or others linked to the Kremlin, according to administration and congressional officials. The White House Counsel's Office was informed this month that the Senate Intelligence Committee, which is investigating Russian interference in the 2016 presidential election, wanted to question Mr. Kushner about meetings he arranged with the Russian ambassador, Sergey I. Kislyak, according to the government officials. The meetings, which took place during the transition, included a previously unreported sit-down with the head of Russia's state-owned development bank. Until now, the White House had acknowledged only an early December meeting between Mr. Kislyak and Mr. Kushner, which occurred at Trump Tower and was also attended by Michael T. Flynn, who would briefly serve as the national security adviser. Later that month, though, Mr. Kislyak requested a second meeting, which Mr. Kushner asked a deputy to attend in his stead, officials said. At Mr. Kislyak's request, Mr. Kushner later met with Sergey N. Gorkov, the chief of Vnesheconombank, which the United States placed on its sanctions list after President Vladimir V. Putin of Russia annexed Crimea and began meddling in Ukraine."
Trump pressures House Intelligence Committee to Probe the Clintons' ties to Russia, not his own, The Washington Post, Philip Rucker, Monday 27 March 2017: "President Trump sought Monday to pressure the House committee investigating Russia's interference in the 2016 U.S. election, arguing that the panel should be probing Bill and Hillary Clinton's alleged ties to the country instead of those of his own campaign advisers. In a pair of evening tweets, Trump wrote that the 'Trump Russia story is a hoax' and listed a string of alleged financial and other connections the Clintons have had over the years with Russia. He asked why the House Intelligence Committee is not investigating the former president and former secretary of state…. Trump's tweets come just hours after the White House announced that Jared Kushner, the president's son-in-law and senior adviser, had agreed to be questioned by the Senate Intelligence Committee, which also is conducting a broad inquiry into Russian election interference. The committee is expected to ask Kushner about his communications with Russian ambassador Sergey Kislyak as well as with the chief executive of a Russian state-owned bank."
House Democrats Ask Devin Nunes, the Chair of the House Intelligence Committee, to Recuse Himself From Russia Inquiry, The New York Times, Matthew Rosenberg and Emmarie Huetteman, Monday, 27 March 2017: "Top House Democrats on Monday called on the Republican chairman of the House Intelligence Committee to recuse himself from the panel's investigation into Russian meddling in the 2016 presidential election, thrusting the entire inquiry into jeopardy amid what they described as mounting evidence he was too close to President Trump to be impartial. The demands followed revelations that the committee's chairman, Representative Devin Nunes of California, had met on White House grounds with a source who showed him secret American intelligence reports. The reports, Mr. Nunes said last week, showed that Mr. Trump or his closest associates may have been 'incidentally' swept up in foreign surveillance by American spy agencies. The new revelation that the information actually came from a meeting held on the grounds of the White House intensified questions about what prompted Mr. Nunes to make the claim about the intelligence gathering, and who gave him the information. Representatives Adam B. Schiff of California, the committee's top Democrat, and Nancy Pelosi of California, the House Democratic leader, suggested that Mr. Nunes, who served on the Trump transition team, was simply too close to the White House to run an independent, thorough inquiry."
Attorney General Jeff Sessions to States: Shield the Undocumented and Lose Police Funding, The New York Times, Julie Hirschfeld Davis and Charlie Savage, Monday, 27 March 2017: "The Trump administration, signaling its intent to toughen enforcement of immigration laws across the country, threatened on Monday to withhold or revoke law enforcement funding from states, cities and localities that block the police or sheriffs from telling federal authorities about undocumented immigrants in their custody. In an announcement at the White House, Attorney General Jeff Sessions said state and local governments seeking certain law enforcement grants would have to certify that they were complying with a law that bars any official from withholding information from the Department of Homeland Security about a person's immigration status. Those that are violating the policy could see such grants clawed back, he said. Mr. Sessions's appearance was an effort to threaten painful consequences for so-called sanctuary cities, those that decline to cooperate with the federal government in efforts to track and deport undocumented immigrants. 'I strongly urge our nation's states and cities and counties to consider carefully the harm they are doing to their citizens by refusing to enforce our immigration laws and to rethink these policies,' Mr. Sessions said. 'Such policies make their cities and states less safe — public safety as well as national security are at stake — and put them at risk of losing federal dollars.' Mr. Sessions suggested the policy would apply to a total of $4.1 billion this year in various grants administered by the department. Still, Mr. Sessions did not announce any new policy on Monday. His announcement appeared to be essentially a reiteration or reminder of the status quo. Last July, the Department of Justice under the Obama administration announced a policy of conditioning federal grants on compliance with a 1996 federal statute. The statute forbids imposing restrictions on the ability of the local police or sheriffs to exchange information with federal immigration authorities about the citizenship or immigration status of prisoners in their custody. While the law does not require local law enforcement officials to turn over that information, it is aimed at discouraging efforts by cities or states to block such talks. The Obama-era announcement said it would give cities that were not in compliance with the law a reasonable period to adjust their policies, and it is not clear whether any grants have yet been blocked as a result." See also, 'Sanctuary Cities' Promise Legal Fight After Sessions Threatens Funds, NPR, Bill Chappell, published on Tuesday, 28 March 2017: "Officials in New York, California and elsewhere say they'll fight Attorney General Jeff Sessions' move to cut off billions in federal grant money to cities that don't share the Trump administration's strict approach to enforcing immigration laws. 'The Trump Administration is pushing an unrealistic and mean spirited executive order,' New York City Mayor Bill de Blasio tweeted Monday night. 'If they want a fight, we'll see them in court.' In Seattle, Mayor Ed Murray said, 'I'm willing to risk losing every penny of federal funding to stand by our commitment to protect everyone in our community.' Seattle's Welcoming Cities policies, Murray said, are a way to help the local community 'by assisting residents on the path to citizenship and warmly integrating immigrant schoolchildren into our classrooms.' Leaders in other cities, from San Francisco to Chicago and Washington, D.C., have also said they won't agree to the demands that were laid out in an executive order signed by President Trump. Days after it was signed, San Francisco sued the Trump administration."
In the Defeat of the Republican Health Care Bill, Medicaid Comes of Age, The New York Times, Kate Zernike, Abby Goodnough and Pam Belluck, Monday, 27 March 2017: "When it was created more than a half century ago, Medicaid almost escaped notice. Front-page stories hailed the bigger, more controversial part of the law that President Lyndon B. Johnson signed that July day in 1965 — health insurance for elderly people, or Medicare, which the American Medical Association had bitterly denounced as socialized medicine. The New York Times did not even mention Medicaid, conceived as a small program to cover poor people's medical bills. But over the past five decades, Medicaid has surpassed Medicare in the number of Americans it covers. It has grown gradually into a behemoth that provides for the medical needs of one in five Americans — 74 million people — starting for many in the womb, and for others, ending only when they go to their graves. Medicaid, so central to the country's health care system, also played a major, though far less appreciated, role in last week's collapse of the Republican drive to repeal and replace the Affordable Care Act, also known as Obamacare. While President Trump and others largely blamed the conservative Freedom Caucus for that failure, the objections of moderate Republicans to the deep cuts in Medicaid also helped doom the Republican bill."
US government sued by Knight First Amendment Institute over 'suspicionless' device searches by customs officials, The Guardian, Spencer Ackerman, Monday, 27 March 2017: "Escalating concerns about US customs officials demanding access to travelers' cellphones, tablets and laptops have prompted a leading free speech watchdog to take the government to court, to disclose its rules for digital privacy at the border. The Knight First Amendment Institute at Columbia University filed a freedom of information lawsuit on Monday, seeking to obtain the Department of Homeland Security's (DHS) rules for 'suspicionless' searches of mobile devices from US citizens and non-citizens alike. The lawsuit seeks internal DHS directives for compelling travelers to surrender their devices; data establishing the frequency with which Customs and Border Patrol (CBP) or Immigration and Customs Enforcement (ICE) officials conduct them; procedures for what CBP and ICE do with the information stored on those devices, particularly when the devices belong to first amendment-protected professionals such as journalists; and any privacy or anti-discrimination assessment DHS has performed to audit its policies. Concern about the device searches predate the presidency of Donald Trump. DHS issued an updated electronic device search policy in 2009, Barack Obama's first year in office. It permitted searches 'with or without individualized suspicion.' The searches appear to have intensified toward the end of Obama's tenure: while DHS conducted fewer than 5,000 searches in 2015, NBC has reported, the number of inspected devices reached 25,000 in 2016. The Trump administration's intense focus on border security has intensified the trend. After the White House introduced executive orders cracking down on immigration and foreign travel, particularly among Hispanics and Muslims, DHS conducted 5,000 device searches in February alone."
Trump taps Jared Kushner to lead a SWAT team to fix government with business ideas, The Washington Post, Ashley Parker and Philip Rucker, published on Sunday, 26 March 2017: "Trump plans to unveil a new White House office on Monday with sweeping authority to overhaul the federal bureaucracy and fulfill key campaign promises — such as reforming care for veterans and fighting opioid addiction — by harvesting ideas from the business world and, potentially, privatizing some government functions. The White House Office of American Innovation, to be led by Jared Kushner, the president's son-in-law and senior adviser, will operate as its own nimble power center within the West Wing and will report directly to Trump. Viewed internally as a SWAT team of strategic consultants, the office will be staffed by former business executives and is designed to infuse fresh thinking into Washington, float above the daily political grind and create a lasting legacy for a president still searching for signature achievements."
Trump Pulls Back Obama-Era Protections for Women Workers, NBC News, Mary Emily O'Hara, published on Monday, 3 April 2017: "With little notice, President Donald Trump recently signed an executive order that advocates say rolls back hard-fought victories for women in the workplace. On March 27, Trump revoked the 2014 Fair Pay and Safe Workplaces order then-President Barack Obama put in place to ensure that companies with federal contracts comply with 14 labor and civil rights laws. The Fair Pay order was put in place after a 2010 Government Accountability Office investigation showed that companies with rampant violations were being awarded millions in federal contracts. In an attempt to keep the worst violators from receiving taxpayer dollars, the Fair Pay order included two rules that impacted women workers: paycheck transparency and a ban on forced arbitration clauses for sexual harassment, sexual assault or discrimination claims."
Tuesday, 28 March 2017, Day 68:
Trump Signs Executive Order Unwinding Obama Climate Policies, The New York Times, Coral Davenport and Alissa J. Rubin, Tuesday, 28 March 2017: "President Trump, flanked by company executives and miners, signed a long-promised executive order on Tuesday to nullify President Barack Obama's climate change efforts and revive the coal industry, effectively ceding American leadership in the international campaign to curb the dangerous heating of the planet. Mr. Trump made clear that the United States had no intention of meeting the commitments that his predecessor had made to curb planet-warming carbon dioxide pollution, turning denials of climate change into national policy. At a ceremony, Mr. Trump directed the Environmental Protection Agency to start the complex and lengthy legal process of withdrawing and rewriting the Obama-era Clean Power Plan, which would have closed hundreds of coal-fired power plants, frozen construction of new plants and replaced them with vast new wind and solar farms. 'C'mon, fellas. You know what this is? You know what this says?' Mr. Trump said to the miners. 'You're going back to work.'" See also, Trump's Executive Order Unwinding Obama Climate Policies Pushes the U.S. Paris Climate Pledge Further Out of Reach, The New York Times, Nadja Popovich, Tuesday, 28 March 2017: "During his first two months in office, President Donald J. Trump has rolled back key Obama-era greenhouse gas regulations. Without these rules in place, the United States is set to fall far short of its 2015 Paris Agreement pledge: to lower emissions by at least 26 percent below 2005 levels by 2025." This article describes "how some of President Barack Obama's signature policies have fared so far under the Trump administration."
Trump's Executive Order Undoing Obama's Climate Policies: More Fossil Fuels, Regardless of Climate Change, InsideClimate News, Marianne Lavelle, Tuesday, 28 March 2017: "President Donald Trump signed an executive order on Tuesday calling on every federal agency to loosen the regulatory reins on fossil fuel industries, the most significant declaration of the administration's intent to retreat from action on climate change…. Trump's executive order steered clear of whether the U.S. will remain a party to the Paris climate agreement. The White House has not yet made a decision, the official said. But gutting climate policies as the executive order seeks to do would make the U.S. obligations under the treaty virtually impossible to meet. It would also put in jeopardy the landmark agreement's goal of keeping the global temperature increase below 2 degrees Celsius. Trump specifically ordered the Environmental Protection Agency to initiate a review of the Clean Power Plan, the Obama administration's signature climate initiative to slash carbon pollution from coal plants. The process of repealing that regulation, which is currently under a stay by the Supreme Court, could take years. But even as that battle wends its way through the process, Trump's order will have a potentially sweeping impact by immediately rescinding a series of Obama executive orders that embedded consideration of climate change into all major decisions by the federal government."
House Republicans voted to wipe away the Federal Communications Commission's landmark Internet privacy protections, The Washington Post, Brian Fung, Tuesday, 28 March 2017: "Congress sent proposed legislation to President Trump on Tuesday that wipes away landmark online privacy protections, the first salvo in what is likely to become a significant reworking of the rules governing Internet access in an era of Republican dominance. In a party-line vote, House Republicans freed Internet service providers such as Verizon, AT&T and Comcast of protections approved just last year that had sought to limit what companies could do with information such as customer browsing habits, app usage history, location data and Social Security numbers. The rules also had required providers to strengthen safeguards for customer data against hackers and thieves. The Senate has voted to nullify those measures, which were set to take effect at the end of this year. If Trump signs the legislation as expected, providers will be able to monitor their customers' behavior online and, without their permission, use their personal and financial information to sell highly targeted ads — making them rivals to Google and Facebook in the $83 billion online advertising market. The providers could also sell their users' information directly to marketers, financial firms and other companies that mine personal data — all of whom could use the data without consumers' consent. In addition, the Federal Communications Commission, which initially drafted the protections, would be forbidden from issuing similar rules in the future." See also, Republicans voted to roll back landmark FCC privacy rules. Here's what you need to know, The Washington Post, Brian Fung, Tuesday, 28 March 2017. And see also, Repealing Broadband Privacy Rules, Congress Sides with the Cable and Telephone Industry, Electronic Frontier Foundation, Ernesto Falcon, Tuesday, 28 March 2017: "Make no mistake, by a vote of 215 to 205 a slim majority of the House of Representatives have decided to give our personal information to an already highly profitable cable and telephone industry so that they can increase their profits with our data. The vote broke along party lines, with Republicans voting yes, although 15 Republicans broke ranks to vote against the repeal with the Democrats."
Trump administration sought to block Sally Yates from testifying to Congress on Russia, The Washington Post, Devlin Barrett and Adam Entous, Tuesday, 28 March 2017: "The Trump administration sought to block former acting attorney general Sally Yates from testifying in the House investigation of possible links between Russian officials and Donald Trump's campaign, according to letters provided to The Washington Post. The effort to keep Yates from testifying has further angered Democrats, who have accused Republicans of trying to damage the inquiry. According to the letters, the Justice Department notified Yates earlier this month that the administration considers her possible testimony — including on the ouster of former national security adviser Michael Flynn for his contacts with the Russian ambassador — to be off-limits in a congressional hearing because the topics are covered by attorney-client privilege or the presidential communication privilege."
Devin Nunes, the Republican Chair of the House Intelligence Committee, Says He Will Continue to Lead the Russia Inquiry, The New York Times, Emmarie Huetteman, Tuesday, 28 March 2017: "The Republican chairman of the House Intelligence Committee rebuffed calls on Tuesday to recuse himself from the panel's investigation into Russian meddling in the presidential election, as Democrats accused him of stalling the inquiry by canceling the committee's meetings. Representative Devin Nunes of California, the chairman, said he would continue to lead the House investigation despite accusations from Democrats — including his committee's ranking member, Representative Adam B. Schiff of California — that he is too close to President Trump to conduct an impartial inquiry…. The announcement that the committee would not hold a closed-door meeting on Tuesday as expected with James B. Comey, the F.B.I. director; and Adm. Michael S. Rogers, the director of the National Security Agency — a briefing Mr. Nunes insisted needed to happen before the committee could move forward with its public hearings — startled some Democrats. They added that the cancellations went further, including a regular meeting later in the week."
Repeal of Affordable Care Act Is Back on Agenda, Republicans Say, The New York Times, Robert Pear and Jeremy W. Peters, Tuesday, 28 March 2017: "Under extreme pressure from conservative activists, House Republican leaders and the White House have restarted negotiations on legislation to repeal the Affordable Care Act. But efforts to revive the legislation in the House could take weeks, lawmakers conceded, as Congress moves forward with a full plate of other time-consuming issues. And the renewed push did not meet with much enthusiasm from Senate Republicans, who said they had other priorities at the moment. Nonetheless, Speaker Paul D. Ryan vowed to renew efforts to repeal the law, despite last's week crushing setback when House Republicans tossed aside a repeal bill because they lacked the votes to pass it."
Trump pushes Congress to cut domestic programs this year, Politico, Helena Bottemiller Evich and Sarah Ferris, Tuesday, 28 March 2017: "President Donald Trump doesn't want to wait until next year to slash government spending on everything from education to mental health programs. The White House is asking Congress to cut $18 billion from discretionary spending bills for the current fiscal year that have been long settled — a move that could threaten a major showdown just a month ahead of the deadline to keep the government funded. In an extensive document shared with House and Senate appropriations committees on Friday, and obtained by POLITICO, the Trump administration is offering its most detailed instructions to date on how Congress should shape the trillion-dollar spending legislation Congress must enact by April 28 to prevent a government shutdown."
Panic spreads in Iraq and Syria as record numbers of civilians are reported killed in U.S. Strikes, The Washington Post, Loveday Morris and Liz Sly, Tuesday, 28 March 2071: "A sharp rise in the number of civilians reported killed in U.S.-led airstrikes in Iraq and Syria is spreading panic, deepening mistrust and triggering accusations that the United States and its partners may be acting without sufficient regard for lives of noncombatants. The increase comes as local ground forces backed by air support from a U.S.-led coalition close in on the Islamic State's two main urban bastions — Raqqa in Syria and Mosul in Iraq. In front-line neighborhoods in western Mosul, families described cowering in basements for weeks as bombs rained down around them and the Islamic State battled from their rooftops. Across the border in Raqqa, residents desperately trying to flee before an offensive begins are being blocked by the militants, who frequently use civilians as human shields. Throughout his election campaign, President Trump pledged to target Islamic State militants more aggressively, criticizing the U.S. air campaign for being too 'gentle' and asking for a reassessment of battlefield rules. The United States has denied there has been any shift and defended the conduct of its campaign. But figures compiled by monitoring organizations and interviews with residents paint an increasingly bloody picture, with the number of casualties in March already surpassing records for a single month." See also, U.S. 'Probably Had a Role' in Mosul Deaths, Lt. Gen. Stephen J. Townsend Says, The New York Times, Michael R. Gordon, Tuesday, 28 March 2017: "The senior United States commander in Iraq said on Tuesday that an American airstrike most likely led to the collapse of a building in Mosul that killed scores of civilians this month. But the commander, Lt. Gen. Stephen J. Townsend, indicated that an investigation would also examine whether the attack might have set off a larger blast from explosives set by militants inside the building or nearby. It was the fullest acceptance of responsibility by an American commander since the March 17 airstrike. 'My initial assessment is that we probably had a role in these casualties,' said General Townsend, who commands the American-led task force that is fighting the Islamic State in Iraq and Syria. But he asserted that 'the munition that we used should not have collapsed an entire building.'… With an increase in reports of civilian casualties from the American bombing of Islamic State targets in Iraq and Syria, some human rights groups have questioned whether the rules of engagement have been loosened since President Trump took office. Pentagon officials said this week that the rules had not changed. But General Townsend said on Tuesday that he had won approval for 'minor adjustments' to rules for the use of combat power, although he insisted they were not a factor in the Mosul attack."
Deportation Fears Prompt Immigrants to Cancel Food Stamps, NPR, Pam Fessler, Tuesday, 28 March 2017: "Groups that help low-income families get food assistance are alarmed by a recent drop in the number of immigrants seeking help. Some families are even canceling their food stamps and other government benefits, for fear that receiving them will affect their immigration status or lead to deportation. Many of the concerns appear to be unfounded but have been fueled by the Trump administration's tough stance on immigration."
Auschwitz Survivor Confronts the Acting Director of Immigration and Customs Enforcement (ICE): 'History Is Not On Your Side,' The Huffington Post, Ed Mazza, published on Wednesday, 29 March 2017: "A Holocaust survivor who was imprisoned in both the Auschwitz and Dachau concentration camps warned President Donald Trump's top immigration enforcer that history was not on the administration's side. In a dramatic moment at a public forum on immigration Tuesday, 87-year-old Bernard Marks confronted U.S. Immigration and Customs Enforcement Acting Director Thomas Homan.  'When I was a little boy in Poland, for no other reason but for being Jewish, I was hauled off by the Nazis,' Marks said. 'And for no other reason I was picked up and separated from my family, who was exterminated in Auschwitz. And I am a survivor of Auschwitz and Dachau.' Marks then proceeded to warn Sacramento County Sheriff Scott Jones, who hosted the event, against working closely with Homan to carry out the Trump Administration's strict deportation policies, which include stalking immigrants at courthouses."
Wednesday, 29 March 2017, Day 69:
Senate Intelligence Committee Leaders Vow Thorough Russian Investigation, The New York Times, Matt Flegenheimer and Emmarie Huetteman, Wednesday, 29 March 2017: "Senators leading the investigation into Russian interference in the November election pledged on Wednesday to conduct an aggressive inquiry, including an examination of any ties to President Trump, as they sought to distance themselves from the flagging efforts in the House. In a conspicuous show of bipartisanship during a fractious time at the Capitol, the top Republican and Democrat on the Senate Intelligence Committee vowed to forge ahead by interviewing key players connected to Mr. Trump and pressing intelligence agencies to provide all relevant information. But their display of collegiality seemed intended primarily as a contrast to the explosive and often bewildering statements in recent days from the Republican chairman of the House Intelligence Committee, Representative Devin Nunes of California, whose perceived closeness with the Trump White House has raised doubts about his ability to conduct an impartial investigation. The chairman of the Senate Intelligence Committee, Richard M. Burr, Republican of North Carolina and a supporter of Mr. Trump during the campaign, suggested on Wednesday that he would not retreat from a process that could damage the reputation of a Republican president…. The Senate investigation amounts to a credibility test for Republicans under the Trump administration — a chance to prove their willingness to ask uncomfortable questions of a Republican president, even if the answers might weaken his and the party's standing. Democrats are skeptical. But they are also mindful that the Senate most likely remains their best hope on Capitol Hill for gathering information, making them disinclined to abandon the Senate Intelligence Committee's investigation. The F.B.I. is also investigating."
Ivanka Trump, Shifting Plans, Will Become a Federal Employee, The New York Times, Maggie Haberman and Rachel Abrams, Wednesday, 29 March 2017: "Ivanka Trump, the elder daughter of President Trump, is becoming an official government employee, joining her husband, Jared Kushner, in serving as an unpaid adviser to her father in the White House. The announcement on Wednesday amounts to the formal recognition of the value Mr. Trump places on the judgment and loyalty of both his daughter and his son-in-law. While relying on family members for advice is hardly unusual for a president, giving them a formal role has few precedents. Ms. Trump, 35, will be an assistant to the president; Mr. Kushner, 36, has the title of senior adviser. When questions were raised about whether Mr. Kushner's appointment violated federal anti-nepotism laws, the Justice Department wrote a memo in January concluding that the rules did not apply to the White House…. Ms. Trump said last week that she planned on serving as an informal adviser to her father, and she already has an office in the West Wing — upstairs from her husband's. She was also in the process of receiving government-issued security clearance and communications devices. But that plan had prompted criticism from ethics experts, who had said it would allow her to avoid financial disclosure rules…. 'I have heard the concerns some have with my advising the president in my personal capacity while voluntarily complying with all ethics rules, and I will instead serve as an unpaid employee in the White House Office, subject to all of the same rules as other federal employees,' Ms. Trump said in a statement on Wednesday."
The Energy Department's Office of International Climate and Clean Energy bans the use of the phrase 'climate change,' Politico, Eric Wolff, Wednesday, 29 March 2017: "A supervisor at the Energy Department's international climate office told staff this week not to use the phrases 'climate change,' 'emissions reduction' or 'Paris Agreement' in written memos, briefings or other written communication, sources have told POLITICO. Employees of DOE's Office of International Climate and Clean Energy learned of the ban at a meeting Tuesday, the same day President Donald Trump signed an executive order at EPA headquarters to reverse most of former President Barack Obama's climate regulatory initiatives. Officials at the State Department and in other DOE offices said they had not been given a banned words list, but they had started avoiding climate-related terms in their memos and briefings given the new administration's direction on climate change."
Secretary of State Rex Tillerson to Lift Human Rights Conditions on Arms Sale to Bahrain, The New York Times, David E. Sanger and Eric Schmitt, Wednesday, 29 March 2017: "Secretary of State Rex W. Tillerson has decided to lift all human rights conditions on a major sale of F-16 fighter jets and other arms to Bahrain in an effort to end a rift between the United States and a critical Middle East ally, according to administration and congressional officials involved in the debate. Mr. Tillerson's decision comes as the Trump administration looks to bolster Sunni Arab states in the Middle East and find new ways to confront Iran in the Persian Gulf. Bahrain is a key player in that effort, and home to the United States Navy's Fifth Fleet, which patrols the strategic waterway. But the decision to drop the human rights assurances as a condition of the sale is bound to be read by Saudi Arabia and other states in the region as a sign that the new administration plans to ease its demands to protect and respect political dissidents and protesters. The conditions on the sale of 19 new American fighter jets, worth $2.8 billion, had been imposed by the Obama administration amid continuing concerns about the tiny Sunni monarchy's crackdown against majority Shiites…. The State Department on Wednesday notified Congress of its intent to proceed with the sale without the conditions, according to Micah Johnson, a spokeswoman for the Senate Foreign Relations Committee. Congress now has two review periods to examine the sale and raise any objections."
Canadians Report More Scrutiny and Rejection at U.S. Border Checkpoints, NPR, Joel Rose, Wednesday, 29 March 2017: "Scores of Canadians say they've been refused entry at U.S. border checkpoints in recent weeks, and their stories have gotten a lot of attention. At 4,000 miles, the U.S.-Canada line is the longest unprotected land border in the world, and it's relatively easy for Canadians to visit the U.S.; most don't require visas. But immigration lawyers on both sides of the border say officers from U.S. Customs and Border Protection, or CBP, have gotten more aggressive in their questioning of Canadian citizens, and about who they're letting into the country, since President Trump took office. 'Definitely things have changed on the northern border,' said Heather Segal, an immigration attorney in Toronto. She said CBP agents are 'denying people, erring on the side of denial, slowing people down and preventing people from getting into the United States … with this notion by CBP that this is how they're supposed to be behaving right now.'"
Scott Pruitt, Head of the Environmental Protection Agency, Rejects the Scientific Conclusion of the Agency's Own Chemical Safety Experts and Chooses Not to Ban the Insecticide Chlorpyrifos, The New York Times, Eric Lipton, Wednesday, 29 March 2017: "Scott Pruitt, the head of the Environmental Protection Agency, moved late on Wednesday to reject the scientific conclusion of the agency's own chemical safety experts who under the Obama administration recommended that one of the nation's most widely used insecticides be permanently banned at farms nationwide because of the harm it potentially causes children and farm workers. The ruling by Mr. Pruitt, in one of his first formal actions as the nation's top environmental official, rejected a petition filed a decade ago by two environmental groups that had asked that the agency ban all uses of chlorpyrifos. The chemical was banned in 2000 for use in most household settings, but still today is used at about 40,000 farms on about 50 different types of crops, ranging from almonds to apples. Late last year, and based in part on research conducted at Columbia University, E.P.A. scientists concluded that exposure to the chemical that has been in use since 1965 was potentially causing significant health consequences. They included learning and memory declines, particularly among farm workers and young children who may be exposed through drinking water and other sources."
Hawaii Judge Derrick Watson of Federal District Court Extends Order Blocking Trump's Travel Ban, The New York Times, The Associated Press, Wednesday, 29 March 2017: "A federal judge in Hawaii decided Wednesday to extend his order blocking President Trump's travel ban. The judge, Derrick Watson of Federal District Court, issued the longer-lasting hold on the ban just hours after hearing arguments. Hawaii says the policy discriminates against Muslims and hurts the state's tourist-dependent economy. The implied message in the revised ban is like a 'neon sign flashing "Muslim ban, Muslim ban,"' that the government didn't bother to turn off, the state's attorney general, Douglas Chin, told the judge. Extending the temporary order until the state's lawsuit is resolved will ensure the constitutional rights of Muslim citizens across the U.S. are vindicated after 'repeated stops and starts of the last two months,' the state has said."
Thursday, 30 March 2017, Day 70:
'We Must Fight Them': Trump Goes After Conservatives of the Freedom Caucus, The New York Times, Glenn Thrush, Thursday, 30 March 2017: "President Trump declared war on the conservatives of the House Freedom Caucus on Thursday, suggesting Republicans should "fight them" in the 2018 midterm elections if they do not back his agenda. 'The Freedom Caucus will hurt the entire Republican agenda if they don't get on the team, & fast,' Mr. Trump said Thursday morning on Twitter, escalating a fight that began when the conservatives from the caucus blocked his Affordable Care Act repeal last Friday. 'We must fight them, & Dems, in 2018!' Mr. Trump wrote, apparently making good on suggestions that he would support Republican challengers to lawmakers in his own party who oppose him, a stance advocated by his chief strategist, Stephen K. Bannon. Friday's loss on health care rekindled a long-running civil war between the party's establishment, represented by Speaker Paul D. Ryan, who drafted the original bill, and anti-establishment conservatives in the caucus, who thought it preserved too many elements of the Obama-era program. The post from Mr. Trump did not seem to have been impulsive: Mr. Bannon, who has counseled a tough tone with the rebels, has instructed his staff to more closely monitor the president's Twitter messages to use them as leverage in negotiations."
Seattle Sues the Trump Administration Over 'Sanctuary City' Threat, NPR, Bill Chappell, Thursday, 30 March 2017: "Saying that Attorney General Jeff Sessions' threat to strip billions in federal grant money from so-called 'sanctuary cities' is illegal and unconstitutional, the city of Seattle has sued President Trump and his administration, in a lawsuit that names Trump, Sessions and Secretary of Homeland Security John Kelly. 'We are not breaking any laws and we are prioritizing safety,' Seattle Mayor Ed Murray said, according to member station KUOW. 'Bullying and misstating the facts will not stand in the way of how the real laws of this country are enforced.' On Monday, Sessions said the Justice Department plans to withhold up to $4.1 billion from 'sanctuary cities' — a blanket term for many areas that refuse immigration agents' requests to detain immigrants who entered the U.S. illegally. The Immigration and Customs Enforcement agency deems at least 118 jurisdictions as sanctuaries."
North Carolina lawmakers vote to repeal and replace transgender bathroom law, The Washington Post, Mark Berman and Amber Phillips, Thursday, 30 March 2017: "In a sharp reversal, North Carolina lawmakers voted Thursday to repeal and replace a costly and highly criticized law that restricts which public restrooms transgender people can use, backing down in the face of mounting economic pressure. Gov. Roy Cooper (D) signed the bill despite intense opposition from gay rights groups who strongly opposed the new law because it banned local governments from passing their own measures aimed at expanded new protections to gay, lesbian and transgender people. Cooper defended the measure as a compromise while acknowledging that he felt the agreement was imperfect…. The votes and anger Thursday marked the latest eruption in the fight over the so-called 'bathroom bill,' which has embroiled North Carolina politics and come to define the state's public image since lawmakers introduced and hastily signed it a year ago. Since then, North Carolina has been buffeted by economic boycotts, job losses and public criticism, as sports leagues have relocated games, companies have canceled expansions and some tourists spent their money elsewhere. This week, these forces came to a head, as lawmakers scrambled to agree on a repeal measure to accommodate an ultimatum laid down by the NCAA, the collegiate sports behemoth that relocated some games and threatened to withhold others due to the law. The NCAA's threat comes as the University of North Carolina, the state's flagship basketball team, is getting ready to play in the Final Four, one of the country's premier sporting events."
2 White House Officials Helped Give the Chair of the House Intelligence Committee Devin Nunes Intelligence Reports, The New York Times, Matthew Rosenberg, Maggie Haberman and Adam Goldman, Thursday, 30 March 2017: "A pair of White House officials played a role in providing Representative Devin Nunes of California, a Republican and the chairman of the House Intelligence Committee, with the intelligence reports that showed that President Trump and his associates were incidentally swept up in foreign surveillance by American spy agencies. The revelation that White House officials assisted in the disclosure of the intelligence reports — which Mr. Nunes then discussed with President Trump — is likely to fuel criticism that the intelligence chairman has been too eager to do the bidding of the Trump administration while his committee is supposed to be conducting an independent investigation of Russia's meddling in the last presidential election. Mr. Nunes has also been faulted by his congressional colleagues for sharing the information with President Trump before consulting with other members of the intelligence committee…. Several current American officials identified the White House officials as Ezra Cohen-Watnick, the senior director for intelligence at the National Security Council, and Michael Ellis, a lawyer who works on national security issues at the White House Counsel's Office and formerly worked on the staff of the House Intelligence Committee." See also, White House Press Secretary Sean Spicer says Nunes's secret sources are just like reporters' secret sources. They're not. The Washington Post, Callum Borchers, Thursday, 30 March 2017.
Former National Security Adviser Michael Flynn Offers to Testify Before Congress in Exchange for Immunity, The New York Times, Mark Mazzetti and Matthew Rosenberg, Thursday, 30 March 2017: "Michael T. Flynn, the former national security adviser, has offered to be interviewed by House and Senate investigators who are examining the Trump campaign's ties to Russia in exchange for immunity from prosecution, according to his lawyer and a congressional official. But the congressional official said investigators were unwilling to broker a deal with Mr. Flynn — who resigned last month for misleading White House officials about his contacts with Russia's ambassador to the United States — until they are further along in their inquiries and they better understand what information Mr. Flynn might offer as part of a deal. In a statement on Thursday evening, Mr. Flynn's lawyer confirmed discussions with the House and Senate intelligence committees about possible testimony by his client. The lawyer, Robert Kelner, did not provide specifics about the terms under which Mr. Flynn would testify, but said that 'no reasonable person, who has the benefit of advice from counsel, would submit to questioning in such a highly politicized, witch-hunt environment without assurances against unfair prosecution.' 'General Flynn certainly has a story to tell, and he very much wants to tell it, should circumstances permit,' the statement said. The Wall Street Journal reported Mr. Flynn's offer to testify."
Can Trump Change Libel Laws? The New York Times, Adam Liptak, Thursday, 30 March 2017: "In a Thursday morning Twitter post, President Trump returned to a favorite theme. He was unhappy with reporting in The New York Times, and he had a solution. "Change libel laws?" he asked. On the campaign trail, where he was not constrained by Twitter's character limit, Mr. Trump was more expansive. 'I'm going to open up our libel laws so when they write purposely negative and horrible and false articles, we can sue them and win lots of money,' Mr. Trump said. 'We're going to open up those libel laws. So when The New York Times writes a hit piece which is a total disgrace or when The Washington Post, which is there for other reasons, writes a hit piece, we can sue them and win money instead of having no chance of winning because they're totally protected.' It is indeed hard for public figures to win libel suits. They have to prove that something false was said about them, that it harmed their reputation and that the writer acted with 'actual malice.' That last term is misleading, as it has nothing to do with the ordinary meaning of malice in the sense of spite or ill will. To prove actual malice, a libel plaintiff must show that the writer knew the disputed statement was false or had acted with 'reckless disregard.' That second phrase is also a term of art. The Supreme Court has said that it requires proof that the writer entertained serious doubts about the truth of the statement.  That is a high bar, and public figures rarely file libel suits and seldom win them. Can the President change libel laws? No. Libel law is a state-law tort, meaning that state courts and state legislatures have defined its contours. Since the Supreme Court's 1964 decision in New York Times v. Sullivan, the Supreme Court has placed constitutional limits on how states can define libel, notably by requiring public officials and, later, public figures to prove actual malice. That protection was needed, Justice William J. Brennan Jr. wrote, to vindicate a 'profound national commitment to the principle that debate on public issues should be uninhibited, robust and wide-open.'… Changing New York Times v. Sullivan would require either the Supreme Court to overrule it or a constitutional amendment. Neither is remotely likely, though Mr. Trump could try to appoint Supreme Court justices who would vote to overturn the precedent."
Senator Marco Rubio (R-Fla.) revealed that hackers with IP addresses within Russia targeted his presidential campaign staffers in July 2016 and yesterday (29 March 2017), The Washington Post, Peter W. Stevenson, Thursday, 30 March 2017: "Sen. Marco Rubio (R-Fla.) told the Senate Intelligence Committee on March 30 that former members of his presidential campaign faced unsuccessful hacking attempts at least twice in the past year."
Net Neutrality Is Trump's Next Target, Administration Says, The New York Times, Steve Lohr, Thursday, 30 March 2017: "The Trump administration served notice on Thursday that its next move to deregulate broadband internet service companies would be to jettison the Obama administration's net neutrality rules, which were intended to safeguard free expression online. The net neutrality rules, approved by the Federal Communications Commission in 2015, aimed to preserve the open internet and ensure that it could not be divided into pay-to-play fast lanes for web and media companies that can afford it and slow lanes for everyone else. Supporters of net neutrality have insisted the rules are necessary to protect equal access to content on the internet. Opponents said the rules unfairly subjected broadband internet suppliers like Verizon, AT&T, Comcast and Charter to utility-style regulation. In a news conference, Sean Spicer, the White House spokesman, mentioned the net neutrality rules affecting telecommunications and cable internet services, noting that the Obama administration had 'reclassified them as common carriers.' Mr. Spicer said President Trump had 'pledged to reverse this overreach.' The Obama-era rules, Mr. Spicer said, were an example of 'bureaucrats in Washington' placing restrictions on one kind of company — internet service suppliers — and 'picking winners and losers.'"