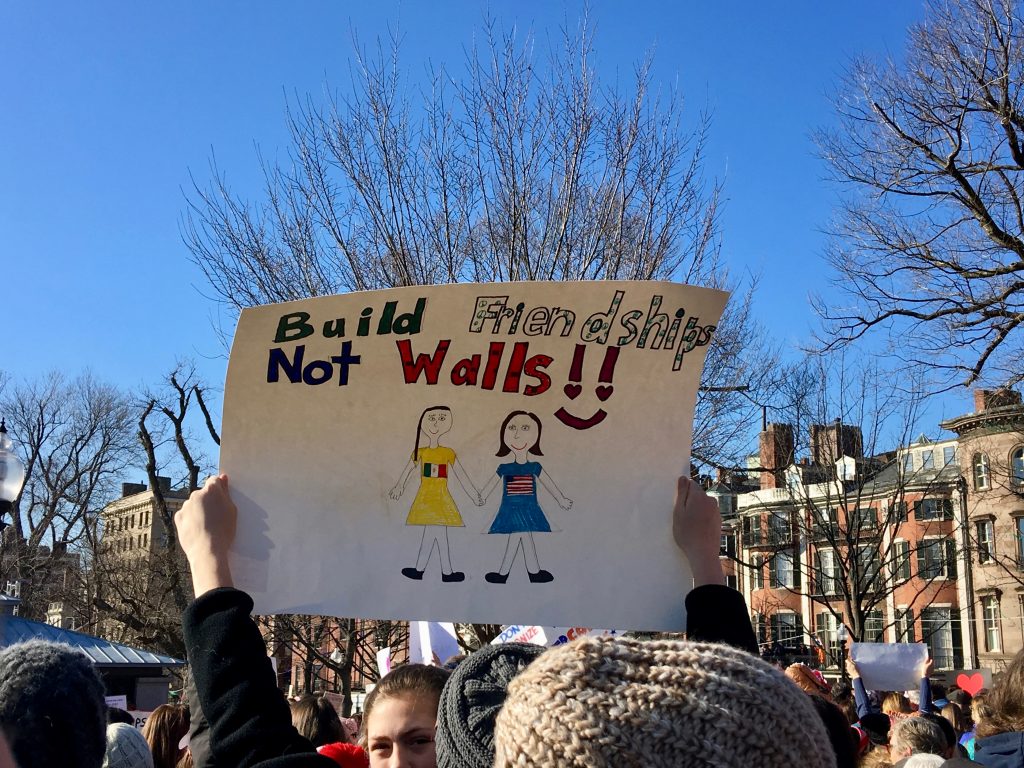 Keeping Track (of some things), Staying Outraged (it is possible), and Resisting (it's essential)
Passages in bold in the body of the texts below are my emphasis. This is an ongoing project, and I update the site frequently. I hope readers will peruse the articles in full for a better understanding of the issues and their context; our democracy and our future depend on citizens who can distinguish between facts and falsehoods and who are engaged in the political process.
Friday, 3 March 2017, Day 43:
Secretary of State Rex Tillerson skips State Department's annual announcement on human rights, alarming advocates, The Washington Post, Carol Morello, Friday, 3 March 2017: "Secretary of State Rex Tillerson, who during his confirmation hearings repeatedly vowed to promote human rights as a core American value, alarmed human rights advocates when he did not appear in person to present the State Department's annual human rights report, released Friday. In a break with long-standing tradition only rarely breached, Tillerson's remarks were limited to a short written introduction to the lengthy report. Nor did any senior State Department official make on-camera comments that are typically watched around the world, including by officials in authoritarian countries where abuses are singled out in the report."
Moscow blames anti-Russian hysteria for Attorney General Jeff Sessions's plight, The Washington Post, David Filipov, Friday, 3 March 2017: "From Russia's point of view, the turmoil swirling around the Trump administration and its contacts with Russian officials is a 'witch hunt"'fueled by 'fake news' instigated by leading Democrats looking to distract attention from their election defeat and carried out by their lap dogs in the U.S. media. In other words, Moscow's reaction pretty much mirrors that of President Trump after Attorney General Jeff Sessions recused himself from any investigation into alleged Russian interference in the presidential election. Sessions made the move after The Washington Post revealed that he twice met with Russian Ambassador Sergey Kislyak last year, while still serving as a senator, but did not disclose that during his Senate confirmation hearing in January. Sessions was an early backer of Trump's bid for the presidency and served as an adviser and surrogate for his campaign."
Keystone Pipeline Won't Have to Use U.S. Steel Despite Trump Pledge, The Wall Street Journal, Kris Maher, Ted Mann and Christopher M. Matthews, Friday, 3 March 2017; updated on Saturday, 4 March 2017: "A Trump administration official said an executive order approving two pipeline projects and mandating the use of American-made steel won't apply to the construction of the Keystone XL oil pipeline, despite prior statements by President Donald Trump that it would. Days after taking office in January, Mr. Trump signed an executive order to speed approval of two pipeline projects that had been blocked by the Obama administration, the Keystone XL and the Dakota Access Pipeline. On several occasions since then, President Trump has said that the order would require the use of steel made in the U.S. As recently as last week, Mr. Trump said that Keystone and the Dakota Access Pipeline must use U.S. steel 'or we're not building one.' On Friday, however, White House spokeswoman Sarah Huckabee Sanders told reporters that the presidential order applies to new pipelines or those that are being repaired."
Continue reading Week 7, Friday, 3 March – Thursday, 9 March 2017:
Sikh Man Shot Outside His Seattle Home, Told to 'Go Back to Your Own Country,' NPR, Colin Dwyer, published on Sunday, 5 March 2017: "For the second time in less than two weeks, an Indian-born man in the U.S. has been shot by an attacker who, before firing, allegedly shouted, 'Go back to your own country.' Deep Rai, a Sikh man, was wounded in his Seattle area driveway on Friday night."
U.S. suspends fast processing of high-tech H-1B visa applications, Reuters, Richard Cowan, published on Saturday, 4 March 2017: "Foreigners aiming for temporary jobs at high-tech U.S. companies will undergo a longer visa approval process after the Trump administration announced it will temporarily suspend expedited applications for H-1B visas. The U.S. Citizenship and Immigration Services (USCIS) said on Friday that starting April 3 it will suspend 'premium processing' for up to six months. Under this expedited procedure, applicants can be eligible for visa approvals within 15 days, instead of a regular review period that can last for up to a few months. The H-1B non-immigrant visa allows U.S. companies to employ graduate-level workers in several specialized fields, including information technology, medicine, engineering and mathematics."
Saturday, 4 March 2017, Day 44:
Trump's tweets on Saturday morning, 4 March 2017, accusing Obama of tapping his phones at Trump Tower: At 6:35 am Trump tweeted: "Terrible! Just found out that Obama had my 'wires tapped' in Trump Tower just before the victory. Nothing found. This is McCarthyism!" At 6:49 am he tweeted: "Is it legal for a sitting President to be 'wire tapping' a race for president prior to an election? Turned down by court earlier. A NEW LOW!" At 6:52 am he tweeted: "I'd bet a good lawyer could make a great case out of the fact that President Obama was tapping my phones in October, just prior to Election!" And at 7:02 am he tweeted: "How low has President Obama gone to tapp my phones during the very sacred election process. This is Nixon/Watergate. Bad (or sick) guy!" See also, Trump, Offering No Evidence, Says Obama Tapped His Phones, The New York Times, Michael D. Shear and Michael S. Schmidt, Saturday, 4 March 2017: "President Trump on Saturday [morning] accused former President Barack Obama of tapping his phones at Trump Tower the month before the election, leveling the explosive allegation without offering any evidence. Mr. Trump called his predecessor a 'bad (or sick) guy' on Twitter as he fired off a series of messages claiming that Mr. Obama 'had my wires tapped.' He likened the supposed tapping to 'Nixon/Watergate' and 'McCarthyism,' though he did not say where he had gotten his information…. The president's decision on Saturday to lend the power of his office to accusations against his predecessor of politically motivated wiretapping — without offering any proof — was remarkable, even for a leader who has repeatedly shown himself willing to make assertions that are false or based on dubious sources. It would have been difficult for federal agents, working within the law, to obtain a wiretap order to target Mr. Trump's phone conversations. It would have meant that the Justice Department had gathered sufficient evidence to convince a federal judge that there was probable cause to believe Mr. Trump had committed a serious crime or was an agent of a foreign power, depending on whether it was a criminal investigation or a foreign intelligence one. Former officials pointed to longstanding laws and procedures intended to ensure that presidents cannot wiretap a rival for political purposes. 'A cardinal rule of the Obama administration was that no White House official ever interfered with any independent investigation led by the Department of Justice,' said Kevin Lewis, a spokesman for Mr. Obama. 'As part of that practice, neither President Obama nor any White House official ever ordered surveillance on any U.S. citizen.'"
Sunday, 5 March 2017, Day 45:
F.B.I. Director, James Comey, Asks the Justice Department to Reject Trump's Wiretapping Claim, and Trump Demands a Congressional Inquiry, The New York Times, Michael S. Schmidt and Michael D. Shear, Sunday, 5 March 2017: "The F.B.I. director, James B. Comey, asked the Justice Department this weekend to publicly reject President Trump's assertion that President Barack Obama ordered the tapping of Mr. Trump's phones, senior American officials said on Sunday. Mr. Comey has argued that the highly charged claim is false and must be corrected, they said, but the department has not released any such statement. Mr. Comey, who made the request on Saturday after Mr. Trump leveled his allegation on Twitter, has been working to get the Justice Department to knock down the claim because it falsely insinuates that the F.B.I. broke the law, the officials said…. Mr. Comey's request is a remarkable rebuke of a sitting president, putting the nation's top law enforcement official in the position of questioning Mr. Trump's truthfulness. The confrontation between the two is the most serious consequence of Mr. Trump's weekend Twitter outburst, and it underscores the dangers of what the president and his aides have unleashed by accusing the former president of a conspiracy to undermine Mr. Trump's young administration. The White House showed no indication that it would back down from Mr. Trump's claims. On Sunday, the president demanded a congressional inquiry into whether Mr. Obama had abused the power of federal law enforcement agencies before the 2016 presidential election.… In addition to being concerned about potential attacks on the bureau's credibility, senior F.B.I. officials are said to be worried that the notion of a court-approved wiretap will raise the public's expectations that the federal authorities have significant evidence implicating the Trump campaign in colluding with Russia's efforts to disrupt the presidential election.… In his demand for a congressional inquiry, the president, through his press secretary, Sean Spicer, issued a statement on Sunday that said, 'President Donald J. Trump is requesting that as part of their investigation into Russian activity, the congressional intelligence committees exercise their oversight authority to determine whether executive branch investigative powers were abused in 2016.' Mr. Spicer, who repeated the entire statement in a series of Twitter posts, added that 'neither the White House nor the president will comment further until such oversight is conducted.'… Mr. Trump's demand for a congressional investigation appears to be based, at least in part, on unproven claims by Breitbart News and conservative talk radio hosts that secret warrants were issued authorizing the tapping of the phones of Mr. Trump and his aides at Trump Tower in New York.… The claims about wiretapping appear similar in some ways to the unfounded voter fraud charges that Mr. Trump made during his first days in the Oval Office. Just after Inauguration Day, he reiterated in a series of Twitter posts his belief that millions of voters had cast ballots illegally — claims that also appeared to be based on conspiracy theories from right-wing websites…. Senior law enforcement and intelligence officials who worked in the Obama administration have said that there were no secret intelligence warrants regarding Mr. Trump. Asked whether such a warrant existed, James R. Clapper Jr., a former director of national intelligence, said on NBC's 'Meet the Press,' 'Not to my knowledge, no.' 'There was no such wiretap activity mounted against the president-elect at the time, as a candidate or against his campaign,' Mr. Clapper added. See also, Trump's 'evidence' for Obama wiretap claims relies on sketchy, anonymously sourced reports, The Washington Post, Glenn Kessler, Sunday, 5 March 2017. See also, When One President Smears Another, The New York Times, The Editorial Board, Sunday, 5 March 2017: "Let's begin with what the public can know for certain. President Trump had no evidence on Saturday morning when he smeared his predecessor, President Barack Obama, accusing him of ordering that Trump Tower phones be tapped during the 2016 campaign. Otherwise, the White House would not be scrambling to find out if what he said is true. Just contemplate the recklessness — the sheer indifference to truth and the moral authority of the American presidency — revealed here: one president baselessly charging criminality by another, all in a childish Twitter rampage.… This is a dangerous moment, which requires Congress and members of this administration to look beyond partisan maneuvering and tend to the health of the democracy itself."
A Conspiracy Theory's Journey From Talk Radio to Trump's Twitter, The New York Times, Peter Baker and Maggie Haberman, Sunday, 5 March 2017: "It began at 6 p.m. Thursday as a conspiratorial rant on conservative talk radio: President Barack Obama had used the 'instrumentalities of the federal government' to wiretap the Republican seeking to succeed him. This 'is the big scandal,' Mark Levin, the host, told his listeners. By Friday morning, the unsubstantiated allegation had been picked up by Breitbart News, the site once headed by President Trump's chief strategist, Stephen K. Bannon. Less than 24 hours later, the president embraced the conspiracy in a series of Twitter posts accusing his predecessor of spying on him, setting in motion the latest head-spinning, did-he-really-say-that furor of Mr. Trump's six-week-old presidency. Previous presidents usually measured their words to avoid a media feeding frenzy, but Mr. Trump showed again over the weekend that he feeds off the frenzy. Uninhibited by the traditional protocols of his office, he makes the most incendiary assertions based on shreds of suspicion. He does so without consulting some of his most senior aides, or even agencies of his own government that might have contrary information. After setting off a public firestorm with no proof, he then calls for an investigation to find the missing evidence."
Leashes Come Off Wall Street, Gun Sellers, Polluters and More, The New York Times, Eric Lipton and Binyamin Appelbaum, Sunday, 5 March 2017. Federal agencies and the Republican-controlled Congress have delayed, suspended or reversed 90 regulations since 20 January 2017: "Giants in telecommunications, like Verizon and AT&T, will not have to take 'reasonable measures' to ensure that their customers' Social Security numbers, web browsing history and other personal information are not stolen or accidentally released. Wall Street banks like Goldman Sachs and JPMorgan Chase will not be punished, at least for now, for not collecting extra money from customers to cover potential losses from certain kinds of high-risk trades that helped unleash the 2008 financial crisis. And Social Security Administration data will no longer be used to try to block individuals with disabling mental health issues from buying handguns, nor will hunters be banned from using lead-based bullets, which can accidentally poison wildlife, on 150 million acres of federal lands. These are just a few of the more than 90 regulations that federal agencies and the Republican-controlled Congress have delayed, suspended or reversed in the month and a half since President Trump took office, according to a tally by The New York Times. The emerging effort — dozens more rules could be eliminated in the coming weeks — is one of the most significant shifts in regulatory policy in recent decades. It is the leading edge of what Stephen K. Bannon, Mr. Trump's chief strategist, described late last month as 'the deconstruction of the administrative state.'… Presidents wield considerable influence over the rule-making process. They set the agenda and appoint the rule-makers, and, since the Reagan administration, a White House office has reviewed every major regulation to try to ensure that benefits to society exceeded compliance costs. It is not uncommon for new presidents to make quick changes in regulatory policy or try to reverse certain last-minute rules their predecessors enacted. Barack Obama, shortly after being elected president, pressed the E.P.A. to let the State of California set more stringent limits on auto emissions, a proposal that the Bush administration had rejected. But the courts have generally held that new administrations need to justify such reversals. The Reagan administration tried to rescind a rule requiring airbags in passenger vehicles. The courts found the move unjustified."
Monday, 6 March 2017, Day 46:
White House Rejects F.B.I. Director James Comey's Assertion that Wiretapping Claim Is False, The New York Times, Michael S. Schmidt, Monday, 6 March 2017: "The White House on Monday refused to acknowledge reports that James B. Comey, the F.B.I. director, had asked the Justice Department to refute President Trump's claim that President Barack Obama wiretapped him during the 2016 presidential campaign, and said Mr. Trump still believes he was spied on. Mr. Comey urged the Justice Department this weekend to push back against Mr. Trump's claims, but the department has not said anything publicly. The New York Times first reported about Mr. Comey's request to the Justice Department on Sunday, and other news media organizations followed suit. Sean Spicer, the White House press secretary, dismissed the stories on Monday. 'I have not seen anything, aside from another report based on anonymous sources, that that actually happened,' Mr. Spicer said. 'I'm not aware that that occurred. I don't think that we're aware that that occurred.' Mr. Spicer did not say why Mr. Trump or other administration officials had not reached out directly to the Justice Department or Mr. Comey to find out whether Mr. Trump's accusations are true. And Mr. Spicer provided little evidence to back up Mr. Trump's claim about Mr. Obama."
Many Republicans refuse to back Trump's claim that Obama ordered the wiretapping of his phones, Politico, Burgess Everett and John Bresnahan, Monday, 6 March 2017: "President Donald Trump will have to look somewhere besides Republican-controlled Capitol Hill for backup to his explosive and unsubstantiated charge that former President Barack Obama wiretapped Trump Tower before the election. Trump was reportedly incensed Sunday that Republicans didn't defend his allegations on the Sunday shows — in fact, several pointedly refused to lend Trump a lifeline when pressed. And more than 48 hours after the initial allegation, Republicans in Congress remained mostly mum as the controversy flared and threatened to create a lingering distraction for them as they try to pass major legislation in the coming weeks. Senate Majority Leader Mitch McConnell and House Speaker Paul Ryan offered no comment on the matter. And some of the chief critics of the Obama administration on Capitol Hill said they were aware of no evidence to support Trump's claim."
Fact-Checking Trump's Defenses of His Wiretapping Claim, The New York Times, Linda Qiu, Monday, 6 March 2017: "President Trump's accusations that President Barack Obama spied on him have stirred another tempest in his early months in office. Mr. Trump offered no evidence to support his claims that Mr. Obama wiretapped his phones and rejected the assertion by the F.B.I. director, James B. Comey, that the wiretapping claim was false, according to Sarah Huckabee Sanders, a White House spokeswoman." This article assesses this unprecedented accusation.
Trump's New Travel Ban Blocks Citizens of Six Predominantly Muslim Countries from Entering the United States, Sparing Iraq, The New York Times, Glenn Thrush, Monday, 6 March 2017: "President Trump signed an executive order on Monday blocking citizens of six predominantly Muslim countries from entering the United States, the most significant hardening of immigration policy in generations, even with changes intended to blunt legal and political opposition. The order was revised to avoid the tumult and protests that engulfed the nation's airports after Mr. Trump signed his first immigration directive on Jan. 27. That order was ultimately blocked by a federal appeals court. The new order continued to impose a 90-day ban on travelers, but it removed Iraq, a redaction requested by Defense Secretary Jim Mattis, who feared it would hamper coordination to defeat the Islamic State, according to administration officials. It also exempts permanent residents and current visa holders, and drops language offering preferential status to persecuted religious minorities, a provision widely interpreted as favoring other religious groups over Muslims. In addition, it reversed an indefinite ban on refugees from Syria, replacing it with a 120-day freeze that requires review and renewal…. Justice Department lawyers said the revisions rendered moot legal cases against the original travel ban. But opponents said the removal of a section that had granted preferential treatment to victims of religious persecution was a cosmetic change that did nothing to alter the order's prejudicial purpose. Immigrant rights lawyers had argued that the provision was intended to discriminate against Muslims, pointing to recent statements by Mr. Trump. 'This is a retreat, but let's be clear — it's just another run at a Muslim ban,' said Omar Jadwat, the director of the Immigrants' Rights Project at the American Civil Liberties Union, one of the groups that sued to stop the first order. 'They can't unring the bell.'… Citizens of Iran, Somalia, Sudan, Yemen, Syria and Libya will face a 90-day suspension of visa processing as the administration analyzes how to strengthen vetting procedures, according to a homeland security summary of the order…. [On Friday, 24 February], The Associated Press reported that it had obtained a draft homeland security assessment concluding that citizenship was an 'unlikely indicator' of a threat." See also, Full Text: Trump's New Executive Order On Travel, Annotated, NPR, Monday, 6 March 2017.
Trump's claim that 'more than 300' refugees are subjects of counterterrorism investigations is meaningless without context, The Washington Post, Michelle Ye Hee Lee, Monday, 6 March 2017:
Trump: The Attorney General has reported to me that more than 300 persons who entered the United States as refugees are currently the subjects of counterterrorism investigations by the Federal Bureau of Investigation. Executive Order Protecting The Nation From Foreign Terrorist Entry Into The United States.
[The Trump administration decided] "a key talking point for the rollout of its new immigration executive order… [was] that more than 300 refugees are subjects of counterterrorism investigations…. Administration officials did not provide information about the investigations or any context to understand how significant the 300 figure is. In response to our inquiry, the Justice Department declined to provide additional information. But here's the problem. Without context, this 300 figure is meaningless.… It's irresponsible for the administration to tout this number repeatedly without context or giving the public additional information to understand whether refugees are a threat to the U.S. homeland. The burden of proof is on the speaker, yet administration officials repeatedly declined reporters' requests for more information. Moreover, the administration's credibility on factual accuracy is open to question, given the frequent false claims made by the president and other senior officials. This 300 figure, without context, is problematic for three reasons. It represents a tiny fraction of all resettled refugees in the United States per year (83,380 on average), and since the refugee program began in 1980 (3 million). Since Sept. 11, 2001, roughly 190,000 refugees were accepted into the United States from the six countries listed in the immigration executive order. The 300 figure represents a fraction — though it is unclear how small or big — of the total open counterterrorism investigations (which could be 1,000 or up to 10,000). And we have no idea what charges are involved, or if these investigations will even result in any charges (or convictions, for that matter)…. Should the administration decide to share more information to place this figure into context, we're happy to reconsider the evidence…."
Trump's claim that immigrants cost taxpayers 'many billions of dollars a year ' is not accurate in the long run, The Washington Post, Michelle Ye Hee Lee, published on Tuesday, 7 March 2017: "One of the key arguments by the administration in its efforts to curb both legal and illegal immigration is an economic one: that immigration is harmful to the American economy and American workers. In his speech to Congress, Trump referenced a September 2016 report by National Academies of Sciences, Engineering, and Medicine on the economic impacts of the U.S. immigration system. Trump cited the study to say that immigration costs 'many billions of dollars a year.' Is that accurate?… A panel of economists, demographers and other experts conducted a comprehensive study of economic and demographic trends of the U.S. immigration system over 20 years, the impact of immigration on native-born workers' jobs and wages, and the fiscal impact of immigration at the local, state and federal levels. (See the National Academies of Sciences, Engineering and Medicine's response to Trump's speech here.) The 500-page report is detailed, and presents a range of estimates using a variety of economic assumptions. So anyone can pick one figure out of the report and present it with no context, or in a misleading way. That's what Trump did here.… The panel provided several different models of measuring the economic and fiscal impact of immigrants, showing both the costs and benefits. The main point made in this report is that immigrants, particularly the first generation, incur costs to the government that are later balanced out by their descendants. Second-generation immigrants end up being a net positive to the government compared with the first generation, as they assimilate and obtain higher levels of education and wages. The chairwoman of the panel and an analyst who calculated the data for the panel disputed Trump's characterization of the report, only focusing on the cost of immigration. We were thrilled to find Trump for once cited immigration data from an independent and rigorous study. But, alas, Trump took one line out of a 500-page report, and totally skewed the intricate findings."
Supreme Court Won't Hear Major Case on Transgender Rights, The New York Times, Adam Liptak, Monday, 6 March 2017: "Prompted by the Trump administration's reversal of the federal government's position on transgender rights, the Supreme Court announced on Monday that it would not decide whether a transgender boy in Virginia could use the boys' bathroom at his high school. The decision not to take his case, which came as the court is awaiting the appointment of a ninth member, means there will be no ruling on the highly charged issue of transgender rights this term. The issue will almost certainly return to the Supreme Court, probably in a year or two. Until then, lawsuits in the lower courts will proceed, the political climate and public opinion may shift, and the court's composition will almost certainly change. Monday's development was a setback for transgender rights advocates, who had hoped the Supreme Court, which established a constitutional right to same-sex marriage two years ago, would aid their cause. Instead, in a one-sentence order on Monday, the Supreme Court vacated an appeals court decision in favor of the student, Gavin Grimm, and sent the case back for further consideration in light of the new guidance from the [Trump] administration.… The question in the Virginia case was whether Mr. Grimm, 17, could use the boys' bathroom in his southeast Virginia high school. The Obama administration said yes, relying on its interpretation of a federal regulation under a 1972 law, Title IX, that bans discrimination 'on the basis of sex' in schools that receive federal money. The Department of Education said in 2015 that schools 'generally must treat transgender students consistent with their gender identity.' Last year, the department went further, saying that schools could lose federal money if they discriminated against transgender students. The Trump administration withdrew that guidance last month, saying it had been formulated without 'due regard for the primary role of the states and local school districts in establishing educational policy.'… It will now be up to the United States Court of Appeals for the Fourth Circuit, in Richmond, Va., to answer whether Title IX protects the rights of Mr. Grimm and other transgender students."
House Republicans release long-awaited plan to replace Obamacare, The Washington Post, Amy Goldstein, Mike DeBonis and Kelsey Snell, Monday, 6 March 2017: "House Republicans on Monday released long-anticipated legislation to supplant the Affordable Care Act with a more conservative vision for the nation's health-care system, replacing federal insurance subsidies with a new form of individual tax credits and grants to help states shape their own policies. Under two bills drafted by separate House committees, the government would no longer penalize Americans for failing to have health insurance but would try to encourage people to maintain coverage by allowing insurers to impose a surcharge of 30 percent for those who have a gap between health plans. The legislation would preserve two of the most popular features of the 2010 health-care law, letting young adults stay on their parents' health plans until age 26 and forbidding insurers to deny coverage or charge more to people with preexisting medical problems. It would also target Planned Parenthood, rendering the women's health organization ineligible for Medicaid reimbursements or federal family planning grants — a key priority for antiabortion groups."
Paul Ryan's Health-Care Vise, The New Yorker, Ryan Lizza, published on Tuesday, 7 March 2017: The American Health Care Act that Republicans released on Monday "is a piece of legislation that critics on the right can credibly attack as too similar to Obamacare for them to support, and those on the left can assail as a giveaway to insurance companies that reduces the numbers of Americans who have coverage and contains no mechanisms to control health-care costs.… Obamacare uses relatively generous government subsidies to help individuals purchase health insurance on the private market…. The other major mechanism Obamacare used to increase the total number of insured Americans was a large expansion of those eligible for Medicaid. Many Republican governors accepted a generous offer of federal money to expand the Medicaid rolls in their states, and after seven years of using the funds they don't want a disruptive reversal that would cause millions of people to lose health insurance…. In 2009, Obama decided to buy the [insurance] industry off by including a provision forcing every American to buy its product—the dreaded individual mandate. The mandate helped insurers afford Obamacare's new regulations, which required that children be allowed to remain on their parents' plans until age twenty-six and that Americans with preëexisting medical conditions not be denied coverage. Ryan and Trump have insisted that they would keep those popular regulations while killing the mandate, which forces the uninsured to pay a tax penalty. Their solution is that the uninsured would pay a penalty to insurance companies. Specifically, insurers would be allowed to charge anyone with a two-month gap in coverage up to a thirty-per-cent surcharge on a new policy. For many Americans, the surcharge under Trumpcare could end up being more than the current tax penalty under Obamacare. (If the new surcharge wasn't enough of a sweetener for the industry, tucked into the bill is a tax break for insurance-company executives who make more than five hundred thousand dollars per year, a proposal that will be shredded by Democrats and Republicans alike.)… In the seventies, Congress mandated a rigorous process to estimate the costs of new legislation and created the Congressional Budget Office, which 'scores' all bills…. The Ryan plan was released yesterday and is scheduled to be marked up in two House committees tomorrow, long before the C.B.O. can analyze it. That means the most basic information about the plan—how much it costs and how many people will gain or lose insurance—will be unknown before voting on it begins."
Trump Tells Planned Parenthood Its Funding Can Stay if Abortion Goes, The New York Times, Maggie Haberman, Monday, 6 March 2017: "The White House, concerned about the possible political repercussions of the Republican effort to defund Planned Parenthood, has proposed preserving federal payments to the group if it discontinues providing abortions. The proposal, which was never made formally, has been rejected as an impossibility by officials at Planned Parenthood, which receives about $500 million annually in federal funding. That money helps pay for women's health services the organization provides, not for abortion services. 'Let's be clear: Federal funds already do not pay for abortions,' Dawn Laguens, the executive vice president of the Planned Parenthood Federation of America, said on Monday. 'Offering money to Planned Parenthood to abandon our patients and our values is not a deal that we will ever accept. Providing critical health care services for millions of American women is nonnegotiable.'"
U.S. Frees Visa-Holding Afghan Family It Detained for 4 Days, The New York Times, Jennifer Medina, Monday, 6 March 2017: "After more than four days in detention, five members of an Afghan family with special immigrant visas were released on Monday, allowing them to travel to the Washington town where they intend to settle. The father had worked for the American government in Afghanistan for a decade and received the visas based on his work. Federal officials said that they would meet with the family on April 5 to review their visa documents and that they would be free without 'any limitation of their liberties' until then. 'This is a real victory in terms of the government acknowledging that the family does not pose a threat,' said Mark Rosenbaum, a lawyer with Public Counsel, who helped with the case. 'But we should have never had to go to federal court to make this happen. This is not a way to thank someone for their service.'"
Housing and Urban Development Secretary Ben Carson refers to slaves as immigrants coming to 'a land of dreams and opportunity,' The Washington Post, Tracy Jan and Jose A. DelReal, Monday, 6 March 2017: "Ben Carson compared slaves to immigrants seeking a better life in his first official address Monday as Housing and Urban Development secretary, setting off an uproar on social media. In what appears to be an embarrassing pattern of missteps on race for the Trump administration, Carson told a room packed with hundreds of federal workers that the Africans captured, sold and transported to America against their will had the same hopes and dreams as early immigrants. 'That's what America is about. A land of dreams and opportunity. There were other immigrants who came here in the bottom of slave ships, worked even longer, even harder for less,' said Carson, speaking extemporaneously as he paced the room with a microphone. 'But they, too, had a dream that one day their sons, daughters, grandsons, granddaughters, great-grandsons, great-granddaughters might pursue prosperity and happiness in this land.' His comments were broadcast live to all of HUD's regional field offices as well as to the public." See also, Ben Carson, Donald Trump, and the Misuse of American History, The New Yorker, Jelani Cobb, published on Wednesday, 8 March 2017: "In referring to slaves as 'immigrants,' Ben Carson followed a long-standing American tradition of eliding the ugliness that is part of the country's history…. Earlier this week, Ben Carson…created a stir when he referred to enslaved black people—stolen, trafficked, and sold into that status—as 'immigrants' and spoke of their dreams for their children and grandchildren…. Carson's defenses centered upon strict adherence to the definition of the word 'immigrant' as a person who leaves one country to take up residence in another. This is roughly akin to arguing that it is technically possible to refer to a kidnapping victim as a 'house guest,' presuming the latter term refers to a temporary visitor to one's home…. One part of the issue here is the eliding of the ugliness of the slave past in this country. This phenomenon is neither novel nor particularly surprising. The unwillingness to confront this narrative is tied not simply to the miasma of race but to something more subtle and, in the current atmosphere, more potentially treacherous: the reluctance to countenance anything that runs contrary to the habitual optimism and self-anointed sense of the exceptionalism of American life.… [T]he only way to sustain that sort of optimism is by not looking too closely at the past…. For many of us, particularly those who reckon with the history of race, the true fear was not that we were on some unmapped terrain but that we were passing landmarks that were disconcertingly familiar. In response to the increasingly authoritarian tones of the executive branch, we plumbed the history of Europe in the twentieth century for clues and turned to the writings of Czeslaw Milosz and George Orwell. We might well have turned to the writings of W. E. B. Du Bois and James Baldwin for the more direct, domestic version of this question but looked abroad, at least in part, as a result of our tacit consensus that tragedy is a foreign locale. It has been selectively forgotten that traits of authoritarianism neatly overlap with traits of racism visible in the recent American past…. Our sense of ourselves as exceptional, of our country as a place where we habitually avert the worst-case scenario, is therefore a profound liability in times like the present. The result is a failure to recognize the parameters of human behavior and, consequently, the signs of danger as they become apparent to others who are not crippled by such optimism."
Activists Rush to Save Government Science Data–If They Can Find It, The New York Times, Amy Harmon, Monday, 6 March 2017: "As the presidential inauguration drew near in January, something bordering on panic was taking hold among some scientists who rely on the vast oceans of data housed on government servers, which encompass information on everything from social demographics to satellite photographs of polar ice. In a Trump administration that has made clear its disdain for the copious evidence that human activity is warming the planet, researchers feared a broad crusade against the scientific information provided to the public. Reports last week that the administration is proposing deep budget cuts for government agencies including the National Oceanic and Atmospheric Administration and the Environmental Protection Agency have fueled new fears of databases being axed, if only as a cost-saving measure…. It is illegal to destroy government data, but agencies can make it more difficult to find by revising websites and creating other barriers to the underlying information."
The White House was on the same page as ExxonMobil on Monday. Literally, The Washington Post, Chris Mooney and Steven Mufson, Monday, 6 March 2017: "The White House and ExxonMobil were in sync Monday. Some might even call it a mind meld. In a news release, ExxonMobil highlighted the oil giant's plan to spend $20 billion over 10 years, build 11 chemical and natural-gas projects and create 45,000 jobs. Within the same hour, the White House put out its own statement claiming credit for the expansion and adding, 'The spirit of optimism sweeping the country is already boosting job growth, and it is only the beginning.' One full paragraph appeared nearly identically word for word in each release. Another sentence appeared almost verbatim elsewhere. ExxonMobil spokesman Alan T. Jeffers said that the company had supplied the information to the White House…. But Exxon's investment plan was launched in 2013 — four years ago. And while the White House was hailing the investment program by ExxonMobil and talked about Trump's 'promise to bring back jobs to America,' General Motors on Monday announced the layoff of 1,100 workers in Michigan."
The Justice Department drops the federal government's legal fight against North Carolina's 'bathroom bill,' House Bill 2 (HB2), Associated Press and The News & Observer, Jonathan Drew, Monday, 6 March 2017: "The Trump administration is taking steps to drop the federal government's legal fight against North Carolina's 'bathroom bill.' The Justice Department wrote in a motion last week that it needs time to rethink its 2016 request to halt North Carolina's requirement that transgender people use restrooms in many public buildings corresponding to the sex on their birth certificates. The federal judge responded on Friday with a stay that freezes efforts started by lawyers working under President Barack Obama to block the law with a preliminary injunction. The Justice Department's move was foreshadowed last month by the Trump administration's reversal of guidelines that transgender students nationwide should be able to use school bathrooms corresponding to their gender identity. Despite the Justice Department's reversal, North Carolina residents challenging the law can press ahead with a separate lawsuit, but they've lost the dual punch provided by federal lawyers."
Senate votes to kill Obama administration contractor rule, The Center for Public Integrity, Maryam Jameel and Elizabeth Hernandez, published on Tuesday, 7 March 2017: "The Senate voted Monday to kill an Obama administration rule aimed at curbing labor violations among government contractors. Two years in the making, the Fair Pay and Safe Workplaces rule was targeted by Republican lawmakers 10 days after Donald Trump's inauguration. The House voted to excise it on Feb. 2, and Trump can seal its fate with his signature…. Issued in August by the U.S. Department of Labor, the rule requires would-be contractors to disclose wage or safety violations during the previous three years.  The vehicle for its undoing by Congress was the rarely used Congressional Review Act, through which recently finalized regulations can be dismantled by simple majorities in the House and Senate. The act prohibits federal agencies from crafting similar rules unless authorized to do so by lawmakers…. The rule stemmed from a 2014 executive order issued months after a report by Senate Democrats revealed that almost 30 percent of the worst violators of wage and worker-safety laws from 2007 to 2012 had received  government contracts. Eighteen contractors were assessed fines that fell within the top 100 issued by the Labor Department's Occupational Safety and Health Administration during that period. Thirty-two were hit with back-wage assessments that were among the top 100 levied by the department's Wage and Hour Division."
Tuesday, 7 March 2017, Day 47:
WikiLeaks Releases Trove of Alleged C.I.A. Hacking Documents, The New York Times, Scott Shane, Matthew Rosenberg and Andrew W. Lehren, Tuesday, 7 March 2017: "In what appears to be the largest leak of C.I.A documents in history, WikiLeaks released on Tuesday thousands of pages describing sophisticated software tools and techniques used by the agency to break into smartphones, computers and even Internet-connected televisions. The documents amount to a detailed, highly technical catalog of tools. They include instructions for compromising a wide range of common computer tools for use in spying: the online calling service Skype; Wi-Fi networks; documents in PDF format; and even commercial antivirus programs of the kind used by millions of people to protect their computers…. The document dump was the latest coup for the antisecrecy organization and a serious blow to the C.I.A., which uses its hacking abilities to carry out espionage against foreign targets. The initial release, which WikiLeaks said was only the first installment in a larger collection of secret C.I.A. material, included 7,818 web pages with 943 attachments, many of them partly redacted by WikiLeaks editors to avoid disclosing the actual code for cyberweapons. The entire archive of C.I.A. material consists of several hundred million lines of computer code, the group claimed. In one revelation that may especially trouble the tech world if confirmed, WikiLeaks said that the C.I.A. and allied intelligence services have managed to compromise both Apple and Android smartphones, allowing their officers to bypass the encryption on popular services such as Signal, WhatsApp and Telegram. According to WikiLeaks, government hackers can penetrate smartphones and collect 'audio and message traffic before encryption is applied.' Unlike the National Security Agency documents Edward J. Snowden gave to journalists in 2013, they do not include examples of how the tools have been used against actual foreign targets. That could limit the damage of the leak to national security. But the breach was highly embarrassing for an agency that depends on secrecy…. There is no evidence that the C.I.A. hacking tools have been used against Americans. But Ben Wizner, the director of the American Civil Liberties Union's Speech, Privacy, and Technology Project, said the documents suggest that the government has deliberately allowed vulnerabilities in phones and other devices to persist to make spying easier. 'Those vulnerabilities will be exploited not just by our security agencies, but by hackers and governments around the world,' Mr. Wizner said. 'Patching security holes immediately, not stockpiling them, is the best way to make everyone's digital life safer.'… WikiLeaks said the source, in a statement, set out policy questions that 'urgently need to be debated in public, including whether the C.I.A.'s hacking capabilities exceed its mandated powers and the problem of public oversight of the agency.' The source, the group said, 'wishes to initiate a public debate about the security, creation, use, proliferation and democratic control of cyberweapons.' But James Lewis, an expert on cybersecurity at the Center for Strategic and International Studies in Washington, raised another possibility: that a foreign state, most likely Russia, stole the documents by hacking or other means and delivered them to WikiLeaks, which may not know how they were obtained.… WikiLeaks, which has sometimes been accused of recklessly leaking information that could do harm, said it had redacted names and other identifying information from the collection. It said it was not releasing the computer code for actual, usable weapons 'until a consensus emerges on the technical and political nature of the C.I.A.'s program and how such 'weapons' should be analyzed, disarmed and published.'" See also, Five Questions About the Latest WikiLeaks Release, The New Yorker, Amy Davidson, Tuesday, 7 March 2017.
CIA providing raw intelligence as Trump-Russia probes heat up: Congress has entered a new phase in its investigation, Politico, Austin Wright and Martin Matishak, Tuesday, 7 March 2017: "Lawmakers are trekking to CIA headquarters in Langley, Virginia, to review classified evidence on Russia's involvement in the presidential election. The House has scheduled its first public hearing on the issue. And the Senate is preparing to interview witnesses. The congressional investigations into ties between President Donald Trump's campaign and Russian officials are in full swing…. The CIA is now providing raw intelligence documents to committee members, according to multiple senators. Senate Intelligence Chairman Richard Burr (R-N.C.) and Majority Whip John Cornyn (R-Texas) visited CIA headquarters on Monday to view the documents underlying the intelligence community's unclassified assessment that Russia sought to sway the election in favor of Trump…. House Intelligence Chairman Devin Nunes (R-Calif.) said members of his panel had also made visits to CIA headquarters and that there will be 'more trips out there.' He said he was close to reaching an agreement with the intelligence community on whether evidence would be turned over to Congress or continue to be housed within the agencies."
Democrats Seek Special Counsel to Investigate Russian Election Interference, The New York Times, Charlie Savage and Eric Lichtblau, Tuesday, 7 March 2017: "Democrats on the Senate Judiciary Committee called on Tuesday for the appointment of a special counsel to lead the criminal investigation into Russian interference in the 2016 presidential election, saying the appointment was necessary to shield the inquiry from the appearance of political interference by the Trump administration. 'This is about more than just one individual,' said Senator Dianne Feinstein of California, the panel's ranking Democrat. 'This is about the integrity of the process and the public's faith in our institution of justice.' But the Republican chairman of the panel, Senator Charles E. Grassley of Iowa, said he saw no need for the appointment of a special counsel as the panel took up the confirmation of Mr. Trump's nominee to be deputy attorney general, Rod J. Rosenstein…. Because Attorney General Jeff Sessions recused himself from overseeing any criminal investigation into 2016 campaign matters, Mr. Rosenstein would be in charge of that case if he is confirmed…. In rejecting Democratic calls for a special counsel, Mr. Grassley noted that Mr. Rosenstein — the United States attorney for the district of Maryland — was a longtime prosecutor who served under Presidents George W. Bush and Barack Obama. Ms. Feinstein, however, said her call was not related to Mr. Rosenstein's integrity, but the need to avoid even the appearance of a conflict of interest. She also said that the prosecutor should be a nonpartisan person who is appointed 'independently' rather than by the attorney general…. However, the law that permitted the appointment of an independent counsel by a three-judge panel, rather than by the attorney general, has expired. Under Justice Department regulations for special counsels, Mr. Rosenstein, if confirmed, would essentially be the attorney general for the purpose of the Russia case since Mr. Sessions recused himself. It would be Mr. Rosenstein's decision to appoint a special counsel, who would answer to him."
Trump Aides Address His Claims That Obama Wiretapped Phones in Trump Tower During the 2016 Campaign, The New York Times, Glenn Thrush and Maggie Haverman, Tuesday, 7 March 2017: "After weeks of assailing reporters and critics in diligent defense of their boss, Mr. Trump's team has been uncharacteristically muted this week when pressed about his explosive — and so far proof-free — Twitter posts on Saturday accusing President Barack Obama of tapping phones in Trump Tower during the 2016 campaign. The accusation — and the F.B.I. director, James B. Comey, and the former national intelligence director, James R. Clapper Jr., emphatically deny that any such wiretap was requested or issued — constitutes one of the most consequential accusations made by one president against another in American history. So for Mr. Trump's allies inside the West Wing and beyond, the tweetstorm spawned the mother of all messaging migraines. Over the past few days, they have executed what amounts to a strategic political retreat — trying to publicly validate Mr. Trump's suspicions without overtly endorsing a claim some of them believe might have been generated by Breitbart News and other far-right outlets. 'No, that's above my pay grade,' said Sean Spicer, the White House press secretary and a feisty Trump loyalist, when asked on Tuesday at an on-camera briefing if he had seen any evidence to back up Mr. Trump's accusation. The reporters kept at him, but Mr. Spicer pointedly and repeatedly refused to offer personal assurances that the president's statements were true."
As more Jewish facilities get threats, all 100 senators ask Trump administration for swift action, The Washington Post, Mark Berman, Tuesday, 7 March 2017: "A new wave of threats were made late Monday and Tuesday to Jewish schools and institutions, including the New York and Washington offices of the Anti-Defamation League, according to that group and other officials. These latest bomb threats came as a letter signed by every U.S. senator was sent to top law enforcement officials in the Trump administration, asking them to do more in response to the bout of threatening messages that have continuously rattled Jewish groups this year. 'We write to underscore the need for swift action with regard to the deeply troubling series of anonymous bomb threats made against Jewish Community Centers (JCCs), Jewish day schools, synagogues and other buildings affiliated with Jewish organizations or institutions across the country,' the senators wrote in a letter…."
Millions Risk Losing Health Insurance in Republican Plan, Analysts Say, The New York Times, Abby Goodnough and Reed Abelson, Tuesday, 7 March 2017: "Millions of people who get private health coverage through the Affordable Care Act would be at risk of losing it under the replacement legislation proposed by House Republicans, analysts said Tuesday, with Americans in their 50s and 60s especially likely to find coverage unaffordable. Starting in 2020, the plan would do away with the current system of providing premium subsidies based on people's income and the cost of insurance where they live. Instead, it would provide tax credits of $2,000 to $4,000 per year based on their age. But the credits would not cover nearly as much of the cost of premiums as the current subsidies do, at least for the type of comprehensive coverage that the Affordable Care Act requires, analysts said. For many people, that could mean the difference between keeping coverage under the new system and having to give it up."
Republican Representative Jason Chaffetz Says Poor People May Have To Choose Between A New iPhone And Health Care, BuzzFeed News, Tamerra Griffin, Tuesday, 7 March 2017: "Republican Rep. Jason Chaffetz on Tuesday morning said that lower-income people who may be left uninsured under the Obamacare replacement plan will have to choose between buying a new iPhone and affording health care. In an interview on CNN, Chaffetz, who is also the chairman of the Committee on Oversight and Government Reform, was asked if the new plan — if it became law — could leave working-class or low-income people without insurance. 'Americans have choices. And they've got to make a choice,' Chaffetz said. 'So maybe rather than getting that new iPhone that they just love and they want to go spend hundreds of dollars on that, maybe they should invest in their own health care. They've got to make those decisions themselves.'" See also, Laziness isn't why people are poor. And iPhones aren't why they lack health care, The Washington Post, Stephen Pimpare, Wednesday, 8 March 2017: "In response to a question about his party's plan to increase the cost of health insurance, Rep. Jason Chaffetz (R-Utah) suggested that people should 'invest in their own health care' instead of 'getting that new iPhone.' He doubled-down on the point in a later interview: 'People need to make a conscious choice, and I believe in self-reliance.' Of course, Chaffetz is wrong. But he isn't alone. While he has been met with justifiable derision for the comparison (Christopher Ingraham walked through the math for us, pointing out that a year's worth of health care would equal 23 iPhone 7 Pluses in price), the claim he is making is hardly new. Chaffetz was articulating a commonly held belief that poverty in the United States is, by and large, the result of laziness, immorality and irresponsibility. If only people made better choices — if they worked harder, stayed in school, got married, didn't have children they couldn't afford, spent what money they had more wisely and saved more — then they wouldn't be poor, or so the reasoning goes…. Since the invention of the mythic welfare queen in the 1960s, this has been the story we most reliably tell about why people are poor. Never mind that research from across the social sciences shows us, over and again, that it's a lie. Never mind low wages or lack of jobs, the poor quality of too many schools, the dearth of marriageable males in poor black communities (thanks to a racialized criminal justice system and ongoing discrimination in the labor market), or the high cost of birth control and day care. Never mind the fact that the largest group of poor people in the United States are children. Never mind the grim reality that most American adults who are poor are not poor from lack of effort but despite it."
Fact-Check: Trump Is Wrong About Guantánamo Detainees, The New York Times, Charlie Savage, Tuesday, 7 March 2017: "President Trump said on Tuesday on Twitter that '122 vicious prisoners, released by the Obama Administration from Gitmo, have returned to the battlefield. Just another terrible decision!' Is that true? No, what Mr. Trump wrote is false. What is true? According to the Office of the Director of National Intelligence, of the 714 former Guantánamo Bay detainees who were transferred to other countries by Jan. 15, 2017 — dating back to when the Bush administration opened the prison in Cuba in January 2002 — 121 are 'confirmed' to have engaged in militant activity after their release. However, the overwhelming majority of those 121 men, 113 of them, were transferred under President George W. Bush, not President Barack Obama. Notably, about half of the men deemed recidivists are dead or in custody."
Environmental Protection Agency Head Scott Pruitt Stacks the E.P.A. With Climate Change Skeptics, The New York Times, Coral Davenport, Tuesday, 7 March 2017: "Days after the Senate confirmed him as administrator of the Environmental Protection Agency, Scott Pruitt appeared at the Conservative Political Action Conference and was asked about addressing a group that probably wanted to eliminate his agency. 'I think it's justified,' he responded, to cheers. 'I think people across the country look at the E.P.A. the way they look at the I.R.S.' In the days since, Mr. Pruitt, a former Oklahoma attorney general who built a career out of suing the agency he now leads, has moved to stock the top offices of the agency with like-minded conservatives — many of them skeptics of climate change and all of them intent on rolling back environmental regulations that they see as overly intrusive and harmful to business."
'Big Candy' is lobbying the Trump administration. It's also holding events at Trump hotels. The Washington Post, Amy Brittain and Jonathan O'Connell, Tuesday, 7 March 2017: "As U.S. candymakers descended on South Florida for their industry conference this week, they were scheduled to plot lobbying strategy in the 'Ivanka Trump ballroom.' A dessert networking event was planned for the 'Donald J. Trump grand patio.' Between meetings, attendees were eligible to enjoy outings on a Trump-owned golf course and massages at a Trump spa. The National Confectioners Association is doing a lot of business with President Trump's company. In addition to this week's gathering of 600 attendees at the Trump National Doral resort near Miami, the group has booked two upcoming meetings, in September and again in 2018, at the Trump International Hotel down the street from the White House. At the same time, the organization, representing candy titans Hershey, Mars and Jelly Belly, among other companies, is optimistic about scoring big, early policy wins from the Trump administration. Among the industry's priorities: a long-sought rollback of government sugar subsidies that candy firms say drive up the costs of making their products."
Wednesday, 8 March 2017, Day 48:
Meet the Hundreds of Officials Trump Has Quietly Installed Across the Government, ProPublica, Justin Elliott, Derek Kravitz and Al Shaw, Wednesday, 8 March 2017: "We have obtained a list of more than 400 Trump administration hires, including dozens of lobbyists and some from far-right media…. While President Trump has not moved to fill many jobs that require Senate confirmation, he has quietly installed hundreds of officials to serve as his eyes and ears at every major federal agency, from the Pentagon to the Department of Interior. Unlike appointees exposed to the scrutiny of the Senate, members of these so-called 'beachhead teams' have operated largely in the shadows, with the White House declining to publicly reveal their identities. While some names have previously dribbled out in the press, we are publishing a list of more than 400 hires, providing the most complete accounting so far of who Trump has brought into the federal government. The White House said in January that around 520 staffers were being hired for the beachhead teams. The list we obtained includes obscure campaign staffers, contributors to Breitbart and others who have embraced conspiracy theories, as well as dozens of Washington insiders who could be reasonably characterized as part of the 'swamp' Trump pledged to drain…."
White House Officials Say Trump Isn't Target of Any Investigation, The New York Times, Mark Landler, Wednesday, 8 March 2017: "White House officials declared on Wednesday that President Trump was not the target of an investigation, five days after Mr. Trump himself raised the prospect with an unsubstantiated claim that his predecessor ordered the wiretapping of Trump Tower. After first refusing to disavow Mr. Trump's allegations, made in a series of Twitter posts, and instead calling for Congress to investigate them, the press secretary, Sean Spicer, told reporters, 'There is no reason that we have to think the president is the target of any investigation whatsoever.' Mr. Spicer's statement, which he read from a sheet of paper that was handed to him at the end of his briefing, reinforced the conundrum Mr. Trump's tweets have created for the White House: Either the president's assertions are baseless, or he may have implicated himself in a government investigation of contacts between his presidential campaign and Russia. Until Wednesday, Mr. Spicer had steadfastly declined to discuss Mr. Trump's assertion that former President Barack Obama ordered wiretap surveillance of Trump Tower — an act that Mr. Trump condemned as a scandal comparable in scale to McCarthyism or Watergate."

21 times Donald Trump has assured us he respects women, often in response to a controversy over something he has said or done, The Washington Post, Aaron Blake, Wednesday, 8 March 2017: "When President Trump tweeted to commemorate International Women's Day early Wednesday, he did so in his characteristically Trump fashion — assuring us that he has 'tremendous respect for women' and the things they do that are so 'vital to the fabric of our society and our economy.' If that sounds somewhat oddly defensive, it's because Trump has been forced to utter those kinds of words before — many times. No fewer than 21 times since the start of his 2016 campaign, in fact, has Trump assured us of his respect for women. Often, those assurances have come in response to a controversy over something he has said or allegedly done."
The Justice Department, Under Attorney General Jeff Sessions, Invoked State Secrets Privilege to Block Testimony in C.I.A. Torture Case, The New York Times, James Risen, Sheri Fink and Charlie Savage, Wednesday, 8 March 2017: "The Trump administration has invoked executive powers in a bid to block the testimony of several top C.I.A. officials in a federal lawsuit against two psychologists who helped run the agency's harsh interrogation program, along with portions of 172 internal agency documents. Hoping to prevent the officials, including Gina Haspel, the agency's new deputy director, from being forced to testify, the administration is using the state secrets privilege, which means the executive branch is asking the judge in the case to keep information out of court by asserting that its disclosure would damage national security. The government rarely tries to use the extraordinary power, and this is among the first assertions of it by the Trump administration. At an earlier phase of the case in Federal District Court in Spokane, Wash., the Obama administration did not invoke the privilege — although in court filings last year, it did leave the door open to doing so at a later stage. The lawsuit was filed in 2015 by two former detainees at C.I.A. secret prisons overseas and the representative of a third man who died in custody. If they prevail in the suit against the former military psychologists, James E. Mitchell and Bruce Jessen, who helped devise and run the interrogation program, it would be the first time an American civilian court has held anyone accountable for a role in developing counterterrorism policies after the Sept. 11, 2001, attacks.… The state secrets privilege became controversial under the Bush administration, which frequently invoked it to block lawsuits related to the C.I.A. interrogation program and the N.S.A.'s warrantless surveillance program. The government's growing use of the power prompted civil liberties advocates to accuse the administration of abusing the privilege to prevent judiciary scrutiny of executive branch wrongdoing."
American Medical Association Opposes Republican Health Plan, The New York Times, Reed Abelson, Wednesday, 8 March 2017: "The American Medical Association, a powerful lobbying group representing the nation's doctors, announced on Wednesday that it opposed the House Republicans' proposed legislation to replace the federal health care law, saying it was concerned the bill 'would result in millions of Americans losing coverage and benefits.' The group, which provided crucial support for the Obama administration's contentious health care legislation before it was enacted in 2010, also sent a letter to the two House committees responsible for drafting the Republicans' bill, called the American Health Care Act. The group's concerns echoed some others raised this week among industry organizations like hospital groups worried about the possible losses of coverage that could result from the proposed legislation that was released on Monday."
The American Hospital Association, the Association of American Medical Colleges, the American Nurses Association, and Other Health Groups Denounce Republican Health Care Bill, The New York Times, Abby Goodnough, Robert Pear and Thomas Kaplan, Wednesday, 8 March 2017: "Influential groups representing hospitals and nurses came out on Wednesday against a Republican bill to repeal and replace the Affordable Care Act, joining doctors and the retirees' lobby [AARP, formerly the American Association of Retired Persons] to warn that it would lead to a rise in the uninsured. In a letter to lawmakers, major hospital groups wrote, 'As organizations that take care of every individual who walks through our doors, both due to our mission and our obligations under federal law, we are committed to ensuring health care coverage is available and affordable for all.'… The hospitals and the American Nurses Association joined the American Medical Association and AARP…."
The American Civil Liberties Union (ACLU) emerges as main Trump antagonist, The Washington Post, Sandhya Somashekhar, Wednesday, 8 March 2017: "Donating to the ACLU has become an act of political defiance in the Trump era as the group has positioned itself as a high-profile and aggressive opponent of the president's agenda. Since the night of the election, when the group famously challenged Trump — saying that it would 'see you in court' — membership has nearly tripled to 1.2 million, and the group has collected more than $80 million in online donations alone. It is adding scores of attorneys and investigators, and faced with a new surge of volunteers, has started a grass-roots arm to mobilize them to lobby on state and local matters. It is a new and potentially risky position for one of the nation's best-known nonprofit organizations, which is liberal-leaning but has built a reputation of crossing ideological lines on issues such as gun rights and political spending and has famously represented some of those most detested in society, from suspected terrorists to neo-Nazis."
C.I.A. Scrambles to Contain Damage From WikiLeaks Documents, The New York Times, Matthew Rosenberg, Scott Shane and Adam Goldman, Wednesday, 8 March 2017: "The C.I.A. scrambled on Wednesday to assess and contain the damage from the release by WikiLeaks of thousands of documents that cataloged the agency's cyberspying capabilities, temporarily halting work on some projects while the F.B.I. turned to finding who was responsible for the leak. Investigators say that the leak was the work not of a hostile foreign power like Russia but of a disaffected insider, as WikiLeaks suggested when it released the documents Tuesday. The F.B.I. was preparing to interview anyone who had access to the information, a group likely to include at least a few hundred people, and possibly more than a thousand. An intelligence official said the information, much of which appeared to be technical documents, may have come from a server outside the C.I.A. managed by a contractor. But neither he nor a former senior intelligence official ruled out the possibility that the leaker was a C.I.A. employee…. The leak was perhaps most awkward for the White House, which found itself criticizing WikiLeaks less than six months after the group published embarrassing emails from John D. Podesta, the campaign chairman for Hillary Clinton, prompting President Trump to declare at the time, 'I love WikiLeaks.'… Some technical experts pointed out that while the documents suggest that the C.I.A. might be able to compromise individual smartphones, there was no evidence that the agency could break the encryption that many phone and messaging apps use. If the C.I.A. or the National Security Agency could routinely break the encryption used on such apps as Signal, Confide, Telegram and WhatsApp, then the government might be able to intercept such communications on a large scale and search for names or keywords of interest. But nothing in the leaked C.I.A. documents suggests that is possible."
Hawaii Sues to Block Trump Travel Ban; First Challenge to Trump's New Executive Order. And the City Attorney of San Francisco Asks a Federal Judge to Issue an Injunction Blocking Trump's Executive Order That Calls for Withdrawing Federal Funding for So-called Sanctuary Cities That Don't Cooperate With Federal Immigration Enforcement Officials, The New York Times, Alexander Burns, Wednesday, 8 March 2017: "President Trump's immigration policies faced a pair of new challenges in court on Wednesday, as the attorney general of Hawaii alleged that Mr. Trump had violated the Constitution with his redrawn executive order banning travel from six predominantly Muslim countries. And in California, the city attorney of San Francisco asked a federal judge to issue an injunction blocking another executive order, which threatens to withdraw funding for so-called sanctuary cities that do not extensively cooperate with federal immigration enforcement officials. Both actions show how emboldened Mr. Trump's opponents are to attack his policies through litigation, after a series of lawsuits brought by state attorneys general and nonprofit groups derailed his first travel ban last month. In the Hawaii case, the state attorney general, Doug Chin, a Democrat, claimed in a legal filing that Mr. Trump's new order would damage the state's educational institutions and private businesses, including its lucrative tourism industry, and discriminate against families with relatives overseas."
Donald Trump's former national security adviser, Michael Flynn, says his lobbying work before the US election in November 2016 may have helped the Turkish government, AP: The Big Story, Stephen Braun and Chad Day, Wednesday, 8 March 2017: "President Donald Trump's former national security adviser, Michael Flynn, who was fired from his prominent White House job last month, has registered with the Justice Department as a foreign agent for $530,000 worth of lobbying work before Election Day that may have aided the Turkish government. Paperwork filed Tuesday with the Justice Department's Foreign Agent Registration Unit said Flynn and his firm were voluntarily registering for lobbying from August through November that 'could be construed to have principally benefited the Republic of Turkey.' It was filed by a lawyer on behalf of the former U.S. Army lieutenant general and intelligence chief. After his firm's work on behalf of a Turkish company was done, Flynn agreed not to lobby for five years after leaving government service and never to represent foreign governments. Under the Foreign Agent Registration Act, U.S. citizens who lobby on behalf of foreign government or political entities must disclose their work to the Justice Department. Willfully failing to register is a felony, though the Justice Department rarely files criminal charges in such cases. It routinely works with lobbying firms to get back in compliance with the law by registering and disclosing their work." See also, Our ally Turkey is in crisis and needs our support, The Hill, Lt. Gen. Michael T. Flynn (R), Contributor, Tuesday, 8 November 2016: "We must begin with understanding that Turkey is vital to U.S. interests. Turkey is really our strongest ally against the Islamic State in Iraq and Syria (ISIS), as well as a source of stability in the region. It provides badly needed cooperation with U.S. military operations. But the Obama administration is keeping Erdoğan's government at arm's length — an unwise policy that threatens our long-standing alliance. The primary bone of contention between the U.S. and Turkey is Fethullah Gülen, a shady Islamic mullah residing in Pennsylvania whom former President Clinton once called his 'friend' in a well circulated video…. Editor's Note: On March 8, 2017, four months after this article was published, General Flynn filed documents with the Federal government indicating that he earned $530,000 last fall for consulting work that might have aided the government of Turkey. In the filings, Flynn disclosed that he had received payments from Inovo BV, a Dutch company owned by a Turkish businessman with ties to Turkey's president and that Inovo reviewed the draft before it was submitted to The Hill. Neither General Flynn nor his representatives disclosed this information when the essay was submitted." See also, Michael Flynn told the Trump transition team he might need to register as a foreign agent, The Washington Post, Ashley Parker, published on Friday, 10 March 2017: "Attorneys for Michael Flynn, President Trump's former national security adviser, informed the incoming White House legal counsel during the transition that Flynn might need to register with the government as a foreign agent — a phone call that raised no alarms within Trump's team, despite the unusual circumstance of having a top national security post filled by someone whose work may have benefited a foreign government…. The national security adviser is supposed to be an honest broker within the executive branch, pulling together military and diplomatic options for the president so he can decide what policy to pursue. But Flynn's work potentially benefiting Turkey meant he was representing the interests of a country other than the United States at the same time he was advising Trump on foreign policy during the election." See also, Michael Flynn Was Paid to Represent Turkey's Interests During Trump Campaign, The New York Times, Peter Baker and Matthew Rosenberg, published on Friday, 10 March 2017: "The candidate he was advising last fall was running on a platform of America First. The client he was working for last fall was paying him more than $500,000 to put Turkey first. Michael T. Flynn, who went from the campaign trail to the White House as President Trump's first national security adviser, filed papers this week acknowledging that he worked as a foreign agent last year representing the interests of the Turkish government in a dispute with the United States."
Trump administration looks to resume Saudi arms sale criticized as endangering civilians in Yemen, The Washington Post, Missy Ryan and Anne Gearan, Wednesday, 8 March 2017: "The State Department has approved a resumption of weapons sales that critics have linked to Saudi Arabia's bombing of civilians in Yemen, a potential sign of reinvigorated U.S. support for the kingdom's involvement in its neighbor's ongoing civil war. The proposal from the State Department would reverse a decision made late in the Obama administration to suspend the sale of precision guided munitions to Riyadh, which leads a mostly Arab coalition conducting airstrikes against Houthi rebels in Yemen. Secretary of State Rex Tillerson's approval this week of the measure, which officials say needs White House backing to go into effect, provides an early indication of the new administration's more Saudi-friendly approach to the conflict in Yemen and a sign of its more hawkish stance on Iran. It also signals a break with an approach the previous administration hoped would limit civilian deaths in a conflict that has pushed Yemen to the brink of widespread famine but that Persian Gulf ally Saudi Arabia has cast as a battle against the spread of Iranian influence across the Middle East. The move takes place as the Trump administration considers its approach to the Yemeni war, which has pitted U.S.- and Saudi-backed Yemeni President Abed Rabbo Mansour Hadi against an alliance of former Yemeni president Ali Abdullah Saleh and Shiite Houthi rebels. Officials in Riyadh allege that the Houthis have received substantial support from Saudi Arabia's main regional rival, Iran."
Thursday, 9 March 2017, Day 49:
'No Comment,' Justice Department Says, When Asked About a Trump Inquiry, The New York Times, Eric Lichtblau, Thursday, 9 March 2017: "With questions still swirling over President Trump's unsubstantiated claims that he was wiretapped on orders of President Barack Obama, the Justice Department on Thursday declined to confirm statements a day earlier from the White House that Mr. Trump was not the target of a counterintelligence investigation. Officials also said the White House had not relied on any information from the Justice Department in offering a statement denying the existence of an investigation. The White House spokesman, Sean Spicer, told reporters on Wednesday that 'there is no reason to believe there is any type of investigation with respect to the Department of Justice' or 'that the president is the target of any investigation whatsoever.' But a Justice Department official, speaking on condition of anonymity because of the sensitivity of the issue, said that there was no indication that anyone at the Justice Department had given the White House that assurance. Asked whether Mr. Trump was in fact the target of an investigation, the official offered a 'no comment.'"
Environmental Protection Agency Chief Scott Pruitt Doubts Consensus View of Climate Change, The New York Times, Coral Davenport, Thursday, 9 March 2017: "Scott Pruitt, the head of the Environmental Protection Agency, said on Thursday that carbon dioxide was not a primary contributor to global warming, a statement at odds with the global scientific consensus on climate change…. Mr. Pruitt's statement is not consistent with scientific research on climate change, including decades of research by federal agencies. His remarks may also put him in conflict with laws and regulations his agency is charged with enforcing. A report in 2013 by the Intergovernmental Panel on Climate Change, a group of about 2,000 international scientists that reviews and summarizes climate science, found it to be 'extremely likely' that more than half the global warming that occurred from 1951 to 2010 was a consequence of human emissions of carbon dioxide and other greenhouse gases." See also, Environmental Protection Agency Head Scott Pruitt Rejects Climate-Change Reality, The New Yorker, Amy Davidson, published on Friday, 10 March 2017: "To the new E.P.A. chief, concern for climate change, or just a basic belief in science, is yet another crazed form of political correctness." See also, Scott Pruitt's office deluged with angry callers after he questions the science of climate change, The Washington Post, Juliet Eilperin and Brady Dennis, published on Saturday, 11 March 2017: "Environmental Protection Agency Administrator Scott Pruitt's phones have been ringing off the hook…since he questioned the link between human activity and climate change. The calls to Pruitt's main line, 202-564-4700, reached such a high volume by Friday that agency officials created an impromptu call center, according to three agency employees. The officials asked for anonymity out of fear of retaliation."
Death in Al Ghayil: Women and Children in Yemeni Village Recall Horror of Trump's 'Highly Successful' SEAL Raid on Sunday, 29 January 2017, The Intercept, Iona Craig, Thursday, 9 March 2017: "According to White House press secretary Sean Spicer, the al Ghayil raid 'was a very, very well thought out and executed effort,' planning for which began under the Obama administration back in November 2016. Although Ned Price, former National Security Council spokesperson, and Colin Kahl, the national security adviser under Vice President Biden, challenged Spicer's account, what is agreed upon is that Trump gave the final green light over dinner at the White House on January 25. According to two people with direct knowledge, the White House did not notify the U.S. ambassador to Yemen in advance of the operation. The Intercept's reporting from al Ghayil in the aftermath of the raid and the eyewitness accounts provided by residents, as well as information from current and former military officials, challenge many of the Trump administration's key claims about the 'highly successful' operation, from the description of an assault on a fortified compound — there are no compounds or walled-off houses in the village — to the 'large amounts of vital intelligence' the president said were collected." See also, New Evidence Contradicts Pentagon's Account of Yemen Raid, But General Closes the Case, The Intercept, Alex Emmons, Thursday, 9 March 2017: "The Pentagon's top Middle East commander told Congress on Thursday that he found no signs of 'poor decision-making or bad judgment' in a January raid in Yemen that killed 10 children and at least six women, as well as Navy SEAL William 'Ryan' Owens. 'I made the determination that there was no need for an additional investigation into this particular operation,' said Gen. Joseph Votel. Earlier on Thursday, The Intercept published its own investigation of the raid based on eyewitnesses, including a 5-year-old who described how his mother was gunned down while trying to flee what other family members said was indiscriminate gunfire from a helicopter."
Immigrant Families Are Separated At US Border As Form Of Punishment, Immigrant Advocacy Groups Say, BuzzFeed News, Adolfo Flores, Thursday, 9 March 2017: "While the Trump administration has said it is considering separating illegal immigrant families at the border as a deterrent, authors of a new report say federal agents are already engaged in the practice as a form of punishment, often regardless of humanitarian concerns. The report, Betraying Family Values: How Immigration Policy at the United States Border Is Separating Families, was released Thursday by immigrant advocacy groups who argue the practice is unnecessary and cruel…. The report comes as the Department of Homeland Security confirmed it is considering separating immigrant mothers and their children who are caught together in an effort to deter migrants from attempting to cross the border illegally…. Border agents routinely separate families as punishment through what the DHS calls its Consequence Delivery System, which is meant to deter future migration, the report states."
Trump's New Travel Ban May Be Hard to Beat. But States Are Trying, The New York Times, Alexander Burns, Thursday, 9 March 2017: "President Trump's executive order banning travel from six predominantly Muslim countries faced a new front of opposition from the states on Thursday, as the attorney general of Washington announced that he would seek to block the order from taking effect next week. Backed by several fellow Democratic attorneys general, Bob Ferguson of Washington said he would ask a federal district judge, James Robart, to extend an order freezing the first version of Mr. Trump's travel ban and apply it to the updated restrictions the White House unveiled on Monday. In a news conference on Thursday, Mr. Ferguson acknowledged that Mr. Trump's updated order was less sweeping than its predecessor. But he argued that the travel restrictions remained 'effectively a Muslim ban,' with many of the same legal weaknesses as the first version."
The terms Trump and Bannon use: a glossary, The Washington Post, Marc Fisher, Thursday, 9 March 2017: "President Trump and his chief strategist, Stephen K. Bannon, have introduced a new political language to Washington — a populist and nationalist rhetoric that cuts across traditional Republican vs. Democratic divisions. Some of the words and phrases the administration has injected into Washington's political vocabulary previously thrived on the far reaches of both left and right. Here is a glossary of terms that Trump and Bannon have been using, with some background on where the language came from and how it's been deployed. [Economic nationalism, Enemy of the People, Globalist, Corporatist, Fake News, and America First.]"
Homeland Security Finally Vows To Fully Join Investigation Into 'Hate-Inspired Attacks,' The Huffington Post, Kim Bellware, Thursday, 9 March 2017: "The [federal government has] been criticized for what some call a late response to the rash of threats since January. The Department of Homeland Security has pledged to support from the federal level on down investigations into crimes that include numerous bomb threats to Jewish institutions nationwide and shootings of Indian nationals.  Homeland Security Secretary John F. Kelly, in a Thursday statement, condemned the rise of what he called 'apparent hate-inspired attacks and harassment against individuals and communities,' calling them 'unacceptable.'"
Secretary of State Rex Tillerson won't participate in Keystone review, State Department says, Politico, Ben Lefebvre, Thursday, 9 March 2017: "Secretary of State Rex Tillerson is not participating in matters related to the proposed Keystone XL pipeline, the State Department said Thursday. Tillerson, the former CEO of ExxonMobil, recused himself from State's review of the pipeline in February, a Department ethics lawyer wrote in a letter to Greenpeace on Thursday. He 'has not worked on that matter at the Department Of State and will play no role in the deliberations or the ultimate resolution' of whether to grant Keystone's cross-border permit. Greenpeace on Wednesday asked the Office of Government Ethics to urge Tillerson to remove himself from any decision tied to Keystone pipeline…. Since Tillerson gave himself 90 days after his confirmation to divest himself of Exxon stock, he could conceivably have reaped benefits that a Keystone XL approval would have on company shares, Greenpeace added. "
D.C. bureau chiefs are 'deeply concerned' that Secretary of State Rex Tillerson is ditching the press on Asia trip, Poynter, Benjamin Mullin, Thursday, 9 March 2017: "D.C. bureau chiefs from major news organizations, including The New York Times, The Washington Post, The Wall Street Journal, the wire services, Fox News and CNN sent a letter to the State Department earlier this week protesting Secretary of State Rex Tillerson's decision to ditch reporters on his upcoming trip to Asia. 'We were deeply concerned to hear that Secretary Tillerson plans to travel to Beijing, Seoul and Tokyo to hold key meetings about some of the most important foreign policy issues for the United States without any traveling press,' reads the letter, which was also signed by NPR, the BBC, Voice of America, the Los Angeles Times, Foreign Policy and the Agence France-Presse…. The letter, which was sent on Tuesday, also notes that the State Department's offer 'to help those reporters who want to travel unilaterally is wholly unrealistic, given the commercial flight schedules, visa issues and no guarantee of access once they are there.' The letter also requested a meeting with State Department officials to discuss access to Secretary Tillerson and press availability on trips abroad with the State Department. Tillerson's decision to spurn reporters is unusual…."
WikiLeaks pledges to release software code of CIA hacking tools to tech firms, The Washington Post, Ellen Nakashima, Elizabeth Dwoskin and Devlin Barrett, Thursday, 9 March 2017: "WikiLeaks will release to tech firms the software code of CIA hacking tools that were designed to compromise smartphones and other products, the group's founder said Thursday, attempting to position himself as a defender of cybersecurity and probably further antagonizing the intelligence community. 'We have decided to work with' the firms, WikiLeaks founder Julian Assange said at a news conference, 'to give them some exclusive access to the additional technical details we have so that fixes can be developed and pushed out, so that people can be secured.' Once the patches are sent out — or, as Assange put it, 'once this material is effectively disarmed by us' — WikiLeaks will release more details publicly, he said."
Trump Hires Three Men for Every Woman, Bloomberg, Polly Mosendz and Tom Randall, Thursday, 9 March 2017: "Women have been named to 27 percent of the appointed roles filled by President Donald Trump so far, according to a Bloomberg News analysis of records newly released by the federal government. That number falls far short of overall representation in the U.S. labor force, where women account for 47 percent. The gender breakdown of Trump's first wave of appointees was based on a list of appointee names obtained through Freedom of Information Act requests by ProPublica…. The ProPublica list includes 436 people, mostly hired in late January, and doesn't include appointees who require Senate confirmation. The White House is reportedly expected to appoint about 520 employees during a transitional period. Bloomberg News determined gender based on an analysis of names, cross referenced with publicly available profiles on websites such as LinkedIn. Because each individual did not confirm his or her gender, the tally is subject to a small margin of error…. [T]here appears to have been a much smaller gender gap among appointees in the Obama era. The New York Times, in a report published in 2012, found that women held about 43 percent of appointed roles in the Obama administration. The same report found President George W. Bush named women to roughly one-third of appointed roles."
Federal ethics chief Walter M. Shaub Jr. criticizes White House for decision not to discipline Trump's senior adviser Kellyanne Conway, The Washington Post, Drew Harwell, Thursday, 9 March 2017: "The federal government's top ethics official on Thursday chastised the White House for declining to discipline President Trump's senior adviser Kellyanne Conway for her on-air endorsement of Ivanka Trump's clothing line. Walter M. Shaub Jr., director of the Office of Government Ethics, had urged officials last month to reprimand Conway after she told Fox News viewers to 'go buy Ivanka's stuff,' appearing to violate a federal rule banning public officials from using their position to endorse products or services. But Stefan C. Passantino, who handles White House ethics issues as the president's deputy counsel, rebuffed that recommendation, saying in a letter last week that Conway 'acted inadvertently and is highly unlikely to do so again.' Shaub on Thursday wrote Passantino that he remained concerned about Conway's 'misuse of position. When an employee's conduct violates [federal rules], disciplinary action serves to deter future misconduct,' Shaub wrote. 'Not taking disciplinary action against a senior official under such circumstances risks undermining the ethics program.'… Shaub took issue with Passantino's assertion last week that 'many regulations' that fall under the ethics office do not apply to presidential staffers. 'It is critical to the public's faith in the integrity of government that White House employees be held to the same standard of ethical accountability as other executive branch employees,' Shaub wrote."
During debate on health care bill, male Republican Representative John Shimkus (R-Ill) asks why men should pay for prenatal coverage, The Washington Post, Elise Viebeck, Thursday, 9 March 2017: "During a March 9 debate on [Republican] plans to revise Obamacare, Rep. John Shimkus (R-Ill.) questioned why men are required to pay for prenatal care as part of essential care required by the Affordable Care Act…. Shimkus was raising a question common among opponents of the ACA. In 2013, during another famous exchange in the Energy and Commerce Committee, then-Rep. Renee L. Ellmers (R-N.C.) brought up the same thing with Kathleen Sebelius, then the health and human services secretary. 'Do men not have to buy maternity coverage?' Ellmers said, referring to the health-care law's essential health benefits. 'To the best of your knowledge, has a man ever delivered a baby?' Here's how insurance expert and columnist Nancy Metcalf answered a similar question from a Consumer Reports reader that year:
Health insurance, like all insurance, works by pooling risks. The healthy subsidize the sick, who could be somebody else this year and you next year. Those risks include any kind of health care a person might need from birth to death — prenatal care through hospice. No individual is likely to need all of it, but we will all need some of it eventually.

So, as a middle-aged childless man you resent having to pay for maternity care or kids' dental care. Shouldn't turnabout be fair play? Shouldn't pregnant women and kids be able to say, "Fine, but in that case why should we have to pay for your Viagra, or prostate cancer tests, or the heart attack and high blood pressure you are many times more likely to suffer from than we are?" Once you start down that road, it's hard to know where to stop. If you slice and dice risks, eventually you don't have a risk pool at all, and the whole idea of insurance falls apart….