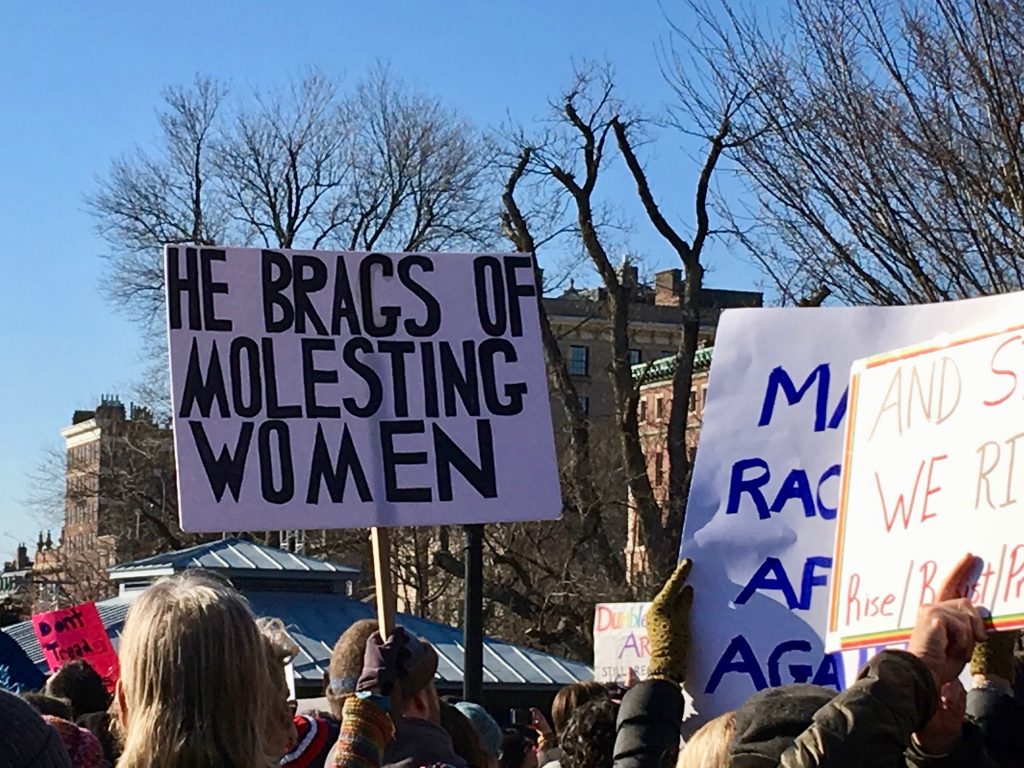 Keeping Track (of some things), Staying Outraged (it is possible), and Resisting (it's essential)
Passages in bold in the body of the texts below are my emphasis. This is an ongoing project, and I update the site frequently. I hope readers will peruse the articles in full for a better understanding of the issues and their context; our democracy and our future depend on citizens who can distinguish between facts and falsehoods and who are engaged in the political process.
Friday, 24 February 2017, Day 36:
Trump tweeted about the FBI and leaks at 7:31 am: "The FBI is totally unable to stop the national security 'leakers' that have permeated our government for a long time. They can't even……" And again at 7:36 am: …"find the leakers within the FBI itself. Classified information is being given to media that could have a devastating effect on U.S. FIND NOW"
Trump Denounces F.B.I. Over Leaks, Demanding Investigation, The New York Times, Julie Hirschfeld Davis, Friday, 24 February 2017: "President Trump on Friday assailed the F.B.I. as a dangerously porous agency, charging that leaks of classified information from within its ranks were putting the country at risk — and calling for an immediate hunt for the leakers. Mr. Trump's complaints were his latest attacks on his own government's law enforcement and intelligence agencies, which he has characterized as misguided, irresponsible and politically motivated. The criticisms appeared to be a response to a news report Thursday night indicating that a White House official had asked the F.B.I. to rebut an article detailing contacts between Mr. Trump's associates and Russian intelligence officials…. An F.B.I. official confirmed on Thursday night [23 February] that the White House had asked last week for the bureau's help disputing the story, and that senior F.B.I. officials had rejected the request, citing the continuing investigation into Russian efforts to affect the election…. Mr. Trump's remarks add to an already unusual moment in history for the F.B.I. The bureau, along with other American intelligence agencies, has concluded that Russia unleashed a hacking campaign to disrupt the 2016 presidential election, in part to help Mr. Trump. F.B.I. agents are also investigating some of Mr. Trump's former campaign advisers and associates. Mr. Trump has been disparaging the intelligence community for months, particularly in response to its conclusion that Russia sought to influence the election on his behalf. In December, he suggested that United States intelligence agencies could not be trusted because they erroneously concluded that Saddam Hussein had weapons of mass destruction in Iraq. In January, he denounced leaks emanating from the intelligence community and argued that they were politically motivated. 'Are we living in Nazi Germany?' he said."
Fact Check: Trump Blasts 'Fake News' and Repeats Inaccurate Claims at CPAC (the Conservative Political Action Conference), The New York Times, Linda Qiu, Friday, 24 February 2017: "President Trump's speech on Friday at the Conservative Political Action Conference followed a familiar pattern: Blast the news media as 'dishonest,' repeat a string of falsehoods and wrap up by promising to change the status quo. 'I want you all to know that we are fighting the fake news,' Mr. Trump said. 'It's fake, phony, fake. They have a professional obligation as members of the press to report honestly. But as you saw throughout the entire campaign, and even now, the fake news doesn't tell the truth.'" This article assesses some of the claims Trump made at CPAC. See also, Remarks by President Trump at the Conservative Political Action Conference (CPAC), whitehouse.gov, Friday, 24 February 2017: "I want you all to know that we are fighting the fake news. It's fake, phony, fake. A few days ago, I called the fake news the enemy of the people. And they are. They are the enemy of the people, because they have no sources. They just make them up when there are none. … There are some great reporters around. They are talented. They're honest as the day is long. They're great. But there are some terrible, dishonest people, and they do a tremendous disservice to our country and to our people. A tremendous disservice. They are very dishonest people, and they shouldn't use sources. They should put the name of the person. You will see stories dry up like you've never seen before."
Continue reading Week 6, Friday, 24 February – Thursday, 2 March 2017:
Reporters barred from U.S. press secretary briefing, Committee to Protect Journalists, Friday, 24 February 2017: "The Committee to Protect Journalists is concerned by the decision today to bar nine news outlets from an informal briefing known as 'a gaggle' by President Donald Trump's White House Press Secretary Sean Spicer. Separately, at the Conservative Party Action Conference in Maryland today, Trump said that journalists should not be allowed to use anonymous sources, and accused the press of producing 'fake news,' according to reports. 'President Trump's calls for an end to anonymous sources was alarming. It is not the job of political leaders to determine how journalists should conduct their work, and sets a terrible example for the rest of the world, where sources often must remain anonymous to preserve their own lives,' said CPJ Executive Director Joel Simon. 'We are concerned by the decision to bar reporters from a press secretary briefing. The U.S. should be promoting press freedom and access to information.' Aides to the press secretary denied access to reporters from CNN, The New York Times, Politico, The Hill, the BBC, the Daily Mail, Buzzfeed, the Los Angeles Times, and New York Daily News, saying that only those previously confirmed could attend the briefing, The New York Times reported. An administration spokesperson said in a statement that a press pool was in place for the informal briefing, which was taking in a smaller office than the regular briefings. Reporters from The Associated Press and Time magazine boycotted the briefing in solidarity with their colleagues. See also, Trump Is Damaging Press Freedom in the U.S. and Abroad, The New York Times, Joel Simon (executive director of the Committee to Protect Journalists), published on Saturday, 25 February 2017: "Speaking at the Conservative Political Action Conference Friday, President Trump took his anti-media rhetoric to a new level, doubling down on his description of journalists as 'the enemy of the people' and calling for an end to the use of anonymous sources. This on a day when his press secretary Sean Spicer barred reporters from The New York Times, BBC, BuzzFeed News, CNN, Politico, The Los Angeles Times and The Huffington Post from his daily White House press briefing. The unrelenting attacks on the news media damage American democracy. They appear to be part of a deliberate strategy to undermine public confidence and trust by sowing confusion and uncertainty about what is true. But they do even greater damage outside the United States, where America's standing as a global beacon of press freedom is being drastically eroded. This is not just a matter of United States prestige. At a time when journalists around the world are being killed and imprisoned in record numbers, Mr. Trump's relentless tirades against 'fake news' are emboldening autocrats and depriving threatened and endangered journalists of one of their strongest supporters — the United States government."
White House bars some news organizations from briefing, Reuters, Ayesha Rascoe, Friday, 24 February 2017: "The White House excluded several major U.S. news organizations, including some it has criticized, from an off-camera briefing held by the White House press secretary on Friday…. Spicer's decision drew a sharp response from some of the media outlets that were excluded. 'Nothing like this has ever happened at the White House in our long history of covering multiple administrations of different parties,' Dean Baquet, executive editor of The New York Times, said in a statement. 'We strongly protest the exclusion of The New York Times and the other news organizations. Free media access to a transparent government is obviously of crucial national interest.'"
In December White House press secretary Sean Spicer said barring media access is what a 'dictatorship' does. Today, he barred media access, The Washington Post, Philip Bump, Friday, 24 February 2017: Audio from Sean Spicer's press briefing on Friday afternoon "makes clear that Spicer intentionally excluded certain outlets because the White House isn't going to 'sit back and let false narratives, false stories, inaccurate facts get out there.'"
Trump's National Security Adviser H.R. McMaster Breaks With Administration on Views of Islam, The New York Times, Mark Landler and Eric Schmitt, Friday, 24 February 2017: "President Trump's newly appointed national security adviser has told his staff that Muslims who commit terrorist acts are perverting their religion, rejecting a key ideological view of other senior Trump advisers and signaling a potentially more moderate approach to the Islamic world. The adviser, Lt. Gen. H. R. McMaster, told the staff of the National Security Council on Thursday, in his first 'all hands' staff meeting, that the label 'radical Islamic terrorism' was not helpful because terrorists are 'un-Islamic,' according to people who were in the meeting. That is a repudiation of the language regularly used by both the president and General McMaster's predecessor, Michael T. Flynn, who resigned last week after admitting that he had misled Vice President Mike Pence and other officials about a phone call with a Russian diplomat…. Mr. McCants [a senior fellow at the Brookings Institution] and others cautioned that General McMaster's views would not necessarily be the final word in a White House where Mr. Trump and several of his top advisers view Islam in deeply xenophobic terms. Some aides, including the president's chief strategist, Stephen K. Bannon, have warned of a looming existential clash between Islam and the Judeo-Christian world. Mr. Bannon and Stephen Miller, another senior adviser with anti-Islamic views, have close ties to Mr. Trump and walk-in privileges in the Oval Office. General McMaster, 54, has neither."
Newest Trump Executive Order Pushes His Anti-Regulatory Agenda Further, InsideClimate News, Marianne Lavelle, Friday, 24 February 2017: "Every federal agency will set up a task force dedicated to quickly finding regulations to eliminate, as mandated by an executive order signed Friday by President Donald Trump. It is one of a series of moves the White House believes will free U.S. businesses from the bonds of health, safety, consumer and environmental protections. Surrounded by executives from some of the nation's largest corporations, Trump made clear his anti-regulatory drive is a large part of his jobs-creation plan."
Homeland Security intelligence report disputes Trump's claim that a threat is posed by citizens of 7 nations named in his travel ban, Associated Press Exclusive, Vivian Salama and Alicia A. Caldwell, Friday, 25 February 2017: "Analysts at the Homeland Security Department's intelligence arm found insufficient evidence that citizens of seven Muslim-majority countries included in President Donald Trump's travel ban pose a terror threat to the United States. A draft document obtained by The Associated Press concludes that citizenship is an 'unlikely indicator' of terrorism threats to the United States and that few people from the countries Trump listed in his travel ban have carried out attacks or been involved in terrorism-related activities in the U.S. since Syria's civil war started in 2011…. The three-page report challenges Trump's core claims. It said that of 82 people the government determined were inspired by a foreign terrorist group to carry out or try to carry out an attack in the United States, just over half were U.S. citizens born in the United States. The others were from 26 countries, led by Pakistan, Somalia, Bangladesh, Cuba, Ethiopia, Iraq and Uzbekistan. Of these, only Somalia and Iraq were among the seven nations included in the ban. Of the other five nations, one person each from Iran, Sudan and Yemen was also involved in those terrorism cases, but none from Syria. It did not say if any were Libyan. The report also found that terrorist organizations in Iran, Libya, Somalia and Sudan are regionally focused, while groups in Iraq, Syria and Yemen do pose a threat to the U.S." See also, People From 7 Travel-Ban Nations Pose No Increased Terror Risk, Report Says, The New York Times, Ron Nixon, published on Saturday, 25 February, 2017: "When President Trump signed an executive order last month temporarily barring visitors from seven mostly Muslim countries, he said he was moving to protect the United States from terrorist attacks. The Homeland Security secretary, John F. Kelly, echoed the president, saying the travel ban was necessary because vetting procedures 'in those seven countries are suspect.' But an internal report written by intelligence analysts at Mr. Kelly's department appears to undercut the assessment that people from the seven countries — Iran, Iraq, Libya, Somalia, Sudan, Syria and Yemen — pose a heightened threat of terrorism. The three-page report found that 'country of citizenship is unlikely to be a reliable indicator of potential terrorist activity.'"
Senior Republican Congressperson Darrell Issa (CA) says special prosecutor should investigate Russian meddling in Trump's election, The Washington Post, Amy B Wang, published on Saturday, 25 February 2017: "A senior Republican lawmaker on Friday agreed that a special prosecutor should investigate Russia's alleged interference with the 2016 presidential election. Rep. Darrell Issa (R-Calif.) became one of the few Republican representatives to state publicly the need for an independent investigation into Russia's reported election meddling. This comes as Democrats have increasingly pushed for an investigation into President Trump's associates' ties to Russia."
Oklahoma Attorney General's office confirms Pruitt used private email for state business, FOX 25, Phil Cross, Friday, 24 February 2017: "The Oklahoma Attorney General's Office confirms former Attorney General Scott Pruitt used a private email for state business. The information comes a week after FOX 25 first revealed the emails that appeared to be sent from Pruitt's private email account."
Republican lawmakers introduce bills to curb protesting in at least 18 states, The Washington Post, Christopher Ingraham, Friday, 24 February 2017: "Since the election of President Trump, Republican lawmakers in at least 18 states have introduced or voted on legislation to curb mass protests in what civil liberties experts are calling 'an attack on protest rights throughout the states.' From Virginia to Washington state, legislators have introduced bills that would increase punishments for blocking highways, ban the use of masks during protests, indemnify drivers who strike protesters with their cars and, in at least one case, seize the assets of people involved in protests that later turn violent. The proposals come after a string of mass protest movements in the past few years, covering everything from police shootings of unarmed black men to the Dakota Access Pipeline to the inauguration of Trump…. None of the proposed legislation has yet been passed into law, and several bills have already been shelved in committee. Critics doubt whether many of the laws would pass Constitutional muster. 'The Supreme Court has gone out of its way on multiple occasions to point out that streets, sidewalks and public parks are places where [First Amendment] protections are at their most robust,' said Lee Rowland, a senior attorney with the American Civil Liberties Union."
Father of Commando Killed in Yemen in January Refused to Meet Trump at Dover Air Force Base on 1 February when the body of his son was returned the the US, The New York Times, Eric Schmitt, published on 26 February 2017: "The father of the commando killed in a Special Operations raid in Yemen last month said in an interview published this weekend that he had refused to meet with President Trump on the day his son's body was returned home [Wednesday, 1 February2017], and criticized the White House over the mission… 'The government owes my son an investigation,' the father, William Owens, told The Miami Herald, referring to Chief Petty Officer William Owens, 36, a member of the Navy's SEAL Team 6…. 'I'm sorry; I don't want to see him,' Mr. Owens recalled telling a chaplain who had informed him that Mr. Trump was on his way from Washington. 'I told them I don't want to meet the president.' 'I told them I didn't want to make a scene about it, but my conscience wouldn't let me talk to him,' Mr. Owens said in the interview, which The Herald said took place on Friday at Mr. Owens's home in Lauderdale-by-the Sea, Fla."
Saturday, 25 February 2017, Day 37:
Immigration Agents Discover New Freedom to Deport Under Trump, The New York Times, Nicholas Kulish, Caitlin Dickerson and Ron Nixon, Saturday, 25 February 2017: "In Virginia, Immigration and Customs Enforcement agents waited outside a church shelter where undocumented immigrants had gone to stay warm. In Texas and in Colorado, agents went into courthouses, looking for foreigners who had arrived for hearings on other matters. At Kennedy International Airport in New York, passengers arriving after a five-hour flight from San Francisco were asked to show their documents before they were allowed to get off the plane. The Trump administration's far-reaching plan to arrest and deport vast numbers of undocumented immigrants has been introduced in dramatic fashion over the past month. And much of that task has fallen to thousands of ICE officers who are newly emboldened, newly empowered and already getting to work…. Interviews with 17 agents and officials across the country, including in Florida, Alabama, Texas, Arizona, Washington and California, demonstrated how quickly a new atmosphere in the agency had taken hold. Since they are forbidden to talk to the press, they requested anonymity out of concern for losing their jobs. The White House press secretary, Sean Spicer, said on Tuesday that the president wanted to 'take the shackles off' of agents, an expression the officers themselves used time and again in interviews to describe their newfound freedom." Jameel Jaffer, Director, Knight First Amendment Institute at Columbia University and formerly Deputy Legal Director, ACLU, tweeted on Sunday, 26 February 2017: "Immigration enforcement agents are being told what military & CIA interrogators were told in days before Abu Ghraib & black site abuses."
Democrats Elect Thomas Perez, Establishment Favorite, as Chairman of the Democratic National Committee, The New York Times, Jonathan Martin, Saturday, 25 February 2017: "Former Labor Secretary Thomas E. Perez was elected chairman of the Democratic National Committee on Saturday, narrowly defeating Representative Keith Ellison of Minnesota to take the helm of a still-divided party stunned by President Trump's victory but hopeful that it can ride the backlash against his presidency to revival…. Entering the race immediately after Mr. Trump's win, Mr. Ellison, a prominent surrogate for Mr. Sanders in the presidential primary race, quickly won support from him and other leading liberals. Allies of Mr. Obama, Mrs. Clinton and other establishment-aligned Democrats soon began casting about for an alternative. In December, Mr. Perez entered the fray, quickly winning praise from Mr. Obama and endorsements from a number of governors."
At the Conservative Political Action Conference (CPAC) Scott Pruitt, head of the Environmental Protection Agency, vows to slash climate and water pollution regulations, The Guardian, Oliver Milman, Saturday, 25 February 2017: "Scott Pruitt, the administrator of the Environmental Protection Agency (EPA), has vowed to roll back flagship regulations that tackle climate change and water pollution, telling a conservative audience in Maryland they would be 'justified' in believing the environmental regulator should be completely disbanded." See also, At the Conservative Political Action Conference (CPAC) Environmental Protection Agency chief Scott Pruitt calls for 'aggressive' rollback of regulations, The Hill, Max Greenwood, Saturday, 25 February 2017: "Newly minted Environmental Protection Agency (EPA) Administrator Scott Pruitt on Saturday spoke of an 'aggressive' agenda of regulatory rollbacks, criticizing the previous Obama administration for being 'so focused on climate change.'"
Trump Is Skipping the White House Correspondents' Association Dinner in April, BuzzFeed News, Tom Namako, Saturday, 25 February 2017: "Donald Trump tweeted Saturday that he is skipping the White House Correspondents' Association dinner amid the most tense relationship between a sitting president and the press corps since the Nixon era…. He has recently taken to calling the press the 'enemy of the American people.'… The annual, celebrity-studded WHCA dinner has long been criticized as a display of too-cozy relations between the media and people they are supposed to cover fairly and critically.… (Some outlets choose not to attend the event. For example, the New York Times stopped attending in 2007 and BuzzFeed News does not go.)"
Sunday, 26 February 2017, Day 38:
100 Headstones Toppled at a Jewish Cemetery in Philadelphia, The New York Times, Niraj Chokshi, Sunday, 26 February 2017: "The police in Philadelphia found about 100 toppled headstones at a Jewish cemetery on Sunday, less than one week after a similar discovery was made in Missouri…. The episode drew almost immediate comparison to a similar discovery last Monday in University City, Mo., where more than 150 headstones were toppled at the Chesed Shel Emeth Cemetery. Also on Monday [20 February], 11 bomb scares were called into Jewish community centers nationwide, the fourth wave of such threats this year. A community center in Philadelphia was among those targeted in the first round. State and local officials denounced the destruction at the Mount Carmel Jewish Cemetery, describing it as an act of vandalism."
White House press secretary Sean Spicer targets his own staff in leak crackdown, Politico, Annie Karni and Alex Isenstadt, Sunday, 26 February 2017: "Press secretary Sean Spicer is cracking down on leaks coming out of the West Wing, with increased security measures that include random phone checks of White House staffers, overseen by White House attorneys….  Last week, after Spicer became aware that information had leaked out of a planning meeting with about a dozen of his communications staffers, he reconvened the group in his office to express his frustration over the number of private conversations and meetings that were showing up in unflattering news stories, according to sources in the room. Upon entering Spicer's office for what one person briefed on the gathering described as 'an emergency meeting,' staffers were told to dump their phones on a table for a 'phone check,"'to prove they had nothing to hide."
Monday, 27 February 2017, Day 39:
Wilbur Ross, a Billionaire Investor, Is Confirmed as Commerce Secretary, The New York Times, Alan Rappeport, Monday, 27 February 2017: "The Senate confirmed Wilbur L. Ross, the billionaire investor, as commerce secretary on Monday, installing a key leader for the Trump administration's plans to overhaul trade deals such as the North American Free Trade Agreement. By a vote of 72 to 27, the Senate confirmed Mr. Ross, who has already been advising President Trump on economic policy and helping him to craft ways to rewrite the tax code. A renegotiation of Nafta is expected to be Mr. Ross's top priority when he takes over the job. During his confirmation hearing in January, he warned that "all aspects" of the agreement between the United States and its northern and southern neighbors are on the table…. On the Senate floor ahead of the vote, Senator Chuck Schumer, Democrat of New York and the minority leader, accused Mr. Ross of having questionable business ties to Russia. He said Mr. Ross and the Trump administration had failed to be forthcoming about the matter and described it as a troubling pattern." See also, Congressional Record, Monday, 27 February 2017: Elizabeth Warren: "I rise today to oppose President Trump's nomination of Wilbur Ross for Secretary of Commerce. Mr. Ross is a Wall Street billionaire with a long history of profiting from the suffering of others. He also has shady ties to Vladimir Putin's Russia. That is just his record. Because of that record, I do not have confidence that he will protect the interests of the American people as Secretary of Commerce."
After Backlash, Secretary of Education Betsy DeVos Backpedals on Her Remarks Calling Historically Black Colleges 'Pioneers' in School Choice, The New York Times, Yamiche Alcindor, published on Tuesday, 28 February 2017: On Monday evening Ms. DeVos "released a statement shortly after meeting with several presidents of historically black colleges and universities…. [Historically black colleges and universities] 'are real pioneers when it comes to school choice. They are living proof that when more options are provided to students, they are afforded greater access and greater quality. Their success has shown that more options help students flourish.' On Twitter, hundreds of angry users accused her of ignoring the fact that many of the schools were founded because black students were not allowed to attend segregated white schools, not because education pioneers wanted to give African-Americans more options in higher education. Many accused her of using the nation's history of segregation to advance a contemporary political agenda…. On Tuesday afternoon, Ms. DeVos seemed to backpedal on her statement at a luncheon for the school presidents at the Library of Congress. 'Bucking that status quo, and providing an alternative option to students denied the right to attend a quality school is the legacy of HBCUs,' she said, according to prepared remarks released by her office. 'But your history was born, not out of mere choice, but out of necessity, in the face of racism, and in the aftermath of the Civil War.'"
Justice Department drops its long-standing position that Texas intended to discriminate when it passed a strict voter-ID law in 2011, The Washington Post, Sari Horwitz, Monday, 27 February 2017: "The Justice Department on Monday dropped its long-standing position that Texas intended to discriminate when it passed a strict voter-ID law, a sharp turn from the Obama administration's push to challenge restrictive state voting laws. The Texas case is the first window into how the Trump administration and Attorney General Jeff Sessions will approach the highly charged issue of voting rights. President Trump has alleged without evidence that massive voter fraud led to his loss of the popular vote in November to Democrat Hillary Clinton. Voter advocates fear that these claims will be used to justify more restrictions on voters. The new position on the Texas law, one of the strictest in the country, came in advance of a court hearing scheduled before a federal judge in Corpus Christi on Tuesday. In its motion filed Monday, the department sought to 'dismiss the discriminatory purpose claim,' or, in other words, abandon its argument that the Texas law is intentionally racially discriminatory."
Trump to Seek $54 Billion Increase in Military Spending, The New York Times, Michael D. Shear and Jennifer Steinhauer, Monday, 27 February 2017: "President Trump put both political parties on notice Monday that he intends to slash spending on many of the federal government's most politically sensitive programs — relating to education, the environment, science and poverty — to protect the economic security of retirees and to shift billions more to the armed forces. The proposal to increase military spending by $54 billion and cut nonmilitary programs by the same amount was unveiled by White House officials as they prepared the president's plans for next year's federal budget."
Donald Trump Learns That Reforming Health Care Is "Complicated," The New Yorker, Ryan Lizza, published on Tuesday, 28 February 2017: "'I have to tell you, it's an unbelievably complex subject,' President Donald Trump told a group of governors at the White House yesterday. 'Nobody knew that health care could be so complicated.' Trump is not an overly complicated rhetorician. He uses a few key phrases—call them Trumpisms—to convey ideas that he wants listeners to believe are universal. When he uses the often mocked expressions 'many people are saying' or 'a lot of people think,' for example, what he really means is that he is about to say something that he personally believes, which may not have any factual foundation, such as his comments about widespread voter fraud in the 2016 election or the size of crowds at his events. 'Nobody knew' is Trumpspeak for 'I just found out.' Large-scale reform of the American health-care system is one of the most complicated policy issues the government faces, as all of Trump's modern predecessors learned."
Targeting a Sanctuary: After US Immigration and Customs Enforcement Stakes Out a Church Homeless Shelter in Virginia, Charities Worry Immigrants Will Fear Getting Help, The Intercept, Alex Emmons, Monday, 27 February 2017: "Two dozen homeless men and women filed out of Rising Hope United Methodist Church, where they had found sanctuary the night before from the wind and brutal cold. Each winter for more than 15 years, the church has acted as an overnight homeless shelter along the decaying Route 1 corridor in Alexandria, Virginia…. That morning in early February, as the men and women gathered in the church parking lot, a few of them noticed three unmarked cars parked across the street. Then a group of seven or eight Latino men split off from the group and headed for the shopping center across the street. As soon as the men stepped onto the opposite sidewalk, a dozen federal agents burst out of the cars, forced them up against a wall, handcuffed them, and interrogated them for at least half an hour…. [S]ix or seven Latino men were taken away and shoved into in a van, already half full with other arrestees…. [T]o the longtime pastor of Rising Hope, the message was chilling: His church is now a target. 'They were not here because they were doing a routine community sweep. They were clearly targeting,' said Rev. Keary Kincannon. 'They were waiting until the Hispanic men came out of the church. And they rounded them all up. They didn't question the blacks. They didn't question the whites. They were clearly going after folks that were Latino.'"
Trump: New York Times has an 'evil' intent, Politico, Nolan D. McCaskill, Monday, 27 February 2017: "President Donald Trump lashed out at The New York Times on Monday, claiming it reports with 'evil' intentions and publishes lies.' If you read the New York Times, it's — the intent is so evil and so bad,' the president told Breitbart News in an interview Monday. 'The stories are wrong in many cases, but it's the overall intent…. The fake media is the opposition party. The fake media is the enemy of the American people. There's tremendous fake media out there. Tremendous fake stories. The problem is the people that aren't involved in the story don't know that.'"
Trump says Obama is helping to organize protests against his presidency, The Washington Post, Philip Rucker, published on Tuesday, 28 February 2017: "President Trump has been dismissing the protests against his presidency and demonstrations at congressional town hall meetings across the country as concocted by his political enemies. But now he has an alleged culprit: Barack Obama. In an interview Monday with Fox News Channel, Trump said that he believes his predecessor is helping to organize the protests — even though there is no evidence that Obama has been personally involved in mobilizing opposition to Trump. 'I think that President Obama is behind it because his people certainly are behind it,' Trump said. 'In terms of him being behind things, that's politics. It will probably continue.'"
Tuesday, 28 February 2017, Day 40:
Trump Repeals Rule Designed to Block Gun Sales to Certain Mentally Ill People, NPR, Merrit Kennedy, Tuesday, 28 February 2017: "President Trump signed a measure into law Tuesday that rescinds an Obama-era rule aimed at blocking gun sales to certain mentally ill people…. The Obama administration policy 'would have required the Social Security Administration to report the records of some mentally ill beneficiaries to the FBI's National Instant Criminal Background Check System,' as The Two-Way has reported. 'Those who have been deemed mentally incapable of managing their financial affairs — roughly 75,000 people — would have been affected by the rule.'"
Trump Signs Executive Order Directing the Environmental Protection Agency to Roll Back a Clean Water Rule Known as Waters of the United States (WOTUS), The New York Times, Coral Davenport, published on 27 February 2017: "President Trump is expected to sign [and he did] an executive order on Tuesday [28 February] aimed at rolling back one of former President Barack Obama's major environmental regulations, a clean water rule known as Waters of the United States. But on its own, Mr. Trump's order will have almost no legal effect on the sweeping rule, which was imposed in 2015, according to two people familiar with the White House plans. An advance copy of the order was viewed by The New York Times on Monday. The order will essentially give Mr. Trump a megaphone to direct his new Environmental Protection Agency administrator, Scott Pruitt, to begin the lengthy and complicated legal process required to rewrite the rule — a process that could take longer than Mr. Trump's first term, legal experts said." See also, The Waters of the United States (WOTUS) Rule: What It Is and Why It's Important, Audubon, Meghan Bartels, published on Wednesday, 1 March 2017: "'Keep navigable waters clean.' It sounds straightforward, but in practice it's anything but. For decades, the Environmental Protection Agency has struggled with that task, after the Clean Water Act in 1972 gave them the authority to regulate 'navigable waters.' But 'navigable' doesn't cover small streams and wetlands, and water in those areas has a habit of flowing downhill into other, larger bodies of water. Whether the EPA could regulate all that water before it reached someplace navigable was never clear. So in 2015 the Obama administration finalized the Clean Water Rule, nicknamed the Waters of the United States rule or WOTUS, in the hopes of creating a functional definition to guide the EPA's work. The agency says that before the rule, jurisdictional limbo affected about 60 percent of streams and wetlands in the country. Even with that restriction, the Clean Water Act has been quite successful, cleaning up rivers like the infamous 'River that Caught Fire' Cuyahoga in Ohio from decades of urban and industrial pollution. In total, WOTUS placed 117 million people's drinking water sources solidly under EPA jurisdiction—that's about a third of the country's population." See also, Trump's claim that Waters of the United States rule cost 'hundreds of thousands' of jobs is not credible, The Washington Post, Michelle Ye Hee Lee, published on Thursday, 2 March 2017: "On Feb. 28, Trump signed an executive order instructing a review of a controversial regulation issued during the Obama administration, called the "Waters of the United States" rule. Supporters had hailed the regulation as a necessary move to protect public health, and opponents criticized the federal government for overreach by adopting the rule. During his remarks signing the executive order, Trump made a handful of suspicious claims, including that the rule has cost 'hundreds of thousands' of jobs. We looked into that claim and others he made about the rule…. The focus of our fact-check is whether the rule cost 'hundreds of thousands of jobs,' and there is no evidence to support that. After the rule was issued in 2015, the U.S. Court of Appeals for the 6th Circuit issued a nationwide stay blocking it from taking effect. We checked with key industry groups that opposed the rule, but did not find research into the impact of the rule on jobs after it was halted in 2015. The rule has been in limbo since, so it is not credible that any jobs have been lost." This excellent article summarizes some of the history leading up to the passage of the "Waters of the United States" rule in 2015 and fact-checks the remarks Trump made on Tuesday, 28 February upon signing the executive order to roll back the rule.
Republicans vote down attempt to advance debate on Trump-Russia allegations, The Washington Post, Mike DeBonis, Tuesday, 28 February 2017: "Republicans on Tuesday stifled a Democratic attempt to force the Justice Department to produce records related to its investigation of whether Donald Trump and his campaign had secret ties to Russia. A powerful GOP committee chairman [Rep. Bob Goodlatte (R-VA)] said, however, that he would urge federal authorities to continue their probe. The party-line House Judiciary Committee vote concerned a 'resolution of inquiry,' an obscure legislative maneuver that allows Congress to demand documents from the executive branch. Under House rules, such a resolution must be debated in committee or be sent directly to the House floor. The resolution was among the steps that members of the Democratic minority in the House have taken to pressure the GOP to toughen its oversight of President Trump and his administration. It asked Attorney General Jeff Sessions to provide records that pertain to any 'criminal or counterintelligence investigation' into Trump, his White House team or certain campaign associates; any investment made by a foreign power or agent thereof in Trump's businesses; Trump's plans to distance himself from his business empire; and any Trump-related examination of federal conflict of interest laws or the emoluments clause of the Constitution."
Trump's Address to Joint Session of Congress (Annotated), NPR, Tuesday, 28 February 2017. See also, Don't Be Fooled. Donald Trump Didn't Pivot, The New Yorker, John Cassidy, published on Wednesday, 1 March 2017: On Tuesday night "Slate's Jacob Weisberg remarked on Twitter, 'Enemies of the people giving Trump positive reviews for not sounding like a ranting dictator.' It certainly seemed that way. If there was anything fresh about what Trump said to Congress, it was largely stylistic. He didn't pivot; he merely pirouetted, and then he dug into the same political ground he has already claimed. About all that happened was that Trump, perhaps feeling saddled by low approval ratings, caved to the normal conventions of political communication. These rules dictate that, on august occasions such as a speech to Congress, Presidents talk politely and try to avoid giving offense. They leaven the heavy fare they are bearing with moments of optimism and humanity, promise the viewers some goodies, and offer up some notes of inclusion. Trump did all these things… To justify his many illiberal proposals, as well as his authoritarian instincts, Trump needs to persuade people that everything is going to hell, and that only he can save things." See also the statement by Richard Cohen, President of the Southern Poverty Law Center, published on Wednesday, 1 March 2017: "We all heard President Trump condemn hate in his speech to Congress last night. But what we didn't hear was anything he planned to do in response to the hate unleashed by his campaign. What we didn't hear was him acknowledging that his own words have deepened the wounds in our nation. And what we continue to see are policies that rip families apart, demonize religious minorities and abandon the transgender community. Trump can say all the right things. The question is, will he do the right things? We're still waiting to see."
Attorney General Jeff Sessions Indicates the Justice Department Will Stop Monitoring Troubled Police Agencies, The New York Times, Eric Lichtblau, Tuesday, 28 February 2017: "Attorney General Jeff Sessions indicated on Tuesday that the federal government would back away from monitoring troubled police departments, which was the central strategy of the Obama administration to force accountability onto local law enforcement amid rising racial tensions. In his first speech as attorney general, Mr. Sessions did not name any specific cities, but he indicated that Justice Department scrutiny from afar was undermining the effectiveness of the police across the country. It was a clear reference to the aggressive efforts of the Obama administration to oversee law enforcement agencies charged with civil rights abuses."
The chief justice of Oklahoma's Supreme Court gives Oklahoma's new attorney general more time to produce Environmental Protection Agency chief Scott Pruitt's emails, Tulsa World/Associated Press, published on Wednesday, 1 March 2017: "The chief justice of Oklahoma's Supreme Court on Tuesday gave the state's new attorney general more time to produce thousands of documents related to the relationship that new Environmental Protection Agency leader Scott Pruitt had with energy companies.Chief Justice Douglas Combs granted Attorney General Mike Hunter's request for an emergency stay after attorneys for Hunter's office argued a lower court's Friday deadline was not enough time to produce all the documents."
Trump Can't Accept That His Allies Are Targeting Jews–So He Blames His Opponents, The Intercept, Robert Mackey, Tuesday, 28 February 2017: "A wave of attacks  on Jewish cemeteries and bomb threats against Jewish community centers might not be anti-Semitic acts but 'the reverse,"'Donald Trump hinted darkly on Tuesday, according to Josh Shapiro, Pennsylvania's attorney general. Trump's apparent embrace of a conspiracy theory popular on white supremacist websites — that the president's political opponents might have staged the incidents to frame him or his supporters — came during a White House meeting with state attorneys general. At the meeting, Shapiro asked Trump about the spike in anti-Semitic acts during his presidency, including the vandalism of more than 100 tombstones at the Mount Carmel Jewish cemetery in Philadelphia on Saturday night. Shaprio found Trump's response 'a bit curious.' Shapiro told The Philadelphia Inquirer that Trump said anti-Semitic attacks are 'reprehensible' but sometimes 'the reverse can be true.' According to Shapiro, Trump added, 'Someone's doing it to make others look bad.'" See also, Trump Condemns Attacks On Jews–After Earlier Suggesting They Are Meant To Make Him Look Bad, Southern Poverty Law Center, David Neiwert, published on Wednesday, 1 March 2017.

FBI once planned to pay former British spy Christopher Steele who authored controversial Trump dossier, The Washington Post, Tom Hamburger and Rosalind S. Helderman, Tuesday, 28 February 2017: "The former British spy who authored a controversial dossier on behalf of Donald Trump's political opponents alleging ties between Trump and Russia reached an agreement with the FBI a few weeks before the election for the bureau to pay him to continue his work, according to several people familiar with the arrangement. The agreement to compensate former MI6 agent Christopher Steele came as U.S. intelligence agencies reached a consensus that the Russians had interfered in the presidential election by orchestrating hacks of Democratic Party email accounts. While Trump has derided the dossier as 'fake news' compiled by his political opponents, the FBI's arrangement with Steele shows that the bureau considered him credible and found his information, while unproved, to be worthy of further investigation. Ultimately, the FBI did not pay Steele. Communications between the bureau and the former spy were interrupted as Steele's now-famous dossier became the subject of news stories, congressional inquiries and presidential denials, according to the people familiar with the arrangement, who spoke on the condition of anonymity because they were not authorized to discuss the matter."
White House rebuffs ethics office recommendation to discipline Kellyanne Conway, Counselor to Trump, The Washington Post, Matea Gold, published on Wednesday, 1 March 2017: "The White House Counsel's Office has concluded that senior adviser Kellyanne Conway acted 'inadvertently' when she endorsed Ivanka Trump's clothing line, rebuffing a recommendation by the top federal ethics official that she be disciplined for an apparent violation of federal rules. Stefan C. Passantino, who handles White House ethics issues as deputy counsel to President Trump, wrote in a letter Tuesday that his office concluded Conway was speaking in a 'light, offhand manner' when she touted the Ivanka Trump line during a Feb. 9 appearance on 'Fox & Friends.' At the time, Conway was addressing efforts by activists to persuade retailers such as Nordstrom to drop Ivanka Trump-branded items. 'We concluded that Ms. Conway acted inadvertently and is highly unlikely to do so again,' Passantino wrote to Walter M. Schaub, Jr., director of the Office of Government Ethics, adding that Conway made the comments 'without nefarious motive or intent to benefit personally.'… It remains to be seen whether OGE will pursue its recommendation that Conway be disciplined, a move Shaub urged the White House to take in a Feb. 13 letter. 'There is strong reason to believe that Ms. Conway has violated the Standards of Conduct and that disciplinary action is warranted,' he wrote at the time…. The ethics office does not have investigative powers or enforcement authority. OGE can recommend a penalty for employees who violate federal ethics rules, though its advice is nonbinding. The office can also inform the president if an agency fails to discipline an employee, but Shaub noted last month that such a notification would be ineffective if the official declining to take action is the president."
Wednesday, 1 March 2017, Day 41:
Jeff Sessions met with Russian ambassador twice last year, encounters he later did not disclose in his confirmation hearings, The Washington Post, Adam Entous, Ellen Nakashima and Greg Miller, Wednesday, 1 March 2017: "Then-Sen. Jeff Sessions (R-Ala.) spoke twice last year with Russia's ambassador to the United States, Justice Department officials said, encounters he did not disclose when asked about possible contacts between members of President Trump's campaign and representatives of Moscow during Sessions's confirmation hearing to become attorney general. One of the meetings was a private conversation between Sessions and Russian Ambassador Sergey Kislyak that took place in September in the senator's office, at the height of what U.S. intelligence officials say was a Russian cyber campaign to upend the U.S. presidential race. The previously undisclosed discussions could fuel new congressional calls for the appointment of a special counsel to investigate Russia's alleged role in the 2016 presidential election. As attorney general, Sessions oversees the Justice Department and the FBI, which have been leading investigations into Russian meddling and any links to Trump's associates. He has so far resisted calls to recuse himself. At his Jan. 10 Judiciary Committee confirmation hearing, Sessions was asked by Sen. Al Franken (D-Minn.) what he would do if he learned of any evidence that anyone affiliated with the Trump campaign communicated with the Russian government in the course of the 2016 campaign. 'I'm not aware of any of those activities,' he responded. He added: 'I have been called a surrogate at a time or two in that campaign and I did not have communications with the Russians.'…In January, Sen. Patrick J. Leahy (D-Vt.) asked Sessions for answers to written questions. 'Several of the President-elect's nominees or senior advisers have Russian ties. Have you been in contact with anyone connected to any part of the Russian government about the 2016 election, either before or after election day?' Leahy wrote. Sessions responded with one word: 'No.'" See also, What Jeff Sessions said about Russia, and when, The Washington Post, Philip Bump, published on Thursday, 2 March 2017. This is "a timeline of events related to Attorney General Jeff Sessions's relationship with the Trump campaign and his own conversations with Russian officials. [It] will be updated as needed."
Obama Administration Rushed to Preserve Intelligence of Russian Election Hacking, The New York Times, Matthew Rosenberg, Adam Goldman and Michael S. Schmidt, Wednesday, 1 March 2017: "In the Obama administration's last days, some White House officials scrambled to spread information about Russian efforts to undermine the presidential election — and about possible contacts between associates of President-elect Donald J. Trump and Russians — across the government. Former American officials say they had two aims: to ensure that such meddling isn't duplicated in future American or European elections, and to leave a clear trail of intelligence for government investigators. American allies, including the British and the Dutch, had provided information describing meetings in European cities between Russian officials — and others close to Russia's president, Vladimir V. Putin — and associates of President-elect Trump, according to three former American officials who requested anonymity in discussing classified intelligence. Separately, American intelligence agencies had intercepted communications of Russian officials, some of them within the Kremlin, discussing contacts with Trump associates."
Senate confirms Ryan Zinke as interior secretary, The Washington Post, Darryl Fears, Wednesday, 1 March 2017: "The Senate on Wednesday confirmed Ryan Zinke's nomination to lead the Interior Department by a 68 to 31 vote. Zinke will head a department that manages a fifth of the land in the United States, about 500 million surface acres, a total that doesn't include millions more acres and natural resources underground. Interior has an enormous environmental footprint, with agencies that decide how resources such as coal are managed and which animals are eligible for listing under the Endangered Species Act…. Democrats were wary of Zinke despite his declaration that he believes humans contribute to climate change. 'Man has had an influence,' he said under questioning by Sen. Bernie Sanders (I-Vt.). Zinke's assertion that the level of human contribution is unknown, despite the near unanimous opinions of climate scientists who say it's overwhelming, didn't help. Liberals worried that Zinke would open more land to exploitation at the expense of wildlife and their declining habitat. The nominee put to rest one liberal concern early in his confirmation hearing. 'I am absolutely against transfer or sale of public land,' Zinke said in response to a question from Sanders."
F.C.C., in Potential Sign of the Future, Halts New Data Security Rules, The New York Times, Cecilia Kang, Wednesday, 1 March 2017: "The Federal Communications Commission on Wednesday halted new government rules related to data security from taking effect this week, in a potential prelude to a broader repeal of privacy protections for users of high-speed internet. After a 2-to-1, party-line vote by the Republican-led commission, Ajit Pai, the chairman, announced that a portion of privacy rules passed in October would be temporarily stayed. The rules, which were to take effect on Thursday, required high-speed internet providers like AT&T and Comcast to secure their customers' data against hacking and other unauthorized uses. Mr. Pai, in a sign that additional swipes at privacy rules may be in store, also said the commission should not be engaged in any policing of broadband providers over online privacy. He said the Federal Trade Commission should instead oversee the broadband and web industries…. The vote on the data security rules was Mr. Pai's latest move to roll back regulations created by his predecessor, Tom Wheeler, who was appointed by President Barack Obama."
Police chiefs object to Trump's efforts to involve them in immigrant deportations, The Guardian, Ed Pilkington and Oliver Laughland, Wednesday, 1 March 2017: "Police chiefs from across the US, including several from states that voted for Donald Trump, are resisting White House moves to force them to become more involved in deporting undocumented immigrants…. The letter is signed by 61 current and former local police chiefs and sheriffs, many of whom come from states won by Trump last November including Alabama, Arizona, Florida, South Carolina and Texas. The political diversity and geographic spread of the signatories underlines the deep apprehension felt by many within the law enforcement community toward the president's plans to beef up their role in rounding up, detaining and ultimately deporting huge numbers of people…. The letter writers state bluntly:… 'Immigration enforcement is, first and foremost, a federal responsibility. We believe we can best serve our communities by leaving the enforcement of immigration laws to the federal government.'"
Thursday, 2 March 2017, Day 42:
Attorney General Jeff Sessions Recuses Himself From Russia Inquiry, The New York Times, Mark Landler and Eric Lichtblau, Thursday, 2 March 2017: "Attorney General Jeff Sessions, facing a storm of criticism over newly disclosed contacts with the Russian ambassador to the United States, recused himself on Thursday from any investigation into charges that Russia meddled in the 2016 presidential election. His announcement, delivered at a terse news conference, came after a day of rapid-fire developments in a murky affair that has shadowed President Trump, jeopardized his closest aides and intensified pressure for a full inquiry into Moscow's attempts to influence the election as well as the policies of the new administration…. Many top Democrats demanded Mr. Sessions's resignation, and a growing number of Republicans declared that he should not take part in any investigation into the case, given his own still largely unexplained role in it. But Mr. Trump stoutly defended Mr. Sessions, one of his few early champions on Capitol Hill. 'He could have stated his response more accurately, but it was clearly not intentional,' he said in a statement, which accused Democrats of engaging in 'a total witch hunt.'… With Mr. Sessions's recusal, any Justice Department investigation would be overseen by the deputy attorney general. Dana J. Boente is currently serving in an acting capacity from his role as the chief federal prosecutor for the Eastern District of Virginia. A Senate hearing is scheduled for Tuesday for the nomination of Rod J. Rosenstein as deputy attorney general; he would oversee the issue if he is confirmed, and his hearing is now likely to be dominated by questions about the Russia issue…. There is nothing unusual about meetings between presidential campaigns and foreign diplomats….  The trouble in Mr. Sessions's case is that his meeting came as the nation's intelligence agencies were concluding that Russia had tried to destabilize the election and help Mr. Trump. Mr. Sessions's initial lack of disclosure of the meetings with Mr. Kislyak fed suspicions that it was more than run-of-the-mill diplomacy. The disclosure, first reported by The Washington Post, contradicted forceful and repeated denials from the White House that anyone from the Trump campaign had discussions with the Russians. 'I have nothing to do with Russia,' Mr. Trump said at a news conference on Feb. 20. 'To the best of my knowledge, no person that I deal with does.'"
A Timeline of Jeff Sessions's Trump Ties and Meetings With Russia, The New York Times, Karen Yourish and Wilson Andrews, Thursday, 2 March 2017.
Senate Democratic Leader Charles Schumer calls for Attorney General Jeff Sessions to resign, The Hill, Alexander Bolton, Thursday, 2 March 2017: "Senate Democratic Leader Charles Schumer (N.Y.) said Thursday that Attorney General Jeff Sessions should resign and be investigated by the Department of Justice's inspector general to determine whether he compromised an investigation into Russian influence. 'There cannot be even a scintilla of doubt about the impartiality and fairness of the attorney general, the top law enforcement official of the land,' Schumer told reporters at a news conference. 'It's clear Attorney General Sessions does not meet that test. Because the Department of Justice should be above reproach, for the good of the country, Attorney General Sessions should resign.'… Schumer said there was nothing wrong with Sessions meeting with Ambassador Sergey Kislyak, but he transgressed by failing to tell lawmakers about it during his confirmation hearing earlier this year. 'If there was nothing wrong, why didn't you come clean and tell the whole truth?' Schumer asked. Schumer argued that Sessions had weeks to set the record straight after testifying before the Judiciary Committee, but let it stand."
House Minority Leader Nancy Pelosi's Statement on Attorney General Sessions's Apparent Perjury on Russian Meetings, democraticleader.com, Thursday, 2 March 2017: Democratic Leader Nancy Pelosi released the following statement after it was reported that Jeff Sessions lied under oath to the Senate Judiciary Committee during his confirmation hearings about meetings with Russian officials:
Jeff Sessions lied under oath during his confirmation hearing before the Senate.  Under penalty of perjury, he told the Senate Judiciary Committee, 'I have been called a surrogate at a time or two in that campaign and I did not have communications with the Russians.' We now know that statement is false.

Attorney General Sessions has never had the credibility to oversee the FBI investigation of senior Trump officials' ties to the Russians.  That is why Democrats have consistently called for Sessions to recuse himself from any oversight of the investigation.

Now, after lying under oath to Congress about his own communications with the Russians, the Attorney General must resign.  Sessions is not fit to serve as the top law enforcement officer of our country and must resign.  There must be an independent, bipartisan, outside commission to investigate the Trump political, personal and financial connections to the Russians.
Trump defends Attorney General Jeff Sessions as 'honest man,' decries Democratic 'witch hunt,' Politico, Henry C. Jackson, Thursday, 2 March 2017: "Donald Trump defended Attorney General Jeff Sessions as an 'honest man' who misspoke about his contacts with Russian officials during confirmation hearings, in a statement released late Thursday night by the White House. Trump also argued that coverage of the Sessions story has amounted to a 'total witch hunt!' driven by Democrats who are trying to compensate for losses in the 2016 election."
Jeff Sessions Used Political Funds for Republican Convention Expenses, The Wall Street Journal, Paul Sonne, Rebecca Ballhaus and Carol E. Lee, Thursday, 2 March 2017: "Records show attorney general used his campaign account for travel expenses to Cleveland, where he met Russian Envoy…. The Trump administration says Attorney General Jeff Sessions was acting as a then-U.S. senator when he talked to Russia's ambassador at an event during last year's Republican National Convention in Cleveland, but Mr. Sessions paid for convention travel expenses out of his own political funds and he spoke about Donald Trump's campaign at the event, according to a person at the event and campaign-finance records."
Trump tours a hulking aircraft carrier to promote hike in military spending, The Washington Post, Philip Rucker, Thursday, 2 March 2017: "President Trump helicoptered onto a hulking, gleaming aircraft carrier here Thursday to rally momentum for his ambitious call for a major hike in military spending. Speaking aboard the USS Gerald R. Ford — which will become the Navy's newest nuclear-powered warship, celebrated by Trump as 'a monument of American might' — the president vowed to reinvest billions of dollars in new vessels, fighter jets and other weapons of war to modernize what he has long decried as a depleted defense fleet." See also, Trump's Military Ambition: Raw Power as a Means and an End, The New York Times, Max Fisher, published on Friday, 3 March 2017: "President Trump's vision of American power, something of a mystery during the campaign, has come into new focus after a week of speeches and budget plans hinting at his ambitions for the military. They reveal a president fascinated with raw military might, which he sees as synonymous with America's standing in the world and as a tool to coerce powerful rivals, such as China and Iran, which appear to be his primary concern…. [G]enerals warn that they will be set back by his proposals to slash funding for diplomacy and aid. This may not necessarily be an oversight on Mr. Trump's part, analysts suggest, but rather flow from a nationalistic worldview that is unfamiliar today but dominated the geopolitics of the 19th and early 20th centuries. That may be revealed most clearly in Mr. Trump's vision of victory. He has portrayed the military's primary role as winning battles, and winning battles as sufficient for winning wars — two ideas out of favor since at least the Vietnam War. Ever since then, most generals have emphasized that war is driven by political conflicts that can rarely be resolved through force alone. 'We will give our military the tools you need to prevent war and, if required, to fight war and only do one thing. You know what that is? Win. Win,' Mr. Trump said this week. It is perhaps early to say whether his views cohere into a single Trump doctrine. But they suggest a pursuit of policies that seem less suited to any particular strategy or conflict than to a view of military power as its own end."
Ben Carson Is Confirmed as Secretary of Housing and Urban Development, The New York Times, Yamiche Alcindor, Thursday, 2 March 2017: "Ben Carson, an acclaimed neurosurgeon-turned-politician, can now add a new title to his résumé: secretary of housing and urban development. The Senate voted 58-41 Thursday morning to confirm Mr. Carson after a rare show of bipartisanship. Unlike many other cabinet members chosen by President Trump, Mr. Carson, who has no experience running a large federal bureaucracy, did not face much pushback from Democrats during his confirmation process. The Committee on Banking, Housing and Urban Affairs unanimously voted his nomination out of committee in January, though several Democrats did question him about his belief that government assistance programs often lead to dependency. Mr. Carson will now head an agency with a $47 billion budget and a charge to assist millions of low-income renters, fight urban blight and help struggling homeowners stave off foreclosures."
Senate Confirms Former Texas Governor Rick Perry as Energy Secretary, The New York Times, Coral Davenport, Thursday, 2 March 2017: "The Senate confirmed Rick Perry on Thursday as the head of the Energy Department, an agency he had once pledged as a presidential candidate to eliminate. The vote was 62 to 37. Mr. Perry, a former Texas governor, will lead an agency that, despite its name, is largely focused on overseeing the nation's vast arsenal of nuclear weapons, as well as a network of 17 national scientific laboratories. In his confirmation hearing, Mr. Perry told senators that he regretted his call in the 2012 campaign to eliminate the agency. His inability to remember the name of the Energy Department in a 2011 debate, even as he called for getting rid of the agency, was widely seen as helping to sink his campaign."
Representative Adam Schiff, top Democrat on the House Intelligence Committee, accuses FBI Director James Comey of withholding information on Russia probe, Politico, Nolan D. McCaskill, Thursday, 2 March 2017: "The top Democrat on the House Intelligence Committee on Thursday accused FBI Director James Comey of withholding crucial information about its probe into Russian interference in the election and raised the prospect of subpoenaing the agency. 'I would say at this point we know less than a fraction of what the FBI knows,' Rep. Adam Schiff (D-Calif.) told reporters after a briefing with Comey.' I appreciate we had a long briefing and testimony from the director today, but in order for us to do our investigation in a thorough and credible way, we're gonna need the FBI to fully cooperate, to be willing to tell us the length and breadth of any counterintelligence investigations they are conducting,' Schiff said. 'At this point, the director was not willing to do that.'"
Jared Kushner and Michael Flynn Met With Russian Ambassador in December, White House Says, The New York Times, Michael S. Schmidt, Matthew Rosenberg and Matt Apuzzo, Thursday, 2 March 2017: "Michael T. Flynn, then Donald J. Trump's incoming national security adviser, had a previously undisclosed meeting with the Russian ambassador in December to 'establish a line of communication' between the new administration and the Russian government, the White House said on Thursday. Jared Kushner, Mr. Trump's son-in-law and now a senior adviser, also participated in the meeting at Trump Tower with Mr. Flynn and Sergey I. Kislyak, the Russian ambassador…. The New Yorker reported this week that Mr. Kushner had met with Mr. Kislyak at Trump Tower in December…. It is common and not improper for transition officials to meet with foreign officials. But all meetings between Trump associates and Russians are now significant as the F.B.I. investigates Russian interference in the American election and whether anyone close to Mr. Trump's campaign was involved. The meeting in December came at a crucial time, just as the Obama White House was preparing to sanction Russia and publicly make its case that Moscow had interfered with the 2016 election. What is now becoming clear is that the incoming Trump administration was simultaneously striking a conciliatory pose toward Moscow in a series of meetings and phone calls involving Mr. Kislyak."
Mike Pence used personal email for state business when he was Governor of Indiana, and his account was hacked, Indianapolis Star, part of the USA Today Network, Tony Cook, Thursday, 2 March 2017: "Vice President Mike Pence routinely used a private email account to conduct public business as governor of Indiana, at times discussing sensitive matters and homeland security issues. Emails released to IndyStar in response to a public records request show Pence communicated via his personal AOL account with top advisers on topics ranging from security gates at the governor's residence to the state's response to terror attacks across the globe. In one email, Pence's top state homeland security adviser relayed an update from the FBI regarding the arrests of several men on federal terror-related charges. Cyber-security experts say the emails raise concerns about whether such sensitive information was adequately protected from hackers, given that personal accounts like Pence's are typically less secure than government email accounts. In fact, Pence's personal account was hacked last summer [2016]. Furthermore, advocates for open government expressed concerns about transparency because personal emails aren't immediately captured on state servers that are searched in response to public records requests.… Concerns also surrounded Hillary Clinton's use of a private server and email account during her tenure as secretary of state. Pence as governor would not have dealt with national security issues as sensitive or as broad as those handled by Clinton in her position or with classified matters. Pence fiercely criticized Clinton throughout the 2016 presidential campaign, accusing her of trying to keep her emails out of public reach and exposing classified information to potential hackers."
New head of the Environmental Protection Agency, Scott Pruitt, told Congress he never used personal email for government business. But it turns out he did, The Washington Post, Steven Mufson, Thursday, 2 March 2017: "Scott Pruitt, the EPA administrator, occasionally used private email to communicate with staff while serving as Oklahoma's attorney general, despite telling Congress that he always used a state email account for government business…. Pruitt told the Senate Environment and Public Works Committee: 'I use only my official OAG [office of the attorney general] email address and government-issued phone to conduct official business.' Yet several of Pruitt's official emails, released in a lawsuit in Oklahoma, were copied to his personal email — an Apple account that was partially blacked out before being released. 'Lo and behold, the documents Scott Pruitt wanted to keep hidden have confirmed our suspicion that he used his personal email address to conduct official state business and that he was not honest with the Senate about this during his confirmation process,' said Sen. Sheldon Whitehouse (D-R.I.)."
Head of the Environmental Protection Agency, Scott Pruitt, Halts Request for Methane Information From Oil and Gas Producers, InsideClimate News, Marianne Lavelle, published on Friday, 3 March 2017: "In a strong signal of its retreat from climate change action, the Trump administration on Thursday halted an effort to gather data from the oil and gas industry that is needed to rein in leaks of methane, a potent greenhouse gas. More than 15,000 owners and operators of oil and gas production or processing facilities had been required to submit information on their equipment and operations to the Environmental Protection Agency under an order finalized by the Obama administration in November. With the first deadline of early January already passed and another submission due in May, EPA Administrator Scott Pruitt announced he was withdrawing that request, effective immediately."
5 Trump Cabinet Members Who Have Made False Statements to Congress, ProPublica, Eric Umansky and Marcelo Rochabrun, Thursday, 2 March 2017: "As most of the world knows by now, Attorney General Jeff Sessions did not tell the truth when he was asked during his confirmation hearings about contacts with Russian officials. But Sessions isn't the only one. At least four other cabinet members made statements during their nomination hearings that are contradicted by actual facts: EPA Chief Scott Pruitt, Education Secretary Betsy DeVos, Treasury Secretary Steve Mnuchin, and Health and Human Services Secretary Tom Price. The statements were all made under oath, except those of DeVos. It is a crime to 'knowingly' lie in testimony to Congress, but it's rarely prosecuted."
Trump's team nixed ethics course for White House staff, Politico, Isaac Arnsdorf and Josh Dawsey, Thursday, 2 March 2017: "President Donald Trump's team rejected a course for senior White House staff, Cabinet nominees and other political appointees that would have provided training on leadership, ethics and management, according to documents obtained by POLITICO. The documents suggest the program could have better prepared officials for working within existing laws and executive orders, and provided guidance on how to navigate Senate confirmation for nominees and political appointees, how to deal with congressional and media scrutiny, and how to work with Congress and collaborate with agencies — some of the same issues that have become major stumbling blocks in the early days of the administration.But the contract was never awarded because after the election the transition team shifted its priorities, according to a letter the General Services Administration sent to bidders such as the Partnership for Public Service. The program was expected to cost $1 million, the documents show. The contract-based training program was authorized in 2000, and the Obama and Bush transitions both received the training."
Interior Secretary Ryan Zinke Brings Back Lead Ammo in Parks and Refuges, The Huffington Post, Hayley Miller, Thursday, 2 March 2017: "As the internet freaked out over Interior Secretary Ryan Zinke riding a horse to his first day on the new job Thursday, environmental activists expressed outrage over one of his first actions: overturning a federal ban on hunting with lead ammunition in national parks and wildlife refuges. Zinke signed Secretarial Order 3346, which repeals a U.S. Fish and Wildlife Service directive the Obama administration issued the day before President Donald Trump took office barring the use of lead ammunition and fishing tackle in national parks and wildlife refuges. Zinke also signed an order to expand hunting, fishing and recreation access on federal lands."