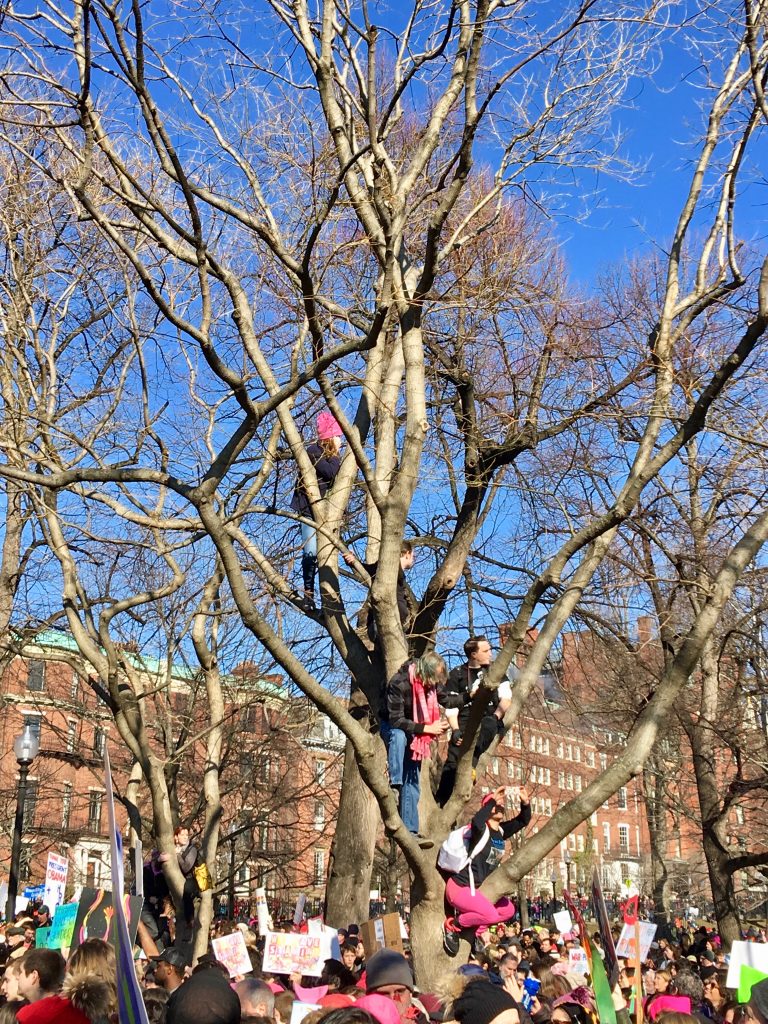 Keeping Track (of some things), Staying Outraged (it is possible), and Resisting (it's essential)
Passages in bold in the body of the texts below are my emphasis. This is an ongoing project, and I update the site frequently. I hope readers will peruse the articles in full for a better understanding of the issues and their context; our democracy and our future depend on citizens who can distinguish between facts and falsehoods and who are engaged in the political process.
Friday, 17 February 2017, Day 29:
Scott Pruitt, longtime adversary of the Environmental Protection Agency, confirmed to lead the agency, The Washington Post, Brady Dennis, Friday, 17 February 2017: "Scott Pruitt woke up Friday morning as Oklahoma's attorney general, a post he had used for six years to repeatedly sue the Environmental Protection Agency for its efforts to regulate mercury, smog and other forms of pollution. By day's end, he had been sworn in as the agency's new leader, setting off a struggle over what the EPA will become in the Trump era. Pruitt begins what is likely to be a controversial tenure with a clear set of goals. He has been outspoken in his view, widely shared by Republicans, that the EPA zealously overstepped its legal authority under President Barack Obama, saddling the fossil-fuel industry with unnecessary and onerous regulations. But rolling back the environmental actions of the previous administration won't happen quickly or easily. Even if President Trump issues executive orders aimed at undoing Obama initiatives to combat climate change, oversee waterways and wetlands and slash pollution from power plants — as he is expected to do as early as next week — existing regulations won't disappear overnight."
Trump Calls the News Media the 'Enemy of the American People,' The New York Times, Michael M. Grynbaum, Friday, 17 February 2017: "President Trump, in an extraordinary rebuke of the nation's press organizations, wrote on Twitter on Friday that the nation's news media 'is the enemy of the American people.' Even by the standards of a president who routinely castigates journalists — and who on Thursday devoted much of a 77-minute news conference to criticizing his press coverage — Mr. Trump's tweet was a striking escalation in his attacks. At 4:32 p.m., shortly after arriving at his Mar-a-Lago home in Palm Beach, Fla., Mr. Trump took to Twitter to write:
The message was swiftly deleted, but 16 minutes later Mr. Trump posted a revised version. Restricted to 140 characters, he removed the word "sick," and added two other television networks — ABC and CBS — to his list of offending organizations. [At 4:48 pm Trump tweeted: "The FAKE NEWS media (failing @nytimes, @NBCNews, @ABC, @CBS, @CNN) is not my enemy, it is the enemy of the American People!"] The president has referred to the media as the 'opposition party' to his administration, and he has blamed news organizations for stymieing his agenda. But the language that Mr. Trump deployed on Friday is more typically used by leaders to refer to hostile foreign governments or subversive organizations. It also echoed the language of autocrats who seek to minimize dissent."
FBI Director James Comey met with lawmakers from the Senate Intelligence Committee amid uproar over Trump-Russia ties, The Hill, Katie Bo Williams, Friday, 17 February 2017: "FBI Director James B. Comey met with lawmakers from the Senate Intelligence Committee behind closed doors on Friday, amid an uproar over alleged contacts between members of President Trump's campaign and Russian officials. Committee members and Comey spent nearly three hours Friday afternoon in a secure room in the Senate basement used for classified briefings, known as a Sensitive Compartmented Information Facility (SCIF). Lawmakers tersely refused to comment upon exiting the meeting, declining even to confirm that Comey met with them."
Continue reading Week 5, Friday, 17 February – Thursday, 23 February 2017:
Senate Intelligence Committee members want Russia-related materials preserved, CNN, Eric Bradner and Manu Raju, published on Monday, 20 February 2017: "The Senate Intelligence Committee is asking more than a dozen agencies, organizations and individuals to preserve communications related to the panel's investigation into Russian interference in the 2016 election. The panel, led by chairman Richard Burr, R-North Carolina, and top Democrat, Mark Warner of Virginia, sent letters asking for those materials to be kept, a Senate aide said Sunday. The letters were sent Friday, the same day committee members discussed Russia in a private meeting with FBI Director James Comey. The move comes amid inquiries into whether President Donald Trump's campaign officials were in contact with Russian officials and other Russians known to US intelligence during the 2016 race. High-level advisers close to then-presidential nominee Donald Trump were in constant communication during the campaign with Russians known to US intelligence, multiple current and former intelligence, law enforcement and administration officials have told CNN."
White House confirms a senior National Security Council adviser was reassigned after disagreeing with Trump, CNN, Dan Merica, published on Monday, 20 February 2017: "A senior National Security Council adviser was reassigned to his old job at the National Defense University, a White House spokeswoman confirmed Sunday, after he criticized the Trump administration's Latin American policies. Craig Deare was removed from his role as a senior adviser at the National Security Council's Western Hemisphere division Friday and 'sent back to his original position,' said Sarah Sanders, a White House spokeswoman. Deare had been assigned to the NSC by the Trump administration."
Migrants Choose Arrest in Canada Over Staying in the U.S., NPR, Kathleen Masterson, Friday, 17 February 2017: "Royal Canadian Mounted Police are reporting a flurry of illegal crossings into Canada in recent months. Officials say Quebec province has seen the highest influx of people seeking asylum, with many crossing in snowy, remote areas in northern New York. One illegal crossing area that has become particularly popular among immigrants is in Champlain, N.Y., in the northeast corner of the state."
Saturday, 18 February 2017, Day 30:
U.S. inquiries into Russian election hacking include three FBI probes, Reuters, Joseph Menn, Saturday, 18 February 2017: "The U.S. Federal Bureau of Investigation is pursuing at least three separate probes relating to alleged Russian hacking of the U.S. presidential elections, according to five current and former government officials with direct knowledge of the situation. While the fact that the FBI is investigating had been reported previously by the New York Times and other media, these officials shed new light on both the precise number of inquires and their focus."
Trump Returns to Campaign Trail After a Month in Office, The New York Times, Peter Baker, Saturday, 18 February 2017: "With just 1,354 days until the next presidential election, Mr. Trump kicked off his re-election campaign here on Saturday with a boisterous, sign-waving, slogan-chanting, patriotic-song-singing rally that lacked only an opponent for him to run against…. Asked by reporters on Air Force One as he flew here whether it was a little early to get back into campaign mode, he said: 'Life is a campaign. Making our country great again is a campaign. For me, it's a campaign; to make America great again is absolutely a campaign.'"
Fact-checking President Trump's rally in Florida, The Washington Post, Glenn Kessler, published on Sunday, 19 February 2017. This article examines some of the dubious claims Trump made at his campaign-style rally in Melbourne, Florida on Saturday night [18 February].
'Last Night in Sweden'? Trump's Remark Baffles a Nation, The New York Times, Sewell Chan, published on Sunday, 19 February 2017: "During a campaign-style rally on Saturday in Florida, Mr. Trump issued a sharp if discursive attack on refugee policies in Europe, ticking off a list of places that have been hit by terrorists. 'You look at what's happening,' he told his supporters. 'We've got to keep our country safe. You look at what's happening in Germany, you look at what's happening last night in Sweden. Sweden, who would believe this?'  Not the Swedes. Nothing particularly nefarious happened in Sweden on Friday — or Saturday, for that matter — and Swedes were left baffled…. On Sunday, Mr. Trump offered his own clarification, writing on Twitter, 'My statement as to what's happening in Sweden was in reference to a story that was broadcast on @FoxNews concerning immigrants & Sweden.'"
Sunday, 19 February 2017, Day 31:
A Back-Channel Plan for Ukraine and Russia, Courtesy of Trump Associates, The New York Times, Megan Twohey and Scott Shane, Sunday, 19 February 2017: "A week before Michael T. Flynn resigned as national security adviser, a sealed proposal was hand-delivered to his office, outlining a way for President Trump to lift sanctions against Russia. Mr. Flynn is gone, having been caught lying about his own discussion of sanctions with the Russian ambassador. But the proposal, a peace plan for Ukraine and Russia, remains, along with those pushing it: Michael D. Cohen, the president's personal lawyer, who delivered the document; Felix H. Sater, a business associate who helped Mr. Trump scout deals in Russia; and a Ukrainian lawmaker trying to rise in a political opposition movement shaped in part by Mr. Trump's former campaign manager Paul Manafort…. [T]he proposal contains more than just a peace plan. Andrii V. Artemenko, the Ukrainian lawmaker, who sees himself as a Trump-style leader of a future Ukraine, claims to have evidence — "names of companies, wire transfers" — showing corruption by the Ukrainian president, Petro O. Poroshenko, that could help oust him. And Mr. Artemenko said he had received encouragement for his plans from top aides to Mr. Putin…. While it is unclear if the White House will take the proposal seriously, the diplomatic freelancing has infuriated Ukrainian officials. Ukraine's ambassador to the United States, Valeriy Chaly, said Mr. Artemenko 'is not entitled to present any alternative peace plans on behalf of Ukraine to any foreign government, including the U.S. administration.'"
London Mayor Sadiq Khan says Trump should be denied a state visit to Britain, PBS/Associated Press, Sunday, 19 February 2017: "London's mayor says that President Donald Trump shouldn't receive a state visit in Britain because of his 'cruel' policies on immigration. Sadiq Khan said Sunday the U.S. president should not get VIP treatment when he comes to Britain later this year because of his 'ban on people from seven Muslim-majorities countries' and his decision to block refugees from entering the United States."
Defense Secretary Mattis disagrees with Trump, says he does not see media as the enemy, The Washington Post, Dan Lamothe, Sunday, 19 February 2017: "Defense Secretary Jim Mattis said Sunday that he does not see the media as the enemy of the American people, disagreeing with a claim made Friday by President Trump about numerous outlets. Mattis, asked directly about Trump's criticism of the media, said he has had 'some rather contentious times with the press' but considers the institution 'a constituency that we deal with.' The defense secretary added: 'I don't have any issues with the press myself.'"
Could reporters be hunted down if Trump goes after leakers?, The Washington Post, Margaret Sullivan, Sunday, 19 February 2017: "For those who care about press rights in America, President Trump's words last week were stunning and disturbing. The news media is not merely 'scum,' as he has said many times before, but now 'the enemy of the American People.' This tweeted pronouncement, with its authoritarian echoes, came soon after Trump's vow to stamp out the unauthorized flow of intelligence-community information to journalists. 'I've actually called the Justice Department to look into the leaks,' he said. 'Those are criminal leaks.' Add up these two elements and you get a troubling question: Will the Trump administration's crackdown on leaks include journalists as well as their sources?… Why should journalists be treated any differently than any other citizens? Why shouldn't they testify about their sources or even be prosecuted themselves when information obtained illegally is published? Well, because democracy is built on their ability to serve as a check on government power. They need to be able to do their watchdog job unfettered, and to tell citizens at least some of what their government is doing in secret. A crucial part of that is the ability to promise confidentiality to sources."
Monday, 20 February 2017, Day 32:
Defense Secretary Jim Mattis to Baghdad: 'We're Not in Iraq to Seize Anybody's Oil,' The New York Times, Helene Cooper, Monday, 20 February 2017: "Defense Secretary Jim Mattis, on the first visit by a senior Trump administration official to Iraq, worked on Monday to repair breaches of trust with Iraq's leaders caused by his boss just as the two sides began a major offensive to oust the Islamic State from its last stronghold in the country. Mr. Mattis found himself in nearly the same position he was in during his just-finished trip to Europe, where much of his time was spent reassuring wary allies that the United States was still committed to NATO after statements and actions by President Trump seemed to call old alliances into question. Before arriving in Baghdad, Mr. Mattis was asked by reporters about Mr. Trump's remarks during a visit to C.I.A. headquarters last month that the United States should have 'kept' Iraq's oil after the American-led invasion, and might still have a chance to do so. 'We're not in Iraq to seize anybody's oil,' Mr. Mattis said during a stop in Abu Dhabi, in the United Arab Emirates. Mr. Mattis also found himself allaying concerns that the administration would exclude from the United States Iraqis who have worked and fought side by side with American troops.… Mr. Mattis said on Sunday that he had not seen the new executive order. 'But right now,' he said, 'I'm assured that we will take steps to allow those who have fought alongside us to be allowed into the United States.'"
Trump Chooses Lt. Gen. H.R. McMaster as National Security Adviser, The New York Times, Peter Baker and Michael R. Gordon, Monday, 20 February 2017: "President Trump appointed Lt. Gen. H. R. McMaster as his new national security adviser on Monday, picking a widely respected military strategist known for challenging conventional thinking and helping to turn around the Iraq war in its darkest days…. Unlike Mr. Flynn, who served as a campaign adviser last year, General McMaster has no links to Mr. Trump and is not thought of as being as ideological as the man he will replace. A battle-tested veteran of both the Persian Gulf war and the second Iraq war, General McMaster is considered one of the military's most independent-minded officers, sometimes at a cost to his own career…. The choice continued Mr. Trump's reliance on high-ranking military officers to advise him on national security. Mr. Flynn is a retired three-star general and Mr. Mattis a retired four-star general. John F. Kelly, the homeland security secretary, is a retired Marine general. Mr. Trump's first choice to replace Mr. Flynn, Robert S. Harward, who turned down the job, and two other finalists were current or former senior officers as well. General McMaster will remain on active duty." See also, National Security Adviser H.R. McMaster Isn't a Bigot, Making Him an Outlier on Trump's National Security Team, The Intercept, Zaid Jilani and Murtaza Hussain, published on Tuesday, 21 February 2017: "Unlike his short-lived predecessor, Lt. Gen. Michael Flynn, President Trump's new national security adviser, Lt. Gen. H.R. McMaster, has no history of openly associating with bigotry. In fact, McMaster has throughout his career emphasized the need to work constructively with foreign Muslim populations. But his presence only calls more attention to the dramatic divide among Trump's top foreign policy advisers. On one side are career military personnel who understand that antagonizing Muslims is both offensive to American values and damaging to the country's security. On the other side are inexperienced, radical ethno-nationalists who shrug off international norms and believe that peaceful coexistence with the world's Muslims is unlikely and undesirable. The two views appear incompatible. But which group will emerge victorious is not at all clear. In fact, which group speaks for Trump at any given moment is not entirely clear either." The article goes on to describe the top players.
Milo Yiannopoulos loses his book deal with Simon & Schuster amid growing outcry, The Washington Post, Elahe Izadi, Monday, 20 February 2017: "Publisher Simon & Schuster announced Monday it cancelled Breitbart editor Milo Yiannopoulos's book deal, the latest development in the growing backlash over resurfaced videos of the far-right provocateur criticizing age-of-consent laws…. Hours earlier, organizers of the Conservative Political Action Conference rescinded their invitation for Yiannopoulos to participate in this week's conference. 'Due to the revelation of an offensive video in the past 24 hours condoning pedophilia, the American Conservative Union has decided to rescind the invitation,' ACU chairman Matt Schlapp said in a statement. The videos have been available for years, but resurfaced on social media over the weekend. In them, Yiannopoulos jokes about a teenage sexual encounter with a Catholic priest and argues about age-of-consent laws."
Tuesday, 21 February 2017, Day 33:
New Trump Deportation Rules Allow Far More Expulsions, The New York Times, Michael D. Shear and Ron Nixon, Tuesday, 21 February 2017: "President Trump has directed his administration to enforce the nation's immigration laws more aggressively, unleashing the full force of the federal government to find, arrest and deport those in the country illegally, regardless of whether they have committed serious crimes. Documents released on Tuesday by the Department of Homeland Security revealed the broad scope of the president's ambitions: to publicize crimes by undocumented immigrants; strip such immigrants of privacy protections; enlist local police officers as enforcers; erect new detention facilities; discourage asylum seekers; and, ultimately, speed up deportations. The new enforcement policies put into practice language that Mr. Trump used on the campaign trail, vastly expanding the definition of "criminal aliens" and warning that such unauthorized immigrants "routinely victimize Americans," disregard the "rule of law and pose a threat" to people in communities across the United States. Despite those assertions in the new documents, research shows lower levels of crime among immigrants than among native-born Americans.… [T]aken together, the new policies are a rejection of the sometimes more restrained efforts by former Presidents Barack Obama and George W. Bush and their predecessors, who sought to balance protecting the nation's borders with fiscal, logistical and humanitarian limits on the exercise of laws passed by Congress…. The immediate impact of that shift is not yet fully known. Advocates for immigrants warned on Tuesday that the new border control and enforcement directives would create an atmosphere of fear that was likely to drive those in the country illegally deeper into the shadows. Administration officials said some of the new policies — like one seeking to send unauthorized border crossers from Central America to Mexico while they await deportation hearings — could take months to put in effect and might be limited in scope. For now, so-called Dreamers, who were brought to the United States as young children, will not be targeted unless they commit crimes, officials said on Tuesday…. [P]olitically, Mr. Kelly's actions on Tuesday serve to reinforce the president's standing among a core constituency — those who blame unauthorized immigrants for taking jobs away from citizens, committing heinous crimes and being a financial burden on federal, state and local governments."
Trump's Immigration Policies Explained, The New York Times, Nicholas Kulish, Vivian Yee, Caitlin Dickerson, Liz Robbins, Fernanda Santos and Jennifer Medina, Tuesday, 21 February 2017: "With an executive order last month and a pair of Department of Homeland Security memos on Tuesday, the Trump administration has significantly hardened the country's policies regarding illegal immigration." This article describes some of the most significant elements of Trump's new immigration policies. See also, What's New in Those DHS Memos on Immigration Enforcement? NPR, Camila Domonoske and Joel Rose, published on Wednesday, 22 February 2017.
In Open Letter, 65 Writers and Artists Urge Trump to Reconsider Visa Ban, The New York Times, Rachel Donadio, Tuesday, 21 February 2017: "Sixty-five writers and artists have joined with the advocacy organization PEN America to send an open letter to President Trump, criticizing his executive order banning citizens from seven majority-Muslim countries from entering the United States and urging against further measures that would impair 'freedom of movement and the global exchange of arts and ideas.' 'Vibrant, open intercultural dialogue is indispensable in the fight against terror and oppression,' the letter reads. 'Its restriction is inconsistent with the values of the United States and the freedoms for which it stands. Preventing international artists from contributing to American cultural life will not make America safer, and will damage its international prestige and influence,' it adds."
Trump decries anti-Semitic acts as 'horrible' amid calls for stronger White House denunciations, The Washington Post, Fred Barbash, Ben Guarino and Brian Murphy, Tuesday, 21 February 2017: "President Trump called anti-Semitic violence "horrible" and vowed Tuesday to take steps to counter extremism in comments that followed criticism that the White House had not clearly denounced vandalism and threats targeting Jewish institutions…. 'The anti-Semitic threats targeting our Jewish community at community centers are horrible and are painful and a very sad reminder of the work that still must be done to root out hate and prejudice and evil,' Trump said…. Earlier, he told NBC News that 'anti-Semitism is horrible, and it's going to stop.' The remarks by Trump also appear aimed at easing pressure on his administration, which faces claims from opponents that it has failed to distance itself from extremist ideology and has emboldened right-wing groups through its populist, America-first themes."
Anne Frank Center slams Trump: 'Do not make us Jews settle for crumbs of condescension,' The Washington Post, Sarah Larimer, Tuesday, 21 February 2017: "President Trump spoke out Tuesday against anti-Semitic threats, but his words were not enough for the Anne Frank Center for Mutual Respect, whose executive director called the president's acknowledgment of anti-Semitism a 'Band-Aid on the cancer of Antisemitism that has infected his own Administration.' 'The anti-Semitic threats targeting our Jewish community at community centers are horrible and are painful and a very sad reminder of the work that still must be done to root out hate and prejudice and evil,' Trump said after a visit to the Smithsonian's National Museum of African American History and Culture…. On Tuesday morning, Steven Goldstein, executive director of the Anne Frank Center for Mutual Respect, blasted Trump in a Facebook post. 'His statement today is a pathetic asterisk of condescension after weeks in which he and his staff have committed grotesque acts and omissions reflecting Antisemitism, yet day after day have refused to apologize and correct the record,' Goldstein said in the statement. 'Make no mistake: The Antisemitism coming out of this Administration is the worst we have ever seen from any Administration.' The statement continued:
The White House repeatedly refused to mention Jews in its Holocaust remembrance, and had the audacity to take offense when the world pointed out the ramifications of Holocaust denial. And it was only yesterday, Presidents' Day, that Jewish Community Centers across the nation received bomb threats, and the President said absolutely nothing. When President Trump responds to Antisemitism proactively and in real time, and without pleas and pressure, that's when we'll be able to say this President has turned a corner. This is not that moment.
Chuck Schumer: Jeff Sessions must recuse himself from the Michael Flynn investigation, The Washington Post, Chuck Schumer, Tuesday, 21 February 2017: "The gravity of the issues raised by the events that led to national security adviser Michael Flynn's resignation cannot be overstated or ignored. Revelations about Flynn's contact with the Russians and reports indicating that he may have lied to the FBI about that contact may be only the tip of the iceberg. There's an overwhelming view in our intelligence community that Russia tried to influence our election. The American people, and indeed American democracy, require a thorough and independent investigation into what transpired and whether any criminal laws or constitutional precepts were violated. Such an investigation and any resulting prosecution would normally be carried out under the purview of the attorney general, as the nation's chief law enforcement officer with oversight of the Federal Bureau of Investigation. But in this case, given his deep and long-standing ties to President Trump and many of Trump's top advisers, Attorney General Jeff Sessions cannot lead such an investigation."
A brief history of Donald Trump addressing questions about racism and anti-Semitism, The Washington Post, Philip Bump, Tuesday, 21 February 2017. This article catalogues each time from the beginning of his campaign that "Trump was asked to weigh in on a question of racial or religious sensitivity and his response."
Breitbart's Milo Yiannopoulos resigns following outrage over his past comments about pedophilia, The Washington Post, Paul Farhi, Tuesday, 21 February 2017: "Milo Yiannopoulos, the incendiary writer who helped make Breitbart News a leading organ of the alt-right [a.k.a. white nationalists/supremacists], resigned from the news organization Tuesday after a video of him endorsing pedophilia resurfaced online over the weekend. Yiannopoulos has been a flame-throwing provocateur whose writing has offended women, Muslims, blacks and gay people ever since former Breitbart executive chairman Stephen K. Bannon hired him as a senior editor in 2014. Bannon, now President Trump's senior adviser, championed the British-born Yiannopoulos's inflammatory commentary and promoted him as a conservative truth-teller and champion of free speech. In turn, his popularity helped raise Breitbart's profile among Trump's supporters and the alt-right, a vaguely defined collection of nationalists, anti-immigration proponents and anti-establishment conservatives. Adherents of the alt-right [white nationalists/white supremacists] are known for espousing racist, anti-Semitic and sexist points of view. 'Breitbart News has stood by me when others caved,' Yiannopoulos said in a statement announcing his resignation. 'They have been a significant factor in my success.'" See also, The 96 hours that brought down Milo Yiannopoulos, The Washington Post, Abby Ohlheiser, Tuesday, 21 February 2017: "Before Milo Yiannopoulos gained (and lost) a Conservative Political Action Conference (CPAC) invitation, a book deal and a job, the now-former Breitbart News writer had already said and written many offensive things. That's his appeal to the people who admire and elevate him: 'Milo,' the personality, is built on the idea of triggering liberals. His Breitbart archives contain a regular stream of articles arguing all sorts of things designed to demean and offend: that feminism makes women ugly, that he would prefer it if teenagers self-harmed rather than discuss trans issues on Tumblr, and that women will be happy only if we "un-invent" the birth control pill and the washing machine. None of these things, including the fact that the writer had already been banned from Twitter for, the platform said, inciting harassment against actress Leslie Jones, stopped Yiannopoulos from becoming a voice that CPAC felt was of value to their movement on free-speech grounds."
At Jewish Cemetery Chesed Shel Emeth in University City, MO [suburb of St Louis], Seeking Answers Amid Heartbreak, The New York Times, Monica Davey and Alan Blinder, Tuesday, 21 February 2017: "Cemetery officials said they were overrun with calls, emails and visits on Tuesday from distressed families. But callers also asked whether the vandalism at this 124-year-old cemetery might be another in a rash of anti-Semitic episodes occurring in recent weeks. On Tuesday, President Trump condemned the episodes, which some critics argued were an outgrowth of the vitriol of last year's presidential campaign and Mr. Trump's tone during it. Since the start of the year, at least 53 Jewish community centers around the country have received bomb threats, according to the J.C.C. Association of North America. More than a dozen of the facilities, including centers in Albuquerque; Baltimore; Birmingham, Ala.; Milwaukee; and Wilmington, Del., have reported repeated threats. In addition, jarring graffiti of swastikas have been reported on some college campuses as well as the New York City subway….[S]ynagogues, not community centers and cemeteries, have historically been seen as the most threatened. Mark Potok, a senior fellow at the Southern Poverty Law Center, which also tracks anti-Semitic activity, said that he thought that the recent harassment of community centers was driven by the perception that they were so-called soft targets, especially in comparison to houses of worship. 'The kind of thing like the bomb threats strikes me as being trolling on steroids,' Mr. Potok said. 'It's not actually blowing up anything, but it's causing an incredible amount of havoc, and it's possible to do anonymously.'"
'Every person deserves to rest in peace': American Muslims raising money to repair vandalized Jewish cemetery in suburb of St Louis, The Washington Post, Colby Itkowitz, Tuesday, 21 February 2017: "After the desecration of a Jewish cemetery in St. Louis over the long holiday weekend, an incident in which more than 150 headstones were toppled or damaged, two American Muslim activists started a fundraiser to help pay for needed repairs. 'Through this campaign, we hope to send a united message from the Jewish and Muslim communities that there is no place for this type of hate, desecration, and violence in America,' the fundraising page on the site LaunchingGood reads…. Within a few hours of going up Tuesday afternoon, the page had exceeded its goal of raising $20,000."
The disturbing history of vandalizing Jewish cemeteries, The Washington Post, Kayla Epstein, Tuesday, 21 February 2017: "The vandalism of a Jewish cemetery in Missouri has caused an uproar after more than 170 headstones were toppled at the historical burial site. There had been several waves of bomb threats made against Jewish community centers in recent weeks, but the recent acts against the cemetery have raised serious alarm and garnered the most prominent media attention yet…. Cemetery vandalism is not a new phenomenon, nor is it limited to Jewish burial sites. … [F]or Jews, the act of desecrating cemeteries recalls a dark history of prejudice and intimidation against Jewish communities…. Viewing the incident in St. Louis in the context of bomb threats made to Jewish community centers across the country, some members of the American Jewish community have begun to worry if anti-Semitism is rearing its head in the country more prominently."
Here Are the Republicans Who Faced 'So-Called Angry Crowds' at Tuesday's Town Halls, New York Magazine: Daily Intelligencer, Margaret Hartmann, published on Wednesday, 22 February 2017: "As Republican lawmakers headed home for their first recess of the year, they faced a difficult choice: hide from their constituents or risk being called out by a little girl and having the video go viral? Scores of Republicans across the country have chosen the former option, holding telephone forums or simply canceling events to avoid meeting face-to-face with angry constituents. With new grassroots groups like Indivisible urging those who oppose President Trump to adopt the tactics of the tea party, events that were once sparsely attended have drawn standing-room-only crowds. People have even taken to holding "empty chair" town halls in districts where they can't get a meeting with their representative. On Tuesday, President Trump offered some encouragement to Republicans in Congress, suggesting angry crowds are only legitimate if they're disorganized: [At 6:23 pm Trump tweeted: 'The so-called angry crowds in home districts of some Republicans are actually, in numerous cases, planned out by liberal activists. Sad!'"] The rest of the article catalogues "all the Republican members of Congress who chose to forge ahead with their public appearances on Tuesday, rather than avoiding or denigrating their newly energized constituents."
Federal Judge Temporarily Blocks Medicaid Cuts to Planned Parenthood in Texas, The New York Times, Christopher Mele, Tuesday, 21 February 2017: "A federal judge on Tuesday temporarily blocked Texas from cutting off Medicaid funding to Planned Parenthood, ruling the state had presented no credible evidence to support claims the organization violated medical or ethical standards related to abortion procedures. The ruling, a preliminary injunction issued by Sam Sparks, a United States District Court judge in the Western District of Texas, means that, for now, 30 health centers that serve about 12,500 Medicaid patients can continue to receive funding from the medical program that serves the poor. The case is set to go to trial, where the judge can rule on its merits…. Texas became at least the sixth state where federal courts have kept Planned Parenthood eligible for Medicaid reimbursements for nonabortion services; similar efforts have been blocked in Arkansas, Alabama, Kansas, Mississippi and Louisiana, The Associated Press reported. The decision in Texas preserves what Planned Parenthood said are services that include screening and treatment for breast and cervical cancers, counseling in contraception, testing and treatment for sexually transmitted diseases and primary health care services."
Wednesday, 22 February 2017, Day 34:
The Scott Pruitt Emails: Environmental Protection Agency Chief Was Arm in Arm With Oil and Gas Industry, The New York Times, Coral Davenport and Eric Lipton, Wednesday, 22 February 2017: "As Oklahoma's attorney general, Scott Pruitt, now the Environmental Protection Agency administrator, closely coordinated with major oil and gas producers, electric utilities and political groups with ties to the libertarian billionaire brothers Charles G. and David H. Koch to roll back environmental regulations, according to over 6,000 pages of emails made public on Wednesday. The publication of the correspondence comes just days after Mr. Pruitt was sworn in to run the E.P.A., which is charged with reining in pollution and regulating public health. Senate Democrats tried last week to postpone a final vote until the emails could be made public, but Republicans beat back the delay and approved his confirmation on Friday largely along party lines. The impolitic tone of many of the emails cast light on why Republicans were so eager to beat the release. And although the contents of the emails were broadly revealed in The New York Times in 2014, the totality of the correspondences captures just how much at war Mr. Pruitt was with the E.P.A. and how cozy he was with the industries that he is now charged with policing.… Mr. Pruitt has been among the most contentious of President Trump's cabinet nominees. Environmental groups, Democrats in Congress and even current E.P.A. employees have protested his ties to energy companies, his efforts to block and weaken major environmental rules, and his skepticism of the central mission of the agency he now leads."
Trump Rescinds Rules on Bathrooms for Transgender Students That Allowed Them to Use the Bathroom That Corresponded to Their Gender Identity, The New York Times, Jeremy W. Peters, Jo Becker and Julie Hirschfeld Davis, Wednesday, 22 February 2017: "President Trump on Wednesday rescinded protections for transgender students that had allowed them to use bathrooms corresponding with their gender identity, overruling his own education secretary and placing his administration firmly in the middle of the culture wars… In a joint letter, the top civil rights officials from the Justice Department and the Education Department rejected the Obama administration's position that nondiscrimination laws require schools to allow transgender students to use the bathrooms of their choice…. The question of how to address the 'bathroom debate,' as it has become known, opened a rift inside the Trump administration, pitting Education Secretary Betsy DeVos against Attorney General Jeff Sessions. Mr. Sessions, who had been expected to move quickly to roll back the civil rights expansions put in place under his Democratic predecessors, wanted to act decisively because of two pending court cases that could have upheld the protections and pushed the government into further litigation. But Ms. DeVos initially resisted signing off and told Mr. Trump that she was uncomfortable because of the potential harm that rescinding the protections could cause transgender students, according to three Republicans with direct knowledge of the internal discussions.… Mr. Sessions, who has opposed expanding gay, lesbian and transgender rights, pushed Ms. DeVos to relent. After getting nowhere, he took his objections to the White House because he could not go forward without her consent. Mr. Trump sided with his attorney general, the Republicans said, and told Ms. DeVos in a meeting in the Oval Office on Tuesday that he wanted her to drop her opposition. And Ms. DeVos, faced with the alternative of resigning or defying the president, agreed to go along."
Mexico bristles at 'hostile' Trump deportation rules before U.S. talks, Reuters, Alexandra Alper and Anahi Rama, published on Thursday, 23 February 2017: "Mexico reacted with anger on Wednesday to what one official called "hostile" new U.S. immigration guidelines hours before senior Trump administration envoys began arriving in Mexico City for talks on the volatile issue. The U.S. Department of Homeland Security unveiled plans on Tuesday to consider almost all illegal immigrants subject to deportation, and will seek to send many of them to Mexico if they entered the United States from there, regardless of nationality…. U.S. Secretary of State Rex Tillerson landed in Mexico City on Wednesday afternoon. He was joined by Homeland Security Secretary John Kelly later for talks the White House said would 'walk through' the implementation of Trump's immigration orders…. Mexico's lead negotiator with the Trump administration, Foreign Minister Luis Videgaray, said there was no way Mexico would accept the new rules, which among other things seek to deport non-Mexicans to Mexico. 'I want to say clearly and emphatically that the government of Mexico and the Mexican people do not have to accept provisions that one government unilaterally wants to impose on the other,' Videgaray told reporters at the Foreign Ministry…. 'We also have control of our borders and we will exercise it fully,' he said, adding that Mexico was prepared to go to the United Nations to defend the freedoms and rights of Mexicans under international law."
GOP senator Susan Collins says she's open to demanding Trump's tax returns as part of Russia probe, The Washington Post, Karoun Demirjian, Wednesday, 22 February 2017: "A Republican member of the Senate Intelligence Committee says she is open to requesting President Trump's tax returns as part of the panel's ongoing investigation into Russia's alleged meddling in the 2016 elections. Sen. Susan Collins of Maine [also] said on a local radio program Wednesday that 'many of the members' of the intelligence panel will formally request that ousted national security adviser Michael Flynn testify before the committee."
Lincoln Center Turns Away Woman Wearing Anti-Trump Sign, The New York Times, Colin Moynihan, Wednesday, 22 February 2017: "Jenny Heinz, a longtime Metropolitan Opera and New York Philharmonic subscriber, calculates that over the past 60 years, she has been to hundreds of performances at Lincoln Center. But when she showed up this month at David Geffen Hall to see the Budapest Festival Orchestra, she was barred from attending when she refused to remove an 8-by-11-inch sign affixed to the back of her jacket. It read: 'NO! In the name of humanity we refuse to accept a fascist America.' Ms. Heinz, 72, said she had been wearing the sign since she attended a protest outside Trump Tower in November. Though she had been looking forward to seeing the orchestra, partly because one of its cellists was almost stopped from entering the United States by President Trump's travel ban, she said that, given a choice between the performance and the sign, she chose the sign. 'At what point does one draw the line?' she said recently by phone. 'We're talking about freedom of expression.' Officials at Lincoln Center refunded Ms. Heinz's ticket, but this week they declined to discuss why she had been blocked from the performance. Ms. Heinz, though, said in an interview that during a later meeting she had with center officials — arranged by the civil rights lawyer Norman Siegel — the institution's vice president for concert halls and operations, Peter Flamm, told her that signs were not allowed inside the performance halls or on the plaza outside. The dispute seems to illustrate the conflict between those who view cultural institutions as bastions of free thought that should embrace activism and those who think that, to protect the primacy of the performance, political statements should be limited to those made by the artists and the art."
Hate Crime Is Feared as 2 Indian Engineers Are Shot in Kansas, The New York Times, John Eligon, Alan Blinder and Nida Najar, published on Friday, 24 February 2017: "'The Jameson guys,' as some on the staff at Austins Bar and Grill knew the pair, were on the patio on Wednesday evening. It was hardly unusual: Srinivas Kuchibhotla and Alok Madasani, two immigrants from India, often enjoyed an after-work whiskey at the bar they had adopted as a hangout. Adam W. Purinton was also there, tossing ethnic slurs at the two men and suggesting they did not belong in the United States, other customers said. Patrons complained, and Mr. Purinton was thrown out. But a short time later, he came back in a rage and fired on the two men, the authorities said. Mr. Kuchibhotla was killed, and Mr. Madasani was wounded, along with a 24-year-old man who had tried to apprehend the gunman, who fled. Mr. Purinton, 51, was extradited to Kansas from Missouri on Friday, and he is charged with premeditated first-degree murder and two counts of attempted premeditated first-degree murder. The attack, which the federal and local authorities are investigating as a possible hate crime, reverberated far beyond both states. It raised new alarms about a climate of hostility toward foreigners in the United States, where President Trump has made clamping down on immigration a central plank of his "America first" agenda. The White House strongly rejected the notion that there might be any connection between the shooting and the new administration's sharp language about immigration." See also, After Kansas Shooting, More Than $1Million Donated For Victims' Families, NPR, Colin Dwyer, published on Sunday, 26 February 2017.
Arizona Senate votes to seize assets of those who plan, participate in protests that turn violent, Arizona Capitol Times, Howard Fischer, Wednesday, 22 February 2017: "Claiming people are being paid to riot, Republican state senators voted Wednesday to give police new power to arrest anyone who is involved in a peaceful demonstration that may turn bad — even before anything actually happened. SB1142 expands the state's racketeering laws, now aimed at organized crime, to also include rioting. And it redefines what constitutes rioting to include actions that result in damage to the property of others. But the real heart of the legislation is what Democrats say is the guilt by association — and giving the government the right to criminally prosecute and seize the assets of everyone who planned a protest and everyone who participated. And what's worse, said Sen. Steve Farley, D-Tucson, is that the person who may have broken a window, triggering the claim there was a riot, might actually not be a member of the group but someone from the other side…. The 17-13 party-line vote sends the bill to the House."
Thursday, 23 February 2017, Day 35:
Video: A Closing Prayer For Standing Rock's Oceti Sakowin, The Intercept, Jihan Hafiz, published on Saturday, 25 February. "It was an emotional closing prayer in front of the sacred fire at Oceti Sakowin camp, near the Standing Rock Sioux Reservation, ground zero of the movement to stop the Dakota Access oil pipeline. For hundreds of people who lived here, Oceti Sakowin had become home. Equipped with medical facilities, kitchens, security posts, prayer lodges, a building supply depot, a school, and a town hall, Oceti was a Native-led community built by the NoDAPL movement. On Wednesday [22 February], as many walked out of Oceti for the last time, smoke filled the air. Spiritual leaders chose to burn Native religious structures instead of allowing the police to bulldoze them."
Justice Department will again use private prisons, The Washington Post, Matt Zapotosky, Thursday, 23 February 2017: "The Justice Department will once again use private prisons to house federal inmates, reversing an Obama-era directive to stop using the facilities, which officials had then deemed less safe and less effective than those run by the government….. The directive marks a significant policy shift from the previous administration, although the practical impact might be somewhat muted. Most inmates are housed in state prisons, rather than federal ones. Even when the Justice Department announced it would no longer use private facilities, the action only affected 13 prisons, housing a little more than 22,000 inmates. The original directive also did not apply to Immigration and Customs Enforcement and U.S. Marshals Service detainees, who are technically in the federal system but not under the purview of the federal Bureau of Prisons…. As of Thursday afternoon, the Bureau of Prisons had 12 privately run facilities, holding 21,366 inmates. They are run by three private-prison operators: Management and Training Corporation, the GEO Group and CoreCivic, which used to be known as Corrections Corporation of America. Private prisons have faced significant criticism in recent years from civil liberties advocates and others. Sally Yates, who served as deputy attorney general in the Obama administration, did not mince words in August when she ordered the Department of Justice — of which the Bureau of Prisons is a part — to end the use of private prisons entirely by phasing them out over time. 'They simply do not provide the same level of correctional services, programs, and resources; they do not save substantially on costs; and as noted in a recent report by the Department's Office of Inspector General, they do not maintain the same level of safety and security,' Yates wrote."
FBI refused White House request to knock down recent Trump-Russia stories, CNN, Jim Sciutto, Evan Perez, Shimon Prokupecz, Manu Raju and Pamela Brown, published on Friday, 24 February 2017: "The FBI rejected a recent White House request to publicly knock down media reports about communications between Donald Trump's associates and Russians known to US intelligence during the 2016 presidential campaign, multiple US officials briefed on the matter tell CNN. But a White House official said late Thursday that the request was only made after the FBI indicated to the White House it did not believe the reporting to be accurate. White House officials had sought the help of the bureau and other agencies investigating the Russia matter to say that the reports were wrong and that there had been no contacts, the officials said. The reports of the contacts were first published by The New York Times and CNN on February 14. The direct communications between the White House and the FBI were unusual because of decade-old restrictions on such contacts. Such a request from the White House is a violation of procedures that limit communications with the FBI on pending investigations.… Comey rejected the request for the FBI to comment on the stories, according to sources, because the alleged communications between Trump associates and Russians known to US intelligence are the subject of an ongoing investigation."
Stephen K. Bannon's CPAC Comments, Annotated and Explained, The New York Times, Max Fisher, published on Friday, 24 February 2017: "In just a few comments during a question-and-answer session this week at the Conservative Political Action Conference, Stephen K. Bannon named many of the concepts that, though unfamiliar to many Americans, have animated his tenure as the president's chief strategist. Ideas like "economic nationalism" and "corporatist media" have become central to the ideology that Mr. Bannon has carried to the White House from his time running Breitbart News…. Here are a few of Mr. Bannon's phrases from his comments and what they convey.
Bannon: If you look at the lines of work, I would break it up into three verticals or three buckets. The first is kind of national security and sovereignty. … The second line of work is what I refer to as economic nationalism.
Economic nationalism is formally defined as encompassing domestic control of the economy, protectionist policies such as tariffs and opposition to trade and immigration. But Mr. Kreiss [a University of North Carolina professor who studies political language] said that, after months of studying Breitbart, he concluded that it was seen 'less as a proscribed set of policies' than as a way to declare opposition to the long-held bipartisan consensus that favors trade and immigration. The Breitbart site often describes an all-encompassing clash between 'nationalists' and 'globalists.'
Bannon: The third, broadly, line of work is deconstruction of the administrative state. … If you look at these cabinet appointees, they were selected for a reason and that is the deconstruction. The way the progressive left runs, is if they can't get it passed, they're just going to put in some sort of regulation in an agency. That's all going to be deconstructed and I think that that's why this regulatory thing is so important.
Republicans have long warned against overregulation. Mr. Bannon portrays the problem as flowing from something deeper: a shadowy 'administrative state' engineered by the left to advance its agenda…. This is a core argument of populist leaders, who typically rise by promising to oppose institutions, which are blamed for society's problems. But in practice, they often consolidate power away from those institutions for themselves."
Trump wants to make sure U.S. nuclear arsenal is at the 'top of the pack,' Reuters, Steve Holland, published on Friday, 24 February 2017: "President Donald Trump said on Thursday he wants to ensure the U.S. nuclear arsenal is at the 'top of the pack,' saying the United States has fallen behind in its weapons capacity…. In his first comments about the U.S. nuclear arsenal since taking office on Jan. 20, Trump was asked about a December [2016] tweet in which he said the United States must greatly strengthen and expand its nuclear capacity 'until such time as the world comes to its senses regarding nukes.' Trump said in the interview he would like to see a world with no nuclear weapons but expressed concern that the United States has 'fallen behind on nuclear weapon capacity…. It would be wonderful, a dream would be that no country would have nukes, but if countries are going to have nukes, we're going to be at the top of the pack,' Trump said."
Los Angeles Demands That Federal Immigration Officials Stop Calling Themselves "Police," Mother Jones, Inae Oh, published on Friday, 24 February 2017: "In the wake of raids that resulted in the arrest of 161 undocumented immigrants in southern California earlier this month, the city of Los Angeles is demanding that federal immigration agents end the practice of identifying themselves as "police" with the Los Angeles Police Department. According to a letter signed by city officials, that tactic threatens to erode trust between local law enforcement officers and the immigrant communities they police. 'In Los Angeles, the term 'police' is synonymous with the Los Angeles Police Department,' reads a letter that Mayor Eric Garcetti, city attorney Mike Feuer, and city council president Herb J. Wesson sent to the Trump administration Thursday. 'So for ICE agents to represent themselves as police misleads the public into believing they are interacting with LAPD.'"
White House Press Secretary Sean Spicer: Expect to see 'greater enforcement' of federal marijuana law, Politico, Madeline Conway, Thursday, 23 February 2017: "White House press secretary Sean Spicer said Thursday that he expects states to see 'greater enforcement' of the federal law against marijuana use, a move that would be at odds with a growing number of states' decisions to legalize it. Spicer, taking questions from reporters at the daily briefing, differentiated between the administration's positions on medical marijuana and recreational marijuana.President Donald Trump 'understands the pain and suffering that many people go through who are facing especially terminal diseases, and the comfort that some of these drugs, including medical marijuana, can bring to them,' he said, also noting previous action by Congress not to fund the Justice Department 'go[ing] after those folks.' As for 'recreational marijuana, that's a very, very different subject,' Spicer said. Spicer suggested that the administration is opposed to encouraging recreational marijuana use and connected it with the crisis with opioid addiction in some areas."