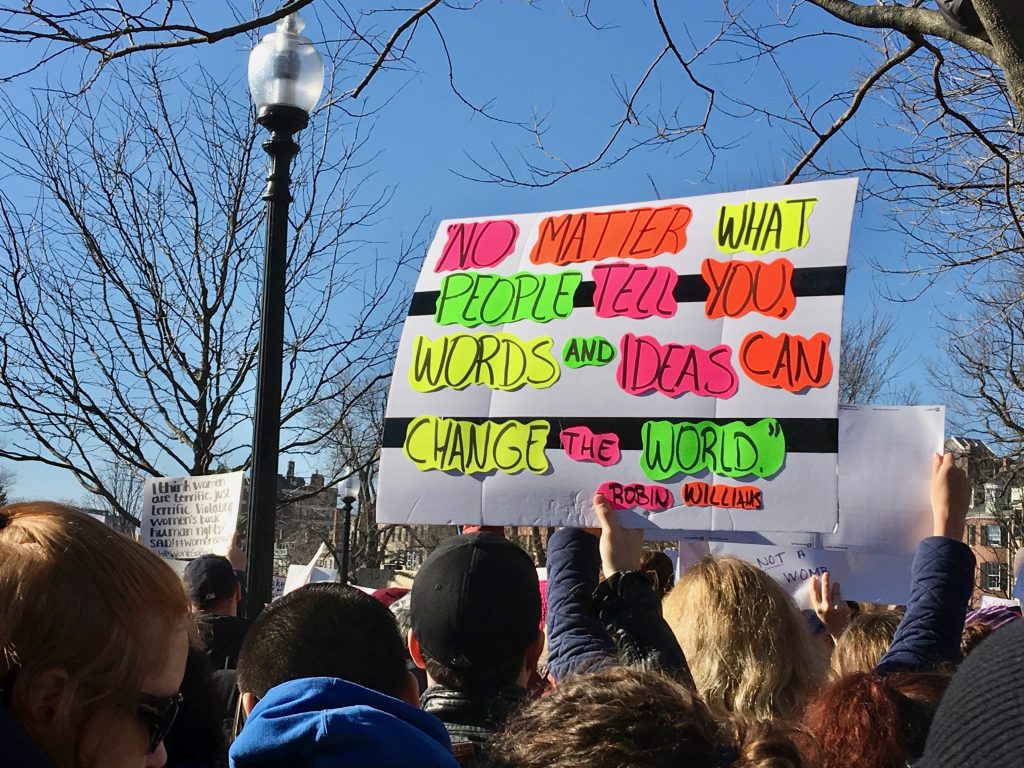 Keeping Track (of some things), Staying Outraged (it is possible), and Resisting (it's essential)
Passages in bold in the body of the texts below are my emphasis. This is an ongoing project, and I update the site frequently. I hope readers will peruse the articles in full for a better understanding of the issues and their context; our democracy and our future depend on citizens who can distinguish between facts and falsehoods and who are engaged in the political process.
Friday, 10 February 2017, Day 22:
Tom Price Is Sworn In as Health and Human Services Secretary Amid Senate Disunity, The New York Times, Robert Pear and Alan Rappeport, Friday, 10 February 2017: "Mr. Price was sworn in by Vice President Mike Pence just hours after the Senate, by a party-line vote of 52 to 47, confirmed his nomination in the early hours of Friday morning…. Senate Democrats and the chamber's two independents said they feared the worst, based on Mr. Price's 12-year record as a Republican member of the House of Representatives from Georgia. They said that Mr. Price had led efforts to repeal the health care law and slow the growth of Medicare and Medicaid by shifting some costs to beneficiaries and trimming payments to some health care providers. 'This is a sad evening,' said Senator Chuck Schumer of New York, the Democratic leader. 'People will look back and say that the Republicans' war on seniors began at 2 a.m. Friday morning when the Senate unfortunately confirmed Representative Price.' The depth of concern about Mr. Price was illustrated by the comments of Senator Angus King, independent of Maine, who caucuses with Democrats but is not given to hyperbole. 'To put somebody in charge of the Department of Health and Human Services that is inimical to Medicare, Medicaid and the Affordable Care Act — this guy is a wrecking ball,' Mr. King said. 'He is not a secretary. He is going into this agency to destroy it. He wants to undercut and diminish and, in some cases, literally destroy some of the major underpinnings of providing health care to people in this country.'
51% of Trump voters think the "Bowling Green massacre" justifies Trump's Muslim ban, Mic, Anna Swartz, Friday, 10 February 2017: "A new poll suggests that more than half of Trump voters believe the Bowling Green massacre is a prime example of why President Donald Trump's travel ban is so necessary. Apparently they don't realize the "Bowling Green massacre" is a complete fabrication. The new national poll, released on Friday by the North Carolina-based organization Public Policy Polling, surveyed 712 registered voters. When asked if they either disagreed or agreed with the statement, 'The Bowling Green massacre shows why we need Donald Trump's executive order on immigration,' a full 51% of Trump voters said they agreed that the supposed massacre was a justification for Trump's ban, while just 23% said they disagreed (for comparison, 90% of Hillary Clinton voters said they disagreed with the statement).  …[T]he 'Bowling Green massacre' is a lie, a made-up terrorist attack that seems to have come straight from the mind of Trump counselor Kellyanne Conway, who mentioned it in a Feb. 2 interview with MSNBC's Chris Matthews."
Pence was told Flynn didn't discuss sanctions with Russian ambassador, aides say, Politico, Matthew Nussbaum, Friday, 10 February 2017: "Reports that national security adviser Michael Flynn may have discussed U.S. sanctions with the Russian ambassador before President Donald Trump's inauguration has revived concerns about Flynn's relationships with Moscow — and threatens to entangle a member of the administration who has so far mostly dodged controversy: Vice President Mike Pence. Pence said in a Jan. 15 appearance on CBS' 'Face the Nation' that Flynn's conversations with the Russian Ambassador Sergey Kislyak were 'strictly coincidental' and had nothing to do with the Obama administration's decision to punish Russia for meddling in the November election. 'They did not discuss anything having to do with the United States' decision to expel diplomats or impose censure against Russia,' Pence told CBS. An administration official told POLITICO that Pence's remarks came after a conversation with Flynn and were guided by that conversation — leaving open the possibility that Flynn misled the Vice President just as he repeatedly denied the allegations to the Washington Post before acknowledging the topic may have been discussed."
Continue reading Week 4, Friday, 10 February – Thursday, 16 February 2017:
Democrats seek investigation into national security adviser Michael Flynn, Associated Press: The Big Story, Ken Thomas and Julie Pace, Friday, 10 February 2017: "Congressional Democrats on Friday called for an investigation into whether White House National Security Adviser Michael Flynn discussed U.S. sanctions in phone calls with Russia's ambassador while President Barack Obama was still in office, conversations that may have broken U.S. law aimed at barring private citizens from conducting diplomacy. The White House said President Donald Trump had 'full confidence' in Flynn, a show of support coming as the administration scrambled to manage the fallout from reports that Flynn addressed U.S. sanctions against Russia in a phone call late last year. The report contradicted both Flynn's previous denials, as well as those made by Vice President Mike Pence in a televised interview."
Trump says he's unaware of reports Michael Flynn discussed sanctions with Russian ambassador, CNN Politics, Kevin Liptak, Jeff Zeleny and Elizabeth Landers, Friday, 10 February 2017: "President Donald Trump said Friday afternoon he was unaware of reports that his national security adviser, Michael Flynn, may have spoken about sanctions with the Russian ambassador before the inauguration. Trump, speaking to reporters aboard Air Force One, said he will 'look into that.'"
CIA freezes out top Flynn aide, Politico, Kenneth P. Vogel and Josh Dawsey, Friday, 10 February 2017: "A top deputy to national security adviser Michael Flynn was rejected for a critical security clearance, effectively ending his tenure on the National Security Council and escalating tensions between Flynn and the intelligence community. The move came as Flynn's already tense relationships with others in the Trump administration and the intelligence community were growing more fraught after reports that Flynn had breached diplomatic protocols in his conversations with the Russian ambassador to the United States. On Friday, one of Flynn's closest deputies on the NSC, senior director for Africa Robin Townley, was informed that the Central Intelligence Agency had rejected his request for an elite security clearance required for service on the NSC, according to two people with direct knowledge of the situation."
Trump Drops Defense of Obama Guidelines on Transgender Students, The New York Times, Liam Stack, published on Saturday, 11 February 2017: "A nationwide injunction that has kept transgender students from using school bathrooms and other facilities that correspond with their gender identity will remain in place after the Trump administration decided not to challenge it in court. The move, announced Friday, ended an effort mounted by the Obama administration after the order was announced last year. The injunction was issued in August by Judge Reed O'Connor of the Federal District Court for the Northern District of Texas as part of a lawsuit filed by more than a dozen states over the Obama administration's position that Title IX, the federal law that bans sex discrimination in schools, protects transgender students. Under that interpretation, transgender students have access to facilities like bathrooms and locker rooms that correspond with their gender identity, a proposition to which social conservatives strongly object. They argue that allowing transgender students to use those facilities poses a threat to the privacy and safety of other students…. The decision changed little in the short term because the nationwide injunction has been in effect since August, but it signaled a significant change in the government's approach to transgender issues under President Trump. Mara Keisling, the executive director of the National Center for Transgender Equality, called the move a 'callous attack' on 'the dignity and safety of transgender students.' 'While the immediate impact of this initial legal maneuver is limited, it is a frightening sign that the Trump administration is ready to discard its obligation to protect all students,' she said in a statement. 'Transgender students are not going away, and it remains the legal and moral duty of schools to support all students.' The Obama administration evolved into an ardent defender of transgender students, suing North Carolina over a law there restricting transgender people's access to public bathrooms, locker rooms and changing rooms. In May, the administration warned public school districts that they could face lawsuits or a loss of federal funds if they did the same.
Saturday, 11 February 2017, Day 23:
Trump tweeted about US legal system and refugees at 7:12 am on Saturday, 11 February 2017: "Our legal system is broken! 77% of refugees allowed into U.S. since travel reprieve hail from seven suspect countries." (WT) SO DANGEROUS!"
Trump Says Refugees Are Flooding U.S. in Misleading Allusion, The New York Times, Julie Hirschfeld Davis, Saturday, 11 February 2017: "President Trump said on Saturday that judicial decisions that halted his executive order banning travel from seven predominantly Muslim countries had allowed a flood of refugees to pour into the country. 'Our legal system is broken!' Mr. Trump wrote in a Twitter posting a day after he said that he was considering a wholesale rewriting of the executive order to circumvent legal hurdles quickly but had not ruled out appealing the major defeat he suffered in a federal appeals court on Thursday. 'SO DANGEROUS!' the president added. Mr. Trump cited a report in The Washington Times that asserted that 77 percent of the refugees who entered the United States since Judge James L. Robart of Federal District Court in Seattle blocked the order on Feb. 3 had been from the seven 'suspect countries.' Still, his allusion to a rush of dangerous refugees is somewhat misleading. According to an analysis of data maintained by the State Department's Refugee Processing Center, the percentage of refugees arriving from those countries — Iran, Iraq, Libya, Somalia, Sudan, Syria and Yemen — has risen considerably since the directive was suspended, but the weekly total of refugees arriving from the targeted countries has risen by only about 100. And all are stringently vetted…. At the same time, refugee arrivals from countries not affected by the order have fallen sharply. Since the judge blocked the ban, 1,049 of the 1,462 refugees who have arrived in the United States, or 72 percent, were from the seven countries affected. In Mr. Trump's first week of office, before he issued his order, more refugees arrived, 2,108, and 935 of them, representing 44 percent, were from those seven nations. The figures suggest that the State Department and refugee resettlement agencies, which meet weekly to determine which individuals and families to admit to the United States, may be stepping up their efforts to help refugees from the seven countries."
Trump: Border wall price 'will come WAY DOWN' when I negotiate, The Hill, Elliot Smilowitz, Saturday, 11 February 2017: "President Trump on Saturday responded to reports that the cost of his proposed border wall is much higher than expected, insisting that it will be much cheaper after he gets involved in negotiations.  'I am reading that the great border WALL will cost more than the government originally thought, but I have not gotten involved in the … design or negotiations yet. When I do, just like with the F-35 FighterJet or the Air Force One Program, price will come WAY DOWN!' Trump wrote in a series of tweets [at 8:18 and 8:24 am]…. Reuters on Thursday [9 February] reported that the planned wall along the U.S.-Mexico border would cost as much as $21.6 billion — nearly double the $12 billion price tag that Trump has claimed in the past."
Losing Hope in U.S., Migrants Make Icy Crossing to Canada, The New York Times, Catherine Porter, Dan Levin and Ian Austen, Saturday, 11 February 2017: "Almost three months after Bashir Yussuf watched Donald J. Trump win the presidential election, he made his way to Noyes, Minn., where he set off at night into the snow-filled woods and crawled across the unmarked border into Canada…. After a three-hour walk, much of it through deep drifts, Mr. Yussuf arrived in Emerson, a small farming town in sight of the snow-swept border with both North Dakota and Minnesota…. The morning before Mr. Yussuf arrived with another Somali last Sunday night, 19 other Africans had emerged on the Canadian side of the border, cold and hungry after walking much of the night across frozen farm fields. There were too many to fit into the small border office for processing, so the people of the town rushed to open the community hall, where the new arrivals could get warm, doze on sleeping mats and refuel on Nutella sandwiches, tea and coffee…. Over the past couple of years, a small number of people have been sneaking across the border at Manitoba from the United States and then filing for asylum, Canadian Border Service Agency statistics show. But since the fall, refugee workers in Winnipeg say, there has been a noticeable surge. The Manitoba Interfaith Immigration Council, known locally as Welcome Place, typically serves 50 to 60 asylum seekers per year, said its executive director, Rita Chahal. 'Since April, we've seen already 300,' she said…. A loophole in the rules covering asylum seekers has led some to walk for as long as eight hours in the middle of the night, through wintry landscapes and biting prairie cold, before arriving in Emerson. While an agreement between Canada and the United States makes it impossible for them to simply present themselves at the border and claim asylum, those who make it into the country and then present themselves to border guards can do so. Now, in light of the uncertainty and disruption created by President Trump's executive order on immigration, refugee advocates and human rights groups in Canada are demanding that the government led by Prime Minister Justin Trudeau suspend or cancel the refugee pact, which is known as the Safe Third Country agreement…. On Wednesday, the immigration and refugee clinical program at Harvard Law School issued a report stating that Mr. Trump's executive orders on immigration made the United States 'not a safe country of asylum' for people fleeing persecution and violence. 'When Canada sends someone back to the U.S., we are saying we have confidence the U.S. is going to protect them if they need protection. We don't see how we can have confidence to say that in the current context,' said Janet Dench, executive director of the Canadian Council For Refugees, a nonprofit umbrella organization of 170 refugee advocacy groups." See also, The new underground railroad to Canada, Maclean's, Jason Markusoff, Photographs by Nick Iwanyshyn, Friday, 3 February 2017. 

North Korea Fires Ballistic Missile, Challenging Trump, The New York Times, Choe Sang-Hun, Saturday, 11 February 2017: "North Korea launched a ballistic missile toward the sea off its eastern coast on Sunday, in what South Korea called the North's first attempt to test President Trump's policy on the isolated country. A projectile believed to be a modified version of the North's intermediate-range ballistic missile Musudan took off at 7:55 a.m. from Banghyon, a town near North Korea's northwestern border with China, and flew 310 miles before falling in the sea, the South Korean military said. Earlier, the United States Strategic Command issued a statement identifying the missile as a medium- or intermediate-range system that 'did not pose a threat to North America.'… Mr. Trump and Mr. Abe hastily arranged a joint appearance in response. 'North Korea's most recent missile launch is absolutely intolerable,' Mr. Abe said, calling on the country to comply with all relevant United Nations Security Council resolutions. Looking grim, Mr. Trump said nothing about the missile launch, but pledged to staunchly back Japan. 'I just want everybody to understand and fully know that the United States of America stands behind Japan, its great ally, 100 percent,' he said. The two leaders are at Mar-a-Lago, Mr. Trump's club in Palm Beach, Fla., where they are meeting over the weekend."
Trump turns Mar-a-Lago Club terrace into open-air situation room: How a Trump national security meeting ended up on social media, The Washington Post, David A. Fahrenthold and Karen DeYoung, published on Monday, 13 February 2017: "It was Saturday night, and Palm Beach's tony Mar-a-Lago Club was packed. There was a wedding reception in the ballroom. There was a full house for dinner on the terrace. And at one table on the terrace, there was the president and the leader of a major U.S. ally, hashing out a national security problem in the open air. 'Someone opened up a laptop, and at the table . . . a group of Japanese people stood around the prime minister and Donald, and they were all looking at the laptop,' said Jay Weitzman, a member of President Trump's Mar-a-Lago Club and founder of the Pennsylvania-based parking management company Park America. He was sitting three tables away from Trump and Japanese Prime Minister Shinzo Abe on Saturday evening…. As Weitzman and other patrons watched Saturday evening, Trump and Abe remained at the table and discussed their response to a ballistic missile test by North Korea. While waiters came and went — and while one club member snapped photos — the two leaders reviewed documents by the light of an aide's cellphone. That strange scene — in which Trump turned his table into an al fresco situation room — astounded White House veterans, who were used to presidents retiring to private, secured settings to hash out such an event."
Sunday, 12 February 2017, Day 24:
Stephen Miller's bushels of Pinocchios for false voter-fraud claims, The Washington Post, Glenn Kessler, Sunday, 12 February 2017: "White House senior policy adviser Stephen Miller appeared on ABC's 'The Week' on Sunday, spouting a bunch of false talking points on alleged voter fraud. (He also repeated similar claims on other Sunday talk shows.) To his credit, host George Stephanopoulus repeatedly challenged Miller, noting that he had provided no evidence to support his claims. But Miller charged ahead, using the word 'fact' three times in a vain effort to bolster his position."
Stephen Miller's authoritarian declaration: Trump's national security actions 'will not be questioned,' The Washington Post, Aaron Blake, published on Monday 13 February 2017: "Senior White House policy adviser Stephen Miller made the rounds on the Sunday talk shows…. …[A]mid all [his] baseless and false statements about electoral integrity, Miller did something even more controversial: He expanded upon his boss's views of whether judges are allowed to question President Trump's authority. And at one point, Miller even said Trump's national security decisions 'will not be questioned.' Here's the key exchange, with "Face the Nation's" John Dickerson:
DICKERSON: When I talked to Republicans on the Hill, they wonder, what in the White House — what have you all learned from this experience with the executive order?

MILLER: …The end result of this…is that our opponents, the media and the whole world will soon see as we begin to take further actions, that the powers of the president to protect our country are very substantial and will not be questioned.
'Will not be questioned.' That is an incredible claim to executive authority — and one we can expect to hear plenty more about. Trump has beaten around this bush plenty, yes. But Miller just came out and said it: that the White House doesn't recognize judges' authority to review things such as his travel ban. It might have been excused as a little over-exuberance, except that Miller said similar things in his other Sunday show appearances."
Trump undertakes most ambitious regulatory rollback since Reagan, The Washington Post, Juliet Eilperin, Sunday, 12 February 2017: "President Trump has embarked on the most aggressive campaign against government regulation in a generation, joining with Republican lawmakers to roll back rules already on the books and limit the ability of federal regulators to impose new ones. After just a few weeks in office, the new administration is targeting dozens of Obama-era policies, using both legislative and executive tactics. The fallout is already rippling across the federal ­bureaucracy and throughout the U.S. economy, affecting how dentists dispose of mercury fillings, how schools meet the needs of poor and disabled students, and whether companies reject mineral purchases that fuel one of the world's bloodiest conflicts. The campaign has alarmed ­labor unions, public safety advocates and environmental activists, who fear losing regulations that have been in place for years, along with relatively new federal mandates. Business groups, however, are thrilled, saying Trump is­ responding to long-standing complaints that a profusion of federal regulations unnecessarily increases costs and hampers their ability to create jobs."
Monday, 13 February 2017, Day 25
Steven Mnuchin Is Confirmed as Treasury Secretary, The New York Times, Alan Rappeport, Monday, 13 February 2017: "The Senate confirmed Steven T. Mnuchin, a former Goldman Sachs banker and Hollywood film financier, to be Treasury secretary on Monday, putting in place a key lieutenant to President Trump who will help drive the administration's plans to overhaul the tax code, renegotiate trade deals around the world and remake financial regulations. By a vote of 53 to 47, the Senate confirmed Mr. Mnuchin, who was Mr. Trump's top campaign fund-raiser. During a long debate over Mr. Mnuchin's credentials, Democrats argued that his experience on Wall Street exemplified corporate malpractice that led to the 2008 financial crisis…. While Mr. Mnuchin's financial acumen has been praised by Mr. Trump and Republicans in Congress, Democrats have argued forcefully that he is not up to the job. They have painted him as a symbol of everything that is wrong with corporate America. 'He was part of the cadre of corporate raiders that brought our economy to its knees,' Senator Robert Menendez, Democrat of New Jersey, said on the Senate floor on Monday. There was also no shortage of name-calling. Senator Ron Wyden, Democrat of Oregon, referred to Mr. Mnuchin as the 'foreclosure king.' Senator Tammy Duckworth, Democrat of Illinois, described him as 'greedy' and "unethical" while arguing the case against him. 'Whether illegally foreclosing on thousands of families, skirting the law with offshore tax havens or helping design tactics that contributed to the 2008 financial crisis, Steve Mnuchin made a career — and millions of dollars — pioneering increasingly deceptive and predatory ways to rob hardworking Americans of their savings and homes,' Ms. Duckworth said."
Justice Department warned White House that National Security Adviser Michael Flynn could be vulnerable to Russian blackmail, officials say, The Washington Post, Adam Entous, Ellen Nakashima and Philip Rucker, Monday, 13 February 2017: "The acting attorney general [Sally Yates] informed the Trump White House late last month that she believed Michael Flynn had misled senior administration officials about the nature of his communications with the Russian ambassador to the United States, and warned that the national security adviser was potentially vulnerable to Russian blackmail, current and former U.S. officials said. The message, delivered by Sally Q. Yates and a senior career national security official to the White House counsel, was prompted by concerns that ­Flynn, when asked about his calls and texts with the ­Russian diplomat, had told Vice ­President-elect Mike Pence and others that he had not discussed the Obama administration sanctions on Russia for its interference in the 2016 election, the officials said. It is unclear what the White House counsel, Donald McGahn, did with the ­information. Flynn resigned Monday night in the wake of revelations about his contacts with the Russian ambassador."
Michael Flynn Resigns as National Security Adviser, The New York Times, Maggie Haberman, Matthew Rosenberg, Matt Apuzzo and Glenn Thrush, Monday, 13 February 2017: "Michael T. Flynn, the national security adviser, resigned on Monday night after it was revealed that he had misled Vice President Mike Pence and other top White House officials about his conversations with the Russian ambassador to the United States. Mr. Flynn, who served in the job for less than a month, said he had given 'incomplete information' regarding a telephone call he had with the ambassador in late December about American sanctions against Russia, weeks before President Trump's inauguration. Mr. Flynn previously had denied that he had any substantive conversations with Ambassador Sergey I. Kislyak, and Mr. Pence repeated that claim in television interviews as recently as this month. But on Monday, a former administration official said the Justice Department warned the White House last month that Mr. Flynn had not been fully forthright about his conversations with the ambassador. As a result, the Justice Department feared that Mr. Flynn could be vulnerable to blackmail by Moscow…. Officials said Mr. Pence had told others in the White House that he believed Mr. Flynn lied to him by saying he had not discussed the topic of sanctions on a call with the Russian ambassador in late December. Even the mere discussion of policy — and the apparent attempt to assuage the concerns of an American adversary before Mr. Trump took office — represented a remarkable breach of protocol…. The F.B.I. had been examining Mr. Flynn's phone calls as he came under growing questions about his interactions with Russian officials and his management of the National Security Council. The blackmail risk envisioned by the Justice Department would have stemmed directly from Mr. Flynn's attempt to cover his tracks with his bosses. The Russians knew what had been said on the call; thus, if they wanted Mr. Flynn to do something, they could have threatened to expose the lie if he refused.… Officials said classified information did not appear to have been discussed during the conversation between Mr. Flynn and the ambassador, which would have been a crime. The call was captured on a routine wiretap of diplomats' calls, the officials said. But current Trump administration officials and former Obama administration officials said that Mr. Flynn did appear to be reassuring the ambassador that Mr. Trump would adopt a more accommodating tone on Russia once in office. Former and current administration officials said that Mr. Flynn urged Russia not to retaliate against any sanctions because an overreaction would make any future cooperation more complicated. He never explicitly promised sanctions relief, one former official said, but he appeared to leave the impression that it would be possible."
Non-Citizens Are Not Voting. Here Are the Facts, Brennan Center for Justice at New York University School of Law, Wendy R. Weiser and Douglas Keith, Monday, 13 February 2017: "The Trump administration continues to double down on its false and widely-criticized assertion that 3 to 5 million non-citizens illegally voted in the 2016 election. On Sunday [12 February 2017] , White House Senior Advisor Stephen Miller claimed 14% of non-citizens are registered to vote. 'We know for a fact, you have massive numbers of non-citizens registered to vote in this country,' he said, appearing on ABC's This Week With George Stephanopoulos. 'The White House has provided enormous evidence with respect to voter fraud.' Actually, it hasn't. Nevertheless, President Trump announced earlier this month, despite the lack of evidence, that Vice President Mike Pence will lead a federal investigation into voter fraud."
Canadian Prime Minister Justin Trudeau and Donald Trump Try to Bridge Some Gaps While Avoiding Others, The New York Times, Richard Pérez-Peña and Ian Austen, Monday, 13 February 2017: "Despite sharp differences on immigration, refugees, trade and climate change, President Trump and Prime Minister Justin Trudeau of Canada struck a cordial tone on Monday in their first meeting, alternating between attempting to bridge those gaps and steering clear of them. Mr. Trump has called for a halt to the admission of refugees, saying that terrorists might slip into the United States among them, while Mr. Trudeau has held out Canada as a haven for refugees, particularly people who have fled the war in Syria, publicly hugging newly arrived families…. Mr. Trudeau declined to say whether he agreed with the president's executive order restricting immigration. 'The last thing Canadians expect is for me to come down and lecture another country on how they choose to govern themselves,' he said. Maintaining the country's close political and economic links with the United States was top of the Canadian leader's agenda before his visit to Washington. Mr. Trudeau had forged an unusually close relationship with former President Barack Obama, but many of Mr. Trump's policies, particularly his protectionist stance on trade and his call for renegotiating the North American Free Trade Agreement, are chilling for Canadians. They count on trade with the United States for about 25 percent of their country's gross domestic product…. Mr. Trudeau appears determined to maintain friendly relations with Mr. Trump despite their differences, while signaling to Canadians who are wary of their powerful neighbor that Canada still charts its own course."
David Shulkin unanimously confirmed to head Veterans Affairs, The Washington Post, Lisa Rein, Monday, 13 February 2017: "David J. Shulkin, an internist and longtime health administrator, was unanimously confirmed Monday to lead the troubled Veterans Affairs Department, becoming the first of President Trump's Cabinet picks to be embraced by all Republicans and Democrats. He is the sole holdover from the Obama administration. No senators dissented on Shulkin's nomination in a rare show of bipartisanship following contentious battles over other Trump Cabinet selections. Shulkin's approval makes him the 11th high-ranking Trump official to be confirmed by the Senate."
Ethics office: Kellyanne Conway committed 'clear violation' with Ivanka plug, Politico, Kyle Cheney, published on Tuesday, 14 February 2017: "Kellyanne Conway, a senior adviser to Donald Trump committed a 'clear violation' of ethics rules when she hawked Ivanka Trump's clothing line on Fox & Friends last week, the federal government's ethics watchdog said in a letter released [Monday]. 'I recommend that the White House investigate Ms. Conway's actions and consider taking disciplinary action against her,' Office of Government Ethics director Walter Shaub wrote in the letter, which is dated Feb. 13 and was posted online by Democrats on the House oversight committee. Conway offered what she described as a 'free commercial' for Ivanka Trump's clothing line after Nordstrom pulled her items from its racks, drawing a Twitter rebuke from President Donald Trump…. In his letter, Shaub notes that Conway's appearance on Fox & Friends was held in the White House's press briefing room, signaling that she was conducting the interview in her 'official capacity.' 'She used that interview, however, as an opportunity to market Ms. Trump's products,' Shaub wrote."
White House Grants Press Credentials to a Pro-Trump Blog, The New York Times, Michael M. Grynbaum, Monday, 13 February 2017: "The Gateway Pundit, a provocative conservative blog, gained notice last year for its fervent pro-Trump coverage and its penchant for promoting false rumors about voter fraud and Hillary Clinton's health that rocketed around right-wing websites. Now the site will report on politics from a prominent perch: the White House. The Trump administration has granted press credentials to Lucian B. Wintrich, the Washington correspondent for Gateway Pundit, to attend White House press briefings and ask questions of the press secretary, Sean M. Spicer."
Tuesday, 14 February 2017, Day 26:
Trump tweeted at 9:28 am that "illegal leaks" were responsible for Michael Flynn's downfall: "The real story here is why are there so many illegal leaks coming out of Washington? Will these leaks be happening as I deal on N.Korea etc?"
After Michael Flynn's resignation, Trump says the 'real story' is 'illegal leaks,' The Washington Post, Ashley Parker and Jenna Johnson, Tuesday, 14 February 2017: "President Trump on Tuesday blamed "illegal leaks" for the downfall of national security adviser Michael Flynn, who resigned late Monday amid reports of potentially illegal interactions with the Russian ambassador to the United States before Trump was sworn in as president. In a tweet, Trump expressed frustration with what he views as a culture of leaks in the nation's capital. "The real story here is why are there so many illegal leaks coming out of Washington?" he wrote. "Will these leaks be happening as I deal on N. Korea etc?"
National Security Adviser Michael Flynn's Downfall Sprang From 'Eroding Level of Trust,' The New York Times, Peter Baker, Glenn Thrush, Maggie Haberman, Adam Goldman and Julie Hirschfeld Davis, Tuesday, 14 February 2017: "Just days into his new position as President Trump's national security adviser, Michael T. Flynn found himself in a meeting that any White House official would dread. Face to face with F.B.I. agents, he was grilled about a phone call he had had with Russia's ambassador. What exactly Mr. Flynn said has not been disclosed, but current and former government officials said on Tuesday that investigators had come away believing that he was not entirely forthcoming. Soon after, the acting attorney general decided to notify the White House, setting in motion a chain of events that cost Mr. Flynn his job and thrust Mr. Trump's fledgling administration into a fresh crisis…. Given his short stay at the top, Mr. Flynn's case might be quickly forgotten as an isolated episode if it did not raise other questions, particularly about what the president knew and when. Even more broadly, it underscores lingering uncertainty about the relationship between the Trump administration and Vladimir V. Putin's Russia, a subject of great interest given American intelligence reports of Moscow's intervention in last year's elections in the United States…. …[A]ides privately said that Mr. Trump, while annoyed at Mr. Flynn, might not have pushed him out had the situation not attracted such attention from the news media. Instead, according to three people close to Mr. Trump, the president made the decision to cast aside Mr. Flynn in a flash, the catalyst being a news alert of a coming article about the matter…. The issue traced back to a call last December between Mr. Flynn, then on tap to become Mr. Trump's national security adviser, and Sergey I. Kislyak, the Russian ambassador to the United States. President Barack Obama was imposing new sanctions on Russia and expelling 35 diplomats after the election meddling. The day after the sanctions were announced, Mr. Putin said Russia would not retaliate in kind, as has been the custom in the long, tortured history of Russian-American relations, instead waiting for a new administration that he assumed would be friendlier. Inside the Obama administration, officials were stunned. Mr. Trump publicly welcomed the decision. "Great move on delay (by V. Putin)," he wrote on Twitter [at 2:41 pm on Friday, 30 December 2016]. "I always knew he was very smart!" … On Jan. 12, David Ignatius, a columnist for The Washington Post, reported that Mr. Flynn had called Mr. Kislyak, setting off news media interest in what was said. Mr. Spicer, then the spokesman for Mr. Trump's transition team, went to Mr. Flynn, who he said told him that sanctions had not come up during the call. Briefing reporters the next day, Mr. Spicer repeated the misinformation, saying that the conversation had 'never touched on the sanctions.' Mr. Flynn told the same thing to Mr. Pence and Reince Priebus, the incoming White House chief of staff, who were scheduled to go on the Sunday talk shows and expected that they would be asked about the matter, according to the two men. On [Sunday] Jan. 15, Mr. Pence went on 'Face the Nation' on CBS and on 'Fox News Sunday' and repeated that sanctions had not been discussed, while Mr. Priebus said much the same on "Meet the Press" on NBC." See also, The Fall of Michael Flynn: A timeline: How Michael Flynn got back to the White House, The Washington Post, Philip Bump, Tuesday, 14 February 2015. This timeline starts with April 2014.
Trump Campaign Aides Had Repeated Contacts With Russian Intelligence, The New York Times, Michael S. Schmidt, Mark Mazzetti and Matt Apuzzo, Tuesday, 14 February 2017: "Phone records and intercepted calls show that members of Donald J. Trump's 2016 presidential campaign and other Trump associates had repeated contacts with senior Russian intelligence officials in the year before the election, according to four current and former American officials. American law enforcement and intelligence agencies intercepted the communications around the same time they were discovering evidence that Russia was trying to disrupt the presidential election by hacking into the Democratic National Committee, three of the officials said. The intelligence agencies then sought to learn whether the Trump campaign was colluding with the Russians on the hacking or other efforts to influence the election. The officials interviewed in recent weeks said that, so far, they had seen no evidence of such cooperation. But the intercepts alarmed American intelligence and law enforcement agencies, in part because of the amount of contact that was occurring while Mr. Trump was speaking glowingly about the Russian president, Vladimir V. Putin. At one point last summer [2016], Mr. Trump said at a campaign event that he hoped Russian intelligence services had stolen Hillary Clinton's emails and would make them public. [Wednesday, 27 July 2016: 'Russia, if you're listening, I hope you're able to find the 30,000 emails that are missing,' Mr. Trump said during a news conference here in an apparent reference to Mrs. Clinton's deleted emails. 'I think you will probably be rewarded mightily by our press.'] The officials said the intercepted communications were not limited to Trump campaign officials, and included other associates of Mr. Trump. On the Russian side, the contacts also included members of the government outside of the intelligence services, they said. All of the current and former officials spoke on the condition of anonymity because the continuing investigation is classified."
Senators from both parties pledge to deepen probe of Russia and the 2016 election, The Washington Post, Sean Sullivan, Karoun Demirjian and Paul Kane, Tuesday, 14 February 2017: "Top Republican and Democratic senators pledged Tuesday to deepen their investigation of Russian involvement in the 2016 presidential election in the wake of Michael Flynn's resignation as President Trump's national security adviser, opening a new and potentially uncomfortable chapter in the uneasy relationship between Trump and Capitol Hill. Senate Majority Leader Mitch McConnell (R-Ky.) said such an investigation is 'highly likely,' and the top two members of the Senate Intelligence Committee, Sen. Richard Burr (R-N.C.) and Sen. Mark R. Warner (D-Va.), stood side by side Tuesday to announce that the committee's ongoing probe must include an examination of any contacts between Trump campaign officials and the Russian government."
Russia Deploys Missile, Violating Treaty and Challenging Trump, The New York Times, Michael R. Gordon, Tuesday, 14 February 2017: " Russia has secretly deployed a new cruise missile that American officials say violates a landmark arms control treaty, posing a major test for President Trump as his administration is facing a crisis over its ties to Moscow."
Trump signs law rolling back disclosure rule for energy and mining companies, The Washington Post, Steven Mufson, Tuesday, 14 February 2017: "President Trump signed a measure Tuesday that could presage the most aggressive assault on government regulations since President Reagan. The bill cancels out a Securities and Exchange Commission regulation that would have required oil and gas and mining companies to disclose in detail the payments they make to foreign governments in a bid to boost transparency in resource-rich countries."
House oversight committee chairman Jason Chaffetz probes Trump's security protocols at Mar-a-Lago, Politico, Kyle Cheney, Tuesday, 14 February 2017: "House oversight committee chairman Jason Chaffetz is pressing White House officials for details on why President Donald Trump conducted some of his response to a North Korean missile test in a public dining room at his Mar-a-Lago club. In a letter to White House chief of staff Reince Priebus, Chaffetz requested answers about security protocols at Mar-a-Lago; the details of potentially sensitive documents that Trump and his aides perused in the presence of diners and waitstaff; and whether any sensitive material was discussed in public. The Utah Republican is also seeking information about whether guests are vetted to 'ensure that they are not foreign agents or spies on behalf of a foreign government.'… Pictures and videos of Trump's chaotic dinner — with top aides holding up cell phones in the darkened room as Trump, alongside Japanese Prime Minister Shinzo Abe, considered their response to the missile test — surfaced quickly over the weekend, posted by fellow diners."
A DREAMer Was Arrested During A Raid And Now Immigration Officials Have Been Ordered To Explain Why, BuzzFeed News, Adolfo Flores and Chris Geidner, Tuesday, 14 February 2017: "A federal magistrate judge has ordered officials to defend the arrest of an undocumented immigrant who has protection from deportation during a raid last week, BuzzFeed News has learned. Daniel Ramirez [Medina] was detained by US Immigration and Customs Enforcement (ICE) in Seattle on Feb. 10 and threatened with deportation, despite being a recipient of the Deferred Action for Childhood Arrivals program, also known as DACA, a lawsuit filed on Monday alleges. About 750,000 young immigrants — referred to as DREAMers because of the protections sought for them by the DREAM Act — were shielded from deportation and received work permits under then-President Barack Obama's 2012 executive actions that deprioritized the deportations of undocumented immigrants with no criminal records."
Wednesday, 15 February 2017, Day 27:
Trump's early morning tweets on Wednesday, 15 February 2017: At 7:08 am Trump tweeted: "This Russian connection non-sense is merely an attempt to cover-up the many mistakes made in Hillary Clinton's losing campaign." And at 7:19 am Trump tweeted: "Information is being illegally given to the failing @nytimes & @washingtonpost by the intelligence community (NSA and FBI?).Just like Russia." And at 8:13 am Trump tweeted: "The real scandal here is that classified information is illegally given out by "intelligence" like candy. Very un-American!"
National Security Adviser Michael Flynn Was Brought Down by Illegal Leaks to News Media, Trump Says, The New York Times, Mark Landler and Richard Pérez-Peña, Wednesday, 15 February 2017: "President Trump lashed out at the nation's intelligence agencies again on Wednesday, saying that his former national security adviser, Michael T. Flynn, was brought down by illegal leaks to the news media, on a day of new disclosures about the Trump camp's dealings with Russia during and after the presidential campaign. 'From intelligence, papers are being leaked, things are being leaked,' Mr. Trump said at a White House news conference with Benjamin Netanyahu, the prime minister of Israel. 'It's a criminal action, criminal act, and it's been going on for a long time before me, but now it's really going on. And people are trying to cover up for a terrible loss that the Democrats had under Hillary Clinton.' With his statement and a burst of early-morning posts he made on Twitter, Mr. Trump tried to shift attention from damaging questions about contacts with Russia by Mr. Flynn and others close to the president, arguing that the outrage is not those contacts, but the leaks about them. He revived his charge that the allegations of a 'Russian connection' were nothing more than a Democratic conspiracy, fed to a receptive news media to distract from the mistakes made by Mrs. Clinton during the campaign…. The White House has said that Mr. Trump demanded Mr. Flynn's resignation on Monday night [13 February], after it was revealed that Mr. Flynn, a retired three-star Army general, had misled Vice President Mike Pence and other officials about his conversations with a Russian diplomat. But on Wednesday [15 February], the president said that Mr. Flynn had 'been treated very, very unfairly by the media,' undercut by 'documents and papers that were illegally — I'd stress that, illegally — leaked.'"
After Election, Trump's Professed Love for Leaks Quickly Faded, The New York Times, Michael D. Shear, Wednesday, 15 February 2017: "As a candidate for president, Donald J. Trump embraced the hackers who had leaked Hillary Clinton's emails to the press, declaring at a rally in Pennsylvania, 'I love WikiLeaks!' To the cheering throngs that night, Mr. Trump marveled that 'nothing is secret today when you talk about the internet.' The leakers, he said, had performed a public service by revealing what he called a scandal with no rival in United States history. Now, after less than four weeks in the Oval Office, President Trump has changed his mind. At a news conference on Wednesday and in a series of Twitter postings earlier in the day, Mr. Trump angrily accused intelligence agencies of illegally leaking information about Michael T. Flynn, his former national security adviser, who resigned after reports that he had lied about conversations with the Russian ambassador."
Labor Secretary nominee Andrew Puzder withdraws, Politico, Burgess Everett, Tara Palmeri and Marianne Levine, Wednesday, 15 February 2017: "The fast-food exec faced numerous scandals, including a video of his ex-wife accusing him of abuse on 'Oprah' in 1990…. Andrew Puzder withdrew his nomination Wednesday to be secretary of labor after Senate Republicans informed the White House that he lacked the votes to be confirmed…. The number of issues plaguing the fast-food executive could fill an opposition research book: His ex-wife accused him of abuse on 'Oprah' in 1990, he was tutored by a mob lawyer and recently admitted to failing to pay taxes on the undocumented immigrant he employed. He also drew criticism for his companies' risque advertisements and labor practices." See also, Democrats Set Sights on Blocking Trump's Labor Secretary Pick, The New York Times, Alan Rappeport, Tuesday, 14 February 2017: "Signs of the fast-food restaurant executive's vulnerability have been swirling in recent weeks as his hearing was delayed several times because of the complexity of his vast financial portfolio, including millions of dollars in preferred stock in the parent company of Hardee's and Carl's Jr., CKE. Protesters have swarmed those fast-food restaurants across the country to express outrage that the person chosen to look out for America's wage workers has a record of fighting for owners' interests.… 'Puzder literally likes robots more than workers and does not believe in raising the minimum wage,' said Ben Jealous, a former head of the N.A.A.C.P. and founding board chairman of the labor group Good Jobs Defenders, who is organizing protests…. Democrats are also expected to seize upon comments that Mr. Puzder has made in support of automation and his stances against overtime pay. The provocative television commercials featuring bikini-clad models eating juicy hamburgers that were produced by CKE during his tenure are also likely to come up. One news release in 2011 explained the company's marketing strategy when it blared: "We believe in putting hot models in our commercials, because ugly ones don't sell burgers."
Trump, Meeting With Netanyahu, Backs Away From Palestinian State, The New York Times, Peter Baker and Mark Landler, Wednesday, 15 February 2017: "President Trump jettisoned two decades of diplomatic orthodoxy on Wednesday by declaring that the United States would no longer insist on the creation of a Palestinian state as part of a peace accord between Israel and the Palestinians…. 'I'm looking at two-state and one-state' formulations, Mr. Trump said during a White House news conference with Mr. Netanyahu. 'I like the one that both parties like. I'm very happy with the one that both parties like. I can live with either one.' At the same time, Mr. Trump urged Mr. Netanyahu to temporarily stop new housing construction in the West Bank while he pursues a deal, echoing a position past presidents have taken. 'I'd like to see you hold back on settlements for a little bit,' he told Mr. Netanyahu."
Transcript and Analysis: Trump and Netanyahu Hold Joint Press Conference, NPR, NPR Staff, Wednesday, 15 February 2017. When Trump was asked about the rise in anti-Semitic incidents in the U.S. during his campaign and after his election, he talked about his electoral college victory:
Question: Mr. President, since your election campaign and even after your victory, we've seen a sharp rise in anti-Semitic — anti- Semitic incidents across the United States. And I wonder, what do you say to those among the Jewish community in the states and in Israel and maybe around the world who believe and feel that your administration is playing with xenophobia and maybe racist tones?

Donald Trump: Well, I just want to say that we are, you know, very honored by the victory that we had–306 electoral college votes. We were not supposed to crack 220. You know that, right? There was no way to 221, but then they said there's no way to 270. And there's tremendous enthusiasm out there. I will say that we are going to have peace in this country. We are going to stop crime in this country. We are going to do everything within our power to stop long simmering racism and every other thing that's going on. There's a lot of bad things that have been taking place over a long period of time. I think one of the reasons I won the election is we have a very, very divided nation, very divided. And hopefully, I'll be able to do something about that. And I, you know, it was something that was very important to me. As far as people, Jewish people, so many friends; a daughter who happens to be here right now; a son-in-law, and three beautiful grandchildren. I think that you're going to see a lot different United States of America over the next three, four or eight years. I think a lot of good things are happening. And you're going to see a lot of love. You're going to see a lot of love. OK? Thank you.
Senate Blocks Obama-Era Rule Tightening Checks On Mentally Ill Gun Buyers, NPR, Colin Dwyer, Wednesday, 15 February 2017: "By a 57-43 margin, the Republican-led Senate voted Wednesday to repeal an Obama-era regulation designed to block certain mentally ill people from purchasing firearms. The vote, which approves a House resolution passed earlier this month, now sends the measure to the White House for President Trump's signature. The rule on the verge of rollback would have required the Social Security Administration to report the records of some mentally ill beneficiaries to the FBI's National Instant Criminal Background Check System. Those who have been deemed mentally incapable of managing their financial affairs — roughly 75,000 people — would have been affected by the rule, according to NPR's Susan Davis. It was implemented by former President Obama after the 2012 Sandy Hook shooting, which saw 20 students and six teachers killed at an elementary school by 20-year-old Adam Lanza. The Hill reports that the rule was set to take effect in December."
Do voter identification laws suppress minority voting? Yes. We did the research, The Washington Post, Zoltan L. Hajnal, Nazita Lajevardi and Lindsay Nielson, Wednesday, 15 February 2017: "…[V]oter identification laws are spreading rapidly around the country. Before 2006, no state required photo identification to vote on Election Day. Today 10 states have this requirement. All told, a total of 33 states — representing more than half the nation's population — have some version of voter identification rules on the books. As we detail below, our research shows that these laws lower minority turnout and benefit the Republican Party…. Critics claim that voter ID laws serve as effective barriers that limit the legitimate participation of racial and ethnic minorities and other disadvantaged groups…. Scholars have been able to show that racial and ethnic minorities have less access to photo IDs, and extensive analysis reveals almost no evidence of voter fraud of the type ostensibly prevented by these laws…. [There is] a significant drop in minority participation when and where these [ID] laws are implemented. Hispanics are affected the most: Turnout is 7.1 percentage points lower in general elections and 5.3 points lower in primaries in strict ID states than it is in other states. Strict ID laws mean lower African American, Asian American and multiracial American turnout as well. White turnout is largely unaffected…. …[W]hen strict ID laws are instituted, the turnout gap between Republicans and Democrats in primary contests more than doubles from 4.3 points to 9.8 points. Likewise, the turnout gap between conservative and liberal voters more than doubles from 7.7 to 20.4 points. By instituting strict voter ID laws, states can alter the electorate and shift outcomes toward those on the right. Where these laws are enacted, the influence of Democrats and liberals wanes and the power of Republicans grows. Unsurprisingly, these strict ID laws are passed almost exclusively by Republican legislatures."
White House Plans to Have Trump Ally Review Intelligence Agencies, The New York Times, James Risen and Matthew Rosenberg, Wednesday, 15 February 2017: "President Trump plans to assign a New York billionaire to lead a broad review of American intelligence agencies, according to administration officials, an effort that members of the intelligence community fear could curtail their independence and reduce the flow of information that contradicts the president's worldview. The possible role for Stephen A. Feinberg, a co-founder of Cerberus Capital Management, has met fierce resistance among intelligence officials already on edge because of the criticism the intelligence community has received from Mr. Trump during the campaign and since he became president. On Wednesday, Mr. Trump blamed leaks from the intelligence community for the departure of Michael T. Flynn, his national security adviser, whose resignation he requested. There has been no announcement of Mr. Feinberg's job, which would be based in the White House, but he recently told his company's shareholders that he is in discussions to join the Trump administration. He is a member of Mr. Trump's economic advisory council…. Bringing Mr. Feinberg into the administration to conduct the review is seen as a way of injecting a Trump loyalist into a world the White House views with suspicion. But top intelligence officials fear that Mr. Feinberg is being groomed for a high position in one of the intelligence agencies."
The EPA Posted a Mirror of Its Website Before Trump Can Gut the Real One, Vice, River Donaghey, published on Thursday, 16 February 2017: "On Wednesday, the Environmental Protection Agency posted a mirror of its website capturing the way it looked on January 19, 2017—the day before Trump took office. Trump has proved himself to be delete-happy when it comes to the web presence of federal agencies. He's already axed big chunks of the Department of Education and the USDA sites, and his White House website is significantly more stripped down than Obama's. The EPA's move will allow for an archive of its site to exist long after Trump eventually guts the main one."
Thursday, 16 February 2017, Day 28:
Trump Denounces 'Low-Life Leakers,' Pledging to Hunt Them Down, The New York Times, Jonathan Weisman, Thursday, 16 February 2017: "President Trump escalated his attacks on the intelligence community on Thursday, promising to catch the 'low-life leakers' who have supplied the 'fake news media' with information on his administration's ties to Russia, information that he dismissed as a political excuse for Democratic losses." At 6:58 Trump tweeted: "Leaking, and even illegal classified leaking, has been a big problem in Washington for years. Failing @nytimes (and others) must apologize!" At 7:02 he tweeted: "The spotlight has finally been put on the low-life leakers! They will be caught!" At 9:10 he tweeted: "FAKE NEWS media, which makes up stories and "sources," is far more effective than the discredited Democrats – but they are fading fast!" And at 9:39 he tweeted: "The Democrats had to come up with a story as to why they lost the election, and so badly (306), so they made up a story – RUSSIA. Fake news!"
Former national security adviser Michael Flynn in FBI interview in January denied discussing sanctions with Russian ambassador, The Washington Post, Sari Horwitz and Adam Entous, Thursday, 16 February 2017: "Former national security adviser Michael Flynn denied to FBI agents in an interview last month [January] that he had discussed U.S. sanctions against Russia with that country's ambassador to the United States before President Trump took office, contradicting the contents of intercepted communications collected by intelligence agencies, current and former U.S. officials said. The Jan. 24 [Tuesday]  interview potentially puts Flynn in legal jeopardy. Lying to the FBI is a felony offense. But several officials said it is unclear whether prosecutors would attempt to bring a case, in part because Flynn may parse the definition of the word 'sanctions.' He also followed his denial to the FBI by saying he couldn't recall all of the conversation, officials said. Any decision to prosecute would ultimately lie with the Justice Department."
Trump's Thursday Press Conference, Annotated, NPR, Thursday, 16 February 2017: Some excerpts:
Trump: I turn on the TV, open the newspapers, and I see stories of chaos. Chaos. Yet it is the exact opposite. This administration is running like a fine-tuned machine, despite the fact that I can't get my Cabinet approved….

Question: I just want to get you to clarify this very important point. Can you say definitively that nobody on your campaign had any contacts with the Russians during the campaign? And on the leaks, is it fake news or are these real leaks?

Trump: Well the leaks are real. You're the one that wrote about them and reported them, I mean the leaks are real. You know what they said, you saw it and the leaks are absolutely real. The news is fake because so much of the news is fake…. I don't mind bad stories. I can handle a bad story better than anybody as long as it's true and, you know, over a course of time, I'll make mistakes and you'll write badly and I'm OK with that. But I'm not OK when it is fake. I mean, I watch CNN, it's so much anger and hatred and just the hatred….

Question: You said that the leaks are real, but the news is fake. I guess I don't understand. It seems that there's a disconnect there. If the information coming from those leaks is real, then how can the stories be fake?

Trump: The reporting is fake. Look, look…. You know what it is? Here's the thing. The public isn't — you know, they read newspapers, they see television, they watch. They don't know if it's true or false because they're not involved. I'm involved. I've been involved with this stuff all my life. But I'm involved. So I know when you're telling the truth or when you're not. I just see many, many untruthful things. And I'll tell you what else I see. I see tone. You know the word 'tone.' The tone is such hatred. I'm really not a bad person, by the way. No, but the tone is such — I do get good ratings, you have to admit that — the tone is such hatred. I watched this morning a couple of the networks. And I have to say, Fox & Friends in the morning, they're very honorable people…. Now, they'll take this news conference — I'm actually having a very good time, OK? But they'll take this news conference — don't forget, that's the way I won. Remember, I used to give you a news conference every time I made a speech, which was like every day. OK? No, that's how I won. I won with news conferences and probably speeches. I certainly didn't win by people listening to you people. That's for sure. But I'm having a good time. Tomorrow, they will say, 'Donald Trump rants and raves at the press.' I'm not ranting and raving. I'm just telling you. You know, you're dishonest people. But — but I'm not ranting and raving. I love this. I'm having a good time doing it. But tomorrow, the headlines are going to be, 'Donald Trump rants and raves.' I'm not ranting and raving…. Well, I guess one of the reasons I'm here today is to tell you the whole Russian thing, that's a ruse. That's a ruse. And by the way, it would be great if we could get along with Russia, just so you understand that. Now tomorrow, you'll say 'Donald Trump wants to get along with Russia, this is terrible.' It's not terrible. It's good.

Question: On the travel ban — we could banter back and forth. On the travel ban would you accept that that was a good example of the smooth running of government….

Trump: Yeah, I do. I do. Let me tell you about this government…

Question: Were there any mistakes…

Trump: Wait. Wait. I know who you are. Just wait. Let me tell you about the travel ban. We had a very smooth rollout of the travel ban. But we had a bad court, got a bad decision. We had a court that's been overturned—again, may be wrong, but I think it's 80 percent of the time. A lot. We had a bad decision. We're going to keep going with that decision. We're going to put in a new—a new executive order next week sometime. But we had a bad decision….
A Jewish Reporter Got to Ask Trump a Question. It Didn't Go Well, The New York Times, Laurie Goodstein, published on Friday, 17 February 2017: "Jake Turx is a newly minted White House correspondent for a publication that has never before had a seat in the White House press corps: Ami Magazine, an Orthodox Jewish weekly based in Brooklyn. He is a singular presence in the briefing room: a young Hasidic Jew with side curls tucked behind his ears and a skullcap embroidered with his Twitter handle. When President Trump called on him at a news conference on Thursday, saying he was looking for a 'friendly reporter,' Mr. Turx was prepared. He had spent an hour crafting a question about a recent surge of anti-Semitism, with a preamble that he hoped would convey his supportive disposition toward Mr. Trump….
Mr. Turx: Despite what some of my colleagues may have been reporting, I haven't seen anybody in my community accuse either yourself or anyone on your staff of being anti-Semitic. We understand that you have Jewish grandchildren…. However,..what we are concerned about and what we haven't really heard being addressed is an uptick in anti-Semitism and how the government is planning to take care of it. There's been a report out that 48 bomb threats have been made against Jewish centers all across the country in the last couple of weeks. There are people committing anti-Semitic acts or threatening to——
At that, Mr. Trump interrupted, saying it was 'not a fair question.' 'Sit down,' the president commanded. 'I understand the rest of your question.' As Mr. Turx took his seat, Mr. Trump said, 'So here's the story, folks. No. 1, I am the least anti-Semitic person that you've ever seen in your entire life. No. 2, racism, the least racist person.' Mr. Turx tried to interject, realizing how the encounter had turned. He said he had wanted to clarify that he in no way meant to accuse Mr. Trump of anti-Semitism but instead intended to ask what his administration could do to stop the anti-Semitic incidents. Mr. Trump would not let [Mr. Turx] speak again, saying, 'Quiet, quiet, quiet.' As Mr. Turx shook his head with an incredulous look on his face, Mr. Trump accused him of having lied that his question would be straight and simple. Mr. Trump said, 'I find it repulsive. I hate even the question because people that know me.' … He went on to say that Prime Minister Benjamin Netanyahu of Israel, during his visit to the United States on Wednesday, had vouched for Mr. Trump as a good friend of Israel and the Jewish people and no anti-Semite. Mr. Trump concluded that Mr. Turx should have relied on Mr. Netanyahu's endorsement, 'instead of having to get up and ask a very insulting question like that.' 'Just shows you about the press, but that's the way the press is,' Mr. Trump said."
'They friends of yours?': Trump asks black reporter to set up meeting with the Congressional Black Caucus, The Washington Post, Philip Bump, Thursday, 16 February 2017: "Over the course of the lengthy and bizarre news conference that President Trump held Thursday, few moments crystallized the unusual nature of his presidency as effectively as an exchange he had at the end with April Ryan of American Urban Radio Networks. Ryan asked Trump if he would include the CBC in discussions about his agenda for addressing urban policy. The CBC, for those unaware, is the Congressional Black Caucus, a group of African American legislators that is often a leading voice on the Hill for issues dealing with the black community. Trump appeared briefly to be unaware of what the initials stood for, and so Ryan asked more pointedly. 'Am I going to include who?' he asked. 'Are you going to include the Congressional Black Caucus,' Ryan, who is black, asked, 'and the Congressional Hispanic Caucus as well as …?' 'Well, I would,' Trump interrupted. 'Tell you what, do you want to set up the meeting? Do you want to set up the meeting? Are they friends of yours? Set up a meeting.' Ryan pointed out to the president that she is a journalist and that, while she does know members of the CBC, that's not her role. "I'm sure some of them are watching right now," she added."
Trump Calls Press 'Dishonest,' Then Utters Falsehoods of His Own, The New York Times, Nicholas Fandos, Thursday, 16 February 2017: "President Trump took aim at reporters on Thursday for more than an hour at an impromptu White House news conference. 'The press has become so dishonest,' he said, and not talking about it would be 'doing a tremendous disservice to the American people.' He added that the 'level of dishonesty is out of control.' In accusing the news media, though, Mr. Trump uttered several falsehoods of his own." (See the article for a list of some of the most important falsehoods.)
Scenes from the 'Day Without Immigrants' marches that took place across America, Fusion, Rafi Schwartz, Thursday, 16 February 2017: "In cities across the United States, immigrants and their allies have taken to the streets in massive shows of solidarity as part of the nationwide 'Day Without Immigrants' strike. The marches are, perhaps, the most visible portion of a day which has seen hundreds of restaurants and storefronts close as immigrants—particularly those from Latinx communities—highlight their vital role in society and protest the Trump administration." See also, On a 'Day Without Immigrants,' Workers Show Their Presence by Staying Home, The New York Times, Liz Robbins and Annie Correal, Thursday, 16 February 2017: "It first spread on social media, rippling through immigrant communities like the opposite of fear and rumor: a call to boycott. In the New York region and around the country, many cooks, carpenters, plumbers and grocery store owners decided to answer it and not work on Thursday as part of a national "day without immigrants" in protest of the Trump administration's policies toward them. The protest called for immigrants, whether naturalized citizens or undocumented, to stay home from work or school, close their businesses and abstain from shopping. People planned for it in restaurant staff meetings, on construction sites and on commuter buses, but the movement spread mostly on Facebook and via WhatsApp, the messaging service. No national group organized the action."
Trump Will Issue New Travel Order Instead of Fighting Case in Court, The New York Times, Adam Liptak, Thursday, 16 February 2017: "The Justice Department told a federal appeals court on Thursday that it would not seek a rehearing of a decision that shut down President Trump's targeted travel ban. Instead, the administration will start from scratch, issuing a new executive order, the department said. Last Thursday [9 February], a unanimous three-judge panel of the United States Court of Appeals for the Ninth Circuit, in San Francisco, blocked the key parts of the original executive order, which suspended the nation's refugee program as well as travel from seven predominantly Muslim countries. The panel said the original ban was unlikely to survive constitutional scrutiny."
Environmental Protection Agency Nominee Pruitt Ordered to Produce Documents About Fossil Fuel Ties, InsideClimate News, Nicholas Kusnetz, published on 17 February 2017: "An Oklahoma judge on Thursday [16 February] ordered the state's attorney general, Scott Pruitt, to quickly release thousands of pages of documents after years of delay. The records could reveal details of his relationship with the fossil fuel industry, which he will be in charge of regulating nationwide once confirmed as head of the Environmental Protection Agency. The ruling, in response to a public records request from an advocacy group, came a day before a planned Senate vote to confirm Pruitt as Donald Trump's chief of the Environmental Protection Agency. The state judge gave Pruitt's office until Tuesday to produce the records. Senate Democrats who have been seeking some of the same records tried to delay the confirmation vote, arguing that the documents requested could shed light on Pruitt's ties to industries he would be charged with regulating as EPA administrator."
Spies Keep Intelligence From Donald Trump on Leak Concerns, The Wall Street Journal, Shane Harris and Carol E. Lee, Thursday, 16 February 2017: "U.S. intelligence officials have withheld sensitive intelligence from President Donald Trump because they are concerned it could be leaked or compromised, according to current and former officials familiar with the matter. The officials' decision to keep information from Mr. Trump underscores the deep mistrust that has developed between the intelligence community and the president over his team's contacts with the Russian government, as well as the enmity he has shown toward U.S. spy agencies. On Wednesday, Mr. Trump accused the agencies of leaking information to undermine him." See also, CIA director denies withholding intelligence from Trump, The Hill, Katie Bo Williams, published on Friday, 17 February 2017: "CIA Director Mike Pompeo flatly denied a report that the U.S. intelligence community is withholding intelligence from the president, in a statement issued late Thursday. 'The CIA does not, has not, and will never hide intelligence from the President, period. We are not aware of any instance when that has occurred,' Pompeo said, calling a Wall Street Journal report to that effect 'dead wrong.'"
More Democrats call on Attorney General Jeff Sessions to withdraw from Russia probe, The Washington Post, Mike DeBonis, published on Friday, 17 February 2017: "Dozens of House Democrats are calling on Attorney General Jeff Sessions to recuse himself from the Justice Department's review of contacts between President Trump's associates and Russian government operatives. Fifty-five lawmakers, led by House Democratic Caucus Chairman Rep. Joseph Crowley (D-N.Y.), signed a letter sent to Sessions late Thursday asking him to withdraw based on his ties to Trump's campaign and key figures who have been alleged to have ties to Russia. The letter comes days after National Security Adviser Michael Flynn resigned under pressure following reports from The Washington Post and other news organizations that Flynn had discussed sanctions with Sergey Kislyak, Russia's ambassador to the U.S. 'The revelations of the past few days regarding contact between high-level Trump Administration officials and Russian intelligence operatives have been a blow to public confidence in our institutions and to the integrity of our national security,' the letter reads. 'These allegations must be met with a thorough, complete and impartial examination. Given your relationships with those who will be under investigation, we urge you to recuse yourself going forward.'"
Trump family's elaborate lifestyle is a 'logistical nightmare'–at taxpayer expense, The Washington Post, Drew Harwell, Amy Brittain and Jonathan O'Connell, Thursday, 16 February 2017: "Barely a month into the Trump presidency, the unusually elaborate lifestyle of America's new first family is straining the Secret Service and security officials, stirring financial and logistical concerns in several local communities, and costing far beyond what has been typical for past presidents — a price tag that, based on past assessments of presidential travel and security costs, could balloon into the hundreds of millions of dollars over the course of a four-year term. Adding to the costs and complications is Trump's inclination to conduct official business surrounded by crowds of people, such as his decision last weekend to host Japanese Prime Minister Shinzo Abe for a working dinner while Mar-a-Lago members dined nearby."