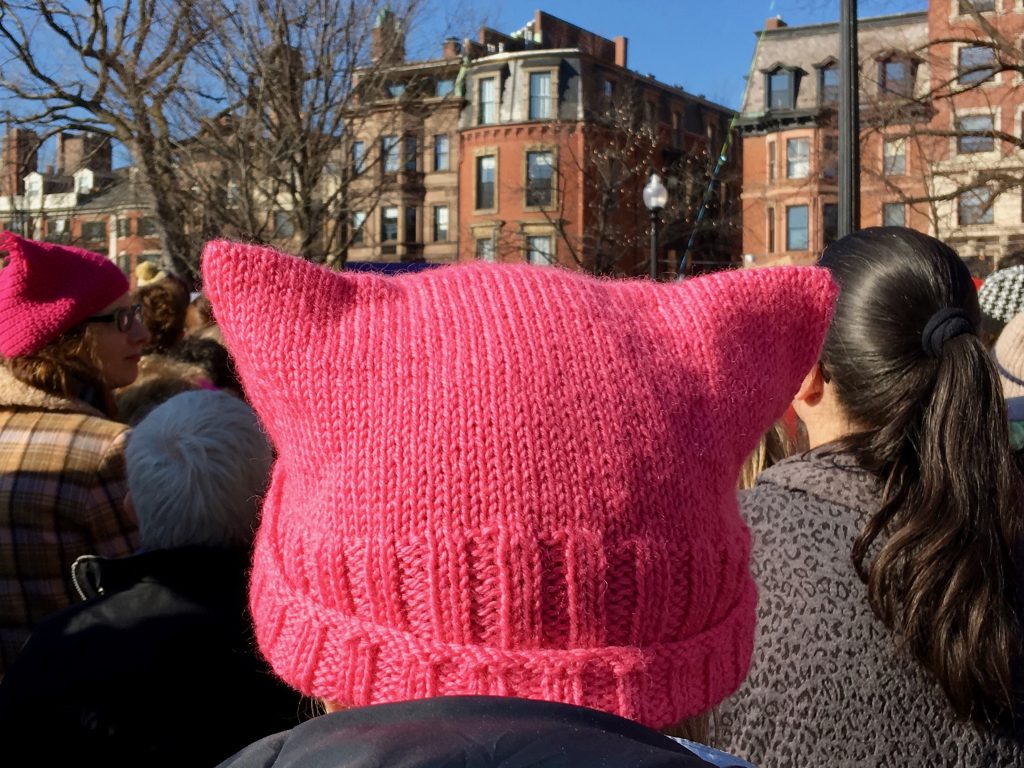 Keeping Track (of some things), Staying Outraged (it is possible), and Resisting (it's essential)
Passages in bold in the body of the texts below are my emphasis. This is an ongoing project, and I update the site frequently. I hope readers will peruse the articles in full for a better understanding of the issues and their context; our democracy and our future depend on citizens who can distinguish between facts and falsehoods and who are engaged in the political process.
Friday, 20 January 2017, Day 1:
Donald Trump Is Sworn In as President, Capping His Swift Ascent, The New York Times, Peter Baker and Michael D. Shear, Friday, 20 January 2017: "Donald John Trump was inaugurated as the 45th president of the United States on Friday, ushering in a new era that he vowed would shatter the established order and reverse a national decline that he called 'this American carnage.' 'From this day forward, it's going to be only America first, America first.'"
With Trump in Charge, Climate Change References purged From Website, The New York Times, Coral Davenport, Friday, 20 January 2017: "Within moments of the inauguration of President Trump, the official White House website on Friday deleted nearly all mentions of climate change. The one exception: Mr. Trump's vow to eliminate the Obama administration's climate change policies, which previously had a prominent and detailed web page on whitehouse.gov. The purge was not unexpected. It came as part of the full digital turnover of whitehouse.gov, including taking down and archiving all the Obama administration's personal and policy pages. That also included a page devoted to lesbian, gay, bisexual, and transgender issues. Since Mr. Trump's election, about 50 scientists at universities around the country have volunteered their time — and computer servers — to save and store government data stored on the websites of the Environmental Protection Agency, NASA, NOAA, and the United States Geological Survey. Those websites keep records of key climate data such as atmospheric temperature trends, greenhouse gas emissions levels, and sea level rise. The scientist gatherings have been organized by 314 Action — a nonprofit group named for the first three numbers of the mathematical concept Pi — which aims to make science more accessible to the public."
Senate Confirms James Mattis at Defense and John Kelly for Homeland Security, The New York Times, Thomas Kaplan and Jennifer Steinhauer, Friday, 20 January 2017: "Just hours after President Trump was sworn into office, the Senate on Friday confirmed two nominees for critical national security positions, approving James N. Mattis as defense secretary and John F. Kelly as homeland security secretary. Republicans had hoped to approve far more than two nominees on Mr. Trump's first day in office, but that process has been delayed in part because several of the nominees have been slow in filing ethics disclosures, prompting protests by Senate Democrats…. Both Mr. Mattis and Mr. Kelly are retired Marine Corps generals. Federal law requires a seven-year waiting period between active duty and serving as the secretary of defense; Congress passed legislation last week granting a waiver to Mr. Mattis, and Mr. Trump signed it on Friday. The Senate voted 98 to 1 to confirm Mr. Mattis. Senator Kirsten E. Gillibrand, Democrat of New York, voted no 'because she believes civilian control of the military is fundamental,' said a spokesman for the senator, Marc Brumer."
Continue reading Week 1, Friday, 20 January – Thursday, 26 January 2017:
Executive Order Minimizing the Economic Burden of the Patient Protection and Affordable Care Act Pending Repeal, whitehouse.gov, Friday, 20 January 2017: "Section 1.  It is the policy of my Administration to seek the prompt repeal of the Patient Protection and Affordable Care Act (Public Law 111-148), as amended (the 'Act').  In the meantime, pending such repeal, it is imperative for the executive branch to ensure that the law is being efficiently implemented, take all actions consistent with law to minimize the unwarranted economic and regulatory burdens of the Act, and prepare to afford the States more flexibility and control to create a more free and open healthcare market." In effect, this executive order begins the dismantlement of the Affordable Care Act.
Memorandum for the Heads of Executive Departments and Agencies from Reince Priebus, Assistant to the President and Chief of Staff, whitehouse.gov, Friday, 20 January 2017. In effect, this memorandum freezes all pending federal regulations.
Saturday, 21 January 2017,       Day 2:
Millions of people around the world join Women's marches to protest and to resist Trump's policies.

Women's March Highlights as Huge Crowds Protest Trump: 'We're Not Going Away,' The New York Times, Anemona Hartocollis and Yamiche Alcindor, Saturday, 21 January 2017: "Hundreds of thousands of women gathered in Washington on Saturday in a kind of counterinauguration after President Trump took office on Friday. A range of speakers and performers cutting across generational lines rallied near the Capitol before marchers made their way toward the White House. They were joined by crowds in cities across the country: In Chicago, the size of a rally so quickly outgrew early estimates that the march that was to follow was canceled for safety. In Manhattan, Fifth Avenue became a river of pink hats, while in downtown Los Angeles, even before the gathering crowd stretched itself out to march, it was more than a quarter mile deep on several streets." See also, Pictures From Women's Marches on Every Continent, The New York Times, Saturday, 21 January 2017.  See also, Crowd Scientists Say Women's March in Washington Had 3 Times as Many People as Trump's Inauguration, The New York Times, Tim Wallace and Alicia Parlapiano, Sunday, 22 January 2017. See also, The Women's Marches may have been the largest demonstration in US history, Vox, Sarah Frostenson, Tuesday, 31 January 2017: "Crowd estimates from Women's Marches on Saturday now tally over 4 million and political scientists think we may have just witnessed the largest day of demonstrations in American history. According to data collected by Erica Chenoweth at the University of Denver and Jeremy Pressman at the University of Connecticut, marches held in more than 600 US cities were attended by at least 4.2 million people."
Trump wages war against the media as demonstrators protest his presidency, The Washington Post, Philip Rucker, John Wagner and Greg Miller, Saturday, 21 January 2017: "President Trump used his first full day in office to wage war on the media, accusing news organizations of lying about the size of his inauguration crowd as Saturday's huge protests served notice that a vocal and resolute opposition would be a hallmark of his presidency. With Americans taking to the streets in red and blue states alike to emphatically decry a president they consider reprehensible and, even, illegitimate, Trump visited the Central Intelligence Agency for a stream-of-consciousness airing of grievances — including against journalists, whom he called 'the most dishonest human beings on Earth.' Shortly thereafter, press secretary Sean Spicer addressed the media for the first time from the White House, where he yelled at the assembled press corps and charged it with 'sowing division' with 'deliberately false reporting' of Trump's inauguration crowd. Trump claimed that the crowd for his swearing-in stretched down the Mall to the Washington Monument. It did not. Trump accused television networks of showing 'an empty field' and reporting that he drew just 250,000 people to witness Friday's ceremony. 'It looked like a million, a million and a half people,' Trump said. 'It's a lie. We caught [the media]. We caught them in a beauty.' 'This was the largest audience to ever witness an inauguration, period — both in person and around the globe,' Spicer said, less than a minute after declaring that 'no one had numbers' because the National Park Service, which controls the Mall, does not release crowd estimates…. In a highly unusual move, Spicer left the briefing room without answering questions from reporters, including one shouted at him about Saturday's Women's March on Washington."
Trump, in CIA visit, attacks media for coverage of his inaugural crowds, The Washington Post, Philip Rucker, John Wagner and Greg Miller, Saturday, 21 January 2017: "Trump also delved into the Iraq War, repeating his oft-stated belief that the United States bungled its exit from the country by not taking Iraq's oil, which he said was how the Islamic State made its money. 'The old expression, to the victor belong the spoils,' he said, adding: 'We should've kept the oil. But, okay, maybe we'll have another chance.'… Trump visited the CIA's headquarters in Langley, Va., to express his gratitude for the intelligence community, which he had repeatedly railed against during the transition period and recently likened to Nazis…. In his visit… Trump tried to express solidarity with the CIA and blamed the media for creating distrust. 'They sort of made it sound like I had a feud with the intelligence community,' he said. 'I just want to let you know, the reason you're the number one stop is it is exactly the opposite.' In fact, Trump repeatedly vilified the intelligence community throughout much of his transition in an attempt to push back against what he saw as politically charged conclusions by the CIA and other agencies about Russia's hacking of Democratic Party emails to interfere with the 2016 election. At a Jan. 11 news conference, Trump accused U.S. intelligence officials of being behind a Nazi-like smear campaign against him. [Trump tweeted on Wednesday, 11 January 2017 at 7:48 am: "Intelligence agencies should never have allowed this fake news to "leak" into the public. One last shot at me. Are we living in Nazi Germany?"] He has put quotation marks around the word 'intelligence' in referring to such officials."
Trump's Tough-Guy Talk on Torture Risks Real Lives, The New Yorker, Jane Mayer, 25 January 2017: "Last Saturday [21 January 2017], President Trump trumpeted his military expertise during a visit to the C.I.A.'s headquarters, in Langley, Virginia, where he praised his nominee to direct the C.I.A., Michael Pompeo, for being first in his class at West Point. Then he digressed, noting, 'I know a lot about West Point. . . . Trust me, I'm, like, a smart person.' One difference between serving in the military and being a pretend soldier at the New York Military Academy, where Trump proudly led mock drills in snappy faux military uniforms, is that, in the real thing, officers are drilled not just in marching formations but also in the laws of war. These include the Geneva Conventions and the Convention Against Torture, which impose absolute, unconditional bans on torture and other forms of cruel and inhumane treatment of enemy combatants, categorizing such conduct, under any and all circumstances, as a war crime."
Sunday, 22 January 2017, Day 3:
How Kellyanne Conway ushered in the era of 'alternative facts' when pressed by Chuck Todd about Sean Spicer's false claims about the size of the crowd at Trump's inauguration, The Washington Post, Rebecca Sinderbrand, 22 January 2017: "For Donald Trump, size matters — most recently, when it comes to discussion of his inaugural crowds. But not when it comes to feuds: the president and top aides demonstrated again this weekend that no fight is too small, no spat too insignificant; they spent the first full day of his term focused publicly not on policy pushes, but on re-litigating the number of people who'd come in person to watch him take the oath of office — and using it as one of several avenues of attack on the press….
Chuck Todd: Let me begin with this question, the presidency is about choices. So I'm curious why President Trump chose yesterday to send out his press secretary to essentially litigate a provable falsehood when it comes to a small and petty thing like inaugural crowd size. I guess my question to you is, why do that?…

Kellyanne Conway: [Talks, but doesn't answer Chuck Todd's question.]

Chuck Todd: You did not answer the question of why the president asked the White House press secretary to come out in front of the podium for the first time and utter a falsehood? Why did he do that? It undermines the credibility of the entire White House press office on day one….

Kellyanne Conway: Don't be so overly dramatic about it, Chuck. You're saying it's a falsehood. And they're giving Sean Spicer, our press secretary, gave alternative facts to that. But the point remains-

Chuck Todd: Wait a minute– Alternative facts?… Look, alternative facts are not facts. They're falsehoods."

Monday, 23 January 2017, Day 4:
President Trump signs executive order to withdraw from the 12-nation Trans-Pacific Partnership trade agreement, The Washington Post,  Yian Q. Mui, Monday, 23 January 2017: "Trump signed the executive order formally ending the United States' participation in the Trans-Pacific Partnership in the Oval Office after discussing American manufacturing with business leaders in the Roosevelt Room. The order was largely symbolic — the deal was already essentially dead in Congress — but served to signal that Trump's tough talk on trade during the campaign will carry over to his new administration…. The TPP was one of former president Barack Obama's signature efforts, part of a broader strategy to increase American clout in Asia and provide a check on China's economic and military ambitions."
Trump's Presidential Memorandum Regarding the Hiring Freeze, whitehouse.gov, Monday, 23 Jan 2017: "By the authority vested in me as President by the Constitution and the laws of the United States of America, I hereby order a freeze on the hiring of Federal civilian employees to be applied across the board in the executive branch. As part of this freeze, no vacant positions existing at noon on January 22, 2017, may be filled and no new positions may be created, except in limited circumstances. This order does not include or apply to military personnel. The head of any executive department or agency may exempt from the hiring freeze any positions that it deems necessary to meet national security or public safety responsibilities. In addition, the Director of the Office of Personnel Management (OPM) may grant exemptions from this freeze where those exemptions are otherwise necessary." See also, Trump freezes hiring of many federal workers, The Washington Post, Juliet Eilperin, Monday, 23 Januaary 2017: "Veterans — who make up 31 percent of the federal workforce — could also be disproportionately affected by the move because they receive a hiring preference when it comes to federal jobs." See also, The Trump administration just told a whopper about the size of the federal workforce, The Washington Post, Christopher Ingraham, Monday, 23 January 2017: "President Trump signed an executive order instituting a hiring freeze on all nonmilitary federal employees. White House press secretary Sean Spicer said during a press briefing that the move 'counters the dramatic expansion of the federal workforce in recent years.'… In both raw-number and percentage terms, this is an inaccurate statement. According to numbers from the Bureau of Labor Statistics, there were 2.8 million employees on the federal payroll as of December. The number has risen slightly since May 2014, when there were roughly 2.7 million federal employees (part of the reason may be an accelerated pace of hiring in anticipation of a new presidential administration). That represents an increase of about 3 percent. By contrast, the total civilian workforce, excluding federal employees, grew by about 4.9 percent over the same period. In raw-number terms, the number of federal employees is nearly the same today (2.8 million) as it was when Barack Obama took office (2.79 million). It is also similar to the number of federal employees at the end of the Clinton administration (2.75 million) and lower than at any time during the Reagan administration (when it peaked at 3.15 million)."
Trump Repeats Lie About Popular Vote in Meeting With Lawmakers, Asserting That Between 3 and 5 Million Illegal Votes Were Cast in the 2016 Presidential Election That Caused Hillary Clinton to Win the Popular Vote, The New York Times, Michael D. Shear and Emmarie Huetteman, Monday, 23 January 2017:  "Speaking to lawmakers, President Trump again falsely claimed that illegal immigrants had cost him the election. In his first official meeting with [both Republican and Democratic] congressional leaders, the president griped about how illegal immigrants cost him the popular vote, a claim judged to be untrue by fact-checkers." See also, Without evidence, Trump tells lawmakers 3 million to 5 million illegal ballots cost him the popular vote, The Washington Post, Abby Phillip and Mike DeBonis, Monday, 23 January 2017: "Trump has repeatedly claimed, without evidence, that widespread voter fraud caused him to lose the popular vote to Hillary Clinton, even while he clinched the presidency with an electoral college victory…. The claim is not supported by any verifiable facts, and analyses of the election found virtually no confirmed cases of voter fraud, let alone millions. Clinton won the popular vote by more than 2.8 million votes. Trump won 304 electoral college votes to Clinton's 227."
Trump Revives Ban on Foreign Aid for Abortion Counselling, The New York Times, Somini Sengupta, Monday, 23 January 2017: Trump signed an executive order reinstating the Mexico City Policy, a global gag rule that prohibits international NGOs (non-governmental organizations) from receiving any funding from the US government if they provide or even discuss abortion services. "The move to revive the Reagan-era policy will please the anti-abortion lobby. Critics say the order hinders the ability of women in poor countries to access reproductive health services." See also, Trump Bans U.S. Funding For Groups That 'Promote' Abortion Overseas, NPR, Nurith Aizenman, Monday, 23 January 2017: "It's President Donald Trump's first official act on the abortion issue. On Monday, the new president signed a presidential memorandum reinstating the 'Mexico City' policy — barring U.S. aid from any group that provides or 'promotes' abortion overseas. The policy dates to 1984, when Ronald Reagan unveiled it at a United Nations Conference in Mexico City. The Trump version is even broader than the incarnations that previous Republican presidents have adopted." See also, Presidential Memorandum Regarding the Mexico City Policy, whitehouse.gov, Monday, 23 January 2017.
Ethics Experts File Lawsuit Saying Trump's Overseas Interests Violate the U.S. Constitution, NPR, Jim Zarroli, Monday, 23 January 2017: "A team of ethics experts and legal scholars filed a lawsuit in federal court Monday morning that says President Trump's overseas businesses violate the Constitution's Emoluments Clause, which bars presidents from taking money from foreign governments."
Tuesday, 24 January 2017, Day 5:
Trump Gives Green Light To Keystone, Dakota Access Pipelines, NPR, Brian Naylor, Tuesday, 24 January 2017: "President Trump on Tuesday gave the go-ahead for construction of two controversial oil pipelines, the Keystone XL and the Dakota Access, a White House official tells NPR's Tamara Keith. The pipelines had been stopped during the Obama administration. The State Department rejected a permit for the Keystone pipeline from Canada, and President Obama ordered work halted on the Dakota pipeline after Native American groups and other activists protested its route near culturally sensitive sites in North Dakota." See also, Presidential Memorandum Regarding Construction of the Keystone XL Pipeline, whitehouse.gov, Tuesday, 24 January, 2017. See also, Presidential Memorandum Regarding Construction of the Dakota Access Pipeline, whitehouse.gov, Tuesday, 24 January 2017.
Presidential Memorandum Streamlining Permitting and Reducing Regulatory Burdens for Domestic Manufacturing, whitehouse.gov, Tuesday, 24 January 2017. See also, All of Trump's executive actions so far, Politico: The Agenda, Aidan Quigley, begun on Wednesday, 25 January 2017 and updated from time to time: "Trump issued an action that instructs the Secretary of Commerce to contact stakeholders to review the impact of Federal regulations on domestic manufacturing. After the review, the Secretary of Commerce is instructed to create a streamlined Federal permitting process for domestic manufacturers."
Executive Order Expediting Environmental Reviews and Approvals For High Priority Infrastructure Projects, whitehouse.gov, Tuesday, 24 January 2017. See also, All of Trump's executive actions so far, Politico: The Agenda, Aidan Quigley, begun on Wednesday, 25 January 2017 and updated from time to time: "Trump issued an executive order to streamline environmental reviews of high-priority infrastructure projects. The action states that infrastructure projects in the U.S. 'have been routinely and excessively delayed by agency processes and procedures.' The action instructs the Chairman of the White House Council on Environmental Quality to create expedited procedures and deadlines for environmental reviews and approvals for high-priority infrastructure projects."
Presidential Memorandum Regarding Construction of American Pipelines, whitehouse.gov, Tuesday, 24 January 2017. See also, All of Trump's executive actions so far, Politico: The Agenda, Aidan Quigley, begun on Wednesday, 25 January 2017 and updated from time to time: "This memorandum instructs the Secretary of Commerce to create a plan for pipelines created, repaired or expanded in the United States to use materials and equipment produced in the country 'to the maximum extent possible.' It establishes that all steel and metal used in such pipelines be completely produced in the United States, from the initial melting stage to the application of coatings."
In a fiery speech, California Gov. Jerry Brown defends climate action and attacks 'alternative facts,' The Washington Post, Chelsea Harvey, Tuesday, 24 January 2017: "In his State of the State address Tuesday morning, California Gov. Jerry Brown (D) delivered an impassioned defense of climate action while decrying what he described as the Trump administration's attacks on science and basic facts. While Brown has previously made waves with comments about his state's commitment to the issue of climate change, Tuesday's speech may be among his most defiant yet. 'The recent election and inauguration of a new president has shown deep divisions across America,' Brown said in his speech. 'While no one knows what the new leaders will actually do, there are signs that are disturbing. We've seen the bold assertion of 'alternative facts,' whatever those are. We've heard the blatant attacks on science.'… Brown's speech Tuesday [24 January] reflected the state's continued commitment to climate action and expressed renewed defiance toward those who would argue against the accepted science.
Trump Threatens Federal Intervention in Chicago, Citing 'Carnage,' The New York Times, Monica Davey and Niraj Chokshi, published on Wednesday, 25 January 2017: "President Trump threatened federal intervention in Chicago on Tuesday night if the city does not do more to address violent crime, resurfacing a criticism he made during the presidential campaign. Trump tweeted at 9:25 pm on Tuesday, 24 January 2017 about 'carnage' in Chicago: "If Chicago doesn't fix the horrible 'carnage' going on, 228 shootings in 2017 with 42 killings (up 24% from 2016), I will send in the Feds!" See also, Trump falsely claimed two were fatally shot in Chicago during Obama's speech on Tuesday, 10 January, The Hill, Paulina Firoze, published on Friday, 27 January 2017: "President Trump claimed in his interview with ABC News this week that two people were shot and killed in Chicago during former President Obama's farewell speech in the city [on Tuesday, 10 January 2017], but police records show no such shooting occurred. The exchange between Trump and ABC's David Muir is shown in a transcript ABC put on its website, though it was not part of the aired portion of Wednesday night's [25 January 2017] interview. But according to the Chicago Tribune, no homicides occurred in Chicago during the hour of Obama's speech on Jan. 10, citing police department records. The Tribune noted that its own crime database showed no shootings at all took place during Obama's address. In the ABC interview with David Muir, Trump said: 'So, look, when President Obama was there two weeks ago making a speech, very nice speech. Two people were shot and killed during his speech. You can't have that…. They weren't shot at the speech. But they were shot in the city of Chicago during his speech. What — what's going on? So, all I'm saying is to the mayor who came up to my office recently — I say, 'You have to smarten up and you have to toughen up because you can't let that happen. That's a war zone.'"
Trump Won't Back Down From His Voting Fraud Lie. Here Are the Facts, The New York Times, Nicholas Fandos, Tuesday, 24 January 2017: "During a private meeting with congressional leaders on Monday, President Trump asserted that between three million and five million unauthorized immigrants had voted for his Democratic opponent and robbed him of a victory in the national popular vote. There is no evidence to support the claim, which has been discredited repeatedly by numerous fact-checkers. That did not stop Sean Spicer, the White House press secretary, from standing by the president's words on Tuesday during a briefing with reporters at the White House. 'As I said, I think the president has believed that for a while based on studies and information he has,' Mr. Spicer said."
Federal agencies ordered to restrict their communications, The Washington Post, Juliet Eilperin and Brady Dennis, Tuesday, 24 January 2017: "Trump administration officials instructed employees at multiple agencies in recent days to cease communicating with the public through news releases, official social media accounts and correspondence, raising concerns that federal employees will be able to convey only information that supports the new president's agenda. The new limits on public communications appear to be targeting agencies that are charged with overseeing environmental and scientific policy, prompting criticism from officials within the agencies and from outside groups focused on climate change. The Environmental Protection Agency as well as the Agriculture and Interior departments now have formal policies restricting what they should convey to the public about their work…. Many new administrations — including former president Barack Obama's — have moved quickly to take control of the U.S. government's public relations machinery and centralize decision-making upon taking office. But the sweeping nature of some of the new controls is unusual, and the fact that they come as departments have been communicating through an array of digital platforms has made the changes particularly visible."
For a few hours, Badlands National Park was bad to the bone in defiance of Trump, The Washington Post, Darryl Fears, Tuesday, 24 January 2017: "With the Trump administration placing a gag order on the Environmental Protection Agency, shutting down its Twitter feed, forcing employees off their individual accounts and dismantling Web pages with climate-change information, Badlands went rogue. 'Today, the amount of carbon dioxide in the atmosphere is higher than at any time in the last 650,000 years,' it declared in one of at least four tweets. Admirers went nuts. They created a hashtag, #Badasslands, in an ode to the defiance and dubbed the park Breaking Badlands after the TV show 'Breaking Bad.' Within hours, the park gained a huge audience. But in late afternoon, the tweets suddenly vanished. NPR reporter Nathan Rott was one of dozens of followers who captured four tweets in a screenshot and posted a picture…. According to a National Park Service official, who asked for anonymity because he was not authorized to speak on the record, the tweets are believed to have been posted by a former employee at the park in Interior, S.D., who still had access to the account."
Senator Markey and Rep. Lieu Introduce the Restricting First Use of Nuclear Weapons Act, markey.senate.gov, Tuesday, 24 January 2017: "Today, Senator Edward J. Markey (D-Mass.) and Congressman Ted W. Lieu (CA-33) introduced the Restricting First Use of Nuclear Weapons Act of 2017. This legislation would prohibit the President from launching a nuclear first strike without a declaration of war by Congress. The crucial issue of nuclear "first use" is more urgent than ever now that President Donald Trump has the power to launch a nuclear war at a moment's notice." See also, The Finger on the Nuclear Button, The New York Times, Editorial Board,  Sunday, 5 February 2017: "Scientists who study the risk of nuclear war recently moved the hands of the symbolic Doomsday Clock to 2½ minutes before midnight — meaning they believe that the world is closer to nuclear catastrophe than it has been since 1953 after the United States and Soviet Union tested hydrogen bombs. The Bulletin of the Atomic Scientists, which created the clock in 1947, says that President Trump is the main reason for this worrisome development…. Mr. Trump…has spoken, alarmingly, about deploying this weaponry against terrorists and about expanding America's nuclear capabilities. He has said he values unpredictability, meaning presumably that he wants to keep other nations on edge about whether he will use nuclear weapons. 'Let it be an arms race,' he told a television interviewer in December. During a debate three months earlier he contradicted himself, saying that 'I would certainly not do first strike,' then adding, 'I can't take anything off the table.' What's worrisome about all this is that it is the opposite of what Republican and Democratic presidents have long sought, which is to ensure that these weapons are not used precipitously if at all…. It is the fear of such precipitous action that has led Senator Edward Markey of Massachusetts and Representative Ted Lieu of California, both Democrats, to propose legislation to prohibit any president from launching a first-strike nuclear weapon without a declaration of war from Congress."
Wednesday, 25 January 2017,   Day 6:
Trump tweeted about launching a major investigation into voter fraud at 7:10 am and 7:13 am: "I will be asking for a major investigation into VOTER FRAUD, including those registered to vote in two states, those who are illegal and…even, those registered to vote who are dead (and many for a long time). Depending on results, we will strengthen up voting procedures!" See also, Trump's Voter Fraud Example? A Troubled Tale With Bernhard Langer, The New York Times, Glenn Thrush, Wednesday, 25 January 2017: "On Monday, President Trump gathered House and Senate leaders in the State Dining Room for a get-to-know-you reception, served them tiny meatballs and pigs-in-a-blanket, and quickly launched into a story meant to illustrate what he believes to be rampant, unchecked voter fraud. Mr. Trump kicked off the meeting, participants said, by retelling his debunked claim that he would have won the popular vote if not for the three million to five million ballots cast by 'illegals.' He followed it up with a Twitter post early Wednesday calling for a major investigation into voter fraud. When one of the Democrats protested, Mr. Trump said he was told a story by 'the very famous golfer, Bernhard Langer,' whom he described as a friend, according to three staff members who were in the room for the meeting. In the emerging Trump era, the story was a memorable example, for the legislators and the country, of how an off-the-cuff yarn — unverifiable and of confusing origin — became a prime policy mover for a president whose fact-gathering owes more to the oral tradition than the written word. The three witnesses recalled Mr. Langer being the protagonist of the story, although a White House official claimed the president had been telling a story relayed to the golfer by one of Mr. Langer's friends. The witnesses described the story this way: Mr. Langer, a 59-year-old native of Bavaria, Germany — a winner of the Masters twice and of more than 100 events on major professional golf tours around the world — was standing in line at a polling place near his home in Florida on Election Day, the president explained, when an official informed Mr. Langer he would not be able to vote. Ahead of and behind Mr. Langer were voters who did not look as if they should be allowed to vote, Mr. Trump said, according to the staff members — but they were nonetheless permitted to cast provisional ballots. The president threw out the names of Latin American countries that the voters might have come from."  See also, Yes, All This Happened. Trump's First 2 Weeks As President, NPR, Jessica Taylor, Saturday, 4 February 2017: "Studies Trump cited offer no proof of such voter fraud. And he also incorrectly claimed it was illegal to be registered in two states; it's not illegal unless someone votes in two states, because often voter rolls are not quickly updated. In fact, it turned out some Trump aides and family members were registered in multiple states."
Chris Murphy (Senator-D-CT) tweeted at 11:25 am Wednesday, 25 January 2017, after a draft text of Trump's executive order banning citizens and refugees from seven predominantly Muslim countries was leaked to the Huffington Post and the Los Angeles Times: "We bomb your country, creating a humanitarian nightmare, then lock you inside. That's a horror movie, not a foreign policy."
Executive Order: Border Security and Immigration Enforcement Improvements, whitehouse.gov,  Wednesday, 25 January 2017. This is Trump's executive order to build a wall on the border with Mexico. See also, Trump signs order to begin Mexico border wall in immigration crackdown, The Guardian, David Smith, Wednesday, 25 January 2017: "'The secretary of homeland security, working with myself and my staff, will begin immediate construction of a border wall,' the US president said to applause at the Department of Homeland Security. 'So badly needed. You folks know how badly needed it is as a help.… A nation without borders is not a nation,' the president said. 'Beginning today, the United States of America gets back control of its borders, gets back its borders. I just signed two executive orders that will save thousands of lives, millions of jobs and billions and billions of dollars.' Trump claimed that 'we're in the middle of a crisis on our southern border,' citing an 'unprecedented surge' of undocumented immigrants from Central America that was harming both the US and Mexico. But the likely effectiveness of the planned wall is fiercely disputed. More Mexican immigrants have returned to Mexico from the US than have migrated to the US since the end of the 2007-08 financial crisis, according to the Pew Research Center. Research also shows that immigrants are more law-abiding than non-immigrants…. Trump also signed an executive order that could slash [federal] funding for so-called 'sanctuary cities,' and reinstated the 'secure communities' program, which encourages broader cooperation between local law enforcement and federal immigration agencies."
Executive Order: Enhancing Public Safety in the Interior of the United States, whitehouse.gov, Wednesday, 25 January 2017. See also, All of Trump's executive actions so far, Politico: The Agenda, Aidan Quigley, begun on Wednesday, 25 January 2017 and updated from time to time: "Trump signed an executive order that directed the secretary of homeland security to:
Prioritize certain undocumented immigrants for removal, including those with criminal convictions and those who have only been charged with a crime
Hire 10,000 additional immigration officers at U.S. Immigration and Customs Enforcement, subject to the availability of existing funding,
Prohibit federal funding, with the help of the attorney general, to 'sanctuary' jurisdictions, where local officials have declined to help enforce federal immigration laws
Reinstate the Secure Communities program, which was terminated in 2014 and enables state and local law enforcement to effectively act as immigration agents
Sanction countries, with the help of the secretary of state, that refuse to accept the return of undocumented immigrants deported from the U.S.
Create a list, updated weekly, of crimes committed by undocumented immigrants in sanctuary jurisdictions
Create an 'Office for Victims of Crimes Committed by Removable Aliens' to 'provide proactive, timely, adequate and professional services to victims of crimes committed by removable aliens and family members of such victims.'"
Executive Order: Enhancing Public Safety in the Interior of the United States, whitehouse.gov, Wednesday, 25 January 2017. See also, Trump order calls for weekly list of crimes committed by undocumented workers, The Hill, Mallory Shelbourne, Wednesday, 25 January 2017: "President Trump in the executive orders he signed [on Wednesday] called on the Department of Homeland Security to publish a list each week of the crimes committed by undocumented immigrants. The order says the Homeland Security Secretary 'shall utilize the Declined Detainer Outcome Report or its equivalent and, on a weekly basis, make public a comprehensive list of criminal actions committed by aliens and any jurisdiction that ignored or otherwise failed to honor any detainers with respect to such aliens.'"
Pentagon: Mattis still opposes torture despite Trump comment [in interview with ABC's David Muir on Wednesday, 25 January 2017], The Hill, Kristina Wong, Thursday, 26 Jan 2017: "Defense Secretary James Mattis is not wavering on his opposition to torture, the Pentagon said Thursday, despite President Trump endorsing its usage the day before. 'Secretary Mattis said in his confirmation process that he will abide by and is committed to upholding international law, the Law of Armed Conflict, Geneva Conventions and U.S. law, and that has not changed,' Pentagon spokesman Navy Capt. Jeff Davis told reporters Thursday. President Trump in an interview Wednesday evening on ABC News seemed to give conflicting statements on whether he would bring back the use of torture.  He said he believes it works but that he would listen to Mattis and CIA Director Mike Pompeo — who also opposes torture. 'As far as I'm concerned, we have to fight fire with fire. Now, with that being said I'm going with General Mattis. I'm going with my secretary because I think Pompeo's gonna be phenomenal. I'm gonna go with what they say,' Trump said. 'But I have spoken as recently as 24 hours ago with people at the highest level of intelligence. And I asked them the question, 'Does it work? Does torture work?' And the answer was, 'Yes, absolutely,' he added. 'I will rely on General Mattis. And I'm gonna rely on those two people and others. And if they don't wanna do it, it's 100 percent okay with me. Do I think it works? Absolutely.' John McCain tweeted at 9:40 am on Wednesday, 25 Jan 2017: "@potus can sign whatever executive orders he likes, but the law is the law—we're not bringing back torture." See also, Trump's Press Conference with British Prime Minister [Theresa May], Annotated, NPR, Friday, 27 January 2017: "We have a great general who has just been appointed secretary of defense, General James Mattis. And he has stated publicly that he does not necessarily believe in torture or waterboarding or however you want to define it — enhanced interrogation I guess would be a word that a lot of — words that a lot of people would like to use. I don't necessarily agree, but I would tell you that he will override because I'm giving him that power. He's an expert. He's highly respected. He's the general's general. Got through the Senate very, very quickly, which in this country is not easy, I will tell you. And so I'm going to rely on him. I happen to feel that it does work. I've been open about that for a long period of time. But I am going with our leaders. And we're going to — we're going to win with or without, but I do disagree."
Rogue Twitter accounts spring up to fight Donald Trump on climate, The Washington Post, Darryl Fears and Kayla Epstein, Wednesday, 25 January 2017: "What started as a gritty protest by a former Badlands National Park Service employee who wanted to give President Trump a piece of his mind snowballed overnight Tuesday and early Wednesday into a Twitter movement in support of climate change science. An anonymous group of people who claim to be National Park Service employees created an account using the agency's official arrowhead logo as an avatar and unleashed on the Trump administration for muzzling federal workers, particularly those at the Environmental Protection Agency who have been barred from speaking to the press and public through social media. The Washington Post reached out to the group via Twitter, without much success. 'We will not be identifying ourselves due to the anger and threats coming from President Trump's loyalists,' came an anonymous reply. 'We are just here to push the science that is being dismantled by the current administration.' Update: A day after this story published, anonymous individuals claiming to be government employees said they were handing over the AltUSNatParkService Twitter account to activists outside the federal government, according to the digital media company, Mashable. The name was then changed to Not Alt World. It's now billed as 'the resistance,' and claims that it's comprised of non-government activists worldwide. None of the claims could be verified."
Trump administration backs off plan to scrub climate pages from EPA website, The Washington Post, Brady Dennis and Juliet Eilperin, Wednesday, 25 January 2015: "The Trump administration on Wednesday backed away from plans to take down some climate-change information from the Environmental Protection Agency's website, which employees said had been planned for this week. But political appointees are exerting more oversight over the agency's scientific communications. Doug Ericksen, spokesman for the Trump team in charge at the agency, told The Hill in an interview Wednesday that officials are reviewing all 'editorial' parts of the EPA's website and discussing possible changes, not necessarily looking to take down all climate data…. Ericksen, who could not be reached by The Washington Post for comment Wednesday, also told NPR that scientists at EPA who want to publish or present their scientific findings will need to have their work reviewed on a 'case by case basis' before it can be disseminated to the public — at least temporarily. 'We'll take a look at what's happening so that the voice coming from the EPA is one that's going to reflect the new administration,' he said. Such statements have raised questions about whether the incoming administration risks violating EPA's scientific integrity policy, which encourages scientists to conduct their research 'accurately, honestly, objectively, thoroughly, without political or other interference.' It also states that the EPA's scientists can 'freely exercise their right to express their personal views,' provided they make clear they aren't speaking on behalf of the agency."
House Science Committee chairman [Representative Lamar Smith, Republican-Texas]: Americans should get news from Trump, not media, The Washington Post, Dave Weigel, Wednesday, 25 January 2017: "In a remarkable Tuesday night floor speech, Rep. Lamar Smith (R-Tex.), the chairman of the House Science, Space and Technology Committee, praised the physical and mental powers of President Trump and encouraged people to get 'unvarnished' news directly from the president, not from the news media…. The rest of Smith's speech included praise for how Trump involved his children in decisions — a subject of some controversy among progressive legal groups — and a laundry list of accomplishments he credited to the president, including a spike in the consumer confidence index. 'The national liberal media won't print that, or air it, or post it,' Smith said. 'Better to get your news directly from the president. In fact, it might be the only way to get the unvarnished truth.'
Thursday, 26 January 2017,     Day 7:
Trump tweeted about Mexico at 8:51 am and at 8:55 am: "The U.S. has a 60 billion dollar trade deficit with Mexico. It has been a one-sided deal from the beginning of NAFTA with massive numbers… of jobs and companies lost. If Mexico is unwilling to pay for the badly needed wall, then it would be better to cancel the upcoming meeting." Hours later, Mexican President Enrique Pena Nieto cancelled his trip after Trump's continued assertion that Mexico would repay the U.S. for the border wall. See also, Mexico's President Cancels Meeting With Trump Over Wall, The New York Times, Azam Ahmed, Thursday, 26 January 2017: "President Enrique Peña Nieto of Mexico said in a national address that the country would not pay for a border wall. He announced he would cancel his meeting with President Trump." For some historical context see also, Mexico president: 'Of course' Mexico won't pay for wall, Politico, Cristiano Lima, Wednesday, 11 January 2017: "Mexican President Enrique Peña Nieto reiterated Wednesday [11 January 2017] that Mexico would not pay for a border wall between it and the U.S., despite President-elect Donald Trump's claims to the contrary earlier in the day. 'It is evident that we have some differences with the new government of the United States, like the topic of the wall, that Mexico of course will not pay,' Nieto said during a speech in front of foreign diplomats at the National Palace on Wednesday, according to reports. Peña Nieto had similarly refuted the notion following a September [2016] meeting with then-candidate Trump in Mexico. 'At the start of the conversation with Donald Trump, I made it clear that Mexico will not pay for the wall,' Peña Nieto tweeted after the two politicians met. The Mexican president's latest comments once again stood in direct contrast to those of Trump, who Wednesday [11 January 2017] continued to insist that his campaign pledge to make our neighboring nation pay for a border would come to fruition. 'In order to get the wall started, Mexico will pay for the wall. But it will be reimbursed. OK?' Trump told reporters Wednesday during his first press conference in over five months. 'It will happen. Remember this, OK?'"
During an interview with Fox News's Sean Hannity, Trump says that waterboarding isn't torture, The Hill, Max Greenwood, Thursday, 26 January 2017: "Waterboarding doesn't constitute torture, President Trump said Thursday, reiterating his past argument that it is an effective way to gather intelligence. 'I mean, torture is real torture, OK? Waterboarding is — I'm sure it's not pleasant, but waterboarding was just short of torture,' he said in an interview with Fox News's Sean Hannity. 'When — you know, all of a sudden, they made it torture. I spoke with people the other day who are in this world that were talking about it. Absolutely, it works. Absolutely,' he said."
Trump pressured Park Service to find proof for his claims about inauguration crowd, The Washington Post, Karen Tumulty and Juliet Eilperin, published on 26 January 2017: "On the morning after Donald Trump's inauguration [Saturday, 21 January 2017], acting National Park Service director Michael T. Reynolds received an extraordinary summons: The new president wanted to talk to him. In a Saturday phone call, Trump personally ordered Reynolds to produce additional photographs of the previous day's crowds on the Mall, according to three individuals who have knowledge of the conversation. The president believed that the photos might prove that the media had lied in reporting that attendance had been no better than average. Trump also expressed anger over a retweet sent from the agency's account, in which side-by-side photographs showed far fewer people at his swearing-in than had shown up to see Barack Obama's inauguration in 2009." See also, Trump Ordered Park Service to Find Photos Showing Big Inauguration Turnout, Democracy Now!, Friday, 27 January 2017: "The Washington Post reports Trump personally pressured the head of the National Park Service to find and provide photographs of the Inauguration Day crowds on the National Mall, in efforts to counter news reports about the inauguration's low turnout. Trump and White House Press Secretary Sean Spicer have repeatedly lied about the crowd size, saying more people showed up to Trump's inauguration than any other in U.S. history. In fact, 180 thousand people showed up to Trump's inauguration, compared to 1.8 million who attended Obama's inauguration in 2009."
Trump Strategist Steve Bannon Says Media Should 'Keep Its Mouth Shut,' The New York Times, Michael M. Grynbaum, Thursday, 26 January 2017: "'The media should be embarrassed and humiliated and keep its mouth shut and just listen for a while,' Mr. Bannon said during a telephone call. 'The elite media got it dead wrong, 100 percent dead wrong,' Mr. Bannon said of the election, calling it 'a humiliating defeat that they will never wash away, that will always be there.'… 'That's why you have no power,' Mr. Bannon added. 'You were humiliated.'… The conversation was initiated by Mr. Bannon to offer praise for Mr. Spicer, who has been criticized this week for making false claims at the White House podium about the attendance of Mr. Trump's inaugural crowd, for calling reporters dishonest and lecturing them about what stories to write and for failing to disavow Mr. Trump's lie about widespread voter fraud in the election. Asked if he was concerned that Mr. Spicer had lost credibility with the news media, Mr. Bannon chortled. 'Are you kidding me?' he said. 'We think that's a badge of honor. 'Questioning his integrity' — are you kidding me? The media has zero integrity, zero intelligence, and no hard work.' 'You're the opposition party,' Mr. Bannon said. 'Not the Democratic Party. You're the opposition party. The media's the opposition party.'"