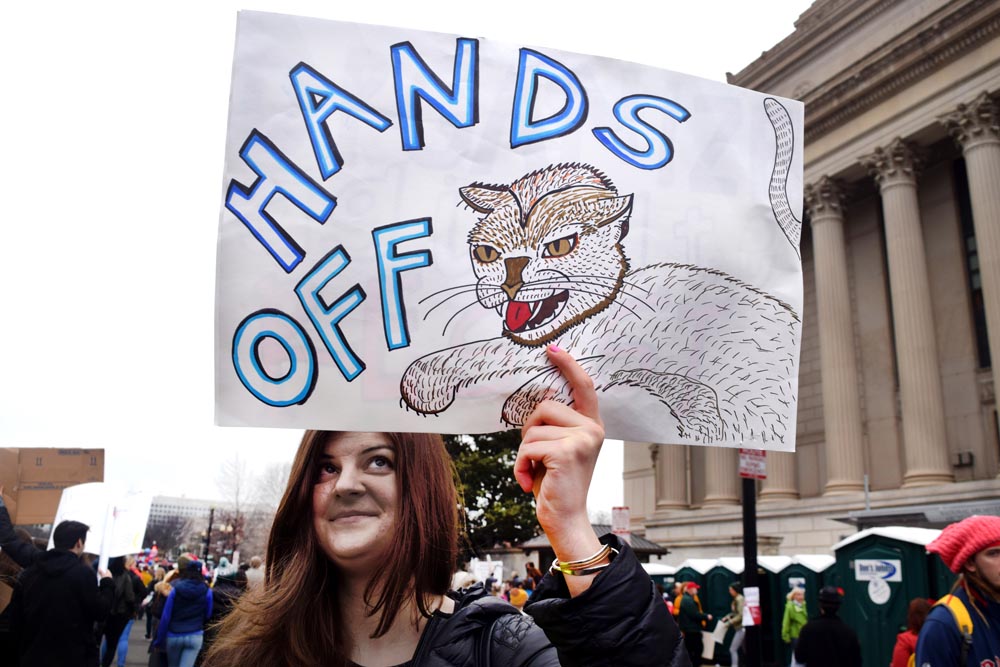 Photo by Robert DelTredici
Keeping Track (of some things), Staying Outraged (it is possible), and Resisting (it's essential)
Passages in bold in the body of the texts below are my emphasis. This is an ongoing project, and I update the site frequently. Because I try to stay focused on what has actually happened, I usually let the news 'settle' a day or so before posting. I hope readers will peruse the articles in full for a better understanding of the issues and their context; our democracy and our future depend on citizens who can distinguish between facts and falsehoods and who are engaged in the political process.
Friday, 17 November 2017, Day 302:
This remarkable, angry exchange between Senator Sherrod Brown (D-Ohio) and Senator Orrin Hatch (R-Utah) over who would benefit from the Senate's version of the tax bill unmasks the Republicans' tax-cut lies, The Washington Post, Greg Sargent, Friday, 17 November 2017: "Late last night, just before the Finance Committee passed the Senate's version of the tax bill slashing taxes on corporations and the rich, a remarkable moment unfolded that perfectly captured the GOP's whole handling of the tax debate — in all its dishonesty, misdirection and bottomless bad faith. Sen. Sherrod Brown (D-Ohio) engaged in extended sparring with committee chairman Orrin G. Hatch (R-Utah) over who would benefit from the Senate bill, with Brown insisting that it fundamentally represents a tax cut for the rich and not the middle class. This drew an enraged response from Hatch, even though Brown's argument was 100 percent correct."
For Now, Trump to Keep Ban on Importing Elephant Trophies, The New York Times, Emily Cochrane, Friday, 17 November 2017: "President Trump on Friday reversed the government's decision to start allowing hunters to import trophies of elephants that were killed in two African countries, pending a further review. His evening Twitter message reversed a decision by his own administration over Zimbabwe that was announced this week and promoted as recently as Friday afternoon by the White House press secretary, Sarah Huckabee Sanders. 'Put big game trophy decision on hold until such time as I review all conservation facts,' Mr. Trump tweeted. 'Under study for years. Will update soon with Secretary Zinke. Thank you!' Ryan Zinke, the interior secretary, said in a statement later Friday night that the decision applied to two African countries, though it did not name them."
In Mocking Franken Over Claims of Sexual Misconduct, Trump Joins a Debate He Started, The New York Times, Peter Baker, 17 November 2017: "Last fall, Donald J. Trump inadvertently touched off a national conversation about sexual harassment when a recording of him boasting about groping women was made public at the same time a succession of women came forward to assert that groping was something he did more than talk about. A year later, after a wave of harassment claims against powerful men in entertainment, politics, the arts and the news media, the discussion has come full circle with President Trump criticizing the latest politician exposed for sexual misconduct even as he continues to deny any of the accusations against him. In this case, Mr. Trump focused his Twitter-fueled mockery on a Democratic senator while largely avoiding a similar condemnation of a Republican Senate candidate facing far more allegations. The turn in the political dialogue threatened to transform a moment of cleansing debate about sexual harassment into another weapon in the war between the political parties, led by the president himself…. But the notion that Mr. Trump himself would weigh in given his own history of crude talk about women and the multiple allegations against him surprised many in Washington who thought he could not surprise them anymore. A typical politician with Mr. Trump's history would stay far away from discussing someone else's behavior lest it dredge his own back into the spotlight. But as Mr. Trump has shown repeatedly during his 10-month presidency, he is rarely deterred by conventional political wisdom even as he leaves it to his staff to fend off the cries of hypocrisy."
Continue reading Week 44, Friday, 17 November – Thursday, 23 November 2017 (Days 302-308)
Puerto Rico is still in the dark, The Washington Post, Editorial Board, Friday, 17 November 2017: "The departure from Puerto Rico this week of the Army general who led the military's response to Hurricane Maria is being depicted as a sign the island is no longer in crisis mode but instead is transitioning to long-term recovery. No matter what terms are used, it is clear there are still enormous problems in Puerto Rico, with far too many people living in conditions that simply would not be tolerated on the mainland. More than ever, the people of Puerto Rico must not be forgotten. Those charged with rebuilding the island need to show they are up to the task and not repeat the mistakes that marked the initial response to the catastrophic storm. It has been nearly two months since Hurricane Maria made landfall in Puerto Rico, yet the majority of the island's 3.4 million residents are still without electricity in what ranks as the largest blackout in U.S. history. No one has a clear handle on when the lights will be back on. Other problems include damaged homes, people in shelters, lack of access to clean water and, the New York Times reported, fears of a full-fledged mental-health crisis."
Trump Names Supreme Court Candidates for a Nonexistent Vacancy, The New York Times, Michael D. Shear, Friday, 17 November 2017: "Mr. Trump's new candidates add to a roster of committed judicial conservatives compiled by Donald F. McGahn II, Mr. Trump's longtime election lawyer and now the White House counsel, with help from two leading conservative policy groups: the Heritage Foundation and the Federalist Society…. White House officials said the addition of the names was routine and was simply an effort to 'refresh' a list that had not changed in more than a year. Even so, the announcement was a reminder of the advanced age of Justice Kennedy and Justice Ruth Bader Ginsburg, 84. If either one — or another justice — leaves the bench in the next three years, Mr. Trump will be in a position to pick a replacement."
Alexander Torshin, a Top Russian Official, Tried to Broker a 'Backdoor' Meeting Between Trump and Putin, The New York Times, Matt Apuzzo, Matthew Rosenberg, and Adam Goldman, Friday, 17 November 2017: "A senior Russian official who claimed to be acting at the behest of President Vladimir V. Putin of Russia tried in May 2016 to arrange a meeting between Mr. Putin and Donald J. Trump, according to several people familiar with the matter. The news of this reached the Trump campaign in a very circuitous way. An advocate for Christian causes emailed campaign aides saying that Alexander Torshin, the deputy governor of the Russian central bank who has been linked both to Russia's security services and organized crime, had proposed a meeting between Mr. Putin and Mr. Trump. The subject line of the email, turned over to Senate investigators, read, 'Russian backdoor overture and dinner invite,' according to one person who has seen the message. The proposal made its way to the senior levels of the Trump campaign before Jared Kushner, the president's son-in-law and a top campaign aide, sent a message to top campaign officials rejecting it, according to two people who have seen Mr. Kushner's message. Though the meeting never happened, Mr. Torshin's request is the latest example of how the Russian government intensified its effort to contact and influence the Trump campaign last year as Mr. Trump was closing in on the Republican presidential nomination. It came just weeks after a self-described intermediary for the Russian government told a Trump campaign aide, George Papadopoulos, that the Russians had 'dirt' on Mr. Trump's rival, Hillary Clinton, in the form of 'thousands of emails.' Soon after Mr. Torshin's outreach fizzled, Donald Trump Jr., the president's eldest son, arranged a meeting at Trump Tower after being told that a Russian lawyer with ties to the Kremlin would bring damaging information about Mrs. Clinton to the meeting."
Saturday, 18 November 2017, Day 303:
The incredibly unpopular Republican tax reform plan–in one graph, The Washington Post, John Sides, Saturday, 18 November 2017: "A Republican tax plan has passed the House, but obstacles remain in the Senate. One of those obstacles: The plan appears to be not just unpopular, but also distinctively — almost historically — unpopular."
Sunday, 19 November 2017, Day 304:
Alabama's biggest newspapers urge voters to 'reject Roy Moore,' the Republican nominee for the state's Senate seat, CNN, Brian Stelter, Sunday, 19 November 2017: "The three biggest newspapers in Alabama have a message for their readers: 'Stand for Decency, Reject Roy Moore.' The Alabama Media Group stripped the editorial across its Sunday front pages. The unusual step comes 10 days after misconduct allegations first surfaced against Moore, the Republican nominee for the state's Senate seat. The editorial doubles as an endorsement of Moore's opponent, Democrat Doug Jones. It appears in The Birmingham News, Mobile Press-Register and The Huntsville Times and it is prominently featured on the papers' shared website AL.com. 'This is an important moment in Alabama and America, and we felt such treatment was in line with what is at stake in this race,' Michelle Holmes, the VP of content for AL.com, told CNNMoney early Sunday."
The Supreme Court is a critical partisan lever for Trump and Roy Moore, the Republican candidate for Senate in Alabama, The Washington Post, Philip Bump, Sunday, 19 November 2017: "On Friday, the White House released, without context, a list of the people whom President Trump might consider should a vacancy open on the Supreme Court. It was an updated version of a list that he has released before, with five new names added for a total of about two dozen jurists. The update was released in conjunction with a convention of the conservative Federalist Society, members of which made up the original list released by the Trump campaign in May 2016. (Neil M. Gorsuch, Trump's actual Supreme Court pick, wasn't on that original list.) But Trump's update to the list served a broader purpose, as well: reminding his base — and Republicans in Alabama — that his presidency, plus a Senate majority, gives him the power to shape the judicial branch for decades to come."
Republican Senator Susan Collins of Maine says sexual misconduct allegations against Trump 'remain very disturbing,' NBC News, Daniella Silva, Sunday, 19 November 2017: "Republican Sen. Susan Collins said Sunday that the sexual misconduct, harassment and assault allegations from more than a dozen women against President Donald Trump 'remain very disturbing' as a wave of women continue to come forward with claims against powerful men. When asked on ABC's 'This Week' about Trump's claims that his accusers were all lying, the senior senator from Maine said that she did not support Trump in part because of those very allegations against him."
Republican Tax Bill Is the End of All Economic Sanity in Washington, Forbes, Stan Collender, Sunday, 19 November 2017: "If it's enacted, the GOP tax cut now working its way through Congress will be the start of a decades-long economic policy disaster unlike any other that has occurred in [U.S.] history. There's no economic justification whatsoever for a tax cut at this time. U.S. GDP is growing, unemployment is close to 4 percent (below what is commonly considered 'full employment'), corporate profits are at record levels and stock markets are soaring. It makes no sense to add any federal government-induced stimulus to all this private sector-caused economic activity, let alone a tax cut as big as this one. This is actually the ideal time for Washington to be doing the opposite."
On 20 October 2017, the US loosened limits on the importation of heads and hides of lions shot for sport in Zimbabwe and Zambia, Associated Press, Michael Biesecker, Sunday, 19 November 2017: "One month before the Trump administration sparked outrage by reversing a ban on trophies from threatened African elephants, federal officials quietly loosened restrictions on the importation of heads and hides of lions shot for sport. The U.S. Fish and Wildlife Service began issuing permits Oct. 20 for lions killed in Zimbabwe and Zambia between 2016 and 2018. The agency is also currently studying whether to add three additional countries to the list — Mozambique, Namibia and Tanzania. Previously, only wild lions killed in South Africa were eligible to be imported. In a pair of recent tweets, President Donald Trump said he will delay the new policy on allowing elephant trophies, but he made no mention of lions. Trump, whose adult sons are avid big-game hunters, also expressed skepticism about his own administration's claim that killing threatened animals could help save them by helping raise money for conservation programs. 'Big-game trophy decision will be announced next week but will be very hard pressed to change my mind that this horror show in any way helps conservation of Elephants or any other animal,' the president tweeted on Sunday. Trump weighed in after a strong public backlash against reversing an Obama-era ban on elephant trophies, which became public through a written notification posted in the Federal Register. Officials said there was no such legal requirement for notifying the public about the policy change on lions."
Trump lashes out at UCLA basketball players: 'I should have left them in jail,' The Guardian, Lois Beckett, Sunday, 19 November 2017: "Days after claiming credit for ensuring that three UCLA college basketball players were released after being arrested for shoplifting in China, Donald Trump tweeted that 'I should have left them in jail!' The US president lashed out at LaVar Ball, the father of one of the arrested players, for questioning how instrumental the president was in resolving the incident…. The president's Twitter feed followed with a tweet criticizing Ball early on Sunday afternoon. Trump has previously used his Twitter account to attack black athletes who protested about police brutality against black Americans by kneeling during the national anthem. Last month, Trump used his official account to attack ESPN's Jemele Hill, a prominent black sports commenter who has called the president a 'bigot' and 'a white supremacist.'"
Monday, 20 November 2017, Day 305:
Trump Administration Ends Temporary Protection for Approximately 59,000 Haitians, The New York Times, Miriam Jordan, Monday, 20 November 2017: "The Trump administration is ending a humanitarian program that has allowed some 59,000 Haitians to live and work in the United States since an earthquake ravaged their country in 2010, Homeland Security officials said on Monday. Haitians with what is known as Temporary Protected Status will be expected to leave the United States by July 2019 or face deportation. The decision set off immediate dismay among Haitian communities in South Florida, New York and beyond, and was a signal to other foreigners with temporary protections that they, too, could soon be asked to leave. About 320,000 people now benefit from the Temporary Protected Status program, which was signed into law by President George Bush in 1990, and the decision on Monday followed another one last month that ended protections for 2,500 Nicaraguans. Haiti, the poorest country in the Western Hemisphere, is still struggling to recover from the earthquake and relies heavily on money its expatriates send to relatives back home. The Haitian government had asked the Trump administration to extend the protected status."
Nebraska Sort of Approves the Keystone Pipeline, The New Yorker, Bill McKibben, Monday, 20 November 2017: "In the summer of 2011, National Journal polled a group of 'energy and environment insiders' in Washington, D.C., to ask if the Keystone XL pipeline would be approved. 'Virtually all' of them said yes; by a landslide, they predicted that TransCanada Corporation would have the permits in hand by the end of that year. They didn't reckon, however, with an outpouring of opposition, including from a group I helped found, 350.org. Six years later, the company may finally have the permits it needs. Or not—the Nebraska Public Service Commission voted in truly confusing fashion, this morning, to permit the pipeline to cross the state on its journey from the Alberta tar sands to the Gulf Coast, but on an alternative route from the one that the company wanted. That means that the company still needs to get approval from landowners, and the decision appears, at the very least, to give more time for opponents to organize and appeal. Even as the decision was coming down, indigenous groups in the upper Midwest were formalizing a pact to battle the pipeline, and thousands of people have already signed up to come to the region when construction season begins, next spring, using civil disobedience to block construction if necessary. It was one more strange moment in the tortured, twisted KXL saga, which has seen half a dozen times when the pipeline almost got approved…. On the back of the Keystone fight, an entire new front in the climate fight has emerged, the battle to 'keep it in the ground.' The NASA scientist James Hansen's original calculations about the Canadian tar sands—that if you burned all the economically recoverable oil in those formations you would take the atmospheric concentration of CO2 to five hundred and forty parts per million—helped make the tar sands, already synonymous with land-scarring destruction, synonymous with wrecking the climate, too. And the logic was soon applied to every other big fossil-fuel-extraction plan, turning local battles into worldwide ones. One bank after another has pulled away from financing tar sands and coal mines; just last week, Norway's sovereign-wealth fund, among the largest pools of investment capital on the planet, announced a proposal to divest from fossil fuels."
House Republican tax plan would fall $1.3 trillion short of paying for itself, according to a nonpartisan study from the Tax Policy Center, The Washington Post, Damian Paletta, Monday, 20 November 2017: "The House Republican tax plan would add $1.3 trillion to the national debt over a decade, even after accounting for new economic growth from the bill, according to a nonpartisan study released Monday. The nonpartisan Tax Policy Center is the third outside group to conclude that the bill would add to the deficit, contradicting Republicans' claim that the bill would effectively pay for itself via a surge in economic growth. The Tax Policy Center found that the economic growth the bill would create would add $169 billion in additional tax revenue over the next decade. But that would be far outweighed by $1.436 trillion in revenue losses over the decade due to the bill's tax cuts, leaving the bill with a net addition to the deficit of $1.266 trillion."
Trump Returns North Korea to List of State Sponsors of Terrorism, The New York Times, Michael D. Shear and David E. Sanger, Monday, 20 November 2017: "President Trump on Monday officially designated North Korea as a state sponsor of terrorism, a provocative diplomatic move that he said was aimed at drastically increasing pressure on the rogue nation to abandon its pursuit of nuclear weapons. North Korea will join Sudan, Syria and Iran as countries that the State Department identifies as those that have 'repeatedly provided support for acts of international terrorism.' 'Should have happened a long time ago,' Mr. Trump told reporters at the start of a cabinet meeting at the White House. The president said the designation would be followed on Tuesday by the 'highest level of sanctions' against Pyongyang to force the end of the development of its nuclear and ballistic missiles…. North Korea was removed from the official State Department terrorism list…by President George W. Bush, who in 2008 saw it as an opportunity to salvage a fragile nuclear deal in which North Korea would agree to halt its nuclear program."
We surveyed 112 Puerto Rican funeral homes to check the accuracy of the hurricane death toll. These funeral homes identified 499 deaths in the month after the storm, nine times the official death toll. CNN, John D. Sutter, Leyla Santiago, and Khushbu Shah, Monday, 20 November 2017: "In general, 'indirect' hurricane deaths — in which a person likely would be alive if not for the storm and its aftermath — should be part of the official death toll, according to Puerto Rico's Department of Public Safety, which oversees the count. The list of 55 deaths attributed to the hurricane includes ones from heart attacks and suicides that were precipitated by a storm that shook even the sturdiest of the 3.4 million American citizens who live on this Caribbean island….  Politicians, academics and news outlets, including CNN, have raised questions about the accuracy of the official Hurricane Maria death toll in Puerto Rico. A storm as powerful as Maria would be expected to kill hundreds of people, not dozens, said John Mutter, a professor at Columbia University who reviewed deaths after Hurricane Katrina. San Juan Mayor Carmen Yulín Cruz told CNN's Jake Tapper on November 3 she thought the toll could be 500. The Puerto Rican government fired back at that estimate. 'In order to support her statement, [Cruz] needs to present the evidence,' Héctor M. Pesquera, secretary of the Department of Public Safety, said in a statement. 'If she is not willing to do such, it is an irresponsible comment. The government of Puerto Rico certifies the death count based on factual information in concert with all components involved in the process. At the moment, the official death count is 55.' To check the accuracy of the Puerto Rican government's figures, we called nearly every funeral home in Puerto Rico…. Some funeral homes did not answer our calls, and several declined to provide data. CNN was able to collect responses from 112 of the island's funeral homes. That's about half the total number in Puerto Rico, according to Eduardo Cardona, director of the Puerto Rico Association of Funeral Home Directors…. Those funeral homes identified 499 deaths in the month after the storm — September 20 to October 19 — which they say were related to Hurricane Maria and its aftermath. That's nine times the official death toll. And, again, it represents only about half of funeral homes."
In a Legal U-Turn, the Justice Department Said Prisoners Serving Unlawful Terms Cannot Challenge Them in Court, The New York Times, Adam Liptak, Monday, 20 November 2017: "It is one thing for a new administration to switch sides in a legal dispute. That is merely unusual. It is another to urge the Supreme Court to deny review in a case that would test whether the government's new position is correct. In a Supreme Court brief filed last month, the Justice Department tried to have it both ways. It told the justices that it no longer believed that some federal prisoners serving longer prison terms than the law allowed were entitled to challenge their sentences in court. For the last 16 years, the Justice Department had taken the opposite view. It said so in at least 11 Supreme Court briefs. You might think the Supreme Court should settle things. But the department urged the justices to refuse to hear an appeal from Dan C. McCarthan, a Florida man who said he was sentenced to seven more years than the law allowed. It did so even as it acknowledged that the legal question was significant and that the department's new position could lead to harsh results, condemning inmates to serve out unlawful sentences."
John Roth, Department of Homeland Security's inspector general, says Trump's first travel-ban caused confusion and led federal agents to violate court orders by telling airlines not to let certain passengers board U.S.-bound flights, The Washington Post, Devlin Barrett and Carol D. Leonnig, Monday, 20 November 2017: "The Trump administration's botched rollout of its first travel ban led federal agents to violate court orders by telling airlines not to let certain passengers board U.S.-bound flights, according to an internal watchdog. In a letter [Monday], the Department of Homeland Security's inspector general, John Roth, notified lawmakers of the violations. He also alerted them that his findings have become bogged down in a battle with the department over redactions that he said would obscure the true failures of the administration's handling of the first travel ban. In the early days of the Trump administration, the president signed an executive order temporarily banning entry to the United States by citizens of seven majority-Muslim countries, as well as refugees."
The Justice Department is suing AT&T to block its $85 billion bid for Time Warner, The Washington Post, Brian Fung, Monday, 20 November 2017: "The Department of Justice sued Monday to block AT&T's $85 billion bid for entertainment conglomerate Time Warner, setting the stage for one of the biggest antitrust cases to hit Washington in decades. The move by the Justice Department's antitrust division is unusual because it challenges a deal that would combine two different kinds of companies — a telecom with a media and entertainment company. Antitrust officials are relatively untested in the courts on opposing such deals and have rarely tried to squash them…. There is…political risk for the Justice Department. Some Democrats have expressed concern that antitrust officials could be seeking to block the deal because the Trump administration has been highly critical of CNN, which is owned by Time Warner – a charge that the department and the White House have denied. AT&T has said it is willing to use the court process to unearth communications between White House and antitrust officials over the case. If such evidence is uncovered, analysts say, AT&T could argue that Trump abused his position as president to carry out a politically motivated attack against a private actor."
Trump Administration Will Give Cities That Report Undocumented Immigrants Millions of Dollars to Hire Police Officers, Newsweek, Josh Saul, Monday, 20 November 2017: "The Trump administration said Monday it will give tens of millions of dollars to hire police officers to cities and states that cooperate with federal efforts to detain undocumented immigrants. The Department of Justice will hand over $98 million to 179 law enforcement agencies across the country—which will pay for more than 800 new full-time officers—with 80 percent of the money going to jurisdictions that allow federal immigrant officials inside their local jails. President Donald Trump speaks regularly about the need to toughen the country's enforcement of illegal immigration laws and the $98 million in police funding is part of that push."
Amid ongoing investigation into Trump's charitable foundation, Trump National Golf Club in Westchester County, N.Y. reimbursed Trump's foundation for money that it used to settle a lawsuit against the club, The Washington Post, David A. Fahrenthold, Monday, 20 November 2017: "One of President Trump's golf courses paid back more than $158,000 to Trump's charitable foundation this year, reimbursing the charity for money that had been used to settle a lawsuit against the club, according to a new tax filing. The March 2017 payment came after New York Attorney General Eric Schneiderman, a Democrat, launched an investigation into how the Donald J. Trump Foundation collects and disburses funds. The inquiry is ongoing. The Washington Post reported last year that Trump had used the charity for questionable purposes, including to make a political contribution, to settle legal matters involving his for-profit companies and to buy a large portrait of himself that he hung at one of his golf resorts."
She Said a Powerful Congressman, John Conyers (D-Michigan), Harassed Her. Here's Why You Didn't Hear Her Story, BuzzFeed News, Paul McLeod and Lissandra Villa, Monday, 20 November 2017: "Michigan Rep. John Conyers, a Democrat and the longest-serving member of the House of Representatives, settled a wrongful dismissal complaint in 2015 with a former employee who alleged she was fired because she would not 'succumb to [his] sexual advances.' Documents from the complaint obtained by BuzzFeed News include four signed affidavits, three of which are notarized, from former staff members who allege that Conyers, the ranking Democrat on the powerful House Judiciary Committee, repeatedly made sexual advances to female staff that included requests for sex acts, contacting and transporting other women with whom they believed Conyers was having affairs, caressing their hands sexually, and rubbing their legs and backs in public. Four people involved with the case verified the documents are authentic. Conyers confirmed he made the settlement in a statement Tuesday afternoon, hours after this story was published, but said that he "vehemently denied" the claims of sexual harassment at the time and continues to do so. And the documents also reveal the secret mechanism by which Congress has kept an unknown number of sexual harassment allegations secret: a grinding, closely held process that left the alleged victim feeling, she told BuzzFeed News, that she had no option other than to stay quiet and accept a settlement offered to her."
Trump attacks Oakland Raiders' Marshawn Lynch for standing for Mexican anthem and sitting for U.S. anthem, Politico, Louis Nelson, Monday, 20 November 2017: "President Donald Trump singled out Oakland Raiders football player Marshawn Lynch Monday morning, suggesting that the running back had shown 'great disrespect' by *sitting* for the U.S. national anthem and standing for the Mexican one before his team's game on Sunday, played in Mexico City. 'Marshawn Lynch of the NFL's Oakland Raiders stands for the Mexican Anthem and sits down to boos for our National Anthem. Great disrespect!' Trump wrote online. 'Next time NFL should suspend him for remainder of season. Attendance and ratings way down.' Like other NFL players, Lynch has declined to stand for the U.S. national anthem before every game this year, a protest dozens of players have made against racial inequality and police brutality. Because the Raiders' game against the New England Patriots was played in Mexico City, the Mexican national anthem was also played before the game."
Tuesday, 21 November 2017, Day 306:
Trump Defends Roy Moore, Republican Senate Candidate in Alabama, Citing Moore's Denial of Sexual Misconduct Allegations, The New York Times, Michael D. Shear and Alan Blinder, Tuesday, 21 November 2017: "President Trump broke with leading Republicans on Tuesday and voiced support for Roy S. Moore, the Republican Senate candidate in Alabama who has been accused of sexual misconduct with teenagers and has seen his campaign's prospects imperiled. In his first extensive remarks on the accusations that date back decades, the president cited the vigorous denials by Mr. Moore, who is facing off in a high-stakes special election against Doug Jones, the Democratic candidate. 'He totally denies it,' Mr. Trump said of Mr. Moore, who has been accused of molesting a 14-year-old girl and sexually assaulting another teenager. Mr. Trump also said he was 'very happy' that women in the United States are now coming forward with accusations of sexual misconduct against lawmakers and media figures, many of them Democrats. Asked by a reporter about whether electing 'a child molester' was better than electing a Democrat in the Alabama race, Mr. Trump responded by insisting that Mr. Moore denies the charges against him…. For the president, defending Mr. Moore is a politically fraught echo of his own campaign, in which multiple women accused Mr. Trump of sexual improprieties that he vigorously denied. Like Mr. Moore, the president insisted his accusers were liars and dismissed calls by members of his own party to abandon his campaign. His support of Mr. Moore has renewed attention on those past allegations." See also, Trump offers support for Roy Moore in Alabama's Senate race despite allegations of sexual misconduct with teen girls, The Washington Post, David Nakamura, Tuesday, 21 November 2017.
Federal Communications Commission Chairman Ajit Pai Plans Net Neutrality Repeal in a Victory for Telecom Titans Like AT&T and Verizon, The New York Times, Cecilia Kang, Tuesday, 21 November 2017: "The Federal Communications Commission released a plan on Tuesday to dismantle landmark regulations that ensure equal access to the internet, clearing the way for internet service companies to charge users more to see certain content and to curb access to some websites. The proposal, made by the F.C.C. chairman, Ajit Pai, is a sweeping repeal of rules put in place by the Obama administration. The rules prohibit high-speed internet service providers, or I.S.P.s, from stopping or slowing down the delivery of websites. They also prevent the companies from charging customers extra fees for high-quality streaming and other services. The announcement set off a fight over free speech and the control of the internet, pitting telecom titans like AT&T and Verizon against internet giants like Google and Amazon. The internet companies warned that rolling back the rules could make the telecom companies powerful gatekeepers to information and entertainment. The telecom companies say that the existing rules prevent them from offering customers a wider selection of services at higher and lower price points…. Big online companies like Google and Facebook say the repeal proposal would allow telecom companies to play favorites by charging customers for accessing some sites or by slowing speeds to others. The existing rules were written to prevent such arrangements, adopting a policy often called net neutrality…. Small online companies believe the proposal would hurt innovation, because telecom companies could force them to pay more for the faster connections. Only the largest companies, they say, would be able to afford the expense of making sure their sites received preferred treatment. Companies like Etsy and Pinterest, for example, credit their start to the promise of free and open access on the internet. And consumers, the online companies say, may see their costs go up if, for example, they want high-quality access to popular websites like Netflix, a company that depends on fast connections for its streaming videos. Netflix said on Tuesday that it opposed Mr. Pai's proposal."
An Open Letter to the Federal Communications Commission (FCC) from New York State Attorney General Eric T. Schneiderman, Medium, Eric Schneiderman, Monday, 21 November 2017: "Dear FCC Chairman Ajit Pai: As you recently announced, the Federal Communications Commission (FCC), under your leadership, soon will release rules to dismantle your agency's existing 'net neutrality' protections under Title II of the Communications Act, which shield the public from anti-consumer behaviors of the giant cable companies that provide high-speed internet to most people. In today's digital age, the rules that govern the operation and delivery of internet service to hundreds of millions of Americans are critical to the economic and social well-being of the nation. Yet the process the FCC has employed to consider potentially sweeping alterations to current net neutrality rules has been corrupted by the fraudulent use of Americans' identities — and the FCC has been unwilling to assist my office in our efforts to investigate this unlawful activity." See also, Investigation of fake net neutrality comments has been stymied by the Federal Communications Commission, New York attorney general Eric Schneiderman says, The Washington Post, Eli Rosenberg, published on Wednesday, 22 November 2017: "The reports started trickling out in May, in the weeks after the Federal Communications Commission had begun soliciting public comments on a proposal to repeal net neutrality rules that govern the flow of information on the Internet. A large number of messages lambasting the Obama-era regulation began appearing on the FCC's public forum with the same text. While it is not unusual for commenters to use form letters provided by activist groups, people began complaining they hadn't submitted the comments that carried their names and identifying information. They were being impersonated. New York Attorney General Eric Schneiderman started to investigate after noticing many of these comments involved people in New York. There was an unexpected roadblock along the way: the FCC declined to cooperate with his office's investigation, he said, rebuffing requests for logs and other records associated with the comments. The disclosure the FCC had denied Schneiderman's request was made in an open letter he wrote to FCC Chairman Ajit Pai this week." See also, I'm on the Federal Communications Commission (FCC). Please stop us from killing net neutrality. Los Angeles Times, Jessica Rosenworcel, published on Wednesday, 22 November 2017: "Right now, you can go online and connect with friends, watch videos and read the news. There's a good chance you are reading this online right now. We do much more on the internet than consume content, however. Increasingly, the internet is also where we create. We use online platforms and digital services to develop, share and spread ideas around the corner and around the globe. This is the open internet experience we all know, and it's a big part of why America's internet economy is the envy of the world. But this week, the leadership at the Federal Communications Commission put forth a plan to gut the foundation of this openness. They have proposed to end net neutrality, and they are trying to force a vote on their plan on Dec. 14. It's a lousy idea. And it deserves a heated response from the millions of Americans who work and create online every day…. I think the FCC needs to work for the public, and therefore that this proposal needs to be slowed down and eventually stopped. In the time before the agency votes, anyone who agrees should do something old-fashioned: Make a ruckus. Reach out to the rest of the FCC now. Tell them they can't take away internet openness without a fight."
Conservatives have a breathtaking plan for Trump to pack the courts, The Washington Post, Ronald A. Klain, Tuesday, 21 November 2017: "Conservatives have a new court-packing plan, and in the spirit of the holiday, it's a turducken of a scheme: a regulatory rollback hidden inside a civil rights reversal stuffed into a Trumpification of the courts. If conservatives get their way, President Trump will add twice as many lifetime members to the federal judiciary in the next 12 months (650) as Barack Obama named in eight years (325). American law will never be the same. The 'outer turkey' in the plan is the ongoing Trumpification of the courts. In the final two years of Obama's presidency, Senate Republicans engaged in tenacious obstruction to leave as many judicial vacancies unfilled as possible…. Trump is wasting no time in filling the 103 judicial vacancies he inherited. In the first nine months of Obama's tenure, he nominated 20 judges to the federal trial and appellate courts; in Trump's first nine months, he named 58. Senate Republicans are racing these nominees through confirmation; last week, breaking a 100-year-old tradition, they eliminated the 'blue slip' rule that allowed home-state senators to object to particularly problematic nominees. The rush to Trumpify the judiciary includes nominees rated unqualified by the American Bar Association, nominees with outrageously conservative views and nominees significantly younger (and, therefore, likely to serve longer) than those of previous presidents…. But even this plan — to fill approximately 150 judicial vacancies before the 2018 elections — is not enough for conservatives. Enter the next element of the court-packing turducken: a new plan written by the crafty co-founder of the Federalist Society, Steven Calabresi. In a paper that deserves credit for its transparency (it features a section titled 'Undoing President Barack Obama's Judicial Legacy'), Calabresi proposes to pack the federal courts with a 'minimum' of 260 — and possibly as many as 447 — newly created judicial positions. Under this plan, the 228-year-old federal judiciary would increase — in a single year — by 30 to 50 percent…. But even that isn't enough for the Turducken Court Packers. They have jammed one more 'treat' inside this turkey. Calabresi has also proposed that Congress abolish 158 administrative law judgeships in federal regulatory agencies, such as the Environmental Protection Agency, Food and Drug Administration, Federal Communications Commission, and Securities and Exchange Commission, and replace these impartial fact-finders with a new corps of 158 Trump-selected judges who — unlike current administrative law judges — would serve for life."
Web of secret money from the Judicial Crisis Network hides the fact that one mega-donor is funding conservative judicial nominees, McClatchy, Robert Maguire, Tuesday, 21 November 2017: "When a small nonprofit called the Judicial Crisis Network poured millions into a campaign to stop the Senate from confirming Barack Obama's Supreme Court pick last year, and then spent millions more supporting President Donald Trump's choice for the same seat, political observers assumed conservatives from around the country were showering the group with donations. Not so. Newly obtained tax documents show that JCN's money came almost entirely from yet another secretive nonprofit, the Wellspring Committee, which flooded JCN with nearly $23.5 million in 2016. Most of Wellspring's funds, in turn, came from a single mysterious donor who gave the organization almost $28.5 million — nearly 90 percent of its $32.2 million in revenues. Like JCN, Wellspring — at one time tied to the donor network spearheaded by conservative industrialists Charles and David Koch — is a nonprofit that is supposed to be dedicated to social welfare functions and doesn't have to disclose the names of its benefactors. Since the 2010 Citizens United Supreme Court decision loosened certain constraints on political spending, these and other 501(c)(4) groups have become increasingly politically active while providing anonymity to their donors. Often one group, like Wellspring, will act as a conduit, giving most of its funds to other, similar groups with political agendas."
Federal judge blocks Trump's executive order denying funding to sanctuary cities, The Washington Post, Eli Rosenberg, Tuesday, 21 November 2017: "A federal judge issued an injunction to permanently block President Trump's executive order to deny funding to cities that refused to cooperate with federal immigration officials, after finding the order unconstitutional. The ruling by District Judge William H. Orrick in San Francisco comes in response to a lawsuit filed by the city of San Francisco and nearby Santa Clara County and follows a temporary halt on the order that the judge issued in April. Orrick, in his summary of the case Monday, found that the Trump administration's efforts to move local officials to cooperate with its efforts to deport undocumented immigrants violated the separation of powers doctrine as well as the Fifth and Tenth amendments. 'The Constitution vests the spending powers in Congress, not the President, so the Executive Order cannot constitutionally place new conditions on federal funds. Further, the Tenth Amendment requires that conditions on federal funds be unambiguous and timely made; that they bear some relation to the funds at issue; and that they not be unduly coercive,' the judge wrote. 'Federal funding that bears no meaningful relationship to immigration enforcement cannot be threatened merely because a jurisdiction chooses an immigration enforcement strategy of which the President disapproves.'"
Here Are the White House Visitor Records the Trump Administration Didn't Want You to See From the Office of Management and Budget, the U.S. Trade Representative, the Office of National Drug Control Policy, the Council on Environmental Quality, and the Office of Science and Technology Policy, ProPublica, Derek Kravitz, Leora Smith, and Al Shaw, Tuesday, 21 November 2017: "The Trump White House tried to block public access to visitor logs of five federal offices working directly for the president even though they were subject to public disclosure through the Freedom of Information Act. Property of the People, a Washington-based transparency group, successfully sued the administration to release the data and provided the documents to ProPublica."
Koch Lobbyists and Opus Dei–Who's Dropping in on Mick Mulvaney, Trump's Director of the White House Office of Management and Budget, ProPublica, Justin Elliott, Tuesday, 21 November 2017: "One of President Donald Trump's top cabinet officials has met with a long list of lobbyists, corporate executives and wealthy people with business interests before the government, according to calendars the Trump administration fought to keep secret. The calendars for Mick Mulvaney, the former South Carolina congressman who now runs the White House Office of Management and Budget, offer a glimpse of who has access to the highest levels of the Trump administration. Among those visiting Mulvaney: Trump friend and casino magnate Steve Wynn; a flurry of officials from the conservative Heritage Foundation; a string of health care and Wall Street CEOs; lobbyists for Koch Industries; a cryptocurrency evangelist; and a prominent member of the Catholic group Opus Dei. The Trump administration fought in court to block public records requests by Property of the People, a Washington-based nonprofit transparency group, to release the calendars as well as visitor logs from several other White House offices. Lawyers for the group ultimately prevailed and provided the documents to ProPublica, which we are posting in a searchable format."
U.S. District Judge Marvin J. Garbis says the Trump administration can't stop funding sex-reassignment surgeries for military members, The Washington Post, Anne E. Marimow, Tuesday, 21 November 2017: "A second federal judge has halted the Trump administration's proposed transgender military ban, finding that active-duty service members are 'already suffering harmful consequences' because of the president's policy. The ruling Tuesday by U.S. District Judge Marvin J. Garbis in a Maryland case comes just weeks after another judge in Washington blocked the administration's proposal that would have stopped military recruitment of transgender men and women and possibly forced the dismissal of current service members, starting in March. The preliminary injunction issued by the judge in Baltimore on Tuesday goes further than the earlier ruling by also preventing the administration from denying funding for sex-reassignment surgeries after the order takes effect. In his 53-page order, Garbis said the transgender service members challenging the ban have 'demonstrated that they are already suffering harmful consequences such as the cancellation and postponements of surgeries, the stigma of being set apart as inherently unfit, facing the prospect of discharge and inability to commission as an officer, the inability to move forward with long-term medical plans, and the threat to their prospects of obtaining long-term assignments.'"
About a dozen U.S. State Department officials have accused Secretary of State Rex Tillerson of violating a federal law designed to stop foreign militaries from enlisting child soldiers, Reuters, Jason Szep and Matt Spetalnick, Tuesday, 21 November 2017: "A group of about a dozen U.S. State Department officials have taken the unusual step of formally accusing Secretary of State Rex Tillerson of violating a federal law designed to stop foreign militaries from enlisting child soldiers, according to internal documents reviewed by Reuters. A confidential State Department 'dissent' memo, which Reuters was first to report on, said Tillerson breached the Child Soldiers Prevention Act when he decided in June to exclude Iraq, Myanmar, and Afghanistan from a U.S. list of offenders in the use of child soldiers. This was despite the department publicly acknowledging that children were being conscripted in those countries. Keeping the countries off the annual list makes it easier to provide them with U.S. military assistance. Iraq and Afghanistan are close allies in the fight against Islamist militants, while Myanmar is an emerging ally to offset China's influence in Southeast Asia. Documents reviewed by Reuters also show Tillerson's decision was at odds with a unanimous recommendation by the heads of the State Department's regional bureaus overseeing embassies in the Middle East and Asia, the U.S. envoy on Afghanistan and Pakistan, the department's human rights office and its own in-house lawyers. 'Beyond contravening U.S. law, this decision risks marring the credibility of a broad range of State Department reports and analyses and has weakened one of the U.S. government's primary diplomatic tools to deter governmental armed forces and government-supported armed groups from recruiting and using children in combat and support roles around the world,' said the July 28 memo."
Democrats Move Swiftly Against Representative John Conyers Amid Latest Sexual Harassment Charges, The New York Times, Yamiche Alcindor, Nicholas Fandos, and Jonathan Martin, Tuesday, 21 November 2017: "Representative Nancy Pelosi, the Democratic leader, moved swiftly on Tuesday against the House's longest-serving lawmaker, calling for the House Ethics Committee to investigate sexual harassment charges against Representative John Conyers Jr., the top Democrat on the House Judiciary Committee. Mr. Conyers, 88, who has represented parts of the Detroit area in the House since 1965, confirmed the settlement of a wrongful termination complaint in 2015 from a staff member who had accused him of sexual harassment. But he denied that the staff member was fired for refusing to have sex with him. The settlement was first reported by BuzzFeed News on Monday. Ms. Pelosi and senior Democrats on the Judiciary Committee offered little support, and the Ethics Committee said it had opened an investigation."
Wednesday, 22 November 2017, Day 307:
President Trump and accusations of sexual misconduct, The Washington Post, Meg Kelly, Wednesday, 22 November 2017: "Here's a list of 13 women who have publicly come forward with claims that Trump has physically touched them inappropriately in some way, and the witnesses they provided. We did not include claims that were made only through Facebook posts or other social media, or in lawsuits that subsequently were withdrawn. We also did not include the accounts of former beauty contestants who say Trump walked in on them when they were half nude because there were no allegations of touching. Trump had bragged on the Howard Stern show of his 'inspections' during the pageants: 'You know they're standing there with no clothes. Is everybody OK? And you see these incredible looking women. And so I sort of get away with things like that.'"
Trump says that Alabama Democratic Senate candidate Doug Jones, the man who, in the late 1990s, helped convict Klan members for the notorious 1963 Birmingham church bombing that killed four black girls, is 'soft on crime,' The Washington Post, Wednesday, 22 November 2017: "Doug Jones, the Democratic Senate candidate in Alabama, made his name as a U.S. attorney in the late 1990s when he successfully prosecuted two members of the Ku Klux Klan for the notorious 1963 bombing of a Birmingham church that killed four black girls. The two men were convicted in cases that drew national attention; Bobby Frank Cherry died in prison 2004; Thomas Blanton remains incarcerated on a life sentence. So it came as a surprise to many that President Trump attacked the aspiring senator as 'soft on crime.' 'I can tell you for a fact we do not need somebody that's going to be bad on crime, bad on borders, bad with the military,' Trump said in a brief statement to reporters in which he seemed to tacitly endorse Republican candidate Roy Moore. 'You don't need somebody who's soft on crime like Jones.' The criticism echoed long-running Republican talking points about Democrats. But some said that the attack rang particularly hollow given both Jones's record as the U.S. attorney in Alabama as well as the accusations of sexual misconduct toward teenage women that have swirled around Moore for the past few weeks. MSNBC host Chris Hayes summed up many of the reactions when he tweeted incredulously about the remark. 'So Doug Jones, a lifelong prosecutor who convicted the monsters that murdered four little girls is "soft on crime," but Roy Moore, the district attorney alleged to have molested a child and sexually assaulted a 16yo is not?' he wrote. 'Got it.'"
Trump just rage-tweeted about a prominent African American again, The Washington Post, Greg Sargent, Wednesday, 22 November 2017: "Let's be clear about this: President Trump regularly goes out of his way to attack prominent African Americans not just to 'stoke the culture wars,' as this euphemism often has it — but, more precisely, to stoke the sense among many of his supporters that the system is unfairly rigged on behalf of minorities, and that he's here to put things right. This morning, Trump once again tweeted angrily about LaVar Ball, the father of a UCLA basketball player who, along with two others, had been released by China after getting arrested for shoplifting. But what's particularly noteworthy is that only minutes later Trump then tweeted about kneeling football players. What's the connection there? Here's Trump's tweetstorm: 'It wasn't the White House, it wasn't the State Department, it wasn't father LaVar's so-called people on the ground in China that got his son out of a long term prison sentence — IT WAS ME. Too bad! LaVar is just a poor man's version of Don King, but without the hair. Just think LaVar, you could have spent the next 5 to 10 years during Thanksgiving with your son in China, but no NBA contract to support you. But remember LaVar, shoplifting is NOT a little thing. It's a really big deal, especially in China. Ungrateful fool!… The NFL is now thinking about a new idea — keeping teams in the Locker Room during the National Anthem next season. That's almost as bad as kneeling! When will the highly paid Commissioner finally get tough and smart? This issue is killing your league!' Ball had previously refused to thank Trump, and the president had responded by tweeting that 'I should have left them in jail!' Today's tweets go further, suggesting Ball was insufficiently thankful to Trump personally for actions that are expected of U.S. presidential administrations. The immediate segue to kneeling football players is suggestive, and reminds us that we're seeing a pattern in Trump's public flaying of prominent African Americans. It is true that in some of these cases, Trump was attacked or at least criticized first. But it's hard to avoid noticing a gratuitously ugly pattern in Trump's responses, in which Trump vaguely suggests either that his targets are getting above their station, or that they're asking for too much and are insufficiently thankful for all that has been done for them." See also, Donald Trump's Eternal Feud With Blackness, The Atlantic, Vann R. Newkirk II, Wednesday, 22 November 2017: "In a presidency defined by its unpredictability, one of the few constants is the president's eagerness to attack black people for failing to show deference." See also, LaVar Ball Drives Trump to All-Caps Twitter Rage, The New Yorker, Ian Crouch, Wednesday, 22 November 2017.
The Trump Administration and the Censoring of Climate Change Information, The New York Times, Toly Rinberg and Andrew Bergman, Wednesday, 22 November 2017: "The Trump administration is making it harder to find government information about climate change on the web. If you searched Google for the words 'climate change' a little over six months ago, one of the first hits would have been the Environmental Protection Agency's website. But that was before April 28, when the agency began systematically dismantling its climate change website, which had survived Democratic and Republican administrations and was a leading source of information on a global problem that the president, as a candidate, labeled 'a hoax.' If you search those words today, a link to the E.P.A. site may not appear until the second or third search results page, and sometimes not even then, depending on your browser settings. The site has fallen in Google's search results because its address, or URL, no longer directs you to the climate change site or a related page. If you click that link, you'll be redirected to a notice page that says, 'We are currently updating our website to reflect E.P.A.'s priorities under the leadership' of President Trump and Scott Pruitt, the agency's administrator. That page, in turn, contains a link to an archived version of the E.P.A.'s website. Well, you might think, at least the old site has been preserved. But the archive is far from complete. A significant number of pages and PDFs are not available, and entire portions of the site, like the Student's Guide to Global Climate Change, have been left out. Some of these pages and PDFs can no longer be found anywhere within the government's web presence."
Justice Department Orders Review of Background Check System for Gun Buyers, The New York Times, Emily Cochrane, Wednesday, 22 November 2017: "The Justice Department on Wednesday ordered a federal review of a database that is used to check gun buyers' backgrounds, after a man who shot and killed more than two dozen people at a Texas church this month was omitted from the system despite a criminal record. Attorney General Jeff Sessions said he was asking the F.B.I. and the Bureau of Alcohol, Tobacco, Firearms and Explosives to conduct a comprehensive review of the database, known as the National Instant Criminal Background Check System. Mr. Sessions said in a statement that the shooting in Sutherland Springs, Tex., showed that 'relevant information may not be getting reported' to the database and that the agencies needed to determine 'the steps we can take to ensure that those who are prohibited from purchasing firearms are prevented from doing so.'"
Thursday, 23 November 2017, Day 308: Happy Thanksgiving!
A Split From Trump Indicates That Flynn Is Moving to Cooperate With Mueller, The New York Times, Michael S. Schmidt, Matt Apuzzo, and Maggie Haberman, Thursday, 23 November 2017: "Lawyers for Michael T. Flynn, President Trump's former national security adviser, notified the president's legal team in recent days that they could no longer discuss the special counsel's investigation, according to four people involved in the case — an indication that Mr. Flynn is cooperating with prosecutors or negotiating a deal. Mr. Flynn's lawyers had been sharing information with Mr. Trump's lawyers about the investigation by the special counsel, Robert S. Mueller III, who is examining whether anyone around Mr. Trump was involved in Russian efforts to undermine Hillary Clinton's presidential campaign. That agreement has been terminated, the four people said. Defense lawyers frequently share information during investigations, but they must stop when doing so would pose a conflict of interest. It is unethical for lawyers to work together when one client is cooperating with prosecutors and another is still under investigation. The notification alone does not prove that Mr. Flynn is cooperating with Mr. Mueller. Some lawyers withdraw from information-sharing arrangements as soon as they begin negotiating with prosecutors. And such negotiations sometimes fall apart. Still, the notification led Mr. Trump's lawyers to believe that Mr. Flynn — who, along with his son, is seen as having significant criminal exposure — has, at the least, begun discussions with Mr. Mueller about cooperating."
'Keep coming at me guys!!!': Donald Trump Jr. meets Russia scrutiny with defiance, The Washington Post, Drew Harwell, 23 November 2017: "Donald Trump Jr. had just posted a batch of private mes­sages he exchanged with Wiki­Leaks during last year's campaign, confirming reports that he communicated with the website that published stolen Democratic emails obtained by Russian military intelligence. 'More nothing burgers from the media and others desperately trying to create a false narrative,' the president's oldest son wrote on Instagram. 'Keep coming at me guys!!!' Faced with deepening scrutiny of contacts he had in 2016 with people tied to Russia, the 39-year-old has adopted a provocative response: defiance. In public appearances and on Twitter, Trump Jr. has taken an increasingly caustic tone, mocking critics and shoving himself into the scrum of the country's most polarizing debates. It's an unorthodox legal strategy for someone under scrutiny by congressional investigators, whose every word could be used against him. But the approach fits with the real estate executive's growing public persona as a right-wing provocateur and ardent defender of Trumpism."