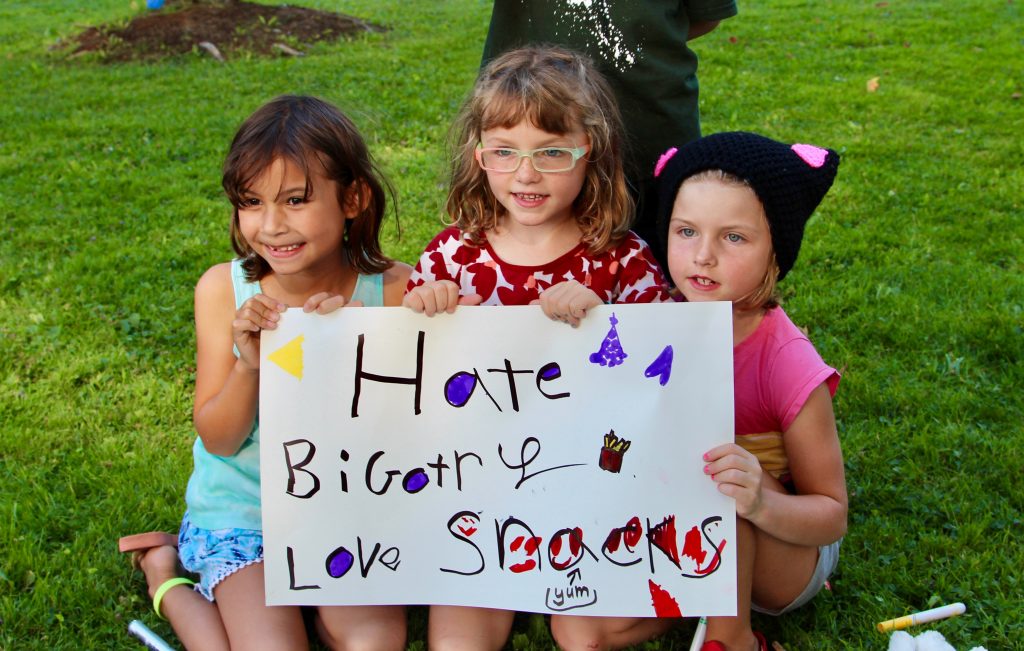 Keeping Track (of some things), Staying Outraged (it is possible), and Resisting (it's essential)
Passages in bold in the body of the texts below are my emphasis. This is an ongoing project, and I update the site frequently. I hope readers will peruse the articles in full for a better understanding of the issues and their context; our democracy and our future depend on citizens who can distinguish between facts and falsehoods and who are engaged in the political process.
Friday, 25 August 2017, Day 218:
Trump Pardons Former Arizona Sheriff Joe Arpaio, who Became the Face of the Crackdown on Illegal Immigration, The New York Times, Julie Hirschfeld Davis and Maggie Haberman, Friday, 25 August 2017: "President Trump on Friday pardoned Joe Arpaio, the former Arizona sheriff whose aggressive efforts to hunt down and detain undocumented immigrants made him a national symbol of the divisive politics of immigration and earned him a criminal contempt conviction. In a two-paragraph statement, the White House said that Mr. Arpaio gave 'years of admirable service to our nation' and called him a 'worthy candidate for a presidential pardon.'… Mr. Arpaio, 85, served for 24 years as sheriff of Maricopa County — which includes Phoenix — building a national reputation for harsh conditions in his county jail, and for his campaign against undocumented immigrants. Mr. Arpaio had touted himself as 'America's toughest sheriff,' making inmates wear pink underwear and serving jail food that at least some prisoners called inedible. He was also at the forefront of the so-called birther movement that aimed to investigate President Barack Obama's birth certificate. The criminal conviction grew out of a lawsuit filed a decade ago charging that the sheriff's office regularly violated the rights of Latinos, stopping people based on racial profiling, detaining them based solely on the suspicion that they were in the country illegally and turning them over to the immigration authorities. A federal district judge hearing the case ordered Mr. Arpaio in 2011 to stop detaining people based solely on suspicion of their immigration status, when there was no evidence that a state law had been broken. But the sheriff insisted that his tactics were legal and that he would continue employing them. He was convicted last month of criminal contempt of court for defying the order, a misdemeanor punishable by up to six months in jail. The pardon was swiftly condemned on Twitter by Democrats in Congress as 'outrageous and completely unacceptable' and a 'disgrace.' Its timing also raised eyebrows, coming on the eve of Hurricane Harvey, a Category 4 storm, barreling down on coastal Texas. Senator Chuck Schumer, Democrat of New York and the minority leader, accused Mr. Trump of 'using the cover of the storm' to pardon Mr. Arpaio and to issue a formal ban on transgender people from joining the military. (The ban also gives the secretary of defense wide latitude to decide whether currently serving transgender troops should remain in the military.)" See also, Trump pardons former Arizona sheriff Joe Arpaio, The Washington Post, Devlin Barrett and Abby Phillip, Friday, 25 August 2017. See also, ACLU Comment on Trump Pardon of  Former Arizona Sheriff Joe Arpaio, ACLU, Friday, 25 August 2017: "President Trump has pardoned former Sheriff Joe Arpaio of Maricopa County, Arizona, who was found guilty of criminal contempt for deliberately violating a federal court order that prohibited illegal detentions based only on suspicions about immigration status. The ruling stems from an initial lawsuit brought by Latino residents of Maricopa who successfully challenged Arpaio's policies of racial profiling and illegal detentions. The plaintiff class was represented by the American Civil Liberties Union and partner organizations. Arpaio repeatedly flouted court orders in that civil rights case, leading to both civil and criminal contempt rulings against him.ACLU Deputy Legal Director Cecillia Wang said: 'With his pardon of Arpaio, Trump has chosen lawlessness over justice, division over unity, hurt over healing. Once again, the president has acted in support of illegal, failed immigration enforcement practices that target people of color and have been struck down by the courts. His pardon of Arpaio is a presidential endorsement of racism.'" See also, The Joe Arpaio I Knew, ProPublica, Ryan Gabrielson, published on Tuesday, 15 August 2017: "Ryan Gabrielson and Paul Giblin were awarded a 2009 Pulitzer Prize for revealing how Arpaio's 'focus on immigration enforcement endangered investigation of violent crime and other aspects of public safety.'" See also, Sheriff Joe: Joe Arpaio is tough on prisoners and undocumented immigrants. What about on crime? The New Yorker, William Finnegan, published on 20 July 2009.
Latinos Express Outrage After Trump Pardons Former Arizona Sheriff Joe Arpaio, The New York Times, Simon Romero, Friday, 25 August 2017: "Few of President Trump's actions have touched a nerve among Latinos across the political spectrum in the United States quite like his pardon of Joe Arpaio, the former Arizona sheriff who was found guilty of criminal contempt after defying a federal judge's order to stop targeting Latinos based solely on suspicion of their immigration status. And this from a president who has called Mexican immigrants rapists, attacked a judge over his 'Mexican heritage' and repeatedly vowed that Mexico, instead of American taxpayers, would pay for a wall on the southern border. Artemio Muniz, the chairman of the Texas Federation of Hispanic Republicans, said Friday night that he was 'beyond disgusted' by the pardon, saying on Twitter that the move essentially placed Mr. Arpaio above the law."
Sebastian Gorka Is Forced Out as White House Adviser, Officials Say, The New York Times, Maggie Haberman and Matt Stevens, Friday, 25 August 2017: "Sebastian Gorka, an outspoken adviser to President Trump and lightning rod for controversy, has been forced out of his position at the White House, two administration officials said on Friday. One of the officials said that the president's chief of staff, John F. Kelly, had telegraphed his lack of interest in keeping Mr. Gorka during internal discussions over the last week. Mr. Gorka, a deputy assistant to the president, had been on vacation for at least the last two weeks, that official said. The officials spoke on the condition of anonymity because they were not authorized to speak publicly about personnel issues. The Federalist, a conservative website, published portions of what it called a resignation letter written by Mr. Gorka. It quoted him as saying that given which 'forces' were on the rise in the White House, the best way for him to support the president was from outside it. The White House, seeking to blunt Mr. Gorka's claim that he had resigned, put out an unattributed statement saying that he no longer works in the administration, but that he did not resign. His departure is the latest in a string of them since Mr. Kelly, a retired Marine general, took over as the White House chief of staff last month. Mr. Gorka criticized Rex W. Tillerson, the secretary of state, in a public show of disrespect that chafed Mr. Kelly's sense of order, according to one senior administration official."
Continue reading Week 32, Friday, 25 August – Thursday, 31 August 2017:
Trump's economic adviser says president 'must do better' to denounce white nationalism, The Washington Post, Damian Paletta and Philip Rucker, Friday, 25 August 2017: "Gary Cohn, the White House economic adviser who stood beside President Trump last week as he blamed 'many sides' for violence during the deadly white supremacist rally in Charlottesville, said the Trump administration now 'must do better' to condemn neo-Nazis and other hate groups. Making his first public comments since the president said there were 'very fine people' among the demonstrators brandishing Confederate battle flags and swastikas, Cohn said in an interview published Friday that he has faced 'enormous pressure' to resign. Cohn, who is Jewish, is the director of the White House National Economic Council and a former president of Goldman Sachs. He had been described last week by confidants as deeply anguished and angry over Trump's equivocal responses to the Charlottesville violence. 'This administration can and must do better in consistently and unequivocally condemning these groups and do everything we can to heal the deep divisions that exist in our communities,' Cohn said in an interview with the Financial Times. Cohn's comments make clear that, as The Washington Post reported last week, he was advised by some friends to resign and others urged him to stay. The White House on Thursday took the unusual step of saying that Cohn would not resign, trying to contain the political fallout." See also, Gary Cohn, Trump's Economic Adviser, Said to Have Drafted Resignation Letter After Charlottesville, The New York Times, Kate Kelly and Maggie Haberman, Friday, 25 August 2017: "Gary D. Cohn, the director of the White House Economic Council, wrote a resignation letter after President Trump blamed 'both sides' in the deadly protest this month against a Charlottesville, Va., rally by white supremacists and neo-Nazis, according to three people familiar with the document. Mr. Cohn ultimately changed his mind and decided in recent days to remain on as Mr. Trump's chief economic adviser, said one person familiar with his thinking. But in a stunning critique of the president, Mr. Cohn told The Financial Times in an interview published on Friday that the Trump administration 'can and must do better' to condemn hate groups and 'do everything we can to heal the deep divisions that exist in our communities.'"
Federal Reserve Chairwoman Janet L. Yellen offered a forceful defense of broad new banking regulations enacted after the 2008 financial crisis, The Washington Post, Damian Paletta, Friday, 25 August 2017: "Federal Reserve Chairwoman Janet L. Yellen offered a forceful defense of broad new banking regulations enacted after the 2008 financial crisis, saying the rules safeguard the economy against another crisis and rejecting assertions from President Trump and top aides that they should be rolled back. Yellen's speech, delivered here to an annual gathering of central bankers, finance ministers and economists, comes as Trump considers whether to reappoint her to a four-year term as head of the U.S. central bank. Yellen, 71, made clear in her speech on Friday that she believes tighter regulations and standards have made the banking system safer and that while some improvements could be made, they should be modest, not structural."
Trump Gives Defense Secretary Jim Mattis Wide Discretion Over Transgender Ban, The New York Times, Michael R. Gordon and Emily Cochrane, Friday, 25 August 2017: "President Trump signed a long-awaited directive on Friday that precludes transgender individuals from joining the military but gives Defense Secretary Jim Mattis wide discretion in determining whether those already in the armed forces can continue to serve. Mr. Mattis's decisions will be based on several criteria, including military effectiveness and budgetary concerns, a senior White House official said in briefing reporters. Left unclear was how many of the thousands of transgender service personnel estimated to be in the military might keep serving. By putting the onus on Mr. Mattis, the president appeared to open the door to allowing at least some transgender service members to remain in the military…. Mr. Mattis has six months to develop a plan to implement Mr. Trump's directive, which also applies to the Department of Homeland Security, where the Coast Guard is housed. The White House official, who spoke on the condition of anonymity under White House ground rules for the briefing, described the memo as a return to policies in place before the Obama administration moved last year to allow transgender people to serve openly in the military without fear of punishment. The official also said that the military would no longer pay for sex reassignment surgeries unless withholding such funds would harm the health of someone already transitioning."
Saturday, 26 August 2017, Day 219:
Why Trump's Pardon of Former Arizona Sheriff Joe Arpaio Follows Law, Yet Challenges It, The New York Times, Adam Liptak, Saturday, 26 August 2017: "President Trump's decision to pardon Joe Arpaio was characteristically unconventional. It came late on a Friday night as a hurricane bore down on Texas. It concerned a crime some said was particularly ill-suited to clemency, and it was not the product of the care and deliberation that have informed pardons by other presidents. But it was almost certainly lawful. The Constitution gives presidents extremely broad power to grant pardons. Last month, a federal judge found Mr. Arpaio, a former Arizona sheriff, guilty of criminal contempt for defying a court order to stop detaining immigrants based solely on the suspicion that they were in the country illegally. The order had been issued in a lawsuit that accused the sheriff's office of violating the Constitution by using racial profiling to jail Latinos. Mr. Arpaio had faced a sentence of up to six months in jail. Mr. Trump thus used his constitutional power to block a federal judge's effort to enforce the Constitution. Legal experts said they found this to be the most troubling aspect of the pardon, given that it excused the lawlessness of an official who had sworn to defend the constitutional structure. Noah Feldman, a law professor at Harvard, argued before the pardon was issued that such a move 'would express presidential contempt for the Constitution.' 'Arpaio didn't just violate a law passed by Congress,' Professor Feldman wrote on Bloomberg View. 'His actions defied the Constitution itself, the bedrock of the entire system of government.' By saying Mr. Arpaio's offense was forgivable, Professor Feldman added, Mr. Trump threatens 'the very structure on which his right to pardon is based.' It was the first act of outright defiance against the judiciary by a president who has not been shy about criticizing federal judges who ruled against his businesses and policies. But while the move may have been unusual, there is nothing in the text of the Constitution's pardons clause to suggest that he exceeded his authority."
Trump Asked Top Aides Months Ago if Arpaio Case Could Be Dropped, Officials Say, The New York Times, Maggie Haberman, Saturday, 26 August 2017: "Months before President Trump issued his Friday-night pardon of Joe Arpaio, the former Arizona sheriff, the president asked his attorney general and White House counsel whether the case could be dropped altogether, according to four administration officials familiar with the discussion. During a wide-ranging meeting, the officials said, Mr. Trump asked both Jeff Sessions, the attorney general, and Donald F. McGahn II, the White House counsel, what the options were for helping Mr. Arpaio, a longtime supporter who had been charged with defying a court order directing him to stop detaining people solely on the suspicion that they were undocumented immigrants. Mr. McGahn and Mr. Sessions both promptly told the president that the case could not be dropped and the charges wiped away, according to the officials, who spoke on the condition of anonymity because they were not authorized to speak publicly about Mr. Trump's private conversations. Mr. Trump then asked about other options, including his power to pardon Mr. Arpaio if he was convicted. He was told he had broad pardon powers, and was satisfied with that answer, the officials said. Mr. Arpaio was ultimately convicted last month, and Mr. Trump pardoned him before he was sentenced."
What authoritarianism experts think of Trump's decision to pardon former Arizona Sheriff Joe Arpaio, The Washington Post, Amanda Erickson, Saturday, 26 August 2017: "On Friday night, as Hurricane Harvey was bearing down on the Texas coast, President Trump pardoned Joe Arpiao. The former Arizona sheriff had been convicted of criminal contempt for ignoring a judge's orders to stop detaining people simply because he suspected them of being undocumented immigrants. (Over his decade-long career, his Maricopa County department was also accused of abusing prisoners, subjecting inmates to inhumane punishment and of ignoring other important crimes to track and expel immigrants.) It's a controversial decision, one that Trump critics labeled as an example of the president's illiberal, rule-of-law violating, authoritarian impulses. New York magazine called it, 'Donald Trump's gravest abuse of power yet.' An op-ed contributor for the New York Times said that Trump's decision put him in 'uncharted waters,' writing  'if the president can employ the pardon power to circumvent constitutional protections of liberty, there is very little left of the constitutional checks on presidential power.' Bob Bauer, a former White House counsel in the Obama administration, suggested on Lawfare that  the decision showed a clear disregard for the rule of law. Even before Trump granted the pardon, Noah Feldman, a law professor at Harvard, argued that such a move 'would express presidential contempt for the Constitution.'"
Late Wages for Migrant Workers at a Trump Golf Course in Dubai, The New York Times, Peter S. Goodman, Saturday 26 August 2017: "They are not inclined to complain, not about the merciless sun or the 110-degree heat, as they labor to transform the pale sands of the Arabian desert into verdant fairways. They accept with resignation that their families are far away, in India, Pakistan or Nepal. What these migrant workers cannot abide is how frequently their employer, a local construction company, pays them late, delaying the money they send home and forcing their families to borrow. They are especially frustrated given where they have been dispatched to work — the Trump International Golf Club, part of President Trump's global array of business interests."
Sunday, 27 August 2017, Day 220:
Does Trump Represent U.S. Values? 'The President Speaks for Himself,' Secretary of State Rex Tillerson Says, The New York Times, Noah Weiland, Sunday, 27 August 2017: "Secretary of State Rex W. Tillerson, addressing President Trump's blaming of 'both sides' in the racially charged violence in Charlottesville, Va., declined to say on Sunday whether Mr. Trump's response represented 'American values.' 'The president speaks for himself,' Mr. Tillerson said on 'Fox News Sunday.' Asked by the host, Chris Wallace, about a United Nations statement condemning the president's words, Mr. Tillerson said that 'I don't believe anyone doubts the American people's values' or the government's commitment to them. Mr. Wallace then inquired about Mr. Trump's own values. After Mr. Tillerson's pointed response, Mr. Wallace asked whether he was separating himself from the president on the issue. Mr. Tillerson answered: 'I have spoken. I have made my own comments as to our values as well in a speech I gave to the State Department this past week.'" See also, Secretary of State Rex Tillerson says Trump 'speaks for himself' on values, The Washington Post, Anne Gearan, Sunday, 27 August 2017.
Trump to Fully Restore Military Surplus Transfers to Police, The New York Times, Adam Goldman, Sunday, 27 August 2017: "The Trump administration plans to reinstate in full a program that provides local police departments with military surplus equipment such as large-caliber weapons and grenade launchers, according to a document obtained by The New York Times. Attorney General Jeff Sessions is expected to announce the changes to the program on Monday when he speaks at a Fraternal Order of Police conference in Nashville. It was not immediately clear why Mr. Sessions would announce changes to a Pentagon program, but he has rolled back several Obama-era policing reforms and helped bolster the Trump administration's support among law enforcement. President Barack Obama put limits on the program in 2015, when several high-profile cases of police officers killing black men inflamed tensions between law enforcement and local communities. The shooting death of 18-year-old Michael Brown in Ferguson, Mo., in 2014 by a white police officer triggered protests and a heavily armed police response that many in the community saw as unnecessary. Images of the police with sniper rifles on top of armored cars or wearing riot gear to watch over protests set off a debate about whether police departments had lost sight of their missions to serve and protect. 'We've seen how militarized gear can sometimes give people a feeling like they're an occupying force,' Mr. Obama said in announcing that he was placing curbs on the program." See also, Trump Reverses Restrictions on Military Hardware for Police and Fully Restores Military Surplus Transfers to Police, The New York Times, Adam Goldman, published on Monday, 28 August 2017.
Trump's business sought deal on a Trump Tower in Moscow while he ran for president, The Washington Post, Carol D. Leonnig, Tom Hamburger, and Rosalind S. Helderman, Sunday, 27 August 2017: "While Donald Trump was running for president in late 2015 and early 2016, his company was pursuing a plan to develop a massive Trump Tower in Moscow, according to several people familiar with the proposal and new records reviewed by Trump Organization lawyers. As part of the discussions, a Russian-born real estate developer urged Trump to come to Moscow to tout the proposal and suggested that he could get President Vladimir Putin to say 'great things' about Trump, according to several people who have been briefed on his correspondence. The developer, Felix Sater, predicted in a November 2015 email that he and Trump Organization leaders would soon be celebrating — both one of the biggest residential projects in real estate history and Donald Trump's election as president, according to two of the people with knowledge of the exchange. Sater wrote to Trump Organization Executive Vice President Michael Cohen 'something to the effect of, "Can you believe two guys from Brooklyn are going to elect a president?"' said one person briefed on the email exchange. Sater emigrated from what was then the Soviet Union when he was 6 and grew up in Brooklyn. Trump never went to Moscow as Sater proposed. And although investors and Trump's company signed a letter of intent, they lacked the land and permits to proceed and the project was abandoned at the end of January 2016, just before the presidential primaries began, several people familiar with the proposal said. Nevertheless, the details of the deal, which have not previously been disclosed, provide evidence that Trump's business was actively pursuing significant commercial interests in Russia at the same time he was campaigning to be president — and in a position to determine U.S.-Russia relations. The new details from the emails, which are scheduled to be turned over to congressional investigators soon, also point to the likelihood of additional contacts between Russia-connected individuals and Trump associates during his presidential bid." See also, Trump Associate Boasted That Moscow Business Deal 'Will Get Donald Elected,' The New York Times, Matt Apuzzo and Maggie Haberman, published on Monday, 28 August 2017.
Pro-Trump group cancels San Francisco rally as hundreds of counterprotesters march on the streets, The Washington Post, Kristine Phillips, Sunday, 27 August 2017: "Hundreds of counterprotesters marched on the streets of San Francisco on Saturday, the same day that organizers of a right-wing group canceled their events and moved locations, saying they wanted to avoid a riot. The pro-Trump group Patriot Prayer canceled the 'Freedom Rally,' as city leaders braced for the kind of protest that drew extremist groups to Charlottesville, Virginia earlier this month. The Oregon-based group then planned to hold a news conference instead — but that, too, did not happen after the city blocked the venue from the public. Meanwhile, hundreds of counterprotesters gathered at a San Francisco park on Saturday morning and marched until the afternoon, according to media reports."
Monday, 28 August 2017, Day 221:
Trump Eyed 'Far Higher' Ratings in Pardoning Joe Arpaio as Hurricane Harvey Hit Texas, The New York Times, Glenn Thrush and Julie Hirschfeld Davis, Monday, 28 August 2017: "President Trump offered a fiery defense on Monday of his decision to pardon Joe Arpaio, the former Arizona sheriff, as Hurricane Harvey made landfall in Texas last week — and claimed he timed it to attract maximum attention as television viewers were glued to storm coverage…. 'I thought he was treated unbelievably unfairly,' Mr. Trump said during a joint news conference with President Sauli Niinisto of Finland in the East Room of the White House. The president and Mr. Arpaio share a hard line on illegal immigration and unapologetic support of the police, and the former sheriff was an ardent backer of Mr. Trump's campaign last year. 'A lot of people think it was the right thing to do,' Mr. Trump said on Monday of the pardon. 'Actually, in the middle of a hurricane, even though it was a Friday evening, I assumed the ratings would be far higher than they were normally.'" See also, Trump defends his pardon of former Arizona sheriff Joe Arpaio and says he assumed the 'ratings would be far higher' by announcing during hurricane Harvey, The Washington Post, Ashley Parker, Monday, 28 August 2017.
North Korean missile flies over Japan, escalating tensions and prompting an angry response from Tokyo, The Washington Post, Anna Fifield, Monday, 28 August 2017: "North Korea launched a ballistic missile Tuesday morning that flew over the northern Japanese island of Hokkaido, the most brazen provocation of Kim Jong Un's five-year-long rule and one that elicited strong condemnation from U.S. allies Japan and South Korea. The launch poses a further challenge, in particular, to President Trump, who has made North Korea a favorite rhetorical target. Trump said earlier this month that he would make Kim 'truly regret' harming the United States or its allies. In Japan, the prime minister was visibly agitated by North Korea's actions. 'A missile launch across Japan is an outrageous act that poses an unprecedented, grave and serious threat, and significantly undermines the peace and security of the region,' Shinzo Abe said after an emergency national security council meeting. Japan's upgraded missile response system swung into action, sending emergency alerts through cellphones and over loudspeakers shortly after 6 a.m., warning people on the potential flight path of the threat and advising them to take cover." See also, North Korea Fires Missile Over Japan, The New York Times, Choe Sang-Hun and David E. Sanger, Monday, 28 August 2017.
Illinois becomes the 10th state to automatically register voters, a Democratic Party goal, The Washington Post, David Weigel, Monday, 28 August 2017: "Locked out of power in much of the country, Democrats celebrated a victory today in the fifth most populous state when Gov. Bruce Rauner (R-Ill.) signed automatic voter registration into law. 'I think we have a good, strong piece of legislation that makes it easier for everyone who's eligible to vote to be able to vote,' Rauner said in a signing statement, thanking Democrats who amended a bill that he'd once opposed. And by signing on, Rauner made Illinois the 10th state to start implementing 'AVR,' which in just two years has become a defining cause for progressive activists. Progressive think tanks have sold the idea as a cheap way to increase voter turnout. Democrats see it as a way to increase their margins with voters likely to agree with them, but unlikely to take time to register. Our Revolution, the activist group launched by Sen. Bernie Sanders (I-Vt.), is pressuring legislators to endorse Sanders's national AVR bill, which like most progressive bills is stalled. 'If we believe in a vibrant democracy, we need to have the highest voter turnout in the world,' Sanders said last year, after Vermont joined the shortlist of AVR states. 'Enough with cowardly politicians protecting themselves by suppressing the vote.'"
Tuesday, 29 August 2017, Day 222:
Trump: 'All options are on the table' after North Korea launched missile over Japan, The Washington Post, John Wagner and Anna Fifield, Tuesday, 29 August 2017: "President Trump said that 'all options are on the table' following North Korea's latest missile launch early Tuesday, this one fired over Japan and into the Pacific Ocean in the most brazen provocation of Kim Jong Un's five-year-long rule. 'The world has received North Korea's latest message loud and clear: This regime has signaled its contempt for its neighbors, for all members of the United Nations, and for minimum standards of acceptable international behavior,' Trump said Tuesday morning in a statement. 'Threatening and destabilizing actions only increase the North Korean regime's isolation in the region and among all nations of the world. All options are on the table.' Despite the grave warning, Trump's statement was notably measured in contrast to his response to previous tests of ballistic missile launches by North Korea. After a recent spate, he promised 'fire and fury' if the isolated nation continued to provoke the United States."
Trump Won't Stop Treating Hurricane Harvey Like a Campaign Rally, Saying in Corpus Christi 'What a crowd, what a turnout,' Mother Jones, Inae Oh, Tuesday, 29 August 2017: "President Donald Trump arrived in Corpus Christi, Texas, on Tuesday, where he met with emergency responders to discuss Hurricane Harvey relief efforts, and extend his support to Gov. Greg Abbott amid the storm's devastation. The president was joined by first lady Melania Trump, as well as several cabinet members, including Housing and Urban Development Secretary Ben Carson, Health and Human Services Secretary Tom Price, and the Small Business Administration boss, Linda McMahon. But it's perhaps what Trump failed to leave behind in Washington that's been attracting the most attention today: his signature bravado, exaggeration, and self-congratulation. During his brief visit on Tuesday, Trump repeatedly relied on superlatives to describe his administration's response to the storm, labeling it 'better than ever.' At one point, he commended FEMA administrator Brock Long for 'becoming very famous on television' over the past several days…. Despite the dire backdrop, the president appeared to relish his visit, boasting about the size of the crowd that gathered during his tour. One moment in particular recalled the tone of a Trump political rally: 'Thank you everybody, I just want to say we love you, you are special, we're here to take care,' he said, atop a firetruck. 'I want to thank you for coming out. We're gonna get you back and operating immediately, thank you everybody.' He added: 'What a crowd, what a turnout.'"
ExxonMobil refineries are damaged in Hurricane Harvey, releasing hazardous pollutants, The Washington Post, Steven Mufson, Tuesday, 29 August 2017: "ExxonMobil acknowledged Tuesday that Hurricane Harvey damaged two of its refineries, causing the release of hazardous pollutants. The acknowledgment, in a regulatory filing with the Texas Commission on Environmental Quality, follows repeated complaints on Twitter of an 'unbearable' chemical smell over parts of Houston. However, it was not immediately clear what caused the smell. ExxonMobil said in the filings that a floating roof covering a tank at the company's Baytown oil refinery sank in heavy rains, dipping below the surface of oil or other material stored there and causing unusually high emissions, especially of volatile organic compounds, a category of regulated chemicals. The Baytown refinery is the second-largest in the country. The company said in its filing that it would need to empty the tank to make repairs, though it wasn't clear when the weather would permit that."
Trump's rollback of Obama-era flood protections risks further Houston-style calamity, The Guardian, Benjamin Preston, Tuesday, 29 August 2017: "As tropical storm Harvey spins slowly over the Gulf coast, catastrophic flooding has forced tens of thousands from their homes in and near Houston. And with the storm moving into Louisiana, officials only expect the number of people whose lives are upended by it to increase. An executive order issued by Trump earlier this month revoked an Obama-era directive that had established flood-risk standards for federally funded infrastructure projects built in areas prone to flooding or subject to the effects of sea-level rise – like many of those now sinking in Texas. Houston already has some of the laxest building regulations for structures in potential flood zones and the president wants to spread that policy across the US."
Trump would slash disaster funding to the very agencies he's praising for Hurricane Harvey response, The Washington Post, Lisa Rein, Tuesday, 29 August 2017: "As he toured rising floodwater in Texas on Tuesday, President Trump effusively praised his administration's Hurricane Harvey response, an effort he began touting on Twitter last weekend even before the storm made landfall. But not too long ago, the president proposed a budget calling for cuts to some of the federal government's most consequential efforts to prepare states and local communities and help them recover from catastrophic events such as Harvey. Congress is likely to approve a Harvey recovery bill, as it has after past disasters, to cover the huge cost of storm damages. The cuts proposed by the Trump administration would slice away funding for long-term preparedness efforts, many of them put in place to address the sluggish federal response to Hurricane Katrina in 2005. The proposed cuts would include programs run by the Federal Emergency Management Agency, whose new administrator was praised by Trump in a tweet last weekend for 'doing a great job'; the Department of Housing and Urban Development, which helps rebuild homes, parks, hospitals and community centers; the National Weather Service, which forecasts extreme storms; and the National Oceanic and Atmospheric Administration, whose research and community engagement help coastal residents prepare for disaster. 'The president has definitely sent a signal with his budget that emergency management is not of interest,' said Scott Knowles, a historian at Drexel University who studies risk and disaster."
Houston: Boomtown, Flood Town, The Texas Tribune and ProPublica,  Neena Satija for The Texas Tribune and Reveal and Kiah Collier for The Texas Tribune and Al Shaw for ProPublica, published on Wednesday, 7 December 2016: "Climate change will bring more frequent and fierce rainstorms to cities like Houston, But unchecked development remains a priority in the famously unzoned city, creating short-term economic gains for some while increasing flood risks for everyone."
Defense Secretary Jim Mattis Says That a Panel Will Study Trump's Transgender Military Ban and That Transgender Service Members Will Be Allowed to Continue to Serve Pending the Results of the Study, The New York Times, Helene Cooper, Tuesday, 29 August 2017: "Defense Secretary Jim Mattis kicked President Trump's proposed ban on transgender people serving in the military down the road, announcing that transgender service members will continue to be allowed to serve pending the results of a study. In a statement on Tuesday evening, Mr. Mattis said that he was establishing a panel of experts, serving within the Pentagon and the Homeland Security Department, whose task will be to 'provide advice and recommendations on the implementation of the president's direction.' Mr. Trump announced last month in an abrupt series of tweets that transgender people would no longer be allowed to serve in the military. The Twitter messages took the Pentagon by surprise, and since then, Defense Department officials have been trying to cobble together a policy that takes into account their desire to allow currently serving transgender people to remain, while at the same time following the dictates of a commander in chief who, by most accounts, had not put a lot of study into the ramifications of his instructions."
Donald Trump Jr. is set to testify before the Senate Judiciary panel, Politico, Ali Watkins and Josh Dawsey, Tuesday, 29 August 2017: "The Senate Judiciary Committee has reached an agreement and set a date for Donald Trump Jr. to testify behind closed doors to the panel, the committee confirmed on Tuesday. The committee would not divulge the exact date, but another source familiar with the matter said the testimony would likely occur in the 'next few weeks.' Trump Jr. is expected to be grilled about his meeting with a Kremlin-linked lawyer during his father's presidential campaign in which he was promised compromising information on Hillary Clinton. Trump Jr. had been called to publicly testify before Senate Judiciary in July, but the president's eldest son offered to give a private interview and provide documents to the committee's investigators instead. Sens. Chuck Grassley (R-Ia.) and Dianne Feinstein (D-Calif.), the panel leaders, said in July that they still intend to hold a public hearing with Trump Jr. after speaking with him privately, and would subpoena him to appear in open session if necessary."
Wednesday, 30 August 2017, Day 223:
Trump Says He Will Not Talk to North Korea. Experts Fear He Will. The New York Times, Mark Landler, Wednesday, 30 August 2017: "President Trump vowed on Wednesday that he would not talk to Kim Jong-un, cooling off what has become his on-again, off-again cultivation of North Korea's rogue dictator. But if Mr. Trump's tweet, in which he said, 'talking is not the answer!,' seemed to reignite tensions with North Korea, it also revealed a paradox in how Asia experts view the crisis. Some fear less that Mr. Trump is going to start a war with Mr. Kim than that he is going to stumble into a risky, unpredictable dialogue with him. The world's attention has understandably focused on Mr. Trump's saber-rattling threats against Mr. Kim — most dramatically, his promise to rain 'fire and fury' on North Korea if Mr. Kim fired ballistic missiles at United States territory. But a meeting between Mr. Trump and Mr. Kim, these experts said, could open the door to ratifying North Korea's nuclear status or scaling back America's joint military exercises with South Korea. That could sunder American alliances with Japan and South Korea and play to the benefit of China, which has long advocated direct dialogue between Washington and Pyongyang…. Hours after Mr. Trump ruled out talks on Twitter, Defense Secretary Jim Mattis contradicted him. 'We're never out of diplomatic solutions,' he told reporters. In Geneva, Robert A. Wood, the American ambassador to the Conference on Disarmament, said the United States remained open to dialogue. 'We do not seek to be a threat to the Kim Jong-un regime,' he said." See also, Trump says "talking is not the answer' with North Korea after the Pentagon's latest missile-defense test, The Washington Post, Dan Lamothe, Wednesday, 30 August 2017.
U.N. Human Rights Chief Zeid Ra'ad al-Hussein Condemns Trump's Attacks on the Media and Says the Attacks Could Have Dangerous Consequences Outside the U.S., The New York Times, Nick Cumming-Bruce, Wednesday, 30 August 2017: "The United Nations human rights chief said on Wednesday that President Trump's repeated denunciations of some media outlets as 'fake news' could amount to incitement to violence and had potentially dangerous consequences outside the United States. The rebuke by Zeid Ra'ad al-Hussein, the high commissioner for human rights, at a news conference in Geneva was an unusually forceful criticism of a head of state by a United Nations official. Mr. al-Hussein was reacting to Mr. Trump's recent comments at a rally in Phoenix during which he spoke of 'crooked media deceptions' in reports of the violent clashes at a white nationalist rally in Charlottesville, Va., that resulted in the death of a counterprotester. In Phoenix, the president's words also appeared to whip up audience hostility toward journalists." See also, Trump's attacks on the press 'could amount to incitement,' U.N. human rights chief Zeid Ra'ad al-Hussein says, The Washington Post, Max Bearak, Wednesday, 30 August 2017.
Trump in Missouri Lays the Groundwork for Tax Overhaul but Offers No Details, The New York Times, Julie Hirschfeld Davis and Binyamin Appelbaum, Wednesday, 30 August 2017: "President Trump on Wednesday pitched a sweeping tax overhaul that he said would unleash the American economy and help ordinary people, promising that a large corporate tax cut and trims to individual income tax rates would boost the middle class. The president wrapped his message in the populist rhetoric that powered his presidential campaign. But he described a plan that on its surface appears to offer relatively little to ordinary Americans, granting instead huge tax cuts — 'the biggest ever,' he said — to corporations and their shareholders. Mr. Trump gave few specifics on Wednesday beyond a goal of slashing the corporate tax rate to 15 percent, down from 35 percent, and eliminating 'loopholes and complexity that primarily benefit the wealthiest Americans and special interests,' a reference to his call to scrap some itemized deductions in the code." See also, Fact-checking some of the  fishy and misleading claims Trump made in his speech in Missouri on his tax plan, The Washington Post, Glenn Kessler and Michelle Ye Hee Lee, published on Thursday, 31 August 2017.
Trump phoned Charles Grassley, chairman of the Senate Judiciary Committee investigating Trump's son's Russia contacts, to assure Grassley that he is pro-ethanol, The Washington Post, Karoun Demirjian and Philip Rucker, Wednesday, 30 August 2017: "President Trump called the head of the Senate Judiciary Committee to talk about one of his most important parochial issues — ethanol — shortly before the committee is slated to interview his son in its ongoing Russia probe. Senate Judiciary Committee Chairman Charles E. Grassley's panel will be hosting Trump's son next month for an interview behind closed doors in its ongoing Russia probe — something the committee has been trying to do since it was revealed that Donald Trump, Jr. accepted a meeting in Trump Tower with a Russian lawyer claiming Kremlin connections during the campaign. Headlines about that committee meeting, which Grassley (R-Iowa) has been trying to set up for weeks, gripped headlines and cable news chyrons on Tuesday night. On Wednesday morning, Grassley announced via Twitter that the president had called him to discuss not Russia, but ethanol, proudly announcing that 'he assured me he's pro ethanol' and that Grassley was free to tell the people of Iowa 'he's standing by his campaign PROMISE.'"
Special counsel Robert Mueller teams up with New York attorney general Eric Schneiderman in Paul Manafort Russia probe, Politico, Josh Dawsey, Wednesday, 30 August 2017: "Special counsel Robert Mueller's team is working with New York Attorney General Eric Schneiderman on its investigation into Paul Manafort and his financial transactions, according to several people familiar with the matter. The cooperation is the latest indication that the federal probe into President Donald Trump's former campaign chairman is intensifying. It also could potentially provide Mueller with additional leverage to get Manafort to cooperate in the larger investigation into Trump's campaign, as Trump does not have pardon power over state crimes. The two teams have shared evidence and talked frequently in recent weeks about a potential case, these people said. One of the people familiar with progress on the case said both Mueller's and Schneiderman's teams have collected evidence on financial crimes, including potential money laundering." See also, Trump and Paul Manafort get big reminder that pardon power does not extend to state crimes, The Washington Post, Fred Barbash, published on Thursday, 31 August 2017: "Politico reported Wednesday that New York's attorney general Eric Schneiderman is now working with special counsel Robert S. Mueller III in the probe of financial transactions involving Paul Manafort, a story independently confirmed by The Washington Post by a source familiar with the investigation."
Kremlin says it got the email about a stalled Trump Tower real estate project in Moscow, but it didn't respond, The Washington Post, Andrew Roth, Wednesday, 30 August 2017: "A spokesman for Russian President Vladi­mir Putin confirmed on Wednesday that he had received a request for assistance on a stalled Trump Tower real estate project in Moscow from a close aide to President Trump during the 2016 presidential campaign, but added that the Kremlin did not respond to the letter. 'I confirm that among a number of emails one from Mr. Michael Cohen came to us. This indeed happened,' said Dmitry Peskov, a personal spokesman for Putin, during a telephone briefing with Russian and foreign journalists. 'But as far as we don't respond to business topics, this is not our job, we did not send a response.' The stalled deal as described to congressional investigators by Cohen, a close aide to Trump since 2007 who now serves as one of his personal lawyers, was for a licensing project between Trump and a Moscow-based developer called I.C. Expert Investment. According to Cohen, Trump signed a letter of intent with the company in October 2015, but added that the project was later abandoned for 'business reasons.'"
The Trump administration halted an Obama-era rule to shrink the gender wage gap, The Washington Post, Danielle Paquette, Wednesday, 30 August 2017: "The Trump administration has halted a rule that would have required large companies to report to the government what they pay employees by race and gender — an Obama-era policy that aimed to close what economists call the wage gap. The decision landed Tuesday evening, prompting outrage from groups who note that women and minorities still aren't receiving equal pay for equal work. Some of the furor was directed at Ivanka Trump, who has previously spoken out against wage disparities and workplace discrimination."
Sexual Assault Report Drops From White House Website, But It Remains on the Obama Administration's Archived Website, Huff Post, Alanna Vagianos, Wednesday, 30 August 2017: "The Trump administration removed a 2014 report on sexual violence from the White House website. Alexandra Brodsky, a civil rights attorney and co-founder of anti-sexual violence organization KnowYourIX, noticed Wednesday morning that the 'Rape And Sexual Assault: Renewed Call To Action' report had been taken down. The report can still be accessed on the Obama administration's archived website. 'I went looking for it because I'm working on briefing for a client who's a survivor and was looking for some literature about the impact of sexual violence and that's been a really helpful resource for that kind of research,' Brodsky told HuffPost. 'But it was no longer on the White House website. It's not anywhere on the White House website.' While it is commonplace for the White House website to be cleared of its digital content during transitions between presidential administrations, it is unclear whether this report was taken down during the administration turnover on Inauguration Day, which was Jan. 20, or in the months since then. The report, which can also be found on KnowYourIX's website, was created under the Obama administration by the 2014 White House Council on Women and Girls in partnership with then-Vice President Joe Biden. The findings of the report consist mainly of nonpartisan facts about sexual violence including sexual assault statistics and different ways the criminal justice system and college campuses can improve in combatting sexual and gender violence."
Federal Judge Blocks Texas' Ban on 'Sanctuary Cities,' The New York Times, Manny Fernandez, Wednesday, 30 August 2017: "A federal judge in San Antonio on Wednesday blocked Texas from enforcing its ban on so-called sanctuary cities, questioning the constitutionality of a law that has pitted Republican state leaders against several Democratic-leaning cities. The judge's ruling was only temporary, and prevents the law from taking effect on Friday while a suit against it goes forward. But the decision, which Texas said it would appeal, served as a legal blow to one of the toughest state-issued immigration laws in the country and puts the brakes on a measure backed by the Trump administration that critics had called anti-Latino. The law has become so divisive that it served as the backdrop of a shoving match at the Texas Capitol between Hispanic Democratic lawmakers and their white Republican colleagues. The law, known as Senate Bill 4 or S.B. 4, prohibits cities and counties from adopting policies that limit immigration enforcement, allows police officers to question the immigration status of anyone they detain or arrest and threatens officials who violate the law with fines, jail time and removal from office. It also directs local officials to cooperate with so-called immigration detainer requests, which allow foreign-born detainees to be transferred to federal custody after they are released from state or local custody. A number of the state's biggest cities, including Houston, Austin, San Antonio and Dallas, all of which are run by Democrats, joined a lawsuit against Texas seeking to strike down the law, which was passed by the Republican-controlled Legislature and signed by the Republican governor, Greg Abbott, in May. In his ruling issued Wednesday evening, the judge, Orlando L. Garcia of United States District Court for the Western District of Texas, granted a preliminary injunction preventing the law from taking effect while the suit continues."
Trump's Election Integrity Commission apologized after judge called its failure to disclose information 'incredible,' The Washington Post, Spencer S. Hsu, Wednesday, 30 August 2017: "A federal judge on Wednesday tore into President Trump's voter commission for reneging on a promise to fully disclose public documents before a July 19 meeting, ordering the government to meet new transparency requirements and eliciting an apology from administration lawyers. U.S. District Judge Colleen ­Kollar-Kotelly of Washington said the Election Integrity Commission released only an agenda and proposed bylaws before its first meeting at the White House complex last month. But once gathered, commissioners had thick binders that included documents the public had not seen, including a specially prepared report and a 381-page 'database' purporting to show 1,100 cases of voter fraud, both from the think tank Heritage Foundation. The group also received a typed list of possible topics to address from the panel vice chairman, Kansas Secretary of State Kris W. Kobach.Kollar-Kotelly said the panel's after-the-fact argument was 'incredible' when it said it did not believe documents prepared by individual commissioners for the July meeting had to have been posted in advance. 'You didn't completely live up to the government's representations,' Kollar-Kotelly told Justice Department lawyers at Wednesday's hearing. 'I want to know what things are not going to be covered' by the government's pledges, she said."
Thursday, 31 August 2017, Day 224:
Paul Manafort's Notes From a Trump Tower Meeting Contain Cryptic Reference to Political Contributions, NBC News, Ken Dilanian and Carol E. Lee, Thursday, 31 August 2017: "Paul Manafort's notes from a controversial Trump Tower meeting with Russians during the 2016 presidential campaign included a mention of political contributions near a reference to the Republican National Committee, two sources briefed on the evidence told NBC News. The contents of the note, which have not been previously disclosed, elevated the significance of the June 2016 meeting for congressional investigators, who are focused on determining whether it included any discussion of donations from Russian sources to either the Trump campaign or the Republican Party. It is illegal for foreigners to donate to American elections. The meeting happened just as Trump had secured the Republican nomination for president, and he was considered a longshot to win. Manafort was the campaign chairman at the time. Manafort's notes, typed on a smart phone and described by one source briefed on the matter as cryptic, were turned over to the House and Senate intelligence committees and to Special Counsel Robert Mueller. They contained a reference to political contributions and 'RNC' in close proximity, the sources said." See also, A very intriguing new subplot in the saga of Donald Trump Jr.'s Russia meeting in June 2016, The Washington Post, Aaron Blake, Thursday, 31 August 2017: "NBC News may have just buried the lede in its new story about the Russia scandal. The report from NBC focuses on some specific words that appeared in notes that Trump campaign chairman Paul Manafort took during a meeting with a Russian lawyer in June 2016. This was the meeting before which Donald Trump Jr. had been promised damaging information about Hillary Clinton. But perhaps the more significant development is how NBC reported that Manafort had taken those notes: On his smartphone. The Washington Post's Rosalind S. Helderman and Karoun Demirjian had previously reported that Manafort took notes during the meeting — notes that naturally were of interest to investigators — but this appears to be the first report to indicate he did so using his phone. Why is that significant? Because Manafort being on his phone was presented by both Trump Jr. and the Russian lawyer, Natalia Veselnitskaya, as evidence of his disinterest in the meeting. It was used to suggest that the meeting was rather insignificant — a disappointment to all involved — and didn't go anywhere. Trump Jr. and others have said that the information promised was a bust and was never used by the Trump campaign, whatever their intent in accepting the meeting was."
Trump Attorneys Lay Out Arguments Against Obstruction-of-Justice Probe to Special Counsel Robert Mueller, The Wall Street Journal, Peter Nicholas, Erica Orden, and Paul Sonne, Thursday, 31 August 2017: "Lawyers for Donald Trump have met several times with special counsel Robert Mueller in recent months and submitted memos arguing that the president didn't obstruct justice by firing former FBI chief James Comey and calling into question Mr. Comey's reliability as a potential witness, people familiar with the matter said."
Kushners' China Deal Flop Was Part of a Much Bigger Hunt for Cash, Bloomberg, David Kocieniewski and Caleb Melby, Thursday, 31 August 2017: "Jared Kushner, Donald Trump's son-in-law and top adviser, wakes up each morning to a growing problem that will not go away. His family's real estate business, Kushner Cos., owes hundreds of millions of dollars on a 41-story office building on Fifth Avenue. It has failed to secure foreign investors, despite an extensive search, and its resources are more limited than generally understood. As a result, the company faces significant challenges. Over the past two years, executives and family members have sought substantial overseas investment from previously undisclosed places: South Korea's sovereign-wealth fund, France's richest man, Israeli banks and insurance companies, and exploratory talks with a Saudi developer, according to former and current executives. These were in addition to previously reported attempts to raise money in China and Qatar. The family, once one of the largest landlords on the East Coast, sold thousands of apartments to finance its purchase of the tower in 2007 and has borrowed extensively for other purchases. They are walking away from a Brooklyn hotel once considered central to their plans for an office hub. From other properties, they are extracting cash, including tens of millions in borrowed funds from the recently acquired former New York Times building. What's more, their partner in the Fifth Avenue building, Vornado Realty Trust, headed by Steve Roth, has stood aside, allowing the Kushners to pursue financing on their own."
The Trump Administration Is Slashing Funding on Advertising and Promotion for Affordable Care Act Enrollment, The New York Times, Abby Goodnough and Robert Pear, Thursday, 31 August 2017: "The Trump administration is slashing spending on advertising and promotion for enrollment under the Affordable Care Act, a move some critics charged was a blatant attempt to sabotage the law. Officials with the Department of Health and Human Services, who insisted on not being identified during a conference call with reporters, said on Thursday that the advertising budget for the open enrollment period that starts in November would be cut to $10 million, compared with $100 million spent by the Obama administration last year, a drop of 90 percent. Additionally, grants to about 100 nonprofit groups, known as navigators, that help people enroll in health plans offered by the insurance marketplaces will be cut to a total of $36 million, from about $63 million."
Trump administration orders three Russian diplomatic facilities in the U.S. closed, The Washington Post, Anne Gearan, Thursday, 31 August 2017: "The Trump administration has ordered three Russian diplomatic facilities in the United States closed following the expulsion of American diplomats from Russia, the State Department said Thursday. Last month, Russia demanded that the U.S. diplomatic presence there be reduced by hundreds of people. In retaliation, the State Department has ordered the Russian government to close its consulate general in San Francisco, a chancery annex in Washington, D.C., and a consular annex in New York City. These closures must be complete by Saturday."
Treasury Secretary Steven Mnuchin Doesn't Endorse Placing Harriet Tubman on the New $20 Bill, The New York Times, Binyamin Appelbaum, Thursday, 31 August 2017: "The Trump administration signaled on Thursday that the black abolitionist Harriet Tubman may not replace President Andrew Jackson on the $20 bill after all. Treasury Secretary Steven Mnuchin declined to endorse the plan for a 2020 redesign of the $20 bill that was announced by the Obama administration last year."
'We only kill black people,' a police officer in Cobb County Georgia told a woman — on camera, The Washington Post, Lindsey Bever and Andrew deGrandpre, Thursday, 31 August 2017: "The Georgia police officer who was captured on camera telling a woman during a traffic stop that law enforcement personnel 'only kill black people' says he'll retire amid the backlash. Lt. Greg Abbott announced his intent to leave the Cobb County Police Department on Thursday, after his superiors told him he would be fired, according to the Atlanta Journal Constitution. It is unclear whether officials would accept Abbott's resignation or follow through with their plan to terminate him. With nearly 30 years of government service, the distinction could have a profound affect on his retirement benefits. Spokespersons for the police department did not immediately respond to a message from The Washington Post. Dash-cam video shows Abbott standing outside a vehicle during a DUI traffic stop in July 2016. A female passenger can be heard telling the officer that she did not want to put her hands down to reach for her phone because, 'I've just seen way too many videos of cops —.' 'But you're not black,' the officer interrupted. 'Remember, we only kill black people. Yeah, we only kill black people, right? All the videos you've seen, have you seen any white people get killed?'"
Department of Homeland Security Officials Have Awarded Contracts to Build Prototypes for a Mexican Border Wall, The New York Times, Ron Nixon, Thursday, 31 August 2017: "The Department of Homeland Security took the first major step on Thursday toward building a barrier on the border with Mexico, a key campaign promise of President Trump, as officials announced that they had awarded contracts to build several prototypes of a concrete wall. Four companies will build the prototypes in the San Diego area, said officials at Customs and Border Protection, an agency within the department. The companies selected will each have 30 days to complete the projects after the agency gives them the order to proceed. 'The border wall prototypes and designs will complement other tools we employ to secure our borders,' said Ronald D. Vitiello, acting deputy commissioner at Customs and Border Protection. Mr. Vitiello said that the prototypes would be about 30 feet high and that the contracts were between $400,000 and $500,000 each. The department has reallocated $20 million from other programs to pay for the prototypes and related costs."
U.S. service members and gay rights groups ask judge to halt Trump transgender ban, The Washington Post, Spencer S. Hsu, Thursday, 31 August 2017: "Human rights groups asked a federal judge Thursday to block President Trump's proposed ban on transgender people serving in the military, producing statements by three former Obama administration U.S. service branch chiefs and a senior Pentagon official that a ban would harm readiness, staffing, recruitment and morale. The move to stop the Trump administration edict came two days after Defense Secretary Jim Mattis formally responded to Trump's official directive ordering the Pentagon chief to determine how to implement the policy. In a statement, Shannon Minter, legal director for one of two gay rights organizations representing eight transgender U.S. service members, said their opposition to the 'reckless' ban was joined by military experts 'who know that ripping trained, experienced service members out of our armed forces — for no reason other than who they are — will leave gaping holes in our defense, compromise national security, and inhibit recruitment during a critical time.' The groups said they sought an injunction now because even though Mattis has not taken action against current service members as the Pentagon reviews its options, he committed to carrying out the Trump policy by March 23. As a result, service members face the imminent prospect of being denied reenlistment, promotions, deployments and even medical care, the groups said. Mattis also suspended prior plans to permit new transgender enlistees, threatening the careers of transgender students enrolled at the U.S. Naval Academy or in the Reserve Officers' Training Corps, Minter said."
Senator Kamala Harris (D-California) backs Bernie Sanders's 'Medicare for All' bill, The Washington Post, David Weigel, Thursday, 31 August 2017: "Sen. Kamala Harris (D-Calif.), a star of the Democrats' 2016 class who's seen as a potential presidential candidate in 2020, told an audience in Oakland Wednesday that she would co-sponsor the 'Medicare for All' bill that Sen. Bernie Sanders (I-Vt.) is introducing in September. 'It's just the right thing to do,' Harris said at the end of a town hall meeting, after a standing ovation. 'It is so much better that people have meaningful access to health care, from birth through the rest of their lives. The alternative is that we, as taxpayers, are spending huge amounts of money to send them to emergency rooms.'"
In Los Angeles, Columbus Day is toppled like a Confederate statue, The Washington Post, Samantha Schmidt, Thursday, 31 August 2017: "Los Angeles has become the largest city nationwide to remove Columbus Day as an official city holiday, replacing it with a day to commemorate indigenous people. The nearly unanimous decision Wednesday by the city council added Los Angeles to a growing list of U.S. cities to adopt similar measures, eliminating a holiday that many Native American activist groups and others see as offensive. The second Monday of October, a paid holiday for Los Angeles employees, will now be called 'Indigenous Peoples Day.' 'The historical record is unambiguous in documenting the horrors Christopher Columbus and his men exacted on the native peoples he encountered,' Councilman Mitch O'Farrell, a member of the Wyandotte Nation, said in a statement before the 14-1 vote. The move to rename the holiday faced fierce opposition from Italian Americans who see Christopher Columbus and his arrival in the Americas as an important part of their culture. Some opponents of the decision encouraged designating a day to honor indigenous and aboriginal peoples, while still observing Columbus Day."
Kris Kobach, Kansas Secretary of State, Is a Columnist for Breitbart, the Far-Right News Site, The Kansas City Star, Bryan Lowry, Thursday, 31 August 2017: "Kansas Secretary of State Kris Kobach is now a regular columnist on the far-right news site run by President Donald Trump's former chief strategist [Steve Bannon]. Kobach, a candidate for Kansas governor who is running on a platform of combating illegal immigration, published his first article for Breitbart.com in June — a piece that tied refugees to terrorism. He has published six more pieces since then and more are on the horizon. Kobach, who previously hosted a talk radio show in Kansas City, said Breitbart approached him about writing a regular column in June."
Representative Adam Schiff (D-California) Has Introduced an Amendment to Defund Trump's Voter Fraud Commission, The Hill, John Bowden, Thursday, 31 August 2017: "A Democratic lawmaker has introduced an amendment to an upcoming government spending bill that would defund President Trump's controversial commission on voter fraud. Rep. Adam Schiff (D-Calif.) announced the amendment in a press release this week that accuses the panel co-chaired by Vice President Pence of 'appearing to lay the groundwork for a push to place new restrictions on voting that disproportionately disadvantages minority voters.' 'This commission is an effort to validate the President's repeated and baseless claim that millions of fraudulent ballots were cast in the 2016 election, and I fear it lays the groundwork for new efforts to make it more difficult to vote across the country,' Schiff said in the statement. 'Congress should put an end to this charade before it can do additional damage by agreeing to this amendment, and we should instead enact measures that make voting more accessible for all eligible Americans.' Schiff introduced the proposal as an amendment to the Department of the Interior, Environment, and Related Agencies Appropriations Act, which Congress is set to consider in September. It is unlikely to go very far, as it would need GOP support."