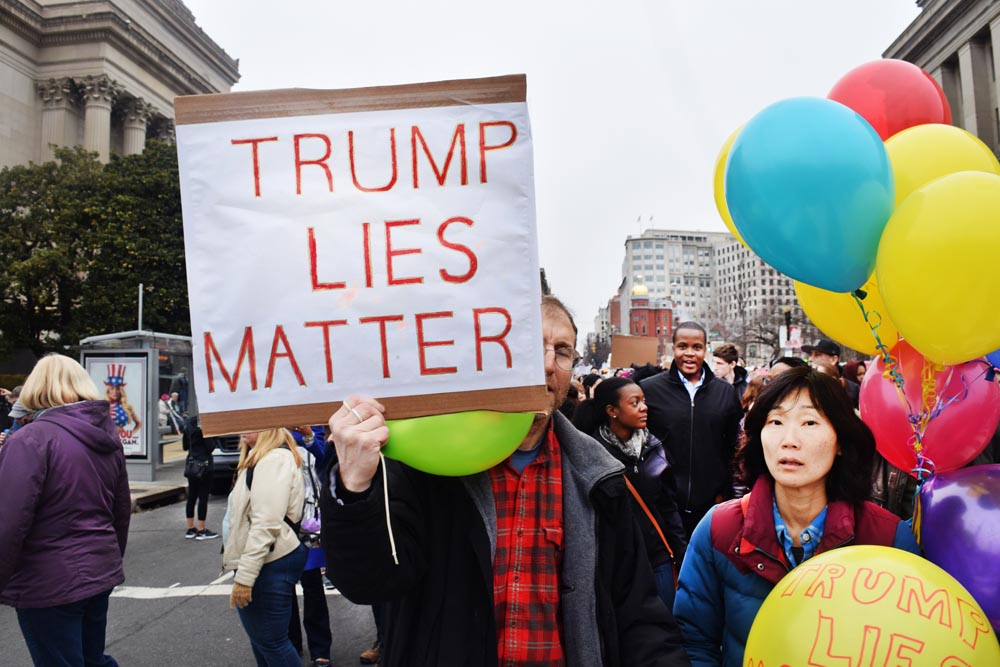 Photo by Robert Del Tredici

Keeping Track (of some things), Staying Outraged (it is possible), and Resisting (it's essential)
Passages in bold in the body of the texts below are my emphasis. This is an ongoing project, and I update the site frequently. I hope readers will peruse the articles in full for a better understanding of the issues and their context; our democracy and our future depend on citizens who can distinguish between facts and falsehoods and who are engaged in the political process.
Friday, 21 July 2017, Day 183:
Jeff Sessions discussed Trump campaign-related matters with the Russian ambassador Sergey Kislyak during the 2016 presidential race, U.S. intelligence intercepts show, The Washington Post, Adam Entous, Ellen Nakashima, and Greg Miller, Friday, 21 July 2017: "Russia's ambassador to Washington told his superiors in Moscow that he discussed campaign-related matters, including policy issues important to Moscow, with Jeff Sessions during the 2016 presidential race, contrary to public assertions by the embattled attorney general, according to current and former U.S. officials. Ambassador Sergey Kislyak's accounts of two conversations with Sessions — then a top foreign policy adviser to Republican candidate Donald Trump — were intercepted by U.S. spy agencies, which monitor the communications of senior Russian officials both in the United States and in Russia. Sessions initially failed to disclose his contacts with Kislyak and then said that the meetings were not about the Trump campaign. One U.S. official said that Sessions — who testified that he has no recollection of an April encounter — has provided 'misleading' statements that are 'contradicted by other evidence.' A former official said that the intelligence indicates that Sessions and Kislyak had 'substantive' discussions on matters including Trump's positions on Russia-related issues and prospects for U.S.-Russia relations in a Trump administration. Sessions has said repeatedly that he never discussed campaign-related issues with Russian officials and that it was only in his capacity as a U.S. senator that he met with Kislyak." See also, Sometimes it's 'normal' to meet with foreign officials. For Jeff Sessions and the Russian ambassador, it wasn't. The Washington Post, Amber Phillips, published on Saturday, 22 July 2017.
Special counsel Robert Mueller asks White House staff to preserve all documents relating to the June 2016 meeting at Trump Tower that Donald Trump Jr., Jared Kushner, and Paul Manafort had with Russian lawyer Natalia Veselnitskaya, CNN, Dana Bash, Friday, 21 July 2017: "Special counsel Robert Mueller has asked the White House to preserve all documents relating to the June 2016 meeting at Trump Tower that Donald Trump Jr., Jared Kushner and Paul Manafort had with a Russian lawyer and others, according to a source who has seen the letter. Mueller sent a notice, called a document preservation request, asking White House staff to save 'any subjects discussed in the course of the June 2016 meeting' and also 'any decisions made regarding the recent disclosures about the June 2016 meeting,' according to the source, who read portions of the letter to CNN. The letter from Mueller began: 'As you are aware the Special Counsel's office is investigating the Russian government's efforts to interfere in the 2016 presidential election, including any links or coordination between the Russian government and individuals associated with the campaign of Donald Trump. Information concerning the June 2016 meeting between Donald J Trump Jr and Natalia Veselnitskaya is relevant to the investigation.' The preservation request is broad and includes text messages, emails, notes, voicemails and other communications and documentation regarding the June 2016 meeting and any related communication since then." See also, Exclusive: Russian lawyer Natalia Veselnitskaya who met with Donald Trump Jr. in June 2016 represented the FSB, Russia's top intelligence agency, Reuters, Maria Tsvetkova and Jack Stubbs, Friday, 21 July 2017: "The Russian lawyer who met Donald Trump Jr. after his father won the Republican nomination for the 2016 U.S. presidential election counted Russia's FSB security service among her clients for years, Russian court documents seen by Reuters show. The documents show that the lawyer, Natalia Veselnitskaya, successfully represented the FSB's interests in a legal wrangle over ownership of an upscale property in northwest Moscow between 2005 and 2013. The FSB, successor to the Soviet-era KGB service, was headed by Vladimir Putin before he became Russian president. There is no suggestion that Veselnitskaya is an employee of the Russian government or intelligence services, and she has denied having anything to do with the Kremlin. But the fact she represented the FSB in a court case may raise questions among some U.S. politicians." See also, Russian Lawyer Who Med Donald Trump Jr. Once Represented Russian Spy Agency, The New York Times, Ivan Nechepurenko, Friday, 21 July 2017. And see also, Russian lawyer who met with Trump Jr. had Russian intelligence connections, The Washington Post, Andrew Roth, Friday, 21 July 2017.
Donald Trump Jr.'s Russia meeting in June 2016 with Russian lawyer Natalia Veselnitskaya: What we know and when we learned it, Rosalind S. Helderman and Reuben Fischer-Baum, Friday, 21 July 2017: "Shortly after the 2016 election, the Trump campaign insisted none of its officials had interacted with Russians during the campaign. Over time, they have released more and more information about contacts, including a series of misleading statements about a meeting with a Russian lawyer on June 9, 2016." This article covers how this story developed. See also, Timeline: Donald Trump Jr.'s contradictory statements about the Russia meeting, The Washington Post, Michelle Ye Hee Lee, Friday, 21 July 2017: "The president's son [Donald Trump Jr.], son-in-law [Jared Kushner] and former campaign manager [Paul Manafort] are expected to testify July 26 before the Senate Judiciary Committee about foreign influence on the U.S. election — in particular, about their meeting with a Russian attorney with ties to the Kremlin who they believed would provide dirt on Hillary Clinton during the 2016 campaign. Although the president now praises his son for being 'transparent' about the meeting, Donald Trump Jr.'s statements about the ordeal shifted as more information was reported publicly. And what we know so far contradicts his earlier statements denying setting up a meeting with a Russian national for campaign purposes. (Moreover, the White House and Trump's team repeatedly denied having contacts with Russian nationals.) [Reporters at The Washington Post have compiled] a timeline of what the public found out when about the meeting, and what Trump Jr. and Trump said about the developments. [They] will update this timeline as necessary." See also, Here's what we know so far about Team Trump's ties to Russian interests, The Washington Post, Bonnie Berkowitz, Denise Lu, and Julie Vitkovskaya, published on 31 March 2017 and updated on Friday, 21 July 2017.
Continue reading Week 27, Friday, 21 July – Thursday, 27 July 2017:
At the White House, an abrupt chain reaction: Sean Spicer is out as press secretary, Anthony Scaramucci is in as White House communications director, and Sarah Huckabee Sanders is named press secretary, The Washington Post, Ashley Parker, Abby Phillip, and Damian Paletta, Friday, 21 July 2017: "President Trump overhauled his White House on Friday in a dramatic shake-up of his senior team at the six-month mark of his presidency…. Trump's decision Friday morning to install wealthy financier Anthony Scaramucci as White House communications director set off an unexpected chain reaction, with White House press secretary Sean Spicer resigning in protest, according to people familiar with the departure. By afternoon, Spicer's deputy, Sarah Huckabee Sanders, had been named to replace him." See also, Sean Spicer Resigns as White House Press Secretary, The New York Times, Glenn Thrush and Maggie Haberman, Friday, 21 July 2017. See also, Trump's Communications Orbit, The New York Times, Michael D. Shear, Friday, 21 July 2017: "President Trump may be the White House communicator-in-chief, but he still relies on a number of associates, both inside the West Wing and on the sidelines, to spar with reporters and amplify his message. With the arrival of Anthony Scaramucci, Sean Spicer's abrupt departure and the quick promotion of Sarah Huckabee Sanders, the Trump message machine looks a bit different now." This article gives a rundown of the people in Trump's communications orbit.
Can Trump Pardon Himself? Explaining Presidential Clemency Powers, The New York Times, Charlie Savage, Friday, 21 July 2017: "President Trump has consulted his legal advisers about the possibility of pre-emptively pardoning his associates — and possibly even himself — to undermine the Justice Department's Russia investigation, The Washington Post reported Thursday night. But on Friday, John Dowd, Mr. Trump's new personal lawyer, denied to BuzzFeed that any such discussions had taken place. Either way, the chatter has heightened interest in several key legal issues about the scope and limits of Mr. Trump's clemency powers." This article addresses some of these key legal issues.
Daniel Coats, Director of National Intelligence, Says the Intelligence Agencies Agree on Russian Meddling in the 2016 Presidential Election, NBC News, Ken Dilanian, Friday, 21 July 2017: "Daniel Coats, the director of national intelligence, said Friday there is no dissent inside U.S. intelligence agencies about the conclusion that Russia used hacking and fake news to interfere in the 2016 presidential election — despite comments by his boss, President Donald Trump, that have seemed to cast some doubt about the unanimity. In an interview with NBC Nightly News anchor Lester Holt at the Aspen Security Forum, Coats said that the reason only four of 17 intelligence agencies signed onto the January assessment describing the Russian effort is that the other agencies were not involved in gathering and analyzing the intelligence. On July 5, Trump suggested that there had been a misunderstanding of the extent to which the assessment was endorsed by the entire American spy apparatus. 'Let me just start off by saying I heard it was 17 agencies,' Trump said when asked about the intelligence assessment. 'I said, "Boy, that's a lot." Do we even have that many intelligence agencies, right? Let's check it. And we did some very heavy research. It turned out to be three or four — it wasn't 17 — and many of your compatriots had to change their reporting, and they had to apologize, and they had to correct.' The 'three or four' agencies referred to by Trump are the CIA, the FBI, the National Security Agency and the Office of the Director of National Intelligence, all of which were named in a January public report assessing with 'high confidence' that Russia interfered in the election. Other intelligence agencies, such as the U.S. Coast Guard's, were not involved, Coats said. But, he added, there was no disagreement inside the intelligence community. Coats said he had no doubt that the Russians 'are trying to undermine Western democracy.'"
Trump Fills Top Job at Government Ethics Office With a Temporary Appointment of David J. Apol, The New York Times, Eric Lipton, Friday, 21 July 2017: "President Trump picked a new leader for the Office of Government Ethics on Friday, naming the agency's general counsel, David J. Apol, as the acting director. By making the appointment temporary and avoiding Senate confirmation hearings, Mr. Trump is able, at least for now, to avoid an extended public debate before lawmakers about the role of the ethics office during the Trump administration. Mr. Apol will replace Walter M. Shaub Jr., who resigned Tuesday six months short of the end of his five-year term as the agency's executive director. His resignation followed a period of intense criticism by Mr. Shaub of Mr. Trump and the administration's approach to managing government ethics."
In revised filing, Trump's son-in-law Jared Kushner reveals dozens of previously undisclosed assets, The Washington Post, Jonathan O'Connell, Matea Gold, Drew Harwell, and Steven Rich, Friday, 21 July 2017: "Jared Kushner failed to disclose dozens of financial holdings that he was required to declare when he joined the White House as an adviser to President Trump, his father-in-law, according to a ­revised form released Friday. A separate document released Friday also showed that Kushner's wife, presidential daughter Ivanka Trump, had been paid as much as $5 million from her outside businesses over an 84-day span this spring around the time she entered the White House as a senior adviser and pledged to distance herself from her private holdings. Kushner's new disclosure, released by the White House, detailed more than 70 assets that his attorneys said he had inadvertently left out of earlier filings. The new document comes as the presidential aide faces increasing scrutiny as part of investigations into alleged Russian influence in the 2016 campaign. In recent months, Kushner also has updated a national security questionnaire in which he had failed to disclose more than 100 calls or meetings with representatives from foreign countries — and he is scheduled to appear Monday at a closed-door meeting of the Senate Intelligence Committee."
Former Congressional Budget Office directors in both parties defend the agency after weeks of attacks by the Trump administration, The Washington Post, Max Ehrenfreund, Friday, 21 July 2017: "The former directors of the Congressional Budget Office (CBO) — a bipartisan group that includes some of the nation's most eminent economists — published a letter defending the agency Friday morning, after weeks of strident criticism from the Trump administration. President Trump's deputies have attacked the CBO publicly and relentlessly in response to its unforgiving analyses of Republican proposals to repeal parts of the Affordable Care Act, also known as Obamacare. Although the agency's current director, Keith Hall, was appointed by a Republican Congress, the administration has argued that the methods the agency uses are unsound and that its staff favors the Democratic agenda. Partisan criticism of the CBO is nearly as old as the agency itself, which began operating in 1975. All the same, those criticisms have been particularly intense this year, amid a political environment in which partisan disputes over basic facts and arithmetic have replaced debates over values, principles and visions for the place of American government in society."
Senate Parliamentarian Challenges Key Provisions of Republican Health Bill, The New York Times, Robert Pear and Thomas Kaplan, Friday, 21 July 2017: "The Senate Republican bill to dismantle the Affordable Care Act encountered huge new problems on Friday night after the Senate parliamentarian challenged key provisions that are needed to win conservative votes and to make the health bill workable. The provisions appear to violate Senate rules, the parliamentarian said, giving Democrats grounds to challenge them as the Senate prepares for a battle next week over the future of the Affordable Care Act. One provision questioned by the parliamentarian, Elizabeth MacDonough, and cherished by conservatives would cut off federal funds for Planned Parenthood for one year. Another would prohibit use of federal subsidies to buy insurance that includes coverage for abortions. A third provision would penalize people who go without health insurance by requiring them to wait six months before their coverage could begin. Insurers would generally be required to impose the waiting period on people who lacked coverage for more than about two months in the prior year. If formally challenged, the provisions could survive only with 60 votes, a near-impossibility in the partisan, narrowly divided Senate. The abortion-related provisions are important to many conservatives, not just in the Senate but also in the House. And Democrats made clear they would seize on the findings. 'The parliamentarian's decision today proves once again that the process Republicans have undertaken to repeal the Affordable Care Act and throw 22 million Americans off of health insurance is a disaster,' said Senator Bernie Sanders, independent of Vermont."
Senator Richard Durbin (D-IL) and Senator Lindsey Graham (R-SC) file Dream Act, hoping to ward off legal challenge to DACA (Deferred Action for Childhood Arrivals, The Washington Post, Maria Sacchetti, Friday, 21 July 2017: "Hoping to fend off a legal challenge to a program that has spared nearly 800,000 young immigrants from deportation, two veteran senators made a long-shot appeal to President Trump on Thursday to support legislation that would put those immigrants and thousands of others on a path to U.S. citizenship. Sen. Richard J. Durbin (D-Ill.) and Sen. Lindsey O. Graham (R-S.C.) introduced 'Dream Act' legislation that would grant permanent legal status to more than 1 million young people who arrived in the United States before they turned 18, passed security checks and met other criteria, including enrolling in college, joining the military or finding jobs. Immigrants must have lived in the United States for at least four years to apply…. As a candidate, Trump blasted President Barack Obama's Deferred Action for Childhood Arrivals program, saying it was wrong to bypass Congress and give deportation protection — including Social Security numbers and work permits — to undocumented immigrants who came to the country as children. Trump, who has made cracking down on illegal immigration a cornerstone of his administration, vowed as a candidate to end the program. But he faltered after taking office, saying he wanted to deal with the immigrant youths with 'heart.' His administration has renewed thousands of work permits for DACA recipients and issued new ones, prompting Texas and nine other states to threaten to sue if the administration doesn't start phasing out the program by Sept. 5." See also, 20 Democratic attorneys general urge Trump to keep DACA (Deferred Action for Childhood Arrivals) and say it has boosted the economy, The Washington Post, Maria Sacchetti, Friday, 21 July 2017: "Attorneys general from 19 states and the District of Columbia are urging President Trump to save an Obama-era program that protects nearly 800,000 undocumented immigrants from deportation, and offering to help him defend it in court. Led by California Attorney General Xavier Becerra, the group of Democrats is twice the size of the 10-state coalition of Republican officials that have threatened to sue the Trump administration if it does not start to phase out the program by Sept. 5…. Becerra and the other attorneys general said in their letter that DACA had transformed the lives of hundreds of thousands of young immigrants, allowing them to earn college degrees, forge careers and boost their spending power. Rescinding the program, they said, could cost American businesses 'billions' in turnover costs. 'The consequences of rescinding DACA would be severe, not just for the hundreds of thousands of young people who rely on the program — and for their employers, schools, universities and families — but for the country's economy as a whole,' the letter said."
Michael Dourson, Trump's Nominee to Head the Environmental Protection Agency's Office of Chemical Safety and Pollution Prevention, Was in the 'Business of Blessing' Pollution, The Intercept, Sharon Lerner, Friday, 21 July 2017: "Michael Dourson, President Donald Trump's nominee to head the EPA's Office of Chemical Safety and Pollution Prevention, founded and ran a toxicology consulting firm whose work enabled DuPont to avoid providing clean water to people in West Virginia after the company contaminated the area around one of its plants with a dangerous industrial chemical."
Saturday, 22 July 2017, Day 184:
In tweet storm, Trump decries 'illegal leaks' and asserts 'all agree' he has complete power to pardon, The Washington Post, Ashley Parker and David Nakamura, Saturday, 22 July 2017: "A defiant President Trump unleashed a flurry of nearly a dozen tweets Saturday morning, asserting that he has the 'complete power to pardon' aides, family members and possibly even himself — an apparent response to the special counsel's widening Russia probe — and decrying 'illegal leaks' in the 'FAKE NEWS.' The president also lashed out at a new Washington Post report of previously undisclosed alleged contacts between Attorney General Jeff Sessions — at the time a U.S. senator and senior adviser to Trump's 2016 presidential campaign — and a Russian official. In a tweet, Trump called the disclosures an illegal new 'intelligence leak,' part of his continuing effort to try to shift the public focus to what he claims is a partisan attempt to undermine his presidency. The president's defense of his pardoning authority came days after The Post reported that he and his legal team have discussed his power to pardon those close to him, including himself." See also, Trump Says He Has 'Complete Power' to Pardon, The New York Times, Peter Baker, Saturday, 22 July 2017.
Congress Reaches Deal on Russia Sanctions to Punish Moscow for Its Meddling in the U.S. Presidential Election and for Aggression Toward Its Neighbors, Setting Up Tough Choice for Trump, The New York Times, Matt Flegenheimer and David E. Sanger, Saturday, 22 July 2017: "Congressional leaders have reached an agreement on sweeping sanctions legislation to punish Russia for its election meddling and aggression toward its neighbors, they said Saturday, defying the White House's argument that President Trump needs flexibility to adjust the sanctions to fit his diplomatic initiatives with Moscow. The new legislation would sharply limit the president's ability to suspend or terminate the sanctions — a remarkable handcuffing by a Republican-led Congress six months into Mr. Trump's tenure. It is also the latest Russia-tinged turn for a presidency consumed by investigations into the Trump campaign's interactions with Russian officials, including conversations between Trump advisers and Russian officials about prospective sanctions relief. Now, Mr. Trump could soon face a decision he hoped to avoid: veto the bill — a move that would fuel accusations that he is doing the bidding of President Vladimir V. Putin of Russia — or sign legislation imposing sanctions his administration has opposed." See also, Congress breaks impasse on bill to slap sanctions on Russia, Iran, and North Korea, The Washington Post, Mike DeBonis and Karoun Demirjian, Saturday, 22 July 2017.
Can the President Be Indicted? A Long-Hidden Legal Memo Says Yes, The New York Times, Charlie Savage, Saturday, 22 July 2017: "A newfound memo from Kenneth W. Starr's independent counsel investigation into President Bill Clinton sheds fresh light on a constitutional puzzle that is taking on mounting significance amid the Trump-Russia inquiry: Can a sitting president be indicted? The 56-page memo, locked in the National Archives for nearly two decades and obtained by The New York Times under the Freedom of Information Act, amounts to the most thorough government-commissioned analysis rejecting a generally held view that presidents are immune from prosecution while in office. 'It is proper, constitutional, and legal for a federal grand jury to indict a sitting president for serious criminal acts that are not part of, and are contrary to, the president's official duties,' the Starr office memo concludes. 'In this country, no one, even President Clinton, is above the law.' Mr. Starr assigned Ronald Rotunda, a prominent conservative professor of constitutional law and ethics whom Mr. Starr hired as a consultant on his legal team, to write the memo in spring 1998 after deputies advised him that they had gathered enough evidence to ask a grand jury to indict Mr. Clinton, the memo shows…. As Robert S. Mueller III, the special counsel in the latest inquiry, investigates the Trump campaign's dealings with Russia and whether President Trump obstructed justice, the newly unearthed Starr office memo raises the possibility that Mr. Mueller may have more options than most commentators have assumed. [This article examines] the debate and what the Starr office memo has to say."
Brenda Fitzgerald, the New Head of the C.D.C. (Centers for Disease Control and Prevention), Sees Coca-Cola as an Ally in the Fight Against Obesity, The New York Times, Sheila Kaplan, Saturday, 22 July 2017: "When she was health commissioner of Georgia, the state with one of the highest rates of child obesity, Dr. Brenda Fitzgerald faced two enormous challenges: How to get children to slim down and how to pay for it. Her answer to the first was Power Up for 30, a program pushing schools to give children 30 minutes more exercise each day, part of a statewide initiative called Georgia Shape. The answer to the second was Coca-Cola, the soft drink company and philanthropic powerhouse, which has paid for almost the entire Power Up program. Dr. Fitzgerald is now in the spotlight as the Trump administration's newly appointed director of the Centers for Disease Control and Prevention, making her one of the nation's top public health officials. And she finds herself facing a backlash from public health advocates for having accepted $1 million to fight child obesity from a company experts say is a major cause of it. Her new position puts her at the helm of a federal agency that shook off its ties to the soda giant, in 2013, after concluding Coke's mission was at odds with its own. But Dr. Fitzgerald suggested in an email response to questions from The New York Times this past week that she would consider accepting Coke money for C.D.C. programs and would evaluate any proposal through the agency's standard review process."
The Mothers Being Deported by Trump, The New Yorker, Sarah Stillman, Saturday, 22 July 2017: "On June 28th, President Trump convened a roundtable at the White House that included victims of crimes committed by undocumented immigrants. The event was part of the Administration's push to pass several new immigration bills designed to, in Trump's words, 'close the dangerous loopholes exploited by criminals, gang members, drug dealers, killers, terrorists.' A regular theme of the Trump Administration's messaging on immigration has been to present undocumented 'bad hombres' as an immediate threat to the safety and cohesion of the American family unit. But some of Trump's immigration policies, in themselves, have endangered families across America. The stories below, of four mothers who have been targeted for deportation since January, show how. As the director of the Global Migration Project, at Columbia Journalism School, I spent the spring supervising a team of twelve journalists who sought to understand the evolution of Immigration and Customs Enforcement (ICE) under President Trump. We began by assembling a database of enforcement activity: pulling in information from all fifty states on local raids, family separations, immigration-detention trends, and more. For three months, we scoured law-enforcement blotters, public ICE memos, local news sources, and social-media forums. We then spoke with individuals facing removal proceedings around the country, as well as their attorneys, employers, colleagues, spouses, and children. We'll be rolling out the results of related investigations in the coming months. But here, we're sharing one trend that conflicts with Trump's rhetorical focus on immigrants who 'are criminal and have criminal records, gang members, drug dealers.' In fact, his Administration's agents are targeting, in large numbers, individuals for whom public-safety justifications for removal don't apply. This includes a considerable number of women who have no criminal records and who are either the primary caretakers of young children, or the primary family breadwinners, or both. Four such cases are presented here.
Sunday, 23 July 2017, Day 185:
Trump's new communications team offers muddled messages on sanctions and pardons, The Washington Post, David Nakamura and Ashley Parker, Sunday, 23 July 2017: "The White House offered conflicting views Sunday of whether President Trump supports the Russia sanctions legislation in Congress, with his top spokesmen contradicting one another just days after launching plans for a more effective messaging strategy. If Trump was hoping his communications shake-up would bring a fresh approach for a White House that has struggled to respond to a constant state of turmoil, the debut of the team on the Sunday political talk shows was a rough one. Adding to the confusion, one of Trump's lawyers appeared to contradict his new top spokesman on whether Trump has been discussing his power to issue presidential pardons. Trump's top communication aides set out to try to present a united front two days after the president added New York financier Anthony Scaramucci as communications director and promoted Sarah Huckabee Sanders to press secretary after Sean Spicer resigned unexpectedly…. But the key spokesmen appeared to be operating from different playbooks. Featured on competing Sunday shows, Sanders and Scaramucci contradicted one other on the Russia sanctions bill that congressional leaders announced over the weekend. "
How Trump Got It Wrong in Saying The New York Times 'Foiled' Killing of ISIS Leader, The New York Times, Michael R. Gordon, Sunday, 23 July 2017: "President Trump wrongly tweeted on Saturday that The New York Times had 'foiled' an attempt by the United States military to kill Abu Bakr al-Baghdadi, the leader of the Islamic State. 'The Failing New York Times foiled U.S. attempt to kill the single most wanted terrorist, Al-Baghdadi,' the president wrote. 'Their sick agenda over National Security.' Mr. Trump's statement appeared to be based on a report by Fox News; he is known to be an avid viewer, and a version of the story was broadcast about 25 minutes before he posted. The report said that The Times had disclosed intelligence in an article on June 8, 2015, about an American military raid in Syria that led to the death of one of Mr. Baghdadi's key lieutenants, Abu Sayyaf, and the capture of his wife, who played an important role in the group. That Fox News report cited comments by Gen. Tony Thomas, the head of the United States Special Operations Command, in an interview conducted Friday by the network's intelligence correspondent, Catherine Herridge, at the Aspen Security Forum in Colorado. General Thomas said that a valuable lead on Mr. Baghdadi's whereabouts 'was leaked in a prominent national newspaper about a week later and that lead went dead.' He did not name The Times. But a review of the record shows that information made public in a Pentagon news release more than three weeks before the Times article, and extensively covered at the time by numerous news media outlets, would have tipped off Mr. Baghdadi that the United States was questioning an important Islamic State operative who knew of his recent whereabouts and some of his methods of communication. Further, the information in the Times article on June 8 came from United States government officials who were aware that the details would be published." See also, The New York Times requests an apology from 'Fox & Friends Weekend' over an ISIS story The Times published in 2015, The Washington Post, Erik Wemple, Sunday, 23 July 2017: "The New York Times has asked Fox News for an 'on-air apology and tweet' over a segment that aired Saturday morning regarding a story that the newspaper had published in 2015 regarding U.S. efforts to capture an Islamic State leader. Abu Bakr al-Baghdadi, said 'Fox & Friends Weekend' co-host Clayton Morris, 'was able to basically sneak away in the cover of darkness after a New York Times story went to press in 2015.'"
Monday, 24 July 2017, Day 186:
'I Did Not Collude,' Trump's Son-in Law Jared Kushner Says After Meeting With the Senate Intelligence Committee, The New York Times, Matt Apuzzo and Maggie Haberman, Monday, 24 July 2017: "President Trump's son-in-law, Jared Kushner, described himself to Senate investigators on Monday as a political and foreign policy neophyte who met with Russians as part of a hectic and unconventional presidential campaign, not as part of a plot to steer the election. 'All of my actions were proper and occurred in the normal course of events of a very unique campaign,' Mr. Kushner told reporters on the White House grounds after two hours behind closed doors on Capitol Hill. 'I did not collude with Russians, nor do I know of anyone in the campaign who did.' Hours before he traveled to Capitol Hill for his session with the investigators, Mr. Kushner, a senior White House adviser, released a lengthy written statement explaining the purpose of a number of contacts with Russians last year — meetings that have thrust him into the middle of a controversy that has engulfed the early months of the Trump administration. The decision to release the statement, and to appear voluntarily before Congress, is a clear strategy to try to navigate a political storm. His meetings with a Russian ambassador, lawyer and banker have prompted questions about his honesty, and calls from Democrats to deny him access to classified information. By being the first member of Mr. Trump's campaign inner circle to speak to congressional investigators, he was able to shape the narrative with his version of a still murky chain of events. But Monday's moves were not without legal risk. Though he was not under oath when he spoke to the Senate Intelligence Committee, lying to Congress is a federal crime. His public statement was frequently unequivocal, leaving him little room for maneuver if new evidence emerges to contradict his story." See also, Jared Kushner's 'I did not collude' statement, parsed, The Washington Post, Aaron Blake, Monday, 24 July 2017.
Trump's son-in-law Jared Kushner sealed real estate deal with Soviet-born oligarch Lev Leviev's firm cited in money-laundering case now being investigated by members of Congress, The Guardian, Wendy Dent, Ed Pilkington, and Shaun Walker, Monday, 24 July 2017: "Jared Kushner, the son-in-law of Donald Trump, who acts as his senior White House adviser, secured a multimillion-dollar Manhattan real estate deal with a Soviet-born oligarch whose company was cited in a major New York money laundering case now being investigated by members of Congress. A Guardian investigation has established a series of overlapping ties and relationships involving alleged Russian money laundering, New York real estate deals and members of Trump's inner circle. They include a 2015 sale of part of the old New York Times building in Manhattan involving Kushner and a billionaire real estate tycoon and diamond mogul, Lev Leviev. The ties between Trump family real estate deals and Russian money interests are attracting growing interest from the justice department's special counsel, Robert Mueller, as he seeks to determine whether the Trump campaign collaborated with Russia to distort the outcome of the 2016 race. Mueller has reportedly expanded his inquiry to look at real estate deals involving the Trump Organization, as well as Kushner's financing."
Senate Braces for a Health Care Bill Showdown With Senator John McCain on Hand, but With No Clear Health Care Bill, The New York Times, Thomas Kaplan and Julie Hirschfeld Davis, Monday, 24 July 2017: "Senate Republican leaders, keeping alive their push to dismantle the Affordable Care Act, are barreling toward a showdown vote on Tuesday to begin debating a repeal of the health law. And Senator John McCain announced Monday night that he will be on hand to cast his vote, despite a diagnosis of brain cancer. Before Mr. McCain, an Arizona Republican, announced that he was jetting in to cast what is expected to be a vote in favor of starting debate, President Trump spent Monday ratcheting up pressure on Republican senators to get onboard. Mr. Trump criticized their inaction and warned that they risked betraying seven years' worth of promises to raze and revamp the health law if they did not. 'Remember "repeal and replace," "repeal and replace" — they kept saying it over and over again,' Mr. Trump said at the White House, flanked by people who he said suffered as 'victims' of the 'horrible disaster known as Obamacare.' 'Every Republican running for office promised immediate relief from this disastrous law,' the president said. 'But so far, Senate Republicans have not done their job in ending the Obamacare nightmare.' Tom Perez, the Democratic National Committee chairman, countered, 'No matter how many ways President Trump tries to twist or hide the truth, the facts won't change: The Affordable Care Act has been a lifesaver for millions of Americans.'  The remarks from Mr. Trump, who has been largely absent from the policy debate, had the ring of a threat by a president who has grown frustrated watching Republicans repeatedly try, and fail, to reach consensus on his campaign promise to immediately roll back the health law and enact a better system."
Trump labels Attorney General Jeff Sessions 'beleaguered,' The Washington Post, Jenna Johnson, Monday, 24 July 2017: "President Trump has labeled his own attorney general as 'beleaguered.' 'So why aren't the Committees and investigators, and of course our beleaguered A.G., looking into Crooked Hillarys crimes & Russia relations?' the president tweeted from his personal Twitter account on Monday morning…. The president vented to the world in a series of tweets on Monday morning, lashing out not only at Sessions but also at Democrats and the media, whom he has blamed for hyping and continuing the investigations."
Federal judge allows Trump commission's nationwide voter data request to go forward, The Washington Post, Spencer S. Hsu, Monday, 24 July 2017: "A federal judge on Monday allowed President Trump's voting commission to go forward with seeking voter data from 50 states and the District, ruling that the White House advisory panel is exempt from federal privacy review requirements, whatever additional risk it might pose to Americans' information. The ruling averted a public setback for a president who has claimed that widespread fraud cost him the popular vote in November. The commission's request for the voting information of more than 150 million registered voters remains controversial, with many state leaders from both parties voicing objections about its potential to reveal personal information, suppress voter participation and encroach on states' oversight of voting laws. The panel's June 28 letter to the states requested that they turn over 'publicly-available voter roll data,' including names, addresses, dates of birth, party registrations, partial Social Security numbers and voting, military, felony and overseas histories, among other data."
Eight Senate Democrats call for an investigation of a complaint by Joel Clement, a climate scientist whistleblower, The Washington Post, Juliet Eilperin, Monday, 24 July 2017: "Eight Democrats on the Senate Energy and Natural Resources Committee asked the Interior Department's deputy inspector general on Monday to investigate Secretary Ryan Zinke's decision to reassign roughly 50 senior career officials last month, on the grounds that it could constitute an 'abuse of authority.' In the letter to Interior deputy IG Mary Kendall, obtained by The Washington Post, and signed by all but three of the panel's Democrats, the senators note that one of the reassigned Senior Executive Service officials — Joel Clement, the department's top climate change official — has alleged he was punished for his work on the issue. Clement, who was reassigned to the department's Office of Natural Resources Revenue, which collects royalty payments from oil, gas and mining firms, wrote an op-ed in The Post last week saying 'I believe I was retaliated against for speaking out publicly about the dangers that climate change poses to Alaska Native communities.'"
From 'fake media' to Hillary Clinton, Trump launches political attacks in his address to the Boy Scout Jamboree in West Virginia, The Washington Post, John Wagner and Jenna Johnson, published on Tuesday, 25 July 2017: "Ahead of President Trump's appearance Monday at the National Scout Jamboree in West Virginia, the troops were offered some advice on the gathering's official blog: Fully hydrate. Be 'courteous' and 'kind.' And avoid the kind of divisive chants heard during the 2016 campaign such as 'build the wall' and 'lock her up.' But from the moment he took the stage, Trump — who was never a Scout himself but touted his role as the 'honorary president of the Boy Scouts of America' — started leading them down a very different path. Over the next 35 minutes, the president threatened to fire one of his Cabinet members, attacked former president Barack Obama, dissed his former rival Hillary Clinton, marveled at the size of the crowd, warned the boys about the 'fake media,' mocked pollsters and pundits, and said more people would say 'Merry Christmas' under his presidency. He also told a rambling tale about a famous, now-deceased home builder that meandered from a Manhattan cocktail party to a yacht and then to places that the president would only allow the boys' imaginations to go." See also, Trump's speech to the Boy Scout Jamboree in West Virginia broke with 80 years of presidential tradition, The Washington Post, Katie Mettler and Derek Hawkins, published on Tuesday, 25 July 2017: "For 80 years, American presidents have been speaking to the National Scout Jamboree, a gathering of tens of thousands of youngsters from around the world eager to absorb the ideas of service, citizenship and global diplomacy. In keeping with the Scouts' traditions, all eight presidents and surrogates who have represented them have stayed far, far away from partisan politics…. [However], standing before all 40,000 of them, [Trump] bragged about the 'record' crowd size, bashed President Barack Obama, criticized the 'fake media' and trashed Hillary Clinton's presidential campaign. In the lengthy 35-minute speech, the president threatened to fire his health and human services secretary if he couldn't persuade members of Congress to vote for the Republican health-care bill."
Trump's Nominee to Run the Justice Department's Criminal Division, Brian A. Benczkowski, Says He Once Represented Russian Bank, The New York Times, Charlie Savage and Adam Goldman, Monday, 24 July 2017: "President Trump's nominee to lead the Justice Department's criminal division, Brian A. Benczkowski, has disclosed to Congress that he previously represented Alfa Bank, one of Russia's largest financial institutions, whose owners have ties to President Vladimir V. Putin. Mr. Trump nominated Mr. Benczkowski, a partner at the Kirkland & Ellis law firm and a former Bush administration Justice Department official, in June, and he is scheduled to appear before the Senate Judiciary Committee for a confirmation hearing on Tuesday."
Tuesday, 25 July 2017, Day 187:
Vice President Mike Pence Breaks Tie as Senate Votes to Begin Debating Obamacare Repeal, The New York Times, Thomas Kaplan and Robert Pear, Tuesday, 25 July 2017: "The Senate voted narrowly on Tuesday to begin debate on a bill to repeal major provisions of the Affordable Care Act, taking a pivotal step forward after the dramatic return of Senator John McCain, who cast a crucial vote despite his diagnosis of brain cancer. The 51-to-50 vote, with Vice President Mike Pence breaking a tie, came only a week after the Republican effort to dismantle a pillar of former President Barack Obama's legacy appeared all but doomed. It was an initial win for President Trump, who pushed, cajoled and threatened senators in recent days to at least begin debating the repeal of the health care law…. The Senate is now moving ahead with debate, amendments and ultimately a final vote in the coming days on legislation that would have a profound effect on the American health care system — roughly one-sixth of the United States' economy…. Only two Republicans, Susan Collins of Maine and Lisa Murkowski of Alaska, voted against the procedural motion, though at least several other Republicans had been seen as possible holdouts. No Democrats voted in favor of the motion." See also, The Senate Health-Care Vote Is a Travesty, The New Yorker, John Cassidy, Tuesday, 25 July 2017: "No major bill in recent history has been railroaded through the upper chamber in such a manner–written in secret, and subject to no markups or committee hearings…. Mitch McConnell, the Senate Majority Leader, is asking his colleagues to vote blindly and authorize consideration of a health-care-reform measure that could dramatically affect the welfare of tens of millions of Americans and shake up roughly a sixth of the U.S. economy." See also, Senator John McCain Returns From Arizona After Being Diagnosed With Brain Cancer to Help the President Who Derided Him, The New York Times, Jennifer Steinhauer, Tuesday, 25 July 2017. See also, Republicans Are Voting This Week to Repeal or Replace Obamacare. Here Are Their Proposals. The New York Times, Haeyoun Park, Alicia Parlapiano, and Margot Sanger-Katz, Tuesday, 25 July 2017. See also, What's next in the Senate repeal saga? Good question. Politico, Paul Demko, Tuesday, 25 July 2017.
Senate Votes Down Broad Obamacare Repeal, The New York Times, Thomas Kaplan and Robert Pear, Tuesday, 25 July 2017: "The Senate voted narrowly on Tuesday to begin debate on a bill to repeal major provisions of the Affordable Care Act, but hours later, Republican leaders suffered a setback when their most comprehensive plan to replace President Barack Obama's health law fell far short of the votes it needed. The Tuesday night tally needed to reach 60 votes to overcome a parliamentary objection. Instead, it fell 43-57…. The Tuesday night vote was on a comprehensive amendment that included disparate proposals calculated to appeal to conservatives and moderates in the Republican caucus."
In Trump's World, 'Very Weak' Attorney General Jeff Sessions Twists in the Wind, The New York Times, Peter Baker, Jeremy W. Peters, and Rebecca R. Ruiz, Tuesday, 25 July 2017: "In the annals of cutthroat Washington politics, it would be hard to find a cabinet secretary left abandoned and humiliated in the way President Trump has left Attorney General Jeff Sessions. After days of questioning Mr. Sessions's decisions, Mr. Trump all but signed his political death warrant on Tuesday by dismissing the attorney general as 'VERY weak,' perhaps the most cutting assessment for a president who prizes strength above all else. He made no effort to dispel the impression that he wants Mr. Sessions out. 'We will see what happens,' he told reporters. 'Time will tell.' The consequences go beyond the fate of one cabinet officer. In escalating his unforgiving campaign against Mr. Sessions, Mr. Trump opened a rift with conservatives who see the attorney general as their champion. And he put the White House in a virtual state of war with the Justice Department amid a high-stakes investigation in a way that it has not been since President Richard M. Nixon's administration."
At a Rally in Youngstown, Ohio on Tuesday Night Trump Says Immigrant Gang Members 'Slice and Dice' Young, Beautiful Girls, Newsweek, Graham Lanktree, published on Wednesday, 26 July 2017: "President Donald Trump compared America to a nation under wartime occupation that needs to be liberated from illegal immigrants during a 'Make America Great Again' rally in Ohio Tuesday night. Trump said illegal immigrant gang members are like 'animals' and that they're not using guns to kill people 'because it's too fast and it's not painful enough.' He claimed gang members will 'take a young, beautiful girl, 16, 15 and others and they slice them and dice them with a knife because they want them to go through excruciating pain before they die.'"
Senior assistant press secretary Michael Short resigns as White House purge begins: 'I'm going to fire everybody,' says White House communications director Anthony Scaramucci, The Washington Post, Ashley Parker, Tuesday, 25 July 2017: "Anthony Scaramucci, the new White House communications director, threatened on Tuesday to fire his entire staff in an effort to stem the leaking that has plagued President Trump's administration since almost the first day he took office. 'I'm going to fire everybody, that's how I'm going to do it,' Scaramucci said. 'You're either going to stop leaking or you're going to get fired.' The first to leave the West Wing on Tuesday was senior assistant press secretary Michael Short, who resigned after a report emerged in Politico hours earlier saying that he would be fired in Scaramucci's quest to uproot leakers."
House Approves Sweeping Sanctions Package Against Russia, The New York Times, Matt Flegenheimer, Tuesday, 25 July 2017: "The House on Tuesday approved a sweeping package of sanctions against Russia, clearing a key hurdle in Congress's effort — long opposed by the Trump administration — to punish Moscow for its aggression toward its neighbors and its interference in last year's American presidential election. The 419-3 vote brings President Trump one step closer to a choice he has strained to avoid: whether to sign legislation embraced by Republicans in both the House and the Senate that undercuts his attempts to ratchet down tensions with Moscow, or to veto the bill even as Russia-related scandal consumes his administration. The measure would sharply limit the president's ability to lift or suspend sanctions. It also includes sanctions against Iran and North Korea, two countries the administration has been more eager to hold to account."
Paul Manafort, Trump's Former Campaign Chairman, Met With the Senate Intelligence Committee to Discuss the June 2016 Meeting With Russians, The New York Times, Eileen Sullivan and Adam Goldman, Tuesday, 25 July 2017: "President Trump's former campaign chairman, Paul Manafort, met with Senate Intelligence Committee investigators on Tuesday to discuss the June 2016 meeting between a Russian lawyer and Mr. Trump's inner circle that was set up for the campaign to receive damaging information about Hillary Clinton, according to a spokesman for Mr. Manafort…. Mr. Manafort gave the investigators notes he had taken during the meeting, according to one person familiar with Tuesday's discussion with congressional investigators at a Washington law firm. The meeting came as another panel, the Senate Judiciary Committee, announced that it issued a subpoena for Mr. Manafort to appear at a hearing on Wednesday. But the committee later rescinded the subpoena and canceled his appearance. Mr. Manafort's lawyers are now working out how and when he will be interviewed by the committee. The panel is conducting its own investigation into possible ties between Mr. Trump's campaign and the Russian government."
Trump Finds Reason for the U.S. to Remain in Afghanistan: Minerals, The New York Times, Mark Landler and James Risen, Tuesday, 25 July 2017: "President Trump, searching for a reason to keep the United States in Afghanistan after 16 years of war, has latched on to a prospect that tantalized previous administrations: Afghanistan's vast mineral wealth, which his advisers and Afghan officials have told him could be profitably extracted by Western companies. Mr. Trump has discussed the country's mineral deposits with President Ashraf Ghani, who promoted mining as an economic opportunity in one of their first conversations. Mr. Trump, who is deeply skeptical about sending more American troops to Afghanistan, has suggested that this could be one justification for the United States to stay engaged in the country. To explore the possibilities, the White House is considering sending an envoy to Afghanistan to meet with mining officials. Last week, as the White House fell into an increasingly fractious debate over Afghanistan policy, three of Mr. Trump's senior aides met with a chemical executive, Michael N. Silver, to discuss the potential for extracting rare-earth minerals. Mr. Silver's firm, American Elements, specializes in these minerals, which are used in a range of high-tech products. Stephen A. Feinberg, a billionaire financier who is informally advising Mr. Trump on Afghanistan, is also looking into ways to exploit the country's minerals, according to a person who has briefed him. Mr. Feinberg owns a large military contracting firm, DynCorp International, which could play a role in guarding mines — a major concern, given that some of Afghanistan's richest deposits are in areas controlled by the Taliban."
Trump blasts 'fabricated' Syria story and appears to confirm covert CIA program, The Washington Post, Derek Hawkins, Tuesday, 25 July 2017: "President Trump lashed out at The Washington Post in a string of tweets Monday night, saying the newspaper had 'fabricated the facts' about his decision to end a covert program aiding Syrian rebels fighting the government of President Bashar al-Assad. 'The Amazon Washington Post fabricated the facts on my ending massive, dangerous, and wasteful payments to Syrian rebels fighting Assad,' Trump wrote in one tweet. Trump appeared to be referring to a Post story last week on the phasing out of a covert Obama administration program in which the CIA armed and trained moderate Syrian rebels battling forces loyal to Assad in the country's civil war. The Post reported that the Russian government had long opposed the program, seeing it as an assault on its interests. Trump decided to scrap the program nearly a month ago after meeting with his CIA director and national security adviser ahead of a July 7 meeting with Russian President Vladimir Putin, according to The Post's story. The White House did not dispute the story when it ran last week. In remarks at a national security forum in Colorado on Friday, Gen. Tony Thomas, head of the U.S. Special Operations Command, appeared to confirm that the program had been shut down, then attempted to walk back his comments, as Politico reported. In tweeting about the secret program, Trump, too, seemed to confirm its ending."
Trump erroneously says Lebanon is 'on the front lines' fighting Hezbollah, a partner in the Lebanese government, The Washington Post, Anne Gearan, Tuesday, 25 July 2017: "President Trump lumped the Lebanese militant group Hezbollah among militants and terrorists he praised the government of Lebanon for fighting, saying during Rose Garden remarks Tuesday that the tiny Mideast nation was 'on the front lines' of a shared battle against extremism. The only problem? Hezbollah is a political partner of the man standing next to Trump, visiting Lebanese Prime Minister Saad Hariri."
The American Psychoanalytic Association tells its members they can ignore 'Goldwater rule' and comment on Trump's mental health, Stat News, Sharon Begley, Tuesday, 25 July 2017: "A leading psychiatry group has told its members they should not feel bound by a longstanding rule against commenting publicly on the mental state of public figures — even the president. The statement, an email this month from the executive committee of the American Psychoanalytic Association to its 3,500 members, represents the first significant crack in the profession's decades-old united front aimed at preventing experts from discussing the psychiatric aspects of politicians' behavior. It will likely make many of its members feel more comfortable speaking openly about President Trump's mental health. The impetus for the email was 'belief in the value of psychoanalytic knowledge in explaining human behavior,' said psychoanalytic association past president Dr. Prudence Gourguechon, a psychiatrist in Chicago. 'We don't want to prohibit our members from using their knowledge responsibly.' That responsibility is especially great today, she told STAT, 'since Trump's behavior is so different from anything we've seen before…' An increasing number of psychologists and psychiatrists have denounced the restriction as a 'gag rule' and flouted it, with some arguing they have a 'duty to warn' the public about what they see as Trump's narcissism, impulsivity, poor attention span, paranoia, and other traits that, they believe, impair his ability to lead. Reporters, pundits, and government officials 'have been stumbling around trying to explain Trump's unusual behavior,' from his seemingly compulsive tweeting to his grandiosity, said Dr. Leonard Glass, a psychiatrist at Harvard Medical School. The rule against psychiatrists offering their analysis of the emotions, thought patterns, and beliefs underlying such behaviors, Glass said, robs the public 'of our professional judgment and prevents us from communicating our understanding' of the president's mental state."
As Interior Secretary Ryan Zinke Swaggers Through Parks, His Staff Rolls Back Years of Conservation Regulations, The New York Times, Coral Davenport and Nicholas Fandos, Tuesday, 25 July 2017: "Ryan Zinke, a former member of the Navy SEALs and lifelong Montana outdoorsman who now heads the Interior Department, loves to compare himself to Theodore Roosevelt, the father of American conservation…. But as the secretary hopscotches across millions of acres of Western parks, monuments and wilderness with his Stetson-sporting swagger, a crew of political appointees in Washington has begun rolling back the conservation efforts put in effect over the eight years of the Obama administration. Many of those appointees spent the Obama years working for the oil and gas industry — and they come to the Interior Department with an insider's knowledge of how its levers work and a wish list of policies from their former employers. Their work has been swift. Mr. Zinke's staff on Tuesday filed a legal proposal to rescind the nation's first safety regulation on hydraulic fracturing, or fracking. They are exploring a proposal to loosen safety rules on underwater drilling equipment put in place after the 2010 BP oil spill in the Gulf of Mexico. They have rolled back an Obama-era order to block coal mining on public lands and delayed carrying out a regulation controlling emissions of methane, a powerful greenhouse gas, from oil and gas wells."
A quick guide to President Trump's false Twitter claims today, The Washington Post, Glenn Kessler, Tuesday, 25 July 2017: "President Trump went on a Twitter rampage Monday night and this morning, spewing a number of false and misleading claims — many of which we have fact-checked previously. [This article is] a quick guide to what's factually incorrect."
Wednesday, 26 July 2017, Day 188:
Trump Says Transgender People Will Not Be Allowed in the Military, The New York Times, Julie Hirschfeld Davis and Helene Cooper, Wednesday, 26 July 2017: "President Trump abruptly announced a ban on transgender people serving in the military on Wednesday, blindsiding his defense secretary and Republican congressional leaders with a snap decision that reversed a year-old policy reviled by social conservatives. Mr. Trump made the surprise declaration on Twitter, saying that American forces could not afford the 'tremendous medical costs and disruption' of transgender service members. He said he had consulted generals and military experts, but Jim Mattis, the defense secretary, was given only a day's notice about the decision. Mr. Trump elected to announce the ban in order to resolve a quietly brewing fight on Capitol Hill over whether taxpayer money should pay for gender transition and hormone therapy for transgender service members, which had threatened to kill a $790 billion defense and security spending package scheduled for a vote this week. But rather than addressing that narrow issue, Mr. Trump opted to upend the entire policy on transgender service members, a move that few on Capitol Hill or at the Pentagon expected. Mr. Trump announced the decision with such haste that the White House could not answer basic inquiries about how it would be carried out, including what would happen to openly transgender people now serving on active duty; of eight defense officials interviewed, none could say." See also, Trump announces ban on transgender people in the U.S. military, The Washington Post, Abby Phillip, Thomas Gibbons-Neff, and Dan Lamothe, Wednesday, 26 July 2017: "President Trump announced on Twitter Wednesday that he will ban transgender people from serving in the military in any capacity, reversing an Obama administration decision to allow them to serve openly and drawing dismay and anger from advocates. Citing the need to focus on what he called 'decisive and overwhelming victory,' Trump said that the military cannot accept the burden of higher medical costs and the 'disruption' that transgender troops 'would entail.' 'After consultation with my Generals and military experts, please be advised that the United States Government will not accept or allow transgender individuals to serve in any capacity in the U.S. Military,' Trump wrote on Twitter. 'Our military must be focused on decisive and overwhelming victory and cannot be burdened with the tremendous medical costs and disruption that transgender in the military would entail.'" See also, The Cruelty and Cynicism of Trump's Transgender Ban, The New Yorker, David Remnick, Wednesday, 26 July 2017: "The President's tweets are a naked attempt to divert attention from his scandals."
The military spends five times as much on Viagra as it would on transgender troops' medical care, The Washington Post, Christopher Ingraham, Wednesday, 26 July 2017: "On Twitter this morning, President Trump announced a ban on transgender people serving in the military, citing "medical costs" as the primary driver of the decision. 'Our military must be focused on decisive and overwhelming victory and cannot be burdened with the tremendous medical costs and disruption that transgender in the military would entail,' the president wrote. While Trump didn't offer any numbers to support this claim, a Defense Department-commissioned study published last year by the Rand Corp. provides exhaustive estimates of transgender servicemembers' potential medical costs. Considering the prevalence of transgender servicemembers among the active duty military and the typical health-care costs for gender-transition-related medical treatment, the Rand study estimated that these treatments would cost the military between $2.4 million and $8.4 million annually…. 'The implication is that even in the most extreme scenario that we were able to identify … we expect only a 0.13-percent ($8.4 million out of $6.2 billion) increase in health care spending,' Rand's authors concluded. By contrast, total military spending on erectile dysfunction medicines amounts to $84 million annually, according to an analysis by the Military Times — 10 times the cost of annual transition-related medical care for active duty transgender servicemembers. The military spends $41.6 million annually on Viagra alone, according to the Military Times analysis — roughly five times the estimated spending on transition-related medical care for transgender troops. Looked at another way, the upper estimate for annual transgender medical costs in the military amounts to less than a tenth of the price of a new F-35 fighter jet. Or a thousandth of 1 percent of the Defense Department's annual budget."
Furious Gay Rights Advocates See Trump's 'True Colors,' The New York Times, Maggie Haberman, 26 July 2017: "When President Trump was a candidate, he pledged his support for lesbian, gay, bisexual, transgender and queer people immediately after the mass shooting last summer at the Pulse nightclub in Orlando, Fla. 'They have been through something that nobody could ever experience,' Mr. Trump said at an event in Manchester, N.H., on June 13, 2016, delivering a hastily drafted speech that was originally intended to be about Hillary Clinton. 'Ask yourself who is really the friend of women and the L.G.B.T. community, Donald Trump with actions or Hillary Clinton with her words?' he said. 'I will tell you who the better friend is, and someday I believe that will be proven out, big-league.' Such proof did not come on Wednesday. But the president's words were repeated with anger and frustration by a number of gay rights advocates who were angered by Mr. Trump's abrupt decision to bar transgender people from any military job. 'We're seeing the president's true colors,' said Chad Griffin, president of the Human Rights Campaign. 'This is who he is.'"
Health Care Vote: Senate Rejects Repeal Without Replace, The New York Times, Thomas Kaplan and Eileen Sullivan, Wednesday, 26 July 2017: "The Senate on Wednesday rejected a measure that would have repealed major parts of the Affordable Care Act but would not have provided a replacement, signaling that the 'clean repeal' bill that conservatives have embraced cannot get through Congress. The vote, 45-55, underscored the bind that Republican leaders have found themselves in. Seven Republicans voted against the measure — Senators Shelley Moore Capito of West Virginia, Susan Collins of Maine, Dean Heller of Nevada, John McCain of Arizona, Rob Portman of Ohio, Lamar Alexander of Tennessee and Lisa Murkowski of Alaska — showing that repealing the health law without an immediate replacement lacks crucial support among Republicans. But a more comprehensive measure that would have repealed major parts of the law with a ready replacement also came up short on Tuesday night. With neither approach viable, Senate Republican leaders may have no choice but to fall back on a third choice: Push a far more limited measure that repeals parts of the Affordable Care Act, such as its mandate that most people have insurance and a tax on medical devices, but leaves most of President Barack Obama's signature health law in place. Senators would then take their narrow bill into negotiations with the House, which passed a comprehensive measure to repeal and replace the Affordable Care Act."
Republican momentum grows for a more modest plan to overhaul Obamacare, The Washington Post, Juliet Eilperin, Kelsey Snell, and Sean Sullivan, Wednesday, 28 July 2017: "The Senate rejected a proposal Wednesday that would have repealed major parts of the Affordable Care Act, but Republican leaders were growing more confident about their chances of passing a more modest overhaul of the health-care law later this week. Republicans appeared to be ­coalescing around a 'skinny repeal' that would abolish the individual and employer insurance mandates and perhaps just one tax in an attempt to sustain their seven-year quest to unwind President Barack Obama's health-care law."
Trump Attacks Attorney General Jeff Sessions Again, This Time Over the Acting F.B.I. Director, Andrew G. McCabe, The New York Times, Eileen Sullivan, Wednesday, 26 July 2017: "President Trump publicly attacked Attorney General Jeff Sessions for a third consecutive day on Wednesday, questioning why Mr. Sessions has not fired the acting director of the F.B.I. over his wife's political ties to Hillary Clinton. Mr. Trump has already criticized the deputy F.B.I. director, Andrew G. McCabe, who took over the agency when Mr. Trump fired James B. Comey, the previous director. Mr. McCabe has remained in place while the president's nominee to run the F.B.I., Christopher A. Wray, goes through the confirmation process. By adding Mr. McCabe to a growing list of what the president views as Mr. Sessions's management failures, Mr. Trump spurred more speculation on Wednesday that he was considering firing his attorney general, one of the earliest supporters in Washington of Mr. Trump's bid for the White House." See also, Trump launches new attacks on Attorney General Jeff Sessions, The Washington Post, Matt Zapotosky and Devlin Barrett, Wednesday, 26 July 2017.
White House Aides Warn Trump of Conservative Revolt Unless He Backs Off Attorney General Jeff Sessions, The New York Times, Peter Baker and Jennifer Steinhauer, Wednesday, 26 July 2017: "For a week, some of President Trump's top aides have tried to talk him down from his public campaign against Attorney General Jeff Sessions. It was exposing tensions within the administration, stirring consternation with the conservative base and setting off a revolt among Senate Republicans incensed over the treatment of a former colleague. Among those urging Mr. Trump to spare Mr. Sessions have been Reince Priebus, the White House chief of staff; Stephen K. Bannon, the president's chief strategist; and Donald F. McGahn II, the White House counsel, according to officials who asked not to be named describing internal deliberations. For the White House, the attacks on the attorney general have touched off a serious problem on Capitol Hill when it did not need any other headaches. Senate Republicans who almost never link arms in unison against a president from their party formed a cordon around Mr. Sessions, making it clear that they neither concurred with nor would tolerate Mr. Trump's repeated threats to the attorney general's tenure. Senate leaders made clear they would block Mr. Trump from replacing Mr. Sessions if he tried to do so during the coming recess."
Donald Trump's Assault on Jeff Sessions, and the Presidency, The New York Times, The Editorial Board, Wednesday, 26 July 2017: "It's heartening to see that President Trump's weeklong, passive-aggressive assault on his own attorney general, Jeff Sessions, has crossed a line even for many of the president's most stalwart supporters. Rush Limbaugh called Mr. Trump's behavior 'unseemly' on his radio show Monday. Of Mr. Sessions he said, 'I hate to see him being treated this way.' Over in the Trump-friendly confines of Fox News, Tucker Carlson said the president's humiliation of the attorney general was 'a useless, self-destructive act,' and Mr. Carlson implored Mr. Trump: 'For God's sake, lay off Jeff Sessions. He's your friend, one of the very few you have in Washington.' We can't disagree with any of this, although we're puzzled by the sense of surprise. Mr. Trump's debasement of Mr. Sessions — starting with a mind-boggling interview he gave last week to The Times — is in line with everything he's said and done since he fired James Comey, the F.B.I. director, in May, in an inept attempt to shut down the bureau's investigation into whether the Trump campaign colluded with the Kremlin to influence the outcome of the 2016 election. Mr. Trump has been unpredictable in many things, but he has been utterly consistent when it comes to resisting any inquiry, however warranted and public-spirited, into his campaign or his close associates."
Attorney General Jeff Sessions Once Again Threatens Sanctuary Cities, The New York Times, Vivian Yee and Rebecca R. Ruiz, Wednesday, 26 July 2017: "Attorney General Jeff Sessions on Tuesday moved once again to punish so-called sanctuary cities, announcing that cities and states could lose millions of dollars in federal grants unless they began cooperating with immigration agents. Only hours before, President Trump had issued his latest public rebuke of Mr. Sessions, amplifying the criticisms he had leveled on Twitter against his attorney general in a Rose Garden news conference at which the president said that he was 'very disappointed' in Mr. Sessions's performance. Asked about Mr. Sessions's future employment, Mr. Trump said: 'Time will tell. Time will tell.' Mr. Sessions did not address the unfavorable performance review on Tuesday — it was 'business as usual' at the Justice Department, a spokeswoman said — but the sanctuary city announcement signaled that he was far from giving up on the immigration agenda he has zealously pursued since he was a senator from Alabama…. But it was not clear that he could hold cities to such conditions. Earlier this year, a federal judge temporarily blocked the Trump administration from withholding funding over sanctuary policies, a ruling the judge, William H. Orrick of United States District Court in San Francisco, recently reaffirmed over the objections of the government, which argued that only a small pool of grants was at stake. On Tuesday evening, officials in sanctuary cities reacted to the announcement with skepticism and hostility."
White House Communications Director Anthony Scaramucci still stands to profit from SkyBridge while employed in the White House, Politico, Lorraine Woellert, Wednesday, 26 July 2017: "Anthony Scaramucci finally has his White House job, but he still stands to profit from an ownership stake in his investment firm SkyBridge Capital. The incoming White House communications director earned $4.9 million from his ownership stake in SkyBridge in addition to more than $5 million in salary between Jan. 1, 2016, and the end of June, when he joined the Export-Import Bank, according to a financial disclosure filed with the Office of Government Ethics. The disclosure form, which is publicly available upon request, hasn't been previously reported. The disclosure highlights the extensive wealth Scaramucci has accumulated in his career — much like many of Trump's other top advisers and Cabinet secretaries — and also the challenge he faces in extracting himself from the potential conflicts his investments could pose."
Trump's healthcare battle reminds Anthony Scaramucci, White House Communications Director, of Abraham Lincoln fighting slavery, The Guardian, Julia Gregory, Amanda Holpuch, and agencies, Wednesday, 26 July 2017: "The new head of communications at the White House brought up Abraham Lincoln's struggle to end slavery when asked about the difficulty Donald Trump has faced in trying to repeal Barack Obama's healthcare legislation. In his first UK television interview, Anthony Scaramucci said Trump would push through the abolition of the healthcare plan, despite opposition in Congress. He told BBC Newsnight's Emily Maitlis: 'If you've read Team of Rivals, it took Lincoln three or four times to get what he wanted from the Senate and the House of Representatives, which was the full abolition of slavery – that was a much tougher thing to get done than what we're working on right now.'"
Federal judge upholds fine against Kris Kobach, the vice chair of Trump's Election Integrity Commission, for 'pattern' of misleading the Court' in voter-ID cases, The Washington Post, Christopher Ingraham, Wednesday, 26 July 2017: "A federal judge has upheld a $1,000 fine against the vice chair of President Trump's Election Integrity Commission, citing a 'pattern' of 'misleading the Court' in voter-ID cases. The ruling represents another blow to the credibility of a commission plagued by lawsuits and controversy in its first months of existence. Kansas Secretary of State Kris Kobach, vice chair of Trump's commission, was fined earlier this year for making 'patently misleading representations' to a federal court about a binder he was photographed carrying into a meeting with Trump late last year. As the defendant in a lawsuit over Kansas' strict citizenship requirements for first-time voter registrants, Kobach had initially refused to produce that document in court, arguing that it did not contain 'relevant information' to the case. The photographed document included the text 'Draft Amendments to the National Voter.' The rest of the text was obscured by Kobach's arm. Elections experts widely assumed it referenced the National Voter Registration Act, the federal law at the center of the American Civil Liberties Union's suit. A subsequently released email from Kobach to Trump's transition team appeared to support that assumption."
Gay rights opponent Pete Hoekstra has been nominated by Trump as ambassador to the Netherlands, The Guardian, Daniel Boffey, Wednesday, 26 July 2017: "A gay rights opponent who once appeared in a campaign advert that was accused of being racist and who has claimed that refugees pose a threat to Europe has been named as Donald Trump's choice for US ambassador to the Netherlands. The nomination of Pete Hoekstra, a former congressman and one of the founders of the conservative Tea Party movement, has raised eyebrows in the Netherlands, a bastion of liberal values and the first country in the world to legalise gay marriage…. His nomination will need to be approved by the Dutch government and confirmed by the US Senate in order for him to take up the post. Hoekstra has spoken out against gay marriage and as a congressman consistently voted to limit women's right to abortion. He is also a strident supporter of the death penalty."
Governor Sam Brownback of Kansas Will be Nominated as Ambassador at Large for International Religious Freedom, The New York Times, Mitch Smith and Jacey Fortin, Wednesday, 26 July 2017: "Sam Brownback, the beleaguered governor of Kansas whose aggressively conservative fiscal polices turned some fellow Republicans against him, will be nominated to serve as ambassador at large for international religious freedom, the White House said in a statement on Wednesday. Mr. Brownback, 60, represented his home state in Congress before being elected to two terms as governor beginning in 2011…. In the ambassadorship, Mr. Brownback would lead the Office of International Religious Freedom, which is under the umbrella of the State Department and charged with promoting religious freedom as a foreign policy objective. Mr. Brownback's popularity has plummeted in recent years as the state slashed services and struggled to meet its revenue projections, problems that many attributed to Mr. Brownback's signature tax-cutting doctrine. Despite Republicans' dominance in Kansas, the party suffered losses in last year's legislative elections."
26 hours, 29 Trumpian False or misleading claims, The Washington Post, Glenn Kessler and Mchelle Ye Hee Lee, Wednesday, 26 July 2017: "In a period of less than 26 hours — from 6:31 p.m. on July 24 to 8:09 p.m. on July 25 — President Trump made two fired-up speeches, held a news conference and tweeted with abandon, leaving a trail of misinformation in his wake. [This article covers] his suspect claims."
How California Plans to Go Far Beyond Any Other State on Climate, The New York Times, Brad Plumer, Wednesday, 26 July 2017: "Over the past decade, California has passed a sweeping set of climate laws to test a contentious theory: that it's possible to cut greenhouse gas emissions far beyond what any other state has done and still enjoy robust economic growth. Now that theory faces its biggest test yet. Last August, the State Legislature set a goal of slashing emissions more than 40 percent below today's levels by 2030, a far deeper cut than President Barack Obama proposed for the entire United States and deeper than most other countries have contemplated. So how will California pull this off? On Tuesday, Gov. Jerry Brown signed a new law expanding the state's cap-and-trade program, which is expected to play a big role. But cutting greenhouse gases this deeply will involve more than cap and trade. The state plans to rethink every corner of its economy, from urban planning to dairy farms."
Thursday, 27 July 2017, Day 189:
Anthony Scaramucci's Uncensored Rant: Foul Words and Threats to Have Reince Priebus, Trump's Chief of Staff, Fired, The New York Times, Peter Baker and Maggie Haberman, Thursday, 27 July 2017: "When Anthony Scaramucci, the new White House communications director, went on television on Thursday morning to compare himself and his adversary, Reince Priebus, the chief of staff, to Cain and Abel, it seemed to encapsulate the fratricidal nature of an administration riven by biblical rivalries. Cain, after all, killed Abel as they vied for God's favor. As it turned out, that was the cleaned-up version. In a vulgarity-laced telephone call with a New Yorker writer reported on the magazine's website on Thursday evening, Mr. Scaramucci railed against Mr. Priebus and Stephen K. Bannon, the president's chief strategist, both of whom opposed his hiring last week. He even vowed to get the chief of staff fired. 'Reince Priebus — if you want to leak something — he'll be asked to resign very shortly,' Mr. Scaramucci said. Whether Mr. Scaramucci will turn out to be Cain or Abel, it was clear that his appointment has added another layer of drama and dissent to a White House suffused in it — and revived the perpetual questions about Mr. Priebus's fate. Sean Spicer, the White House press secretary and an ally of Mr. Priebus, resigned in protest when Mr. Scaramucci was hired last week because, he predicted, it would only add more chaos to the team. On that, at least, he seems to have been proved right. But President Trump not only tolerates feuds within his team, he fuels them, playing one courtier off another and leaving them all unsteady. He chooses favorites and casts others aside, but even those decisions seem subject to change at any moody moment. And by several accounts, he personally encouraged Mr. Scaramucci's jihad against Mr. Priebus, once again subjecting his chief of staff to a ritualistic public lashing even as he considered pushing him out." See also, Trump's Communications Director Anthony Scaramucci Calls for Inquiry after 'Leak' of Financial Form, The New York Times, Peter Baker and Nicholas Fandos, Thursday, 27 July 2017: "In the five days since he was named White House communications director, Anthony Scaramucci has vowed to hunt down leakers and fire anyone he catches. By the end of his fifth day, he was on the receiving end of what he called a leak about himself. The financial disclosure form that Mr. Scaramucci filed with the government appeared on Politico's website on Wednesday night, showing that he has assets worth as much as $85 million. He made $5 million in salary and another $4.9 million from his ownership stake in his investment firm SkyBridge Capital in the first six months of this year, according to the filing. Mr. Scaramucci responded angrily. 'In light of the leak of my financial disclosure info which is a felony,' he wrote on Twitter, 'I will be contacting @FBI and the @TheJusticeDept.'… [I]t was not at all clear that there was actually a leak in the first place, much less an illegal one. Mr. Scaramucci filed the disclosure form in connection with his previous, short-lived job with the Trump administration at the Export-Import Bank. Under federal law, anyone can request such a report on a government website 30 days after its receipt. Mr. Scaramucci's report says it was filed on June 23, which means it could be publicly released by the bank on July 23, or last Sunday. Politico did not indicate whether it obtained the report through such a regular request. Asked why he thought the report had been leaked illegally, Mr. Scaramucci responded by text: 'They aren't in process yet.' But when told his form could be released on July 23, he did not respond further."
Anthony Scaramucci Called Me to Unload About White House Leakers, Reince Priebus, and Steve Bannon, The New Yorker, Ryan Lizza, Thursday, 27 July 2017: "On Wednesday night, I received a phone call from Anthony Scaramucci, the new White House communications director. He wasn't happy. Earlier in the night, I'd tweeted, citing a 'senior White House official,' that Scaramucci was having dinner at the White House with President Trump, the First Lady, Sean Hannity, and the former Fox News executive Bill Shine. It was an interesting group, and raised some questions. Was Trump getting strategic advice from Hannity? Was he considering hiring Shine? But Scaramucci had his own question—for me. 'Who leaked that to you?' he asked. I said I couldn't give him that information. He responded by threatening to fire the entire White House communications staff. 'What I'm going to do is, I will eliminate everyone in the comms team and we'll start over,' he said…. In Scaramucci's view, the fact that word of the dinner had reached a reporter was evidence that his rivals in the West Wing, particularly Reince Priebus, the White House chief of staff, were plotting against him…. Scaramucci, who initiated the call, did not ask for the conversation to be off the record or on background. 'Is it an assistant to the President?' he asked. I again told him I couldn't say. 'O.K., I'm going to fire every one of them, and then you haven't protected anybody, so the entire place will be fired over the next two weeks.' I asked him why it was so important for the dinner to be kept a secret. Surely, I said, it would become public at some point. 'I've asked people not to leak things for a period of time and give me a honeymoon period,' he said. 'They won't do it.' He was getting more and more worked up, and he eventually convinced himself that Priebus was my source. 'They'll all be fired by me,' he said. 'I fired one guy the other day. I have three to four people I'll fire tomorrow. I'll get to the person who leaked that to you. Reince Priebus—if you want to leak something—he'll be asked to resign very shortly.' The issue, he said, was that he believed Priebus had been worried about the dinner because he hadn't been invited. 'Reince is a fucking paranoid schizophrenic, a paranoiac,' Scaramucci said. He channelled Priebus as he spoke: ' "Oh, Bill Shine is coming in. Let me leak the fucking thing and see if I can cock-block these people the way I cock-blocked Scaramucci for six months." ' (Priebus did not respond to a request for comment.)…. Scaramucci was particularly incensed by a Politico report about his financial-disclosure form, which he viewed as an illegal act of retaliation by Priebus. The reporter said Thursday morning that the document was publicly available and she had obtained it from the Export-Import Bank. Scaramucci didn't know this at the time, and he insisted to me that Priebus had leaked the document, and that the act was 'a felony.' 'I've called the F.B.I. and the Department of Justice,' he told me. 'Are you serious?' I asked. 'The swamp will not defeat him,' he said, breaking into the third person. 'They're trying to resist me, but it's not going to work. I've done nothing wrong on my financial disclosures, so they're going to have to go fuck themselves.' Scaramucci also told me that, unlike other senior officials, he had no interest in media attention. 'I'm not Steve Bannon, I'm not trying to suck my own cock,' he said, speaking of Trump's chief strategist. 'I'm not trying to build my own brand off the fucking strength of the President. I'm here to serve the country.' (Bannon declined to comment.)"
'Skinny repeal' of Obamacare would leave 16 million more people uninsured in a decade, The Washington Post, Amy Goldstein, Thursday, 27 July 2017: "The 'skinny repeal' plan that emerged as Senate Republicans' best, and perhaps only, strategy for overturning much of the Affordable Care Act would pluck out just a few elements of the sprawling law, but it would pack an outsize punch, causing millions of Americans to lose health coverage and striking fear within the insurance industry. The plan would remove pieces that lie at the very foundation of the compact the Affordable Care Act has created among the government, insurers, the nation's employers and the American public. When the skinny repeal would come to a vote seemed up in the air early Thursday evening. It has been waiting in the wings, a set of ideas that could be introduced as a bill or as an amendment to existing GOP health-care legislation. A congressional budget analysis Wednesday night forecast that the plan would increase the number of uninsured people by 16 million, and health insurance companies warn that it would drive up rates. In its original form, the central features of the skinny repeal would eliminate the Affordable Care Act's requirements that most Americans carry health insurance and that employers with 50 or more workers offer them health benefits. The skinny idea plays off the fact that the insurance requirements, or mandates, are the most unpopular parts of the current health-care law, based on years of public opinion polling. By focusing mainly on those features, plus the elimination of a tax on medical devices, the political strategy behind this narrow bill would be to court Republican conservatives and centrists alike, adopt the measure and then catapult the passed bill into negotiations with the House, which approved its own anti-Affordable Care Act legislation this spring."
After Trump Targets Senator Lisa Murkowski of Alaska for opposing opening a debate on health care, Interior Secretary Ryan Zinke Reportedly Warns Alaska's Senators That They May Run Into Trouble with the Trump Administration, NPR, Bill Chappell, Thursday, 27 July 2017: "Hours after President Trump criticized Republican Sen. Lisa Murkowski's vote on debating health care legislation, Secretary of the Interior Ryan Zinke reportedly called Murkowski and fellow Alaskan Sen. Dan Sullivan to say their state could run into trouble with the Trump administration. Describing the call from Zinke, Sullivan told the Alaska Dispatch News, 'I'm not going to go into the details, but I fear that the strong economic growth, pro-energy, pro-mining, pro-jobs and personnel from Alaska who are part of those policies are going to stop.' Zinke's message, writes the Dispatch News' Erica Martinson, was that Murkowski's vote 'had put Alaska's future with the administration in jeopardy.'"
Trump ban on transgender service members alarms some military officers, Reuters, Idrees Ali and Phil Stewart, Thursday, 27 July 2017: "U.S. President Donald Trump's sudden decision to ban transgender personnel from serving in the military has alarmed some senior military officers who were caught off guard by it. Trump's declaration, which came via early morning tweets on Wednesday, appeared to pre-empt an ongoing Pentagon review looking into allowing openly transgender recruits to join the military, and he drew criticism from three senior officers interviewed by Reuters on Thursday. 'I hope our commander in chief understands that we don't transmit orders via Twitter, and that he can't, either,' one said by telephone, speaking on the condition of anonymity. 'Even if this were an order, implementing it legally would take considerable time, if it's even possible.' Rights groups and some lawmakers from both parties accused Trump of politically motivated discrimination and said the decision creates uncertainty for transgender active-duty service members and reservists, who say they number in the thousands.. The United States' top military officer, Marine General Joseph Dunford, told the armed forces on Thursday there had been no change yet to Pentagon policy on transgender personnel. Dunford, chairman of the Joint Chiefs of Staff, acknowledged the uncertainty that followed Trump's announcement in a note to service chiefs, commanders and senior enlisted leaders. 'I know there are questions about yesterday's announcement on the transgender policy by the President,' Dunford wrote. 'There will be no modifications to the current policy until the President's direction has been received by the Secretary of Defense and the Secretary has issued implementation guidance,' Dunford said in the message, first reported by Reuters." See also, Transgender People Can Still Serve for Now, U.S. Military Says, The New York Times, Helene Cooper, 27 July 2017: "Transgender people can continue to serve in the military for now, Pentagon leaders said on Thursday, scrambling to clarify the confusion surrounding President Trump's abrupt announcement a day earlier that transgender people would no longer be accepted or allowed in uniform. In a letter to the military service chiefs, Gen. Joseph F. Dunford Jr., the chairman of the Joint Chiefs of Staff, said that the policy on who is allowed to serve would not change until the White House sends the Defense Department new rules and the secretary of defense issues new guidelines. 'In the meantime, we will continue to treat all of our personnel with respect,' General Dunford said in the letter. Dana White, the chief Pentagon spokeswoman, said the Defense Department would provide detailed guidance in the 'near future' on how Mr. Trump's tweets will be turned into policy. The open-ended nature of their comments reflected the challenge facing the Pentagon: how to put in place a policy that was announced without a plan to do so. In announcing a reversal of previous policy in three tweets, Mr. Trump upended years of debate at the Pentagon over how to treat men and women in the military who do not identify with the gender that they appeared at birth. Lawmakers and stakeholders in both parties said that making such a sudden announcement without a plan to carry it out demonstrated the folly of Mr. Trump's attempt to govern by tweet." See also, Trump's Tweeted Transgender Ban Is Not a Law, The New Yorker, Jeannie Suk Gersen, Thursday, 27 July 2017: "A tweet by a President is neither a law nor an executive order. That reality is important to keep in mind when considering President Trump's tweet on Wednesday morning, saying that the U.S. government 'will not accept or allow transgender individuals to serve in any capacity in the U.S. Military.' Trump's tweet seemingly banning transgender people from military service has the same legal efficacy as his myriad other tweets expressing desires, promises, and intentions, many of which are unlikely to come to fruition, from building a wall on the Mexican border to changing the libel laws."
Justice Department Says a Major Civil Rights Law Doesn't Protect Gays, The New York Times, Alan Feuer, Thursday, 27 July 2017: "The Justice Department has filed court papers arguing that a major federal civil rights law does not protect employees from discrimination based on sexual orientation, taking a stand against a decision reached under President Barack Obama. The department's move to insert itself into a federal case in New York was an unusual example of top officials in Washington intervening in court in what is an important but essentially private dispute between a worker and his boss over gay rights issues."
In One Day, Trump Administration Lands 3 Punches Against Gay Rights, The New York Times, Michael D. Shear and Charlie Savage, Thursday, 27 July 2017: "The Trump administration abruptly waded into the culture wars over gay rights this week, signaling in three separate actions that it will use the powers of the federal government to roll back civil rights for gay and transgender people. Without being asked, the Justice Department intervened in a private employment lawsuit on Wednesday, arguing that the ban on sex discrimination in the Civil Rights Act of 1964 does not protect workers on the basis of their sexual orientation. The friend-of-the-court brief, filed at the United States Court of Appeals for the Second Circuit in New York, was a striking shift in tone from the Obama administration, which had shied away from that question. The move ended a day that began with a tweet from President Trump announcing a ban on transgender people serving in the military, surprising Pentagon leaders and reversing a year-old Obama administration policy. Also on Wednesday, Mr. Trump announced that he would nominate Sam Brownback, the governor of Kansas and a vocal opponent of gay rights, to be the nation's ambassador at large for international religious freedom. The constellation of events raised alarm among gay rights advocacy groups, which portrayed the moves as a concerted effort to limit advancements in gay rights."
National security adviser H.R. McMaster ousts Derek Harvey, the National Security Council's top official for the Middle East, The Washington Post, Karen DeYoung and Greg Jaffe, Thursday, 27 July 2017: "The National Security Council's top official for the Middle East has been removed from his job following internal complaints about his management style, according to senior Trump administration officials. The departure Thursday of retired Army colonel Derek Harvey, an influential voice on Iran, Syria and counterterrorism policy, came at the initiative of national security adviser H.R. McMaster, who has repeatedly clashed with him. 'He and McMaster had different visions for what the mission required,' said one of several officials who discussed internal White House decision-making on the condition of anonymity…. As senior director for the Middle East and special assistant to President Trump, Harvey supervised officials who specialized in various policy areas throughout the region, but much of his attention was focused on Iran, where he was a persistent advocate for a more hard-line policy. He has also been a key player in the administration's ongoing review of the Iran nuclear deal. Michael Bell, NSC director for Persian Gulf affairs, has been named to take Harvey's place temporarily until a permanent replacement is determined, officials said."
Banking Regulatory Nominees Joseph Otting and Randal Quarles Back Fewer Financial Restrictions, The New York Times, Biyamin Appelbaum, Thursday, 27 July 2017: "Randal Quarles, nominated by President Trump to supervise the nation's largest banks, told senators on Thursday that it was time to reconsider some of the strictures imposed on the financial industry after the 2008 financial crisis. Mr. Quarles said he supported changes proposed by the Treasury Department, which include relaxing the annual 'stress testing' of the largest banks and exempting smaller banks from some kinds of scrutiny. 'Regulatory policies enacted since the financial crisis have improved the safety and soundness of the financial system,' Mr. Quarles said. 'But as with any complex undertaking, after the first wave of reform, and with the benefit of experience and reflection, some refinements will undoubtedly be in order.' Mr. Quarles appeared before the Senate Banking Committee, which is considering his nomination as the Federal Reserve's vice chairman of supervision. The committee also questioned Joseph Otting, Mr. Trump's nominee for comptroller of the currency."
House Approves Spending Package, Border Wall and All, The New York Times, Emmarie Huetteman, Thursday, 27 July 2017: "The House approved on Thursday a bundle of spending bills, including $1.57 billion that President Trump requested to build a wall along the Mexican border, which could serve as the opening salvo in a new congressional battle to keep the government funded. The nearly $790 billion package, which passed 235 to 192, would fund a slew of security-related government expenses and gave House Republicans a fresh victory on the cusp of a more than five-week recess. Five Republicans voted against the measure, and five Democrats voted for it. But the legislation is almost certain to fail in the Senate, where picking up the tab for Mr. Trump's signature campaign promise — a border wall, which he has vowed Mexico ultimately will fund — is a deal-breaker for Democrats."
Congress sends Russia sanctions bill to Trump's desk, but it's unclear whether he will veto it, The Washington Post, Karoun Demirjian, Thursday, 27 July 2017: "The Senate voted overwhelmingly Thursday to pass a bill increasing sanctions against Russia, Iran and North Korea, establishing veto-proof majorities for the measure that also allows Congress to block President Trump from easing sanctions against Moscow…. Under the bill, the president is required to notify Congress before making any alterations to Russia sanctions policy, and lawmakers then have 30 days in which they can block the president from implementing those changes. The procedure, known as 'congressional review,' is the most sweeping authority Congress has given itself to check the president on sanctions policy in decades. Such matters have traditionally been left to the executive branch once Congress authorizes the sanctions at the administration's disposal. Even in the case of mandatory sanctions, Congress usually steers clear of the president on matters of national security. But lawmakers are worried by hints that the Trump administration might make concessions to Russia, specifically sanctions that the Kremlin has sought to have lifted. The administration has considered handing back to Russia control of two U.S. compounds the Obama administration seized at the end of last year, accusing Moscow of using them for intelligence purposes. And Trump and his surrogates have spoken to Putin and other Russian operatives about restoring the ability of U.S. citizens to adopt children from Russia — which the Kremlin won't allow until the United States repeals the Magnitsky Act and Global Magnitsky Act sanctioning human-rights violators." See also, With New Sanctions, Senate Forces Trump's Hand on Russia, The New York Times, Matt Flegenhiemer, Thursday, 27 July 2017: "The Senate on Thursday approved sweeping sanctions against Russia, forcing President Trump to decide whether to accept a tougher line against Moscow or issue a politically explosive veto amid investigations into ties between his presidential campaign and Russian officials. The Senate vote, 98 to 2, followed the passage of a House bill this week to punish Russia, Iran and North Korea for various violations by each of the three American adversaries. In effect, the measure would sharply limit Mr. Trump's ability to suspend or lift sanctions on Russia — handcuffing a sitting president just six months into his term with the nearly unanimous support of a Republican-led Congress. The Trump administration has opposed the sanctions against Russia, arguing that it needs flexibility to pursue a more collaborative diplomacy with a country that, by American intelligence consensus, interfered in last year's presidential election. But now the president faces a decision he had hoped to avoid, even though the administration supports sanctions against Iran and North Korea. White House aides have acknowledged privately that a veto would be politically awkward, at best, for Mr. Trump to justify during the continuing investigations into whether his campaign colluded with Russia."
Senators Move to Block Trump From Ousting Attorney General Jeff Sessions, The Wall Street Journal, Byron Tau and Aruna Viswanatha, Thursday, 27 July 2017: "Senate Republicans on Thursday moved to block every path President Donald Trump might try to use to fire and replace Attorney General Jeff Sessions, a step they worry would disrupt the independence of the investigation into Russia's interference in the 2016 election. Sending the most powerful signal yet that Mr. Trump should back away from such action, the senators said they would try to thwart him through legislation, control of the calendar, and the chamber's parliamentary rules. Senator Lindsey Graham (R., S.C.) told reporters Thursday that he would introduce a bill next week that would curtail the power of the president to fire a special counsel under some circumstances without approval from a federal judge."
White House adviser Kellyanne Conway Says Ethics Filings Discourage Potential Government Employees, NPR, Mollie Simon, Thursday, 27 July 2017: "White House counselor Kellyanne Conway, speaking on Fox & Friends Thursday, said the Trump administration's hiring efforts are being hindered by the 'hoops you have to jump through' to comply with Office of Government Ethics rules. 'There are so many qualified men and women who wanted to serve this administration and their country who have been completely demoralized and completely disinclined to do so based on the paperwork we have to put forward, divesting assets,' Conway said. Kathleen Clark, an ethics law professor at Washington University in St. Louis, disagreed about the impact of ethics disclosure forms, saying they help ensure that government employees prioritize the public good."