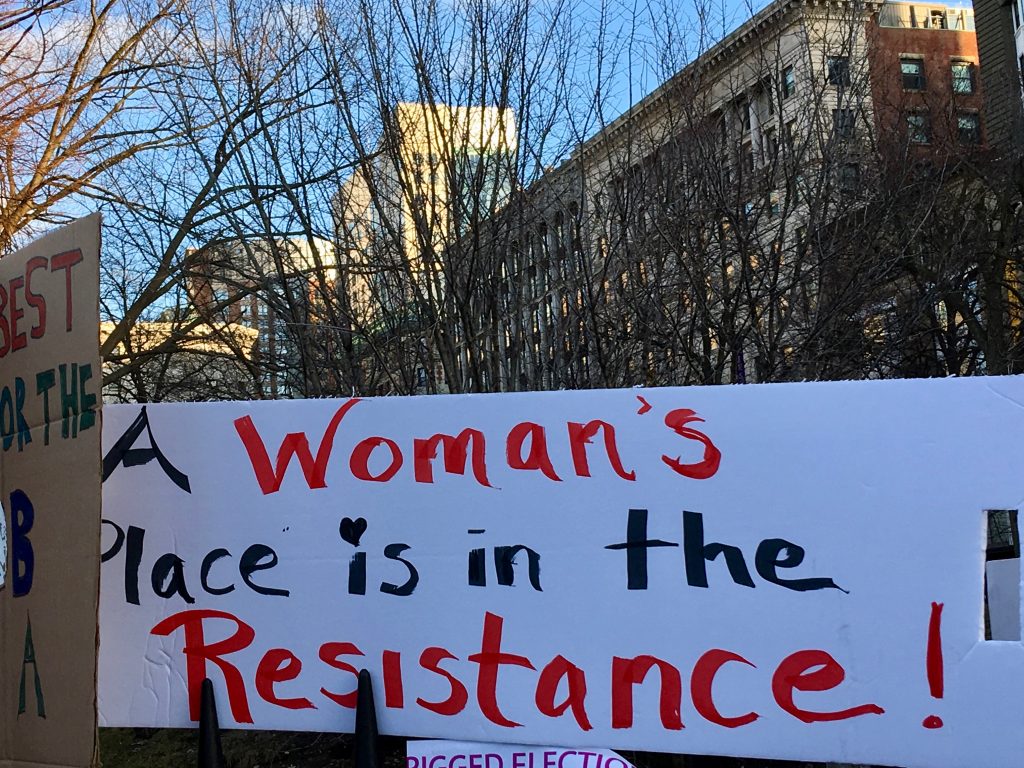 Keeping Track (of some things), Staying Outraged (it is possible), and Resisting (it's essential)
Passages in bold in the body of the texts below are my emphasis. This is an ongoing project, and I update the site frequently. I hope readers will peruse the articles in full for a better understanding of the issues and their context; our democracy and our future depend on citizens who can distinguish between facts and falsehoods and who are engaged in the political process.
Friday, 12 May 2017, Day 113:
Trump Warning to Comey Prompts Questions on Secret 'Tapes,' The New York Times, Peter Baker and Michael D. Shear, Friday, 12 May 2017: "President Trump on Friday warned James B. Comey, the F.B.I. director whom he fired this week, against leaking anything negative about him, saying that Mr. Comey 'better hope' that there are no secret tapes of their conversations that the president could use in retaliation. The suggestion that the president may be surreptitiously recording his meetings or telephone calls added a twist at the end of a week that roiled Washington. The president and his spokesman later refused to say whether he tapes his visitors, something Mr. Trump was suspected of doing when he was in business in New York. 'James Comey better hope that there are no "tapes" of our conversations before he starts leaking to the press!' Mr. Trump wrote on Twitter. Mr. Trump appeared to be referring to an article in The New York Times that said he had asked Mr. Comey to pledge loyalty during a dinner at the White House shortly after the inauguration, only to be rebuffed by the F.B.I. director, who considered it inappropriate. Mr. Trump denied the account, but it was not clear whether he was genuinely revealing the existence of clandestine recordings or simply making a rhetorical point that Mr. Comey's version of events was false."
Trump threatens to cancel White House briefings because it is 'not possible' for his staff to speak with 'perfect accuracy,' The Washington Post, Philip Rucker, Friday, 12 May 2017: "President Trump threatened Friday morning to end White House press briefings, arguing that 'it is not possible' for his staff to speak with 'perfect accuracy' to the American public. Trump's comments come after his description of his decision to fire FBI Director James B. Comey in an NBC News interview Thursday flatly contradicted the accounts provided earlier by White House officials, including Vice President Pence, exposing their explanations as misleading and in some cases false. In a pair of tweets sent Friday, Trump suggested he might do away with the daily press briefings at the White House and instead have his spokesmen communicate to the public only via 'written responses.'"
Trump reportedly wanted a loyalty pledge from Comey. The FBI says that 'leads to tyranny.' The Washington Post, Aaron Blake, Friday, 12 May 2017: "There are now multiple reports that President Trump fired FBI Director James B. Comey in part because Comey didn't provide him assurances of loyalty. The Washington Post has reported Trump 'had long questioned Comey's loyalty and judgment.' CNN's Jake Tapper reported that a source close to Comey told him Comey's lack of "any assurance of personal loyalty" was one of two main reasons Comey was fired. And now the New York Times is reporting that Trump asked for a loyalty pledge during a dinner about a week after Trump was inaugurated:
As they ate, the president and Mr. Comey made small talk about the election and the crowd sizes at Mr. Trump's rallies. The president then turned the conversation to whether Mr. Comey would pledge his loyalty to him.

Mr. Comey declined to make that pledge. Instead, Mr. Comey has recounted to others, he told Mr. Trump that he would always be honest with him, but that he was not 'reliable' in the conventional political sense.
Trump would have known what Comey's answer would be if he had taken the time to understand the oath taken by FBI officers — and members of the military for that matter. Those oaths are taken to the Constitution and not the president for a very specific reason. Right there on its website, the FBI says the bureau and its officials must only swear an oath to the Constitution — not even a president. The reason? Because the latter 'too easily leads to tyranny'."…
Continue reading Week 17, Friday, 12 May – Thursday, 18 May 2017:
All of the White House's conflicting explanations for Comey's firing: A timeline, The Washington Post, Michelle Ye Hee Lee, Friday, 12 May 2017: "On May 9, Donald Trump became the second United States president to fire the director of the FBI. Naturally, Americans wanted to know: Why? The exact answer remained elusive over the course of three days following the announcement. Trump and his White House gave numerous, contradictory explanations for James B. Comey's firing. As a public service, we compiled a timeline of the shifting rhetoric by Trump and his staff. We will update this list as necessary." See also, Five Contradictions in the White House's Story About Firing of F.B.I. Director James Comey, The New York Times, Alicia Parlapiano, Stuart A. Thompson, and Wilson Andrews, Friday, 12 May 2017.
Trump's own words add fuel to questions about the legality of firing FBI Director James Comey, The Washington Post, Karen Tumulty, Friday, 12 May 2017: "With his own words over the past two days, President Trump has vastly escalated the stakes and potential consequences of his decision to fire James B. Comey as FBI director, provoking questions about whether his motivations and tactics may have run afoul of the law. The president also suggested via Twitter that he may have 'tapes' of private conversations with Comey, evoking echoes of Watergate and demands by Democrats that he produce what could be critical evidence. All of that undermines Trump's credibility as he seeks to name a new FBI director whose independence will be under intense scrutiny and whose most critical job will be to lead the probe into alleged Russian meddling in the 2016 election. The point of greatest sensitivity raised by Trump's decision to fire Comey is its potential connection to the former FBI director's role in investigating what he described as 'the nature of any links between individuals associated with the Trump campaign and the Russian government and whether there was any coordination between the campaign and Russia's efforts.' In a television interview and on Twitter, the president has given ammunition to arguments by some legal experts that his actions constitute a possible case of obstruction of justice — a central charge in the impeachment proceedings against two presidents in the last 43 years."
Trump Lawyers Say He Had No Russian Income or Debt, With Some Exceptions, The New York Times, Mark Landler and Eric Lipton, Friday, 12 May 2017: "President Trump's lawyers say his income tax returns do not show income from Russian sources or debt owed to Russians, with the exception of $95 million paid by a Russian billionaire for a Trump-owned estate in Florida and $12.2 million in payments in connection with holding the Miss Universe pageant in Moscow in 2013. The statements are contained in a letter from two lawyers, Sheri A. Dillon and William F. Nelson, to Mr. Trump, which the White House released Friday. The president cited the letter in an interview with Lester Holt of NBC News, amid a political firestorm over his firing of the F.B.I. director, James B. Comey, as proof that there were no hidden financial ties between Mr. Trump and Russia. In addition to the Florida estate and the beauty pageant, the lawyers said Mr. Trump had received undisclosed payments over 10 years from Russians for hotel rooms, rounds of golf or Trump-licensed products, like wine, ties or mattresses. But they said those amounts were "immaterial" and would not have been identified as coming from Russian sources in the tax returns. The lawyers noted that their statement covers only the period dating back a decade, after their firm, Morgan Lewis & Bockius, began representing Mr. Trump and the Trump Organization. It leaves other questions unanswered, including whether Mr. Trump or his firms received Russian income or loans from entities registered elsewhere or whether he derived income from Russian-linked partnerships that file their own returns."
Attorney General Jeff Sessions Orders Tougher Sentences, Rolling Back Obama Policy, The New York Times, Rebecca R. Ruiz, Friday, 12 May 2017: "Attorney General Jeff Sessions has ordered federal prosecutors to pursue the toughest possible charges and sentences against crime suspects, he announced Friday, reversing Obama administration efforts to ease penalties for some nonviolent drug violations. The drastic shift in criminal justice policy, foreshadowed during recent weeks, is Mr. Sessions's first major stamp on the Justice Department, and it highlights several of his top targets: drug dealing, gun crime and gang violence. In an eight-paragraph memo, Mr. Sessions returned to the guidance of President George W. Bush's administration by calling for more uniform punishments — including mandatory minimum sentences — and instructing prosecutors to pursue the harshest possible charges. Mr. Sessions's policy is broader than that of the Bush administration, however, and how it is carried out will depend more heavily on the judgments of United States attorneys and assistant attorneys general as they bring charges. The policy signaled a return to 'enforcing the laws that Congress has passed,' Mr. Sessions said Friday at the Justice Department, characterizing his memo as unique for the leeway it afforded prosecutors."
Watchdog group Democracy 21 alleges Attorney General Jeff Sessions violated recusal rule in firing of FBI director James Comey, The Washington Post, Tom Hamburger, Friday, 12 May 2017: "An ethics watchdog group filed a complaint against Attorney General Jeff Sessions on Friday alleging that his participation in the firing of FBI Director James B. Comey violated Justice Department rules and Sessions's promise to recuse himself from matters involving Russia. 'Firing the lead investigator is the most extreme form of interfering with an investigation,' wrote Fred Wertheimer, who signed the six-page complaint on behalf of his organization, Democracy 21. The filing asked the Justice Department's Office of Professional Responsibility to investigate the matter and issue a public report — and to take additional action. 'Immediately, we call on OPR to take all necessary steps to ensure that the Attorney General withdraws from any participation in the selection of an interim or permanent Director of the FBI,' the complaint said. When President Trump fired Comey on Tuesday, he announced that he had consulted with Sessions and the department's No. 2 official, Deputy Attorney General Rod J. Rosenstein. Wertheimer, who has worked on ethics issues since the Watergate scandal, said the attorney general's participation in the Comey firing violated Justice Department rules requiring staffers to recuse themselves from any criminal inquiry in which they have a 'personal or political relationship.' He pointed out that Sessions is a potential subject of a Russia inquiry since he met with the Russian ambassador in 2016. In addition, the complaint notes that during his Senate confirmation hearings Sessions agreed to recuse himself from 'any investigations into Hillary Clinton's emails.'"
U.S. Crackdown on For-Profit Schools Is Said to Go Idle, The New York Times, Patricia Cohen, Friday, 12 May 2017: "The Education Department's sweeping crackdown on fraudulent practices at for-profit colleges has stalled under the Trump administration's appointees, several current and former department employees say. Current and former employees, who requested anonymity for fear of retaliation, said tight restrictions have been put on staff members scrutinizing for-profit institutions, constraining their contact with other state and federal agencies without high-level approval — a contention a department spokesman denied. Some state officials who had collaborated with the Education Department in bringing legal cases against for-profit schools say their joint work has ground to a halt. They also say they are troubled by an apparent slowdown in granting debt relief to students who were cheated."
Sam Clovis, Trump's Expected Pick for Top USDA Scientist, Is Not a Scientist, ProPublica, Jessica Huseman, Friday, 12 May 2017: "The USDA's research section studies everything from climate change to nutrition. Under the 2008 Farm Bill, its leader is supposed to serve as the agency's 'chief scientist' and be chosen 'from among distinguished scientists with specialized or significant experience in agricultural research, education, and economics.' But Sam Clovis — who, according to sources with knowledge of the appointment and members of the agriculture trade press, is President Trump's pick to oversee the section — appears to have no such credentials. Clovis has never taken a graduate course in science and is openly skeptical of climate change. While he has a doctorate in public administration and was a tenured professor of business and public policy at Morningside College for 10 years, he has published almost no academic work. Clovis is better known for hosting a conservative talk radio show in his native Iowa and, after mounting an unsuccessful run for Senate in 2014, becoming a fiery pro-Trump advocate on television."
Saturday, 13 May 2017, Day 114:
A federal judge in Michigan orders government to turn over documents from Rudy Giuliani on travel ban, The Washington Post, Matt Zapotosky, Saturday, 13 May 2017: "A federal judge in Michigan this week ordered the Trump administration to turn over communications from Rudolph W. Giuliani and other advisers on the president's controversial travel ban. Those suing over the matter hope the documents will bolster their bid to prove the ban was motivated by animus toward Muslims. Giuliani has been a key figure in the ban even before the first version was signed, and judges across the country have pointed to statements by the former New York mayor and close Trump ally as they have ordered the ban frozen. The judges have noted particularly a comment Giuliani made on Fox News in January, in which he seemed to suggest he helped the president craft a legal way to prevent Muslims from entering the U.S. 'So when he first announced it, he said, "Muslim ban." He called me up. He said, "Put a commission together. Show me the right way to do it legally,"' Giuliani said at the time. U.S. District Judge Victoria A. Roberts ordered the government to turn over to those suing a memo that Giuliani crafted, along with all 'documents or communications' about the travel ban from him and several other Trump advisers, including Attorney General Jeff Sessions, White House Chief Strategist Stephen K. Bannon and senior adviser Stephen Miller during the period just before the election, before they were in their current roles."
Trump to Liberty University graduates: Be an outsider – because there's nothing 'more pathetic' than 'being a critic,' The Washington Post, Jenna Johnson, Saturday, 13 May 2017: "After one of the most tumultuous weeks of his presidency, President Trump traveled to Liberty University on Saturday morning to deliver a subdued pep talk. For once, it was not a campaign speech — although he did marvel at the large crowd and bragged about his success with evangelical voters. Instead, the president explained to graduates of the evangelical Christian school how to stay tough when no one agrees with you, when everyone is criticizing you, when you feel like running home to your mother…. He urged the graduates to not pick the career their parents want them to have, to not give into 'bitterness and anger,' to hold fast to the things they believe to be true, to proudly be an 'outsider' and to ignore the haters. 'No one has ever achieved anything significant without a chorus of critics standing on the sidelines explaining why it can't be done,' the president said. 'Nothing is easier — or more pathetic — than being a critic, because they're people that can't get the job done.'"
Sunday, 14 May 2017, Day 115:
Senators Voice Concerns About Trump's Threat of Taped Conversations, The New York Times, Jonah Engel Bromwich and Niraj Chokshi, Sunday, 14 May 2017: "President Trump's abrupt dismissal last week of the F.B.I. director, James B. Comey, and his subsequent allusion to taped conversations with Mr. Comey continued to roil Washington on Sunday. In televised appearances, lawmakers in both parties said that the recordings could or should come to light if they exist, while a former director of national intelligence, James R. Clapper Jr., suggested that Mr. Trump was contributing to an erosion of democratic institutions. Speaking on NBC's 'Meet the Press,' Senator Lindsey Graham, Republican of South Carolina, said the prospect that a conversation with Mr. Comey was recorded must be taken seriously."
Former director of National Intelligence James Clapper says Trump is weakening U.S. institutions, The Washington Post, Brian Fung, Sunday, 14 May 2017: "Former director of National Intelligence James R. Clapper Jr. warned Sunday that the nation's institutions are being undermined by President Trump after his decision last week to fire FBI Director James B. Comey. Citing Russian influence in the U.S. election, Clapper told CNN's Jake Tapper on 'State of the Union' that outside forces were responsible for weakening the U.S. government. He also added that 'our institutions are under assault internally.' 'Internally from the president?' Tapper asked. 'Exactly,' said Clapper. 'I think the Founding Fathers, in their genius, created a system of three coequal branches of government and a built-in system of checks and balances. And I feel as though it's under assault and eroding.' Clapper's remarks reflect a growing alarm among policymakers and legal experts who say Trump has undercut the credibility of the FBI and its independence, at a time when the agency is investigating alleged links between Trump's campaign and Russian officials."
Under Trump, inconvenient data is being sidelined, The Washington Post, Juliet Eilperin, Sunday, 14 May 2017: "The Trump administration has removed or tucked away a wide variety of information that until recently was provided to the public, limiting access, for instance, to disclosures about workplace violations, energy efficiency, and animal welfare abuses. Some of the information relates to enforcement actions taken by federal agencies against companies and other employers. By lessening access, the administration is sheltering them from the kind of 'naming and shaming' that federal officials previously used to influence company behavior, according to digital experts, activists and former Obama administration officials. The Occupational Safety and Health Administration, for instance, has dramatically scaled back on publicizing its fines against firms. And the Agriculture Department has taken off-line animal welfare enforcement records, including abuses in dog breeding operations and horse farms that alter the gait of racehorses through the controversial practice of 'soring' their legs. In other cases, the administration appears to be dimming the prior spotlight on the background and conduct of top officials. The administration no longer publishes online the ethics waivers granted to appointees who would otherwise be barred from joining the government because of recent lobbying activities. Nor is the White House releasing logs of its visitors, making it difficult for the public to keep track of who is stopping by to see the president's inner circle. The administration has also removed websites and other material supporting Obama-era policies that the White House no longer embraces. Gone, for instance, is a White House Web page that directed prospective donors to private groups that aid refugees fleeing Syria and other embattled nations."
White Nationalists Wield Torches at Confederate Statue Rally in Charlottesville, Virginia, The New York Times, Jonah Engel Bromwich, Sunday, 14 May 2017: "Carrying torches and chanting angrily, demonstrators marched Saturday in a Virginia city against a vote to remove a statue of Robert E. Lee, leading the city's mayor to compare the rally to a gathering of the Ku Klux Klan. The gathering of several dozen protesters in Charlottesville, Va., was led by Richard B. Spencer, a prominent white supremacist, who posted pictures and video from the gathering to social media that showed a phalanx of demonstrators holding Confederate battle flags and a banner proclaiming, 'We will not be replaced.' Their chants, some of which were captured on video, included 'Russia is our friend' and the Nazi-era slogan 'blood and soil.'"
Monday, 15 May 2017, Day 116:
Trump revealed highly classified information to Russian foreign minister and ambassador, The Washington Post, Greg Miller and Greg Jaffe, Monday, 15 May 2017: "President Trump revealed highly classified information to the Russian foreign minister and ambassador in a White House meeting last week, according to current and former U.S. officials, who said Trump's disclosures jeopardized a critical source of intelligence on the Islamic State. The information the president relayed had been provided by a U.S. partner through an intelligence-sharing arrangement considered so sensitive that details have been withheld from allies and tightly restricted even within the U.S. government, officials said. The partner had not given the United States permission to share the material with Russia, and officials said Trump's decision to do so endangers cooperation from an ally that has access to the inner workings of the Islamic State. After Trump's meeting, senior White House officials took steps to contain the damage, placing calls to the CIA and the National Security Agency. 'This is code-word information,' said a U.S. official familiar with the matter, using terminology that refers to one of the highest classification levels used by American spy agencies. Trump 'revealed more information to the Russian ambassador than we have shared with our own allies.'" See also, Trump Revealed Highly Classified Intelligence to Russia, in Break With a Middle Eastern Ally, Officials Say, The New York Times, Matthew Rosenberg and Eric Schmitt, Monday, 15 May 2017: "President Trump boasted about highly classified intelligence in a meeting with the Russian foreign minister and ambassador last week, providing details that could expose the source of the information and the manner in which it was collected, a current and a former American government official said Monday. The intelligence disclosed by Mr. Trump in a meeting with Sergey V. Lavrov, the Russian foreign minister, and Sergey I. Kislyak, the Russian ambassador to the United States, was about an Islamic State plot, according to the officials. A Middle Eastern ally that closely guards its own secrets provided the information, which was considered so sensitive that American officials did not share it widely within the United States government or pass it on to other allies. Mr. Trump's disclosure does not appear to have been illegal — the president has the power to declassify almost anything. But sharing the information without the express permission of the ally who provided it was a major breach of espionage etiquette, and could jeopardize a crucial intelligence-sharing relationship. In fact, the ally has repeatedly warned American officials that it would cut off access to such sensitive information if it were shared too widely, the former official said. In this case, the fear is that Russia will be able to determine exactly how the information was collected and could disrupt the ally's espionage efforts. The Washington Post first reported Mr. Trump's disclosure. White House officials denied that Mr. Trump shared sources and methods of intelligence gathering but did not address whether he talked about the Islamic State plot itself." And see also, Bombshell: Initial Thoughts on the Washington Post's Game-Changing Story, Lawfare Blog, Jack Goldsmith, Susan Hennessey, Quinta Jurecic, Matthew Kahn, Benjamin Wittes, and Elishe Julian Wittes, Monday, 15 May 2017.
How Government Secrets Are Declassified and Disclosed, The New York Times, Charlie Savage, Monday, 15 May 2017: "The news that President Trump disclosed highly classified information about the Islamic State during a meeting with Russian officials, jeopardizing an ally's intelligence source, has raised interest in legal issues surrounding disclosures of classified information…. The classification system is regulated by executive orders, which presidents periodically update and replace. The current version is Executive Order 13526, which President Barack Obama signed in late 2009. Under its rules, 'original classification authorities' — like the heads of various departments and agencies — can normally classify and declassify information 'owned' by their organizations. They can then authorize its disclosure to someone who has the proper security clearance and is deemed to need to know it. But the president oversees all the agencies and can also directly exercise his powers. Did Mr. Trump have legal authority to disclose the information? Yes. The designation of information as a restricted national security secret is considered part of the president's constitutional powers as commander in chief. Because the classified information system was not established and is not regulated by congressional statutes, Mr. Trump has the power to declassify or disclose anything he wants."
Why Congress will probably never see Trump's 'tapes' of his conversations with James Comey, The Washington Post, Amber Phillips, Monday, 15 May 2017: "Top Democrats and Republicans in Congress may say they want to get their hands on any tapes President Trump may have made of his conversations with FBI Director James B. Comey, which could lend clues as to why Trump fired him. And if the president won't hand them over, Congress could force him to. But almost no one in Congress seems willing to take that step. First, how Congress could get the tapes: House Democrats have already sent a letter to the White House asking for them. But on Monday, White House Press Secretary Sean Spicer wouldn't even acknowledge the tapes exist much less agree to give them to Congress. Spicer said the president 'has nothing further' on the tapes beyond his extraordinary tweet Friday suggesting he or someone else recorded his conversations with Comey. [On Friday, 12 May 2017 Trump tweeted at 8:26 am: "James Comey better hope that there are no 'tapes' of our conversations before he starts leaking to the press!"] Congress could require Trump to prove they exist by issuing a subpoena to hand them over. A subpoena would essentially put the president afoul of the law if he doesn't give Congress the recordings. But issuing a subpoena is a serious thing, and it requires both Democrats and Republicans to agree to it. The Senate Intelligence Committee recently issued a subpoena to force Trump's former national security adviser, Michael Flynn, to hand over documents related to the committee's Russia investigation. The subpoena happened after Trump had dropped Flynn like a hotcake, and there's no indication Republicans are willing to put their president on the spot like they have Flynn. In fact, very few Democrats are even talking about a subpoena."
Trump to Expand Funding Ban Tied to Abortion Overseas, The New York Times, Gardiner Harris and Somini Sengupta, Monday, 15 May 2017: "The Trump administration said on Monday it would vastly expand the so-called global gag rule that withholds American aid from health organizations worldwide that provide or even discuss abortion in family planning. The new policy could disrupt hundreds of clinics in Africa and around the world that fight AIDS and malaria. It affects about $8.8 billion in global health funding, up from about $600 million during the administration of President George W. Bush. The rules, issued by the State Department, mean that any foreign nongovernmental group that wants American money for any of its health activities — from AIDS treatment to malaria prevention to safe childbirth practices — must promise not to 'promote abortion as a method of family planning.' Already, American taxpayer dollars cannot be used for abortion services abroad. They are a follow-up to an executive order President Trump signed in January, which froze funding to nongovernmental organizations if they offer abortion counseling or advocate the right to seek abortion. In April, the administration also froze funding to the United Nations agency that promotes family planning efforts. But public health advocates say that in much of the developing world, there are no high-quality substitutes to these providers."
Trump's New Bank Regulator, Keith Noreika, Is a Lawyer Who Helped Banks Charge More Fees, ProPublica, Cezary Podkul, Monday, 15 May 2017: "Keith Noreika [is] President Trump's pick to head the federal agency that oversees national banks. Noreika, a prominent Washington attorney who specializes in financial regulatory law, has made a career out of representing banks as they sought to fight back consumer-friendly state regulations and class-action lawsuits accusing banks of deceptive practices. He is now the acting head of the Office of the Comptroller of the Currency, a position he can serve in for 130 days without Senate approval and during which he does not have to abide by stricter ethics rules governing permanent appointees. As head of the OCC, Noreika will be well-positioned to lighten regulations on banks — without the need for Congress to pass legislation."
Trump reassures farmers that his immigration crackdown is not aimed at their workers, Reuters, Mica Rosenberg and Kristina Cooke, Monday, 15 May 2017: "President Donald Trump said he would seek to keep his tough immigration enforcement policies from harming the U.S. farm industry and its largely immigrant workforce, according to farmers and officials who met with him. At a roundtable on farm labor at the White House last month, Trump said he did not want to create labor problems for farmers and would look into improving a program that brings in temporary agricultural workers on legal visas. 'He assured us we would have plenty of access to workers,' said Zippy Duvall, president of the American Farm Bureau Federation, one of 14 participants at the April 25 meeting with Trump and Agriculture Secretary Sonny Perdue. During the roundtable conversation about agriculture, farmers and representatives of the sector brought up labor and immigration, the details of which have not been previously reported. Some farmers told Trump they often cannot find Americans willing to do the difficult farm jobs, according to interviews with nine of the 14 participants. They said they were worried about stricter immigration enforcement and described frustrations with the H-2A visa program, the one legal way to bring in temporary seasonal agricultural workers."
Strict North Carolina Voter ID Law Thwarted After Supreme Court Rejects Case, The New York Times, Adam Liptak and Michael Wines, Monday, 15 May 2017: "The Supreme Court on Monday refused to revive a restrictive North Carolina voting law that a federal appeals court had struck down as an unconstitutional effort to 'target African-Americans with almost surgical precision.' The court's decision not to hear an appeal in the case effectively overturned one of the most far-reaching attempts by Republicans to counter what they contended, without evidence, was widespread voter fraud in North Carolina. The law rejected the forms of identification used disproportionately by blacks, including IDs issued to government employees, students and people receiving public assistance. Democrats and civil rights groups, wary of the Supreme Court now that it has regained a conservative majority with the appointment of Justice Neil M. Gorsuch, welcomed the announcement that it would not hear the case. 'An ugly chapter in voter suppression is finally closing,' said Dale Ho, director of the A.C.L.U.'s Voting Rights Project. The leaders of North Carolina's Republican-controlled Legislature vowed that they would seek to enact new voting restrictions after their defeat." See also, Despite today's Supreme Court ruling, the future looks grim for voting rights, The Washington Post, Paul Waldman, Monday, 15 May 2017: "Democrats got a victory in a voting rights case at the Supreme Court today — but don't get used to that headline. There are dark days ahead for voting rights. In today's decision, the court didn't actually judge the case on its merits. It declined to hear a case involving North Carolina's vote suppression law, which had been struck down by a lower court. In the time since then, Democrats have taken over as governor and attorney general in the state and attempted to withdraw the case over the objection of the legislature, which is still in Republican hands. There's no question that this is a victory for Democrats and anyone who cares about the right of all Americans to vote. But it's important to understand that the North Carolina law differs from other voter restrictions Republicans have passed in that its discriminatory intent was so blatant. As the appeals court that struck it down found, the state's legislature had obtained data on the racial effects of various voting provisions, then used that information to 'target African Americans with almost surgical precision.' For instance, legislators cut back early voting to eliminate the days African Americans were most likely to vote early, and when it came to the ID requirements, 'With race data in hand, the legislature amended the bill to exclude many of the alternative photo IDs used by African Americans.' If you're a Republican legislature, the message is clear: When you're looking to keep African Americans from the polls, just don't be so obvious about it, and the Supreme Court will probably uphold your restrictions."
NATO Frantically Tries to Trump-Proof President's First Visit, Foreign Policy, Robbie Gramer, Monday, 15 May 2017: "NATO is scrambling to tailor its upcoming meeting to avoid taxing President Donald Trump's notoriously short attention span. The alliance is telling heads of state to limit talks to two to four minutes at a time during the discussion, several sources inside NATO and former senior U.S. officials tell Foreign Policy. And the alliance scrapped plans to publish the traditional full post-meeting statement meant to crystallize NATO's latest strategic stance. On May 25, NATO will host the heads of state of all 28 member countries in what will be Trump's first face-to-face summit with an alliance he bashed repeatedly while running for president. NATO traditionally organizes a meeting within the first few months of a new U.S. president's term, but Trump has the alliance more on edge than any previous newcomer, forcing organizers to look for ways to make the staid affair more engaging. 'It's kind of ridiculous how they are preparing to deal with Trump,' said one source briefed extensively on the meeting's preparations. 'It's like they're preparing to deal with a child — someone with a short attention span and mood who has no knowledge of NATO, no interest in in-depth policy issues, nothing,' said the source, who spoke on condition of anonymity. 'They're freaking out.'"
Tuesday, 16 May 2017, Day 117:
Trump Defends Sharing Information on ISIS Threat With Russia, The New York Times, Peter Baker and Julie Hirschfeld Davis, Tuesday, 16 May 2017: "President Trump on Tuesday defended his decision to share sensitive information about an Islamic State threat with Russian officials as the White House once again struggled to reconcile seemingly conflicting accounts of the president's actions. A day after his advisers disputed a news article about the conversation, the president focused instead on justifying what he did and blaming those who disclosed it. In a series of early-morning posts on Twitter, he said he had the 'absolute right' to give 'facts pertaining to terrorism and airline flight safety' to Russia's foreign minister and ambassador. Asked about the conversation by reporters during a later appearance with Recep Tayyip Erdogan, the president of Turkey, Mr. Trump again did not deny providing the information, but he instead cast it as an attempt to collaborate with Russia in the war against the Islamic State. 'We're going to have a lot of great success over the coming years, and we want to get as many to fight terrorism as possible,' he said. The White House tried to clarify, sending out Lt. Gen. H. R. McMaster, the national security adviser, for the second time in less than 24 hours. General McMaster stood by his Monday night statement, when he said the original Washington Post article about the conversation 'as reported' was 'false.' And while he would not confirm that Mr. Trump disclosed classified information, General McMaster said the president did not expose the source because he was not told where it came from. The New York Times reported on Tuesday that the information about the Islamic State plot came from Israel and was considered so sensitive that American officials had not shared it widely within their own government or among allies. Intelligence officials worried that Mr. Trump, in his meeting with Sergey V. Lavrov, the Russian foreign minister, and Sergey I. Kislyak, the Russian ambassador, provided enough details to effectively expose the source of the information and the manner in which it had been collected."
Trump's national security adviser H.R. McMaster says Trump's sharing of sensitive intelligence with Russia was 'wholly appropriate,' The Washington Post, Ashley Parker, Tuesday, 16 May 2017: "President Trump's national security adviser said Tuesday that the president's decision to reveal highly classified information during a meeting with Russian officials last week was 'wholly appropriate' — the latest attempt by the White House to contain the explosive disclosure that Trump potentially  jeopardized a crucial intelligence source on the Islamic State. H.R. McMaster, the president's top security adviser, repeatedly described the president's actions in a press briefing just a day after a Washington Post story revealed that Trump had shared deeply sensitive information with Russian Foreign Minister Sergei Lavrov and Ambassador Sergey Kislyak during an Oval Office meeting last week."
Israel Is Said to Be Source of Secret Intelligence Trump Gave to Russians, The New York Times, Adam Goldman, Eric Schmitt, and Peter Baker, Tuesday, 16 May 2017: "The classified intelligence that President Trump disclosed in a meeting last week with Russian officials at the White House was provided by Israel, according to a current and a former American official familiar with how the United States obtained the information. The revelation adds a potential diplomatic complication to an episode that has renewed questions about how the White House handles sensitive intelligence. Israel is one of the United States' most important allies and runs one of the most active espionage networks in the Middle East. Mr. Trump's boasting about some of Israel's most sensitive information to the Russians could damage the relationship between the two countries and raises the possibility that the information could be passed to Iran, Russia's close ally and Israel's main threat in the region…. Mr. Trump said on Twitter that he had an 'absolute right' to share information in the interest of fighting terrorism and called his meeting with the Russians 'very, very successful' in a brief appearance later at the White House."
James Comey Memo Says Trump Asked Him to End the F.B.I. Investigation into Former National Security Adviser, Michael Flynn, The New York Times, Michael S. Schmidt, Tuesday, 16 May 2017: "President Trump asked the F.B.I. director, James B. Comey, to shut down the federal investigation into Mr. Trump's former national security adviser, Michael T. Flynn, in an Oval Office meeting in February, according to a memo Mr. Comey wrote shortly after the meeting. 'I hope you can let this go,' the president told Mr. Comey, according to the memo. The documentation of Mr. Trump's request is the clearest evidence that the president has tried to directly influence the Justice Department and F.B.I. investigation into links between Mr. Trump's associates and Russia. Late Tuesday, Representative Jason Chaffetz, the Republican chairman of the House Oversight Committee, demanded that the F.B.I. turn over all 'memoranda, notes, summaries and recordings' of discussions between Mr. Trump and Mr. Comey. Such documents, Mr. Chaffetz wrote, would 'raise questions as to whether the president attempted to influence or impede' the F.B.I. Mr. Comey wrote the memo detailing his conversation with the president immediately after the meeting, which took place the day after Mr. Flynn resigned, according to two people who read the memo. It was part of a paper trail Mr. Comey created documenting what he perceived as the president's improper efforts to influence a continuing investigation. An F.B.I. agent's contemporaneous notes are widely held up in court as credible evidence of conversations. Mr. Comey shared the existence of the memo with senior F.B.I. officials and close associates. The New York Times has not viewed a copy of the memo, which is unclassified, but one of Mr. Comey's associates read parts of it to a Times reporter. 'I hope you can see your way clear to letting this go, to letting Flynn go,' Mr. Trump told Mr. Comey, according to the memo. 'He is a good guy. I hope you can let this go.'" See also, Notes made by FBI Director James Comey say Trump pressured him to end Michael Flynn probe, The Washington Post, Devlin Barrett, Ellen Nakashima, and Matt Zapotosky, Tuesday, 17 May 2017: "Comey's account of the February talk made it clear that his understanding of the conversation was that the president was seeking to impede the investigation, according to people who have read the account or had it read to them. Comey's notes also made it clear he felt that the conversation with the president was improper and decided to withhold details of it from the case agents working on the Russia probe, according to the associates. The details of Comey's meeting notes were first reported by the New York Times."
House Oversight Chairman Jason Chaffetz demands Comey-Trump memos in letter to FBI, Politico, Heather Caygle, Tuesday, 16 May 2017: "House Oversight Chairman Jason Chaffetz is demanding the FBI hand over all documents detailing communications between President Donald Trump and fired agency Director James Comey within the next week. The Utah Republican's request Tuesday comes after an explosive New York Times report that Trump asked Comey to put a stop to a federal investigation into his former National Security Adviser Michael Flynn. 'If true, these memoranda raise questions as to whether the president attempted to influence or impede the FBI's investigation as it relates to Lt. Gen. Flynn,' Chaffetz wrote to acting FBI Director Andrew McCabe. 'So the committee can consider that question and others, provide, no later than May 24, 2017, all memoranda, notes, summaries, and recordings referring to or relating to any communications between Comey and the president.' Comey detailed the conversation with Trump in a memo, reportedly one of several documents the former FBI chief wrote as he attempted to create a paper trail about his interactions with the president. 'I hope you can let this go,' the president told Comey, according to the New York Times report." See also, Representative Jason Chaffetz's Letter to the F.B.I., The New York Times, Tuesday, 16 May 2017.
Legal analysts: Trump might have obstructed justice, if James Comey's allegation is true, The Washington Post, Matt Zapotosky, Tuesday, 16 May 2017: "Former FBI director James B. Comey's allegation that President Trump pressed him to shut down the bureau's investigation into former national security adviser Michael Flynn provides the strongest support yet for a criminal obstruction-of-justice case against Trump, legal analysts say, though even more evidence would probably be required to warrant action. Comey wrote in a memo that Trump asked him to walk away from the Flynn probe, declaring that Flynn was a good man and asserting to his FBI director, 'I hope you can let this go.' That, legal analysts say, provides a plausible case that the president obstructed justice. The FBI is investigating Flynn's dealings, as well as possible coordination between the Trump campaign and the Kremlin to influence the 2016 presidential election."
What Is Obstruction of Justice? An Often Murky Crime, Explained, The New York Times, Charlie Savage, Tuesday, 16 May 2017: "Tuesday's report by The New York Times that President Trump asked James B. Comey, then the F.B.I. director, in February to drop the investigation into his former national security adviser, Michael T. Flynn, has fueled accusations that the White House is obstructing justice…. Mr. Trump abruptly fired Mr. Comey last week, and later told NBC News that he was thinking about the F.B.I.'s investigation into contacts between his campaign associates and Russia, which he has derided as fake news, when he did so. (The investigation into Mr. Flynn is separate but related.) Mr. Trump also then appeared to threaten Mr. Comey in a post on Twitter. After a report that Mr. Trump had asked Mr. Comey whether he was loyal to him, the president said Mr. Comey 'better hope that there are no "tapes" of our conversations.' Mr. Trump has denied that he asked Mr. Comey to close the F.B.I. investigation into Mr. Flynn. In a statement on Tuesday, the White House said, 'The president has never asked Mr. Comey or anyone else to end any investigation, including any investigation involving General Flynn.'… What is obstruction of justice? Several federal statutes criminalize actions that impede official investigations. While some examples of illegal ways to thwart the justice system are specific — like killing a witness or destroying evidence — the law also includes broad, catchall prohibitions. For example, Sections 1503, 1505 and 1512 of Title 18 have variants of language making it a crime if someone corruptly 'obstructs, influences or impedes any official proceeding.' Could that cover asking the F.B.I. director to drop part of an investigation, and later firing him? In theory, yes. Such statutes were broadly drafted. Julie O'Sullivan, a former federal prosecutor who now teaches white-collar criminal law at Georgetown University, said the power relationship between a president and the F.B.I. director could elevate a request to shut down a case into an act that amounts to impeding an official investigation."
Senator John McCain: Trump scandals are reaching 'Watergate size and scale,' The Hill, Brooke Seipel, Tuesday, 16 May 2017: "Sen. John McCain (R-Ariz.) reportedly said Tuesday that scandals within President Trump's administration are reaching a 'Watergate size and scale.' McCain made the statement at an International Republican Institute dinner on Tuesday night. Multiple reporters said that during a speech at the event, McCain compared recent reports surrounding Trump's administration to Watergate, which led to the resignation of President Richard Nixon."
'Brutal Attack' on Anti-Erdogan Demonstrators Injures 9, Police Say, The New York Times, Christopher Mele and Nicholas Fandos, published on Wednesday, 17 May 2017: "Opponents of President Recep Tayyip Erdogan of Turkey were drawn into a violent confrontation outside the Turkish ambassador's residence in Washington on Tuesday night in what the Metropolitan Police chief said was 'a brutal attack.' Eleven people were injured, including a police officer, and nine were taken to a hospital, the police chief, Peter Newsham, said at a news conference on Wednesday. Photos and videos on social media showed people kicking and punching as the police tried to intervene. At one point, a man threw a bullhorn, two men could be seen bleeding from the head, and another man was on the ground being violently kicked. The fighting poured into a park across the street as uniformed police officers, some in helmets and swinging collapsible batons, tried to restore order. Men in dark suits could be seen in the videos, punching and kicking protesters. The Anadolu Agency, a state-owned Turkish news service, reported that members of the president's security team were involved in the fighting. 'Yesterday we witnessed what appeared to be a brutal attack on peaceful protests,' Chief Newsham said. 'First and foremost I will say that that is not something that we will tolerate here in Washington, D.C.,' he said. 'This is a city where people should be able to come and peacefully protest.'"
Trump Praises Turkish President Recep Tayyip Erdogan as an Ally in Terrorism Fight, Ignoring Erdogan's Authoritarian Crackdown on His Own People, The New York Times, Julie Hirschfeld Davis and Mark Landler, Tuesday, 16 May 2017: "President Trump on Tuesday praised President Recep Tayyip Erdogan of Turkey as a stalwart ally in the battle against Islamic extremism, ignoring Mr. Erdogan's authoritarian crackdown on his own people and brushing aside recent tensions between the United States and Turkey over how to wage the military campaign against the Islamic State. Welcoming Mr. Erdogan to the White House, Mr. Trump said, 'Today, we face a new enemy in the fight against terrorism, and again we seek to face this threat together.'… White House officials have said that Mr. Trump has no interest in lecturing foreign leaders about human rights. He would prefer to make deals with them in areas of common interest, these officials said, believing that pressure on human rights generally backfires. Human rights groups have compiled a long list of abuses by Mr. Erdogan, from the thousands of public officials, academics and others cashiered or jailed for their purported involvement in the coup attempt, to the recent referendum, which granted Mr. Erdogan wide-ranging new powers that critics say could essentially gut Turkey's parliamentary system."
National Security Agency officials worried about the day its potent hacking tool would get loose, Then it did. The Washington Post, Ellen Nakashima and Craig Timberg, Tuesday, 16 May 2017: "When the National Security Agency began using a new hacking tool called EternalBlue, those entrusted with deploying it marveled at both its uncommon power and the widespread havoc it could wreak if it ever got loose. Some officials even discussed whether the flaw was so dangerous they should reveal it to Microsoft, the company whose software the government was exploiting, according to former NSA employees who spoke on the condition of anonymity given the sensitivity of the issue. But for more than five years, the NSA kept using it — through a time period that has seen several serious security breaches — and now the officials' worst fears have been realized. The malicious code at the heart of the WannaCry virus that hit computer systems globally late last week was apparently stolen from the NSA, repackaged by cybercriminals and unleashed on the world for a cyberattack that now ranks as among the most disruptive in history. The failure to keep EternalBlue out of the hands of criminals and other adversaries casts the NSA's decisions in a harsh new light, prompting critics to question anew whether the agency can be trusted to develop and protect such potent hacking tools."
The Environmental Protection Agency asked the public which regulations to gut–and got an earful about leaving them alone, The Washington Post, Brady Dennis, Tuesday, 16 May 2017: "Last month [April], the Environmental Protection Agency put out a call for comments about what regulations are in need of repeal, replacement or modification. The effort stemmed from an executive order issued by President Trump earlier this year instructing agencies to reexamine regulations that 'eliminate jobs, or inhibit job creation' and/or 'impose costs that exceed benefits.' More than 55,100 responses rolled in by the time the comment period closed on Monday — but they were full of Americans sharing their experiences of growing up with dirty air and water, and with pleas for the agency not to undo safeguards that could return the country to more a more polluted era."
Progressive Firebrand Larry Krasner Wins District Attorney Primary in Philadelphia, Philly Mag, Holly Otterbein, Tuesday, 16 May 2017: "Democrat Larry Krasner, a firebrand criminal defense attorney who has never worked a day in his life as a prosecutor, won the district attorney primary Tuesday night. With 90 percent of precincts reporting, he captured 37.5 percent of the vote in a seven-candidate race.  It is a stunning victory in a city that elected Lynne Abraham — once dubbed the 'deadliest DA' in America by the New York Times — four times in a row. Krasner campaigned on the most progressive agenda of all the candidates, promising to end 'mass incarceration' by effectively starving the criminal justice system. He vowed never to ask for cash bail for nonviolent offenders, pursue the death penalty, or bring cases based on illegal searches. He also said he would expand the city's drug courts and diversion programs for low-level offenders. '[Our] vision is of a criminal justice system that makes things better, that is just, that is based on preventing crime, and is based on building up society rather than tearing it apart,' Krasner said in a speech at his election night party."
Wednesday, 17 May 2017, Day 118:
Robert Mueller, Former F.B.I. Director, Is Named Special Counsel for Russia Investigation, The New York Times,  Rebecca R. Ruiz and Mark Landler, Wednesday, 17 May 2017: "The Justice Department appointed Robert S. Mueller III, a former F.B.I. director, as special counsel on Wednesday to oversee the investigation into ties between President Trump's campaign and Russian officials, dramatically raising the legal and political stakes in an affair that has threatened to engulf Mr. Trump's four-month-old presidency. The decision by the deputy attorney general, Rod J. Rosenstein, came after a cascade of damaging developments for Mr. Trump in recent days, including his abrupt dismissal of the F.B.I. director, James B. Comey, and the subsequent disclosure that Mr. Trump asked Mr. Comey to drop the investigation of his former national security adviser, Michael T. Flynn. Mr. Rosenstein had been under escalating pressure from Democrats, and even some Republicans, to appoint a special counsel after he wrote a memo that the White House initially cited as the rationale for Mr. Comey's dismissal. By appointing Mr. Mueller, a former federal prosecutor with an unblemished reputation, Mr. Rosenstein could alleviate uncertainty about the government's ability to investigate the questions surrounding the Trump campaign and the Russians. In a statement, Mr. Trump said, 'As I have stated many times, a thorough investigation will confirm what we already know — there was no collusion between my campaign and any foreign entity. I look forward to this matter concluding quickly. In the meantime, I will never stop fighting for the people and the issues that matter most to the future of our country.' Mr. Mueller's appointment capped a day in which a sense of deepening crisis swept over Republicans in Washington. Republican congressional leaders, normally reluctant to publicly discuss White House political drama or the Russia investigation, joined calls for Mr. Comey to share more about his encounters with Mr. Trump." See also, Deputy attorney general Rod Rosenstein appoints special counsel to oversee probe of Russian interference in 2016 presidential election, The Washington Post, Devlin Barrett, Sari Horwitz, and Matt Zapotosky, published on Thursday, 18 May 2017. And see also, Rod Rosenstein's Letter Appointing Former F.B.I. Director Robert Mueller III as Special Counsel to Oversee the Investigation into Russian Tampering in the 2016 Presidential Election, The New York Times.
Why It's Hard to Have an Independent Russia Investigation, The New York Times, Charlie Savage, Larry Buchanan, Troy Griggs, and Karen Yourish, Wednesday, 17 May 2017: "There are currently three main investigations into Russian interference in the 2016 presidential election and possible ties to the campaign of President Trump. They all have some issues. The independence of the Senate and House investigations has been called into question, in large part because the president's party controls both chambers of Congress. At the same time, the leadership of the Justice Department, which is in charge of the F.B.I. investigation, has also been marred by politics. The firing of Mr. Comey added a new circular conflict to deal with…. Here's how the special counsel compares to other possible investigatory bodies: The select committee and special counsel are easier to initiate than an independent commission because they do not require Mr. Trump's signature. However, some legal experts consider them potentially less independent than other options." See also, How a Special Counsel Alters the Russia Investigation, The New York Times, Charlie Savage, Wednesday, 17 May 2017: "The decision by Deputy Attorney General Rod J. Rosenstein to appoint the former F.B.I. director Robert S. Mueller III as special counsel for the Russia investigation has transformed the inquiry and increased the potential risk it poses to the Trump administration…. What is within Mr. Mueller's jurisdiction? Mr. Rosenstein's letter gave Mr. Mueller the authority to look into not only Russia's interference in the 2016 election and any coordination with Trump campaign officials, but also 'any matters that arose or may arise directly from the investigation.' And it included a reference to a Justice Department regulation that permits special counsels to investigate attempts to impede their inquiry. That mandate would seemingly give Mr. Mueller a writ to investigate whether Mr. Trump's interactions with Mr. Comey amounted to obstruction of justice…. What is a special counsel?  Normally, United States attorneys oversee criminal investigations. But their decisions are subject to the oversight and control of the attorney general. In cases that raise questions about high-ranking executive branch officials, the attorney general can appoint a special counsel to run an investigation with greater autonomy from the president's political appointees. Is Mr. Mueller fully independent? No. The central attribute that makes an official completely independent of the White House — protection from being fired at the president's direction — is no longer legally possible for a prosecutor."
House majority leader Kevin McCarthy (R-Calif.) said to colleagues on 15 June 2016: 'I think Putin pays' Trump, The Washington Post, Adam Entous, Wednesday, 17 May 2017: "A month before Donald Trump clinched the Republican nomination, one of his closest allies in Congress — House Majority Leader Kevin McCarthy — made a politically explosive assertion in a private conversation on Capitol Hill with his fellow GOP leaders: that Trump could be the beneficiary of payments from Russian President Vladimir Putin. 'There's two people I think Putin pays: Rohrabacher and Trump,' McCarthy (R-Calif.) said, according to a recording of the June 15, 2016, exchange, which was listened to and verified by The Washington Post. Rep. Dana Rohrabacher is a Californian Republican known in Congress as a fervent defender of Putin and Russia. House Speaker Paul D. Ryan (R-Wis.) immediately interjected, stopping the conversation from further exploring McCarthy's assertion, and swore the Republicans present to secrecy…. Ryan instructed his Republican lieutenants to keep the conversation private, saying: 'No leaks. . . . This is how we know we're a real family here.'" See also, Read the transcript of the conversation among Republican leaders obtained by The Washington Post, The Washington Post, Wednesday, 17 May 2017: "The conversation provides a glimpse at the internal views of GOP leaders who now find themselves under mounting pressure over the conduct of President Trump. The exchange, which was obtained by The Washington Post, shows that the Republican leadership in the House privately discussed Russia's involvement in the 2016 election and Trump's relationship to Putin, but wanted to keep their concerns secret. House majority leader to colleagues in 2016: 'I think Putin pays' Trump."
Trump Team Knew Michael Flynn Was Under Investigation Before He Came to the White House, The New York Times, Matthew Rosenberg and Mark Mazzetti, Wednesday, 17 May 2017: "Michael T. Flynn told President Trump's transition team weeks before the inauguration that he was under federal investigation for secretly working as a paid lobbyist for Turkey during the campaign, according to two people familiar with the case. Despite this warning, which came about a month after the Justice Department notified Mr. Flynn of the inquiry, Mr. Trump made Mr. Flynn his national security adviser. The job gave Mr. Flynn access to the president and nearly every secret held by American intelligence agencies. Mr. Flynn's disclosure, on Jan. 4, was first made to the transition team's chief lawyer, Donald F. McGahn II, who is now the White House counsel. That conversation, and another one two days later between Mr. Flynn's lawyer and transition lawyers, shows that the Trump team knew about the investigation of Mr. Flynn far earlier than has been previously reported."
Michael Flynn stopped military plan Turkey opposed–after being paid as its agent, McClatchy DC Bureau, Vera Bergengruen, Wednesday, 17 May 2017: "One of the Trump administration's first decisions about the fight against the Islamic State was made by Michael Flynn weeks before he was fired – and it conformed to the wishes of Turkey, whose interests, unbeknownst to anyone in Washington, he'd been paid more than $500,000 to represent. The decision came 10 days before Donald Trump had been sworn in as president, in a conversation with President Barack Obama's national security adviser, Susan Rice, who had explained the Pentagon's plan to retake the Islamic State's de facto capital of Raqqa with Syrian Kurdish forces whom the Pentagon considered the U.S.'s most effective military partners. Obama's national security team had decided to ask for Trump's sign-off, since the plan would all but certainly be executed after Trump had become president. Flynn didn't hesitate. According to timelines distributed by members of Congress in the weeks since, Flynn told Rice to hold off, a move that would delay the military operation for months. If Flynn explained his answer, that's not recorded, and it's not known whether he consulted anyone else on the transition team before rendering his verdict. But his position was consistent with the wishes of Turkey, which had long opposed the United States partnering with the Kurdish forces – and which was his undeclared client. Trump eventually would approve the Raqqa plan, but not until weeks after Flynn had been fired."
Trump Gave Russians Secrets That News Organizations Are Being Asked to Withhold, NBC NEWS, Ken Dilanian, Courtney Kube, and Dafna Linzer, Wednesday, 17 May 2017: "Some of the intelligence President Trump provided to Russian officials is so secret that American news organizations are still being asked not to report it, two U.S. officials told NBC News. The requests by U.S. intelligence officials cast doubt on the assertion by the president's aides that the sharing was appropriate. Trump told the Russian foreign minister and the Russian ambassador in the Oval Office that the Islamic State had used stolen airport security equipment to test a bomb that could be hidden in electronic devices and slipped undetected into an airplane cabin, the officials said. And he named the city in ISIS-held Syria in which the intelligence was gathered, the officials added. U.S. intelligence officials have asked NBC News and other media organizations not to report the type of equipment, where it was stolen, and the name of the city where the intelligence was gathered, because doing so could harm U.S. national security, they say. But Trump told the Russians those things, the U.S. officials said, as he described intelligence that led to the new rules banning electronic devices in the cabins of certain flights."
Republicans Pivot and Make James Comey the Capitol's Most-Wanted Man
, 
The New York Times, 
Jennifer Steinhauer, Wednesday, 17 May 2017: "Republicans on Wednesday abruptly pivoted and rushed to call on James B. Comey, who was fired as
F.B.I.
director by President Trump last week, to testify before several committees, produce memos and provide greater detail of his encounters with the president. After days of showing limited interest in drawing more attention to the emerging controversy about the president's role in the investigation into Russian election meddling, Republicans were now offering Mr. Comey highly public forums to lay out his version of events. Mr. Comey, who has served as a foil, an object of derision and a political martyr for both parties, is suddenly Capitol Hill's most-wanted man. On Wednesday,
Senator Richard M. Burr
, Republican of North Carolina and chairman of the Senate Intelligence Committee, sent a letter to Mr. Comey with the committee's vice chairman, Senator Mark Warner, Democrat of Virginia, asking him to appear in both closed and open hearings before their committee. The two senators also requested that Andrew G. McCabe, the acting F.B.I. director, provide the committee with the memo that Mr. Comey is said to have written suggesting that Mr. Trump asked him to
shut down an investigation into Michael T. Flynn
, the former national security adviser. Representative Jason Chaffetz, Republican of Utah and the chairman of the House Oversight Committee, said he planned to extend the same invitation for as early as next Wednesday after vowing to use his power to subpoena Mr. Comey's memo if necessary. Senator Charles E. Grassley, Republican of Iowa and chairman of the Senate Judiciary Committee — who had largely dismissed the seriousness of the investigations into Mr. Trump's ties to Russia and other matters — also asked Mr. Comey to appear before his committee. And Mr. Grassley joined Democrats in calling on the F.B.I. to provide all memos relating to Mr. Comey's interactions with his superiors in both the Trump and Obama administrations and for the White House to provide records of interactions with Mr. Comey, including any audiotapes, which Mr. Trump has suggested he made."
Iran Nuclear Deal Will Remain for Now, White House Signals
,
The New York Times,
Gardiner Harris and David E. Sanger, Wednesday, 17 May 2017: "The Trump administration signaled on Wednesday that it would not, for now, jettison the
Iran nuclear deal
, despite the president's harsh criticism of the agreement during the campaign. Facing a deadline of Thursday, the administration said it was waiving sanctions against
Iran
, as required under the deal. To have done otherwise would have violated the accord, freeing the Iranians to resume the production of nuclear fuel without any of the limits negotiated by the Obama administration two years ago. But while acknowledging that the deal would remain in place, the administration imposed modest new sanctions against several Iranian individuals and four organizations, including a China-based network that supplied missile-related items to a key Iranian defense entity. That appeared to be an effort to mollify Republican critics of the deal, which President Trump has called a 'disaster' and said he would have negotiated far more skillfully."
Trump's Urging James Comey to Jail Reporters During a Private Meeting in February Is Denounced as an 'Act of Intimidation,' The New York Times, Michael M. Grynbaum, Sydney Ember, and Charlie Savage, Wednesday, 17 May 2017: "During a private meeting in February with the former F.B.I. director, James B. Comey, President Trump floated a proposal that, even by the standards of a leader who routinely advertises his disdain for the news media, brought editors and reporters up short. You should consider, Mr. Trump told Mr. Comey, jailing journalists who publish classified information. Presidents are rarely afraid to wrangle and bully reporters, and Mr. Trump's predecessor, President Barack Obama, was pilloried by news organizations for aggressively prosecuting leakers. But Mr. Trump's suggestion, first reported by The New York Times, breached new territory for political reporters who already consider their profession under siege. 'Suggesting that the government should prosecute journalists for the publication of classified information is very menacing, and I think that's exactly what they intend,' said Martin Baron, The Washington Post's executive editor. 'It's an act of intimidation.'"
Embroiled in controversies, Trump seeks boost on foreign trip, Reuters, Steve Holland and Jeff Mason, Wednesday, 17 May 2017: "Besieged by controversy at home, U.S. President Donald Trump is under pressure to stick to the script and avoid fresh flare-ups when he embarks this week on his first foreign trip, a nine-day trek to the Middle East and Europe.… Trump faces fierce criticism over his sharing of sensitive national security information with Russian officials and his firing last week of FBI Director James Comey. Allegations that he previously asked Comey to end an investigation into his former national security adviser drew a new round of attacks on Tuesday.…  To prepare for his trip, Trump has been meeting with briefers including Secretary of State Rex Tillerson, Secretary of Defense Jim Mattis, White House national security adviser H.R. McMaster, deputy national security adviser Dina Powell and senior adviser and son-in-law Jared Kushner. Conversations with some officials who have briefed Trump and others who are aware of how he absorbs information portray a president with a short attention span. He likes single-page memos and visual aids like maps, charts, graphs and photos. National Security Council officials have strategically included Trump's name in 'as many paragraphs as we can because he keeps reading if he's mentioned,' according to one source, who relayed conversations he had with NSC officials."
Trump, Saying He is Treated 'Unfairly' in a Commencement Address to the Coast Guard Academy, Signals a Fight, The New York Times, Maggie Haberman and Glenn Thrush, Wednesday, 17 May 2017: "An embattled President Trump used a commencement address to the Coast Guard Academy to defend himself on Wednesday, telling graduating cadets that no leader in history had been treated more 'unfairly' by the news media and Washington elites. Mr. Trump began his speech with a tribute to the service's efforts to stop drug dealers on domestic waterways and the open seas. But he quickly changed the subject to himself, signaling that he was gearing up for a fight after a week of damaging disclosures, capped by the revelation that he had asked James B. Comey, the former F.B.I. director, to drop the bureau's investigation into the president's first national security adviser, according to a memo Mr. Comey wrote. 'You will find that things are not always fair,' Mr. Trump said, blurring the lines between an inspirational, forward-looking commencement speech and talk about himself, much as he did at a commencement address to students at Liberty University in Virginia on Saturday. 'You have to put your head down and fight, fight, fight,' Mr. Trump said, offering his personal credo, before switching to an explicit theme of self-defense. 'Look at the way I've been treated lately, especially by the media. No politician in history — and I say this with great surety — has been treated worse or more unfairly.'"
Bipartisan group of senators push back on Sessions's order to pursue most severe penalties, The Washington Post, Sari Horwitz, Wednesday, 17 May 2017: "Attorney General Jeff Sessions's former colleagues in the Senate are pushing back on his order to federal prosecutors to pursue the most severe penalties possible for defendants, including mandatory minimum sentences, and introducing legislation to give federal judges more discretion to impose lower sentences. Sen. Rand Paul (R-Ky.), who co-sponsored the legislation, said that Sessions's new policy will 'accentuate' the existing 'injustice' in the criminal justice system. 'Mandatory minimum sentences disproportionately affect minorities and low-income communities, while doing little to keep us safe and turning mistakes into tragedies,' Paul said. 'As this legislation demonstrates, Congress can come together in a bipartisan fashion to change these laws.' Last week, in a two-page ­memorandum to federal prosecutors across the country, Sessions overturned former attorney general Eric H. Holder Jr.'s sweeping criminal charging policy that instructed his prosecutors to avoid charging certain defendants with offenses that would trigger long mandatory minimum sentences. In its place, Sessions told his more than 5,000 assistant U.S. attorneys to charge defendants with the most serious crimes, carrying the toughest penalties."
Immigration Arrests Rise Sharply as a Trump Mandate Is Carried Out, The New York Times, Caitlin Dickerson, Wednesday, 17 May 2017: "Immigration arrests shot up 38 percent in the first three months of the Trump administration compared with the same period last year, according to figures released Wednesday, one of the first clear indications that the president's hard-line policies are being carried out on a grand scale. While President Trump's more attention-grabbing ideas have been blocked or stalled, like building a border wall and temporarily stopping travel from some Muslim-majority countries, the statistics released by federal Immigration and Customs Enforcement suggested that the more street-level aspects of his immigration agenda have achieved significant results, and quickly. From Jan. 22 to April 29, ICE officers arrested 41,318 people, at a rate of more than 400 people per day, compared with 30,028 over roughly the same period in 2016, the data showed…. Many of the arrests took place at immigrants' homes, as teams of agents spread out in the early hours of the morning to catch people before they left for work, a common tactic designed to avoid a public scene. But agents also have been moving more aggressively, taking into custody people who arrived for routine check-ins, and even apprehending people arriving at courthouses on nonimmigration matters. The rapid increase in arrests was primarily the result of one of Mr. Trump's first significant immigration moves, rescinding rules laid down by former President Barack Obama that prioritized the arrest of the most serious criminals and largely left other undocumented immigrants alone. More than half of the increase in arrests were of immigrants who had committed no crime other than being in the country without permission."
Senators Sheldon Whitehouse (D-R.I.) and Jeff Merkley (D-Ore.) Say Trump Environmental Protection Agency Appointee Elizabeth "Tate" Bennett Was a Coal Utility Lobbyist This Year, Preventing Her, Under Trump's Own Ethics Order, From Doing Most of Her Job, InsideClimate News, Georgina Gustin, Wednesday, 17 May 2017: "Lawmakers are calling on Environmental Protection Agency Administrator Scott Pruitt to hand over information about a key agency appointee, citing her record as an energy industry lobbyist as recently as the first quarter of this year. Sens. Sheldon Whitehouse (D-R.I.) and Jeff Merkley (D-Ore.) sent a letter to Pruitt on Tuesday, challenging his appointment of Elizabeth 'Tate' Bennett as deputy associate administrator of EPA's Office of Congressional and Intergovernmental Relations. In that role, Bennett is the agency's primary point person and liaison with Congress and state governments. The senators cited President Donald Trump's executive order on ethics, writing: 'Because of her activities as a registered federal lobbyist she cannot work on legislation, communicate with Congress, or coordinate and monitor regional, state and local responses to a wide-range of major issues faced by EPA.'"
Thursday, 18 May 2017, Day 119:
Trump Calls Himself the Victim of a 'Witch Hunt' Following the Appointment of Robert Mueller as Special Counsel for the Russia Investigation, The New York Times, Mark Landler, Thursday, 18 May 2017: "President Trump declared angrily on Thursday that he was the victim of a witch hunt, and all but contradicted his deputy attorney general on the firing of the F.B.I. director, in an extensive denial of any collusion between his campaign and Russia. Mr. Trump used a chaotic White House news conference with Colombia's leader to directly confront a weeklong barrage of criticism and questions in a political storm that he said was dividing the nation. He also conspicuously distanced himself from aides like his former national security adviser, Michael T. Flynn, in repeating his claim that Moscow and its agents had not secretly assisted his campaign. 'I respect the move,' Mr. Trump said of the Justice Department's decision on Wednesday to appoint a special counsel to investigate the matter. 'But the entire thing has been a witch hunt. And there is no collusion between, certainly, myself and my campaign — but I can always speak for myself — and the Russians,' he said. 'Zero.'… 'Director Comey was very unpopular with most people,' Mr. Trump said on Thursday. 'When I [made the decision to fire him], I actually thought that it would be a bipartisan decision. Because you look at all of the people on the Democratic side, not only the Republican side, that were saying such terrible things about Director Comey.'"
Exclusive: Trump campaign had at least 18 undisclosed contacts with Russians, Reuters, Ned Parker, Jonathan Landay, and Warren Strobel, Thursday, 18 May 2017: "Michael Flynn and other advisers to Donald Trump's campaign were in contact with Russian officials and others with Kremlin ties in at least 18 calls and emails during the last seven months of the 2016 presidential race, current and former U.S. officials familiar with the exchanges told Reuters. The previously undisclosed interactions form part of the record now being reviewed by FBI and congressional investigators probing Russian interference in the U.S. presidential election and contacts between Trump's campaign and Russia. Six of the previously undisclosed contacts described to Reuters were phone calls between Sergei Kislyak, Russia's ambassador to the United States, and Trump advisers, including Flynn, Trump's first national security adviser, three current and former officials said. Conversations between Flynn and Kislyak accelerated after the Nov. 8 vote as the two discussed establishing a back channel for communication between Trump and Russian President Vladimir Putin that could bypass the U.S. national security bureaucracy, which both sides considered hostile to improved relations, four current U.S. officials said. In January, the Trump White House initially denied any contacts with Russian officials during the 2016 campaign. The White House and advisers to the campaign have since confirmed four meetings between Kislyak and Trump advisers during that time. The people who described the contacts to Reuters said they had seen no evidence of wrongdoing or collusion between the campaign and Russia in the communications reviewed so far. But the disclosure could increase the pressure on Trump and his aides to provide the FBI and Congress with a full account of interactions with Russian officials and others with links to the Kremlin during and immediately after the 2016 election."
When James Comey Was F.B.I. Director, He Was Unsettled by Trump and Is Said to Have Wanted Him Kept at a Distance, The New York Times, Michael S. Schmidt, Thursday, 18 May 2017: "President Trump called the F.B.I. director, James B. Comey, weeks after he took office and asked him when federal authorities were going to put out word that Mr. Trump was not personally under investigation, according to two people briefed on the call. Mr. Comey told the president that if he wanted to know details about the bureau's investigations, he should not contact him directly but instead follow the proper procedures and have the White House counsel send any inquiries to the Justice Department, according to those people. After explaining to Mr. Trump how communications with the F.B.I. should work, Mr. Comey believed he had effectively drawn the line after a series of encounters he had with the president and other White House officials that he felt jeopardized the F.B.I.'s independence. At the time, Mr. Comey was overseeing the investigation into links between Mr. Trump's associates and Russia…. Mr. Comey described all of his contacts with the president and the White House — including the phone call from Mr. Trump — in detailed memos he wrote at the time and gave to his aides. Congressional investigators have requested copies of the memos, which, according to two people who have read them, provide snapshots of a fraught relationship between a president trying to win over and influence an F.B.I. director and someone who had built his reputation on asserting his independence, sometimes in a dramatic way…. Mr. [Benjamin] Wittes, a senior fellow at the Brookings Institution, the editor in chief of the Lawfare blog and a frequent critic of Mr. Trump, recalls a lunch he had with Mr. Comey in March at which Mr. Comey told him he had spent the first two months of Mr. Trump's administration trying to preserve distance between the F.B.I. and the White House and educating it on the proper way to interact with the bureau."
What James Comey Told Me About Donald Trump, Lawfare, Benjamin Wittes, Thursday, 18 May 2017: "Comey described at least two incidents which he regarded as efforts on the part of the President personally to compromise him or implicate him with either shows of closeness or actual chumminess with the President. The first incident he told me about was the infamous 'hug' from Trump after the inauguration. The hug took place at a White House meeting to which Trump had invited law enforcement leadership to thank them for their role in the inauguration. Comey described really not wanting to go to that meeting, for the same reason he later did not want to go to the private dinner with Trump: the FBI director should be always at arm's length from the President, in his view. There was an additional sensitivity here too, because many Democrats blamed Comey for Trump's election, so he didn't want any shows of closeness between the two that might reinforce a perception that he had put a thumb on the scale in Trump's favor. But he also felt that he could not refuse a presidential invitation, particularly not one that went to a broad array of law enforcement leadership. So he went. But as he told … the story, he tried hard to blend into the background and avoid any one-on-one interaction. He was wearing a blue blazer and noticed that the drapes were blue. So he stood in the back, right in front of the drapes, hoping Trump wouldn't notice him camouflaged against the wall. If you look at the video, Comey is standing about as far from Trump as it is physically possible to be in that room. And for a long time, he reported, Trump didn't seem to notice him. The meeting was nearly over, he said, and he really thought he was going to get away without an individual interaction. But when you're six foot, eight inches tall, it's hard to blend in forever, and Trump ultimately singled him out—and did so with the most damning faint praise possible: 'Oh, and there's Jim. He's become more famous than me!' Comey took the long walk across the room determined, he told me, that there was not going to be a hug. Bad enough that he was there; bad enough that there would be a handshake; he emphatically did not want any show of warmth."
Justice Department to review possible ethics conflicts involving Robert Mueller's former law firm, The Washington Post, Matea Gold and Rosalind S. Helderman, Thursday, 18 May 2017: "Newly appointed special counsel Robert S. Mueller III will undergo a Justice Department ethics review that will examine possible conflicts of interest regarding his former law firm, which represents several figures who could be caught up in the probe into Russian efforts to influence the 2016 election. Justice Department spokeswoman Sarah Isgur Flores said Thursday that the agency will conduct a background investigation and detailed review of conflict-of-interest issues, a process outlined in the regulation governing special counsels under which he was appointed. For the past three years, Mueller has been a partner in the Washington office of WilmerHale, whose attorneys represent former Trump campaign chairman Paul Manafort, Trump's daughter Ivanka and Jared Kushner, the president's son-in-law. Federal regulations prohibit officials from participating in matters involving their former employers for two years after joining the government unless they receive a waiver to do so. Bruce Berman, WilmerHale's general counsel, said that Mueller had no involvement in the representation of Manafort, Kushner or Trump, or any client in connection with any Russia-related inquiry. The firm says there are no potential conflicts regarding Mueller's role as special counsel, Berman said."
Trump administration formally launches North American Free Trade Agreement (NAFTA) renegotiation, The Washington Post, Ana Swanson, Thursday, 18 May 2017: "The Trump administration on Thursday formally notified Congress of its intent to renegotiate the North American Free Trade Agreement, a step forward on a campaign promise that was widely popular among voters but has unsettled the U.S. companies that have constructed their businesses around the trade deal's provisions. The notification starts the clock on a 90-day period in which Congress will consult with the administration about its goals. Negotiations with Canada and Mexico will begin as soon as Aug. 16, the administration said. The statement, sent from U.S. Trade Representative Robert E. Lighthizer to Congressional leaders Thursday morning, offered few, if any, details on what specifically the administration hoped to change. It also did not include the type of harsh rhetoric the president has used to describe NAFTA or the trade practices of Canada and Mexico in the past. On the campaign trail and in office, President Trump derided NAFTA as a 'horrible deal for the United States,' 'the worst trade deal maybe ever' and 'a defective agreement.' In a call with reporters Thursday morning, Lighthizer stressed that the administration hopes to improve and update the deal rather than scrap it altogether.
Senate Inquiries Narrow as Deputy Attorney General Rod Rosenstein Suggests Plan to Fire James Comey Predated His Memo, The New York Times, Emmarie Huetteman, Rebecca R. Ruiz, and Matthew Rosenberg, Thursday, 18 May 2017: "Republican senators signaled on Thursday that the Justice Department's special counsel investigation into Russia's interference in the presidential election and possible collusion by associates of President Trump would quite likely slow and narrow the scope of their own inquiries. Five different Senate and House committees — including both congressional intelligence committees — are running inquiries into the Russian meddling. But the special counsel, Robert S. Mueller III, who was appointed on Wednesday, is widely expected to ask Congress to scale back public hearings with witnesses who might be integral to his investigation. The entire Senate, in a highly unusual gathering, was briefed on the Justice Department inquiry by Rod J. Rosenstein, the deputy attorney general, who stunned some lawmakers when he suggested that he had known President Trump had planned to fire James B. Comey as F.B.I. director before he provided a memo to the president outlining a rationale for his dismissal. Mr. Rosenstein also affirmed that the Justice Department's inquiry was focused on possible crimes, meaning that potential subjects of investigation would almost certainly refuse to testify before Congress or withhold documents from lawmakers for fear of possible prosecution."
Behind closed doors, Senator Al Franken (D-Minn.) and Senator Kirsten Gillibrand (D-N.Y.) blast Deputy Attorney General Rod Rosenstein for withholding information, The Washington Post, Ed O'Keefe, Thursday, 18 May 2017: "Deputy Attorney General Rod J. Rosenstein's meeting with senators on Thursday grew especially heated when he faced questions from two frustrated liberal Democrats, according to multiple people familiar with the meeting. Rosenstein came to Capitol Hill to discuss the firing of FBI Director James B. Comey and his decision to hire Robert Mueller as a special counsel to probe Russian meddling in last year's elections. He briefed U.S. senators in what they call 'the SCIF,' or a Sensitive Compartmented Information Facility, a below-ground facility in the Capitol Visitors Center that has an area large enough to hold all 100 senators. In that space, Rosenstein faced especially aggressive questions from Democrats about the scope of the investigation set to be led by Mueller; why Attorney General Jeff Sessions was involved in the firing of Comey; and why Sessions is helping select the new director, according to multiple people. Sens. Kirsten Gillibrand (D-N.Y.) and Al Franken (D-Minn.) especially grilled Rosenstein on Sessions's role and the scope of Mueller's new investigation, according to three senators in the room who spoke about the meeting on the condition of anonymity. Another aide familiar with the exchange described Franken as 'heated.' But one of the senators asked to recount the meeting said that Franken and Gillibrand were 'passionate' — not rude."
In Video, President Recep Tayyip Erdogan of Turkey Watches as His Guards Clash With Protesters, The New York Times, Nicholas Fandos, Thursday, 18 May 2017: "New video surfaced on Thursday that shows President Recep Tayyip Erdogan of Turkey looking on as armed members of his security team violently charge a group of protesters outside the Turkish ambassador's residence here. The Voice of America's Turkish Service posted the video on its Twitter account with a brief description in Turkish. The confrontation on Tuesday came after President Trump had welcomed Mr. Erdogan to the White House and praised him as a stalwart ally in the battle against Islamic extremism. Mr. Trump did not speak of Mr. Erdogan's authoritarian crackdown on his own people. It is unclear if Mr. Erdogan, who is seen in the video sitting in a black Mercedes sedan, communicated with the would-be assailants. An aide can be seen leaning into the car, then speaking to another aide who walks toward the group of supporters and out of the range of the camera. Seconds later, members of the group run toward and confront the protesters. The second aide then returns to the president's car as Mr. Erdogan exits and enters the residence. Nine people were hospitalized after the skirmish, and the State Department issued a stern statement condemning the attack."